Looking for the best Bali hikes to add to your itinerary? Discover the island's top trails – from sunrise volcano hikes to rugged walks to secret waterfalls.
Hiking in Bali? You better be – there aren't many places home to better hiking trails than the small Indonesian island and its waterfalls, volcanoes, tropical forests, and black sand beaches.
Whether you fancy the challenge of hiking Mount Batur at 3am (trust me on this one, ok?) or prefer to stroll through verdant rice terraces (also pretty epic), Bali has an abundance of trails waiting to be explored.
But, because there are vast amounts of hiking trails on the island, picking the best might feel a little bit daunting.
Don't worry; after several incredible trips, I've honed in on a perfect 2-week Bali itinerary and compiled an expert list of the best hikes in Bali to fill it with.
What are you waiting for? Let's jump right into it and check out which hikes to do in Bali.
Best Hikes in Bali
Munduk Waterfalls
Length: 4.66 km
Time: 1 Hour 45 Minutes
Difficulty: Medium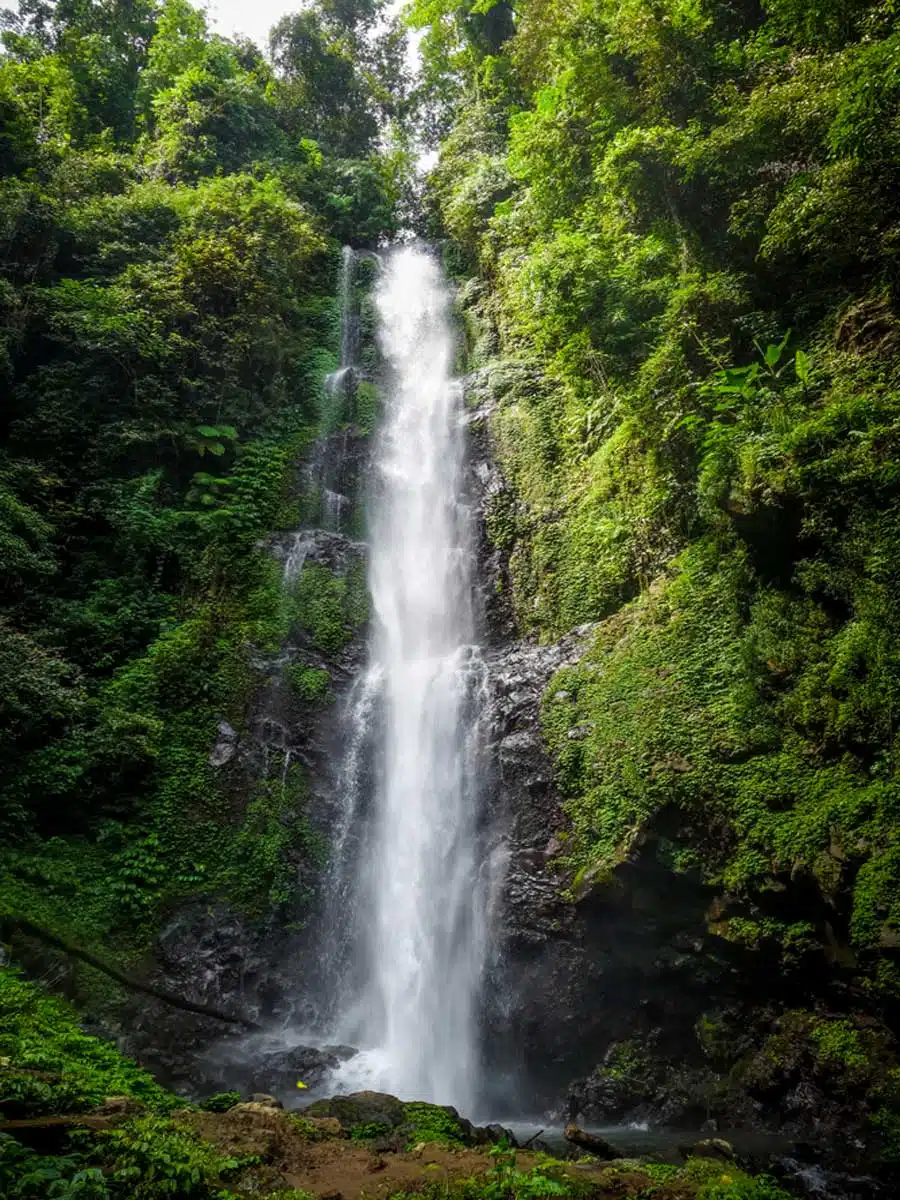 Want my number one tip for planning a trip to Bali? Visit as many waterfalls while you're there as you can.
My faves are the Munduk Waterfalls, and there's no better way to see a few of them than on one of my top hikes in Bali. You'll be climbing a bit on this one, so don't let the shorter overall distance fool you.

That said, you'll mostly be on paved trails, but the small section of dirt trails may require a good pair of shoes if it's raining.
Also, this Bali waterfall hiking trail is one of the most popular locations with tourists in Bali, so if you go during peak season, expect crowds.
Nusa Dua Beach
Length: 4.34 km
Time: 1 Hour
Difficulty: Easy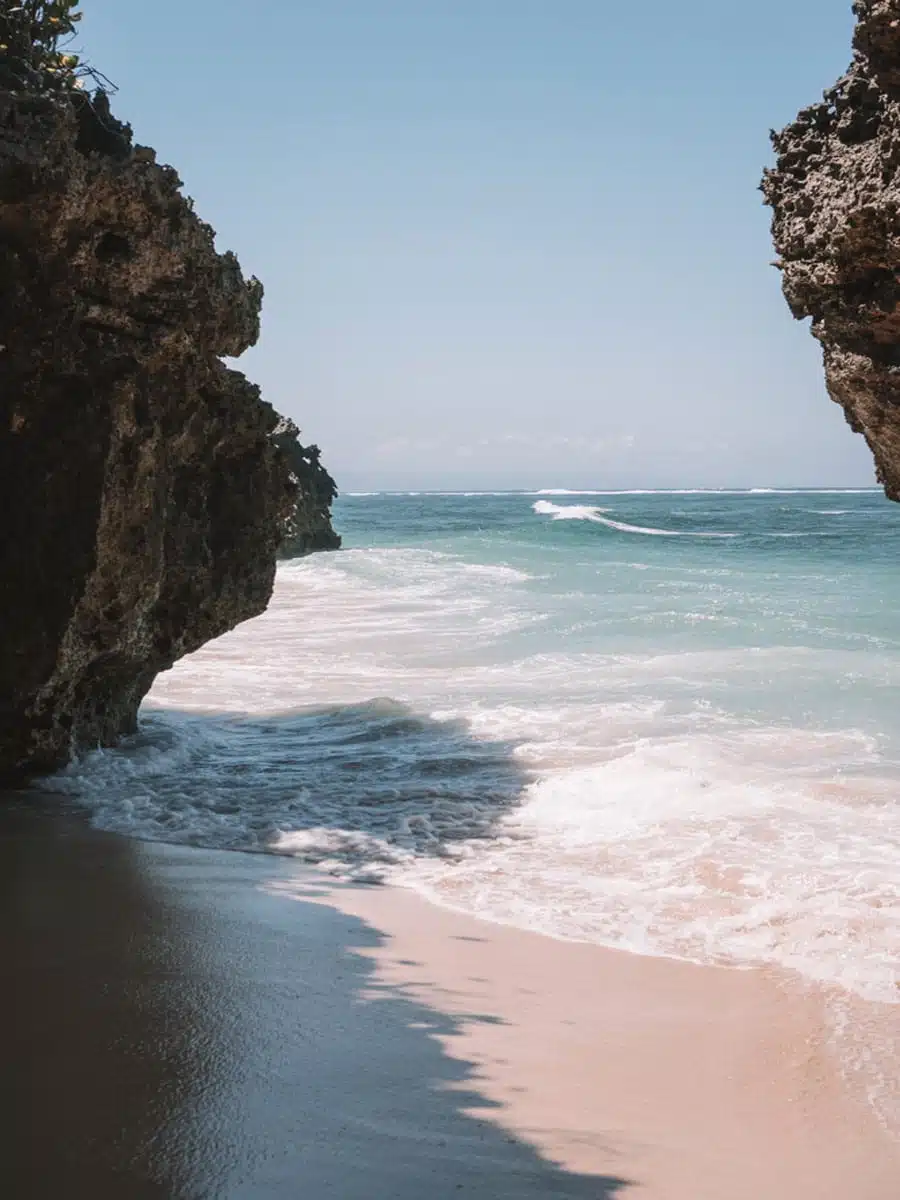 Nusa Dua Beach is one of those hikes I recommend to people that aren't avid hikers. That's not to say it isn't worth doing; in fact, quite the contrary.
I love this as an excuse to wear my best walking shoes and enjoy Bali's gorgeous waters and shores.
Bonus? There are loads of places to stop along the way to grab a refreshment or hit the beach during your hike.
It only takes about an hour, but I'd plan to stay a little longer to enjoy this little stroll as much as possible.
Tamblingan Lake and Laangan Waterfall
Length: 15.61 km
Time: 6 Hours
Difficulty: Hard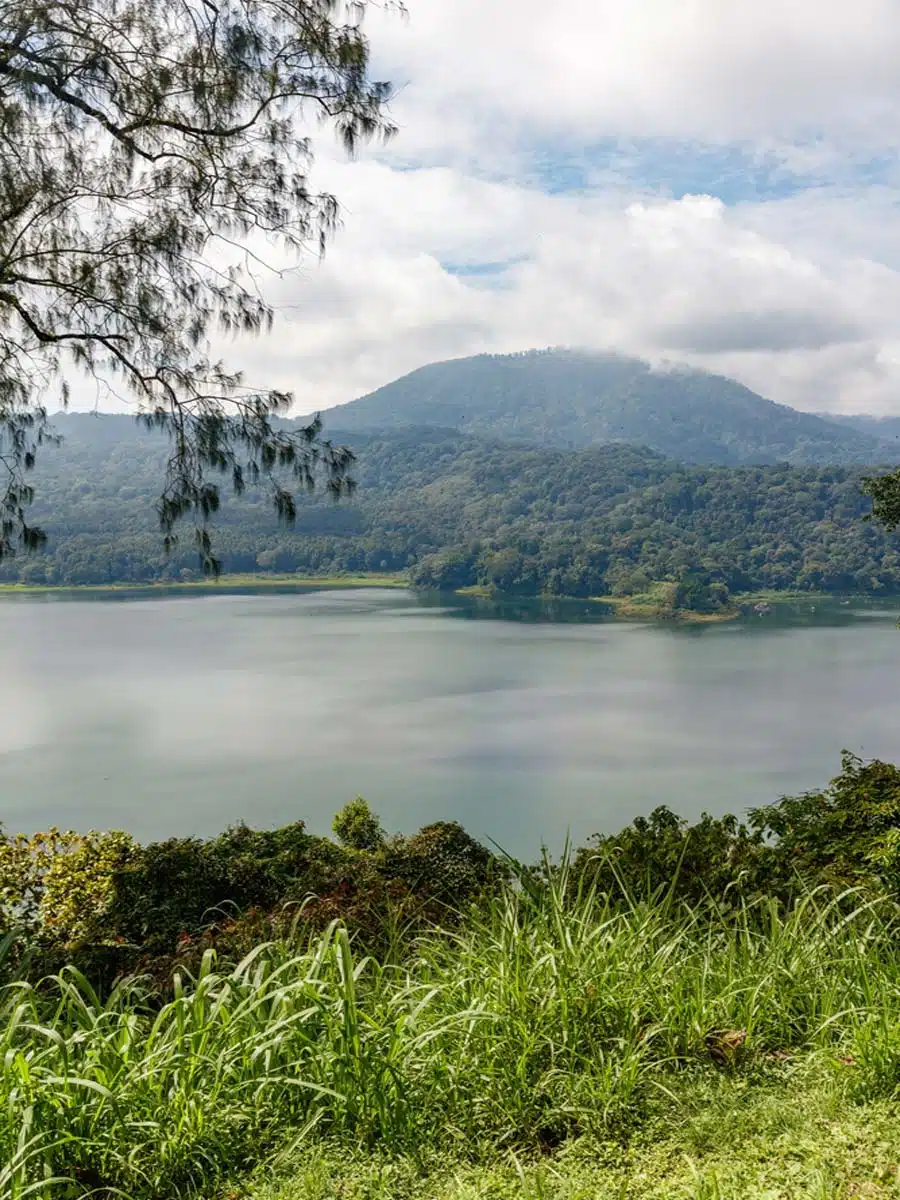 What's better than a lakeside afternoon in Bali? How about one of the premiere Bali waterfall hikes while you're at it?
Tamblingan Lake and Laangan Waterfall is a hike that will check many of your Bali holiday boxes. You'll see a lake, temple, waterfalls, and forests. Not bad, right?
Wear some good hiking shoes during the dry season to get the best experience out of this Bali hiking trail.
Be warned that this is one of the trickier hikes, but you don't need to be Superman-level fit to complete it. Just take it slow and it's more than manageable for most people.
Tegalalang Rice Terraces
Length: 11.74 km
Time: 3 Hours 45 Minutes
Difficulty: Medium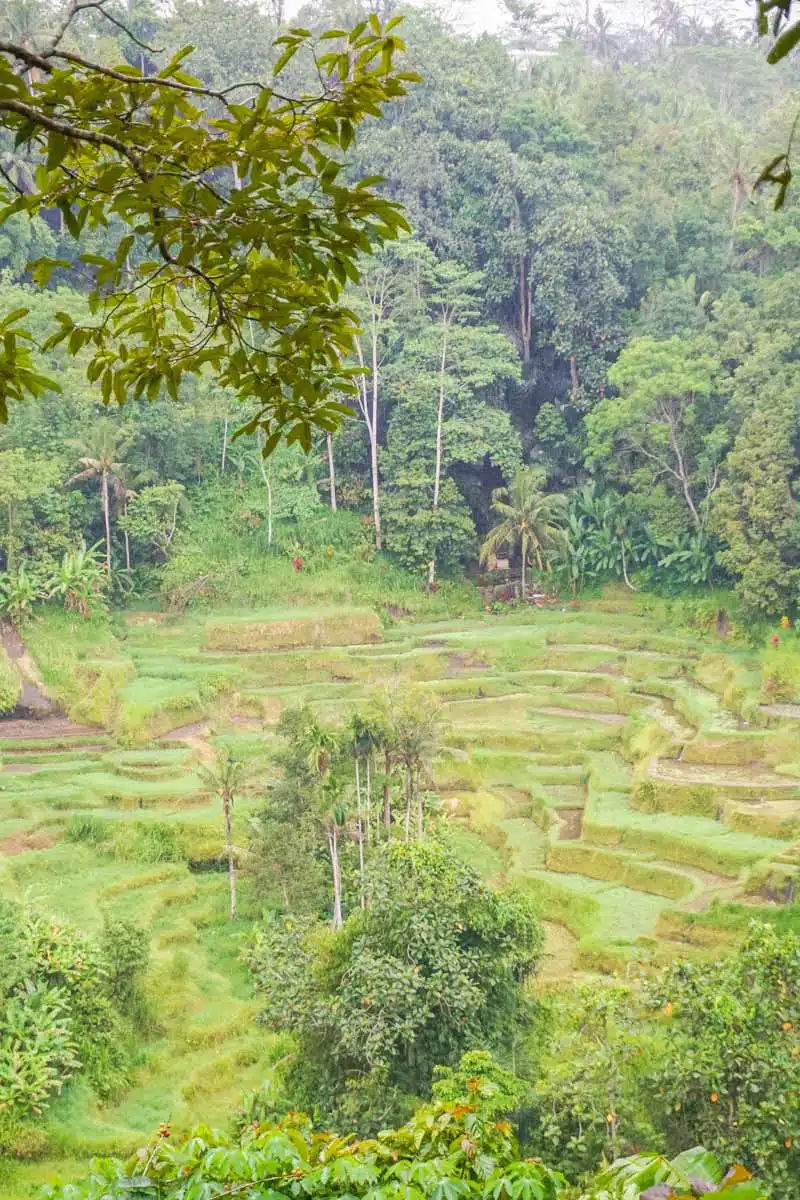 The Tegalalang Rice Terraces are one of the more famous landmarks in Bali – and they have crowds to prove it. As such, it's worth adding to your list of Bali hikes.
It's green and lush, though a bit tough to navigate as some parts of the trails aren't clearly marked or tracked. Arrive early to enjoy the relatively long Bali hike and catch a sunrise to make the most of your journey.
You can hike this rather challenging trek in under four hours, but bring your best hiking shoes as there's some elevation.
Jatiluwih Rice Terraces Loop
Length: 3.7 km
Time: 1 Hour
Difficulty: Easy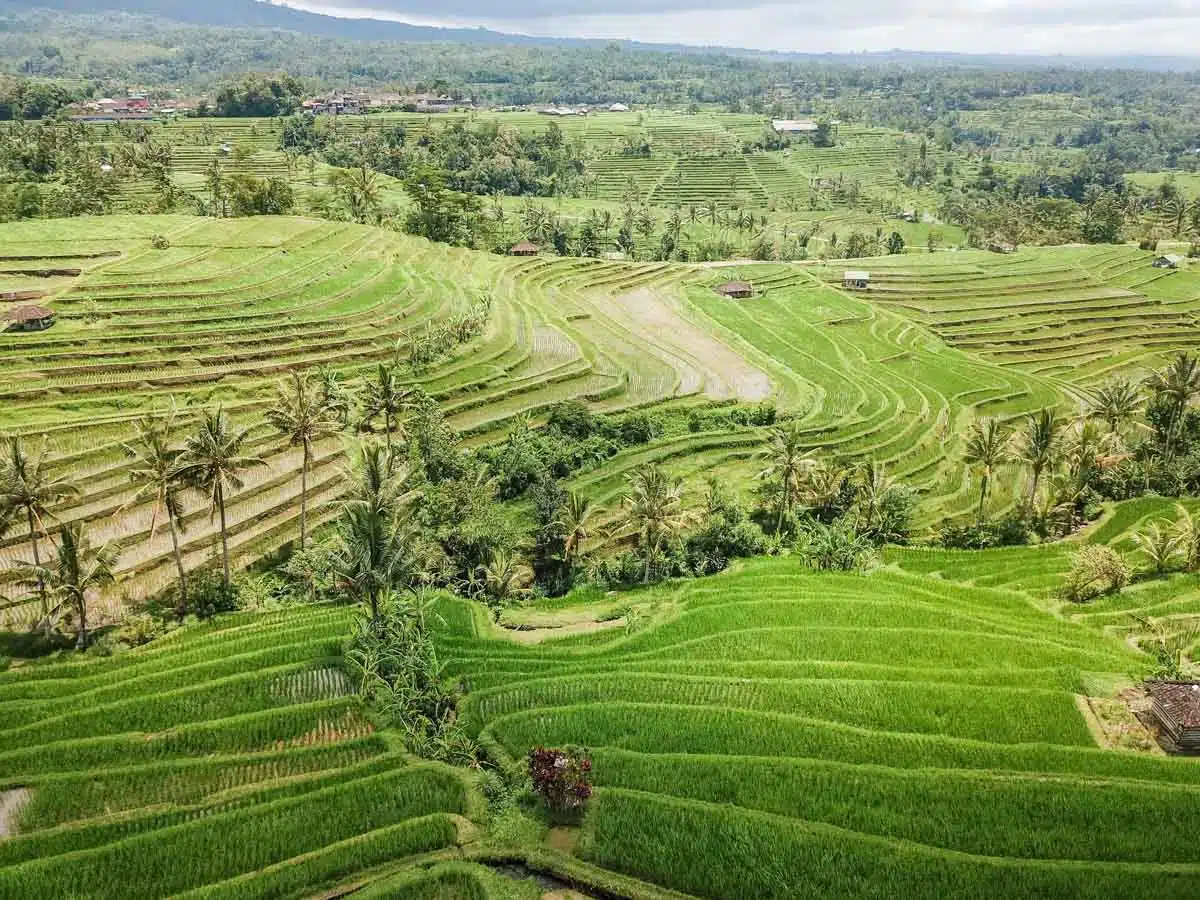 First of all, sorry not sorry for including another rice terrace hike (they're seriously gorgeous and a defining Bali landmark).
Secondly, Jatiluwih Rice Terraces are in a league of their own and fully backed up by a UNESCO World Heritage designation. This is also where to go if you want to skip the crowds of Tegalalang Rice Terraces.
Frankly, this is why I consider it a much more enjoyable visit.
So what makes this hike one of the best things to do in Ubud? It's the most beautiful rice terrace in Bali, great to hike any time of day, and (pro tip) it's mesmerising at dusk.
Sekumpul Waterfall via South Entrance
Length: 4.5 km
Time: 2 Hours
Difficulty: Medium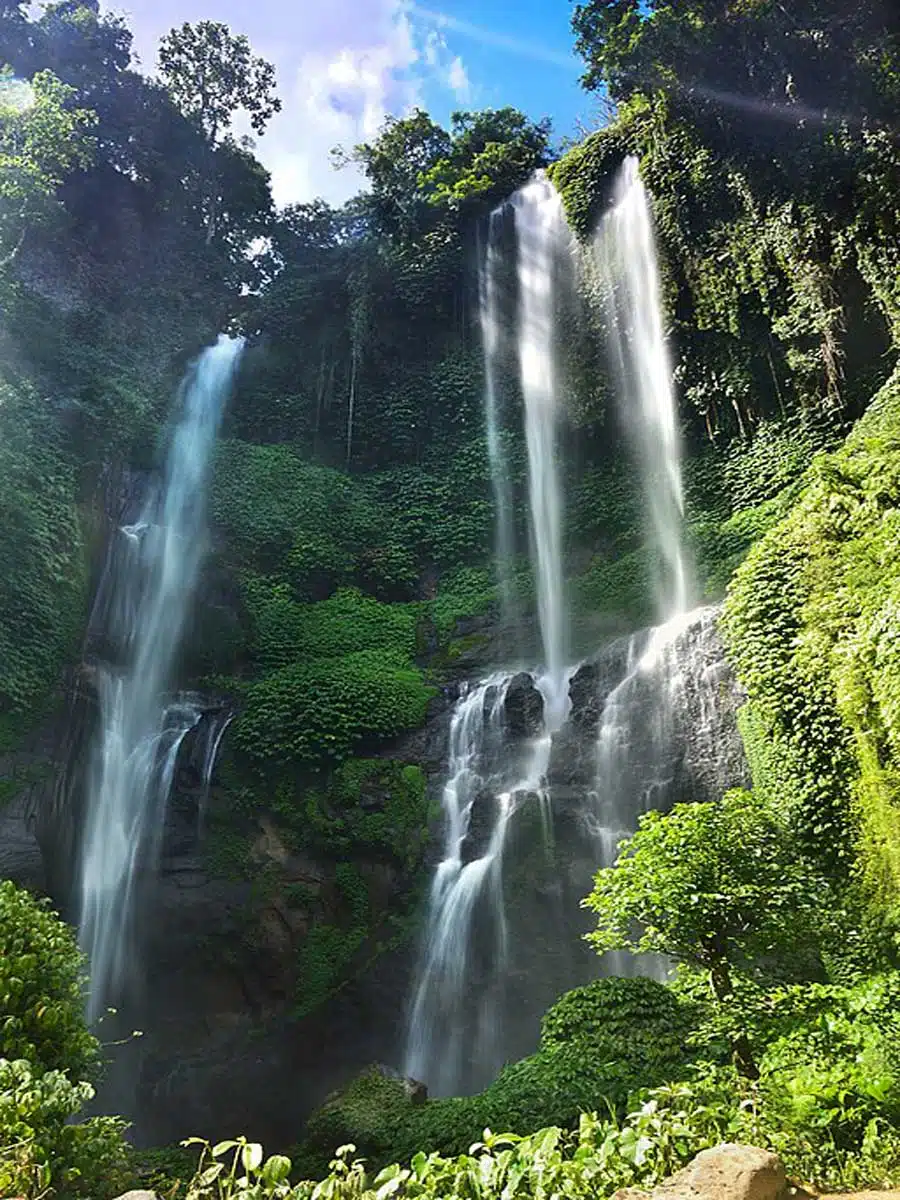 Looking for cool things to do in Bali? Add one of the best waterfall hikes in Bali to your travel plans and thank me later.
The Sekumpul Waterfall via the South Entrance hike is a great way to access the famous waterfalls and gives you a pretty good workout in the process.
It's a steep climb but worth every minute and muscle ache when you cool off in the gorgeous pools surrounding the lush waterfall landscape on this Bali hike. Trust me on this.
Tembeling Beach and Forest
Length: 4.5 km
Time: 1 Hour 45 Minutes
Difficulty: Hard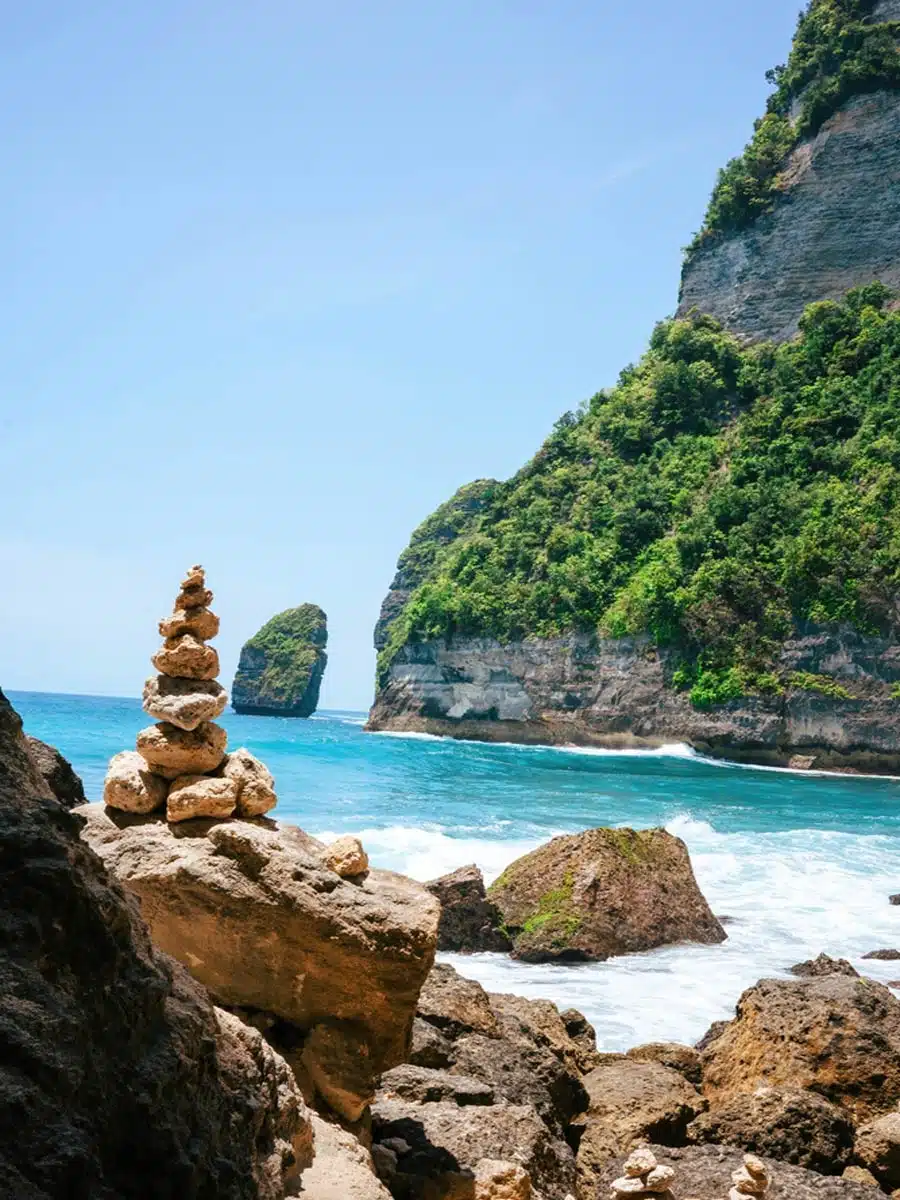 This isn't the longest trek or most epic Bali volcano hike, but believe me when I say you'll want your best hiking gear for this tricky number.
Tembeling Beach and Forest is an out-and-back trail through some dense Bali forests on narrow, uneven, and somewhat sketchy pathways. It's a tough one, but the rewards are worth it.
If you're up for the challenge, this ranks high on the can't-miss hiking trails in Bali for more adventurous travellers. Why? The secluded beach and natural pools are genuinely extraordinary.
Bali Mount Agung Hike
Length: 14.64 km
Time: 10-14 Hours
Difficulty: Hard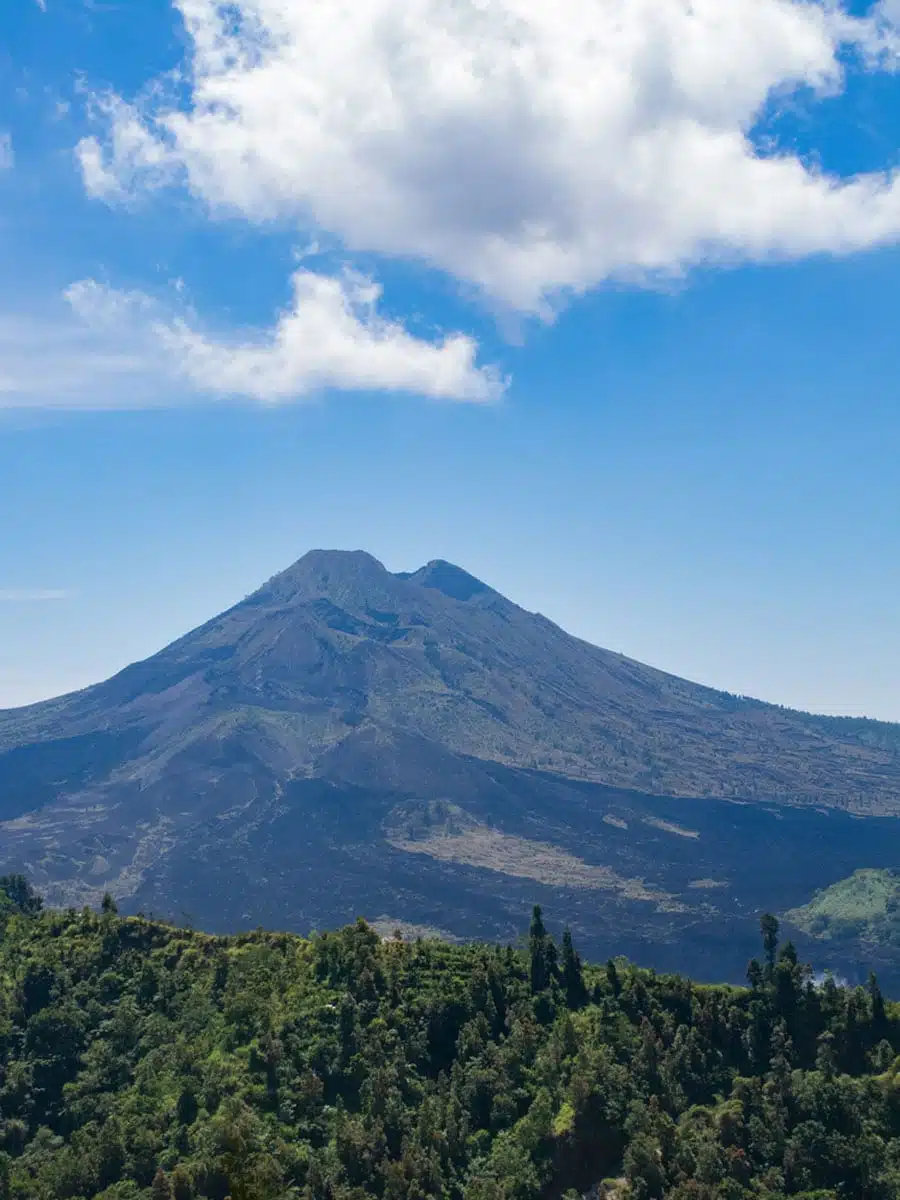 Looking for a Bali hike, sunrise style? One of my favourites is the Bali Mount Agung hike (AKA the Holy Mountain).
Head up this trail any time of year, although planning when to visit Bali depends on your tolerance for rain, crowds, and prices. Watch your footing going up and down (especially on your descent), and your reward will be some of the best sunrise views of any hike in Bali.
Truthfully, I can't imagine doing this hike without booking a tour or, at the very least, going with someone who knows the area like the back of their hand.
Trust me; you'll want to schedule an adventure on Get Your Guide like this one.
Campuhan Hill Ridge Walk
Length: 3.86 km
Time: 1 Hour
Difficulty: Easy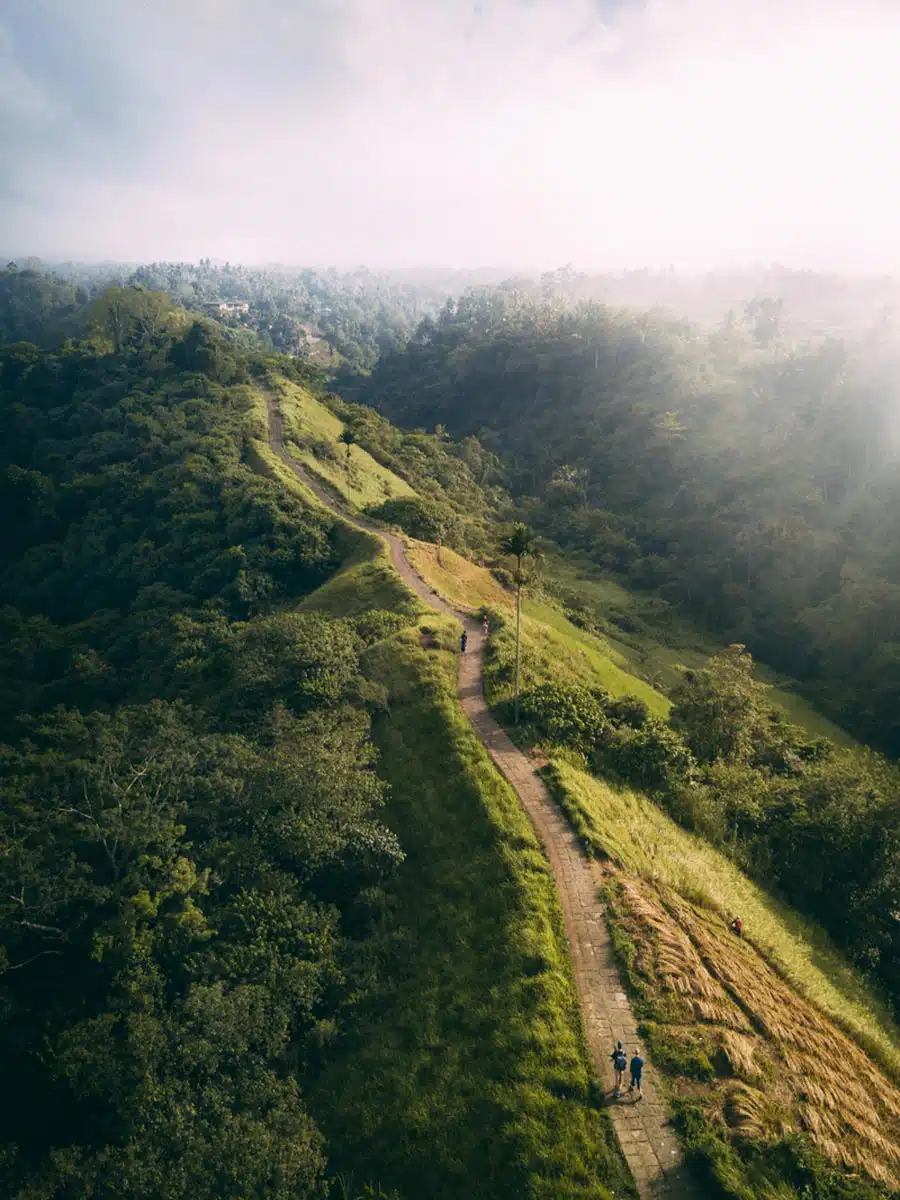 When I travel to Bali (or anywhere, really), I make it a point to mix some epic adventures with a little more laid-back sightseeing.
So the next hike that comes to mind is this lovely little stroll, Campuhan Hill Ridge Walk.
You'll see a lot of what makes Bali so stunning. From lush tropical forests to gorgeous rice fields, I adore this as an excellent alternative to a Bali mountain hike.
West Bali Coastal Loop
Length: 17.7 km
Time: 4.5 Hours
Difficulty: Medium
Western Bali is beautiful if a bit less touristy than other parts of the island. But that's not to say it's any less beautiful.
One hike you may want to pursue when you're on the quieter side of the island is the West Bali Coastal Loop.
You'll get plenty of steps in, have opportunities to see some stunning wildlife, and check out some mangrove forests, coral, and other coastal terrains on this excellent Bali hike.
Red Coral Waterfall
Length: 1.93 km
Time: 30 Minutes
Difficulty: Easy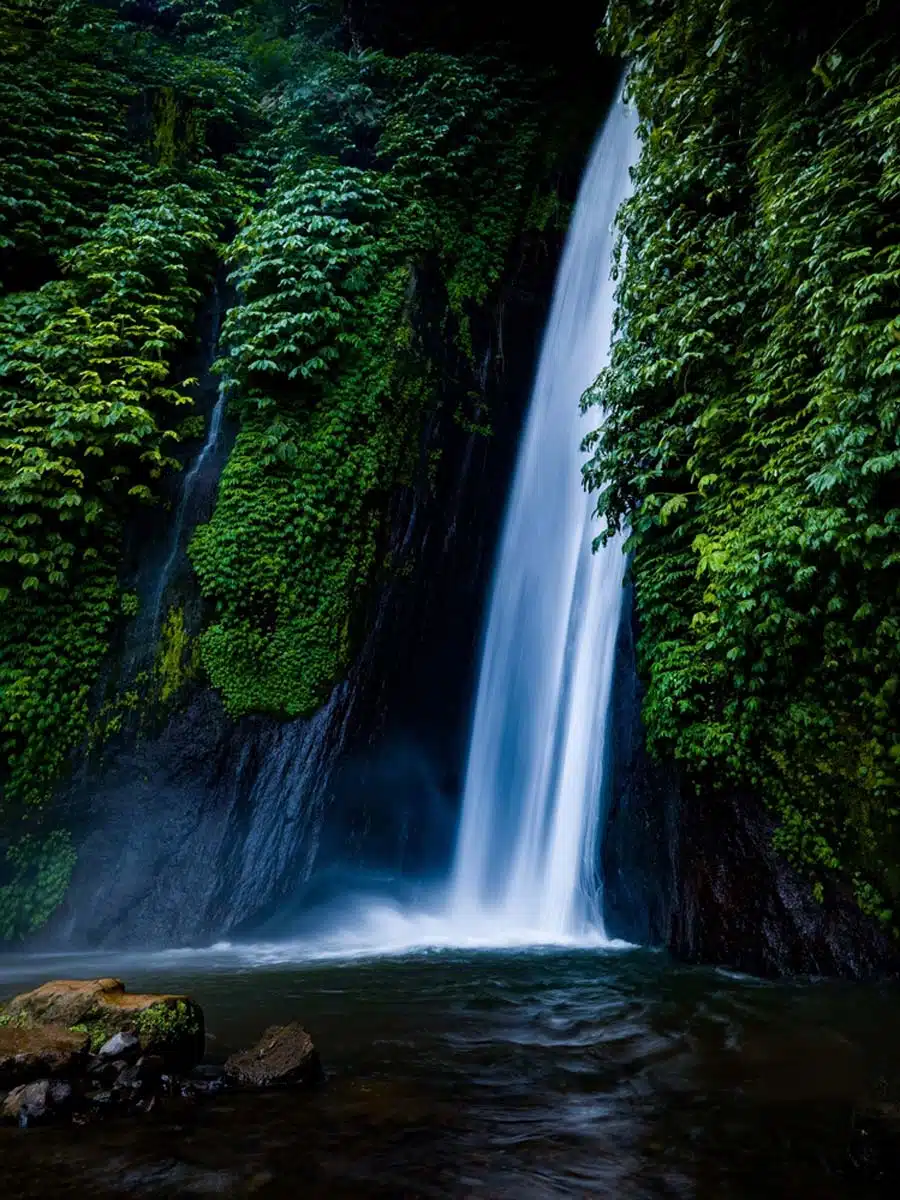 Guys, I don't want to sound like a broken record, but a Bali waterfall hike should be on every travel plan.
Red Coral Waterfall is a perfect choice for the casual hiker, as it only takes about a half hour to reach the beautiful and unique waterfalls on this out-and-back trail. Not to mention that it's a very laid back climb, so you don't need to be super fit to undertake it.
It's also a perfect way to see part of the famous Munduk waterfalls without committing to a lengthier trek. You're welcome.
Best Bali Hikes: Practical Tips
Pack your bug spray. Mosquitos are no joke in Bali and can carry infectious diseases you want to avoid at all costs.
When you hike in Bali, wear lightweight, long-sleeved clothing. It will help repel bugs, and you'll be elated to have a raincoat if you get caught in one of the many showers on your Bali hike.
You may encounter wildlife on your Bali hikes, and it's best to stay on trails and schedule a guided tour whenever possible. King cobras and other venomous snakes live here, so do your best to stay safe and not wander into the jungle or off-trail when hiking in Bali.