Not sure if a retreat is for you or what to actually expect from one? A retreat rookie shares her experience of a week of yoga in Ubud at Blooming Lotus Yoga in Bali.
By Nora Elias
I'm pretty much the last person I ever thought you'd find at a yoga retreat.
Although I write about wellness for a living, I do a so-so job of actually embodying a wellness lifestyle. In fact, I more or less fell into yoga by accident when two classes were included on my schedule at an Ayurveda resort I was visiting (for work) three years ago.
To my surprise I not only didn't hate it, I actually quite liked it. And, as I continued to go to classes once I was back in London, it turned out that, I really, really liked it.
I started toying with the idea of a retreat about a year or so into doing yoga but apart from the cost (doing a retreat anywhere in Europe tends to be pretty extortionate), I wasn't sure I was ready.
Despite loving the practice I didn't really think of myself as a yoga person. I wondered if a week surrounded by yogis, chanting and mantras would be a bit much.
Still, I couldn't quite shake the idea of a retreat. I was feeling the need for an escape; a holiday somewhere quiet and secluded where I would feel comfortable heading on my own. Adding yoga to that seemed like the perfect mix.
Choosing My Bali Yoga Retreat
After great reports from two friends who spent a few weeks doing yoga in Ubud, I decided on a retreat in Bali. I'd never been and Ubud, the cultural centre of the island, is also something of a yoga capital.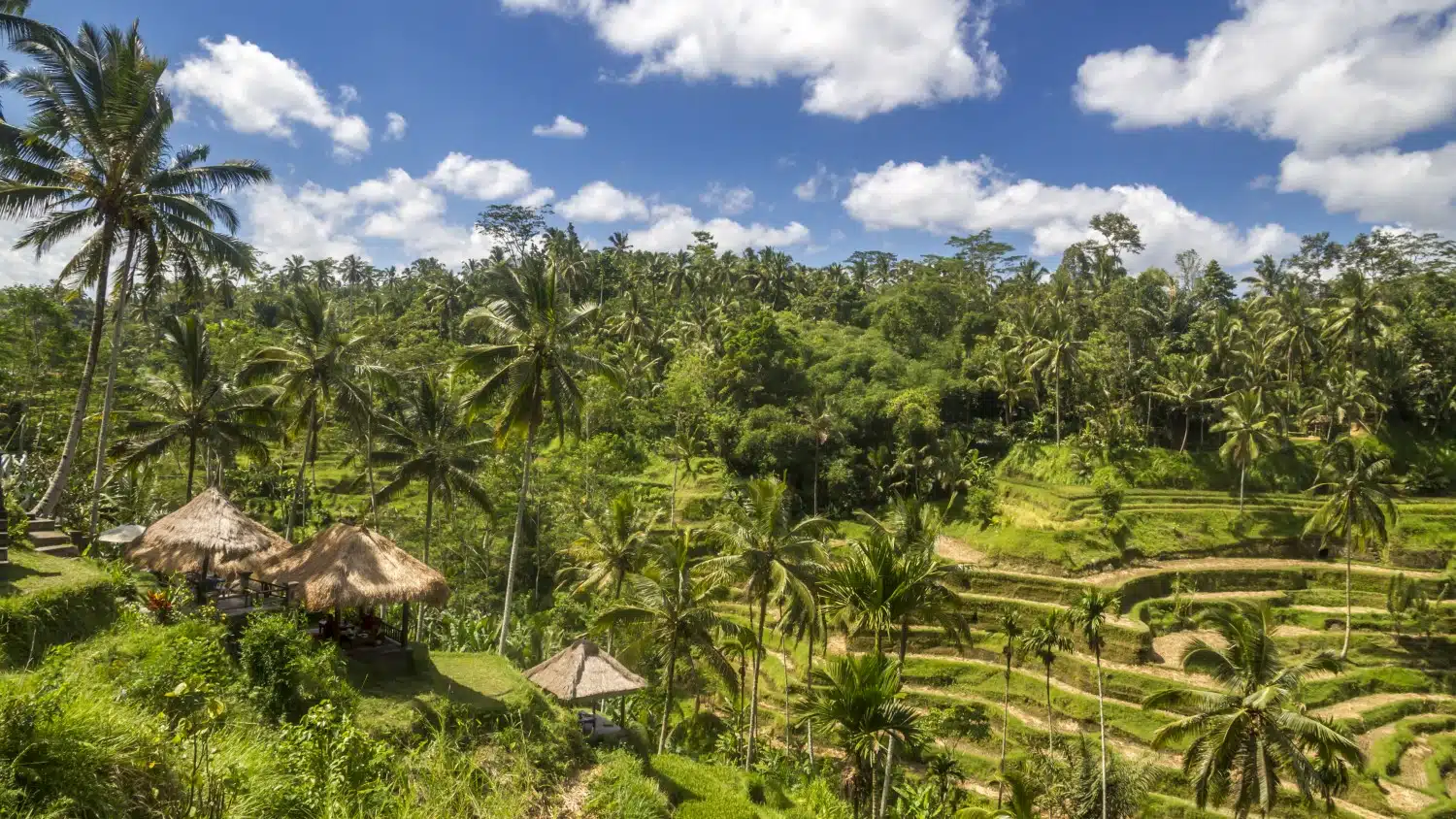 This means there were plenty of retreats to choose from, all with stunning scenery as an added bonus. I wondered whether a Bali yoga retreat was a bit clichéd – especially after the whole Eat Pray Love thing (although I've neither read the book nor seen the film). But then I decided that with the stunning landscape and decent prices, I didn't really care.
Read more: Step by Step Two Week Bali Itinerary
After months of procrastinating and more reading of online reviews than I would have thought possible, I eventually went for the Blooming Lotus Yoga retreat.
It had great reviews, not perfect, but great. And the more travel research you do, the more you realise that if you wait for somewhere that doesn't have a single negative review before you book, you'll never go anywhere.
Blooming Lotus Bali – Retreat vs DIY Option?
Blooming Lotus Yoga (the name of the retreat; the actual complex of villas used for it is called Ubud Corner 88) is in a quiet, tucked-away spot about 15-20 minutes' drive from the center of Ubud. They offer four and seven-day retreats all year round.
I could easily have found an inexpensive homestay (effectively the Indonesian term for a B&B) in or around Ubud (there are many, many listed on Airbnb and Booking.com) and taken daily classes at the famous Yoga Barn or one of the many other centres in the city.
It would no doubt have been a cheaper option, but I'm glad I didn't. I loved Ubud and it was great that the retreat offered a daily shuttle there and back, but I was always happy to return to the peace and tranquillity of our resort. I needed the relative seclusion of a retreat and the sense of getting away that offered.
Read more: The Best Places to Stay in Bali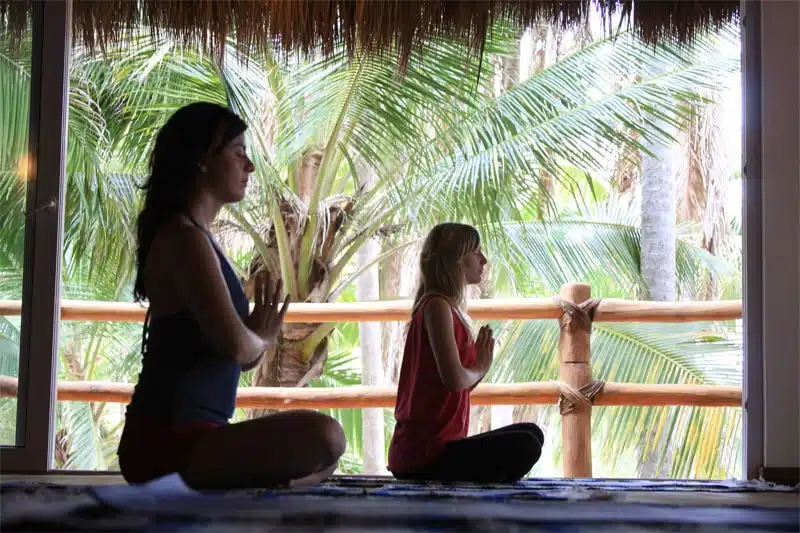 Which Level is the Right Level of Yoga Retreat?
When I was booking, I wasn't sure which level of retreat to book. I've been doing yoga for three years and although I definitely wouldn't consider myself advanced, I'm also not a complete beginner, and I was looking for a retreat where I'd feel I was learning something, but without being surrounded by acro yogis doing handstands all day long.
I went for the seven-day retreat, which was suitable for both beginners and intermediate practitioners. Four days just felt too short, especially after coming such a long way.
All Blooming Lotus Yoga retreats start on a Sunday with two yoga and meditation sessions a day, one in the morning and one in the evening, and workshops on three of the days (on the longer retreat). In the end, I was really pleased with how it turned out.
Blooming Lotus Yoga Ubud – Starting the Retreat
Our group (there were about 20 of us) was pretty mixed. There were a few people who had never done yoga before, a couple that were yoga teachers themselves back home, and many who, like me, were somewhere in-between.
Although I can't speak for everyone in the group, I felt that the two teachers/retreat leaders, Bindi and Lisa, did a great job of making sure the classes offered something for everyone.
They described the style of yoga as hatha flow, which was really a gentler, slower version of the ashtanga and vinyasa flow classes I do in London.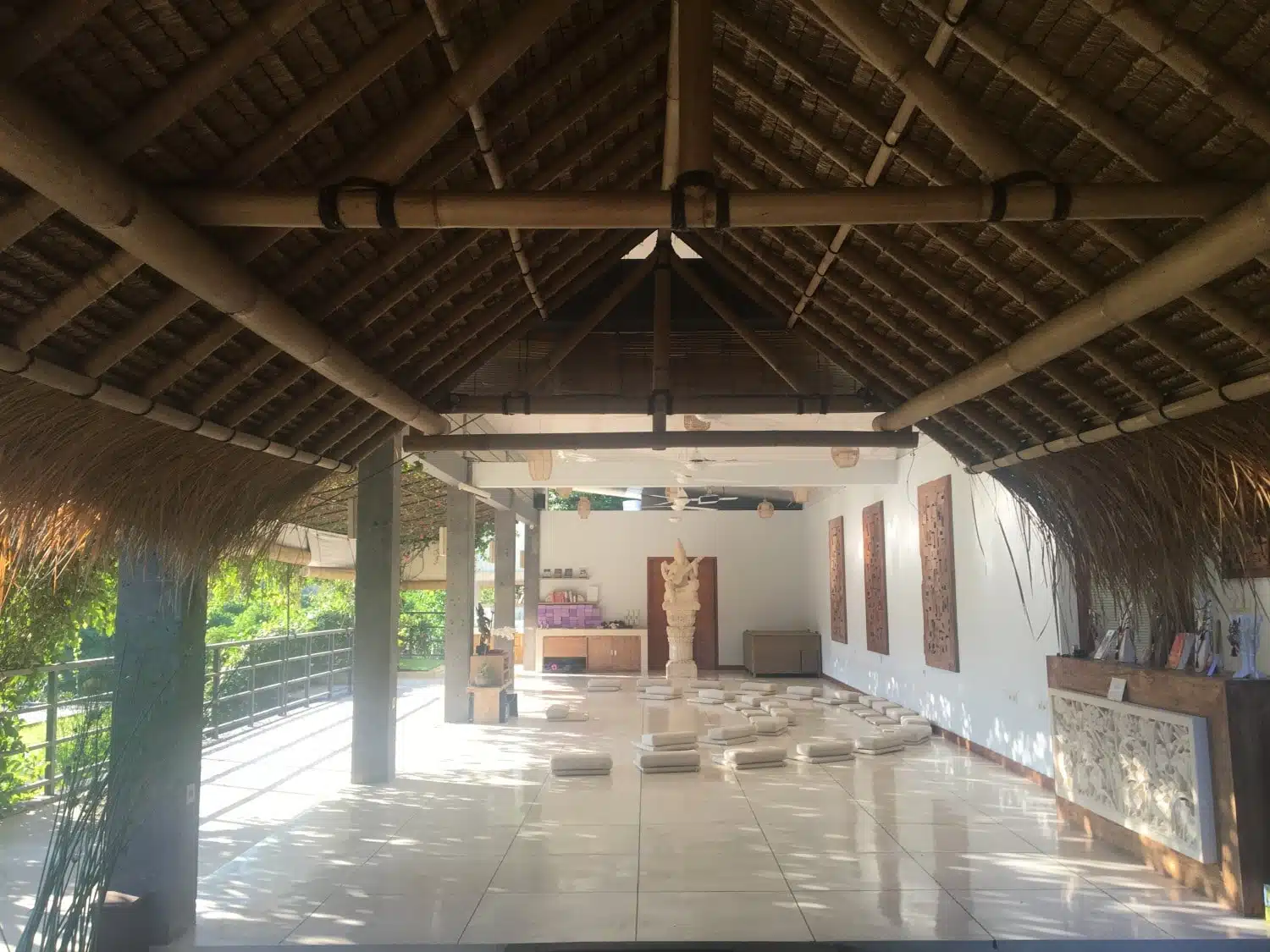 Gentler didn't mean unchallenging. Although the retreat had quite a strong focus on meditation, the two yoga sessions a day meant we were still getting our physical asana practise in. To a degree, the retreat was a case of back to basics for me, but in a positive way.
Our group was smaller than I'm used to and the fact that the pace was a little slower than in many of the classes I normally go to meant there was more time for Bindi and Lisa to offer advice and help with corrections.
Working on Technique
As a result, what I took away from the retreat included techniques to help me improve on poses I'd been doing for years but wasn't quite "there" with (though are you ever really in yoga?), the ability to do things I hadn't been able to before, and tips to help me get one step closer to the poses that remain challenging (flipping headstand).
Bindi and Lisa managed really well when it came to catering for the mixed skills levels in our group. They made sure the pace and complexity were not too much for the newbies.
At the same time, it wasn't at such a beginners level that you'd feel you were taking nothing away from it if you had plenty of experience.
Meditation
Every class started with meditation. This was slightly shorter at first, but stretched to half an hour after a few days.
The meditation was something I hadn't been 100% sure about beforehand. My only experience of it before the retreat was five minutes at the end of a yoga class. Although I always found that relaxing, there's a big difference between five minutes here and there and 30 minutes every day.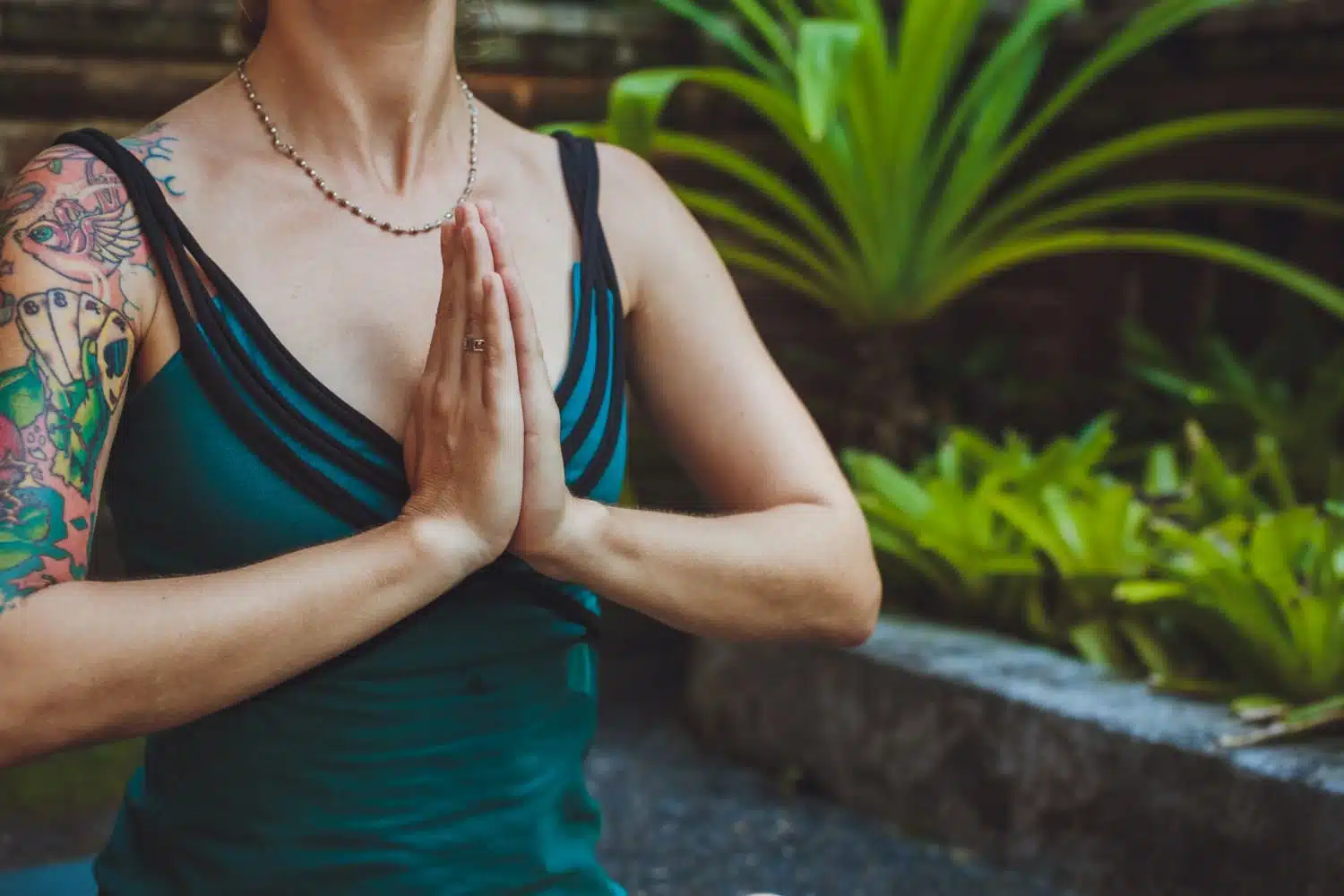 The meditation turned out to be one of the big revelations on the retreat. It was a great way to set up for the physical yoga practice and a really good way to start the day. I felt calmer and less tense as a result of doing it.
At first it was hard not to fidget and become slightly impatient but that became easier each day. Pretty soon, I couldn't quite believe it had already been half an hour by the time I heard the gentle gong that spelled the end of the session.
Being in such a peaceful location helped of course. Even though there is a village just beyond the retreat, all you could hear were the sounds of the jungle as you eased into the meditation.
It also helped that we'd start each session by talking a bit about the philosophy of yoga. This was something we discussed in more detail during the workshops as it contributed to the meditation and the role it can play into a wider context.
Why Go on A Yoga Retreat in Bali?
People come to yoga for different reasons. For me it was the physical practice that drew me in. The fact that it also makes me feel better emotionally is definitely one of the things that got me really hooked and keeps me coming back to it.
I've never been attracted to yoga primarily for its spiritual side. In fact, I'd say I've always done it despite that element, not because of it.
The retreat at Blooming Lotus Yoga also helped me become more open to that aspect of yoga.
I had never, for example, felt a connection to mantras (unless you count om, I do like a good om), largely because in very few of the classes I go to do they explain what a mantra means before you start repeating it. And I've never understood how I could possibly any kind of deeper connection to words that mean nothing to me.
At the retreat, Lisa and Bindi explained all the mantras before they introduced them into our daily practice and to me that made all the difference.
No Judgement Teaching
I also really responded to the way in which Lisa and Bindi taught. Yoga teachers will often say that the practice should be no-competitive and non-judgemental. You shouldn't compete either with yourself or others.
However, I'm sure most yogis can testify to the fact that in reality that is very often not true.
Not only are there are a surprising number of fairly judgy yoga teachers (clearly not in keeping with the philosophy behind it at all) but most of us get competitive with ourselves, even if we somehow manage not get competitive with others in the class.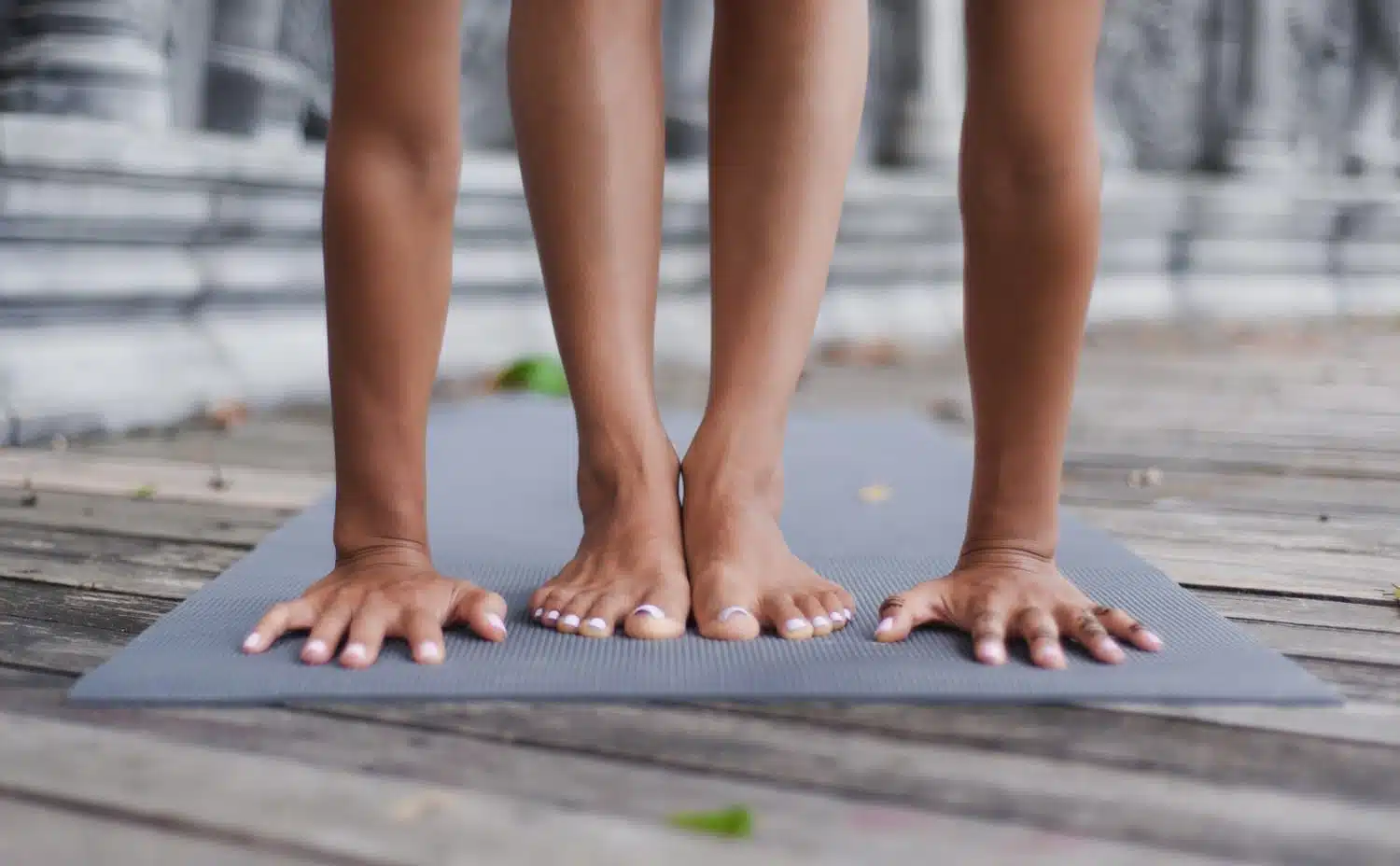 I have to admit that I can sometimes get distracted by a sense that I have to be able to do a certain pose and irritated with myself if I'm not at the level I think I should be.
The calm and non-judgemental way in which Bindi and Lisa taught made it much easier to let go of all of that.
A Sense of Community
Among the overwhelmingly positive reviews I read about Blooming Lotus Yoga, there was really only one criticism I came across quite a few times, and that was a sense of disconnect.
On many retreats, the yoga teachers will also stay on the premises, and will be with you during meals and in-between classes, and it's true that this wasn't the case at Blooming Lotus. Lisa and Bindi would arrive before the morning class and would return for the later workshops and classes.
For me that wasn't a problem, however, and I didn't get the impression that anyone else in my group minded either.
Lisa and Bindi always arrived some time before each session and stayed on for a while afterwards, in case anyone had any questions or needed to talk. Although they might not have had breakfast and dinner with us, we always ate together as a group.
Plus, everyone on the retreat shares a room (unless you're prepared to pay extra for a private villa but most people don't) so if it's a sense of community you're looking for, it's definitely still there.
The Food
My only minor complaint would be the food. The cuisine was light: healthy vegetarian dishes, which wasn't the issue.
It was that the food was slightly bland, which was a little disappointing. Particularly as the food in Ubud was otherwise fantastic.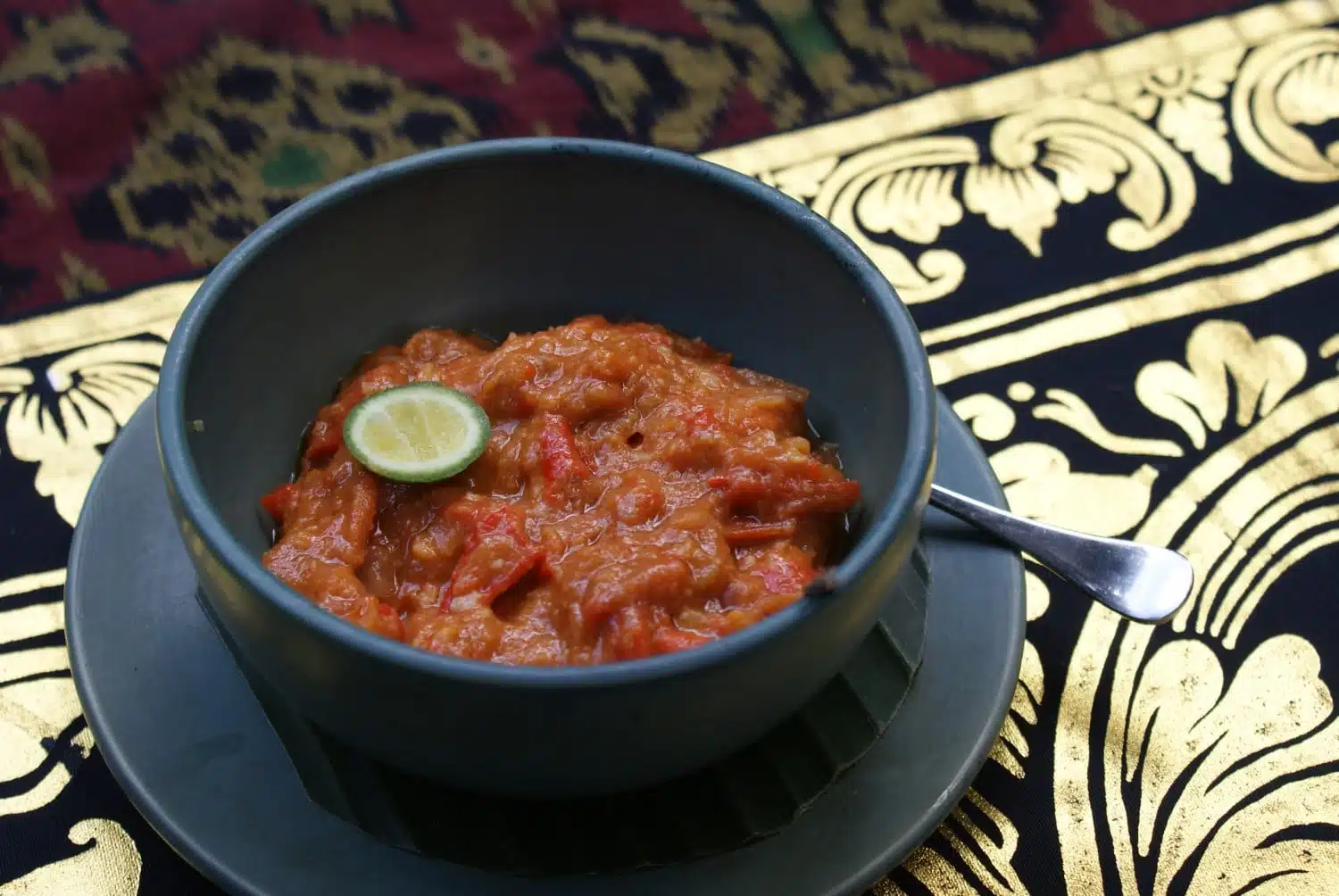 Read more: The Best Balinese Food – Must-Try Dishes and Recipes
The Accommodation
As for the accommodation, it was beautiful.The retreat consists of a range of large villas with a few rooms in each (ours had three) and a large, open-air living room/kitchen area with sofas, a dining table and cooking facilities (not that we needed to use them) in each villa.
The room was fresh, clean and stylish and looked as if it was either new or had been redecorated recently.
It wasn't huge. Especially not given that fact that if you're travelling on your own, you will end up sharing the space with someone you don't know. That said, my roommate and I managed the space just fine, and she was lovely and easy to live with.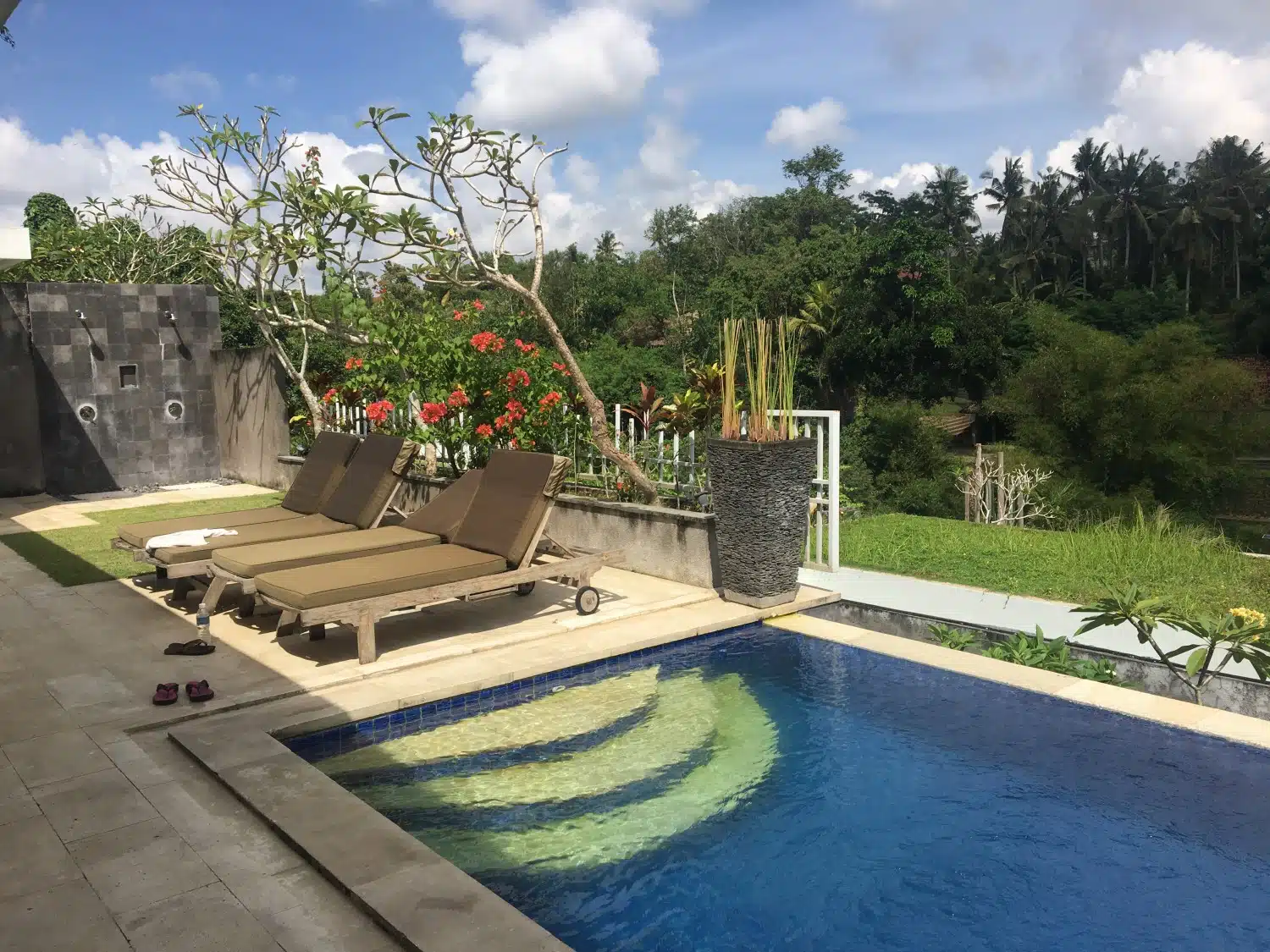 All villas have their own infinity-edge swimming pool and if you're lucky enough to be in one located higher up (the resort is sprawled out across quite a few levels), as I was, you have wonderful jungle views.
There is also a spa and although I didn't use it quite a few of the other retreat guests did, and I heard good things about the massages.
Blooming Lotus Bali Review: Final Thoughts
I would definitely recommend Blooming Lotus, especially if you haven't done a yoga retreat before and you're not completely sure if it's for you. I'm pretty sure this experience would win you over.
Blooming Lotus Yoga offers four-day and seven-day retreats. Four-day retreats start from US$397 and seven-day retreats from US$795. Prices are inclusive of food, accommodation, classes and cultural events (one on the shorter and two on the longer).
Nora Elias is the editor of World Spa & Wellness Magazine. When she's not working on her (flipping) headstand or in the office in London, she can be found eating Haribo, having adventures and wondering if that thing she just said was that little bit too sarcastic. You can follow her on Instagram here.
Love this? Save and Share on Pinterest
Read more Bali Travel Guides and Tips
Looking for more Bali inspiration? Here are seven brilliant places to visit in Bali.