Canggu is one of Bali's most talked about (and Instagrammed) destinations. Here's my step-by-step guide to making the most of your time in Canggu.
Oh Canggu. I still don't know what to think about you. I spent a month based in Canggu while researching my Bali travel guides earlier in the year and walked away feeling mildly befuddled.
On the one hand, it's full of stylish and sleek restaurants and cafes, relaxed beach bars and a friendly nomad and expat community. On the other hand, it's definitely not the place to go if you want a "true Balinese experience", whatever that even is.
A combination of digital nomads, remote workers, backpackers doing Bali on the cheap, locals and long-term residents – Canggu is interesting.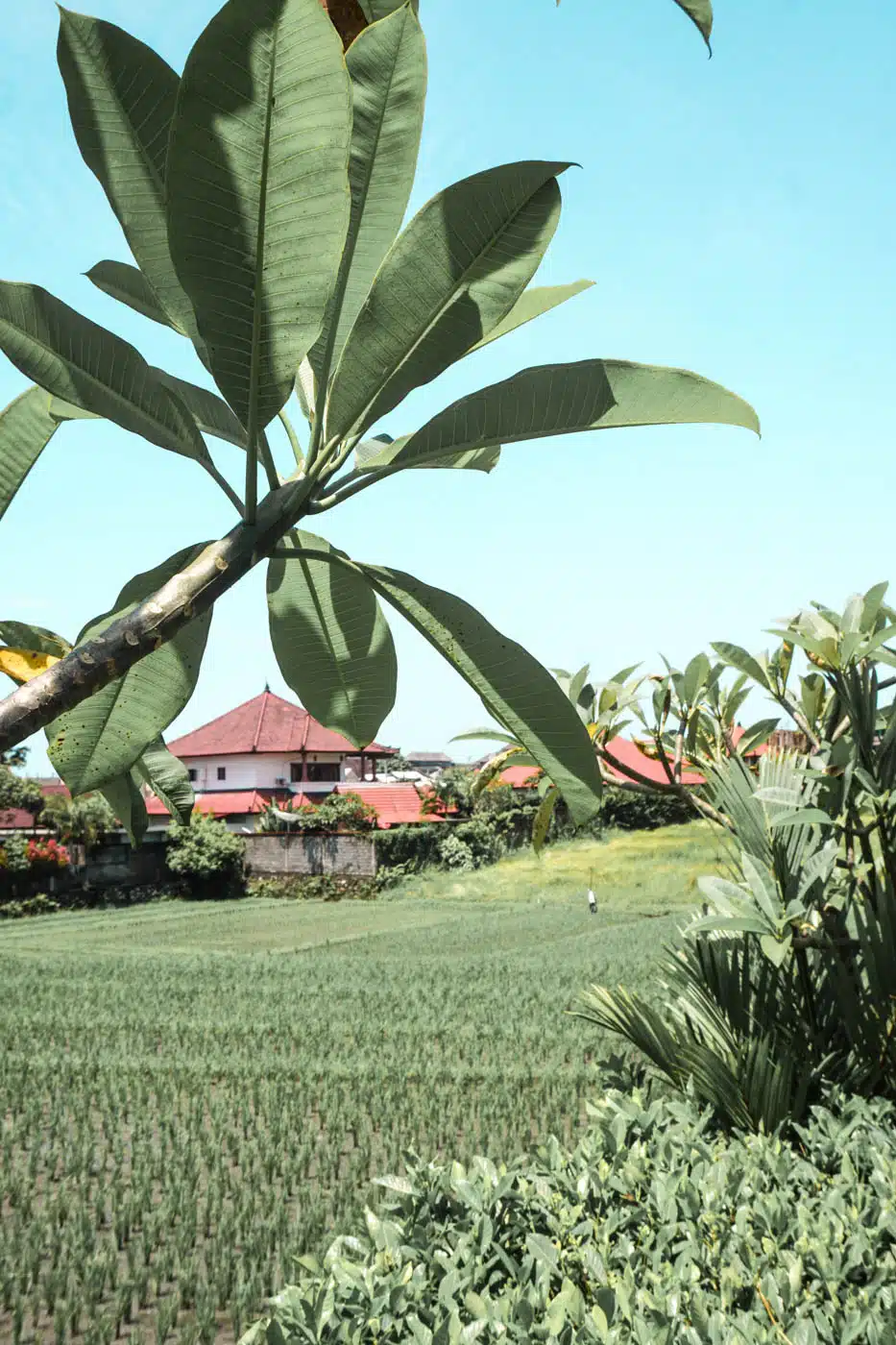 Before we get onto the good stuff. You might also want to check out my other Bali travel pieces.
Best Things to Do in Canggu
First things first, the restaurants and bars in Canggu are banging. Eating your way between them should be number one on your list of things to do in Canggu.
I don't think I've ever eaten such a variety of delicious meals in one place in my life. Plus, prices are reasonable – more expensive than in some other parts of Bali, but way cheaper than they would be at home.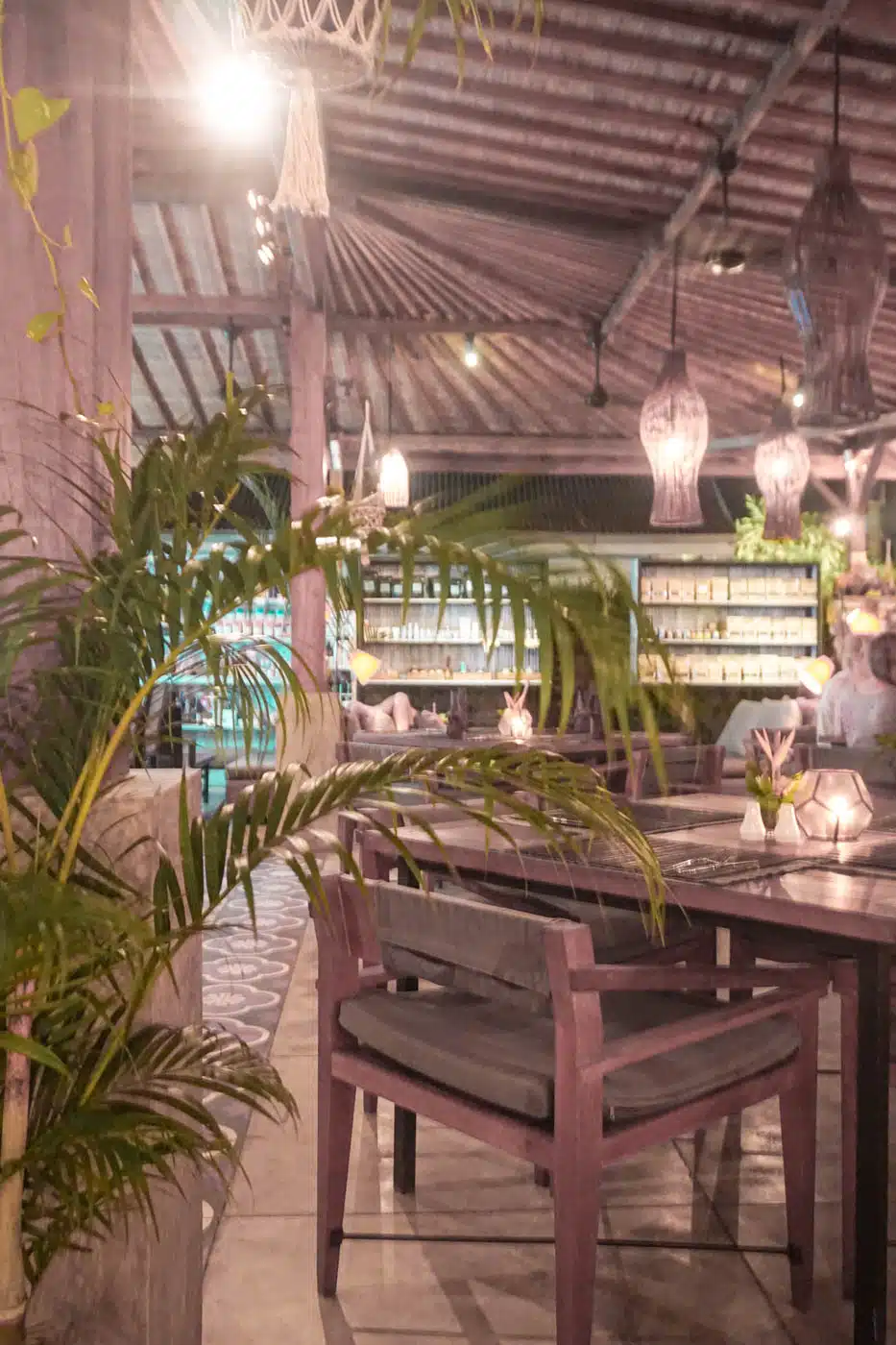 There's more to Canggu than just restaurants though. Surfers and yogis will find plenty to entertain them. The area is one of Bali's (many) surfing hotspots, with waves suited to just about every level.
Yoga-wise Ubud might be more established as a yoga destination, thanks to studios like the Yoga Barn and retreats like Blooming Lotus (my good friend Nora actually wrote about her time at Blooming Lotus for The Discoveries Of here) but Canggu is hot on its heels. Places like The Practice and Serenity are highly rated and recommended.
Not into surfing or yoga (yeah, me neither). There are still plenty of beach / bars / shopping / workshops / temples to keep you occupied. Fret not.
Canggu has also built a reputation as one of Bali's biggest digital nomad hotspots (the other being Ubud, towards the centre of the island).
Canggu's biggest co-working space, Dojo Bali, sits at the heart of the scene, putting on an interesting roster of events and workshops for its members. See my tips for digital nomads towards the end of this article.
Learn How to Surf in One of Canggu's Many Surf Spots
Canggu is a great surfing spot. If you're a complete beginner, there are lots of surf schools to help you master the basics (or get even better if you are already a nifty surfer). Once you've got the skills, you can hire a board and head straight out into the sea.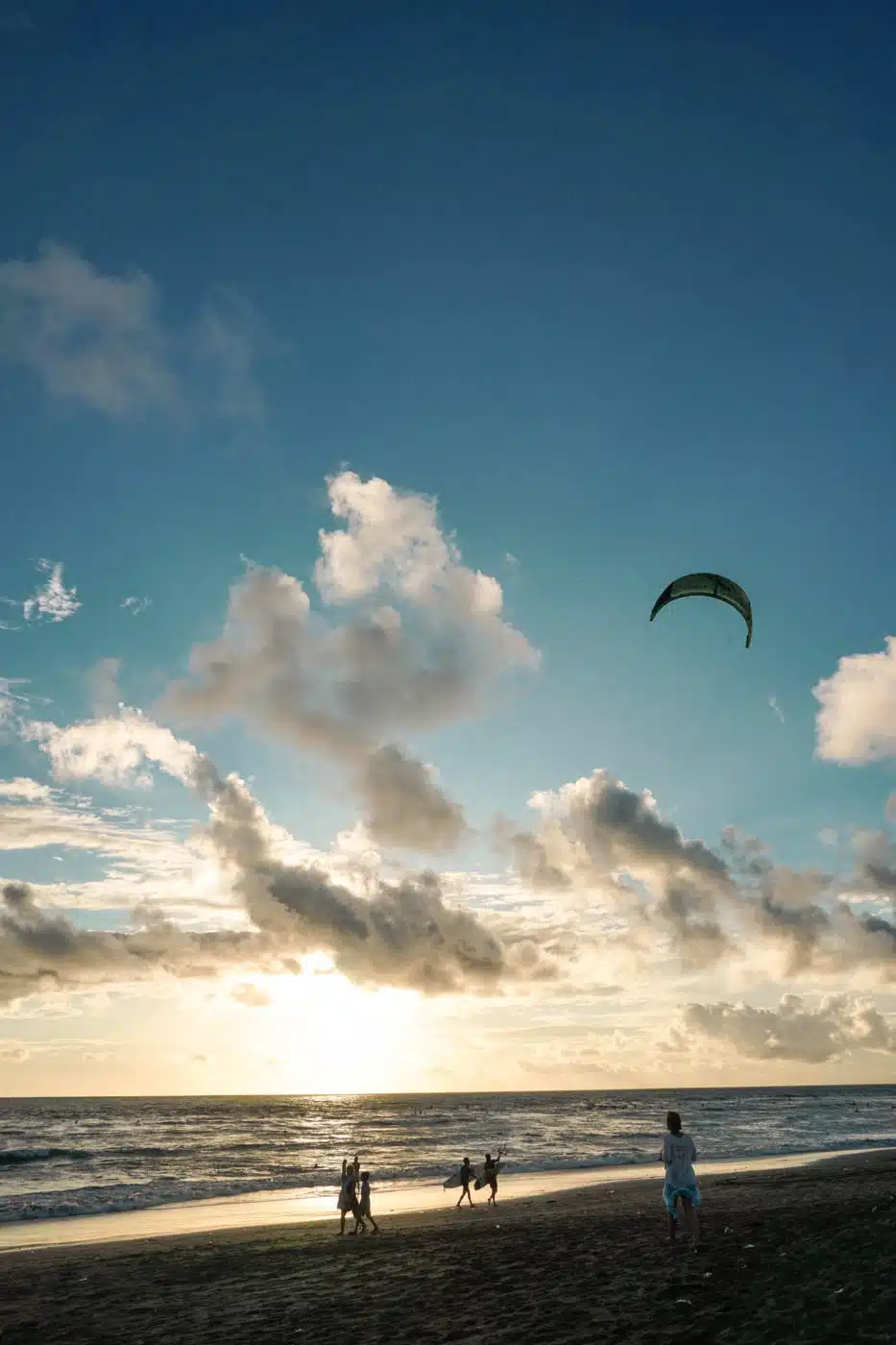 In truth, I really don't like surfing. I've tried a few times and just don't get it. I don't have the speed or the coordination to really get to grips with it. But you never know until you give something a go.
Or try to give it a go and end up falling off your scooter into the mud, losing your friend's Go Pro and suck at surfing so much that you can't even stay on the board.
I know the scooter isn't related but in my head it was all part of the big surf doomsday experiment that I'm more than happy to never repeat ever again. Don't let that put you off though. Lol.
Book your surfing lesson in Canggu.
Spend a Day at one of Canggu's Beach Clubs
Now here's something I'm a little better at. Finn's Beach Club is the perfect place to bed in for the day.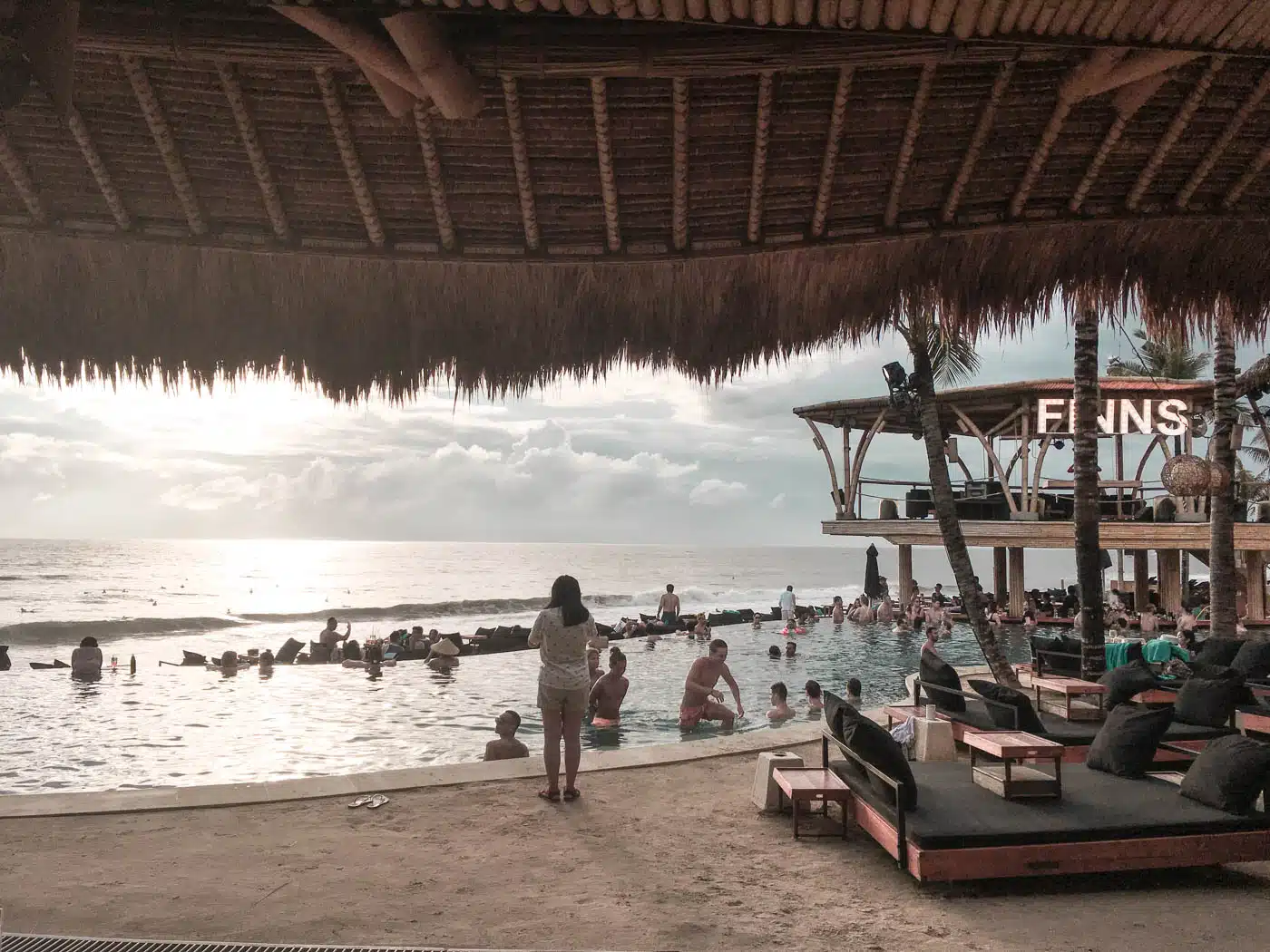 I worked out a little routine for my days at Finn's. 30 mins sunbathing, 30 minutes splashing in the pool, 30 mins to dry off, followed by a fresh coconut to quench the raging thirst I'd built up from all the strenuous activity above.
Rinse and repeat, replacing the coconut with cocktails when the time and your conscience permits.
Cheers to that.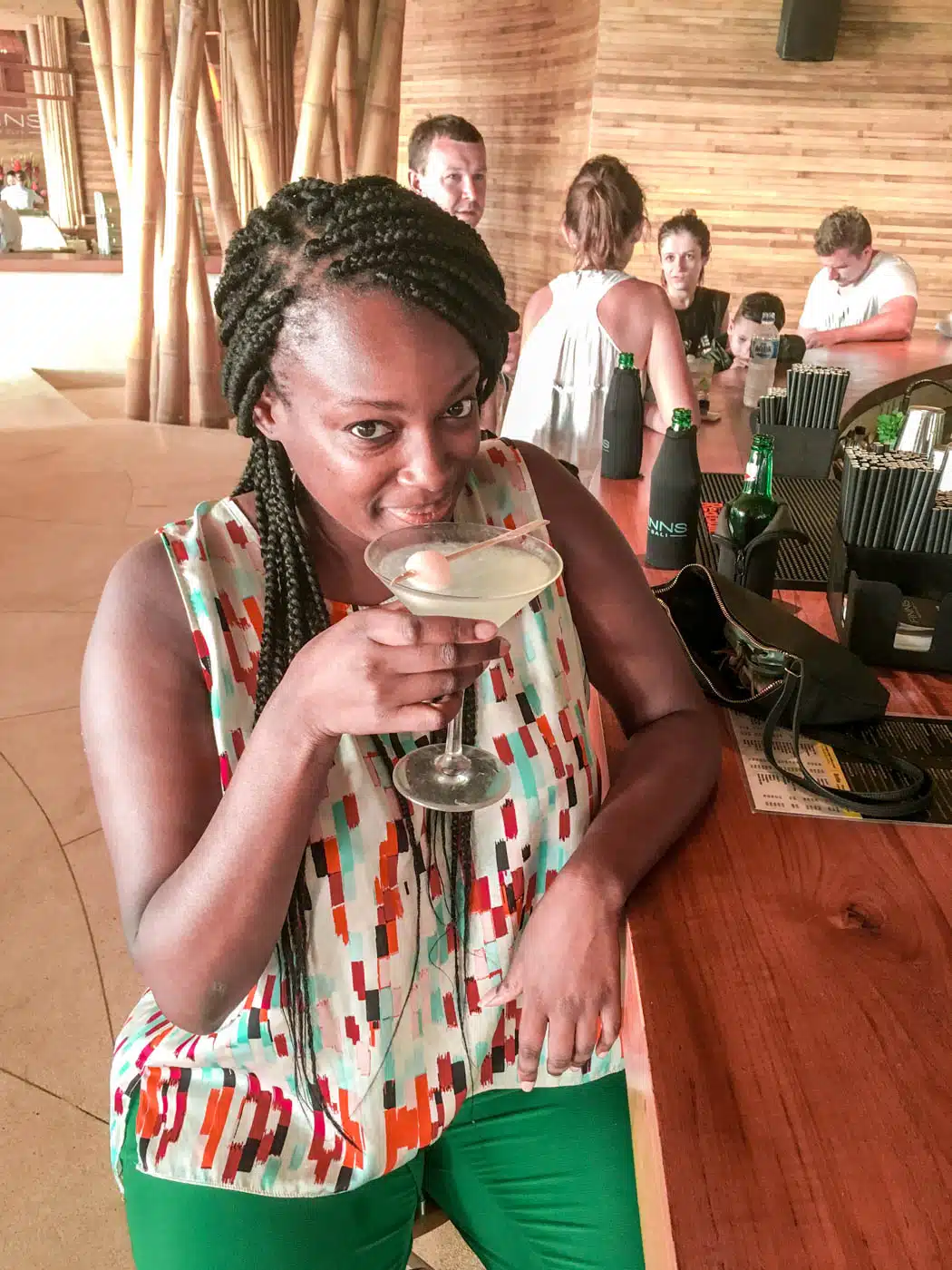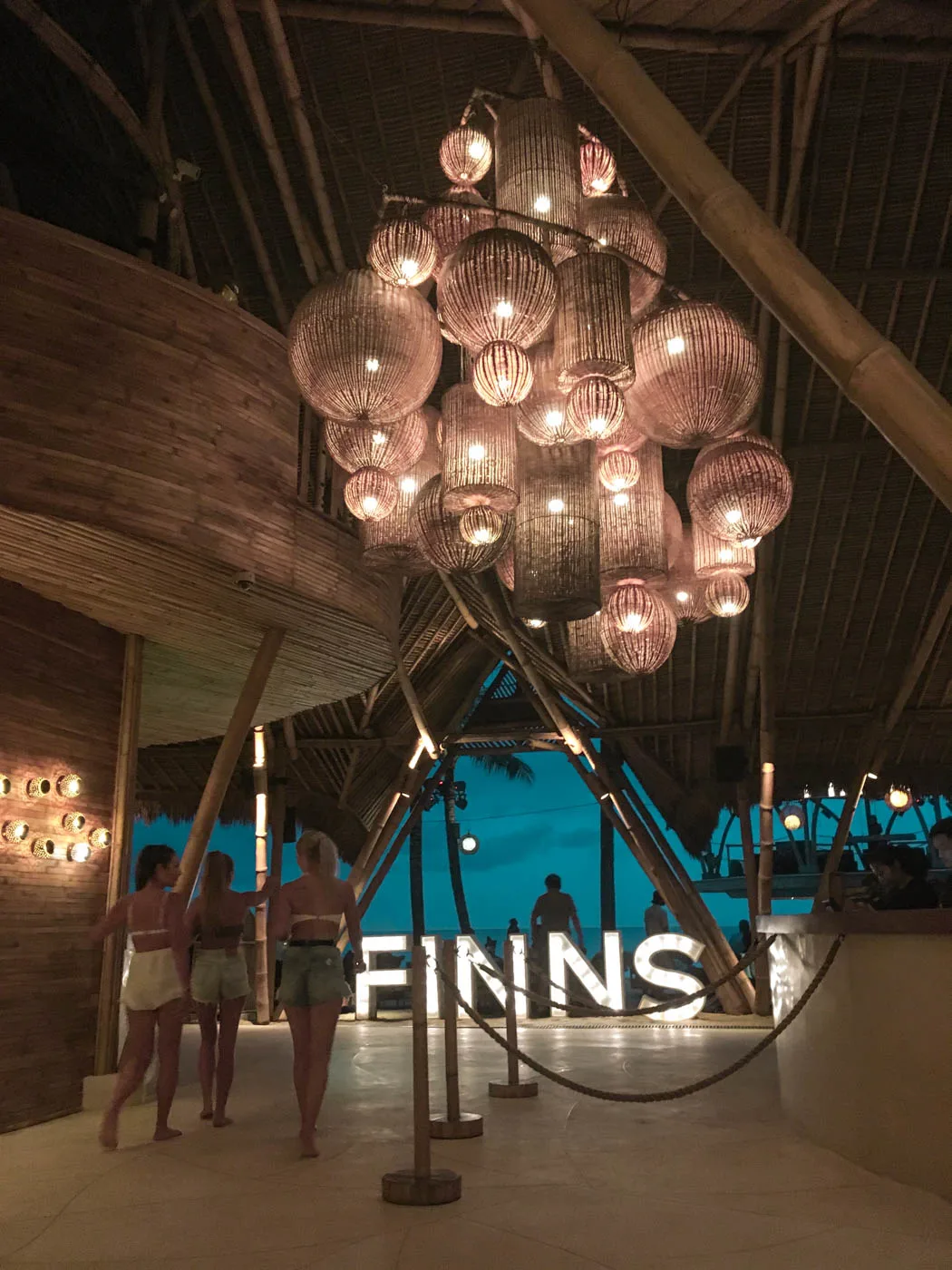 Enjoy a Meal or a Drink with Canggu's Rice Paddy Views
Few things feel more "Bali" than having a meal surrounded by rice paddies. Canggu might not have paddies to compete with famous Balinese rice paddies like Tegalalang and Jatiluwih, but there are still a few spots where you can get in on the action.
My favourite is Nook Restaurant (it's a little way out of town on the Batu Belig side of Canggu), which serves up a menu of Indonesian meets Western cuisine.
Work on Your Tan On Batu Bolong, Berawa or Echo Beach
Canggu's beaches are not the prettiest. There are places in Bali with great beaches (i.e. fine white sand) but Canggu just isn't one of them.
In fact, if you were to pick a colour to describe them, it would be… grey. The colour comes from the volcanic minerals present in the sand.
Still, it doesn't actually make a blind bit of difference when it comes to sunbathing and soaking up the views. I think the grey actually looks pretty striking.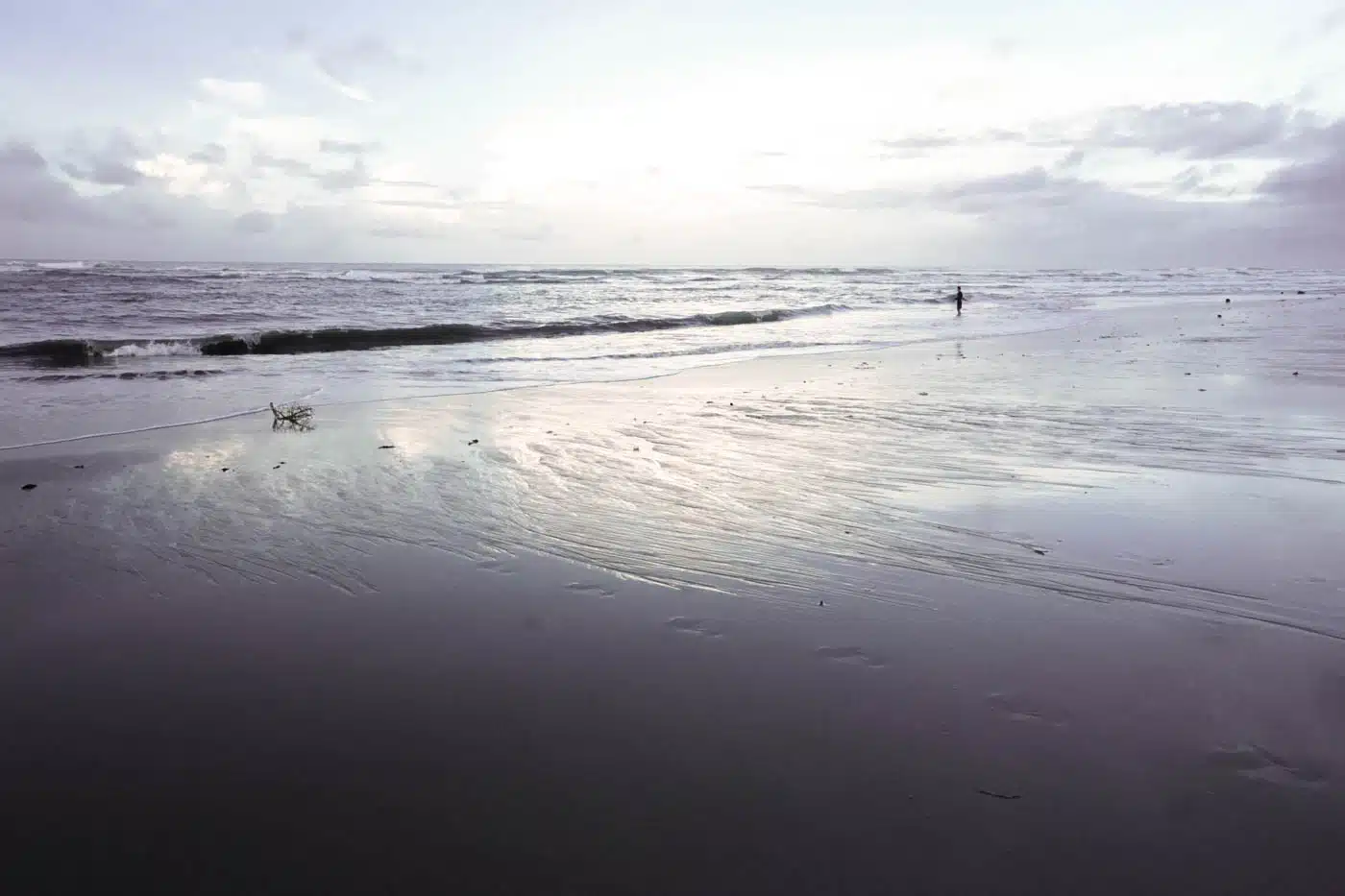 The main beaches in Canggu are Berawa Beach, Batu Belig Beach, Batu Bolong Beach, Echo Beach and Nelayan Beach.
Each has its own vibe. Nelayan is my favourite – there's nothing really there apart from a few fishing huts and calmer water, while Berawa and Echo beaches are more popular with the surfers.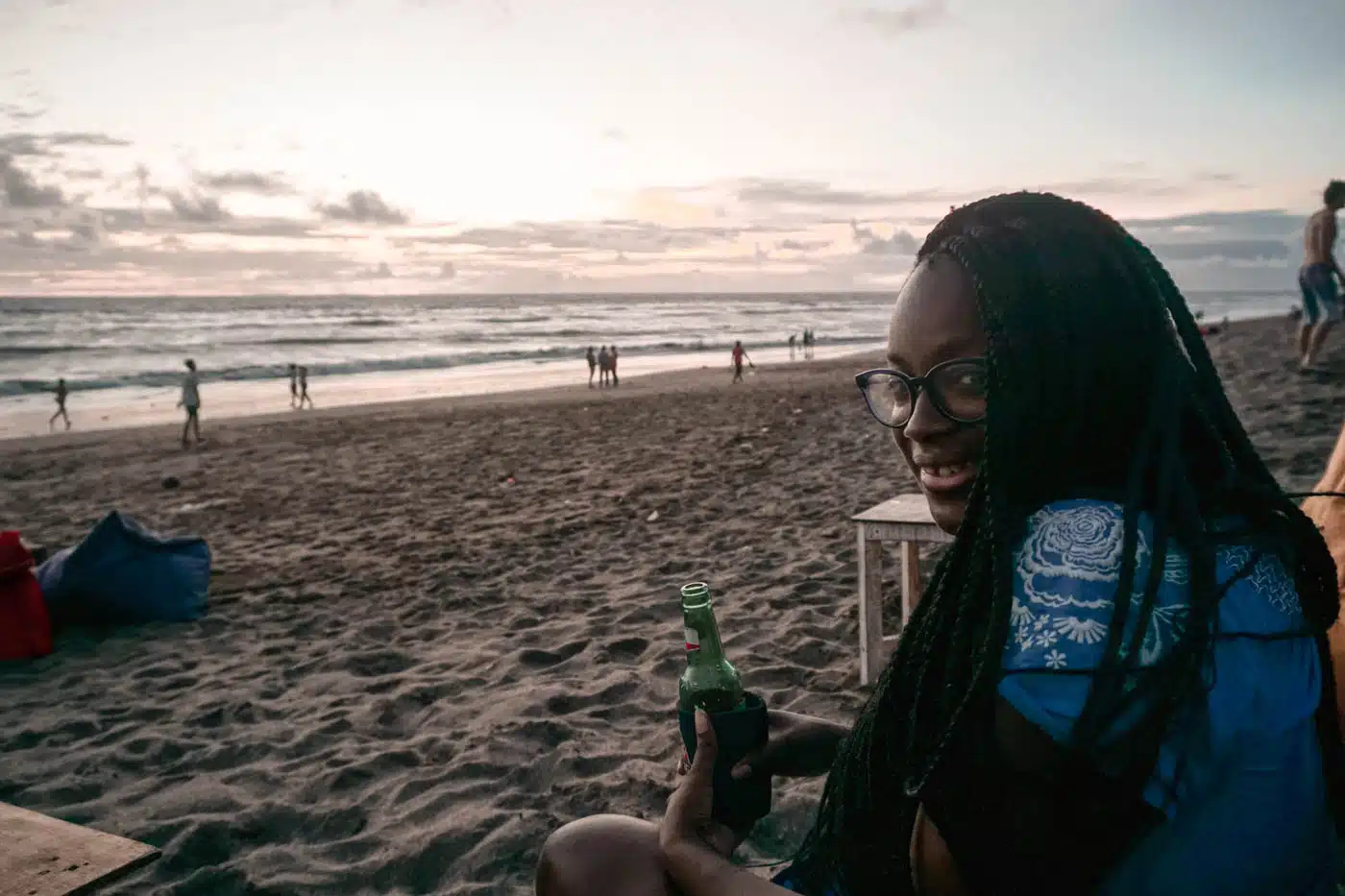 So Canggu's beaches are awesome right? Yes. But. There's always a but.
I have to admit that I was pretty shocked by the amount of litter, most of it plastic, that washed up on Canggu's beaches. It's at its worst during the rainy season and affects lots of Bali's beaches.
There's a lot of discussion going on around the world about how we can reduce and eliminate our reliance on single-use plastics. But it really drives the point home when you are looking at a beautiful beach that's pretty much covered in litter.
This is not just a Canggu problem, it's not just a Balinese problem (though there are significant problems with waste management on the island), it's a worldwide problem.
I'm not criticising the Canggu community. They host a number of beach cleanup initiatives, are focused on implementing eco-friendly non-plastic alternatives and educating about rubbish disposal.
The sad truth is there is a lot of litter on the beaches and it doesn't show any sign of going away.
Hang Out By The Pool
There are swimming pools everywhere you look in Canggu. Aside from the beach clubs, pretty much every villa, hotel or hostel comes with one, not to mention a few of the bars too.
Many's the day when I started the day with a body pump class at Finn's Recreation Club then simply could not hold out against the lure of the pool when really, I should have been sitting down to write something like… this article (whoops).
Learn a New Skill at one of Canggu's Workshops
Local company Learn With Locals, run by the uber-cool Ulla Risager has created a programme of unique experiences for you to try during your Balinese trip.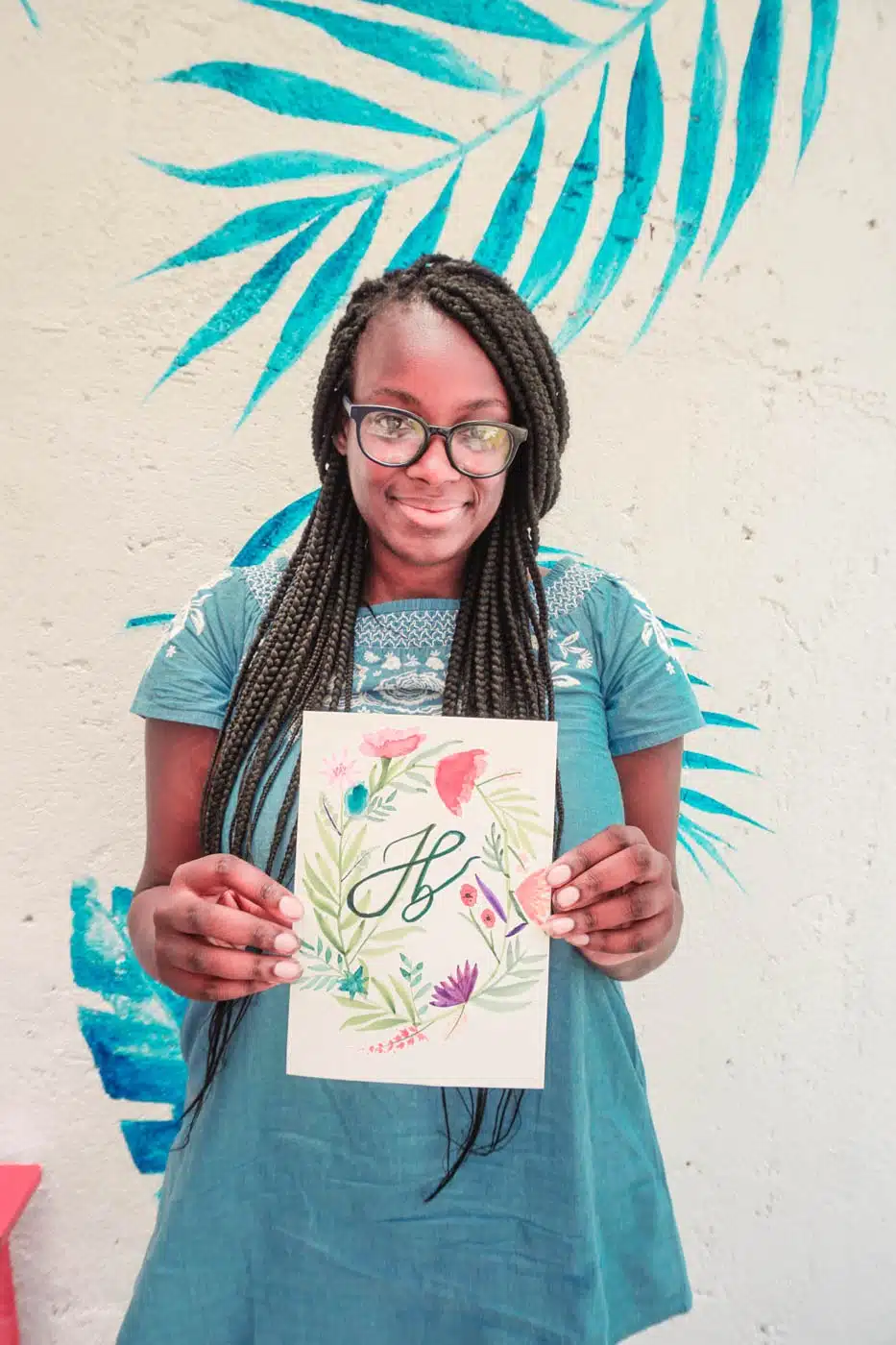 Take your pick from their diverse range of workshops, which span from watercolour illustration, to hand-making your own bra.
Each class is taught by a local and offers a unique insight into the wealth of talented craftspeople and artists on the island. I wish I'd been around for the bra session – it's top of my list for the next time I head to Canggu.
Instead, I opted for the watercolour illustration class taught by NHissy Illustration and (to no-one's surprise greater than my own), came home with new skills and a piece I was actually proud of.
Visit the Sacred Tanah Lot Temple, Just Outside of Canggu
A holy temple, perched on a small island just off the coast, amid the roar of crashing waves and black-sand beaches. Tanah Lot is one of Bali's most important and holiest sights. Sounds incredible right? It is.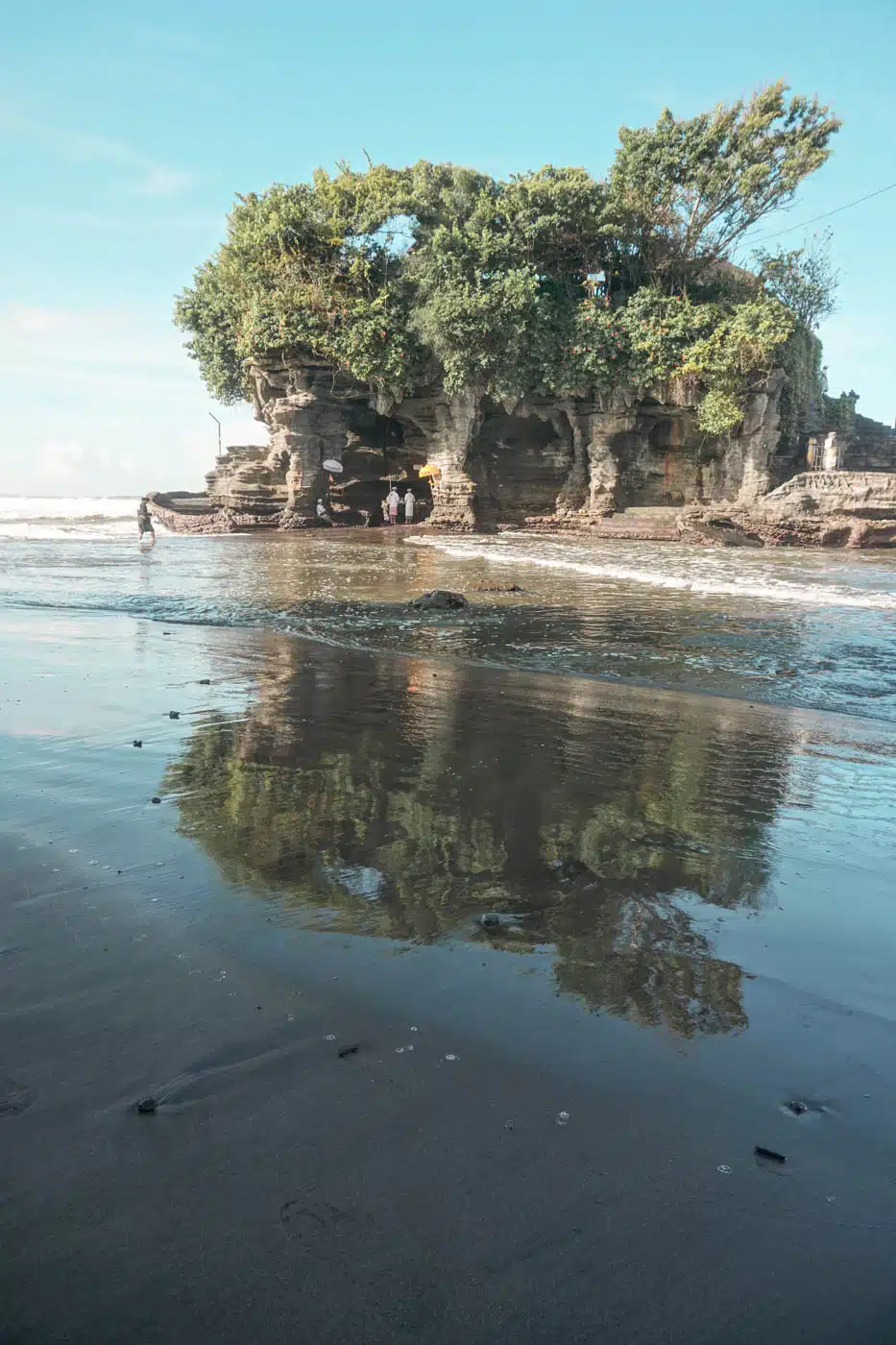 I got to Tanah Lot pretty early in the morning (ahem, at 7.45am) because I'm lame an enthusiastic morning person (and wanted to get some nice shots without lots of people in them).
I would definitely recommend it if you can bear to peel yourself out of bed. Watching the sunset is absolutely glorious here, but heaving.
Whenever you go, don't forget to pop under the cliffs to see the Holy Snake.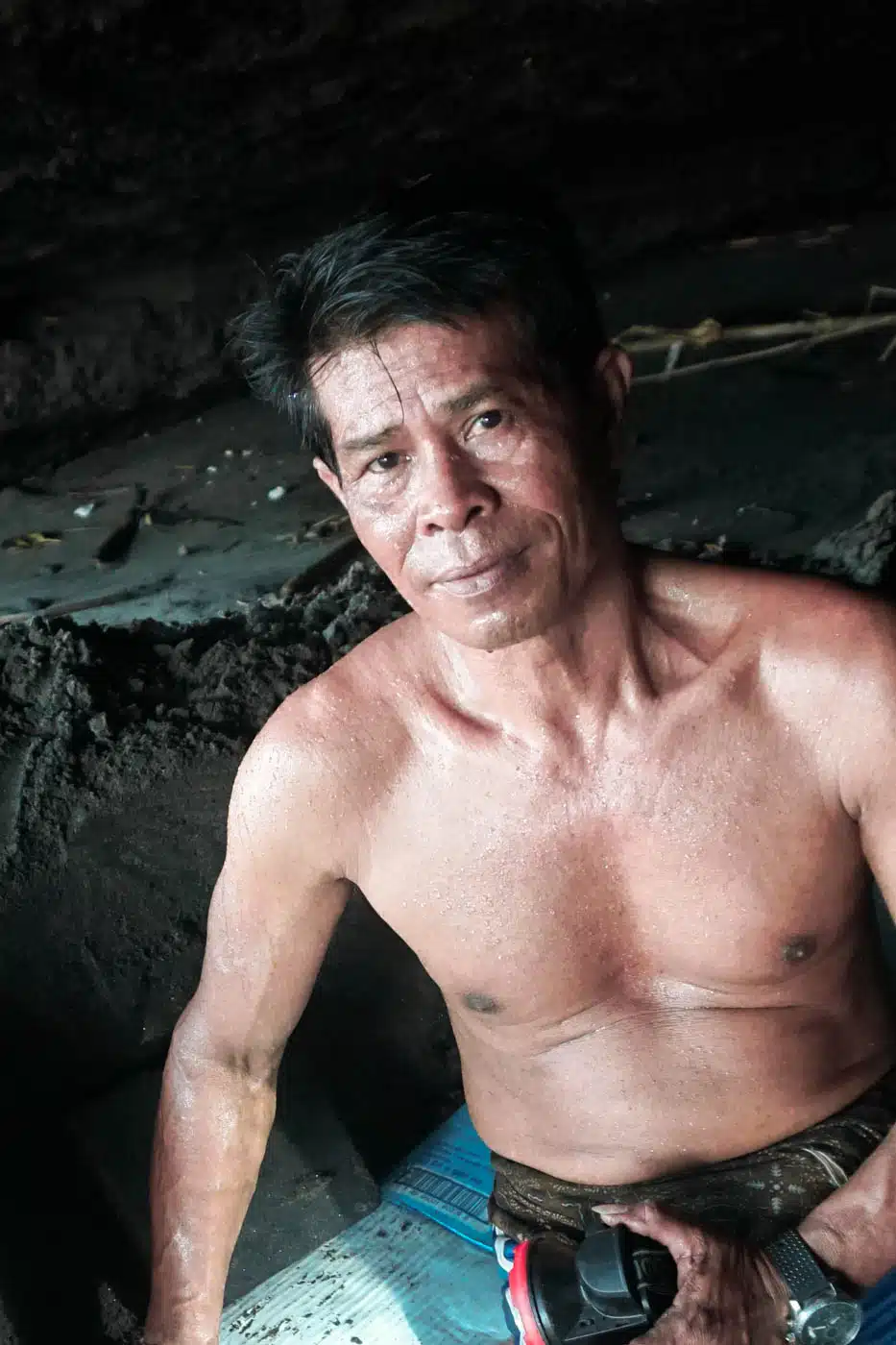 Tanah Lot isn't in Canggu itself, it's only a 5-10 minute drive or scooter ride away.
Take A Class or Retreat in one of Canggu's Yoga Studios
I'm not really into yoga, so I'm not the best person to tell you about the quality of the yoga studios in Canggu. They must be doing something right though, as it's really establishing itself on the international yoga scene.
The Practice and Serenity are frequently listed as some of the best places for yoga in Canggu. Serenity also has a delicious vegan restaurant – the food is scrummy.
Have a Massage
The stresses and strains of being on holiday can be overwhelming. Don't worry, it's really cheap to get massages in Canggu so you can indulge in one as often as you need in order to restore your equilibrium.
I might be being slightly tongue-in-cheek but that's not to say that you shouldn't 100% get as many massages as possible while you're in town. My picks are Goldust Bali (where you can also have a 24-carat gold facial) and Sofia Spa.
Don't Miss These Awesome Day Trips from Canggu
Powered by GetYourGuide.Become a partner.
Best Places to Eat, Drink and Party in Canggu
Betelnut Cafe
Authentic and delicious Indonesian food in a gorgeous setting, Betelnut Cafe is a great spot for a filling and well-priced evening meal.
In The Raw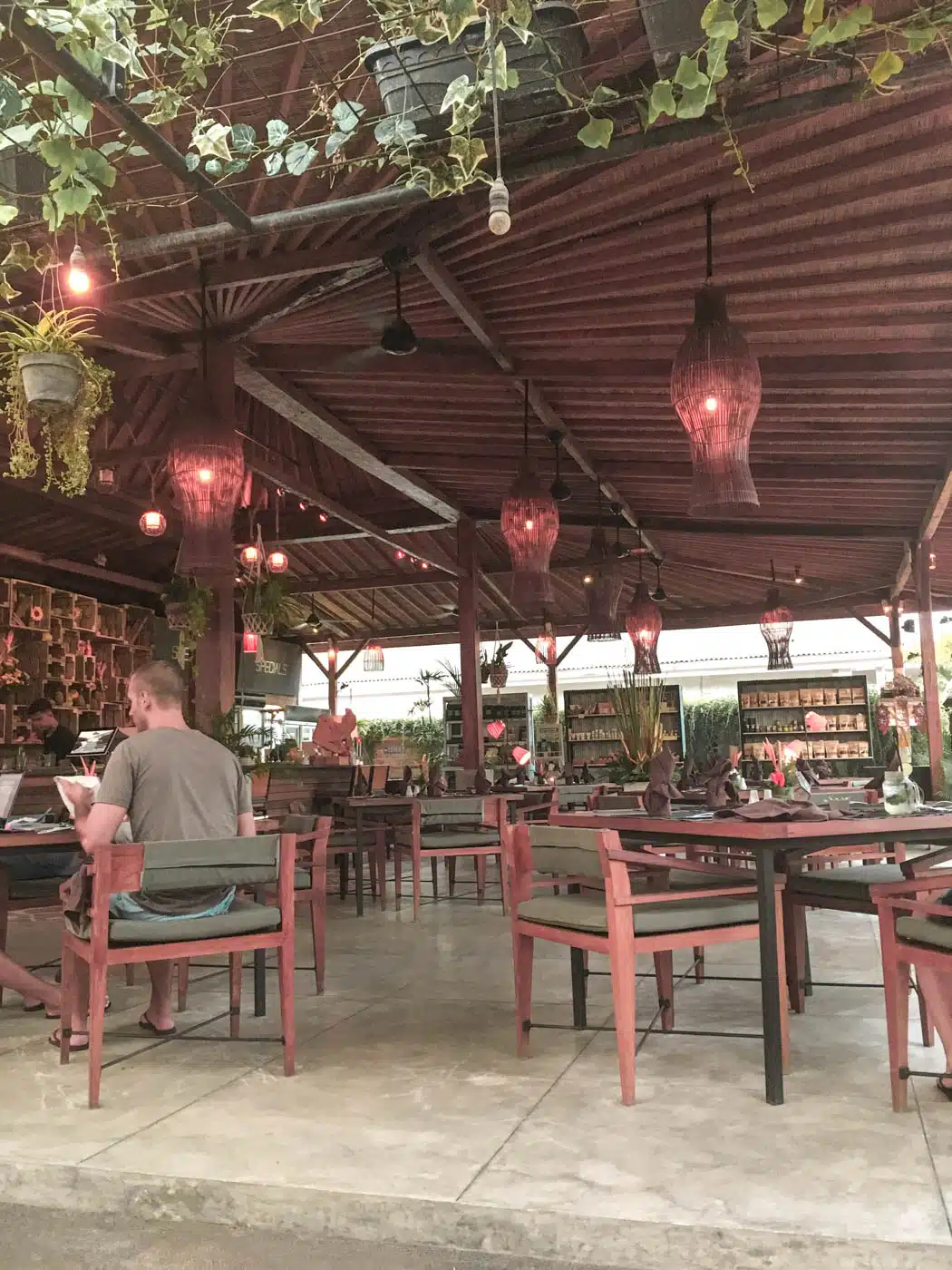 A gorgeous open-air cocktail bar, restaurant and health food shop with the friendliest staff in Canggu. I tried breakfast, lunch and dinner at In the Raw – all were superb. Highly recommended.
Sundowners at The Lawn
The Lawn Canggu is a laid-back, relatively upmarket beach-front bar with beanbags and cushions scattered over an artificial lawn right in front of Batu Balong Beach.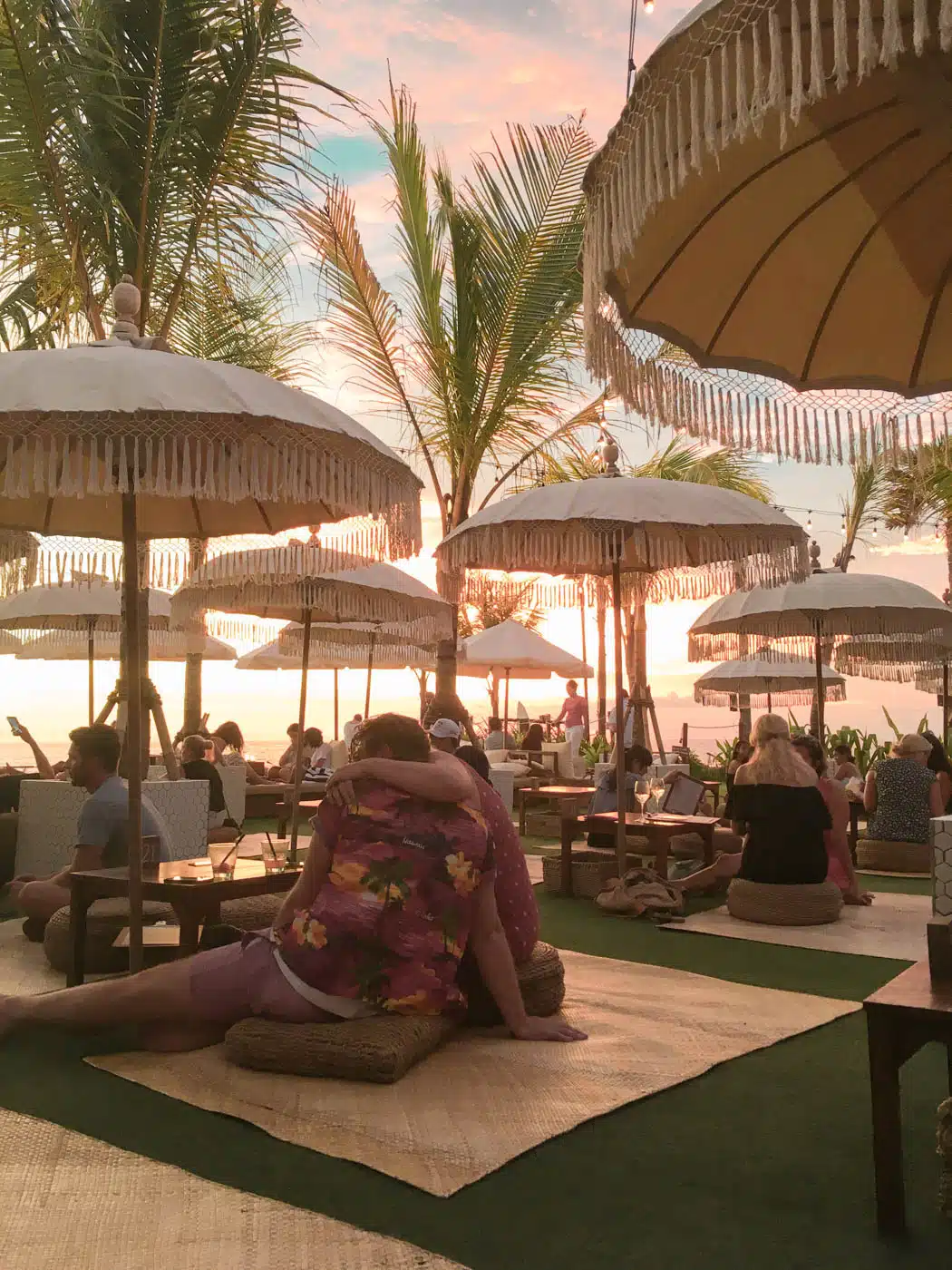 Grab a cocktail (trust me, they're good) and settle down on time for sunset. If you time your visit right, you can also catch some live music while you are at it.
Brunch at Milk & Madu
I've lost count of the number of breakfasts and brunches I had at Milk & Madu.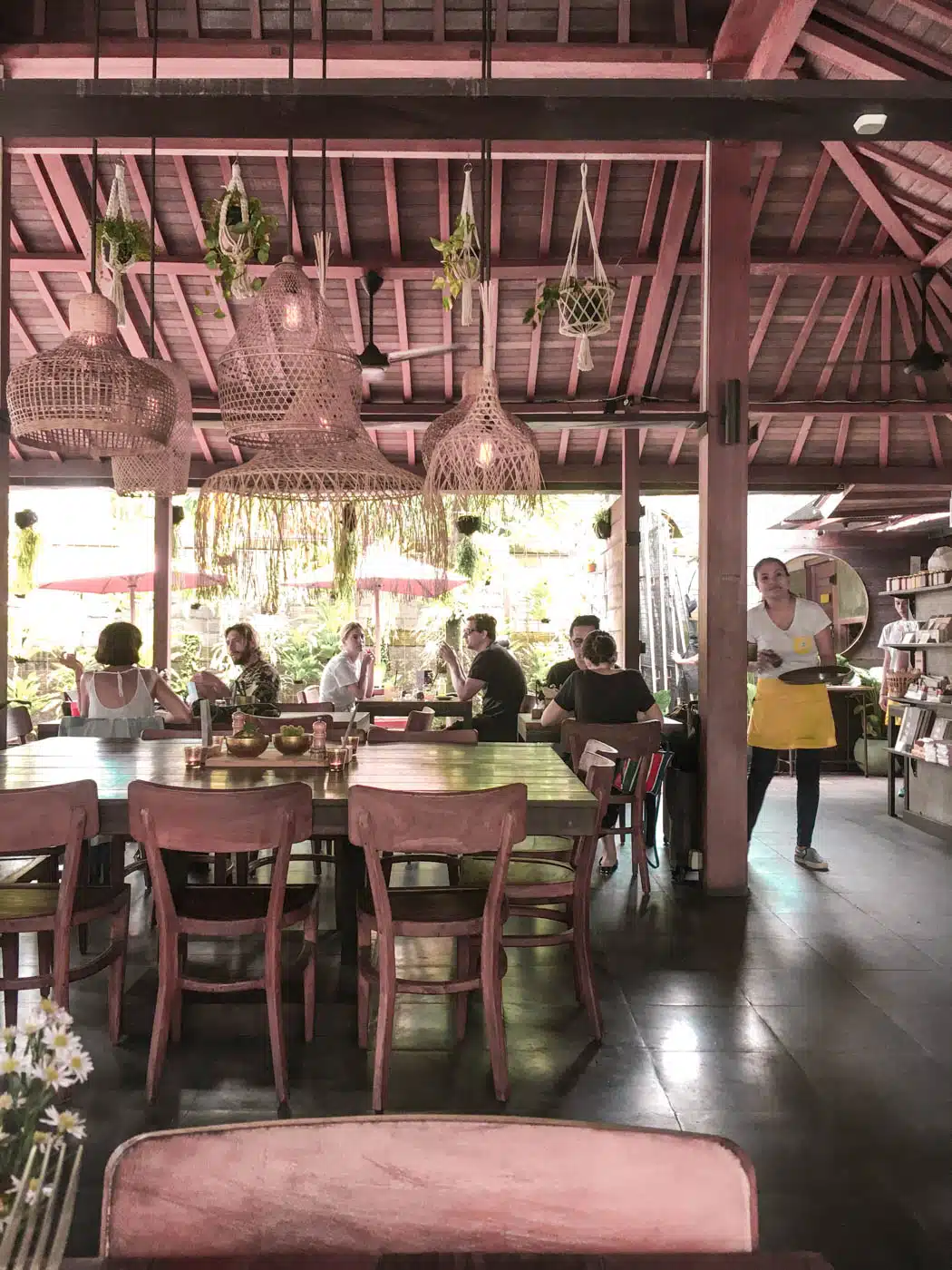 I love it – the food is wonderful – bursting with fresh ingredients and flavours. That's all very nice but equally, if not more important, the coffee is excellent.
Dinner at Warung Dandelion
In between all of the poke bowls and lychee martinis, Canggu can sometimes feel a little lacking in Indonesian food and culture. In steps Warung Dandelion, which serves delicious and authentic Balinese dishes in a beautiful setting just behind some of Canggu's rice paddies.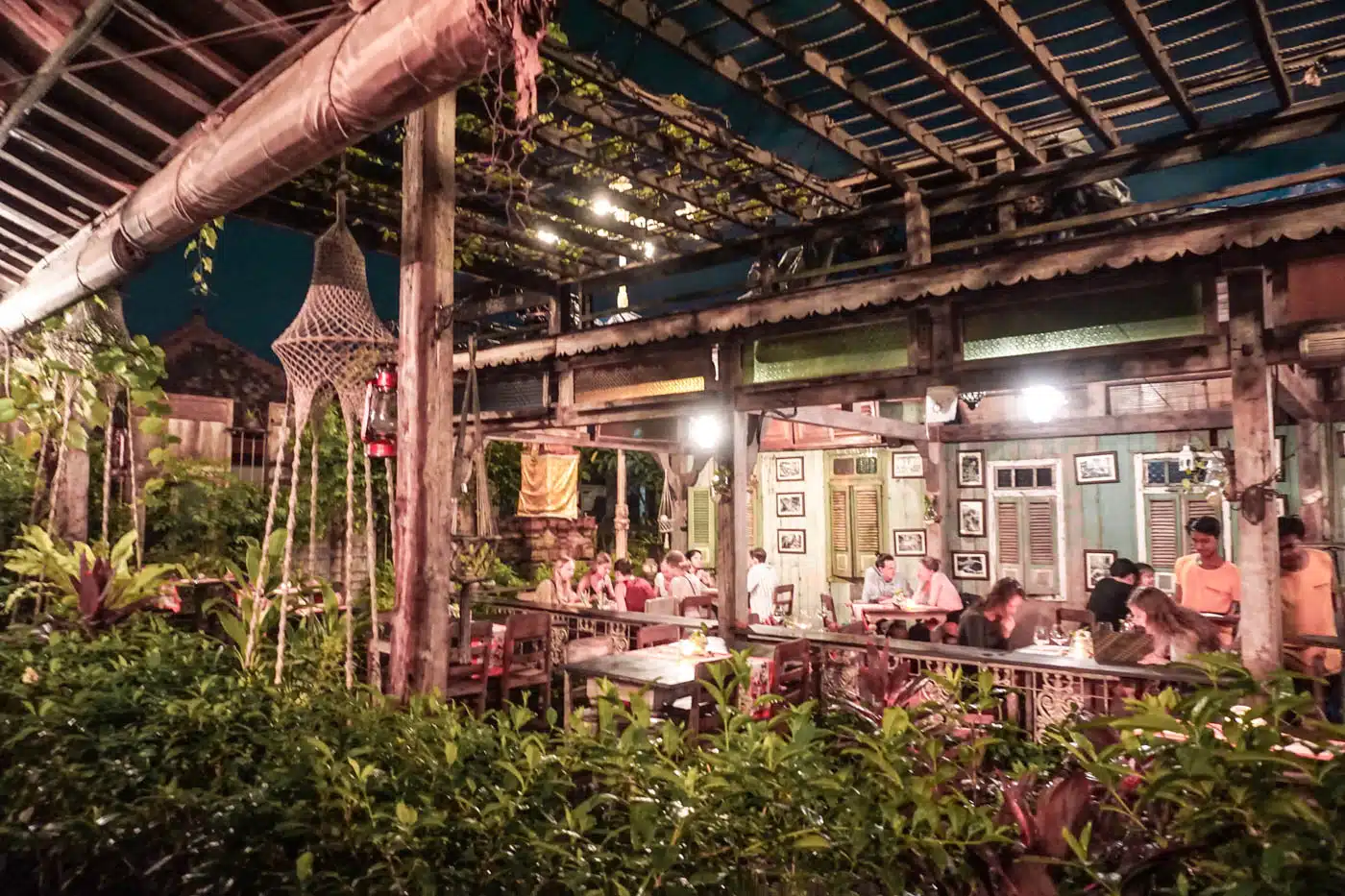 The word dreamy is overused, but how else would you describe somewhere with hanging lanterns, aged antiques and bunny rabbits hopping about inside?
Old Man's
One of Canggu's liveliest nighttime spots. Old Man's also serve the best margaritas in town (this is a certified fact. I tested a large number of Margaritas during my stay) and have a banging hip-hop / rap/ rnb classics night on Wednesday that went straight to this London gal's heart.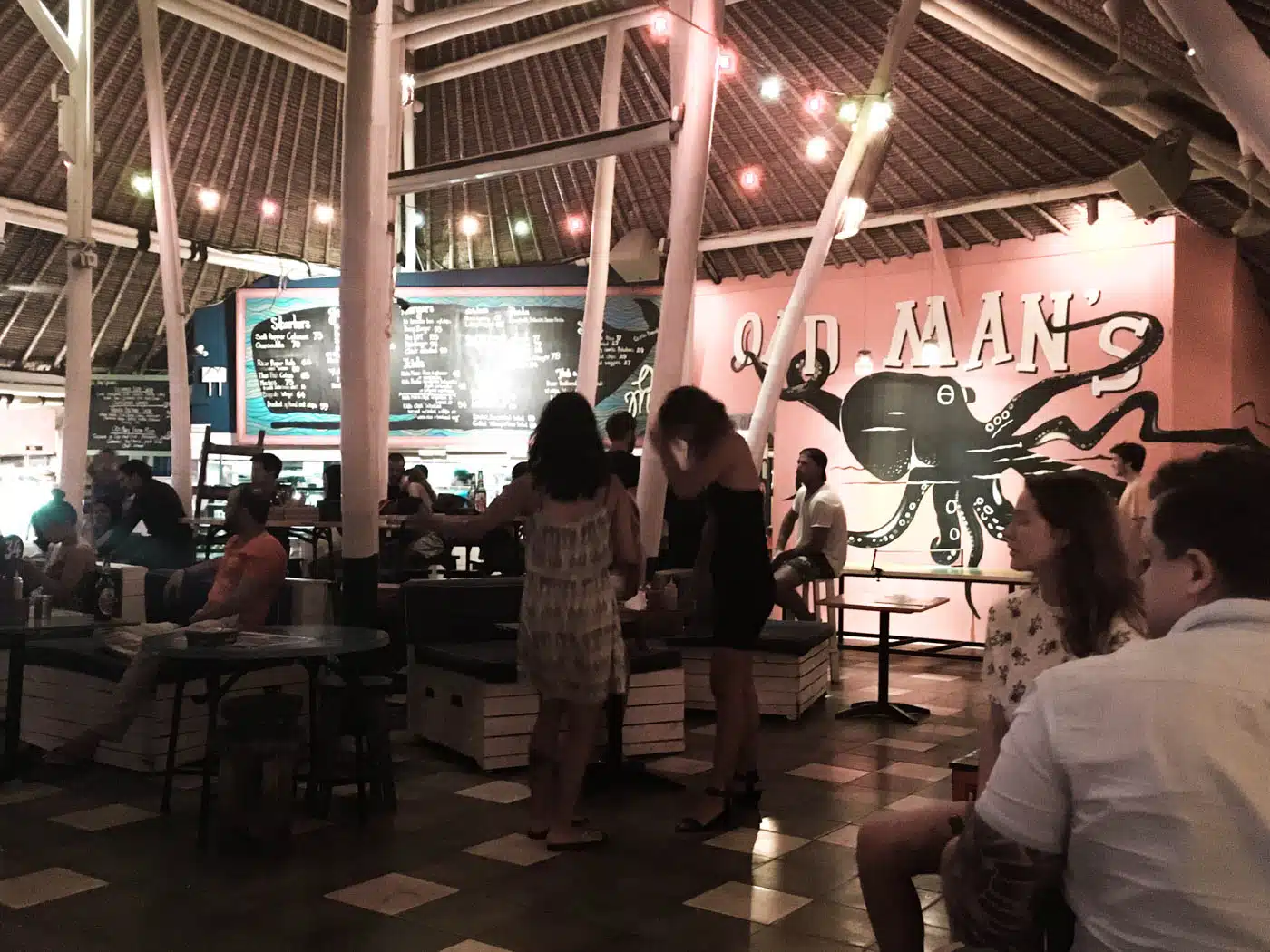 Going into Old Man's is like entering into a rabbit hole – one night I bumped into an old colleague I worked with years ago, every night I made a new Bali bestie, you've got to give it a try.
Watercress
Watercress Bali is over on the Batu Belig side of Canggu towards Seminyak.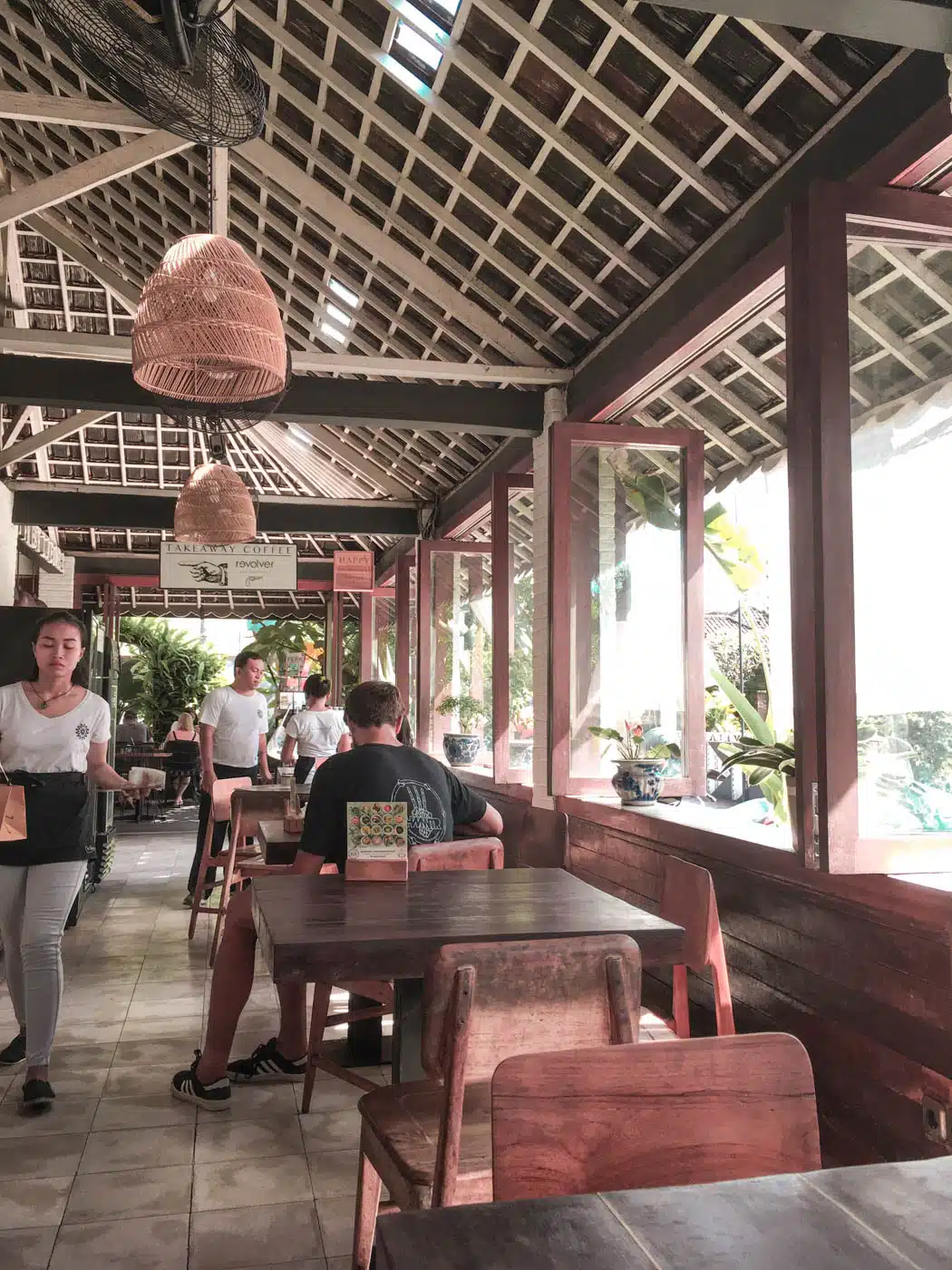 It's Milk & Madu's older sister – so it shouldn't come as a surprise that it serves delicious breakfasts and nice coffees. Win win.
Crate Cafe
Crate Cafe is one of Canggu's classic brunch spots. Book a table or get there early, Crate is pretty much always heaving (but so worth it).
Pretty Poison
Another big night spot with a grungier edge just off the "shortcut" through the rice paddies. Expect live music, art exhibitions and a large skateboard bowl. It's a curious combination, but it works well.
Things to do in Canggu: Practical Information
What to Pack for Canggu
The Look: Canggu's aesthetic is all about surfer dude/chick meets boho chic. So pretty much anything goes. Cover up for temple visits.
Swimwear. First up, you're going to want swimwear. A lot of it. There's a pool in pretty much every bed and breakfast, airbnb, villa, hotel and hostel, not to mention some bars (and even in the Dojo coworking space). They're just too tempting to resist.
While we're on the subject. No speedos, because you know, people quite like having their retinas intact.
Sunglasses. Sunglasses that make you look so cool that you start wondering if you should become one of those awful people who wear them all the time to look cool. Can't go wrong with some aviators.
Insect Repellent. With DEET. Industrial strength preferable.
Sunscreen / suncream. For the first time ever I splashed out on some Clarins sunscreen and it was heavenly. It made me smell like tropical fruit and stopped me from burning. As someone who used to buy their suncream from Poundland, you can tell I'm getting pretty fancy now I'm in my thirties.
Reusable Water Bottle. Help quell the tide of plastic. Bring a reusable water bottle – you can fill it up in most cafes, hotels, bars and restaurants. You might also want to bring a Steripen if you're planning on venturing somewhere more off the beaten track. You won't have any issues filling up your bottle in Canggu though.
Sandals or flip-flops.I love my Birkenstocks but they're a bit annoying if they get wet. You should wear closed-toe shoes with a reasonable sole if you're on a scooter. I'll also caveat that by saying that no one really does. Read my women's travel sandal guide for some suggestions.
Sarong/ Cover Up. I kept one in my bag pretty much all the time – they're handy for covering up during temple visits as well as lounging on at the beach.
A good camera or drone (make sure you know how to fly the damned thing though).
All the usual travel clothes and other bumpf. Lightweight towel, travel toothbrush, portable charger, you have done this before. You know the drill.
Oh and diarrhoea tablets. They don't call it Bali belly for nothing. Lots of people swear by activated charcoal. I went for something much more dramatic sounding called ENTRO STOP (their capitals, not mine). It most certainly did stop things in their tracks.
Things to do in Canggu At A Glance: 1 Day, 3 Day and 1 Week Canggu Itineraries
1 Day in Canggu
If you only have one day in Canggu then you have two options.
Number one is say screw it, head to Finn's Beach Club or The Lawn (both are pretty dapper beach spots) wielding a card and wearing a bikini to settle in for some chill time, punctuated by frequent cocktail breaks and beach dips.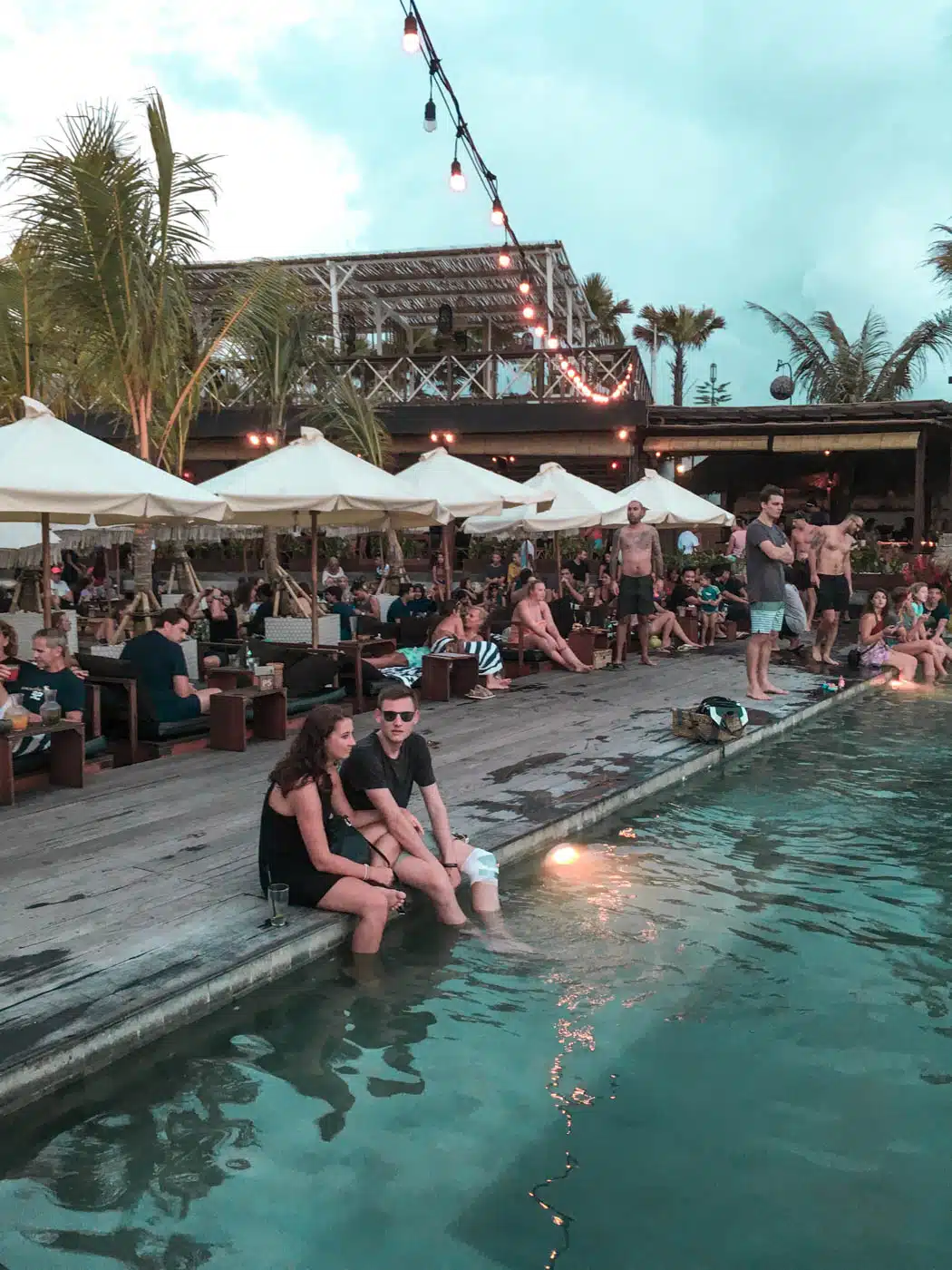 Option two has you put your helmet on, hop on a scooter and head to Tanah Lot early in the morning. Back in Canggu, test your skills with a surf or yoga lesson before reviving yourself with brunch at Milk & Madu.
Spend some time hanging on the beach or at Finn's Beach Club, go for dinner at Warung Dandelion and follow it up with drinks at Old Man's and/ or Pretty Poison.
Three Days in Canggu Itinerary
With three days, you can take a much more relaxed attitude towards things.
I'd follow the one day itinerary, but add in a massage and a few more meals (obvs). So your three days in Canggu would look a little something like this.
Day 1 – Breakfast or brunch at Milk & Madu, rest of the day at Finn's Beach Club – stay for sundowners too. Dinner at One-Eyed Jack's a sushi-Balinese fusion restaurant (it works surprisingly well).
Day 2 – Morning at Tanah Lot. Lunch at Motion Cafe. Go shopping on Pantai Batu Bolong. Sundowners and dinner at The Lawn before moving on to Old Man's for drinks and dancing.
Day 3 – Surf lesson in the morning. Massage in the afternoon. Lunch, cocktails and dinner at appropriate intervals.
1 Week in Canggu Itinerary
With one week in Canggu, you have more time to explore other places in Bali too. If you're not staying in Ubud during your Bali trip, spend a day there. You can also hop over to Seminyak, which has a completely different (and more ostentatiously upmarket) vibe than Canggu.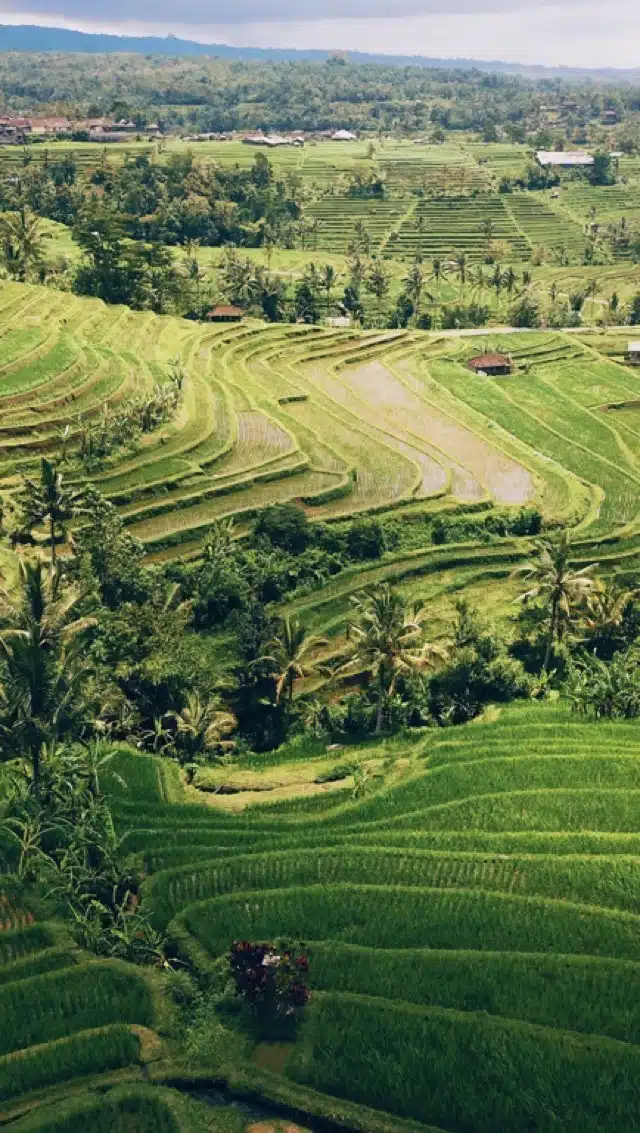 The Jatiluwih Rice Terraces were one of my favourite spots in Bali – set aside a whole day to hike on the trails that wind their way through them.
Looking for more inspiration? I've written a step-by-step itinerary for two weeks in Bali. Check it out.
Where to Stay in Canggu
The Slow – The Best Luxury Hotel in Canggu
££
When Conde Nast Traveller picks a hotel as the coolest in town, you'd better pay attention.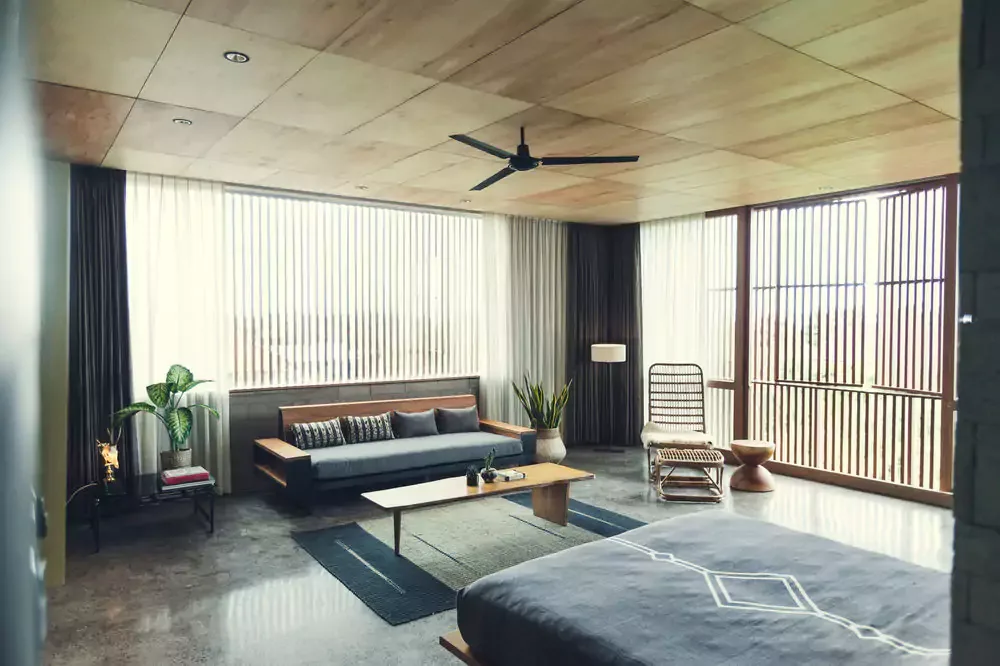 High-end boutique hotel The Slow is all about contemporary luxe – with an extensive art collection on display throughout the hotel and lots of natural materials, polished concrete and tropical plants to complete the look.
Check prices and availability.
The Chillhouse, Bali – The Best Accommodation in Canggu for Something a Little Different
£
Less a traditional hotel and more a surf, bike and yoga retreat, The Chillhouse is a good option for those who are looking for a cool place to stay without having to drop too much dollar or sacrifice their comfort. Its retreat-style also means that you can arrange to take yoga classes, go on bike tours and take surfing lessons through The Chillhouse, so it's a great one-stop shop for those planning on visiting Canggu without the hassle of organising every detail of the trip.
Wiras Village, Bali – The Best Value B&B in Canggu
£
Wiras Village is a relatively new kid on the block. More a B&B than a full service hotel, the rooms are spacious, nicely designed, have air conditioning and all round offer excellent value for money. It also boasts the benefit of a quiet location that's minutes away from the beach and a short hop (or scoot) away from Canggu's livelier spots around Batu Bolong.
Wiras Village's close proximity to the beach means it's also a good choice for those wondering where to stay in Bali for surfing but are still keen to stay somewhere nice for the duration of their trip.
Or Hire an Airbnb Villa if You are Travelling with Friends
Canggu is full of stylish villas with open kitchens and private pools – but they can be a little expensive if you are travelling on your own or in a couple. On the flipside, they are absolutely perfect for groups of friends.
Browse Airbnbs in Canggu now.
Things to do in Canggu for Digital Nomads
Canggu is one of Bali's two digital nomad hotspots (the other is Ubud). You can see the appeal – lots of cafes with good coffee and reasonable wifi, a great coworking space and a cool crowd of like-minded people doing all kinds of awesome things.
There are lots of detailed guides about living as a digital nomad in Canggu, but here are a few pointers.
Coworking in Canggu
The main coworking space is Dojo. I worked here quite a bit during my time in Canggu and really liked it. They host a range of events, from ones that are so informative you come away buzzing with new ideas and skills, to social barbecues and dinners.
It's a great place to meet people if you are spending some time in Canggu. Prices are a bit steep and it can get quite busy but the internet is superfast and the Dojo team are really friendly and helpful.
Interning in Canggu
The offshoot of Canggu's buzzing digital nomad scene is that there are plenty of internship opportunities if you are looking to expand your skill set whilst working for a startup.
Startmeup, founded by Bali guru Clare Harrison, sets up customised internships in Canggu, along with several other international locations.
Accommodation
As a digital nomad in Canggu, you have lots of options when it comes to accommodation.
You can either stay in a hotel or bed & breakfast, hire a villa or grab a room in a co-living villa. Whichever you choose, don't be afraid to haggle – a lot of hotels and b&bs will drop their prices significantly for longer stays.
Need to Know: Useful information to Help you Plan your Trip
Transport
Canggu is not a walkable town. There are some stretches that are suited for a stroll, but most of it is not. You have two main options, hire a scooter or rely on a combination of scooter-taxis, taxis and drivers.
Being the mega-klutz that I am, I avoided driving my own scooter but I actually regretted it as it made getting around quite difficult and frustrating at times.
Starting off your day with ten drivers cancelling your ride when all you want to do is go to brunch is not the best (#firstworldproblems).
Best Time to Visit Canggu
Like the rest of Bali, Canggu's rainy season starts in October and carries on to April/ May.
It's cheaper to travel during this time, but expect frequent showers and at least a few days where it doesn't stop raining all day. High season is less humid and rainy but is also busier and more expensive.
I travelled to Bali during the rainy season on my last trip – read about my experience.
Getting to Canggu from the Airport
International flights arrive in Ngurah Rai International Airport in Denpasar.
As a guideline, a taxi from Bali international airport to Canggu costs 250,000-300,000 Indonesian rupiah
You can try walking a distance away from the airport and catching a Bluebird (download the app on your phone, be warned, it can be a bit unreliable). This will work out cheaper.
And it's a wrap! I hope that you've found this guide to the best things to do in Canggu useful. Any questions, drop me a message in the comments below or give me a shout on Instagram or Facebook.
Decided Canggu isn't for you and want age-old culture and stunning temples, head somewhere different like Yogyakarta in Java.
Canggu, Bali: Final Thoughts
Any travel experience is as much about mindset as it is about the place (well, apart from the really awful places), so if you're not sure if you will like Canggu, the honest truth is I don't either.
What's certain is that if you are looking for the quiet, low-key haven of times past, you're going to be disappointed.
What was once a dozy village has mushroomed, too quickly for comfort, into something that errs towards a caricature of its former self.
Sure, there's a lot of surfing, yoga and pretty Instagram shots just waiting to happen, but add the aggressive development and commercialisation of its hippy-chic reputation and you're left wondering if it's all gone too far?
That sounds pretty damning doesn't it?
It's not all bad. In fact, it's not bad at all. I just want to write a candid view of the place behind the pictures – because IMHO cool travel spots are about more than the next great Instagram shot. There are things about Bali that no one ever discusses, and that's one of them.
Whichever way you cut it, it's still true that if you're looking for somewhere to spend some time by the gorgeous Indian Ocean, with a few parties, plus plenty of nice coffees, meals and cocktails, then Canggu is a winner.
Love this? Save and share on Pinterest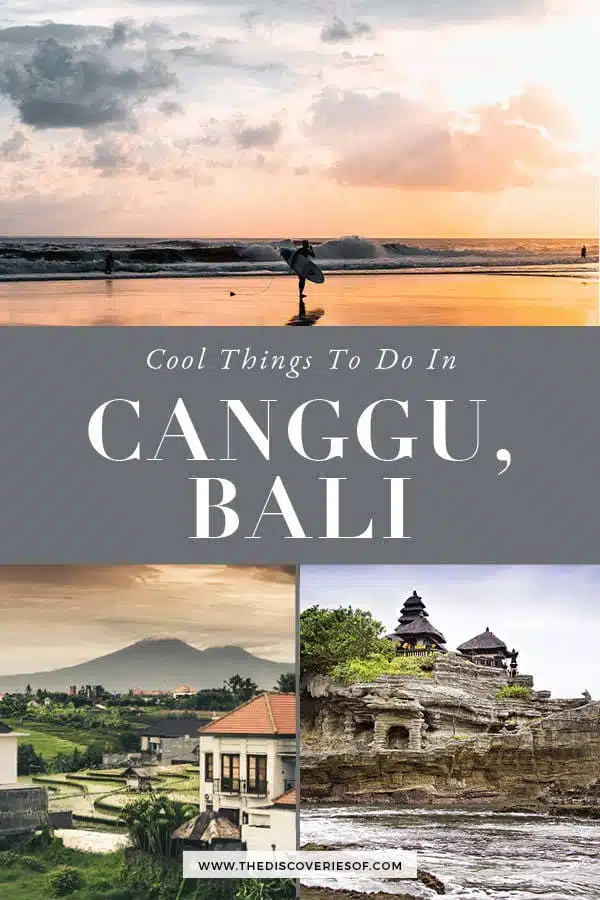 GET YOUR CANGGU TRAVEL GUIDE
A handy and printable PDF packed with tips and insights and suggested itineraries. Plus discounts, tips and articles to help you plan your trip.