Far-flung islands, lush beaches and iconic cultural attractions – there's a lot to love about Indonesia. Not sure where to start? Discover the best things to do in Indonesia that aren't just visiting Bali.
As Southeast Asia's largest country and the fourth most populous nation globally, Indonesia might seem too big for a complete experience. But I promise you, it's not.
By choosing the best places to visit in Indonesia, you can get a holistic taste of the country's fantastic atmosphere, vibe, sights and rich culture in a short period of time.
And it's not all just Bali, I promise. There are over 17,000 islands in Indonesia, each offering something unique. But knowing where all the best locations are means there's no need to fuss about covering it all.
That's where I come in. Read on to discover the unmissable things to do in Indonesia that you shouldn't leave out of your itinerary.
Are you all about that unique boutique hotel experience? You'll love Uma Kalai. One of the best hotels in Ubud.
Top 5 Things to Do in Indonesia
Experience Spiritual Enlightenment at Borobudur Temple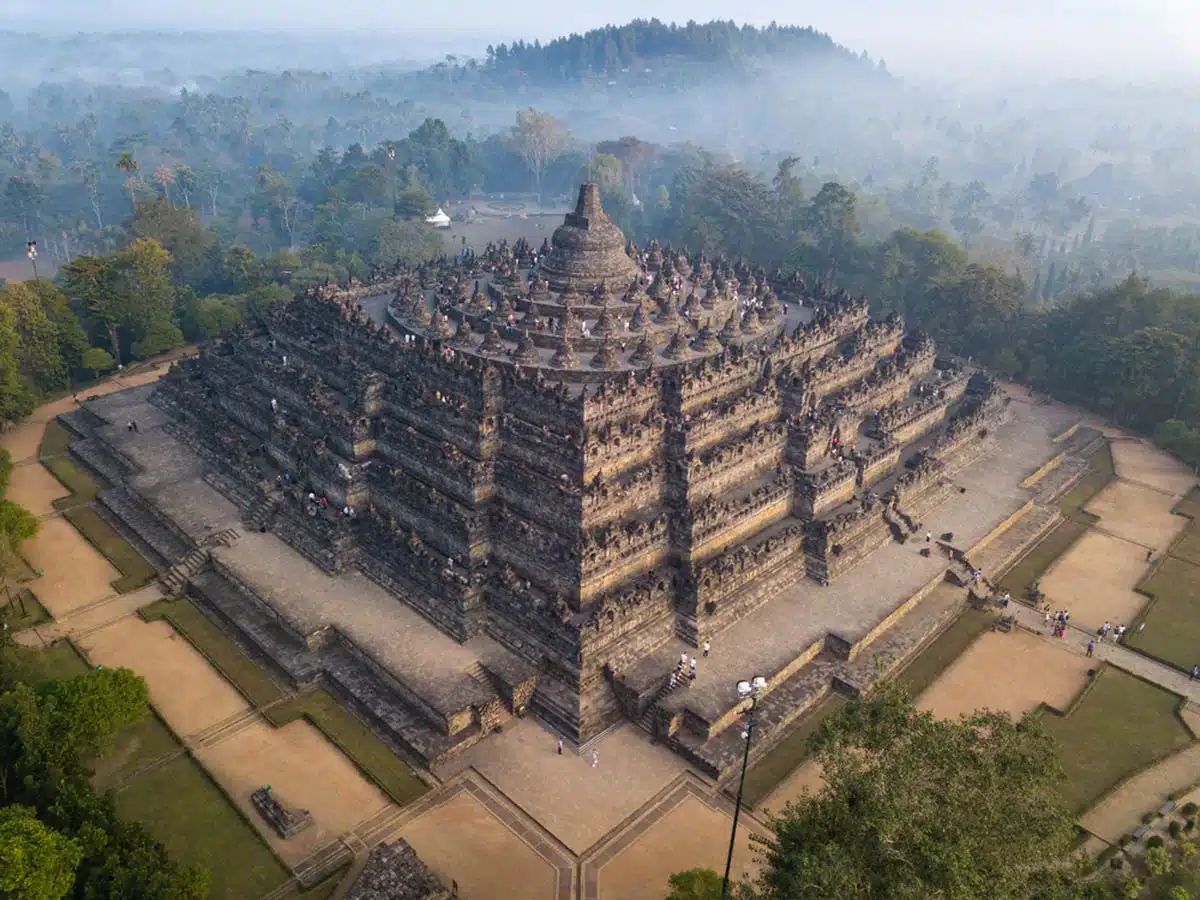 Indonesia is a country filled with spiritual places, but the most enriching place to visit is, by far, the Borobudur temple in central Java.
This ancient Buddhist monument was built in the 8th and 9th centuries, throughout the reign of the Sailendra Dynasty. It is not only the world's largest, but it also contains some of the most intricate and detailed stone carvings found anywhere in the world.
The temple was abandoned in the 14th century and lay hidden under volcanic ash and jungle growth for centuries. It was eventually rediscovered in the 19th century and underwent extensive restoration to preserve its intricate carvings and architecture – of which, there are 504 statues of Buddha.
And, naturally, the temple is the perfect place to view Java's awe-inspiring volcanos.
Grant yourself a complete spiritual experience with a Borobudur sunrise and Prambanan temple guided tour. You'll learn more about the temple's history and significance.
Tour the Gili Islands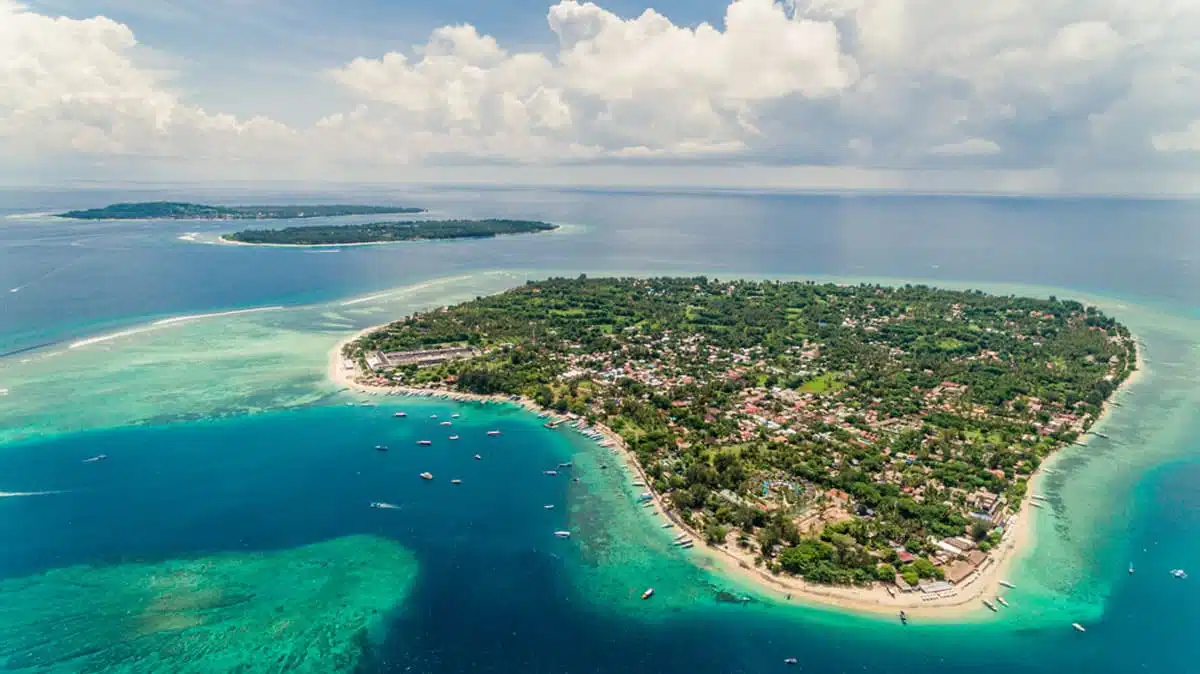 As beautiful as it is, I promise you that there's plenty more to Indonesia than just Bali. So opt for something a little different on the Gili Islands in the Lombok region.
The Gili Islands are like Bali's chilled out brother (yes, it's possible). But there's still plenty to see here – mainly in the island's waters.
What should you do here? Well, first of all, a snorkel tour is unmissable. As is sunbathing on the island's blissful beaches, and appreciating the area's marine life at the turtle sanctuary. Not only that, but the Gili Islands are some of the best places in Indonesia for kayaking.
Or, for a more relaxed activity, I suggest attending a yoga class for total rejuvenation. Look, I'm not even a keen yogi, but there's just something about being in this part of the world that makes me want to get involved. The Yoga Garden on Gili T is a popular option, though Sunset Beach Yoga is a personal fave.
Book your Gili snorkelling tour here
Get Wild at Ubud Monkey Forest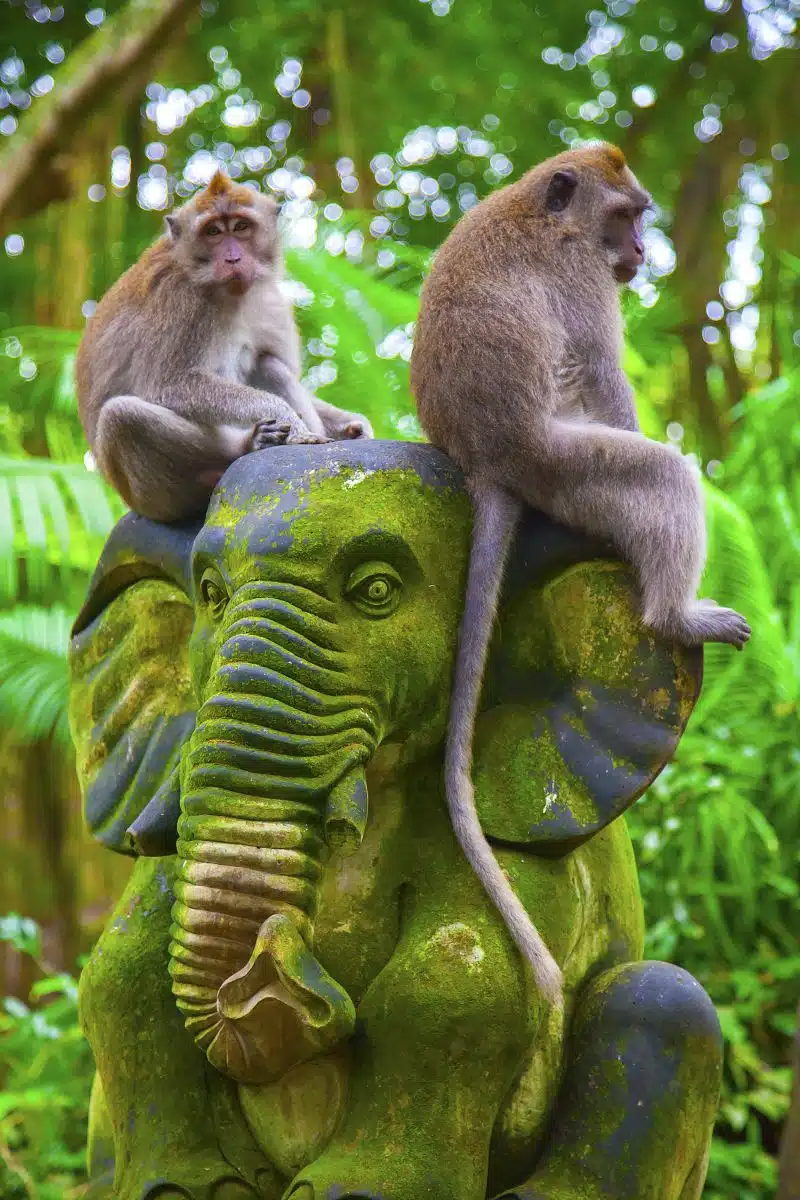 Indonesia's wildlife is as varied as its people, which means that it's one of the top places for wildlife lovers to explore. Take a trip to the Sacred Monkey Forest Sanctuary in Ubud, where the long-tailed macaque for sure steals the spotlight.
The forest is a great place for a quiet stroll, where you can enjoy the surrounding nature and wander through an area considered Bali's cultural heartbeat.
Top Tip: these monkeys are VERY cheeky and will steal everything (I've seen them rip a flip flop off a foot before). So hide any food, water bottles, or other appealing items that might attract them – tempting them to snatch your belongings out of your hands.
Swim Inside One of Indonesia's Incredible Caves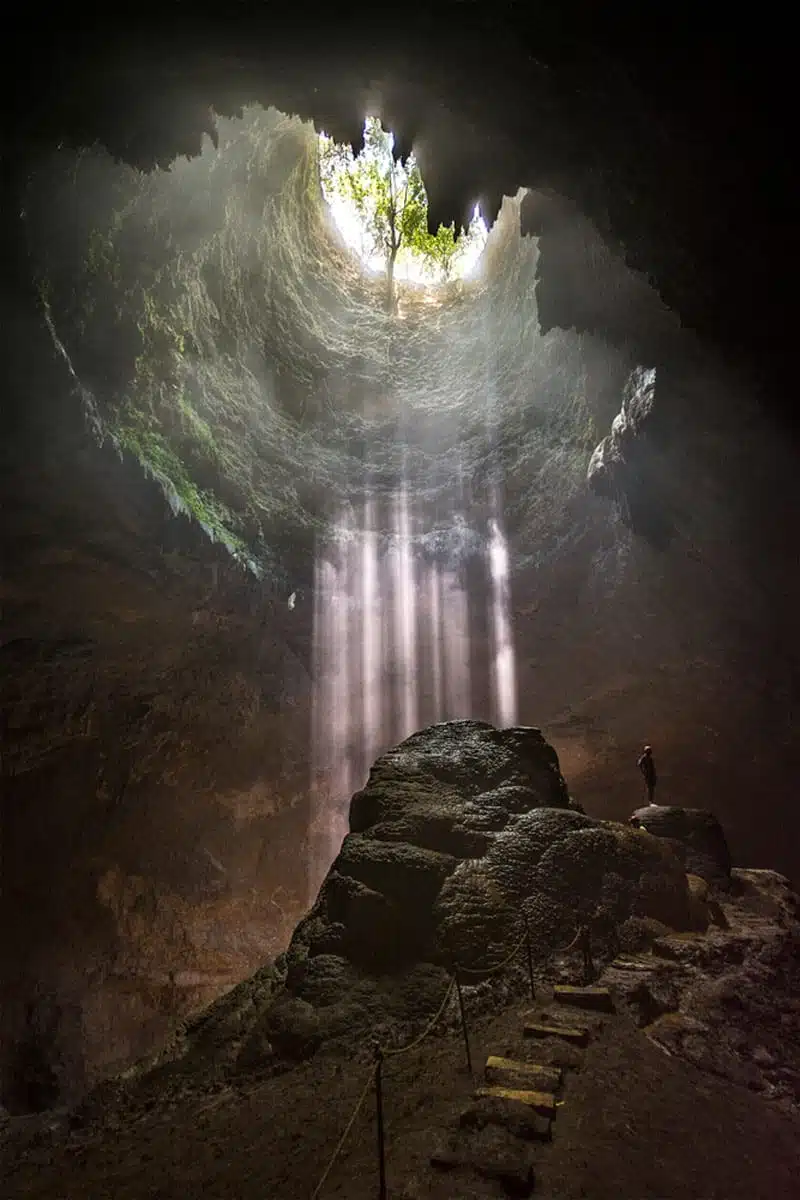 Looking to explore some of the most captivating caves in Indonesia? You should be. Though you have plenty of options, look no further than Goa Rangko Cave in Flores and Sulawesi's Rammang Rammang village.
Both of these destinations are home to awe-inspiring caverns that are sure to leave you mesmerized.
Or, if you find yourself in Yogyakarta, the Jomblang cave tour is an experience that's not to be missed. Descending 60 meters (197 feet) into the depths of the earth is an awe-inspiring feat, and the cave itself is nothing short of miraculous.
As you make your way down, rays of light stream into the cave, illuminating everything around you – the effect is truly otherworldly.
Top tip: book a Jomblang Cave tour to discover this natural wonder with the help of a friendly guide.
Explore the Raja Ampat Islands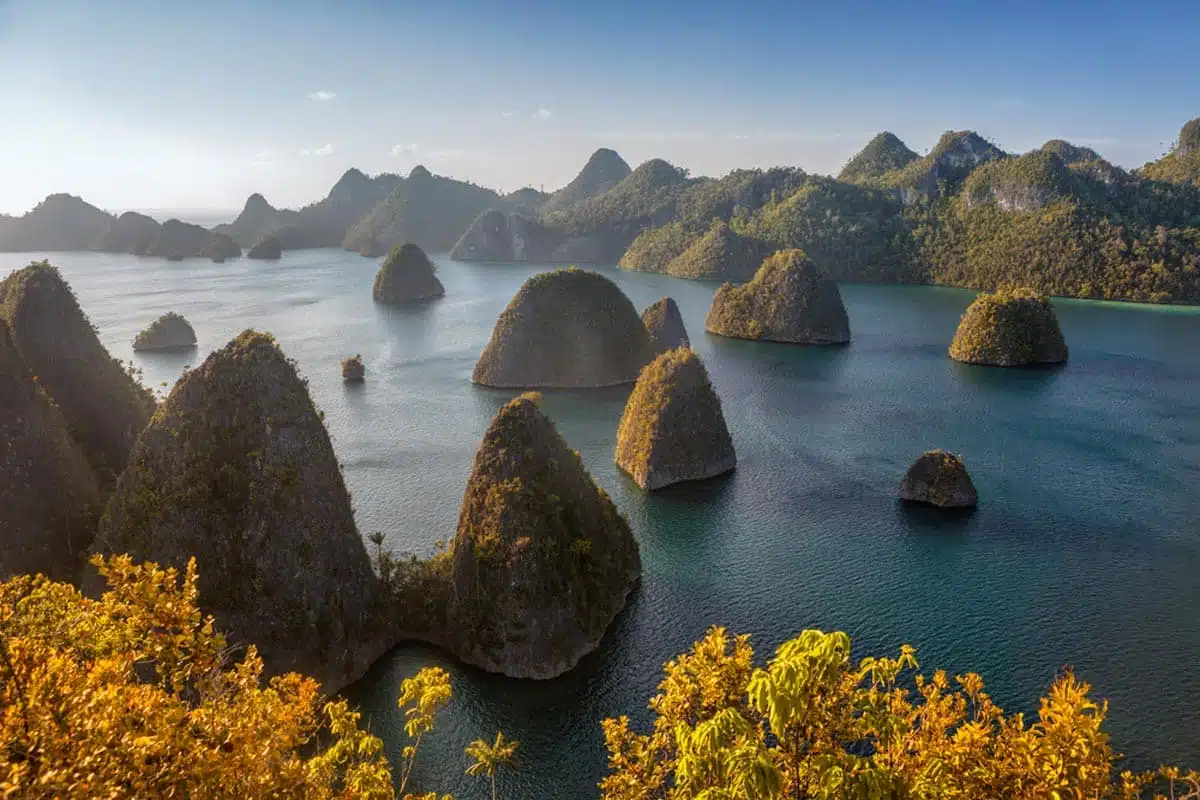 The criminally underrated island group of Raja Ampat needs to be on everyone's Indonesia bucket list.
Raja Ampat means "The Four Kings" in English, and once you visit, it's easy to see why. This breathtaking island group is undoubtedly one of the most stunning places in the entire world – not to mention that it has plenty of things to do.
If, like me, you're a little bit of an island-hopping enthusiast, make sure to stop at the four main islands of Raja Ampat: Batanta, Misool, Salawati and Waigeo. Each boasts its own unique charm, but they all share the same stunning natural beauty.
The turquoise waters surrounding the islands are a paradise for divers and snorkelers. Though, if you're not too keen on diving in, you can choose to chill out on the powder-soft beaches.
Brilliant Things to See & Do in Indonesia
See the Dragons of the Komodo Islands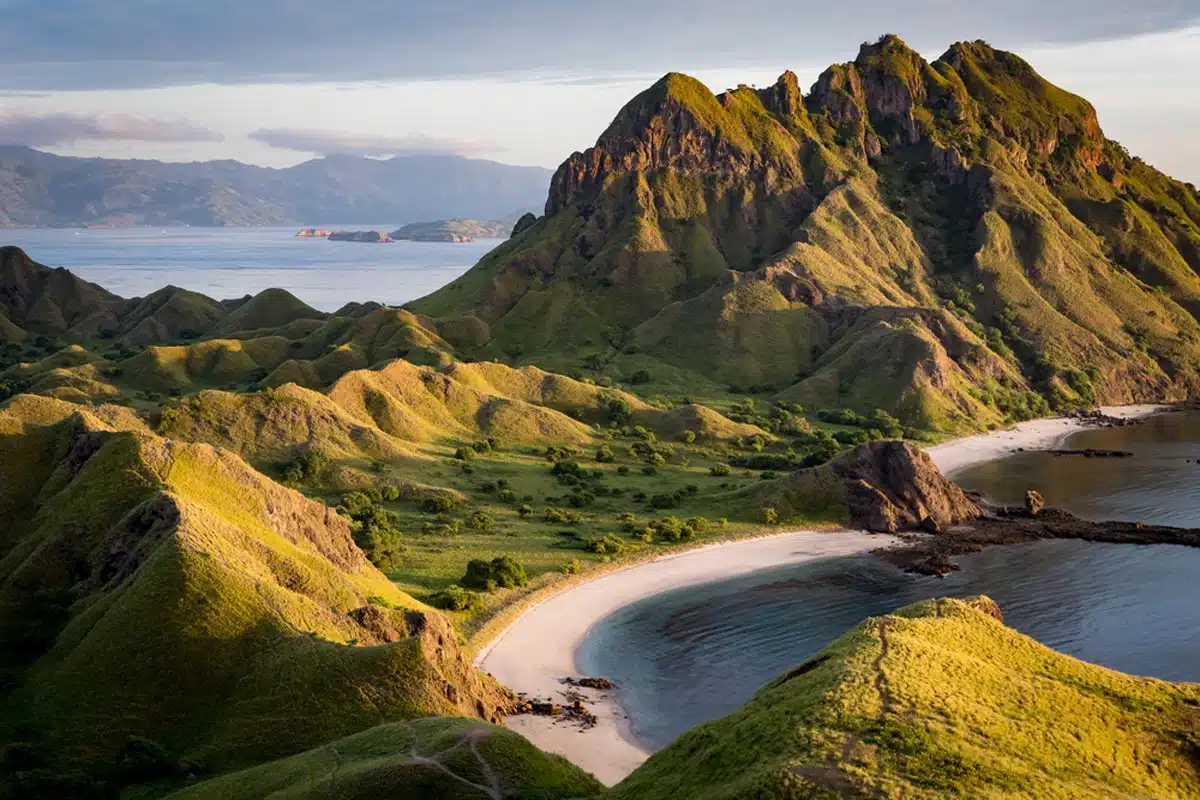 What's cooler than saying you've spotted a real dragon in your lifetime? At Komodo National Park, this is possible.
The islands are home to the world's largest lizard species, the venomous Komodo dragon. While they might be dangerous, spying them in their natural habitat is an unforgettable experience.
Aside from spotting dragons, the Komodo islands are one of the top Indonesian destinations because canoeing, hiking and village hopping are big draw cards for travellers. After your visit, you'll understand why the islands feature on my bucket list of things to do before you die.
Top tip: if you're keen on a private tour, you can spend a full day at Komodo National Park on an excursion that includes a delicious lunch, snorkelling in clear waters and a speedboat trip to the unreal Pink Beach.
Go Surfing in Canggu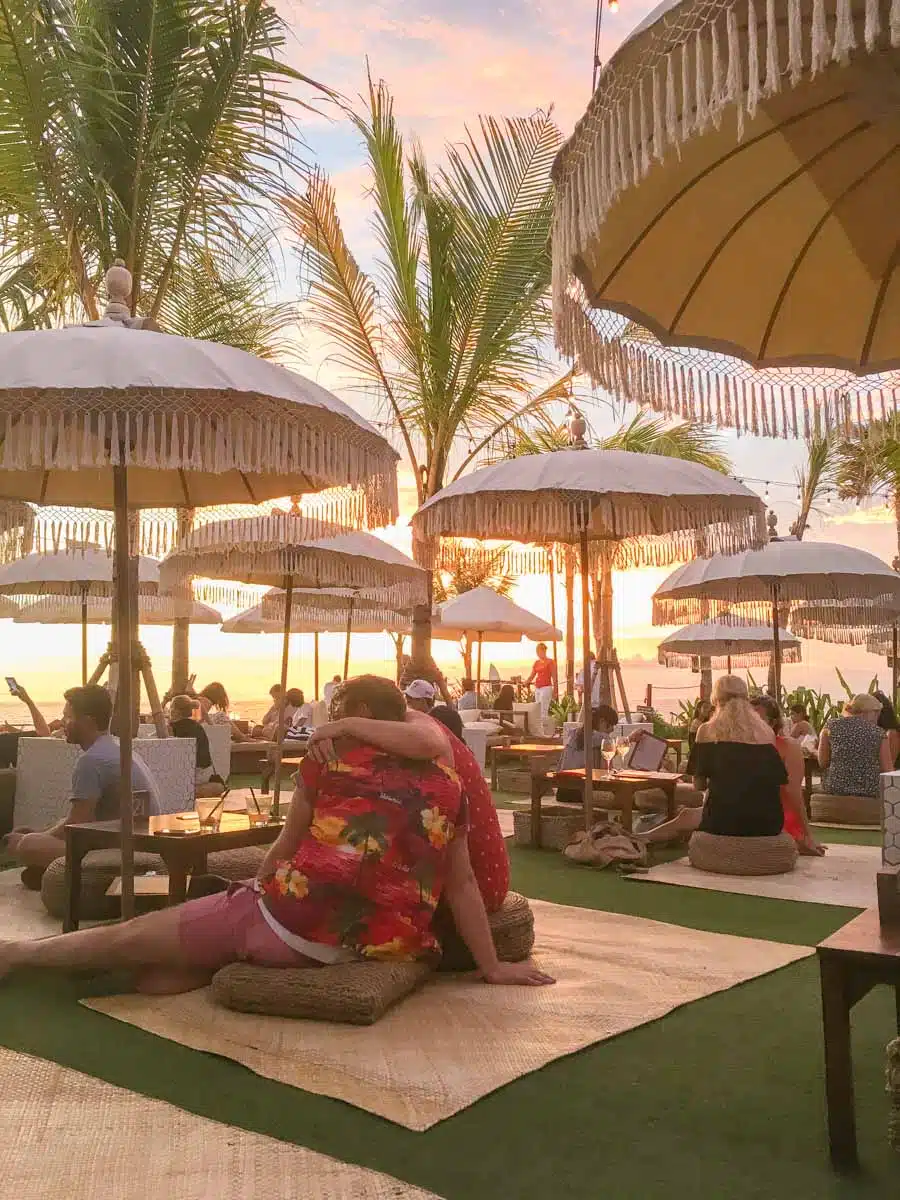 On Bali's south coast is the buzzy hub of Canggu – a much-loved spot filled with digital nomads, cool coffee shops and, possibly the best part: plenty of surf spots.
It would be rude not to hit the waves and go surfing at Echo Beach. This famous black sand beach, contrasting beautifully with the turquoise water, is a surfer's paradise. Or, you know, you could always chill TF out at Finn's Beach Club instead.
Never surfed before? No worries. Take a 2-hour surf lesson and learn everything you need to know to conquer some serious Canggu waves.
Catch a Picture-Perfect Sunset at Tanah Lot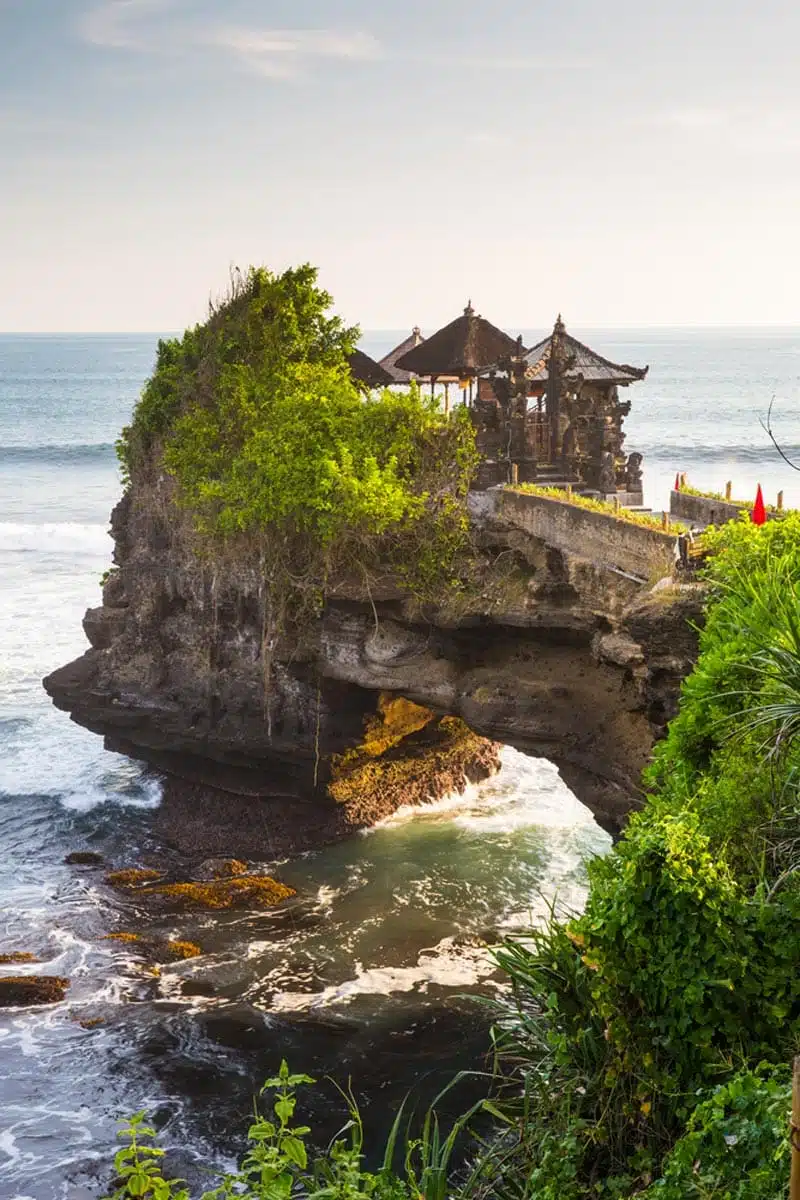 While on vacation in Indonesia, I guarantee that you'll have plenty of opportunities to witness some incredible sunsets. But the Balinese temple of Tanah Lot should be a high-priority location for exquisite sundown moments.
Tanah Lot sits on a rock formation in the sea. As the waves crash against the edges, a sublime sense of serenity blankets the Beraban village area.
You can tackle it alone but, to be totally honest, it's way easier to head out on a tour. I recommend this private adventure that'll have you monkeying around Sacred Monkey Forest, discovering the Tegallalang rice terraces and taking in scenic views at Tanah Lot temple just in time for the orange glow to settle.
Visit the Seaweed Farms of Nusa Lembongan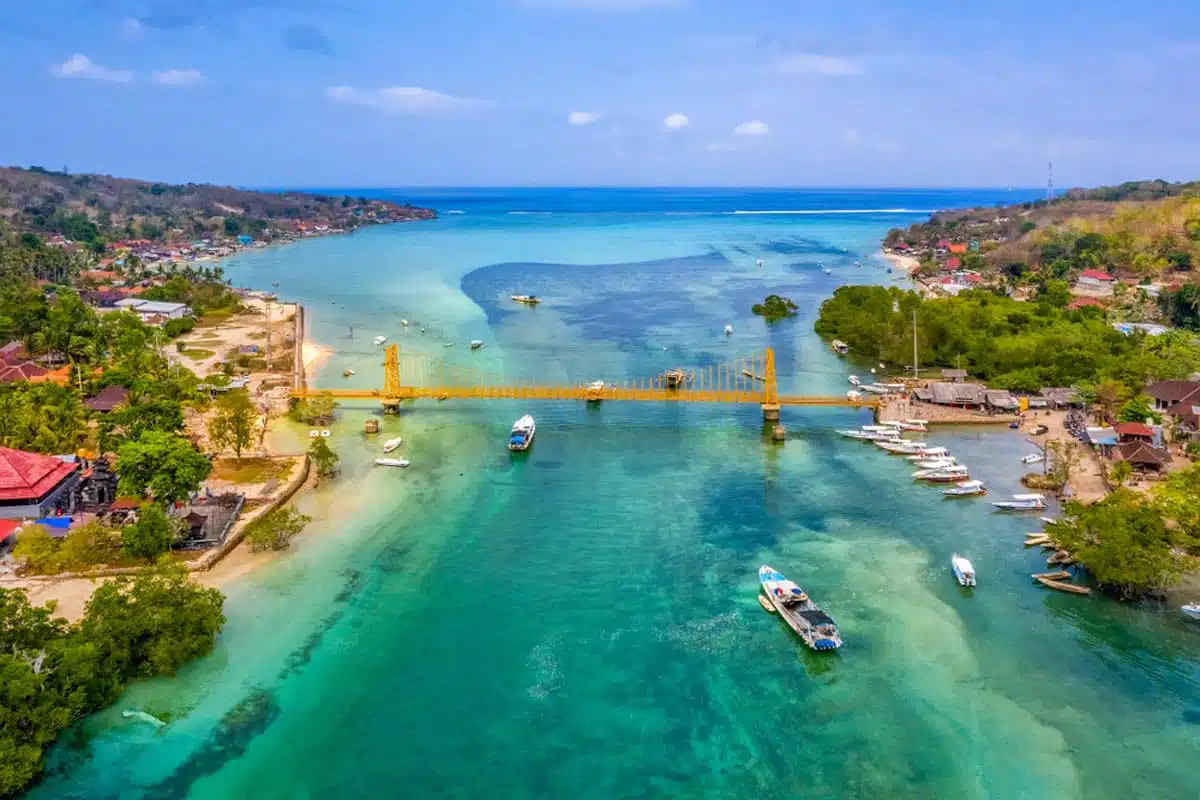 Not too far from Bali is the bewitching island of Nusa Lembongan – which is high on the list of beautiful places in Indonesia.
Clear blue waters provide an inviting playground for water sports. Swimming, diving, snorkelling and surfing – lap it all up.
But the star attractions are the seaweed farms. Yeah, I know that doesn't exactly sound thrilling but take time to visit the Bali Seaweed Farm Lembongan for a unique experience. This special educational excursion will give you a much better appreciation for the local marine life.
Pssst… Got four days you're not sure how to spend? Attend a surf and yoga retreat in Nusa Lembongan. Blend surfing lessons and the adrenaline of riding the waves with the teachings of Balinese yoga.
Take Insta-Perfect Pictures on a Sandbar
It's no secret that Indonesia is having a moment right now. And social media bunnies who want to capture the kind of content worth countless likes need to visit a couple of Indonesia's countless sandbars.
What are they? Let me explain… These strips of white sand in the middle of the ocean present themselves at low tide and provide marvellous shots, especially if you can achieve an elevated or aerial angle.
Alright, but where should you go? I'll let you in on a secret – Komodo Island's Taka Makassar, Lombok's Gili Pasir, and Raja Amput's Pasir Timbul have picturesque sandbars that will impress your followers (or, for those of you not totally-obsessed with Instagram, maybe just your pals on the group chat).
Give Thanks at Uluwatu Temple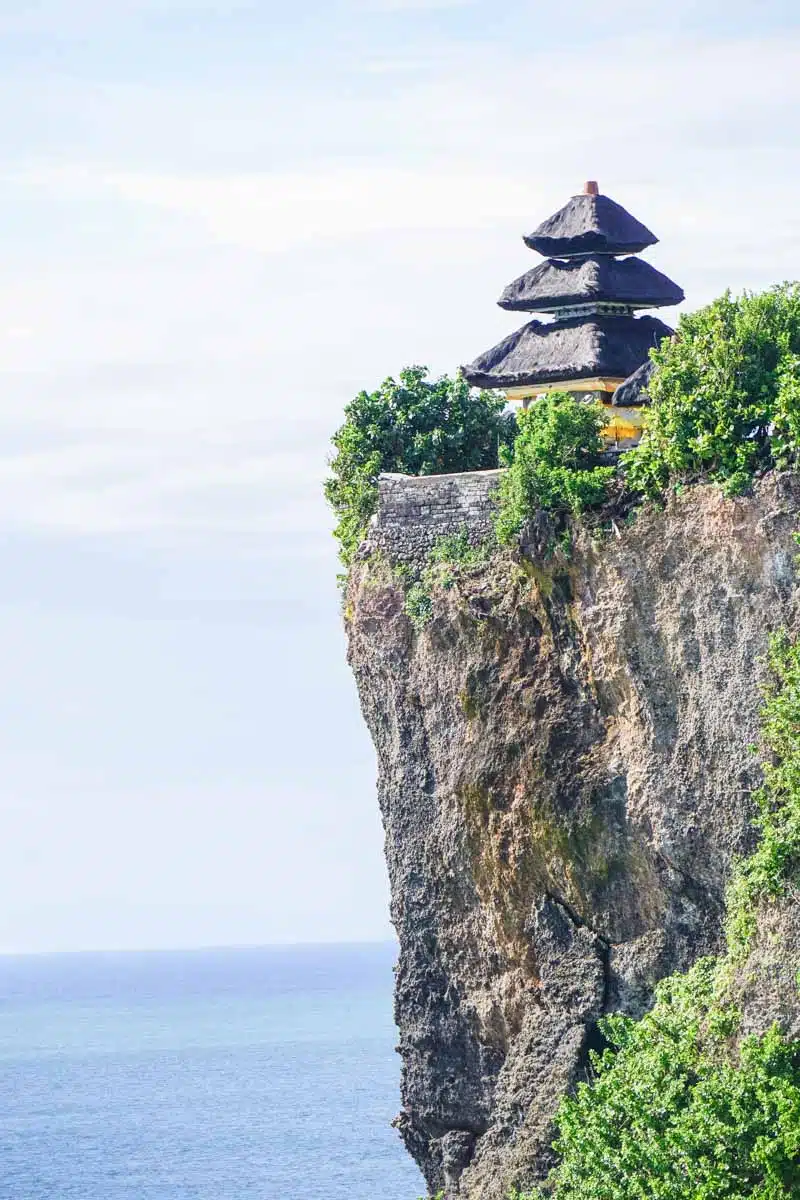 Time spent at Uluwatu temple, a place of worship for Balinese Hindus, is a truly humbling experience. Heard about Brahma, Shiva, and Vishnu, the Hindu Trinity? Many worshipers believe this is their merging place.
The Hindu Trinity (Trimurti) are the gods of creation. When in a country as glorious as Indonesia, you're in the right place to give thanks for life itself.
Your visit will be incomplete without witnessing a traditional Kecak fire dance. Take a tour like this one, combining sunset gazing, a Kecak performance at Uluwatu temple, and a seafood dinner at Jimbaran Bay.
Venture into Indonesia's Local Markets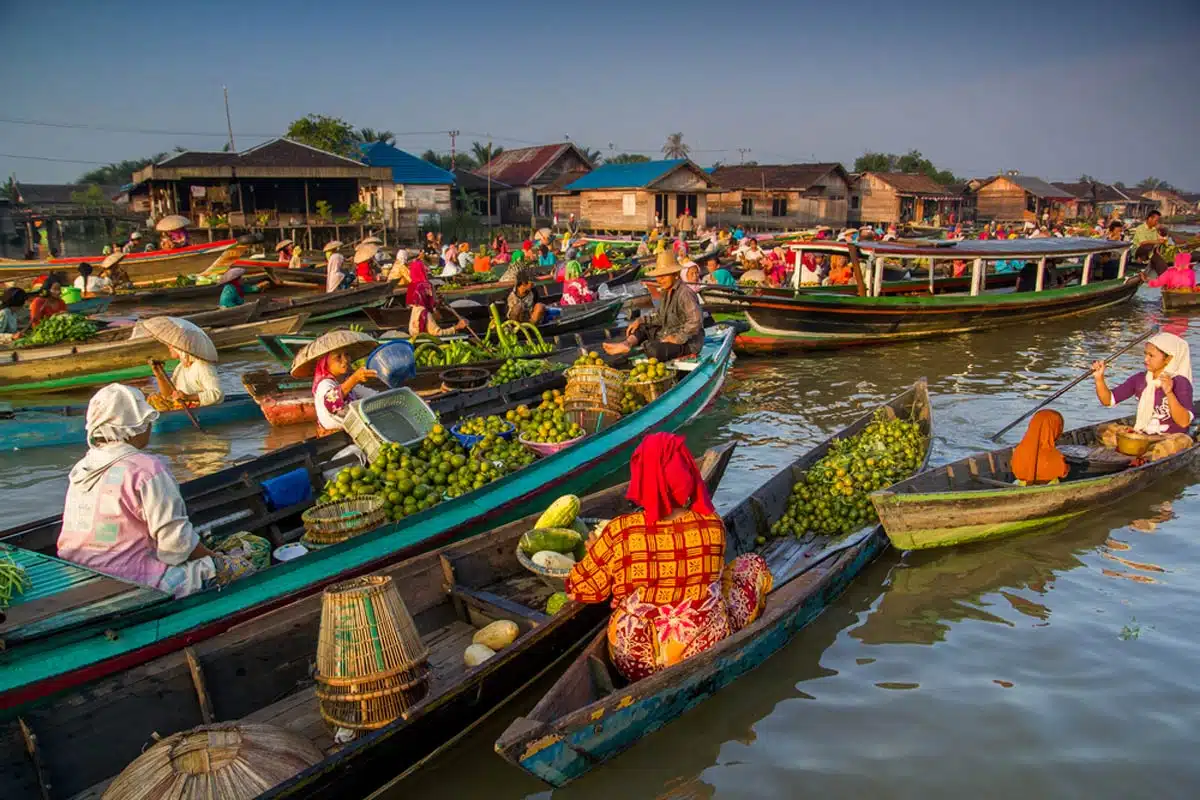 A really fun thing to do in Indonesia is to go shopping. I'm not kidding. Nothing beats a trip to the markets and bazaars to mingle with the locals, find precious trinkets and collect souvenirs to serve as a reminder of your fabulous holiday.
Pasar Baru shopping centre in Jakarta is a prime market for luxury items like watches, genuine leather goods and delicate fabrics. You'll also find bits and bobs and, of course, tasty Asian delicacies.
My favourite market in Indonesia? It has to be the Lok Baintan floating market, located on the banks of the Martapura River. It's a hive of activity, with local traders bartering fresh fruits, veggies and fish directly from their boats.
Oh, and if you're in Bali, Ubud also has a really cool arts and crafts market. Here you can pick up the likes of paintings, jewelery and clothing, while supporting the local artisans. What's not to love?
Unique Things to See & Do in Indonesia: Hidden Gems That Are Off the Beaten Track
Go Jungle Trekking in Sumatra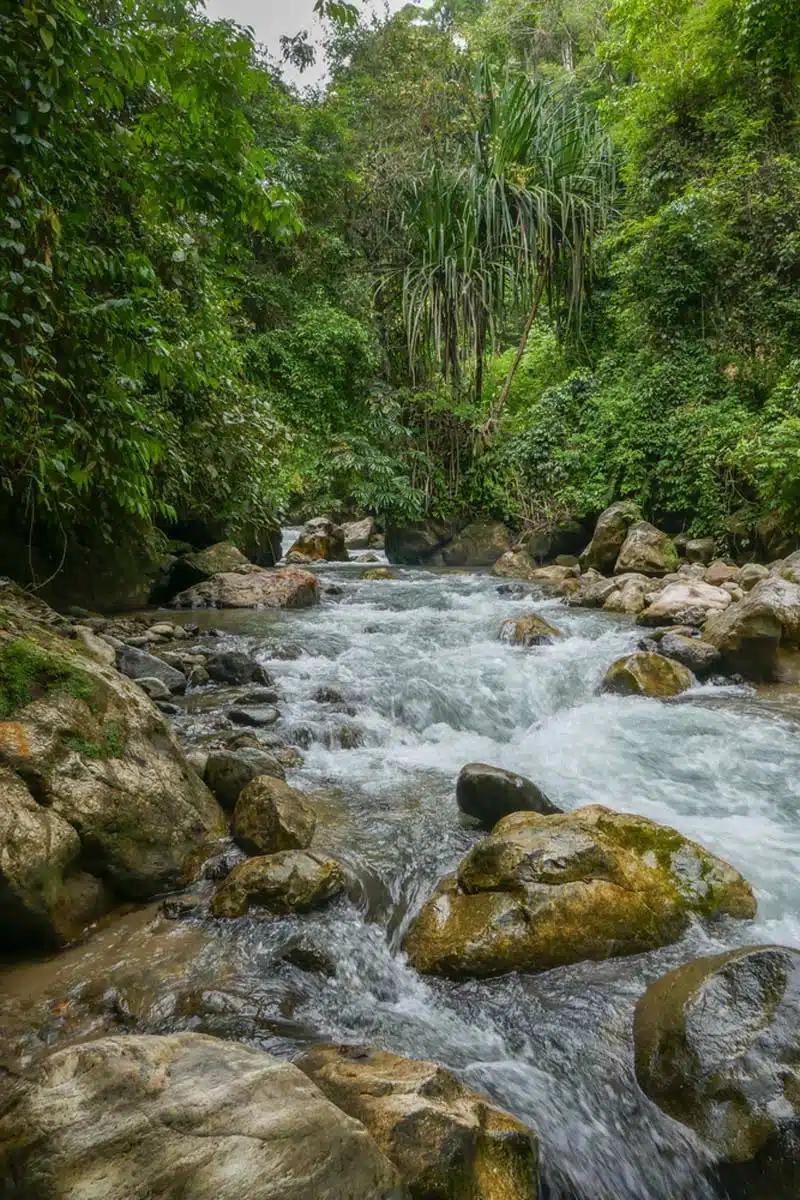 The fit and fearless will love trekking in Bukit Lawang in North Sumatra. You'll find Gunung Leuser National Park and Indonesia's largest Sumatran orangutan sanctuary here.
Take an adventurous day trip from Medan to Mount Leuser National Park, and embark on a jungle hike in one of Southeast Asia's most fascinating tropical rainforests.
Seal the experience with a unique lunch at the Orangutan Care Center. Here you can visit the sanctuary to learn about the vital conservation work that protects the orangutan species.
Climb a Volcano (Yes, Really)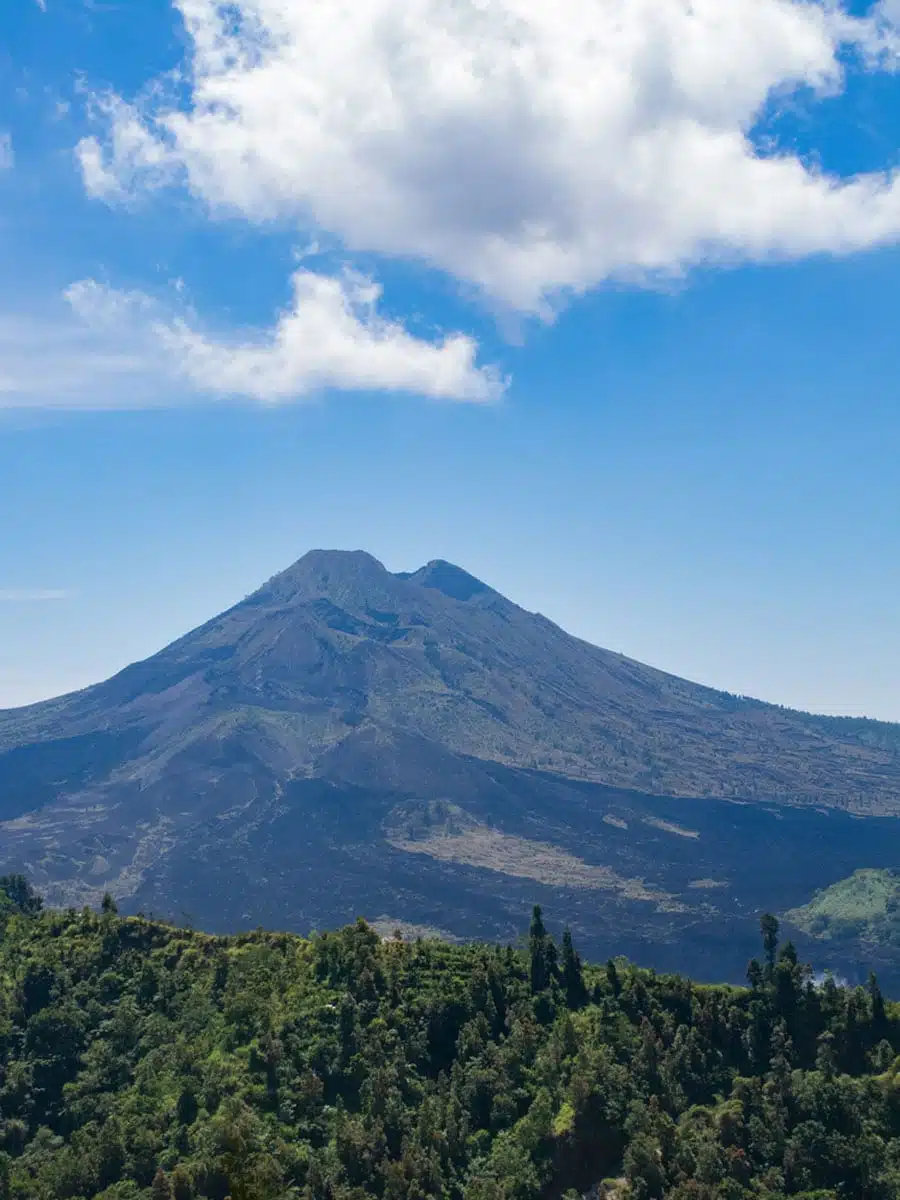 You can't visit a country that boasts a third of the world's most active volcanos and not go volcano climbing, right? That's what I thought. And there's plenty of options no matter where you are in the country.
While on an exciting trip to Java, book a thrilling 3-day excursion to Mount Bromo and Ijen Crater from Bali. Expect mesmerising panoramic vistas atop Mount Bromo and the Ijen crater's world-famous blue fire.
But, to claim bragging rights for having climbed and reached the highest point in Bali, you'll have to tackle magnificent Mount Agung. It's worth the slog, I promise. You'll get to see breathtaking views of Bali at more than 3000 metres (9843 feet) above sea level.
Pro tip: it goes without saying that an experienced guide best completes any volcano climbing excursion. Please don't attempt a volcano trek unsupervised (without a trusted tour operator).
Indulge in Traditional Indonesian Cuisine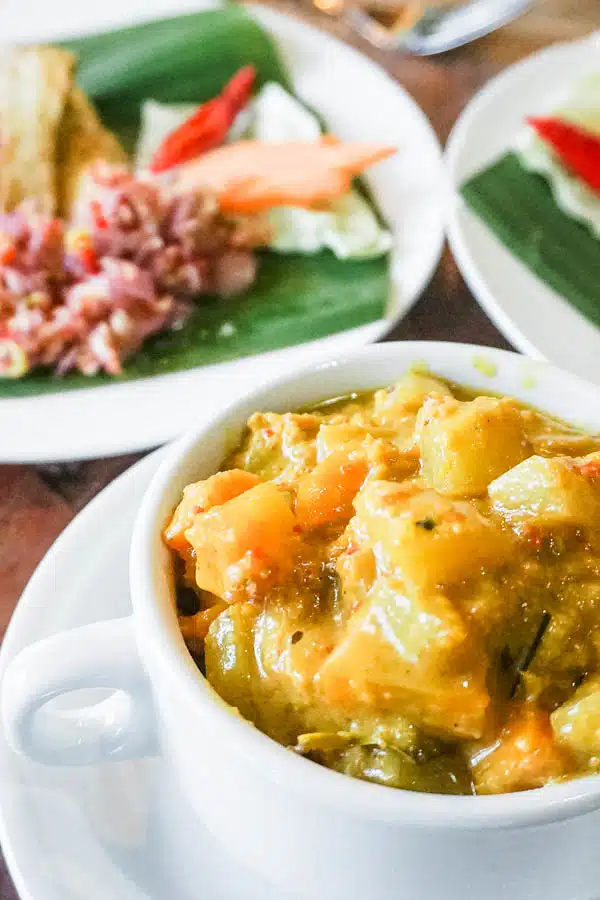 Many say one of the best ways to experience a country is through its food, and I agree. Indonesia's food combinations, culinary creations and flavours are incredible – and highly underrated.
Sample a top contender for the country's best cuisine: Padang food, especially if you find yourself in Sumatra, where it originates.
The authentic way of eating Padang food is mixing rice with the many different dishes served to you, which can include 20 individual plates. Ingredients such as beef, chillies, cassava, coconut, jackfruit and snake beans are Padang's favourites.
And, when in Bali, you HAVE to sign up for a mystery mountain cooking class. If you're feeling inspired after tasting some mouth-watering local cuisine, a local chef will teach you to prepare five traditional dishes in the Sideman, Karangasem woods.
Meet new people, experience the jungle, learn the old style of Balinese cooking. And, most excitingly, feast on delectable dishes made with your own hands.
Read Next: Learn how to make Indonesian Gado Gado Salad (AKA the best salad ever) and check out my Balinese food guide.
Experience a Waterfall Cleansing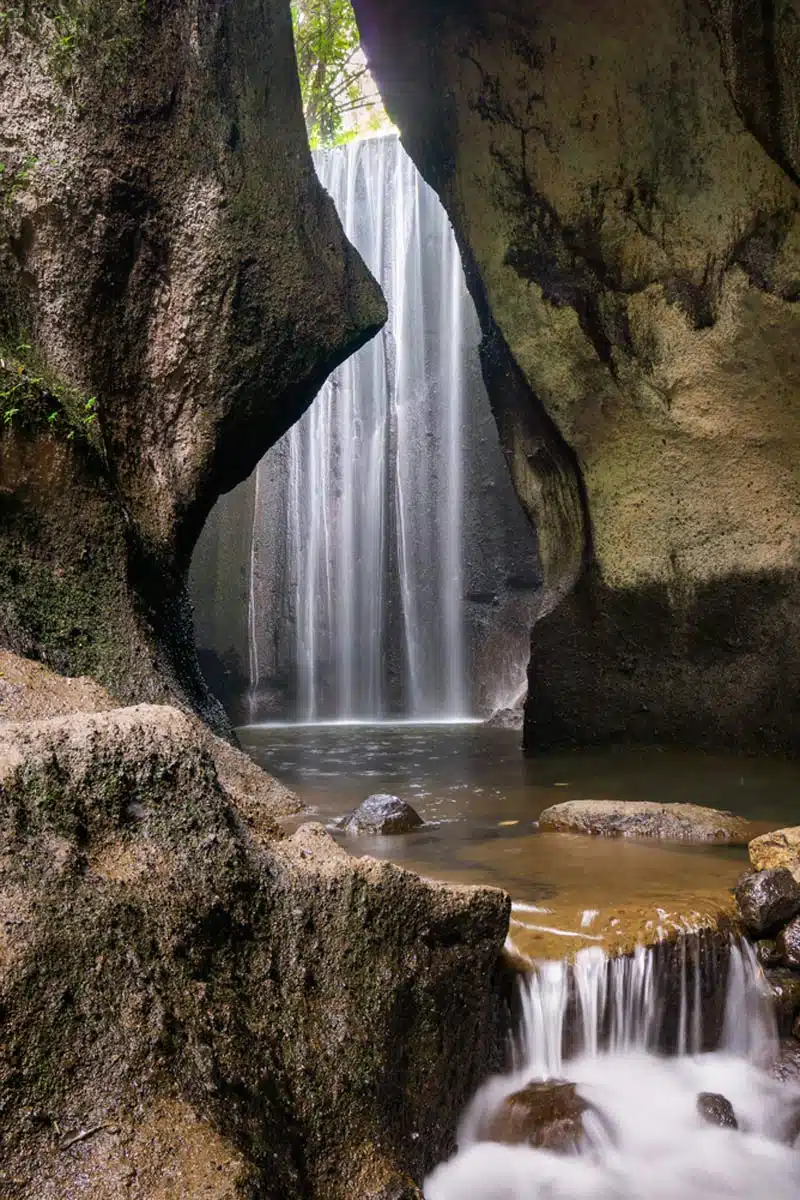 I think there's just something so calm and peaceful about waterfalls. And luckily, Indonesia has plenty of them. You'll find remarkable waterfalls on most islands, from Java to Sumatra to Lombok and Bali.
Take full advantage of a visit to any waterfall by turning it into a cleansing experience – a local tradition that allows the opportunity for self-awareness and reflection.
Your cleansing calls near Ubud, where an immersive tour of Tegenungan, Tibumana and Tukad Cepung waterfalls will symbolise rebirth and renewed perspective.
Things to do in Indonesia: Practical Tips for Your Trip
How Long to Visit in Indonesia?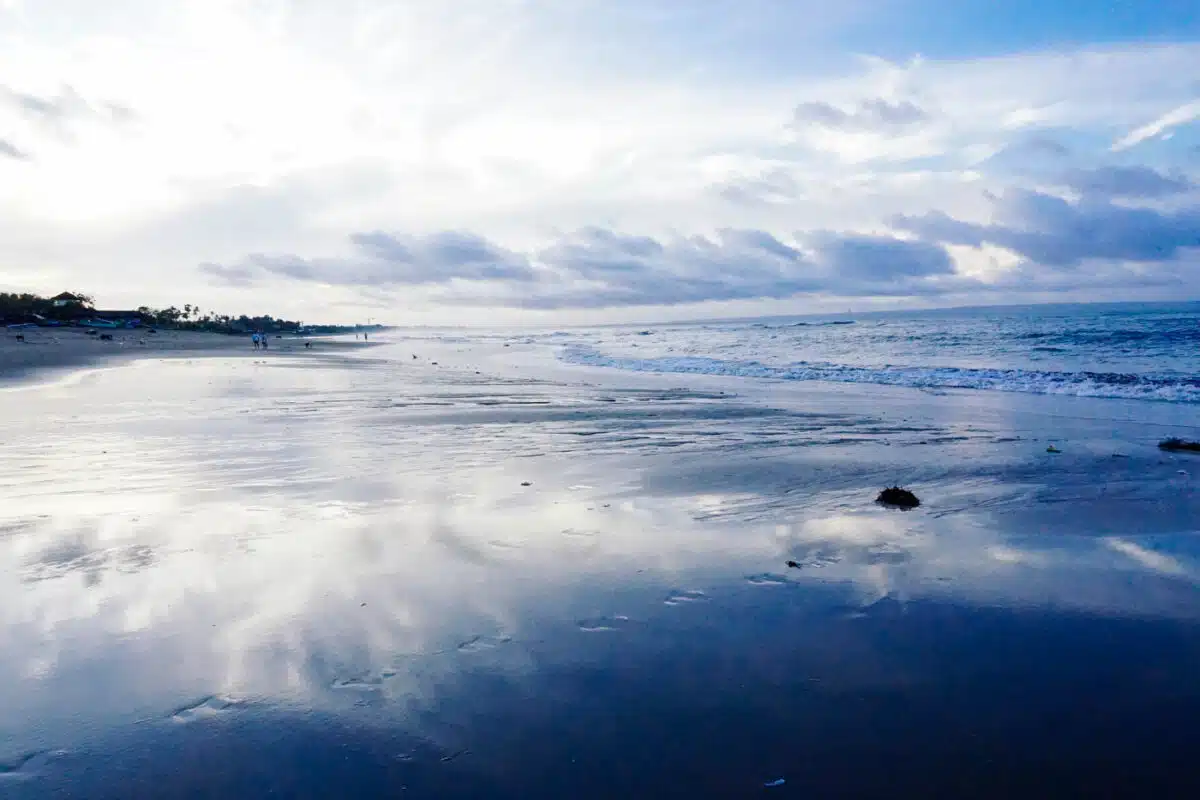 Look, you're never going to be able to pack in the entirety of Indonesia in one trip (unless you have unlimited funds and a very generous boss). That said, 7 days is enough for travellers working with a tight budget to savour Indonesia's splendour.
With more cash to splash, 10 to 14 days will deliver the perfect holiday experience. I recommend you spend 5 days or so in Bali, before hitting up Sumatra and Java.
Best Time to Visit Indonesia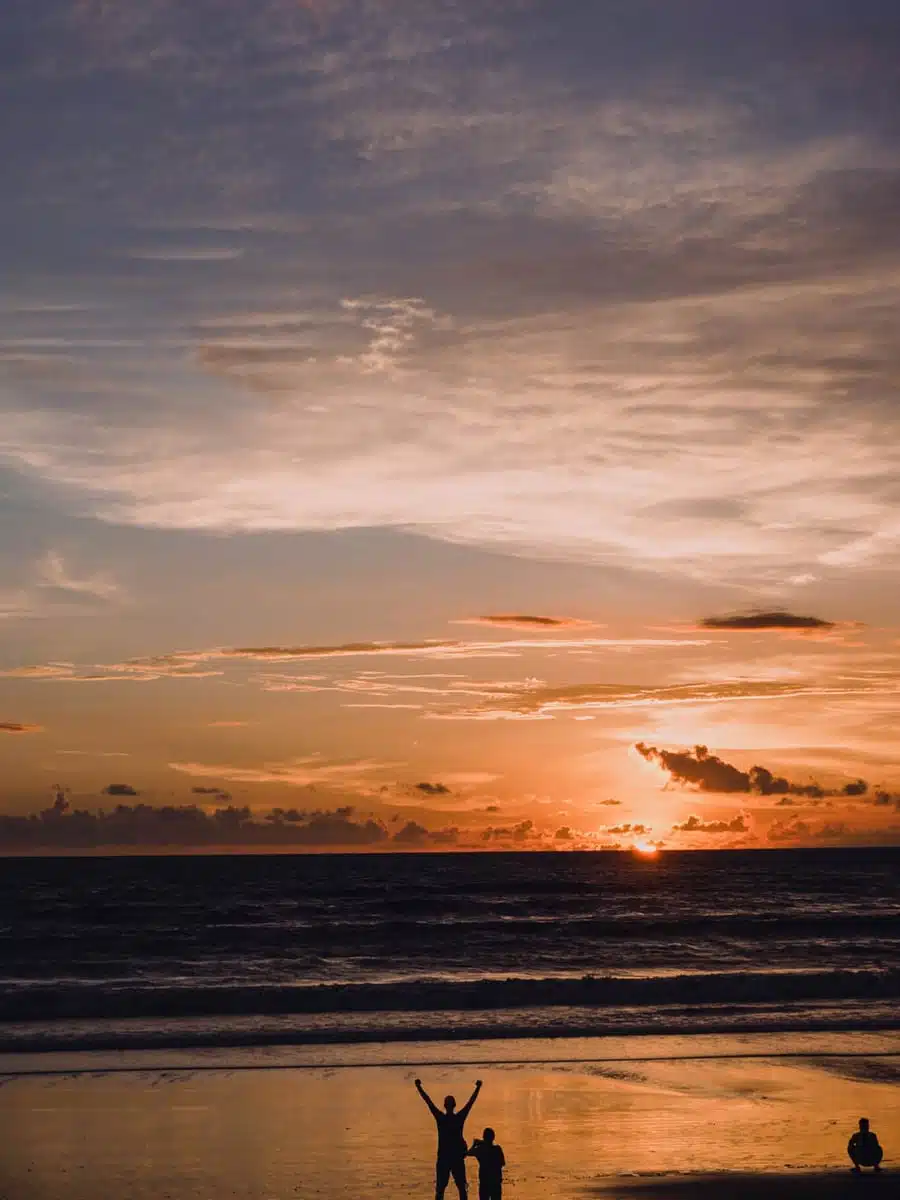 Indonesia is ideal between May and September when the weather is dry but cool and pleasant. However, this includes high season. For a quieter time and more affordable flight and accommodation deals, October through to April (off-season) is your best time.
Top tip: although the off-season is rainy, you still get bright, sunny days. Just make sure to pack accordingly so that you're well prepared.
Where Should I Stay in Indonesia?
Accommodation can be a holiday-maker or breaker. These two superb options will ensure a comfortable stay.
Rama Shinta Hotel Candidasa (Mid-Range)
If you want to explore beautiful Bali from the stunning town of Candidasa, book a stay at Rama Shinta Hotel. This stunning property provides a tropical setting: gorgeous gardens, an outdoor pool and an open-air restaurant. Better yet, White Sandy Beach is just 10 minutes away.
Four Seasons Hotel Jakarta (Luxury)
The five-star Four Seasons Hotel Jakarta is a luxurious hotel in the capital city, offering premium accommodation at a convenient central location. Spoil yourself at the five onsite eateries, and make use of the fitness, spa and wellness centres. This hotel is ideal for discovering Jakarta's popular tourist areas nearby.
Recommended Tours in Indonesia
Things to do in Indonesia: Map
Travelling to Indonesia? Read These Next…
Love this? Save and Share on Pinterest