Planning a trip across the southwest and want to explore Arizona's capital? Get ready to discover the best of the city with this epic one-day Phoenix Itinerary.
Cowboys, gunslingers and a red sun rising above the Arizona desert may be how Phoenix came to be, but this laid-back city is pretty different nowadays.
Don't get me wrong, the Wild West vibe is still very present in parts of town, but now you can enjoy so much more. From cool museums to stunning parks and (plenty of) out-of-this-world dining experiences.
But, how exactly do you make the most of the city if you only have one day? Here's how.
One Day in Phoenix Itinerary
Phoenix Itinerary Day One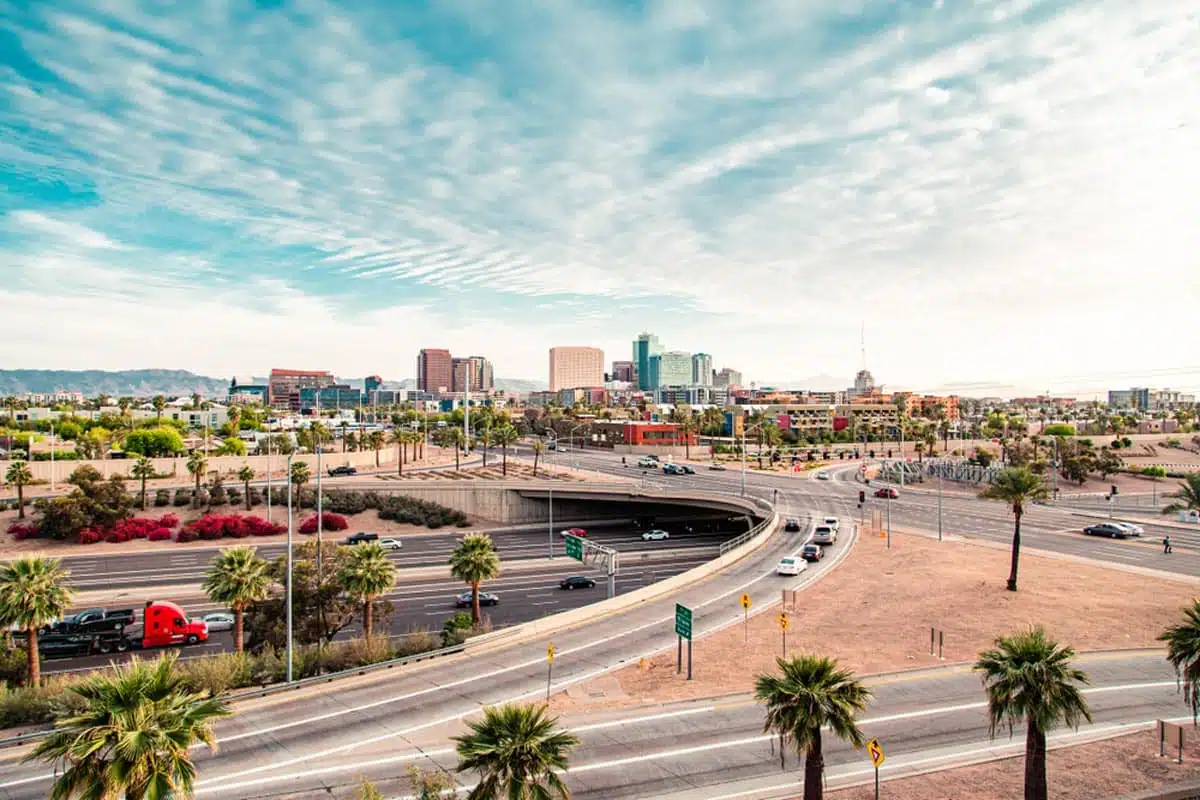 It might seem a little crazy to squeeze everything in Phoenix into one day, but trust me when I say it's doable. One thing you can expect from this itinerary is epic scenery, as places like Papago Park offer beautiful viewpoints.
But the Valley of the Sun is much more than just magical hikes, so let me give you a little teaser as to what's coming.
Phoenix has some sublime dining spots, which you'll definitely get to dig into. It's also a city of historic intrigue, which you'll soon discover at the Heard Museum.And to wrap it all up, an hour or five exploring Phoenix's buzzing bar scene is definitely in order.
Pretty exciting, right? So what are you waiting for? Let's get into it.
Take in the Views at Papago Park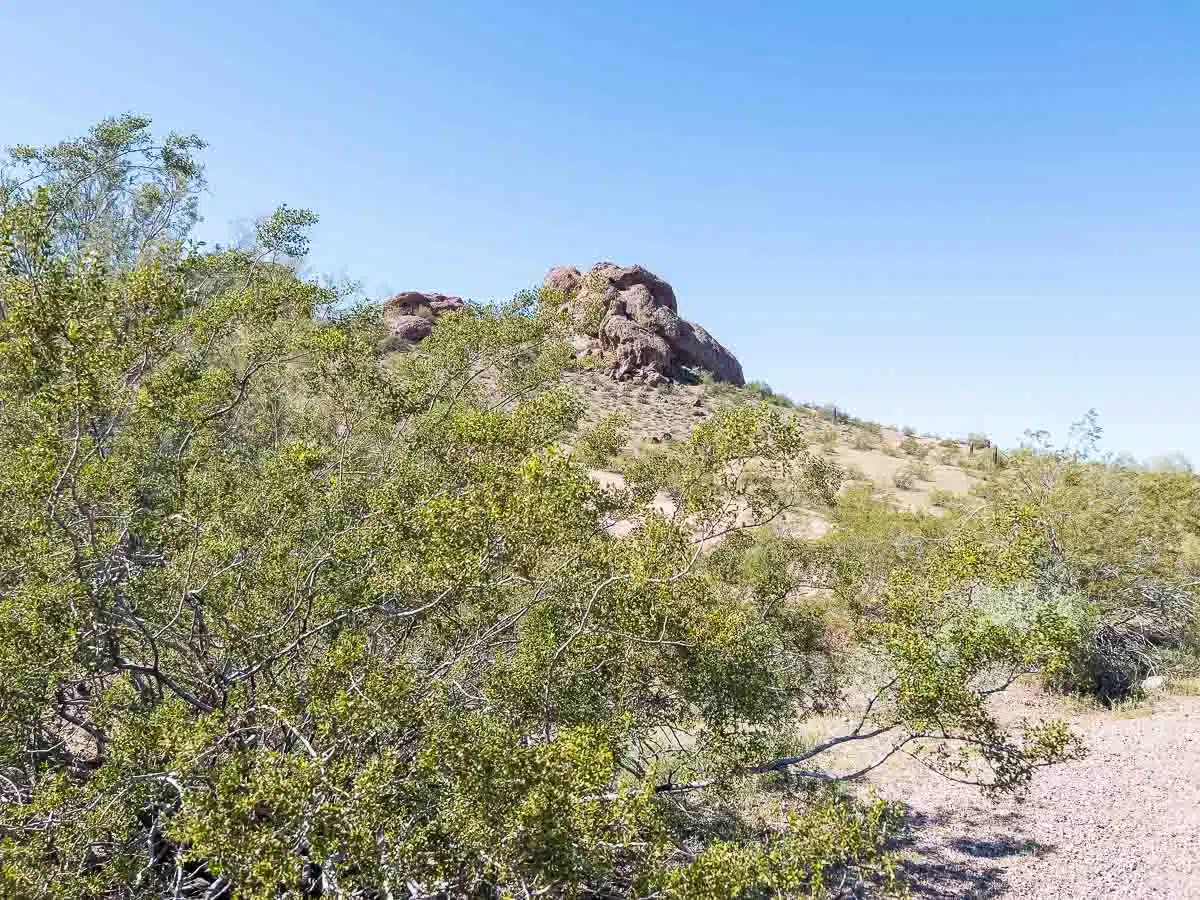 Sorry not sorry to do this to you – but it's time to wake up bright and early because the morning views from Papago Park are something you can't miss. It's only a 15-minute drive (7.3 miles) from downtown Phoenix, but it's a brilliant way to start the day.
There are two absolute must-do hikes in Phoenix at Papago Park, the first being the 0.3-mile out-and-back Hole in the Rock trail. It's a hole in the middle of a sandstone butte, so you can imagine it's stunning no matter when you visit. And it's just a five-minute walk to this majestic landmark.
The other? The 2.2-mile Double Butte loop trail, which will take around 45 minutes to complete. It's a gentle stroll past the Papago Buttes and the Papago Amphitheatre. Along the way, you'll also have unforgettable views of the white pyramid — or Governor Hunt's Pyramid Tomb.
Top tip: aim to get to the Hole in the Rock at sunrise for one of Phoenix's most spectacular photo opportunities.
Discover Beauty at the Desert Botanical Garden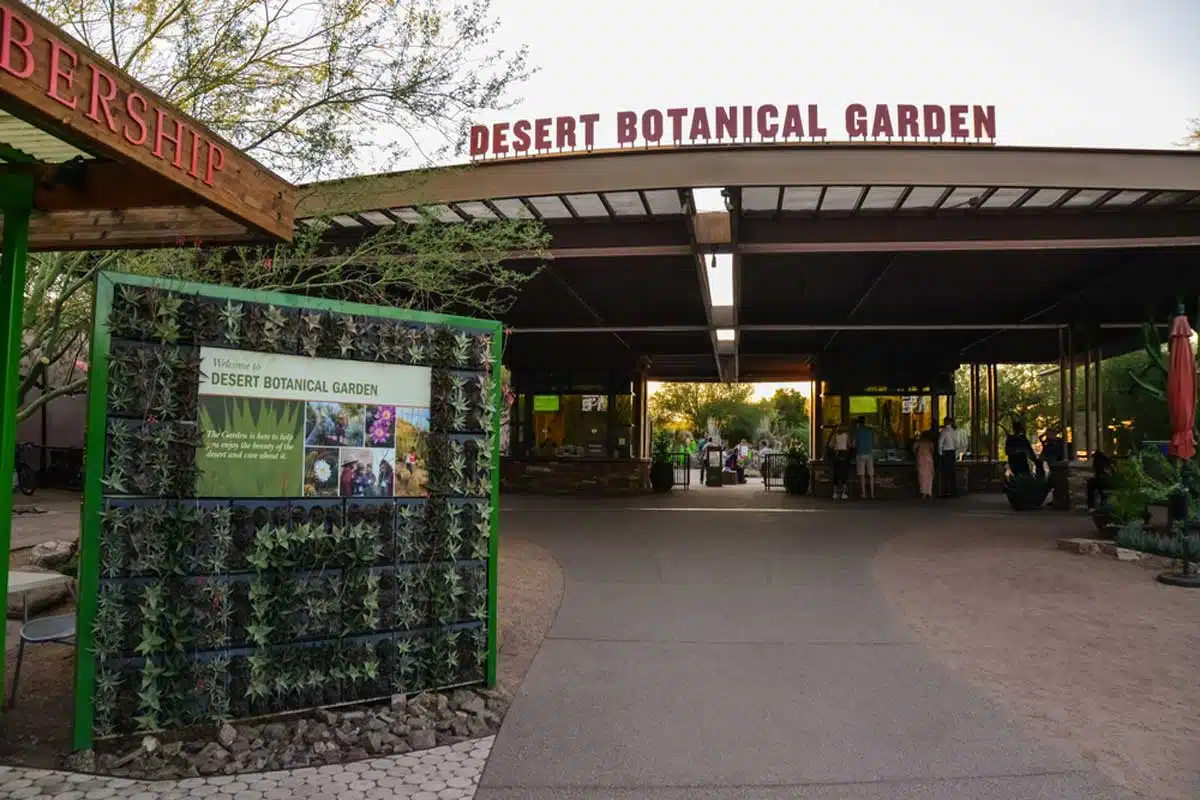 You may be in awe after exploring Papago Park — and rightly so. But get ready because Desert Botanical Garden is even better. The best news? It sits within Papago Park, so there's no need to travel far and wide to explore this unique garden space.
With five stunning trails within this 140-acre garden, you're in for a real treat. Though, you won't have time to do them all, I'm afraid.
The Sonoran Desert Nature trail is a breathtaking boardwalk through an organ pipe cactus forest with unforgettable mountain views. You can also discover the stunning array of wildflowers and learn about the diverse animal species that help these flowers bloom.
The botanical garden has 27,000 individual plants, of which 400 are rare and endangered. That's a pretty crazy number when you think about it.
Top tip: visit between March and May, when the open-air Cohn Family Butterfly Pavilion teems with more than 2,000 butterflies.
Enjoy the Spicy Side of Life at Chico Malo
Who can resist brunch? After working up an appetite in Papago Park, it's time to feed your cravings at Chico Malo in downtown Phoenix. It's just a 15-minute drive (9 miles) to this authentic Mexican restaurant, so get ready to tuck into some spicy goodness.
But they don't just serve tasty food here; a live DJ sets the tone for brunch in the vibey restaurant with dark interiors and a punch of colour.
Expect classic Mexican cuisine like enchiladas in a traditional brunch-fare style. I had the Smoked Birria and it was out of this world.
Top tip: you can keep the drinks flowing thanks to the bottomless brunch deal or happy hour special every day from 3 pm to 6 pm.
Explore the Heard Museum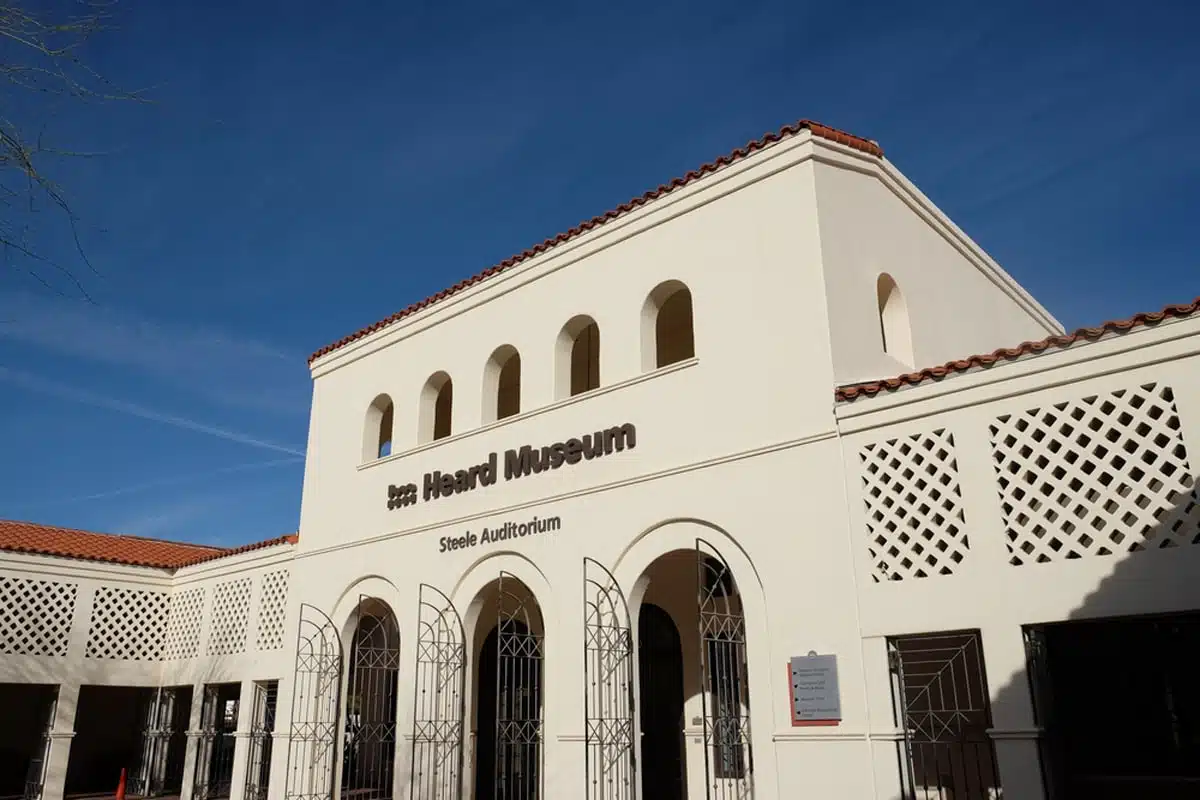 By now, it'll be creeping past noon, so you'll want to visit the Heard Museum before it closes at 4 pm. It's no more than a six-minute drive (1.9 miles) from Chico Malo to the most popular attraction in Phoenix.
The Heard Museum showcases American Indian art across 12 exhibition galleries. And although it's not massive, there are plenty of eye-catching pieces with detailed information to peruse.
This museum doesn't hold back – you must see the Boarding School exhibit to know what I mean. This exhibit unpacks the terrible boarding school system for Native Americans in the US. It's a sobering experience but a very important one.
The sculpture garden is also a lovely walkabout, and the contemporary art gallery showcases the sheer talent of emerging Native American artists. The entry fee is a little bit pricey at $25, but you won't find a more fascinating museum in Phoenix than at the Heard.
Enjoy Sundowners at Platform 18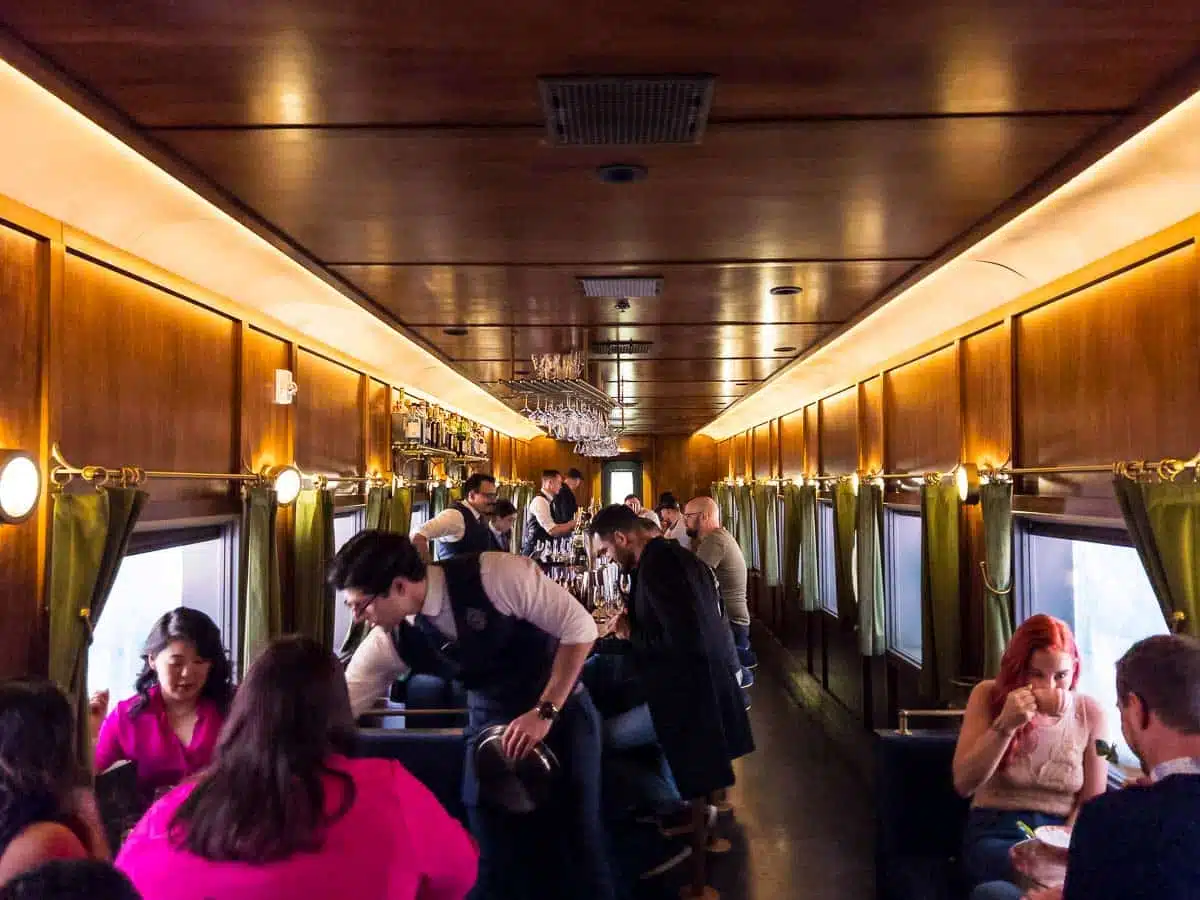 The day might be almost over but Phoenix is still very much alive. And there's no better way to kick off the evening than with a drink at Platform 18.
It's a 12-minute drive (5.6 miles) from the Heard Museum to Century Grand, a trendy building that hosts three exceptionally unique cocktail bars. The best of the bunch is the Presidential Pullman-inspired train car bar that seats 36 guests.
It offers 90-minute experiences as you dive into the magical world of a fictitious 1930s bootlegger, Hollis Cottley Pennington. When you pair this adventure with one of the 40 speciality cocktails, you know you're in for a wild ride.
If you're looking for something different, the New Orleans-inspired Grey Hen Rx bar and nautically exotic UnderTow bar are also in Century Grand. But I still highly recommend the extravagant experience at Platform 18.
Make Your Dinner Destination Valentine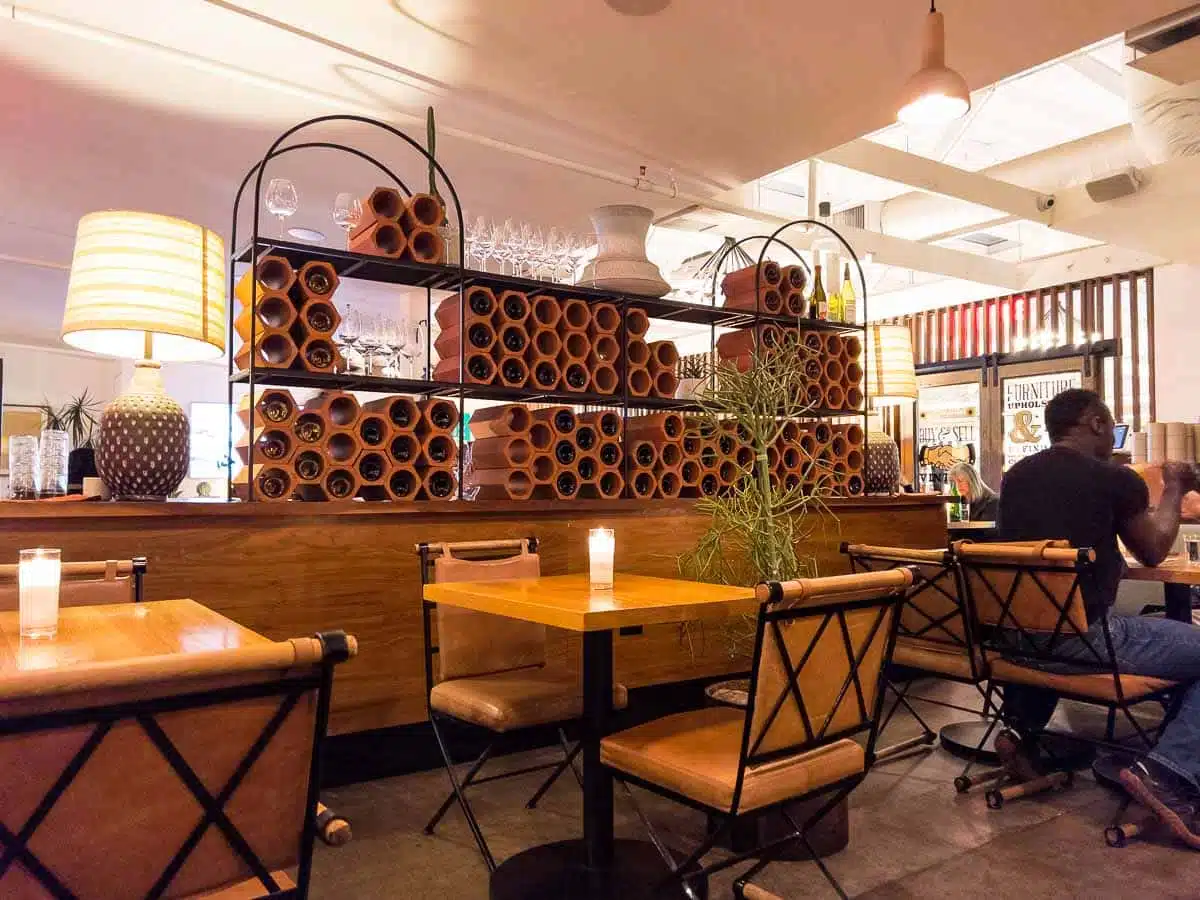 After exploring the weird and wonderful 1930s, it's time for a small plates concept restaurant with a lot of heart, Valentine. They're only open from Wednesday to Sunday, so try to plan your itinerary over one of these days.
It may seem silly organising your entire time in Phoenix for one restaurant, but trust me – you'll regret not eating here. Expect a truly eclectic menu with unique dishes like the bison tartare tostada and grilled lamb hearts with green chilli bacon.
If this is all a bit too much for you, the smoked two-wash ranch chicken is also the perfect choice. And you can always wash it all down with a glass of wine or cocktail (Dirty Cactus Martini, anyone?).
End the Night With a Guided Ghost Tour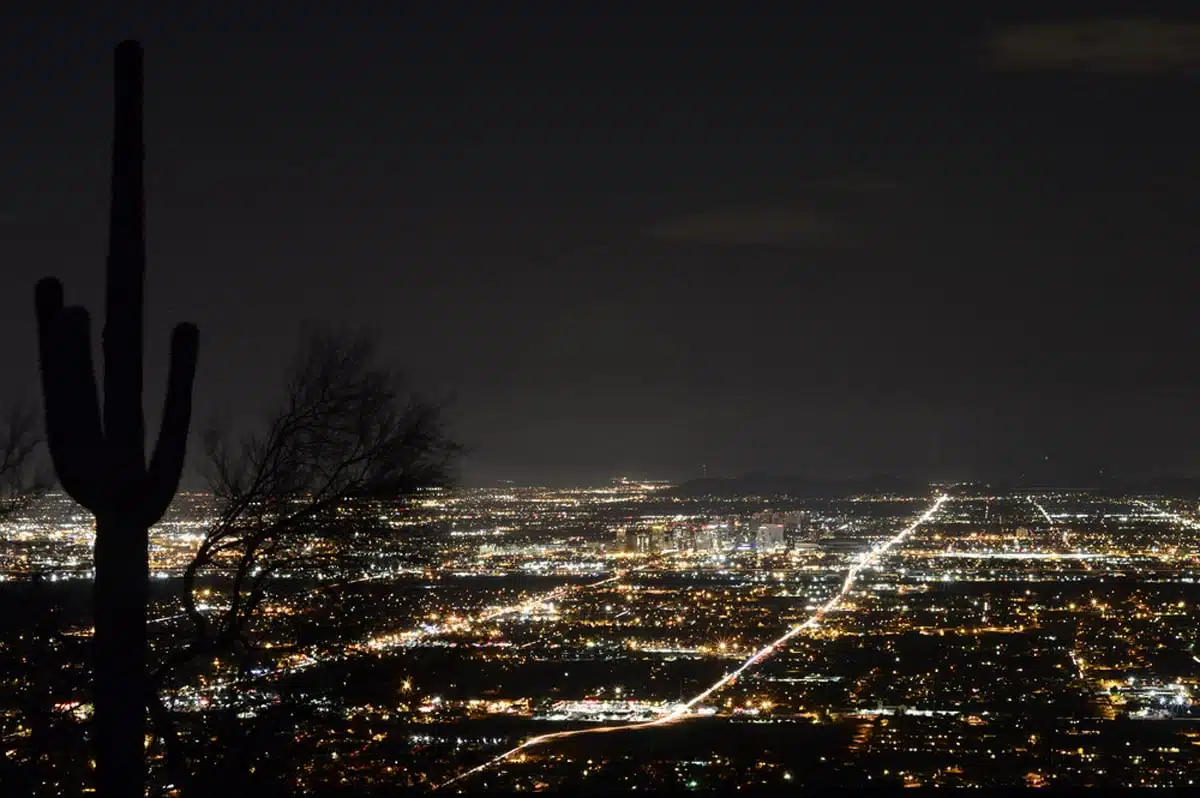 The night may bring an end to the day, but there's still one more activity that's worth squeezing in. You have yet to get a chance to explore the city's spooky past, so why not join a guided walking tour through the streets of downtown?
But this is no ordinary way to explore the city, oh no. Get ready to feel chills run down your spine as you learn about spooky stories for each attraction. The experience begins at the haunted Hotel San Carlos before winding your way to St. Mary's Basilica.
There are many stories of ghosts that pass through the archway's doors each night, and if that doesn't give you the chills, maybe Teeter House will. This 20th-century home has an eerie energy that sets most people on edge when they visit.
It's a unique way to explore the city, allowing you to learn about some of its lesser-known histories.
Book your night tour of Phoenix here
Bonus Activity: Admire Montezuma Castle National Monument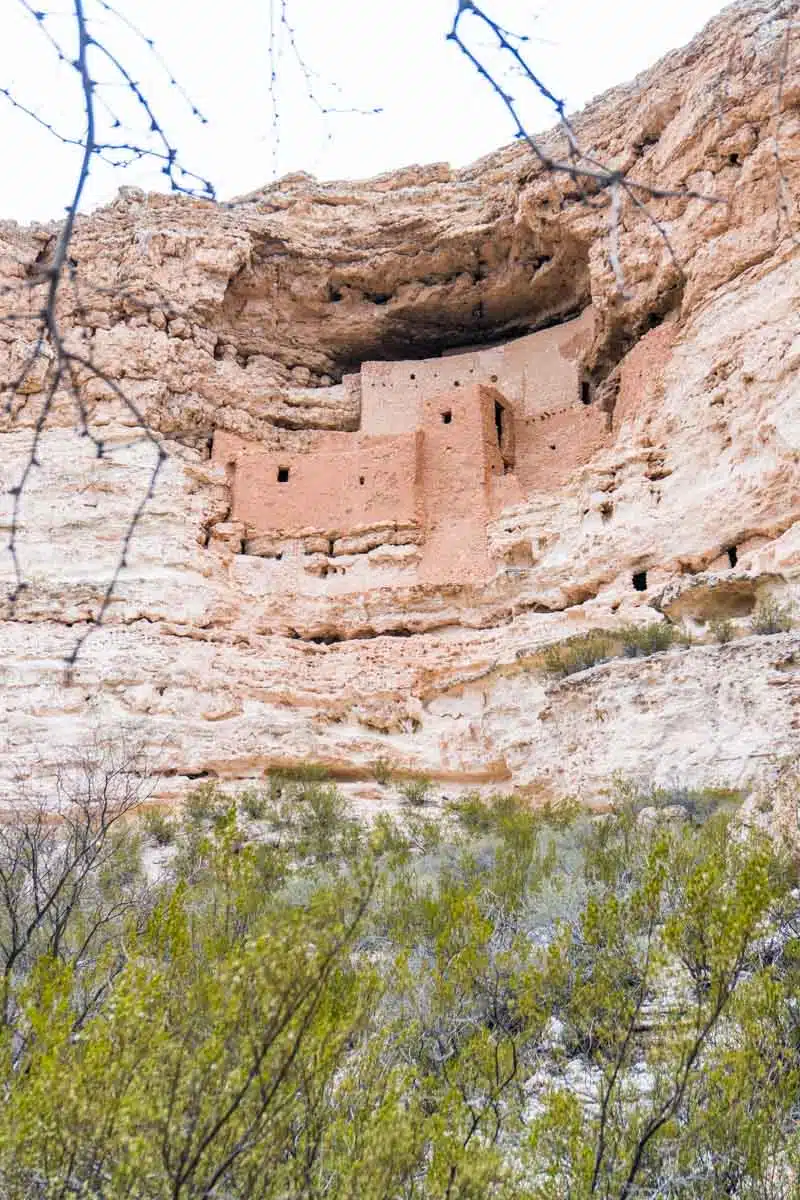 I love Phoenix so much that I just couldn't resist adding in a bonus activity – just in case you have some time to spare the following day. Montezuma Castle sits about an hour and a half drive from Phoenix, but it's a genuinely stunning excursion you will want to experience when in the area.
No, it's not a castle in the sense that we would usually expect. Instead, Montezuma Castle is an out-of-this-world set of dwellings resting on the limestone cliff face. The Sinagua People made this five-story construction out of rock and mud, dating back to around 1100 AD.
Exploring the dwellings showcases a true testament to the Sinagua People's ingenuity. You can easily spend a couple of hours here learning all there is to know about the region's Native American culture.
Handy Tips for Planning Your Phoenix One-Day Itinerary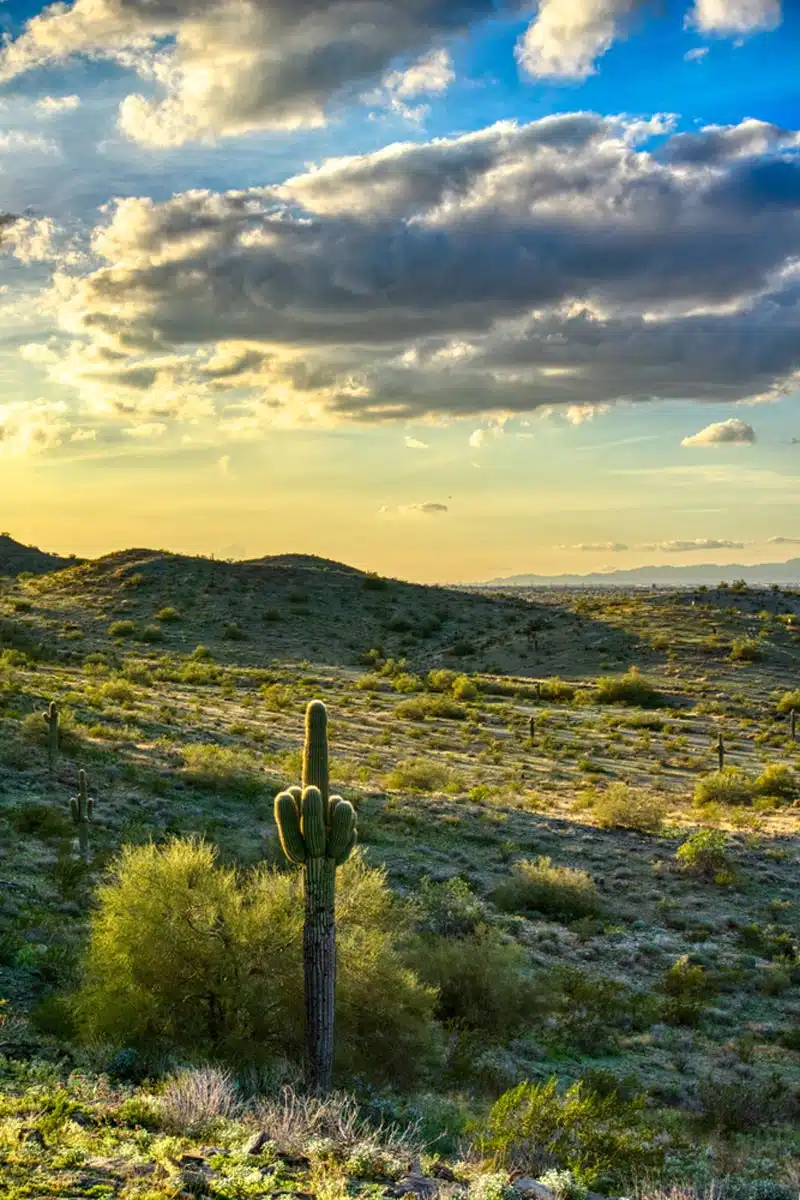 Top Tours for Your Phoenix Arizona Itinerary
Guided Haunted Walking Tour: It's always spooky season in Phoenix, so why not explore the city on a fun and historic guided walking tour? Pop by all the main attractions, from Melinda's Alley and Hotel San Carlos to St. Mary's Basilica and Teeter House.
Hot Air Balloon Flight: Albuquerque may host the International Balloon Fiesta, but taking to the sky in Phoenix is just as spectacular. After admiring the landscape below, you'll even crack open a bottle of champagne to mark the occasion.
Guided Self-Drive ATV/UTV Tour: Adrenaline junkies, this one's for you. Get ready to explore the majestic Bradshaw Mountains and the Sonoran Desert in style on an ATV tour. Remember to keep your eyes peeled for rare wildlife like rattlesnakes and bobcats throughout the Agua Fria River Valley.
What to Pack for Your Phoenix Trip Itinerary
What to pack for your 1-day itinerary in Phoenix isn't as straightforward as you might think. It depends on when you visit Arizona; the weather can significantly influence what to wear and pack.
As a general rule of thumb, here are some essentials you should pack:
Hiking trainers – Trekking through the Sonoran desert is one of the best pastimes in Phoenix, so some comfy hiking shoes are a must.
Water bottle – It gets extremely hot in the summer, so making sure you're stocked up on water is important. Bring a reusable water bottle and fill up as you go.
Comfortable daypack – You'll need to be able to carry all your essentials as you explore the city, so a daypack is a great idea.
Light layers – Like I said, it gets hot in the desert when you're hiking. But it can be rather chilly at night. Lots of light layers that you can add and remove are ideal.
Small drone – Ok, so this one is not totally necessary, but it's an epic add on. Exploring Phoenix is one thing, and remembering the journey is another. Snap those impossible aerial photos with a compact and easy-to-use drone.
Where to Stay for Your Day Trip to Phoenix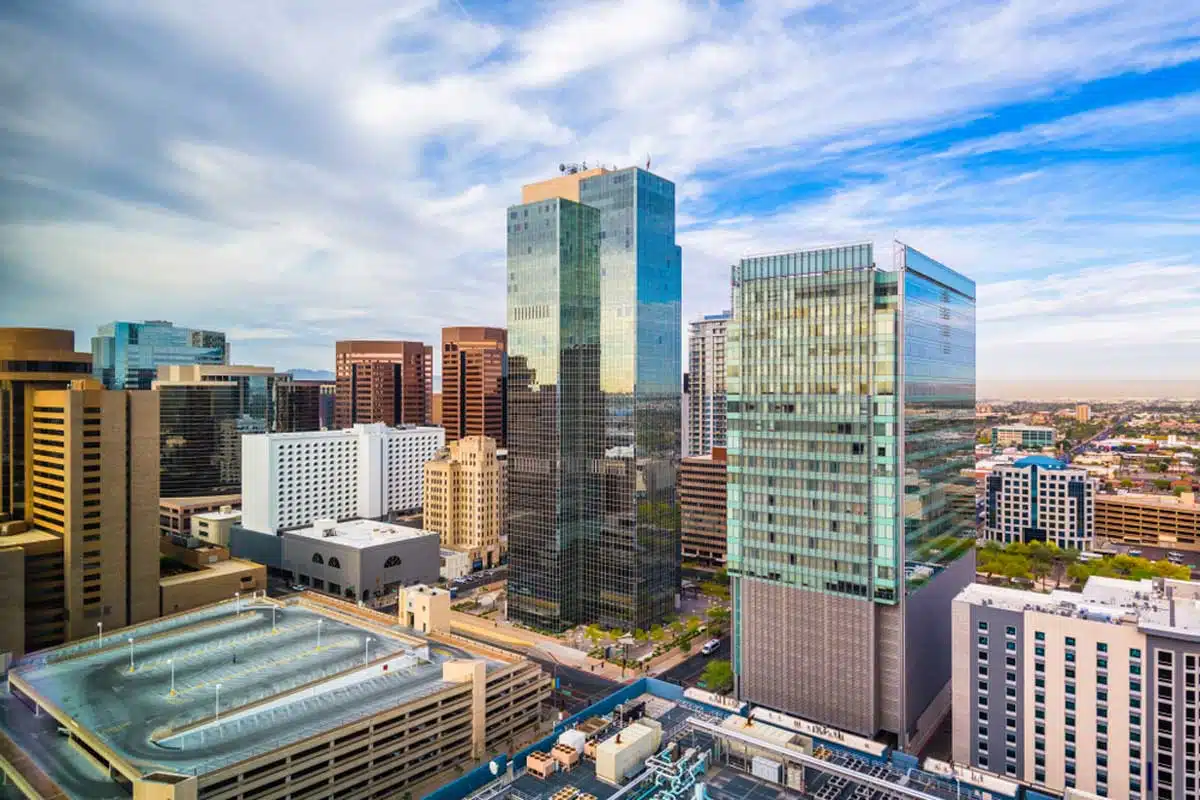 Choosing the best place to stay in Phoenix is no easy feat, with a plethora of stunning resorts to pick from. You can thank me later, though, because here are the best spots to settle down after a long day of exploring.
Found:Re Phoenix (Mid-Range)
Found:Re has that wow factor, with all its rooms boasting a stark combination of black, white and bronze finishings. It's at the heart of the Roosevelt Row district, so the main attractions are all nearby, from the Heard Museum to the 11th Street & Roosevelt Street train station.
You can even bask in the Sonoran sun at the outdoor heated pool or grab a drink (or five) at the onsite bar with neon lighting.
The Hermosa Inn (Luxury)
Luxury is the aim of the game at the Hermosa Inn, with rooms featuring everything from walk-in showers to stunning parquet flooring. If the spacious rooms aren't enough to tempt you, how about glorious flower-filled gardens and a sun terrace where you can have a lovely morning meal?
That's before I even mention the all-inclusive spa and magical pool, perfect for de-stressing after a long day.
Quick Info for Your 1 Day in Phoenix
Time Zone: Mountain Standard Time (GMT-7)
Currency: USD $
Plugs: Type A and B
Nearest Airport: Phoenix Sky Harbor International Airport
5 Must-See Spots: Heard Museum, Papago Park, Desert Botanical Garden, Valentine, and Platform 18.
Top Tip: You can visit Phoenix anytime between November and April for great weather. But visiting in late April or early May is best if you want to see the cacti in full bloom.
Getting Around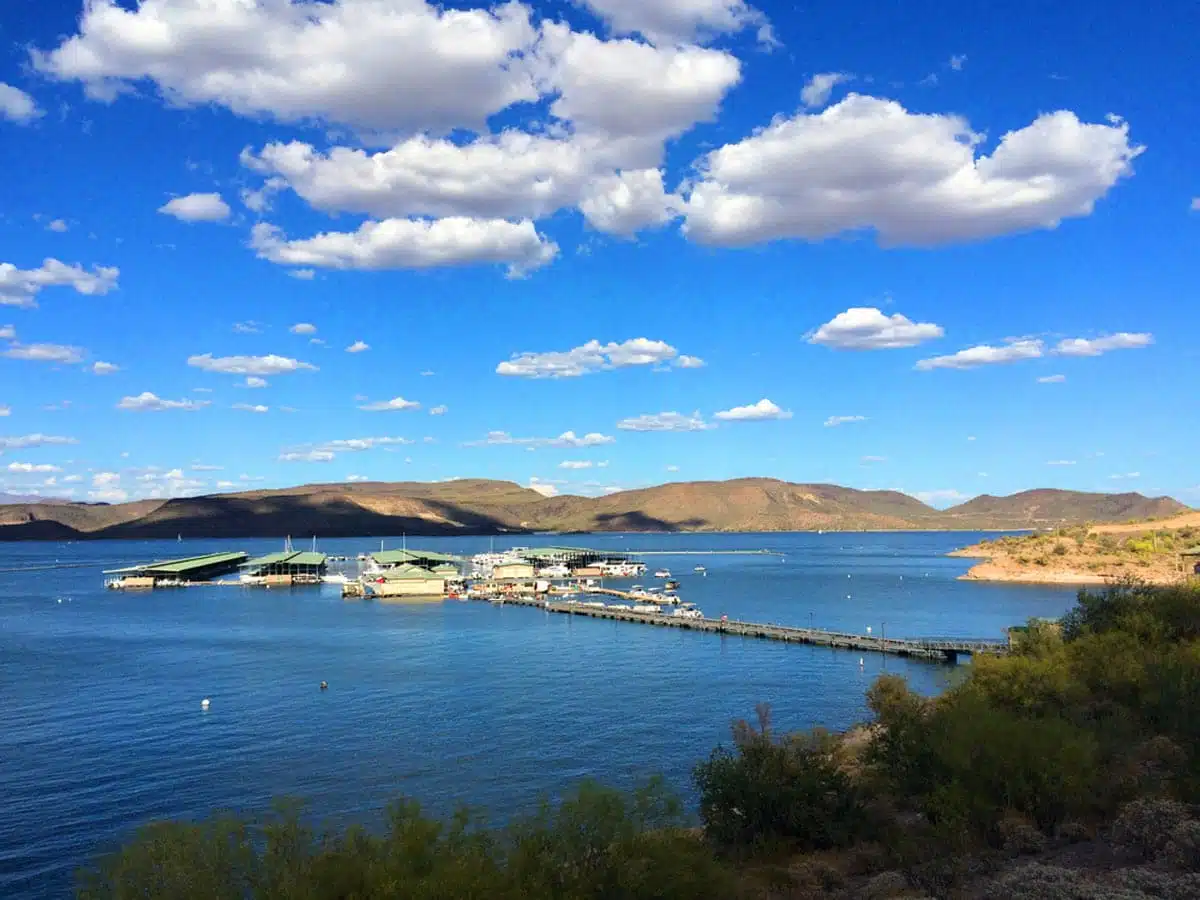 Bus or Train
The city has established a relatively far-reaching public transportation system, so using the Valley Metro train or bus system is easy.
The train runs throughout the city to all the top attractions, from the Heard Museum to Chase Field. The light metro train even travels from the airport to downtown Phoenix. The bus system uses similar routes but does extend slightly further to other sites like Fountain Hills Mesa.
You can get a day pass for the metro and bus systems at just $4 per person.
Bicycle or E-Scooter
If you plan on only exploring downtown Phoenix, hiring a bike or e-scooter is also a fantastic way to get around. It's a newly set up system by the government of Phoenix, and you can rent out an e-scooter or bike for an entire day.
There are limits to where you can use these vehicles, so visit the Phoenix website to learn more.
Car
Phoenicians love their cars, and understandably so when considering how hot this city can get in summer. If you plan on visiting those hard-to-reach places like Montezuma Castle or taking on some day trips from Phoenix, renting a car is a great idea.
Top tip: rent a car in advance with Rentalcars.com
Phoenix Vacation Itinerary – Map
More Travel Guides for Your Phoenix Itinerary
Love this? Save and Share on Pinterest