From towering skyscrapers to cultural attractions, few urban landscapes teem with the promise of discovery as the Big Apple. Step in and discover these famous landmarks in New York.
There are countless reasons why New York is an iconic city, and its landmarks are certainly one of them. From historic time capsules to futuristic beacons, and plenty of cool spots along the way, these landmarks have shaped the identity of the city throughout the centuries.
I get it: with an almost endless list of places vying for your attention, deciding which landmarks you NEED to visit when in NYC is daunting, particularly if you're on a relatively tight itinerary.
Think of this guide as your passport to the ultimate urban adventure – a jaunt through architectural marvels and historical touchstones with all the old favourites in between. Let's go.
Famous Landmarks in New York
The Empire State Building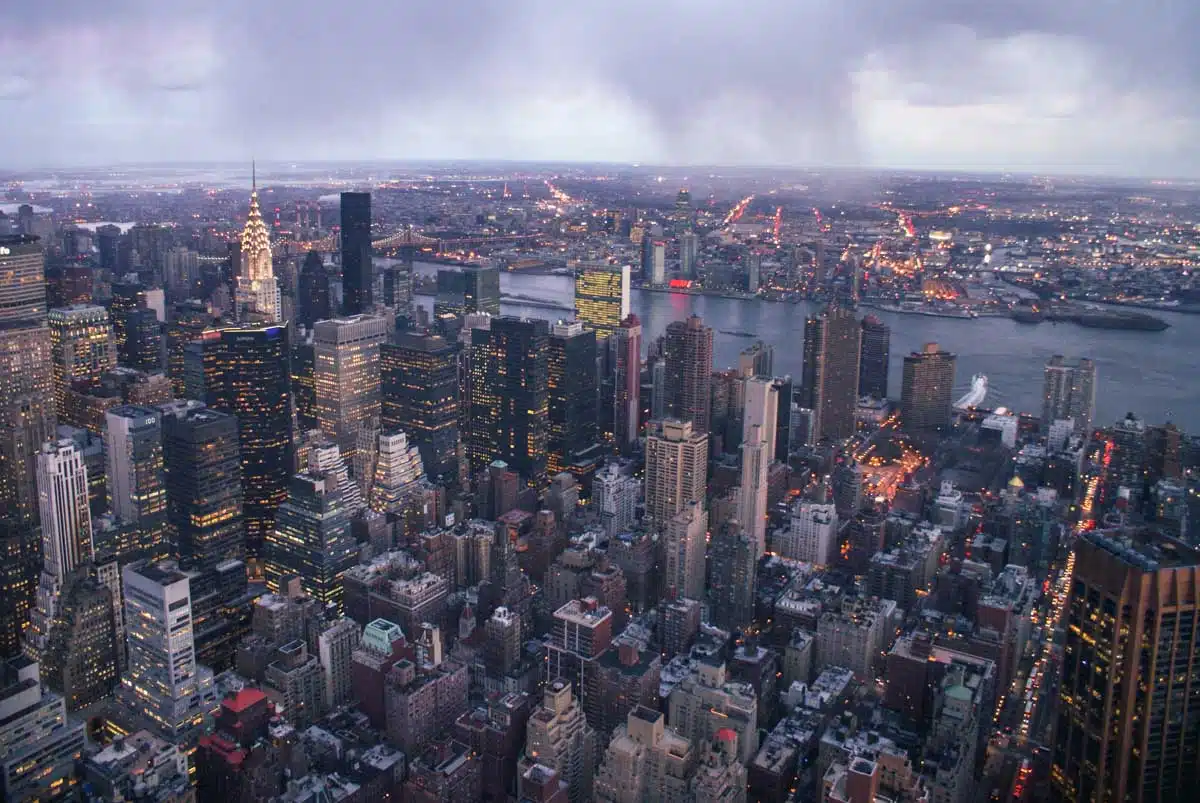 Seen from multiple viewpoints throughout the city, the Empire State Building is one of the most notable NY landmarks. You'll find it standing proudly – since 1931 – in Midtown Manhattan.
It's hard not to miss this imposing 102-story Art Deco skyscraper, so why not get close up to see the building in its full towering glory?
Travel to the 86th floor for a bird's eye view of the city. The journey to the top of this historic building is memorable enough itself, with an elevator ride that whisks visitors up 1,250 feet in just 60 seconds
Now, I'll be totally honest – if you have to choose between going to the top of the Rockefeller and the Empire State, I'd opt for the Top of the Rock (more on that in a mo), but the views from the Empire State Building are pretty epic.
Top Tip: The Empire State Building is open all year round between 9 am – 11 pm, and you can purchase tickets onsite or online via the official esbnyc site.
Rockefeller Center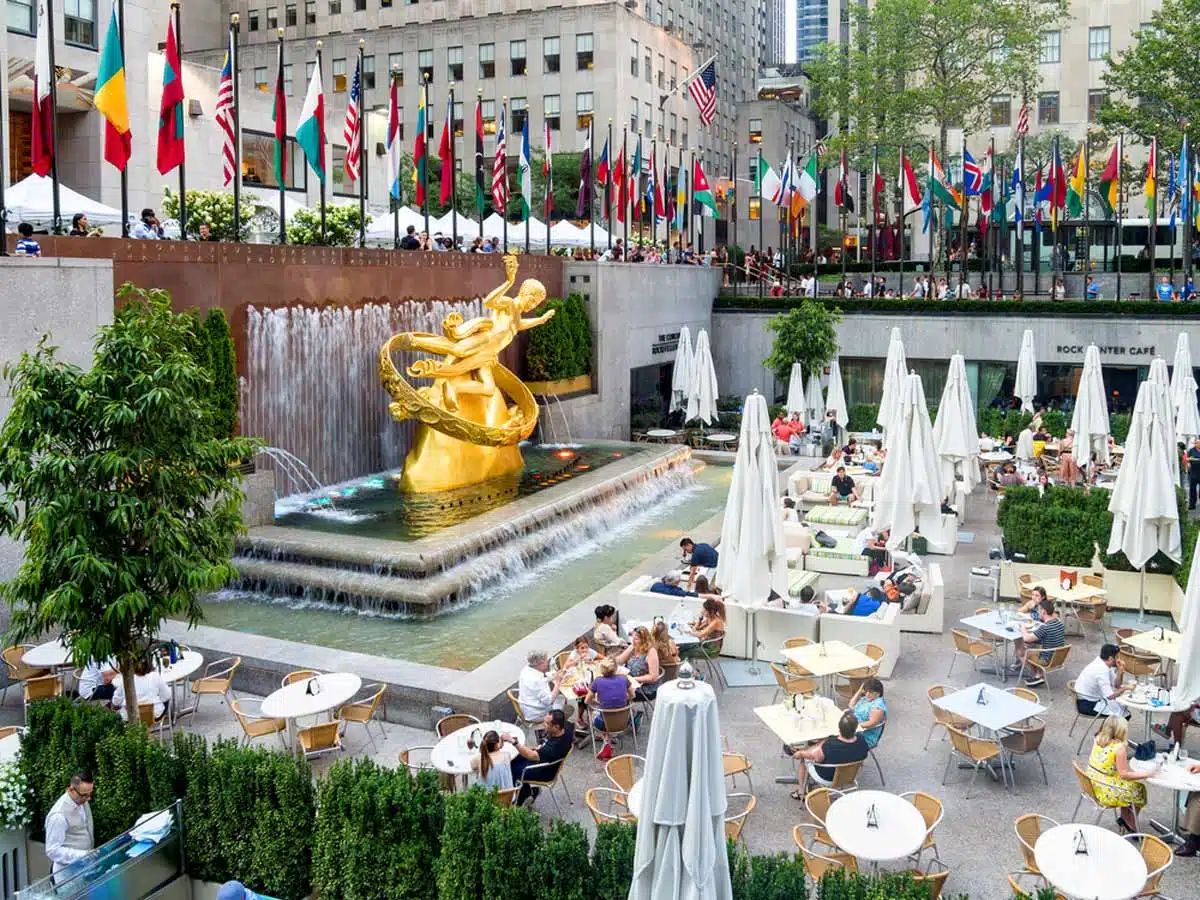 I'm going to talk about plenty of icons on the New York skyline throughout this article – the Rockefeller Center is no exception. This 22-acre complex comprises 19 commercial buildings and sits between 48th Street and 51st Street in Midtown Manhattan.
In addition to the artwork peppered throughout the building, the Rockefeller Center is also home to a number of television studios, including those used for popular shows like the Today Show and Saturday Night Live. It's a real hub of culture.
But my favourite thing to do here is sip some coffee whilst people-watching. And, if you happen to be in NYC during the Christmas holidays, you don't want to miss the annual lighting of the giant Christmas tree or skating on the iconic ice rink.
Now, let me tell you why I recommend heading to the Top of the Rock instead of zipping up the Empire State. This observation deck might only be on the 70th floor of the Rockefeller Center, but it offers stunning panoramic views of the city, including one of the Empire State Building. Savvy.
Top Tip: Book your Top of the Rock ticket in advance and thank me later. The queues can get ridiculously long.
The Guggenheim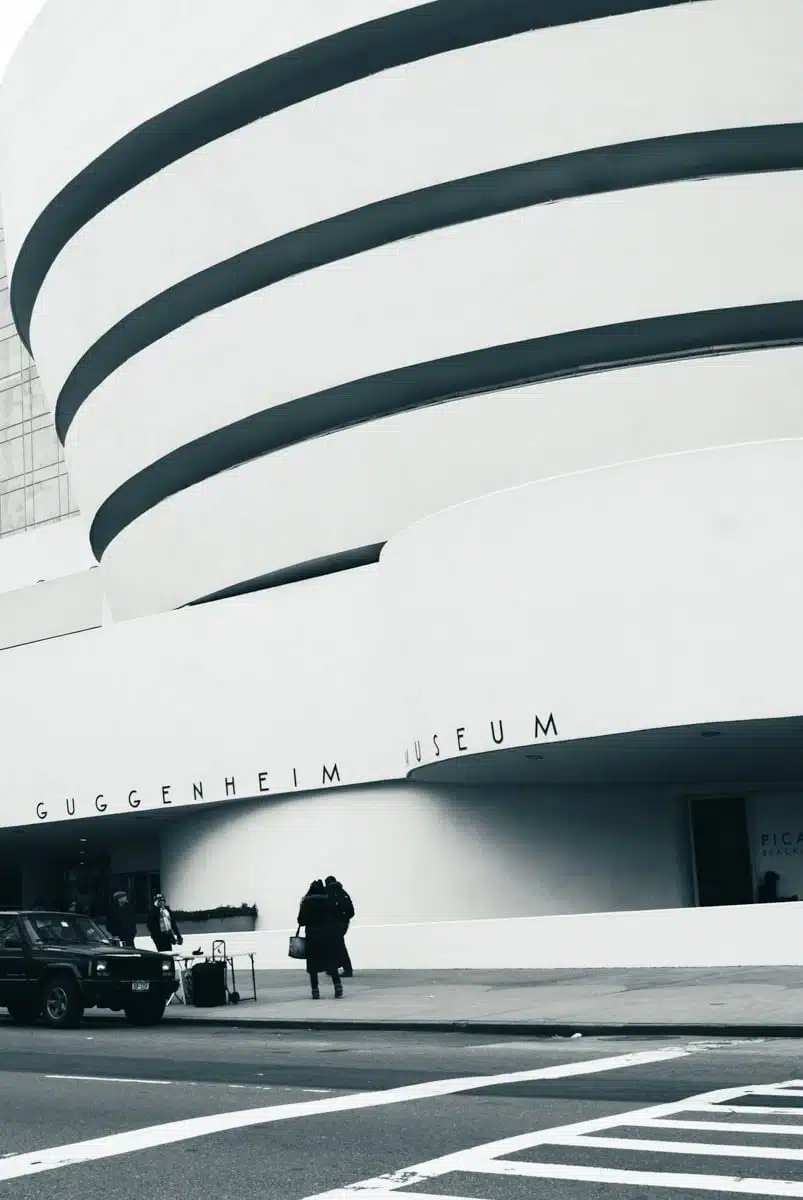 What's The Guggenheim? Only one of the most spectacular art museums in the world. Not to mention one of the most iconic landmarks in NYC.
The Frank Lloyd Wright-designed Guggenheim Museum showcases pieces by renowned artists like Vincent van Gogh and René Magritte, but that's only half the story.
The other half is the rather bonkers but brilliant architecture. The Guggenheim broke the conventional architectural rules of its time, prompting contemporary artists to sign petitions against it.
These days, it's (quite rightly) heralded as a flagship of mid-century design and is a Unesco World Heritage Site.
Summit One Vanderbilt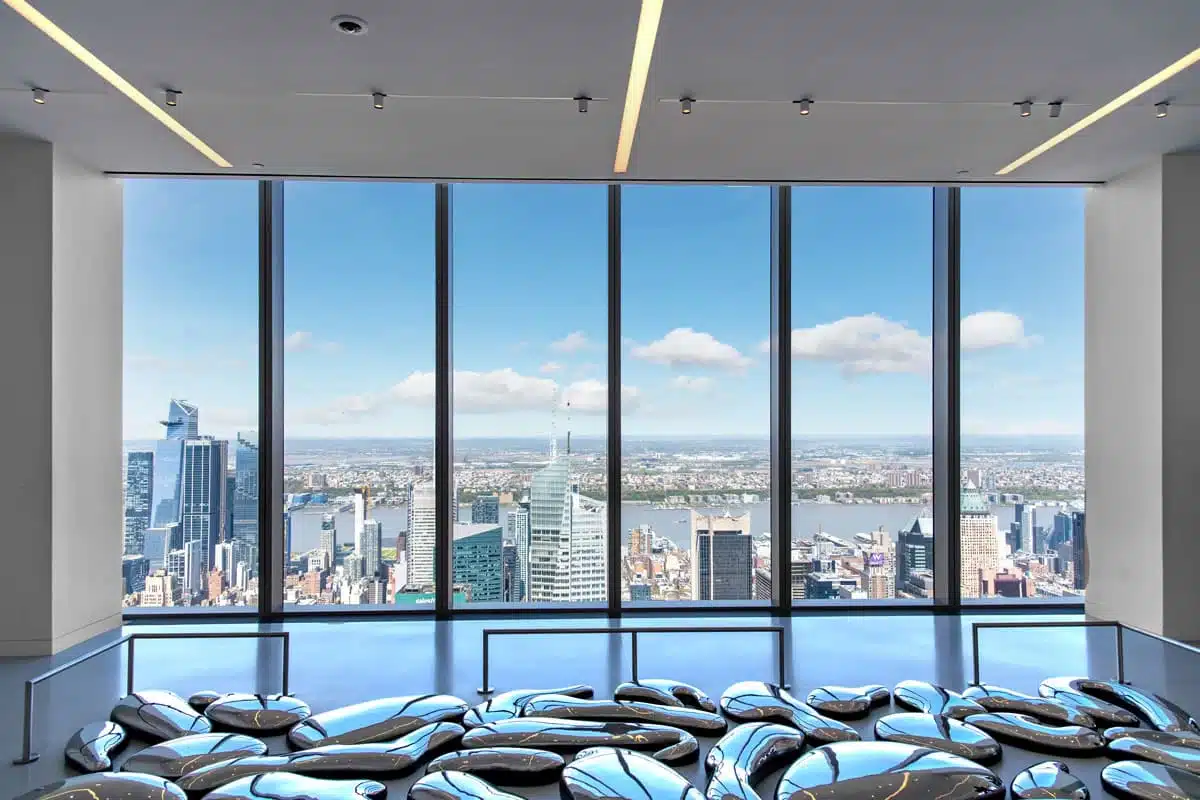 One of New York's newer landmarks has fast become an absolute must visit spot. Summit One Vanderbilt showcases unmissable city views, paired with an unforgettable immersive art experience.
So what should you expect? Three levels of mind-bending multi-sensory affairs for starters. Kenzo Digital's trippy installation consists of a double-story room of mirrors, creating an illusion that makes you question reality: do you go up or down?
Another big draw is the huge observation with a unique 360-degree perspective of New York (beware if you're afraid of heights).
Central Park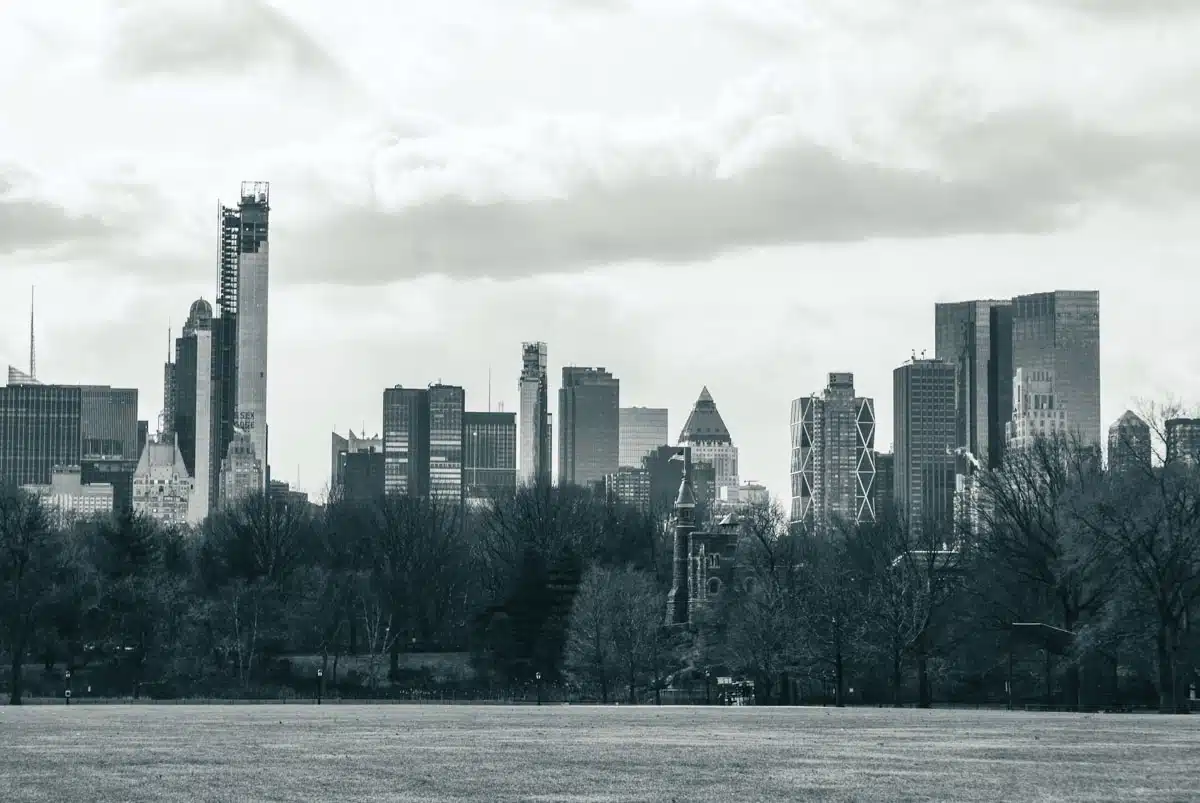 If you've seen movies like Elf, Home Alone 2, John Wick or Ghostbusters, you know about Central Park. Even if you haven't, you know about Central Park.
To say the park is massive is an understatement – it spans about 840 acres (340 hectares), making it larger than some countries (Monaco, I'm looking at you). And to see it all, you would probably need an entire week to cover it alone.
But that doesn't mean you shouldn't try. While you can visit the park simply for its cultural significance, there are endless fun things to do. From sports pitches, Central Park Zoo, yoga and fitness classes, concerts and many other attractions.
Central Park also features several lakes and ponds, where you can rent rowboats or take a peaceful gondola ride. Take my advice and rent a bike to zip around the park with ease.
Fun Fact: Over 200 films have shot scenes in this iconic park since 1908, making it the most filmed public park ever.
The Statue of Liberty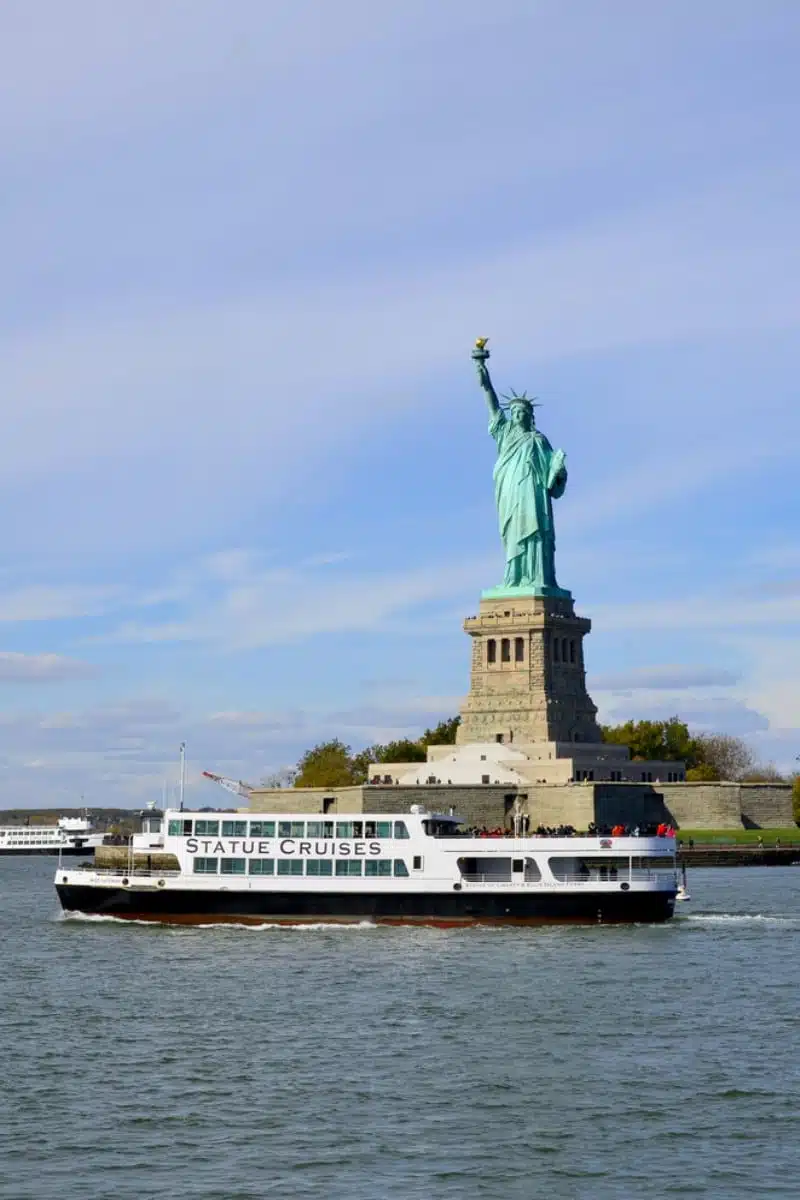 The Statue of Liberty is hands down the most famous landmark in New York, symbolising the freedom and enlightenment that's at the heart of the American dream.
The distinguished mint-green figure is often the first thing travellers glimpse when arriving at JFK airport, but it's hard not to be wowed when you finally see Lady Liberty in the flesh.
Visit this colossal copper sculpture on Liberty Island via this sightseeing cruise around the Statue of Liberty and Ellis Island.
Top Tip: Reserve your tickets to the statue's crown before visiting, as these have daily limits.
Times Square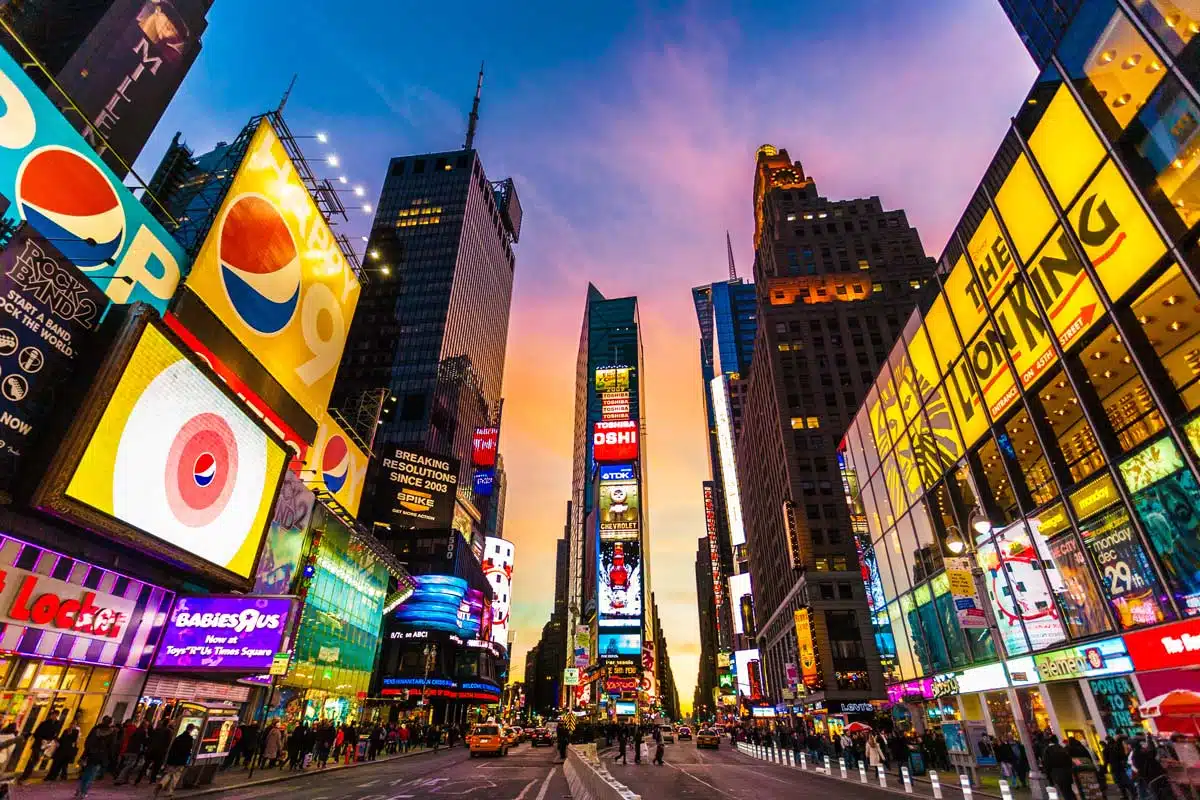 Is there anywhere quite as chaotically wonderful as Times Square?
This famous New York landmark is home to bustling theatres along Broadway, in the Theatre District and Lincoln Centre. Come here to catch award-winning plays, films and musicals that take place throughout the year.
However, Time Square has the most electrifying atmosphere during New Year's Eve and other annual festivities like stand-up comedies, dance parties, concerts and cultural events.
Even if you're not there for the celebration, the buzzing energy, massive billboards, signs, and overall appearance is makes for a unique experience.
Brooklyn Bridge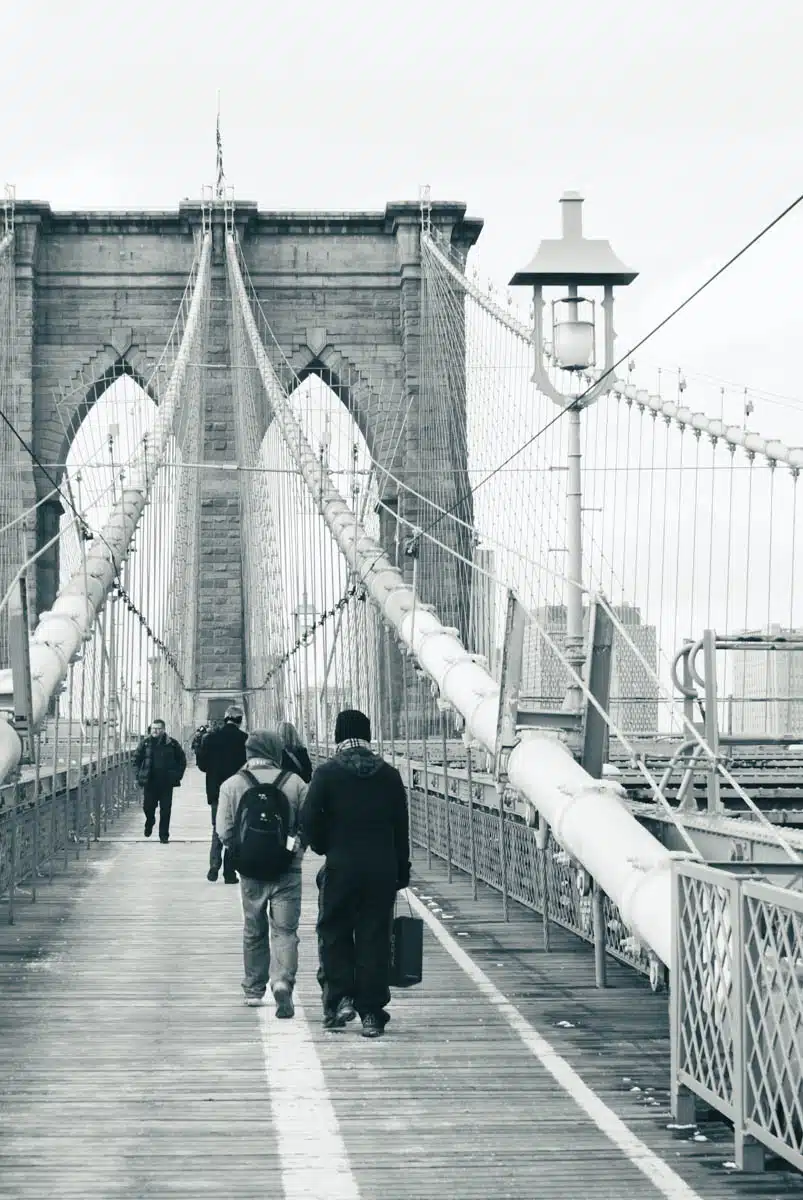 The Brooklyn Bridge broke a ton of records back in its day. It was the first bridge to use steel for its cable wire and used to be the longest suspension bridge in the world. Today, it's one of the most photographed bridges in the world.
The bridge straddles the East River, connecting Brooklyn and Manhattan. Cross the bridge to admire its unique steel and stone design. It takes about 10 minutes to walk from one end to the other.
The National September 11 Memorial & Museum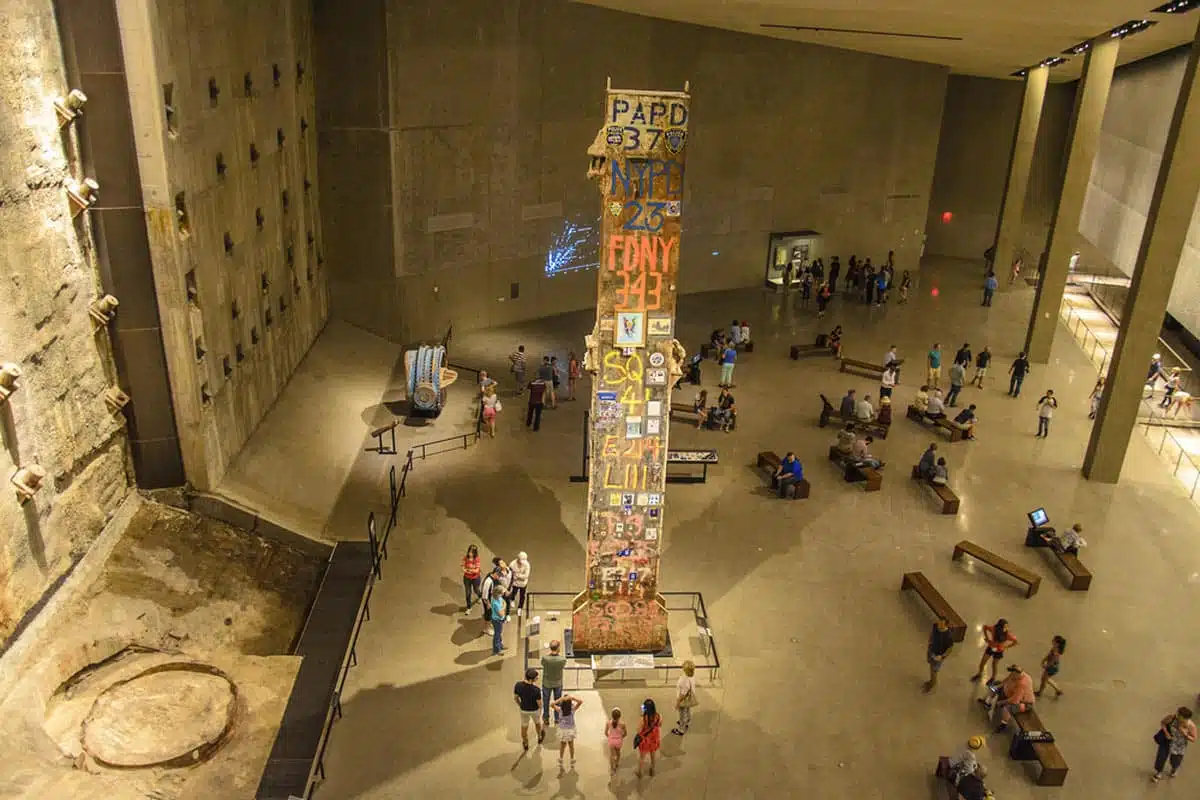 September 11th, 2001, is a date that marks one of the most tragic events in world history: a terrorist attack that ended the lives of nearly 3,000 people.
Where better to commemorate those who suffered from this tragedy than the National September 11 Memorial & Museum. It's an event that turned ordinary people into heroes, making it one of the most important landmarks in NYC.
Visiting the memorial is free, but if you're interested in the museum, entrance costs $17-$29 for general admission.
Trinity Church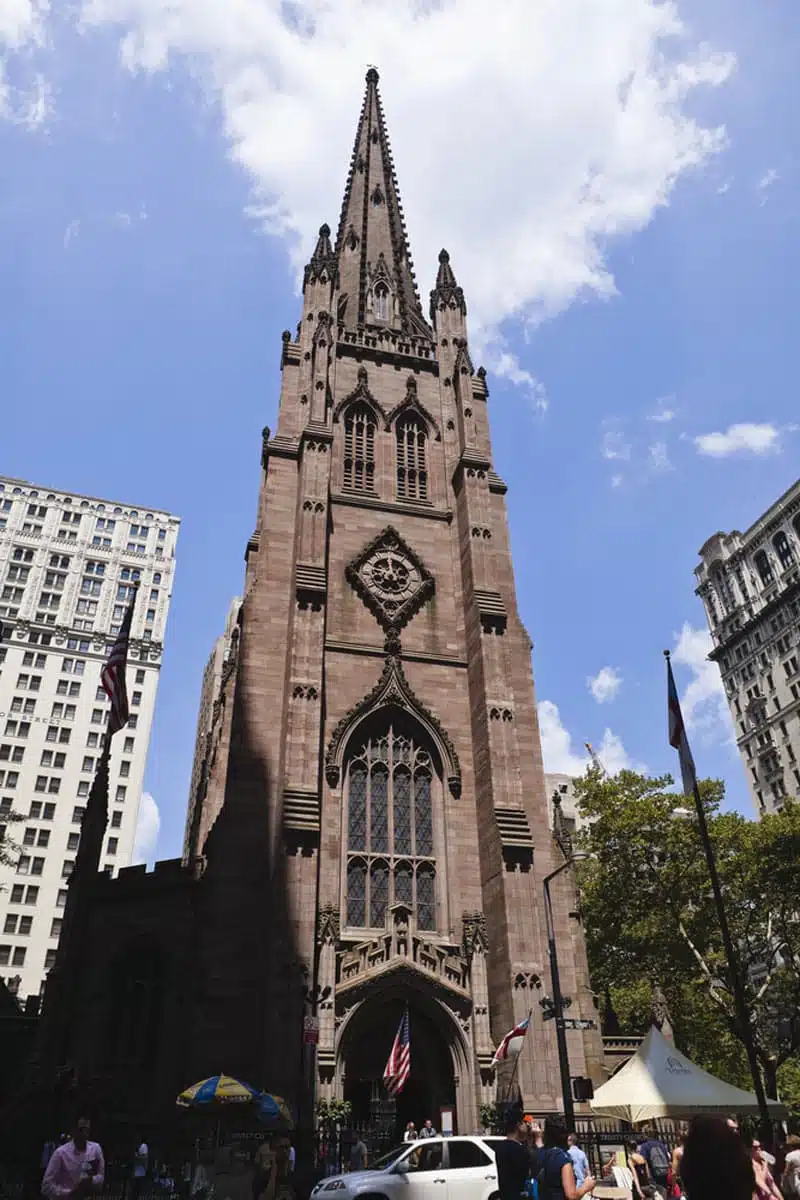 The Trinity Church has stood the test of time since 1846. It's one of the first Gothic Revival Buildings in NYC, emerging majestically at the intersection of Wall Street and Broadway.
This renowned historic parish church is among the finest specimens of Neo-Gothic architecture in the United States.
Recognise it? This Trinity Church featured heavily in National Treasure, thanks to its dramatic, fairytale-like look. It's also home to the historic gravesite of Alexander Hamilton, a Founding Father.
The best part? You don't have to pay to visit the church and grave sites.
Flatiron Building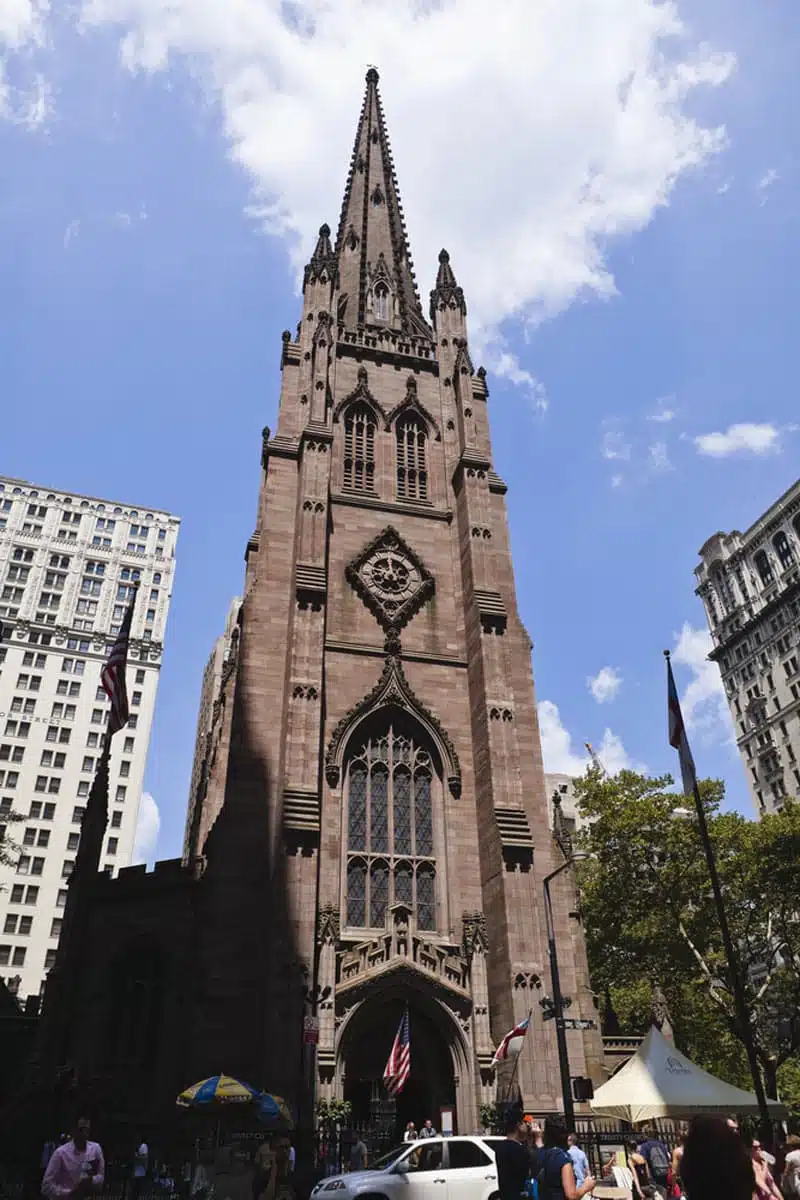 It's not hard to guess where the Flatiron gets its name from – a simple glance at the building gives the name away, but there's more to this NYC landmark than its unusual design.
The Flatiron Building was one of the city's first skyscrapers and the first to have a steel-skeleton structure visible to the public during its construction.
Having such a peculiar triangular shape makes it a landmark of note. This is particularly true during its early heydays when the 22-story skyscraper helped transform its neighbourhood into a bustling destination for high-end dining, shopping and sightseeing.
So it's not only about the building itself but also what it stands for — in this case, ambition and progress.
Top Tip: For Insta-worthy snaps of the building, find a spot at Flatiron Plaza's southern end.
Grand Central Station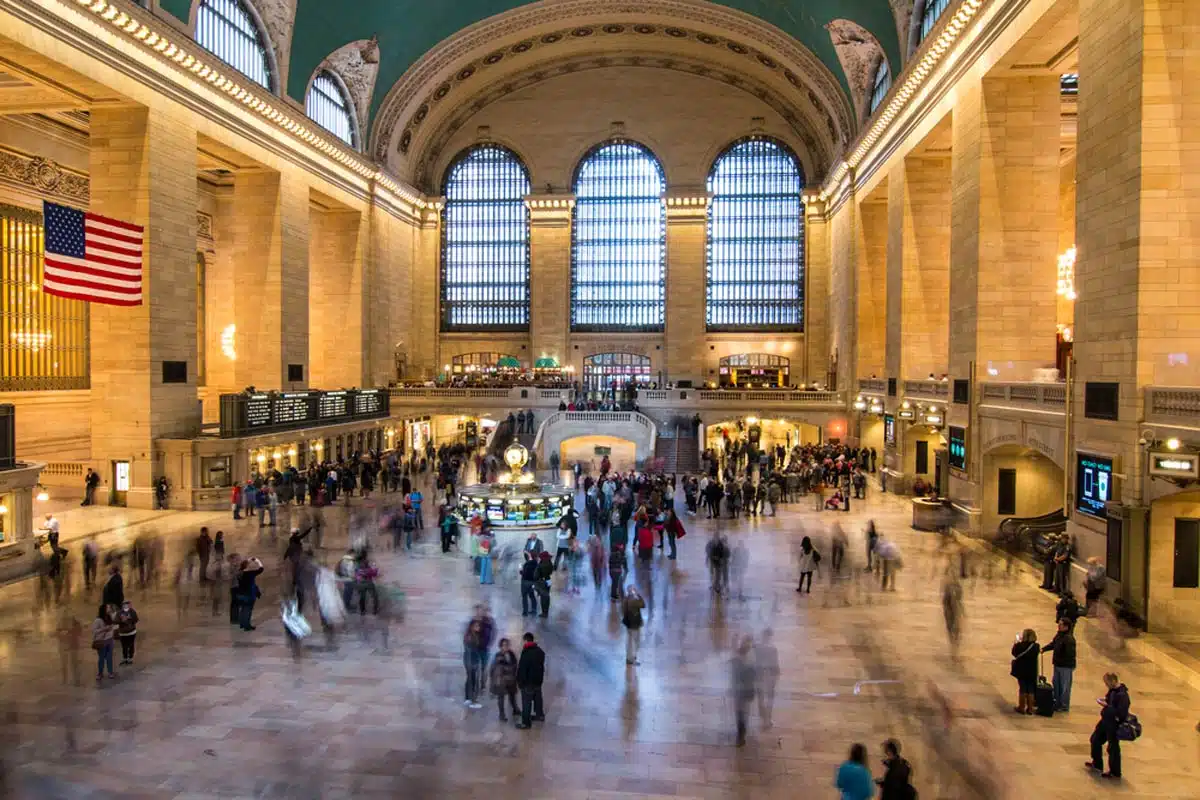 If you've ever wanted to visit the world's largest railway station, here's your chance. Grand Central Station spans 48 acres with 44 platforms and 67 tracks.
That's not all though – this historic landmark is a sought-after dining and shopping destination as well. Its rich history, grand facade and impeccable engineering make it a must-visit tourist attraction.
There's no better place to be in the hub of it all. So just sit back, watch people and enjoy a hot beverage. And whatever you do, remember to look up – that ceiling is ridiculously beautiful.
Top Tip: The terminal has a secret entrance to the Waldorf-Astoria Hotel, once used by President Franklin Delano Roosevelt to hide his polio from the public.
The Metropolitan Museum of Art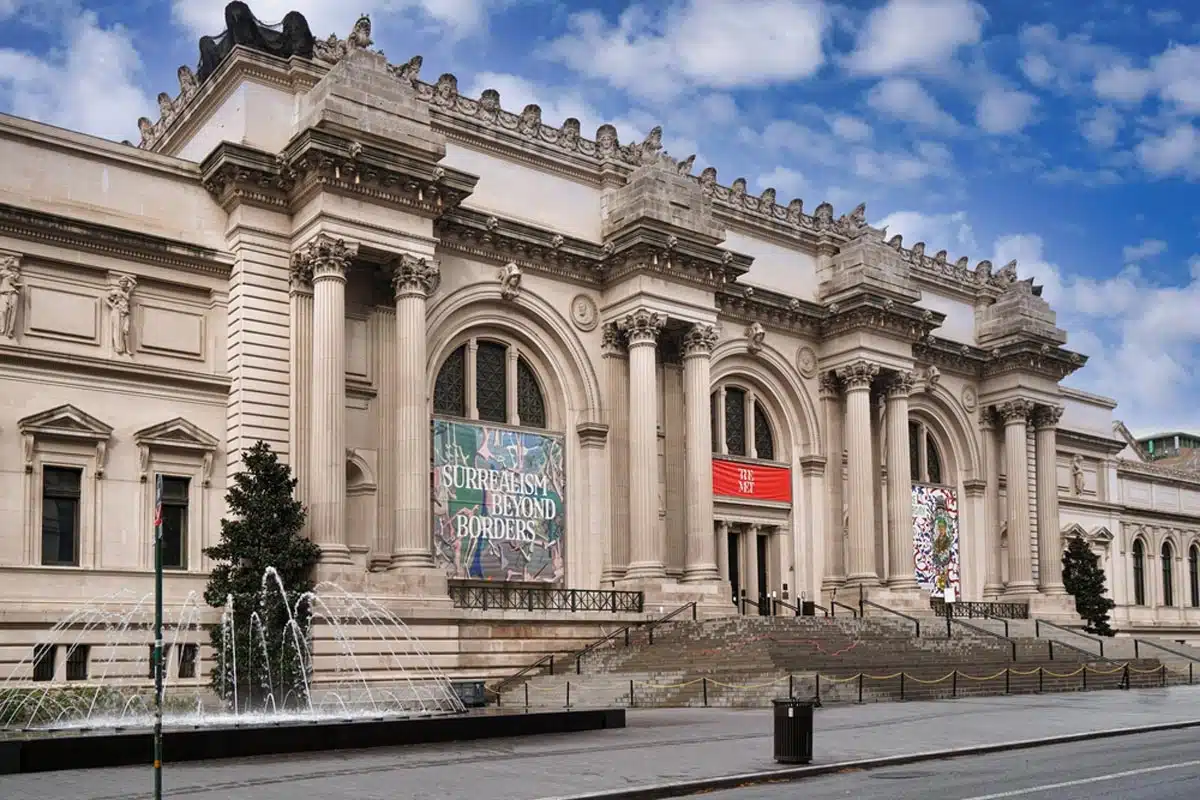 It won't matter where you visit; wandering around a city's most celebrated museum is a must.
The Metropolitan Museum of Art, or "the Met", is the largest art museum in the Americas and the second-most visited art museum in the U.S.
This fine art museum houses over two million artworks from 5,000 years of world culture. Go to see treasures of the art world including The Death of Socrates by Jacques-Louis David and Emmanuel Leutze's Washington Crossing Delaware — to name a few.
Chrysler Building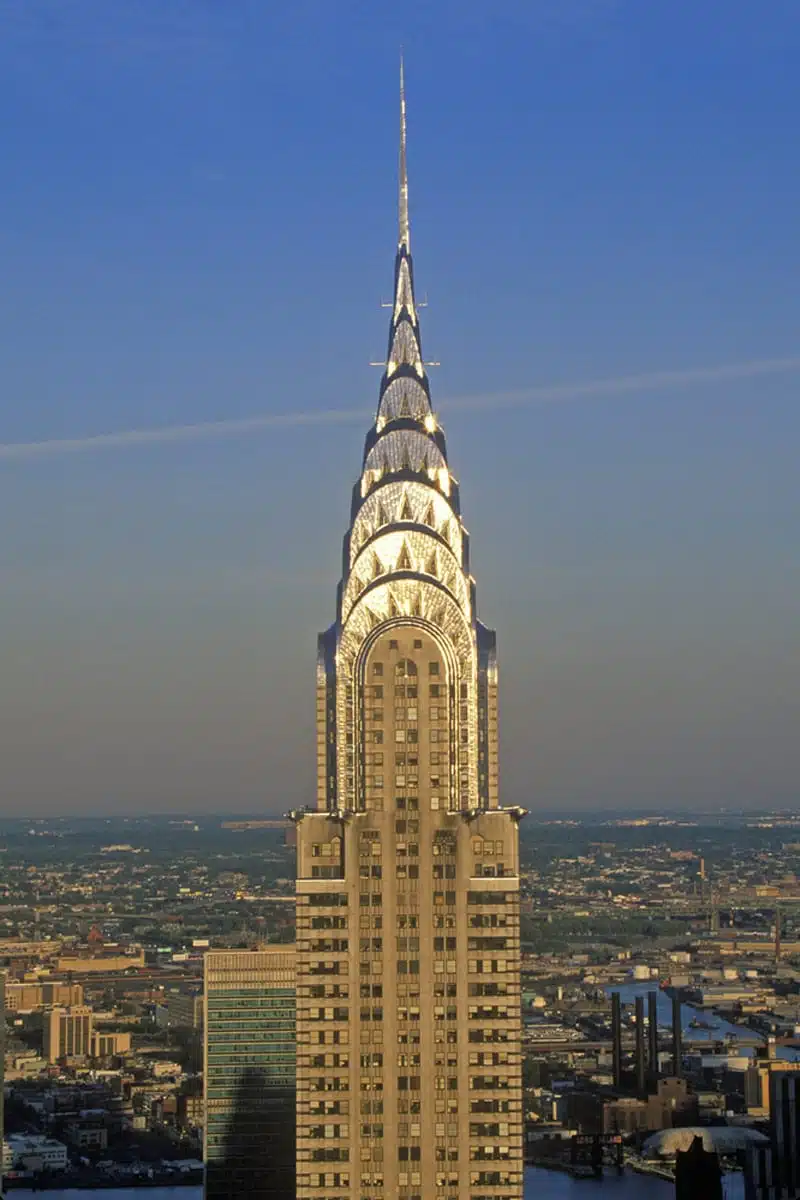 Renowned for its Art Deco style, this East Side skyscraper has attracted admirers since the 1930s – and it has a very special place in my heart.
This picture-perfect tower has a steel frame with stonework and decorative metal cladding. What makes it even more eye-catching are the 3,862 exterior windows that glow beautifully from within as the night settles in.
At some point, it was the tallest building in the world before the Empire State Building took that trophy. Today, the Chrysler Building continues to operate as an office building. Since it's a tourist attraction, you can enter the building for free, but visitors are only allowed into the lobby.
Lombardi's Pizzeria
The city that never sleeps is also one that never runs out of lip-smacking pizza.
Seriously — the pizza culture (rather obsession) in New York is real. So you have to tuck into a slice of authentic Neapolitan pizza from the oldest pizzeria in New York.
Say hi to Lombardi's Pizzeria, a pizzeria that first opened its doors to hungry customers in 1905. That makes it 118 years old!
Apart from delicious pizza, the quaint restaurant transports you to Italy with its traditional visuals, woodfired oven aromas and friendly atmosphere. So come here if you want to visit a landmark and treat your tastebuds at the same time.
Chelsea Market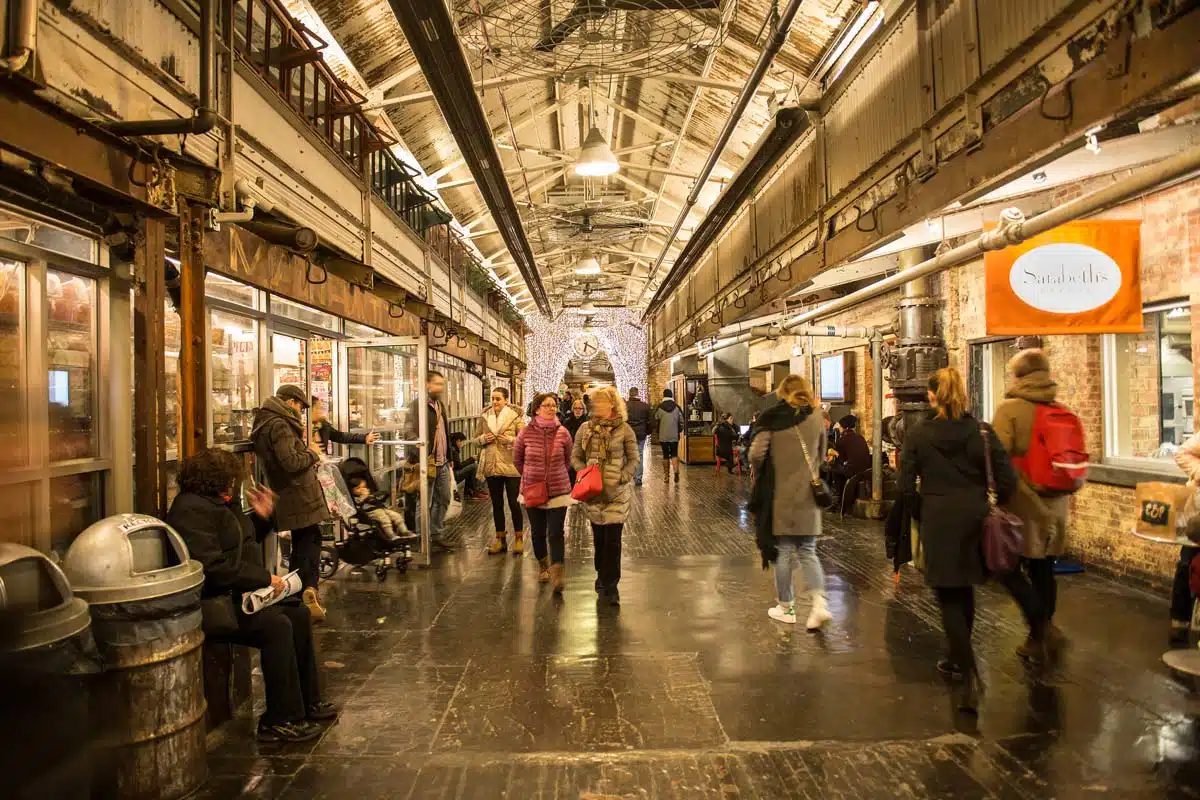 What's the point of visiting an epic city like New York without collecting memorabilia to remember it by (and perhaps show off)? Besides collecting trinkets and clothing, your taste buds are in for a feast.
Did I mention that Chelsea Market is one of the most iconic culinary destinations?
So if you're looking for good food and shopping, this is the hottest spot. Featuring endless pop-ups and sample sales, it can be overwhelming to choose where to go (mainly if you have limited time).
You can't go wrong with cult-classic Corkbuzz Wine Studio, Doughnuttery and the highly-rated Very Fresh Noodles.
Brooklyn Botanic Garden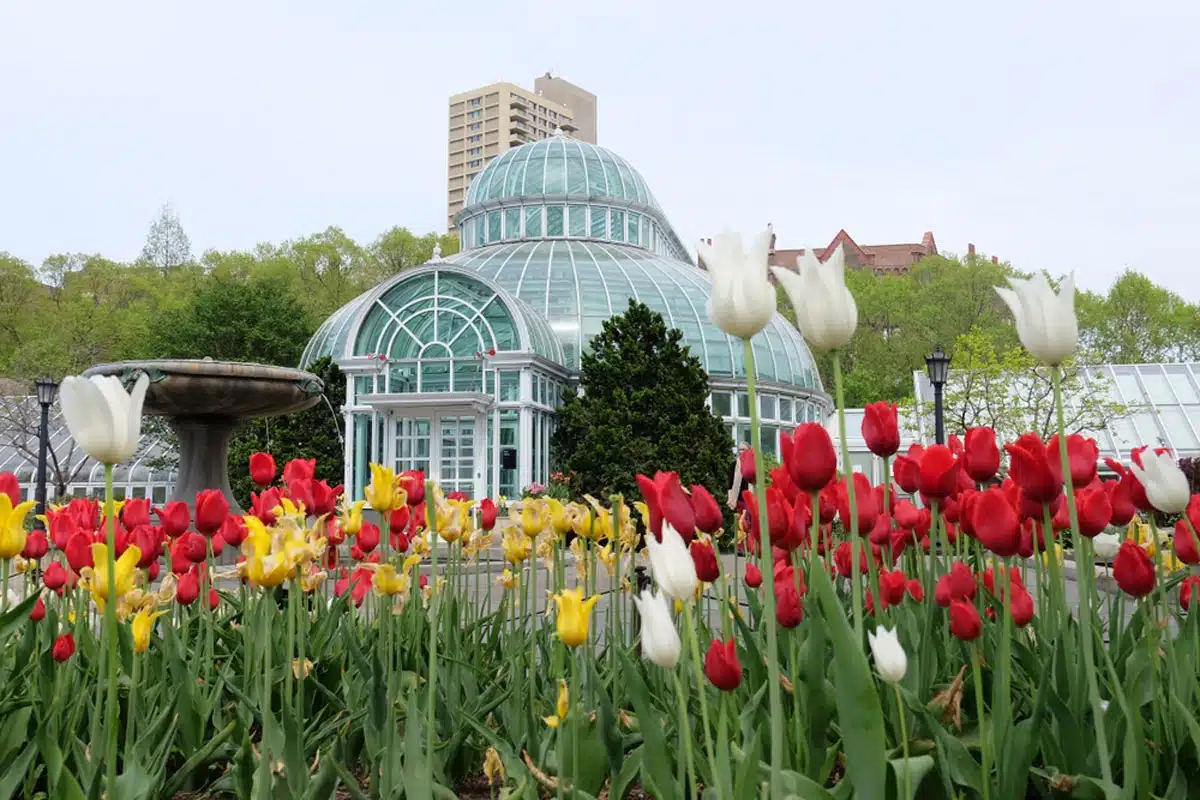 While it's easy to get swept up in the relentless New York minute, it's also good to take a step back and breathe.
The charming Brooklyn Botanic Garden is the perfect place to unwind and appreciate nature amid a whirlwind concrete jungle. Its zen-like gardens will make you whip out your camera in every direction.
It may take a whole day to see the entire urban botanic garden, but you can plan shorter visits depending on what you fancy seeing. And I recommend making a beeline for the Japanese Garden.
Top Tip: While you can visit anytime, I recommend going in spring when the cherry trees bloom, offering the most picturesque sights.
VIA 57 West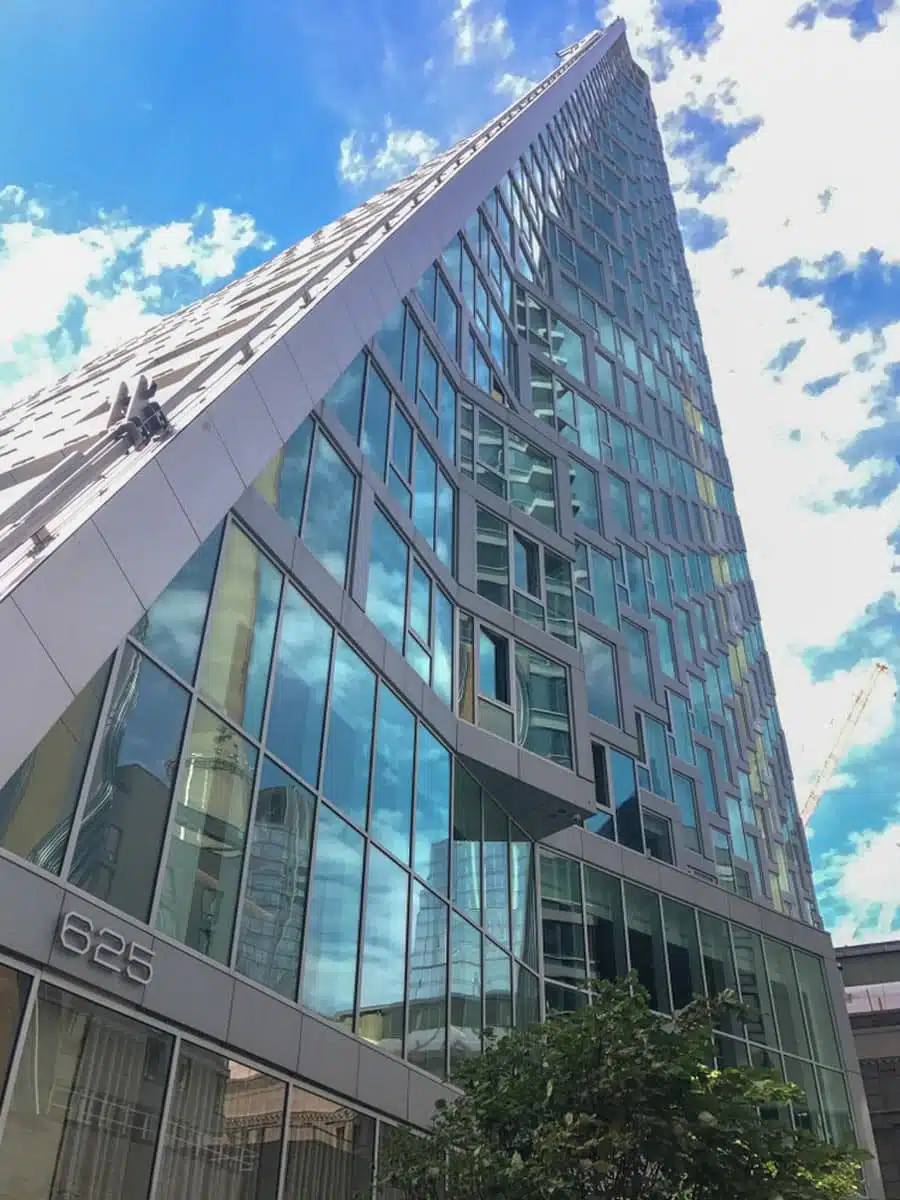 VIA 57 West is not a museum, historical site or culturally significant — instead, it's a residential building. But it still makes almost every list of famous landmarks in New York City due to its striking appearance. It's an architectural wonder looming over the Hudson River, so worth a few camera shots.
The pyramid-shaped building or "tetrahedron" consists of 35 stories in Manhattan's Hell's Kitchen area. It's made from over 1,200 prefabricated metal façade panels giving it that captivating futuristic look. Its designer, Architect Bjarke Ingels of the BIG Group, intended for the building to look like a soaring sail.
Queensboro Bridge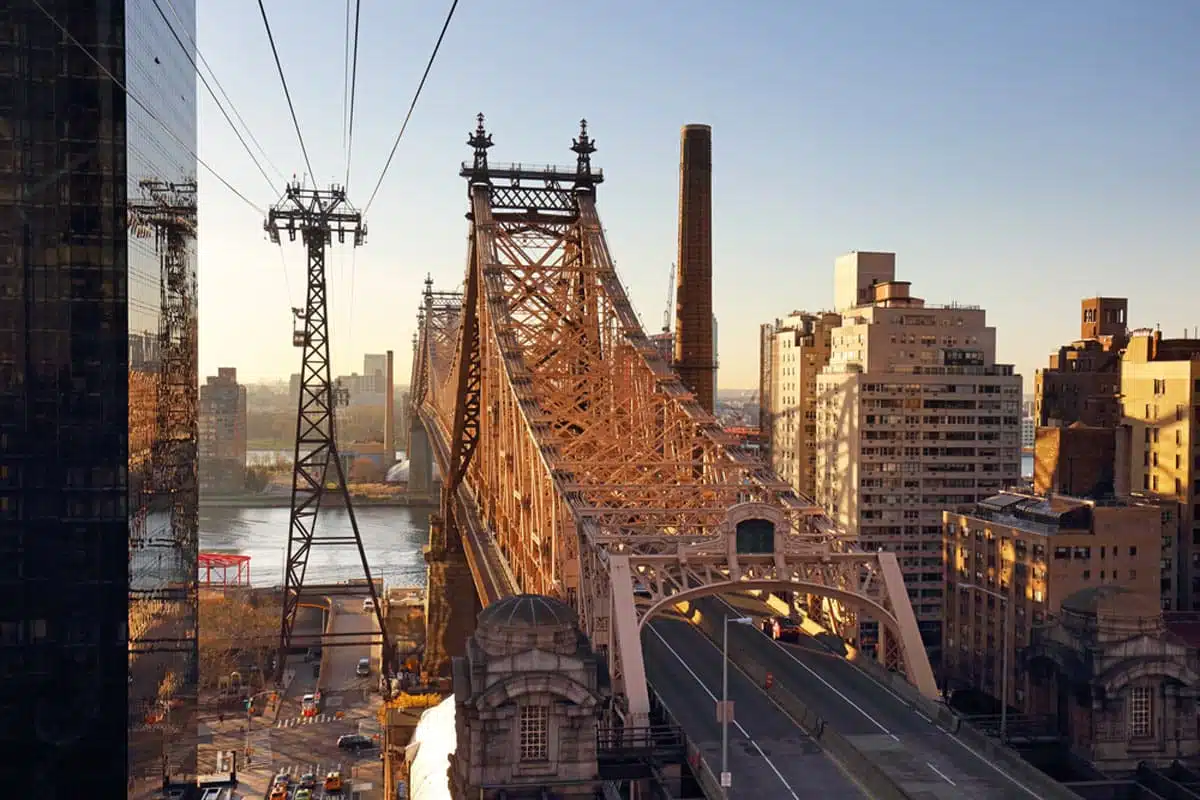 The Queensboro Bridge, a cantilever bridge that stretches over the East River, is often overshadowed by its more renowned counterpart, the Brooklyn Bridge.
However, this stunning bridge, which connects Long Island City with the Upper East Side, offers some incredible vantage points for photography.
You can come here for a refreshing morning walk. While it's better to see every detail during the day, the bridge truly shines at night. You'll cross the bridge via its pedestrian walkway or bicycle lane to see the architectural and engineering marvel up close.
Read Next: How to spend two days in New York.
Brooklyn Museum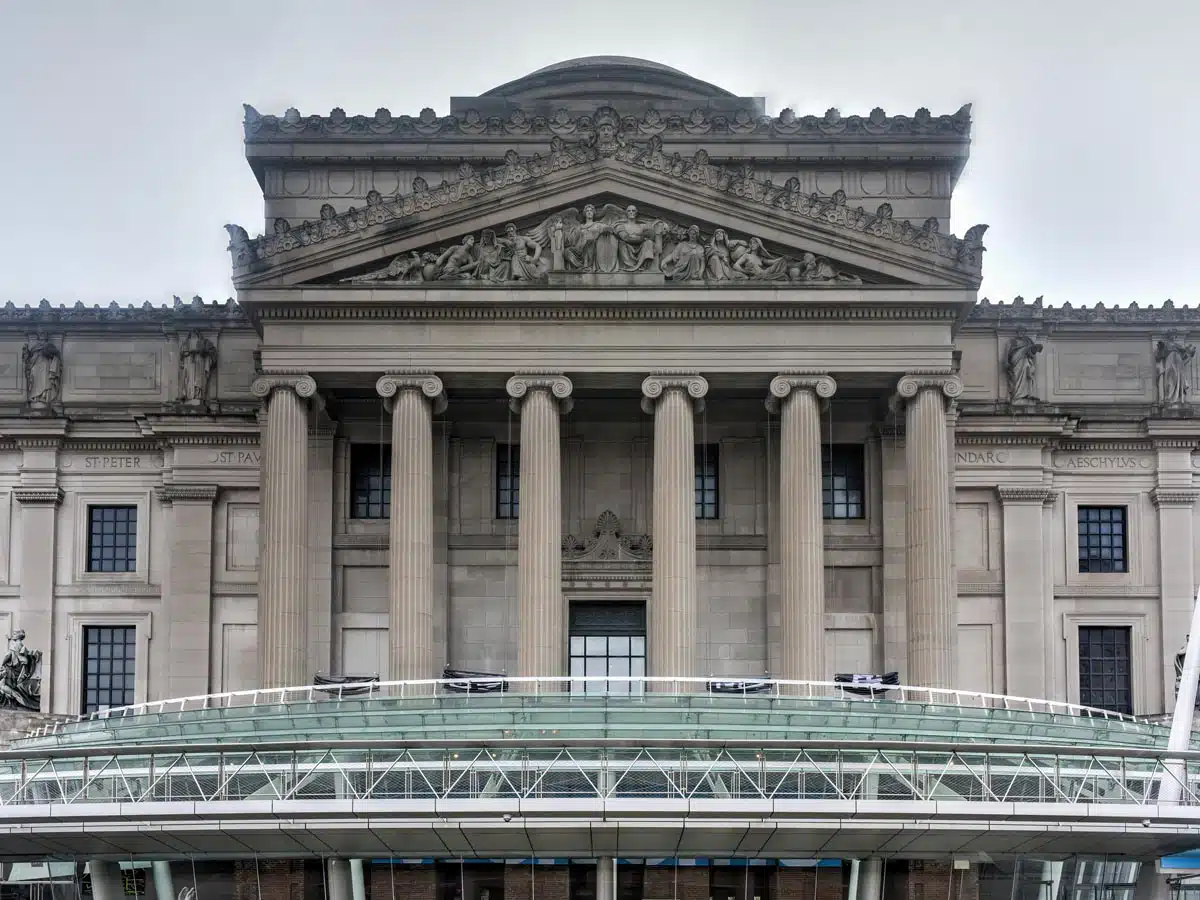 History buffs huddle around; I've got the perfect landmark for you. The Brooklyn Museum is the second largest museum in NYC, boasting about 500,000 artworks. It honours the artistic heritage of various cultures, including vast collections of Egyptian and African art.
The paintings range from the 17th to the 20th centuries. You'll find pieces by famous artists such as Georgia O'Keeffe, Norman Rockwell and Edgar Degas. General admission is $16 for adults, and the museum operates from Wednesdays to Sundays.
Top Tip: It takes about four hours to see the entire museum, so prepare to spend a lot of your time here.
New York Public Library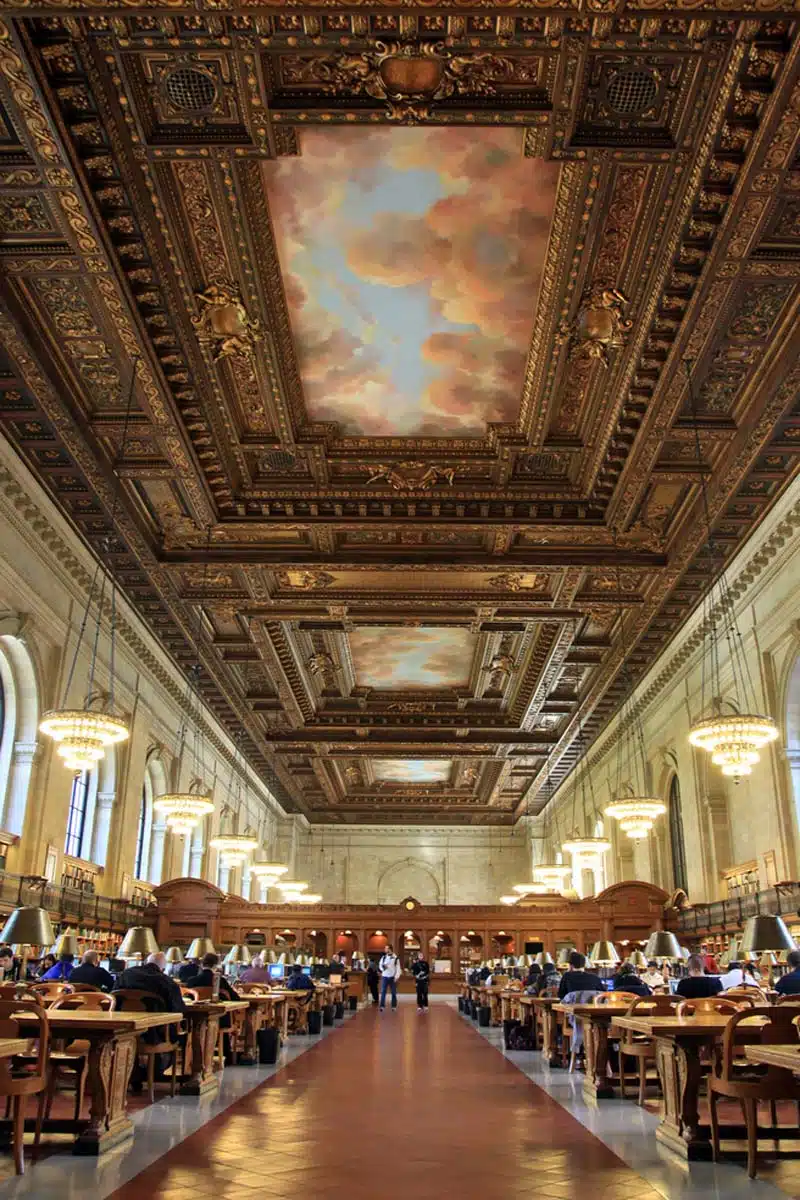 Listen up if you're a bibliophile whose heart flutters at the sight and smell of books (I am guilty AF). The New York Public Library will be your new fave spot.
Interestingly, this library is the second-largest public library in the U.S. and the fourth-largest in the world. Not to mention that you can take some cute artsy pics for the gram here.
The library's historical collection makes this library one of the standout landmarks in New York City. Here, you'll find treasures like the draft of the Declaration of Independence handwritten by Thomas Jefferson and one of the few remaining copies of the Gutenberg Bible.
One World Trade Centre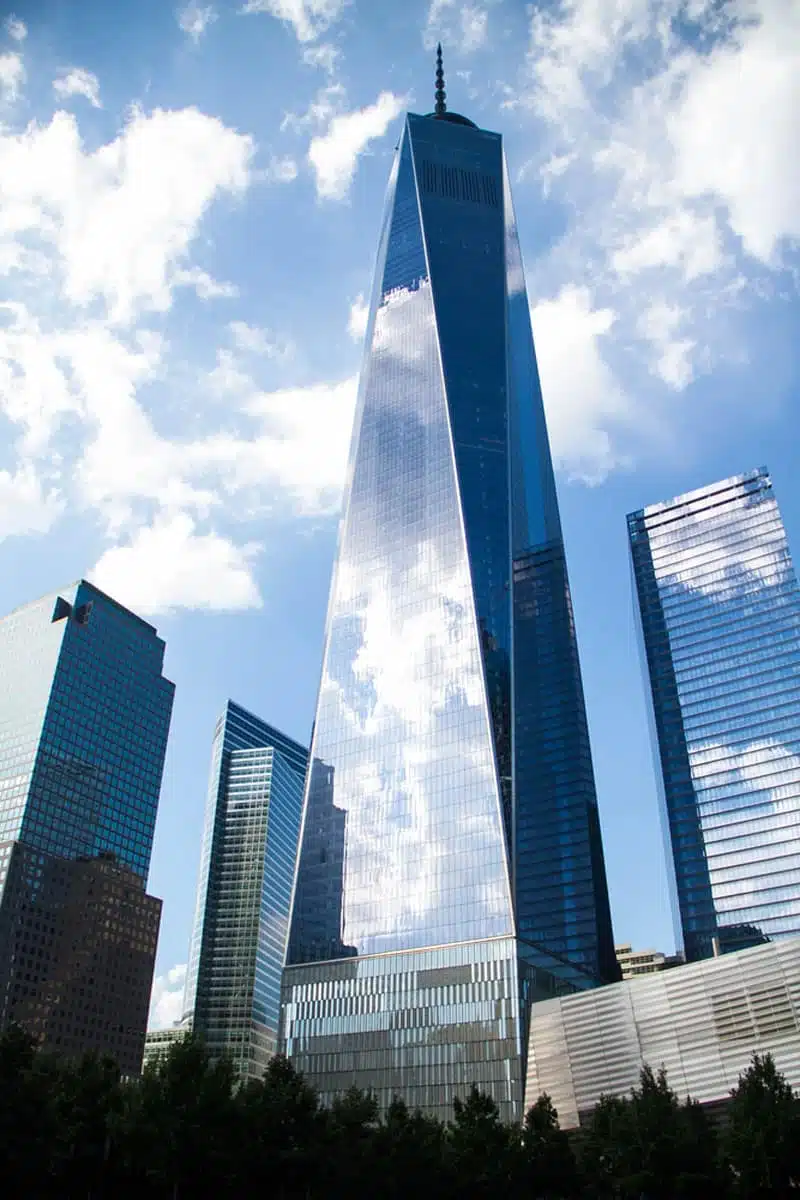 Previously known as the Freedom Tower, the One World Trade Centre is up there among the well-known landmarks of New York City. But what makes it so unique from all the other skyscrapers in NYC? Well, it's the Western Hemisphere's tallest building, peaking at insane heights of 1,776 ft (541 metres).
You can't visit one of the most mind-blowing metropolises without visiting its tallest building, am I right? What's more, you can visit its One World Observatory, which consists of three stories of observation decks with 360-degree panoramic views.
You'll see the Empire State Building, the Brooklyn Bridge and the Statue of Liberty.
Top Tip: Book your One World Observatory ticket online in advance and avoid the queues. You're welcome.
Lincoln Center for Performing Arts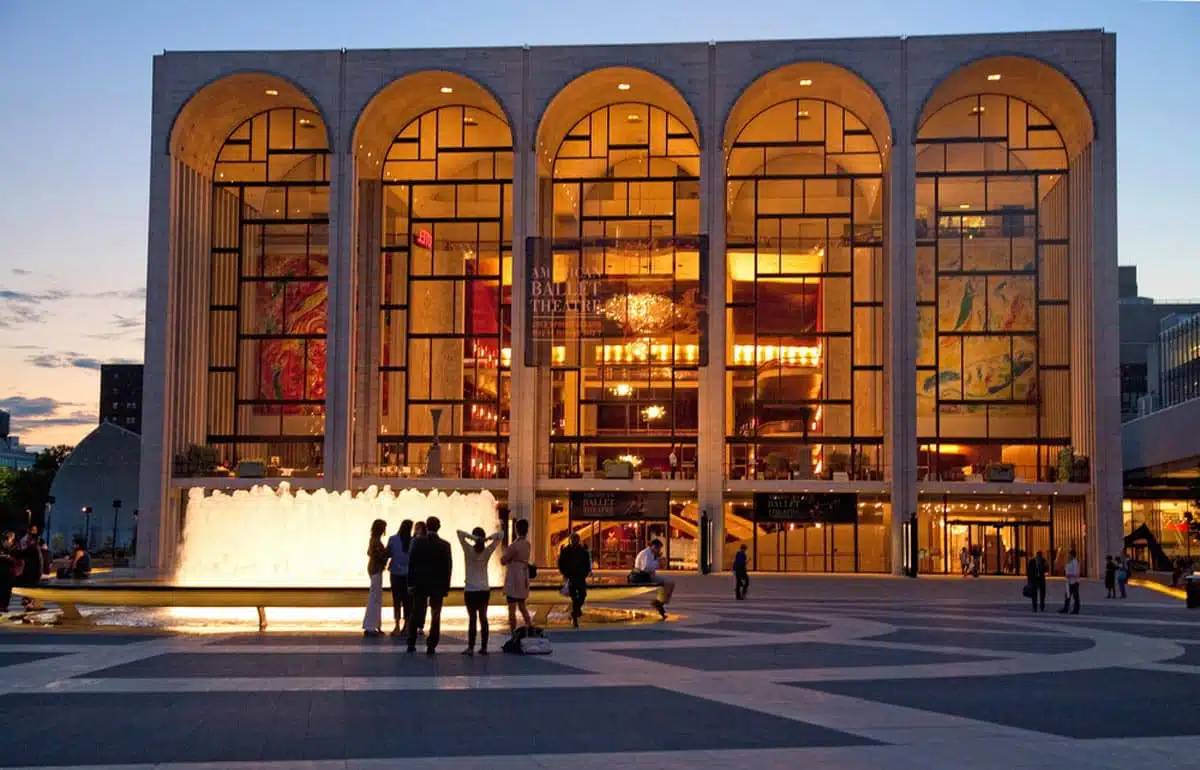 The Lincoln Center for Performing Arts is a distinguished venue for the most esteemed acts in music, theatre, dance, opera and film.
As the world's leading performing arts centre, you can expect a tapestry of diverse artists from all corners. Better yet, it's a fantastic budget-friendly activity in NYC because many annual events are free to attend.
The centre is in Manhattan's vibrant and lively Lincoln Square, boasting the elite Juilliard School and Broadway dotted with upscale restaurants and quaint cafes.
The Waldorf-Astoria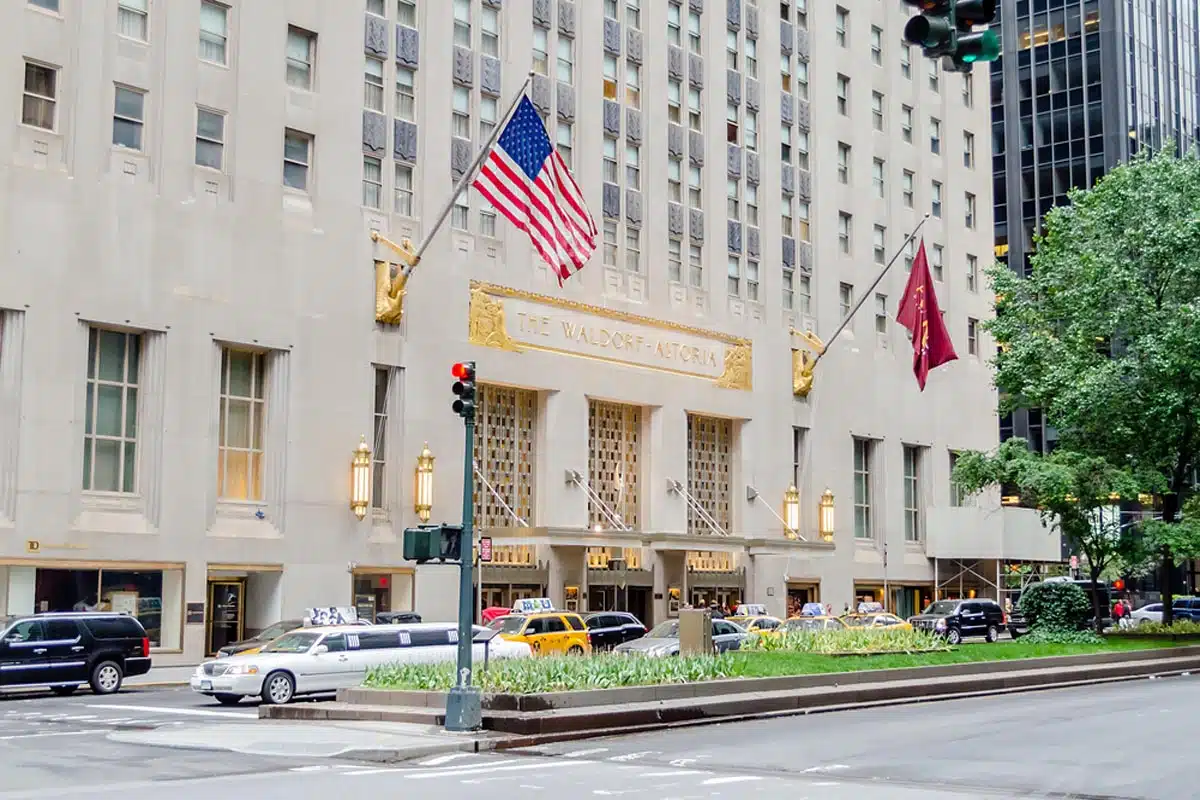 Ah, the Waldorf-Astoria, a famed art deco hotel with some interesting stories to tell. It's an iconic hotel with many firsts. The first to offer 24-hour room service, the first to have electricity on every floor and the first to have en suite bathrooms.
What made this hotel even more famous is its celebrity and high-profile guests throughout the centuries since 1893. Figures like Marilyn Monroe, Frank Sinatra, Grace Kelly and the Duke and Duchess of Windsor have stayed here.
What's more, did you know that every U.S. president since Herbert Hoover has stayed at this hotel when visiting New York?
Apollo Theatre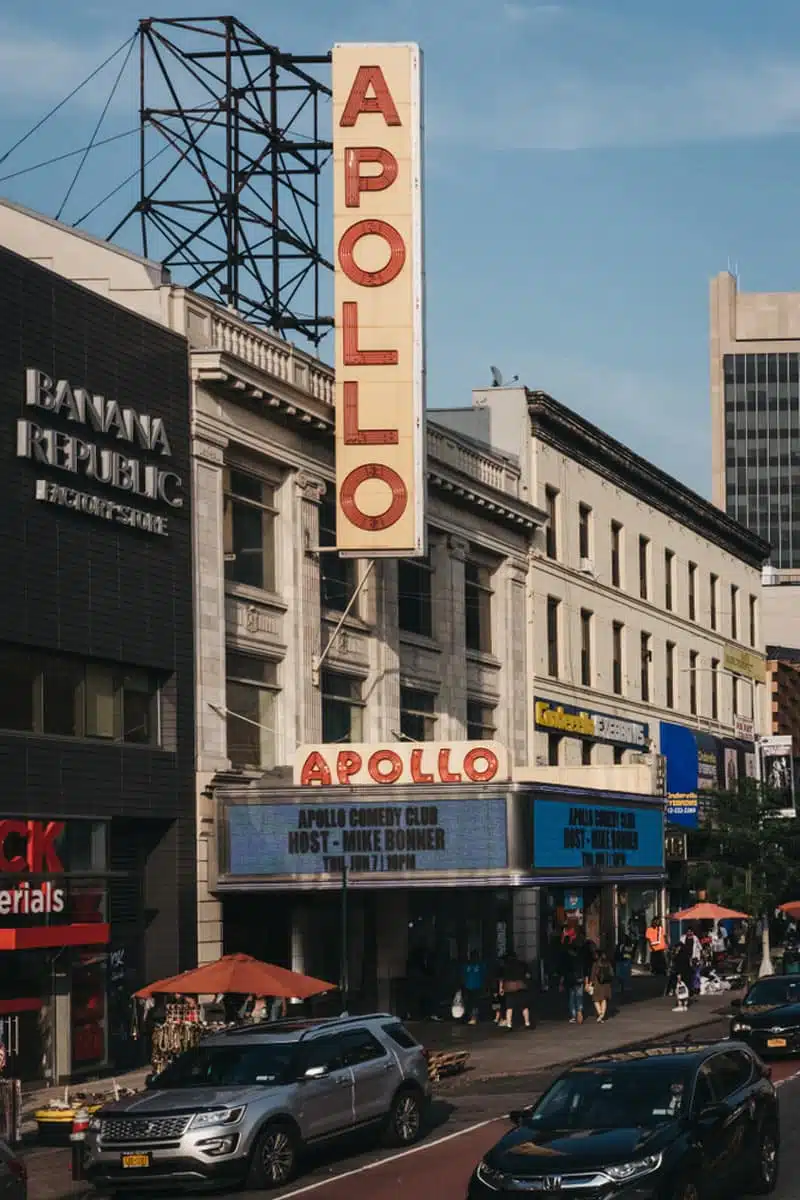 Looking for a historical landmark in Harlem? Look no further than Apollo Theatre. This is a longtime music hall pioneering the emergence of various music genres, including jazz, bebop, swing, blues, soul and R&B.
Established in 1913; the theatre is now a cultural symbol of the Harlem Renaissance between 1920–1930.
Big names like Ella Fitzgerald, Billie Holiday, Gladys Knight, Luther Vandross and Lauren Hill started their careers on the Apollo stage. Even strong stand up-comedians debuted here, including Steve Harvey.
The neo-classical theatre is now a not-for-profit venue hosting dance performances, concerts, film screenings and community outreach programs.
Bronx Stairs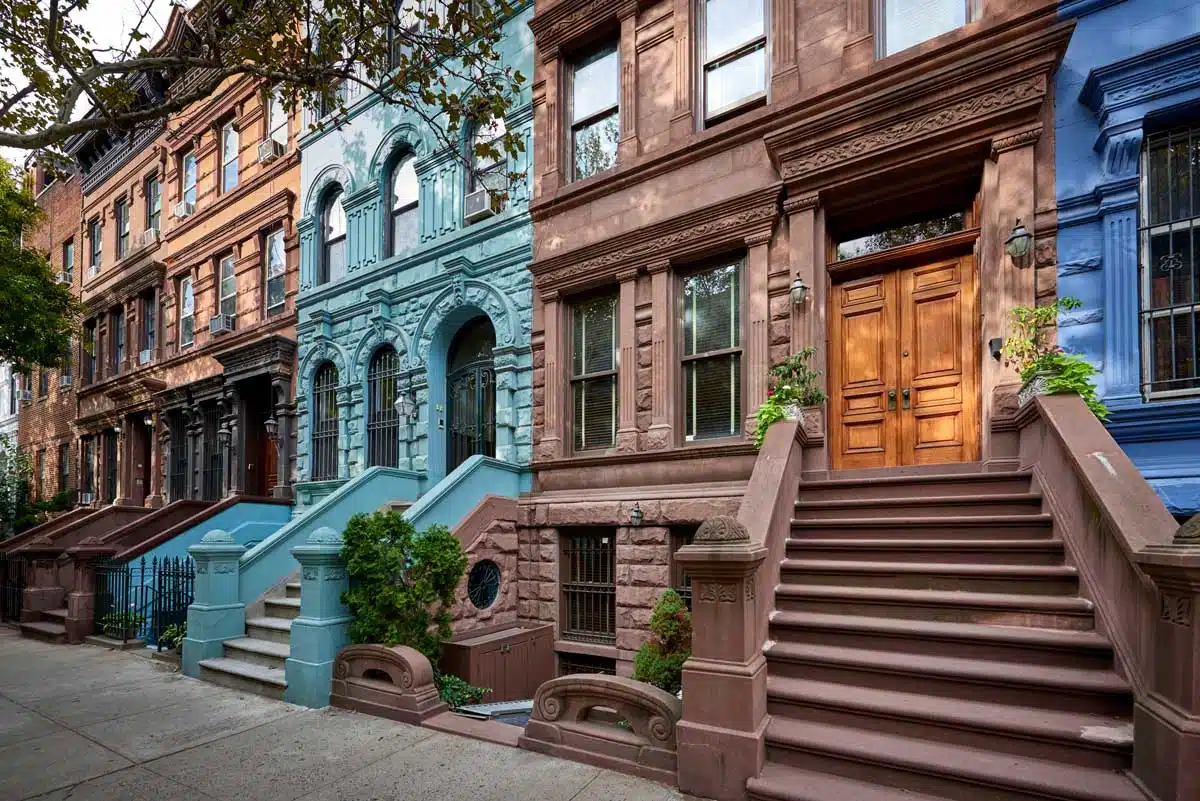 The Bronx Stairs are nothing special to look at; they're just regular stairs, right? Actually, no, these stairs make it on this top NYC landmarks list for significance in pop culture. Let me elaborate; the Bronx Stairs became a tourist hotspot after its role in the 2019 film, Joker, starring the famed Joaquin Phoenix.
Joker fans and film fanatics scramble to these stairs to recreate the film's iconic moment or feel closer to their fictional idol. It's even picked up the nickname, the 'Joker Stairs' since the movie dropped, making it a staple amongst other NYC landmarks.
Brooklyn Heights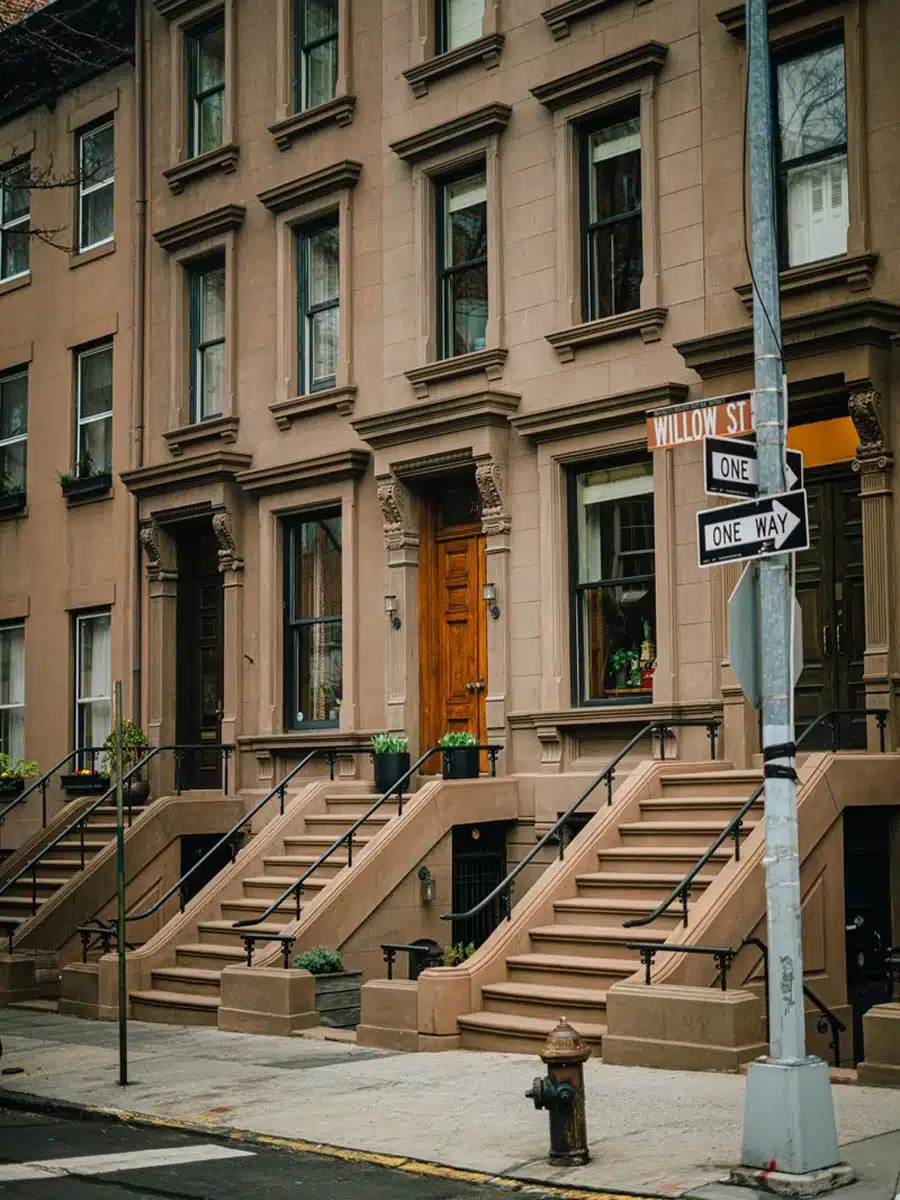 Brooklyn Heights may just be a posh residential neighbourhood to New Yorkers. But, for us visitors, it's an opportunity to fill our socials with charming imagery and soak up the essence of the NYC lifestyle.
Elegant brownstones and picturesque trees line up the streets along the East River in a fascinating fashion.
This neighbourhood attracts curious wanderers from across the globe. And it even boasts unrivalled views of the Statue of Liberty and Manhattan. Whatever you do, make sure you swing by the nearby Time Out Market for a bite to eat.
Known as America's first suburb, this neighbourhood's history goes back to the colonial era.
Top Tip: You can have this epic experience with this entry ticket.
Practical Tips for Visiting New York City Landmarks
You'll be doing a lot of walking between landmarks, so I recommend wearing comfy walking shoes. Nobody wants to contend with blisters through the latter half of a vacation.
It goes without saying that New York is busy. Book your tickets for attractions well in advance to secure your spot.
New York Landmarks: Map
Landmarks of NYC: Read More New York City Guides
Love This? Save and Share on Pinterest