Discover the best things to do in England with this guide. From historic sights to cool urban destinations, and plenty of picturesque hikes thrown in for good measure, these are the things you need to add to your itinerary.
Ahhh, England — the land of tea and crumpets, beautiful countryside views, and a rich and long history. I *may* be biased as a Brit, but it is pretty epic, even if I do say so myself.
With so much to see and do, it's no wonder that millions of tourists flock to this beautiful country each year. However, with so many options available, it can be overwhelming to decide what to do and where to go.
That's where this guide to the best things to do in England comes in. We're going to adventure to ancient universities, magical forests, historic castles and stunning landscapes. Are you ready?
Top 5 Things to Do in England
Explore London's Historic Attractions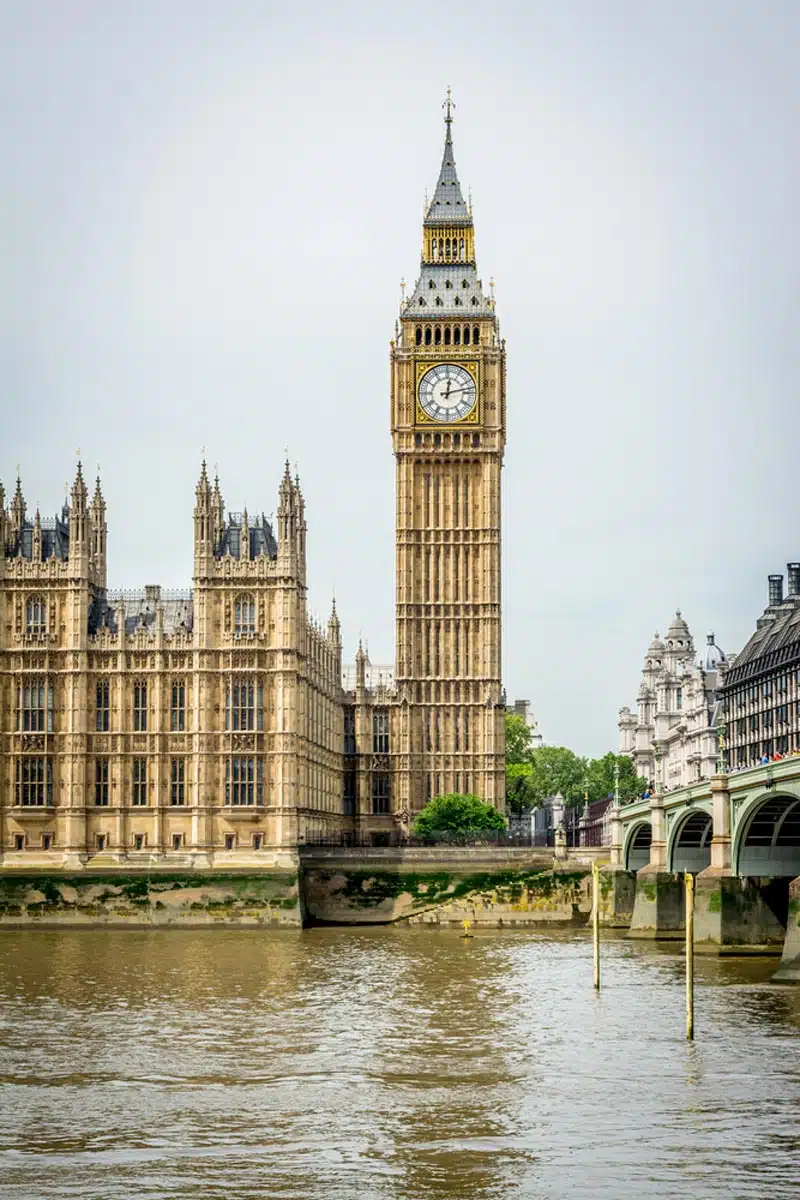 Okay, let me start in London. As a Londoner, it's only right I do so. The city that I know so well has a rich history that's best seen in its attractions – and what a list of attractions.
Of course, there's the iconic landmark that stands out (quite literally) is the tall clock tower, Elizabeth Tower, more commonly known as Big Ben, now fully restored to its gleaming glory after a couple of years of being covered in scaffolding.
If you want to experience the everyday life of Londoners, you can watch the iconic Tower Bridge lift for river traffic or enjoy an eerie stroll through the Highgate Cemetery. The Tower of London is also a must-see, with its rich history and cultural significance, and Trafalgar Square, with the statue of Nelson's Column, is another notable landmark in the city.
This is just the tip of the iceberg, London is home to so many iconic attractions that you could easily spend a fortnight in the capital exploring. And you totally should.
See Oxford's Dreaming Spires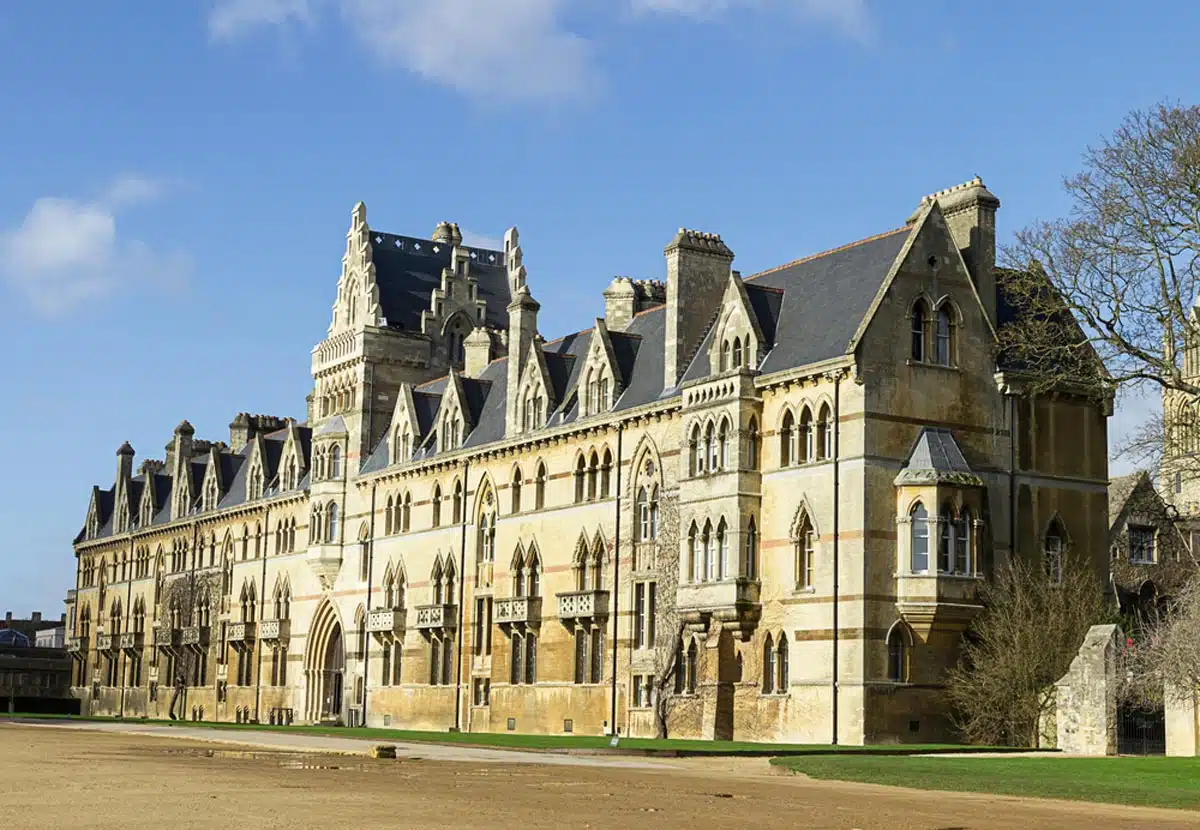 Another city close to my heart is Oxford (I studied there, after all). Victorian poet Matthew Arnold called Oxford "the city of dreaming spires", and that nickname has stuck brilliantly.
Oxford is home to many architectural wonders, including Gothic buildings and spires. In fact, the city's beauty was good enough to feature in the Harry Potter film franchise (but more on how you can indulge in Harry Potter anon).
While you can't fly around the spires on a broom, you have plenty of opportunities on foot. Stop at the towering Christ Church Cathedral, the remarkable University Church of St. Mary the Virgin or the Radcliffe Camera to enjoy the dreamy views.
And, if you've got more time, the Ashmolean Museum – packed with history, art and sculpture – is worth adding to your itinerary. Not only is visiting here one of the top things to do in England, but it's also one of the best things to do in the UK.
Go Punting in Cambridge
What do you get when you cross a traditional university town with a love of whimsy? The answer is a Cambridge punting adventure, one of the best ways to see the city.
Put on your straw boater hat and follow in the footsteps of geniuses like Newton and Darwin — okay, no one knows if they enjoyed a punt, but I think they're too smart to avoid such a fantastic experience.
You'll get to float down the River Cam between the city's lush vegetation, renowned colleges and other attractions. All while a friendly punter spills the secrets of the city.
Top Tip: Book a Cambridge guided punting tour to learn about the area.
Marvel at the Harry Potter Studio Tour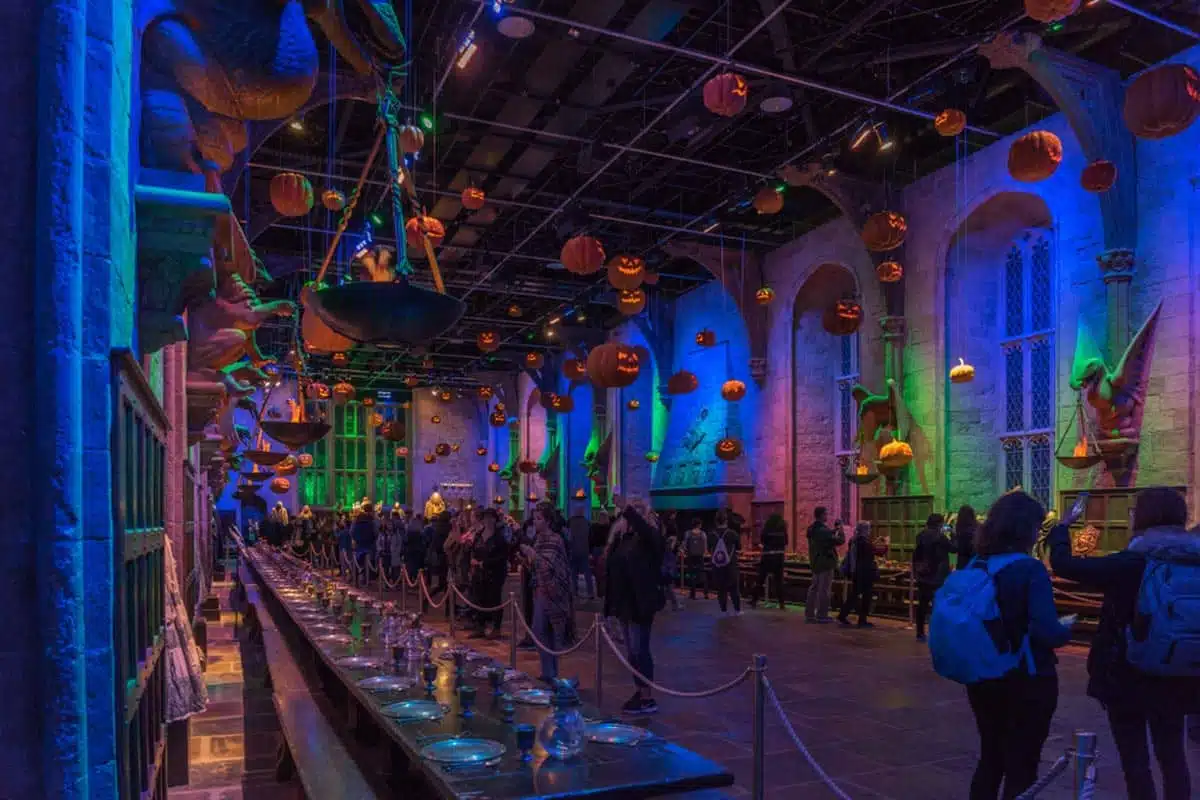 The Boy Who Lived and his gang of friends took the world by storm in the 2000s. If you were one of the people caught up in the craze, forget waiting for your Hogwarts letter and relive the nostalgia by heading to the Harry Potter Studio Tour.
I'm a huge Potterhead, so I might be biased, but this is one of the best things to do in England, for sure.
Here, you can step onto iconic sets like Diagon Alley and the Ministry of Magic, interact with popular props like the magic potions, and see the costumes up close and personal. It's truly one of the coolest immersive experiences in England (and the world, a bold but true statement).
Make sure you swing by the cafe for a Butterbeer, too.
Top Tip: Book your visit with this Harry Potter Warner Bros Studio Tour from London.
Go Surfing in Newquay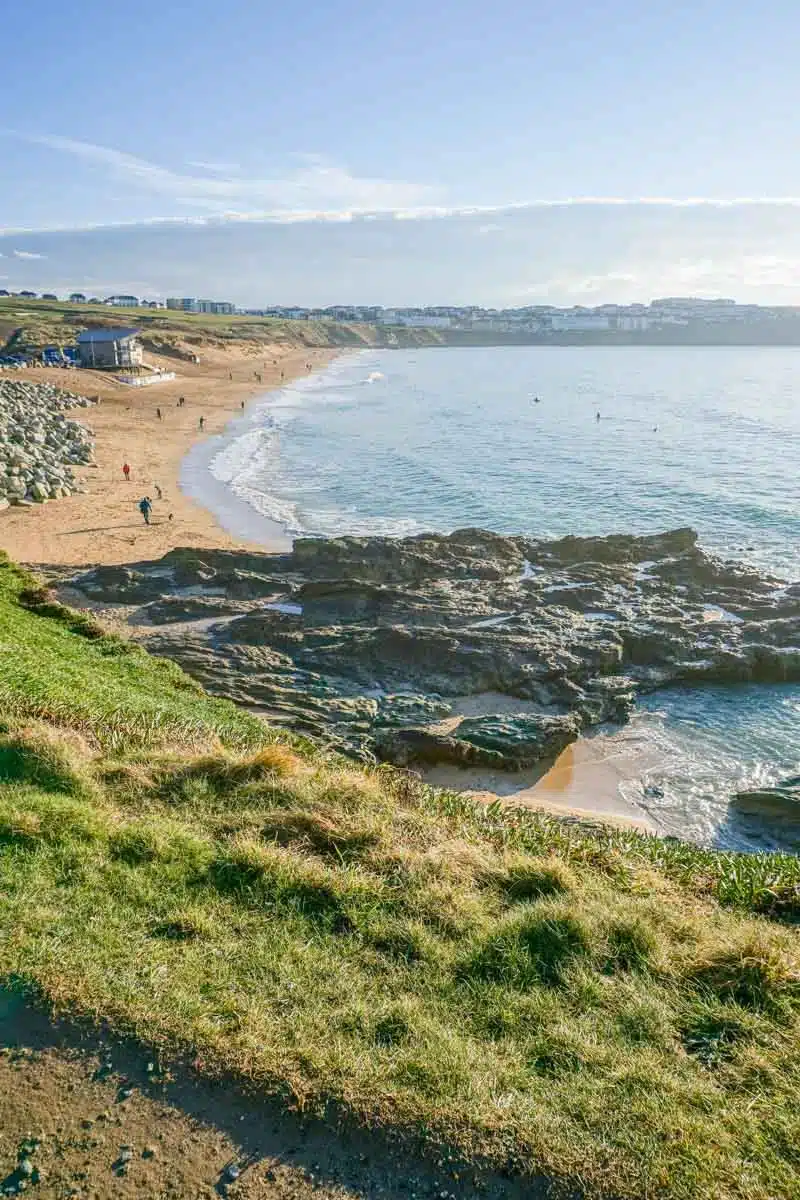 It's not exactly Australia, but Newquay is the UK equivalent. The quaint little town in Cornwall is rightly famous for its surfing spots (its beaches are warmer than other England beaches), with gnarly waves crashing day in, day out.
One of the best spots for shredding waves is Fistral Beach, which has waves perfect for both noobs and vets. Afterward, you can stroll around the charming town, which is a summer destination in itself.
Top Tip: Take a Newquay introduction to surfing lesson to learn how to work the surfboard.
Brilliant Things to See & Do in England
Watch a Shakespeare Play in His Hometown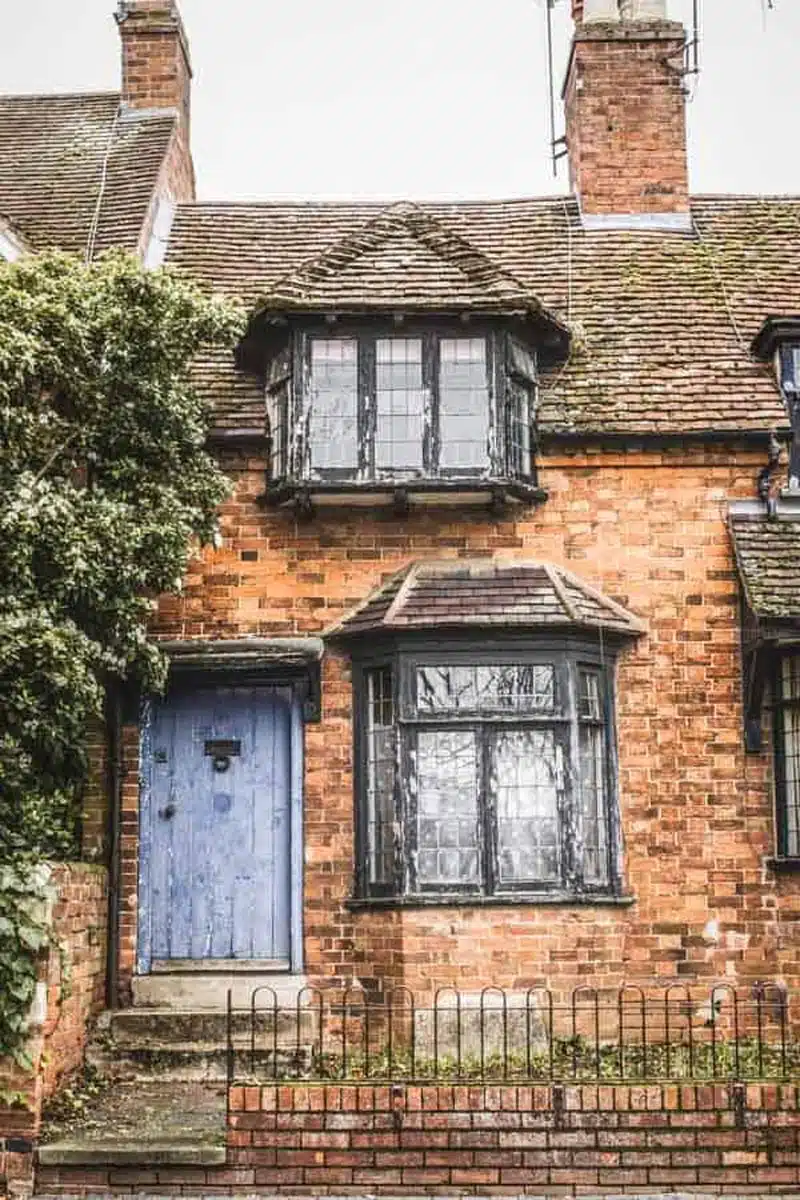 Centuries later and Shakespeare has remained one of the UK's greatest literary minds. And what better way to celebrate his legacy than by visiting his birthplace in Warwickshire (Stratford-upon-Avon, to be precise) and watching one of his plays at the Royal Shakespeare Theatre?
But that's not all: visitors to Stratford-upon-Avon can also explore the town and visit Shakespeare's birthplace, where he spent his early years and wrote many of his most famous plays. The house has been well-preserved as a museum and provides a fascinating insight into Shakespeare's life and times.
End the day with a chilled-out stroll along the Avon River, which winds its way through the picturesque Warwickshire countryside. Surrounded by greenery and wildlife, it's pretty easy to imagine the inspiration Shakespeare drew from this beautiful landscape.
Trace Manchester's Musical History
Manchester has a long and rich musical history, and it might be the UK's music capital (but don't tell anyone in Liverpool you heard that from me). Bands like Oasis, Happy Mondays and several more artists have links to Manchester.
While listening to the music is excellent, tracing the city's musical history is even better. You can do so via a Manchester music tour, which takes you back to the days of Madchester and back to the present. During the experience, you'll visit the city's old hangouts, gig venues and more iconic places.
Top Tip: Book a Manchester Music Tour to trace the city's musical history.
Go Hiking in the Peak District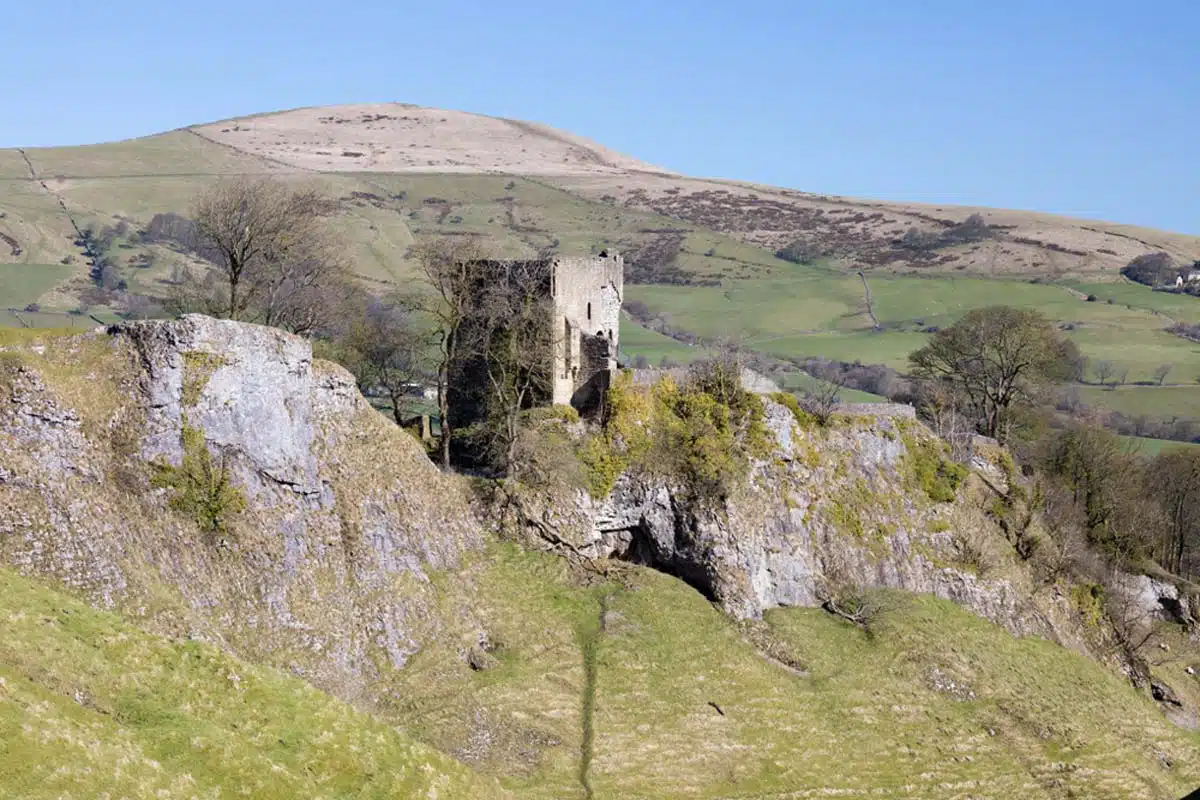 The Peak District is known for its steep edges, which boast out-of-this-world vistas. The district is an uplands area with beautiful cliffs and hidden caves.
Hiking is one of the most popular activities in the Peak District (and something I highly recommend you make time for). The park is home to some of the best hiking trails in the UK, ranging from easy strolls to challenging climbs.
The Monsal Trail is a great option for those looking for a leisurely walk, while Mam Tor (the sunset from here is insane) and Kinder Scout offer more of a challenge.
If that all sounds like a little too much effort, instead head to Chatsworth House for a slice of history and culture. This stately home is one of the most popular tourist attractions in the Peak District. With its beautiful gardens, a farmyard, and a wealth of history to explore, it's no wonder.
Get Into the Wild in the Lake District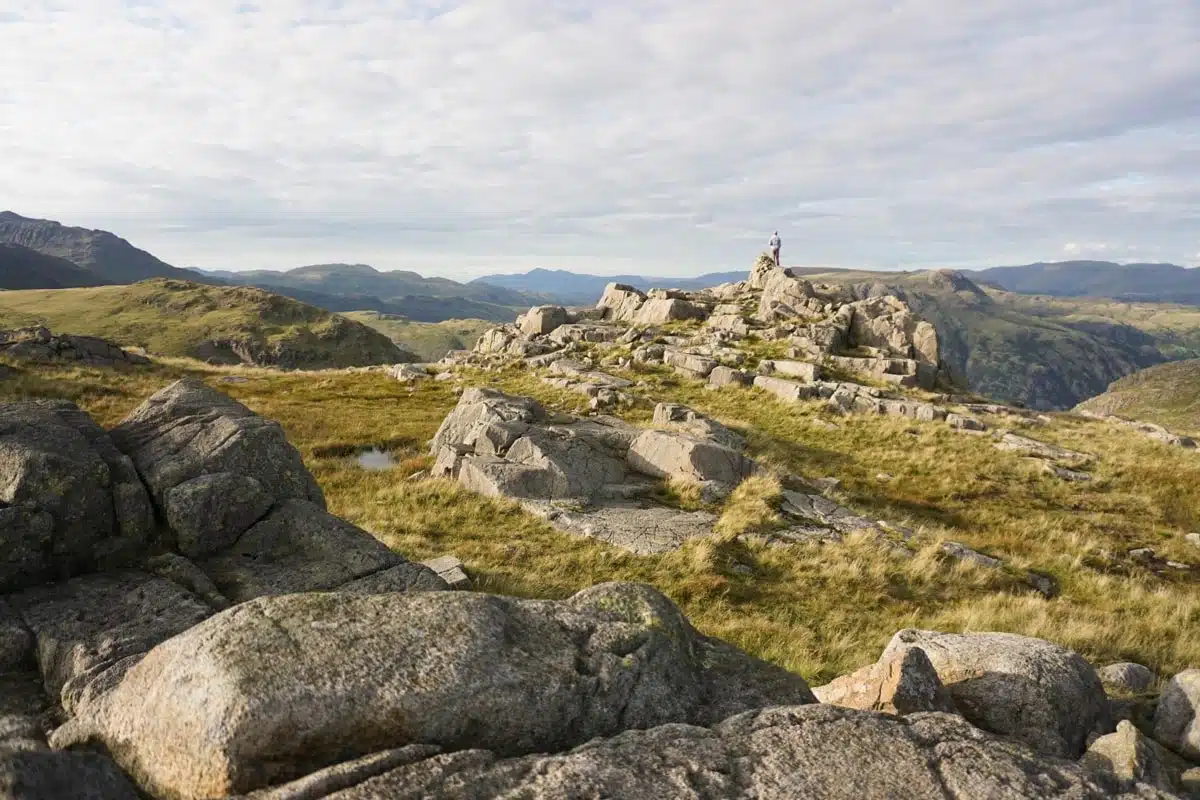 If the Peak District and its cliffs aren't your vibe, maybe Lake District National Park is up your alley. This little slice of heaven has lakes, mountains and verdant forestry hidden behind its hills.
It was a favourite of poet William Wordsworth, who often wrote passages swooning over its beauty. Now, it's your turn to see what makes it unique by winding through its wilderness.
It's no surprise that the hiking here is next level. From chilled-out strolls to making your way up the 3,209-feet high Scafell Pike, the highest mountain in the country, there's plenty to see and do.
Though, if you're looking for something a bit more relaxing, then a boat ride on one of the many lakes is a great option.
Windermere is the largest lake in the Lake District (and easily my favourite), and it offers visitors a range of boat tours. Though, you can also hire a boat and explore the lake on your own.
Delve into Bath's Regency Past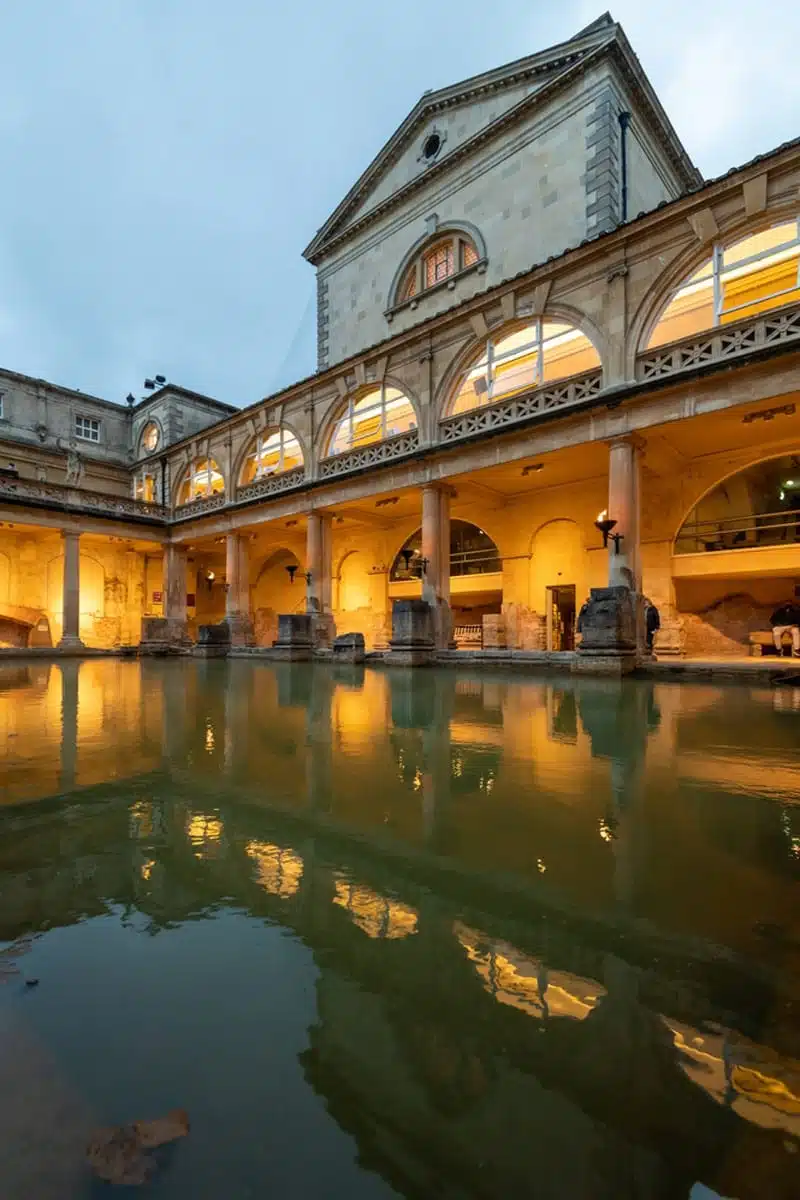 Fancy living out your wildest Bridgerton fantasies? You'll want to head to Bath.
During the Regency era, Bath was a wealth magnet that went from a small spa area to being the social hub of the wealthy. Today, the city is still famous for its baths and spas, which the Romans first revered.
The thermal baths here have attracted millions who come to view the baths and take advantage of the natural mineral water. While the Roman baths are no longer suitable for swimming in, you can soak in the mineral-rich waters at the Thermae Bath Spa overlooking the city.
Explore the Natural History Museum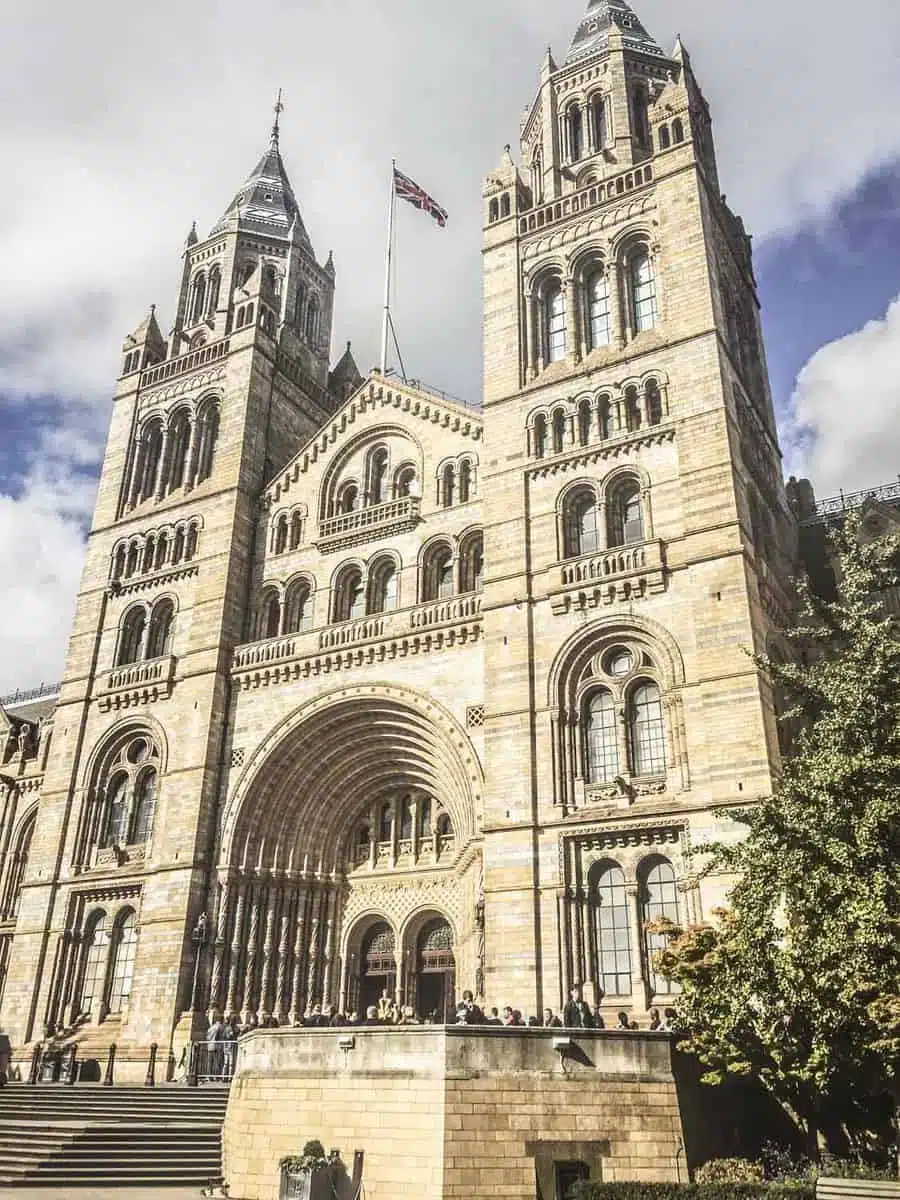 A London institution so good it deserves its own entry, I promise.
London's Natural History Museum will blow your mind with its fascinating exhibits, spanning everything from ancient Egyptians to dinosaurs. Heck, a giant blue whale skeleton welcomes you to the venue – what more do you need?
It's home to millions of collections from various interests, from skeletons of extinct creatures to mummies and sculptures of the ancient world. Carve out at least a couple of hours in your day to wander through the museum.
Channel Your Inner Druid at Stonehenge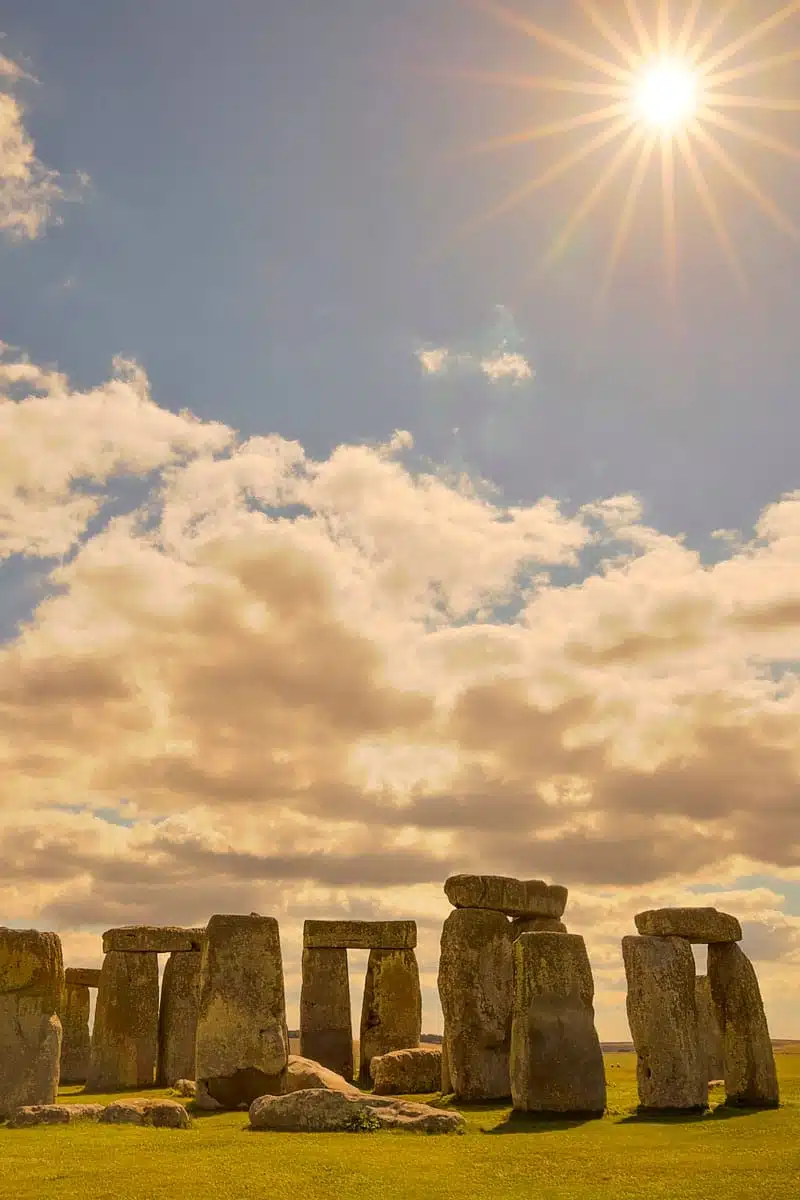 Exploring Stonehenge can be quite a creepy adventure. But, don't worry, there are plenty of tourists — and other forces… depending on who you believe — to keep you company.
But all jokes aside, the 5000-plus-year-old Stonehenge is truly a marvel. How on earth did they manage to move those massive stones all the way from Wales? Was it aliens? Time travellers? We may never know, but you can develop your own theories after getting there.
Top Tip: Book a Stonehenge Tour from London to make the logistics of spotting this landmark a breeze.
Hike Along the Jurassic Coast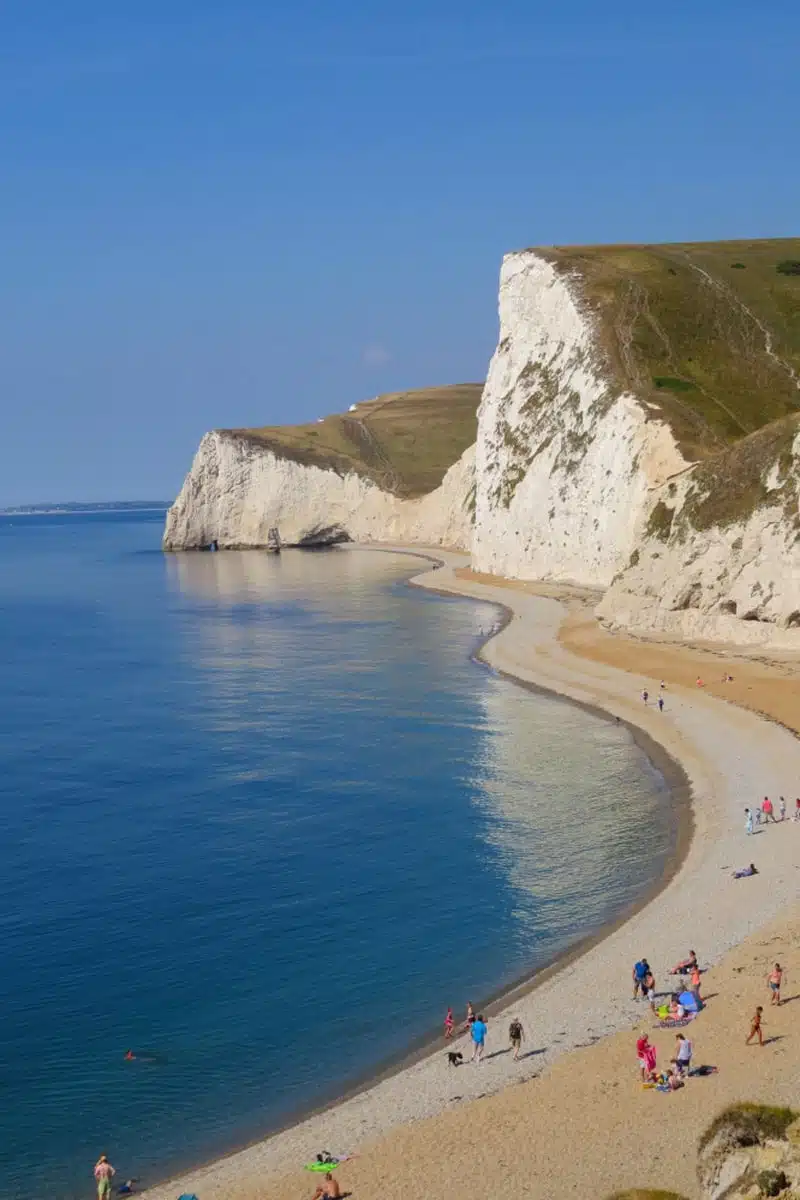 For a slice of history with a side of epic views, you need to tackle a hike along the Jurassic Coast. This is a stretch of coastline spanning 95 miles between the counties of Dorset and Devon in the southwest of England.
Why hike here? Well, the rugged cliffs, sandy beaches and picturesque villages are all reason enough. Though the fact that the coastal path is well-maintained and provides you with easy access to many of the area's most famous landmarks, such as Durdle Door and Lulworth Cove, is a huge bonus.
But the Jurassic Coast is not just a feast for the eyes – it is also a treasure trove of geological history. Keep your eyes peeled for fascinating rock formations, as well as plenty of distinctive flora and fauna.
Walk the Thames Path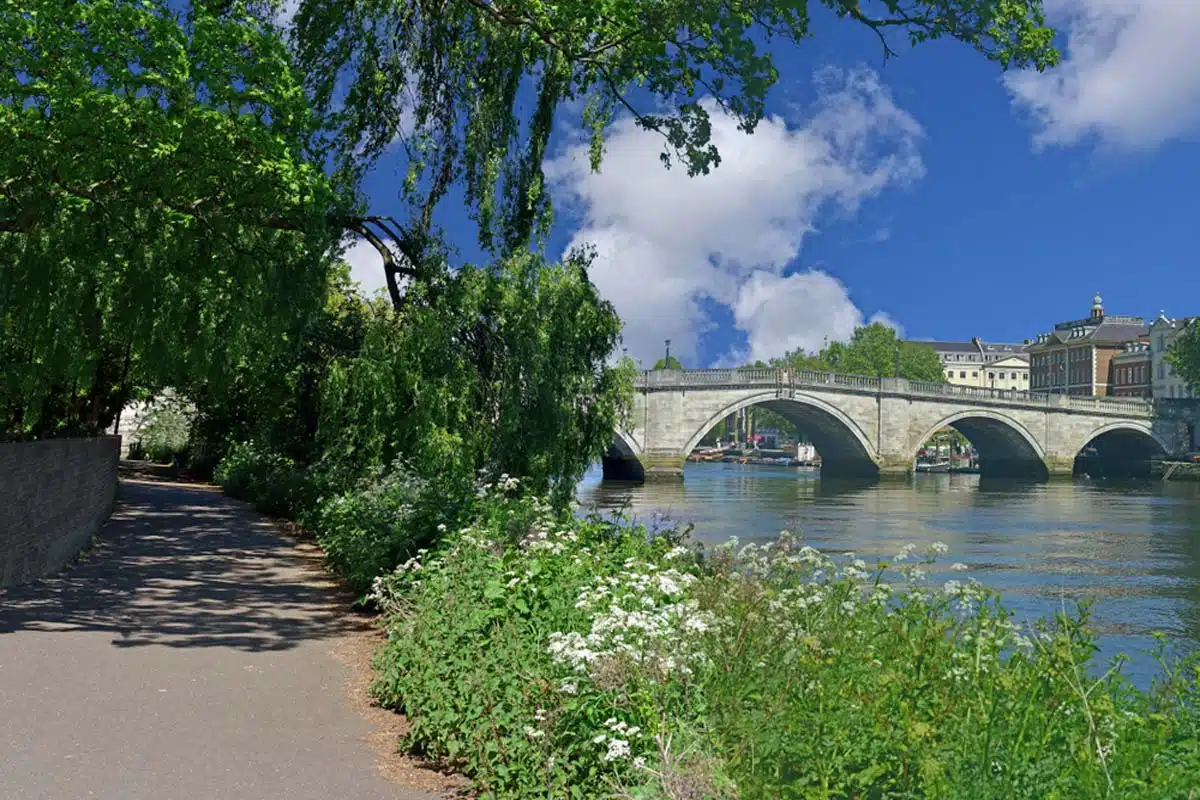 The challenging Thames Path is like a marathon for walkers. Okay, so you get no medal at the end, but I'd say views of the water meadows, unspoiled rural villages and England's best bridges are worth the sore feet.
This long-distance walking trail follows the River Thames from its source in the Cotswolds to the Thames Barrier in London (or, vice versa). The path is around 184 miles long and, while you can do the entire thing, taking on a small section is equally wonderful.
You can start your trek from anywhere along the path, though the Thames Barrier in Greenwich is a popular starting point and where I recommend you begin. Follow the network of Thames Barge Symbols, and you'll experience some of the best England sightseeing there is.
You'll pass by sights like the iconic Tower Bridge, South Bank, Kew Gardens and Newbridge, one of the oldest bridges on the Thames.
Explore Lyme Regis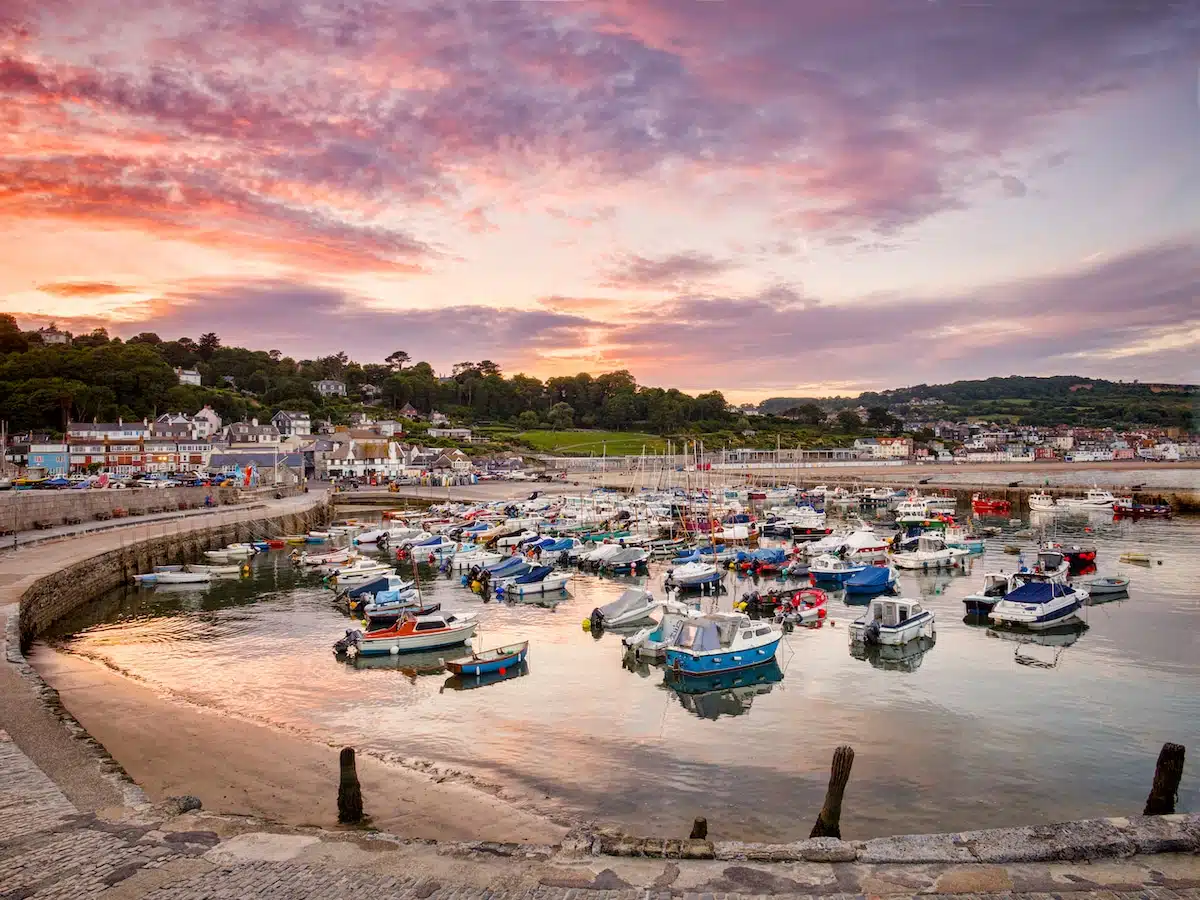 Sure, Lyme Regis is a tiny seaside town, but it's big on fun. And it's definitely one of the best places to go in England. It has everything you could ask for, including enough fish and chips to make the town's pesky seagulls green with envy.
This is no surprise, but heading to the beach is often the best thing to do in Lyme Regis. The seaside town is home to many beaches, including Front Beach, the only sandy beach free from pebbles.
Outside the beach, you have to enjoy a stroll on Marine Parade with its pastel-coloured Georgian houses and a dramatic coastline. For the artsy, I recommend walking the Lyme Regis Sculpture Trail for an outdoor gallery experience.
Enjoy a Day Out in Margate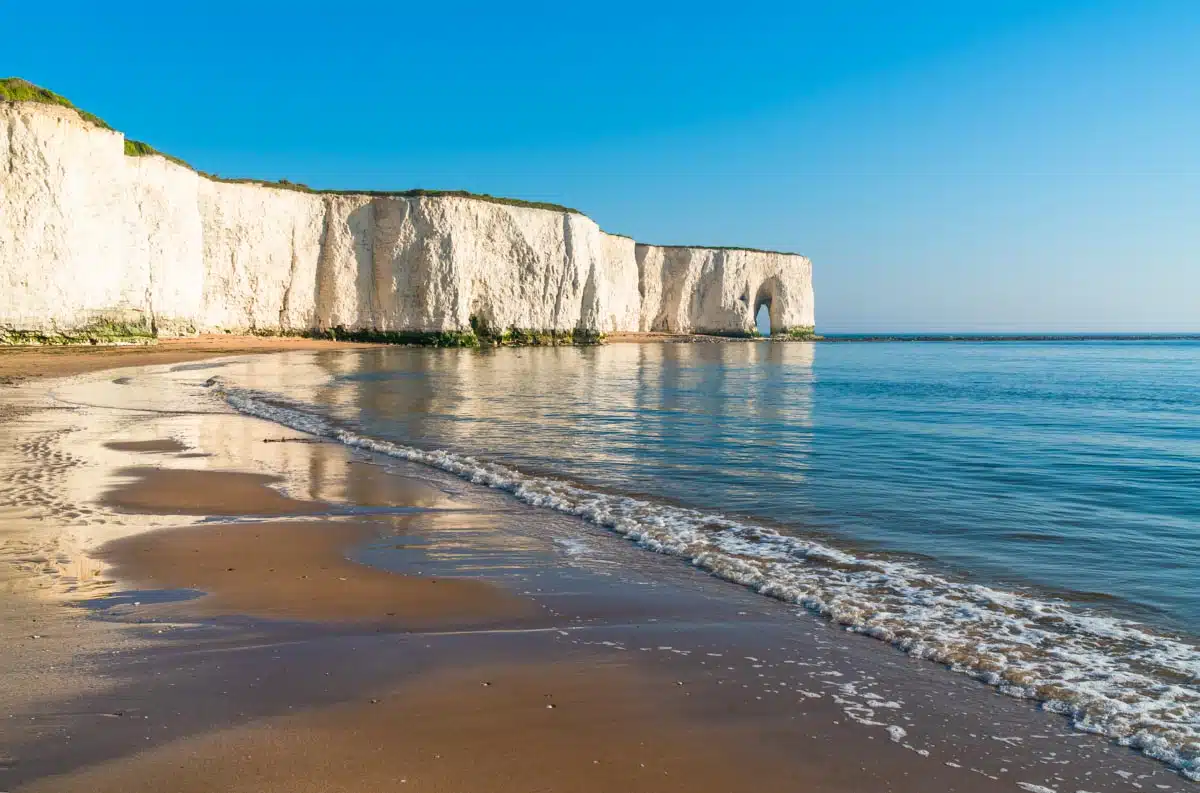 While England isn't exactly famous for its beaches, there's plenty of seaside fun waiting in Margate. This quaint coastal town is perfect for taking a dip into the water on a hot, sunny day, with many of its beaches given Blue Flag designation.
But the fun doesn't end there in eccentric Margate. One of the most unique things to do in England is to walk through the Shell Grotto, an underground passageway made out of seashells.
And, if you want to feel like a kid again, the Dreamland amusement park has all the vintage rides and arcades to relive your younger days. It's a very kooky day out, but one I highly recommend.
Visit the Hever Castle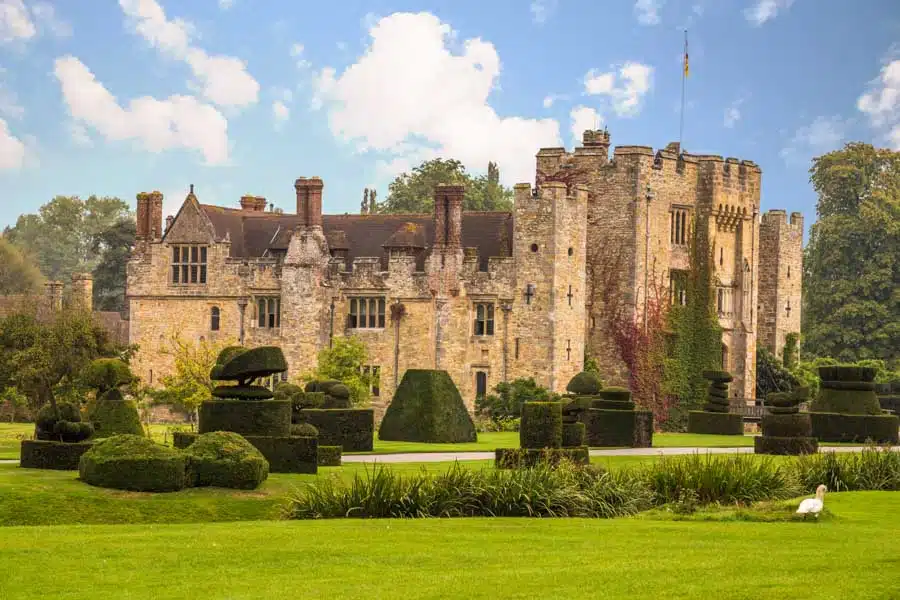 Hever Castle is an architectural masterpiece that's been around for centuries; in fact, it was the childhood home of Anne Boleyn. Step inside one of England's best castles and prepare to be transported back in time with its elegant Tudor-inspired decorations and furniture.
But the magic happens outside, where 125 acres of perfectly-manicured gardens await. The flora here includes the stunning Dahlia flower and the enchanting Katsura tree.
Unique Things to See & Do in England: Hidden Gems That Are Off the Beaten Track
Take a Hike Through Puzzlewood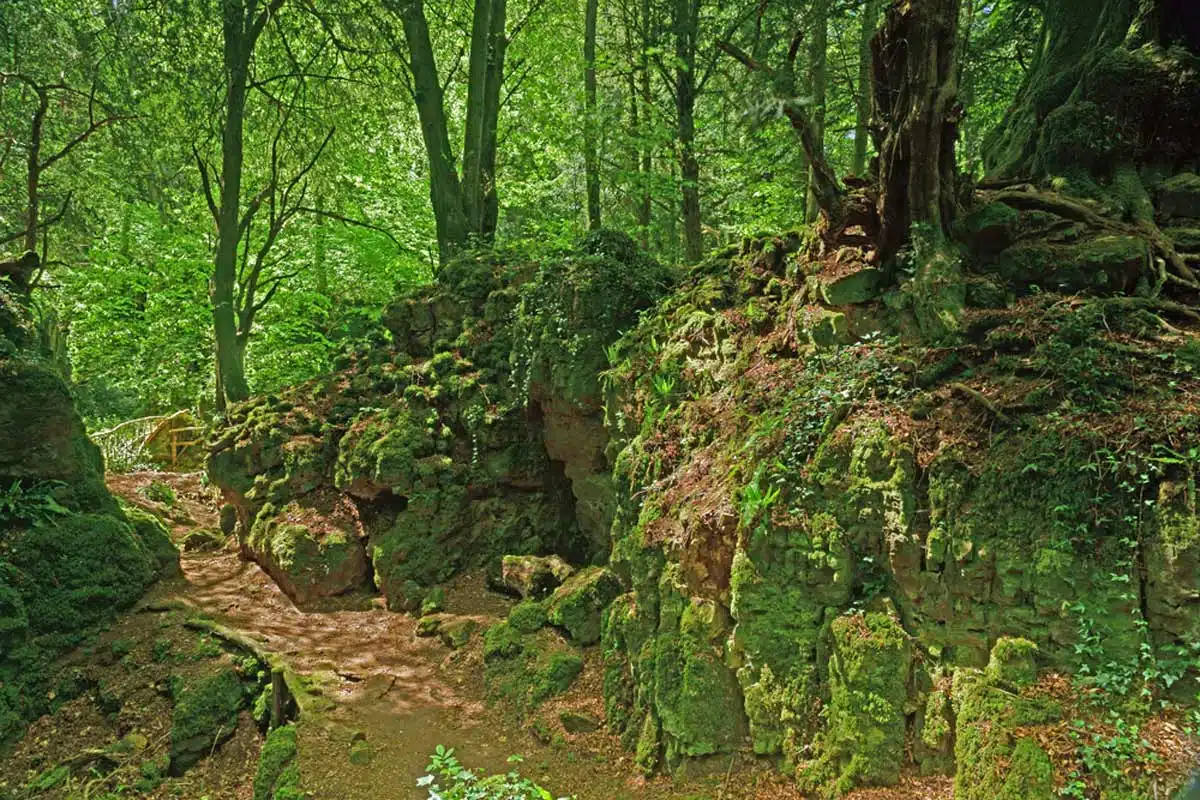 Alright fantasy nerds, this one's for you. While you might not be able to climb into a fantasy novel, I've found the next best thing: Puzzlewood Forest.
This enchanted forest located in Gloucestershire boasts massive trees, hidden caves and winding paths – it looks like something you would find in the Lord of the Rings. And, if you need more convincing, it's also been a filming location in Star Wars, Doctor Who, and Merlin.
Strap on your hiking shoes and get ready to navigate its maze-like paths while marvelling at the natural beauty. Who knows which weird and wonderful creatures you'll stumble across?
Stop by Holkham Beach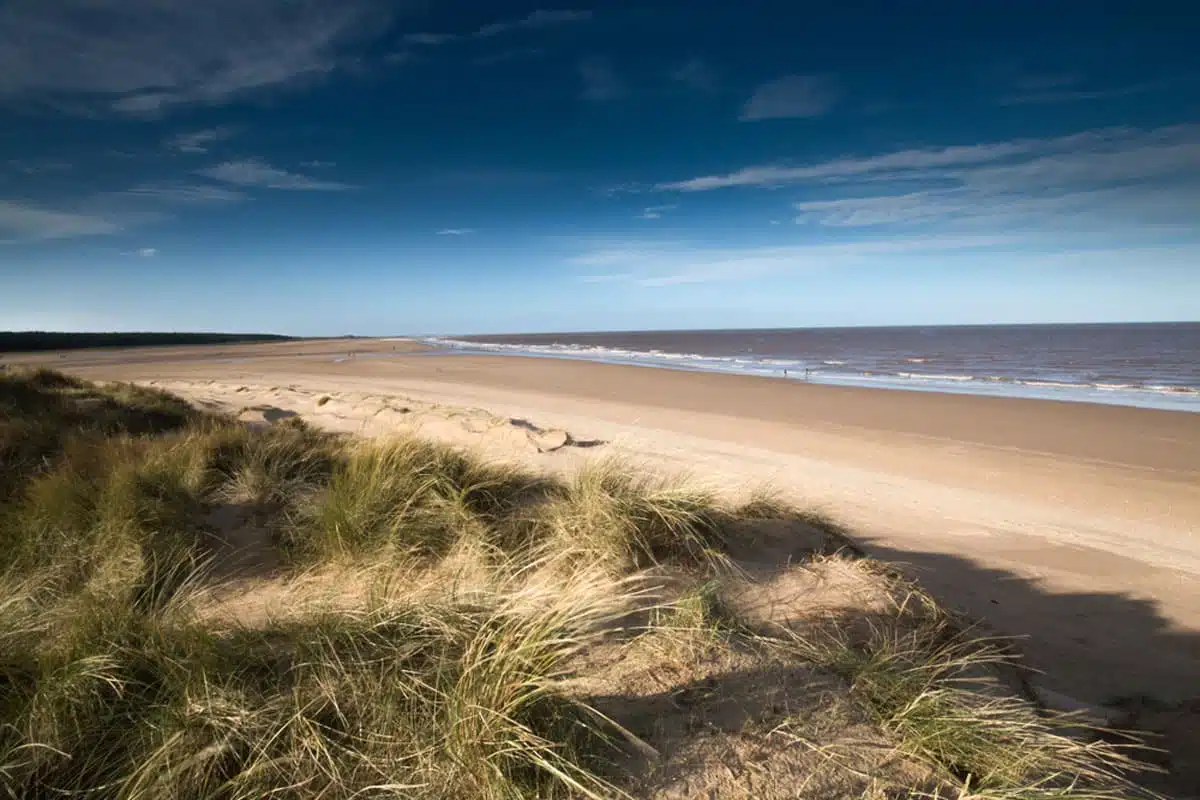 Holkham Beach is another must-visit destination in England. Located in Norfolk, this stunning beach boasts stretches of pristine sand, rolling dunes and salt marshes. As you make your way under the canopy of towering pine trees toward the beach, you'll be struck by the sheer beauty of your surroundings.
During low tide, you can stroll along the water's edge and take in the breathtaking sight of the clouds reflecting on the mirror-like surface of the water. And, if you're lucky, you might even spot some silly seals basking in the sun at Blakeney Point – which is quite the magical experience.
Visit The Beatles Story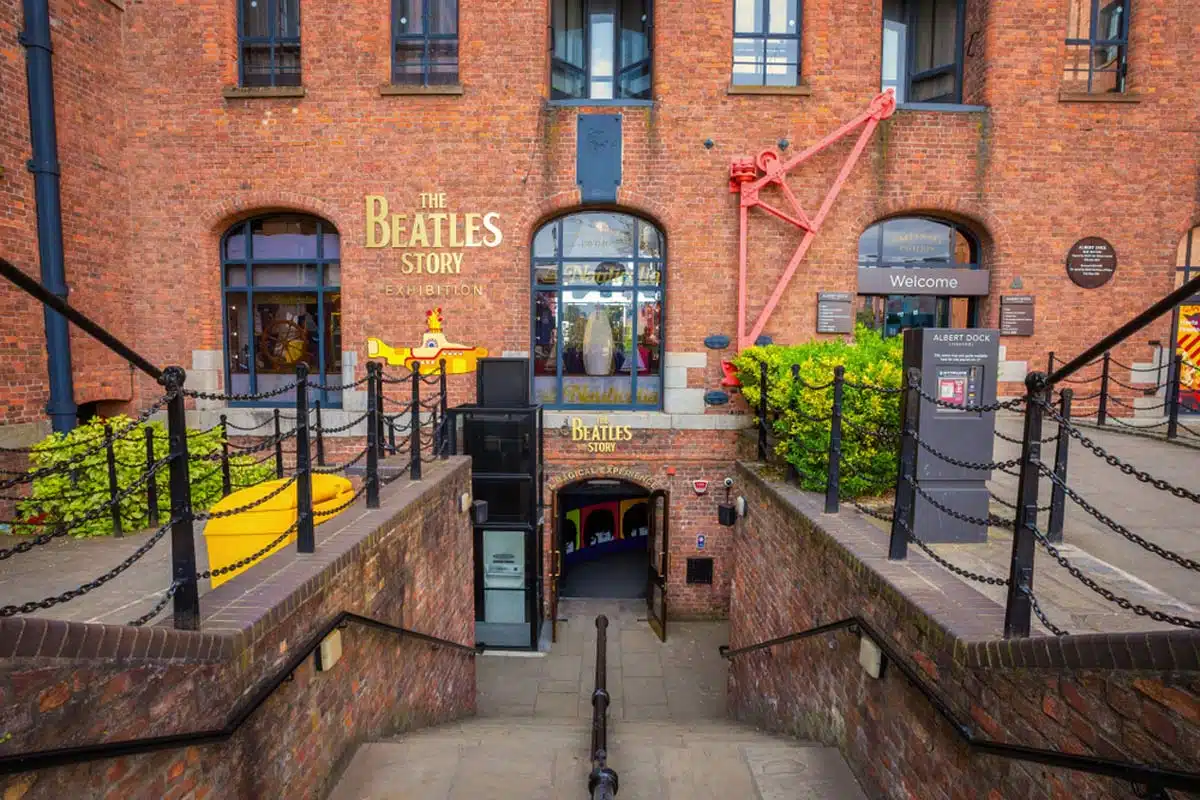 Big Beatles fan? I've got just the attraction for you – the Beatles Story, AKA the largest exhibition dedicated to these musical legends. And you'll find it in Liverpool.
Here, fans can view an extensive list of authentic memorabilia that ranges from instruments and handwritten lyrics to clothing and rare images. End your visit by getting grub at the Beatles-themed Fab4 Cafe.
Remember when I hinted at Manchester and Liverpool's big music rivalry? Yeah, this is why…
Catch a Show at the Minack Theatre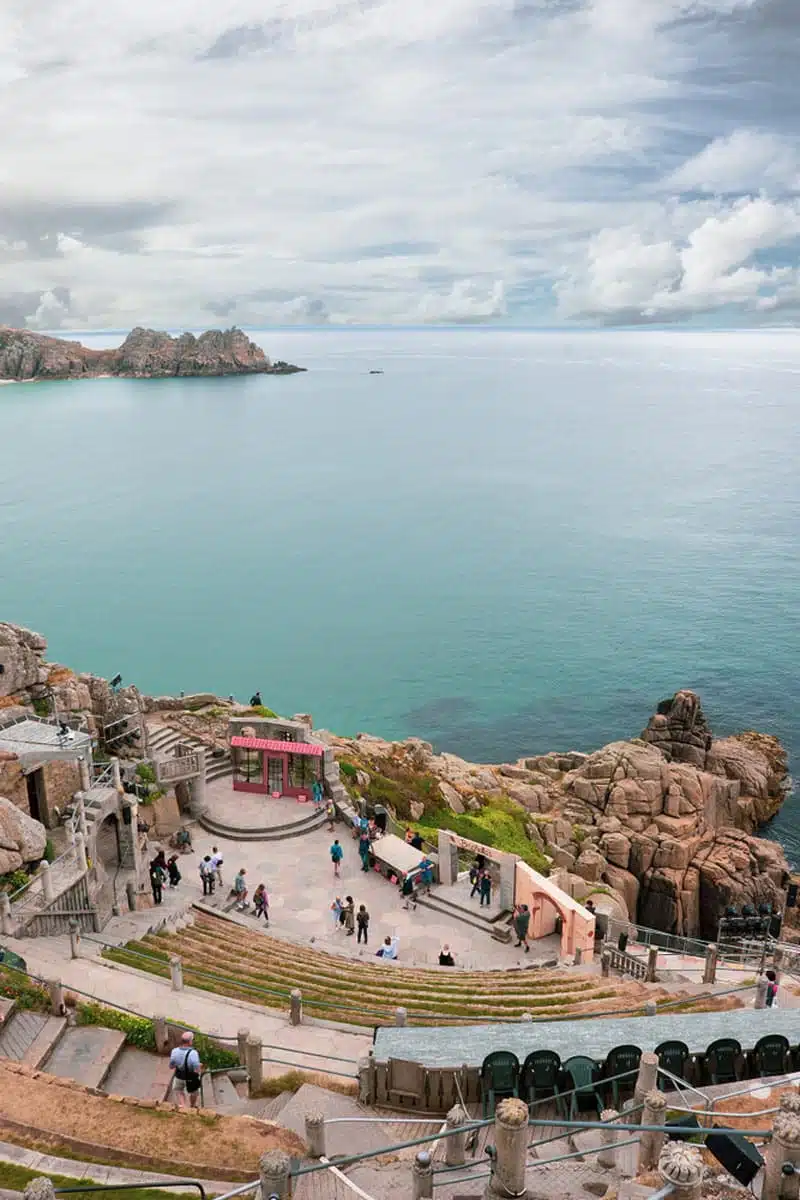 Step into the past by heading to the Minack Theatre for an open-air theatrical performance with an insanely dramatic backdrop. The stage sits on the edge of the Cornish cliff tops with granite seats overlooking the calm Atlantic Ocean — much like what people in days gone past experienced.
While the actors put on a show with works from various playwrights, it's not shocking to see the seagulls try to steal the spotlight.
Visit The Eden Project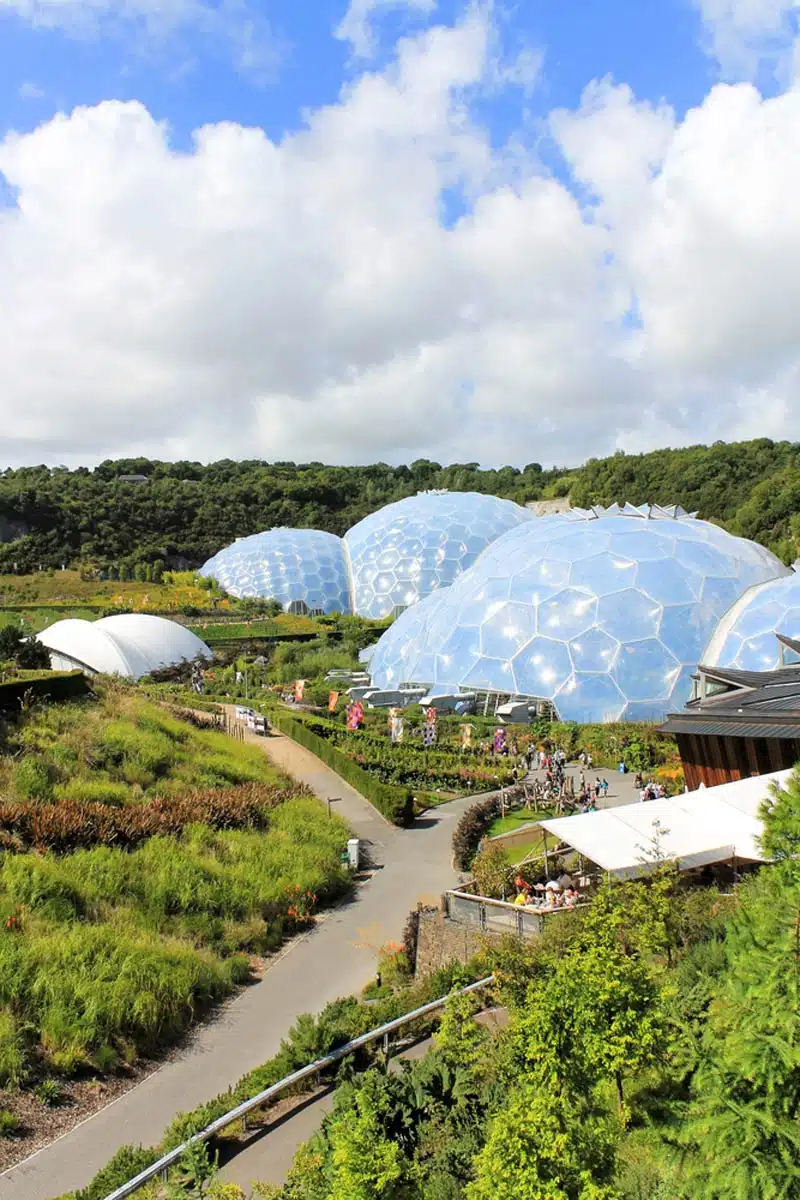 Another Cornish gem, The Eden Project is one of the most unique attractions in England.
The Eden Project is built within two massive biomes, or giant domes, that simulate the conditions of different climates found across the world. The biomes themselves are pretty impressive, with one dome designed to replicate the environment of a tropical rainforest and the other to mimic the conditions of a Mediterranean climate.
In other words, these biomes are home to an eco-park with beautiful natural landscapes and artworks. Apart from the greenery, you can enjoy fantastic musical performances, zoom down a zip line or put your form to the test on the ice skating rink in winter.
What to Do in England: Practical Tips for Your Trip
Where Should I Stay in England?
Being a popular destination, England doesn't lack fantastic lodging options, with hotels fit for every budget.
Newquay Beach Hotel (Mid-Range)
Looking for somewhere to bed down after an epic surf session? Newquay Beach Hotel is a brilliant option. Rooms are sleek and stylish (a little too minimal for my taste but very modern!) and the amenities – including room service, free toiletries and some seaview rooms – are top notch.
Radisson Blu Edwardian New Providence Wharf Hotel (Mid-Range)
Rooms at this Radisson Blu hotel in London boasts Egyptian cotton bedding, Italian marble bathrooms, elegant decor, and floor-to-ceiling windows with stunning river views. Among the top amenities is the hotel's spa, complete with a sauna, steam room and gym.
41 (Luxury)
Another fancy AF London base, 41 is a luxury hotel next to Buckingham Palace. And their bespoke service will leave you feeling like you just stayed at the royal property.
Handmade mattresses, marble bathrooms, spacious suites and a supply of free snacks — need I say more?
Recommended Tours in England
Fun Things to Do in England: Map
Read More England Travel Guides
Love This? Save and Share on Pinterest