Encompassing England, Wales, Scotland and Northern Ireland, the UK is a canvas filled with fantastic destinations and cool sights. From castle-hunting to beautiful hikes, these are the best things to do in the UK. Let's explore.
As much as I love to take off and travel around the world, as a born and bred Londoner, the UK will always have a special place in my heart.
Why? There's so much to see. From the rugged beauty of Northern Ireland and Scotland's mythical attractions to the surfer haven that is Cornwall. And, of course, plenty of iconic landmarks in London, too.
But there are so many places that fly under the radar, too. So, get ready as I'm about to take you on a whistle-stop tour of the best things to do in the UK.
Need help figuring out where to stay? The Hoxton Holborn is modern London luxury at its finest.
Top 5 Things to Do in the United Kingdom
Admire the Dreaming Spires of Oxford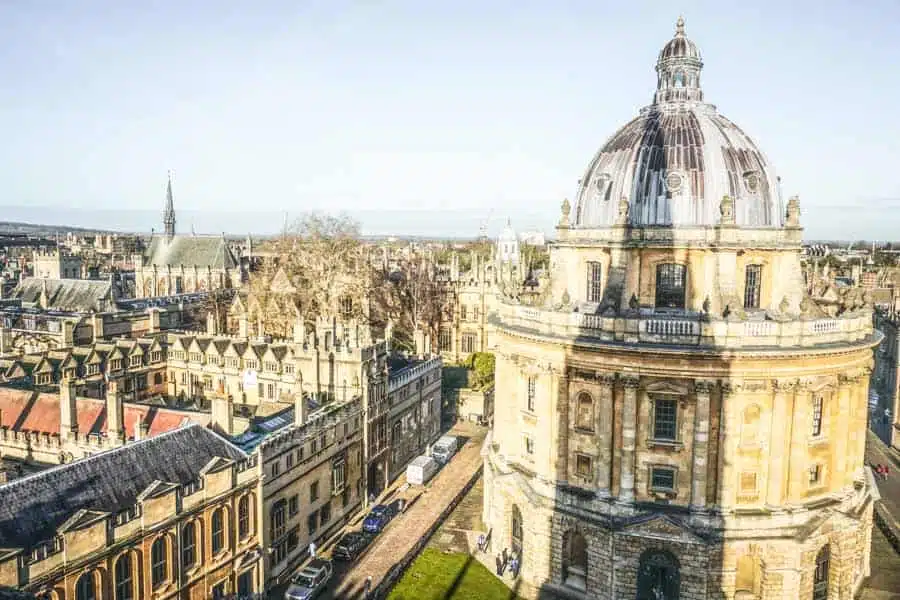 Oxford isn't only for the intellectually elite, I promise. It's also for people who just want to enjoy gorgeous architecture and absorb some of the magical ambience it offers. No wonder poet Matthew Arnold described Oxford as "the city of dreaming spires."
I actually studied in Oxford, so this city has a huge place in my heart. But, let's be real, Its cobbled streets and 12th-century architectural mix of Gothic and Baroque styles are enough to win anyone over.
In fact, its magical vibe is so apparent that it's been a filming location for The Hobbit, Narnia and even Harry Potter.
If it's your first time, you'll want to tick off the Radcliffe Camera, Christ Church College, the Covered Market (swing by Ben's Cookies and thank me later) and Oxford Castle. A day is enough to hit up the major sites, but if you want to throw a couple of museums in – both the Ashmolean and the Natural History Museum are must-do's – you'll need to spend a couple of days in Oxford.
Top tip: book an Oxford day tour from London to make the most out of your trip (this also handles all the logistical details and saves you plenty of stress and time).
Be Mystified at Stonehenge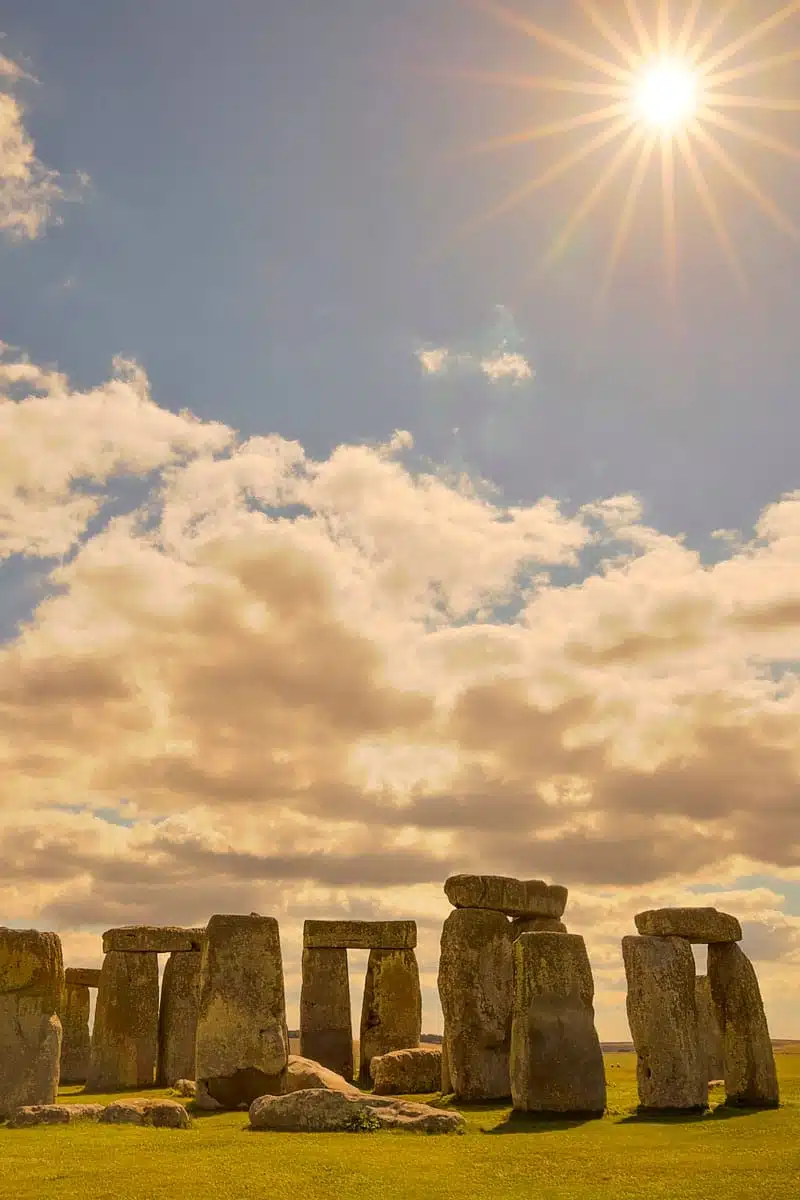 Maybe it's a little cliché, but no trip to the U.K. would be complete without getting up close and personal with the mythical Stonehenge. The prehistoric circle of stones attracts millions of visitors a year, making it one of the must-see places in the U.K.
The site is constructed from bluestone originating in Wales, roughly 150 miles from its current site. That's all we know for sure. Is it a celestial calendar? Maybe. A burial ground? Perhaps.
Some speculate it was a sacrificial site. Others swear it must be proof of extraterrestrial intervention, because how could mere men create such a thing with no technology? You can book your admission ticket in advance and ponder its existence for yourself.
Discover Edinburgh's Top Sights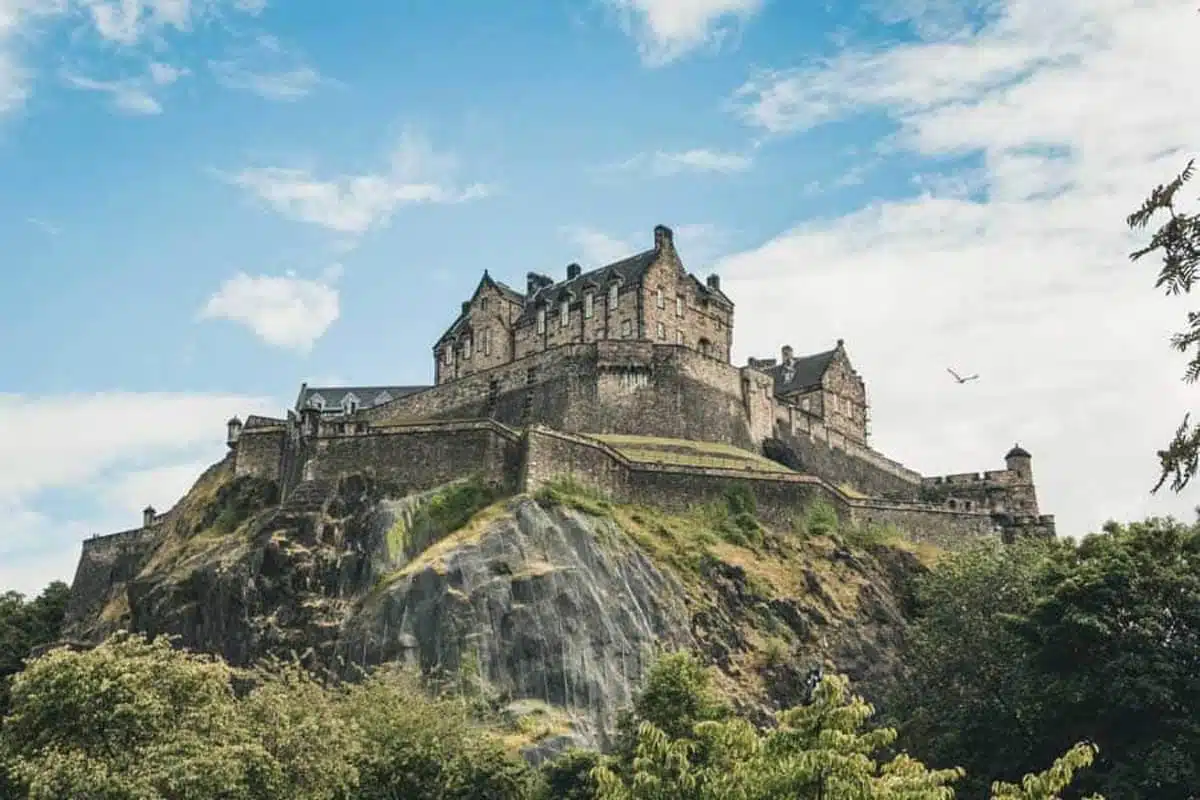 Whether you're in need of an Edinburgh itinerary to help you hit up all the hotspots or you're happy to wander aimlessly, the Scottish capital is an unmissable UK destination.
Despite its cosy, small-town feel, there's plenty to see and do. Edinburgh Castle and the Palace of Holyroodhouse are unmissable historical landmarks, and it would be rude to visit without enjoying a wee dram (or three) on a whisky tour.
Galavant down the Royal Mile and then stand atop Arthur's Seat, an ancient volcano offering splendid views over the city. Don't stress — it's not that much of a climb.
Muggles and wizarding-wannabes alike will love the Harry Potter walking tour. And if the "real" supernatural thrills you, do you dare to explore the haunted underground vaults?
Hang Out at the Houses of Parliament and Big Ben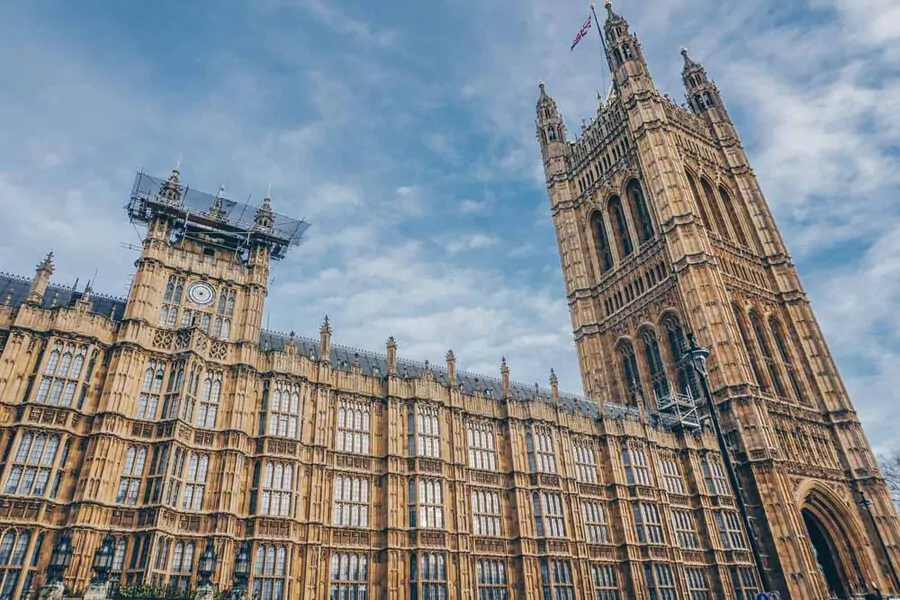 For many tourists, hearing the chimes of Big Ben IRL is pretty magical. And, while you're there, swing by the Houses of Parliament to see where the most powerful people in the country spend their time.
Collectively, they're known as the Palace of Westminster and form the city's oldest royal palace – it's also a UNESCO World Heritage site.
They date back to 1859 when the construction of Augustus Pugin's beautiful neo-Gothic architecture ended after 16 years. At that time, Big Ben was the world's largest and most accurate chiming four-faced clock.
The palace has served many roles in its lifetime, including a house for royalty, a court of law, and a penitentiary. You'll find Big Ben, or the "Great Bell of the Great Clock of Westminster," in the Elizabeth Tower at the northern end of the Houses of Parliament.
Top tip: if you're short on time, book this tour of Westminster's top sights to see Parliament, Big Ben, and the Royal Changing of the Guards in one morning!
Relax at the Lake District National Park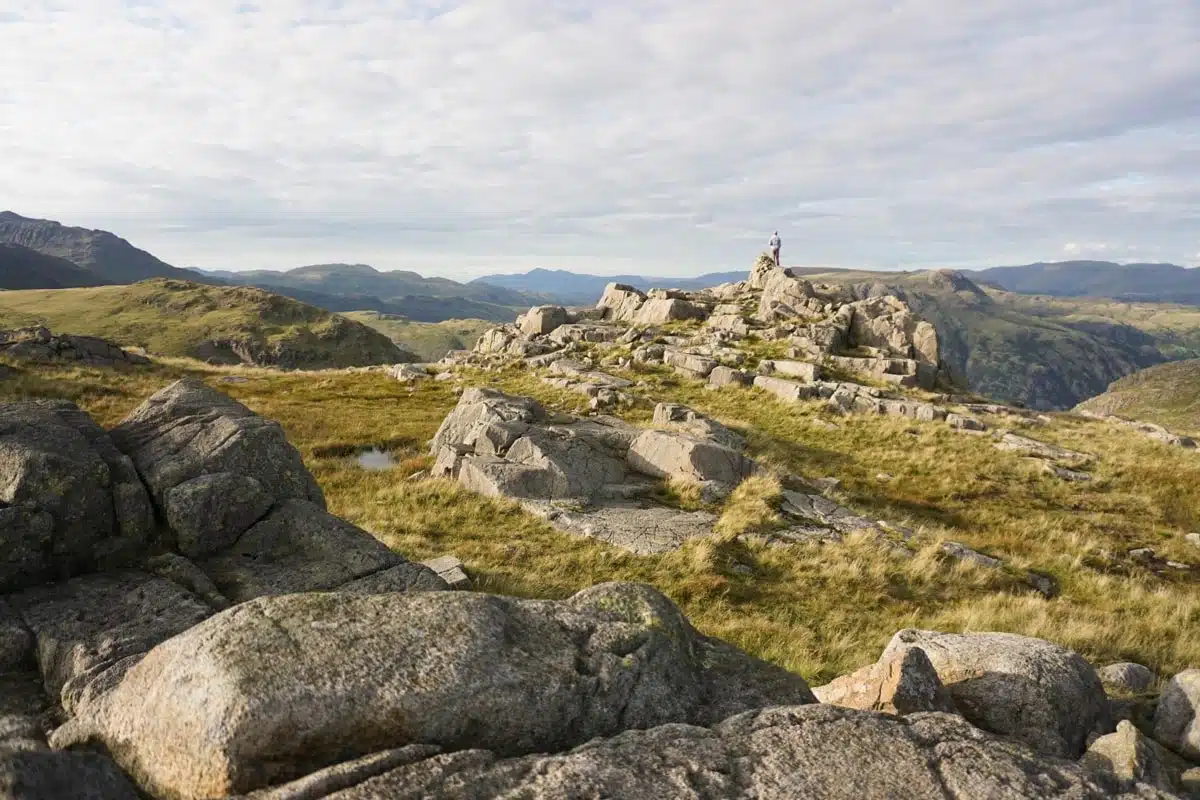 Embrace Mother Nature at the Lake District, situated in the northern sprawls of England.

The Cumbria park is popular for its glacial ribbon lakes and historical, literary associations (think Beatrix Potter and Wordsworth). Some of the best things to do in the area include hiking and horse riding. Or, the likes of Cathedral Cavern and the White Scar Caves offer fascinating guided tours.
There's more than just nature to explore here, though, with market towns like Keswick and traditional inns (with excellent pints) in the area. There are also plenty of crumbling ruins and regal castles to admire – and snap some pictures of.
Top tip: you can totally explore the Lake District by yourself, but I recommend taking a full-day tour to help you get the most out of your visit to the lakes.
Brilliant Things to See & Do in the United Kingdom
Visit Loch Ness (and Maybe Spot Nessie)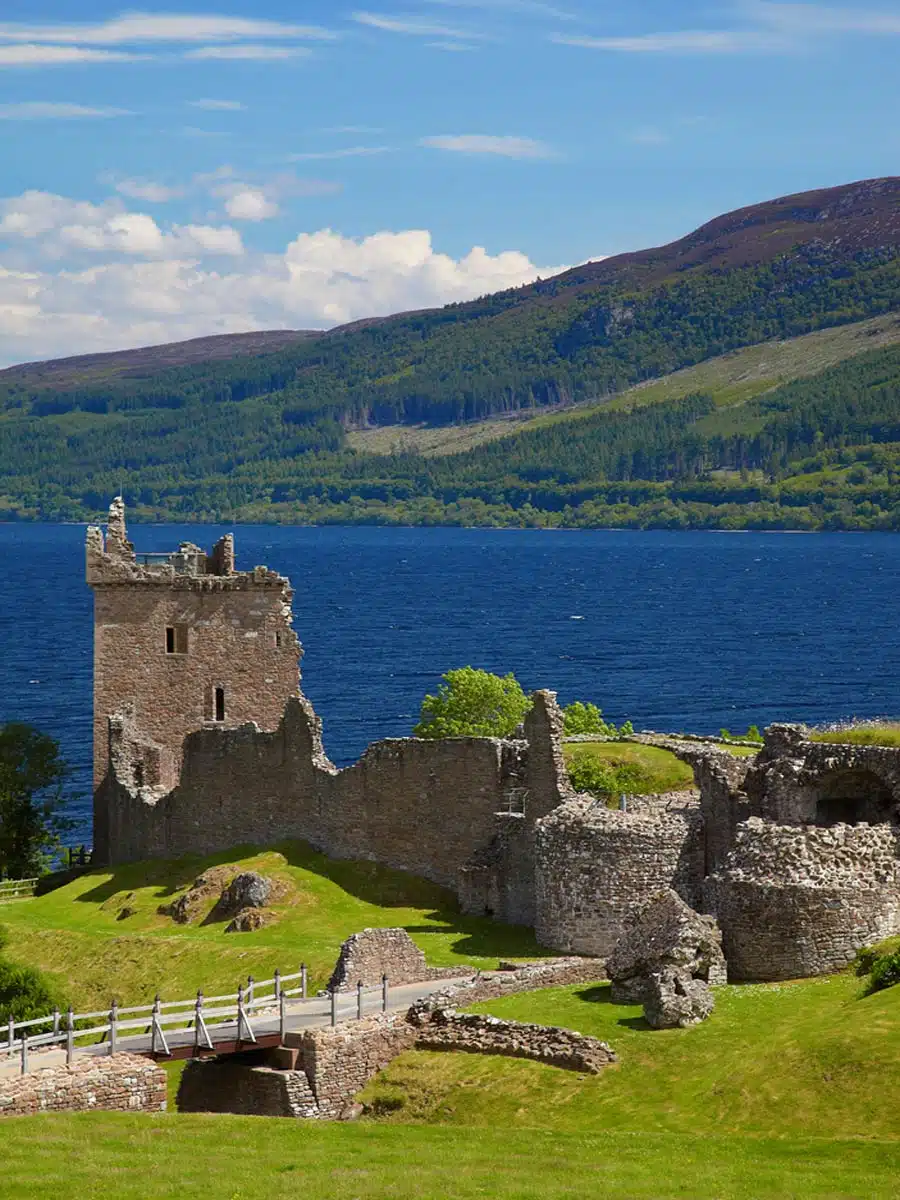 Shrouded in mystery, paying a visit to Loch Ness is one of the best things to do in the United Kingdom, not only for its famous monster — first spotted in the 6th century — but also for its cultural history and gorgeous views.
Take a cruise on its glassy waters and then stop at the nearby Inverness for some quaint village charm (and a pint while you're at it). Urquhart Castle (or what's left of it) offers some stellar views. Plus, if you're an Outlander fan, you'll get a kick from seeing the filming location IRL.
Make sure to stop by Fort Augustus at the south end of the Loch — the Caledonian Canal and gorgeous architecture make it well worth the pit stop.
Check Out the Filming Locations of Game of Thrones in Northern Ireland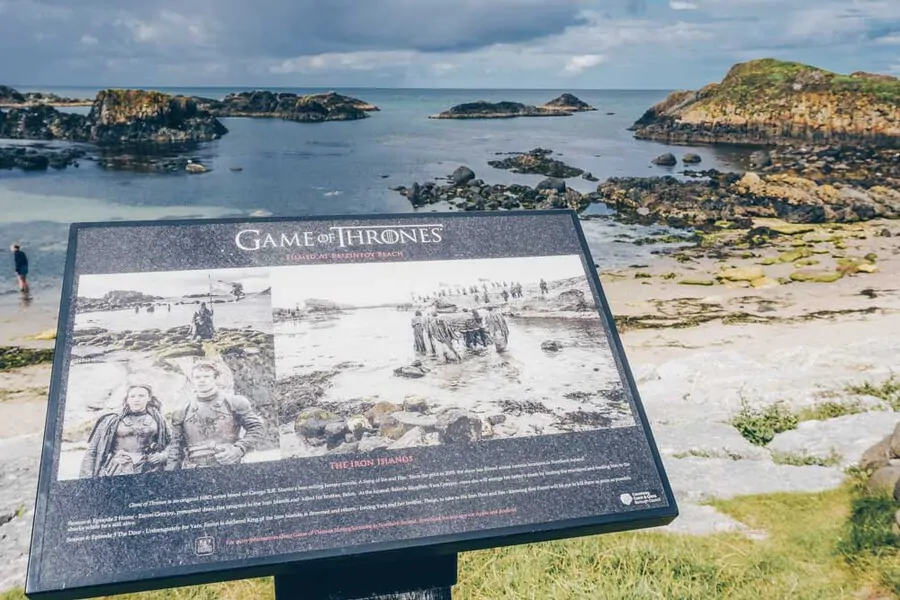 An often forgotten member of the UK, Northern Ireland has plenty to offer the intrepid traveller. But if you're more of a movie buff, perhaps you'd rather walk in the footsteps of Jon Snow and other fan-favourite characters?
That's right, Northern Ireland's rugged landscape was used plenty during filming for Game of Thrones. Some top spots you shouldn't miss include Ballygally Castle, Sallagh Braes and Cairncastle. Oh, and the Cushendun Caves are a must, too – these are just a few iconic places that fans of the show will recognise and marvel over.
Top tip: I've written an entirely separate post about GoT filming locations in Ireland – get ready to walk in the footsteps of your fave (and most hated) characters.
Marvel at Shakespeare's Hometown, Stratford-Upon-Avon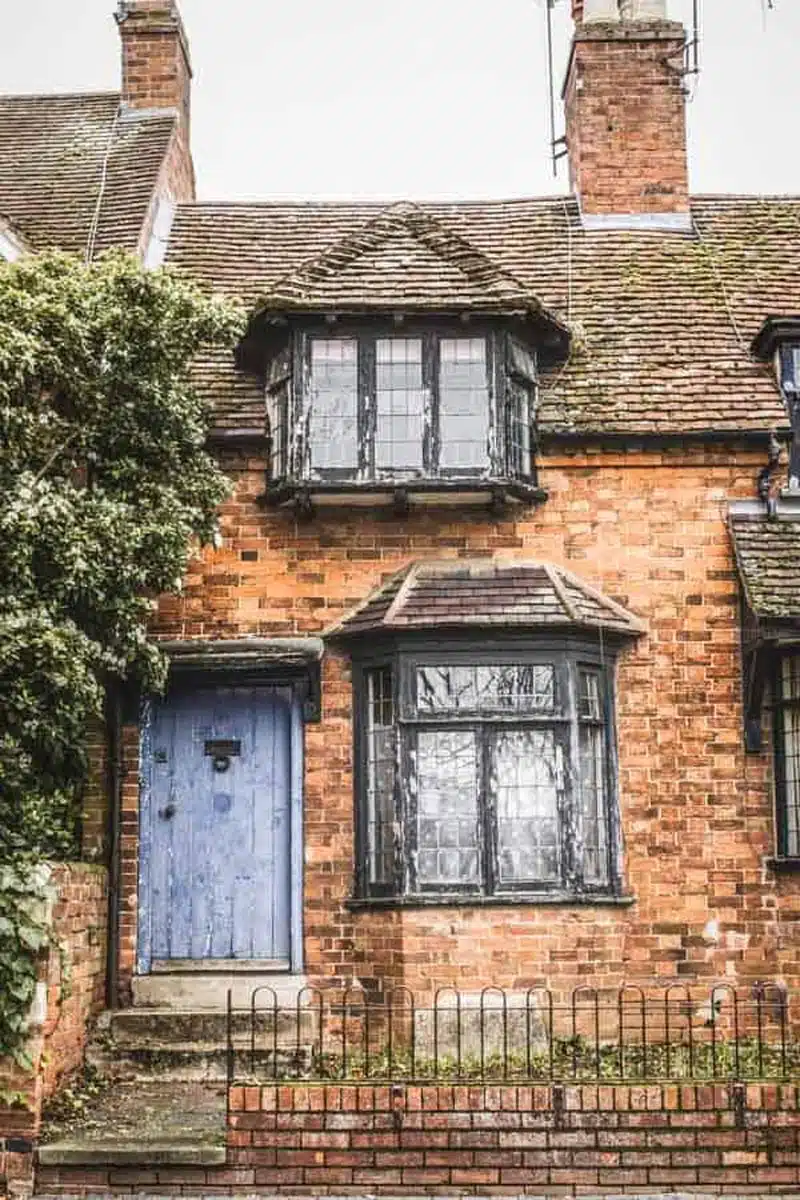 Oozing with charm, Stratford-Upon-Avon is a mediaeval market town in the West Midlands of England that just so happens to be the birthplace of Shakespeare.
The town doesn't take this connection lightly – it celebrates this claim-to-fame with its world-famous The Royal Shakespeare Company and Swan Theatre. Not to mention the abundance of famous spots dotted around Stratford.
So if you love mellifluous language, this is the place to be. You can also visit Anne Hathaway's (Shakespeare's wife) cottage with this convenient entrance ticket.
But it's not all about Shakespeare in Stratford. If the weather is warm, there's nothing quite like enjoying a picnic on the riverside, or maybe you would rather visit the Stratford Butterfly Farm and have winged beauties resting on your hands?
Explore St. Ives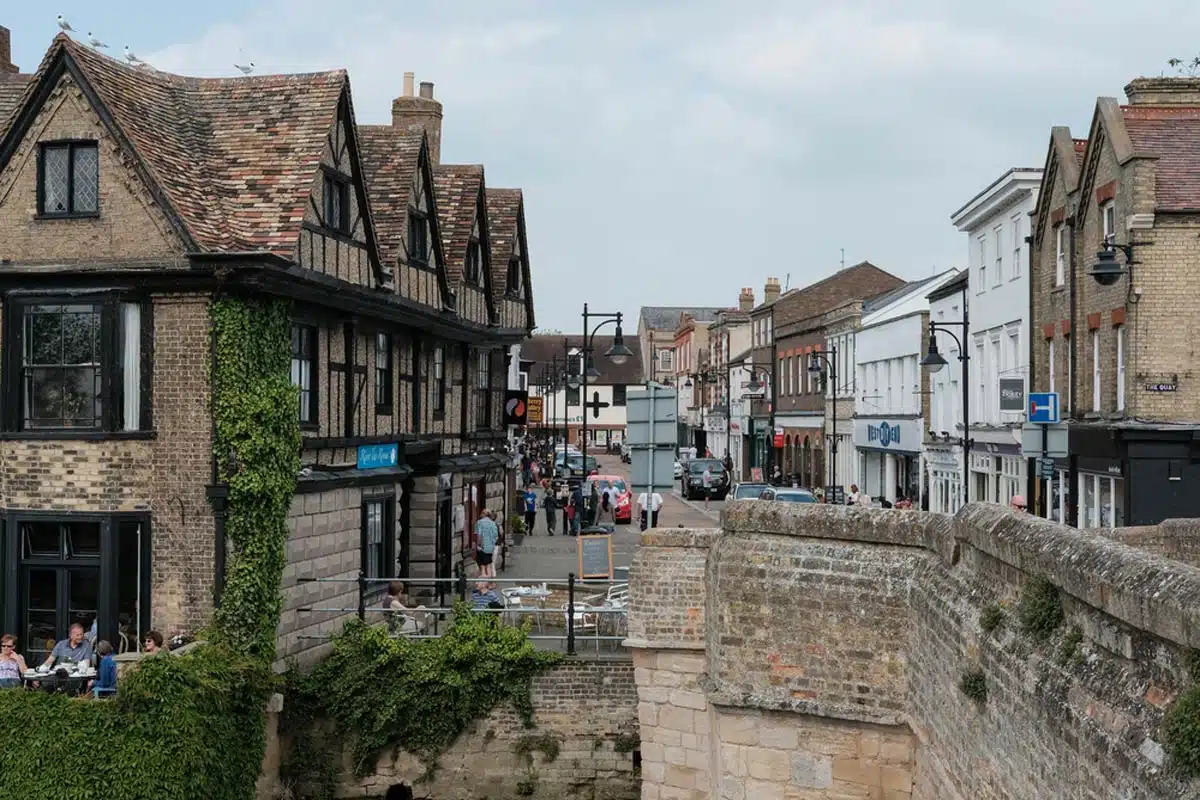 Nestled in the heart of Cornwall, St. Ives is a charming town famous for its incredible surf spots and vibrant art scene. Art enthusiasts will be in heaven when they visit the Barbara Hepworth Museum and Sculpture Garden or take in a show at the open-air Minack Theatre.
If you're more of a beach lover, then you're in luck because St. Ives boasts some of the most stunning sandy shores, such as Porthminster Beach, Saint Ives Bay and Porthgwidden Beach.
Hang Out At York Minster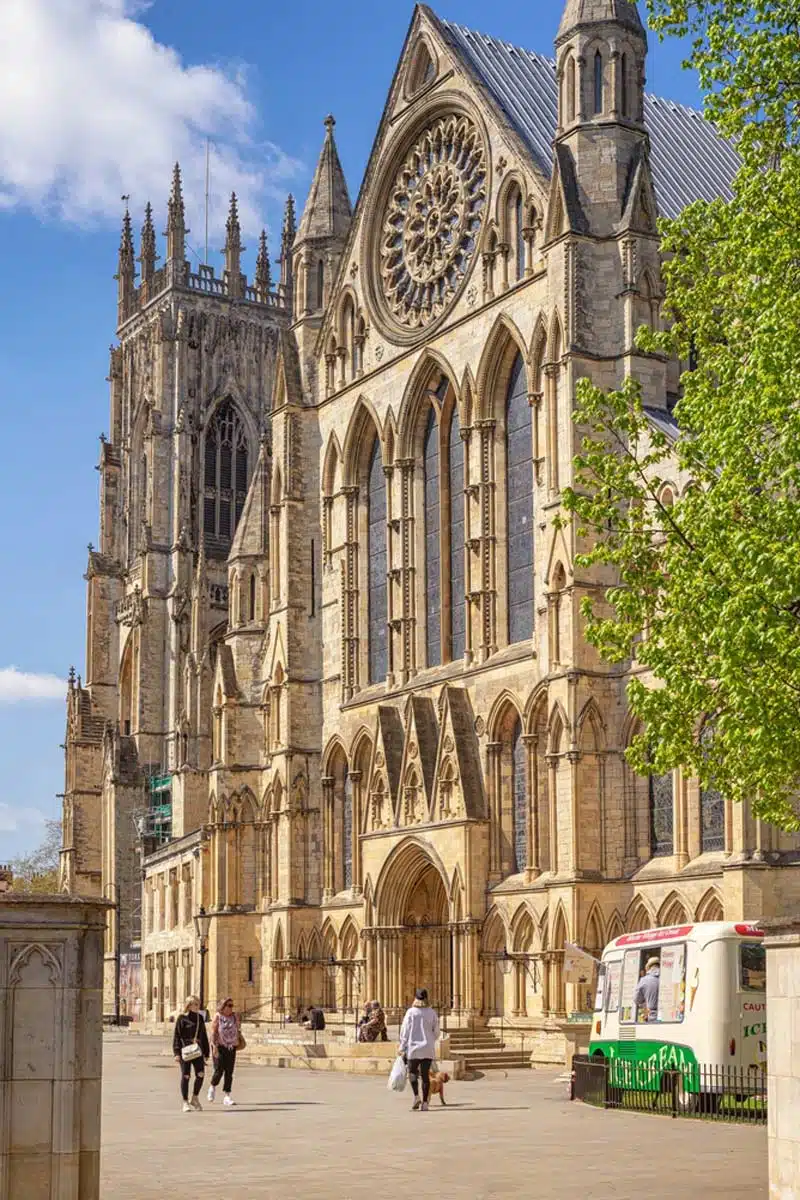 York Minster is the common nickname for the Cathedral and Metropolitan Church of Saint Peter. "Minster" is a title appointed to churches from the Anglo-Saxon days that were places of missionary teaching. Completed in 1472, its incredible Gothic architecture speaks for itself.
The Great East Window that overlooks the Lady Chapel is the largest piece of mediaeval stained glass worldwide. On the other hand, the West Window is a unique heart shape and is often called The Heart of Yorkshire.
You can admire the Minster with ease on this city walking tour (which, by the way, also takes you around York's cobbled streets that are littered with Harry Potter references).
Catch a West End Show in London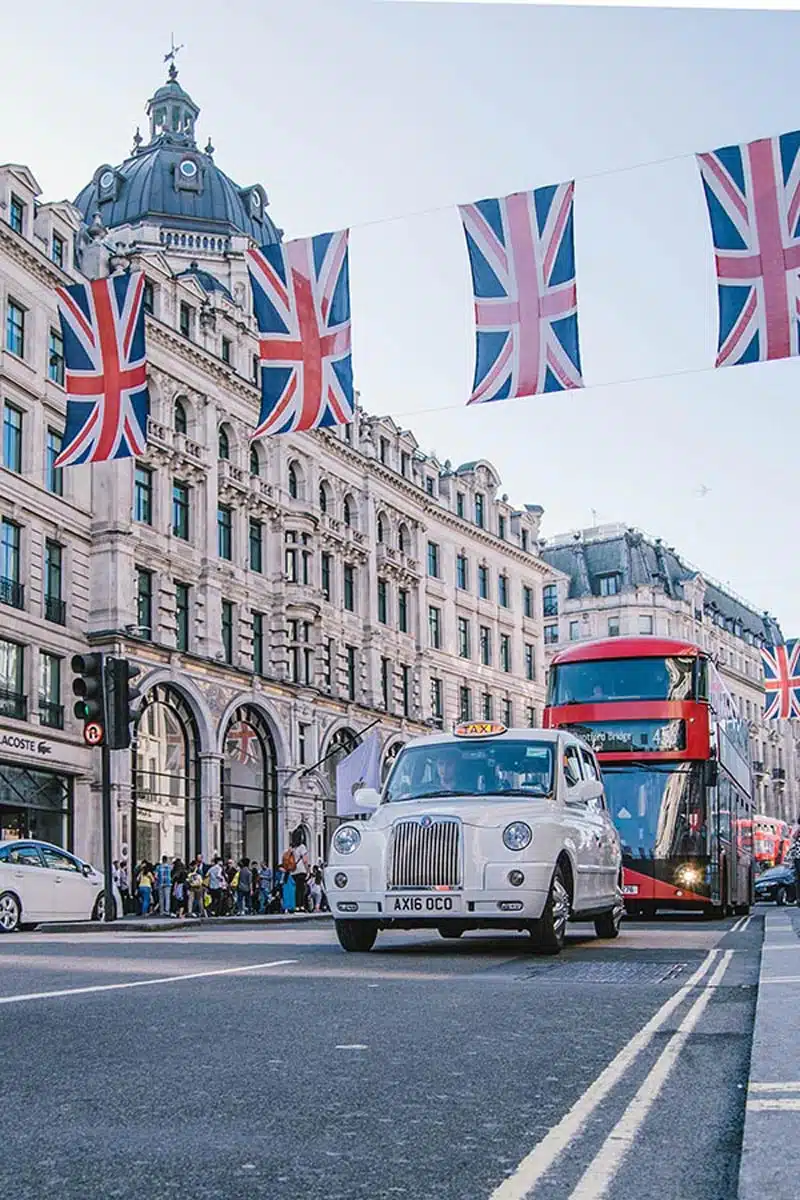 Come on, you can't go to London and not see a show at the famous West End. Whether you're a huge theatre-head or not, it's undoubtedly one of the best things to do in the U.K. With around 40 different venues, it's London's premiere theatre district.
From long-runners like Les Miserables to newer additions to the West End scene like Six and &Juliet, there's no excuse not to catch a show when you're in London.
Top tip: head to the TKTS booth on Leicester Square to nab last-minute deals on tickets. You'll need to be pretty flexible, but it can save you some serious cash.
Gaze at the Giant's Causeway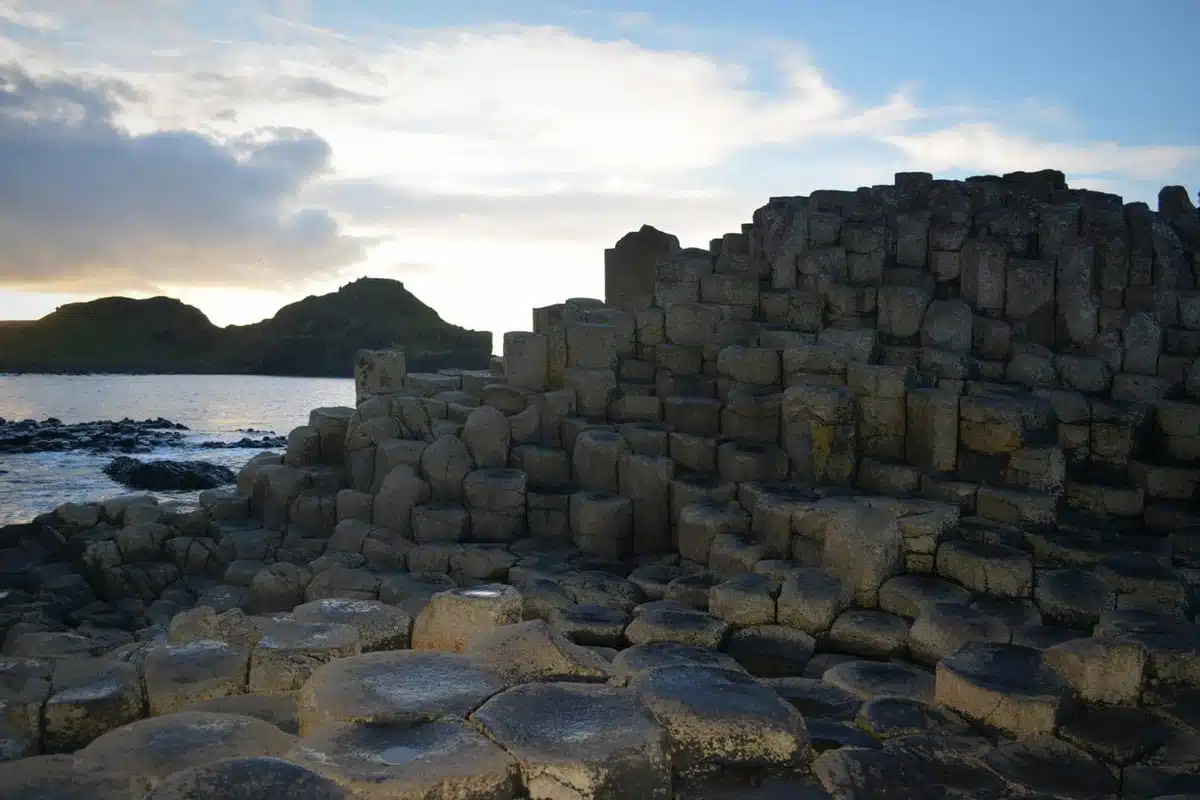 A geological marvel, the Giant's Causeway has all the #drama. This coastal feature, with over 40,000 circular basalt columns reaching upward from the sea, makes it to the top of my best things to do in Northern Ireland list.
Its origins date back to volcanic eruptions over 60 million years ago, and the results are pretty iconic — it almost looks unreal. Scout for the Camel rock formation and the Giant's Boot, or sit on the natural throne called the Wishing Chair as thousands before you have. You can even make a wish if you dare.
You can take a guided day trip or simply explore the site yourself. You can climb to your heart's content because no ropes are holding you back here. Just be safe, of course.
Be Whisked Away to the Med in Portmeirion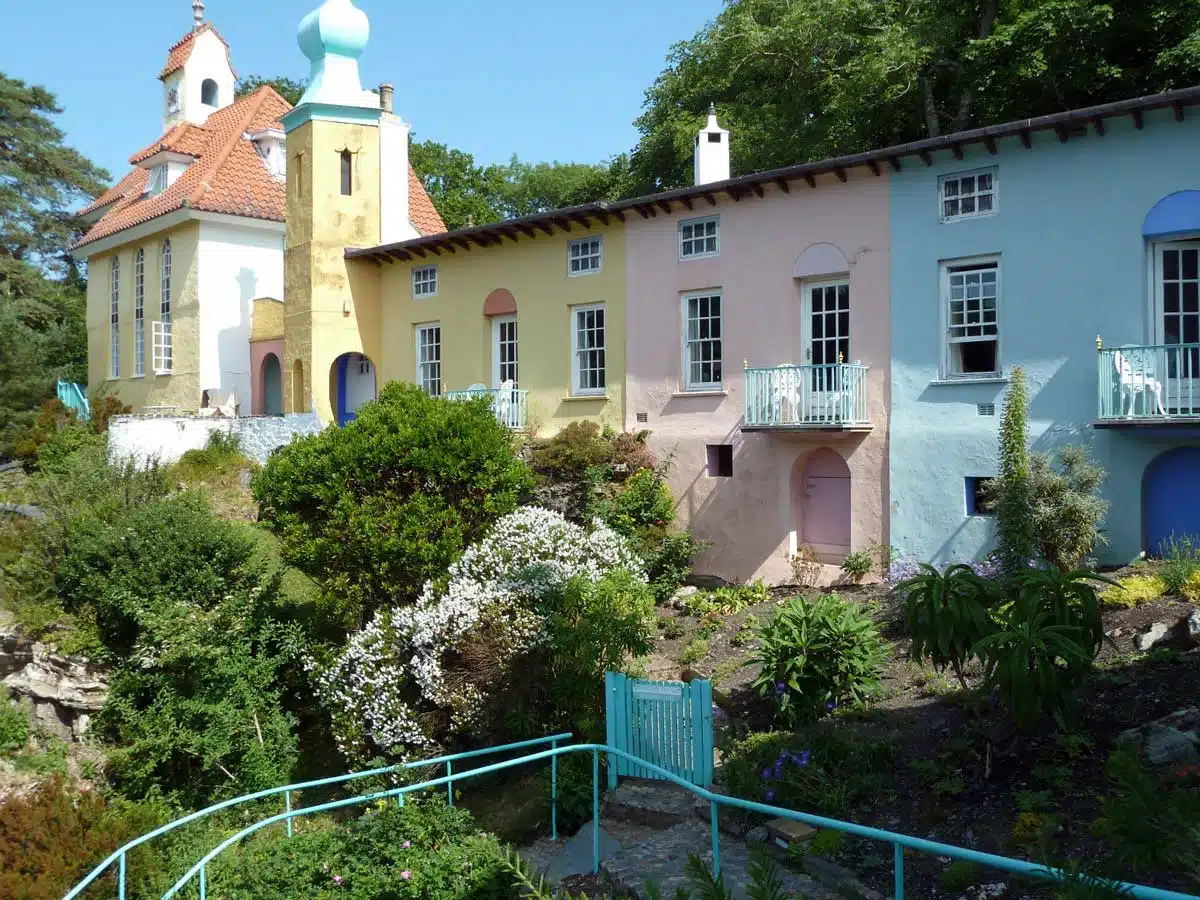 One of the top United Kingdom destinations feels like a colourful village in Italy — who'd have thunk? Portmeirion rests on a peaceful little peninsula in North Wales. And just wait until you see the rainbow-hued houses and lush parks with bright turquoise ponds.
Sir Clough Williams-Ellis was the Welsh architect behind this gem, although it's far from depicting traditional Welsh living. Come for some dolce vita and snap some sweet pics on a day trip to Portmeirion, with sandy beaches, lush gardens and everything in between.
Wander Around Pretty Harrogate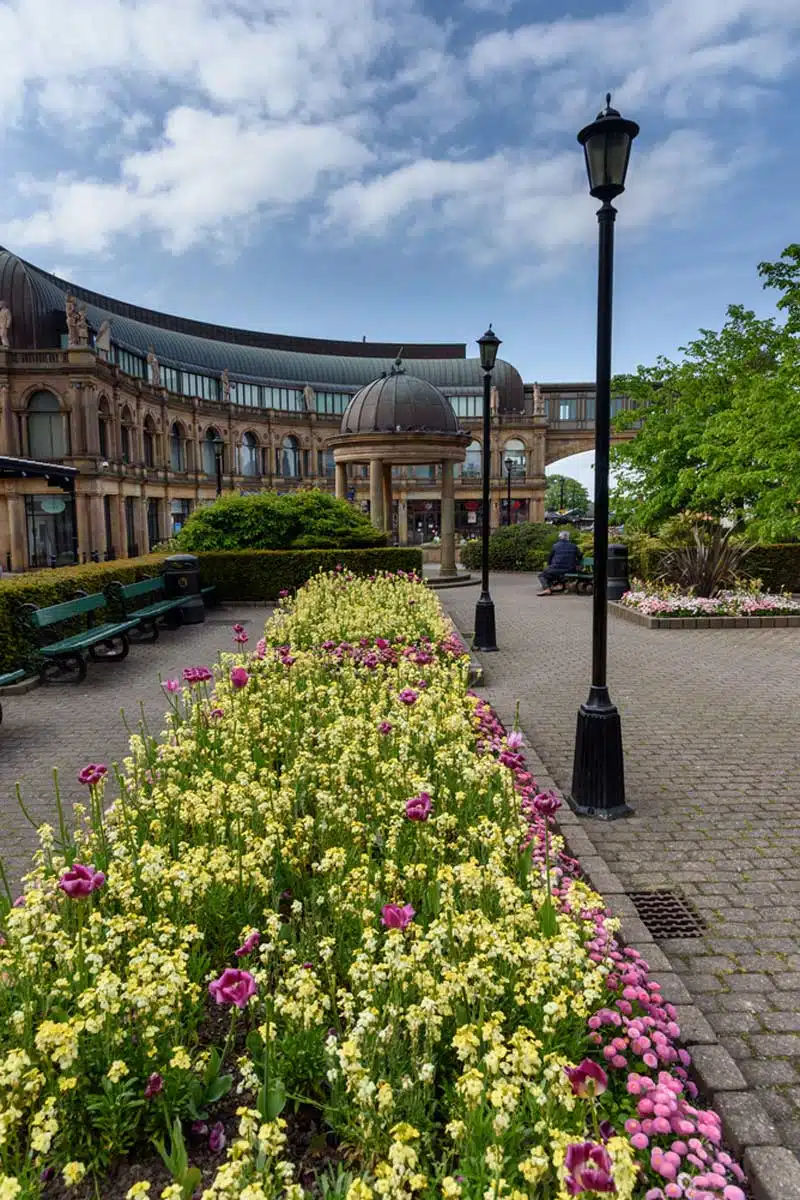 Once just a trendy spa resort for fashionable people, Harrogate has managed to retain its picturesque charm.
You can stroll through the Valley Gardens and see the Art Deco Sun Pavilion, visit Mother Shipton's Cave or stop by the RHS Garden Harlow Carr for plenty of beautiful photo spots.
Or stay closer to town and step back in time with Ripley Castle, the Turkish Baths and the Harrogate Theatre. Of course, you could wander about the town and enjoy its old-world wonders. But please, for your own sake, take some time to stop at Betty's Café Tea Rooms.
Sunbathe on a Cornish Beach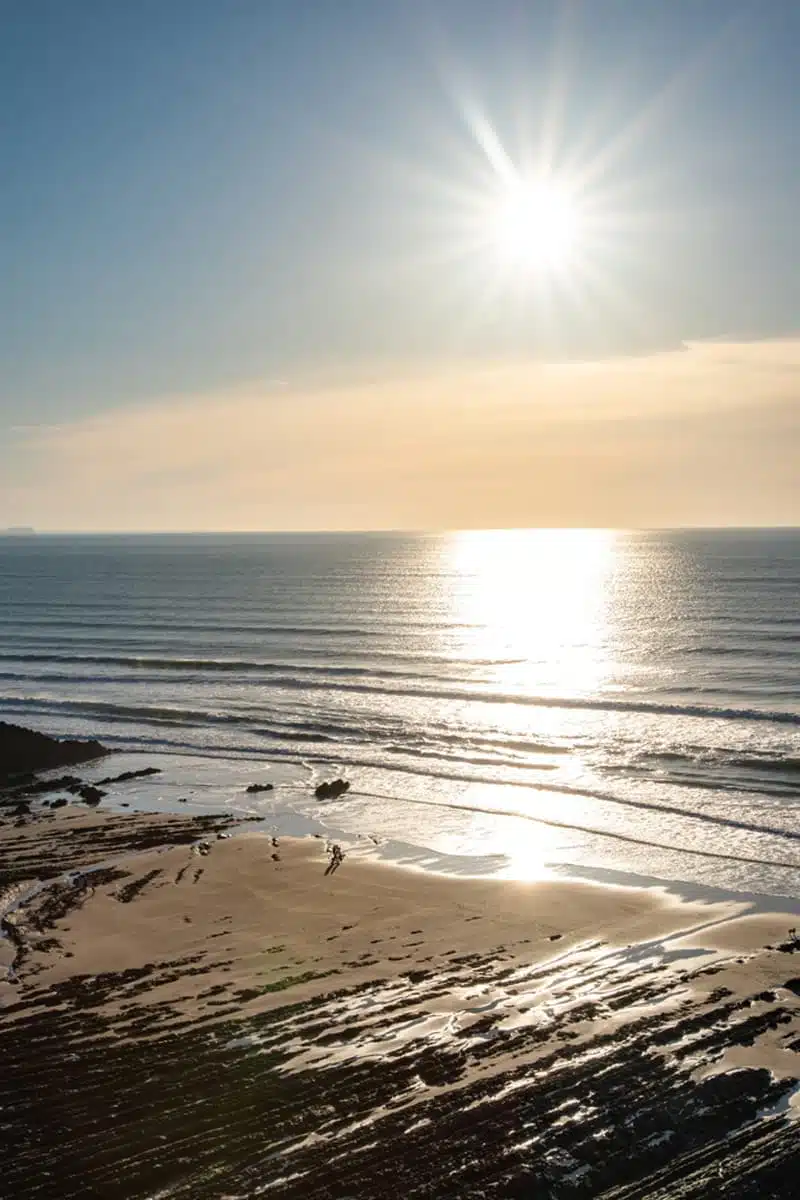 I know, I know – the UK isn't exactly known for its beach weather. But one look at the beaches of Cornwall, and you'd think you were in paradise.
I've got a few favourites, but Porthcurno Beach is one of the most popular. With golden sands and serene aquamarine waters. It even has cliffs on either side to discourage the wind.
Where else? Kynance Cove is simply stunning, and Pentewan Beach is lesser known but a fantastic place for water sports like kayaking and windsurfing. Bring your swimsuit and dive in!
Unique Things to See & Do in the United Kingdom: Hidden Gems That Are Off the Beaten Track
Go Punting in Cambridge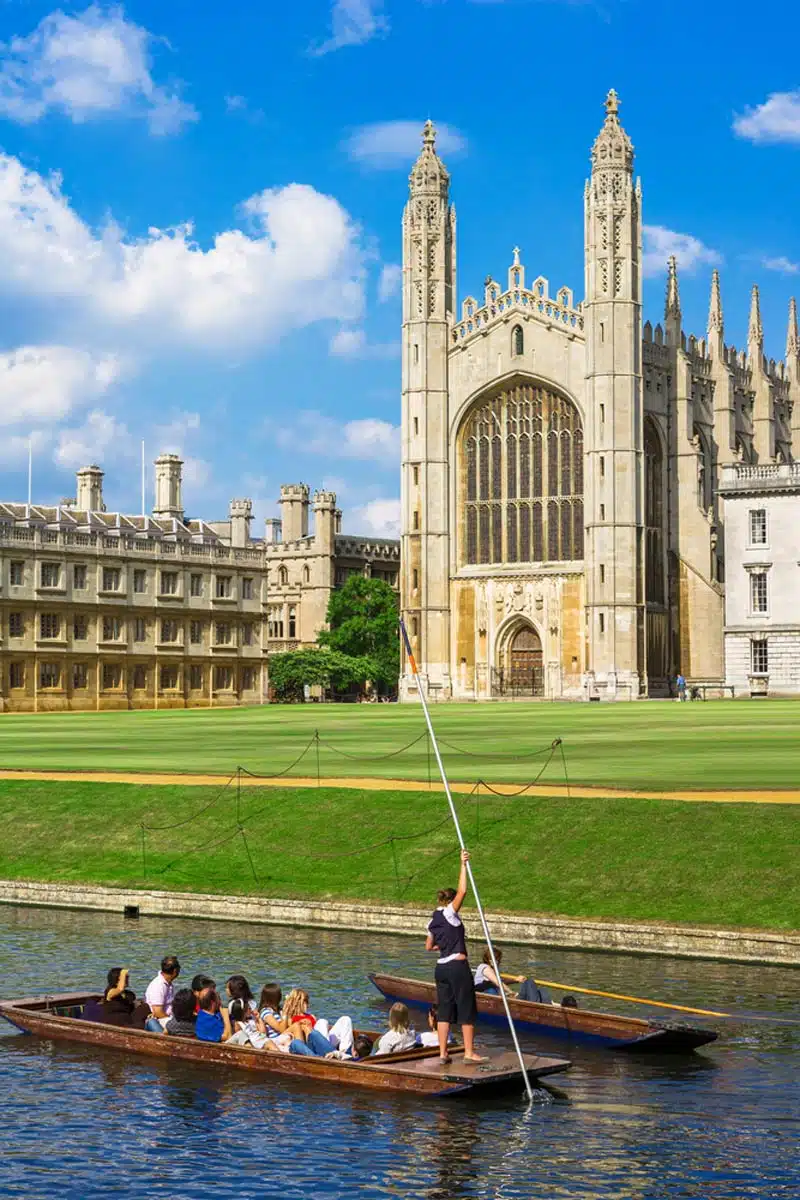 Ok, what on earth is punting? Let me explain – it's lounging in a boat whilst pushed around by a guy with a long stick. Think of it as the British equivalent of a Venetian gondola ride. I have your attention now, right?
The Upper Cam is the most popular part of The River Cam for punting as it passes Kings College Chapel and the Bridge of Sighs.
It's a fabulous area with great historical importance and magical views of surrounding buildings and foliage. A punting tour is a serene experience you shouldn't miss.
Visit Jane Austen's Bath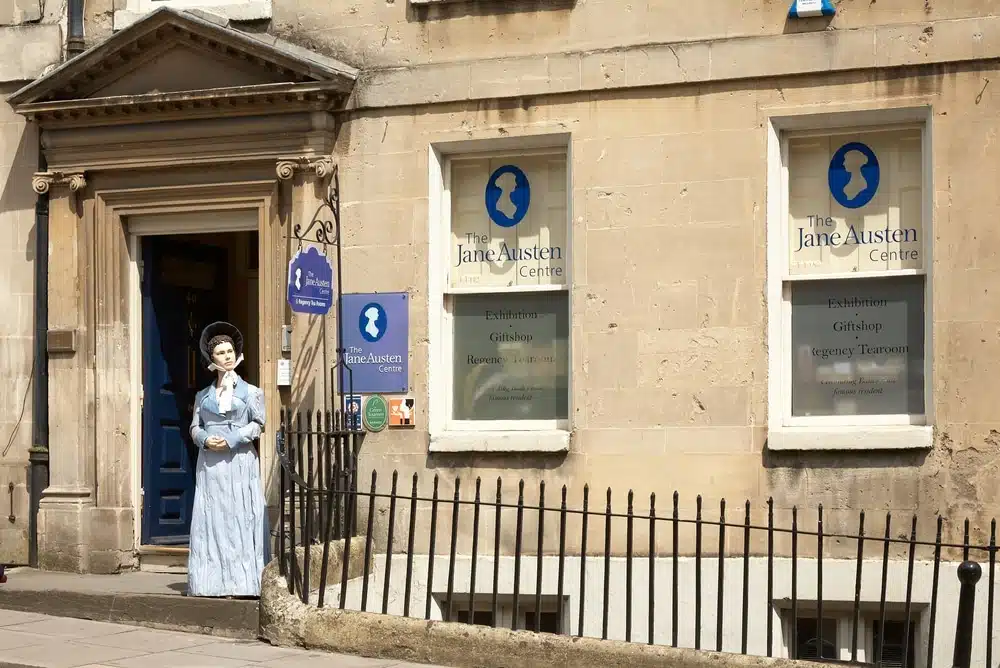 Jane Austen lived in Bath from 1801 to 1806 when it was a fashionable resort town. Although things have changed over the years, you can retrace her footsteps by visiting her favourite spots.
The obvious first choice is the Jane Austen Centre. Stop by the Thermae Bath Spa afterwards for some hot springs pampering and then promenade along Georgian streets, beginning at Gravel Walk, the Lover's Lane of Austen's era.
Lastly, have afternoon tea at The Pump Room, a place Austen noted as extremely popular in her time.
See the Fairy Pools on the Isle of Skye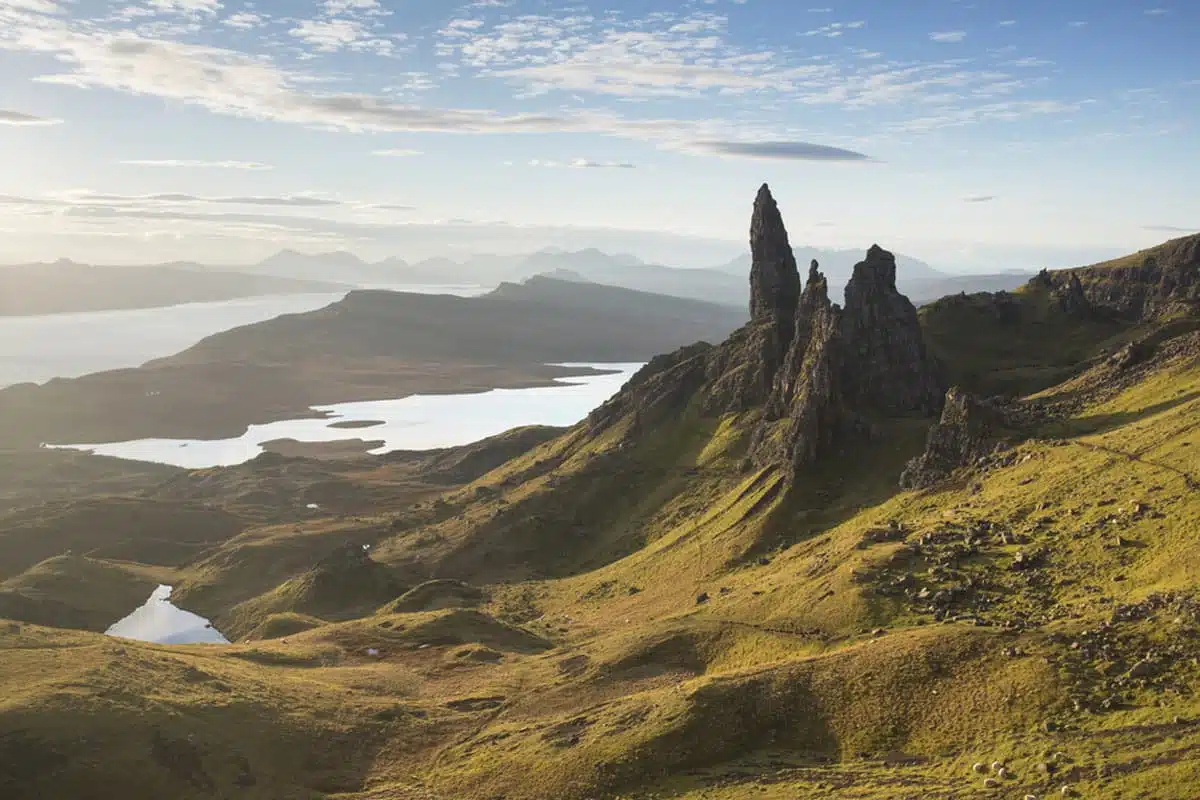 The magical aura of the Fairy Pools on the Isle of Skye is not to be missed.
They're a natural marvel with turquoise waters pooling below a short waterfall with ethereal mountains as their background. It's on the Isle of Skye (and quite a hassle to get to without a tour), but it's one of the best things to do in Scotland and well worth it. I promise.
It's a 40-minute walk there and back from the parking point, but it's a small price to pay to see where a Clan MacLeod chief married a fairy princess. And where selkies come to bask in the sun or shed their seal skins by moonlight.
Okay, maybe not all of that is true … but who am I to say it isn't? Take a tour and find out for yourself. And in case you were wondering, yes, you can swim in the Pools.
Trek Along Hadrian's Wall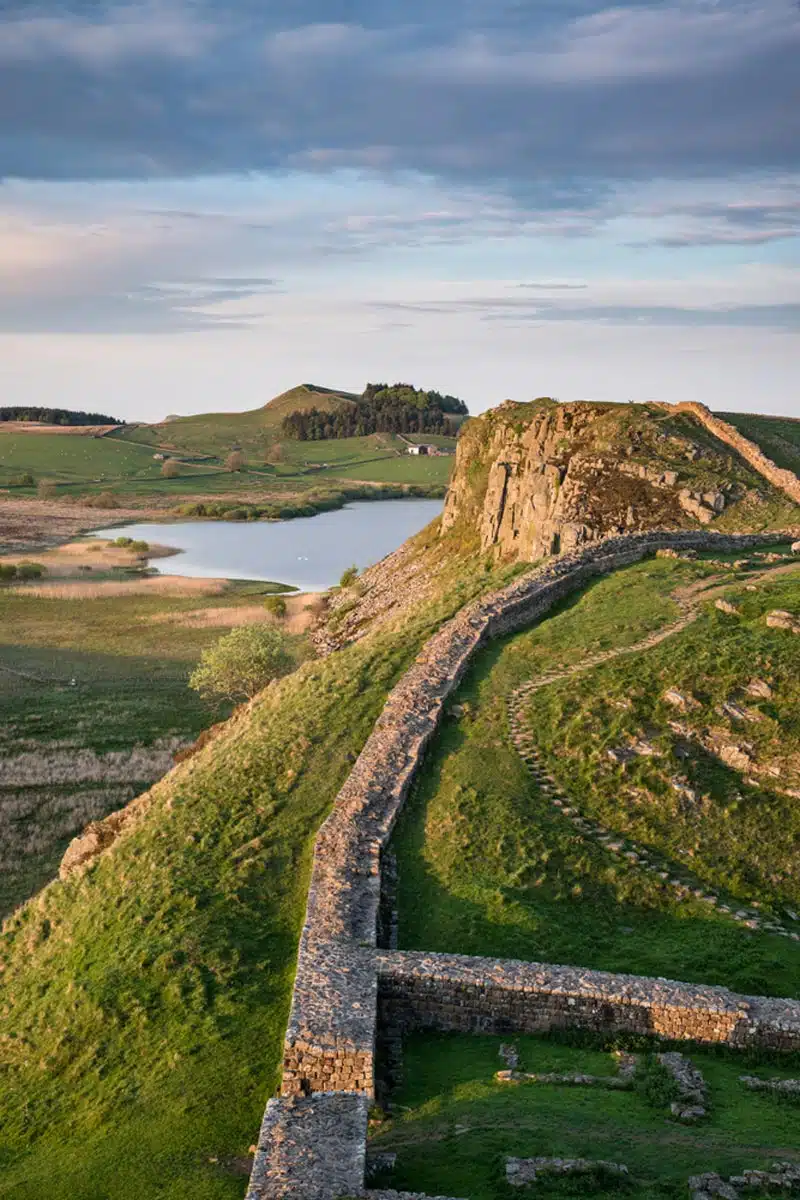 Asking yourself what to see in the U.K.? Hadrian's Wall needs to be up there. This Roman wall was built in 122 AD during Emperor Hadrian's reign as a defensive fortification of Britannia. It's a dramatic part of the landscape of Northern England, and its path is 73 miles long.
You could take a walking holiday and trek the entire length or reduce it to a 4-hour tour of the prime viewing spots. They're England's most historically important Roman remains, hence the fuss. But you'll also see some gorgeous countryside, so it's a real win-win.
Marvel at Cornish Castle Ruins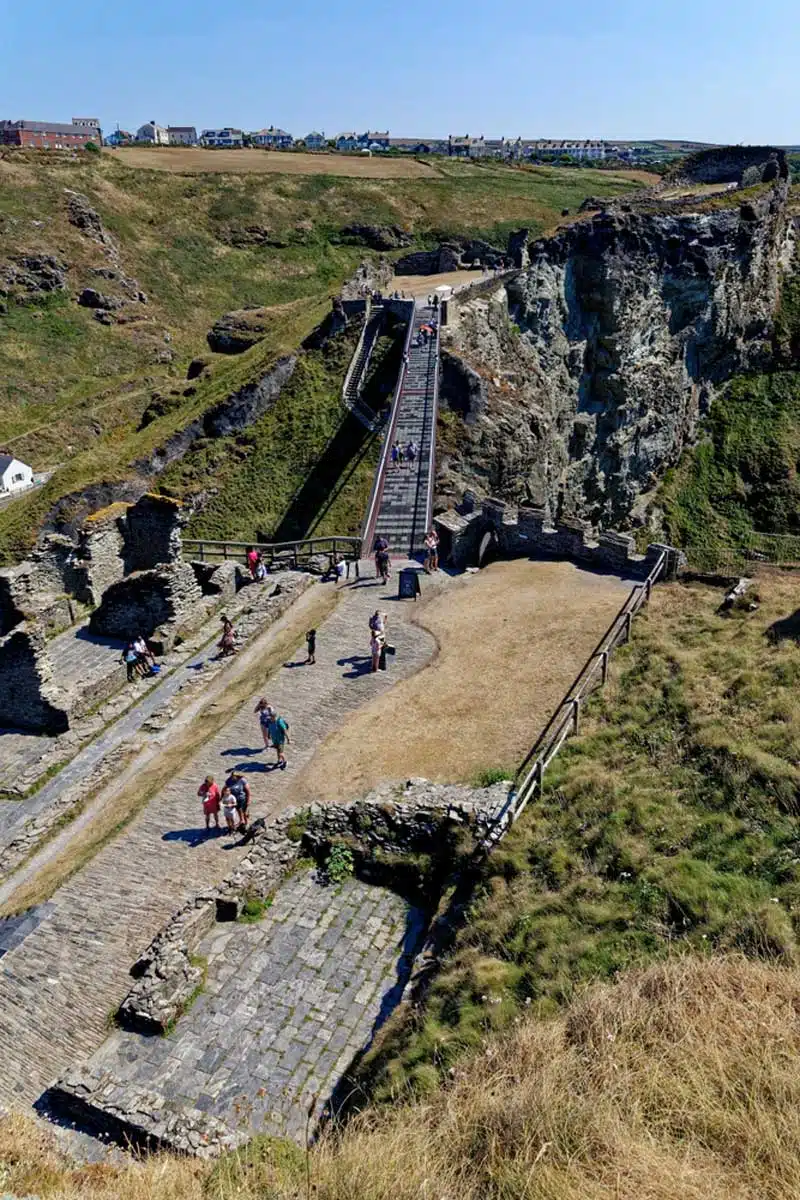 The Cornish Coast isn't only good for sunbathing. Its moors and misty cliffs are downright mystical, especially when you throw in the gorgeous ruins of Tintagel Castle. Mystery surrounds these structural remains from the 13th century, as many say the legendary King Arthur called this castle home.
You can trek down the many steps along the cliffside at low tide and visit Merlin's Cave on the beach far below. But whether it's truly Camelot or not is up for hot debate.
See the Seven Sisters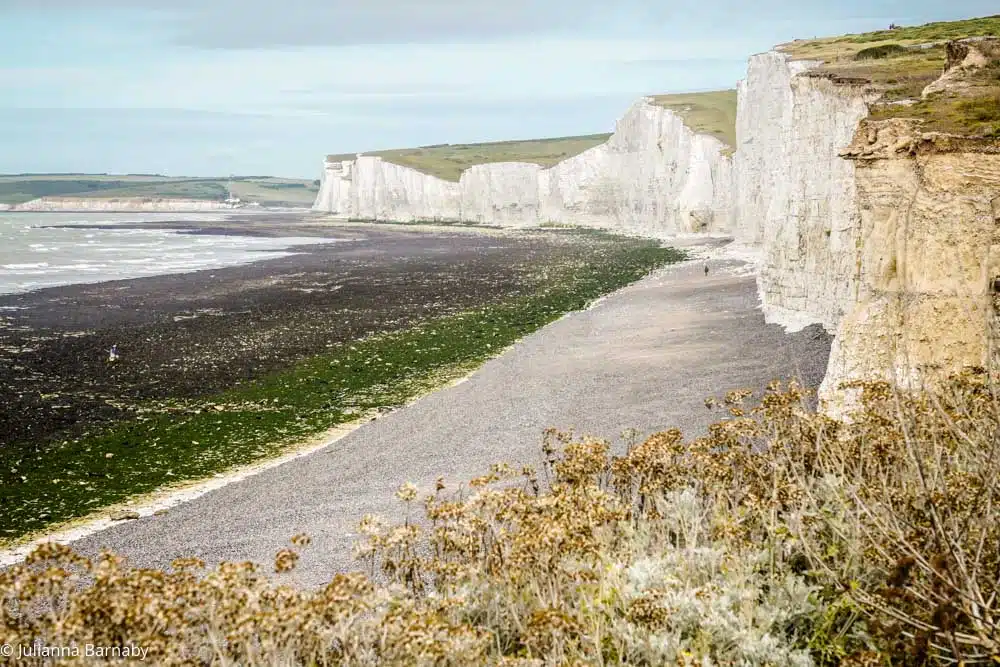 If you're confused, let me explain. The Seven Sisters is a series of chalk cliffs located on the south coast of England, in East Sussex.
The cliffs stretch for about 11 kilometers from Cuckmere Haven to Birling Gap, as part of the South Downs National Park. The name "Seven Sisters" refers to the seven peaks of the cliffs, which are named Haven Brow, Short Brow, Rough Brow, Brass Point, Flagstaff Point, Bailey's Hill and Went Hill.
I'll be honest, these cliffs are a marvel of nature and well worth a British escape or even a tour if you fancy less fuss.
There are plenty of charming villages like Cuckmere Haven and Friston to stop at once you've sated your visual appetite and had a windy walk along the clifftops. Bring your camera for some unforgettable photos to show off to those at home.
Things to Do in the United Kingdom: Practical Tips for Your Trip
How Long to Visit in the United Kingdom?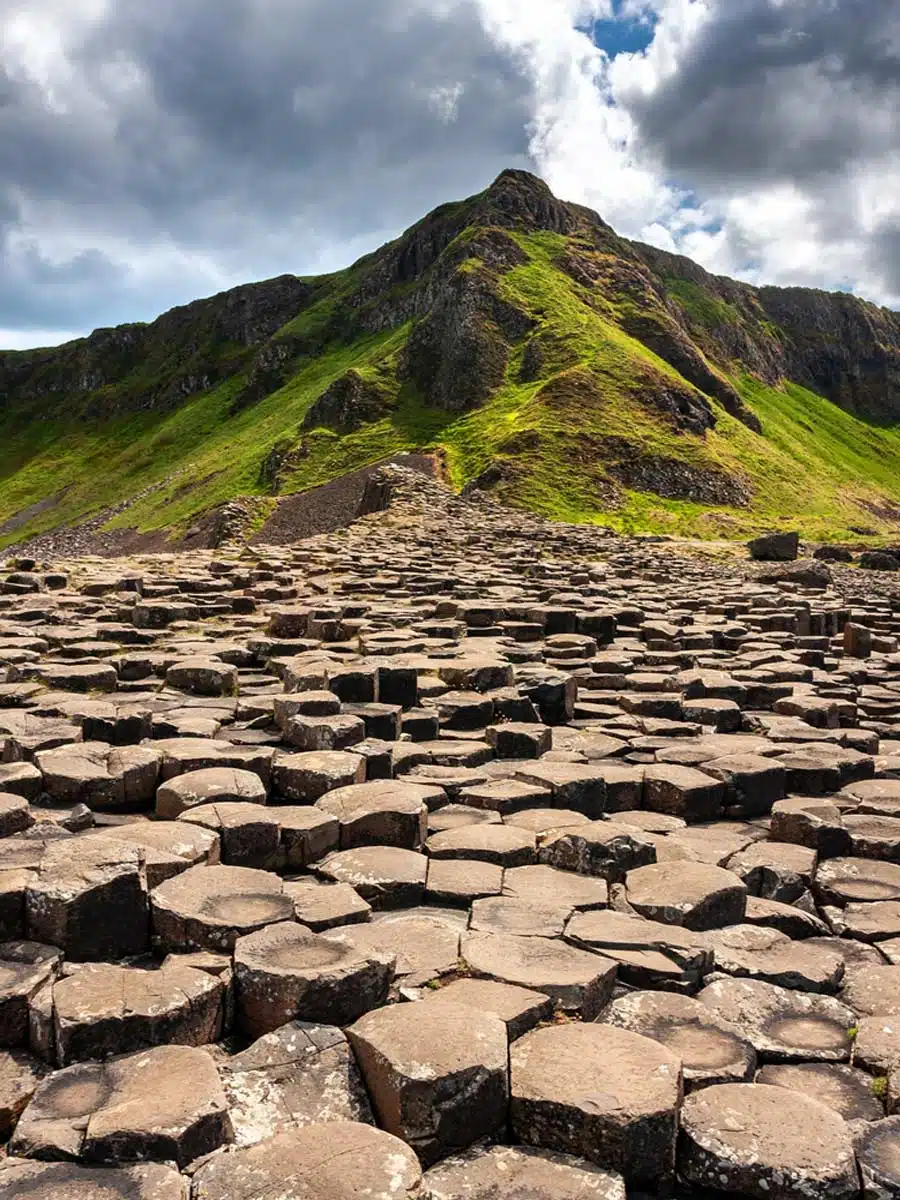 As a Brit that's yet to discover every single thing there is to see in the UK, you need more time than you think – especially if you're travelling between the four countries. It depends on what you want to see during your visit, but 2 weeks is a great starting point.
Best Time to Visit the United Kingdom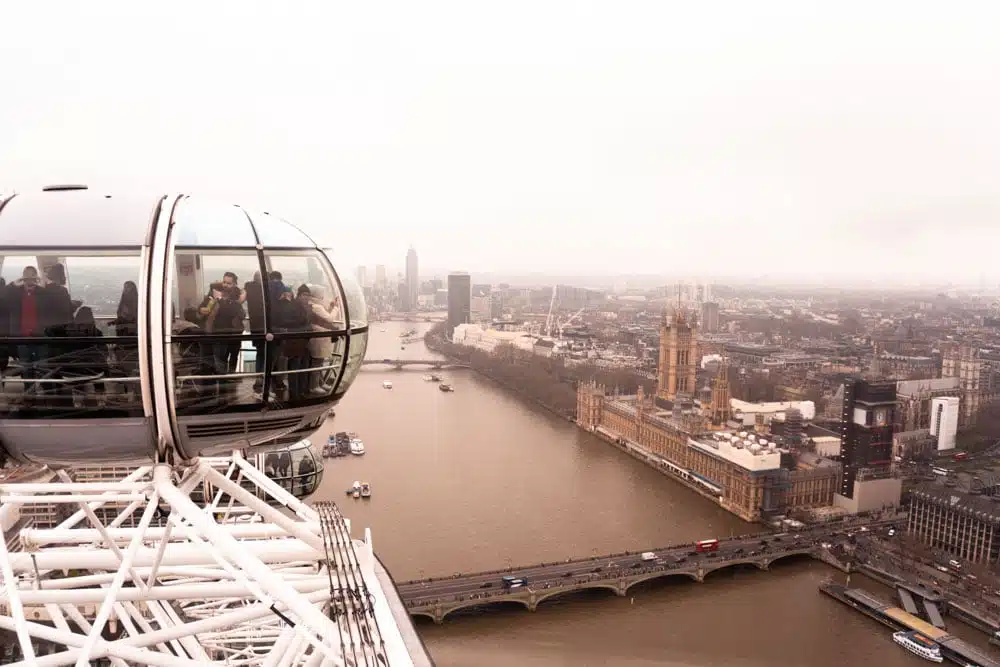 I'll be honest, there's not a bad time to visit the UK (that is, if you don't mind a little bit of drizzle and grey skies). Spring and fall are my top picks to avoid the worst of the crowds and enjoy either vibrant flowers or multi-hued trees.
Where Should I Stay in the United Kingdom?
Newquay Beach Hotel, Cornwall (Mid-Range)
Rich designs in bold colours make a statement in the trendy, four-star Newquay Beach Hotel. Several beaches are within reach (and the ones in Newquay are perfect for surfing), while there's a stylish terrace and bar on site.
The Hoxton, Holborn (Luxury)
The ultra-swanky Hoxton Hotel wins all the style awards in London. Rooms are designed to perfection (as are the buzzy communal spaces), while the central location only adds more points to this hotel's tally.
Recommended Tours in the United Kingdom
Love this? Save and share on Pinterest!