There's more to the UK than London. Looking for some British travel inspiration? Here are three spots that are perfect for a short escape.
Give yourself a pat on the back – you've officially made it through the first quarter of 2019. I know, it's difficult to believe that we are well and truly into the year when NYE feels like it was yesterday.
Now that we're over the hurdle of the doom and gloom of winter, it's time to start thinking about taking a well-deserved break (as if you weren't already, lol).
I'm normally the first one to reach for my passport and start booking flights at the drop of a hat, but over the past year I've been travelling a lot more in the UK (including jaunts to Cornwall and Oxford) and discovering different parts of the country.
Turns out that I'm now a pretty big fan of a staycation or two – here are three gorgeous spots that are perfect for a spring break.
Kent & Sussex
The neighbouring counties of Kent and Sussex (technically three counties as Sussex is split into East and West Sussex) have a lot to offer when it comes to a British getaway.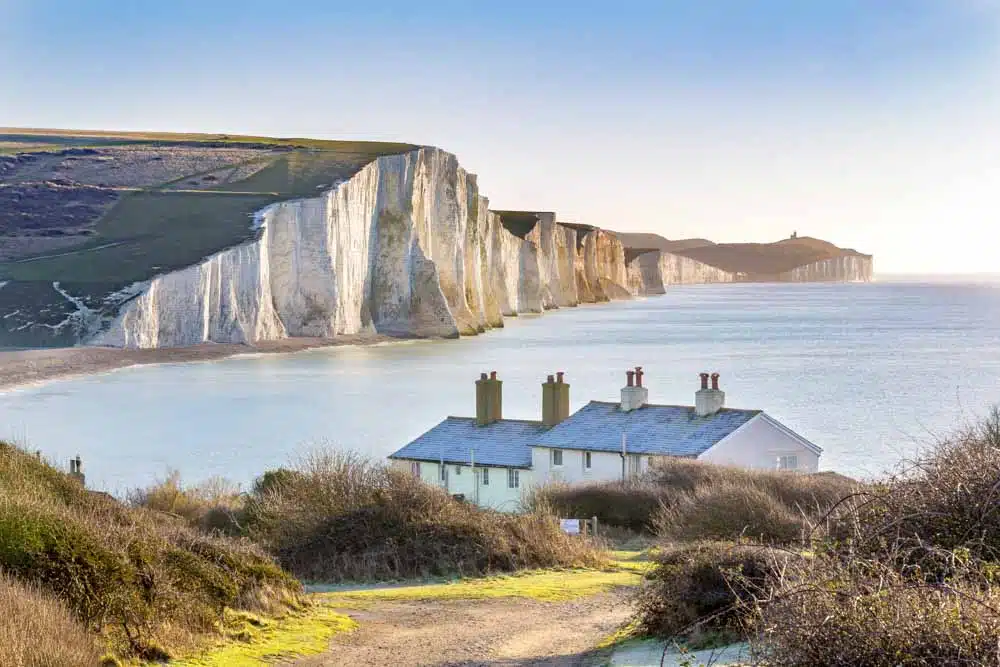 Three coastal counties and a wealth of national parkland create a setting for an outdoors-focused holiday.
There are some beautiful seaside towns in Kent. From walking along the South Downs to seeing the White Cliffs of Dover – there's a lot of varied landscapes to explore – where better to strap on a pair of comfortable hiking boots and set off to discover a few places on foot?
It would be a mistake to think that a break in Kent or Sussex has to be all about the outdoors though. All three counties boast more than their fair share of cool historic sites that are ripe for exploration. You'll find some of the UK's most impressive castles dotted around – a chance to peek into times past and learn about the history of the area and past inhabitants.
Add to that historic towns like Canterbury, with its long history and magnificent cathedral and you will start to see the appeal.
Top Things to do in Kent & Sussex
White Cliffs of Dover
One of the UK's most iconic landmarks, the White Cliffs of Dover are much more than just a pretty spot to take photos of. Take a cliffside walk to see the best of the views – there's even a cool little Victorian lighthouse and a few wrecks to spot along the way.
Leeds Castle
Leeds bills itself as the loveliest castle in the world. That might sound like big chat, until you see it and realise that it may just be true – particularly when you consider that it's currently celebrating its 900th anniversary.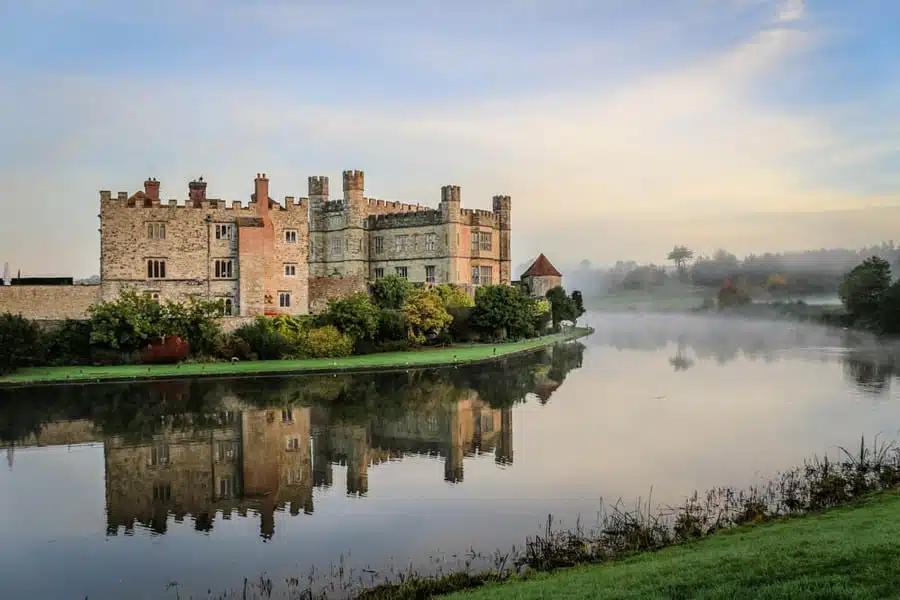 You could say that seeing as the previous owners have included Henry VIII, no fewer than six queens and, more recently an aristocratic lady who used to throw some rather splendid parties for the toast of the British social scene, Leeds Castle has seen its fair share of history and intrigue.
Taking the time to explore that history (and to see the castle, which is indeed beautiful) is highly recommended.
Read Next: Brilliant Castles Near London You Need to Visit
Wine Tasting
You might think that you need to take a trip to the continent to do a spot of wine-tasting – maybe that would have been true twenty years ago, but not today. Both Kent and East and West Sussex offer the chance to sip on some award-winning wines straight from the source.
Chapel Down, Nyetimber and Bolney are good places to start.
These are just some ideas, there are plenty of places to explore including lots of things to do in Sevenoaks.
Canterbury
Kent isn't short on historic spots but few can beat the historic city of Canterbury.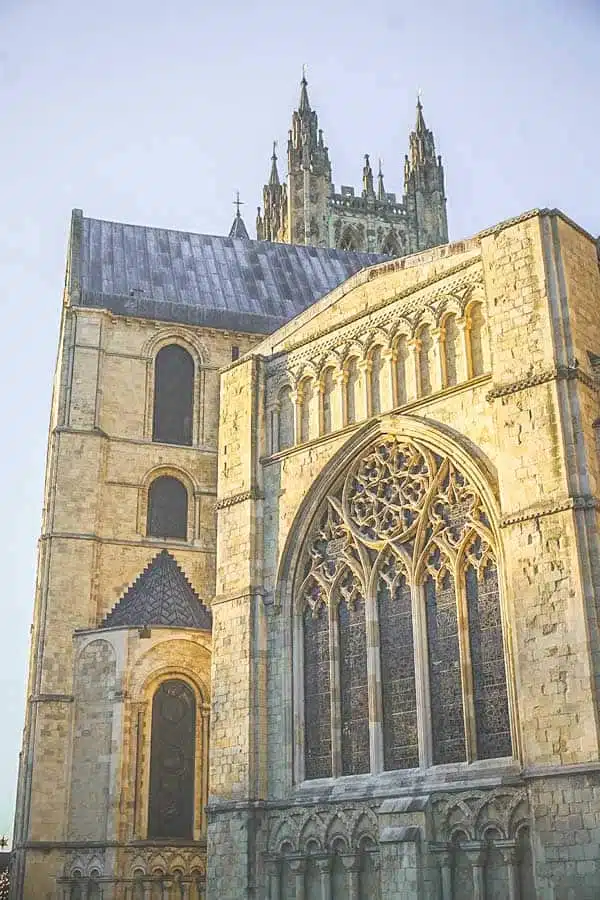 First up, there's the glorious UNESCO World Heritage Cathedral – which is stunning both inside and out. Then there's a number of ye olde pubs and inns, gorgeous medieval houses and interesting museums to explore too.
Seven Sisters National Park
There are few areas in the UK that I love as much as the South Downs. What could be more tempting than days spent exploring the rolling hillsides, sea views and quaint villages through the extensive network of footpaths that crisscross the park?
Even so, the Seven Sisters is pretty spectacular – take a peek at the chalk white faces of the cliffs before heading out on a blustery walk along their tops.

Accommodation ideas: Bed down in an old coach house, a cool oast house or a tranquil hideaway with a hot tub in one of these Kent & Sussex hideaways.
Read Next: Cool Spots for a Seaside Trip Near London
Cotswolds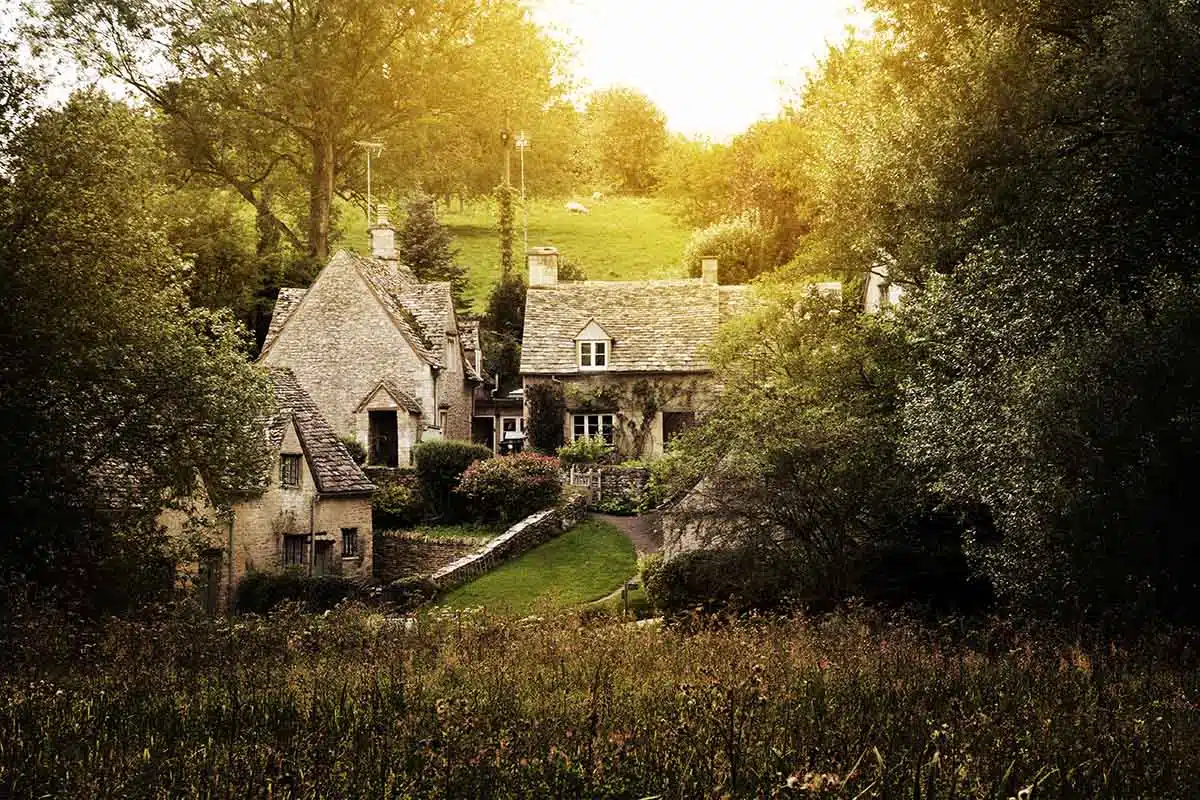 The Cotswolds often top the list of the prettiest places in England – one glance at the area's gorgeous honey-stoned villages will tell you why.
An area of over 800 square miles – the Cotswolds have plenty to offer for a British mini-break. There are the villages of course, Bibury, Lacock (a National Trust Village), Bourton-on-the-Water, Stow on the Wold – and slightly larger but just as twee towns – Chipping Campden for example. Be sure to explore as much of the area as possible during your trip.
Top things to do in The Cotswolds
Bourton on the Water
A trip to the prettier-than-you-thought-possible Bourton on the Water. Unfortunately, Bourton on the Water is no secret – and as a result, it also gets busier than you ever thought possible. It's gorgeous though, even with the thronging crowds. It's even better if you try and get there early if you can for a more peaceful experience.
Stow on the Wold
Pop into the galleries at Stow on the Wold. While Stow on the Wold is just as handsome as the neighbouring towns and villages in the region, it's distinguished by two rather good art galleries. The Red Rag and Fosse Gallery offer a slice of reassuringly contemporary culture in an area that can feel like it has its foot in the past.
Lacock
Think of pretty much any period drama you've ever seen and chances are, Lacock made an appearance in it. Pride & Prejudice? Check (and yes, it was the phwoar Colin Firth edition). Cranford (a personal favourite). Check. Downton Abbey. Check. Almost the whole village is owned by the National Trust, who boast that it looks much as it did 200 years ago – it's certainly a unique travel destination in the UK.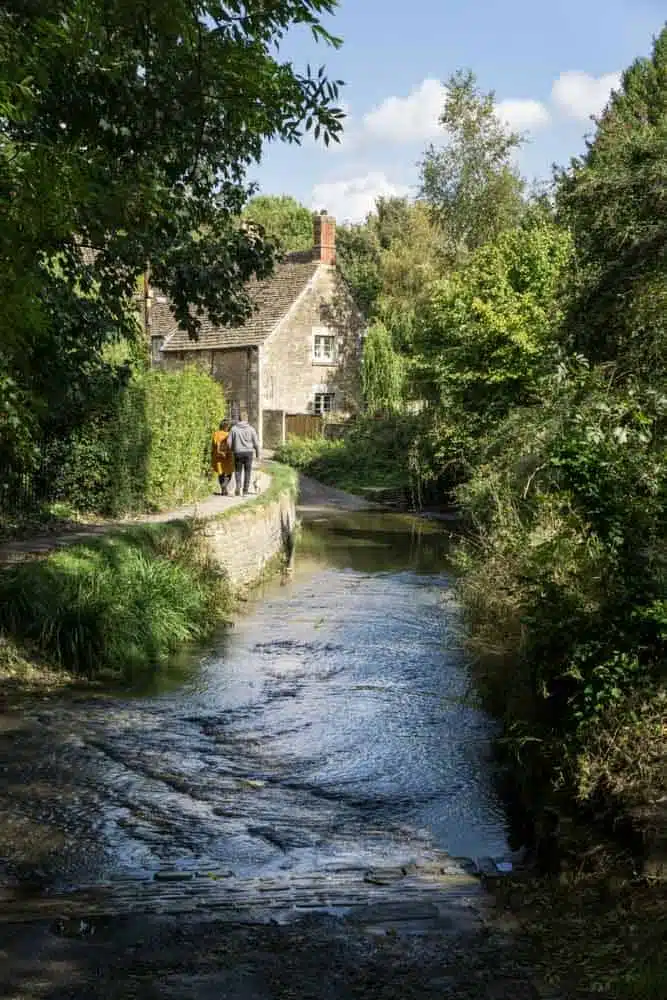 Corsham Court
The villages are pretty, but it's difficult not to be impressed by country manor Corsham Court. With a garden designed by famous landscaper Capability Brown and an interior decorated with artworks from many of the great masters (including Van Dyck and Reynolds), it's a brilliant spot that should feature on your Cotswolds itinerary.

Accommodation Idea: Stay in a Jacobean Cottage in Bourton on the Water or in a stylish rural getaway in one of these pretty cottages.

Isle of Wight
The Isle of Wight is one of Britain's classic seaside destinations – the combination of ice creams, bracing dips in the sea and pretty beach huts never gets old. They've recently been joined by an increasing number of chic boutique eateries and places to stay, which has only added to the appeal.
Top Things to do on the Isle of Wight
Bonchurch
An idyllic location on the side of St Boniface Down sets the scene for exploring Bonchurch – IMHO one of the cutest villages on the Isle of Wight. Queen Victoria's love of the Isle of Wight meant that it became a fashionable Victorian escape – even Charles Dickens spent time here as he wrote David Copperfield.
Osborne House
Queen Victoria's holiday home of choice – the late Queen said "It is impossible to imagine a prettier spot" – high praise indeed for Osborne House.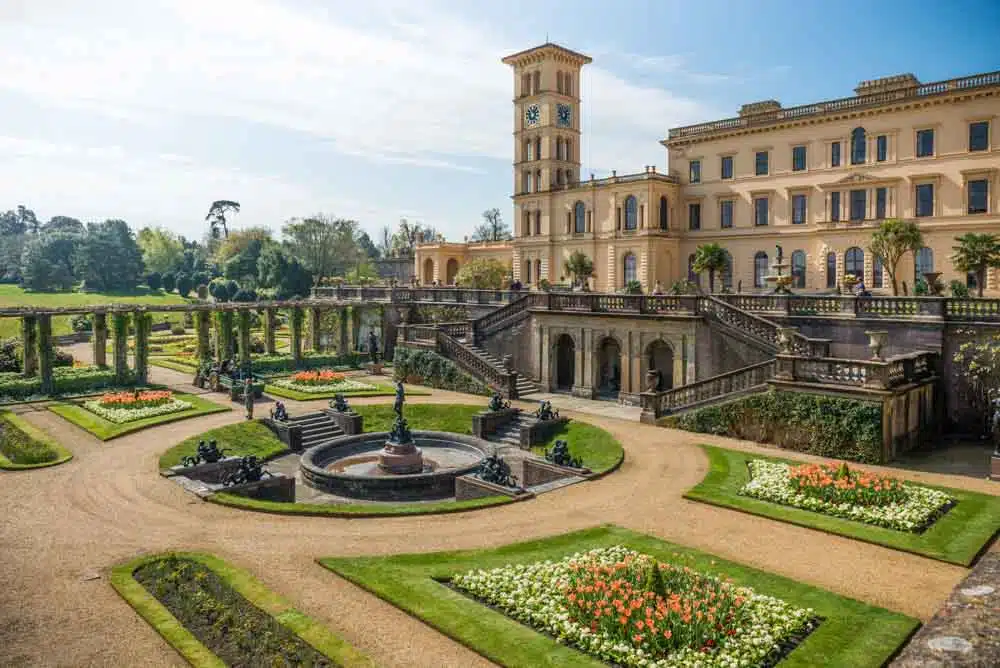 Take a look for yourself as you nose around the interiors (you can even access the Victoria and Albert's private apartments). The exterior is just as stunning – with breathtaking views across the Solent and gorgeous Victorian-style gardens to explore.
Steephill Cove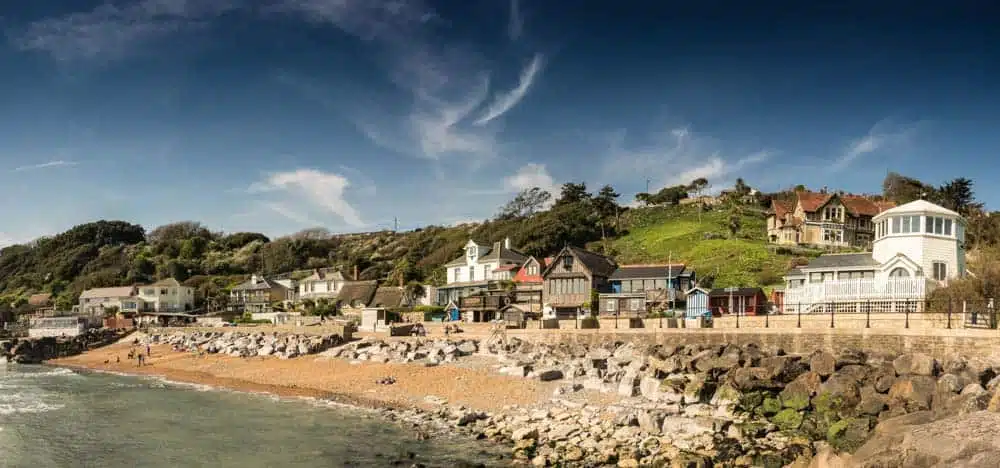 On a sunny day, it can be difficult to believe that Steephill Cove is a part of the British isles – the sparkling blue sea and pretty shore could be taken straight from the Mediterranean. This is the British seaside at its best, with small bistros serving up deliciously fresh seafood and striped deckchairs in abundance.
Tennyson's Walk
Famed poet Alfred Tennyson took the walk up to the highest point of the Down pretty much every day after he moved here in 1853 – you can follow in his footsteps on the rather aptly-named Tennyson's Walk. The views along the walk are the perfect fodder to inspire you to create some poetry of your own along the way.
Accommodation Ideas: Pick a chic hideaway with coastal views or a traditional thatched cottage for a peaceful escape with one of these tranquil holiday lodges.
Love this? Save and Share on Pinterest!