Travelling in the UK this summer? Here are 29 of the best British beaches that should be at the top of your holiday bucket list.
You may have missed the news but we've had something of a heatwave in Great Britain the last few summers.
When the sun is shining and the temperature is rising – what better time to grab your bucket and spade and make the most of the best beaches in the UK?
From the dramatic white cliffs of Dover to the wide sandy beaches of Cornwall, there's a beach in the UK for everyone.
So whether you're looking for a quiet spot to relax or want to make the most of the waves and sand, read on for our picks of the best British beaches.
Here's a sneak peek of what to expect…
It sometimes surprises people when we tell them that Great Britain has some pretty spectacular beaches.
For a nation so obsessed with our weather (talking about it, checking it, moaning about it when the forecast is wrong), we can do a pretty poor job of convincing the rest of the world that yes, we do have summers, and actually, they're pretty fabulous.
The next time that someone questions how wonderful a British beach can actually be, we suggest you start by showing them these beauties.
The Best Beaches in the UK
Durness, Highlands, Scotland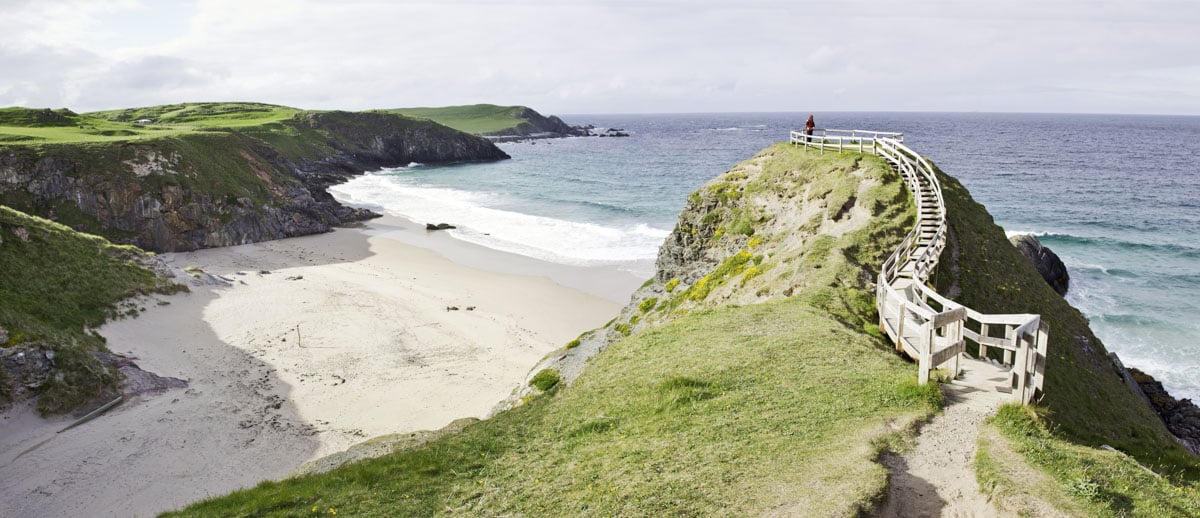 Dramatic doesn't begin to cover it. Durness beach is the most north-westerly point on the British mainland and boasts a pristine beach with azure blue waters framed by dramatic cliffs.
The perfect beach in Scotland to get away from it all and soak up some of Scotland's finest views.
Portreath, Cornwall, England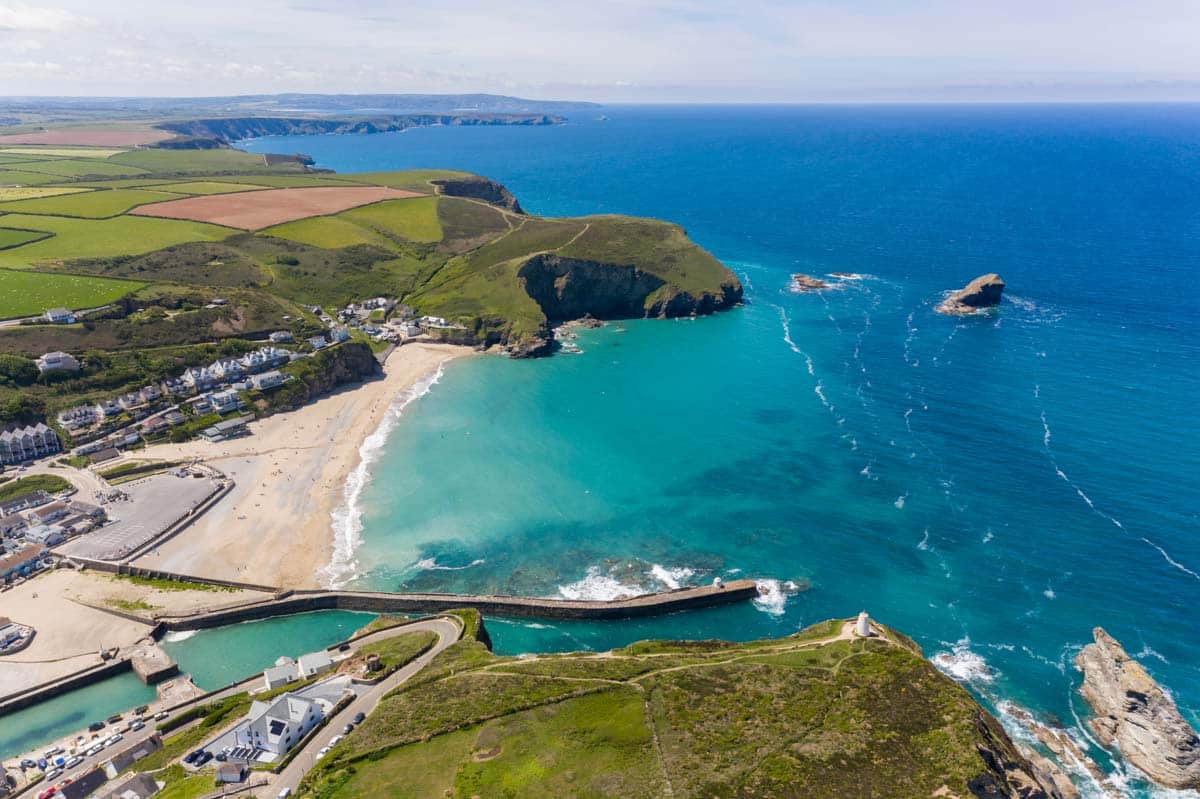 Portreath's large beach boasts soft, golden sands and miles and miles of beach for you to flop and drop on.
The beach is also popular with surfers thanks to the break created by the harbour wall and rocky. Climb the steep path to the top of the cliff to appreciate the full scale of the shoreline.
Porthcurno, Cornwall, England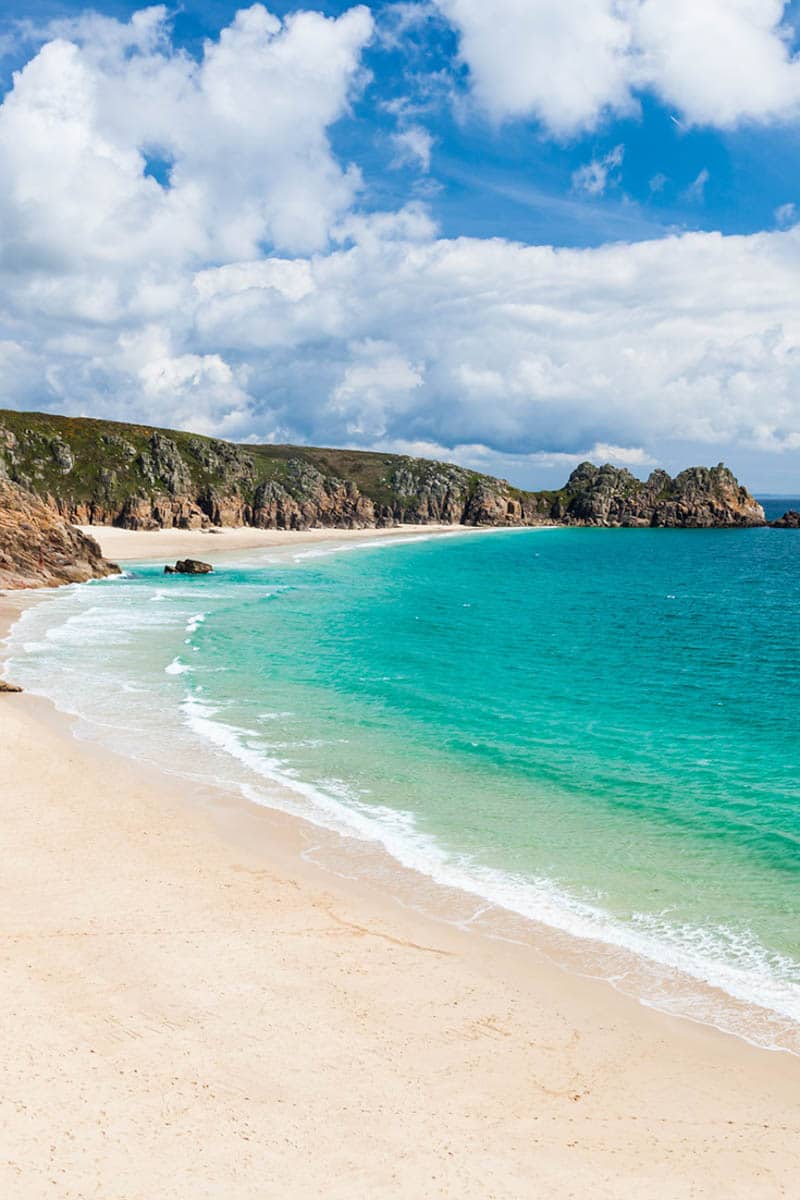 Porthcurno is an award-winning beach in Cornwall. Tucked in Cornwall's far west, the UK beach is a popular summer spot, thanks to the fine white sand and turquoise water for which it is famed.
In fact, Porthcurno has been voted one of Cornwall's best beaches by TripAdvisor users on more than one occasion.
The beach is sheltered by the high cliffs on either side, making it a cosy spot to spend the day soaking up the sun. It's also the real-life location of Poldark's Nampara Cove – Aidan Turner not guaranteed.
Sennen Cove, Cornwall, England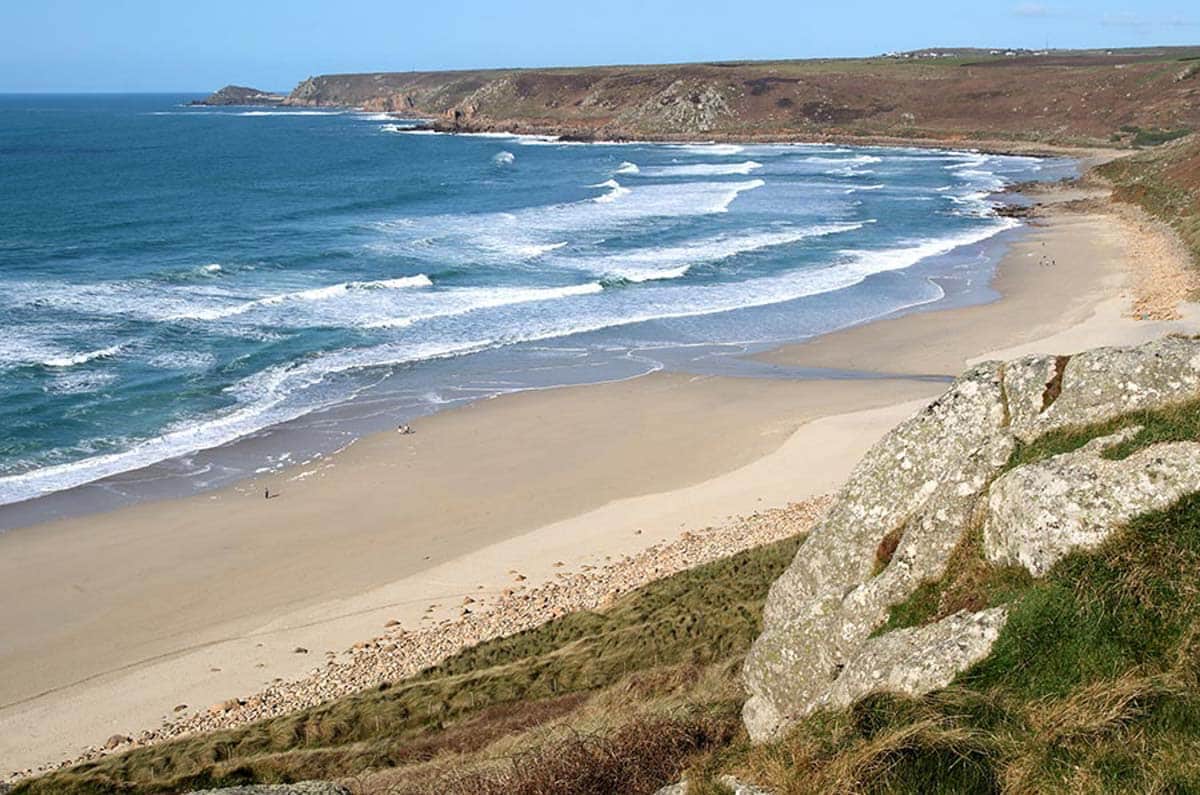 ​​If you're looking for a remote beach that feels like you've found a hidden gem, Sennen Cove is the place for you.
Located in Cornwall's far west, this beach is only accessible by foot and there are no facilities – so make sure you take everything you need with you!
The long sandy beach can get busy in the summer, but when the sun is shining, there are few places in the world we'd rather be.
Gaze at the large rollers heading towards the coast (the reason Sennen is such a surfer's paradise), take a dip or just bask in the Cornish sun.
The white sand and crystal clear waters make it a popular spot for swimming, sunbathing and snorkelling, and with towering cliffs on either side it really does feel like you're a world away from civilisation.
Fistral Beach, Cornwall, England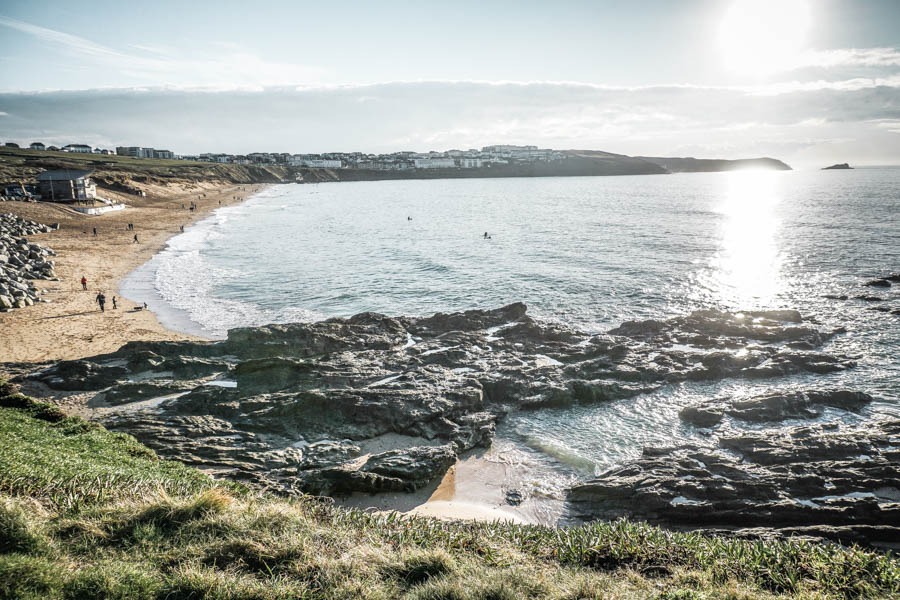 Located on Cornwall's north coast, Newquay is home to one of Britain's best beaches – Fistral Beach.
The wide expanse of sand stretches two miles long and offers spectacular views across Saint Columb Porth towards Gwithian Towan Head at Godrevy Lighthouse when walking along it at sunset or sunrise.
Fistral bay is a renowned surfing spot and the long, sweeping bay is reached by walking down one of two steep paths.
A favourite with surfers from around the world, it's also known for its great bodyboarding conditions which are best enjoyed during low tide when there's plenty of space on the sand to enjoy some fun in the sun!
Camber Sands, East Sussex, England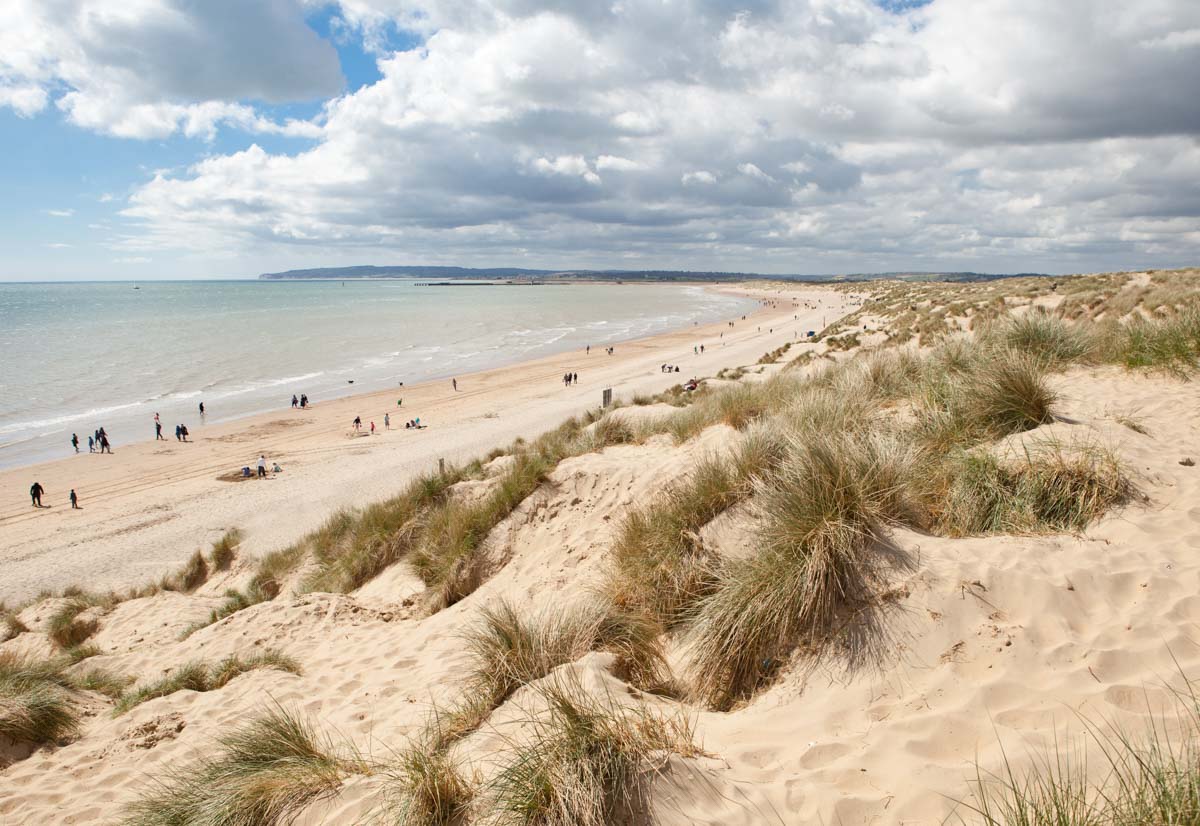 Camber Sands is one of the few sandy beaches in East Sussex.
Not only one of the finest beaches on the south-east coast, Camber Sands is a wind- and kite-surfing hotspot and the perfect location for a spot of beachcombing (the particularly adventurous can try a spot of clam-gathering).
The large beach makes for an easy day trip from London – that's this weekend's plans sorted then.
Read Next: The Best Beaches Near to London
West Wittering, West Sussex, England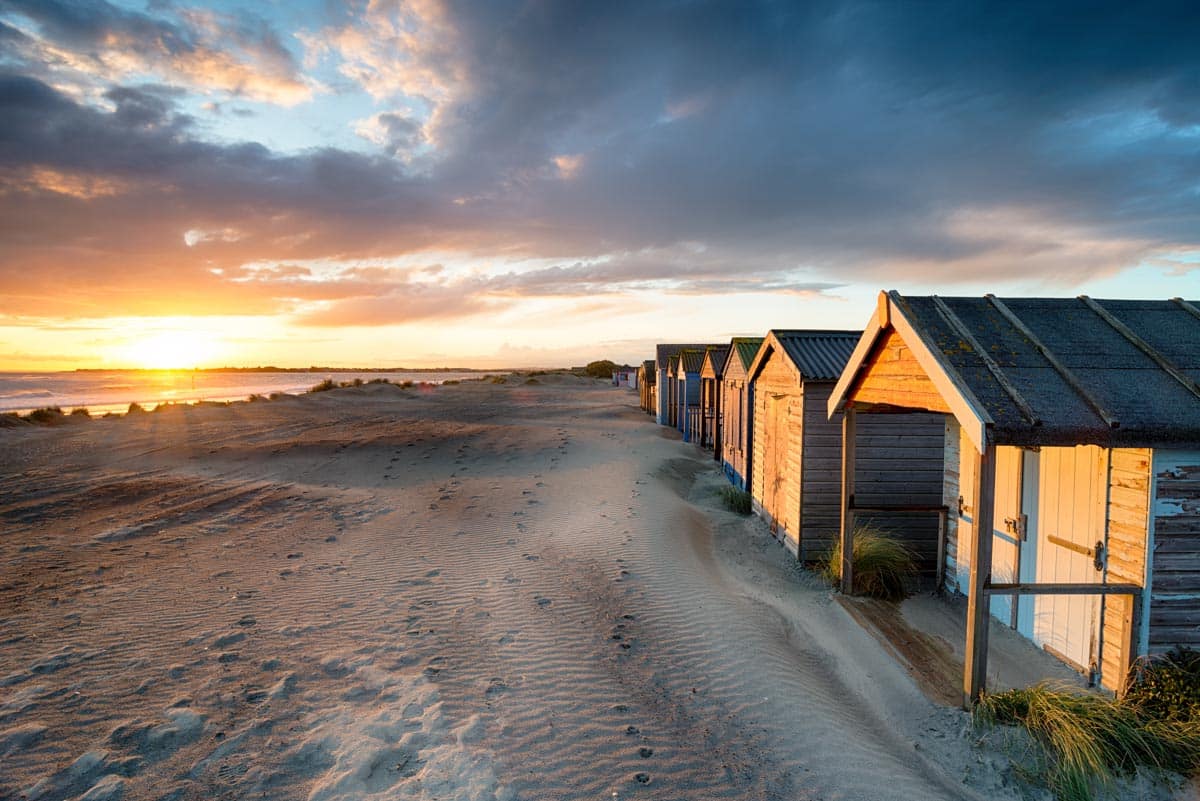 The Blue Flag beach of West Wittering is a popular summertime destination for families or those looking to catch a bit of the British sunshine.
The beach also boasts snap-worthy views of Chichester Harbour and the South Downs. Pack a picnic and your costume, the water's so wonderful it would be a shame not to go in.
Saunton Sands, North Devon, England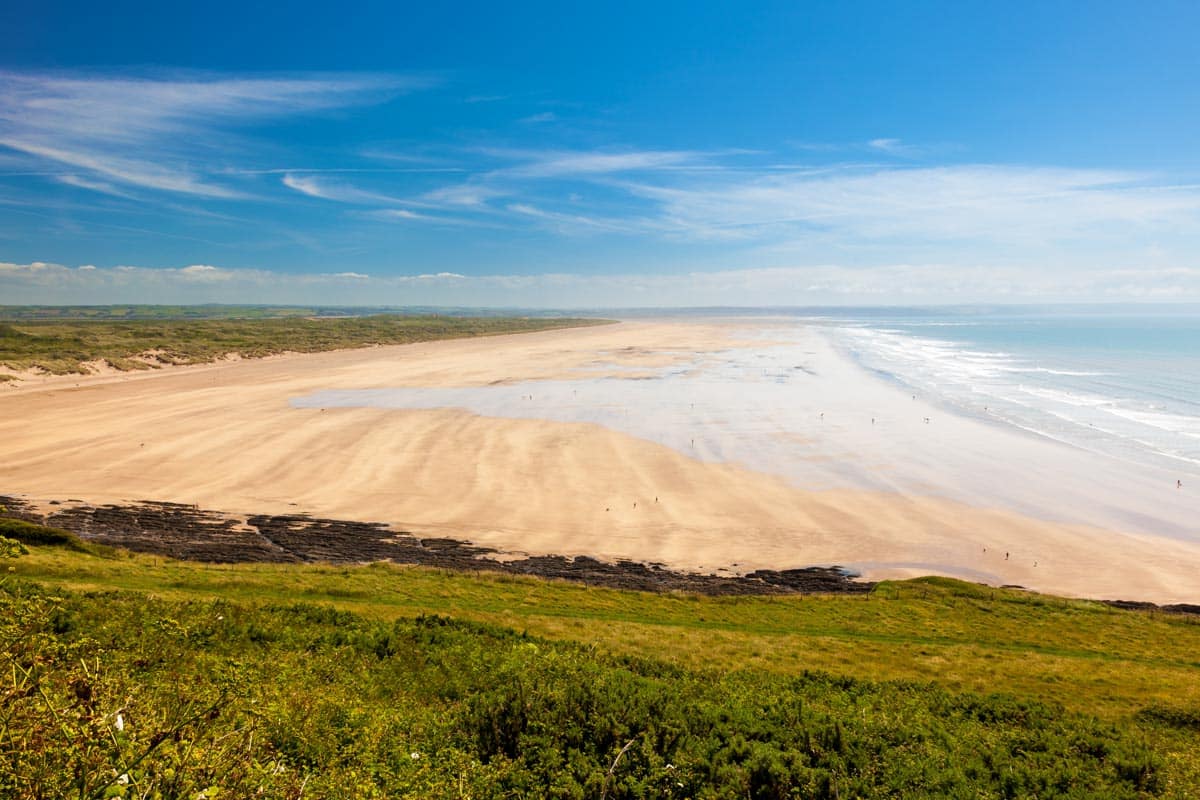 There are plenty of things to do in North Devon. There are over three miles of golden sands at Saunton Sands, so it's not difficult to find the perfect spot, even on the hottest days.
Devon's famed for its beaches and Saunton's a great example why: the beach is framed by pretty sand dunes and is also a great spot for surfing.
Kingsgate Bay, Broadstairs, England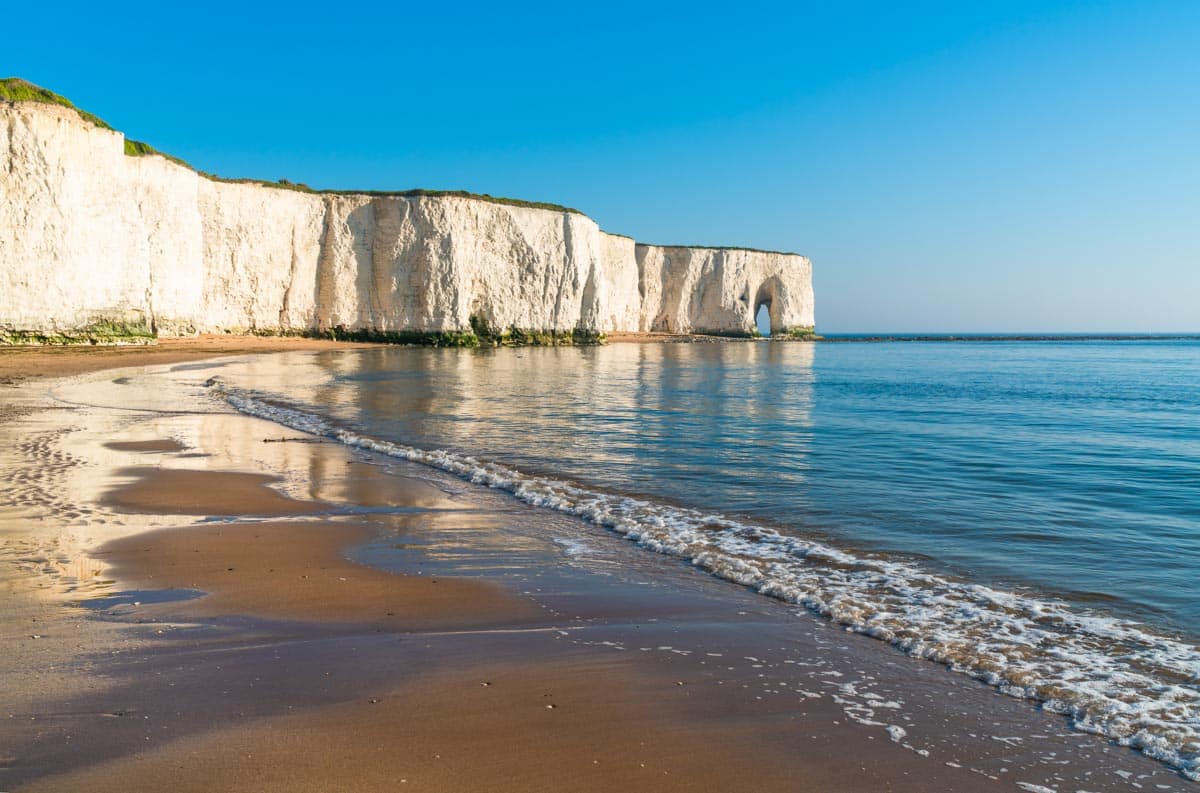 Forget about Joss Bay and Botany Bay and head to Kingsgate Bay on your Broadstairs beach day.
The sheltered sandy cove features dramatic white chalk cliffs and sea caves that are great for exploring when you've had enough of lying in the sun. Broadstairs is a great UK beach day or weekend trip from London too.
Lulworth Cove, Dorset, England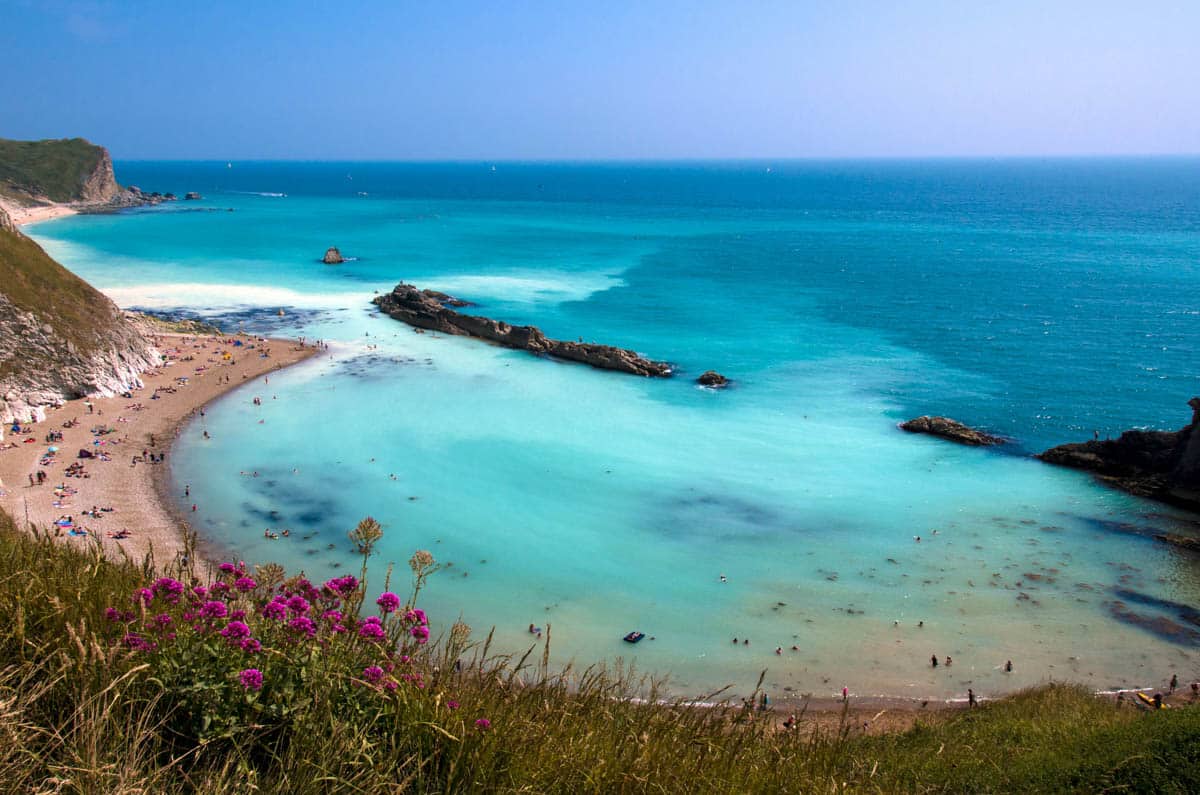 Colloquially known as Lulworth, this beach is located on Dorset's Jurassic Coast – England's first natural World Heritage Site.
There are stunning views across West Bexington towards Kimmeridge Bay when walking along the shoreline at sunrise or sunset which makes it a great spot for a romantic stroll.
There are plenty of rock pools to explore during low tide with young children while some visitors say they have seen dolphins in the bay! With golden sands stretching more than half a mile, there really is something for everyone.
Walberswick, Suffolk, England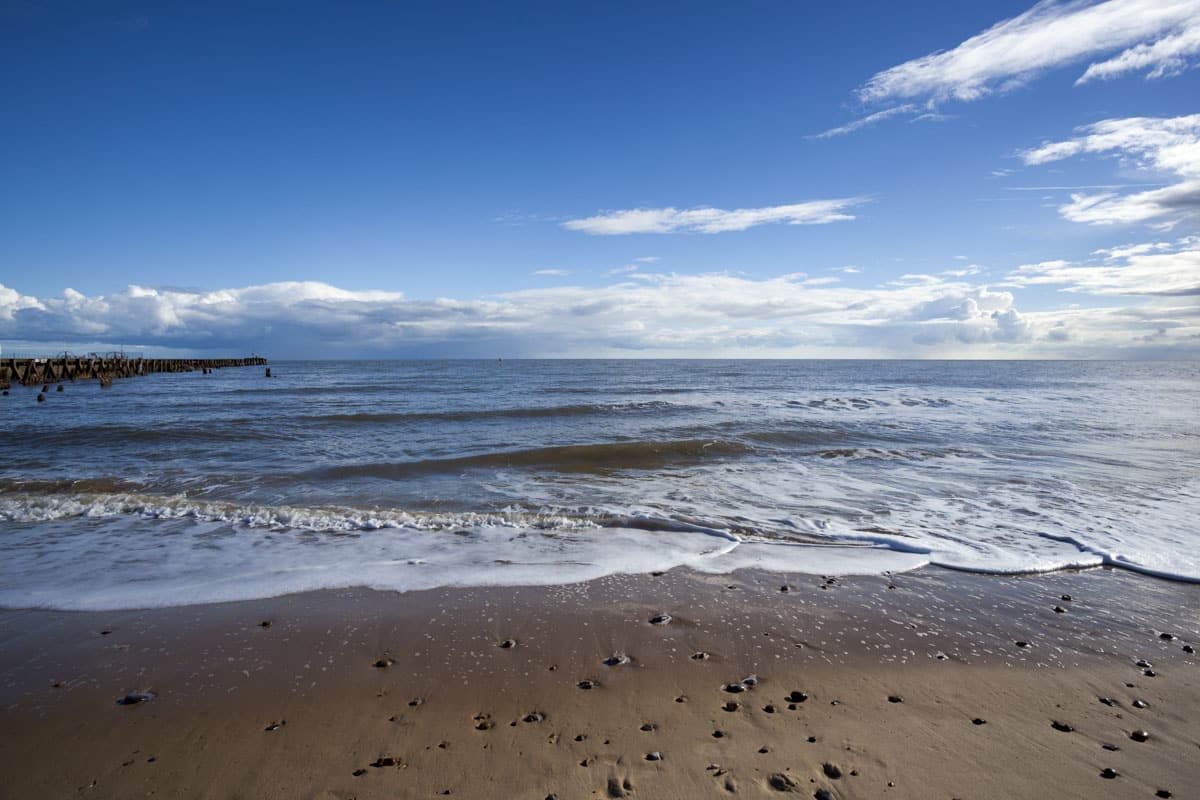 Walberswick is a cute little village on the Suffolk coast, made even cuter by its sand-dune framed beach.
Walk along the seashore until you find a quiet spot then soak in the views out to the North Sea.
The beach backs onto a nature reserve, the famous setting for the "British Open Crabbing Championship" – where punters try their hands at catching the largest crab.
Woolacombe Beach, Devon, England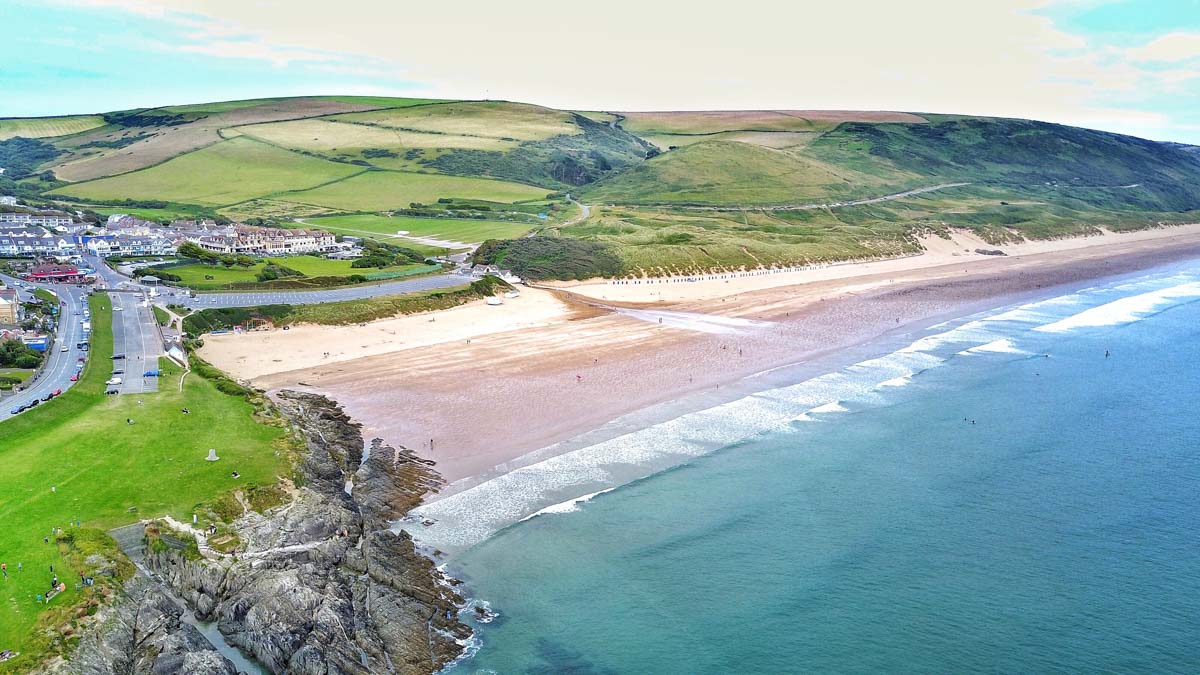 It would be pretty controversial to make a list of Britain's best beaches and not include Woolacombe Beach.
Woolacombe is consistently voted as the UK's best beach and wins a number of awards each year for its golden sands, clean waters and excellent facilities. One for the sun-lovers and surfers alike.
Killinallan Beach, Islay, Scotland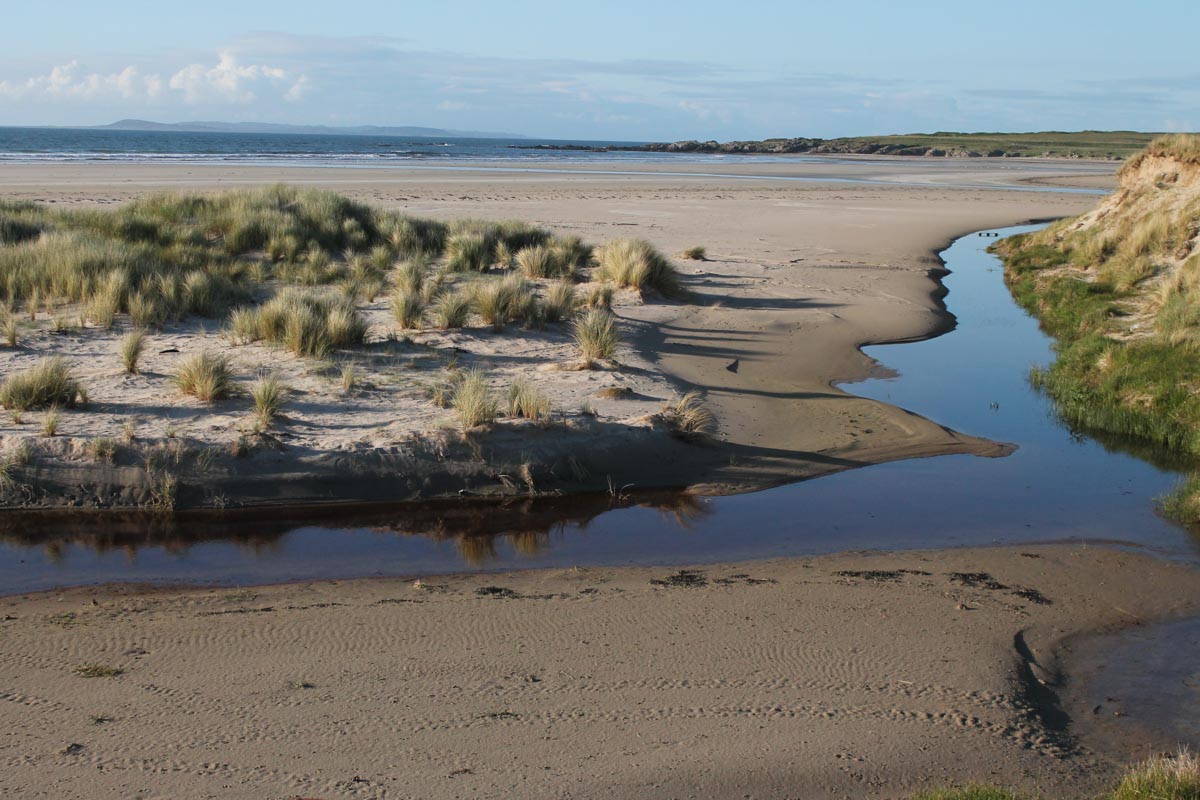 Located in the Outer Hebrides, Islay's stunning white sand beaches are almost always quiet thanks to their remote location.
Islay is most renowned for its annual whisky festival and the eight whisky distilleries that call the island their home, but it's home to some equally impressive beaches.
Killinallan Point's white sand bay also boasts an impressive view out to the islands of Mull, Colonsay and Skye.
Portrush Whiterocks, Northern Ireland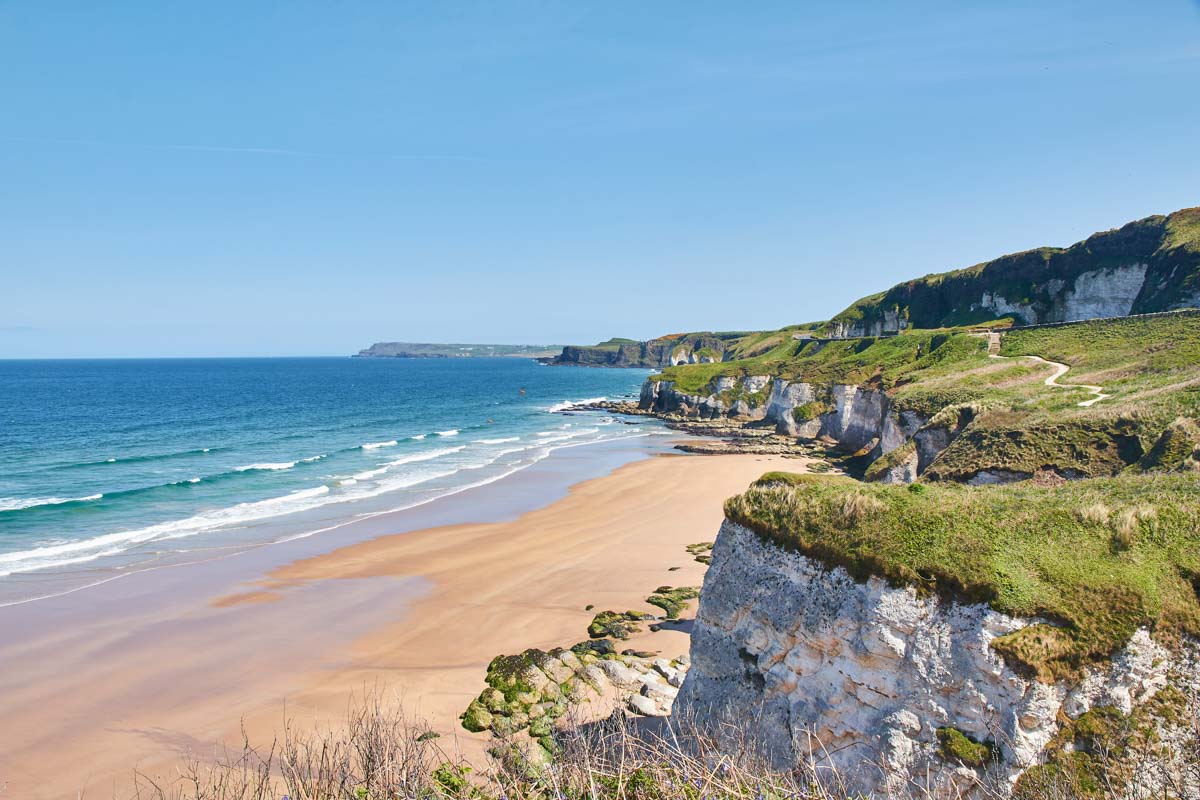 Portrush Whiterocks is Northern Ireland's hidden gem.
Tucked away just off the Causeway costal route – the beach is an alluring mix of limestone carves, white sand beaches and water sports.
How often do you hear people talking about the amazing beaches in Northern Ireland? We're going to guess that's pretty much never. Still, we're happy to let you into the secret that the locals have been hiding away.
Rhossili Bay, Wales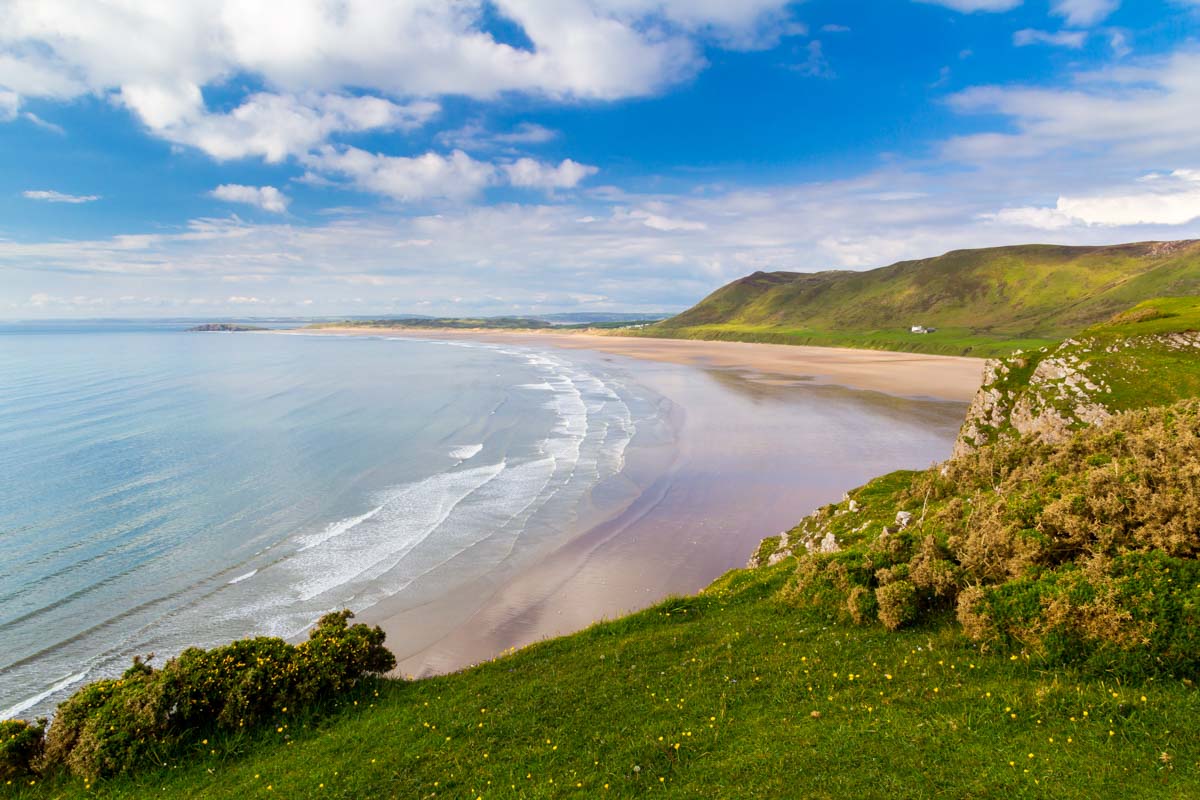 Rhossili Bay is constantly voted as the the best beach in Wales and pretty much always features on any roundup of the best beaches in the UK.
Pick a spot from over three miles of sandy shore and muck about in the golden sand and bluer-than-blue Atlantic sea. If you're lucky, you might even spot a dolphin or two.
Located in Swansea, South Wales, Rhossili Bay boasts stunning views of the Gower Peninsula – England's first designated Area of Outstanding Natural Beauty – as well as the Bristol Channel.
The wide open sands make it perfect for sunbathing, or even a game of Frisbee, while there are also plenty of rock pools to explore at low tide.
If you're feeling brave then take a walk along the nearby Worm's Head where you can enjoy some truly spectacular views.
Hunmanby Gap, North Yorkshire, England
Yorkshire's been keeping quiet about Hunmanby Gap, the area's best beach.
You've got to get the timing right (the beach pretty much disappears when the tide is in) but if you do, you'll be rewarded with a secluded cove and plenty of beach to explore.
Bournemouth Beach, Dorset, England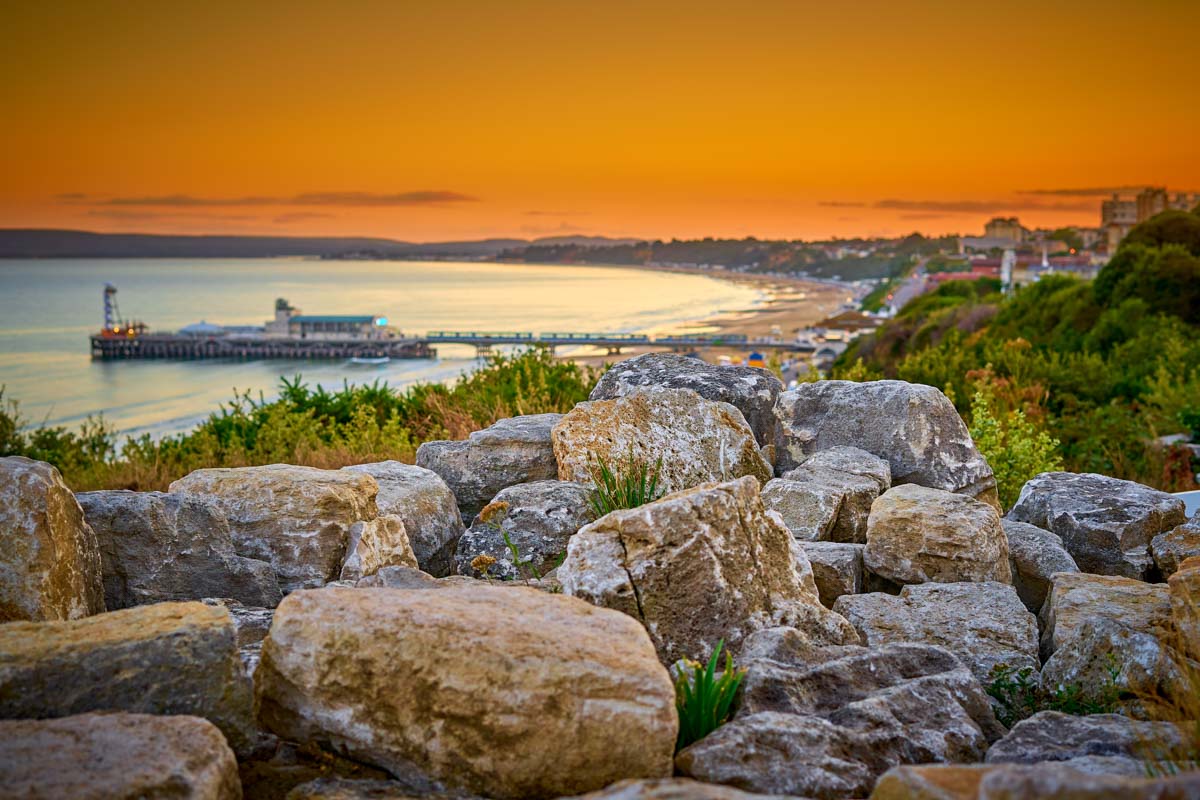 The busiest beach in the south of England, Bournemouth is a great place to spend a day with the family.
The wide promenade offers plenty of space to spread out and there are several amusement arcades, cafes and restaurants located nearby should you need some refreshment.
The golden sands stretch for more than seven miles but the busiest section is from Boscombe Pier to Hengistbury Head. During low tide there are plenty of rock pools to explore. With Blue Flag status, it's also one of the cleanest beaches in the country.
Budle Bay, Northumberland, England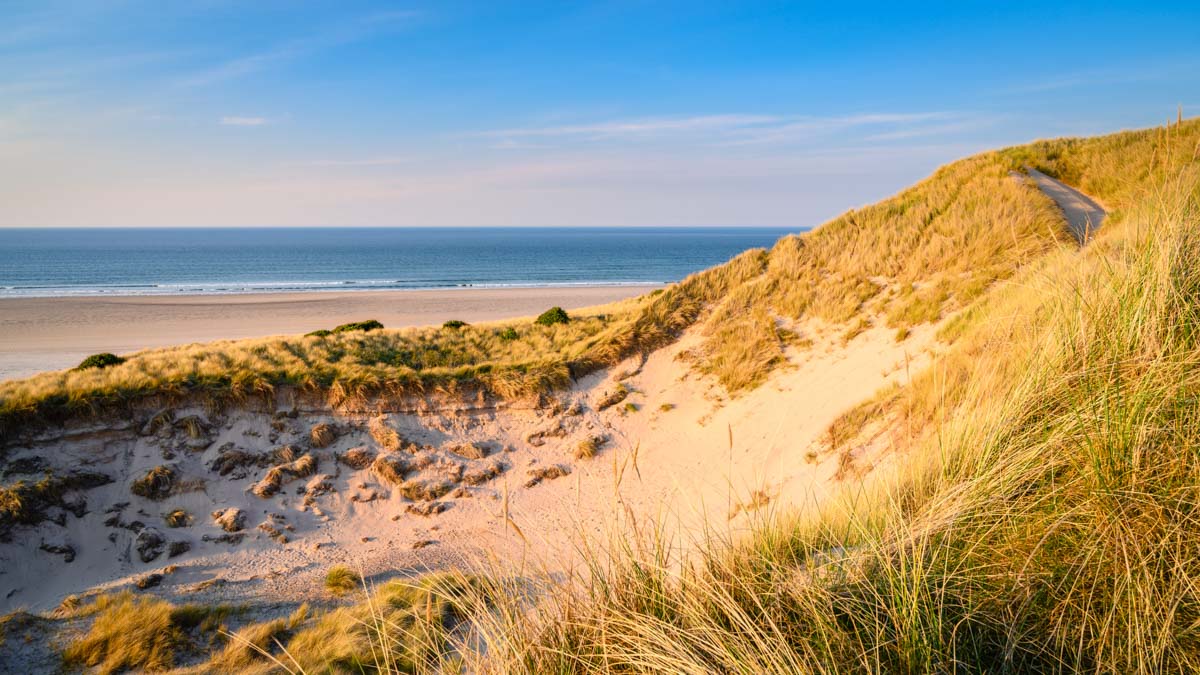 Nature and bird enthusiasts will be in their element at Budle Bay, a large bird sanctuary that's part of the Lindisfarne National Nature Reserve.
On a good day, you can drop a towel and do a bit of sunbathing, but the real pleasure here is discovering the nature and birdlife that call the bay's mud flats their home.
Priory Beach, Caldey Island, Wales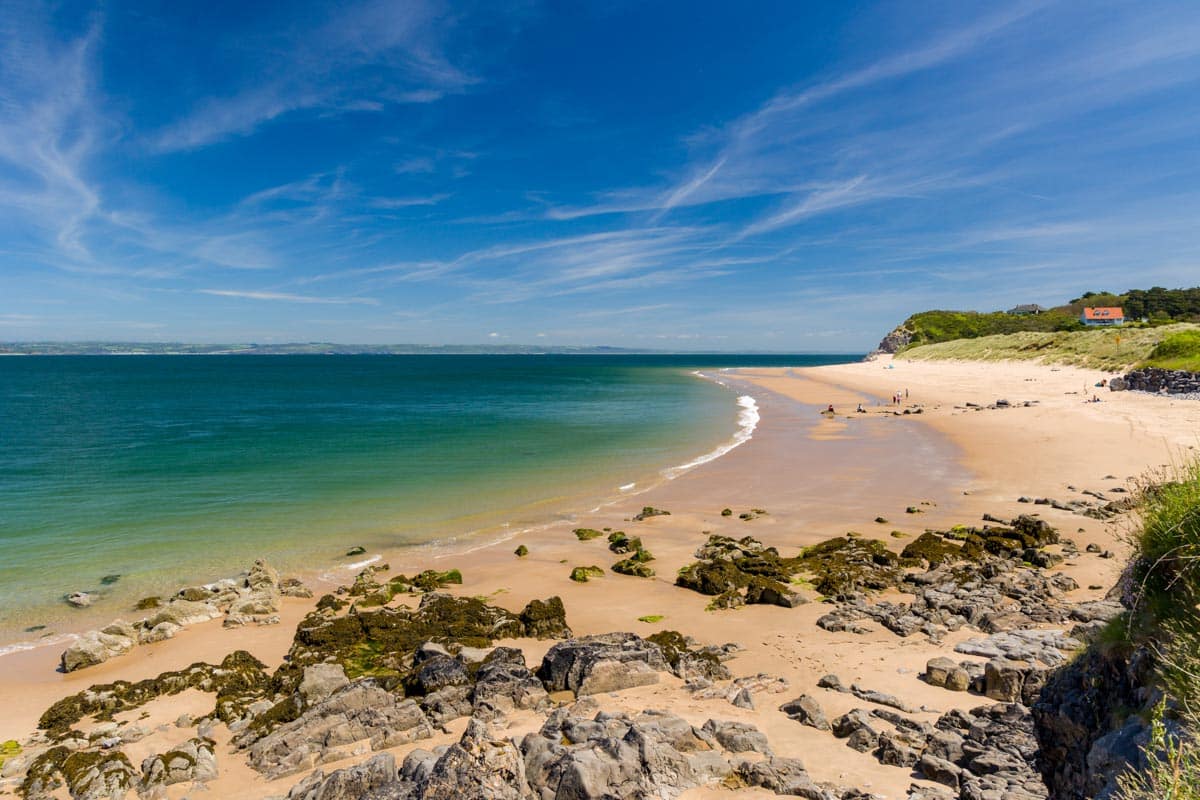 It's pretty likely that Priory Beach is the first place you'll see on teeny tiny Caldey Island, just off the Welsh coast near Tenby as it's where the boats land from the mainland.
The isolated location means there's a good chance you'll end up with Priory Beach to yourself, even on the hottest days.
If it all gets a little too toasty, the island's monks have been brewing a local beer for centuries – the perfect way to cool off.
Ringstead Bay, Dorset, England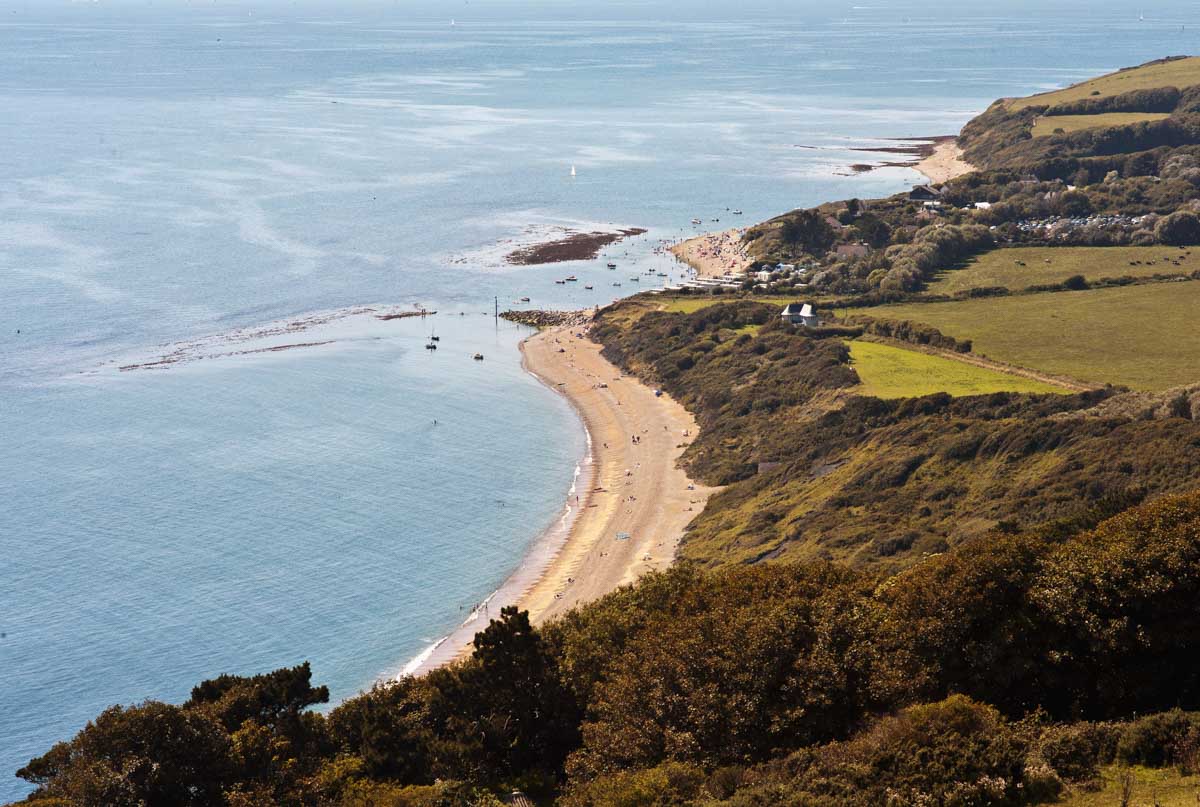 Weymouth might have a beautiful beach but it's developed and crowded. If you're looking for an excellent beach in Poole, head to Ringstead Bay.
The swimming is great (and safe) and also has wonderful views of nearby Weymouth and Portland. Grab an ice cream from the shop and cafe, plump yourself down and enjoy some of the finest views on Dorset's Jurassic Coast.
Sandbanks Beach, Dorset, England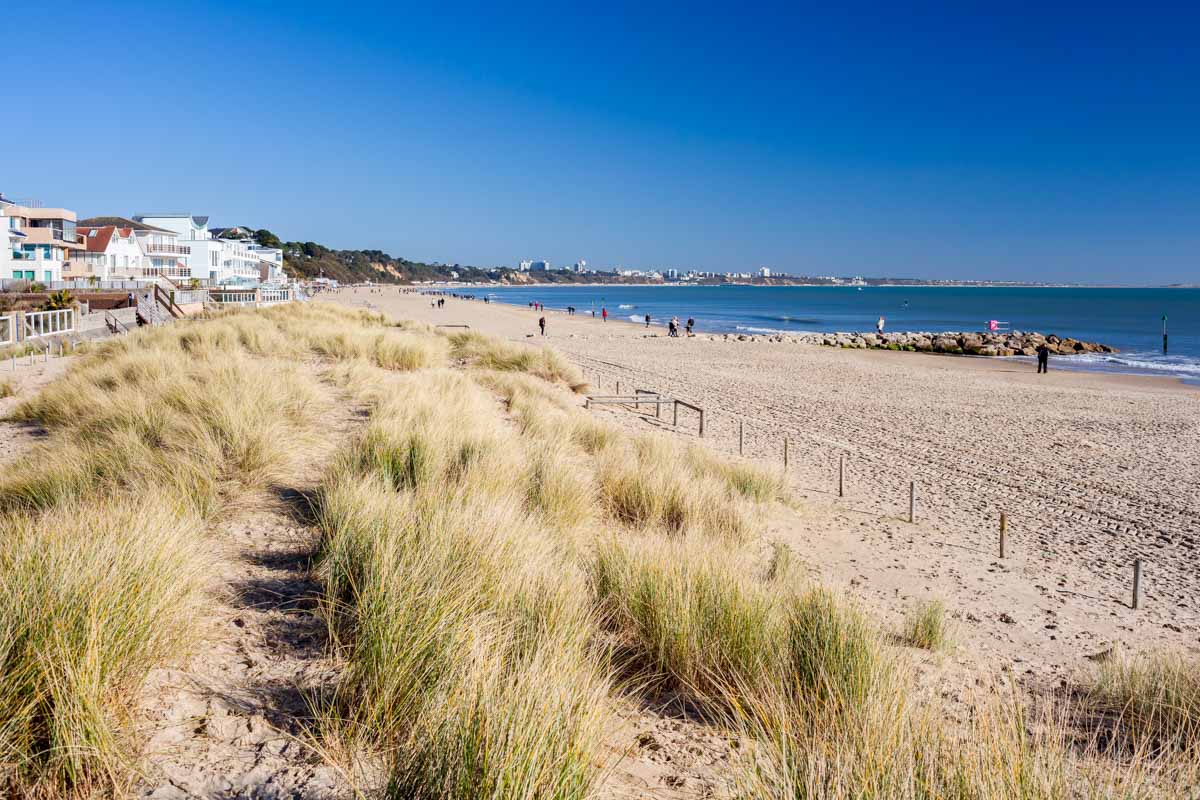 Sandbanks Peninsula is a stunning beach in the county of Dorset. Located on the Jurassic Coast World Heritage Site, this sandy stretch of coastline is backed by a series of white cliffs. The beach also has plenty of surf and offers safe bathing for children and families.
There are suggestions that King Henry VIII may have built Sandbank Castle to protect England from invasion after his marriage to Anne Boleyn, which would make it one of the most historically significant beaches in the UK.
Oxwich Bay, Gower, Wales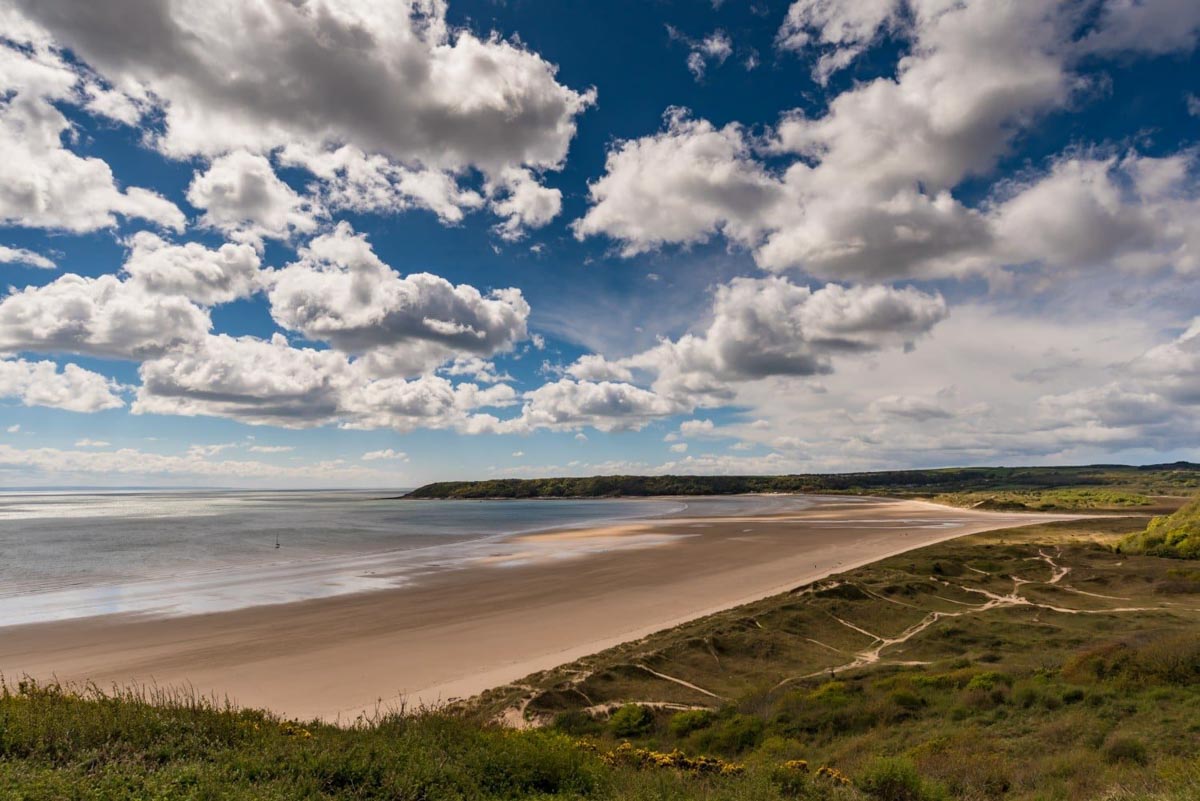 Another one on the Gower Peninsula, Oxwich Bay's gently sloping sands prove popular during the height of summer.
While the section of the beach nearest to the village can get a bit busier on sunny days, if you walk eastwards towards the Nicolaston Burrows, you're much more likely to find a quiet spot.
If you are staying in the area for a while, you might like glamping in South Wales.
Winterton Beach, Norfolk, England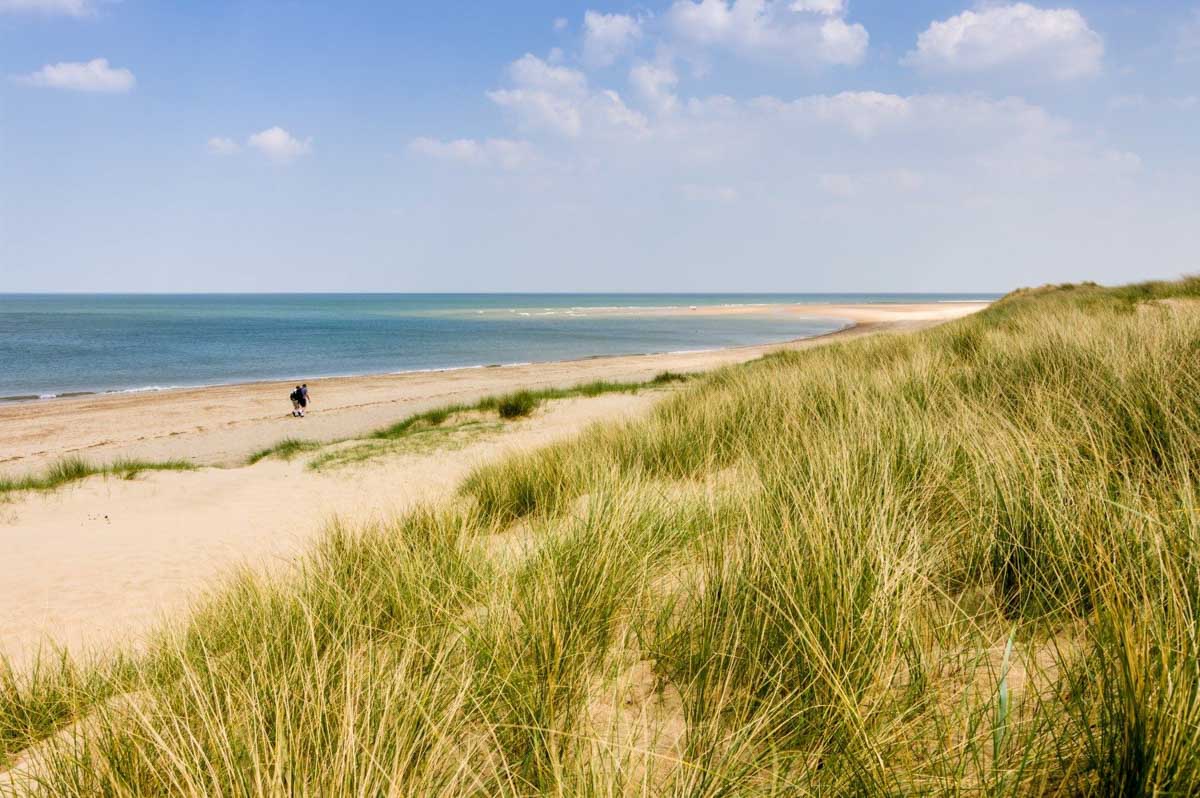 Winterton Beach is a real haven on the Norfolk coastline.
The wide, sandy beach is framed by tufted sand dunes of a national nature reserve. Even at its busiest the beach feels pretty much empty, thanks to the seemingly never-ending stretch of sand.
Walk towards the Horsey end of the beach to spot the colony of seals that live just off the shore.
Aberlady Bay, Scotland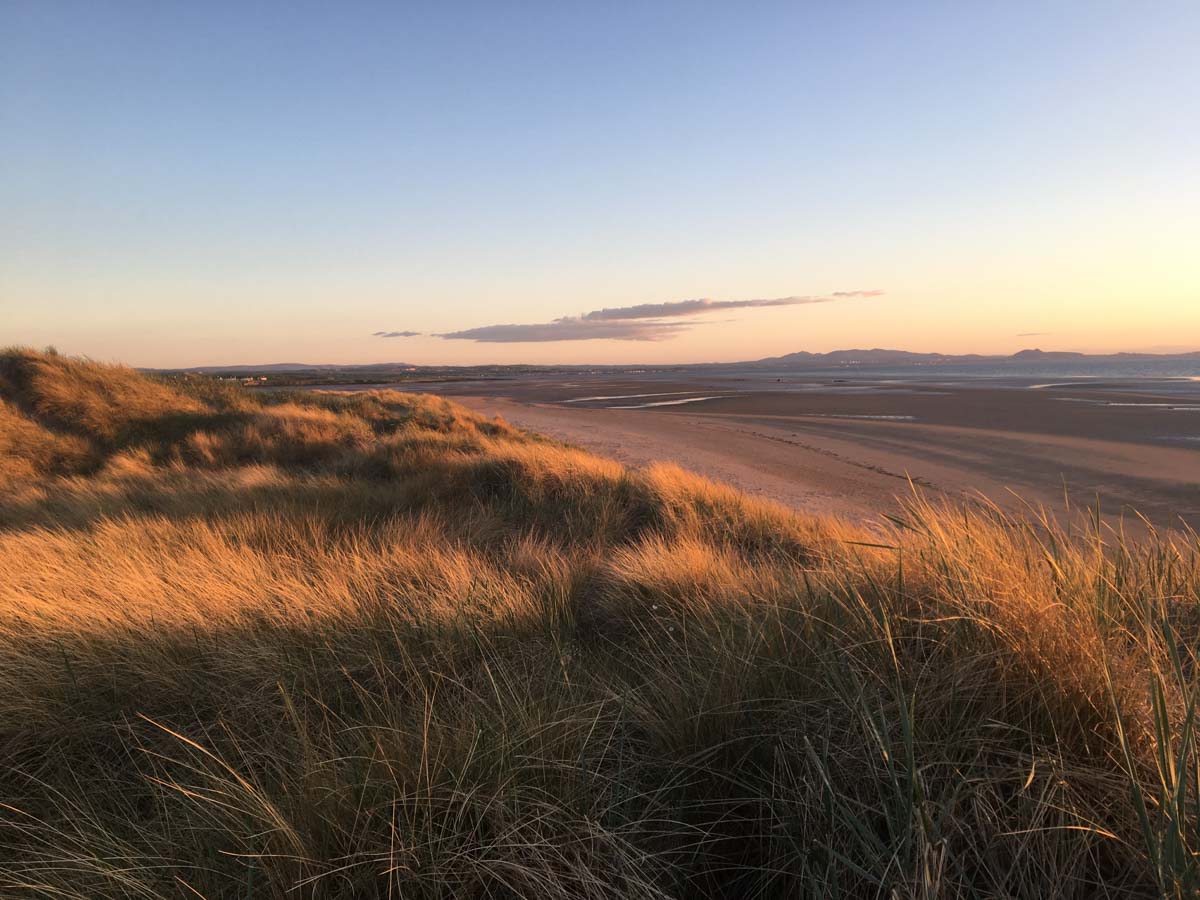 Aberlady Bay is another beach-come-nature reserve that should be at the top of the list for nature lovers.
The area has been a nature reserve since 1952 (in fact it was the first nature reserve in the UK) and is particularly famed for its bird-watching. Easily reached from Edinburgh, on a clear day, the bay offers fine views out to Arthur's Seat.
Long Sands Beach, Yorkshire
Tucked away in the lovely North Yorkshire village of Staithes, Long Sands Beach is one of Britain's best-kept secrets. The vast expanse of golden sand stretches for 3km and has a well-earned reputation as a safe, family beach.
The water is shallow and perfect for paddling, while the raised combers break close in to shore, giving children a safe place to play. It's also only a 20-minute drive from Whitby if you fancy riding the waves instead!
Newgale Beach, Pembrokeshire, Wales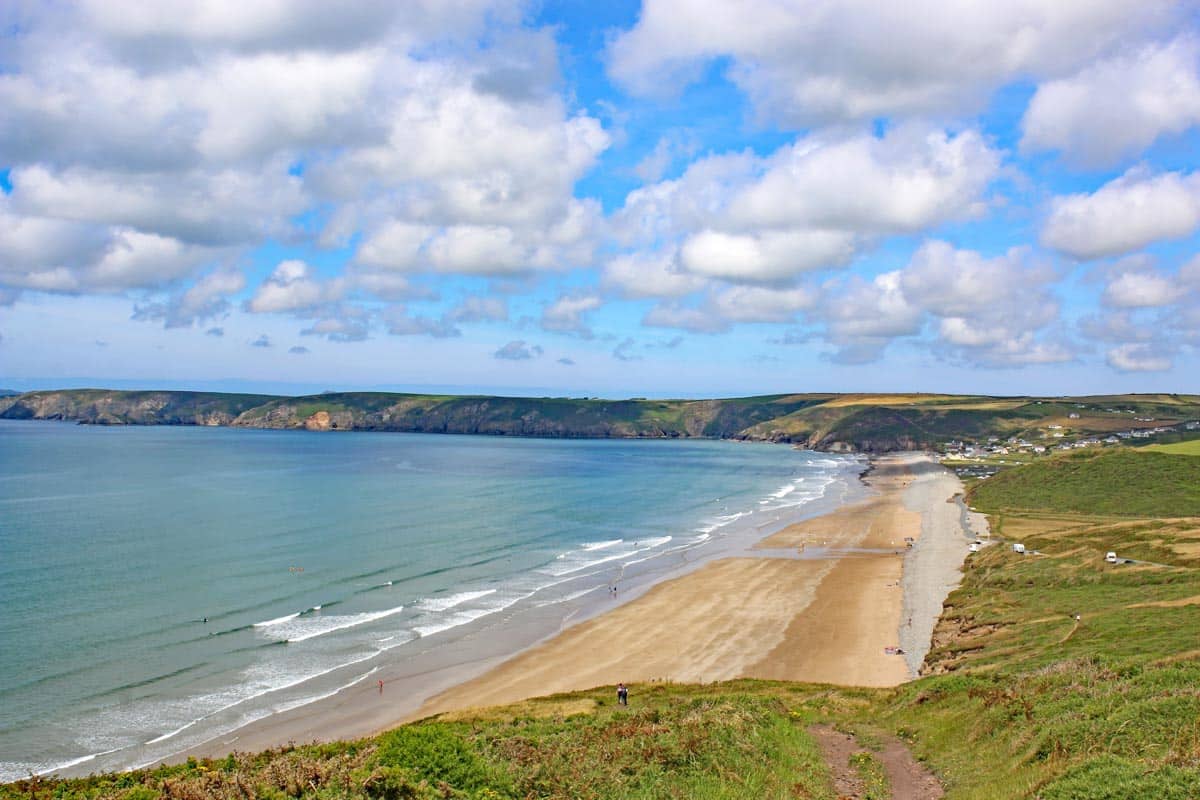 Also known as Newgale Sands, this expansive beach is located in the county of Pembrokeshire. Popular with surfers, there are also good opportunities for rock pooling and collecting starfish.
It's a great spot to make sandcastles and take advantage of the waves during low tide. There are also stunning coastal walks nearby.
North Shore Beach, Llandudno, Wales
One of the most popular beaches in North Wales, North Shore Beach in Llandudno offers stunning views over the Irish Sea and is located close to some of the region's best attractions including Conwy Castle and Snowdonia National Park.
The wide promenade means that there's plenty of space for everyone – whether you want to sunbathe or take a walk, and with Blue Flag status it's one of the cleanest beaches in the country.
It's also a popular surfing destination and you can hire equipment from one of the nearby shops if that's something that interests you.
Porthminster Beach, Cornwall, England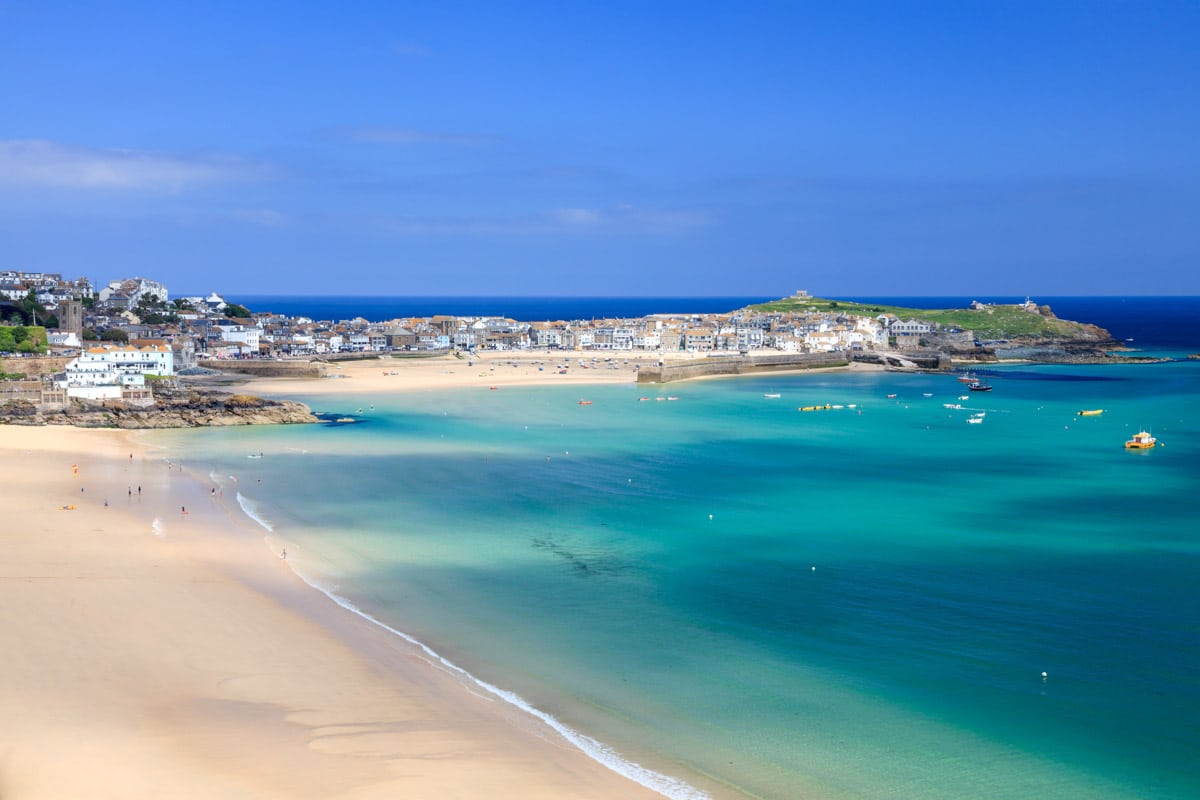 A short drive or bus ride away from St Ives is Porthminster Beach – voted Britain's Best Beach after winning TripAdvisor Travellers' Choice Awards three times since 2009.
With golden sands stretching for more than half-a-mile, this really is your chance to find your very own slice of paradise.
The beach is also popular for surfing and there are plenty of rock pools to explore during low tide, while the clear water makes it a great spot for snorkelling too.
Traeth Abermaw Beach, Snowdonia, Wales
This Blue Flag beach is located in the Snowdonia National Park and offers stunning views of the Mawddach Estuary.
The wide promenade makes it perfect for a family day out, while there are also plenty of facilities nearby including toilets, cafes and shops. With its white sands and crystal clear waters, Barmouth Beach really is a little slice of paradise!
Windsurfing and sailing are popular activities on this beach thanks to the consistent winds that blow here, so if you're looking for an adrenaline rush then this could be the place for you!
Best Beaches in the UK: Map
Looking for more UK holiday inspiration? Check out The Ultimate British Bucket List or my Cornwall Road Trip Guide
Love this? Share and save on Pinterest.