Heading to Canterbury but short on time? Don't miss this step-by-step guide to one day in Canterbury – everything you need to know to plan the perfect trip.
What springs to mind when you think of Canterbury? I'll bet it's one of two things: Canterbury Cathedral or Geoffrey Chaucer's famous Canterbury Tales.
If you haven't been, this compact city is the perfect day trip from London and well worth a trip while you are travelling in the United Kingdom.
Tempting as it is to simply fester in front of the television between Christmas and New Year's, I decided that this year I would take advantage of the good weather when it came and go out on a series of mini day-breaks (it's been about a month since I've travelled and quite frankly, I'm going crazy at my desk).
That is how I found myself in Canterbury this morning. I've been to Canterbury a few times – on school trips as a teenager where I wouldn't have been caught dead feigning interest in anything so cliched as old buildings and a few times since, popping in on the way to nearby destinations such as Whitstable and Herne Bay.
It's safe to say that today is the first time I've really done the city any justice – and now I'm a convert.
Canterbury should be on every visitor's list of places to visit and the perfect destination to add to a UK road trip.
The UNESCO World Heritage cathedral would be worth the trip alone – but add to that a maze of small alleyways, charming buildings and riverside perches and you'll start to understand the appeal.
So what should you expect? Higgledy-piggledy medieval buildings, stout gates warding the entrance to the centre – walking around Canterbury is like stepping back in time.
It's small enough that it's totally doable on a short trip – here's what you need to see to ace your one day in Canterbury like a pro.
One Day in Canterbury Itinerary
10am – Canterbury Cathedral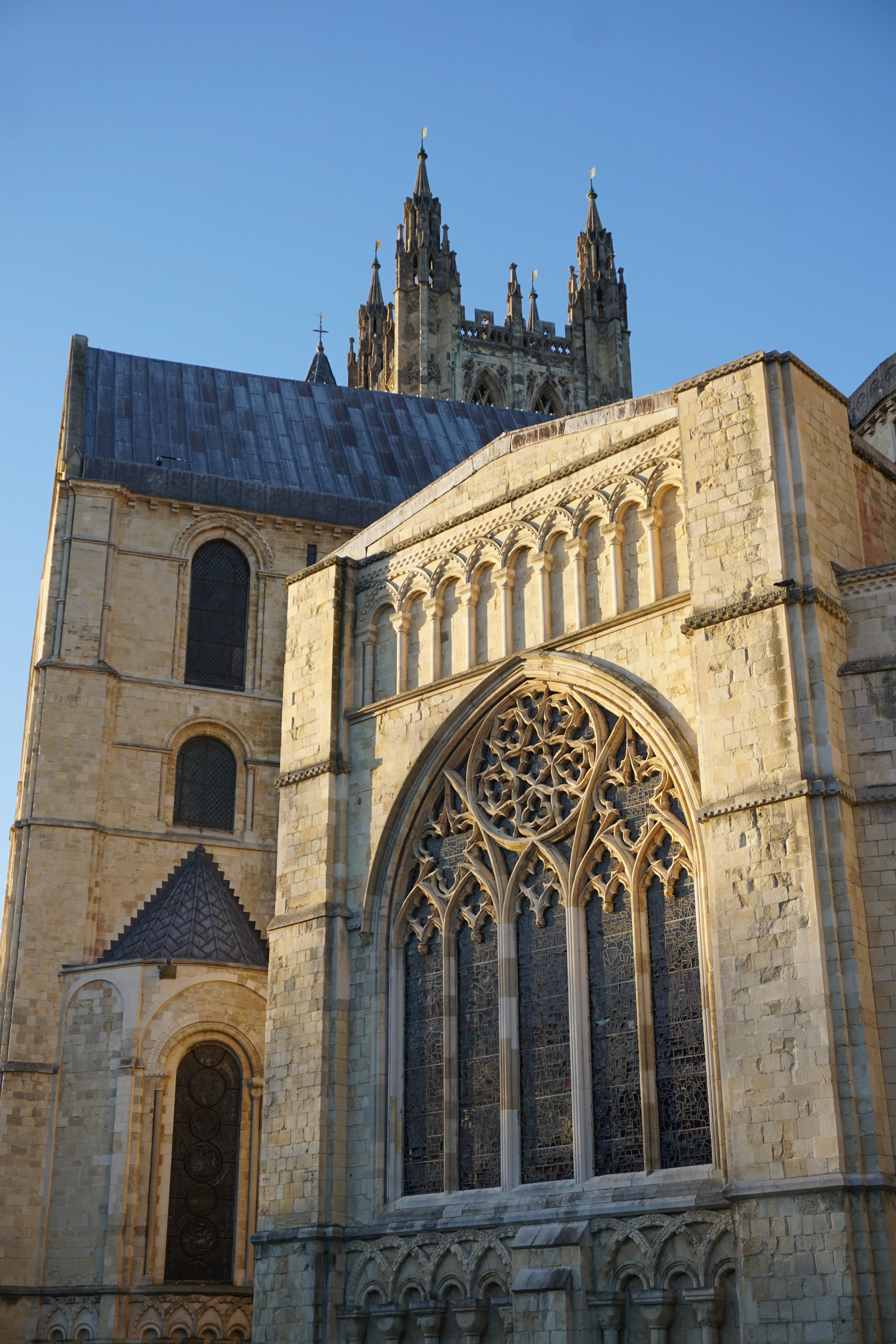 You might as well start your one day in Canterbury with the big hitters. Even from the outside, Canterbury Cathedral is a sight to behold – so much so that it's often named the most striking cathedral in Europe (and we all know that Europe has some pretty strong cathedral game under its belt).
Intricately-carved buttresses, naves and towers – the Cathedral's Romanesque-meets Gothic facade is a jaw-dropper.
The Cathedral is currently undergoing a series of renovation works, both inside and out, so expect for it to be partially obscured by scaffolding if you visit in the near future. It's a bit of a shame, but the part that's been finished looks spectacular, so it will be well worth the wait.
Unfortunately, the fact that there was a Kristingle service going on at the time of my visit meant I didn't get any pictures of the inside, though I did sneak in for a few festive carols.
Canterbury Cathedral is brimming with history – and not all of it pleasant.
Perhaps most famously, the then-archbishop Thomas Becket was murdered here in 1170 – turning Canterbury Cathedral into one of Europe's biggest pilgrimage destinations (hence why Chaucer's pilgrims are heading to Canterbury in the Canterbury Tales).
You can take a tour of the Cathedral (these take an hour – check ahead for times) or meander around the cathedral and its grounds with a self-guided audio tour. Both offer a fascinating insight into the cathedral's past, present and future.
Cathedral House, 11 The Precincts, Canterbury CT1 2EH
12.45pm The West Gate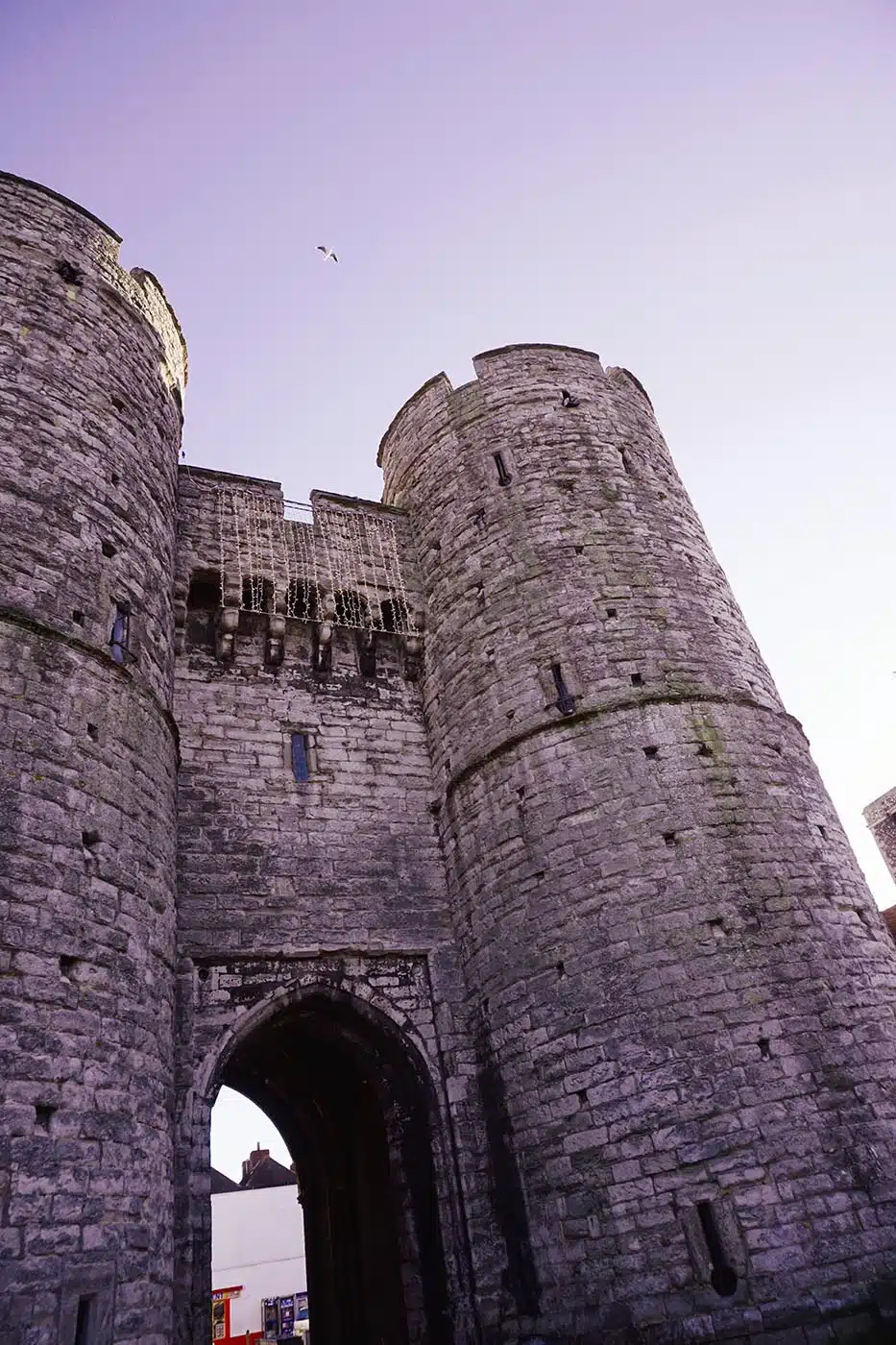 Built in 1380, the West Gate is Canterbury's last remaining medieval gateway. Standing at the edge of the River Stour, it's the largest surviving medieval gate in England.
If you have time, duck around the side of the gate to visit the West Gate Towers Museum – otherwise carry on to lunch, which is a short hop away.
1 Pound Ln, Canterbury CT1 2BZ
1pm – Lunch at The Refectory Kitchen
Looking for somewhere small and cosy with fabulous food to have your lunch? Look no further than The Refectory Kitchen.
Serving organic breakfasts, brunches and lunches, this small family-run bistro wins hands down when it comes to lunch options in the city.
Look, I'm a pretty basic woman – put a good-looking burger on the menu and it's going to be a tough call for me not to order it.
The Refectory Kitchen's burgers were perfection. A juicy patty comes paired with a cheese-smothered pickle, lettuce, chutney – all sandwiched between a homemade seeded burger bun. Add to that a side of crispy but fluffy chips and some dressed salad and you've got a pretty great lunch sitting right there.
Of course, the menu extends far beyond burgers – brunch wise, you can treat yourself to some eggs benedict, a home-cured bacon sandwich, chargrilled pepper and courgette rosti among other things.
Lunches tend to err on the simple side – roasted cauliflower and chickpea salad, halloumi and vegetable sandwiches, and that burger.
What sets The Refectory Kitchen apart is the emphasis on the best quality ingredients, so each dish is bursting with freshness and flavour.
The Refectory Kitchen – 16 St Dunstan's Street, Canterbury, CT2 8AF
If you fancy a bottlomless brunch in Canterbury, there are plenty of places to choose from.
Looking for more UK city break inspiration? Don't miss my insider's guide to spending 24 Hours in Oxford
2pm – Stock Up on Provisions at The Goods Shed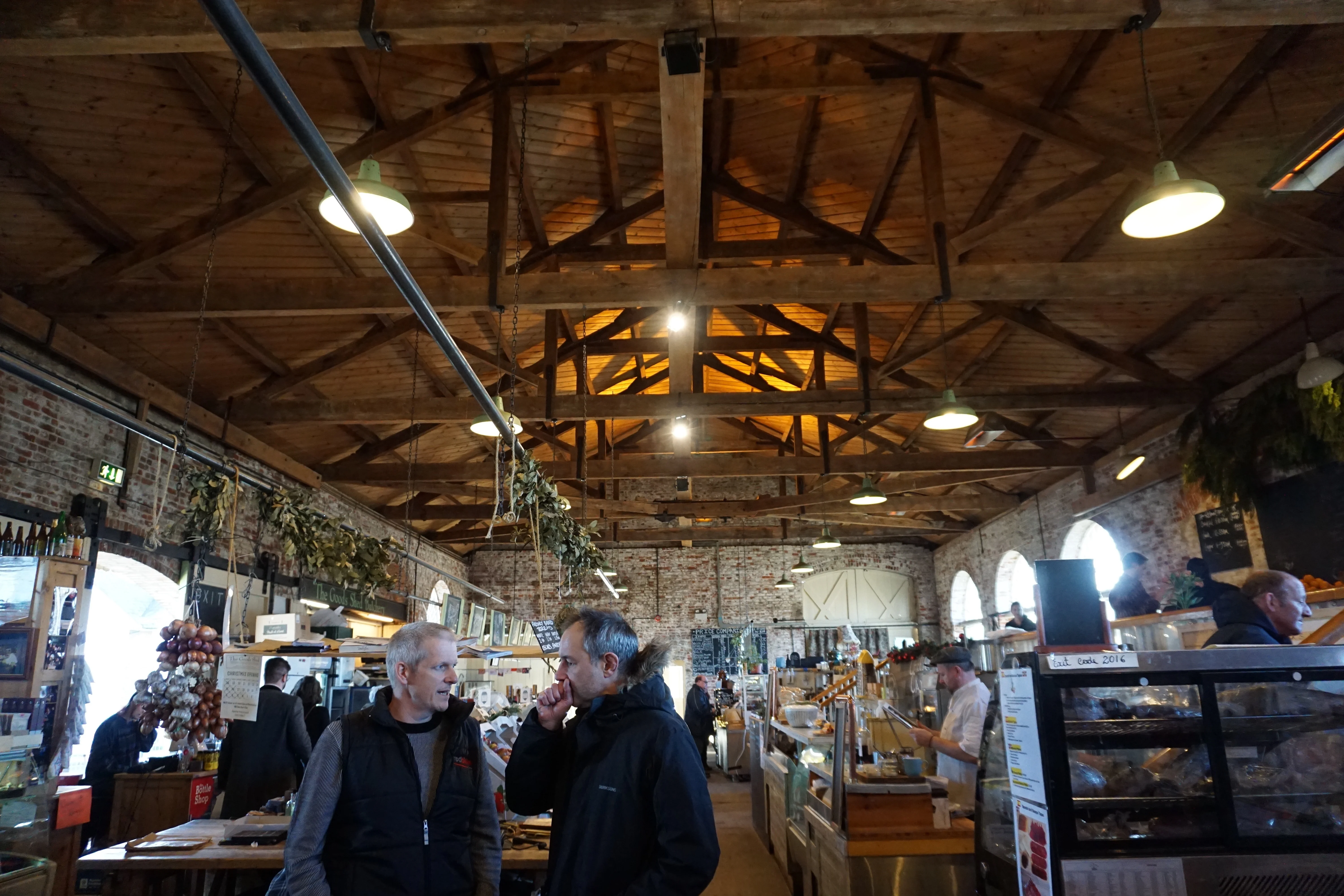 The Goods Shed is a shop, food and drink market and restaurant rolled into one – all housed in a beautifully-renovated railway warehouse next to Canterbury station. Sounds good? It is.
Retailers include Cheesemakers of Canterbury (what these guys don't know about cheese, quite frankly, isn't worth knowing), Enzo's Bakery, Patriana Charcuterie and The Bottle Shop.
Perfect for filling your bags with goodies from your Canterbury day trip to bring home with you.
The Goods Shed, Station Rd West, Canterbury, CT2 8AN
3pm Take a River Tour with Canterbury Historic River Tours
Float down the River Stour for 40 minutes, admiring the sights and getting all of the insider Canterbury info, history and a bit of gossip from your knowledgeable guide.
If you're visiting during the summer, they also run night tours each weekend at 7pm during June and July.
Make sure that you wrap up warm during the chillier months.
3.30pm – Greyfriars Chapel
Perched at the side of the River Stour, Greyfriars chapel was the first Franciscan monastery to be built in England. Inside, the chapel's cute – but the riverside setting is the draw here.
To be honest, it was 2 degrees (celsius) today, so there was no excess hanging around and posing in floaty dresses for me (not even for the 'gram, not even).
In the summer it's the perfect place to sit down and rest your feet (and maybe take a sneaky picture or two to show everyone how fabulous Canterbury really is).
25 High St, Canterbury CT1 2BD
4pm Beaney House of Art & Knowledge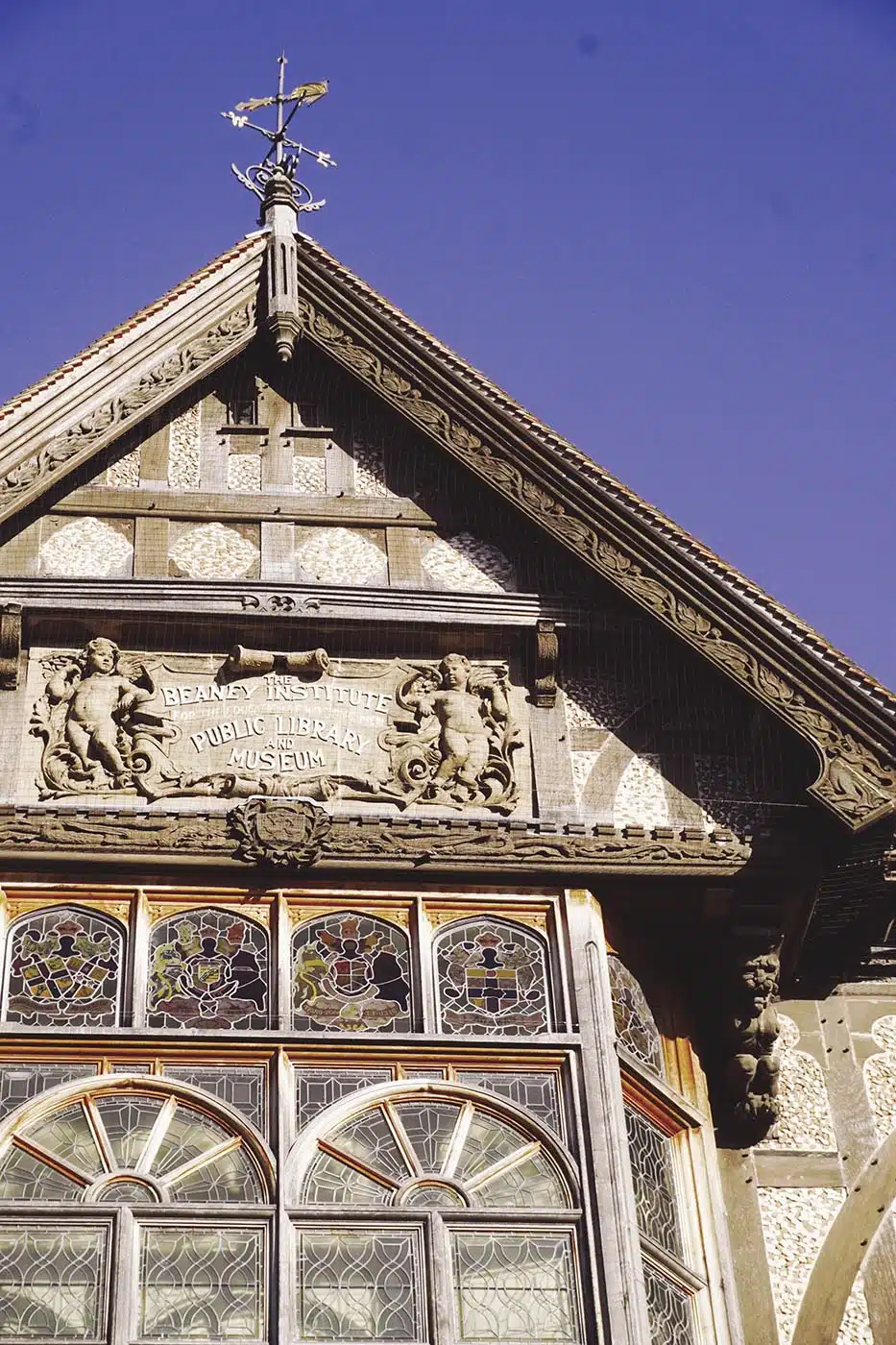 I didn't really know anything about the Beaney House of Art & Knowledge until it caught my eye as I was walking along Canterbury High Street.
The building is pretty unmissable, standing tall in redbrick, mock-tudor lattice-work with a dash of stained glass for extra pzazz.
Curiosity might have killed the cat, but it's also my middle name, so I couldn't resist heading inside. It proved itself something of a find.
The Beaney House of Art & Knowledge is the city's main library cum art gallery and museum. The gallery/museum section is organised into six rooms, each with a different theme and showcases work by a range of artists including David Hockney, Raphael and Thomas Sidney Cooper.
It's relatively small and centrally located, so you can slot it in on your one day in Canterbury itinerary wherever you have the time.
18 High St, Canterbury CT1 2BD
4.30pm – Roman Museum
OK, I'm going to 'fess up – I didn't go to the Roman Museum because I was feeling a bit fagged, popped into a pub for a quick beer and got there after it closed (oops).
If you are more successful in your bid to see the Roman Museum, you'll find a glimpse into Roman life in Canterbury 2,000 years ago reconstructed from archaeological ruins.
Longmarket, 11A Butchery Ln, Canterbury CT1 2JR
5pm – A Whirlwind Walk
Much as there is to do in Canterbury – one of the real pleasures, as with many cities, is just taking some time to have a bit of a walk around.
Wend your way through the narrow alleys, peeking into small courtyards, medieval houses and popping into a shop or two.
Don't miss the curiously wonky Sir John Boy's House – understandably called the "Crooked House" (pictured above). You should also swing by Canterbury Castle and walls – there's not much of the castle left but it's worth a peek.
6pm – A Drink at The Parrot – The Oldest Pub in Canterbury
So you remember the bit where I said that I missed the Roman Museum being open because I got sidetracked by a pub, this was it.
To help you avoid making the same mistake, I've added it near the end of your one day in Canterbury itinerary.
The Parrot has been standing in the same spot since 1370, feeding local inhabitants and visitors with their range of tasty ales, wines and spirits.
The name, like many things in Canterbury, is a Chaucer reference – the famed English poet mentions the imitative powers of the parrot in the Canterbury Tales.
Snuggle in with a drink – there's a courtyard for the summer (and the smokers) or grab a pew in the cosy interior.
1-9 Church Ln, St Radigans, Canterbury CT1 2AG
7pm – Dinner at Deakins
OK, so the day's almost over. But all that walking, history and (ahem) drinking in oldest pubs will have left you a bit hungry.
Deakins is the kind of gastropub that most others try to emulate – serving hearty British (modern British, not the kind of British food that is basically just grey meat and some boiled veg) meals in a pretty setting.
1-2 Sun St, Canterbury CT1 2HX
Head Home (Or Spend the Night in a Boutique Hotel)
So, it's time to head home. Your one day in Canterbury is over and you're feeling pretty sad right? Well, why not stay over and make a weekend of it? Canterbury's not short on a boutique hotel or B&Bs for you to lay your head – here are a few ideas.
ABode
Bang in the middle of town, ABode's High Street location is just part of its draw. Bed down in one of the chic rooms – classed as "Comfortable" "Enviable" "Most Desirable" and so on. Whichever grade you choose, you're guaranteed a comfortable night's sleep in a stylish setting.
Rooms start at £79 per night.
The Falstaff
Bigger than it first appears, The Falstaff houses 46 rooms a stone's throw away from the West Gate. Decor-wise, it's a case of Olde English meets contemporary – with some of the rooms boasting original panelling and features dating back to the 15th century.
Rooms start at £60 per night.
Planning Your Canterbury Day Trip: How to Get There
Train
Trains run from London Victoria and London Charing Cross to Canterbury East and West respectively. There are also direct trains from St Pancras to Canterbury West, although these often involve changing at Ashford International.
Bus
National Express run coach services to Canterbury from London Victoria Coach Station.
Car
It's an easy drive from London, following the A2/M2 all the way – it takes about 1.5 hours. Parking in Canterbury itself can be difficult.
Save and share on Pinterest!