Ready to set off on a ride? These 8 UK road trips are full of surprises around every turn. Get ready, you're in for a treat.
Planning on taking a road trip to the United Kingdom? Lucky you.
I may be *slightly* biased as it is my home country, but the U.K's rolling hills, craggy peaks and dramatic coastlines are ripe for a four-wheeled adventure.  

Beautiful landscapes aside, there are also delicious stops for afternoon tea, cool museums and historical houses aplenty to explore along the way.

So where should you plan your UK road trip itinerary? I have picked a few of the very best options for your adventures on the open road.

So buckle up, let's go for a ride on the best road trips in the UK.
Best Road Trips in the UK
Lake District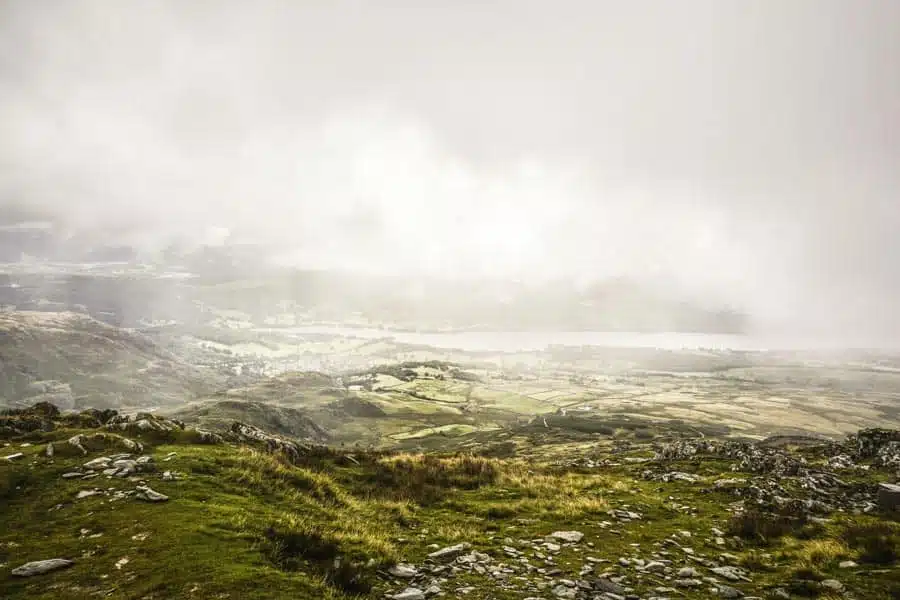 If you've ever read John Ruskin or William Wordsworth, you're familiar with the serene landscapes of endless green hills and vast mountain lakes of the Lake District. If you haven't, let's just say that you're in for a very pleasant surprise.

It's no secret that I love walking in the Lake District, but a long weekend road trip exploring the many lakes and villages is even better.
Want a great stop along the way? Carnforth Bookshop is a real treat, and you can walk to a pub for lunch nearby after you pick up a couple of second-hand treasures.
Route Summary
Manchester >> Bowness-on-Windermere >> Hawkshead >> Grasmere >> Scafell Pike >> Keswick
Distance: 126 miles (203 km)
Length of Trip: 1 week
Highlights of the Trip
Bring your favourite hiking boots on this road trip in the UK because the Lakes District offers a lot of picturesque countryside hikes you'll want to explore.

During your England road trip, stop by the homes of William Wordsworth (Dove Cottage in Grasmere) and Beatrix Potter (Hill Top Farm Hawkshead).
Prepare yourself to stumble upon the settings of many famous poems and stories when hiking around the highest peak in the UK, Scafell Pike or Cold Pike From Wrynose Pass. Looking for lakes? Windermere and Grasmere are the most famous for their respective size and depth.

Finally, a seafood dinner at Lakeview Restaurant in The Ryebeck Hotel is also a must-add to your road trip ideas in the UK.
Where to Stay
Velvet Hotel, Manchester
Hillthwaite Hotel, Bowness-on-Windermere
Crow Park Hotel, Keswick
London to Cornwall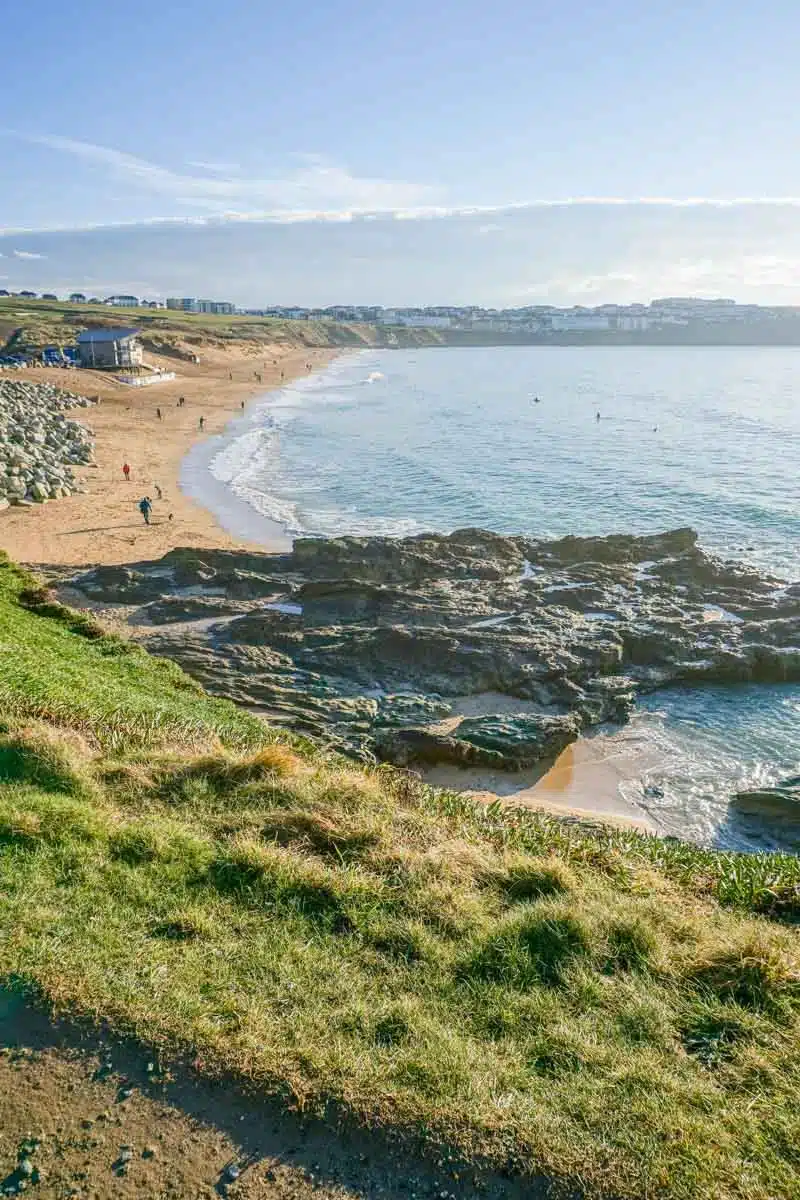 Looking for a 2-week UK road trip itinerary? Take this action-packed sightseeing journey from London to Cornwall (and back).

You'll see some of Cornwall driving the Atlantic Highway (more on this later). Still, this road trip allows you to dive into the Southwestern UK and explore the incredible beaches, challenging surf, and salt-washed castles perched high up on the rocky coastlines.
Take a different route back to London and visit Stonehenge to see one of the world's great mysteries.
Route Summary
London >> Bath >> Newquay >> St Ives >> Falmouth >> Stonehenge >> London
Distance: 635.8 miles (1023.2 km)
Length of Trip: 12 – 14 days
Highlights of the Trip

Before you reach the charming beaches and storied towns on the coast, spend a night or two in Bath. Visit the 2000+-year-old Roman Baths and admire the Pulteney Bridge from either end of the River Avon before seeing the Gothic masterpiece that is Bath Abbey.

Next, dip into Cornwall to drop by the art galleries and shops in St. Ives, walk through the Trelissick House and Garden and explore the rugged Church Cove near Gunwalloe.

You can learn to surf at the many beaches in Newquay (Fistral Beach is a winner), spend the night exploring the charming bars in Falmouth (Beerwolf Books Freehouse is my favourite), and be sure to stop by the Jamaica Inn (made famous by the novel of Daphne du Maurier with the same name) to learn about the history of bootlegging in Cornwall.
Where to Stay
41, London
Gainsborough Hotel & Spa, Bath
Newquay Beach Hotel, Newquay
The Gannet Inn, St Ives
Greenbank Hotel, Falmouth
The George Hotel, Stonehenge
NC500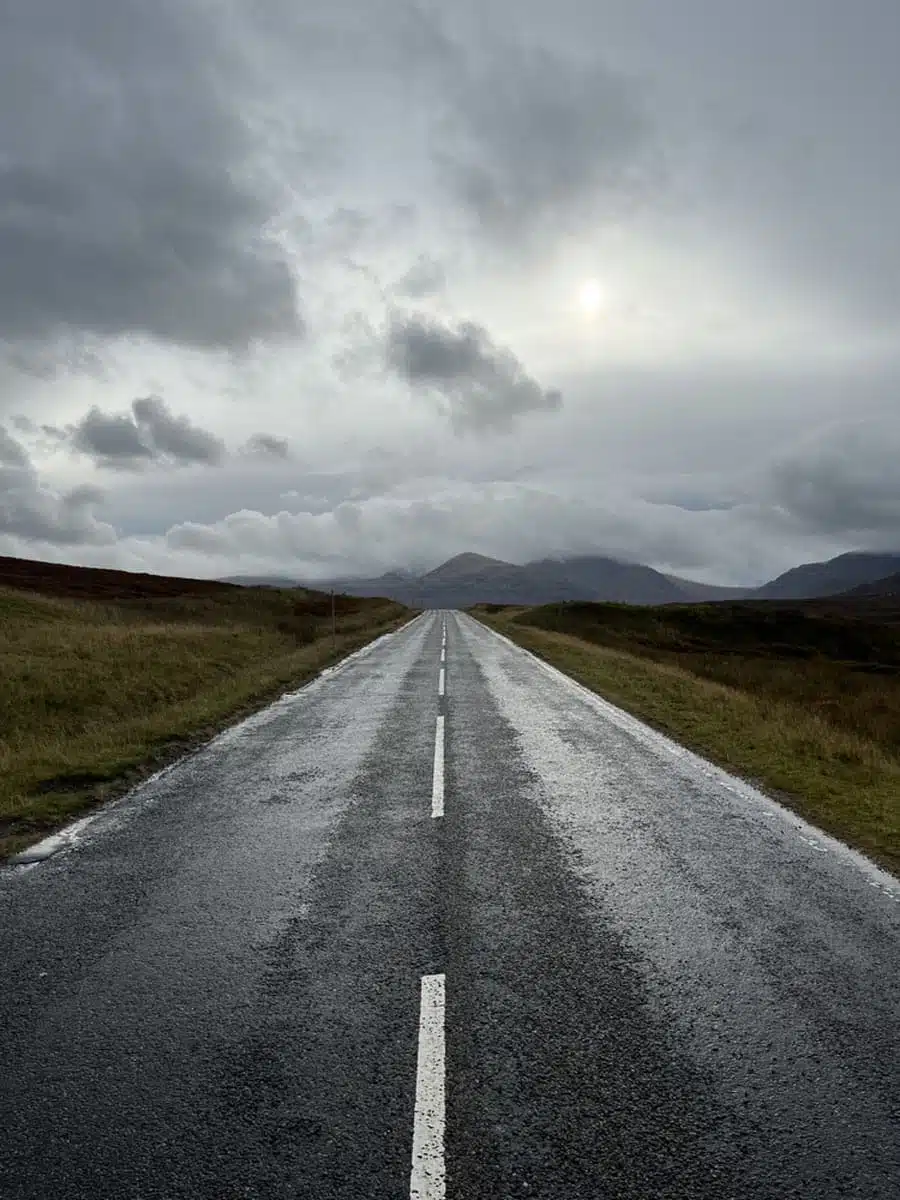 Any UK road trip planner will tell you that the NC500 is easily among the most scenic drives in Great Britain. It also makes the perfect 1-week road trip in the UK.

Located along the enchanting Northern Coast of Scotland, the craggy coastal shores and pristine highlands are home to idyllic lochs, charming towns, and ancient castles. Then there's the whiskey and seafood (drool).
Route Summary
Edinburgh >> Inverness >> Thurso >> Lochinver >> Gairloch
Distance: 697 miles
Length of Trip: 1 week
Highlights of the Trip
When you make your way from Edinburgh to Inverness, you'll want to schedule a lunch break on your UK road trip itinerary.
The Old Mill Inn, located in Pitlochry, is a charmingly authentic Scottish experience when heading to NC500.

Once you're on the NC500 (I'm jealous), you'll likely stop a lot for photos. Ardvreck Castle on Loch Assynt, Corrieshalloch Gorge National Nature Reserve, and Cape Wrath are 3 of the most photogenic locations along the way.

Clynelish Distillery, Captain's Galley Restaurant (for incredible seafood), and Coach House Bar & Restaurant are three classic stops for food and drink along the way.
Where to Stay
ibis Styles Edinburgh St Andrew Square, Edinburgh
Bunchrew House, Inverness
Forss House, Thurso
The Albannach, Lochinver
Shieldaig Lodge Hotel, Gairloch
Cotswolds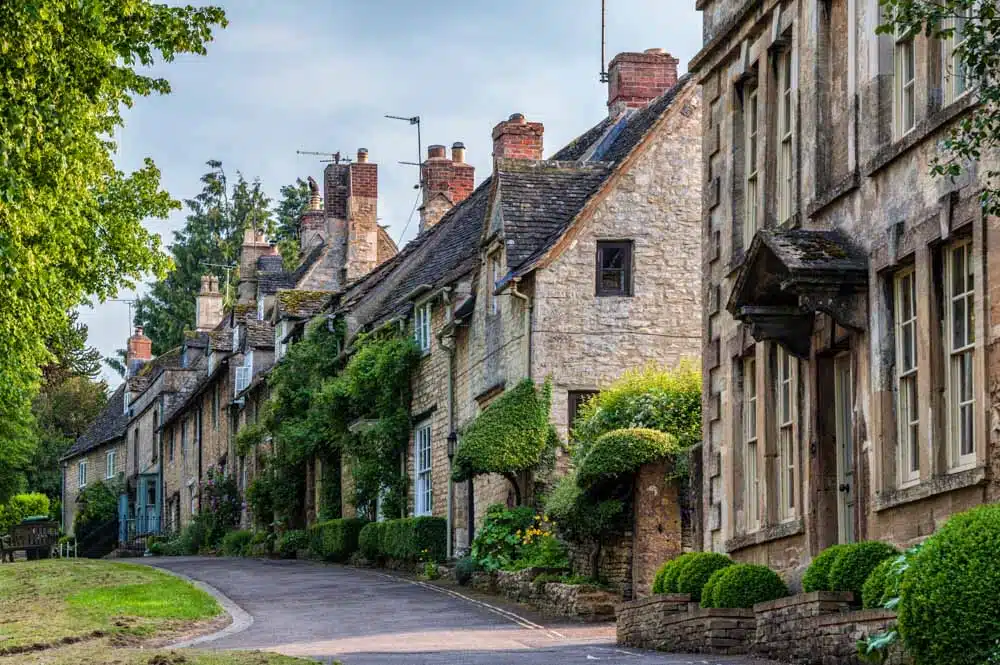 Ever dream up a UK road trip exploring postcard scenery and sleepy villages in the countryside? Head to Cotswolds.
Your UK road trip itinerary includes a laid-back drive through gently rolling green hills and honeycomb stone houses in picture-perfect villages that look like a setting out of a Tolkien novel.

But there is a lot to keep you busy along the way, including castles, museums, abbeys, and plenty of great food and drink in between.
Route Summary
Lacock Abbey >> Westonbirt National Arboretum >> Bibury >> Sudeley Castle >> Moreton-in-Marsh
Distance: 73 miles (118 km)

Length of Stay: 2 days
Highlights of the Trip
For a quick introduction to why I'm in love with the architecture and vibe in Cotswolds, visit the serene gardens around the honey-gold stone cottage at Hidcote Manor or the Tuesday Market when in Moreton-in-Marsh.

Visit the gothic hall at Lacock Abbey, trademark limestone cottages in Arlington Row, Bibury, and walk among the 18,000 (really) trees at Westonbirt National Arboretum.
Hungry? On your way up, stop by to walk the immaculate gardens (and try the tasty scones) at Sudeley Castle.
Where to Stay
The Swan Hotel, Bibury
The Manor House Hotel, Moreton-in-Marsh
Atlantic Highway
If you want to experience one of the best UK road trips, cruising the 70-mile stretch of remote roads between Devon and Cornwall (the Atlantic Highway) is no longer a well-kept secret.

You'll see many of the lesser-visited coastline and inland areas in the UK, eat absolutely delicious food, and stay in some boutique gems along the way. I love adding this to your London to Cornwall road trip, as it only adds an hour (not including stops).

It's a beautiful route, but be aware that it has a reputation as one of the most dangerous roads in the UK.
Route Summary
Barnstaple >> Hartland Devon Heritage Coast >> Tintagel Castle >> Boscastle >> Padstow >> Newquay
Distance: 3 days

Length of Trip: 99 miles (159 km)
Highlights of the Trip
This is one of the most magical road trips the UK offers visitors in more ways than one. The remote beaches along Hartland Devon Heritage Coast offer surprises like Hartland Quay Beach and Northcott Mouth.

Further south, you'll find the intrigue and mystery of Tintagel Castle and Merlin's Cave before reaching Boscastle and the mysticism of The Museum of Witchcraft and Magic.
Ready to try some local cuisine? Stop along the way to Newquay in Padstow for some of the finest seafood you'll find on any UK road trip at Rick Stein's Cafe.
Where to Stay
The Imperial Hotel, Barnstaple
Fistral Beach Hotel and Spa – Adults Only, Newquay
Kent's Castles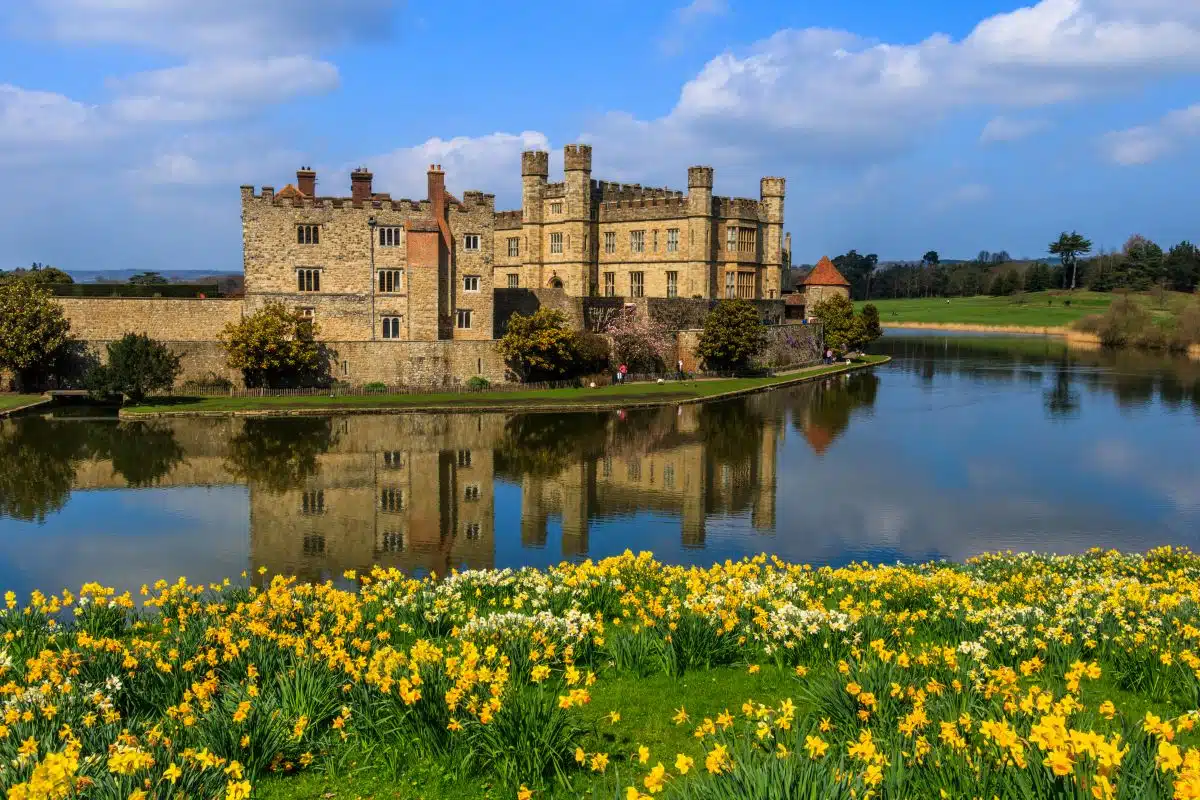 Keen to see some of the idyllic castles in the UK, Kent is home to a couple of the best. The picturesque Leeds Castle with its gardens, mazes, and moat, and Dover Castle along the stunning English Channel never cease to impress.

Make it one of the best road trips in the UK and plan a slow drive with overnight stays in Leeds Castle and at a boutique hotel near Dover Castle.
Route Summary
London >> Leeds Castle >> Maidstone >> Canterbury >> Dover Castle

Distance: 97 miles (156 km)

Length of Time: 3 days
Highlights of the Trip
One of my favourite UK road trip ideas is heading from London to Kent to check out castles and medieval ruins.

First stop? Leeds Castle, the nearly 1,000-year-old landmark (reconstructed under Henry VIII), where you can tour the property grounds and even sleep at a hotel on site.
Canterbury is home to the impressive West Gate (which isn't a castle per se), but the towering structure is one of the most remarkable mediaeval landmarks in Kent and all of the UK.
Then head to Dover Castle, one of the most massive fortresses in the UK and the "Key to England."
Where to Stay
Kensington Hotel, London
Leeds Castle Stable Courtyard Bed and Breakfast, Maidstone
Hubert House, Dover Castle
Jurassic Coast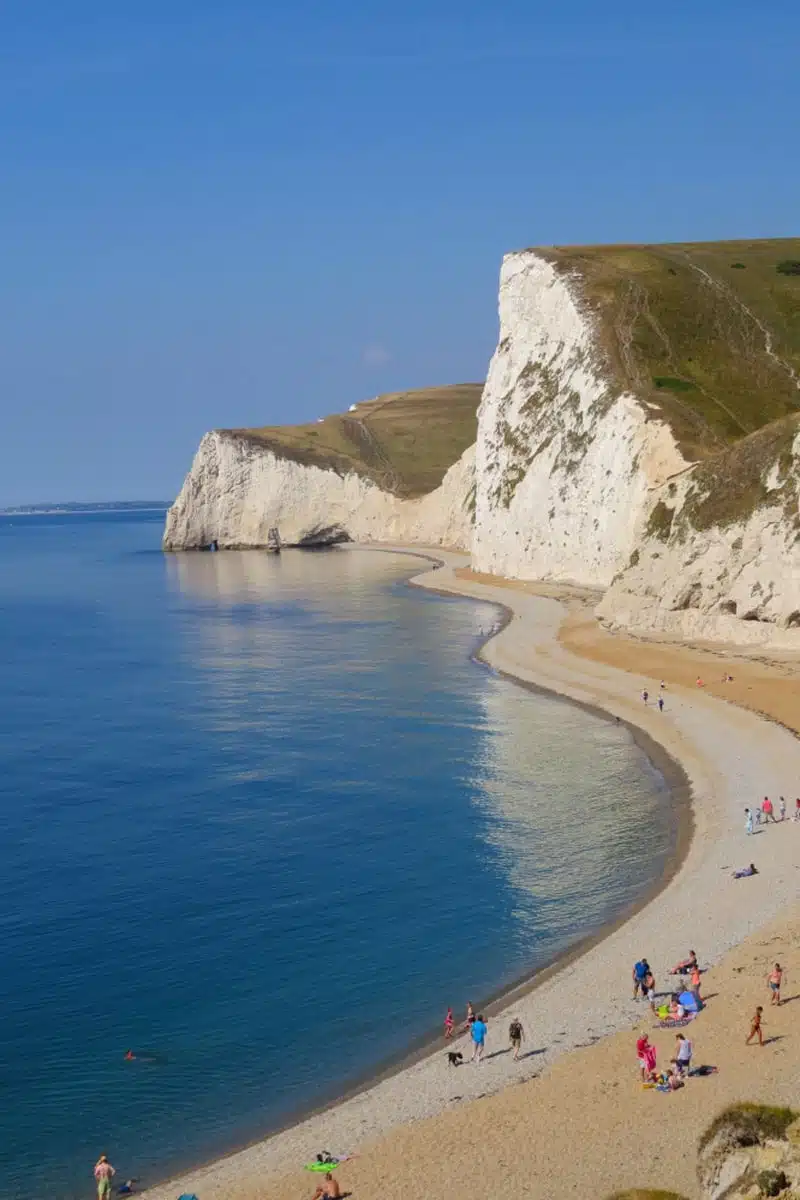 Keen to learn about history (very ancient history) on your trip to the UK? Add fossil hunting along the Jurassic Coast to your UK road trip itinerary.

Between the sandy beaches of Exmouth and Old Harry Rocks in Dorset, you can walk across some of the most beautiful coastlines in the UK and uncover some prehistoric artefacts in the process.
Route Summary
Corfe Castle >> Lulworth Cove >> Man O'War Beach and Durdle Door >> Lyme Regis >> Exmouth
Distance: 91 miles (148 km)
Length of Trip: 3-4 days
Where to Stay
Mortons Manor, Corfe Castle
Limestone Hotel, Lulworth Cove
The Dolphin Hotel Exmouth, Exmouth
Highlights
Start at the legendary Corfe Castle for a peek at an ancient motte-and-bailey castle.
Once you reach the coast, head to Man O'War Beach and hike down to enjoy the picture-perfect cove and comb the beach for fossils.

From Man O'War beach, you can continue west to see more of the Jurassic Coast highlights starting at Durdle Door, then going to Lyme Regis for more fossil hunting on the beach.
Yorkshire Dales
A UK road trip from Edinburgh to the Yorkshire Dales is a long drive but well worth the effort. On your drive down, you'll pass through some of the most idyllic countryside, historical landmarks, and picturesque villages.
Route Summary
Edinburgh >> Ingleton Waterfalls Trail >> Malham >> Leeds >> Edinburgh
Distance: 435 miles (700 km)
Length of Trip: 1 week
Highlights
Start in Edinburgh and hike up to Arthur's Seat for a view of the city before exploring important cultural and historical landmarks like Edinburgh Castle, The Royal Mile, and The Scotch Whiskey Experience.
Then make your way to the Yorkshire Dales, where you can hike along trails featuring waterfalls, limestone cliffs, ancient forests, and endless green hills over the course of several days.

Malham Cove, Gordale Scar, and Ingleton Waterfalls Trail are a few favourites.

Stay in Leeds for an evening to visit Kirkstall Abbey and enjoy some nightlife at bars and restaurants in the charming village of Chapel Allerton before bedding down for the evening in Leeds.
Where to Stay
Motel One Edinburgh-Royal, Edinburgh
Green Grove Country House, Malham
Leeds Marriott Hotel, Leeds
Practical Tips for Planning Your UK Road Trip
Best Time to do a British Road Trip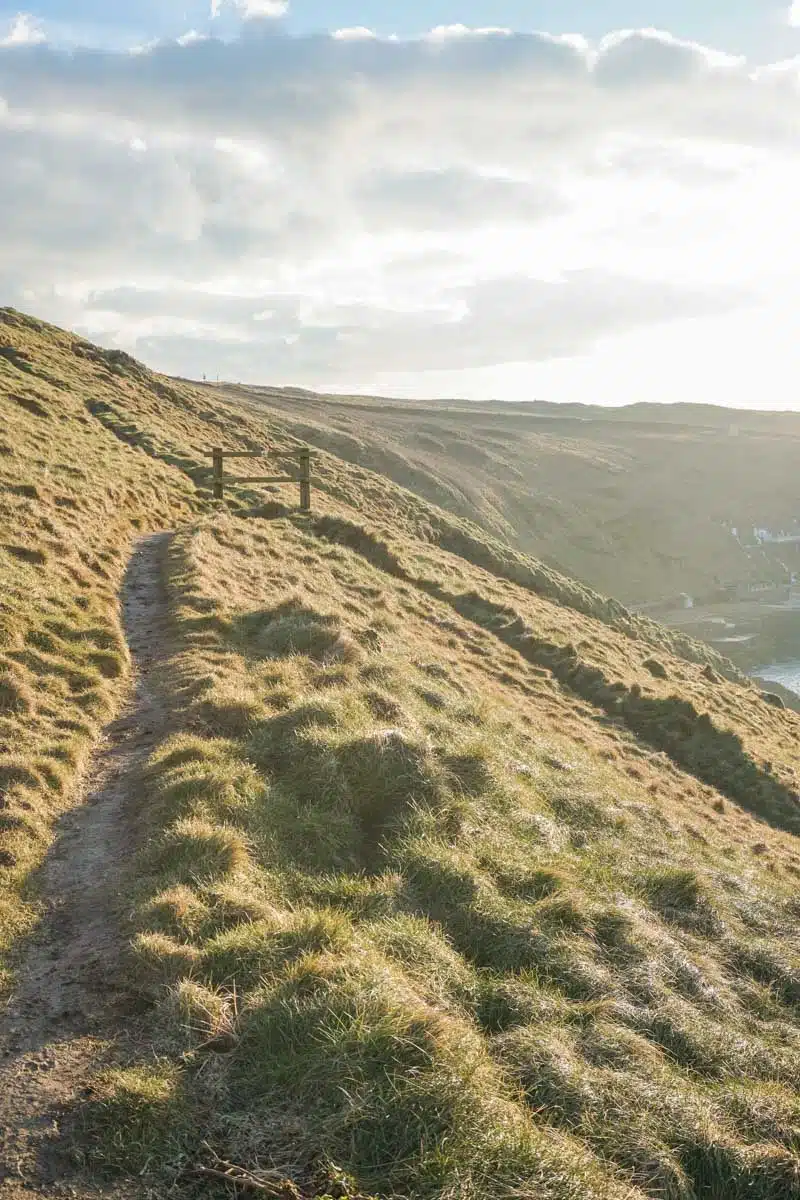 Weather can be unpredictable in the UK (rain, again?), and dreary stretches often follow some surprisingly warm days in the spring or autumn. That said, summer is a pretty safe bet for road trips in the UK, with temperatures often around 25℃, give or take.

Want the most sure-fire bet for a perfect UK road trip? My favourite months are September and October when the leaves change to brilliant shades of amber and gold. Add warm days and cool nights, and you have the perfect UK road trip weather all around.
Where to Rent a Car
I recommend round-trip road trips in the UK (if you can) so you can save money by choosing the same starting and ending point.
You can find plenty of great options for hiring a car in the UK on Rentalcars.com, but here are a few of the most popular agencies:
Ensure Full Coverage on Any Rental Car
At a minimum, you'll need to have Third Party Cover on your vehicle. I suggest adding full coverage on any rental car when visiting the UK.

Contact your credit card company if you have coverage, and if not, you can always add it to your vehicle at the pick-up.
Parking Apps
You can save time and money on parking tickets if you download a parking app for your UK road trips.
I recommend JustPark or RingGo, as they're two of the most commonly used around Great Britain.
Laws and Guidelines for Driving in the UK
One thing to remember when driving in the UK is that speed limits and distance are in imperial units. If you're visiting from anywhere else in the EU, you'll want to keep this in mind when tracking how fast you're driving or how far it'll be until your next point of interest.

Another difference you'll notice right away is that all cars must drive on the left side of the road. Adjusting to the opposite side might seem stressful, but most drivers adapt to it rather quickly.
UK Road Trip Destinations: Map
Love This? Save and Share on Pinterest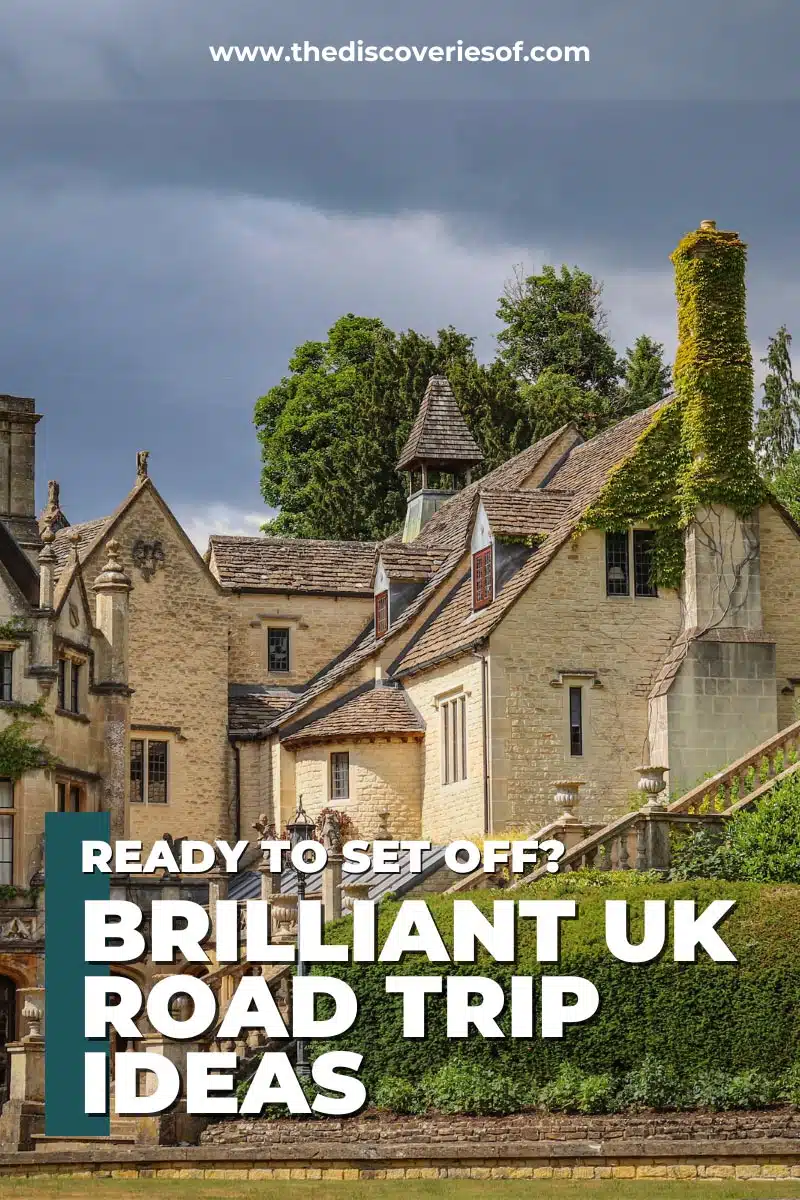 Need More UK Road Trip Inspiration?