Explore with this Tuscany itinerary. Spend seven days in Tuscany and discover the best of the region, from Florence to Chianti and beyond.
It's no secret that Tuscany has more than its fair share of charms.
Whether the name summons visions of E.M Forster novels, golden-hued Bernardo Bertolucci films or just visions of vineyards and hilltop towns studded with enchantingly higgledy-piggledy towers, there's no doubt about it, Tuscany is a special place.
There's little question of why you want to plan a trip to Tuscany, but the pressing question is how. That's where I come in.
This Tuscany itinerary will take you through some handy planning tips to the region's best-known spots (with a few hidden surprises thrown in for good measure). Oh, and we'll be romping through medieval cities, iconic landmarks and hella good restaurants along the way.
Let's go!
Handy Tips for Planning Your Tuscany Itinerary for 7 Days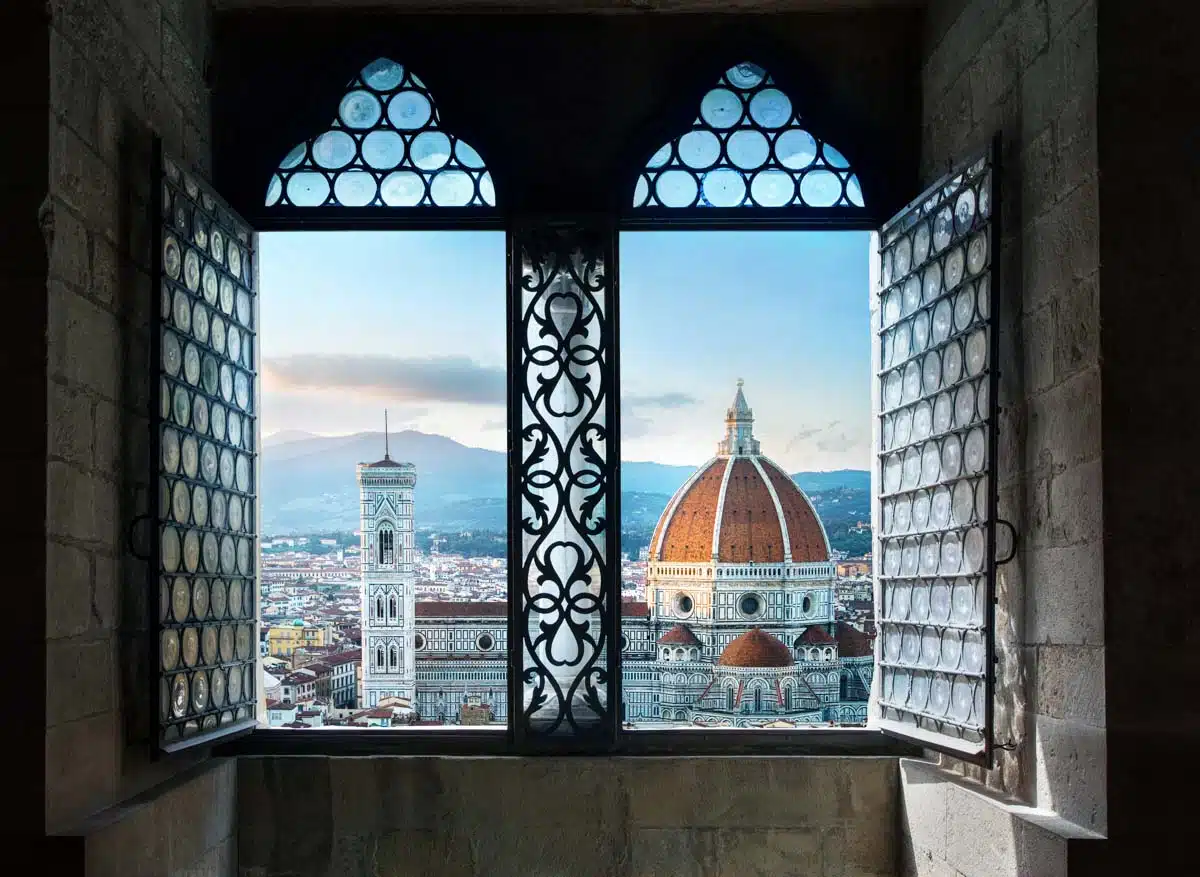 Group Tour or Independent Travel?
The million-dollar question. If you're travelling with a group, or even as a couple, I'd suggest seeing the area independently – the locations are relatively close together and, with a little bit of organisation, you can easily plan a stellar trip.
If you're flying solo, you could consider a group tour – they're great for meeting new people and getting under the skin of the region.
Top choices include G Adventures' Tuscany to Cinque Terre Tour which spends seven days sojourning across Tuscany and dipping into the Cinque Terre and this Authentic 7-Day Tuscany Tour that's limited to groups of 8 people.
What to Pack for A Week in Tuscany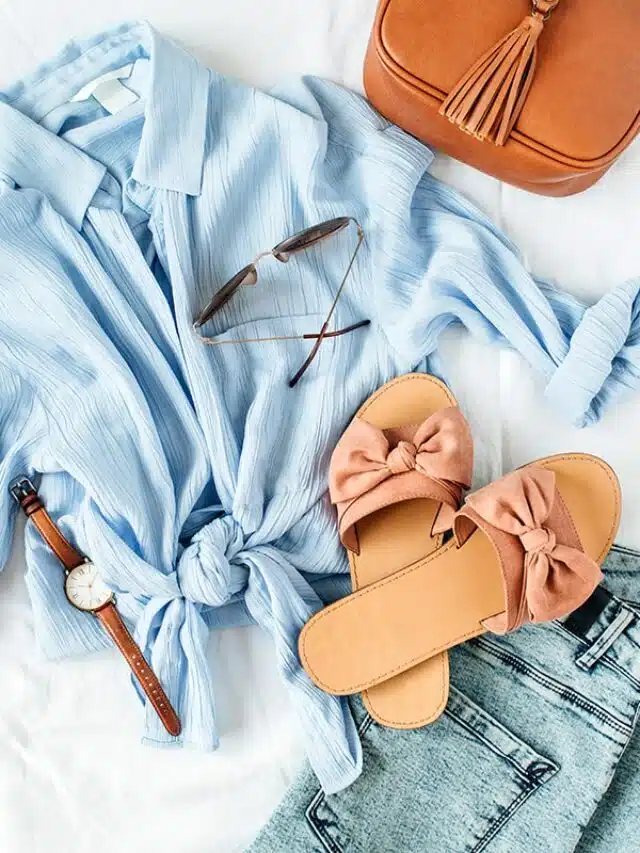 Tuscany's Mediterranean climate means it gets hot during the summer months, so your packing list includes a hat, sunscreen, sunglasses, and a water bottle.
But what to wear? Lighter materials and those that wick moisture are the best options for clothing. Rompers, sundresses, shorts, and t-shirts will be your primary items. I also always add a light jacket for cooler nights.
Top Tip: Read more in my Italy packing list guide.
Useful Resources
Here are some resources you can use to make planning your trip to Tuscany easier.
Getting Around
Renting a car is the most convenient way to maximise flexibility and travel between different areas.
You can also get around Tuscany quickly by train or bus if you're not comfortable driving.
The train is your best bet for the larger towns and cities, but within the wine regions, the top option is the bus, though you will need to check local timetables in advance.
I've provided details for car and public transport in each part of the itinerary.
Top Tip: Going to travel exclusively by train? Buy a 6 or 8-Day Italy Eurail Pass
Where to Stay
I've included accommodation options for each destination mentioned in the itinerary, but you could easily base yourself in one place (like Florence) for the duration of the seven days and take day trips out to each of the places mentioned to save you from having to move around so much.
Read Next: The Step-by-Step Tuscany Travel Guide
7 Days in Tuscany Itinerary
Tuscany Itinerary Day 1: Florence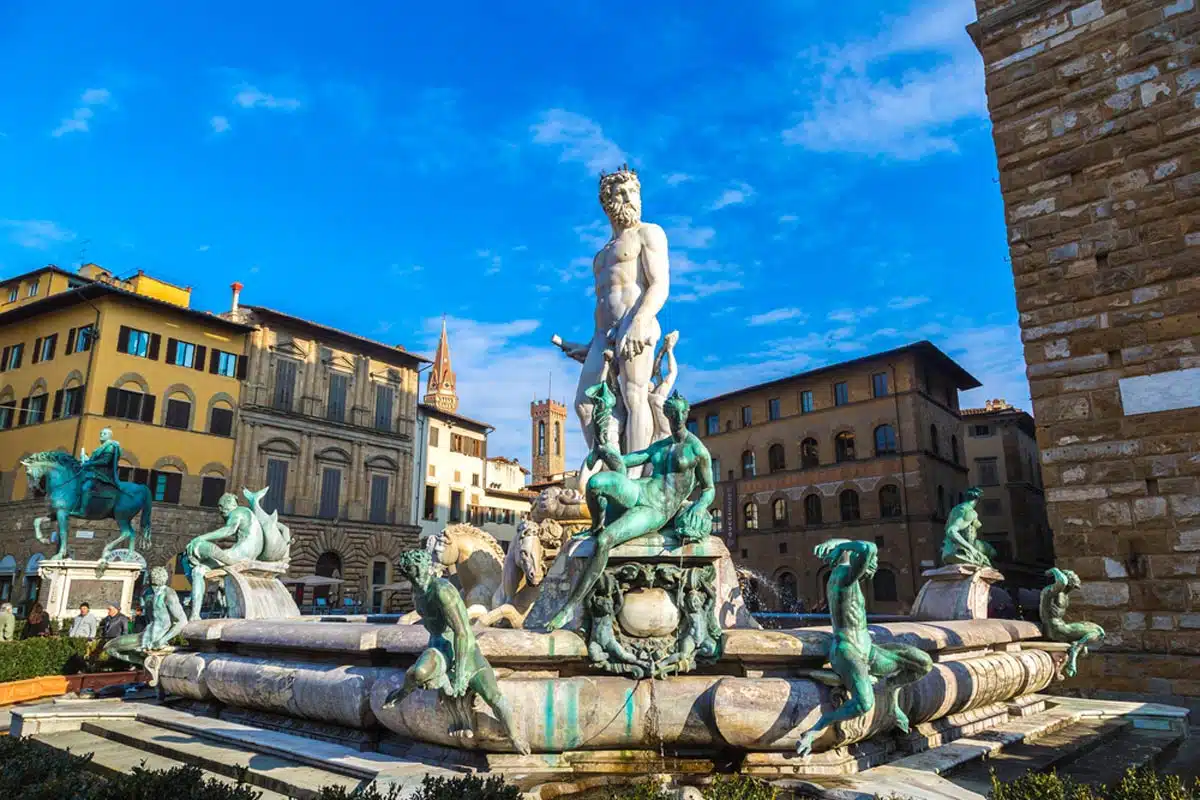 Florence is the jewel of Tuscany. With its cobbled streets, terracotta rooftops and skyline pierced by the awe-inspiring Duomo, it's a city that unashamedly has a foot firmly stuck in the past.
That's not all though. You can't say the word Florence without mentioning its world-class museums and galleries at which the Uffizi Gallery stands at the pinnacle (more on that below).
Add in quiet piazzas, artisan workshops and the pure joy of a glass of Chianti Classico as the sun dips and bathes the city in its golden glow and it's the perfect start to your 7 days in Tuscany.
See Florence Cathedral (Duomo Di Firenze)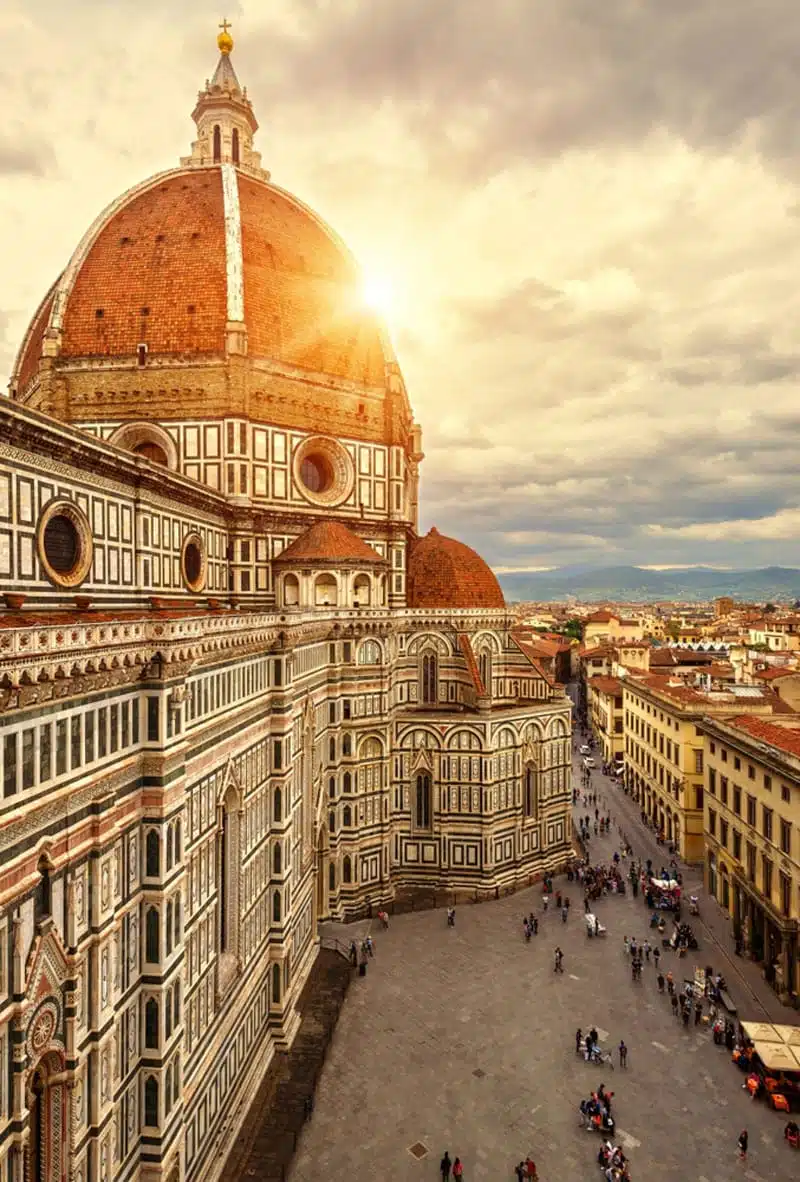 Start with the city's historic centre, where you'll find the iconic Florence Cathedral (Duomo di Firenze), one of the largest cathedrals in the world. This architectural marvel is the spiritual heart of the city – a testament to creativity and accomplishment. 
Don't make the mistake of thinking it's just a pretty face though: the dome, which was designed by Filippo Bruneslleschi, was completed in 1436 – is the largest brick dome ever constructed.
If that's not impressive enough, you can climb the 400+ steps to see the intricate frescoes up-close-and-personal, and finish off with a panoramic view of the city from the top.
Top Tip: You absolutely must book your tickets in advance if you want to guarantee getting to see this beautiful landmark. 
Browse Through Uffizi Gallery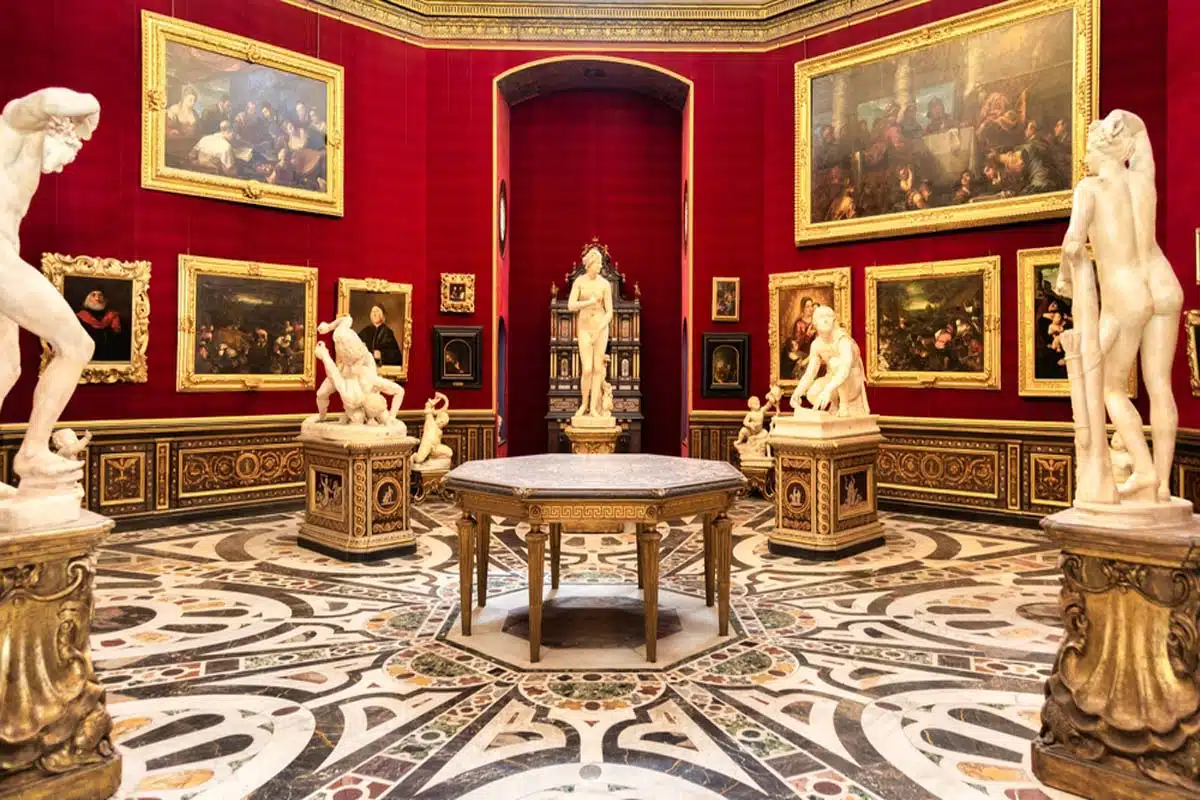 If you ever needed proof that Florence was the epicentre of the Renaissance, look no further than the Uffizi Gallery.
Commissioned in 1560 by Cosimo I de' Medici, it was originally used as a set of magistrate's offices, but was transformed into the spectacular art gallery you see today as early as 1584.
I'm not going to lie, Renaissance art isn't always at the top of my list, but whether you're a die-hard art lover or just a casual browser, you really can't miss the opportunity to see pieces like Boticelli's The Birth of Venus IRL.
Other artistic luminaries to look out for include Leonardo da Vinci, Michelangelo, Titian and Carvaggio. Expect to be blown away.
Top Tip: While you can book skip the line tickets for the Uffuzi, I'd recommend taking a guided tour to help you get the most out of your visit. 
Stroll Over the Ponte Vecchio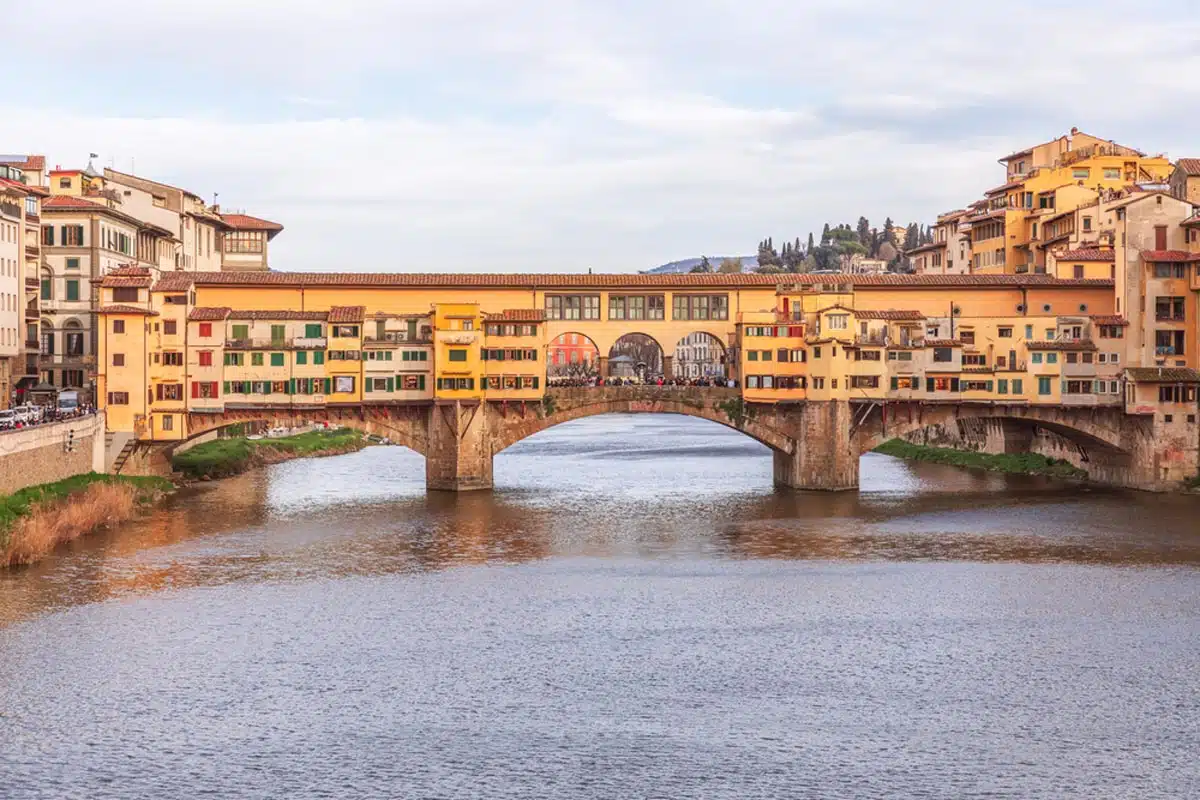 Spanning the waters of the Arno River, the Ponte Vecchio (Old Bridge) is more than just any old bridge – it's a portal back in time through the history, commerce and architecture of the city, and a must for your Florence itinerary.
The bridge dates back to the 14th century and is most famous for the shops that line its walkways. In days gone by, a number of trades plied their wares on the bridge, but ever since the end of the 16th century, it's been restricted to goldsmiths and jewellers.
Take a close look at the bridge and you'll see the Vasari Corridor – a passageway that connected the Palazzo Vecchio to the Palazzo Pitti so the Medici family could get across the river without having to set foot on the streets below. Nifty.
Top Tip: While the bridge looks beautiful at any time of day, it is really at its best during sunset, when the stone takes on the kaleidoscopic hues of the setting sun.
Dine at a Local Trattoria or Feast on a Bistecca alla Fiorentina
Umm, there's no way that I'm going to take you to Tuscany and not introduce you to some stellar food. Be sure to grab a tasty dinner afterwards at a local trattoria (a tiny Italian restaurant). These are typically family-run and have a cosy, homelike feel to them.
I recommend Buca Mario – a historic trattoria where the pappardelle with wild boar reigns supreme – it's spectacular.
Alternatively, dig into a Bistecca alla Fiorentina – a thick-cut beef steak that's cooked rare and served with butter and herbs, family-style. Top spots to tuck into it include Buca dell'Orafo, Buca Mario (again) and Osteria dell'oca.
Getting to Florence
The most efficient and easiest way to get to Florence city is to fly — Florence Airport (FLR) is the closest, but Pisa Airport (PSA) has more flights and is only about an hour's drive.
Suggested Stay for Florence on Your Tuscany, Italy, Itinerary
NH Collection Palazzo Gaddi has gorgeous traditional Florentine baroque halls and Renaissance architecture that make you feel like you're in a Tuscan castle.
Check rates and availability at NH Collection Palazzo Gaddi
Alternatively, check all accommodation in Florence
Tuscany Itinerary Day 2: Chianti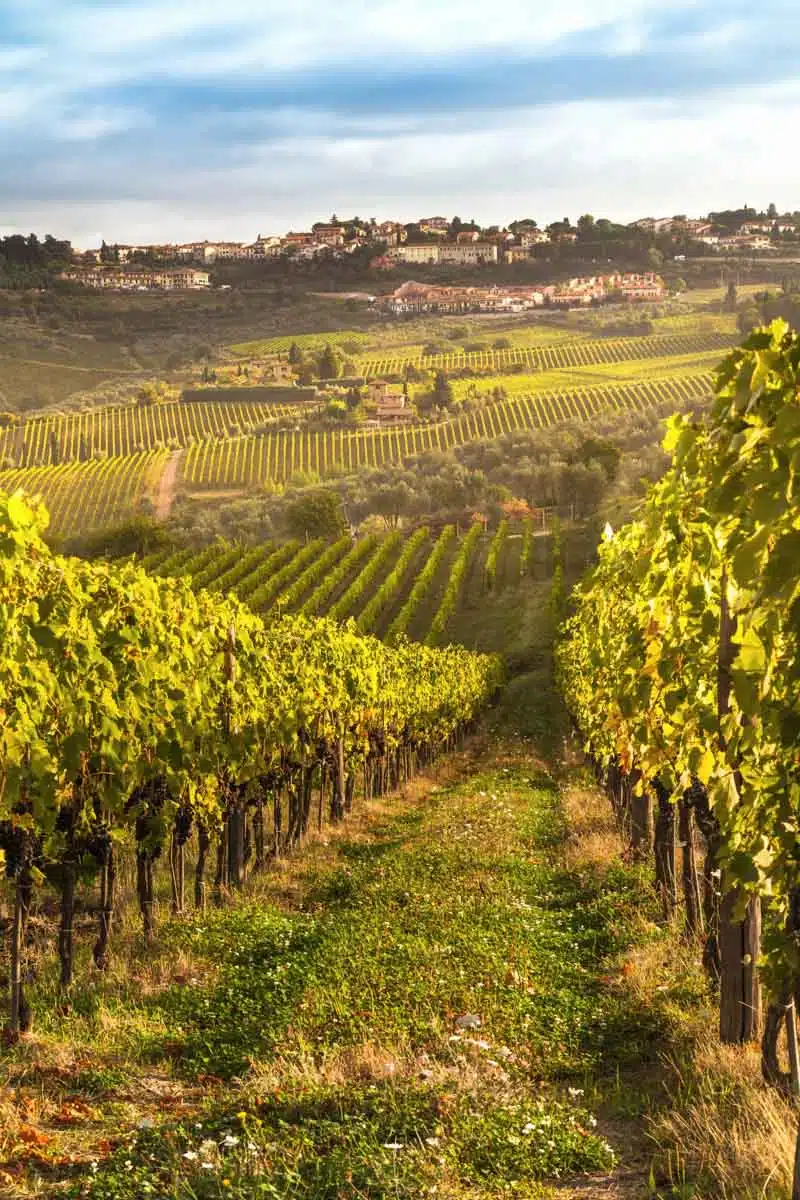 Tucked away between Florence and Siena, it's time to take a trip from Florence to the Chianti region.
Wine-tasting is top of the list of course, but with ample landscapes, ancient villages and cypress-lined avenues, there's plenty more to explore.
Stop for Some Wine Tasting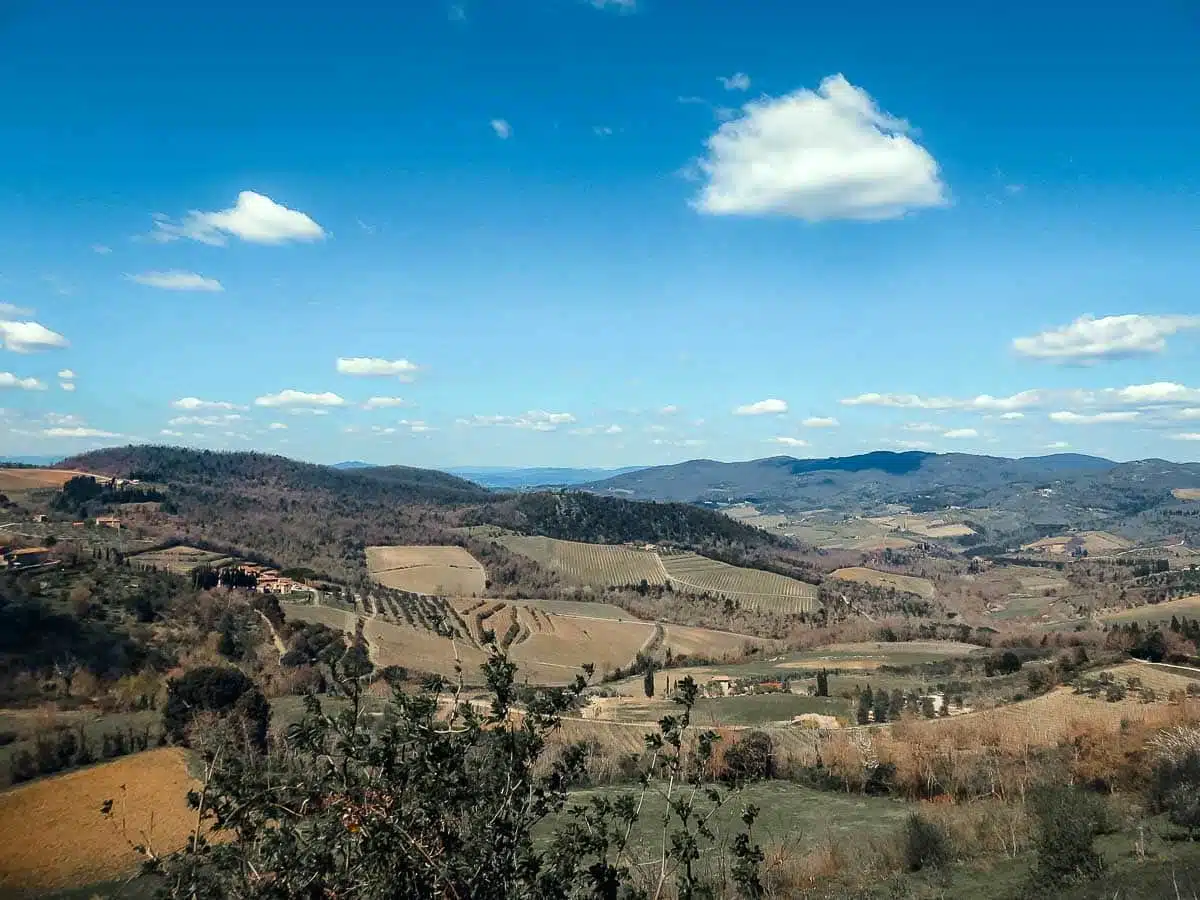 The classic patchworks of vineyards across Chianti are more than just pretty landscapes, they're a wine-lover's dream. Sure, you could spend the day just pottering between vineyards during your explorations, but if you want to head to the best spots, these are my suggestions:
Castello di Ama in Gaole – is renowned for its superb Chianti classico wines. Add to this an ever-changing range of installations from world-famous artists, and you have a complete multi sensory delight.
Fontodi in Panzano – is another must. Nestled in the "Conca d'Oro" (Golden Shell) of Panzano, they've spearheaded the organic wine movement since the late nineties. Opt for a glass of the Flaccianello della Pava, a heady Sangiovese that is punch and very, very drinkable.
Antinori nel Chianti Classico in Bargino – looks at things from a different angle, showcasing its traditional wines from its ultra-modern winery with stunning views of the surrounding vineyards.
Top Tip: Ensure you choose a designated driver for the day, or book a private tour to explore the region's wineries at your leisure.
Treat Yourself to a Michelin-Starred Meal in the Grounds of a Vineyard
Wanna go all out? Book yourself a table at Osteria di Passignano, a Michelin-starred restaurant situated in the historic Badia a Passignano vineyard.
This elegant restaurant would win awards for looks alone, but luckily, it serves up a *stellar* selection of traditional Tuscan meals with a contemporary touch.
NB: The wine selection is predictably vast. Tread carefully.
Hop Between Chianti's Medieval Towns & Villages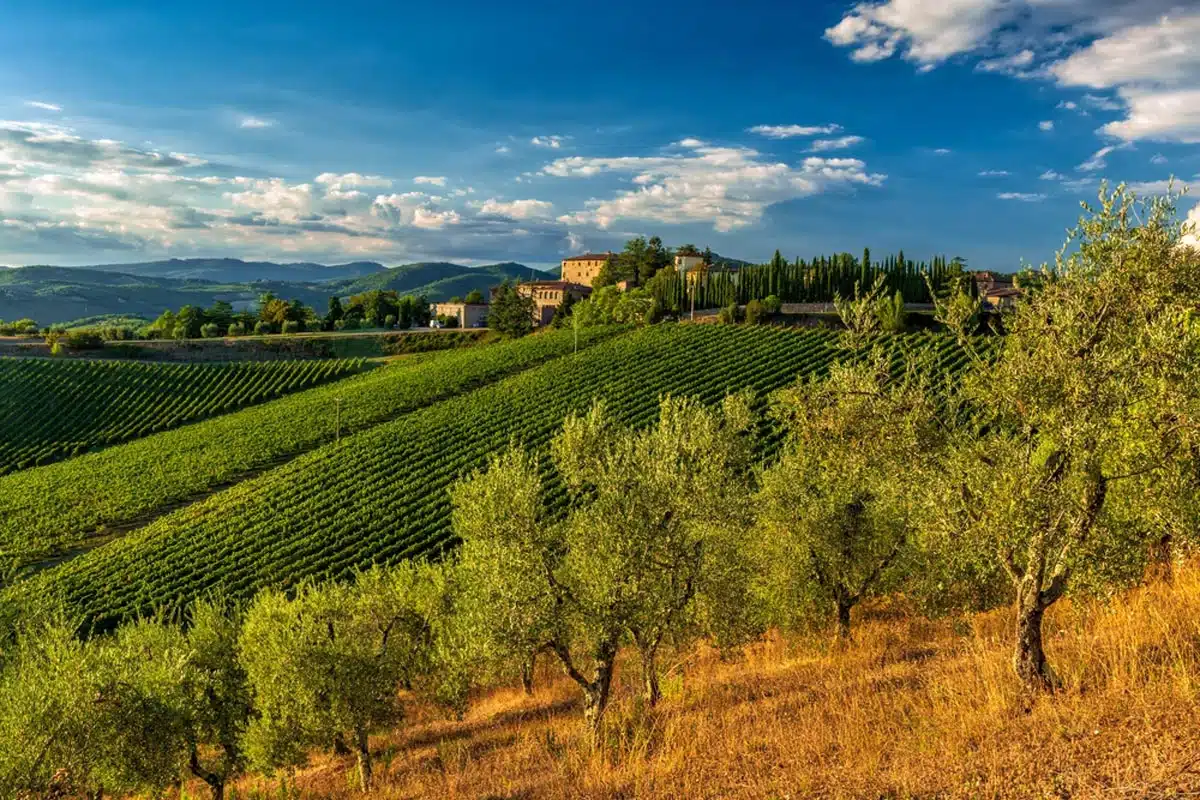 Like I said, Chianti isn't all about wine, it's also packed with picturesque towns and villages.
Greve is a case in point: stroll the delightful streets, discover Montefioralle Castle and its wine museum and check out Piazza Matteotti.
Medieval hamlets like Radda and Castellina beckon. In Radda, make time to see the shields of those who served as Podestà in the government building before exploring the Ice House of the Grand Duke to cool off.
Getting to Chianti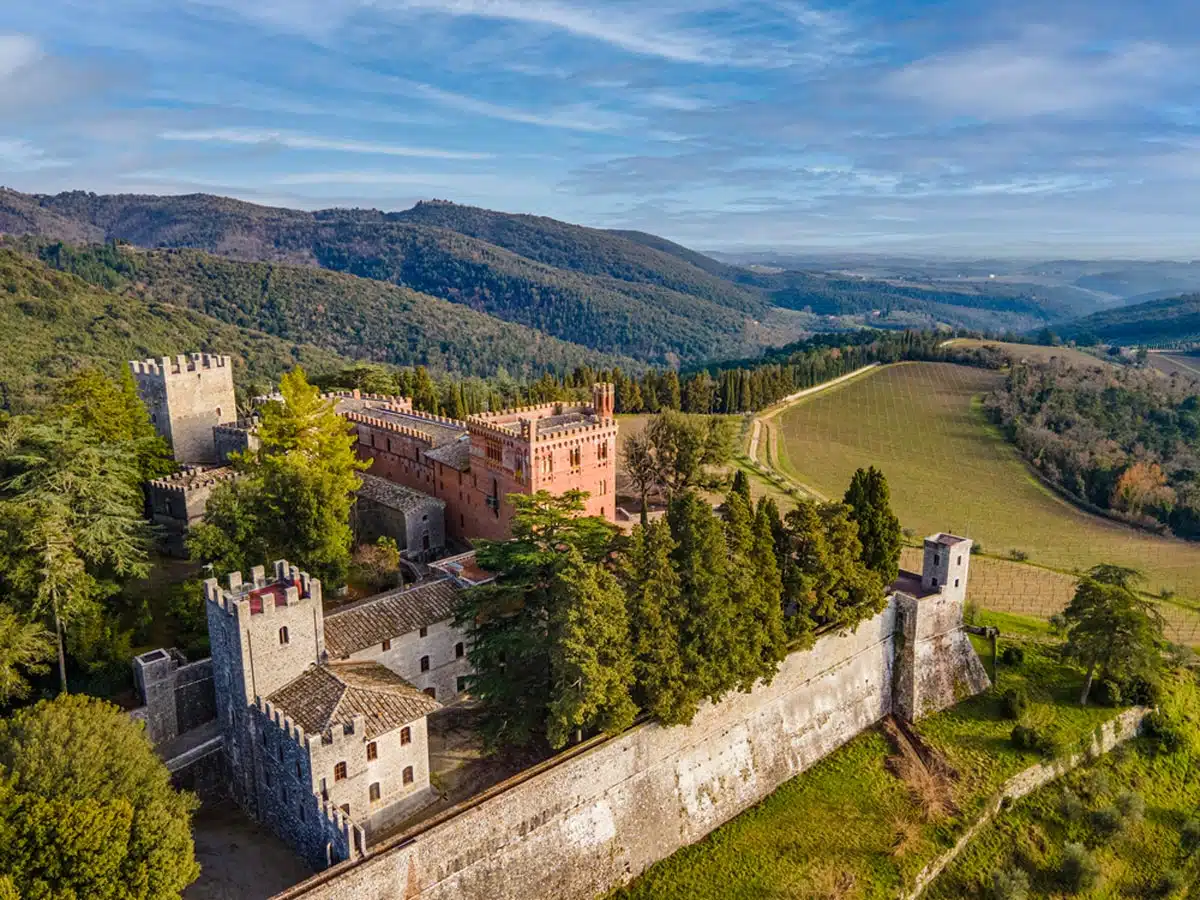 It's about a 35-minute drive from Florence to Greve, otherwise, a train should get you from Florence to Chianti in about an hour and a half to two hours, depending on your destination.
Suggested Stay in Chianti
COMO Castello del Nero is a chic escape in a 740-acre historic estate. Book a room with views of the surrounding Chianti region.
Check rates and availability at COMO Castello del Nero
Alternatively, check all accommodation in the Chianti region
Tuscany Itinerary Day 3: San Gimignano and Siena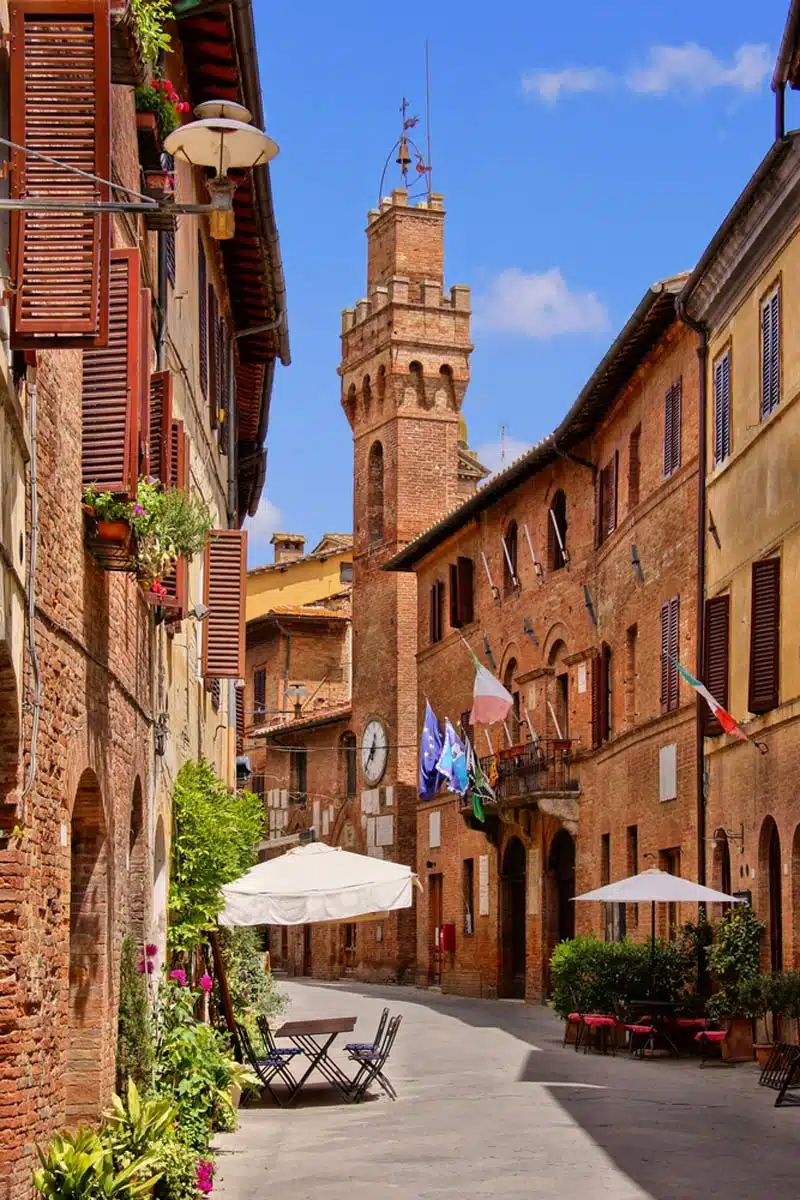 Well peeps, we're already on day three of our Tuscany itinerary and we are whizzing off to two of the region's better-known spots, Siena and San Gimignano.
They're the perfect foil for each other – where Siena is grandiose in the extreme, San Gimignano is all about the quieter charms. You are going to love both!
Spend the Morning Wandering the Streets of San Gimignano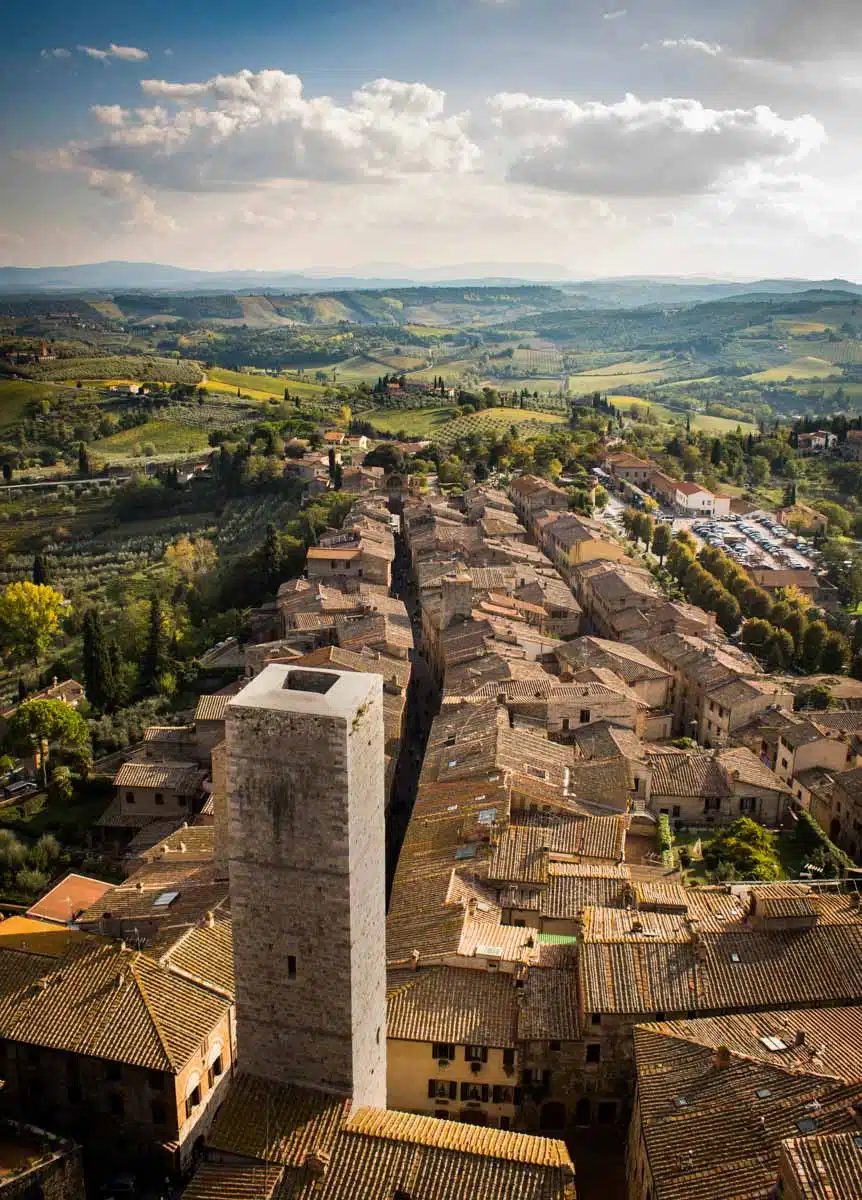 Ever fancied exploring the medieval Manhattan of Tuscany? Now's your chance.
The unmistakable skyline of San Gimignano's poking towers tells its own story – one of rival families and historic prosperity. Intrigued? You should be.
The towers are the legacy of the town's rich families, who vied with each other to build the most magnificent constructions as a display of their wealth and power (people never change).
In the town's heyday there were more than 70 towers – but you can still see 14 of them today. Climb the tallest – the Torre Grossa – for unforgettable views of the town and surrounding countryside.
Churches and Gelato in San Gimignano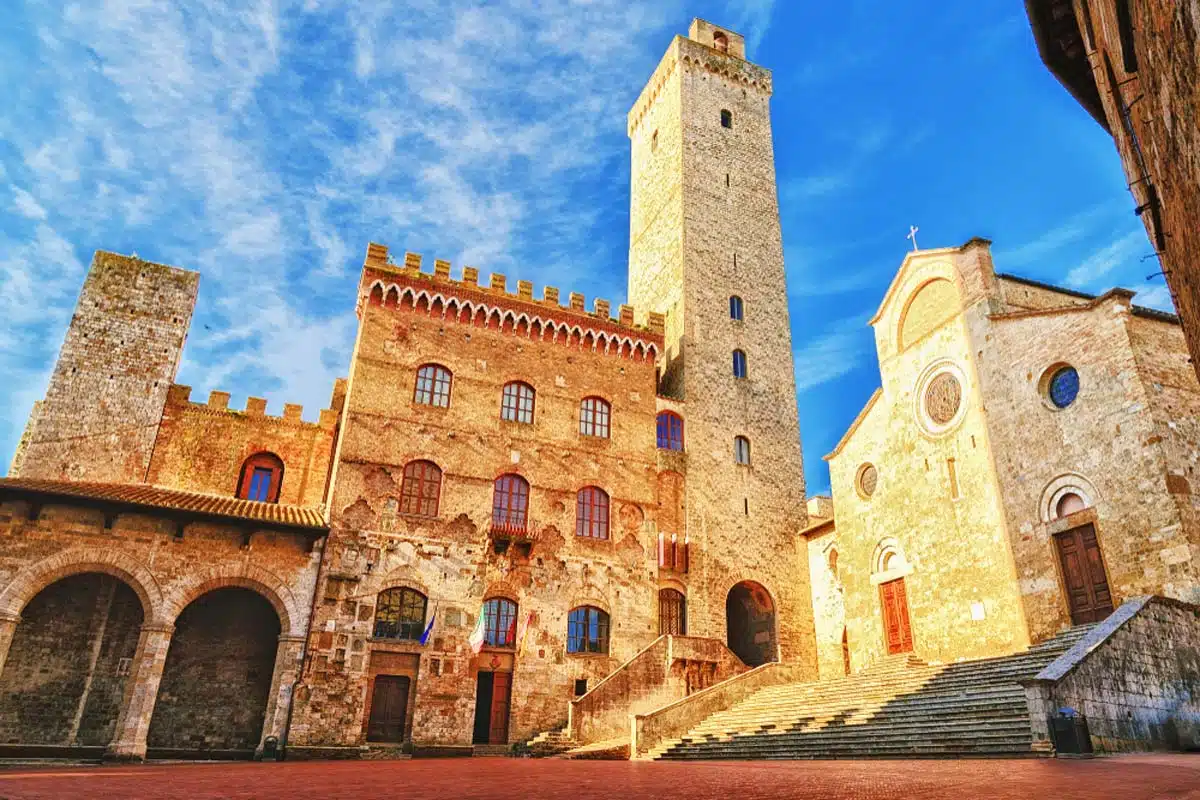 Aside from the towers, be sure to pop by the Romanesque Collegiate Church of Santa Maria Assunta, whose striking frescoes depict a number of biblical stories.
Afterwards, it's only right that you stop off for a refreshing gelato at the world-famous Gelateria Dondoli.
Grab Lunch at Osteria Le Logge in Siena
Osteria Le Logge is a former pharmacy turned restaurant that dishes up a contemporary take on trad Tuscan eats.
Inside, the vaulted ceilings make you feel like you've stepped back in time – where better to feast on your afternoon meal?
Visit the Historic Centre of Siena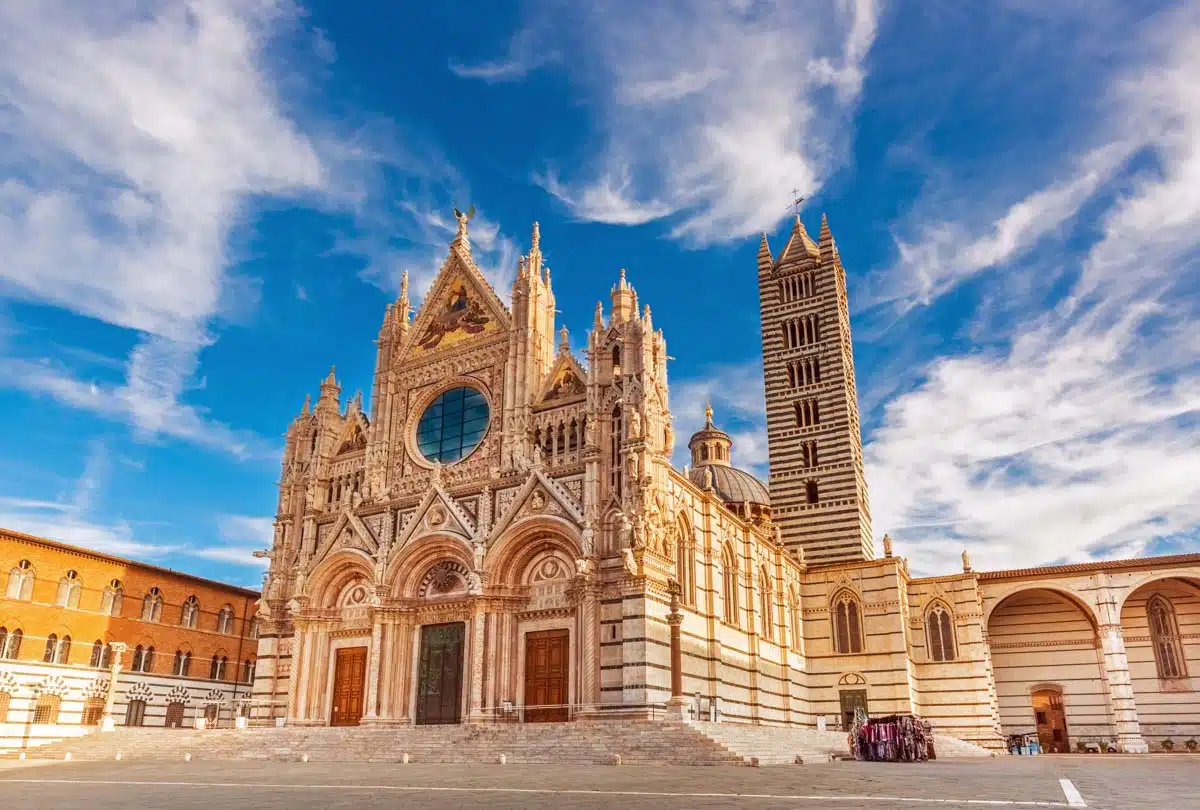 Yeah, yeah, Florence gets all the hype, but the maze of Siena's narrow winding streets is a medieval marvel that oozes character and charm. In other words, I dare you not to fall head over heels for it.
The city's UNESCO World Heritage historic centre is ripe for exploration. It's where you'll find Siena Cathedral, one of Italy's most illustrious Gothic cathedrals filled with intricate sculptures and artistic treasures.
Stroll Around the Piazza del Campo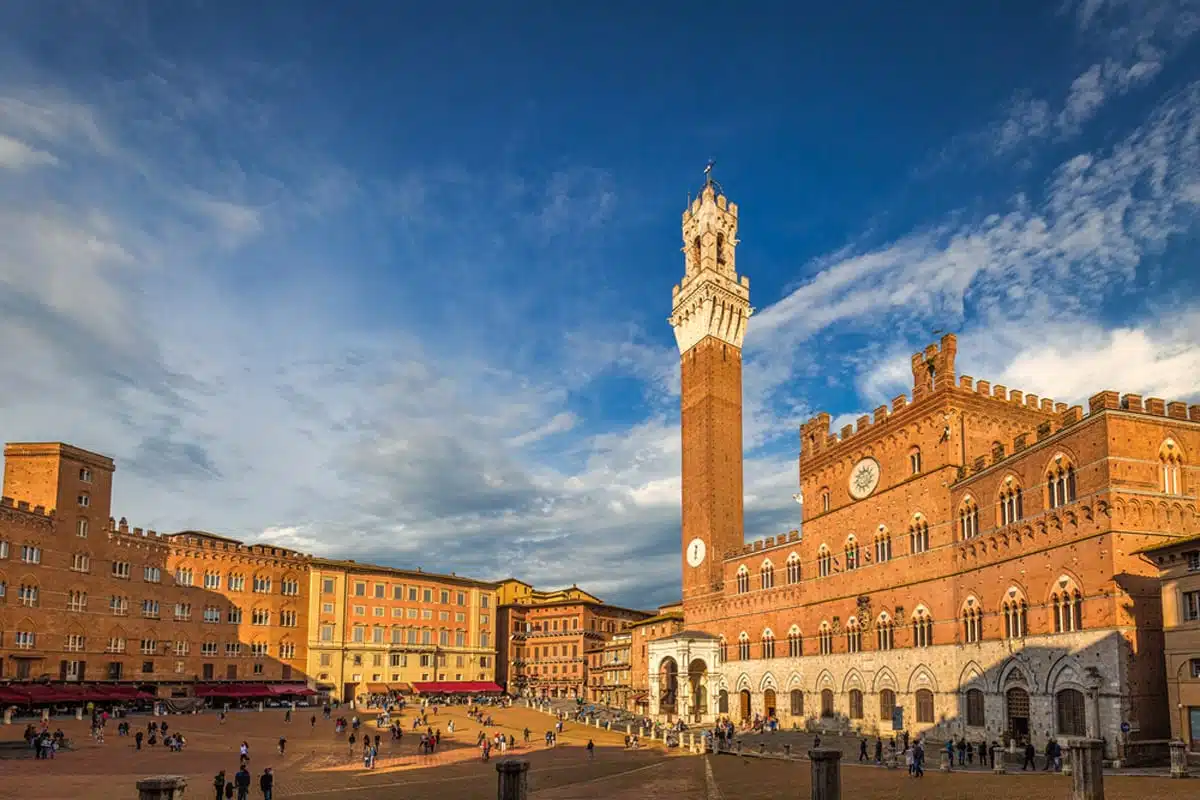 Sitting at the heart of Siena's historic centre, the Piazza del Campo deserves an entry of its own. Renowned for its unique shell shape, it's overlooked by the Palazzo Pubblico, a striking Gothic palace with the city's civic museum.
Time your visit right to see the frenzied Palio, a historic horse race that sets the city alight with energy. The Palio takes place on July 2nd and August 16th each year – rooms book up well in advance each year so reserve ahead.
Getting to Siena and San Gimignano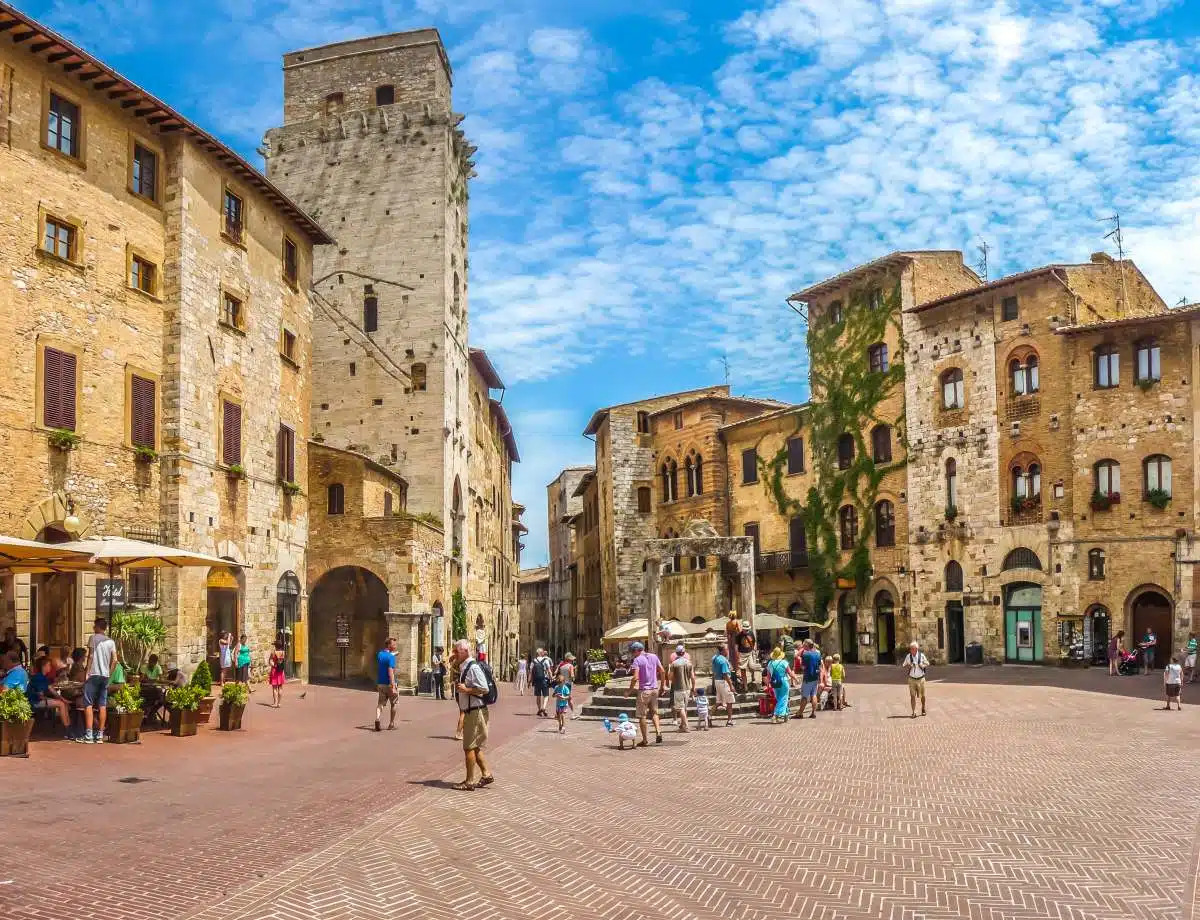 It's broadly an hour's drive from Chianti to San Gimignano, and another 50 minutes onwards to Siena.
On public transport, there are frequent buses from places within Chianti to San Gimignano and you can either take the bus or a train and bus combo to get between San Gimignano and Siena, both take between 1 hour to 1 hour 20 mins.
Suggested Stay in San Gimignano on your Tuscany Vacation Itinerary
Villa Elda is a pretty and reasonably-priced boutique hotel in Tuscany just a 10-minute stroll from the Piazza del Campo.
Check rates and availability at Villa Elda
Alternatively, check all accommodation in Siena
Tuscany Itinerary Day 4: Val d'Orcia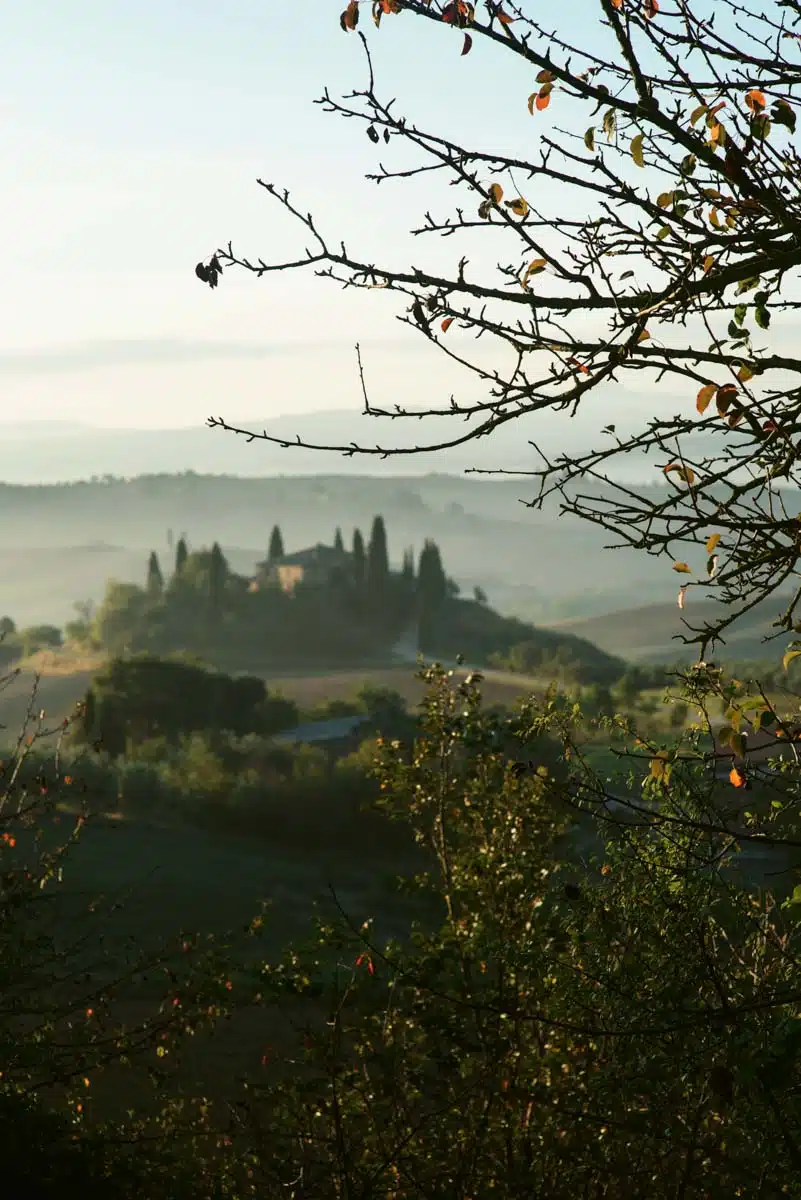 Conjure up a picture of Tuscany in your mind. Does it involve undulating hills, cypress-lined roads and vineyards glowing in the last light of the sun? That's the Val D'Orcia.
This wine region in Tuscany feels closer to stepping into a painting than real life – no surprise then that it's inspired generation after generation of artists trying to capture the essence of its beauty.
Get stuck into the region's many small towns and villages and delicious wine and cheese. It's the definition of la dolce vita.
Take a Hike on One of the Region's Many Trails
We've seen a lot of cities and towns on this Tuscany itinerary, so let's try something a little different and venture out onto one of the Val D'Orcia's many hiking trails. Here are some of the standout routes for you to tackle:
Via Francigena – Although it once formed part of a pilgrimage route from Canterbury to Rome, the Tuscan section of the Via Francigena is a lovely multi-day hike. I know you're short on time here, so focus on the section between San Quirico d'Orcia to Castiglione D'Orcia – it's one of the prettiest.
Montalcino Ring – A 6 mile (10km) hike from Montalcino to the famous vineyards perched on the hill of Montosoli and back via a stretch of the Via Francigena. There's a steep stretch at the end from Canalicchio back to Montalcino.
Bagni San Filippo – You've no doubt seen the pictures – the magical looking thermal baths of the Bagni San Filippo are one of the region's treasures. Take the short Santiero Fosso Bianco hike from the town to the baths.
Explore Montepulciano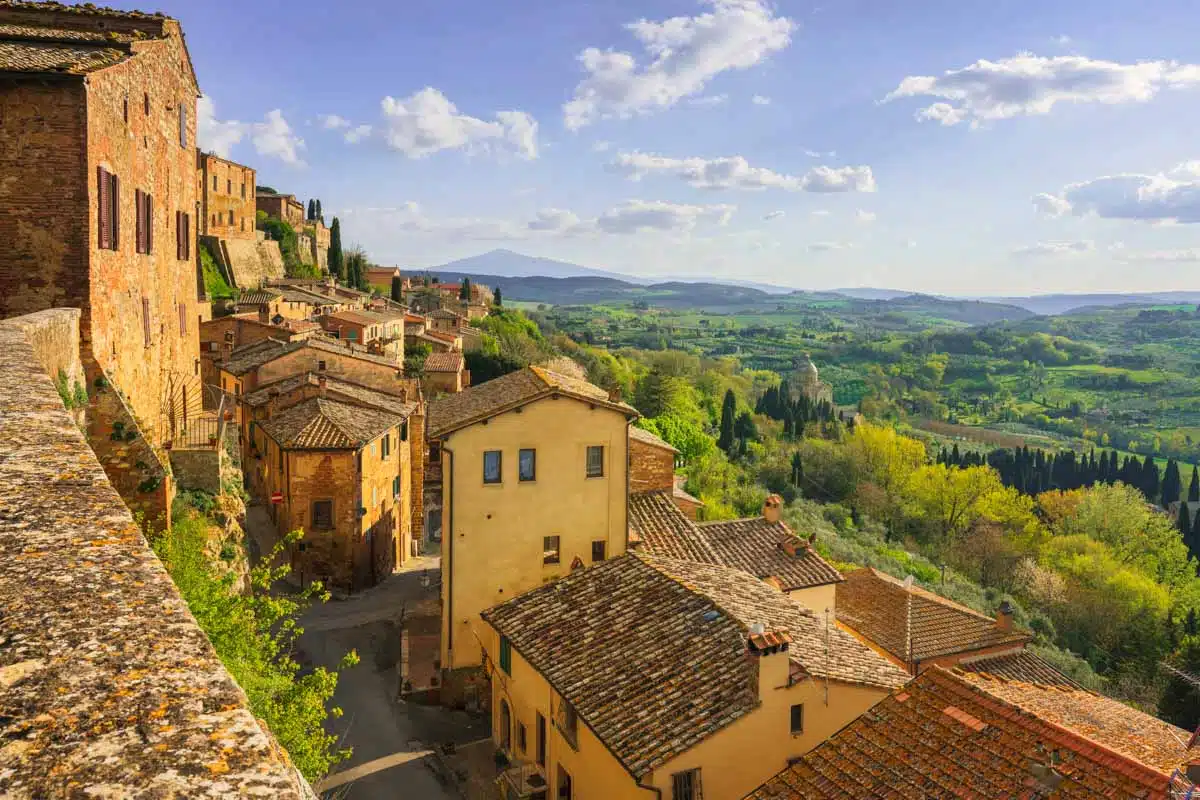 Perched high on a limestone ridge, Montepulciano is breathtaking (in more than one sense of the word if you try one of the many hikes in the surrounding area).
Renowned for its Vino Nobile wines, it's been a winemaking hub all the way back to the Etruscan times, a fact evidenced by a few of its historic wine cellars.
Eat and Drink Your Way Around Montalcino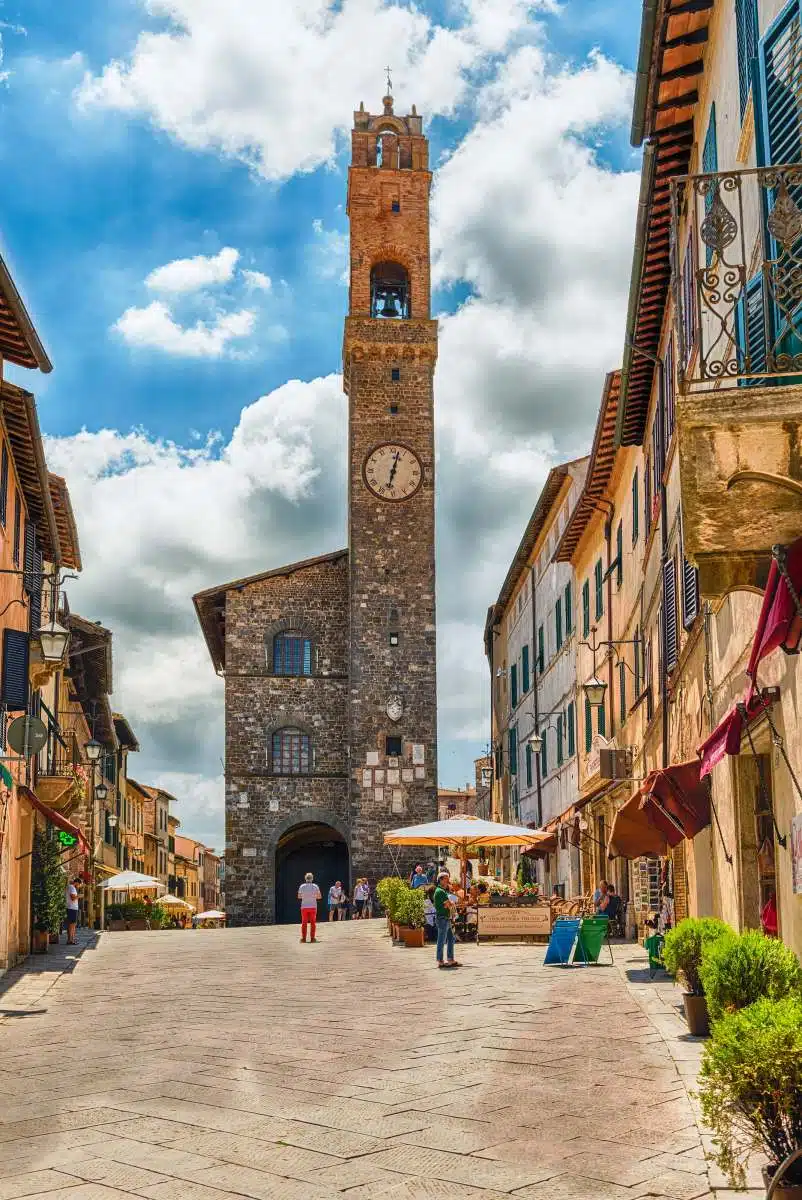 The birthplace of the much-lauded Brunello di Montalcino and some deliciously pungent Pecorino cheese, Montalcino will be a real highlight of your time in the Val D'Orcia.
Made from the Sangiovese grape, the area's unique microclimate is the perfect place to create a wine that's both elegant and punchy. Sip it with a traditional local dish like pappa al pomodoro (bread and tomato soup) and cinghiale (wild boar).
Looking over the town, the Fortress of Montalcino was once a defensive structure for mediaeval Tuscany. Today, it's a popular public park that draws in tourists and locals looking to admire the countryside from atop the hill.
Getting to Val d'Orcia
To get to Val D'Orcia from Siena it's about an hour's drive. Depending on your location within the valley, you can get a combination of either bus and train or buses if you're doing the journey via public transport.
Suggested Stay for Val d'Orcia on your One Week in Tuscany Itinerary
If you want some of the best views of the Tuscan countryside from a pool with hydromassage, look no further than Hotel Panoramic Montepulciano. This hotel is also eco-friendly and runs on renewable energy. Be sure to explore the thermal baths in the area, I can't recommend it more.
Check rates and availability at Hotel Panoramic Montepulciano
Alternatively, check all accommodation in Val d'Orcia
Tuscany Itinerary Day 5: Cortona and Arezzo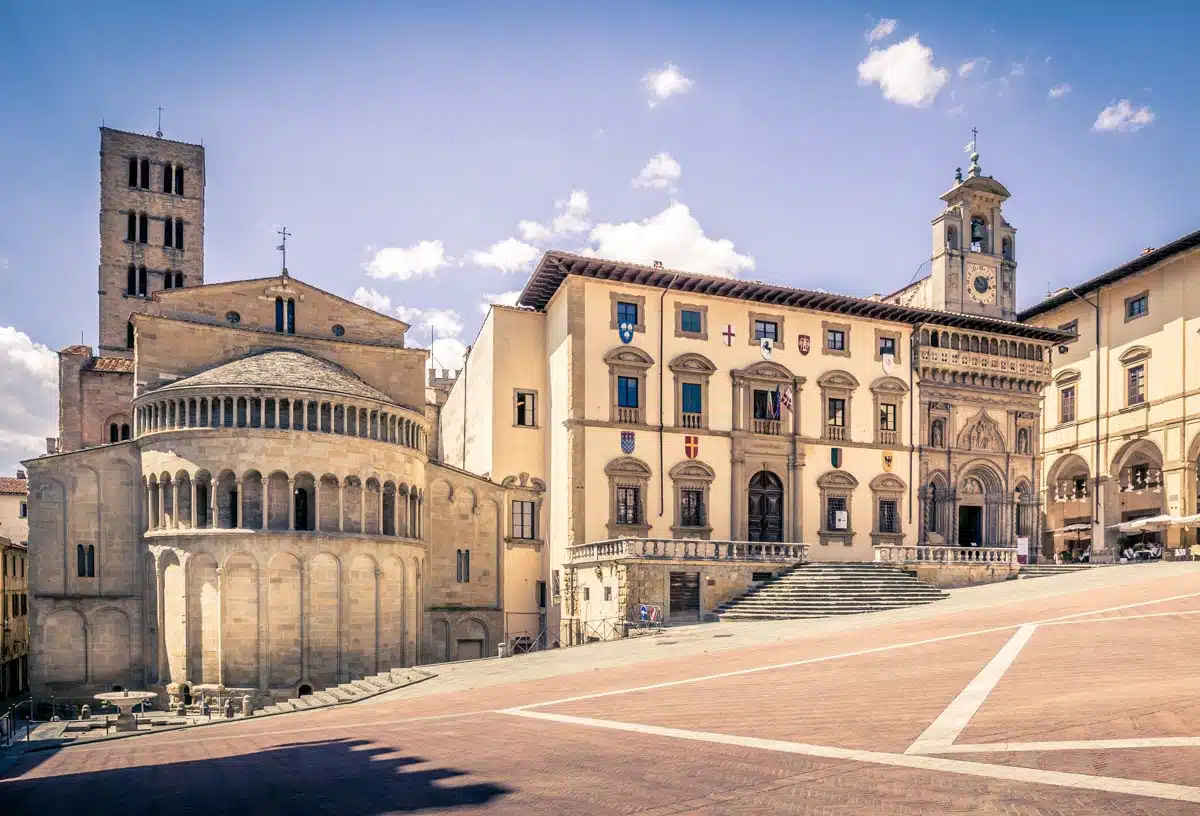 Don't think you could complete this Tuscany trip itinerary without seeing both Cortona and Arezzo.
Cortona is a hilltop gem in Eastern Tuscany with ancient Etruscan walls and age-old streets that make a worthy stop away from the crowds.
Start your day in Cortona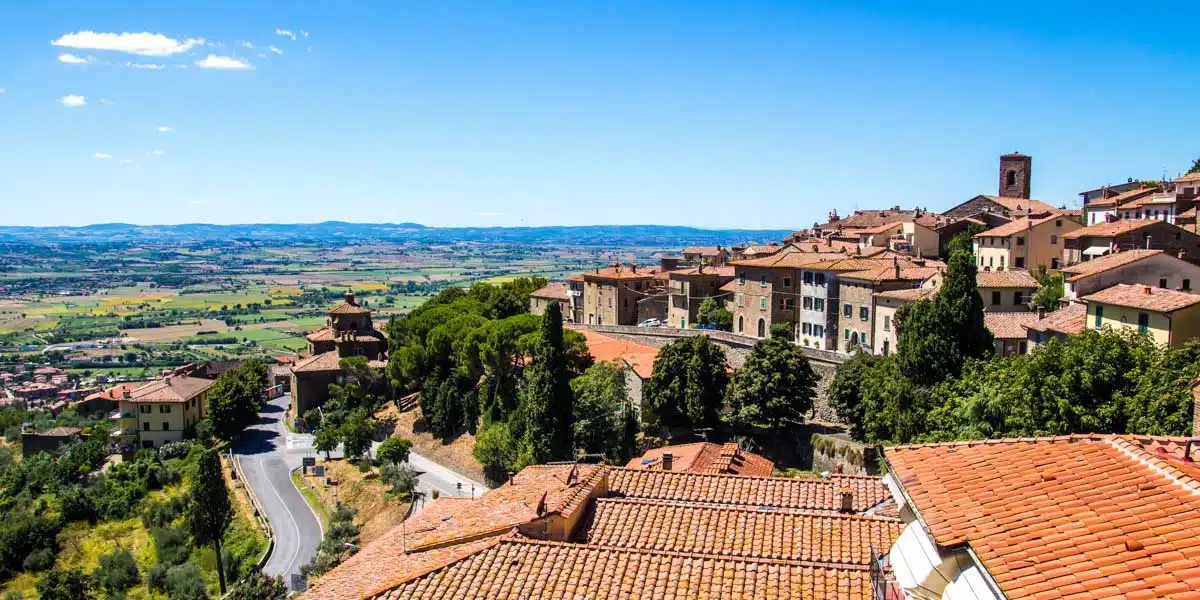 Cortona is a film buff's paradise, as this charming hilltop town was the backdrop for Under the Tuscan Sun. But there's more to see here than the landscapes.
I recommend visiting the Fortezza Medicea Cortona (Medical Fortress of Cortona) in Cortana. Here you can still see cannon holes in the walls and the old iron door used to defend citizens.
Flit Between the Town's Many Museums & Galleries
Of Cortona's several museums, MAEC (the Museo Dell'Accademia Etrusca) is the one that really stands out. Take a journey back in time via the story pieces of ancient artefacts that chart Etruscan, Roman and Egyptian times.
Beyond this, you can ogle the works of Renaissance painter Luca Signorelli and Fra Angelico at the Diocesan Museum – or head on a more contemporary bent via the town's many contemporary art galleries.
Move on to See the Wonders of Arezzo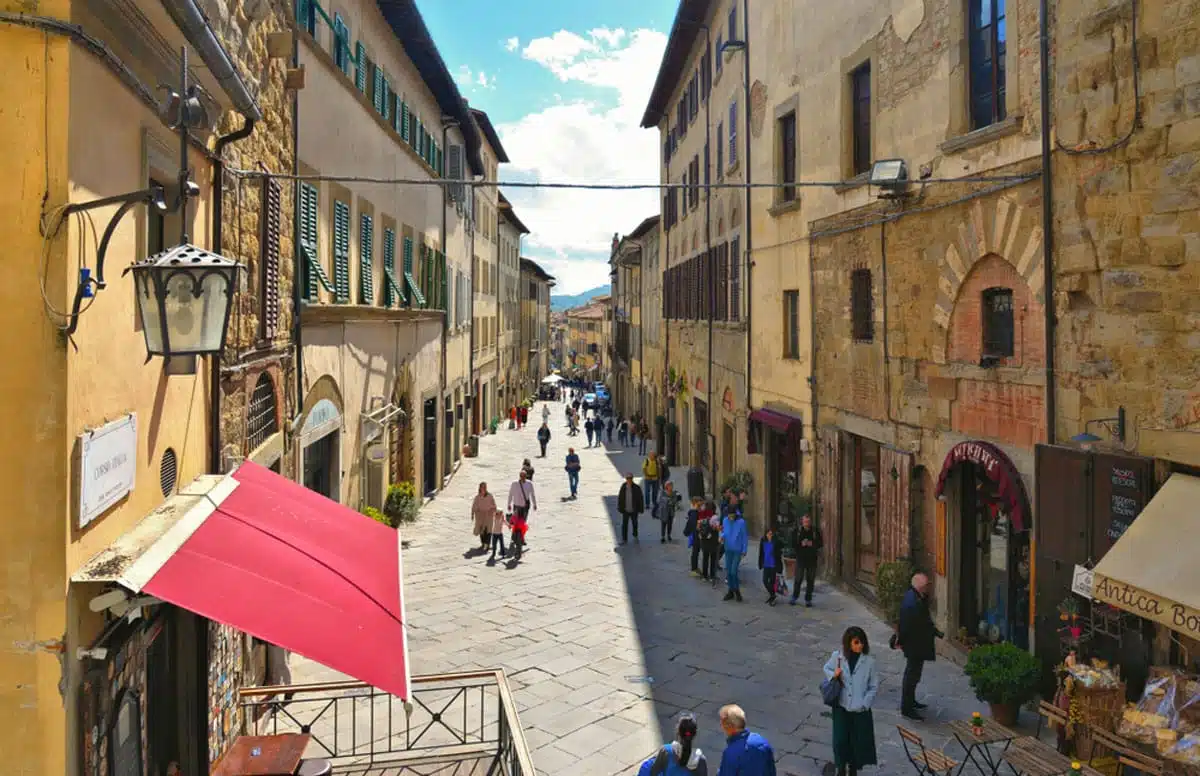 Arezzo City has a fitting nickname; "the city of gold and of high fashion". It's famous for producing artists and poets like Michelangelo, Guittone d'Arezzo, and Giorgio Vasari.
In Arezzo, the Basilica di San Francesco should be first on your list. You can see the gorgeous frescoes by Piero della Francesca that this church is famous for. Stroll through the historic city centre to discover lovely local cafés and shops.
Getting to Cortona and Arezzo
To get from Val d'Orcia to Cortona, I recommend taking the 4-hour bus from Montepulciano to Chiusi Scalo and jumping on a train to Cortona. Then either hop on a 20-minute train from Cortona to Arezzo or take the hour-long bus ride.
If you're driving, then getting from Val d'Orcia to Cortona should take ±an hour, while the drive from Cortona to Arezzo is 40 minutes.
Suggested Stay for Arezzo on your Tuscany, Italy Itinerary
There are so many options for where to stay in Tuscany, but Arezzo has one of the best. La Corte Del Re is a gorgeous hotel in Arezzo's Piazza Grande. You will love the style of this ancient building as it still has remnants of the original mediaeval and Etruscan walls.
Check rates and availability at La Corte Del Re
Alternatively, check all accommodation in Arezzo
Tuscany Itinerary Day 6: Pisa and Lucca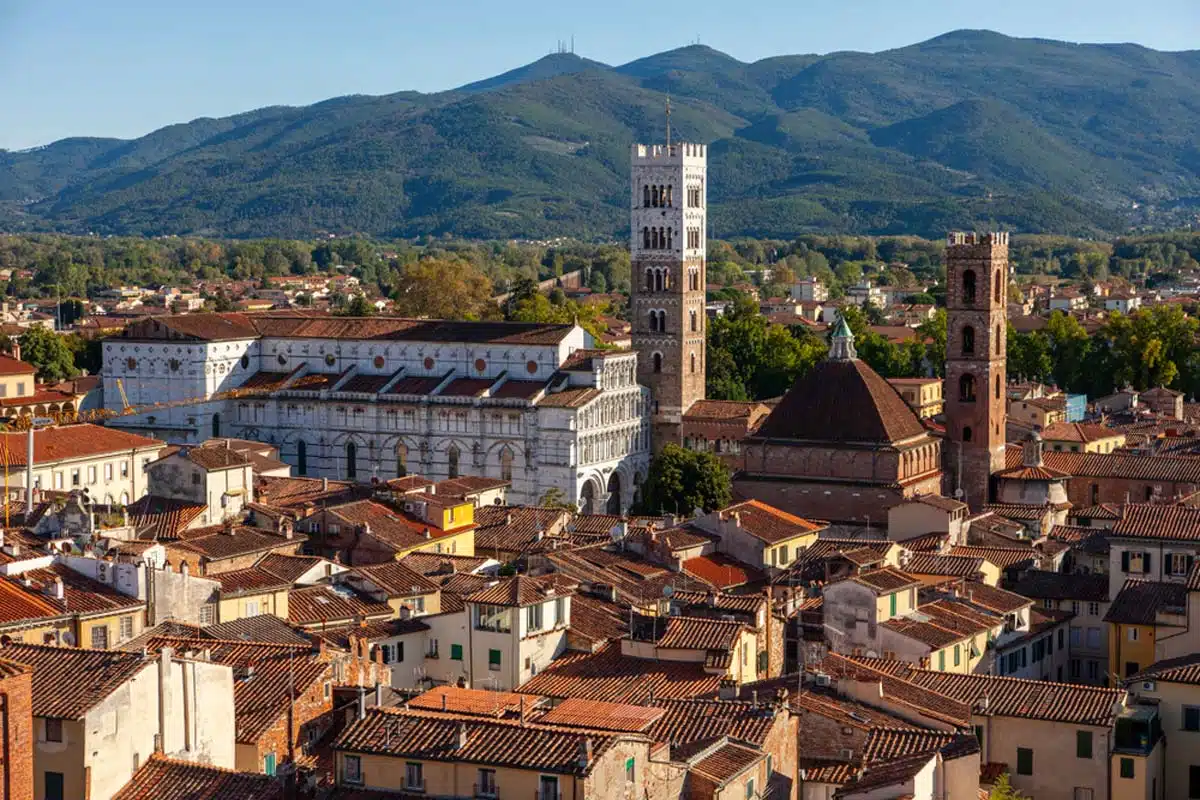 It was only going to be a matter of time before we headed off to Pisa, the home of the iconic Leaning Tower – and that time just so happens to be on day six.
This quaint little city is much more than just the tower, it's a buzzing university town that feels (dare I say it) a bit more alive than some of its stuffier counterparts.
After that, it's a hop, skip and a jaunt to charming Lucca – a jewel of a city complete with huge 16th and 17th century ramparts and well-preserved city walls.
Climb Up the Leaning Tower of Pisa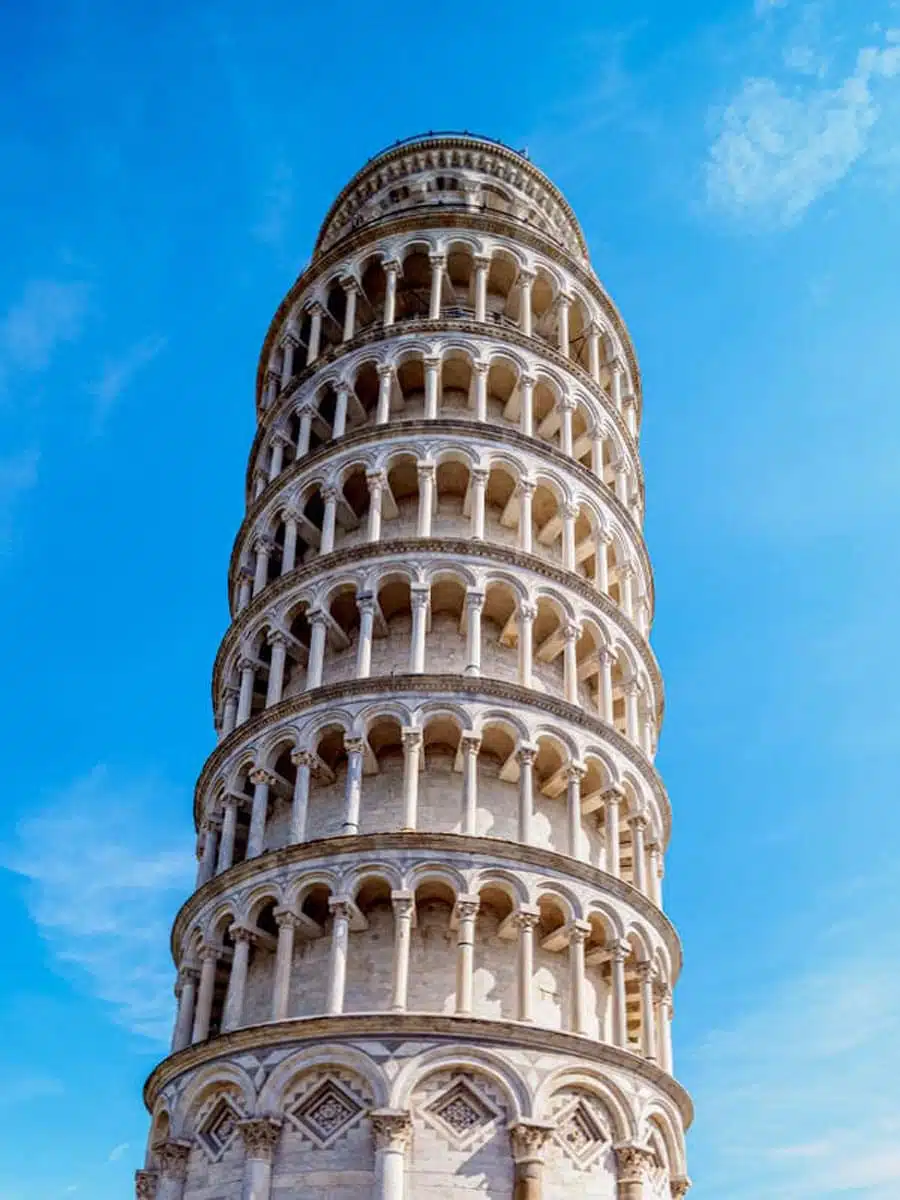 Number one on your list in Pisa should be the Leaning Tower, one of Italy's most iconic landmarks.
Originally intended as Pisa Cathedral's bell tower, the famous 4-degree tilt is down to the unstable ground beneath – just think – without it, who knows if we'd ever talk about it.
Top Tip: Unsurprisingly, the tower can get busy! Book ahead if you want to climb the stairs inside and get a good look inside.
Discover Piazza dei Miracoli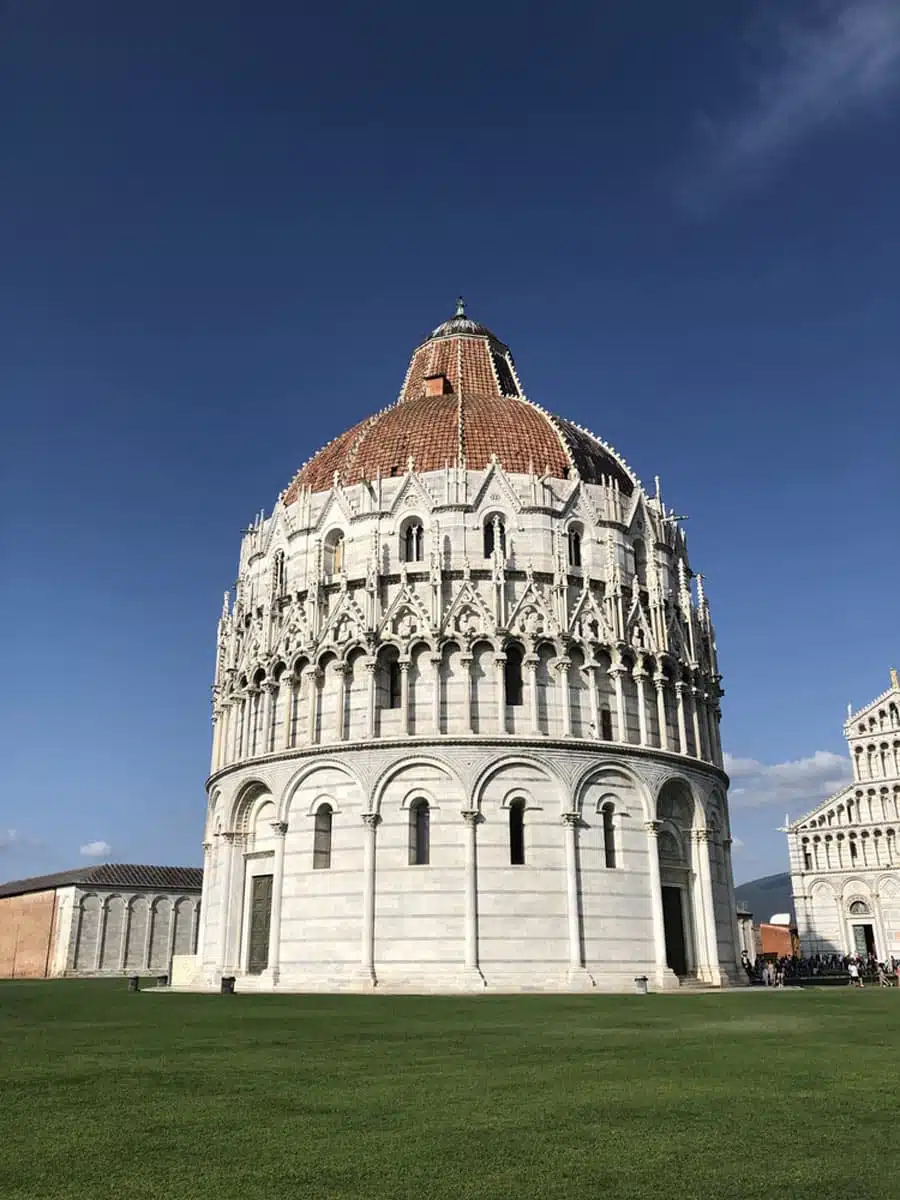 Too many tourists come to Pisa, make a beeline for a few hurried shots of the tower and move on. Their mistake. You're not going to do that are you? Nope.
Take the time to explore the rest of the Piazza dei Miracoli of which the leaning tower is just one component.
Personally, I was much more impressed by Pisa Cathedral – whose ornate Pisan-Romanesque facade is only outdone by its OTT mosaic-adorned interiors. The circular Baptistry is a sight too – and the acoustics inside are said to be perfect.
Explore Lucca's Historic Centre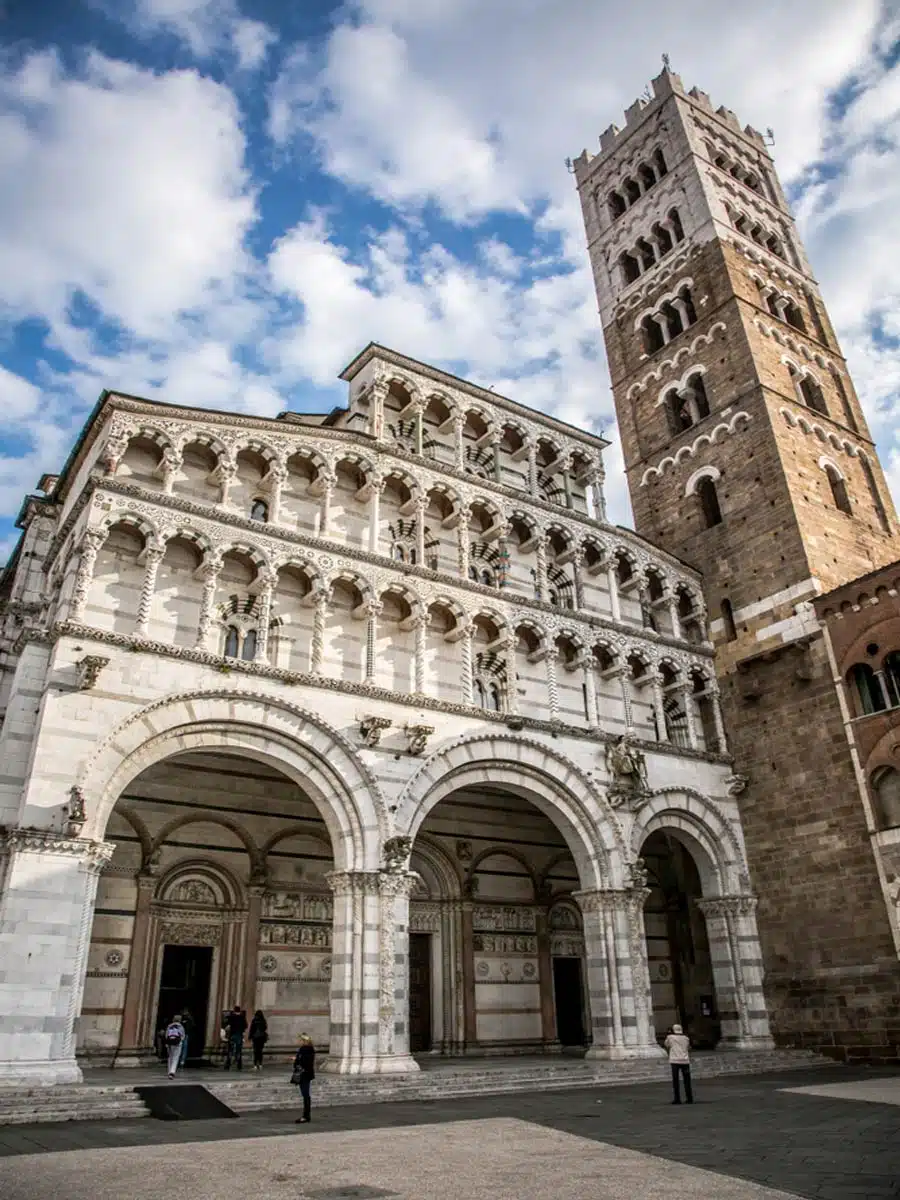 Compared to its more famous counterparts, chilled out Lucca is something of a hidden gem. Don't sleep on it though – this pretty city oozes charm and history, in no small part thanks to the Renaissance walls that encircle it.
Rather than those walls being a crumbling relic of the past, they're an integral part of the city – providing a broad, tree-lined promenade on which locals and visitors stroll, cycle and generally admire the views on both sides.
Like many Tuscany cities, Lucca boasts a historic Duomo di San Martino or Lucca Cathedral, but it's also hiding a more unusual sight – the Anfiteatro Romano (Roman Amphitheatre) where the city's main square is built on the ruins of an ancient amphitheatre.
Indulge in Some Lucchese Cuisine
It's too easy to think of Tuscan cuisine as some kind of amorphous thing, but the reality is each region and within those, each city has its own distinct cuisine.
Lucchese cuisine is known for its delectable Tordelli Lucchesi (meat-stuffed pasta) and hearty soups. Trattoria da Giulio is a great spot to tuck in and try some.
Getting to Pisa and Lucca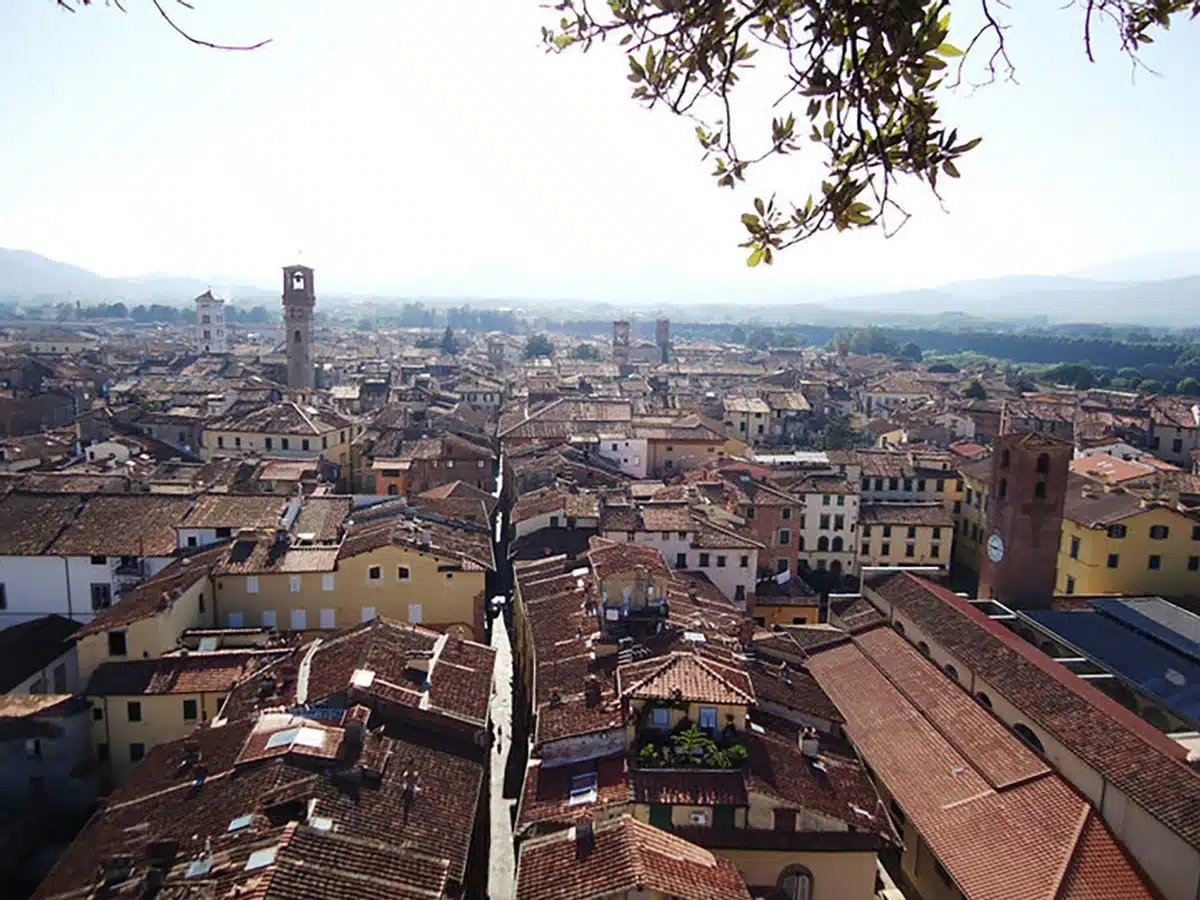 Buckle up for the longest drive on the itinerary – the drive from Arezzo to Pisa will take around an hour and 50 minutes.
The easiest way to use public transport to get to Pisa from Arezzo is to take the train- you'll have to change in Florence, but the whole journey is only about 2.5 hours.
In the afternoon, grab a 30-minute train from Pisa to Lucca or just drive the 30 minutes.
Suggested Stay for Lucca on your Tuscany Travel Itinerary
The unique Palazzo Dipinto is my number one recommendation for accommodation in Lucca thanks to its stylish and quietly understated decor.
Check rates and availability at Palazzo Dipinto
Alternatively, check all accommodation in Lucca
Tuscany Itinerary Day 7: Florence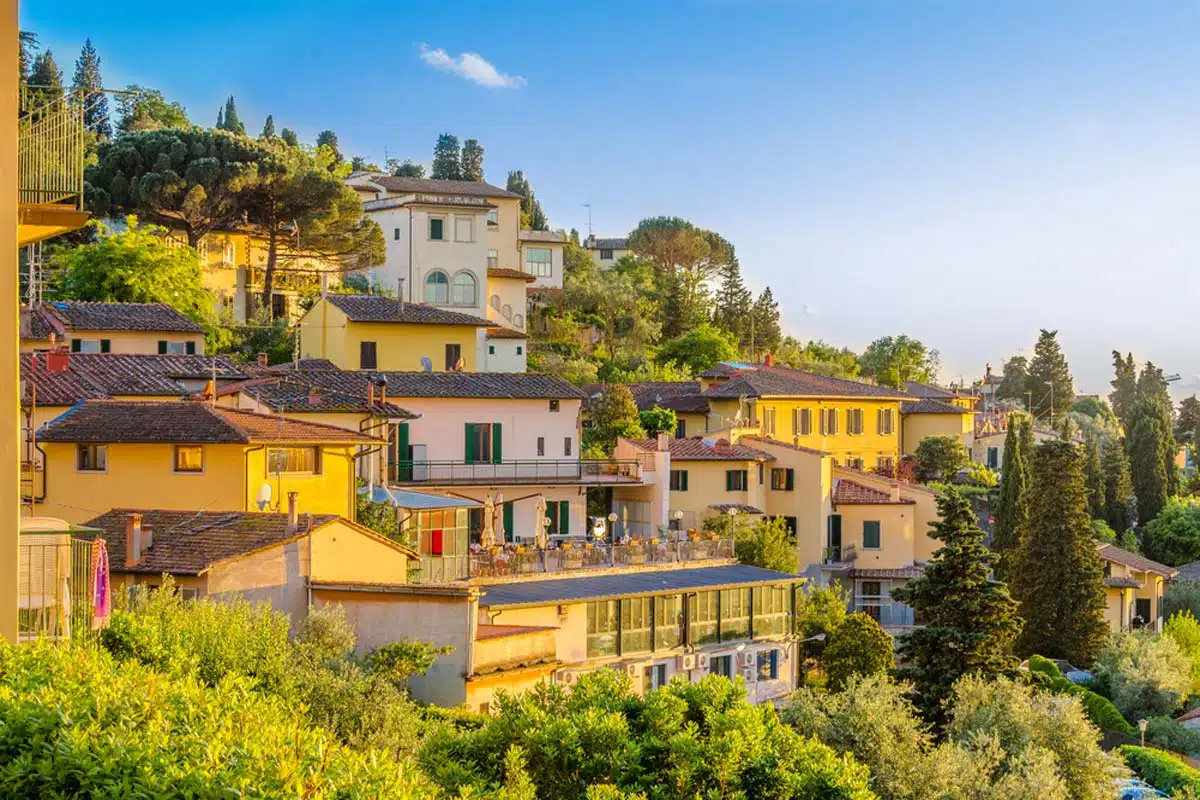 The time has come to return to Florence. On your last day, fit in more of the best things to do in Florence and make a few final memories.
See Michelangelo's David at the Galleria dell'Accademia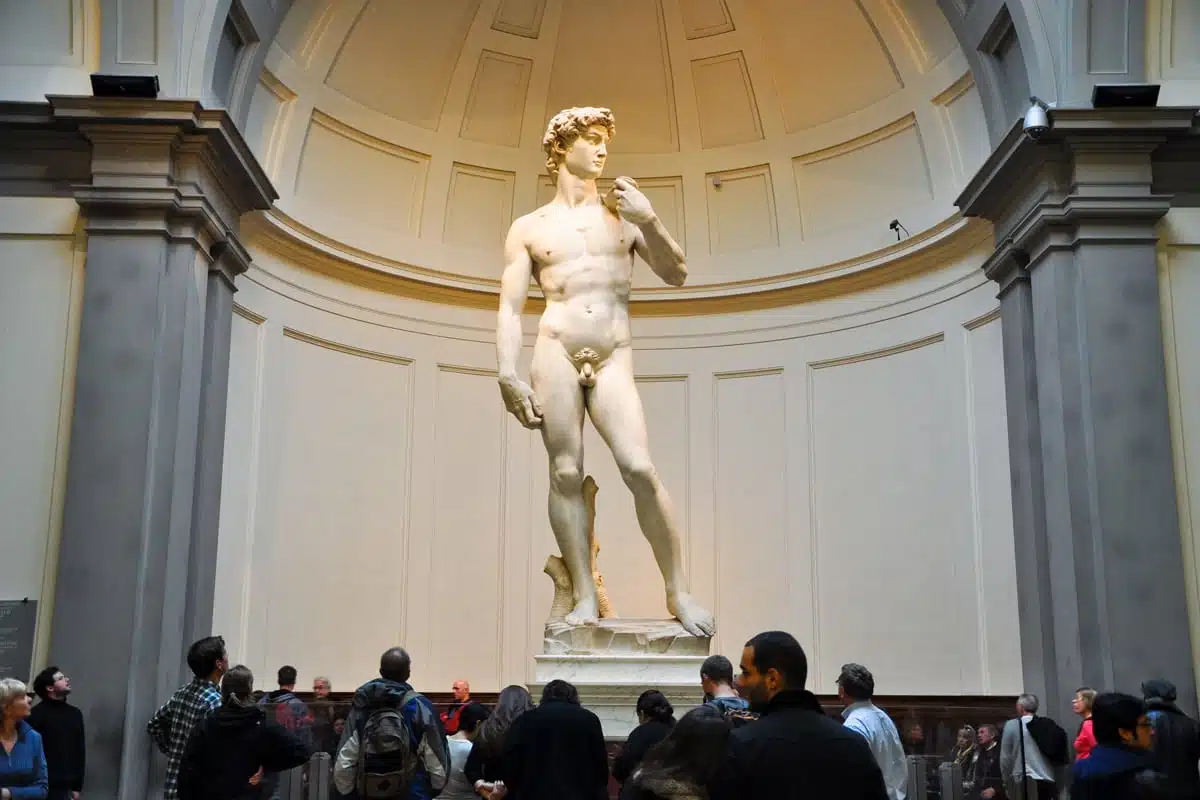 If you were blown away by the incredible art at the Uffizi on day one, hold on to your hats because the Galleria dell'Accademia hosts another collection of Renaissance masterpieces.
The best-known piece is Michelangelo's David – carved from a single block of Carrara Marble, seemingly catching the biblical figure in his prime.
Move beyond this to see more of Michelangelo's works including the Prisoners (or Slaves) , a series of unfinished sculptures, as well as pieces by Paolo Uccello, Domenico Ghirlandaio, and Sandro Botticelli.
Explore the Majestic World of the Pitti Palace: The Former Residence of Florence's Elite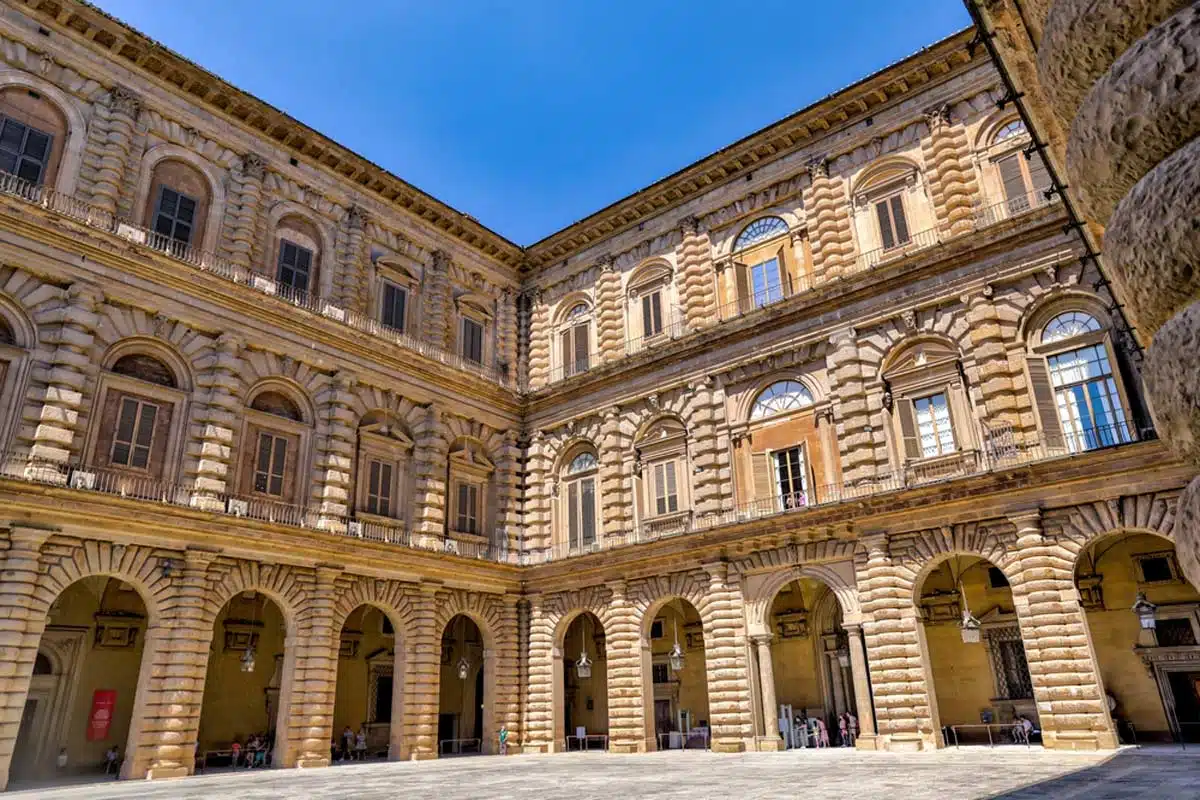 It should tell you everything that the Palazzo Pitti or Pitti Palace was once the home of that prestigious family – the Medicis and other Tuscan rulers. Opulent doesn't even begin to cover it.
Look, I'll level with you, you are not going to see the Pitti in detail in half a day – it boasts a number of museums and galleries. Instead I'd focus on one or two areas rather than haring around trying to see it all.
Take your pick from:
Boboli Gardens – an open-air museum of Renaissance landscaping, statues, fountains and grottoes (I do suggest you see these first)
Palatine Gallery – A lavish collection of artworks by greats such as Titian, Carvaggio and Raphael inside some very opulent rooms.
Silver Museum – A broad collection of precious items.
Porcelain Museum and Costume Gallery – Extensive collection of porcelain and a journey through the history of fashion from the 16th century.
Gallery of Modern Art – Take a jaunt through Italian art from the 18th to early 20th century (that's modern by Florentine terms!).
The Royal Apartments – Make like a Medici and explore the rooms that once formed the epicentre of their luxurious lifestyles.
Visit the Oltrarno District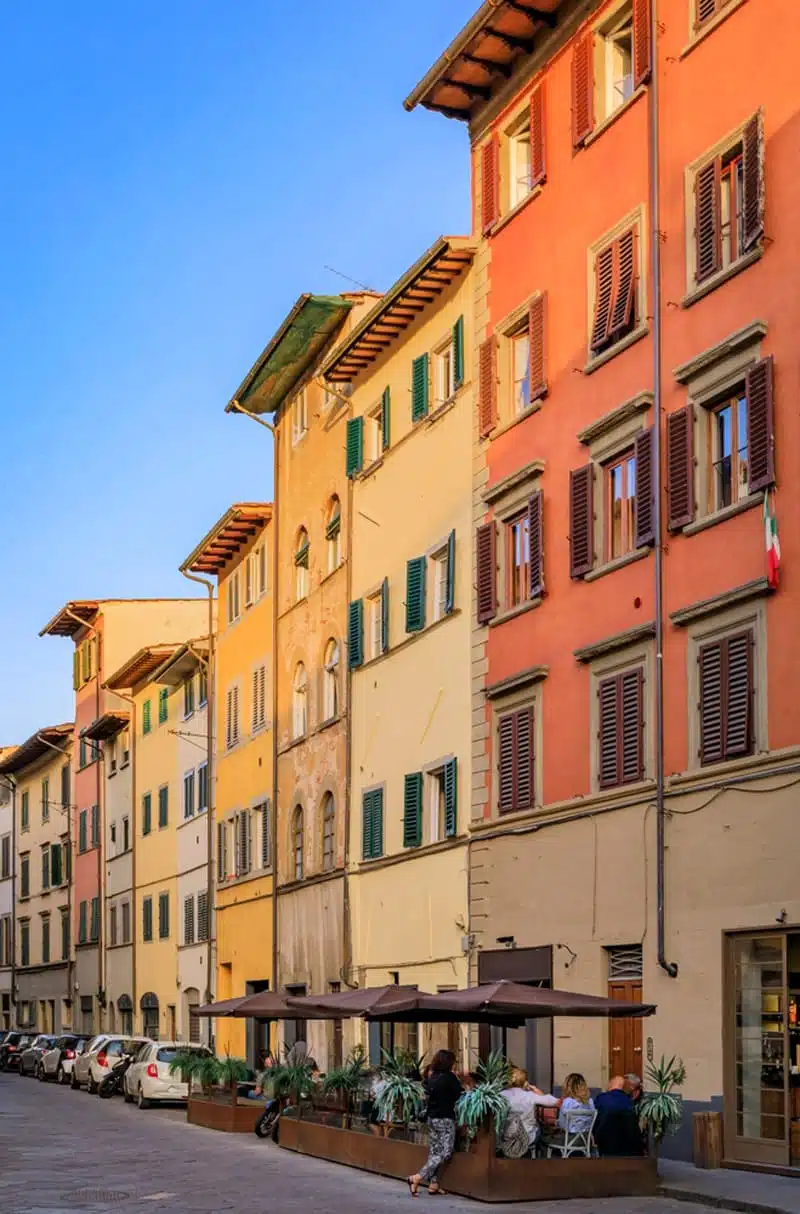 Before you leave, don't miss the opportunity to see the Oltrarno District and stroll through the artisan workshops.
Before you leave, you must partake in a centuries-old Florentine tradition by rubbing the nose of the boar statue in the Piazza del Mercato Nuovo.
Getting to Florence
It's a 1 hr 15 minute drive from Lucca to Florence, or take the bus, which takes around the same amount of time.
7 Days in Tuscany – Map
Love This? Save and Share on Pinterest