Spending just 48 hours in Italy's stunning art city? No need to panic. This 2 days in Florence itinerary will take you through everything you need to see and do.
The stunning capital of Tuscany, Florence, is one of the most beautiful cities in the entirety of Italy.
A bold statement, I know. But, considering that it's the birthplace of the Renaissance movement, that's a hard statement to contest.
Home to majestic architecture, lively squares, rich culture, history, and some of the best Italian food – it's extremely hard not to fall in love with Florence.
But, all of this poses a slight problem. Since there is so much to see and do in the city, you might wonder if 2 days in Florence is enough.
I'm here to assure you it is. Kinda. I've put together this 2 day in Florence itinerary to help you minimise the stress of trip planning. You're welcome.
Pssst… Extend your trip by checking out some of these other unmissable places in Tuscany.
Handy Tips for Planning Your Florence 2-Day Itinerary
Top Tours for Your Florence Itinerary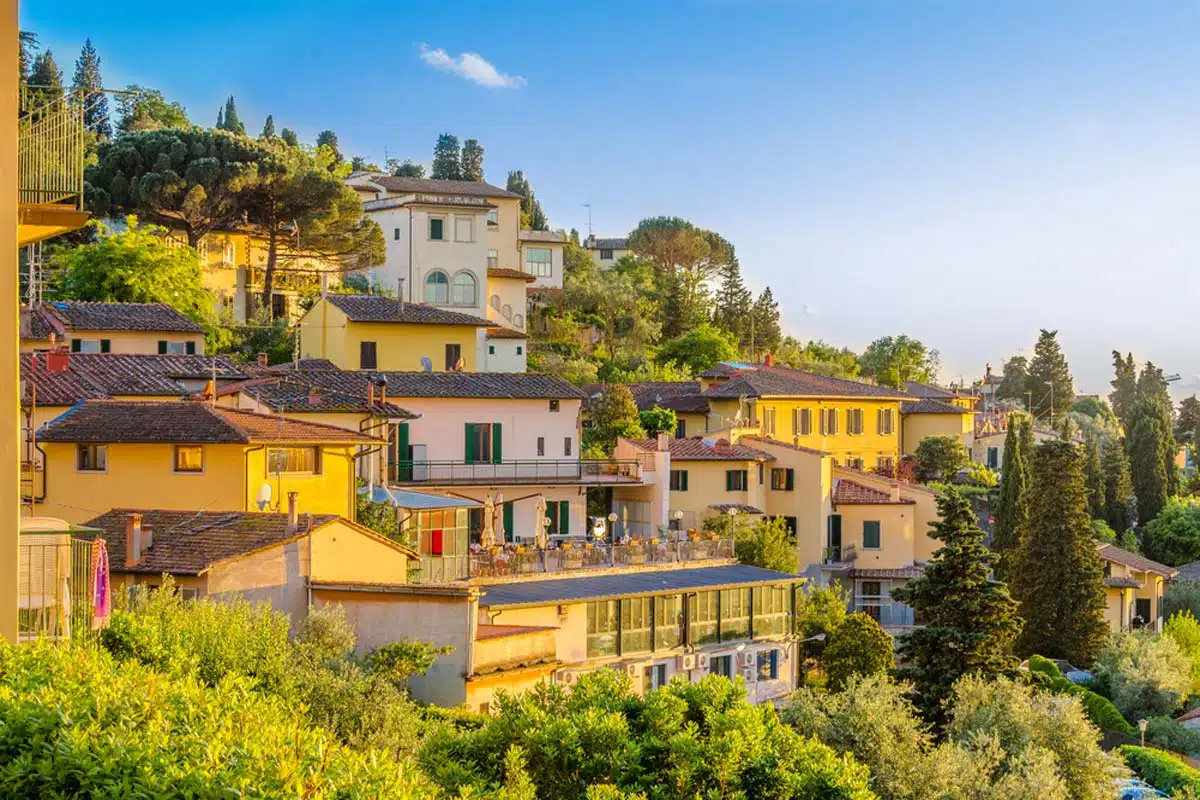 Florence Pasta and Dessert Cooking Class: Most of us know how to cook a bowl of spaghetti bolognese and think we've mastered Italian cuisine. But, with this cooking class, you can discover the secrets behind perfectly handmade pasta and learn how to create three different types of pasta dishes along with a dessert.
Florence: Dome Climb, Museum and Baptistry Small-Group Tour: Discover one of Florence's most iconic landmarks and its impressive complex. You'll also be able to admire Duomo's iconic artwork and marvel at its remarkable architecture.
Best of Florence: 2-Hour Walking Tour: You'll learn about Florence's fascinating history and iconic landmarks through this walking tour. Along the way, you'll also discover some of the city's hidden gems.
What to Pack for Your Florence in 2 Days Itinerary
Sturdy and comfortable walking shoes: It's best to explore Florence on foot, just like any other major city. I never go anywhere without my Tropicfeel shoes – they're super comfy and reliable.
Lightweight cross-body bag: If you're travelling with a suitcase, it's a good idea to bring a smaller bag with you to carry essentials. Plus, bags like these are easier to keep your goods safe and away from sticky fingers.
Reusable water bottle: You'll be doing quite a bit walking around Florence, and you can quickly get dehydrated, especially in summer. Instead of continuously buying bottles of water, invest in a reusable one.
Universal travel adapter: European plugs and adaptors might differ from where you live, so to be safe, remember to bring one of these along.
Where to Stay for Your 2 Days in Florence Trip
Golden Tower Hotel & Spa
If it's a classic stay in Florence you're after, look no further. Golden Tower Hotel & Spa has interesting interior design features, with a blend of Renaissance and contemporary elements.
The result? A gorgeous hotel that might seem a little bit old fashioned, but it's truly spectacular.
This luxury boutique hotel and spa is the perfect place to base yourself for all your Florence adventures. It's just steps away from both the Ponte Vecchio and Piazza Della Signora.
Hotel Bernini Palace
If there's one place that screams luxury, it's Hotel Bernini Palace.
Set in a 15th-century building, this elegant 5-star hotel features Renaissance floor decor, Murano glass chandeliers, and antique furniture.
Better yet, it's also within walking distance from Florence's major attractions.
Quick Info for Your 2 Days in Florence
Time Zone: Central European Standard Time (GMT +1)
Currency: Euro (€)
Plugs: Types C, F, and L
Nearest Airport: Aeroporto di Firenze-Peretola (officially called: Amerigo Vespucci Airport)
5 Must-See Spots: Duomo di Firenze, Accademia Gallery, Uffizi Gallery, Ponte Vecchio, Piazzale Michelangelo
Top Tip: Withdraw cash in your home country to avoid extra charges
Getting Around
Bus
Travelling by bus is a cheap and convenient way to get around Florence.
Single-journey bus tickets usually cost €1.50, and you can buy them electronically via the Tabnet App or at the bus station. You can also buy it onboard the bus from the driver, but that will cost you €2.50
Tram
Florence has two tram lines running through the city. The T1 line runs north to south, while the T2 line connects the Firenze-Peretola Airport with the Piazza Della Unita.
Single-journey tickets cost the same as a bus ticket.
Firenze Pass
The Firenze Pass is valid for 72 hours and gives you access to Florence's major attractions as well as unlimited use of public transport.
If you're looking to tick off a lot of sights over the couple of days, investing in this can be a great idea.
Bike
Renting a bike is an easy and healthy way of getting around in Florence. Bike hire starts at about €2 per hour or €10 per day. There are multiple rental service points throughout the city.
Taxi
A taxi is a great way to get around at night. However, it can be a bit pricey, with prices starting at €5 per kilometre (or 1.6 miles) and can jump to €8 over weekends and public holidays.
Things to Do in Florence in 2 Days Itinerary
What to Do in Florence, Italy, in 2 Days: Day 1
Get ready, friends. Day 1 of your 2 day Florence itinerary focuses on all the city's main highlights. Read on to discover how to spend the first of two epic days in the city.
Visit the Galleria dell'Accademia di Firenze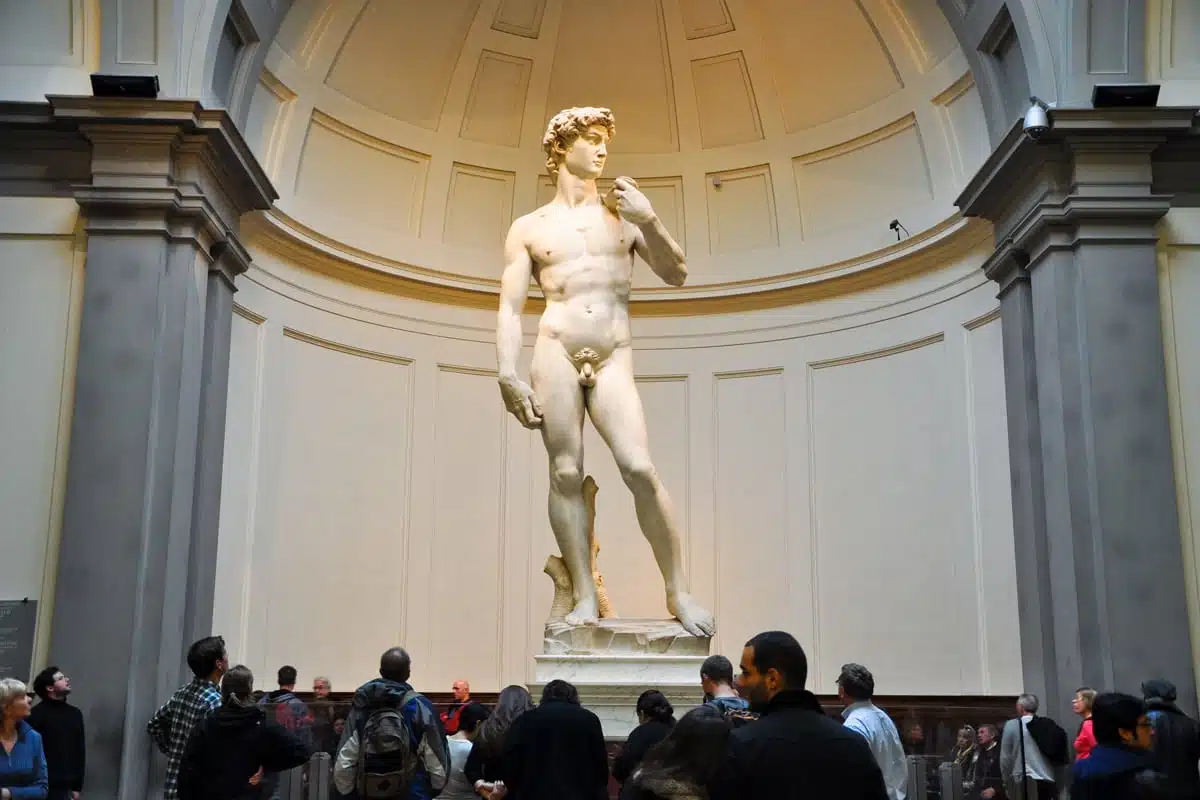 After beginning your day with an excellent Italian breakfast and an espresso, make your way to the Galleria dell'Accademia. There's no better place to see why Florence is the home of the Renaissance movement than at this gallery.
Opened in 1784 by the Grand Duke of Tuscany, the Galleria dell'Accademia houses one of the largest collections of Florentine artists. The most famous artist to grace this gallery with his work is none other than Michelangelo.
The Galleria dell'Accademia's most famous work of art is Michelangelo's sculpture of David. This massive sculpture is a true work of Renaissance sculpting, standing at five metres (17 feet) tall and made entirely out of marble.
While there is much to see at the Galleria dell'Accademia, Michelangelo's David statue is undoubtedly the main highlight.
Tip: Don't underestimate how popular this attraction is – it's always full. I recommend booking a skip-the-line entry ticket because you'll have limited time.
Climb up the Duomo di Firenze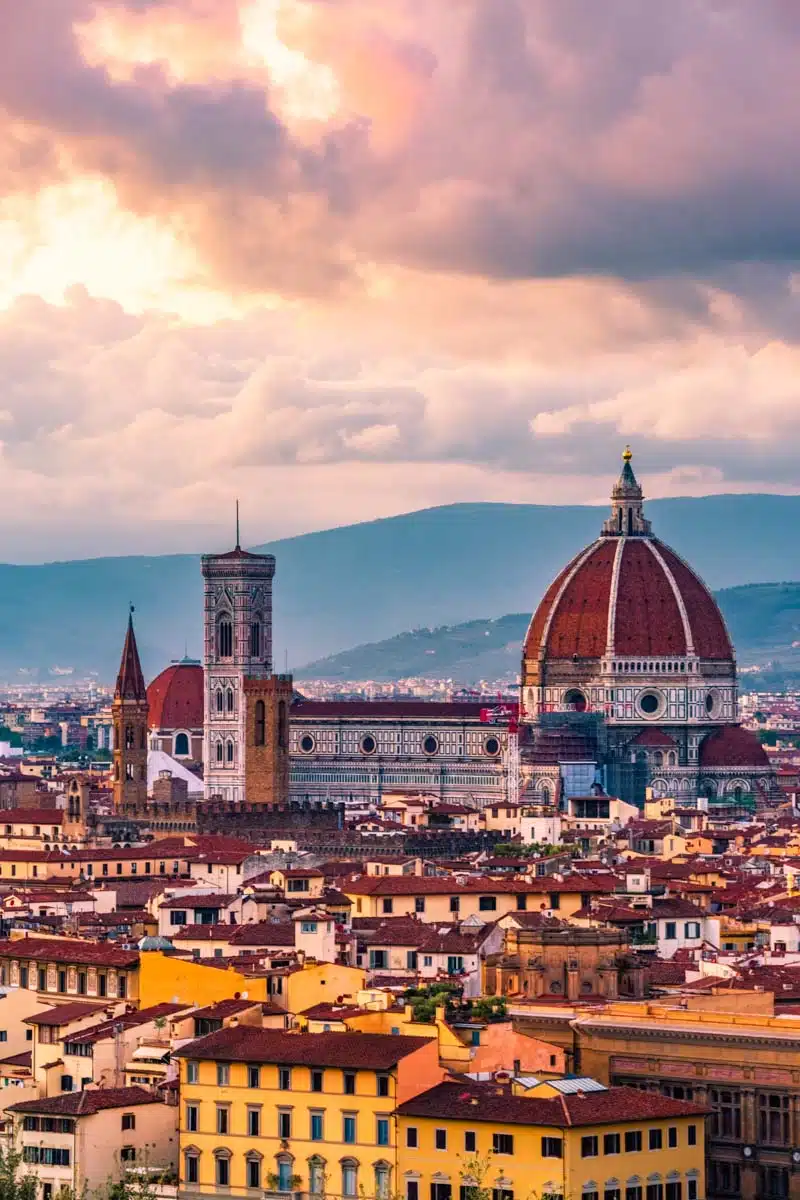 Sure, you may think you've seen the most impressive art in the Galleria dell'Accademia. But just wait until you see Florence's most impressive landmark – the Duomo di Firenze.
The Santa Maria del Fiore Cathedral, simply called the Duomo, is a true work of art inside and out. It's pretty hard to miss it because it's so imposing and a key feature in Florence's skyline.
The cathedral sits inside the Piazza del Duomo UNESCO World Heritage complex and also includes the Baptistery and Giotto's Campanile.
Its exterior features Gothic architecture with intricately decorated polychrome marble panels. On the other hand, the inside features large open areas with arches and the iconic dome decorated with a maze of murals.
Once you've marvelled at how impressive the Duomo is, it's time for the infamous "Duomo Climb". I hope you're fighting fit – this climb is no joke since it involves walking up 463 steps.
It's all worth it though, because the views of Florence from the top are unforgettable.
Head to the Mercato Centrale for Lunch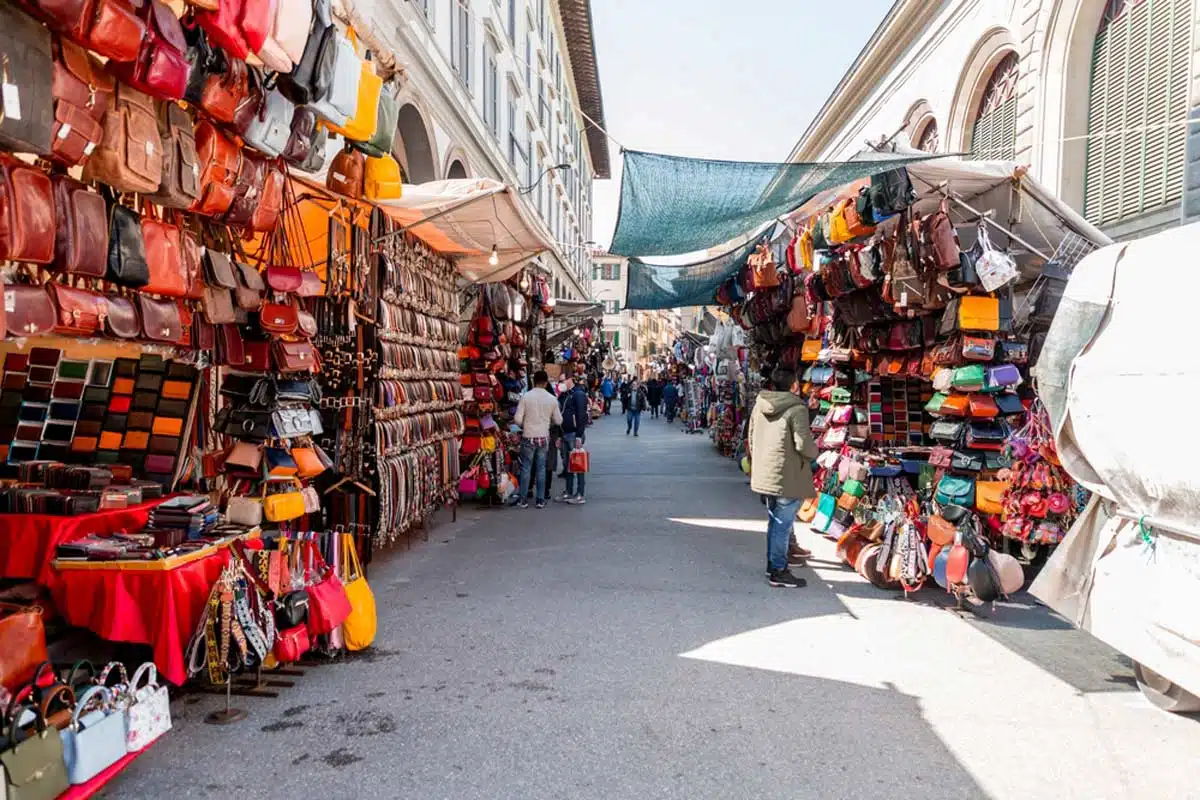 After an early morning of walking and intense stair climbing, make your way over to the Mercato Centrale. The beauty of the market is that it doubles as an important Florentine landmark, but it is also one of the best places to eat in Florence.
This is a fantastic place to grab a fresh, home-cooked Italian meal of your choice at an affordable price.
Along with cooked meals, you also find fresh, artisanal bread, snacks, and colourful fresh produce. There's also plenty of seating available, so no need to elbow your way through crowds.
Walk Down to Fontana del Porcellino and Visit the Mercato Nuovo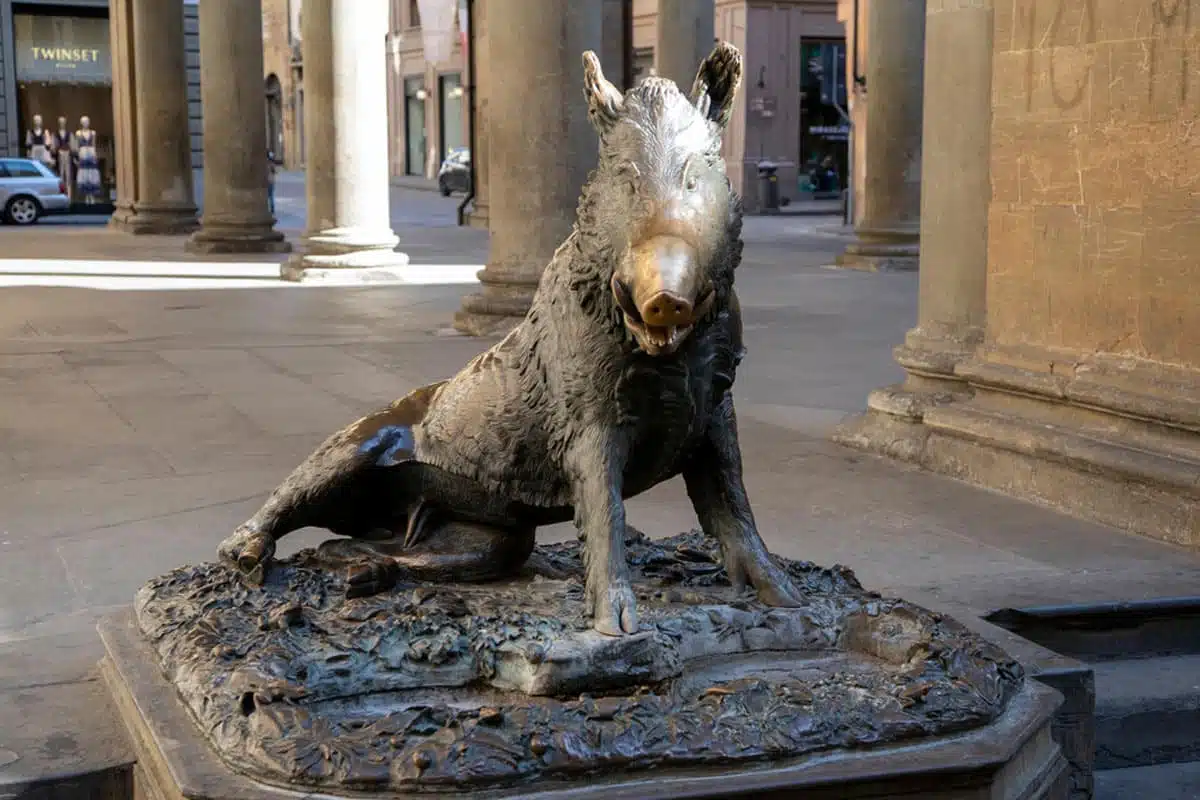 After refuelling, it's time to hit the streets again. Your next stop is the Fontana del Porcellino (The Piglet Fountain).
This is one of the most recognisable landmarks in Florence. This bronze boar statue sits in the Mercato Nuovo. Legend has it that Porcellino transformed into a young man every night and eventually fell in love with a girl.
Upon wanting to get married, he told her his secret and told her that if she did not reveal his secret, he would stay a man forever…
Unfortunately, she didn't, and he turned into the bronze statue that stands in the market today.
While Porcellino had quite an unlucky ending, locals promise that you might get lucky if you rub his nose. After meeting Porcellino, head over to Mercato Nuovo – the city's best place to pick up a leather item.
Wander Toward the Piazza della Signoria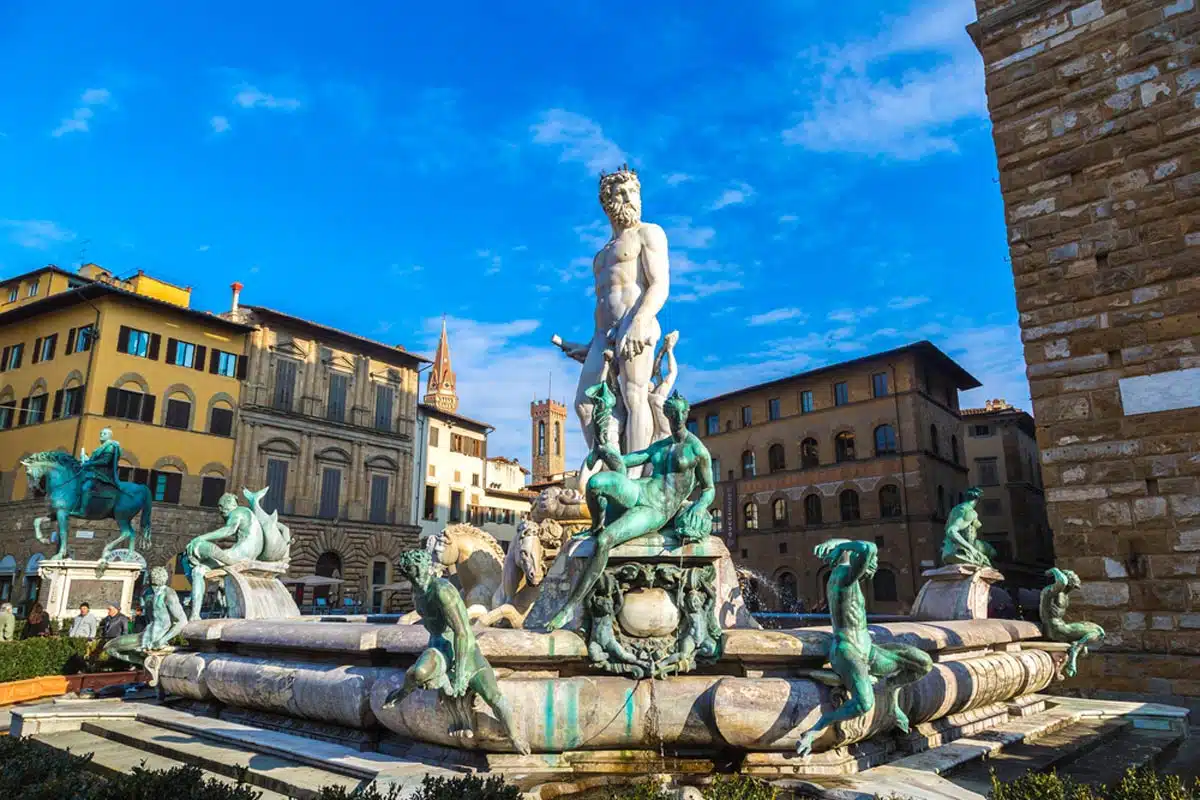 The next stop is a must see in Florence, Italy, in 2 days. Just a short walk from the Fontana del Porcellino is the Piazza della Signoria – one of Italy's most iconic landmarks.
This square is a stunning open air museum full of sculptural masterpieces. Here you'll find the Neptune Fountain, Medici Lions, and numerous "fake Davids" carved from marble.
Along with a plethora of statues, Piazza della Signoria is also home to the Loggia dei Lanzi. It's a small, arched open air museum in the corner of the square packed with a number of small and large statues and is free to visit.
Visit the Palazzo Vecchio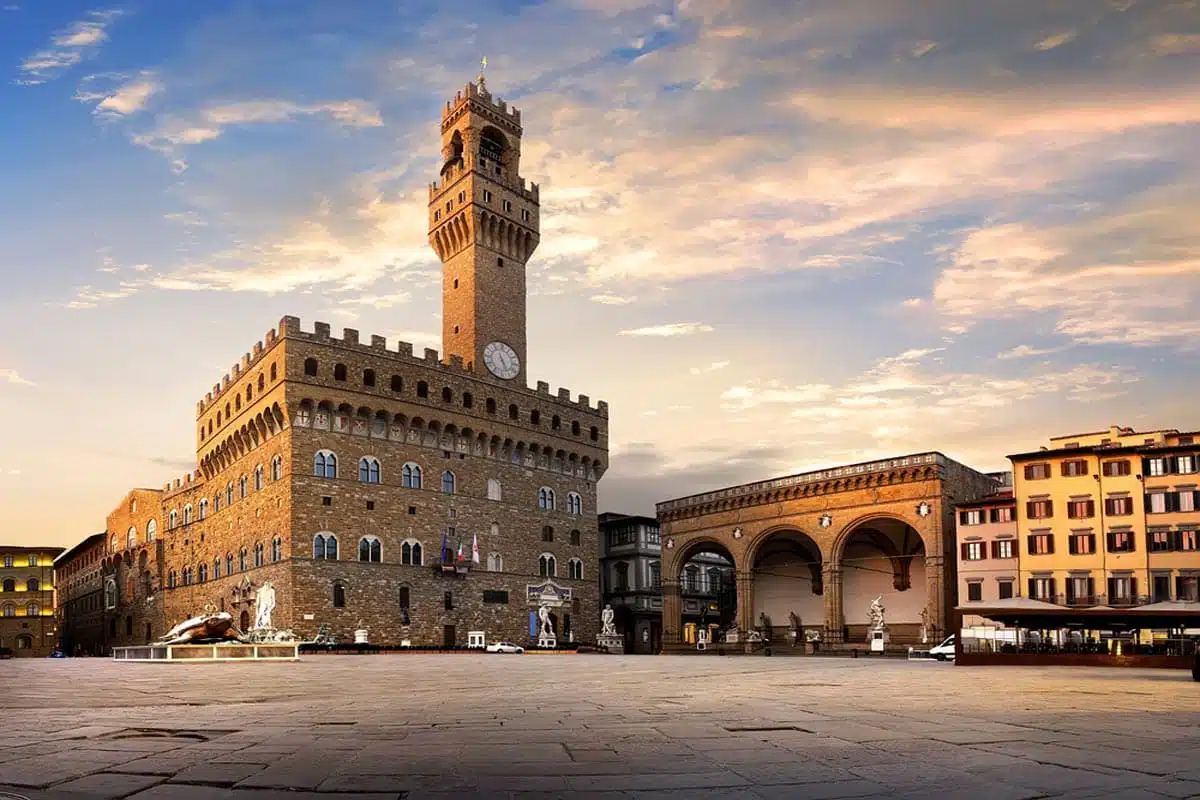 The best part about visiting the Palazzo Vecchio from the Piazza della Signoria is that you don't have to walk far. That's because it's right behind the square.
In fact, you can actually look out onto the square from the Palazzo Vecchio.
This palace sits in the heart of Florence. Built in 1299 and occupied by the Medici family, it's the ultimate symbol of power. Complete on the outside with Roman ruins, a mediaeval fortress, and a clock tower, its scale and size are impressive. Remember to bring your camera along.
Inside, you'll find incredible Renaissance chambers and a wealth of paintings by Michelangelo, Donatello, and Giorgio Vasari.
Tip: To get the most out of your visit to the Palazzo Vecchio, take this short guided tour with skip-the-line entry.
End the Day off with an Italian Cooking Class
After an exciting day of sightseeing and exploring, what's better than a hearty, home-cooked Italian meal? A cooking class is a must if you've ever dreamed of learning to make some of your favourite Italian dishes.
You'll learn how to pair each dish with the correct wine. But the best part of all of this is you'll actually get to enjoy the fruits of your labour and take home the recipes so that you can recreate them at home.
What to Do in Florence, Italy in 2 Days: Day 2
As your two days in Florence come to an end, the second day includes marvelling at more of Florence's iconic sights at a slower place. Here's what you can look forward to on your final day.
Walk Around the Uffizi Gallery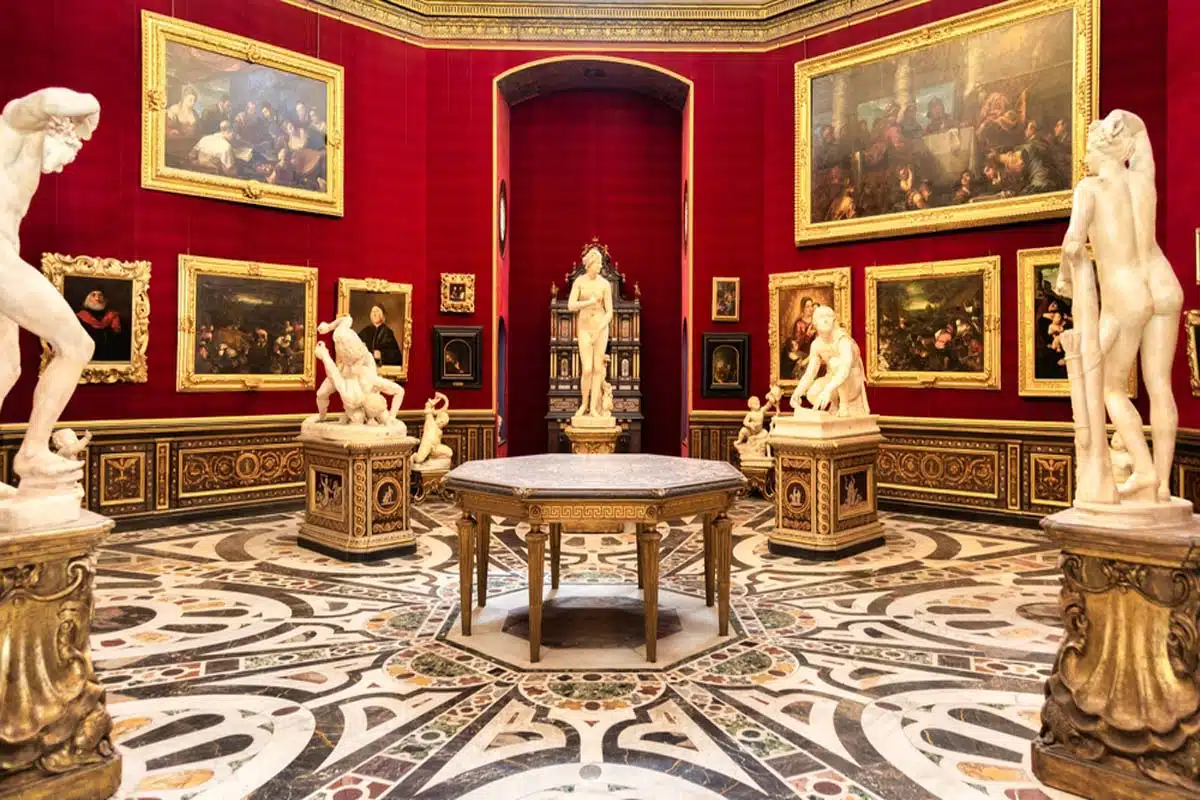 Start day two off with a stroll around one of the oldest galleries in the world, the Uffizi Gallery.
This is the heart of Florence's Renaissance art collection, so it's only appropriate to visit this incredible gallery during your time in the city..
It's a true gem inside and out, with its exterior featuring marble polychrome designs. The inside is even more impressive, with an extensive collection of Renaissance art in Tuscany.
Tip: Book this skip-the-line Uffizi Gallery ticket to save time.
Stroll through the Piazza della Repubblica
The Piazza della Repubblica is the heart of Florence, without a doubt – since Roman times, this has served as the primary social scene of the city.
Housing 19th-century buildings and a monumental gate similar to the Arc de Triomf in Paris, it's a favourite of locals and tourists. Today street artists, impromptu shows, cafes, shops, restaurants, and a carousel all light up the square with a lively atmosphere.
Wander Through the Pitti Palace and Boboli Gardens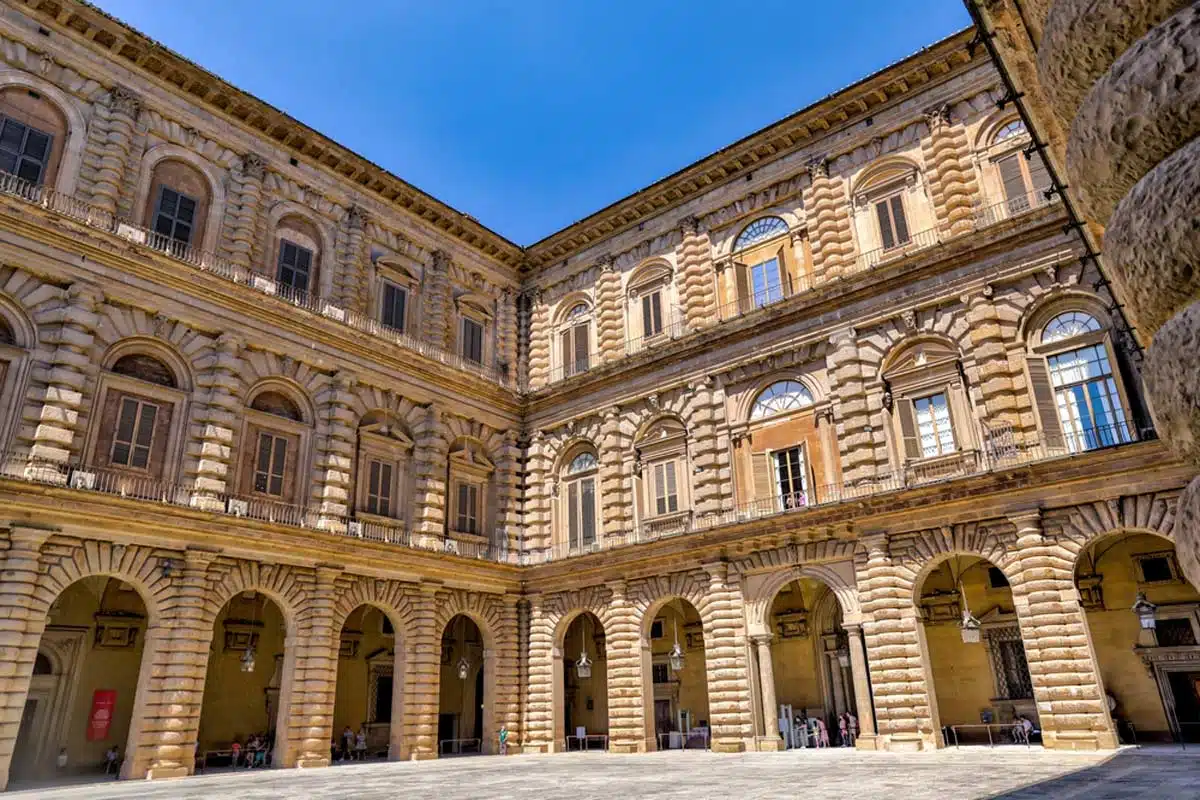 Next up: The astoundingly beautiful Pitti Palace and Boboli Gardens.
If you've ever wanted to take a peek into how Italy's past royal families lived, the Pitti Palace is a great place to do so.
Once home to the Medici family and later the king of Italy, the Pitti Palace is a massive complex. The property houses the palace, the Palatine Gallery, and the Boboli Gardens.
The Palatine has 28 gallery rooms, including the Room of Saturn, Jupiter, Mars, Apollo, and the White Hall, to name a few. There are over 500 Renaissance paintings from renowned artists such as Raphael, Titian, and Veronese. It's truly an art-nerd's paradise.
After marvelling at the palace's art pieces, make your way to the Boboli Gardens with its neatly cut hedges and trees, fountains, and sculptures for a chilled-out stroll.
Tip: You can explore the Pitti Palace on your own, but make sure to purchase a skip-the-line-entrance ticket since this is another one of Florence's famous attractions.
Savour the Views from the Ponte Santa Trinita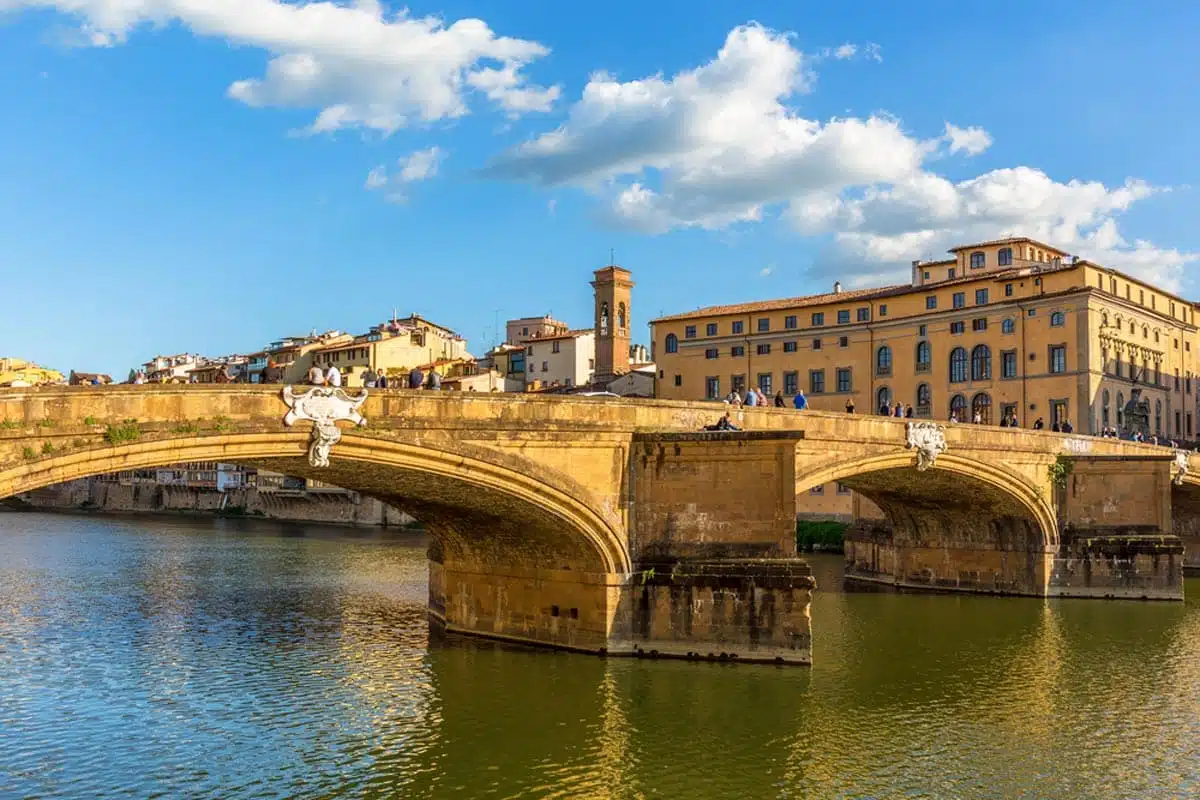 After admiring the opulence and beauty of the Pitti Palace, make your way over to the Santa Trinita Bridge. It's the second oldest elliptic arch bridge in the world and runs across the Arno River.
This Renaissance bridge, made from limestone, has five arches complete with four statues. The best part is that it looks out across to the Vecchio Bridge.
Cross Over to the Ponte Vecchio and Enjoy Some Gelato
If you've Googled things to do in Florence, visiting the Vecchio Bridge is one of the first places that should pop up on your search results. And for a good reason.
This is one of the most iconic landmarks in Florence, and skipping it would be criminal.
This stone-arched mediaeval bridge spans 30 metres (98 feet) across the beautiful Arno River. Built in Roman times, it sustained some damage but is still here for you to enjoy.
It also is a very Instagrammable spot – so grab some gelato and make your way over to Ponte Vecchio for some picturesque snaps.
Capture the Sunset on Piazzale Michelangelo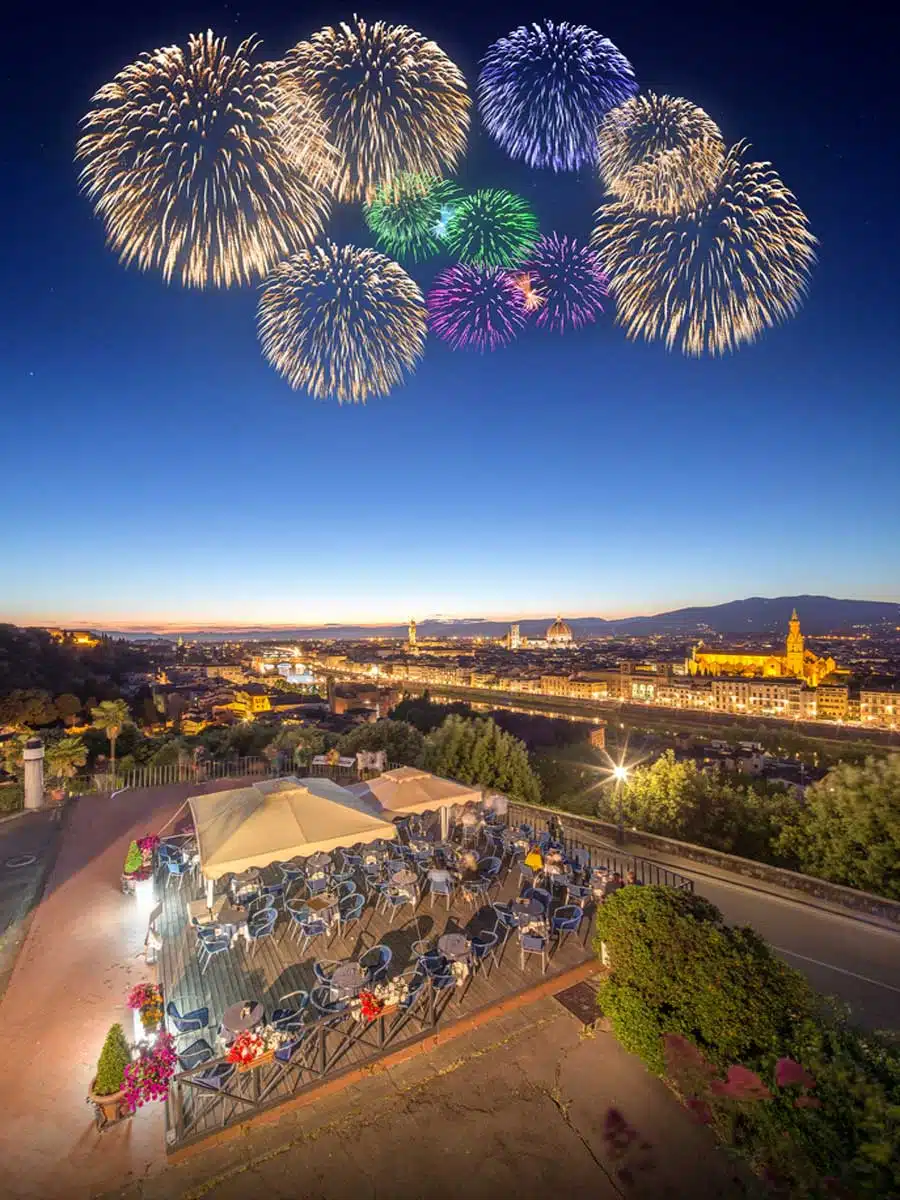 So unfortunately, all good things come to an end, and the Piazzale Michelangelo will be your last stop on your 2 days in Florence.
But, don't worry – there isn't a better place you could end your trip than this one.
This plaza sits on a hill above Florence, so the views here are special. In fact, it's the best place to watch the sun set over the city.
It's easily accessible by train or bus, so pack a picnic basket, head up to the Piazzale Michelangelo, and enjoy your last few hours in this magical city.
2 Days in Florence Itinerary: Map
Love This? Save and Share on Pinterest