Discover the best things to do in Sonoma with this handy travel guide. Whether you're a foodie, a wine lover, or even an art enthusiast, Sonoma boasts so many brilliant things to do.
Looking to explore the famous Wine County of Northern California that over eight million tourists visit each year? Come and visit the majestic city of Sonoma, surrounded by natural beauty and full of wineries.
I guarantee you'll fall in love, just like I did.
But don't fret if wine guzzling isn't your idea of fun – there are so many other things to get involved with in the county.
Sonoma has various state parks on its doorstep, perfect for outdoor activities like hiking and ziplining (for adrenaline seekers). It's also famous for its brilliant fresh produce, which you can savour at one of Sonoma's many farm-to-table restaurants or local farmer's markets.
Sounds good? I thought it might – these are the things to add to your Sonoma Valley itinerary.
Looking for somewhere to stay in Sonoma? I highly recommend El Pueblo Inn. It's only 1.2 miles from Sonoma Town Square and has a 24-hour outdoor pool, hot tub, and a dreamy garden.
Top 5 Things to Do in Sonoma
Go Wine Tasting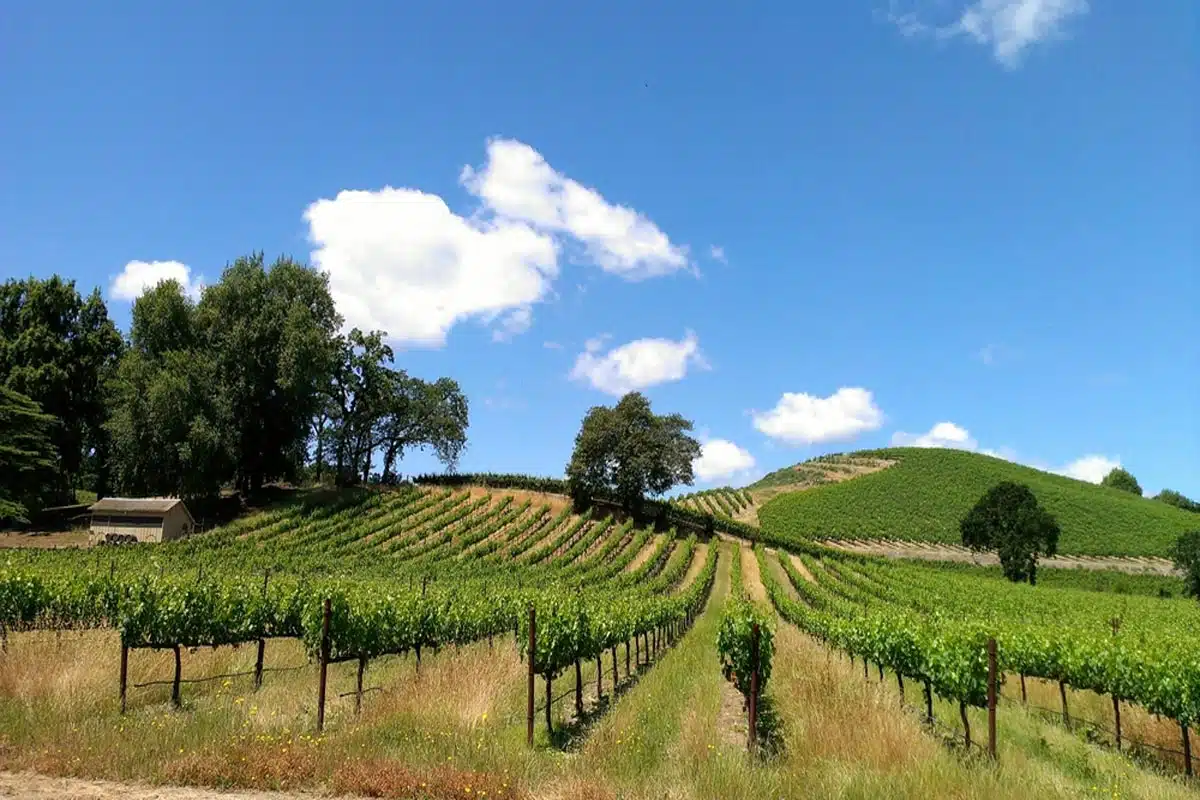 You didn't think I could write a guide to Sonoma without wine tasting, did you?
This is one of the top things to do in Sonoma County, as the area has over 400 wineries and 18 unique wine regions. Get ready to find your new favourite wine, whether you love rosé, chardonnay, or cabernet sauvignon.
But with so many places to choose from, how do you decide where to go? Fear not, I'm going to share a few of my top picks.
Buena Vista Winery is California's first premium winery and offers sparkling wine, pinot noir, chardonnay, and many other varieties. Tastings start at $25 for wine and $50 for sparkling wine.
Or, if you're after an educational experience, Kendall-Jackson Wine Estate is the top spot.
Wine tastings start at $35, but for a truly memorable experience, book a picnic table and bring goodies that you can pick at a farmer's market in Sonoma. It's around an hour-drive near Santa Rosa.
For something a little bit different, the Benziger Family Winery is fully biodynamic. A brilliant way to learn about biodynamic winemaking is by going on their biodynamic vineyard tram tour.
Top Tip: A great thing to do on a day trip from San Francisco is to take this small-group wine tour. This way, you don't have to worry about having a designated driver, as they'll do the driving.
Relax at Osmosis Day Spa
Sonoma and Northern California are popular areas for locals to decompress and escape life's busyness. It's no surprise then that the county has quite a few spas and wellness centres.
One of these is Osmosis Day Spa, which offers one of the most unique things to do in Sonoma County – a cedar enzyme bath.
What's that? Well, they cover you in a combination of rice bran and ground cedar as part of the treatment, which may seem unusual. However, it can be highly beneficial to you, as it helps to relieve muscle pain, increase circulation, and cleanse your skin.
A bonus is that while you're busy with the treatment, there is a beautiful view of the zen gardens. The spa is a 34-mile drive from Sonoma, in the town of Occidental, but you won't mind that, as you'll feel relaxed after.
Top Tip: The treatment costs $145 per person, but if you bring your friend or partner, you can get $25 off.
Enjoy Sonoma's Culinary Offerings
Sonoma County is world-known for its wine production, but they also farm delicious fresh produce, cheeses, and livestock. You can also get seafood options, from Dungeness crab to salmon, fresh from the Pacific Ocean.
Another reason I love Sonoma so much is because of the abundance of farm-to-table restaurants in the region. Grabbing dinner at one of these spots is one of the best things to do in Sonoma at night.
My recommendations? The Girl & the Fig offers Provençal-inspired food and seasonal plates such as duck confit, fig and arugula salad, or delicious grilled pork tenderloin.
El Molino Central is a fantastic spot which offers delicious Mexican classics, such as tacos, tamales, and enchiladas. Meals feature seasonal produce, such as seafood, poultry, and vegetables.
Lastly, Chef Manuel Azevedo's LaSalette is a brilliant modern restaurant which perfectly fuses traditional Portuguese dishes with local produce. You'll be blown away by his interpretations of Portuguese fisherman's stew and wood oven-roasted branzino.
Visit a Farmer's Market
Come to one of the county's many farmer's markets if you're looking for a more casual way to taste some of Sonoma's edible creations. Sonoma Valley Certified Farmers Market is the perfect place to start, as it's open year-round on Fridays from 9am to 12:30pm.
As its name states, it's an organic-certified market, which means that all the produce meets California State's criteria.
You can find delicious treats here, such as freshly-baked bread, dairy products, and honey. You'll find it in the Arnold Field parking lot, within walking distance from Sonoma Plaza.
Speaking of Sonoma Plaza, it hosts the Valley of the Moon Farmers Market every Tuesday from 5:30 to 7:30 pm in May until September. It has live music, wine by the glass (or the bottle, I'm not judging), various food stands, and artisanal-made goods.
Feel Zen at Sonoma Botanical Garden
In the nearby town of Glen Ellen is Sonoma Botanical Garden, which has one of the world's biggest collections of wild-sourced Asian plants. What's interesting about the garden is that it was an abandoned quarry, but now it's a beautiful spot to get some inner peace.
The garden spreads over 25 acres and is about eight miles north of Sonoma, and it even offers picnic areas (just remember to leave no trace of your stay).
Spending an afternoon here is a brilliant way to learn about the conservation of endangered and rare plants – you can even get a guided tour if you want to nerd out a little bit more.
Experience the Magnificent Redwoods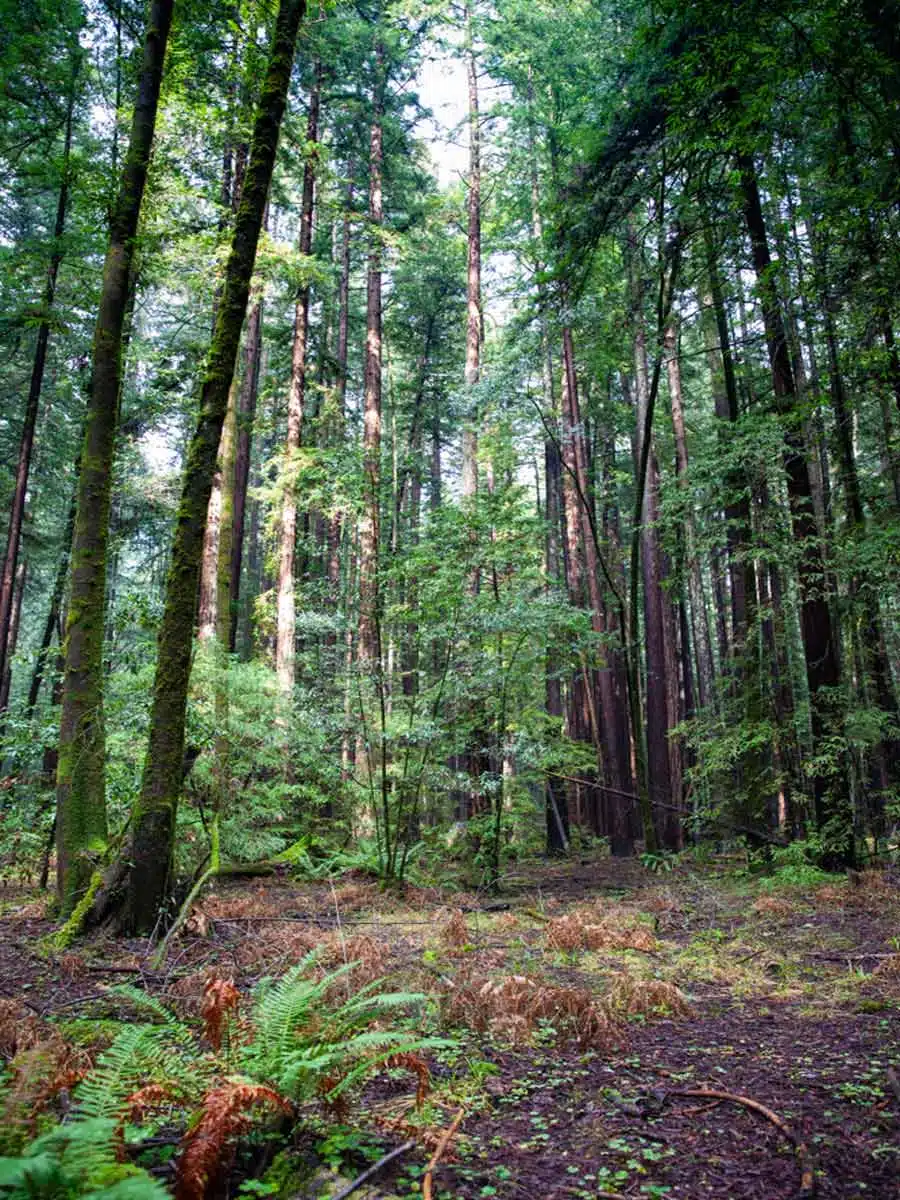 While Sonoma is full of things to do, there's still a lot to do in its surrounding regions.
One terrific thing to do is explore the abundance of nature in the area, such as the majestic redwoods in Armstrong Redwoods State Natural Reserve. It has trees that extend over 300 feet and trees that are over 1,400 years old.
It's a one-hour drive from Sonoma and is one of the best free things to do in Sonoma (or nearby).
Well, it's not entirely free, as you have to pay a $10 vehicle fee. However, if you park in nearby Guerneville and catch a local bus, you can enter for free.
It's open from 8am until one hour after the official sunset time (which tends to fall around 5 – 8:30 pm, season-dependent). It also has hiking trails ranging from one mile to over 10, perfect for novices and hiking pros.
Brilliant Things to See & Do in Sonoma
Be Inspired by Local Art
It's no secret that I love art. And Sonoma is an epic spot for culture-seekers.
This area is not just famous for its delicious wine and abundant natural beauty. It is also home to many local artists, and you can witness their creations at various spots in and around Sonoma.
One of the best spots to see art from the Bay Area is the Sonoma Valley Museum of Art (SVMA). It usually has two exhibitions at a time, with contemporary work done by local and even international artists.
It's open from 11am to 5pm from Wednesday to Sunday, and admission costs $10 per person. However, if you come on Wednesday, admission is free.
Another brilliant spot nearby is the di Rosa Center for Contemporary Art, which is eight miles from Sonoma. It costs more than SVMA, at $20 per person, but it has over 2,000 works and guided tours.
Get Your Heart Pumping at Sears Point Racing Experience
For all adrenaline seekers, one of the best Sonoma activities is the Sears Point Racing Experience. Here, you can race in F3 race cars and go up to 70 mph on the Sonoma Raceway, California's longest track.
It's just 11 miles from Sonoma or a 17-minute drive, so it's not far to travel. Sonoma Raceway also hosts multiple events, such as the NASCAR series, and they even have a karting centre for those more laid-back people.
Besides racing and go-karting, you can also get professional lessons from trained instructors on improving your driving performance or car control skills.
Fair warning: The racing experience is an investment and starts at $295 for a two-and-a-half-hour slot. Go-karting is significantly cheaper, at $60 per person.
Follow the California Cheese Trail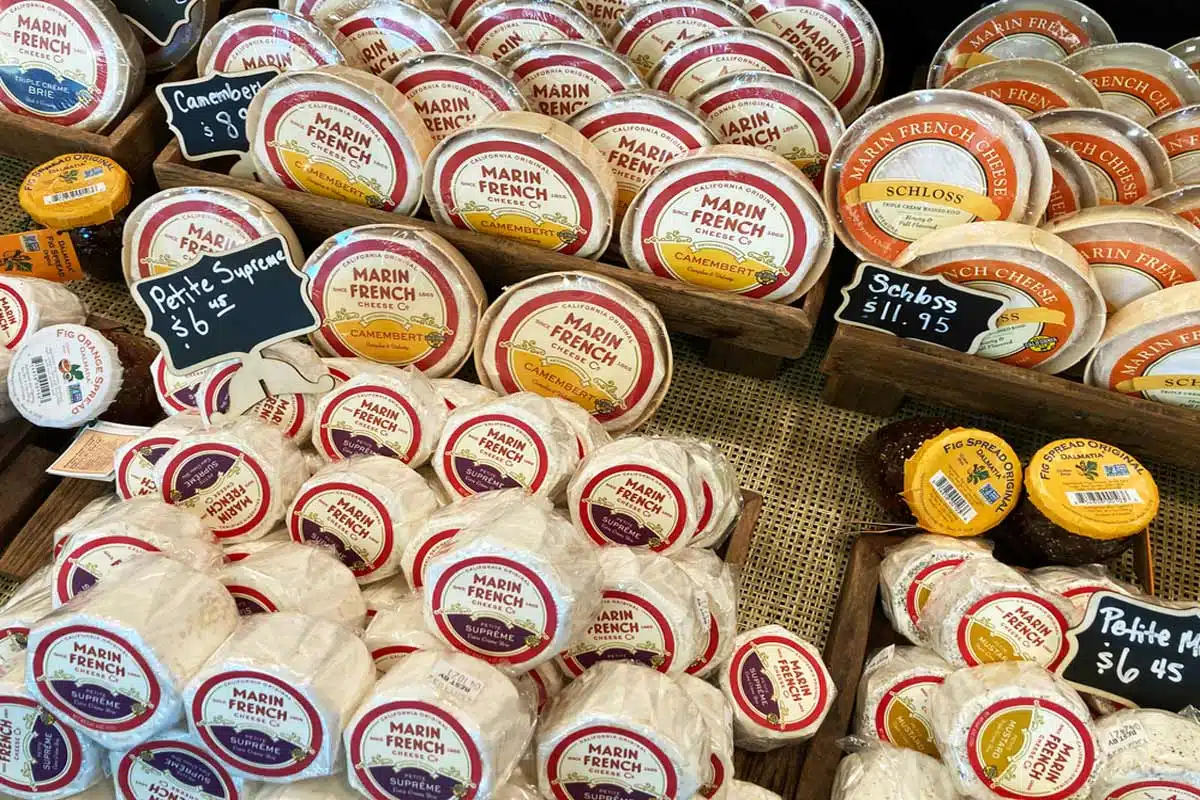 Wine, art, and… Cheese? Sonoma County and NoCal are famous for their incredible produce, which includes some of the most delicious cheeses.
Now, the brilliant people in Sonoma and Marin County have made a dedicated cheese trail with an interactive map, so it's easy to find some great artisan cheesemakers.
There are over 15 different options in and around Sonoma County, but here are a few of my favourites:
Epicurean Connection – They offer a cheese-tasting plate for $10 and cheesemaking classes on Thursday and Saturday from 12 pm to 2 pm.
Ramini Mozzarella – They offer delicious buffalo mozzarella and tours on appointment only.
Petaluma Creamery – This creamery is over 100 years old and offers all sorts of delicious dairy products, from goat's cheese and cheddar to lavender ice cream.
Understand the History of Sonoma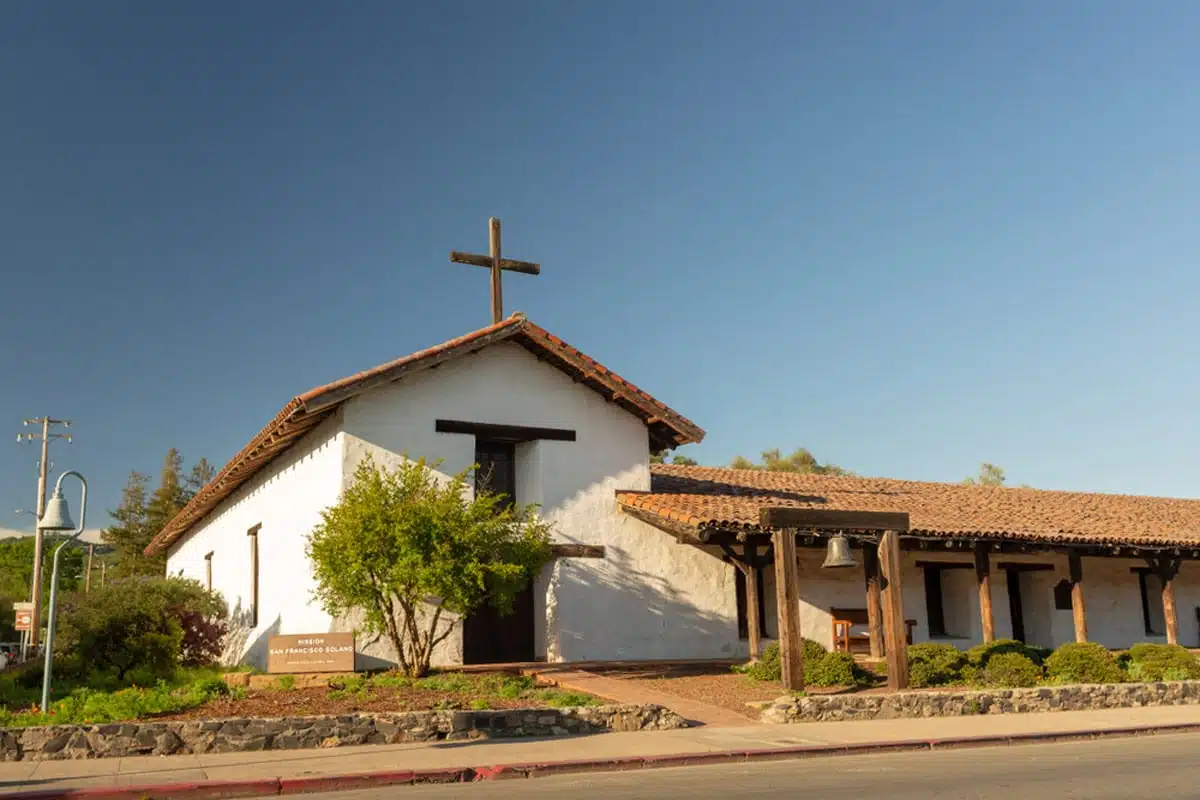 Sonoma is full of history, with the first people in this area being Native Americans belonging to the Coast Miwok, Wappo, and Pomo tribes.
They have been here for thousands of years, and a brilliant way to learn more about them is at the Californian Indian Museum and Cultural Center in nearby Santa Rosa.
Apart from this, Sonoma also has immense religious importance, as the Spanish set up various missions in the 1700s and 1800s. You can explore all this at Sonoma State Historical Park, which houses the city's last and northernmost mission right.
Here, you can also see remnants of the Mexican-American War of 1846 to 1848. One site is the Sonoma Barracks, which General Vallejo built to house Mexican troops.
Another brilliant insight into life at the time is General Vallejo's house, La Casa Grande.
Unique Things to See & Do in Sonoma: Hidden Gems That Are Off The Beaten Track
Visit Rancho Obi-wan
Bear with me here – this is an unusual one. Roughly 16 miles from Sonoma, in nearby Petaluma, is the world's largest Star Wars memorabilia collection.
This is the perfect thing to do for movie lovers or pop culture geeks, as you can find over 300,000 items relating to Star Wars, from full-sized models to movie props.
Steve Sansweet, the founder and collector, has been collecting memorabilia since the late 1970s and had to renovate his Los Angeles home to fit it all in. Eventually, he realised he needed to move to a cheaper area for property, and that's how he bought a hen house in Petaluma.
To experience the true vastness of this collection, book a tour online. Tickets start at $80 per adult, which is well worth it to support the preservation of this collection.
Check Out Wildlife at Safari West
If you've had enough wine-sipping and culture-soaking (though, I'm not sure that's entirely possible), check out the wildlife at Safari West. This is a 400-acre wildlife preserve that has over 90 different species, including giraffes, buffaloes, zebras, and lemurs.
I'll level with you, it's a 50-minute drive from Sonoma, so it's definitely off the beaten track. But it's all worth it for one of the most memorable experiences to do in Sonoma County.
If you fancy a truly unique experience, you can sleep a night in a luxury tent with a private viewing deck, an en suite bathroom, and continental breakfast. Wake up to gorgeous views filled with the park's wildlife.
Give Back and Go Apple Gleaning
Sonoma is mostly famous for its wine and grapes, but it's also home to many apple orchards. You can experience the incredible beauty of these at the apple trail, especially between May and September, when you can see the trees bloom.
Once you've indulged in plenty of wine, another brilliant thing to do with these fruits is apple gleaning.
This is where you volunteer to pick fruit and then distribute them to the needy. This is a brilliant way to give back to the community you're visiting in Sonoma County.
Visit the Farm to Pantry site to find out how you can help.
Things to Do in Sonoma: Practical Tips for Your Trip
How Long to Visit in Sonoma?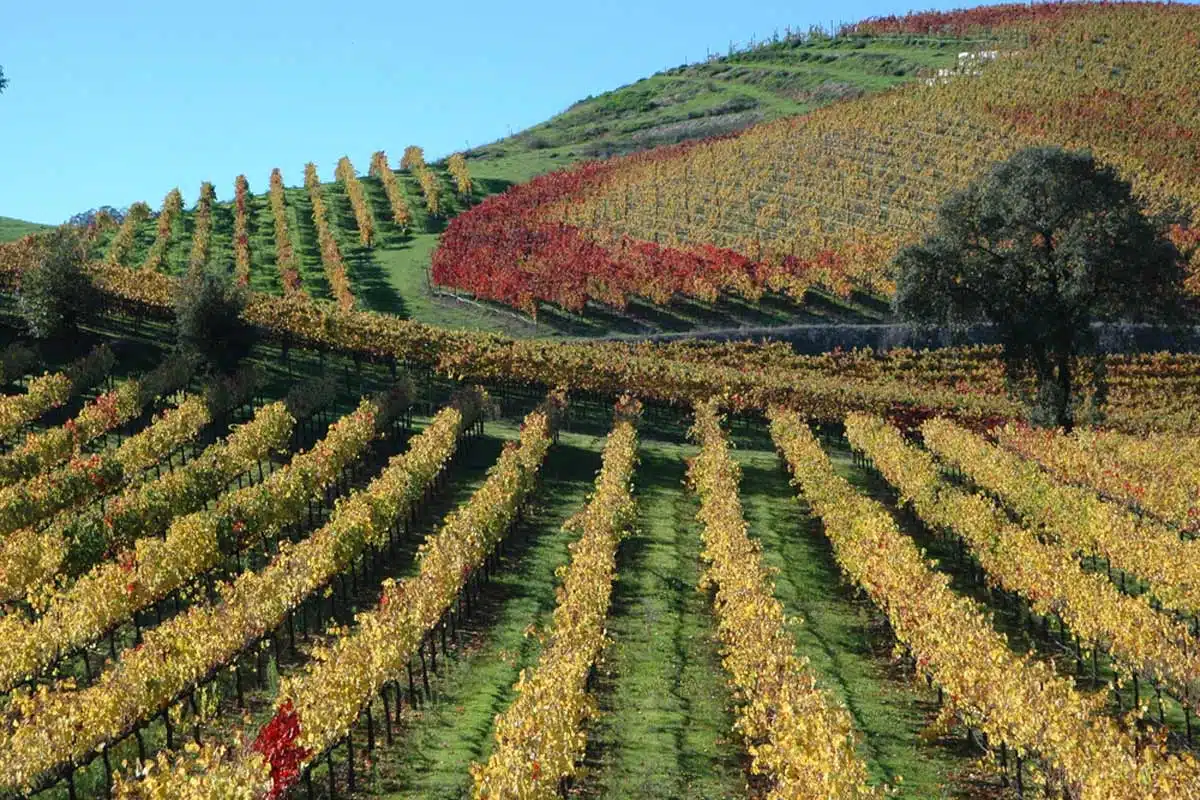 I recommend spending two or three days in Sonoma and its surrounding county. With so many things to do, Sonoma offers all kinds of treats, from edible ones to incredible experiences.
Best Time to Visit Sonoma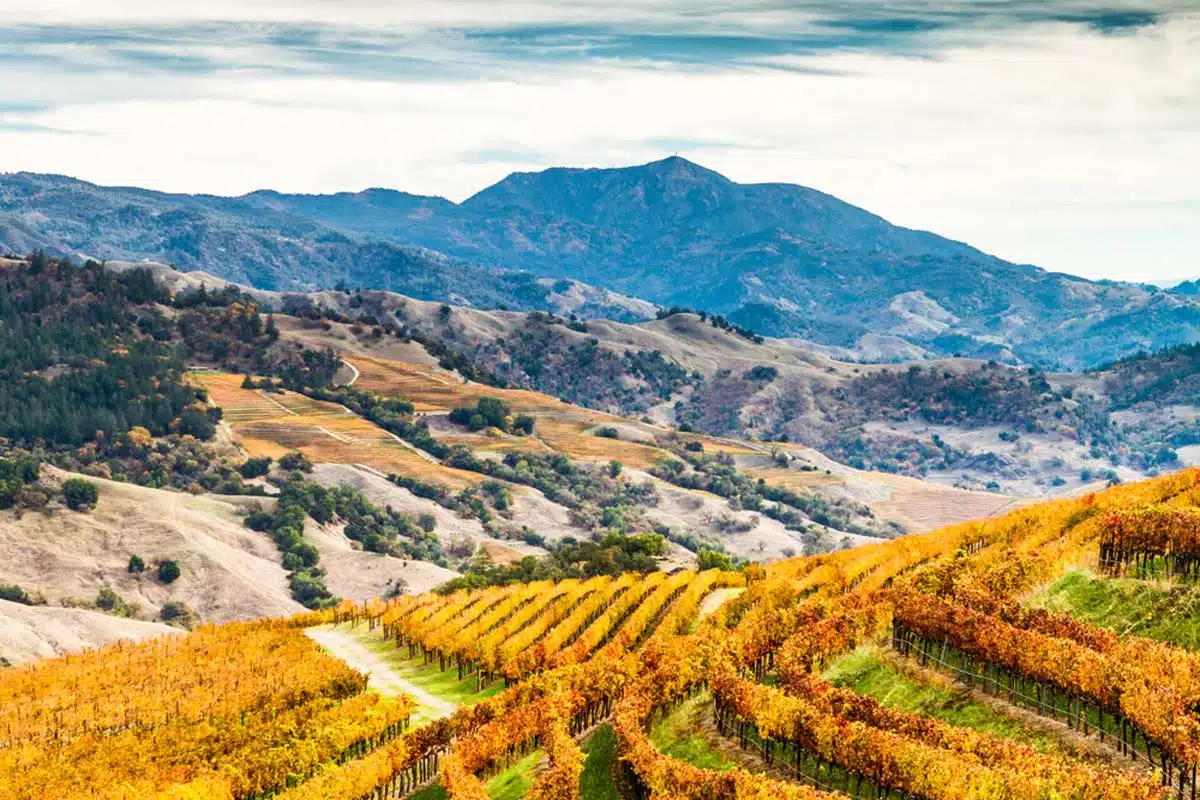 The best time to visit Sonoma is entirely subjective. The most popular time to visit Sonoma County is between June and October.
If you want to come then, book accommodation and wine-tasting reservations a few months in advance.
Suppose you want to experience a less crowded Sonoma. In that case, I recommend visiting in springtime, from the end of March to June. This is because beautiful wildflowers fill the valley and delicious spring produce is available.
Where Should I Stay in Sonoma?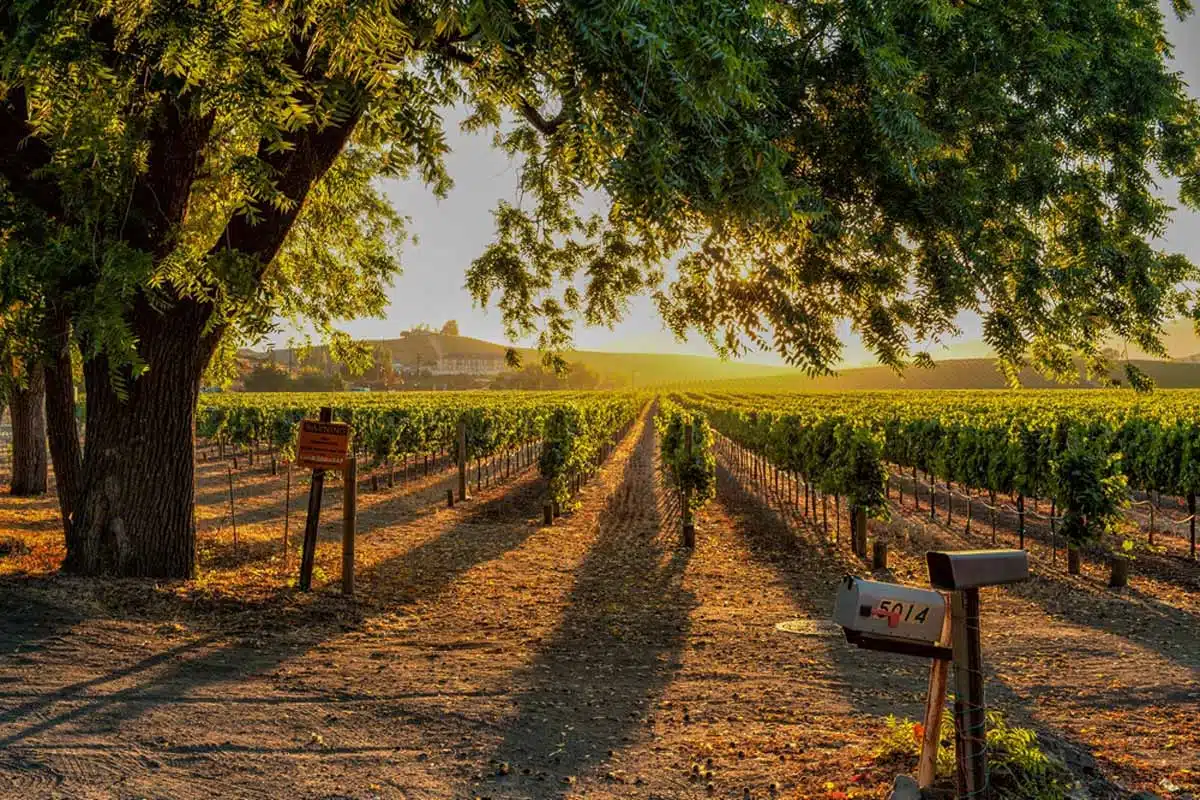 There are many hotels in Sonoma, perfect for you, no matter the budget. That said, here are my two top picks.
Inn at Sonoma (Mid-range)
This modern inn is within walking distance from Sonoma Plaza and is a comfortable place to stay.
Wake up, enjoy a delicious breakfast, spend a day in Sonoma, and come back to enjoy wine and cheese in the afternoon. Otherwise, you could also enjoy a dip in the hot tub, which is ideal on cold evenings.
MacArthur Place Inn & Spa (Luxury)
This stunning hotel sits on a historic six-acre estate, surrounded by beautiful, luscious gardens, a mid-century swimming pool, and a fully-serviced spa.
It also has lavish amenities, such as complimentary wine tastings, free movie rentals, and an on-site library, perfect for quiet moments.
Lastly, there are two sought-after restaurants on the property. Layla offers Mediterranean-style food, while The Porch offers delicious brunch options.
Recommended Tours in Sonoma
Things to Do in Sonoma: Map
Brilliant Things to do in Sonoma Valley: Read Next