Calling all wine lovers. Looking for the best hotels in Sonoma? Discover the best places to stay in the region with this handy guide.
Sure, it's often overshadowed by Napa Valley, but Sonoma certainly holds its own as one of the great wine valleys of Cali. If you ask me, it makes for an epic place to spend a wine-filled weekend.
Interestingly, Sonoma is the name of the county, wine valley, and city in Northern California.
And, as you might be able to guess, the area is popular thanks to its rolling hills, vineyards, and award-winning wines. It sits in the heart of California's wine country and makes for a great day trip from San Francisco.
But, the best way to see Sonoma is over a few days; soaking up the sun and – plenty of – wine.
So, prepare for a weekend of culture and vino, and let's dive in.
Best Hotels in Sonoma: At a Glance
Best Hotels in Sonoma
MacArthur Place
£££
Sonoma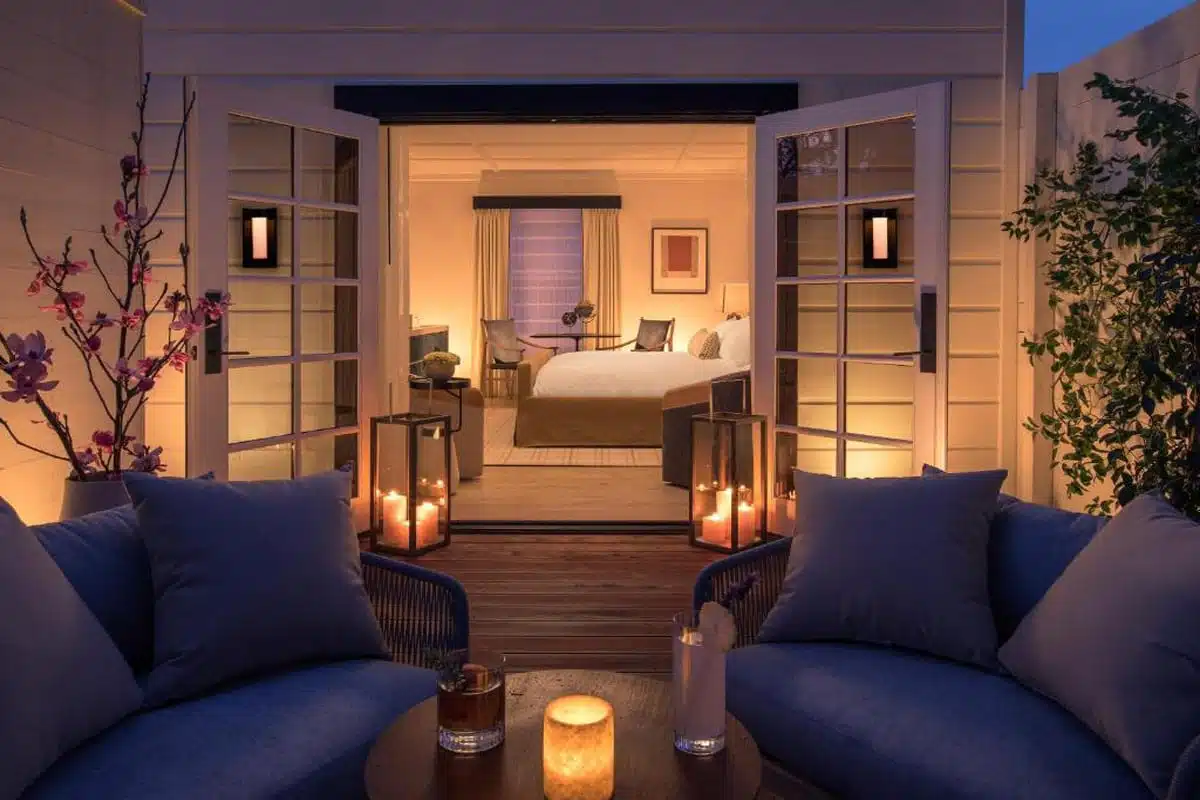 Set in a six-acre estate, MacArthur Place is the perfect place for a luxury getaway in Sonoma Valley. With a pool and lush gardens all around the property, it's also an excellent spot for a romantic weekend away.
Choose between a room or a spacious suite for your stay – both options include mid-century modern designs with private bathrooms, a seating area, and a patio perfect for sundowners or your morning coffee.
Speaking of coffee, you don't have to go far for your morning cuppa. The hotel features an on-site coffee shop, a Mediterranean restaurant, a marketplace, and a bar.
And, in just a short walk, you'll be in the centre of the Sonoma Plaza.
The Lodge at Sonoma Resort
£££
Sonoma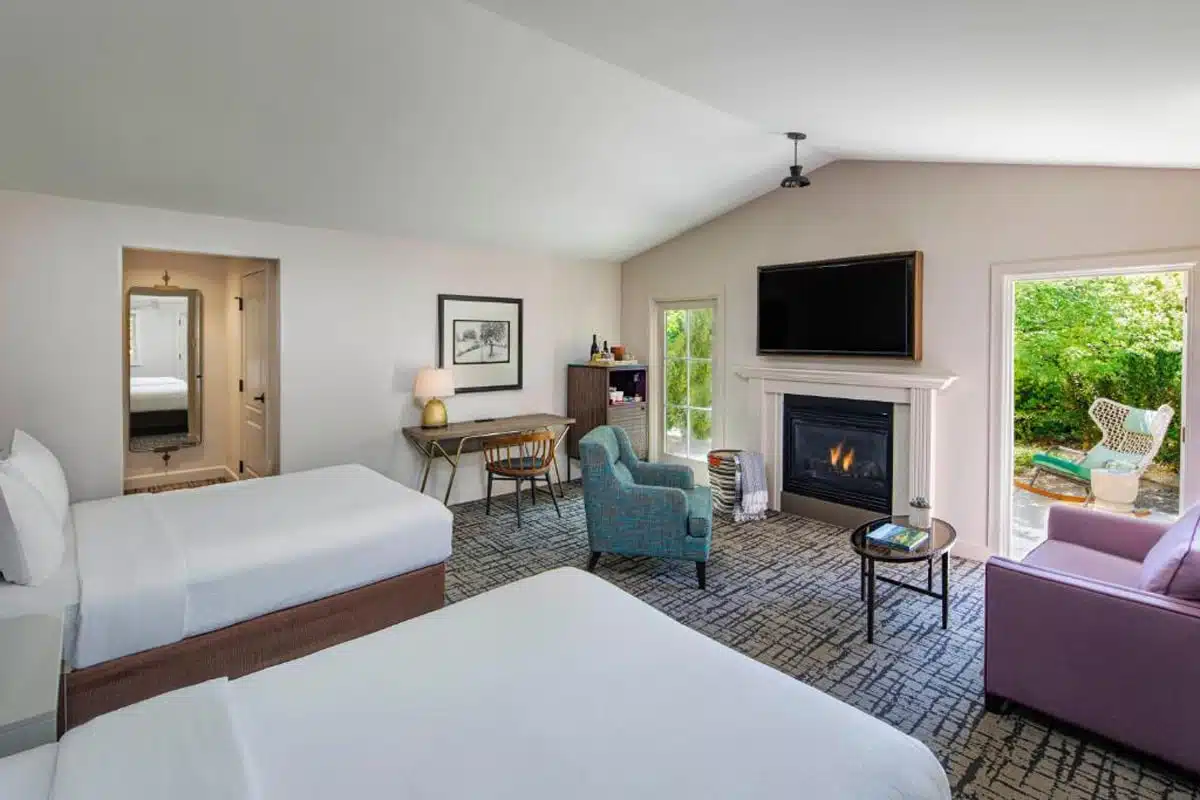 The Lodge at Sonoma Resort is a pet-friendly resort sitting a 5-minute walk away from the Sonoma TrainTown Railroad. The hotel is eclectic in design with many charming touches.
One of those is the modern en-suite rooms with a seating area, a fireplace, and a balcony for some. But the rooms are just half the fun.
The hotel also has a heated pool, hot tub, and fitness centre. The on-site restaurant, Benicia's Kitchen, serves Latin American dishes from breakfast to dinner.
Sonoma Creek Inn
£
Sonoma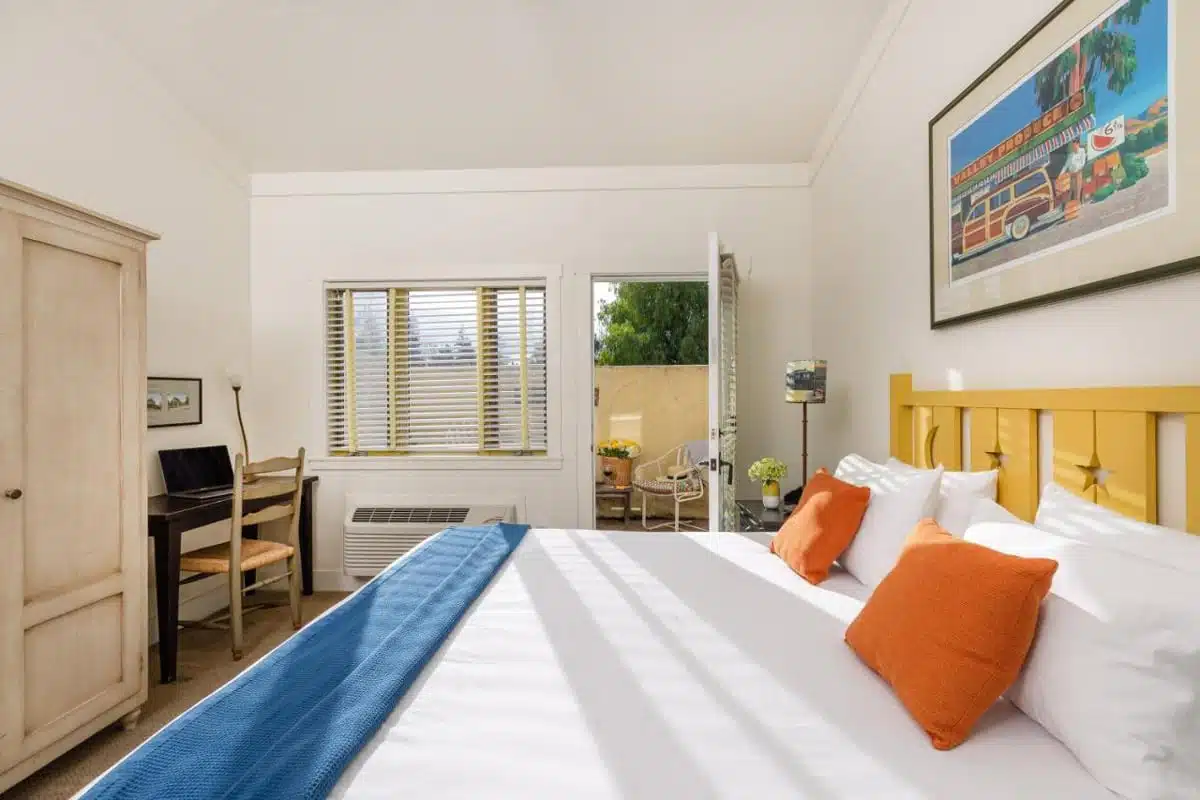 Sonoma can be a bit pricey (not as spenny as Napa, though), but if you're looking for an option that's easier on the pockets, the Sonoma Creek Inn is the place to be. Technically, this spot is a motel, but it's a far cry from the dingy place you may be picturing.
Rooms are big and colourful, with many featuring private patios or terraces. You'll have access to a mini fridge, a TV, and air conditioning during your stay.
While the bathrooms can be a bit cramped, the optimised space has a dual bath, shower, and ample counter space.
While there's no on-site restaurant or facilities, Sonoma Plaza is just a short walk away and has more than enough restaurants and activities to keep you busy. It is also close to many vineyards like Benziger Family Winery, where you can stop by for a wine-tasting tour.
Fairmont Sonoma Mission Inn and Spa
£££
Sonoma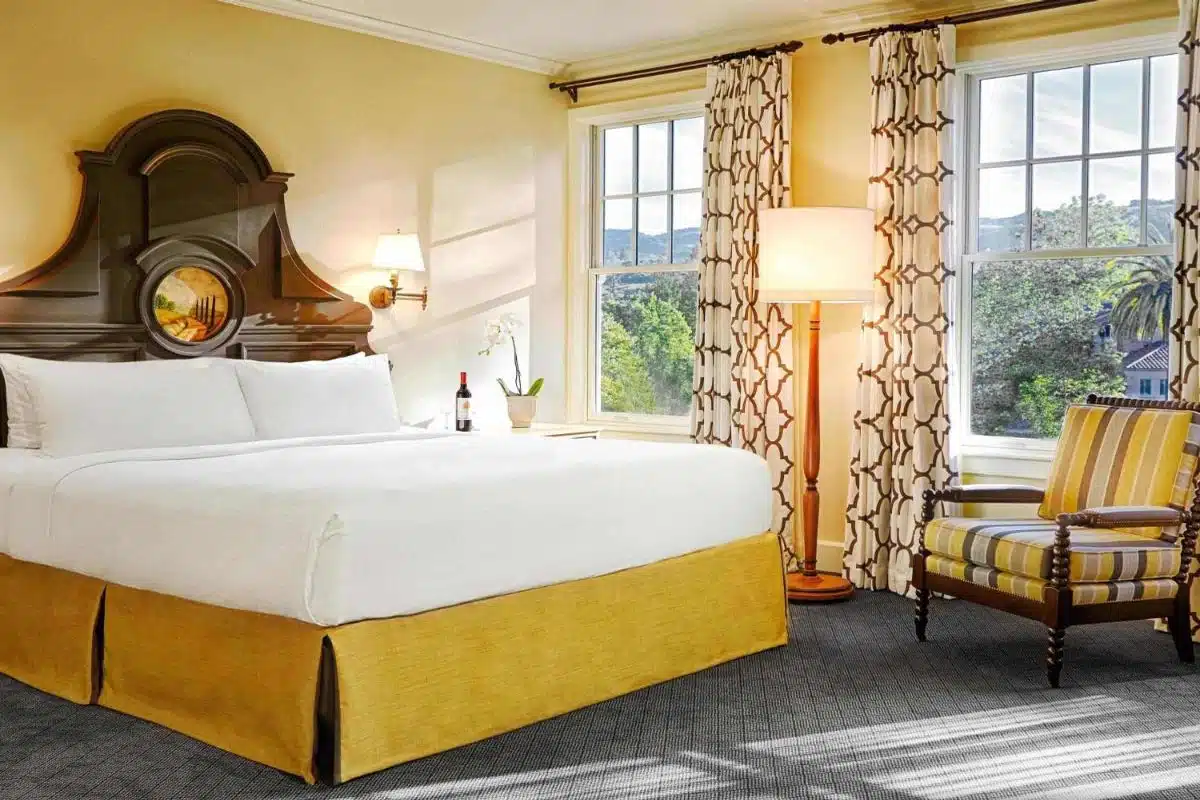 The Fairmont Sonoma Mission Inn and Spa is perfect for luxe holidays in the wine valley. Another plus? It's pet-friendly.
There are many rooms to choose from, with some of the more expensive options including a jacuzzi and patio. However, each room is elegant, with a seating area, private bathrooms, and incredible views.
There are a few facilities on-site to keep you busy when you're not visiting wineries. These include 18-hole golf, a poolside cafe, a spa, geothermal swimming pools, and a fitness centre, to name a few.
El Pueblo Inn
£
Sonoma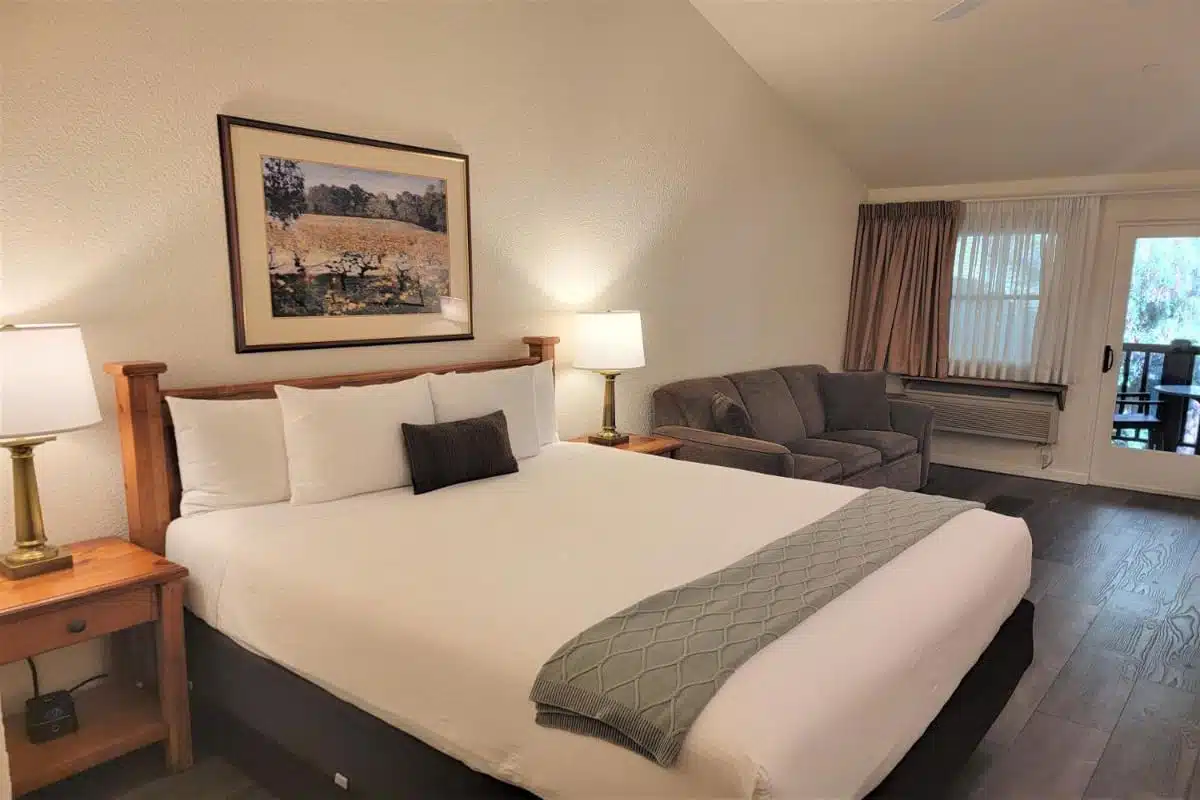 El Pueblo Inn is one of the few affordable options in the wine valley. And, at just a 20-minute walk from Sonoma Plaza, it's a steal too.
This hotel has a no-fuss style and is full of greenery and fountains. Rooms are simple, with everything you need to be comfortable and a small patio. There are outdoor pools and a fitness centre.
And while there is no on-site restaurant, its prime location makes up for it.
Ledson Hotel & Zina Lounge
£££
Sonoma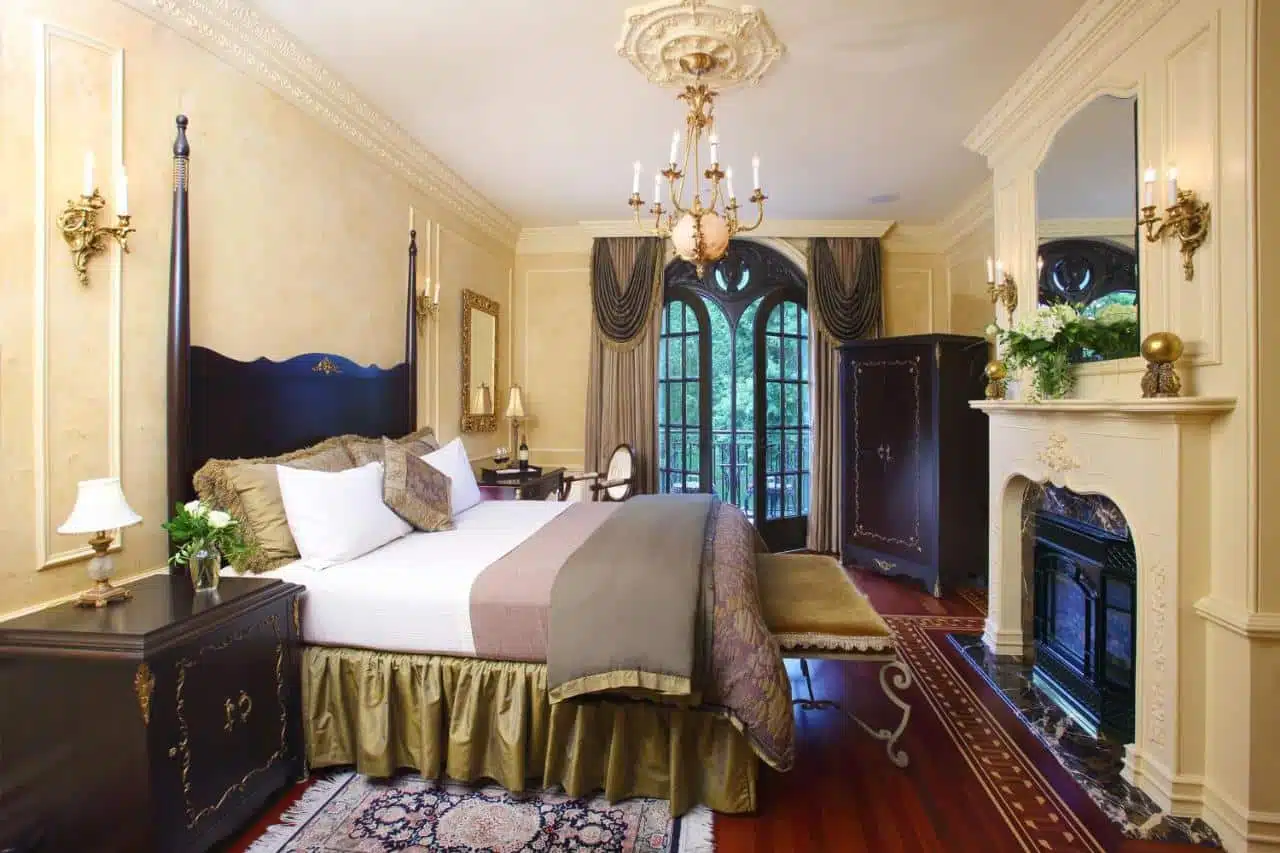 Ledson Hotel & Zina Lounge is a small boutique hotel in the heart of Sonoma. It sits in the historic square and plays into this fact well.
Its decor is dark and antique, with grand furnishings and draping. Each of the six rooms has a king bed, balcony, fireplace, and spa bath. The minibar and coffee machine are a great plus, as the hotel doesn't have an on-site restaurant.
Of course, since it is in the wine county, the hotel also has a daily tasting room open from 10 am to 6 pm. It would be rude not to drop by.
Vintners Resort
£££
Santa Rosa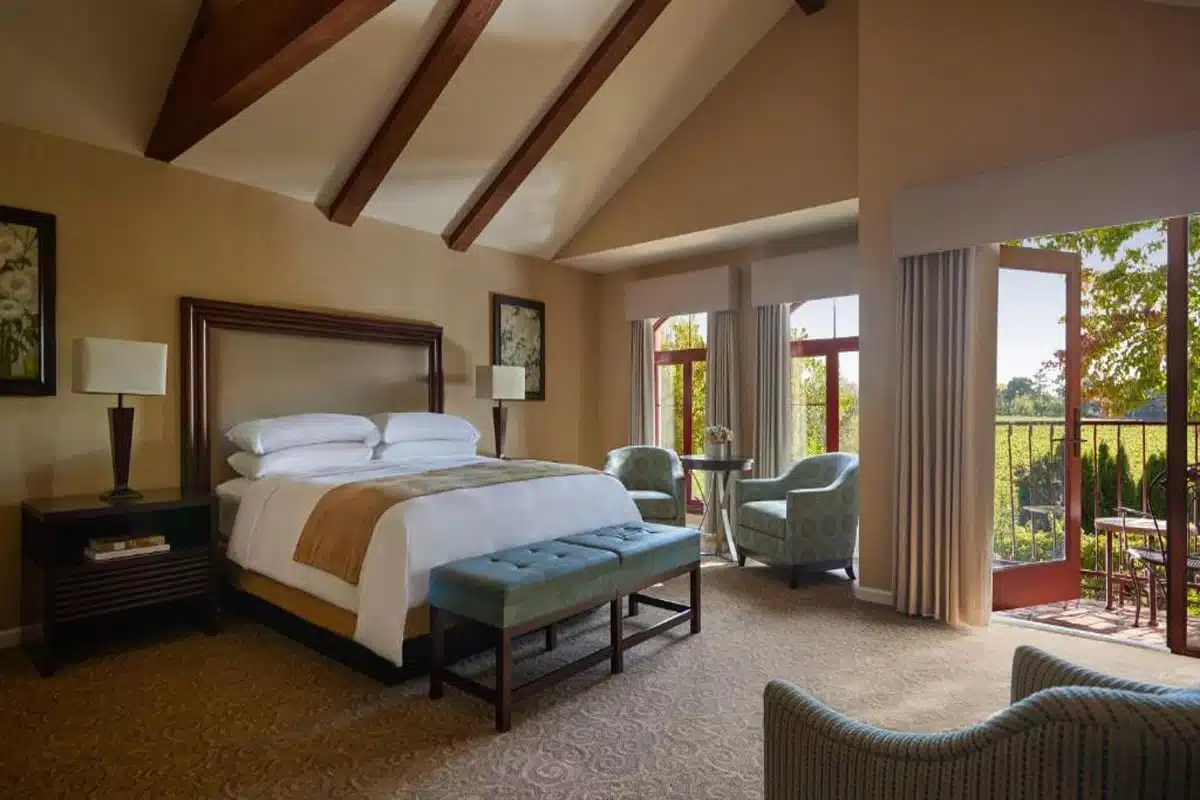 You'll find Santa Rosa about a two-hour drive from the city of Sonoma. It's famed for its award-winning wineries, so staying here is one of the best things to do for budding connoisseurs.
So, it's no surprise that the Vintners Resort is on the vineyard trail and offers its guests a complimentary bottle of wine upon arrival. The entire plot is full of vineyards, greenery, and perfectly manicured lawns. Inside, they keep up the manicured look too.
The en-suite rooms are luxe and modern, with floor-to-ceiling french doors opening up to the garden-faced patio. John Ash & Co is the on-site restaurant that serves dishes with fresh local produce while the bar serves an extensive list of – you guessed it – regional wines.
Hotel E
££
Santa Rosa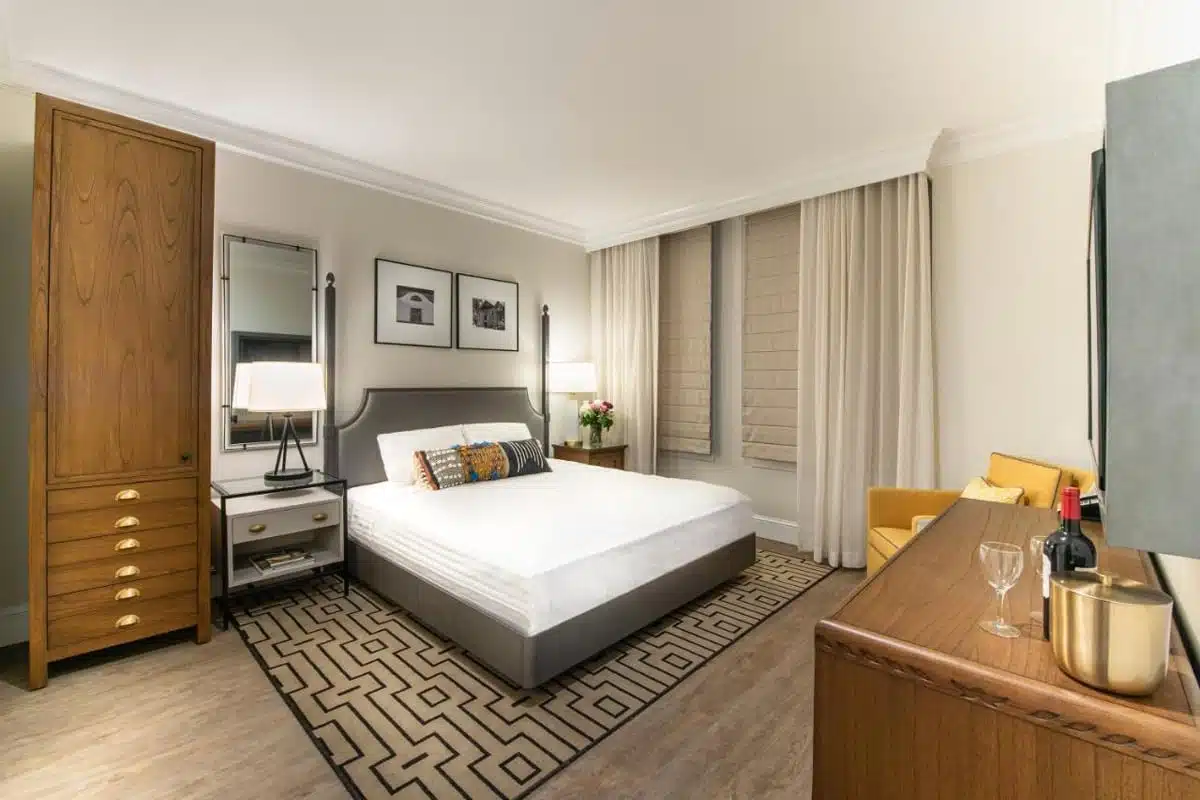 Hotel E is in the heart of the city and is one of the best Sonoma hotels for a luxury experience at an affordable price. The 4-star hotel has a concierge service, terraces, and facilities for disabled guests. But the best part? It's pet friendly.
If you stay here, you can expect clean, modern rooms in calm neutral tones. The bathrooms are equally as modern with wood finishings.
To soak up the Sonoma Valley sun and wine, head to the outside courtyard or lobby wine bar for a relaxing afternoon.
Hotel La Rose
££
Santa Rosa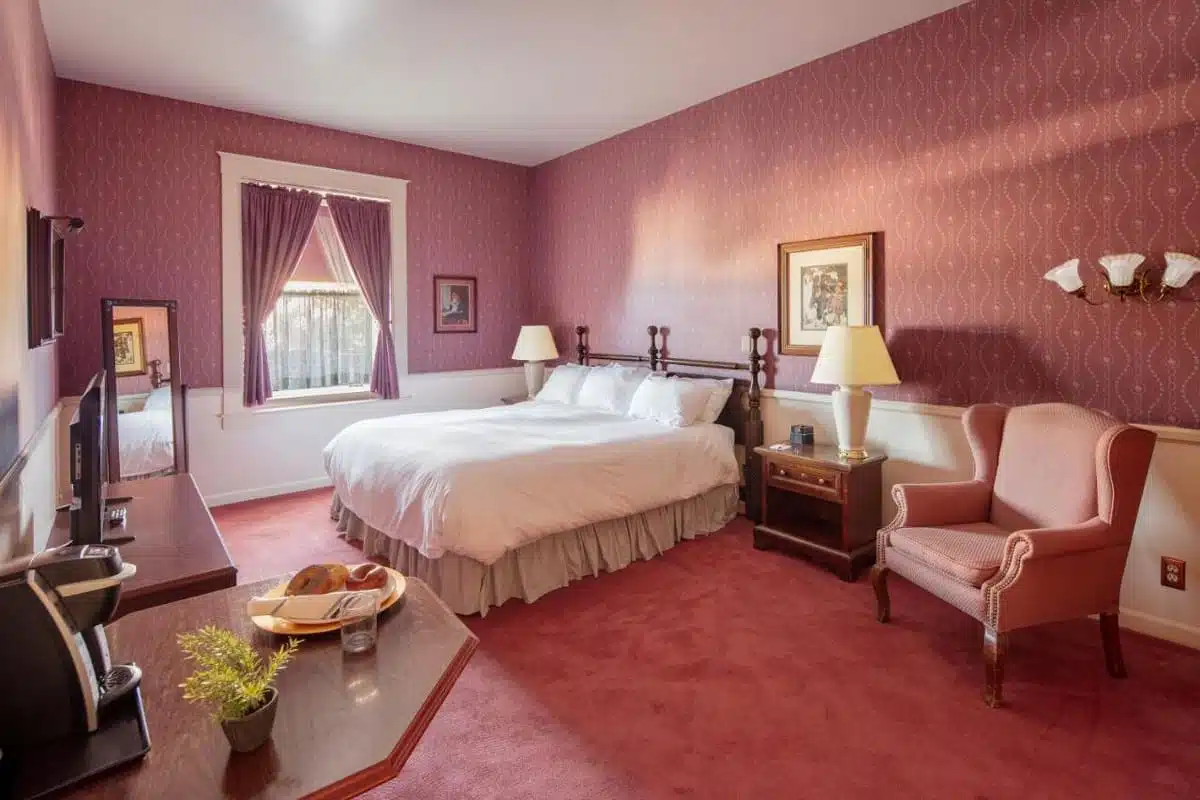 Hotel La Rose is one of the best places to stay in Sonoma.
Don't believe me? Rooms boast pink or floral designs to keep with the hotel's cheery and classical style. But, if you'd prefer, you can also select a more modern and understated room.
Whichever type you choose, you'll get a private bathroom, spacious bed, and air conditioning.
The hotel's restaurant, Grossman's Noshery & Bar, serves American and Middle Eastern cuisine and cocktails. But, if you crave something else, you are in the centre of town – so finding something shouldn't be a problem.
Best Western Dry Creek Inn
££
Healdsburg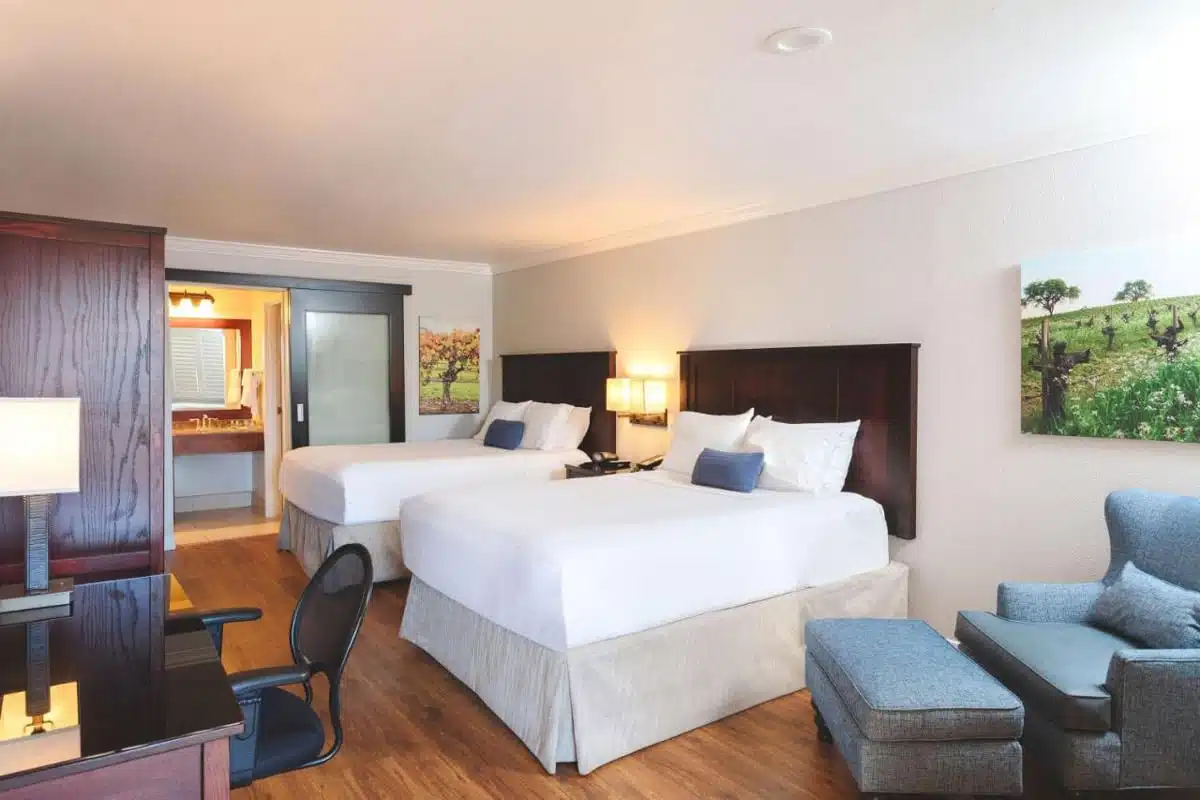 Best Western Hotels are a trusted brand, so it's no surprise that this 3-star hotel is on this list. The Best Western Dry Creek Inn is outside Healdsburg but is the ideal spot for visiting wineries. Within a 20-minute radius, you're close to about 100 wineries.
En-suite rooms are big, contemporary, and comfortable, with a seating area and lounge in some. Each comes with a balcony or patio, a coffee machine, a refrigerator, and a desk for convenience.
Outside, you can find the pool and on-site restaurant for a chilled-out end to the day.
H2hotel
£££
Healdsburg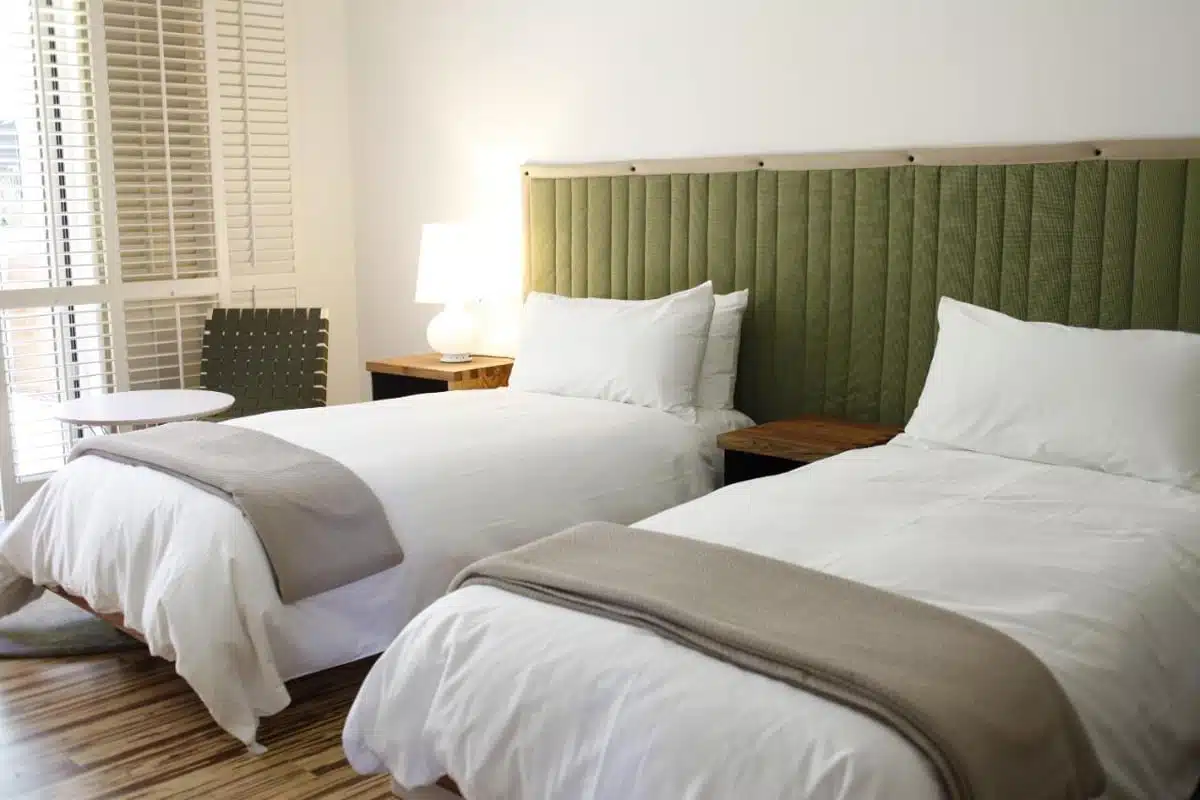 The best words to describe H2hotel are eclectic, artsy, and elegant.
This earth-friendly hotel uses environmentally conscious practices to promote less waste. One such example is their use of solar panels.
The rooms continue with the eco-chic direction and have a rustic-modern design, while the bathrooms are pretty big and have all-natural products for guests to use.
While you are quite central, the hotel still has a spa, lounge, and 24-hour store. The Spoonbar is an on-site restaurant that serves handmade pasta, fun cocktails, and inventive seasonal dishes.
Harmon Guest House
£££
Healdsburg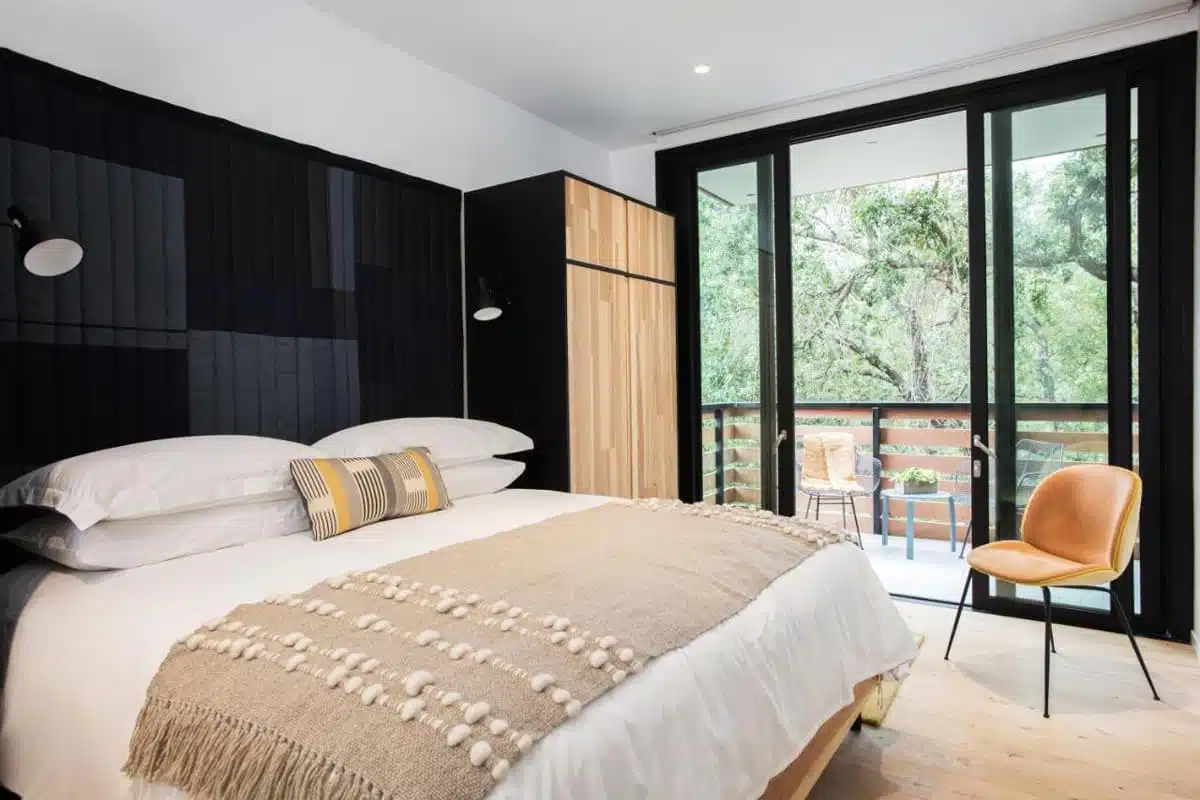 Harmon Guest House looks like a work of art in the city's centre and might just be my fave Sonoma hotel. It is sleek and has wood panelling all around, which gives it a modern yet earthy look that carries on throughout.
As expected, the rooms are big with earthy tones and wood furnishings. The open-plan design flows from the bedroom, bathroom, and seating area. The suite also has a patio overlooking the garden and cityscape.
The hotel is pet-friendly, so you and your pet can enjoy a relaxing cool-off at the pool and garden. A buffet breakfast awaits you in the mornings, while at sundown, you can enjoy the on-site bar for sundowners.
Olea Hotel
£££
Glen Ellen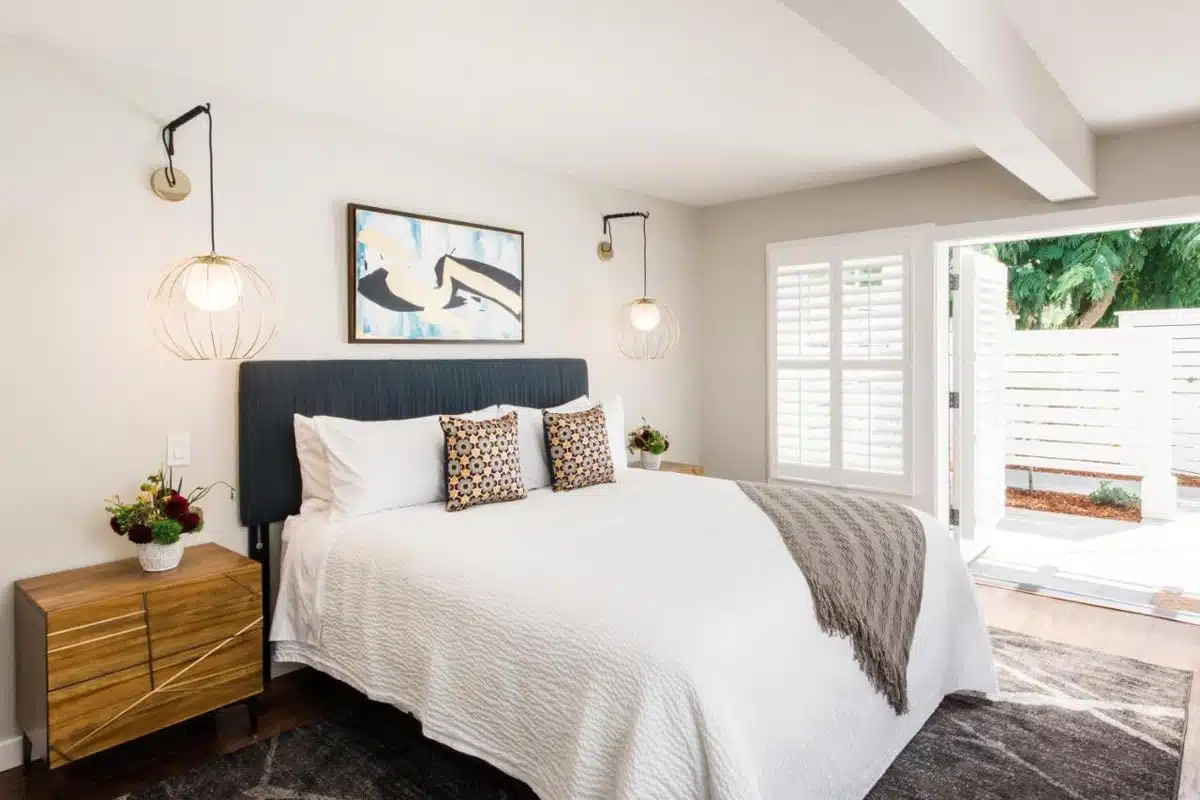 This 3-star, adults-only hotel is the perfect place for a couples getaway. Rooms are modern, relaxing, and the hotel is engulfed by olive and oak trees.
Olea hotel's rooms are slightly different, with each couple getting their own little hideaway among the greenery, complete with a lounge, bedroom, and private bathroom. Each room has a private patio, but if you want more space, you can relax around the firepit or bright blue pool.
Included in your stay are a free dessert, wine pairing, and gourmet breakfast prepared by executive chef Arda Kabaalioglu. It is also in a great location, just a short drive away from many wineries like Buena Vista — one of the oldest wineries in California.
Gaige House
££
Glen Ellen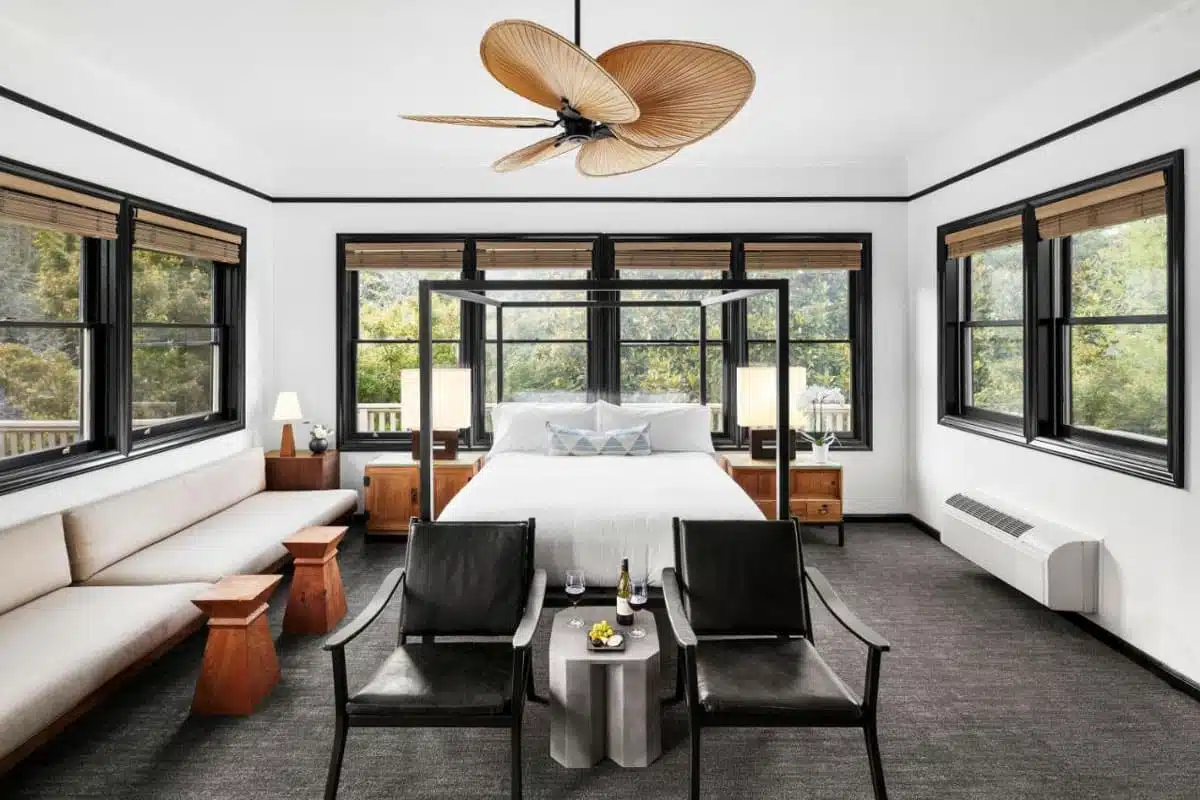 Gaige House meshes Californian style with Japanese culture at this 4-star hotel. Upon entering, you can see the southeast Asian influence with its zen environment and bamboo walls.
Each room is different, with some spaces or ryokans leaning heavily into its eastern influence. The bathrooms are either modern or have dark stone bathtubs and bamboo detailing.
As if the environment wasn't tranquil enough, the hotel also offers an outdoor pool, hot stone massages, and a meditation alcove.
As a treat, Gaige House offers a free wine and cheese tasting every evening. In the morning, you can also fill up on their complimentary buffet breakfast.
Kenwood Inn & Spa
£££
Kenwood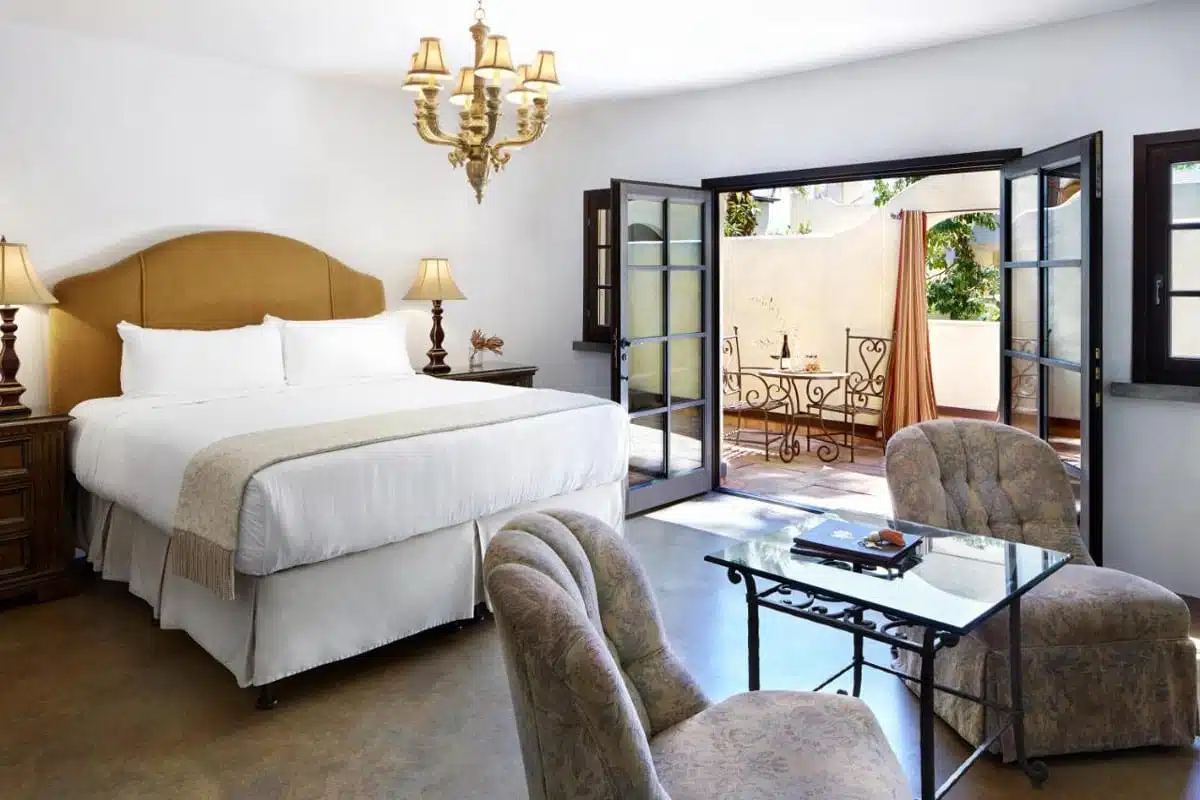 Kenwood Inn & Spa is an excellent retreat into the country. It leans heavily into its Italian aesthetic with stone patios, metal railing, shutters, and plants everywhere you look. And a bonus is that it is near so many wineries.
In keeping with the theme, bedrooms are spacious and elegant with a rustic touch — stone ceiling here, stone walls there etc. Each room has a cosy fireplace, an elaborate bathroom, and a private patio or balcony.
To have a truly relaxing experience, sink into the outdoor or hot soaking pool. The poolside seating or garden is also an excellent place to catch a tan or just relax with the sounds of nature.
Best Hotels in Sonoma: Frequently Asked Questions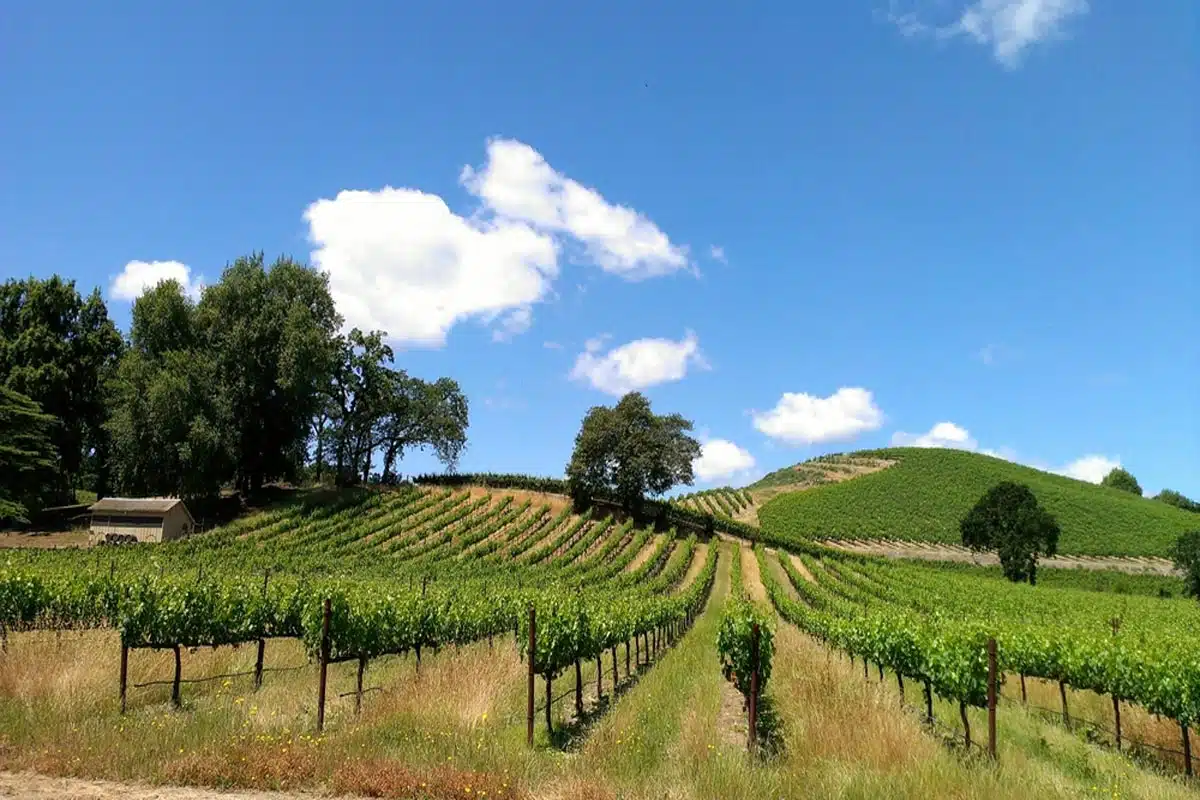 Practical Tips to Consider Before Booking Your Sonoma Hotel
Harvest time is a lively time in Sonoma. This is between September and October, so visit during this time if you're planning wine tasting. Tasting rooms close between 4.30pm and 6pm.
Note that most hotels require you to stay for a minimum of two days during the weekends and peak season between May and October.
Sonoma County borders the Pacific Ocean, so make sure you head to a seafood restaurant for some of the best seafood you'll ever devour.
While Napa is just a 23-minute drive away, Sonoma is generally cheaper. Which is ideal if you're looking to save some cash.