A West Coast USA road trip is one of the classic American road trips. Make the most out of your adventure with this step-by-step Pacific Coast Highway road trip itinerary.
Driving up the Pacific Coast Highway and Highway 1 on a West Coast USA road trip is an experience to remember – it's one that I certainly do.
Magnificent views, laid-back towns, vineyards and the great outdoors: this is a real chance to explore the great American coast. What more could you want from your time on the road?
Any great trip is worth taking its time over, so I've put together the perfect three week West Coast USA road trip itinerary to help you plan your trip.
All the ideas, stops and suggestions you'll need to plan the perfect trip. Don't stress, just sit back and enjoy the ride, whether you are planning on going in a car, van or motorcycle touring.
In this guide I will cover:
What to do and consider before your Pacific Coast Highway trip
A step by step West Coast road trip itinerary – with the best things to do on the West coast of America, estimated driving times and suggested stays.
Other useful resources for the trip and a handy map to make things super easy
Practical Tips and Frequently Asked Questions About How to Travel the West Coast of the USA
Where Does the Pacific Coast Highway Start?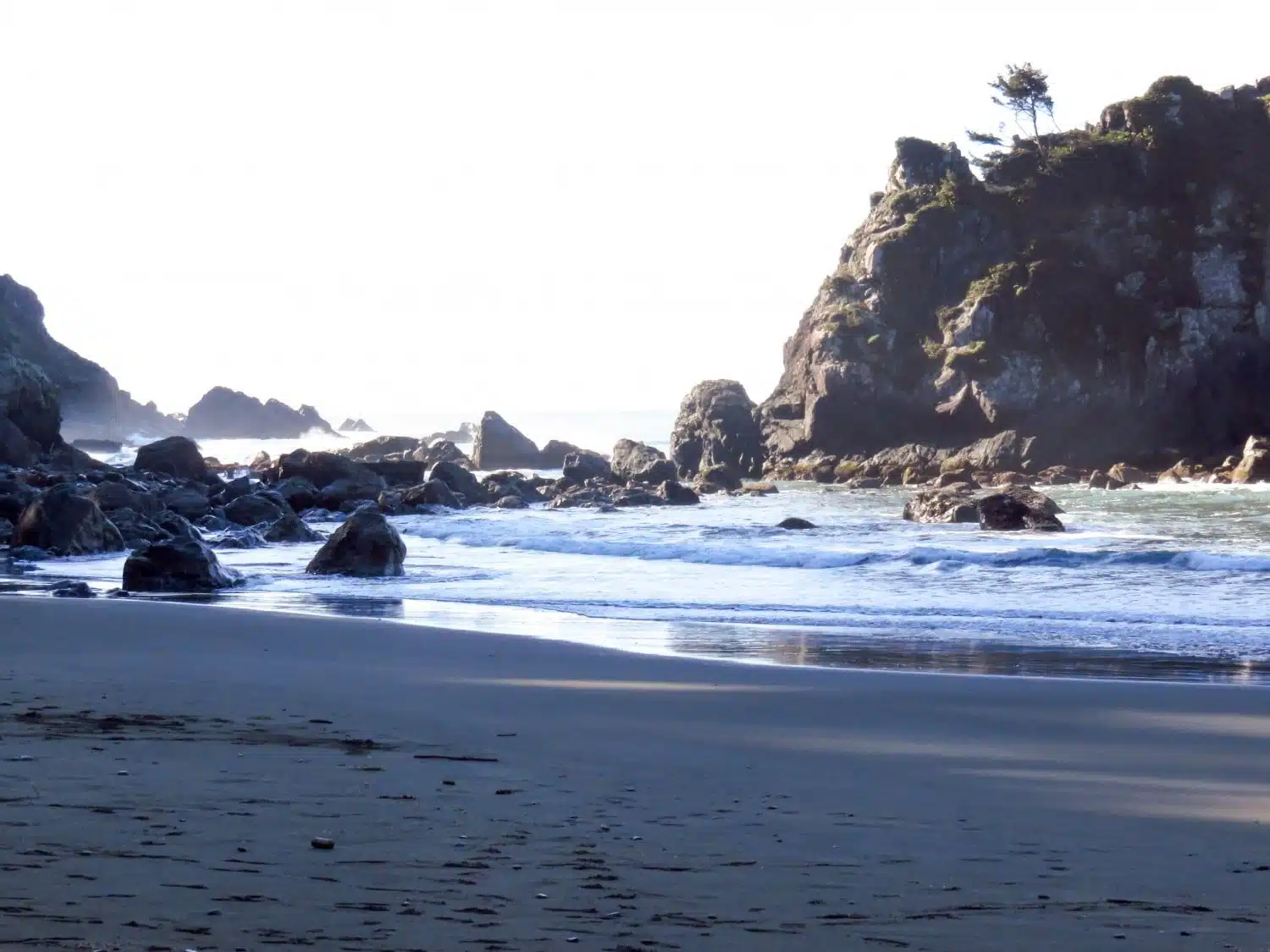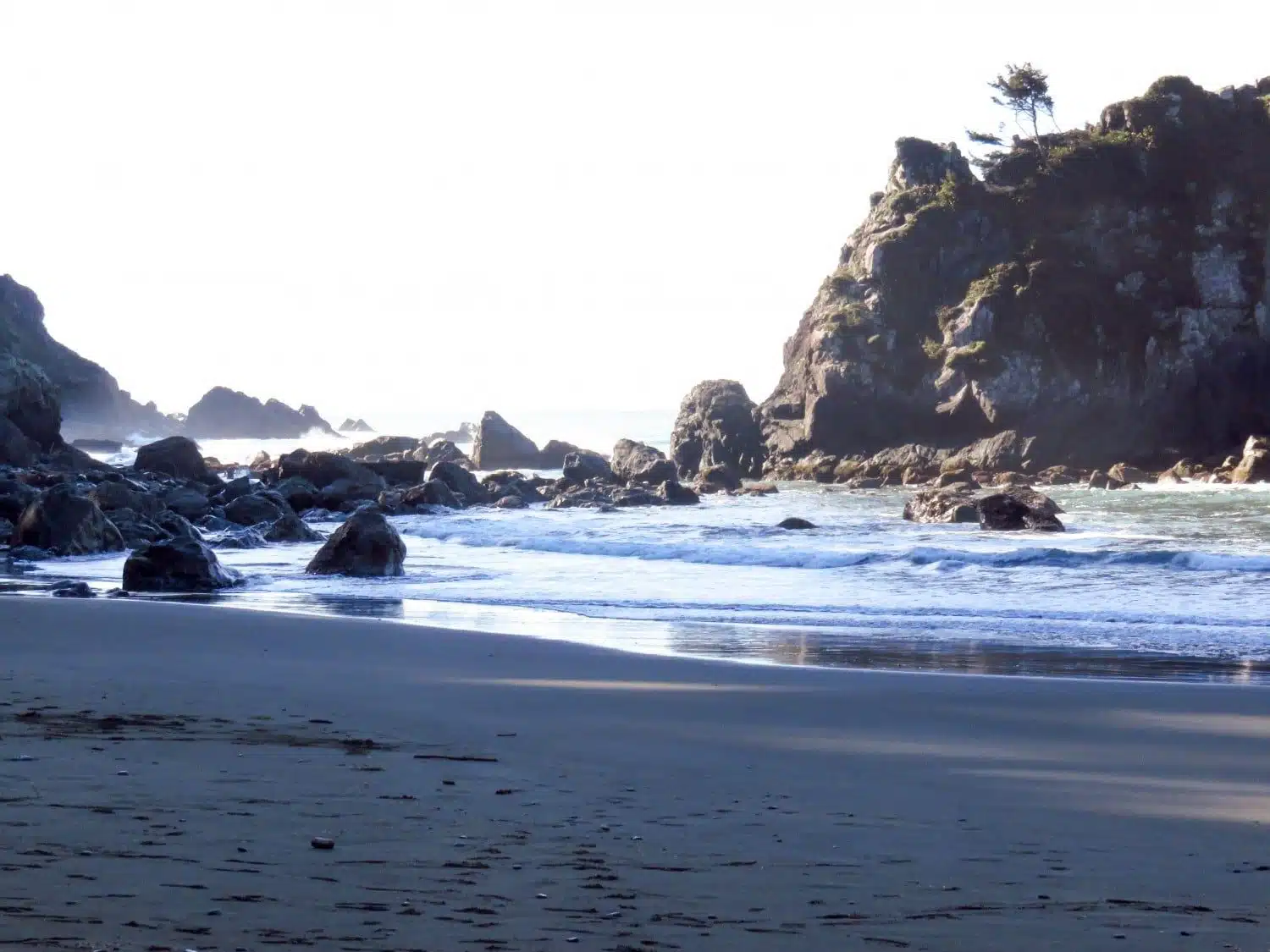 The Pacific Coast Highway technically only runs from San Diego to Mendocino in California – the full stretch from San Diego to Seattle is Highway 1 / Highway 101, which is what this itinerary covers.
In reality, people use the phrases Pacific Coast Highway, Highway 1 and Highway 101 interchangeably (and that's what I do in this guide) – it all means one thing: an amazing West Coast America road trip.
Which Direction Should You Drive Highway 1?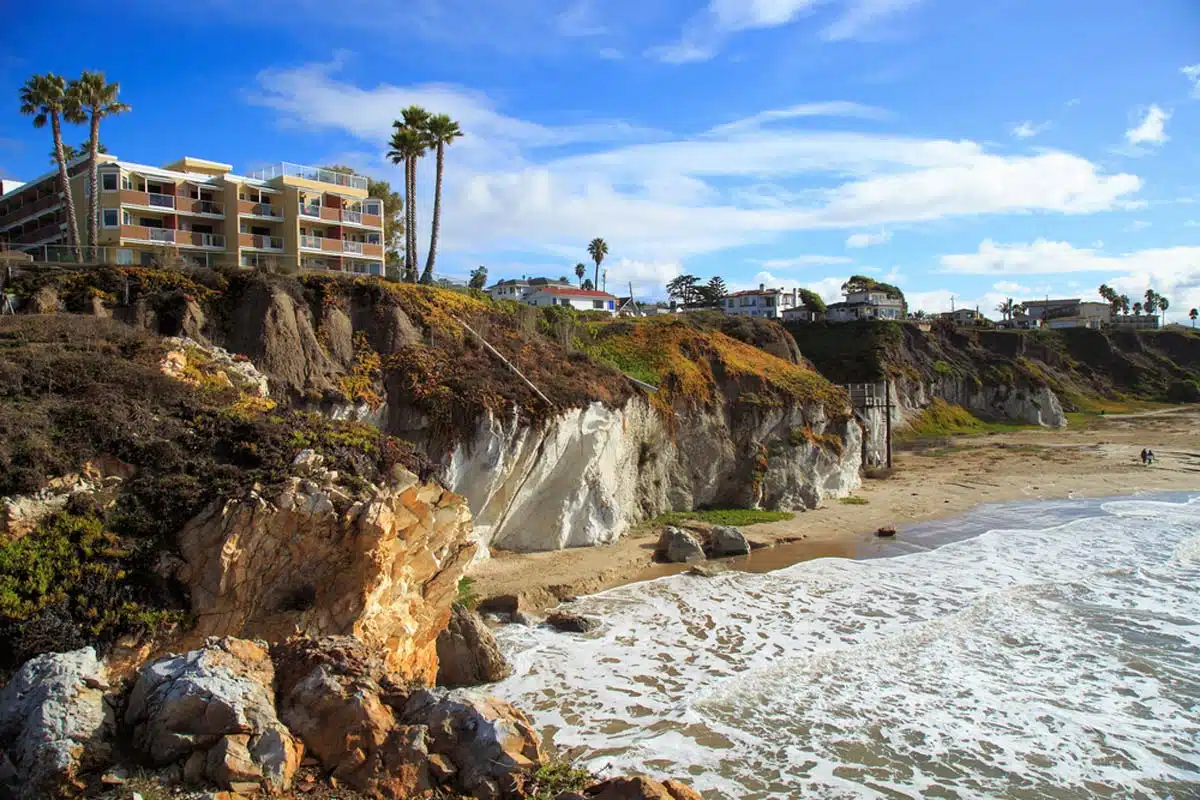 The short answer is either way.
I wanted to travel the West Coast of the USA from south to north but you can drive this West Coast road trip itinerary in the opposite direction from Seattle to San Diego – there isn't much in it either way.
If you drive from north to south, it's easier to turn off and get to lookouts. If you drive from south to north, the sun tends to be behind you and not in your eyes.
I'd check flights on Skyscanner first and then just book whichever way works best from there.
How Much Does a West Coast Road Trip Cost?
In general, driving down the West Coast of America costs between $175 and $350 dollars a day (for two people). Estimated costs for a few items are as follows.

| | |
| --- | --- |
| Item | Estimated Daily Cost |
| Car Hire (basic car) | $84 / £68 |
| Accomodation (Hotel or Airbnb) | Between $50/£40 and $150 / £130 |
| Fuel | $20 / £16 |
I haven't included estimates for food and excursions as ultimately, this really will depend on your budget and travel style.
You can reduce costs by renting an RV rather than a car – although the initial cost of the rental is higher, you save on accommodation (other than pitch fees) and you can cook to save money as you travel.
How Long Does it Take to Drive the West Coast of America?
You can drive the whole of the West Coast of America in just under three weeks as per this itinerary. This does mean that you will be constantly moving and won't have time for any detours.
I would suggest taking things at a slower pace if you can. 1 month for the whole of the West Coast is an ample amount of time allowing you to explore at your leisure.
If you are looking for a West Coast road trip itinerary that you can do in 14 days or less, I would suggest sticking to the California section of the trip from San Diego to Redwood National Park and taking more time in each stop.
Car Hire for Your West Coast USA Road Trip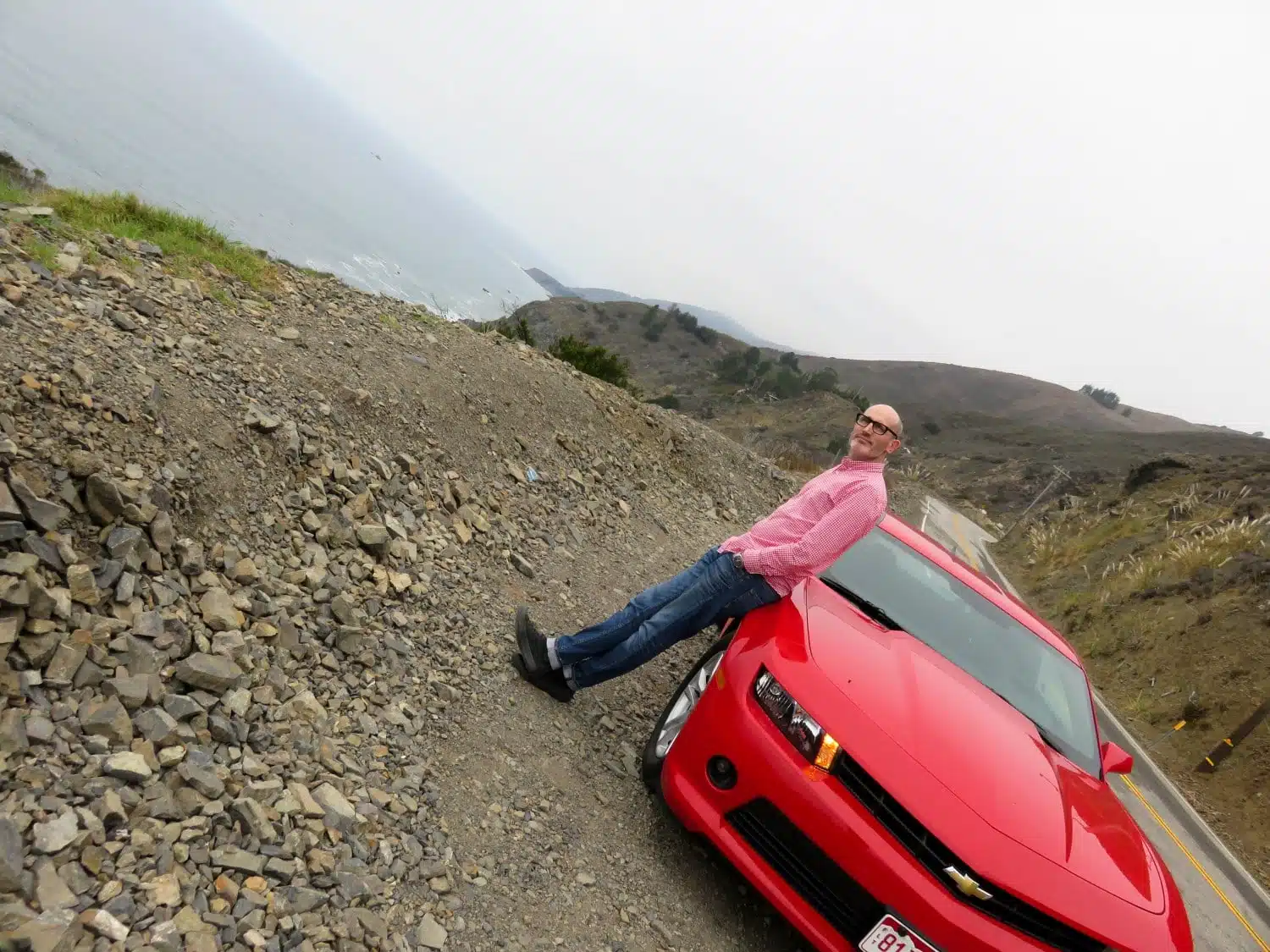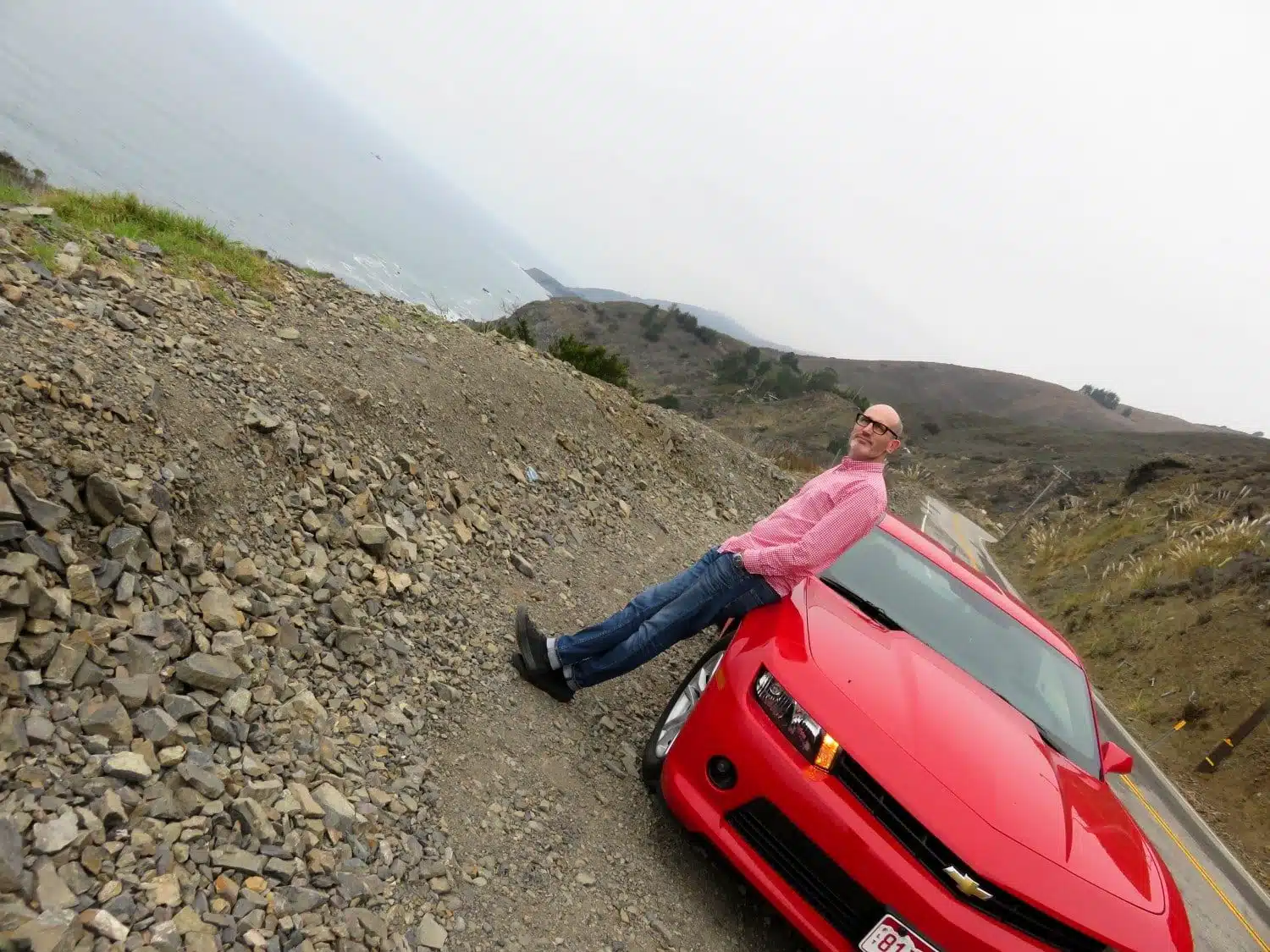 If you're hiring a car, rather than an RV, your choice of car is going to be really important.
While it can be tempting to hire the smallest and cheapest car – do remember that you're going to spend a lot of time in the vehicle. So much so that it's going to become one of your best buddies during your West Coast America trip.
Who doesn't want to look flashy in a bright red convertible zipping along the coast? If you're going for the ultimate road trip vehicle a convertible is the thing that immediately springs to mind.
That said, if you're travelling outside of summer, it might not be the best choice: the weather in the Pacific Northwest is notoriously unpredictable…
Things to Consider When Renting a Car for the Ultimate West Coast Road Trip
Here are some pointers on what to think about when you are choosing a car.
If you want to live it up in true West Coast style and hire a convertible, popular choices are a Ford Mustang or Chevrolet Camaro. If you aren't fussed about having the top down but still want to go for a muscle car, you may be able to get a really good deal on one of the hard top versions of these cars (that's what we did and saved a few hundred dollars!).
You could also consider something a little more unusual like a Dodge Challenger.
Muscle cars are perfect for two people and a reasonable amount of luggage. They will use a little more fuel than a typical economy car but fuel in the US is pretty inexpensive.
Most of the rental cars are automatic – worth remembering if you've never driven one before (don't stress, it's easy).
US cars tend to be larger than European ones. Watch out on that spatial awareness (though parking spaces etc tend to be larger too).
Generally, you will be able to pick up and drop off a car at most of the larger stops along this West Coast road trip but do be aware that a one-way fee will probably apply. Be sure to check how much this is before you book as it can be a significant proportion of the overall cost.
Car Hire Options for the West Coast Drive of the USA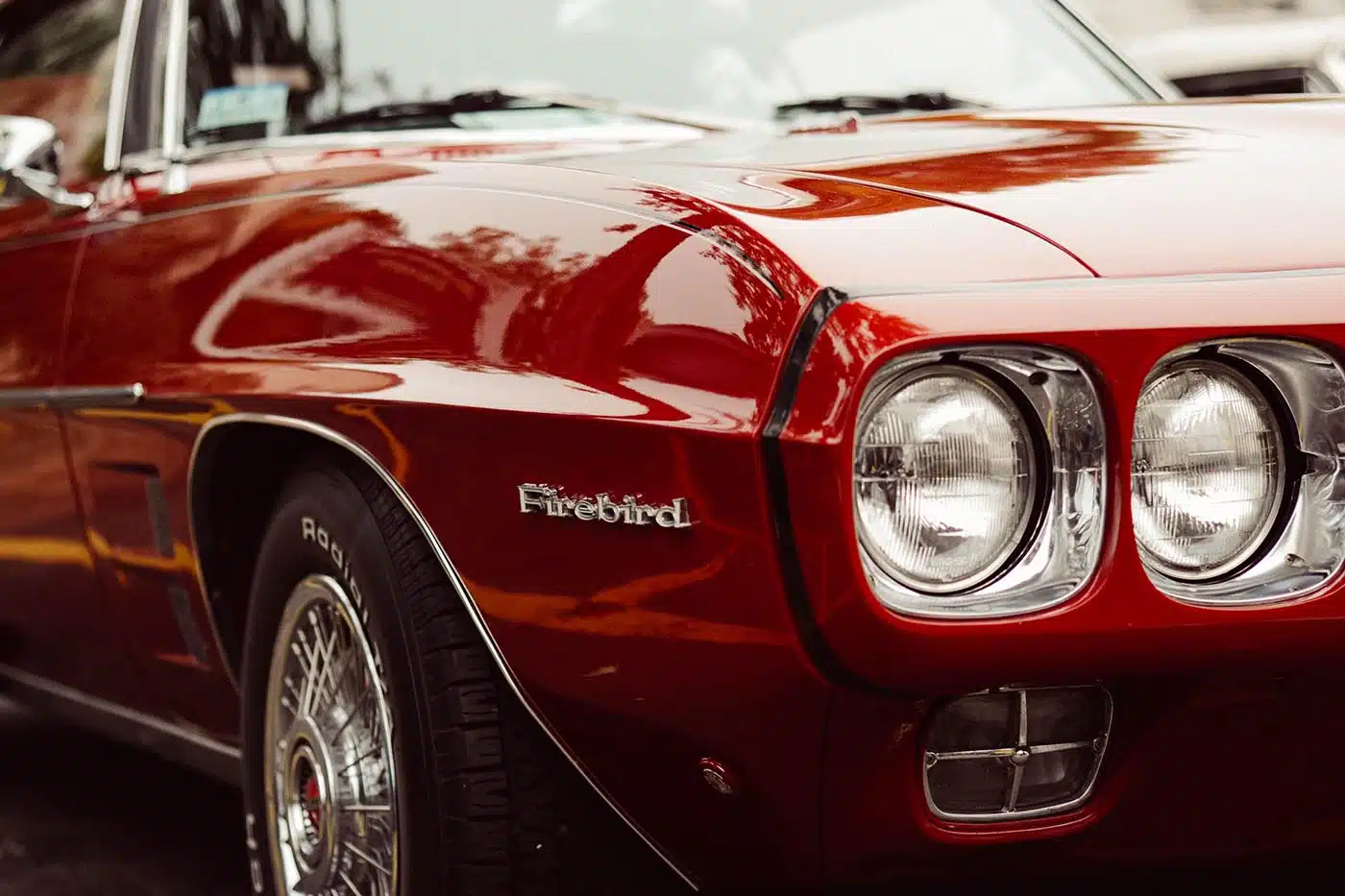 RV Hire
If you don't want to hire a car and sort accommodation separately, an RV is something you should consider. RVs or "recreational vehicles" can be as basic or as luxurious as your budget affords.
The whole of Highway 1 is covered with campsites with RV pitches (including all of the campsites mentioned in the article) so you will never struggle to find somewhere to pitch for the night. Pitches tend to come with electricity and water as a minimum.
Of course, you always have the option of just parking up roadside and kipping there for the night too.
Though RV rental isn't cheap, it tends to be the more economical option if there's a group of you travelling.
RV Rental Companies
You can also choose to camp and drive in a campervan.
As a rule, these are much smaller than RVs but also tend to be more cost-effective. Wicked Campers hire brightly-coloured and decorated vehicles that are going to make you look like the coolest kid in town – I used them for our Atacama Desert road trip in Chile and was really impressed by the company.
When is the Best Time to do a Road Trip up the West Coast of the USA?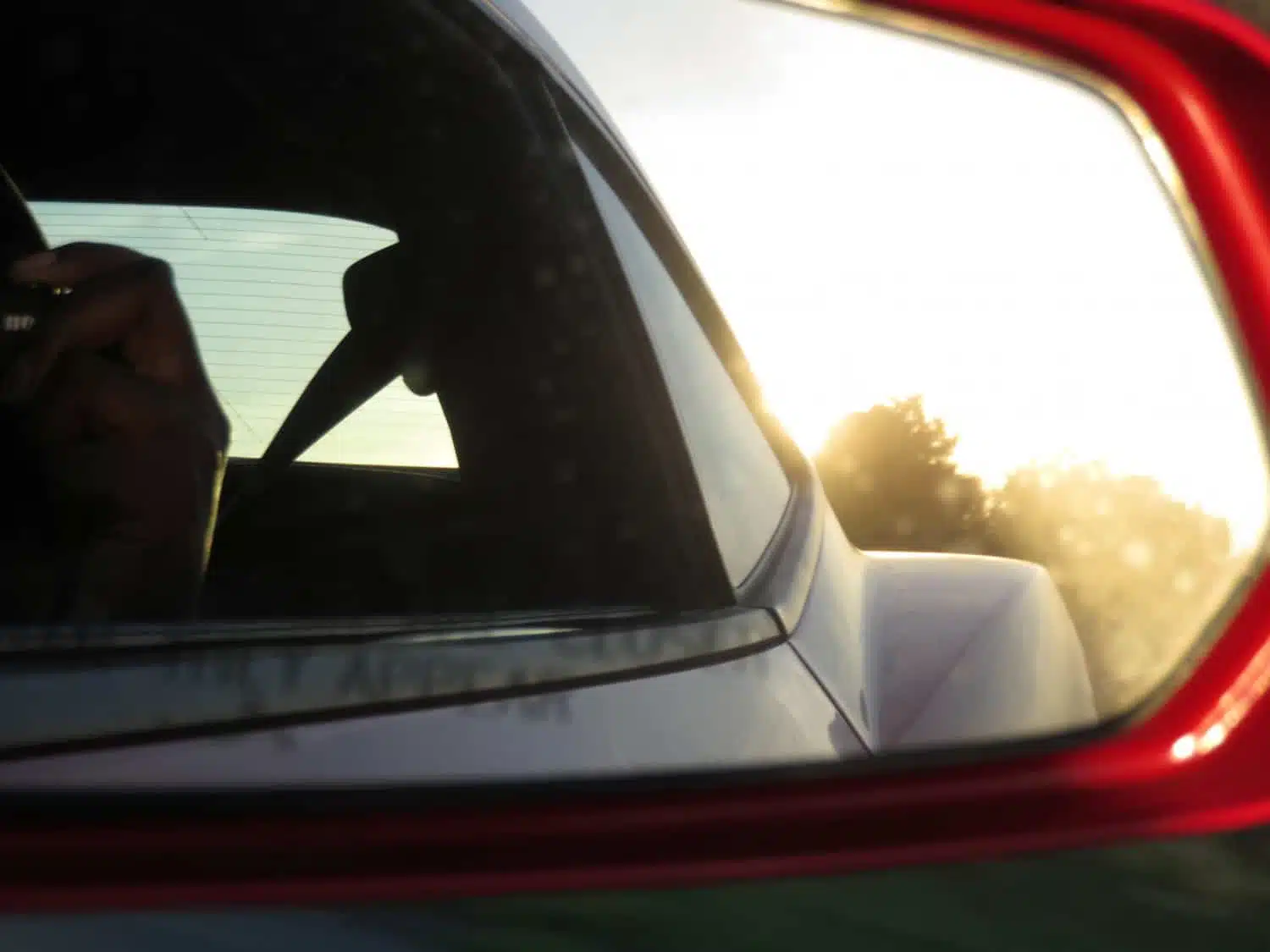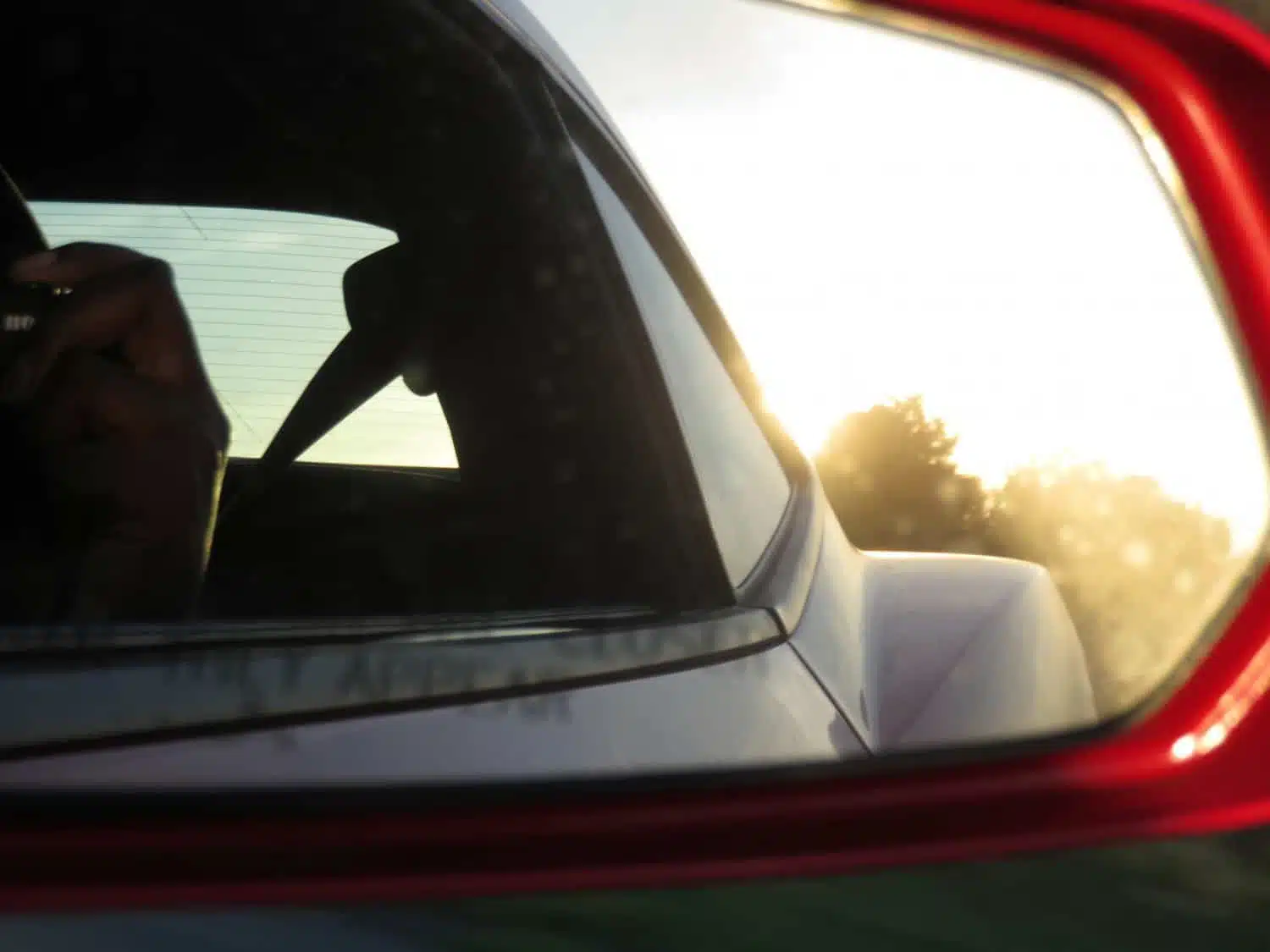 In the southern part of the road trip (south of Los Angeles) the weather tends to be sunny pretty much all year round, getting colder and chillier the further north you go.
If you want to do the whole road trip from San Diego to Seattle, I would suggest doing it between April and October.
Even then, be sure to bring warm clothes and layers as it can be foggy and chilly north of San Francisco, even in the summer.
The busiest time for a West Coast drive is between mid-June until the end of August (which is also when the notorious "June Gloom" fog engulfs parts of the coast, so if you can travel outside of these times, I would.
What to Pack for Your West Coast USA Road Trip
It can be tempting to pack everything, including the kitchen sink for a West Coast road trip but the reality is you don't need to bring tonnes of stuff with you.
I've put together a basic list of items you'll need, plus a few extras if you plan on doing a lot of hiking while you're on the trip.
Clothes + Shoes
Binoculars – for whale watching season, seal and sea-lion spotting, bird watching and trying to work out how tall that tree really is.
Picnic Blanket
Sunscreen
Sunglasses
Hat
Camera
Additional Items for Outdoors Activities
Wetsuit if you're planning on surfing, particularly in the sea in and above Northern California.
Hiking Boots and Socks
Soft Shell Jacket or Waterproof Jacket for Hiking
Read My Road Trip Essentials Guide for a Full Packing List
The Ultimate West Coast USA Road Trip Itinerary
San Diego (West Coast Road Trip Itinerary Day 1)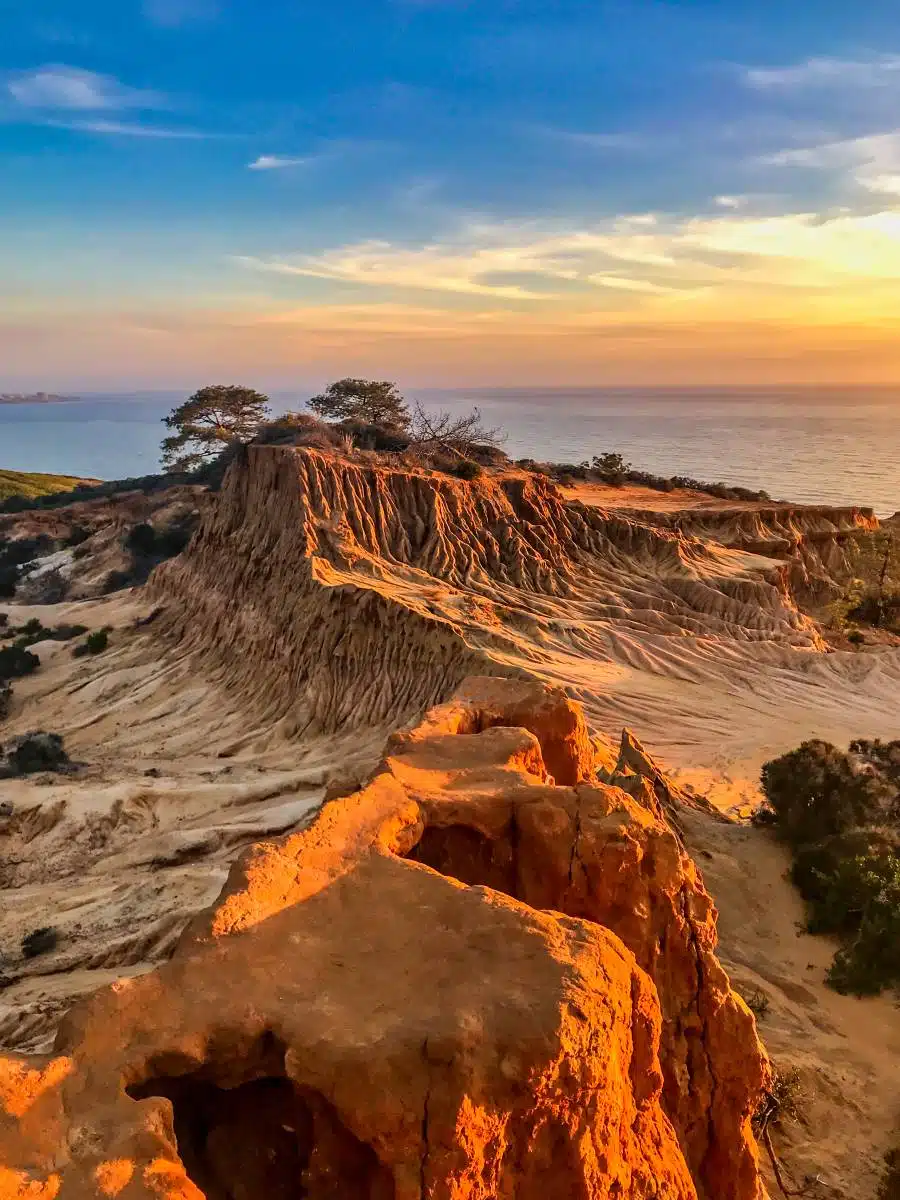 Laid-back, friendly and easy on the eye, San Diego is the perfect place to start your USA road trip itinerary and a great introduction as one of the most beautiful spots in California.
The city is best known for two things: its great beaches and year-round warm climate – take advantage of both of these before you set off on your West Coast road trip.
Spend some time exploring the compact downtown area and take advantage of the buzzing dining scene before hitting the road.
See the Practical Tips section above for details on transport, car hire and road trip essentials before you set off.
Best Things to do in San Diego
San Diego Zoo – San Diego's world-famous wildlife sanctuary is located in Balboa Park, with more than 3,700 animals of 650 species.
Mission Beach – The lively boardwalk and picture-perfect coast make this one of San Diego's hottest spots.
Catch the sunset at Sunset Cliffs – They got their name for a reason.
Take a surfing lesson – Because it's the West Coast of California and it's practically mandatory.
Gaslamp Quarter – Shop, drink and dine in the coolest part of town.
Read for more San Diego travel inspiration
Where to Stay in San Diego
Sheraton San Diego Marina (Luxury)
This super sleek hotel sits right on the Marina and offers a free transfer from San Diego Airport.
Hotel Indigo (Mid Range)
An eco-friendly hotel with an eye-catching interior in the Gaslamp Quarter.
Hotel Solamar (Mid Range)
Flaunting its hipster credibilities, Hotel Solamar is a cool place to stay without breaking the bank.
San Diego to Laguna Beach (West Coast Road Trip Itinerary Day 2)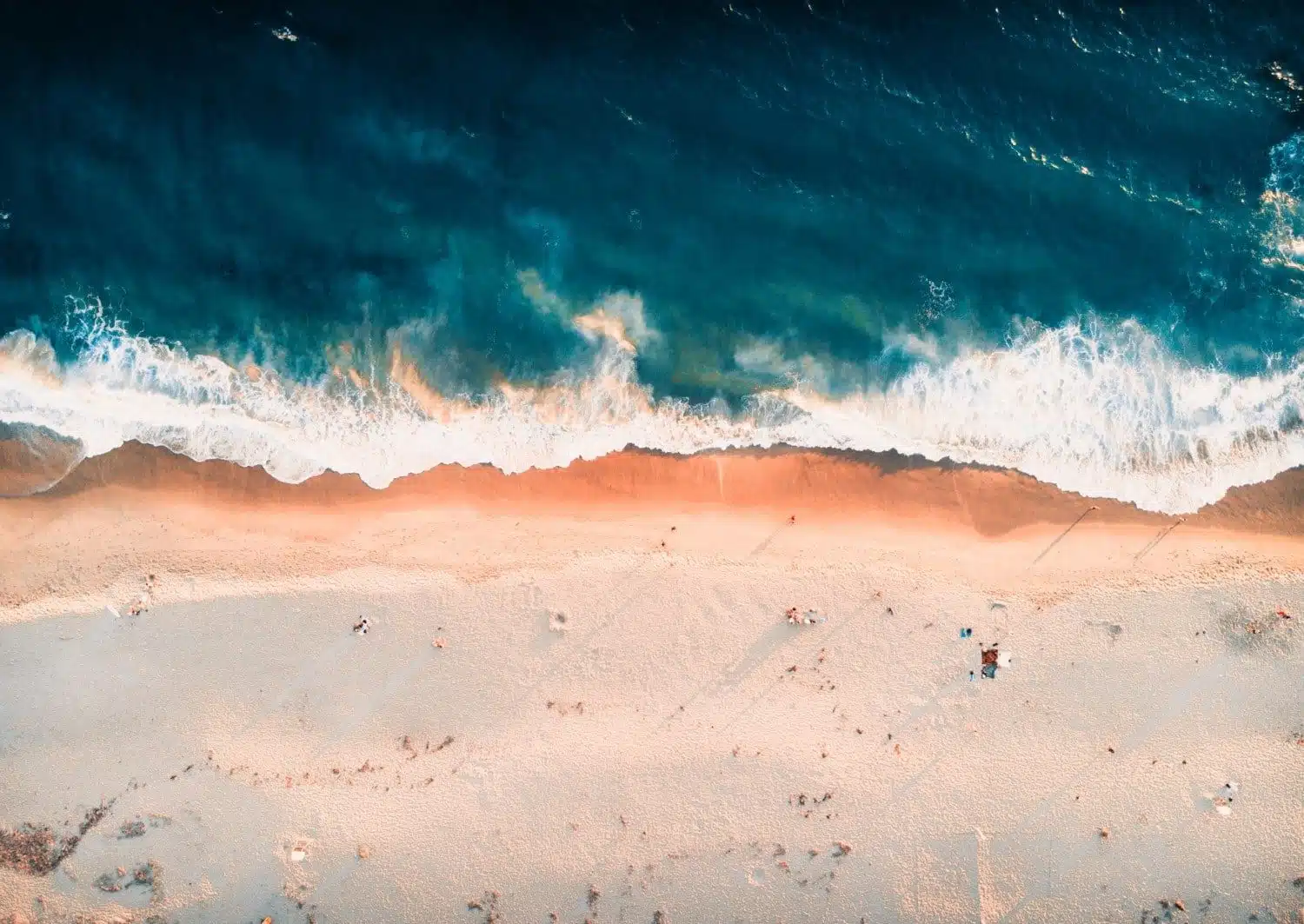 1.5 hour drive from San Diego.
It's a beautiful drive from San Diego to Laguna Beach, the next stop on your West Coast USA road trip itinerary. Straight outta the OC, Laguna Beach is a pleasant cluster of gorgeous beaches, art galleries and boho-chic eateries.
Stop off to explore the rocky bluffs and hidden coves dotted along Laguna's coastline. There are over 30 beaches in the seven-mile stretch of Laguna Beach for you to take your pick from.
Best Things to do in Laguna Beach
Where to Stay in Laguna Beach
Inn at Laguna Beach (Luxury)
One of the coolest hotels in Laguna Beach (and with the price tag to match), the Inn at Laguna Beach is tucked away on a cliff, 1 minute walk from the beach and with captivating ocean views. Service is second to none.
Laguna Hills Lodge (Budget)
Tucked inland in the Laguna Hills, this budget-friendly hotel offers comfortable rooms at an affordable price.
Laguna Beach to Los Angeles (West Coast Road Trip Itinerary Day 3)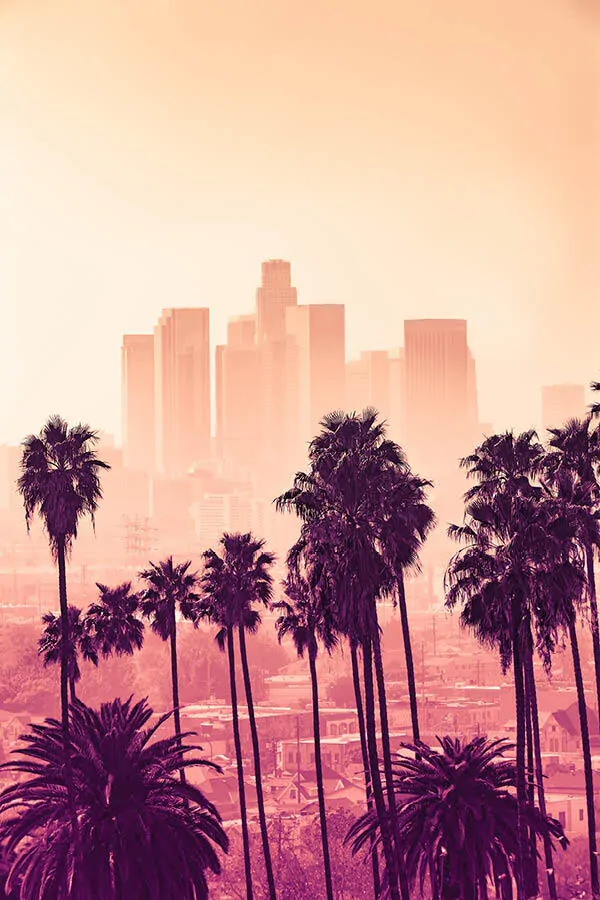 1 hour drive from Laguna Beach.
Love it or hate it, no West Coast USA road trip is complete without a stop in Los Angeles.
Sure, the roads are crazy but take some time to explore and you'll find some of the coolest galleries, restaurants and beaches in the US.
Best Things to do in Los Angeles
The Broad – LA's hottest art gallery is the place to go and an Insta-lover's dream.
Venice Beach – Release your inner freak and revel in the weird, wacky and wonderful on Venice Beach.
Roscoe's House of Chicken & Waffles – The best fried chicken in LA is something of an institution. Grab your place in line before settling down to a feast.
Take a short road trip into the surrounding areas – destinations like Palm Springs, Ojai and Big Bear are only a few hours away. Heck, you can even spend a day in Disneyland.
The Hollywood Sign – No trip to LA is complete without visiting this epic photo spot. I recommend taking the classic hike; it's sweaty but very worth it.
Griffith Observatory – Perched atop a hill overlooking the city, head here for epic sunset views.
Best Places to Stay in LA
The Mondrian (Luxury)
This hotel property is quirky and unashamedly glossy – one of my favourite hotels in the USA.
Banana Bungalow Hollywood (Budget)
Looking for a lively hostel with buzzing social areas? This is your place.
Want more LA travel inspiration? Check out my guide to 25 LA Hotspots you shouldn't miss on your next trip.
Los Angeles to Santa Barbara (West Coast Road Trip Itinerary Day 4)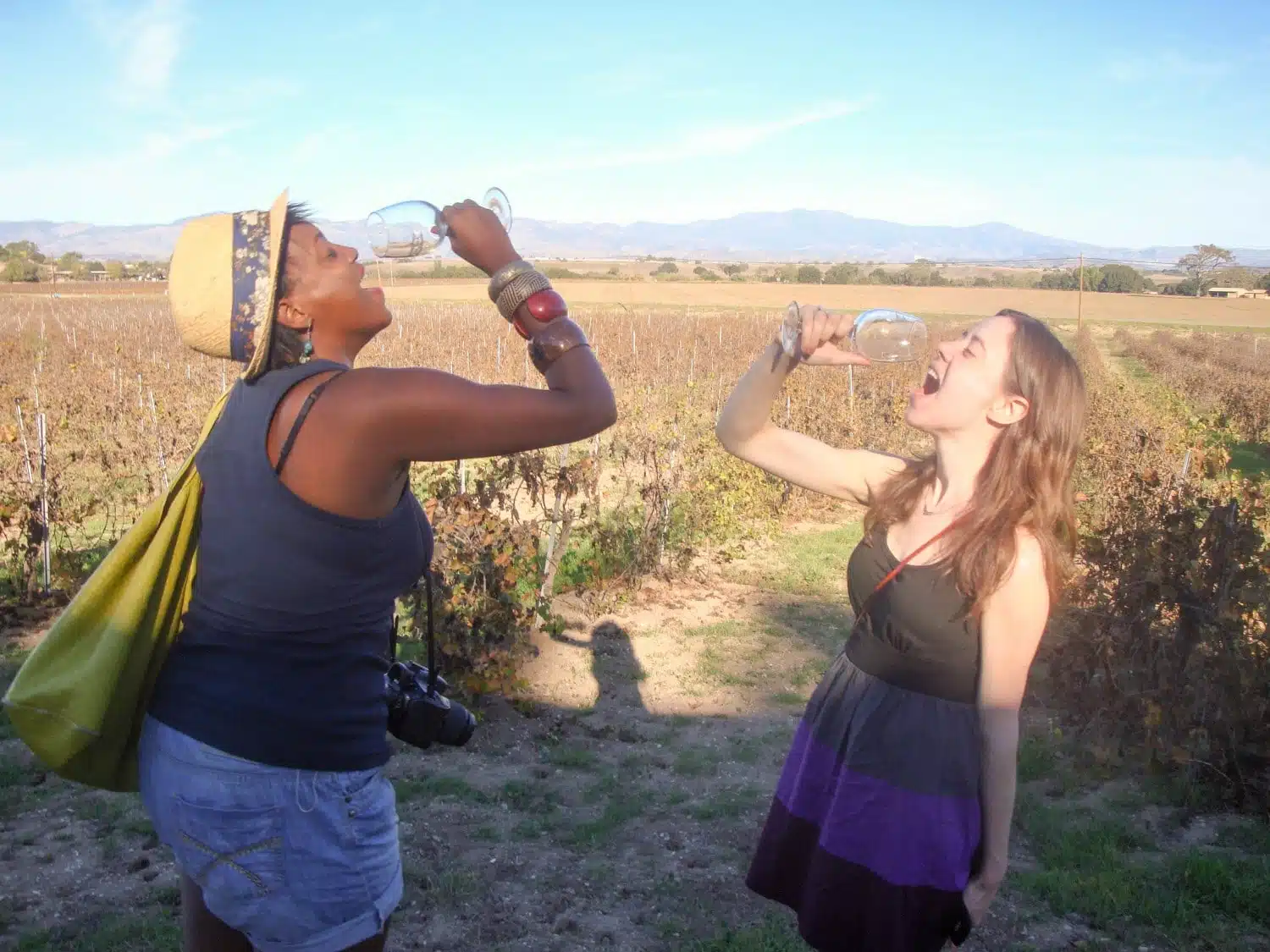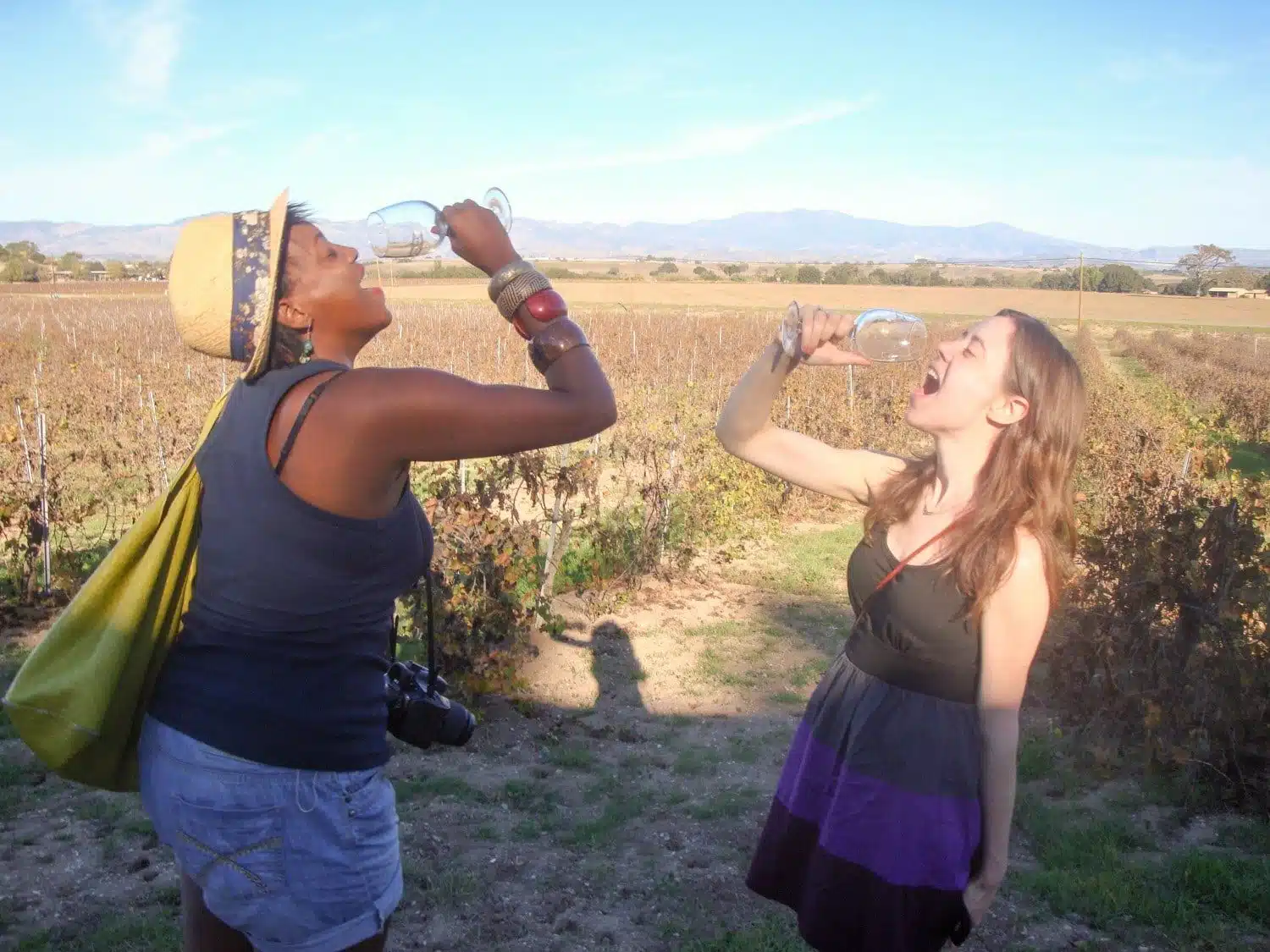 1.5 hour drive from Los Angeles.
After a leisurely (and relatively short) drive from Los Angeles, you should stop off in Santa Barbara for a taste of the good life.
This old Spanish mission town is a West Coast road trip USA staple – over the years it has blossomed into a hub of pretty buildings, lush gardens and high-end stays.
Don't forget to pop into a vineyard or two in the style of indie-hit film Sideways. Just remember to appoint a designated driver first.
If you don't have time to head out to the vineyards, many of them have tasting rooms in town too (mostly centered around the fabulously-named region of town called The Funk Zone).
Best Things to do in Santa Barbara
Where to Stay in Santa Barbara
Belmond El Encanto (Luxury)
A plush hotel overlooking the ocean, El Encanto is the place to really push the boat out, it is perfect if you are having a romantic getaway in the USA.
The Eagle Inn (Mid Range)
A quaint B&B with private cottages a few blocks away from the beach.
Casa del Mar Inn (Budget)
An affordable hidden gem that's close to the beach.
Check Prices, Reviews & Availability
Santa Barbara to Pismo Beach + San Luis Obispo (West Coast Road Trip Itinerary Day 5)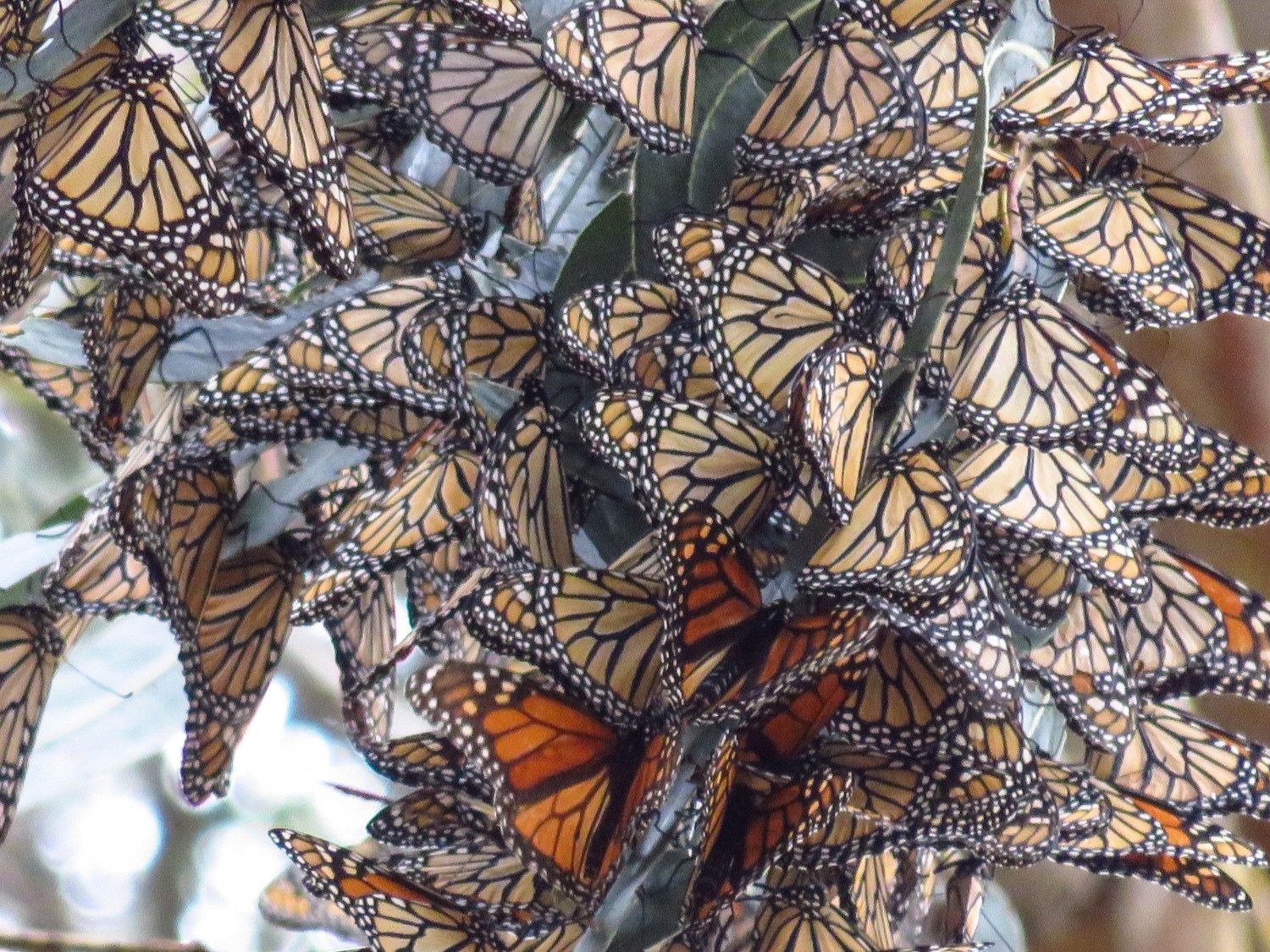 1.5 hour drive from Santa Barbara.
The drive from Santa Barbara to San Luis Obispo is full of treasures, and sure to be a highlight of your West Coast USA road trip.
If you're travelling between October and February, the Pismo Beach Butterfly Grove is a must-do: millions of Monarch Butterflies take sanctuary in the grove's Eucalyptus trees during the winter season. Bring some binoculars or a good zoom camera for a close up peek.
Pismo is prime seafood country – The Cracked Crab might be no-frills, but who needs them when the seafood is that fresh and tasty? Cover up though, digging in can be a messy business.
Almost perfectly halfway between LA and San Fran, San Luis Obispo (or SLO as the local's call it) is a buzzing town with an old Catholic mission and a great weekly farmer's market. Wine lovers should take a little detour into the picturesque Edna Valley to taste the local vintages.
Best Things to do in Pismo Beach + San Luis Obispo
Monarch Butterfly Grove – It's quite a spectacular sight seeing so many fluttering butterflies.
The Cracked Crab – A lively restaurant serving some of the best seafood in Cali.
San Luis Obispo Mission – A well-preserved mission dating from 1772.
Farmer's Market – Pick up some fresh grub, or head here just to people watch.
Where to Stay in San Luis Obispo
San Luis Creek Lodge (Luxury)
High-end B&B that's consistently rated as one of the best places to stay in SLO.
Madonna Inn (Mid-Range)
Over-the-top in the best possible way. If you want your accommodation with bags of colourful personality, you won't find anywhere better than the Madonna Inn.
Avenue Inn Downtown San Luis Obispo (Budget)
Small inn in walking distance from downtown San Luis Obispo.
San Luis Obispo to Hearst Castle and the Big Sur (West Coast Road Trip Itinerary Day 6)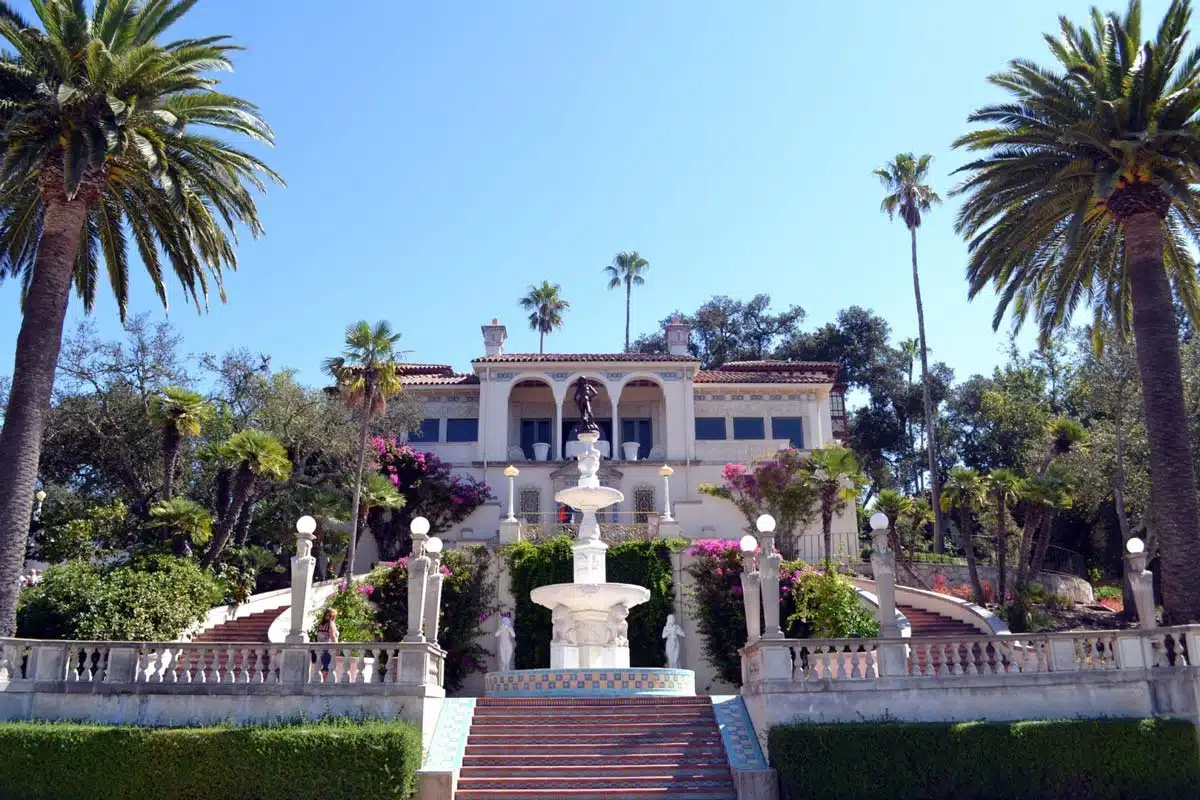 Get ready for dramatic scenery and photo-opps galore on today's West Coast drive. Today starts with a visit to the palatial but bizarre Hearst Castle.
Sir William Randolph Hearst built the castle to entertain his hoards of Hollywood star and media magnate friends. Expect unbridled opulence and gorgeous architecture from this Highway 1 Highlight.
After Hearst Castle, jump back into the car for a completely different kind of drama: The Big Sur.
This winding 100-mile stretch of road is California's most famous – and for many, the highlight of their West Coast Road Trip.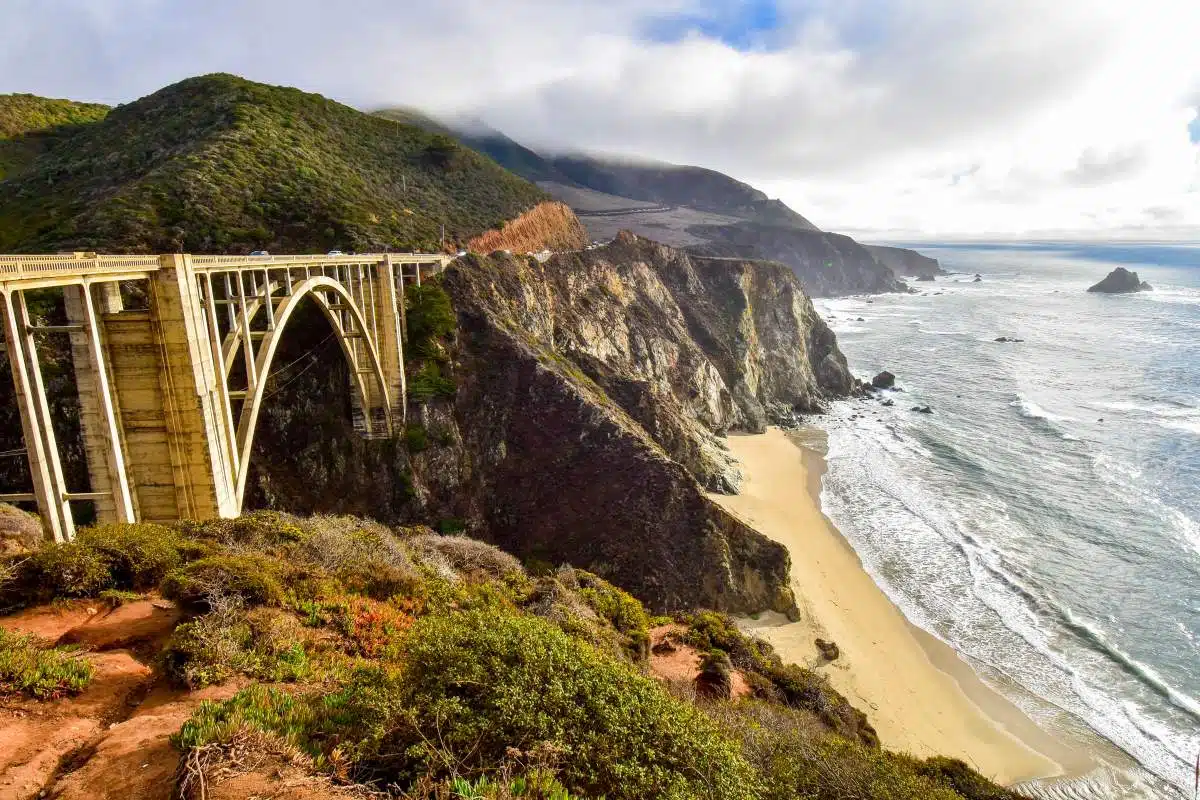 For good reason: the salty surf, coastal bluffs and (mildly terrifying) winding road are sure to keep you on your toes. Allow plenty of time to drive the Big Sur as it can get quite congested.
Sections of Big Sur are closed during 2022. Check here for the latest updates.
Best Things to do in Big Sur
Where to Stay in Big Sur
Post Ranch Inn (Luxury)
Frequently named as one of the best hotels in the US and the place to pamper yourself on your Highway 1 road trip.
Big Sur Lodge (Mid Range)
Tucked away in the Pfeiffer Big Sur State Park, Big Sur Lodge is the perfect base for exploring the area.
Big Sur Campground & Cabins (Budget)
If you've brought a tent, book ahead and pitch up in this handy campsite.
Read Next: The Ultimate Big Sur Camping Guide
Big Sur to Carmel, Monterey + Santa Cruz (West Coast Road Trip Itinerary Day 7)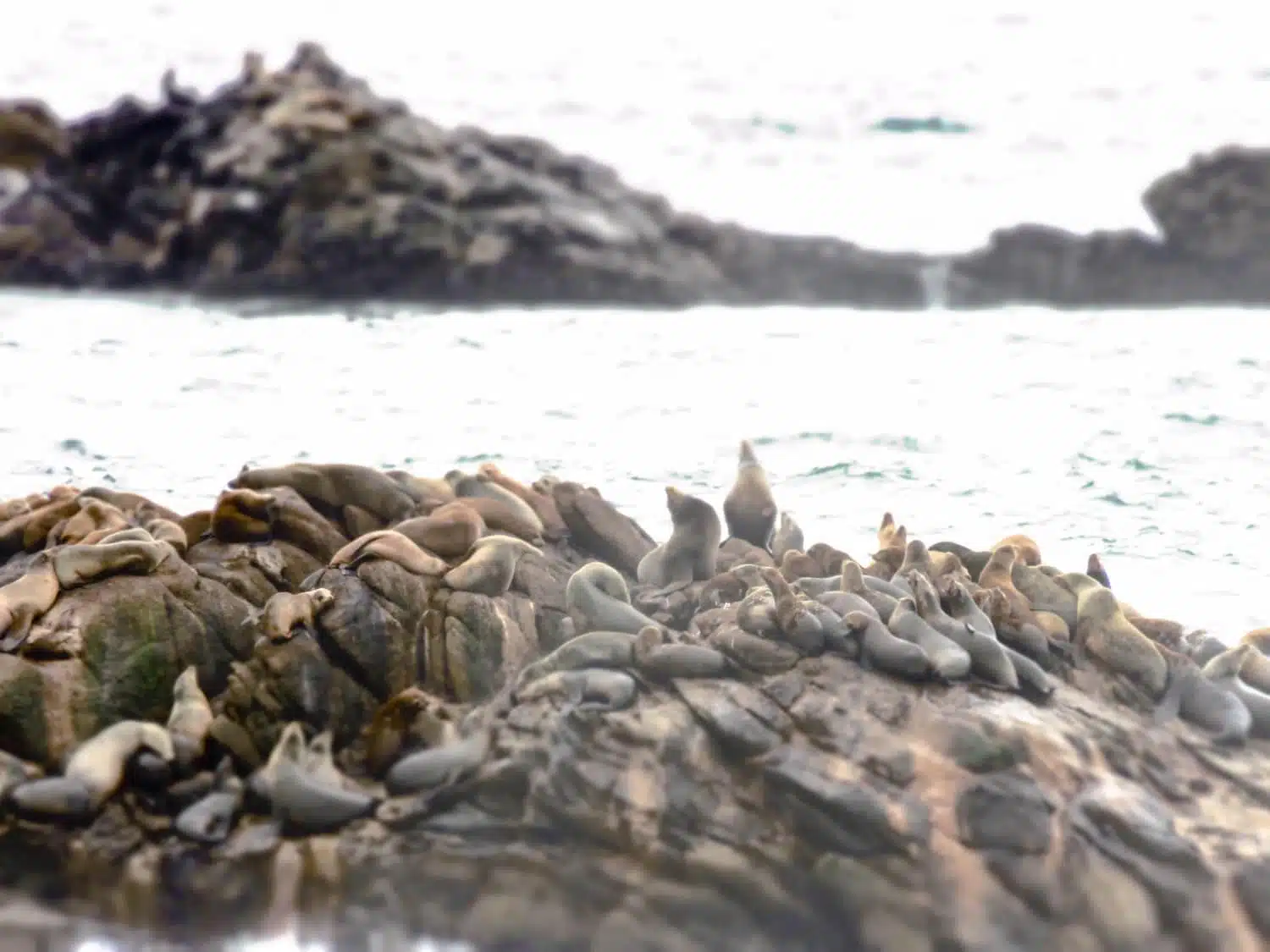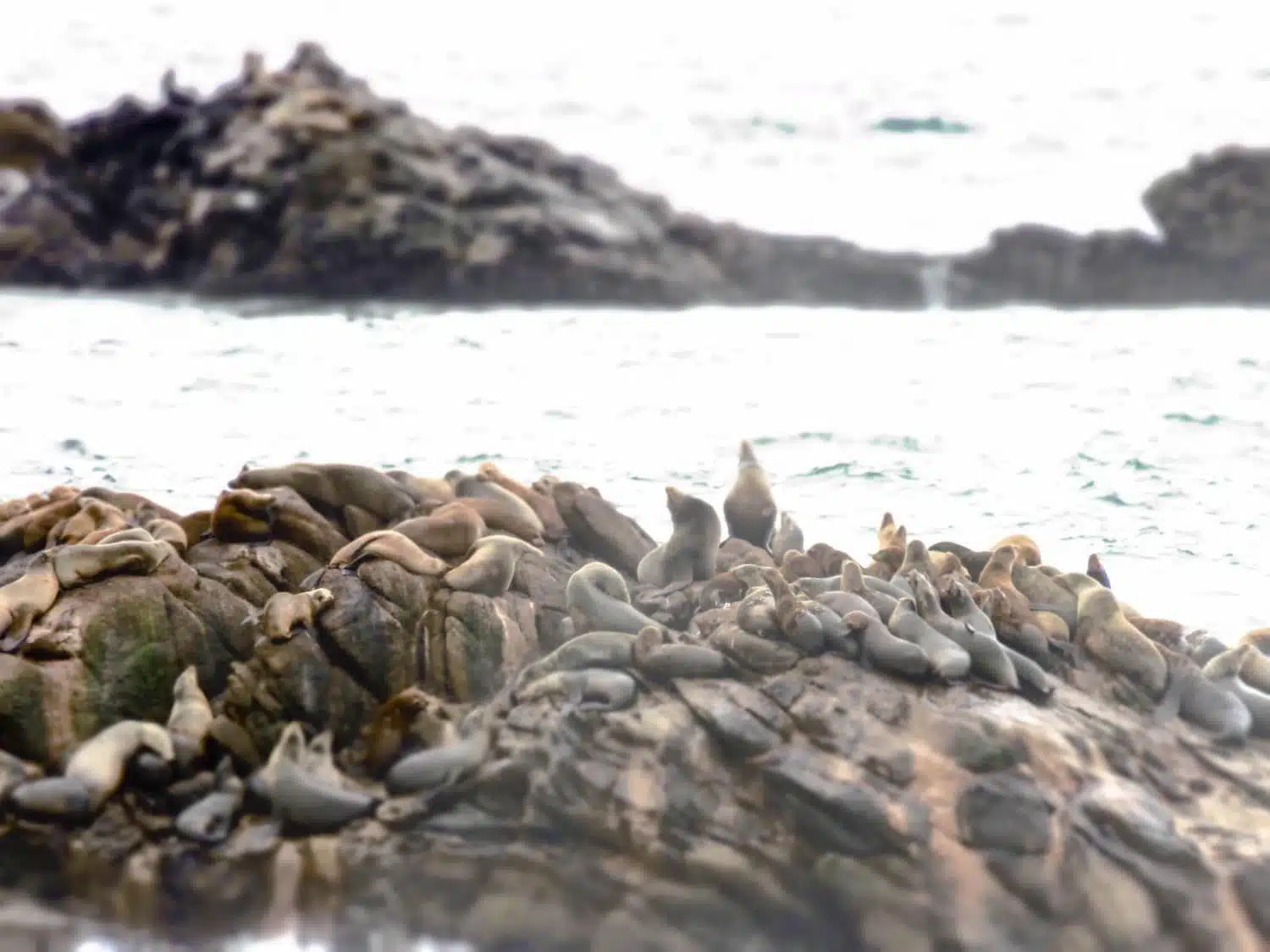 1.5 hour drive from Big Sur to Santa Cruz
Wherever you've stopped off in Big Sur, I'm pretty sure that you will be sorry to leave.
Many people call it a day after Big Sur and head back home. Sure, you could do that – but you'd be missing out on so much of the Pacific Coast Highway / Highway 1 and the adventures that it has to offer.
Pack up and jump back in the car and drive down to the small well-heeled town of Carmel (of Clint Eastwood ex-mayor fame). I can't say that Carmel was my favourite place ever, but there's an undeniable charm to the chocolate-box prettiness of the town.
Point Lobos State Natural Reserve, a short distance from Carmel, couldn't stand in starker contrast to the quiet town.
You can't miss the crashing waves and the noisy sea lion population who make their presence known (very loudly).
I'd recommend taking a few hours and doing the six-mile circuit around the park, but if you're short on time there are plenty of car parks near to viewing points for you to take advantage of.
Further along the coast, you can stop off in Monterey to see the award-winning aquarium (buy your tickets in advance if you do).
Wander around the town, which was immortalised in the John Steinbeck novel "Cannery Row" thanks to its previous life as the centre of the US sardine canning industry.
Those brave enough to get in the chilly waters might also want to consider booking a dive to explore Monterey's abundant underwater life.
When you're ready to get back on the road, cruise along to eccentric Santa Cruz to spend the night.
Best Things to do in Carmel, Monterey + Santa Cruz
Where to Stay in Santa Cruz
Rio Vista Inn & Suites (Luxury)
A pristinely restored historical mansion and the swankiest bed in town.
Pacific Blue Inn (Mid-Range)
Eco-friendly cool spot with comfortable and stylish rooms.
New Brighton State Beach Campground (Budget)
Beachside camping with power connections and shady spots if you can get there early enough to nab one.
Santa Cruz to San Francisco (West Coast Road Trip Itinerary Days 8 + 9)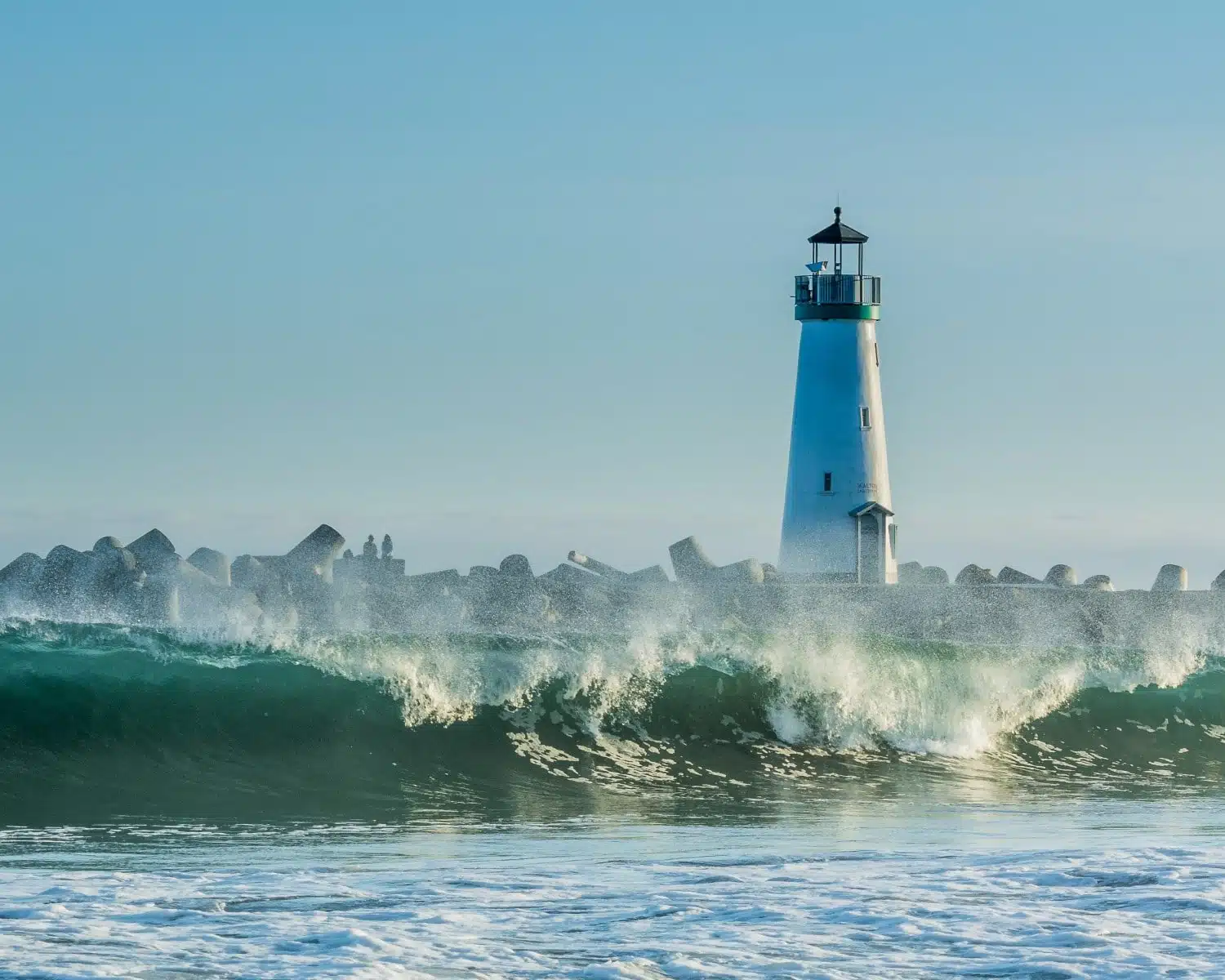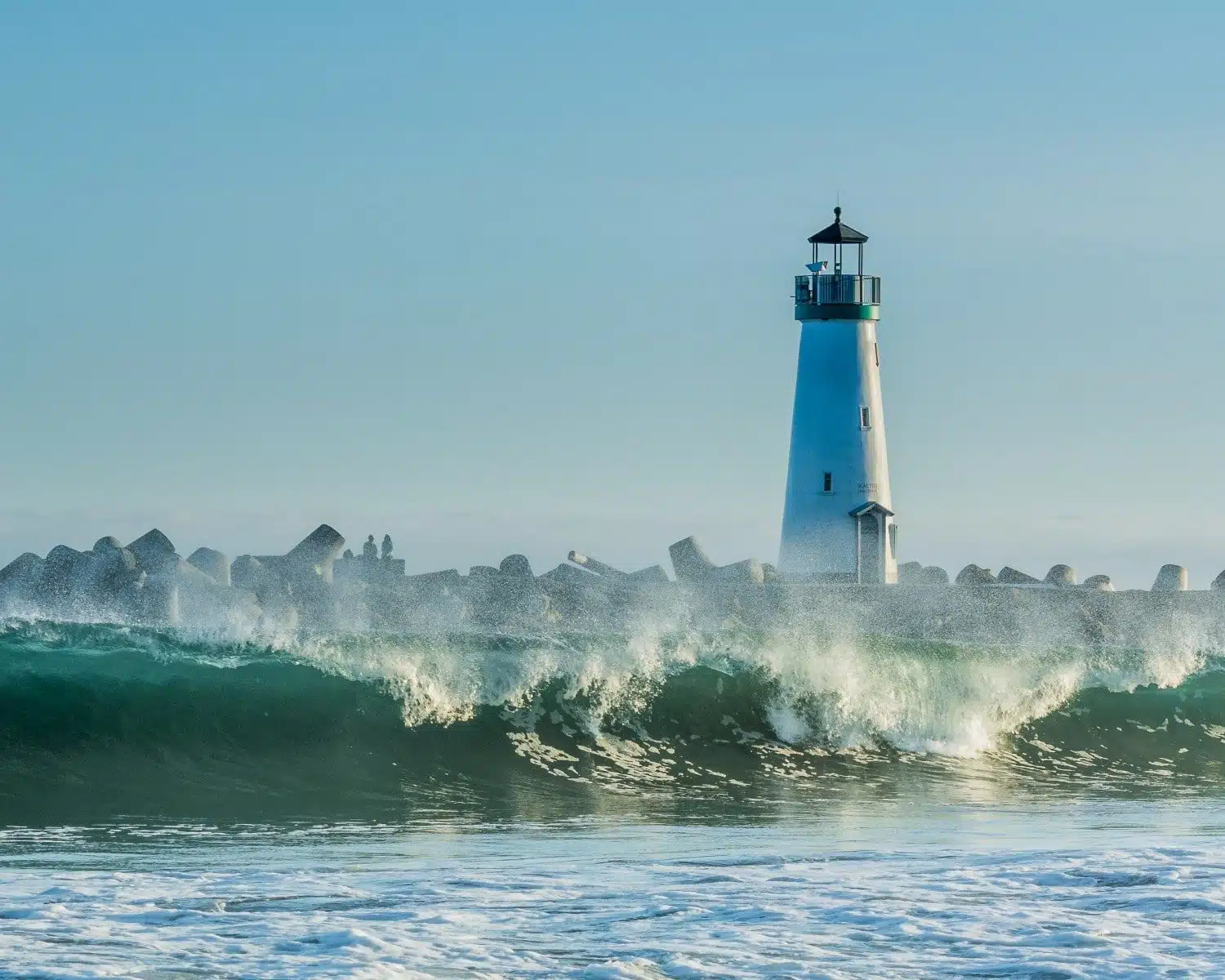 1.5 hour drive from Santa Cruz to San Francisco
It's only 70 miles from Santa Cruz to San Francisco but what a 70 miles – it is the quintessential American West Coast road trip dream.
You'd think that you'll be used to mile after mile of gorgeous coastline unfurling in front of your windscreen by now, but let me tell you – it never gets old.
Stop off outside of Santa Cruz at the Año Nuevo State Park to see the largest mainland breeding colony of elephant seals.
Watch as the (not so gentle) giants roll around in the surf, snooze and fight – you can book ahead onto a guided tour.
There are plenty of small stops for you to take along the coast: Pigeon Point, Pescadero State Beach and Half Moon Bay are popular ones.
Seafood-lovers are spoilt for choice with the seemingly endless seafood shacks lining this part of Highway 1 (hey, you can never have too much of a good thing right?).
However many stops you make and shacks you eat in, you'll eventually make it to San Francisco.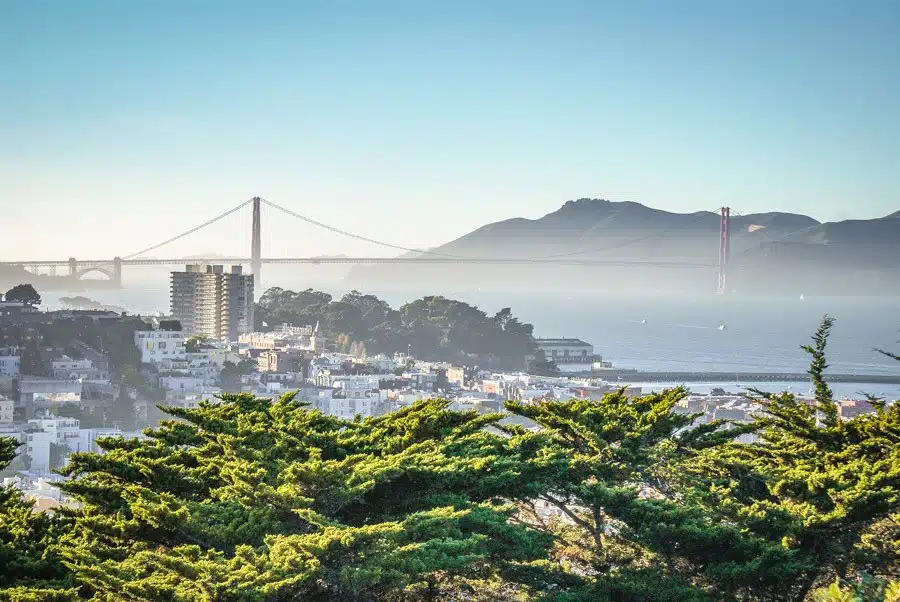 I'd recommend spending an extra day here (mainly because you've been doing a lot of driving and it's one of my favourite cities) – but if you would rather spend that extra day somewhere else, say in Yosemite, that's easily done too.
San Fran is packed with things to do- here are a few of my faves.
Best Things to Do in Santa Cruz and San Francisco
Where to Stay in San Francisco
Argonaut Hotel (Luxury)
Luxury hotel on Fisherman's Wharf with a stylishly understated Maritime theme.
The Buchanan (Mid-Range)
Located in Japantown, The Buchanan boasts a sleek design and thoughtful touches at a reasonable price.
Pigeon Point Lighthouse (Budget)
If you don't want to spend the night in San Fran, you can book a bed in the iconic HI-run lighthouse if you reserve well in advance.
Or check out my guides to The Best Things to do in San Francisco and to Cool Airbnbs in San Francisco.
San Francisco to Mendocino (West Coast Road Trip Itinerary Day 10)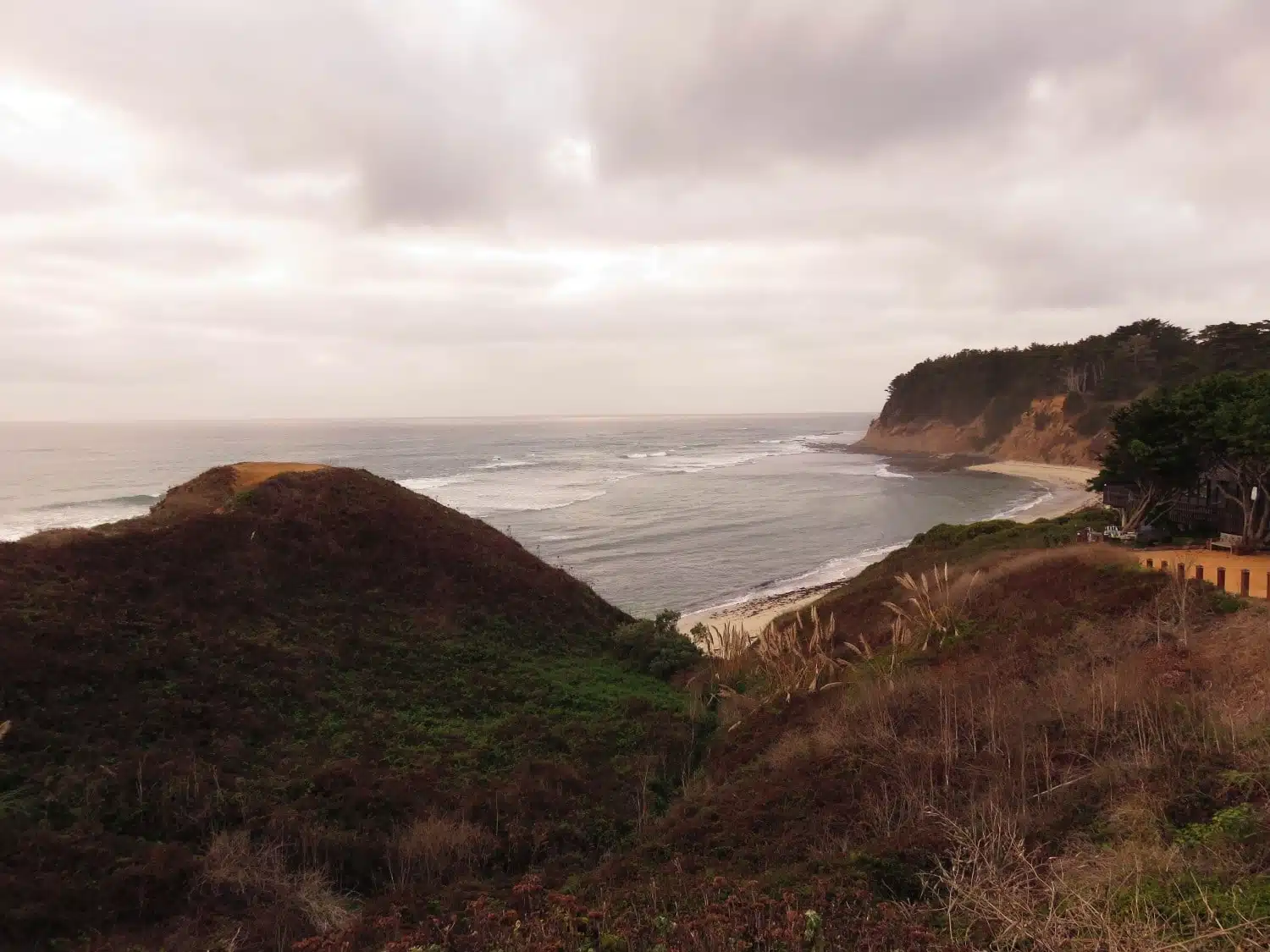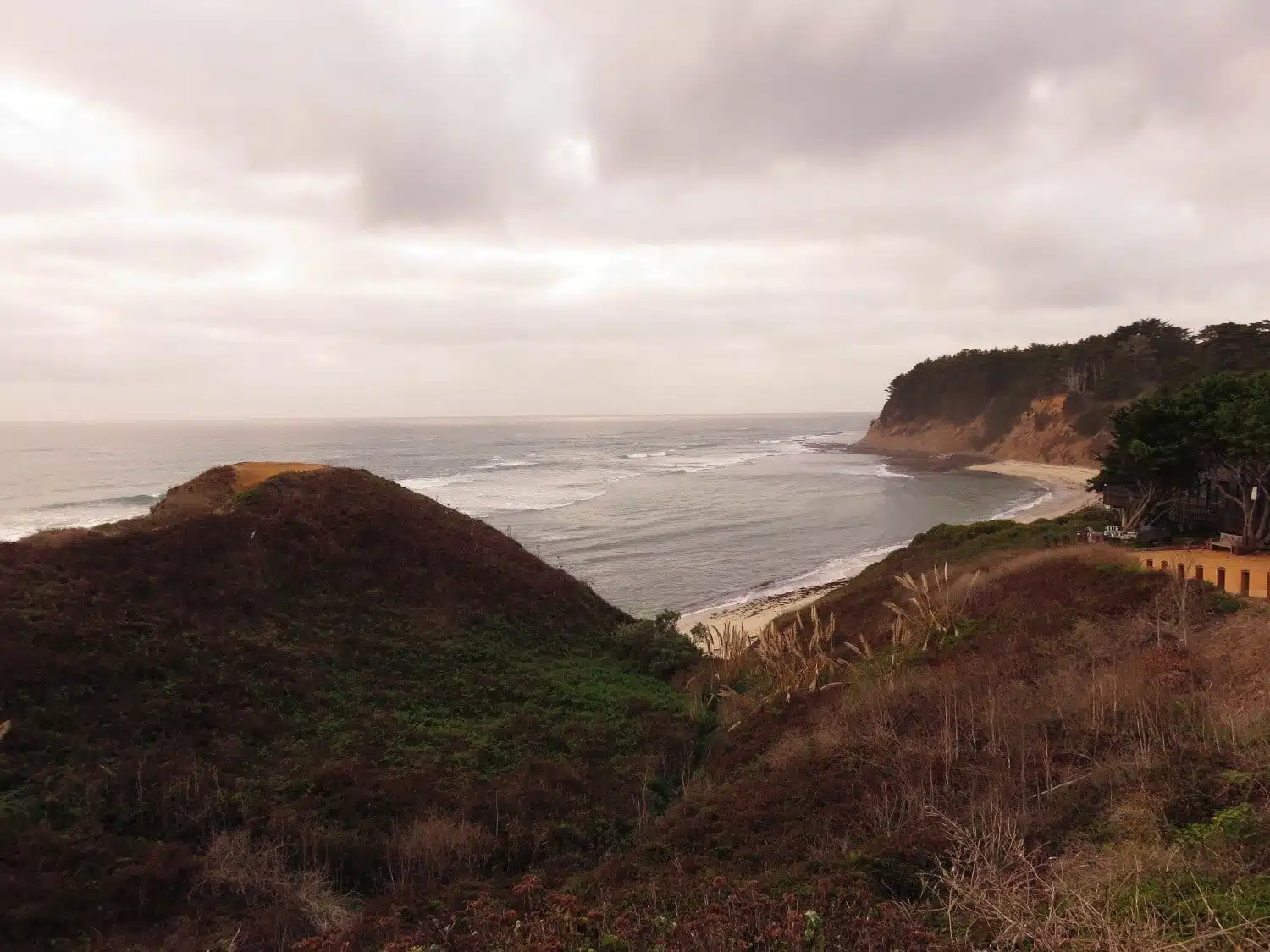 3hrs drive from San Francisco to Mendocino.
From San Francisco, head back out to Highway 1 to resume your West Coast road trip itinerary.
You're heading towards redwood country: where the majestic tall trees are almost as numerous as the people that live there.
Hiking opportunities abound, as do small and quirky towns – each with its own organic food store and cafe. Stock up on picnic supplies and eat your feast on one of the wide-open beaches.
If you're travelling in season (November to April), keep an eye out for migrating whales making their annual journey between Alaska and Mexico.
Bed down in Mendocino: the perfect base for exploring the craggy Mendocino Headlands State Park.
Best Things to do Between San Francisco and Mendocino
Where to Stay in Mendocino
Blue Door Inn (Luxury)
Upscale accommodation with indulgent breakfasts and contemporary decor.
Agate Cove Inn (Mid-Range)
A small, high-end B&B with sea views.
Gualala Point Regional Park
The perfect place to camp: a short walk from the beach in a redwood grove.
Mendocino to Klamath (West Coast Road Trip Itinerary Day 11)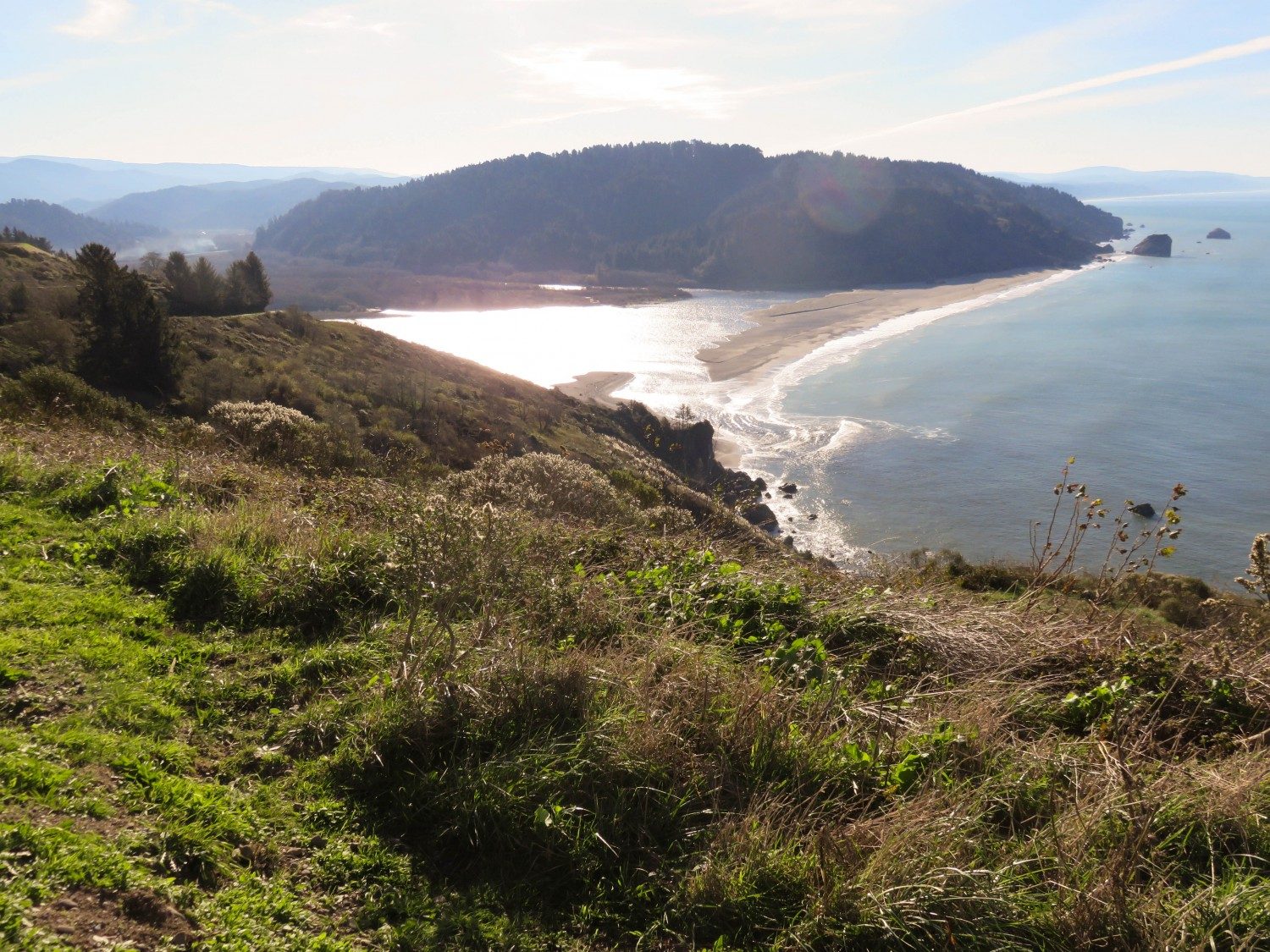 4.5 hour drive from Mendocino to Klamath.
Today is all about the majestic Redwood National Park – home to the tallest trees in the world.
Start off from Mendocino early for the 3-4 hour drive up to the national park. The park takes its name for the soaring redwood trees, larger than you can possibly imagine that fill its grounds.
There are numerous hiking trails within the park, suited to hikers of all kinds of abilities, otherwise you can explore the highlights and main viewing points by car.
If you're not camping, the small hamlet of Klamath is your best choice for accommodation – with the added benefit that you can start several hikes from Klamath itself.
If you are stopping your West Coast USA road trip in California, that's it folks – time to head home.
If you're going all the way up to Seattle, keep reading – you've got plenty of excitement to come.
Best Things to do in Redwood National Park
Howland Hill Road – a 10-mile drive through a Redwood grove with an optional ½ mile walk.
Klamath River Overlook – drive to the overlook for prime whale watching during migration season plus wildlife spotting opps for the rest of the year.
Fern Canyon – An enchanting canyon lined with ferns in Prairie Creek Redwood State Park.
Hidden Beach – Hike along a three-mile coastal and forest trail from the Klamath River Overlook to this gorgeous beach that is only accessible by foot. It's almost always empty and is dotted with driftwood pebbles and branches worn smooth by the surf.
Avenue of the Giants – Take a turn off Highway 101 in the Humboldt Redwoods State Park to take the 32-mile Avenue of the Giants. The road is named for the soaring redwood trees that line its sides – nothing makes you feel smaller than hundreds of trees so tall you can't even see the top.
Where to Stay in Klamath
Holiday Inn Express Redwood National Park (Budget)
There's not much to this Holiday Inn that's special but it's in a great location for walking out to Klamath River Overlook and then doing the three mile hike to Hidden Beach.
Check Prices, Reviews & Availability
Or, read my guide to camping in Redwood National Park
Klamath to Coos Bay (West Coast Road Trip Itinerary Day 13)
3 hour drive from Klamath to Coos Bay
Welcome to Oregon!
After a long time dawdling your way up the Californian coast and moseying inland for a detour or two, it's time to hit a new state. Oregon's quieter coastline boasts a rugged beauty that never fails to impress.
Almost every Tom, Dick and Harry sets out on a Pacific Coast Highway road trip and sees the Big Sur, but if you've made it up this far, you've truly earned your Highway 1 road-tripper badge of honour.
Best Things to do between Klamath and Coos Bay
Samuel H Boardman Scenic Corridor – Named after the "father" of Oregon's national park system, the scenic corridor is one of the most beautiful stretches of the Oregon coastline.
Brookings – A cool little town just over the Oregon border. Chill out on one of the many beaches, hang out on the boardwalk and soak up the laid-back vibe.
Arch Rock Brewing Company – The Pacific Northwest is famed for its craft beer scene. Make like a local and try a brew or two in Arch Rock (y'all don't need me to tell you about drink driving – designated driver etc etc).
Sunset Bay, Shore Acres and Cape Arago State Parks – Three state parks that stand side by side on the southern stretch of the Oregon coast. You can camp in Sunset Bay – make sure you're there for sunset, it's named that for a reason.
Port Orford – Wedged in a small natural harbour next to Cape Blanco State Park, the views from Port Orford are fairly spectacular.
Coos Bay – Coos Bay is well worth exploring. There are a few cool museums and plentiful seafood to chow down on too.
Where to Stay in Coos Bay
Red Lion Hotel Coos Bay (Mid-Range)
Recently given a breath of fresh air, the Red Lion is a comfortable option in Coos Bay.
Sunset Bay State Park (Budget)
Camping near to the shoreline at this state park. Tent sites, RV hookups or you can rent one of their eight yurts.
Coos Bay to Newport (West Coast Road Trip Itinerary Day 13)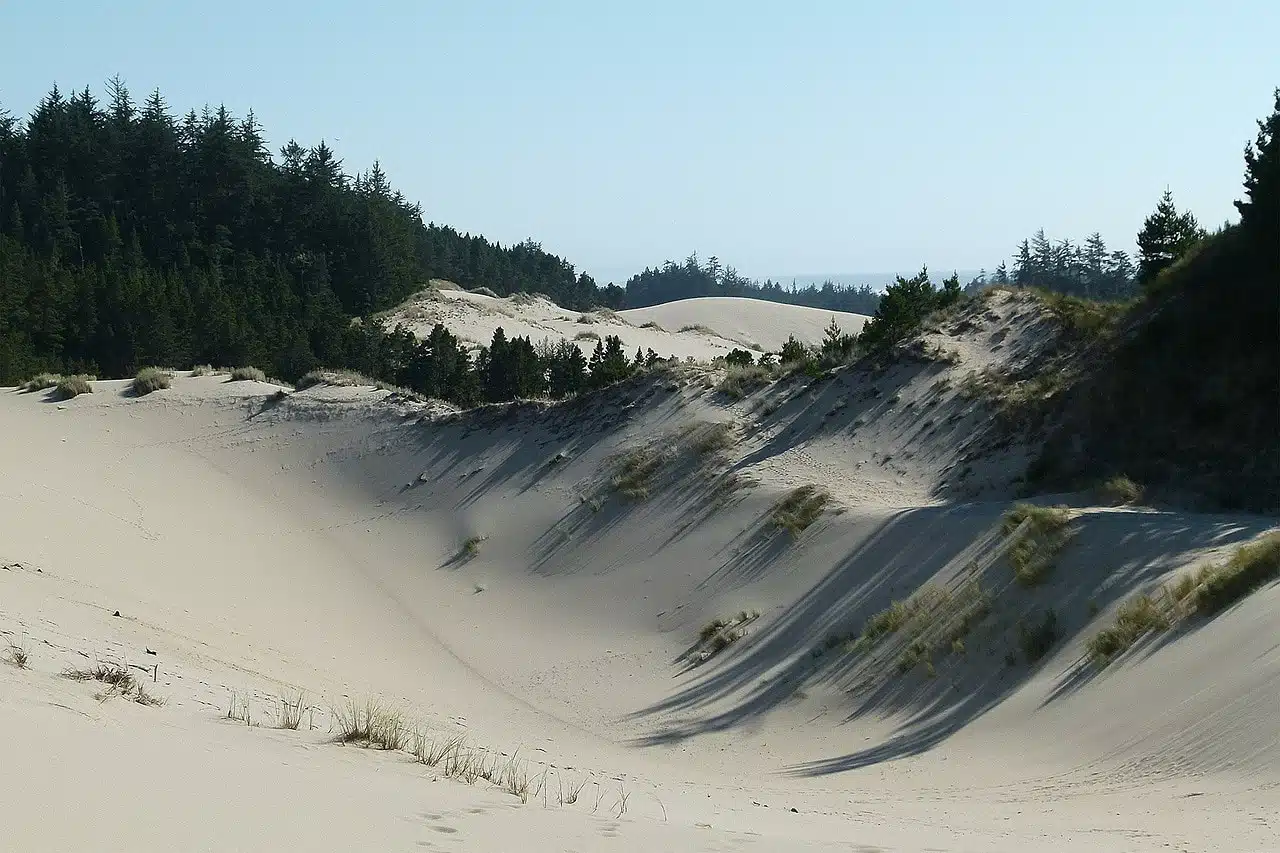 2 hours 10 minutes drive from Coos Bay to Newport
A little north of Coos Bay Highway 1 takes you to the fringe of the Oregon Dunes National Recreation Area – the largest area of coastal sand dunes in the US.
Up to 150 metres tall – the dunes are impressive enough to look at, but add in dune bashing, hiking and horseriding and you have a whole world of fun.
I'd recommend parking up and spending most of the day in the park – it's only a short drive to Newport and the dunes really do have to be seen to be believed.
Best Things to do Between Coos Bay and Newport
Oregon Dunes National Recreation Area – spend the day (or more if you have the time) exploring the largest area of coastal sand dunes in the US.
Umpqua Aquaculture – If you love oysters, read on.This tiny little spot may well serve the best oysters you can find on the whole of the West Coast. Yes, we're serious. Buy them by the bucket and feast your face off.
Oregon Coast Aquarium – Award-winning aquarium in Newport with a sea otter pool, and a heart-stopping shark tunnel.
Yachats – A small town on this undeveloped coastline that's the Oregon beachside hideaway for those in the know.
Yaquina Head Outstanding Area – A coastal bluff with the tallest lighthouse in Oregon. At low tide, you can spot the sea urchins and starfish that line the shores. You'll need to book ahead if you want to visit the lighthouse itself.
Willamette Valley – Not along Highway 101 at all but this valley a short drive inland is the home of Oregon's flourishing Pinot Noir production. Wine lovers – it's definitely worth the detour.
Where to Stay in Newport
Inn at Nye Beach (Luxury)
Set in the increasingly cool area of Nye Beach, the Inn has a wonderful view, freshly-roasted coffee and chocolate chip cookies. Heart eye-emoji love.
Sylvia Beach Hotel (Mid-Range)
Every room here is named (and decorated) after a different literary legend, so you can take your pick from Alice Walker, Ernest Hemingway, J.R.R Tolkien, Oscar Wilde and more. The room features books and information about your author of choice. There are no TVs and no wifi – just hunker down with your favourite book and soak up the atmosphere.
South Beach State Park (Budget)
For something a little more rugged, this is a popular campsite two miles south of Newport.
Newport to Astoria (West Coast Road Trip Itinerary Day 14)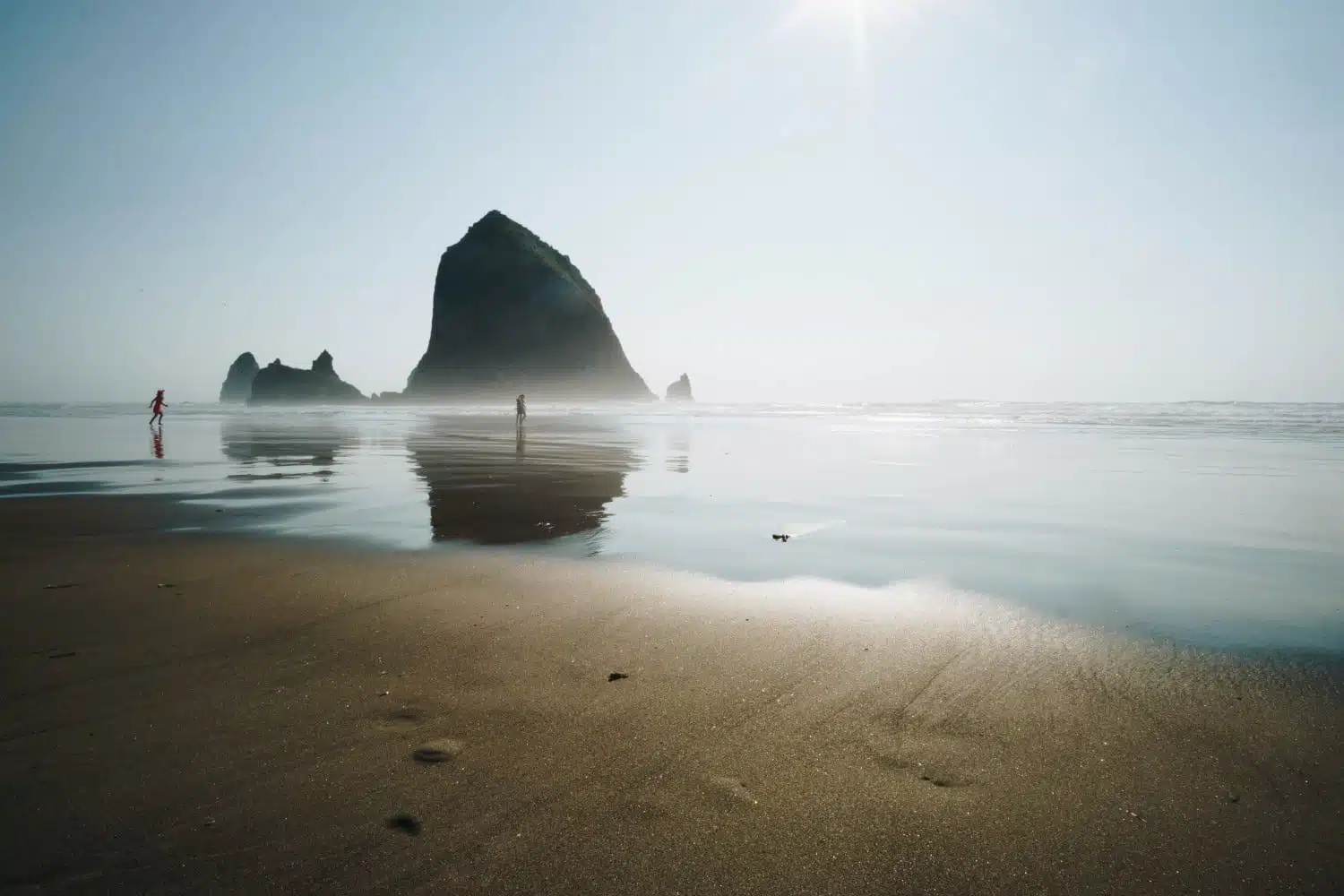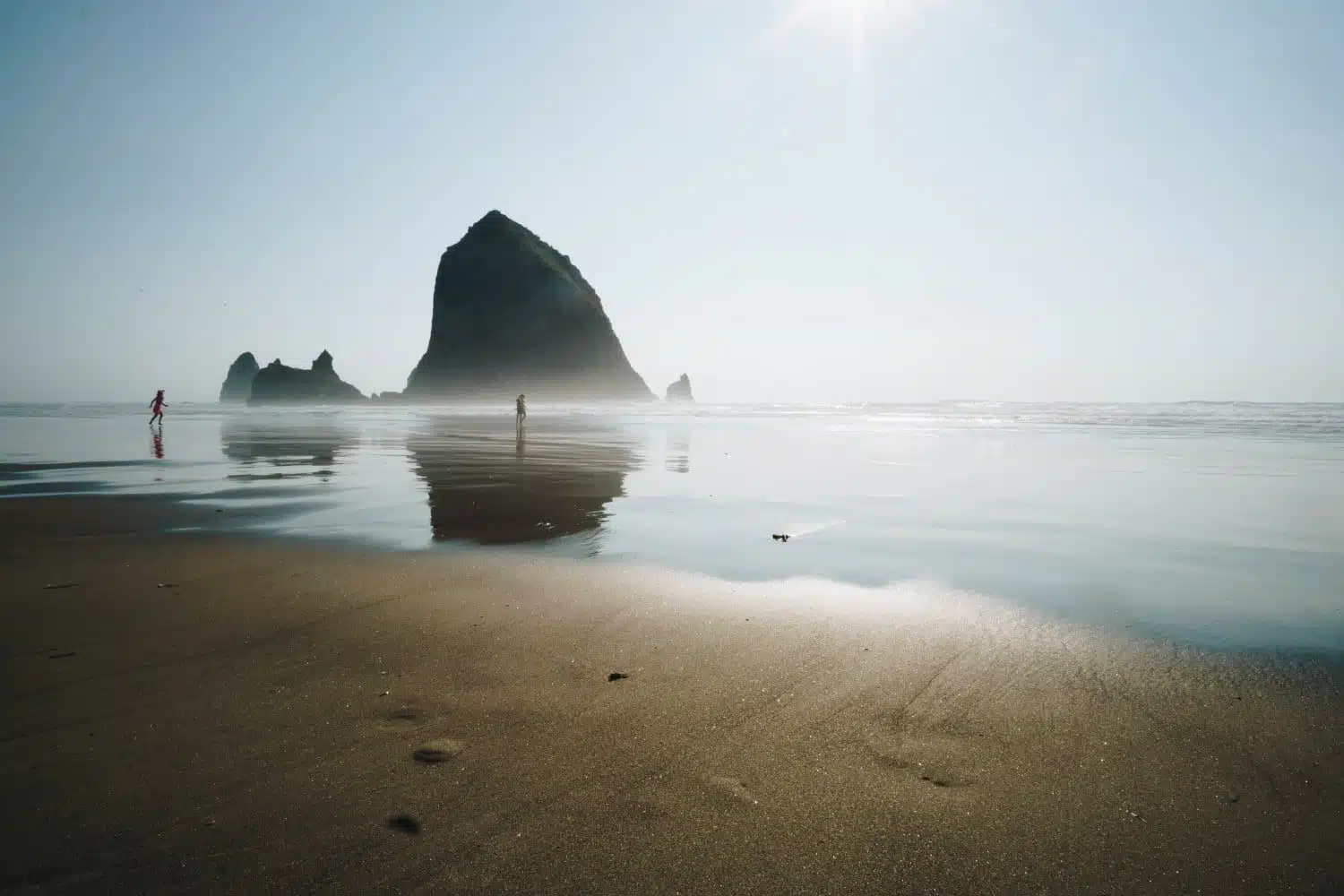 3 hours 15 min drive from Newport to Astoria
The stretch of Oregon Coast between Newport and Astoria is studded with uber-cool towns, nice beaches (when the weather's warm enough) and lots of beautiful vantage points for you to soak up the Pacific Ocean.
Astoria itself is a historic city with plenty of easily-accessible hikes and water-sports for you to take advantage of.
Seaside and Cannon Beach are two of the better known beaches along this stretch – just watch out, they tend to get pretty busy during the summer months (though that's not always a bad thing at all).
Manzanita is one of my favourite little villages along this coast – the small city is a thriving outdoors hub and brimming with great restaurants. It helps that the beach is pretty lovely too.
Best Things to do Between Newport and Astoria
Seaside and Cannon Beach – For summertime beach-bumming and stellar views.
Manzanita – A cool (dare I say hipster) village that's well worth a stop.
Astoria – Soak up the history in Oregon's northern most coastal town.
Big Wave Cafe, Manzanita – Hearty and fresh grub served in Manzanita's friendliest restaurant.
The Three Capes detour – take a detour off the 101 to soak up the coastal views on the Three Capes road. It winds its way past Cape Meares, Cape Kiwanda and Cape Lookout. The road has been under repair in recent years so check the status before you turn off the PCH.
Best Places to Stay Between Newport + Astoria
Whale Cove Inn (Luxury)
You've been on the road for weeks now. Splash out and stay in this super-luxury hotel. Suites come with private decks with a jacuzzi and all boast magnificent ocean views.
Commodore Hotel (Mid-Range)
A cool hotel in downtown Astoria, the Commodore has been built in the vein of our much-beloved Ace Hotels, with funky decor and friendly staff.
Nehalem Bay State Park (Budget)
Bed down in one of Nehalem Bay's yurts, or pitch up on a RV or tent site. In the morning, simply walk over the dunes and you're straight onto the beach – perfect for your morning swim.
Astoria to Olympic National Park (West Coast Road Trip Itinerary Day 15)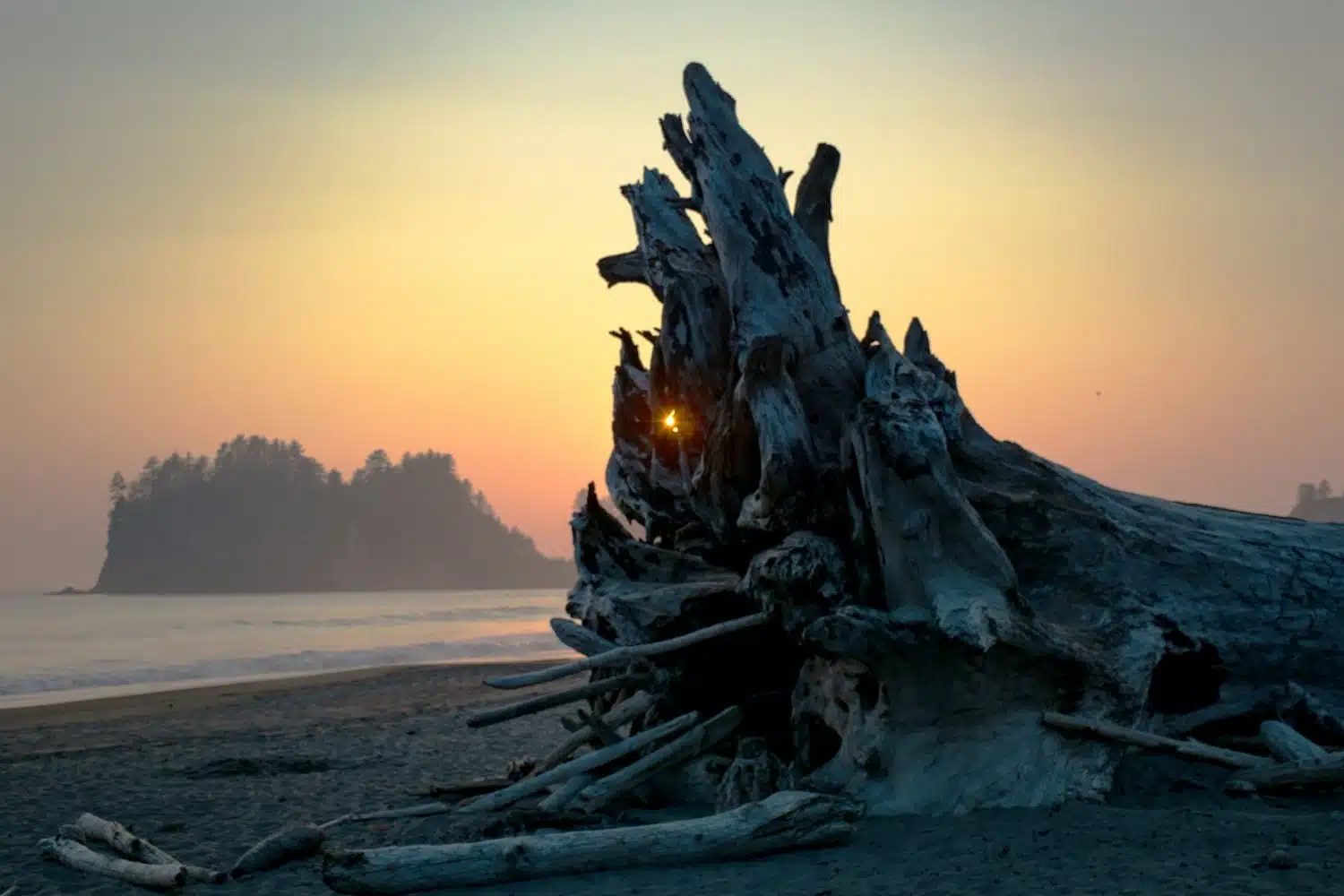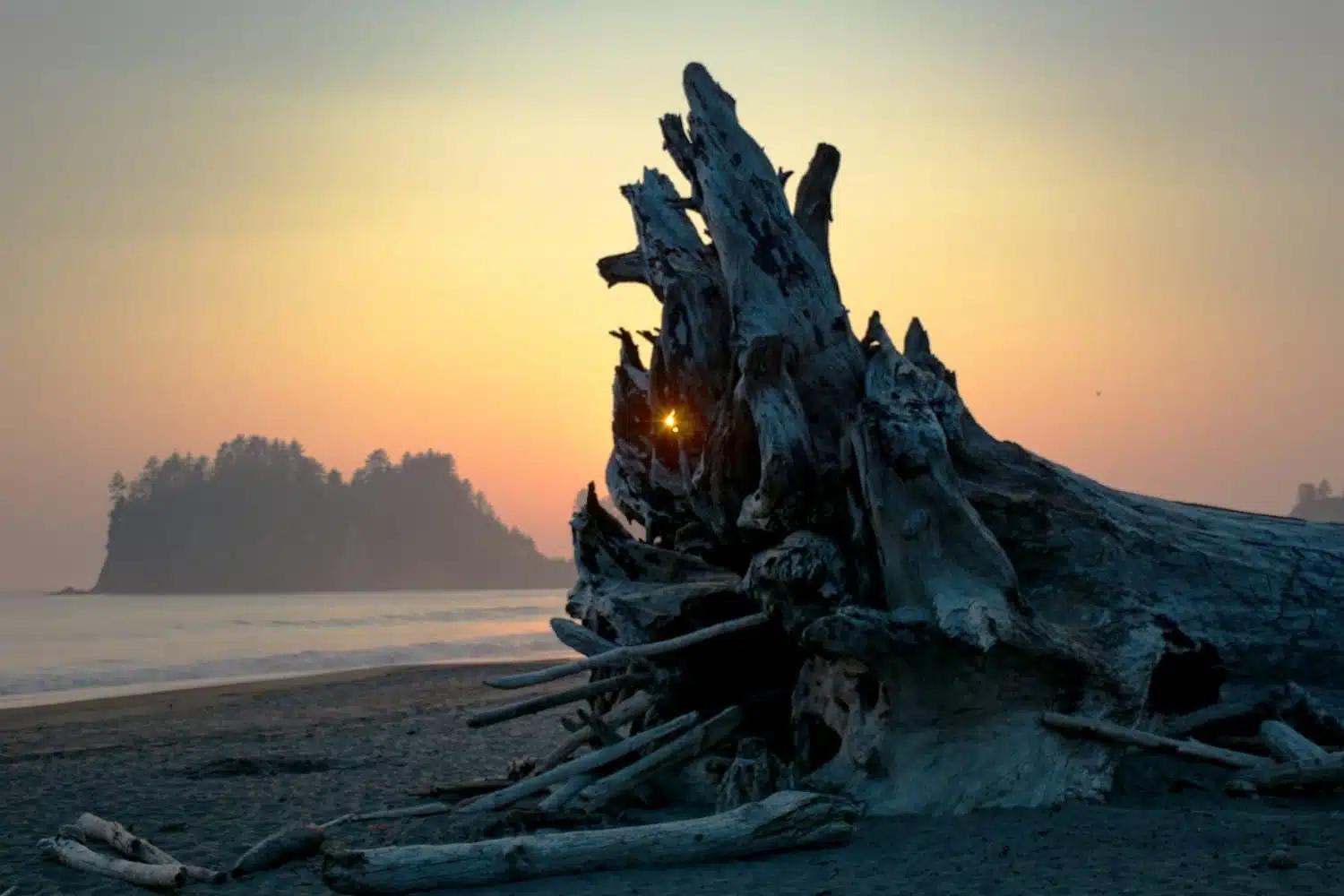 2.5 hours from Astoria to Olympic National Park
It's the penultimate day of your West Coast USA road trip itinerary. Can you believe it?
It was over two weeks ago that you set out thinking that you had all the time in the world to wend your way along one of the most famous road-trip routes in the world and now it's almost over.
We're all sad about it, but you'd better make these last days count.
What better way to start than crossing over into a new state?
You pop over into Washington almost as soon as you leave Astoria – and the Highway 1 dips in and out of the coastline for the last stretch.
Today is really about getting to and spending at least a bit of time in Olympic National Park. It's 1406 square miles, so probably a bit too much to see in one day (I know you're keen but no, that's just too much).
The section of Olympic National Park near to Highway 1 is the wildest and the most untamed – Hoh River Rainforest and Lake Quinault are good places to head to as you can camp or find accommodation in both.
Best Things to do in Northwest Washington
La Push Beach – Twilight fans can revel in the knowledge that the vampire/werewolf dramafest were set in La Push. The rest of us can just enjoy the rugged tranquility of the three beaches and small surrounding community.
Olympic National Park – far greater than you're ever going to be able to tackle in a day (or even a year come to think of it), Olympic is the outdoor adventurer's dream. Plan your trip using the park's informative website.
Where to Stay in Olympic National Park
Lake Quinault Lodge (Luxury)
One of the classic park lodges of yore, Lake Quinault Lodge offers high-end stays in a memorable setting.
Quileute Oceanside Resort
Take your pick from the luxury cabins, motel rooms or RV sites in this quaint resort just outside of La Push.
Hoh Visitor Center and Campground
Very, very basic camping but a great base for exploring the near-mystical Hoh River Rainforest.
Olympic National Park to Seattle (West Coast Road Trip Itinerary Day 16)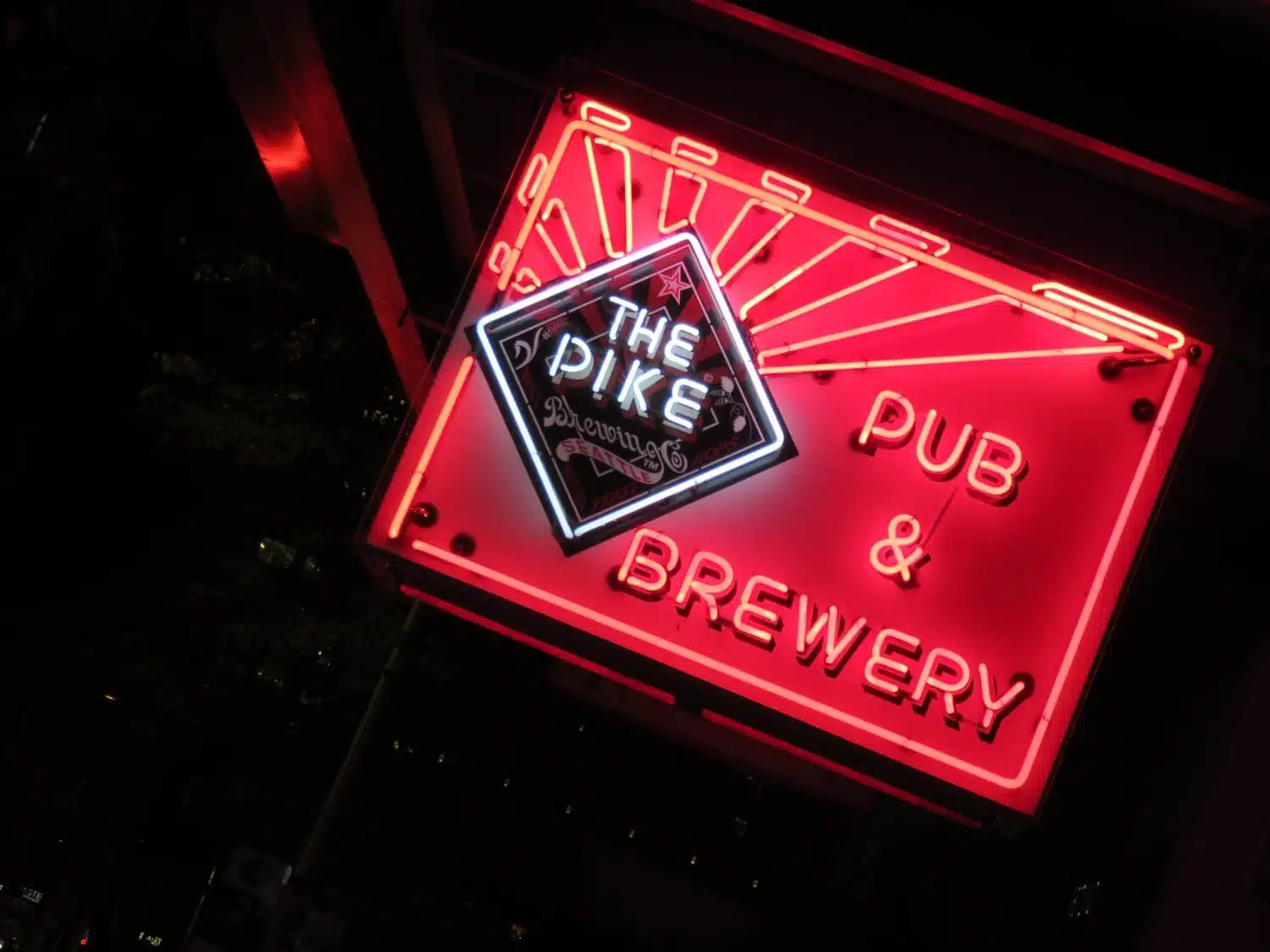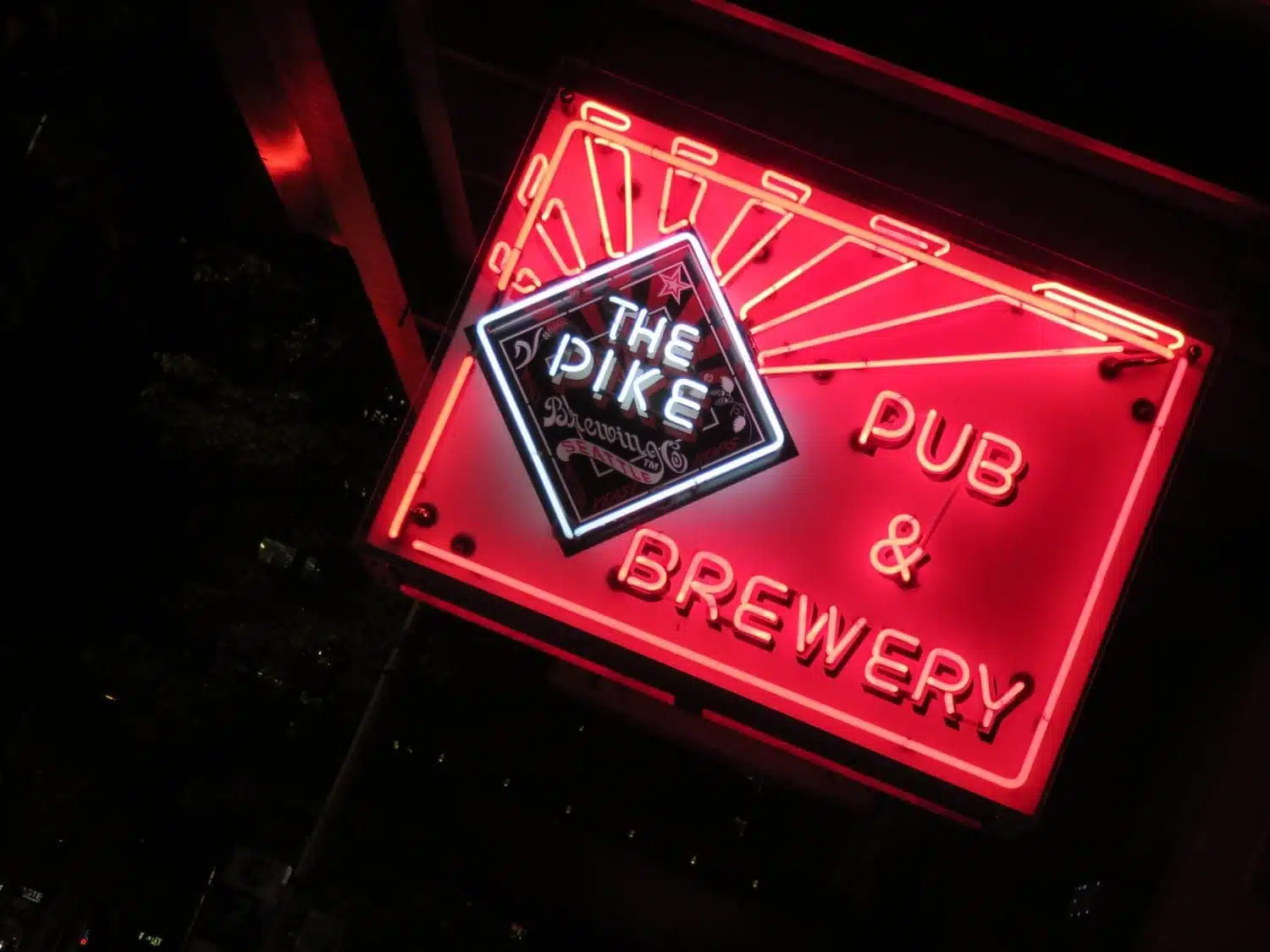 2 hours drive from Olympic National Park to Seattle (dependent on park location)
The final day of our Highway 1 road trip itinerary lands us in Seattle.
PNW's biggest hub sits in the shadow of the towering Mt Rainier and is a charming combination of great coffees, trendy places to eat and drink and grungy hangouts.
If you have a bit more time, Seattle's a great city to decompress and unwind after your hectic two and a half week trip – otherwise it's a whirlwind tour of the city and hometime. I hope you've had an awesome trip!
Best Things to do in Seattle
Where to Stay in Seattle
The Edgewater (Luxury)
(In)famous waterfront hotel where rock-stars and celebrities have stayed and frolicked for several decades.
Staypineapple at the Maxwell Hotel (Mid-Range)
One of the best boutique hotels in Seattle with colourful interiors and stellar service.
Ace Hotel (Mid Range)
A hop, skip and not even a jump away from Pike Place, Ace Hotel offers stylish digs in a central location.
Recommended Detours from Your American West Coast Trip
West Coast Road Trip Detour One: Yosemite National Park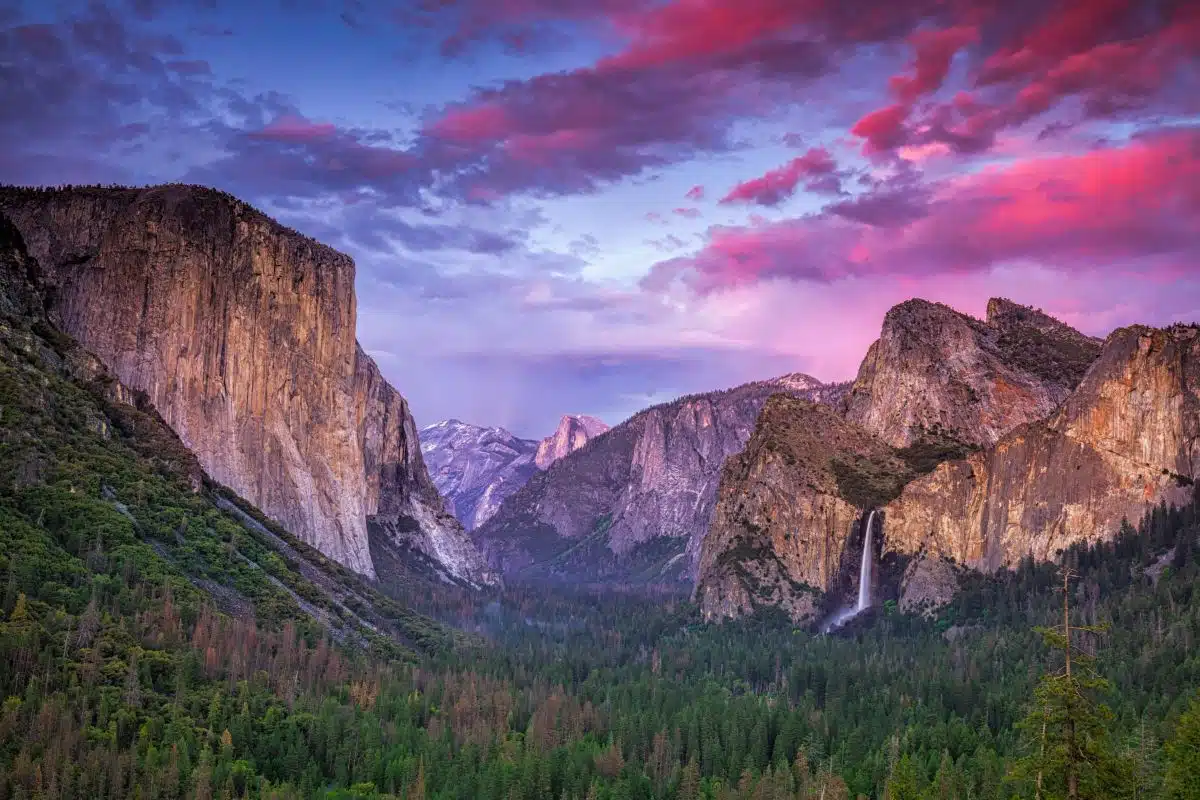 3 hour drive from San Francisco to Yosemite
The best time to do this detour from Highway 1 is after San Francisco. You can then either add on the second suggested detour (to Sonoma – discussed below) or you can drive from Yosemite to Mendocino and pick up the itinerary from there.
OK, so now we're going to tear the rule book up and throw it out of the window (or let it flutter over your head if you have a convertible with the top down).
Yes, yes, I know that Yosemite isn't on Highway 1. In fact, it's a three hour detour away from Highway 1 towards the Nevada border.
But, unless you have been and decided never to go again (doubtful), or you are really, really pushed for time (more likely), it would be a real shame to come all this way and not go to Yosemite.
So pack up the trunk, take the rather dull drive inland and get yourself to Yosemite – I can guarantee you won't regret it.
It would actually take a whole other article as long as this one (7,200 words and counting) to cover all the things you can see and do in Yosemite – which is kind of handy because I've written this Yosemite guide for you to check out.
Best Things to do in Yosemite
Yosemite Falls
Viewpoint from Tunnel View
Mariposa Grove – giant sequoia trees.
Basically everything you see and do.
Where to Stay in Yosemite
Evergreen Lodge (Luxury)
Originally built in the twenties, Evergreen is just outside the national park boundaries but offers rustic-chic lodging for a high-end stay.
Wawona Hotel (Mid-Range)
It's a bit of a drive to sights other than the Mariposa Grove, but an affordable and comfortable option.
Yosemite Bug Rustic Mountain Lodge (Budget)
Hippy vibes and friendly owners on the outskirts of Yosemite.
Upper Pines Campground (Budget)
Upper Pines is busy but it's well located, shady and a good base for a short Yosemite stay.
Read Next: How to Spend Your Time in Yosemite
West Coast Road Trip Detour Two: Sonoma Valley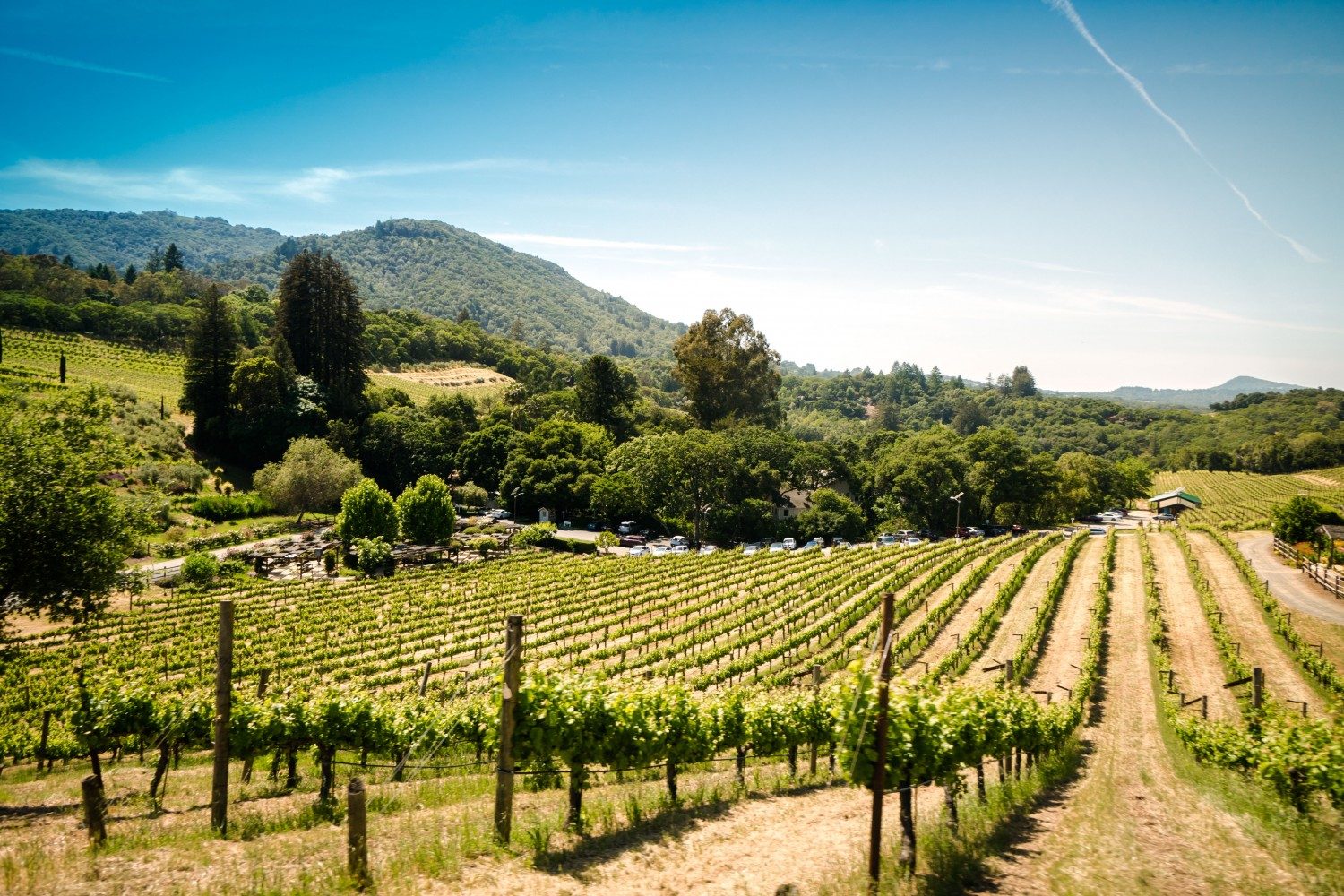 The best time to do this detour is between San Francisco and Mendocino. If you did detour one, your itinerary would be as follows: San Francisco > Yosemite > Napa / Sonoma > Mendocino.
My second suggested detour from the Pacific Coast Highway is to Sonoma. If you're anything like me, you love your wine (almost as much as you like the breathtaking views you caught sight of in Yosemite, but not quite).
You can easily tack on Sonoma to your trip to Yosemite
We all know that Napa and Sonoma are California's most revered wine regions, so it makes sense to stop off and have a nose, just while we're in the area on our West Coast road trip.
I've been to both Napa and Sonoma and preferred the latter's slightly more casual vibe – you can of course go to both, or neither – whatever takes your fancy.
Best Things to do in Sonoma
WINE. More specifically…
Bartholomew Park Winery. The wine is mighty tasty, but the 400-acre nature preserve setting is almost as big a draw. Purchase a bottle or two and head out into the grounds with a picnic.
Sonoma Valley Bike Tours. Let's face it – no one wants to be the designated driver in Sonoma. Book onto a guided tour or hire a bike and set off on your own.
Fig Cafe & Winebar. Hearty and delicious food is paired with an extensive local wine list.
Benzinger Family Winery. Sample Benzinger's range of biodynamic wines on one of their popular tours. Reserve in advance.
Where to Stay in Sonoma
Farmhouse Inn (Luxury)
The hefty price tag means the Farmhouse Inn is only a plausible option if you don't mind splashing on a hotel. Those who do are treated to Michelin-star meals and airy rooms in return.
Vintner's Inn (Mid-Range)
Within a short distance of countless vineyards, Vintner's Inn is a homely boutique option a few miles out of downtown Santa Rosa.
Casini Ranch (Budget)
RV Hookups, a tent campsite and small cabins at affordable prices.
Other Useful Resources for a West Coast Road Trip
West Coast Road Trip Map
Love this? Save and share on Pinterest!