Looking for the best things to do in San Diego? The Californian city is packed with potential adventures. You just need to know where to find them. This guide walks you through the places you shouldn't miss on your San Diego trip.
What do you get when you blend a rich history, fusion of cultures, sandy beaches, plenty of sunshine and a cosmopolitan vibe? Answer = San Diego.
There's so much more to the city than that though – vibrant parks, colourful street art, and fascinating museums make it an unmissable stop on any West Coast road trip. It's little wonder it's one of California's most popular spots.
Wondering what to do in San Diego? Let's dive in…
Looking for a hotel in Sand Diego? I recommend the uber-quirky Staypineapple, Hotel Z – check rates and availability here.
Top 5 Things to do in San Diego
Explore the Vibrant Balboa Park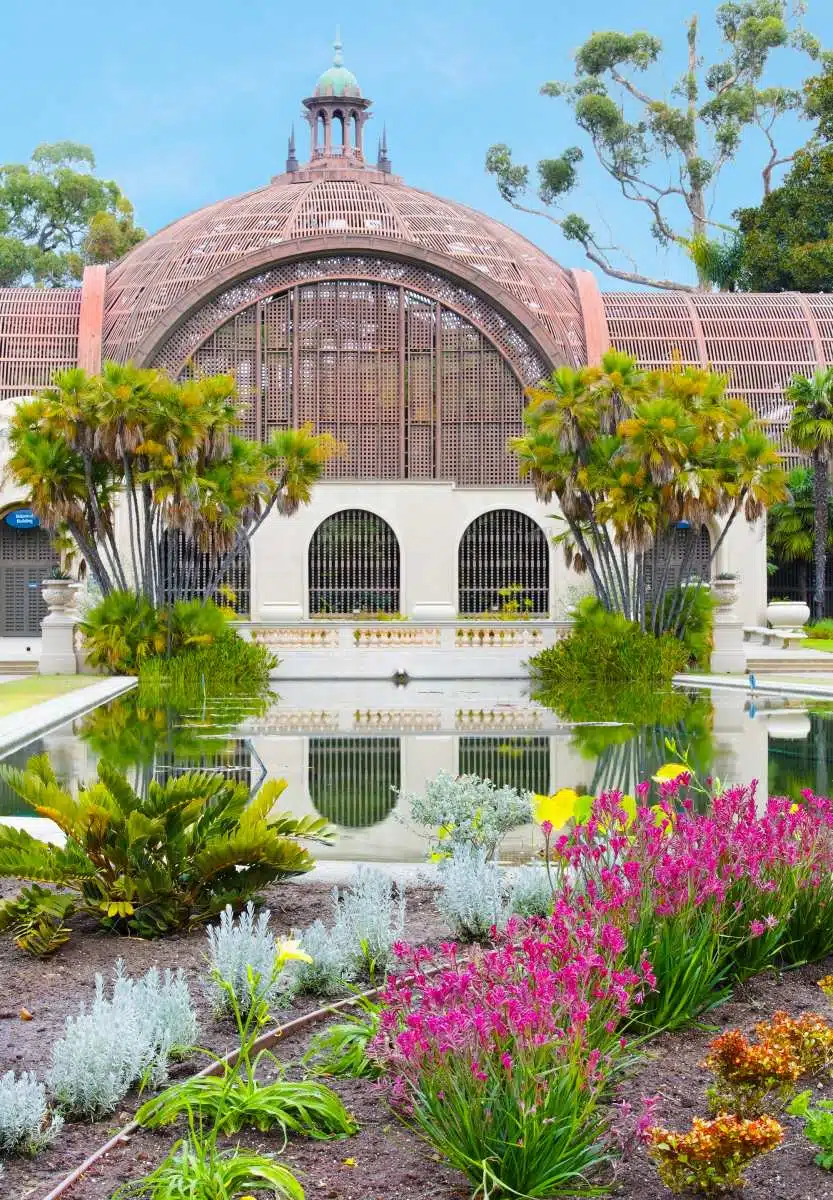 No guide to cool things to do in San Diego is complete without Balboa Park – it truly is the beating heart of the city.
Set across a 1,200-acre urban park packed with beautiful gardens, Balboa Park also boasts wonderful architecture, a world-class zoo, charming cultivated areas, Spanish Revival Buildings, museums (16 of them, in fact), and the occasional live show.
While the gardens dotted around the park are undeniably special, containing over 350 different plant species, the iconic Botanical House steals the show. Home to over 2,100 types of plants, it's worth visiting alone for the view from outside and across the pond.
If you would like to learn more about the park, book onto a tour with a local guide who will be able to give you insight into just how important the park is to San Diego.
Book Your Balboa Park Tour Here
Check Out Marine Life at La Jolla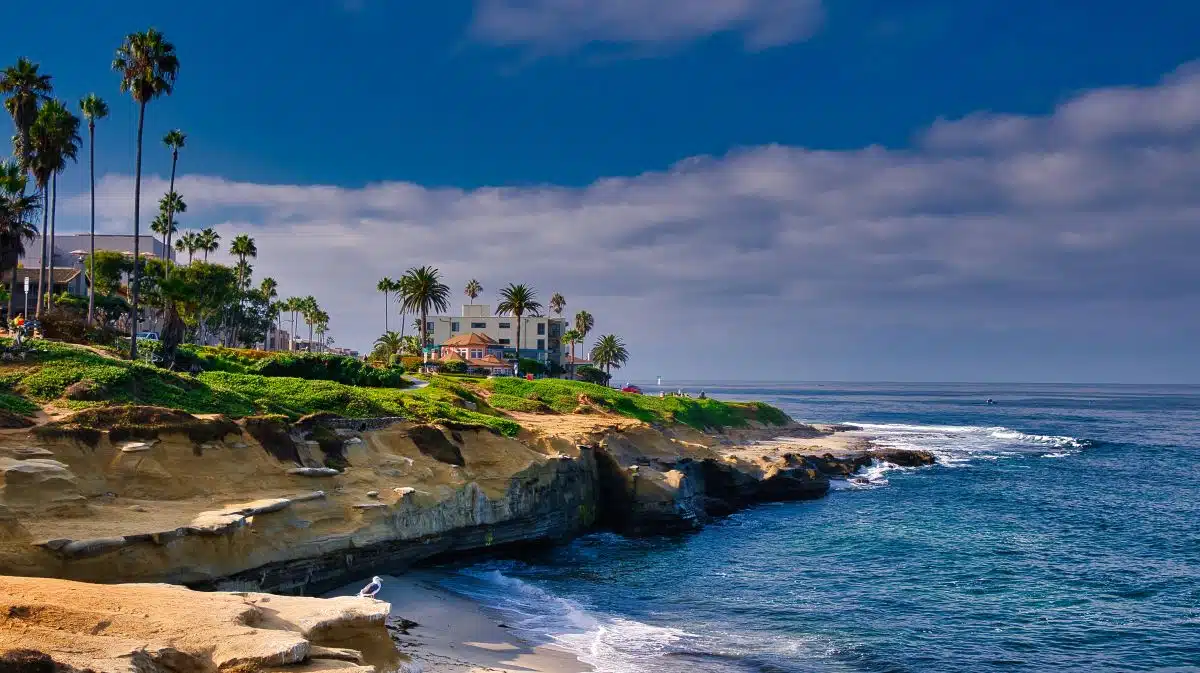 Another of my favourite San Diego activities, La Jolla is a colourful seaside community that sits atop the rocky headland, looking out over the Pacific Ocean.
Surrounded on three sides by water, La Jolla is the meeting place of so many good things: fine dining, amazing views, and some of San Diego's most adorable marine life.
At the base of the cliffs, along La Jolla's white sand beach, you'll find a smattering of small coves and sea caves… caves packed with sea lions and seals. It's well worth hiring a kayak and making your way out here to catch a glimpse of the adorable creatures.
I highly recommend this guided coastal bike tour of La Jolla – on the way you'll be treated to dramatic views of the cliffs, beachy pit stops, and the ability to get up-close-and-personal with adorable sea lion cubs.
The area has an almost-European feel, and the other main attractions found in this part of San Diego include the world-famous Torrey Pines – where you'll find plenty of beaches, a state reserve, a golf course, and an array of wonderful boutiques and cafés.
A small detour to Prospect Street will lead you to the Legends Gallery where you will find original artwork from famous children's author Dr. Suess.
Book Your Coastal Bike Tour of La Jolla Here
Admire the Animals at San Diego Zoo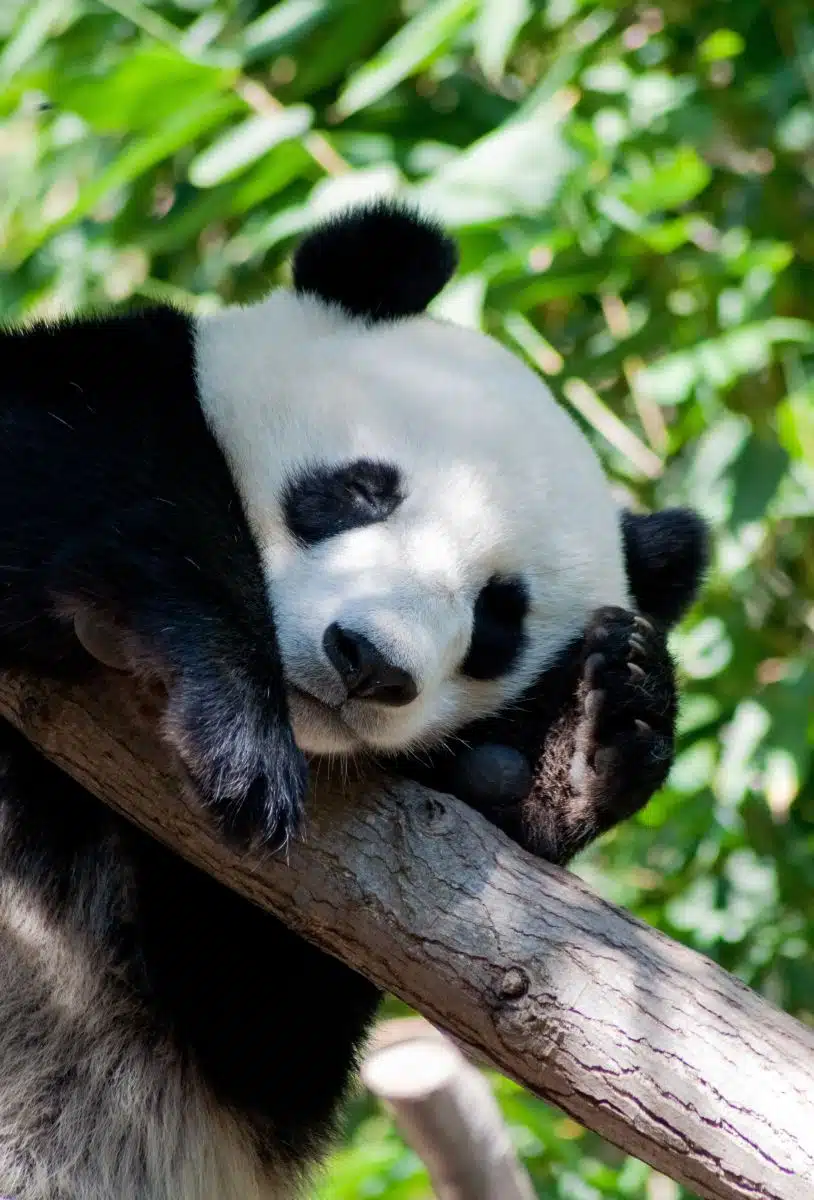 Looking for fun things to do in San Diego? In my humble opinion, nothing beats a day of exploring San Diego Zoo. It's one of the best in the US.
The zoo is home to a diverse array of animals – from camels and platypuses to giraffes and the Galapagos Tortoise – with plenty of experiences for you to get involved with.
The Early Morning Cheetah Experience is a truly special one, while the Animals in Action Tour allows you to get up close and personal with some of the cutest (and most terrifying) animals.
Or, if you'd rather appreciate these creatures from afar, grab a map and make your leisurely way around the park.
Book Your San Diego Zoo Tickets Here
Venture into San Diego Old Town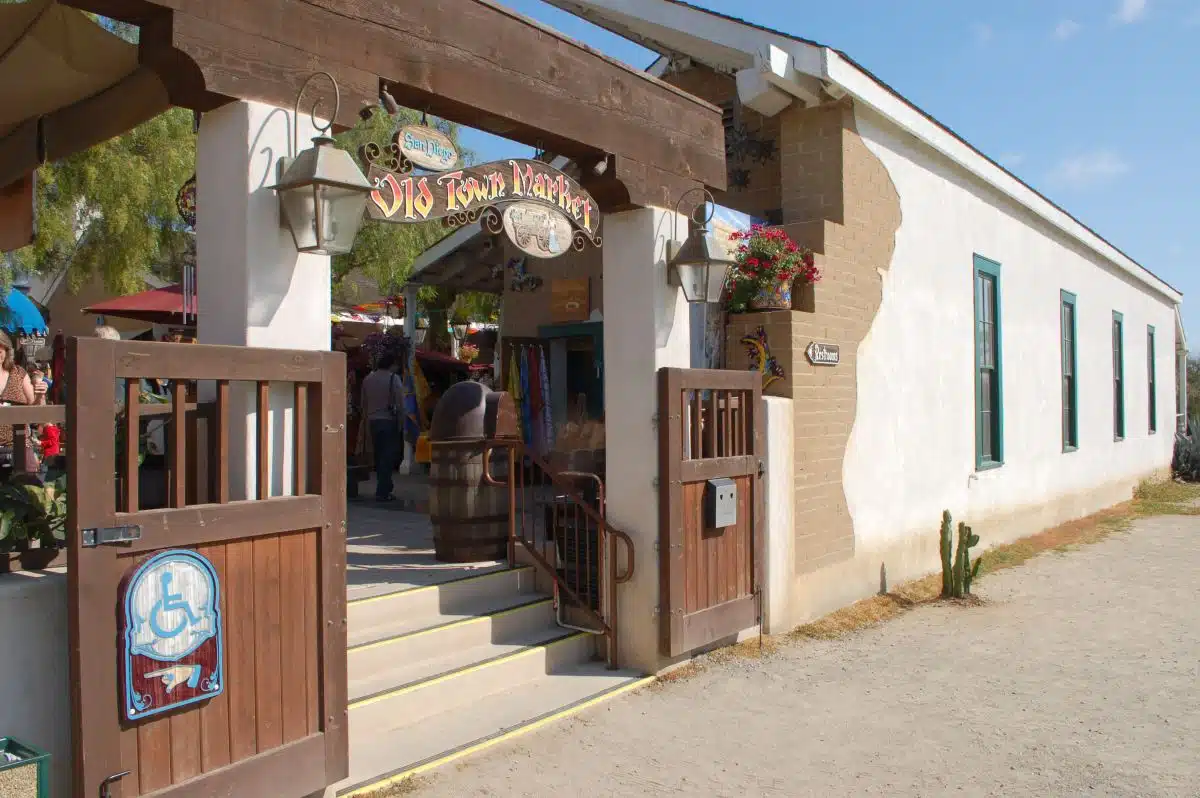 One of the best things to do in San Diego is pay a visit to San Diego Old Town, the site where the first European settlers first took refuge in California.
Now a friendly neighbourhood featuring historic buildings from the early 1820s and 1870s, this part of town is one of the best places to learn about what life was once like in San Diego.
The State Historical National Park is also located in the old town – here lies a well-preserved street (more on this later). Within the 40-acre park at San Diego Old Town, visitors will also find the first modern-day settlements, originally founded in 1769.
Although beautiful at all times, the Old Town looks extra vibrant during festival seasons – the best examples of these are Fiesta Navidad, Dia de Muertos, and Cinco de Mayo.
Take in San Diego's Colourful Street Art Scene
As a huge fan of graffiti art, I might be a little bit biased when I say that scoping out the city's street art is one of the top free things to do in San Diego – but, I'm sure you'll forgive me when you see how friggin 'cool it is.
With influences from the US and Mexico – two very distinct styles of art – the city is dotted with colourful murals and fascinating mosaics. Though, there are some hotspots where you're guaranteed to find inspiring art.
First up is the North Park Mural Project, which has taken over one of the hippest districts in San Diego and added to it an explosion of colour. La Jolla is another part of the city where you'll be able to find art on the streets, while Chicano Park boasts more than 80 beautiful murals.
Brilliant Things to See & Do in San Diego During the Day
Surf With San Diego Surfing School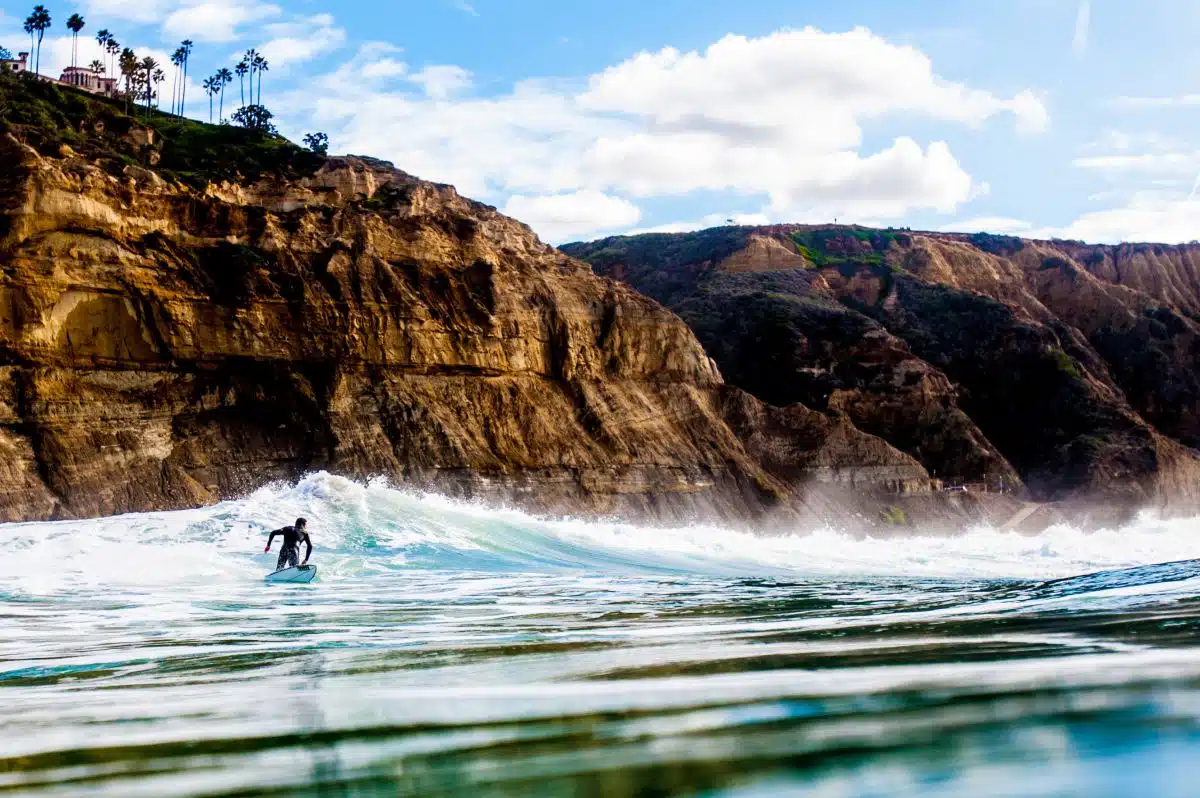 With over 70 miles of impressive coastline, it's no surprise whatsoever that surfing is embedded in the city's culture – it's one of the top things to do in San Diego.
Whether you're a beginner looking for something new to try or an experienced surfer looking to hone your skills, San Diego has a surfing spot for you. Most of the city's best breaks are southwest-facing, bringing plenty of small and large waves suitable for all levels of surfers.
Rockier beach and reef breaks can be found at Point Loma and La Jolla. Avid surfers might even want to take a trip up to Swami's which is a popular river mouth surfing location.
Other honourable mentions go to the expansive Del Mar and the beach breaks at Oceanside.
You can enjoy all surfing in San Diego with lessons from San Diego Surfing School. This surfing school runs regular surf lessons, camps, and packages throughout the year, where they take any level of surfer to the best locations to either start their surfing journey or develop it.
Book Your San Diego Surfing Lesson Here
Explore the Embarcadero Area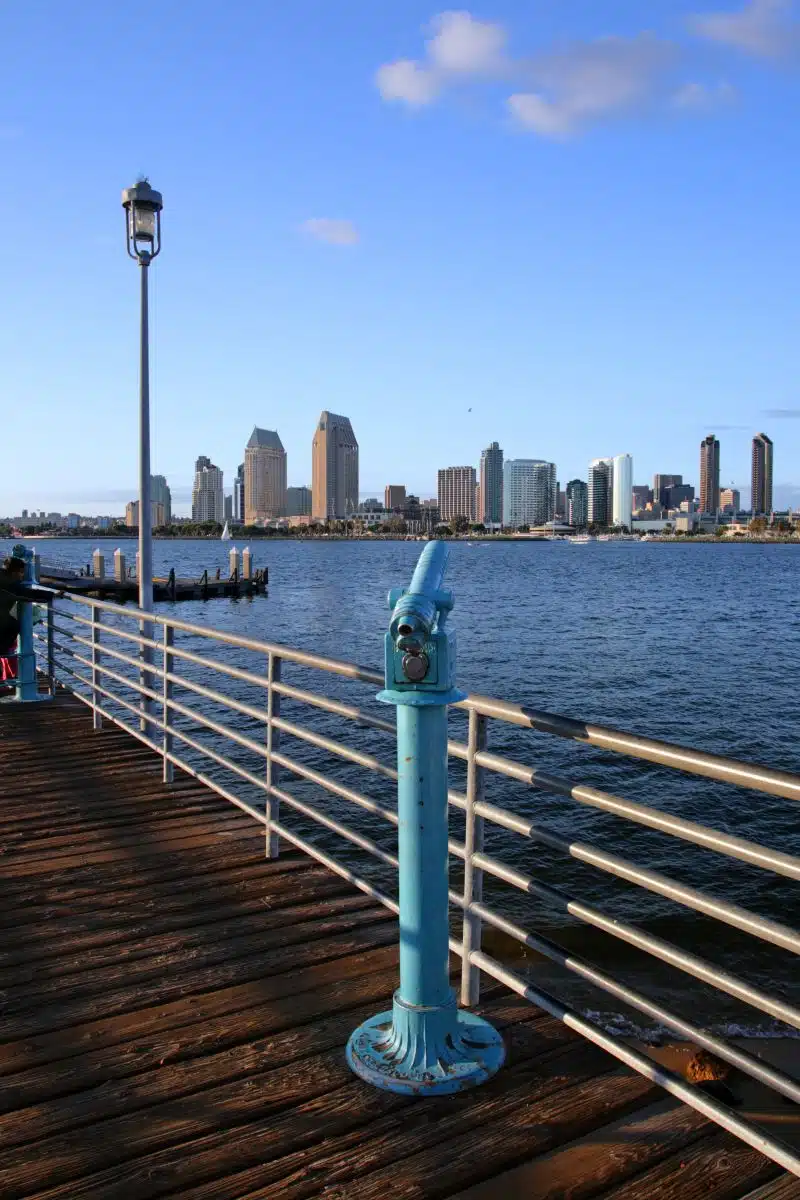 Known for cruise ships and seafood, San Diego's harbour is popular with both locals and tourists who want to escape the hustle and bustle of the city, take in great views, or exercise in peace.
The harbour area also boasts the USS Midway (more on that anon), a number of other heritage ships, and the San Diego Maritime Museum. It's also packed with fantastic sights, places to eat, shops to explore, and interesting photo spots where you can capture the city.
For a really special experience, book onto this harbour boat tour and discover the magnificent sights from the comfort of a modern yacht – you'll pass the likes of Coronado Bridge, fascinating marine life, and historic ships.
If you're looking for unique things to do in San Diego, head here towards sunset in late June – you'll be able to hear the distant sound of San Diego's Symphony Orchestra, providing the soundtrack to your balmy summer evening.
Book Your Harbour Boat Tour Here
Devour Authentic Mexican Food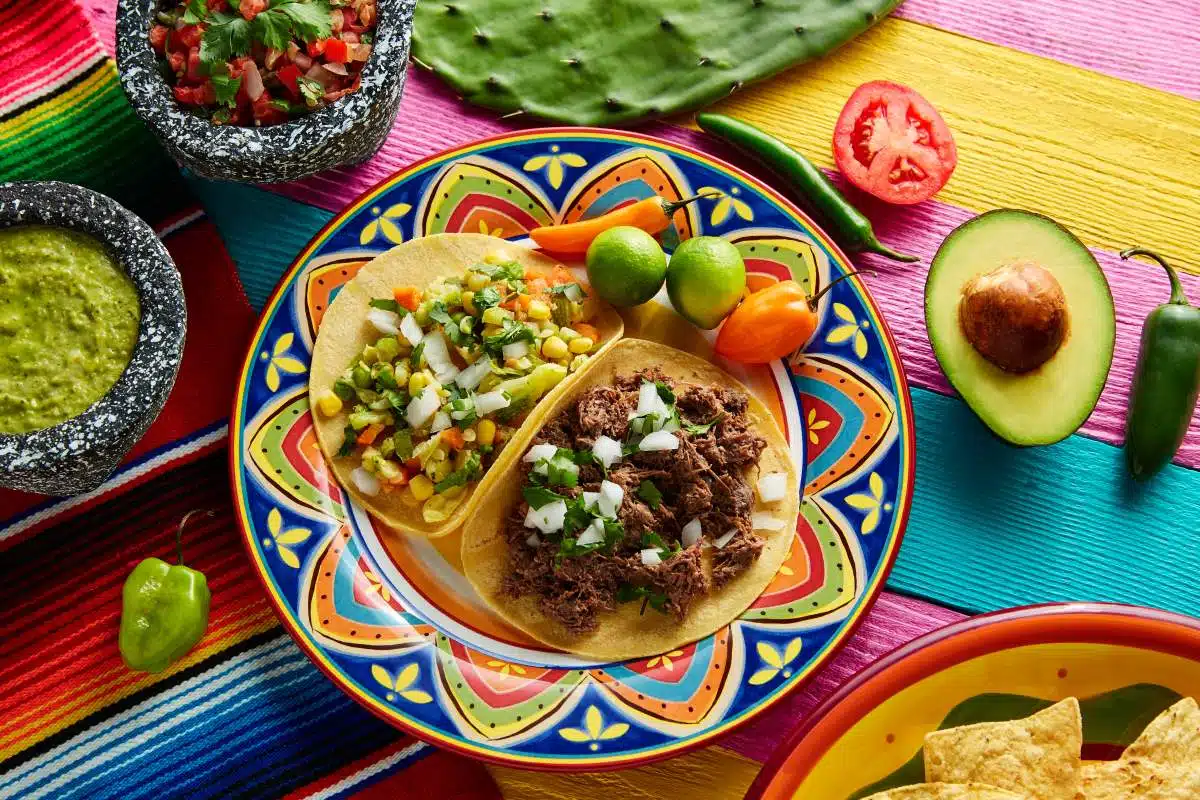 Bordering Mexico, it should come as no surprise that the Mexican cuisine game in San Diego is STRONG. I'm talking about the closest you'll find to the real deal outside of Mexico itself.
I'll level with you, you could walk into pretty much any joint and their taco offering would absolutely demolish the ones from Taco Bell (and I love Taco Bell), but some of the top San Diego food spots include Miguel's Cocina – famed for their sizzling fajitas – and La Playa Taco Shop.
Casa Guadalajara is my ultimate favourite spot. What could possibly be better than chowing down on the world's tastiest burrito on a colourful patio while a mariachi band provide a fun soundtrack? Answer: A margarita alongside.
Reminisce at the Famous Hotel Del Coronado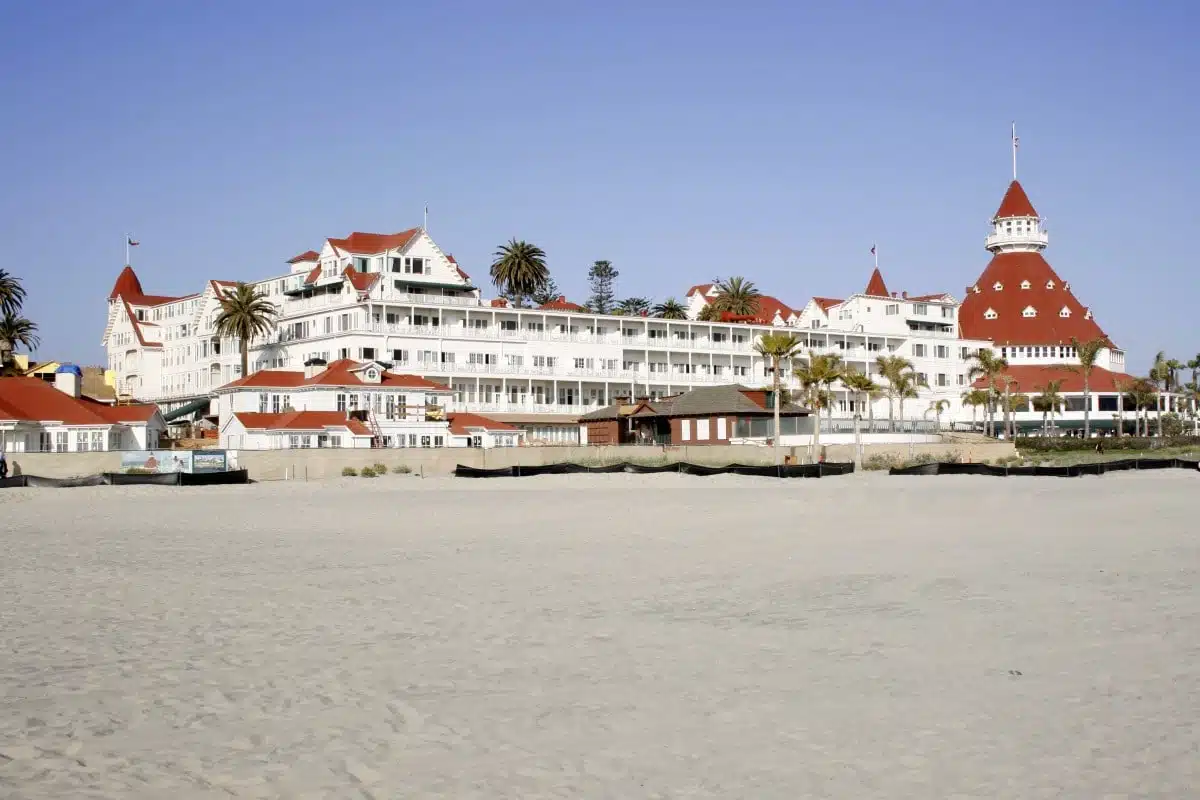 Offering a wonderful beach resort experience and a legendary Sunday brunch, Hotel del Coronado is an iconic Victorian hotel found right on the edge of the Pacific Ocean and in the heart of San Diego.
Set in a picturesque location complete with a long white sand beach, pool area, and world-class food, if you fancy parting with a decent chunk of cash, you could even decide to stay here. Or, I recommend just heading there for a nosy around and a meal.
One of San Diego's most popular landmarks thanks to its peaked red roof, here you will be treated to serene views, delicious cuisine, and an all-out glamorous experience.
Whilst you travel back in time, picture how Marilyn Monroe and the likes would once walk the hallways and dine in the same place you find yourself.
Learn About San Diego's History at the Cabrillo National Monument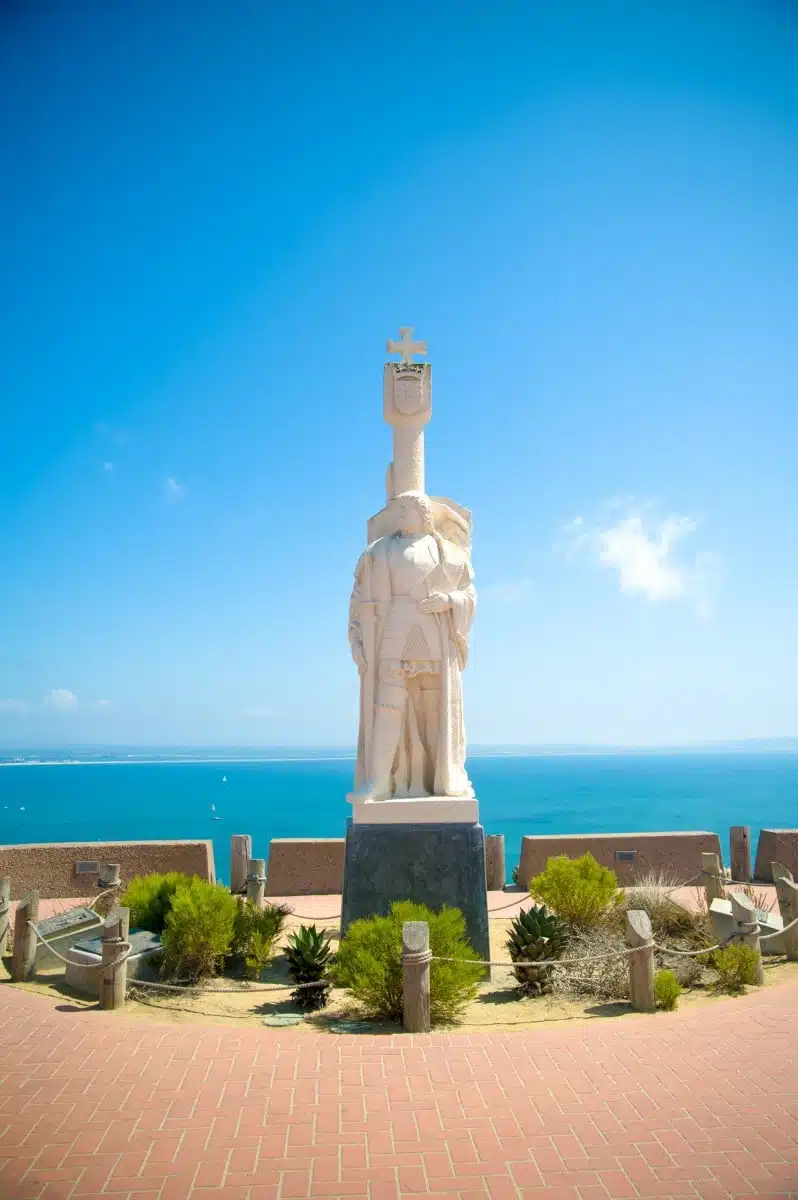 Did you know that you can stand at the very spot the first European did when arriving on America's West Coast in 1542? You'll find the spot where Juan Rodriquez Cabrillo disembarked onto the West Coast at the southern tip of Point Loma.
As this was such a historic moment, there is now a large (and rather impressive) statue of Cabrillo that can be seen here.
The original statue was actually donated to San Diego by Portugal in 1939, though the replica that now stands in its place has only been in place since 1988.
If you fancy nerding out and learning a little bit more about the area's history, head to the nearby visitor centre where you can learn everything you need to know about Cabrillo's voyage and the impact it had on the country.
Pssst… Outside the visitor centre, you'll also find a pleasant walk up to Point Loma's Old Lighthouse – here you'll be treated to sweeping views of the San Diego skyline, Tijuana, Coronado, and the harbour.
Old School Thrill-Seeking at Belmont Park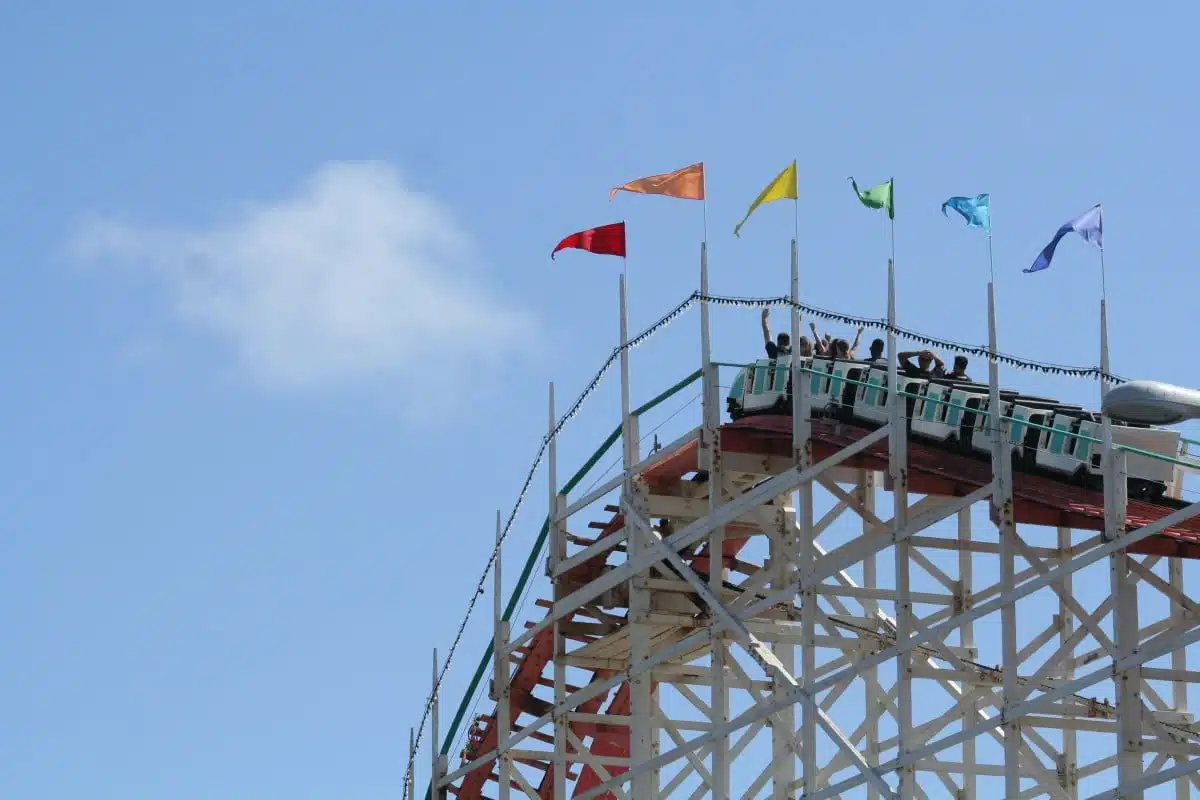 Located on Mission Beach, spending a few hours at Belmont Park is a must-do in San Diego if you're a thrill-seeker who wants to enjoy some beachfront fun.
As San Diego's premier vintage amusement arcade, Belmont Park is packed with a wide range of entertaining rides, stalls, and a boardwalk so that the whole family can have fun.
Of all the rides, the park's most iconic attraction has to be the Giant Dipper. A wooden roller coaster built-in 1925, which was also the "Golden Age" of wooden coasters, the Giant Dipper is a national treasure and San Diego landmark in its own right.
Still open for the public after being restored, from the top of this exhilarating ride you can see for miles (if you can keep your eyes open).
Nerd Out at the USS Midway Museum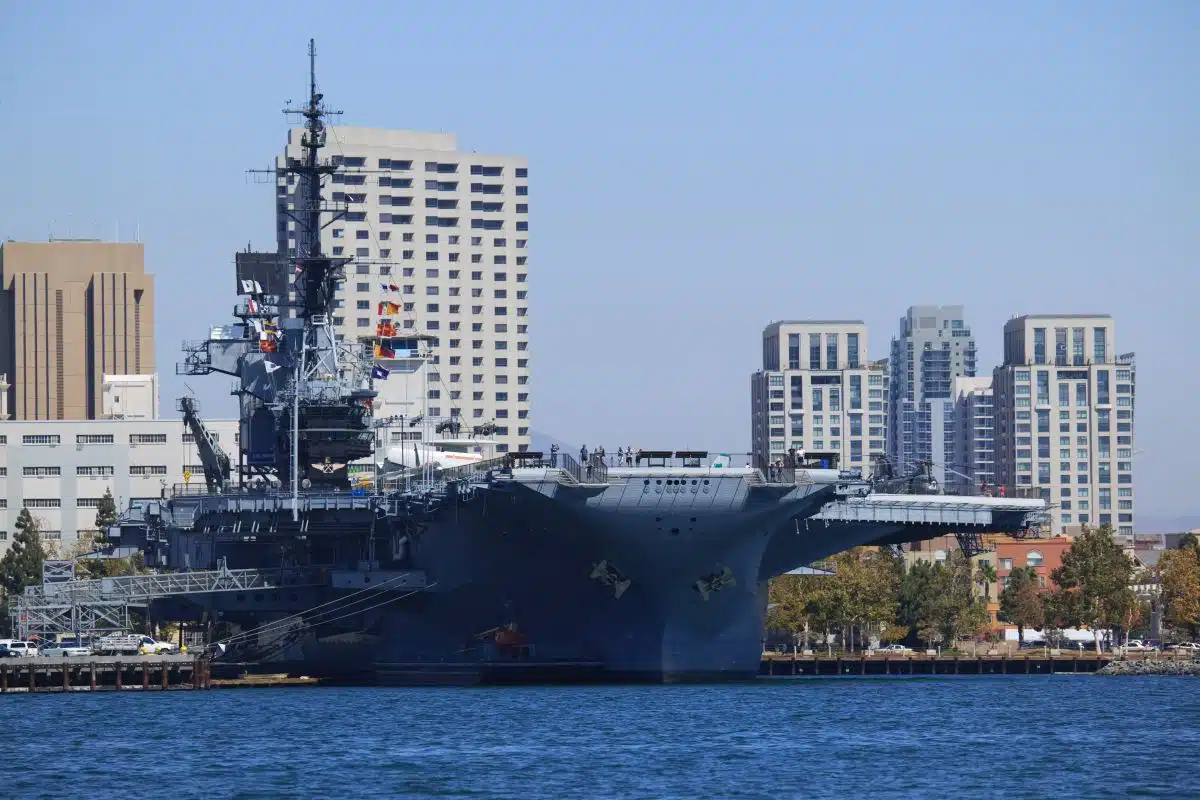 If you have a strong interest in American war history, you'll certainly want to check out the USS Midway Museum.
The USS Midway is the longest-serving aircraft carrier to ever exist. After it was commissioned in 1945, the carrier was used in Operation Desert Storm and the Vietnamese War.
Now, it has a permanent home at San Diego's Embarcadero. It is here that the largest museum dedicated to naval aviation and aircraft carriers can be found.
Taking part in a tour here will give you a great insight into American history. You can see 60 different types of aircraft, the ship's brig, sleeping quarters, the engine room, walk through a gallery, and hear from people who once served on the Midway.
Book Your USS Midway Museum Ticket Here
Learn to Fly at the Torrey Pines Gliderport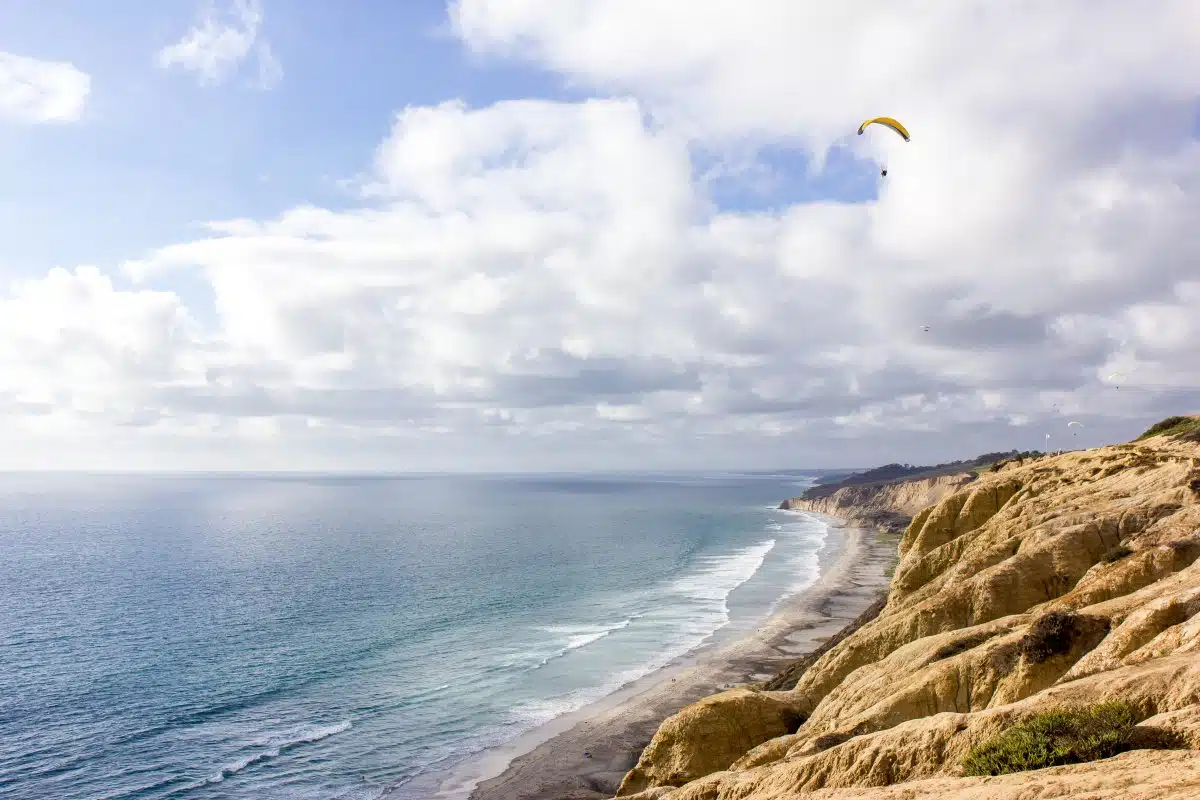 Tourists seeking a bird's-eye perspective of San Diego will love the experience on offer at Torrey Pines Gliderport – it's one of the most popular, and successful, paragliding schools in North America.
Those feeling brave will be attached to an experienced pilot who will take you paragliding above Torrey Pines State Natural Reserve.
While flying, you'll be able to appreciate the incredible 2,000-acre sweeping views of the reserve, and you'll also get an amazing view of San Diego city in the distance.
Anyone scared of heights might want to pass on this San Diego activity, though I urge you to be brave and give it a go. The views are phenomenal.
See The San Diego State Historic Park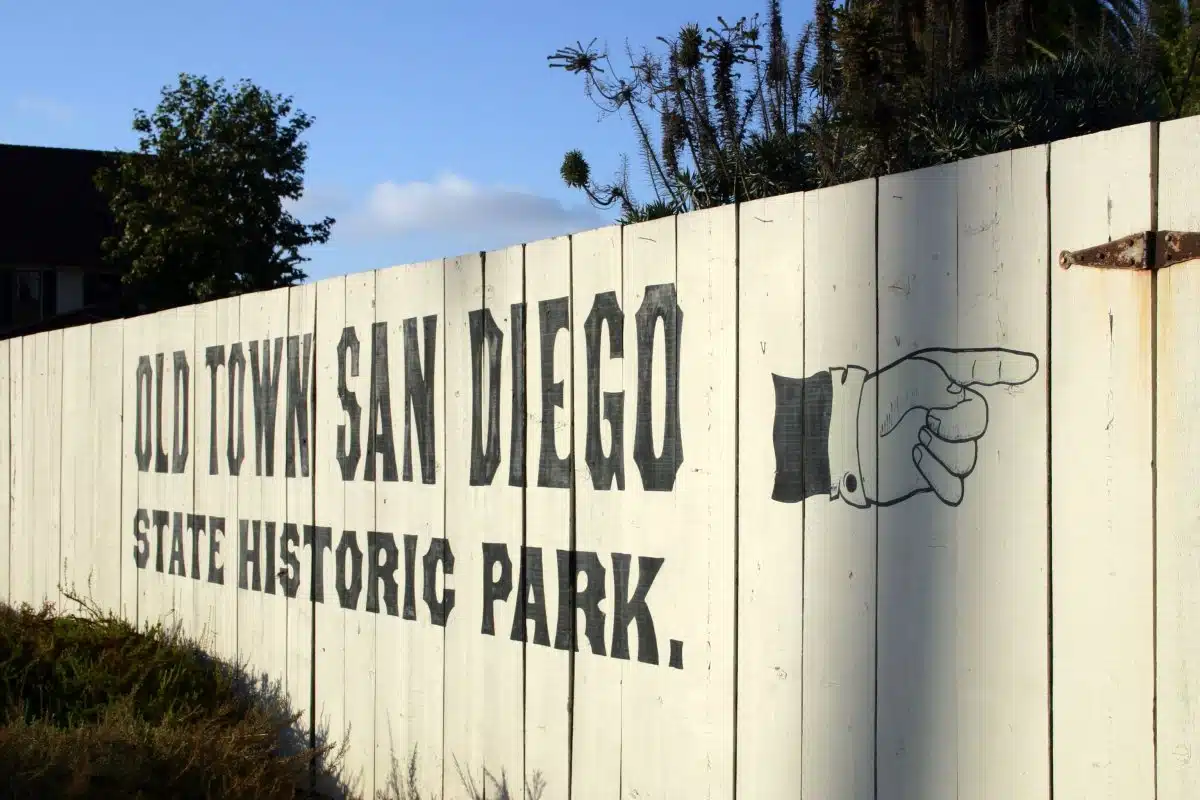 When it comes to the best things to do in San Diego California, heading back in time at San Diego State Historic Park needs to be at the top of your list.
Located within the Old Town, the Historic Park is scattered around, showing tourists what buildings and streets in San Diego once looked like.
With an appearance most commonly seen in old western films, the most iconic of the buildings is one of the five adobes. Known as the Casa de Estudillo, this adobe was built in 1827 – making it one of the oldest examples of Spanish architecture still standing in California.
Free to enter, the Historic Park also illustrates how cultures have collided, showing a Mexican pueblo that soon became an American settlement.
Spot San Diego's Landmarks on a Harbour Cruise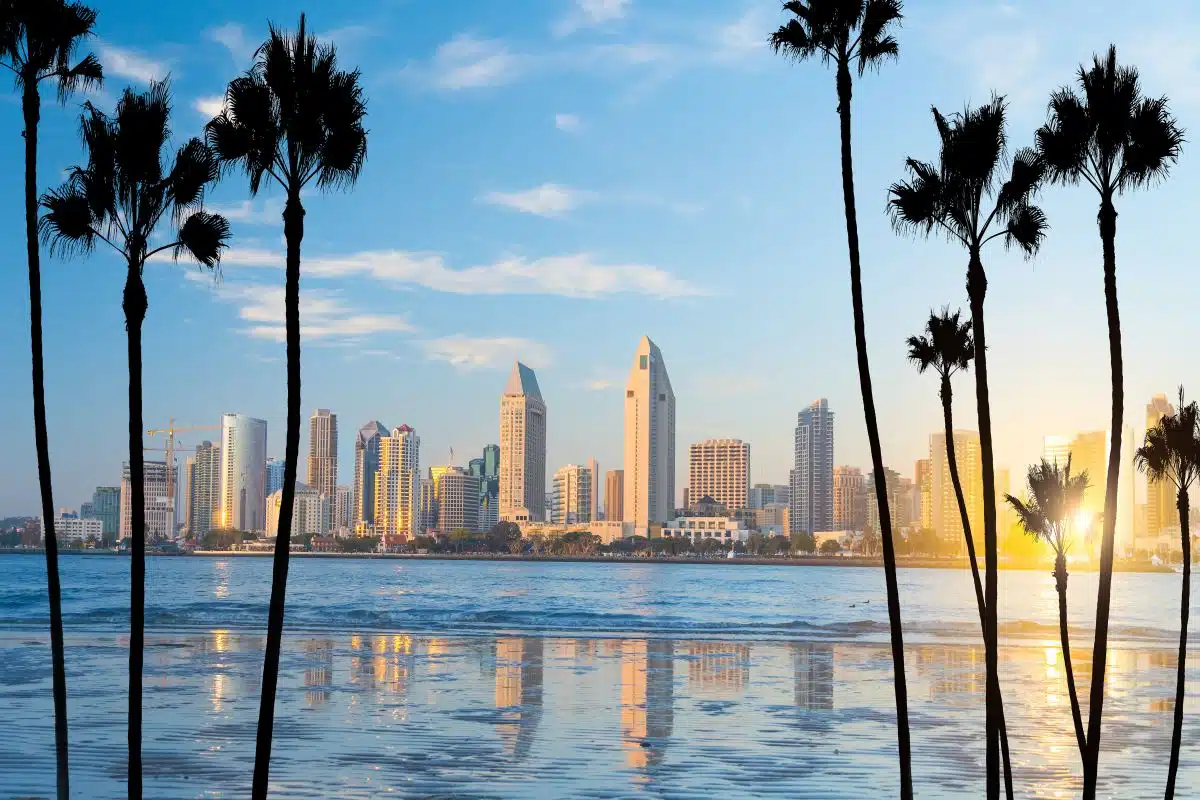 While there are plenty of ways to enjoy San Diego on dry land, a great way to explore the city is from the water. From the harbour, there are plenty of tour companies that run daily boat tours lasting approximately an hour.
These tours are a fun way to take in breathtaking views of the city, learn more about San Diego, and see a number of other sights.
These tours will take you to 50 different landmarks – including a more unique view of the San Diego-Coronado Bridge – giving you a brief history of each one. This makes the trip a super quick and enjoyable way to learn more about the city.
There's also a high chance of spotting some of San Diego's wildlife, such as the pelican, seal, and sea lion too.
Spot the California Grey Whale as it Passes By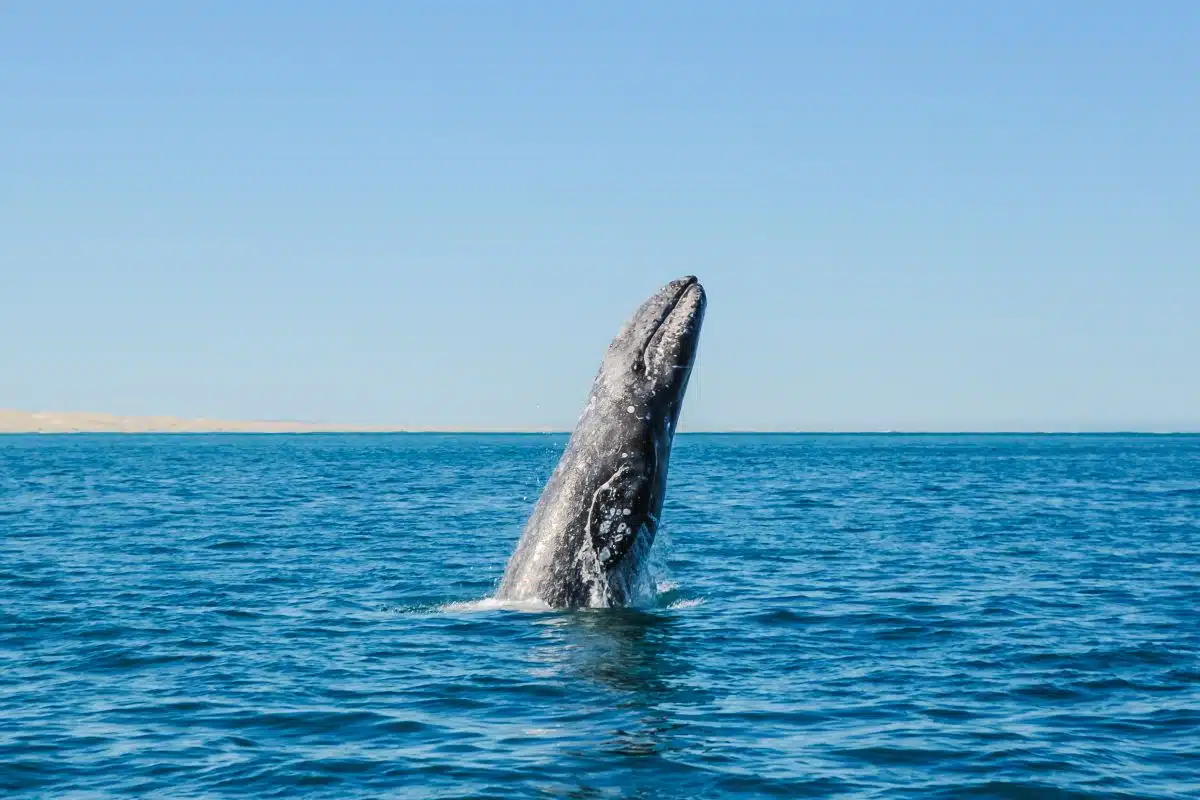 If you're visiting between the months of December and April, a San Diego must see is the California Grey Whale.
As if San Diego didn't already have enough to offer, it's possible to spot the California Grey Whale as it makes its way from Northern Alaska to Baja California. Heading for warmer waters to give birth, the California Grey Whale passes right by San Diego, giving tourists and locals an amazing opportunity to see them up close.
On a comfortable 4-hour whale watching trip, guests have a wonderful chance of seeing not only whales but also sea lions, dolphins, and seals.
While other places don't offer much chance of seeing a whale, they are so popular in San Diego that boat tour companies will give you a free ride the next day if you don't see one.
Book Your California Grey Whale Boat Ride Here
Catch a Game at Petco Park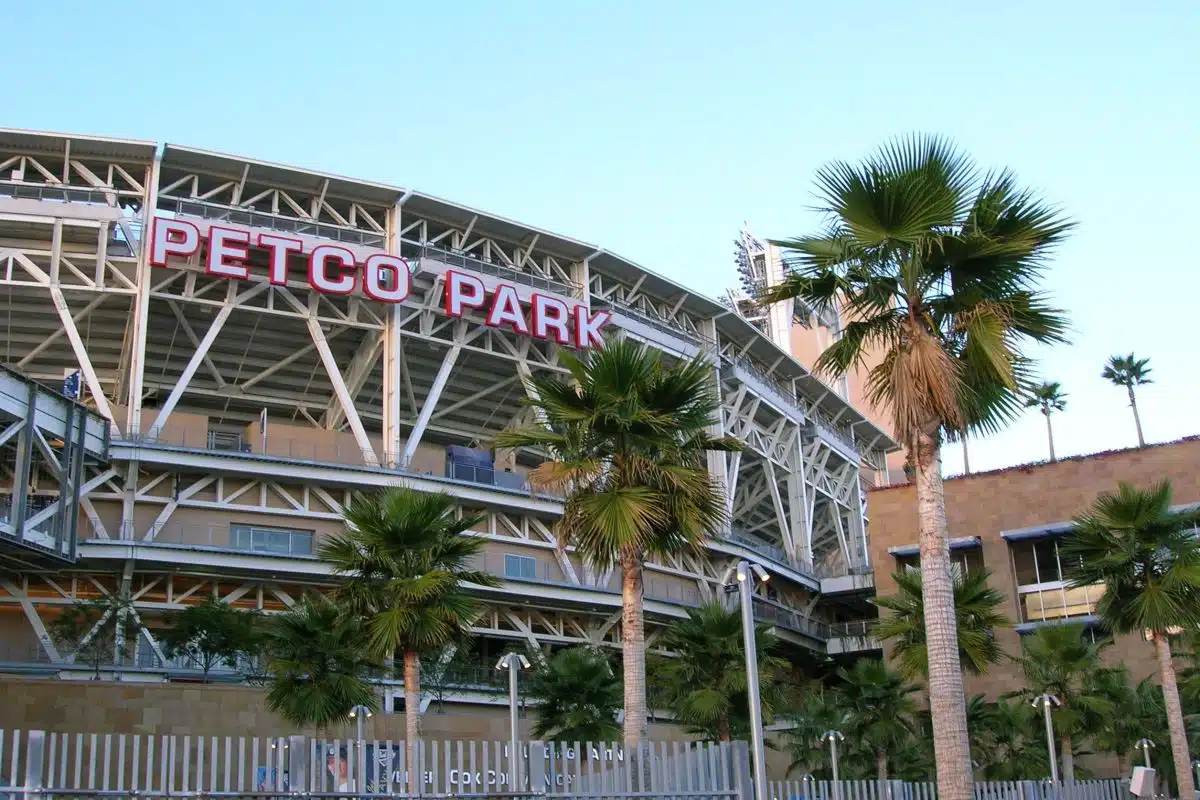 Situated in downtown San Diego, Petco Park is considered to be one of the best Major League Baseball stadiums in the whole of the U.S. While the ultimate experience for sports lovers is to catch a game, tours are available of Petco Stadium if there are no games on.
During the tour, you'll be taken around the stadium and have the chance to find out everything you ever wanted to know about Baseball. You'll also get a chance to sit in the stands, take a look behind the scenes, and peer out over the pretty San Diego skyline.
Book Your Petco Stadium Tour Here
Hike in the Beautiful Sunset Cliffs Natural Park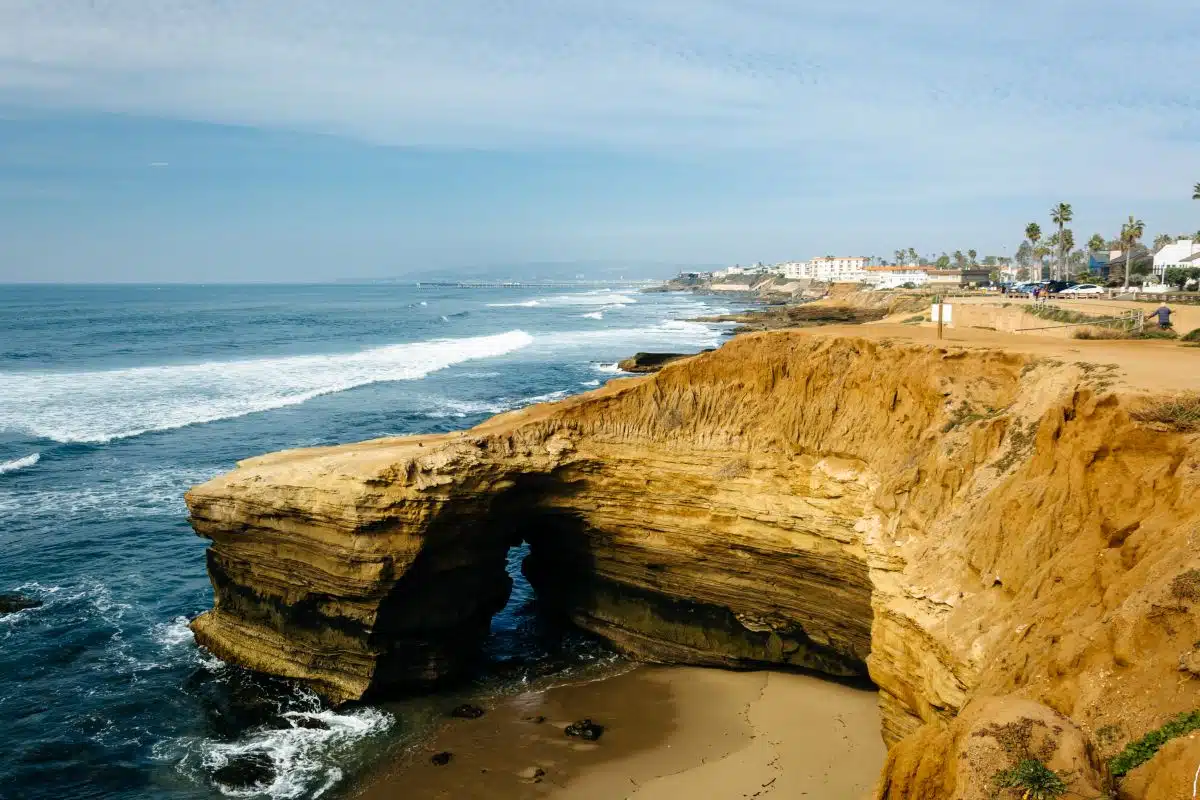 Looking for things to do in San Diego for free? Set over 68-acres of sprawling natural beauty, the Sunset Cliffs Natural Park is one of the San Diego places to go for awe-inspiring San Diego hikes and panoramic views of the ocean. 
Made up of intricate coastal bluffs, sweeping arches, and tiny sea caves, it's one of my favourite places to explore on the West Coast.
Alongside leafy hiking trails, this park is the perfect place to watch the sunset. Pack a picnic and head to either the Ladera Street area or Luscumb Point just before the sun goes down.
And, if you would rather avoid the water, this is also one of the best places in San Diego to spot Grey Whales as they migrate over winter.
Cool Things to See & Do in San Diego at Night
Hang Out at San Diego's Indie Breweries
Who knew that San Diego was such a hub for craft beer? I did! Little Italy in particular (make your way to India Street) has an abundance of indie breweries, so head there to start your evening.
The four main breweries in this area are Bottlecraft, Ballast Point Brewing, Mikkeller Taproom, and Bolt Brewery.
If you love your craft beer (my hand is firmly in the air), I recommend clearing out an afternoon and evening and spending some time at all of them. It's for beer science, of course.
Start at Bolt with their mango blonde ale before making your way along to Bottlecraft, stopping at Ballast for a mid pub-crawl meal and Watermelon Dorado (thank me later). The perk of being in Little Italy means you're guaranteed delicious Italian fare, wherever you stop.
Alternatively, North Park is another district brimming with breweries – I highly rate this guided beer tour that takes you around all the very best craft beer breweries in the area. It's one of my favourite things to do in San Diego at night.
Book Your Craft Beer Brewery Tour Here
Party on Mission Beach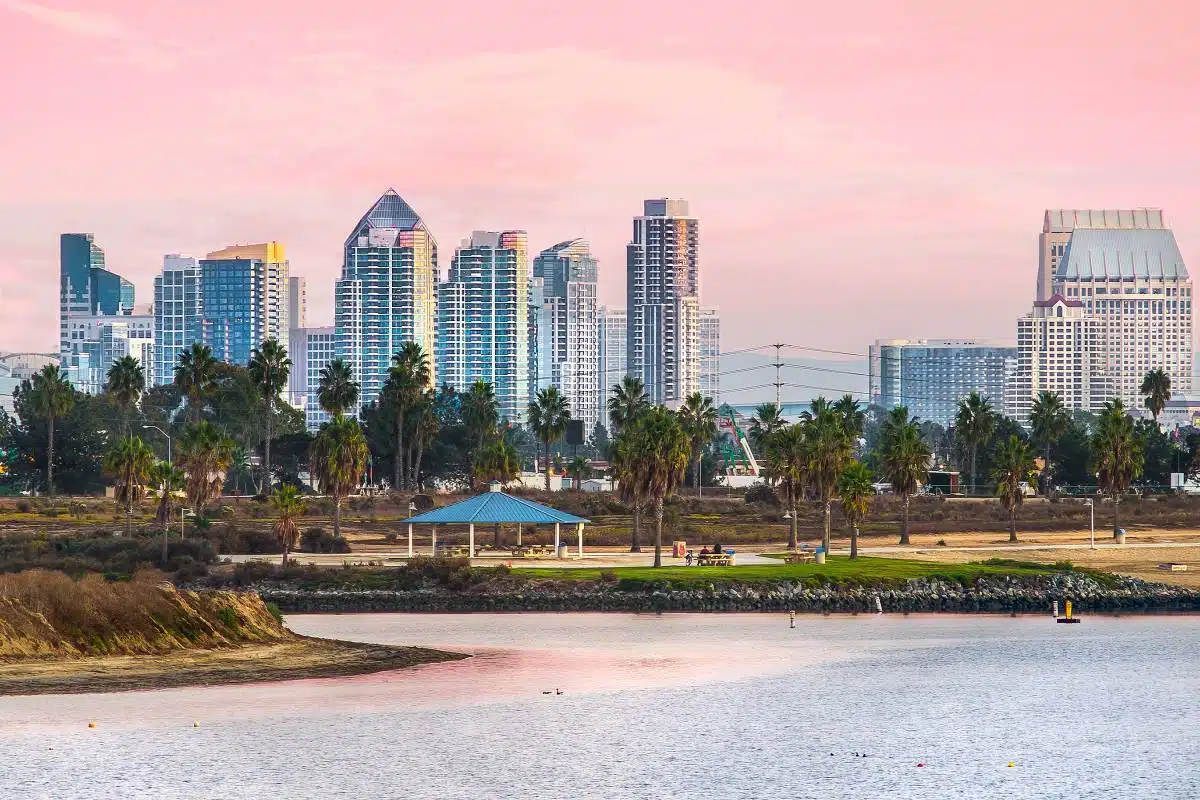 Topping the list of San Diego fun things to do is spending a few hours living it up on Mission Beach. It's a very chilled-out part of the city, and it only gets better in the evening.
With 2 miles of pristine beach and a lively boardwalk, Mission Beach is the place to come to if you want to experience the highs of San Diego life.
Some of my favourite spots along the beach include Miss B's Coconut Club – they do the best Caribbean food and cocktails in an uber-cool atmosphere – as well as the tiki-themed Guava Beach Bar and Grill.
Not in a partying mood and wondering what to see in San Diego at night? Head to South Mission Beach. It's far more tranquil and relaxing on this stretch of sand, making it a big hit with those who want a break from city life.
Explore the Historical Gaslamp Quarter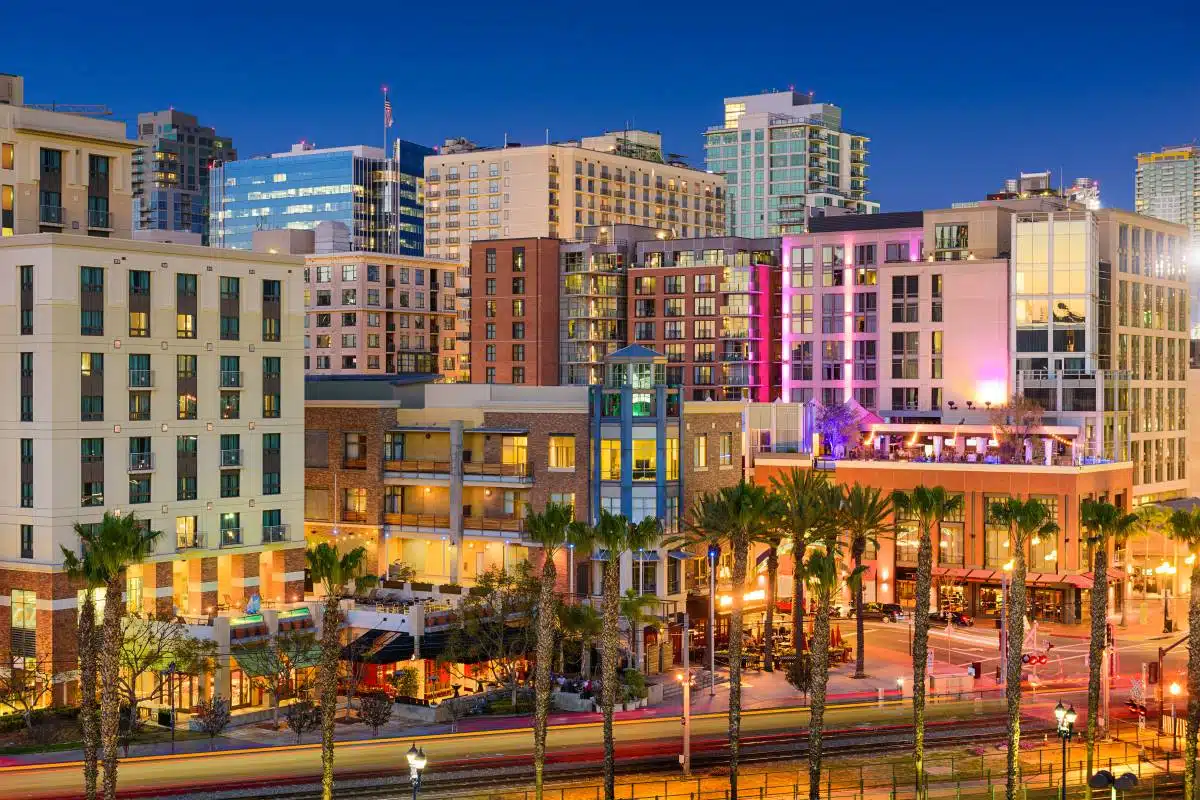 Among the top things to see in San Diego is the historical Gaslamp Quarter. An alluring and very charming area nestled in the heart of the city, this part of San Diego has almost 17 blocks of historical sites to look at.
What was once San Diego's busy red-light district – learn all about that on this tour – the Gaslamp Quarter has since been revitalised to offer locals and tourists somewhere to grab a bite to eat, drop some serious cash on a shopping trip, and party until the early hours.
While exploring Gaslamp is fun in the day, it's one of the best things to do at night in San Diego. Combining Victorian charm and a 21st-century atmosphere, the Gaslamp Quarter is probably the best place in the city to see the sights and experience the nightlife.
The top spots include The Tipsy Crow, an ultra-swanky hangout serving some of the city's best cocktails til late, The Double Deuce – a lively honky-tonk bar with a mechanical bull, and the dingy-chic Trailer Park After Dark.
Book Your Gaslamp Guided Tour Here
Take a Creepy Ghost Tour
If you're looking for something in San Diego to do at night that doesn't involve drinking (though, I can't guarantee that you won't want to hit the bottle after), booking onto a spooky ghost tour is guaranteed thrills and chills.
Board the trolley and let the ghoulish drivers transport you around the town, spilling all the ghastly details as you pass the Old Town, famous graveyards, and haunted spots in the city.
Discover the city's darker side – the unnerving deaths and unsolved mysteries that haunt the residents today.
Things to do in San Diego: Practical Tips for Your Trip
How Long to Visit in San Diego?
San Diego is relatively small in comparison to some of California's other cities. I recommend spending around a week here to see everything.

Though if you're only able to visit for a weekend break then you should check out Balboa Park, La Jolla, and the Old Town at the very least.
Best Time to Visit San Diego
If you're desperate to see a whale, you'll need to visit between December and April. Otherwise, spring and autumn offer the best weather and fewer tourists.
Where Should I Stay in San Diego?
Staypineapple, Hotel Z
Funky by name, funky by nature. This quirky hotel can be found in the Gaslamp district of San Diego, and is decorated from head to toe with pineapple pieces.
Don't let that put you off – it's a wonderful boutique hotel and each room comes with a mini-fridge, flat screen TV, and complimentary cookies on arrival (pineapple-shaped, of course).
Check Rates and Availability for Staypineapple, Hotel Z on Tripadvisor I Booking.com
Pendry San Diego
Pendry San Diego is a far more classy affair boasting an outdoor pool, fitness studio, and an all-important bar for late-night tipples. Rooms are simple yet luxurious, and most come with a private balcony.
Check Rates and Availability for Pendry San Diego on Tripadvisor I Booking.com
Recommended Tours in San Diego
Things to do in San Diego: Map
Discover More West Coast USA Guides