Looking for the best hiking trails in San Diego? I've got you covered with this guide to the best hikes around San Diego.
Perched on the Pacific coast, San Diego boasts a wide variety of natural beauty – and I personally think that the best way to explore it is on foot.
Whether you're a newbie looking to undertake a gentle hike, or have got a few hikes under your belt and are looking for something a little more challenging, this Californian city is jam-packed with gorgeous hiking spots.
These are the San Diego hikes you do not want to miss…
Best Hikes in San Diego
Anza-Borrego Desert State Park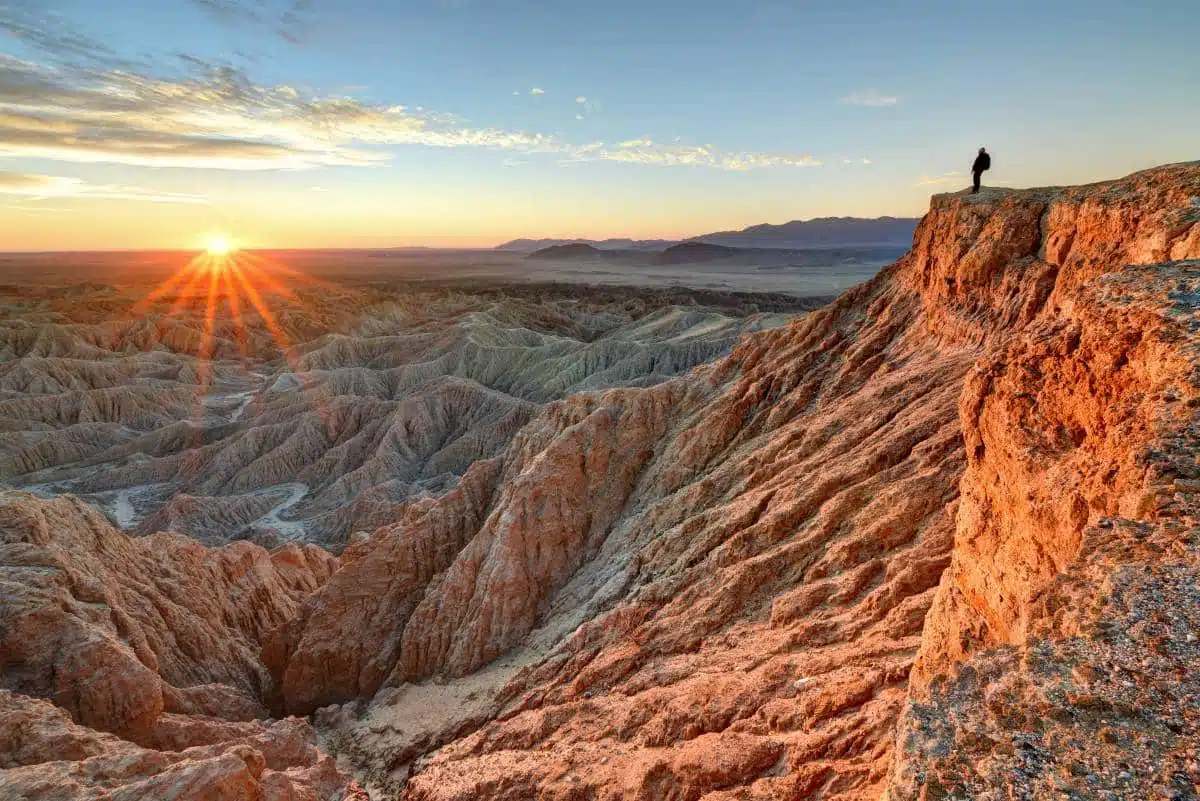 Length: 3 miles
Duration: 90 minutes
Difficulty: Moderate
One of the best hikes near San Diego is located just outside of the city, in the Anza-Borrego Desert State Park.
Here, amongst hidden slot canyons and abandoned mines, you will get to witness some of the most vibrant fauna and flora in the area. If you want to follow a trail, I recommend the Borrego Palm Canyon Trail.
This three-mile loop passes some of the most gorgeous seasonal waterfalls and one of the largest palm oases in the state.
The best thing about this trail is that it's fairly easy to complete (though not for total beginners!) – it ascends just 450 feet into the canyon.
Big Laguna Trail
Length: 13 miles
Duration: 5-6 hours
Difficulty: Easy
If you're looking for a trail that can provide a full day of hiking, without too much intensity, the Big Laguna Trail is perfect for you. In fact, when it comes to easy hikes in San Diego, this one tops them all.
It is generally a quiet spot, has a low incline, and requires fairly minimal effort. However, the views are second to none – much of this trail is surrounded by delightful oak and pine woodlands.
Be warned, this is a 13-mile loop, so it may not be for everyone. However, it is an easy to moderate hike that can be taken on by beginners, so don't let the distance put you off. If you think you've got a decent level of stamina, you will be able to undertake this hike. Pack a picnic and take your time.
In fact, this is a great spot to visit if you (or even your children) are interested in biodiversity. The multiple ecotones on display along this trail are a great example of San Diego's varied and rich biodiversity.
Before you visit, you should be aware that there is usually a day pass fee. At this moment in time, it costs $5 – which I think is a very small price to pay considering you will be spending the whole day in this gorgeous area of natural beauty.
Torrey Pines State Natural Reserve
Length: Varies
Duration: Varies
Difficulty: Easy – Moderate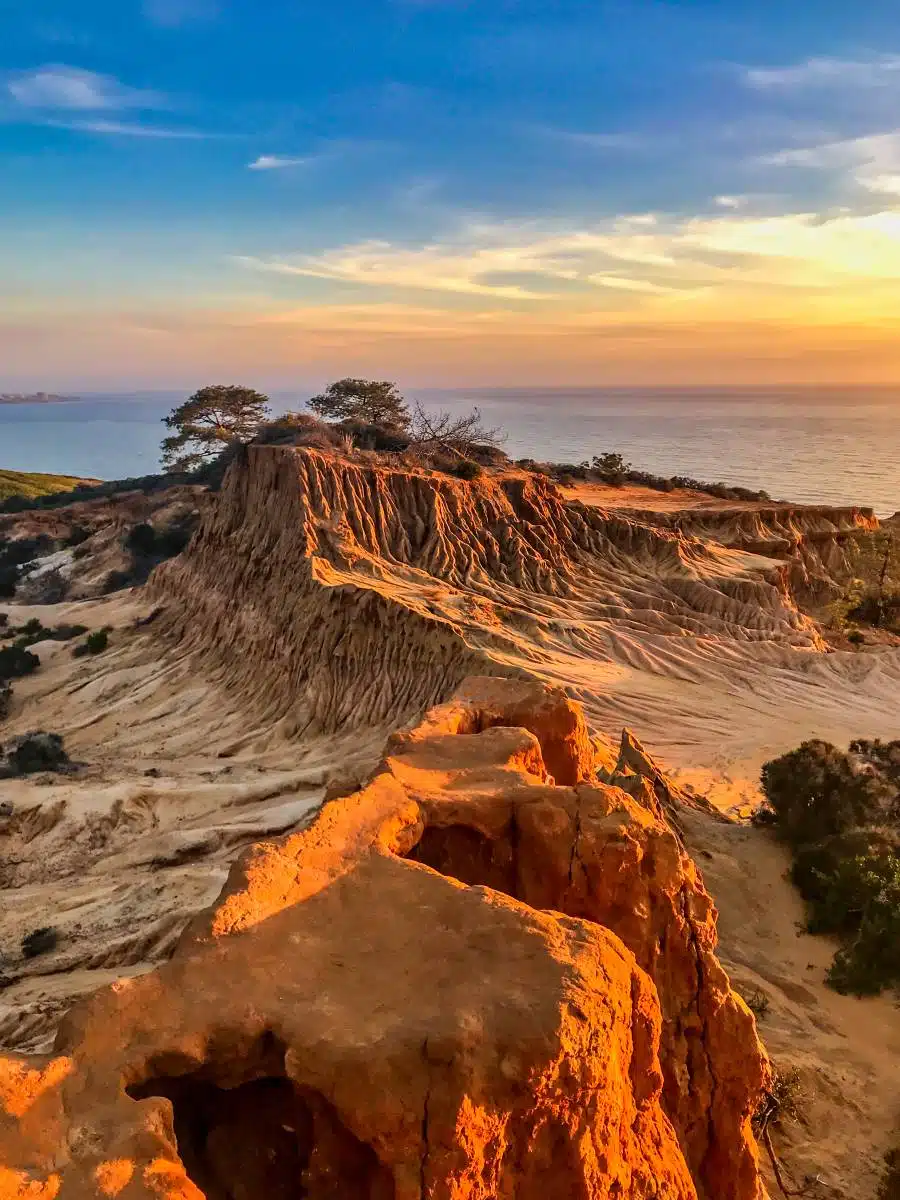 This spot is situated just 30 minutes from downtown San Diego, however, it feels as if you have been transported hundreds of miles away to a beautiful beachy spot.
This area is dedicated to preserving the Torrey Pine and the surrounding wildlife. As such, it is an excellent place to visit if you or your family are interested in maintaining wildlife and greenery.
Here, you can hike for miles along the trails through the tall pine forests and sandstone canyons. There are plenty of different hikes available, though my favourite is the Guy Fleming trail – it's easy and the views are spectacular.
There are even four great options for people with mobility issues, so you really can bring the whole family along!
El Cajon Mountain Trail
Length: 11 miles
Duration: 4-5 hours
Difficulty: Moderate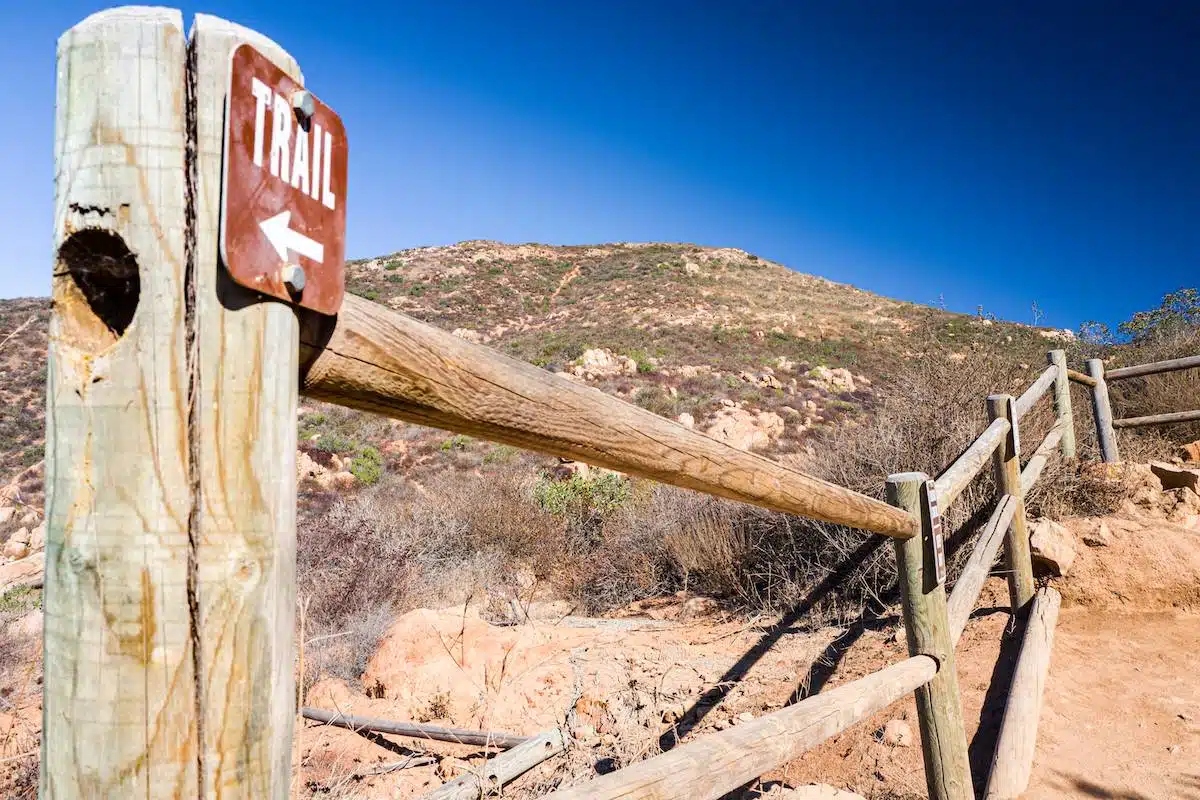 If you're looking for a hike that will wear you out and challenge your stamina, look no further than the El Cajon Mountain Trail. This 11.1-mile out-and-back trail is perfect for serious hikers who want a challenge.
This hike will take you the whole day, so make sure you start early. Also, be aware that there are a number of intense and continuous ups and downs.
However, you will be rewarded with incredible views from the summit of El Cap.
This is one of my favourite dog friendly hikes San Diego boasts and it is open all year round. However, I recommend that you plan your trip well. You will require optimal weather conditions and a whole lot of water to ensure that you (and your dog) remain safe and hydrated.
You should also be aware that they lock the car park at 16:30 in the winter – so start as early as possible if you plan on hiking during the cooler months.
Balboa Park Trails
Length: Varies
Duration: Varies
Difficulty: Easy – Moderate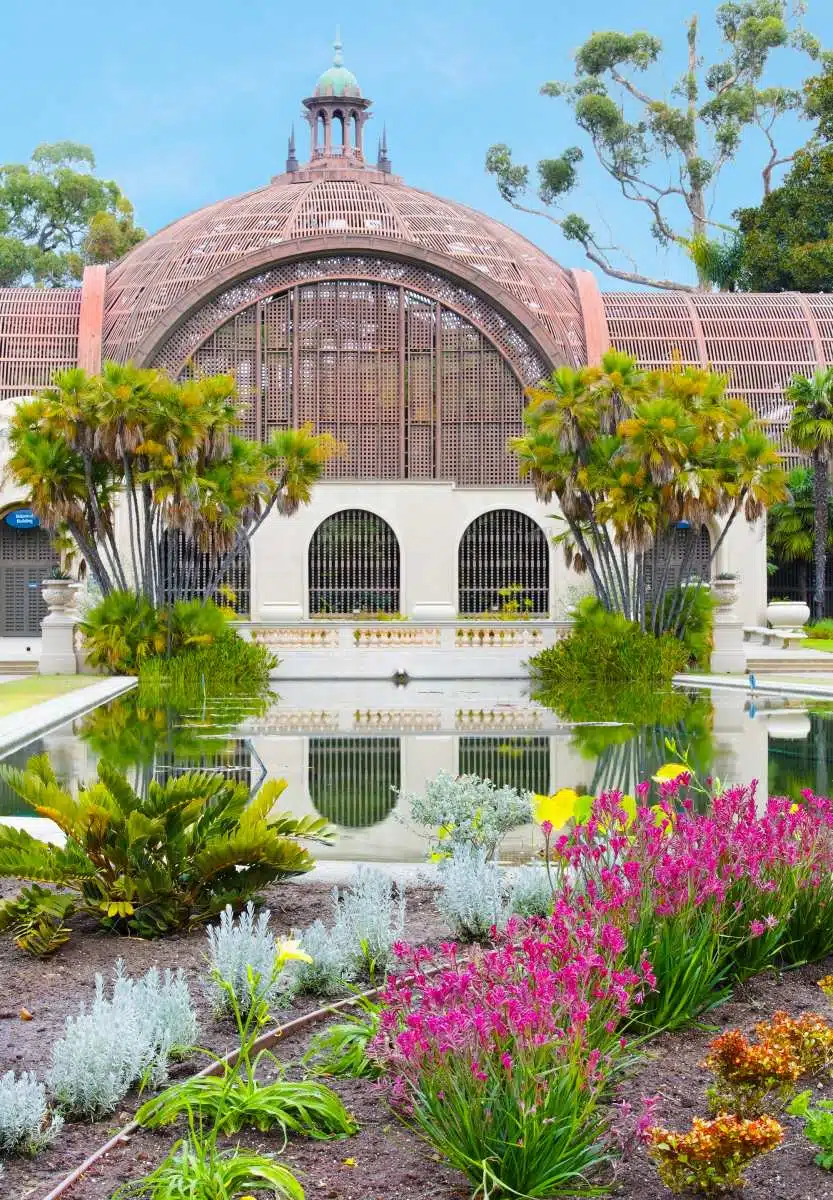 The Balboa Park Trails are situated in a stellar location, surrounded by museums, a zoo, gorgeous gardens, and over 60 miles of hiking trails. Regardless of what you're into, there is something for everyone here.
With so many options, it can be tricky to know which trail is best. Fortunately, I have some recommendations.
If you are looking for a quiet and short trail, perhaps for a run, the Balboa Park Trail 1 is perfect.
However, if you're looking for something a bit more exciting and energetic, the 6.6-mile loop called Trail 5 might suit you better. This path explores some of the lesser-known areas of the park whilst also hitting some of the iconic landmarks (e.g Spreckels Organ Pavilion).
It is worth noting that Balboa is a very large park. As such, it's important to figure out which parts of the park you want to explore before you arrive.
However, there are plenty of signs, parking lots, restrooms, restaurants, and shops – and it's very accessible too.
Cowles Mountain Trail
Length: 3 miles
Duration: 60 minutes
Difficulty: Easy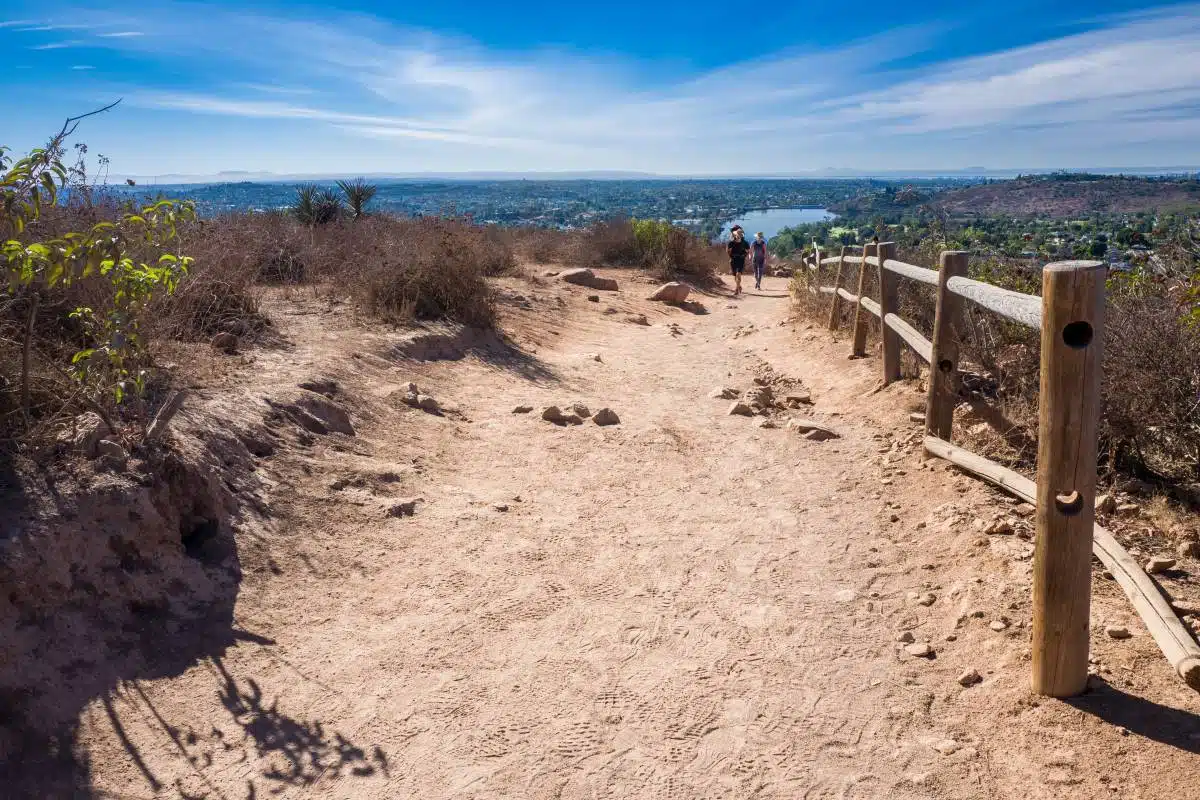 Cowles Mountain is situated within the Mission Trails Regional Park. It is definitely one of the most popular trails in the city – and it's not hard to see why. Don't let the name put you off, whilst this mountain can be a challenge, it is only 1600 feet tall.
If you fancy spending the day testing your stamina and experiencing some of the most spectacular views of the city of San Diego, this trail is perfect. At around 3 miles long and with 900 feet of elevation, it's an easy challenge.
However, you should be aware that the parking lot is very small and fills up very quickly. As such, to give yourself the best chance of finding a space, I recommend that you start your hike as early as possible.
Hiking early is also a great idea because you miss the heat. There is very little shade on this trail, so it can be a pretty tough hike on a hot summer day. Make sure that you bring a lot of water and snacks to refuel and stay hydrated.
Cuyamaca Peak Loop Trail
Length: 7 miles
Duration: 1-2 hours
Difficulty: Easy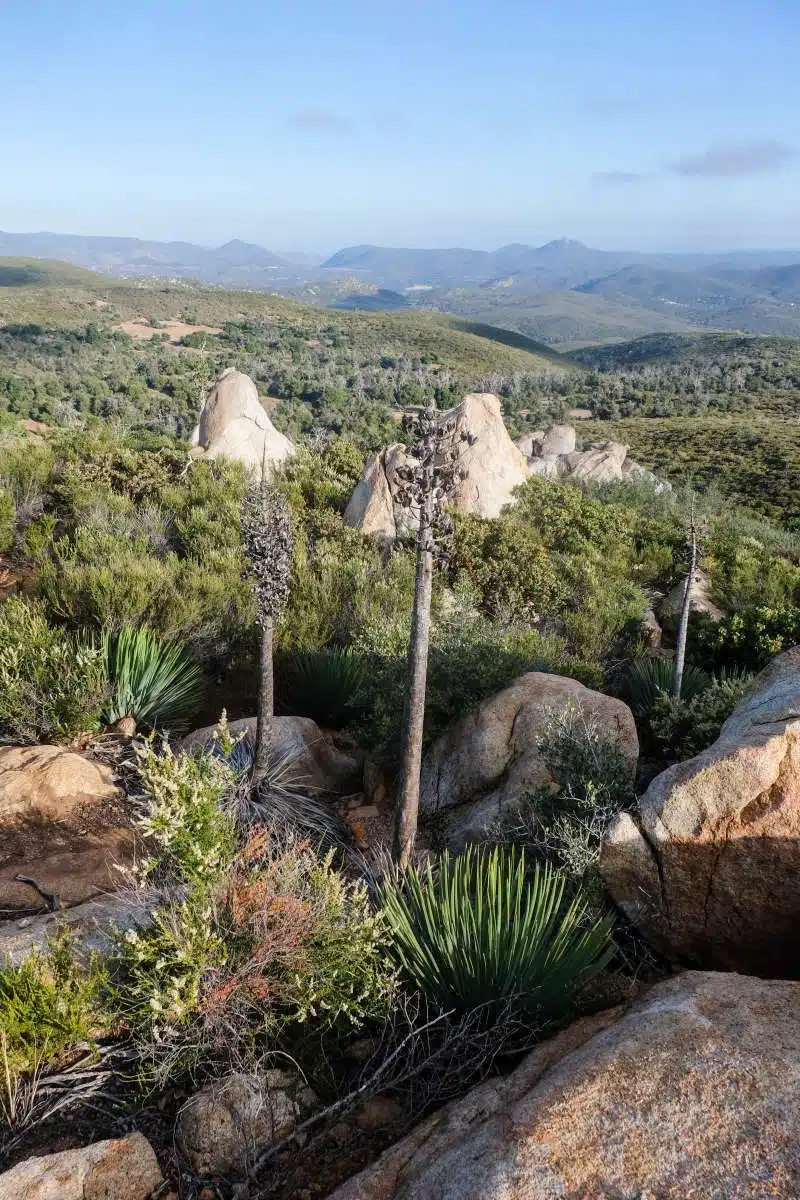 If you don't feel ready for the highest peak in San Diego (above), why not try the second highest? Even though it is a bit smaller than Cowles Mountain Trail, on a clear day, the views are rather spectacular. In fact, you can likely see for 100 miles from the summit!
The trail is a 7-mile out-and-back trail that begins from the Paso Picacho Campground. The trail is well-maintained, has many benches for breaks, and is accessible to people with mobility issues – it's also the only hike in this park that allows dogs.
This is a great hike for a beginner. The terrain is delightful to hike on and there are no tricky twists and turns in the path. However, that being said, you still need to arrive prepared. Bring lots of water and energy-rich foods to keep you going.
There is another route to the peak, however, this one is less well-maintained. In fact, the trail to the peak is deteriorating. That said, if you fancy more of a challenge, this might be a good option for you – it's one of the best hikes San Diego has to offer.
Double Peak Trail
Length: 7 miles
Duration: 3 hours
Difficulty: Moderate
This trail starts at Discovery Lake Park in San Marcos and combines moderate-level climbs with rewarding and peaceful views.
It's also the best hike in San Diego if you enjoy biking or hiking with your dog – the terrain is particularly pleasant to walk or bike on, and the views as you climb higher are second-to-none.
You can expect a fair few other people to be hiking this trail at the same time as you. In fact, some people may also drive to the summit. However, it is still a particularly quiet and calm trail, with plenty of room to manoeuvre even when it is busy.
Los Peñasquitos Canyon Preserve
Length: 7 miles
Duration: 3 hours
Difficulty: Easy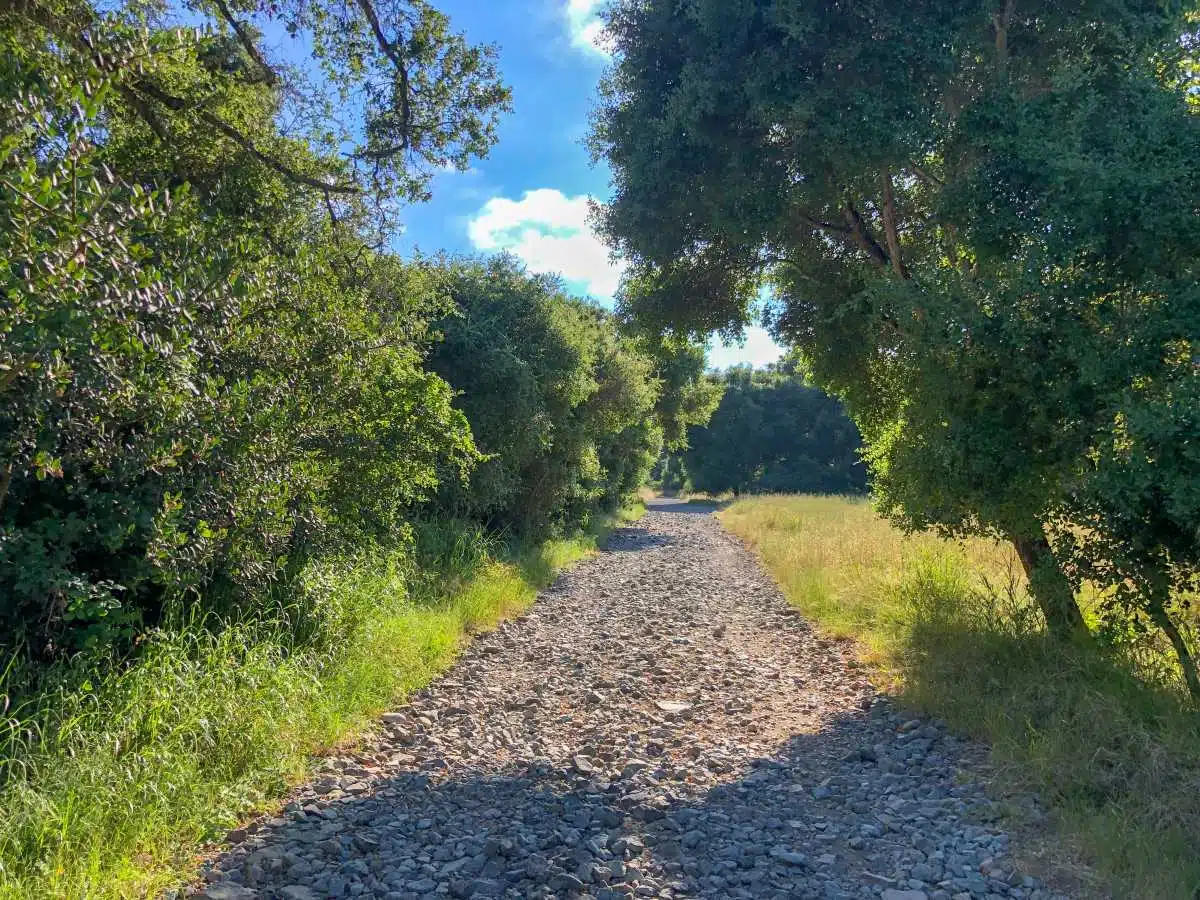 Looking for interesting places to hike in San Diego? This reserve is the perfect spot for any hikers with a keen interest in history, as this area has ties to the region's Native American inhabitants dating back around 7000 years.
This area also tends to be visited mainly by locals, so it is far less congested than others on this list.
The main trail in this area runs along a creek. If you follow it, you will find yourself at a gorgeous and delicate small waterfall. On the route back, you should keep an eye out for Carson's Crossing, a bridge within a gorgeous sycamore grove.
This trail is a 7-mile loop and despite the distance, it is considered a fairly easy trail. There is also a separate trail for cyclists, meaning that you don't need to worry about any kind of congestion as you hike.
If you love dense foliage, peaceful wildlife, and incredibly picturesque sunsets, this is the perfect trail for you.
Iron Mountain Trail
Length: 6 miles
Duration: 2-3 hours
Difficulty: Easy – Moderate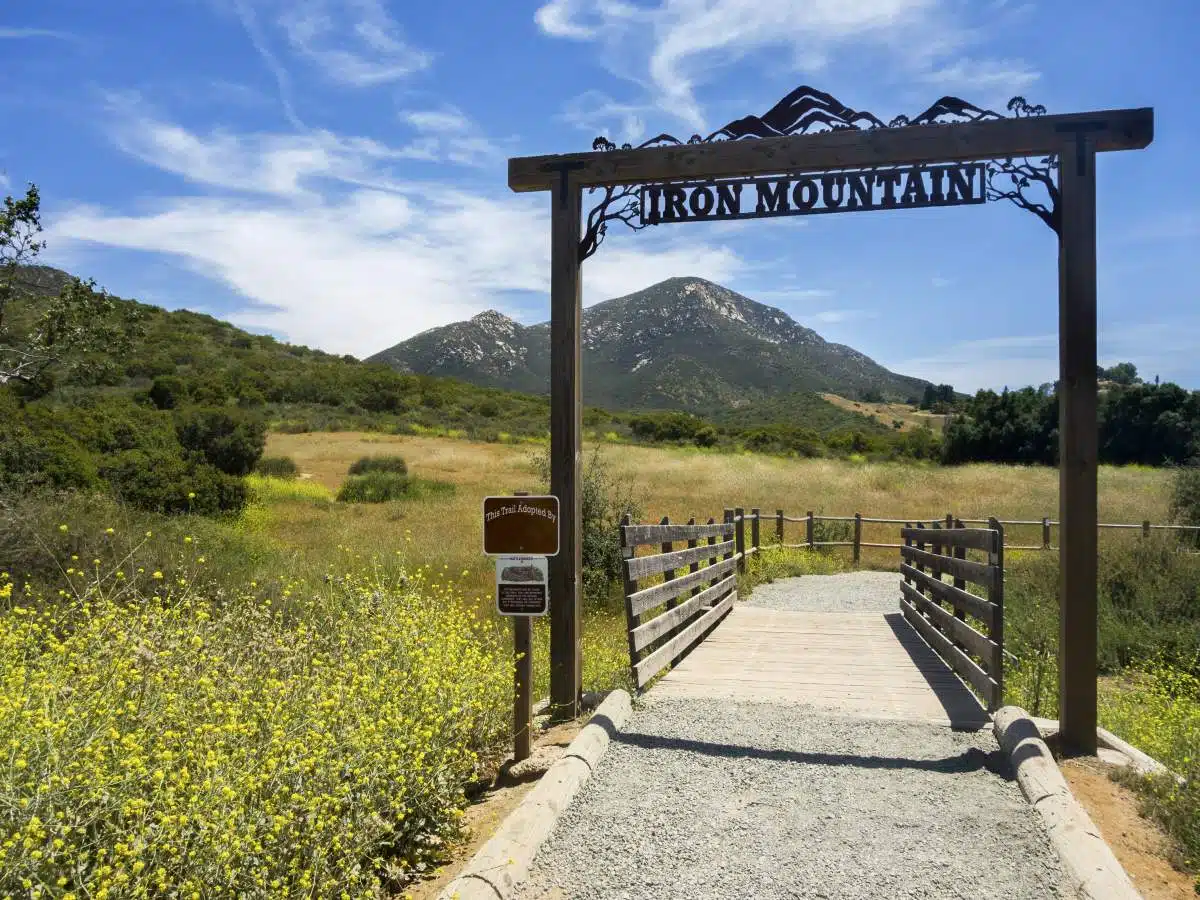 Finally, I couldn't finish this guide to San Diego hiking without including the wonderful Iron Mountain Trail. Don't worry – it is nowhere near as intimidating as the name suggests! It is, however, one of the best San Diego hikes.
In fact, this boulder-lined trail is manageable for hikers of most skill levels.
This trail begins flat and slowly increases the incline as it ascends into the eastern mountains. Thanks to the accessibility and the panoramic vistas from the highest points of this trail, it can be rather busy.
However, if you're looking for a challenge and would rather bypass some of the most congested spots, there are additional trails available along this one.
There is very little shade available on this peak, so please take a lot of water. You should also pack a fair amount of sunscreen because the sun can get quite intense throughout the day.
Best Hikes in San Diego: Practical Tips and Map
Make sure that you're prepared – the correct gear is key to having an enjoyable and safe time hiking in San Diego. Good boots are non-negotiable.
Remember to bring water, sun cream, and a hat as these trails tend to lack shade and the midday heat in California is brutal.