Looking for the best hikes in Los Angeles? From tricky Mt Baldy to the popular Runyon Canyon, these are the LA spots offering gorgeous views.
Looking for the best hikes in Los Angeles? This southern Californian city has plenty to offer and, thanks to its geographical location, many of these things can be explored on two feet.
I'm lucky enough to have visited the city a few times, and it's safe to say that Los Angeles is blessed with a rich and rugged landscape – one minute you can be walking along a sandy beach, only to then find yourself clambering up a mountain.
Whether you fancy taking on the challenging Mount Baldy summit (it's next on my list!), or would prefer to stick to the more gentle climb to Griffith Observatory, one thing is guaranteed: gorgeous views of the bustling city below and the sparkling Pacific to the west.
Ready to explore the best hikes in LA? These are the hikes I recommend taking on during your next visit to the west coast…
Best Hikes in Los Angeles
Runyon Canyon (Hollywood)
Length: 1.5 miles (Can be extended)
Duration: 30 to 60 minutes
Difficulty: Moderate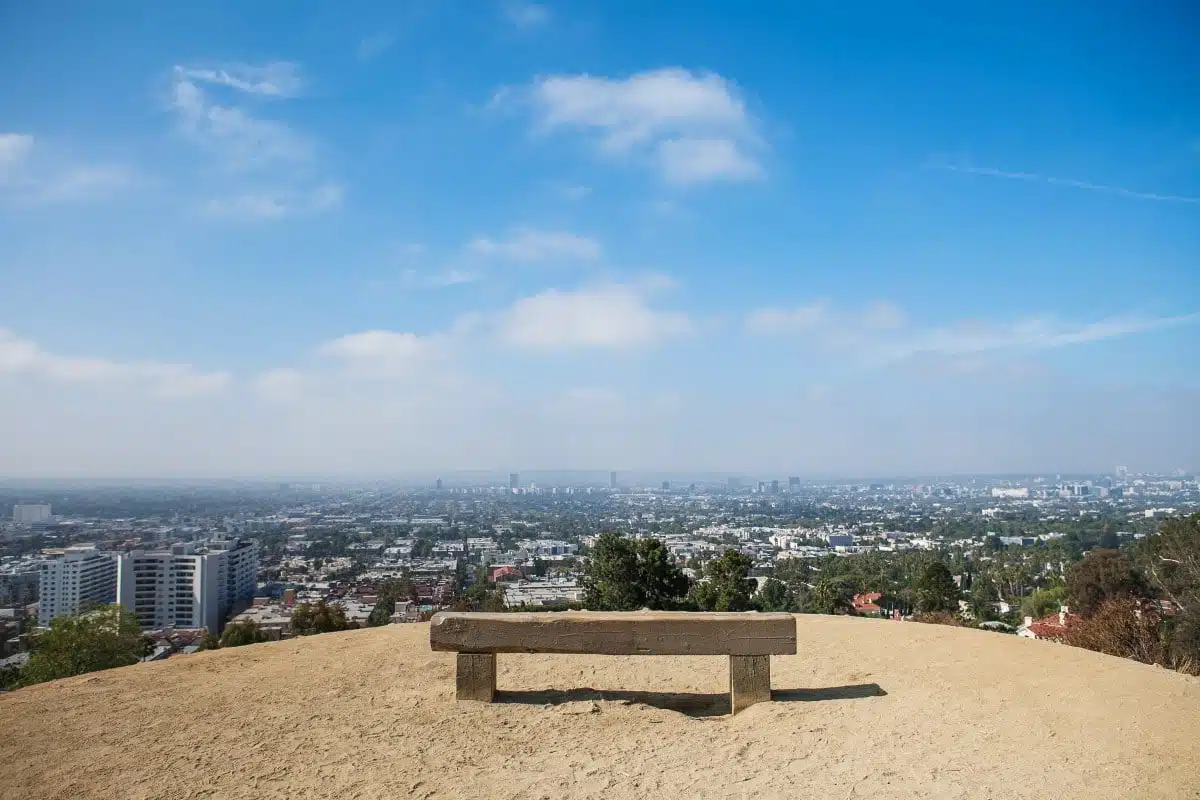 Let me kick things off with an excellent walk that takes you on a moderate hike through Hollywood Hills. Starting at 2001 N Fuller Ave, this hiking trail is a popular exercising spot amongst Los Angeles locals.
Offering incredible sweeping views of the city, and a chance to experience the LA way of life, the Runyon Canyon trail consists of relatively flat dirt track paths perfect for all levels of ability.
Suitable for walking, running, jogging, and even yoga enthusiasts, along this trail you can expect to encounter lots of stop-and-pause moments as you make your way around the loop.
You can also join this loop from North Vista Street – either way gives you great views and a gradual ascent to the top. When it comes to hiking in Los Angeles, this route is the most popular for good reason.
Be warned: you do need to look out for a treacherously steep path near the top of the eastern side of the canyon. I recommend avoiding this part of the trail unless you seriously know what you're doing.
Portuguese Bend Reserve (Rancho Palos Verdes)
Length: 3 to 5 miles
Duration: 3 to 4 hours
Difficulty: Easy – Moderate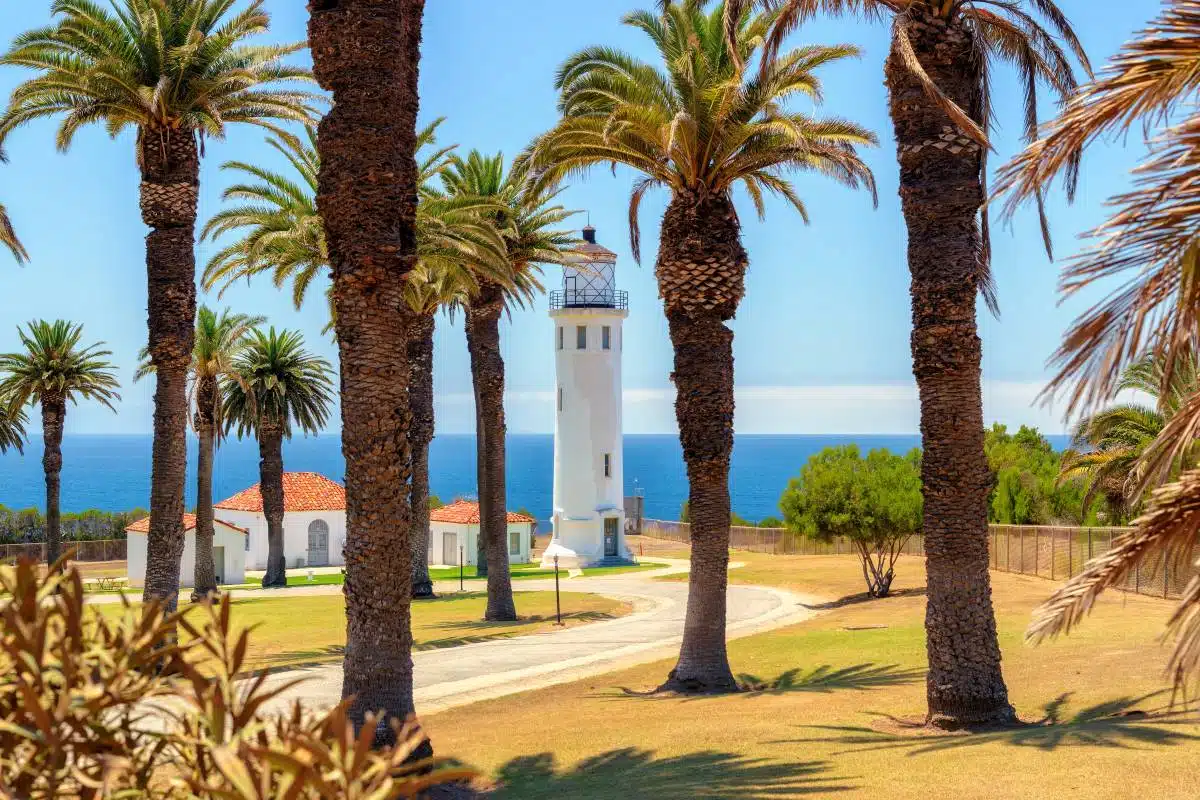 The next trail might just be one of my favourites (though I think there's no greater place in the world to hike than in LA so…). Portuguese Bend Reserve consists of a maze of trails spanning across 399 acres of land.
While each trail differs, they all offer impressive sweeping views out to the Pacific Ocean and over to Catalina Island. Despite the trail's unparalleled beauty, the thing you'll love most about this reserve is that it sits right on the edge of the Rancho Palos Verdes Peninsula.
As a result of this, it's more often than not a lot quieter and less crowded than other trails, making it the perfect escape from busy city life.
As it's part of LA's Nature Preserve, you can expect to see an abundance of wildlife and wildflowers as you hike along the rugged terrain – which makes the walk all the more rewarding.
This Los Angeles hike is suitable for both inexperienced and experienced hikers – I particularly recommend the Eagle's Nest Trail and Toyon Trail.
Eaton Canyon Natural Area Park & Nature Centre
Length: 4.4 miles
Duration: 2 hours
Difficulty: Easy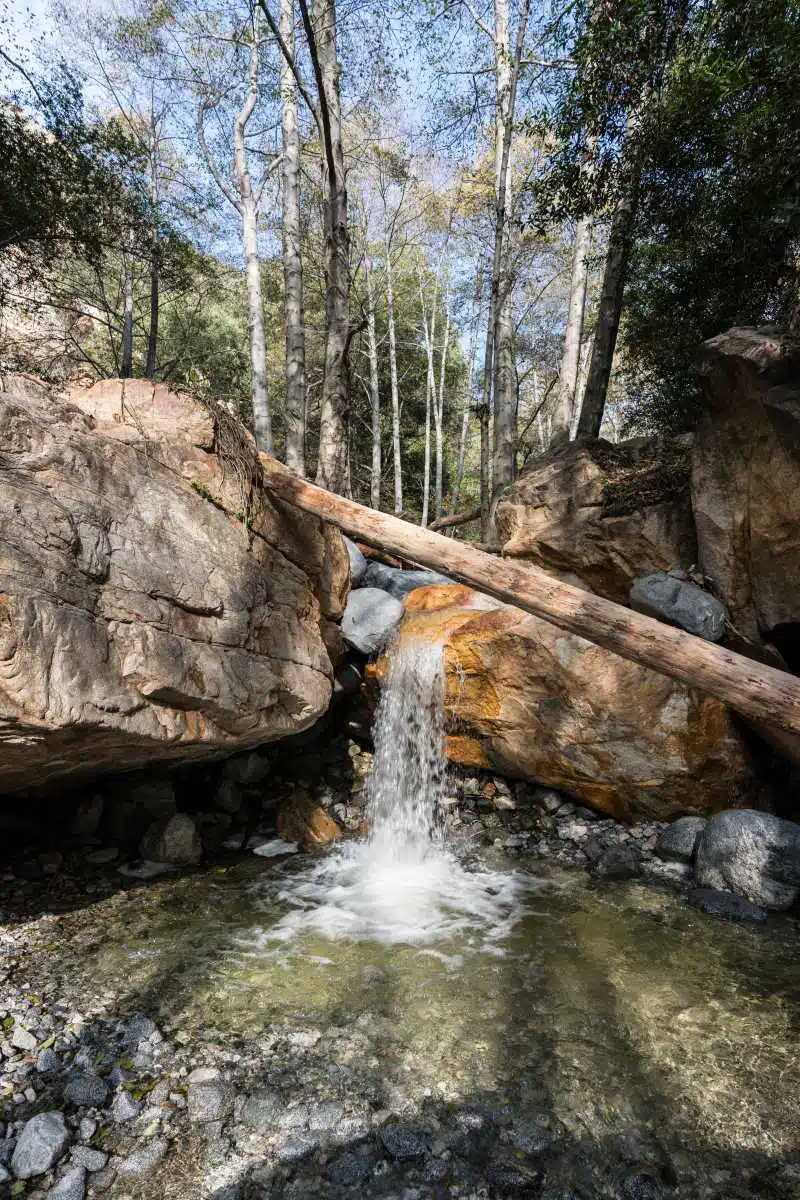 Starting at the base of the San Gabriel Mountains, the out and back trail to Eaton Canyon is a popular and very beautiful hiking trail that takes approximately 2 hours to complete.
Sitting in a 190-acre geographical, zoological, and botanical nature preserve, this trail runs for 4.4 miles and features a stunning 40-foot waterfall that cascades down into a clear pool – on a hot day, this pool can be a refreshing spot to dip your toes in.
While you can extend the trail for as long or as short as you wish, the 4.4-mile route is great for those who seek a more relaxed afternoon of walking with your family and friends.
With fairly solid dirt paths and only the occasional incline, the Eaton Canyon trail is a pleasant change from the busier trails like Runyon Canyon.
Mount Baldy
Length: 11 miles
Duration: 7 hours
Difficulty: Challenging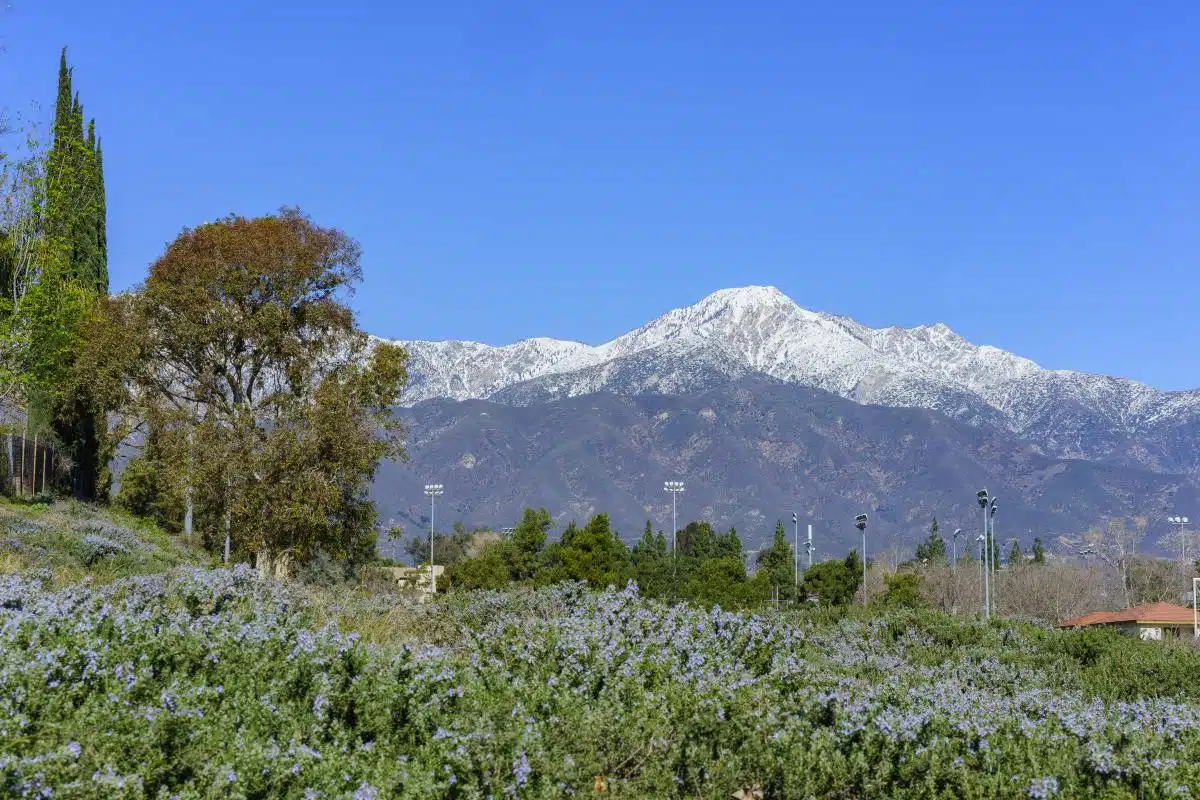 If you're a keen hiker looking for a more intense challenge, you should be making your way to Mount Baldy. Mount Baldy is the highest point in Los Angeles County sitting at over 10,000 feet high.
The mountain takes its name from the fact it is bare – it has no trees or shrubbery making it look like a sub-alpine mountain, an oddity in LA.
While the main trail from top to bottom is 11 miles long, suiting hikers who seek a challenge, there is also a 6.5-mile trail that climbs just 2,300 feet and can be undertaken by almost anyone, regardless of ability.
As you can expect, the full hike isn't easy. There are rugged, steep, and fairly treacherous paths that should only be walked along by experienced hikers. These paths include the Devil's backbone and the Stegosaurus spine – both have steep drops on either side.
If you want to experience the mountain but don't feel up to the best hike in Los Angeles, no pressure – there's also a chair lift that takes you to the top.
Griffith Observatory
Length: 1.5 to 2.7 miles
Duration: 25 minutes to 1 hour
Difficulty: Easy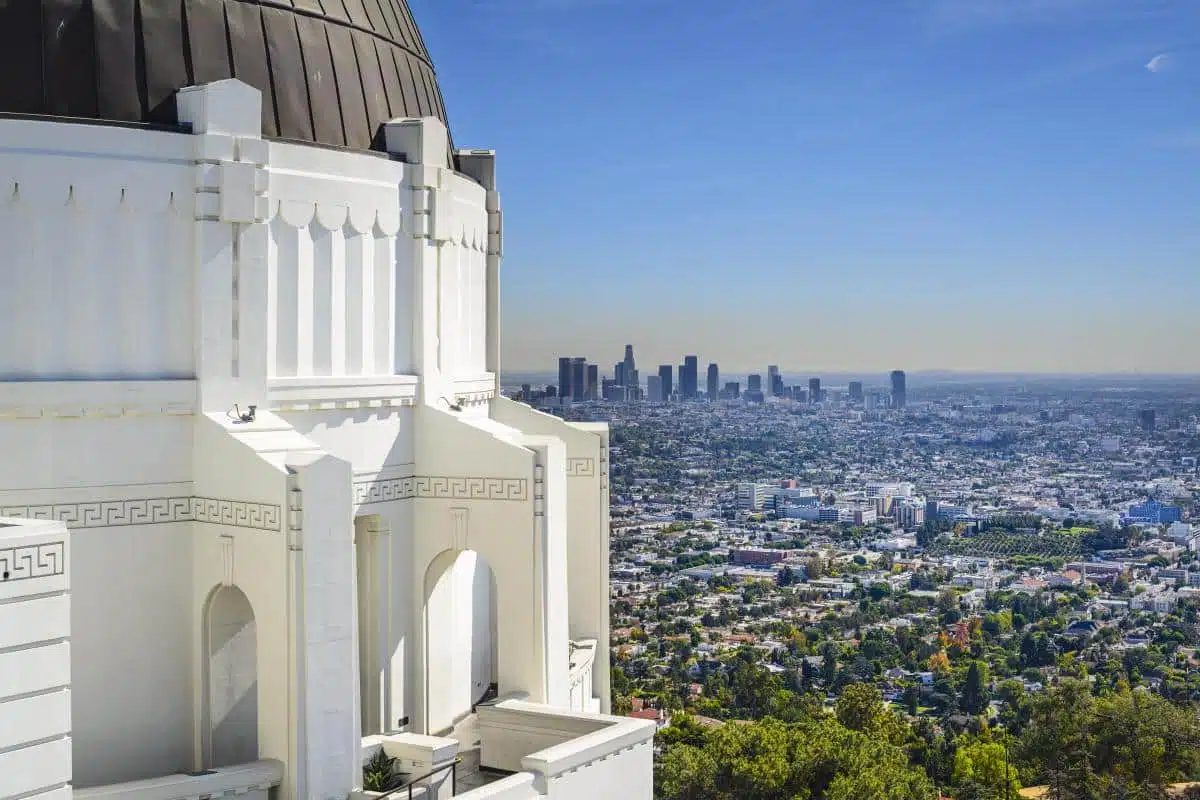 The Griffith Observatory is one of Los Angeles' most iconic landmarks, so it seems only fitting to include one of my favourite hiking trails in Los Angeles. In fact, the hikes on offer at Griffith Observatory actually form a small network of trails in and around the landmark.
While one of the most popular trails is just 1.5 miles long, in my opinion, the longer 2.7-mile route is more interesting.
Also known as the Mt Hollywood Trail, you're greeted with incredible city views as you hike to a location as close to the Hollywood sign as you can get – you can even book a guided hiking tour.
Relatively flat and easy-going, locals, tourists, families, runners, and even dogs love this walk (though there are plenty of dog friendly hikes in Los Angeles). After hiking towards the Hollywood sign, it is time to pay the observatory a visit.
From the outside, you will again be greeted with breathtaking sweeping views. On the inside, you can explore the newest exhibits and marvel at some incredible Art Deco.
Overall, this hike is the perfect place to spend an afternoon out of the heart of the city.
Pssst… Don't forget to purchase a ticket for the Griffith Observatory.
Charlie Turner Trail To Mount Hollywood (Griffith Park)
Length: 3 miles
Duration: 90 minutes
Difficulty: Easy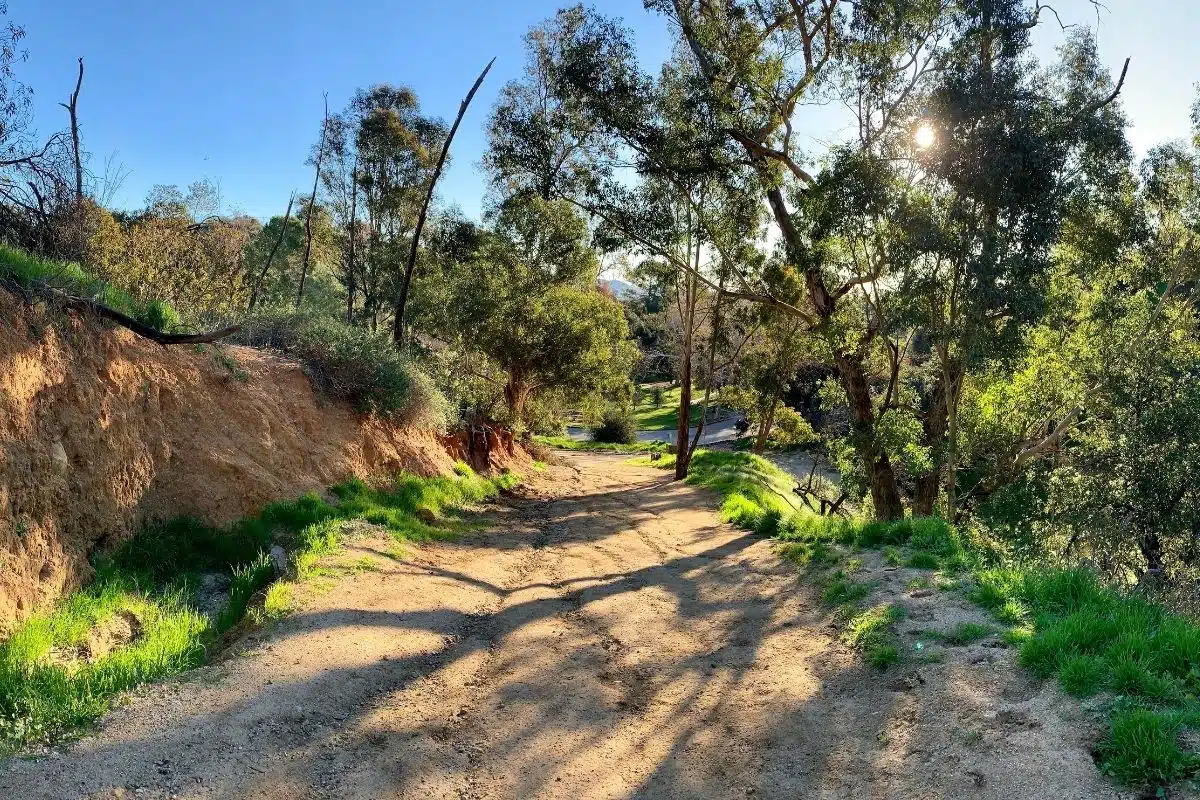 Situated not too far away from Griffith Observatory is one of the top Los Angeles hikes that incorporates Mount Hollywood.
Along this 3-mile long trail varying in difficulty (it boasts one of the ​​best easy hikes in Los Angeles), you'll get undisturbed 360° views of Los Angeles' geography including the city skyline, the Pacific Ocean, and Verdugo Mountains.
Having said that, seeing all of these things is only possible on a clear smog-free day.
A great place to come for sunrise, to follow this trail to the top of Mount Hollywood you actually start in the car park for Griffith Observatory.
From here you'll follow a shrub-lined path that winds deeper and higher into the rugged Los Angeles landscape. After about 15 minutes of walking, you'll have a good view of the Hollywood sign.
It will take you about 40 minutes to reach the top. From here, you'll find a dusty clearing with picnic tables and awesome views of the Los Angeles basin.
Make sure to snap a few pictures before continuing your hike to check out views of San Fernando Valley, the observatory, and Downtown Los Angeles.
Inspiration Point Trail
Length: 1.8 to 4.2 miles
Duration: Varies from 1 hour to 3 hours depending on the trail you take
Difficulty: Easy – Moderate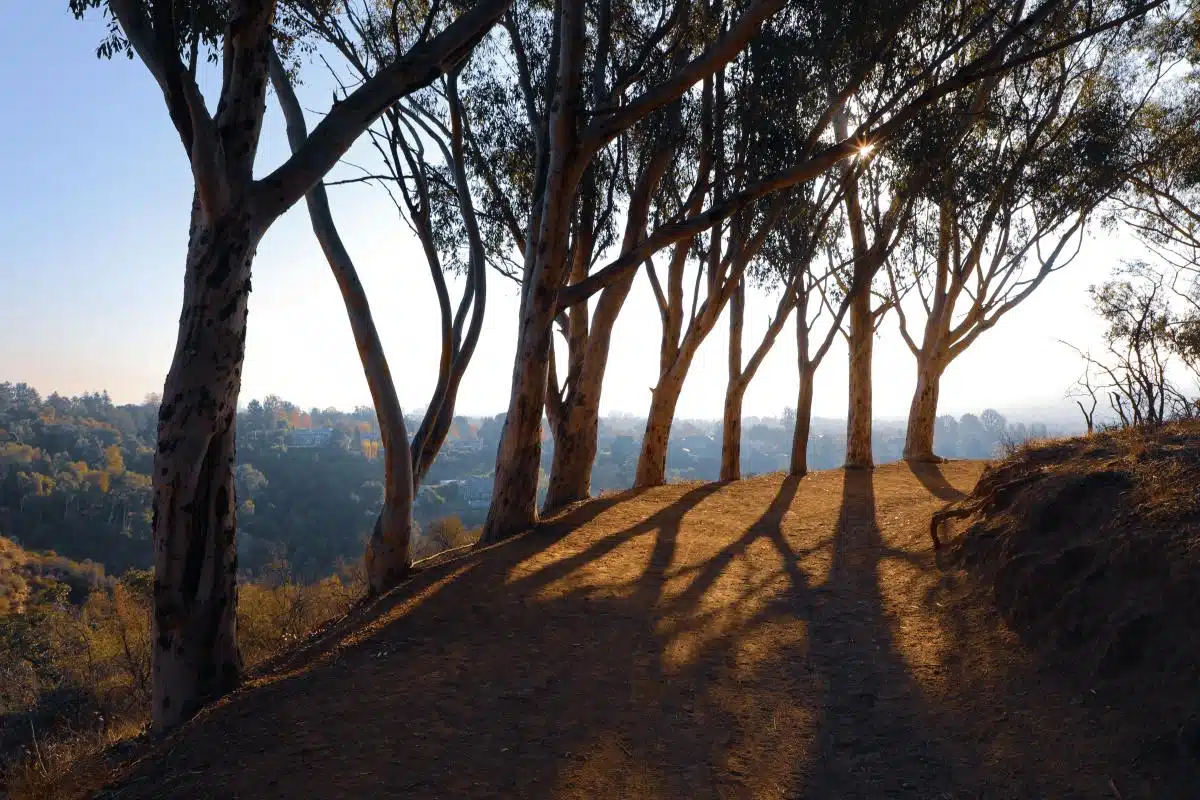 Wondering where to hike in Los Angeles and don't know where to start? Try the Inspiration Point Trail.
Perfect for families with smaller children who want a fun day out exploring LA's landscape, the Inspiration Point Trail gives hikers the chance to enjoy the great outdoors while also soaking up amazing views. It's one of the best hikes Los Angeles has to offer.
Start in Will Rogers State Historic Park, where the shortest trail is under two miles long making it a great place to introduce children to the great outdoors.
The longer 4.2-mile long trail is a little harder but still suitable for most hikers of varying ages – and, along the way, make sure you don't miss Will Roger's ranch home.
This masterpiece is a huge 31-room property with corrals, stables, a roping arena, a polo field, a riding ring, and even a small golf course – come to think of it, there's no way you could miss it!
This trail is well worth checking out, but be warned: if you want solitude, this isn't the place. The Inspiration Point Trail can get very busy in the summer so expect to see a lot of locals and tourists on your walk.
There are also tours that you can book along this trail that take you around Will Rogers' property, showing you everything the site has to offer. Make sure to book in advance.
Best LA Hikes: Practical Tips and Map
Most of the hikes in my guide offer short and long, flat, and steep trails. This is great because it gives you more opportunities to adapt the hikes to your suiting and means you can undertake some of the best hikes near Los Angeles, no matter your ability.
Don't fancy the stress of planning the route? You can opt for hiking tours such as this one to the Hollywood Sign – simply turn up with your camera and get ready to walk.
Best Hikes in LA: Read Next