Looking for fun things to do in Saguaro National Park West? From epic hiking trails and campgrounds to outdoor activities, this guide has got you covered.
A trip to Tucson isn't complete without spending a few hours (or days) in the magical Saguaro National Park. It's split into two, but I'm going to cover the West side in this article.
Also known as Tucson Mountain District, the scenery here is unmatched; it's a bigger hit on the gram and easier to traverse than the East.
And it's no secret that this side of the park is my favourite – it's especially great if you only have time for one section.
Why? Well it has the most saguaro cacti and is far easier to tackle thanks to its smaller size. I also think the West had the most stunning scenery, too (though you definitely shouldn't skip the East).
Get ready to discover the best things to see and do in Saguaro National Park West, as well as a few handy tips to help you plan your trip.
Looking for somewhere to stay in Tucson? I recommend the ultra-stylish Graduate Tucson. I stayed here on a recent trip and loved its quirky retro-meets-modern decor.
Top 5 Things to do in Saguaro National Park West
Hike the King Canyon / Gould Mine Loop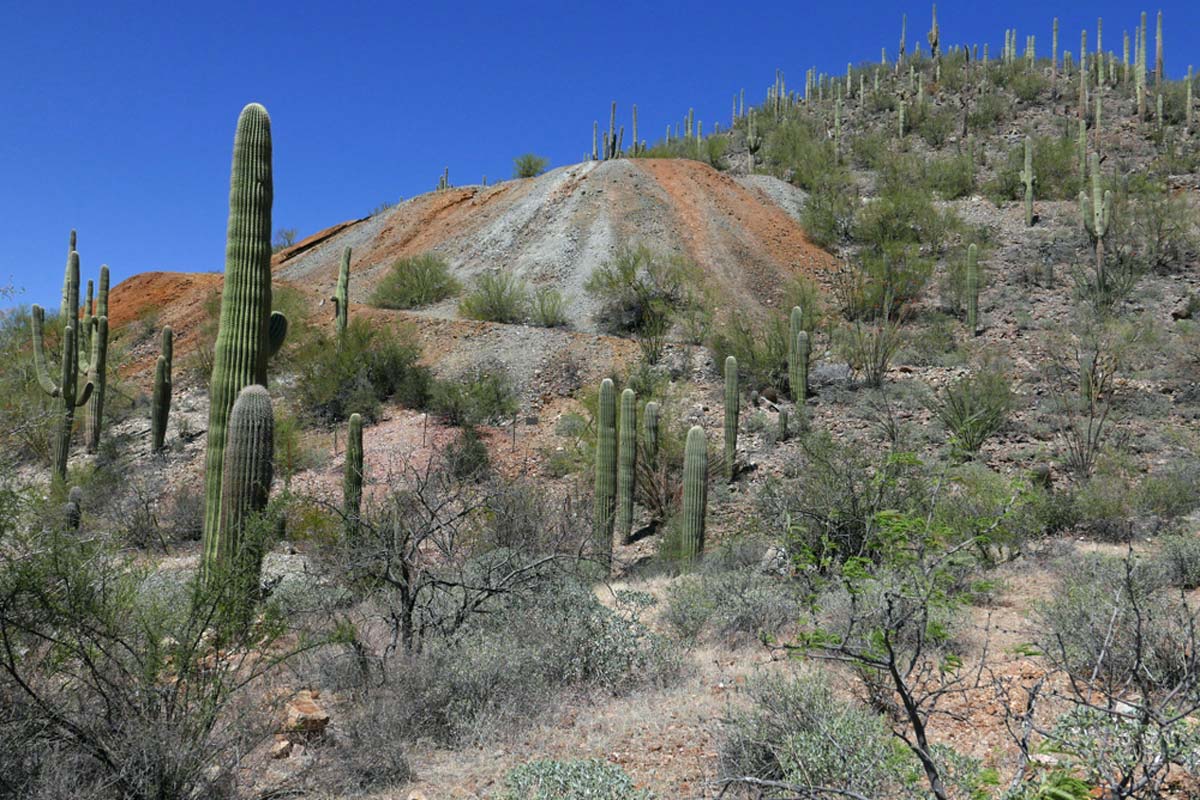 King Canyon / Gould Mine Loop is among the best Saguaro National Park trails. It was my favourite from my recent trip to the park, because it offers a range of views and terrains during a relatively short period of time.
This hike boasts gorgeous scenery dotted with succulent cacti (the tallest in the world). So you can picture how majestic it looks, and you're in luck because the views from here are just *chef's kiss*.
You start this hike on Kinney Road off the national park boundary, then gradually ascend into the Tucson foothills, where breathtaking King Canyon and Wasson vistas await.
It takes about an hour to complete the 2.4 miles – it's moderately challenging but super worth it for the serene picnic area in Mam-A-Gah, which you'll reach just after one mile.
Enjoy the Scenic Bajada Loop Drive
Fancy a winding dirt road drive with mountain vistas and cacti-filled Sonoran desert landscapes? I thought the Scenic Bajada Loop might interest you.
It's a gorgeous drive, especially as the sun sets, so take the opportunity to pull over and snap up some fantastic photographs. While easy, the road is bumpy, so slow and steady should be your rule of thumb if you're driving a regular vehicle.
Note that you'll have to pay an entrance fee of $25 per vehicle.
Have a Picnic at Signal Hill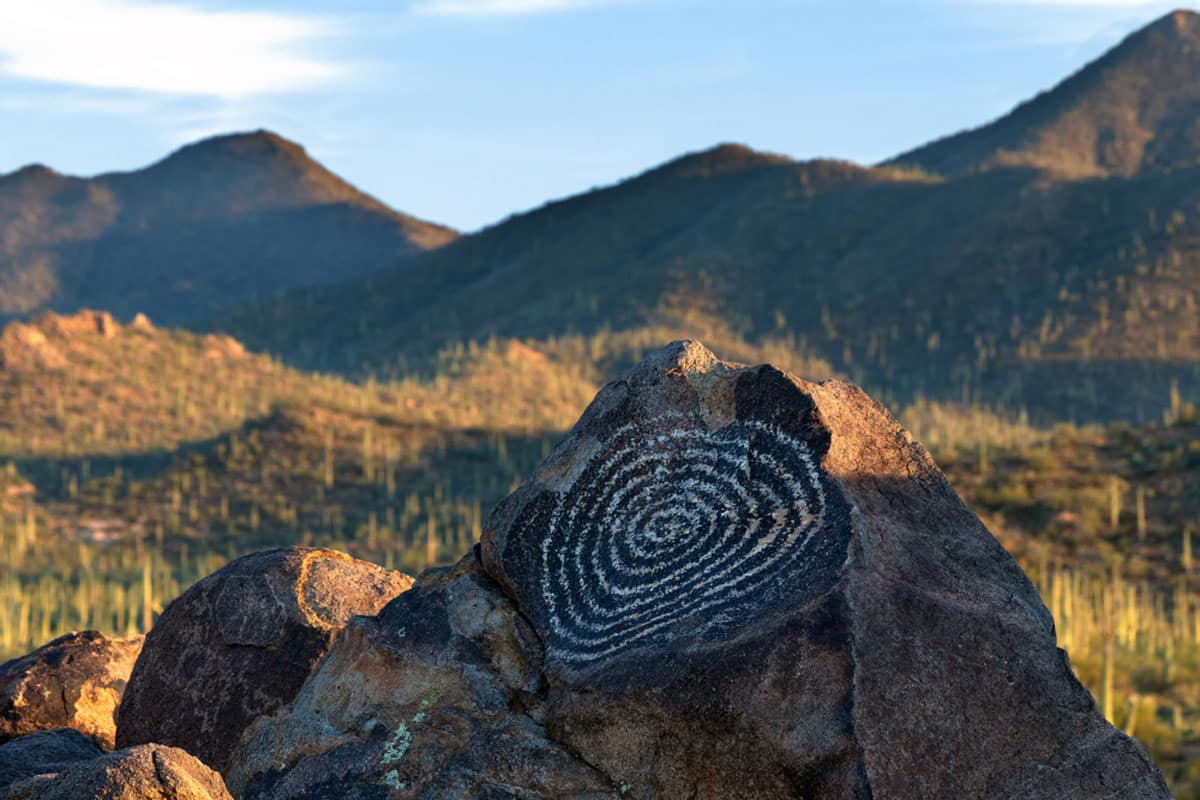 You might as well stop by the Signal Hill picnic area while doing the Bajada Loop drive. It's a short uphill hike to get there, and you'll get to see some rock art, or petroglyphs, created by the Hohokam people over 800 years ago.
Once you reach the tip, I guarantee you'll feel the urge to whip out your camera for the spectacular sweeps over the park.
Go on a Self-guided Discovery Nature Trail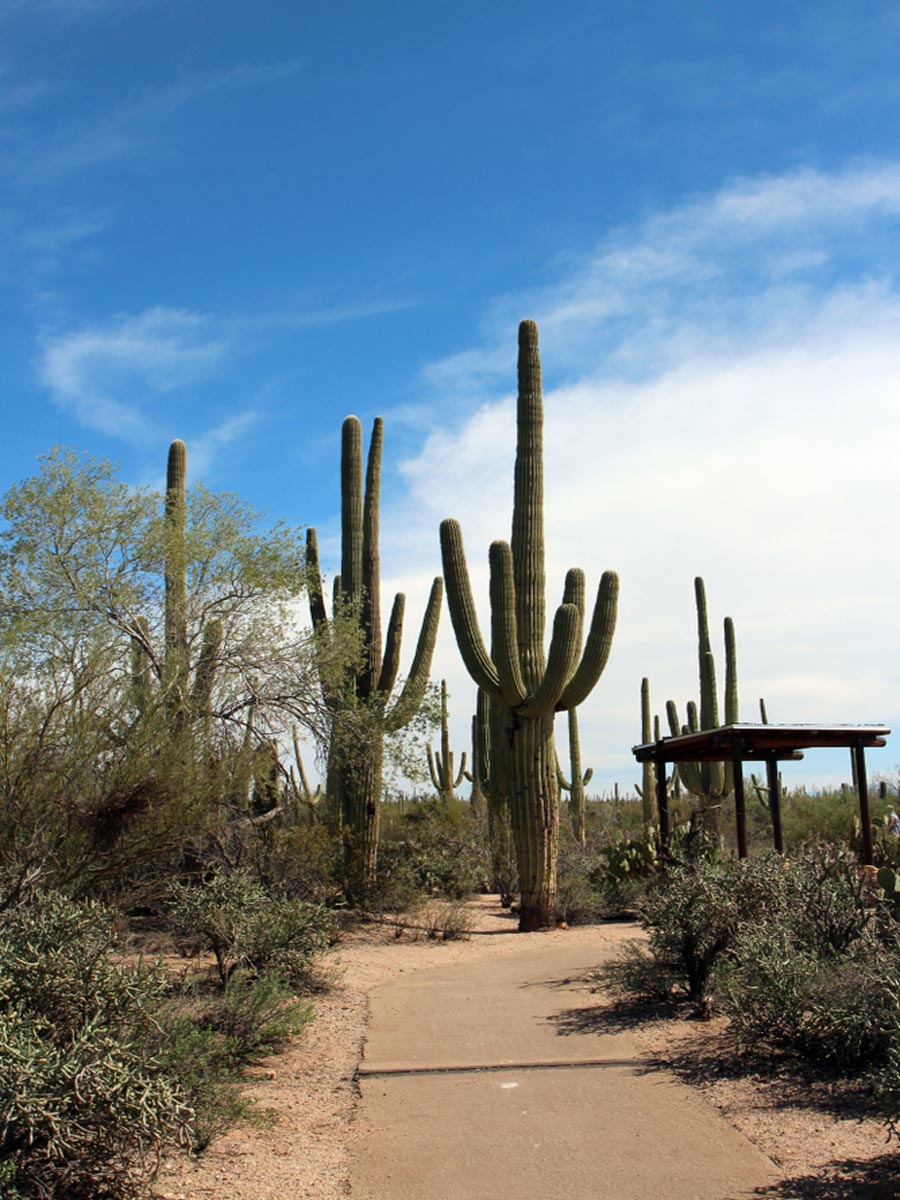 Think you know everything there is to know about the Sonoran desert's ecosystem and the towering Saguaro cactus? Think again. Take a self-guided trail and you'll soon see that there are interesting facts on various informative signs describing the fauna and flora in these parts.
This trail is on N Kinney Road and continues for 0.5 miles (0.8 km), so it takes only about 10 minutes to complete. It's also an excellent place for birdwatching and wildlife spotting.
Note: It can get boiling here, and there's little shade – make sure you fill up your water at the visitor centre. You'll also need to pay a $15 entrance fee.
Go Stargazing
There's no better place to stargaze in Tucson than in the western regions of Saguaro Park. Here, thanks to clearer skies, you can take in the unfiltered display of dazzling stars above.
These conditions result from surrounding mountains, blocking out the city's light pollution.
Vehicles can enter the park from sunrise to sunset – however, actual times vary all year. I recommend doing this in summer, as parks stay open later.
Brilliant Things to See & Do in Saguaro West National Park
Stroll to Valley View Overlook Trail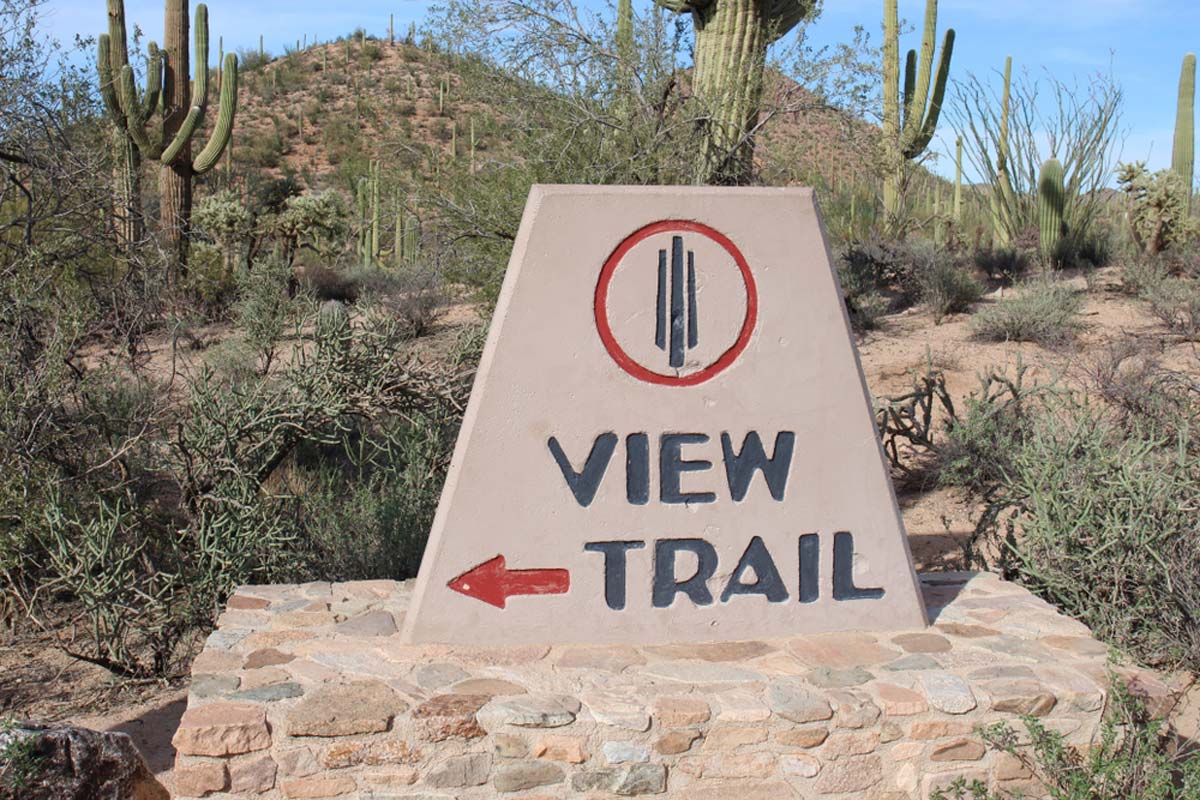 Another of the best hikes in Saguaro National Park West, thanks to its stunning sweeps, is Valley View Overlook Trail. This walking trail is pretty flat and easy to drive until you reach the unmissable viewpoint of the park.
Anyone can enjoy this activity — just be careful of all the prickly things around you, as this post has the densest population of saguaro cacti. There are even prickly pears and ironwood trees in the mix.
The trail's less than one mile (1.3 km) long, taking around 20 minutes to complete.
Soak Up the Sunset on the Cam-Boh Trail
Take on the magical out-and-back Cam-Boh trail for stunning sunset views. The terrain is very flat, sandy and relatively easy and well-marked. It goes on for 4.9 miles (7.9 km), meaning you can complete it within 90 minutes.
However, nothing beats the picturesque scenery of wild cactus forests and desert flowers. There are plenty of critters to spot, including rodents and various bird species.
Go Horseback Riding
Horseback riding is popular in the West thanks to its flat and well-groomed terrain. The above trail is ideal for horseback riding, however, there are more trails in the park to enjoy.
Take my advice and book this activity with the Tucson Mountain Stables on White Stallion Ranch road. They take you into the magnificent Tucson Mountain ranges for $50 per person for an hour's ride. The price increases the longer you ride.
Schedule your horseback riding adventure right here.
Camping in Saguaro National Park West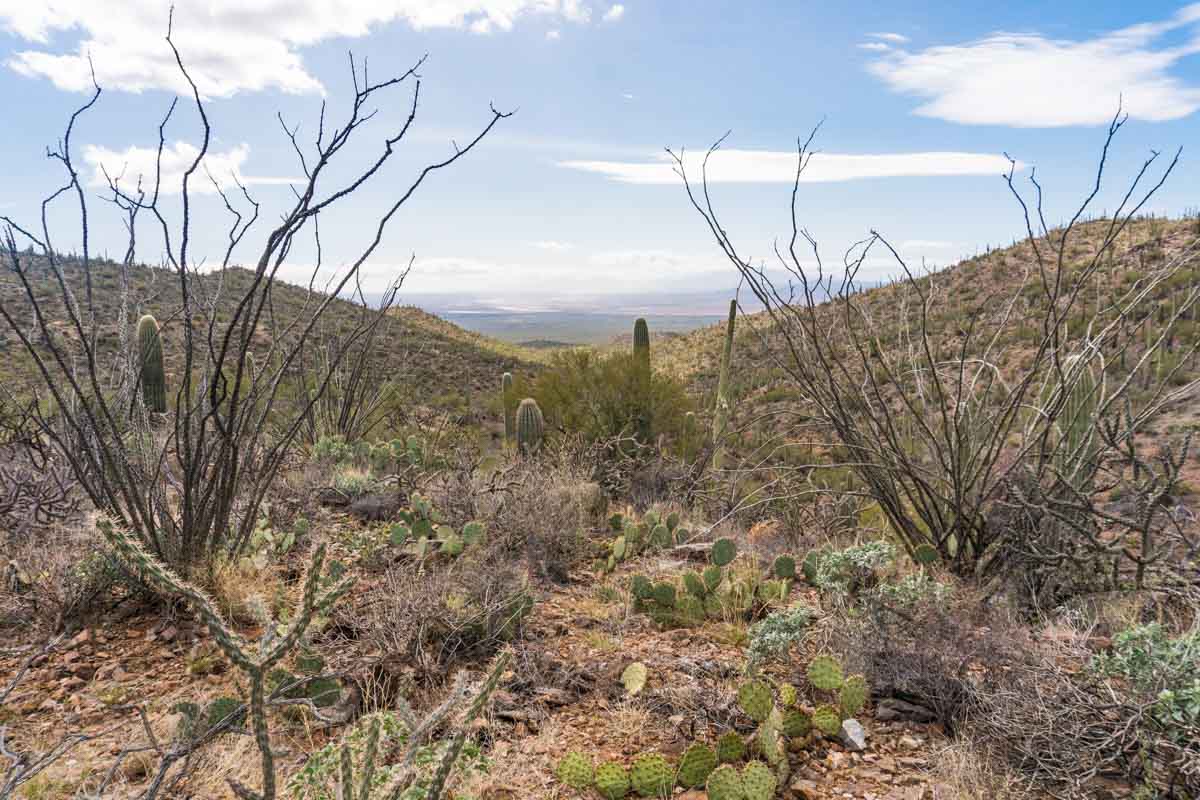 Manning Campground is the best place to pitch your tent in the Saguaro Wilderness. All of the campgrounds in the park are backcountry and primitive, with only pit toilets and, sadly, no showers. Surrounded by beautiful vistas, and pine-cloaked mountains, you'll feel entirely secluded and embraced by nature.
This campground features picnic tables, fire rings and a freshwater source that rarely dries up. With six sites available, you can reserve your spot beforehand for up to six people per site, which will cost you an $8 nightly fee.
Top tip: You can reserve your site on Recreation.gov.
West Saguaro National Park: Practical Tips for Your Trip
Things to do in Saguaro National Park West: Map
Saguaro National Park West: Read Next
Love this? Save it and share on Pinterest