Plan the ultimate NM trip with this guide. From sand surfing to skiing, these are the best things to do in New Mexico.
Ahh, New Mexico, a land of mystery, beauty and cultural wonders – it has so much to offer. So, what are you waiting for?
Whether it's the paranormal, the region's unique indigenous culture or the national monuments that draw you in, there's no place like New Mexico.
Let me take you on a journey through the Southwest and reveal the awe-inspiring sights and experiences of the Land of Enchantment.
Need a place to stay? How about Ten Thousand Waves on the outskirts of Santa Fe: a chic spa hotel set in the hills, with spectacular views to suit.
Top 5 Things to Do in New Mexico
Hang Out in Santa Fe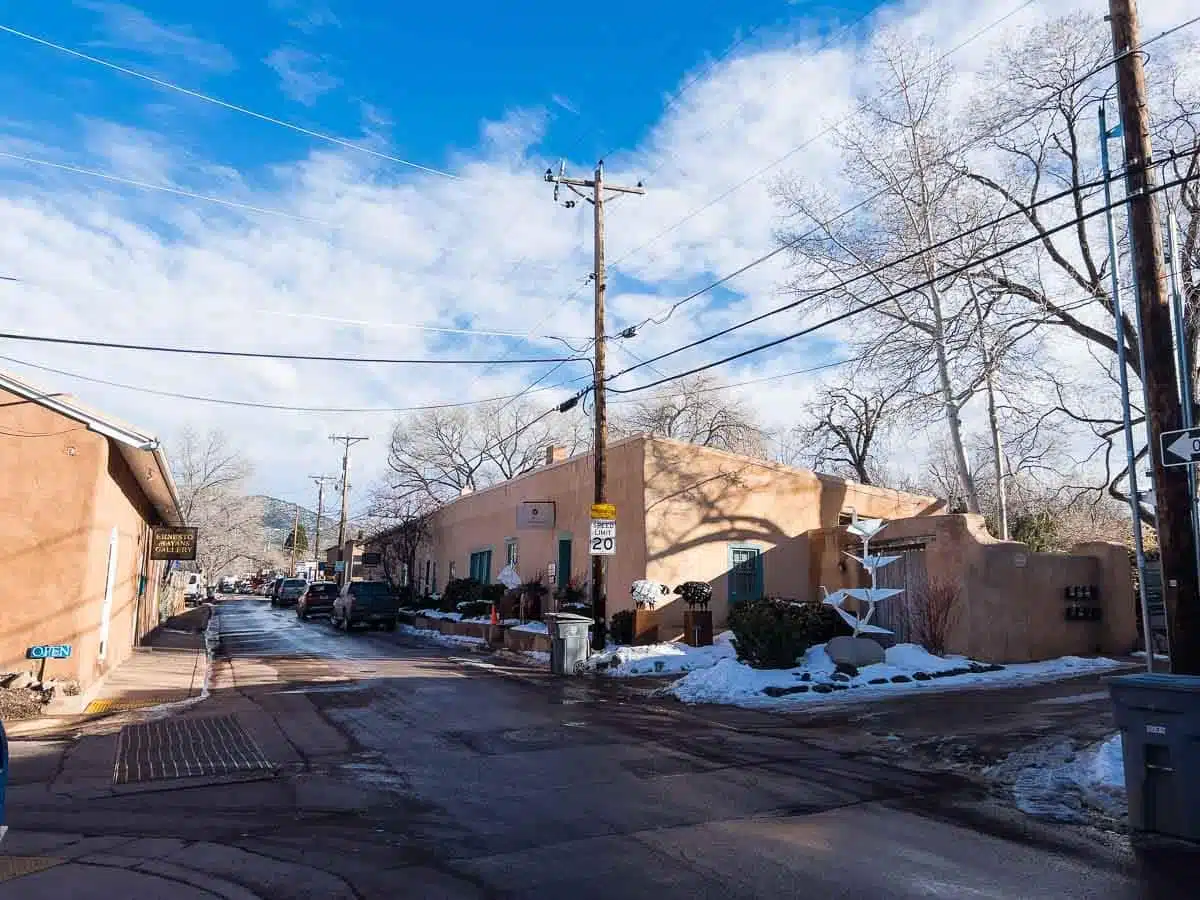 To say that there's so much to do in Santa Fe feels like an understatement. It's a quirky, relaxed city that arguably shows off New Mexico at its best.
The arts scene is thriving (visit the Georgia O'Keeffe museum — just do it) – with museums like the New Mexico Museum of Art dedicated to the region's unique artistic heritage and a slew of galleries dotted along Canyon Road.
There's also the brilliantly bonkers immersive experience that is Meow Wolf – more on that later in the guide.
That's all before we get to the food. I'll be straight-up truthful, the food in Santa Fe is some of the best you can get your hands on (I talk about the legendary Tia Sophia's below, but you should also make reservations at Radish & Rye if you know what's good for you).
It'll take you a good three days to see the main sights, but there are a lot of museums, so you'll have to be picky with your time.
You can also check out the Loretto Chapel, with its rather mysterious staircase (TLDR: it's said to have been sent from above in the nuns' hour of need) while you're there or lace up your hiking boots and hit the Dale Ball Trails just outside the city. 
Book a Guided Audio Tour of Downtown Santa Fe
Go Sledding in White Sands National Park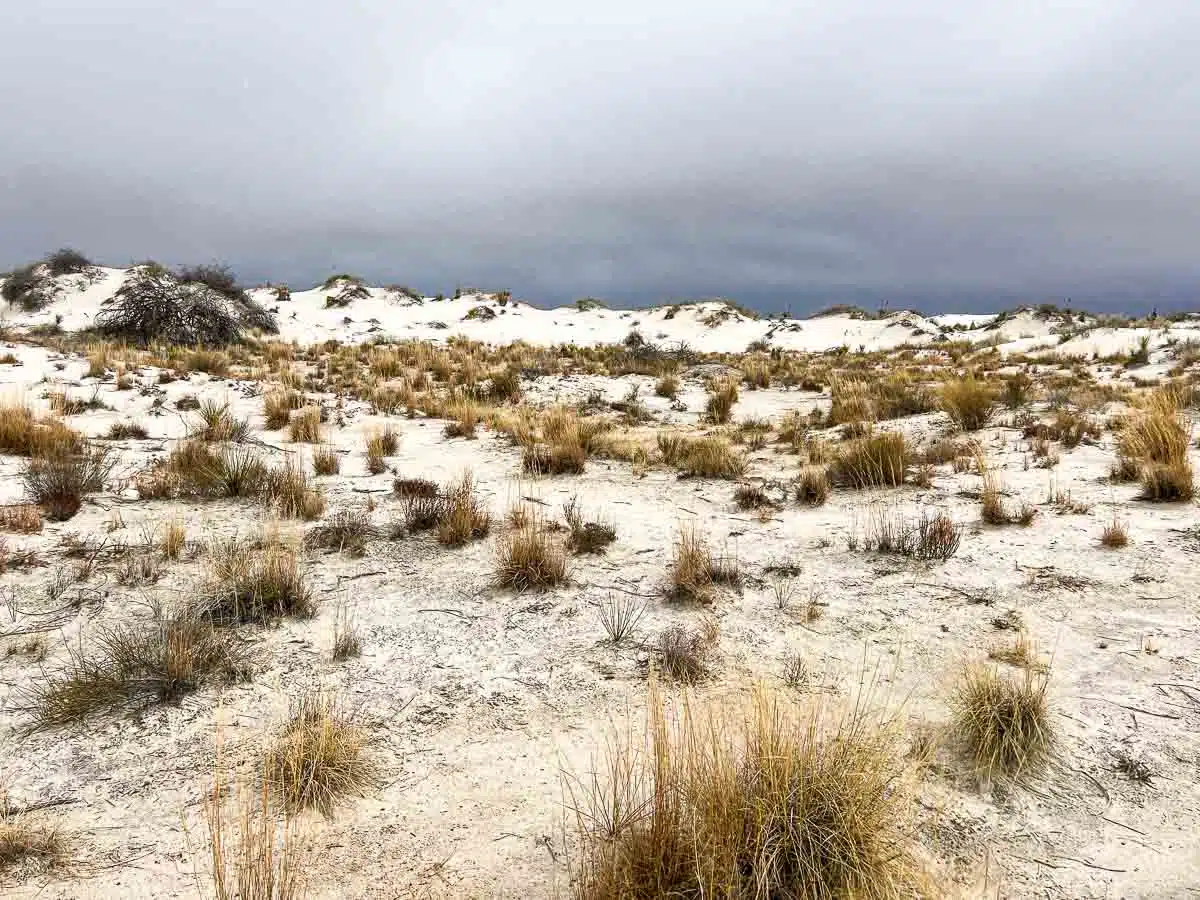 White Sands National Park doesn't get nearly enough kudos given that it's one of the most otherworldly landscapes in the US. Take it from me, it's like being on a moonscape with brilliant-white dunes up to 60 feet high, rippled by the wind and scattered with pale desert brush.
The sand here isn't made of silica but gypsum, which explains the ghostly colour. It takes up 275 square miles of the Tularosa Basin, and unlike many national parks, you can tackle the majority of the park in a day.
Save some time to sled down the snowy dunes. The sleds are rentable from the Visitor Centre if you don't have your own. But, as much fun as zooming down the dunes is, prepare yourself for a slog back uphill, hauling your sled in tow.
Step Back in Time at the Petroglyph National Monument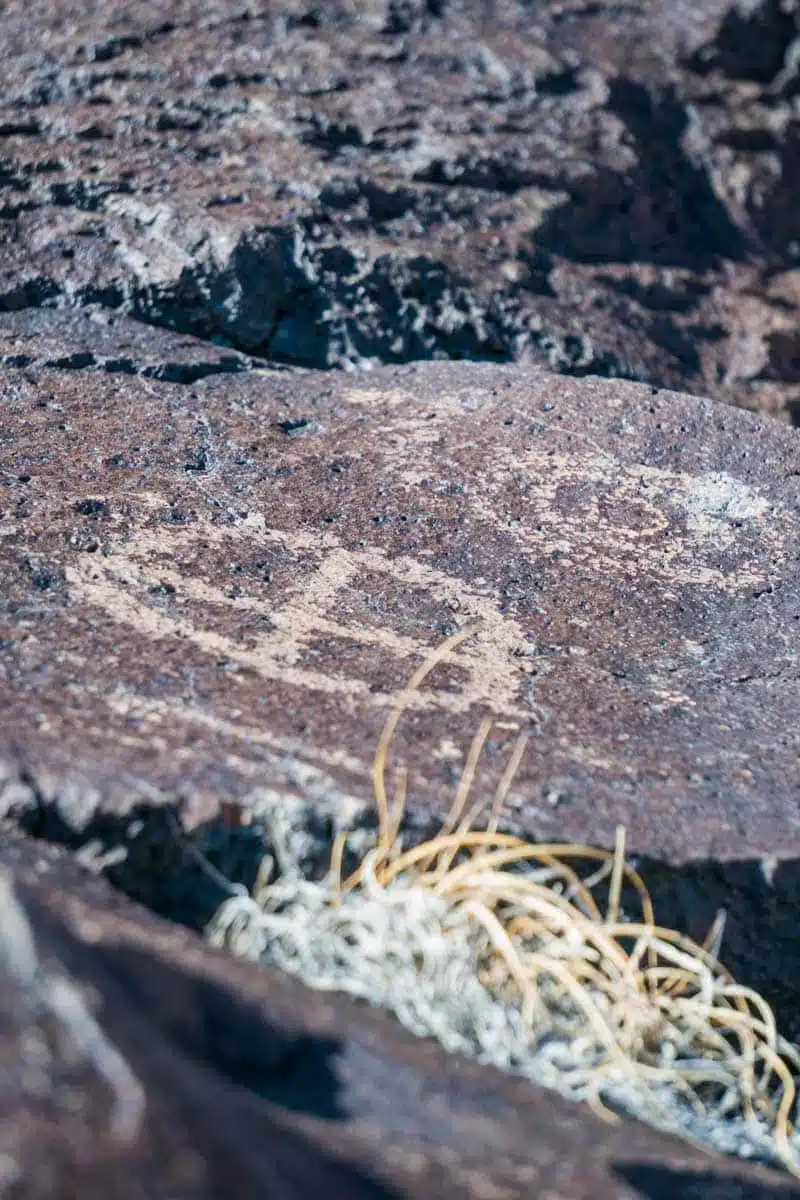 Don't skip the Petroglyph National Monument in Albuquerque – which is hands down one of the must-see attractions in New Mexico.
In total, the monument boasts over 25,000 petroglyphs and is a basalt escarpment encompassing 7,244 acres, including an impressive mesa and five dormant volcanoes. Yeah, that's a lot of geology in one go, right? And (bonus) there are plenty of hiking trails to enjoy.
The one-mile Boca Negra Canyon trail is the easiest and has about 100 petroglyphs to show off.
But I recommend the 2.2-mile Rinconada Canyon Loop Trail. It has more than 300 petroglyphs to gorge your eyeballs on. They're mainly clustered on one side of the trail, so you can do it as an out-and-back if you prefer.
Depending on your chosen trail, you'll need to drive to specific parking lots. But hey, entry and parking are free.
Go Hot Air Ballooning in Albuquerque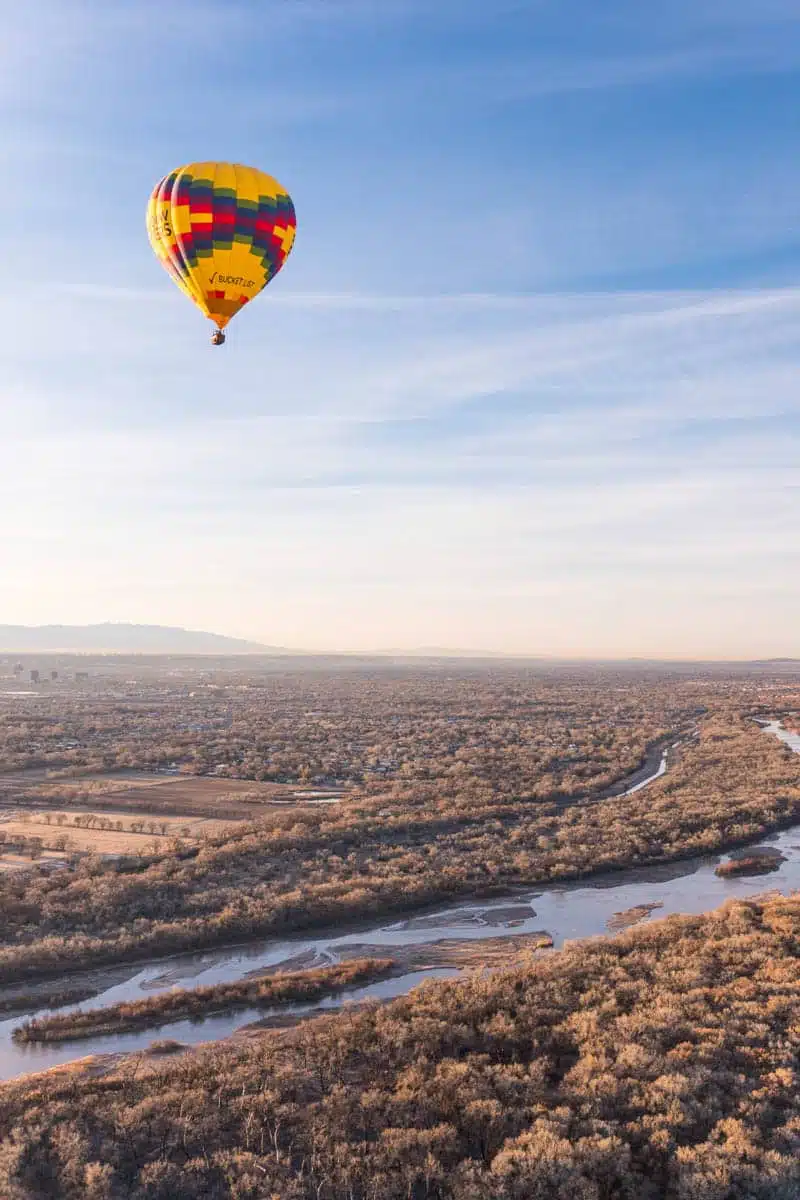 Albuquerque's known for its International Balloon Fiesta, which hits the city every year and sets the sky awash with a kaleidoscope of vibrant colours and patterns. But you can reach for the skies year-round, and seriously, you should.
I loved floating above the peaceful city as it was gradually bathed in the early morning light. That's not even mentioning the views of the gorgeous Bosque Forest and the Rio Grande either. It's a different perspective from up on high, and I have to say, one to add to your bucket list,
Finish your skyward vacation with a glass of champagne or a mimosa, and voila — you have the perfect way to start a day. I went with Rainbow Ryders for my balloon tour and highly recommend you do the same.
Book Your Albuquerque Hot Air Balloon Experience Here
Visit Pecos National Historical Park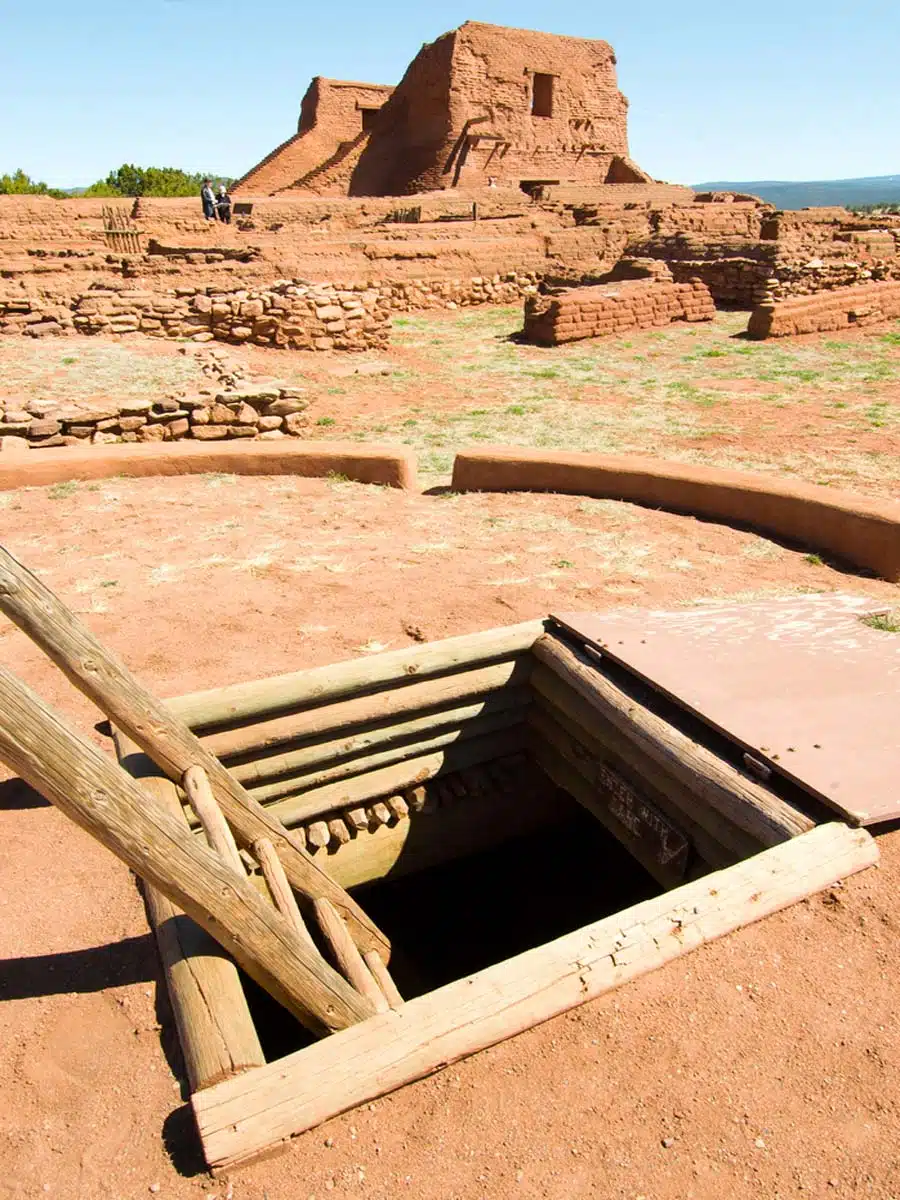 Pecos National Historical Park boasts the remains of one of the largest Native American pueblos in the state. From the 14th century until 1838, it bustled with a population of over 2,000.
There's even more to this iconic 6,600-acre historical area, though. It was also home to the Civil War Battle of Glorieta Pass. You can take a 2.25-mile hike along a special trail detailing its history, with or without a guide.
Don't skip the Visitor Centre; it boasts fascinating exhibits, park information and offers a guided 1.25-mile Ancestral Sites Walking Tour.
Brilliant Things to See & Do in New Mexico
Have Breakfast at Tia Sophia's
I said it earlier in this article and I'll say it again: the food in Santa Fe is next level. No, I'm not kidding. While you should take some time to eat your way around the city, if you have time for only one meal, make it breakfast at Tia Sophia's.
This delight has been serving the breakfast burrito since 1975, and yes, they've perfected the art of it by now. Santa Fe is the birthplace of this not-so-delicate delicacy, after all.
They're filled with almost every conceivable breakfast food, from scrambled eggs to potatoes and cheese, and then topped off with your choice of bacon, chorizo or sausage. Then comes the red or green chilli (or both – Christmas style – if you're extra spicy).
At $14, it's pretty darned affordable, and the portions are HUGE, so you get a big bang for your buck. I'm drooling as I'm writing this, just FYI.
Go Skiing at Taos Valley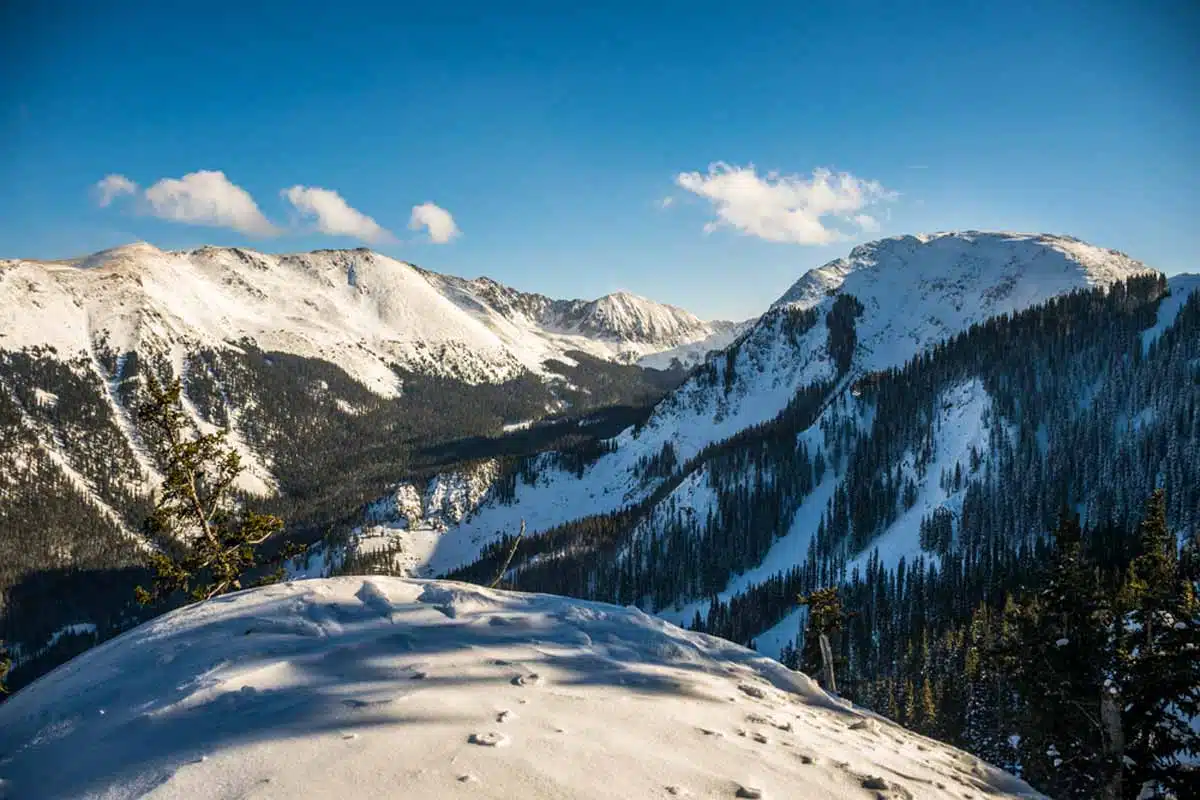 Taos Valley is nestled snugly in the Sangre de Cristo Mountains, 8,900 to 12,500 feet above sea level. It's a magical spectacle – you could be forgiven for swearing you were in Switzerland.
Still, with its uniquely NM bent, it's not long before Taos Valley lets you know that you're at the best ski resort in New Mexico and one of the best skiing areas in the US.
The valley is only about 90 minutes north of Santa Fe. It is more suitable for advanced skiers, with half the trails for experts only, there's also plenty for non-skiers to do. The art scene in nearby Taos is one of the coolest in the Southwest, and there's a relatively lively bar and dining scene too.
Explore the New Mexico Museum of Art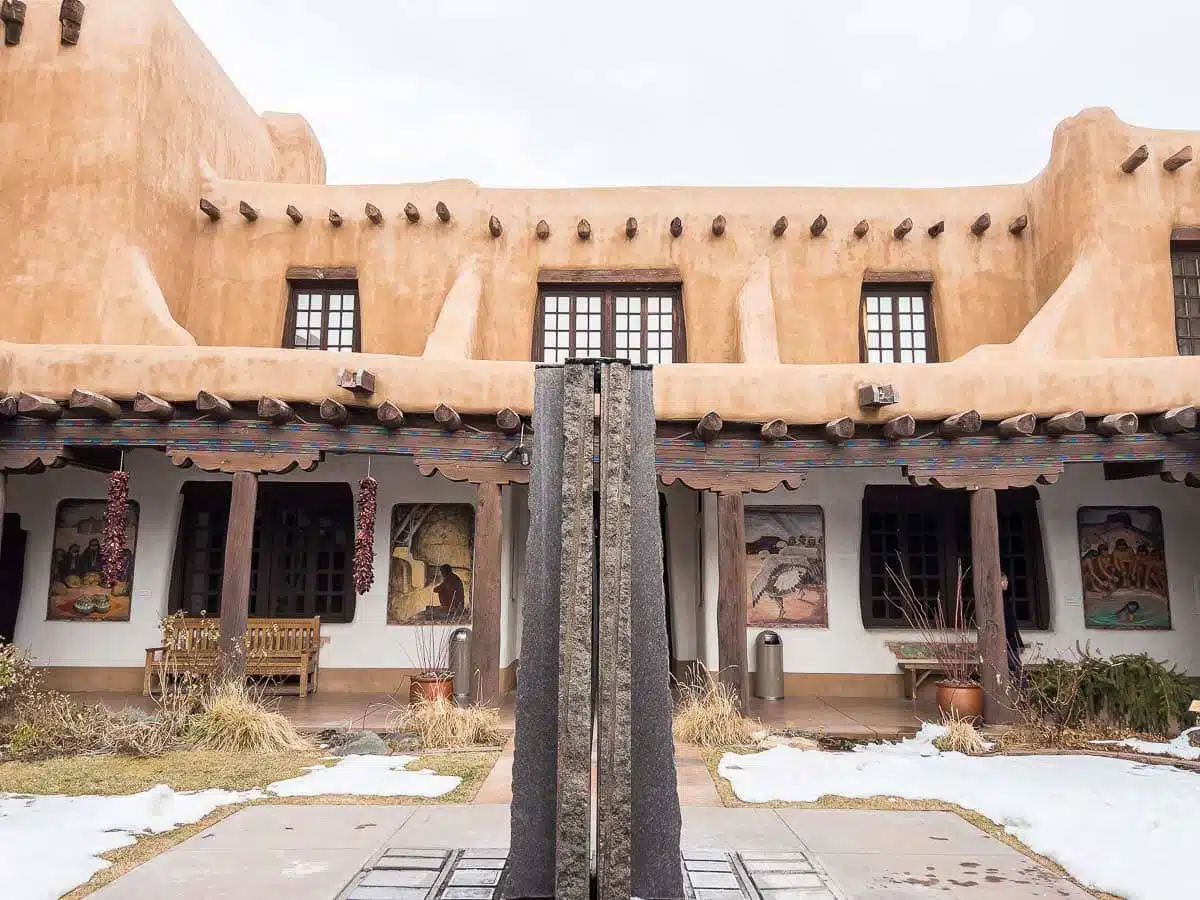 Tucked in the heart of Downtown Santa Fe, the New Mexico Museum of Art occupies a beautiful historic building.
That's not what you're here for though. As the name suggests, the museum specialises in art from the Southwest – two floors and several galleries of paintings, photographs and sculptures by names including Peter Hurd and Bert Geer Phillips. It's the perfect reason to explore the region's long standing artistic heritage.
Visit Taos Pueblo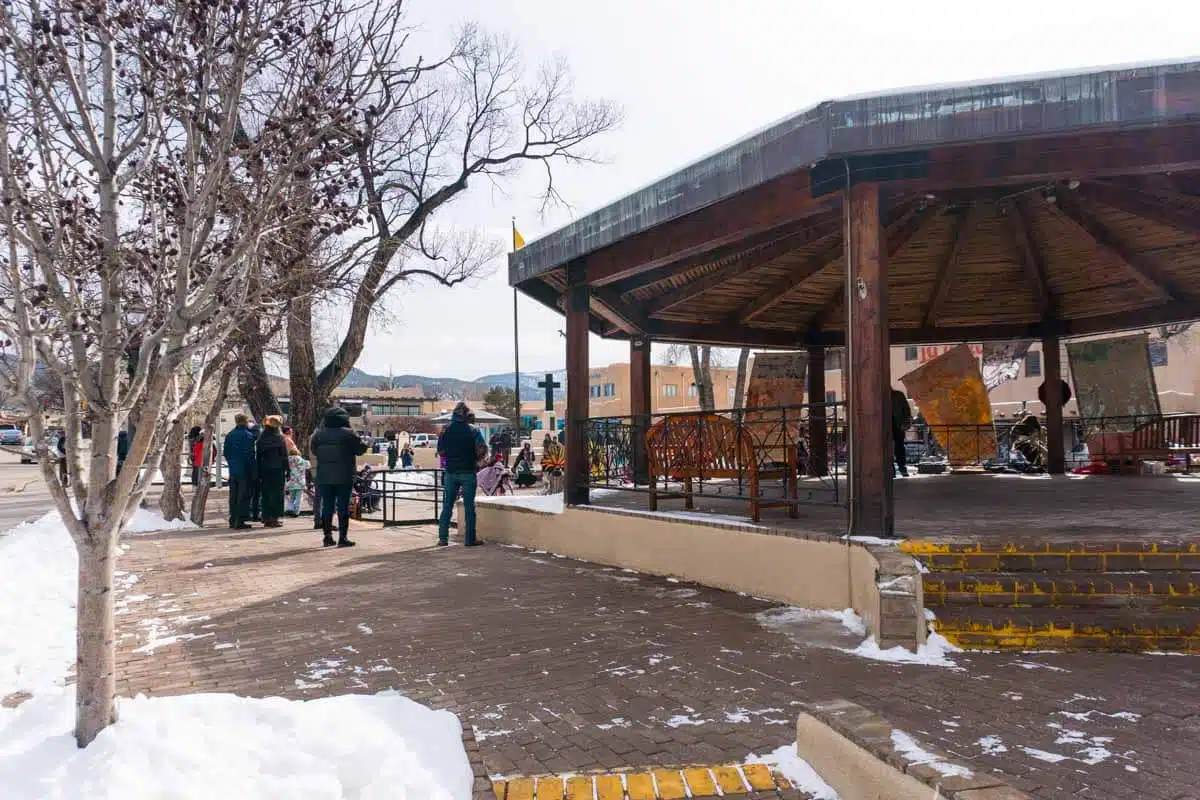 Striking adobe structures that date back more than a thousand years? Yes, please! What's more, the buildings at Taos Pueblo are still inhabited to this day, making them the oldest continuously occupied buildings in the US.
There are 2,000 more residents living on the 95,000-acre property (though many in more modern homes) and traditional homes.

Taos Pueblo is a UNESCO World Heritage Site, where visitors are warmly welcomed. Except when the residents celebrate their annual cultural events; then the Pueblo's closed to tourists out of respect for the community.
Take my advice and check in advance.
Check Out the Bandelier National Monument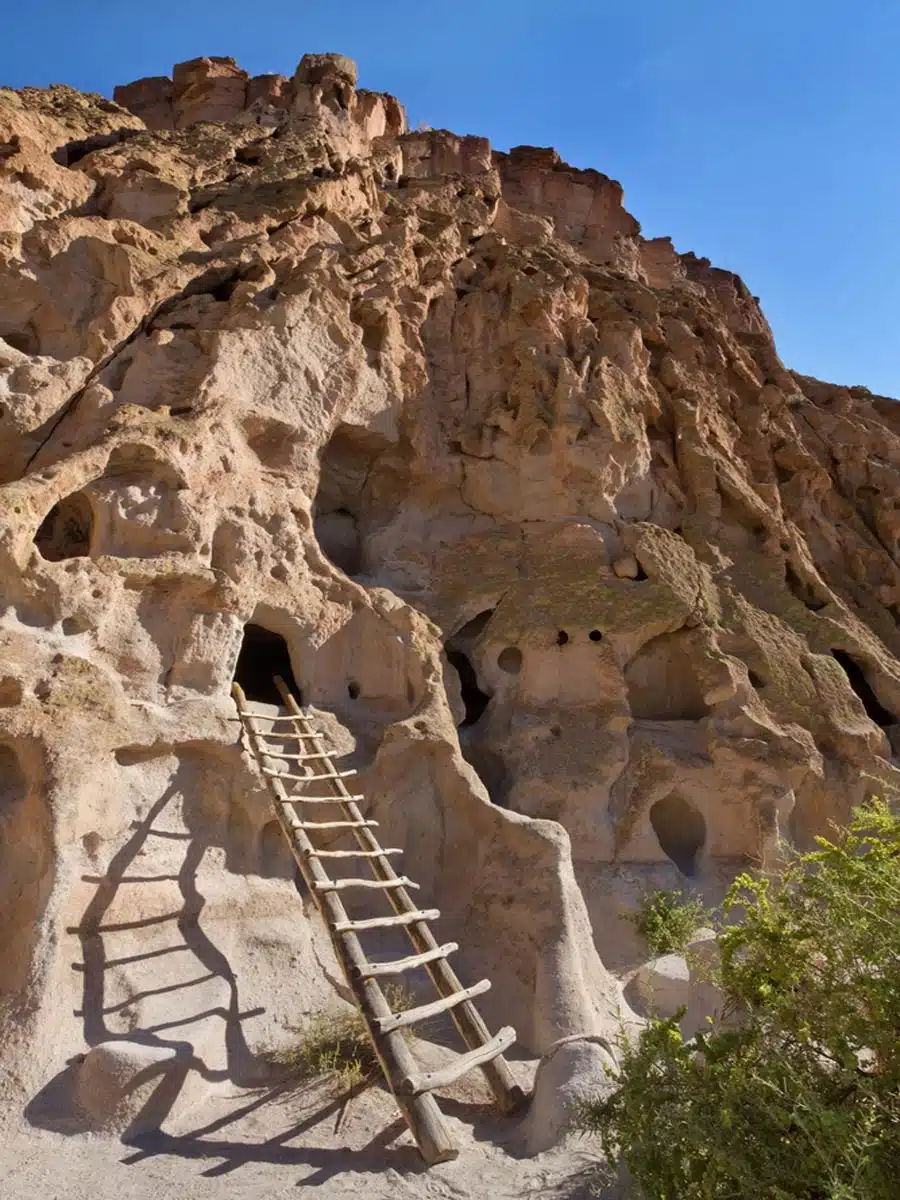 Need some drama in your life (the good kind, anyway)? Head to Bandelier National Monument for 33,677 acres of dramatic volcanic landscapes and ruins from the Puebloan people's ancestors that'll blow you away.
It's one of the most culturally rich places to see in New Mexico, with centuries-old masonry dwellings and walls carved right into the volcanic cliffs. You'll also find petroglyphs that give an insight into daily life back when people occupied the area from around 1150 AD to 1600 AD.
There's also an educational museum to visit for deeper levels of understanding and hiking trails and campsites for intrepid adventurers. Between 9 am and 3 pm, a free shuttle runs to the most popular area.
See Carlsbad Caverns National Park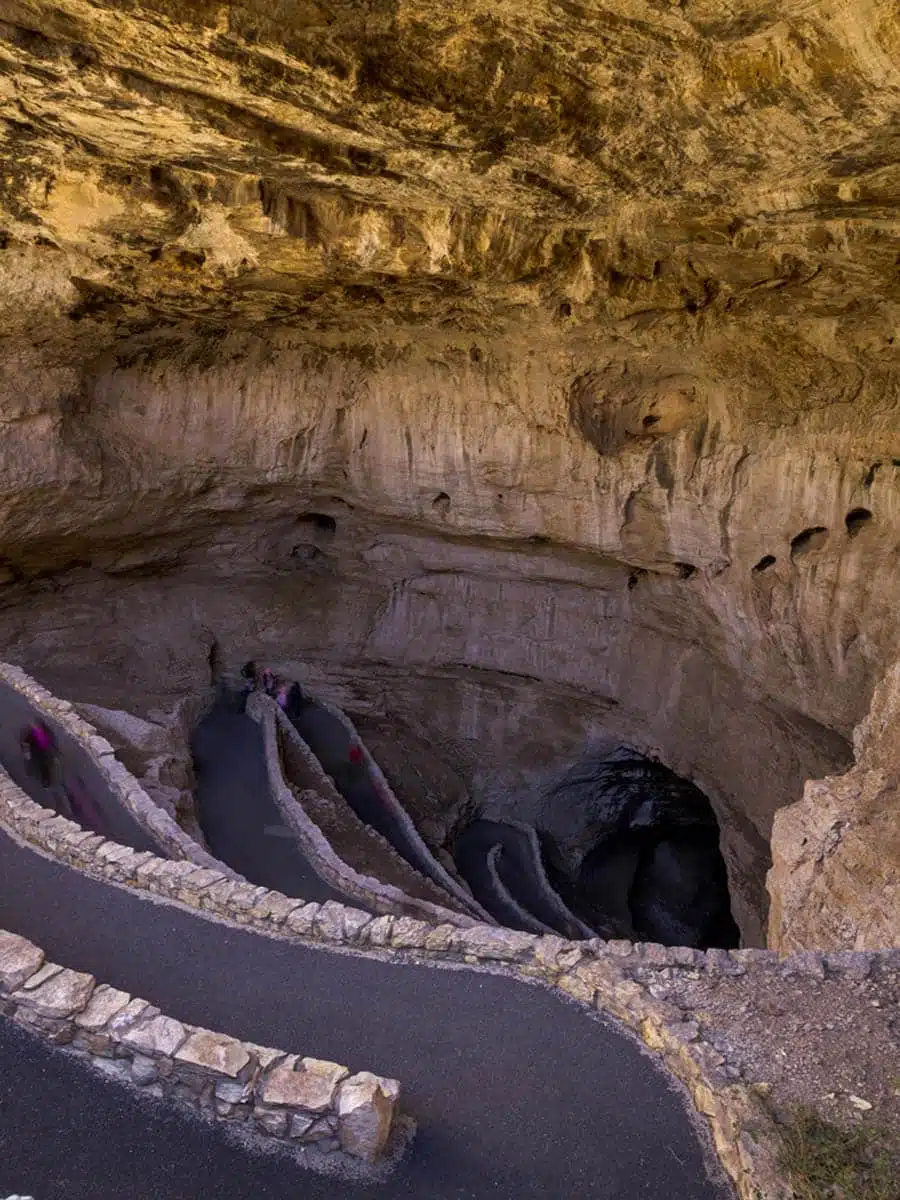 Feeling brave? Set off into the labyrinth of 120+ caves at Carlsbad Caverns National Park. Carved from limestone that once covered an ancient sea floor, this majestic cave system is lit up with its stalactites and stalagmites shown in full glory.
And they are incredible to witness. In some caverns, waterfalls frozen in time seem to pour from the ceiling. Up top, there is a range of activities, from hiking trails to backpacking opportunities, but honestly, what's below ground brings the tourists in droves.
There are self-guided audio tours and ranger-led tours, so pick your poison and get spelunking.
Visit Chaco Culture National Historical Park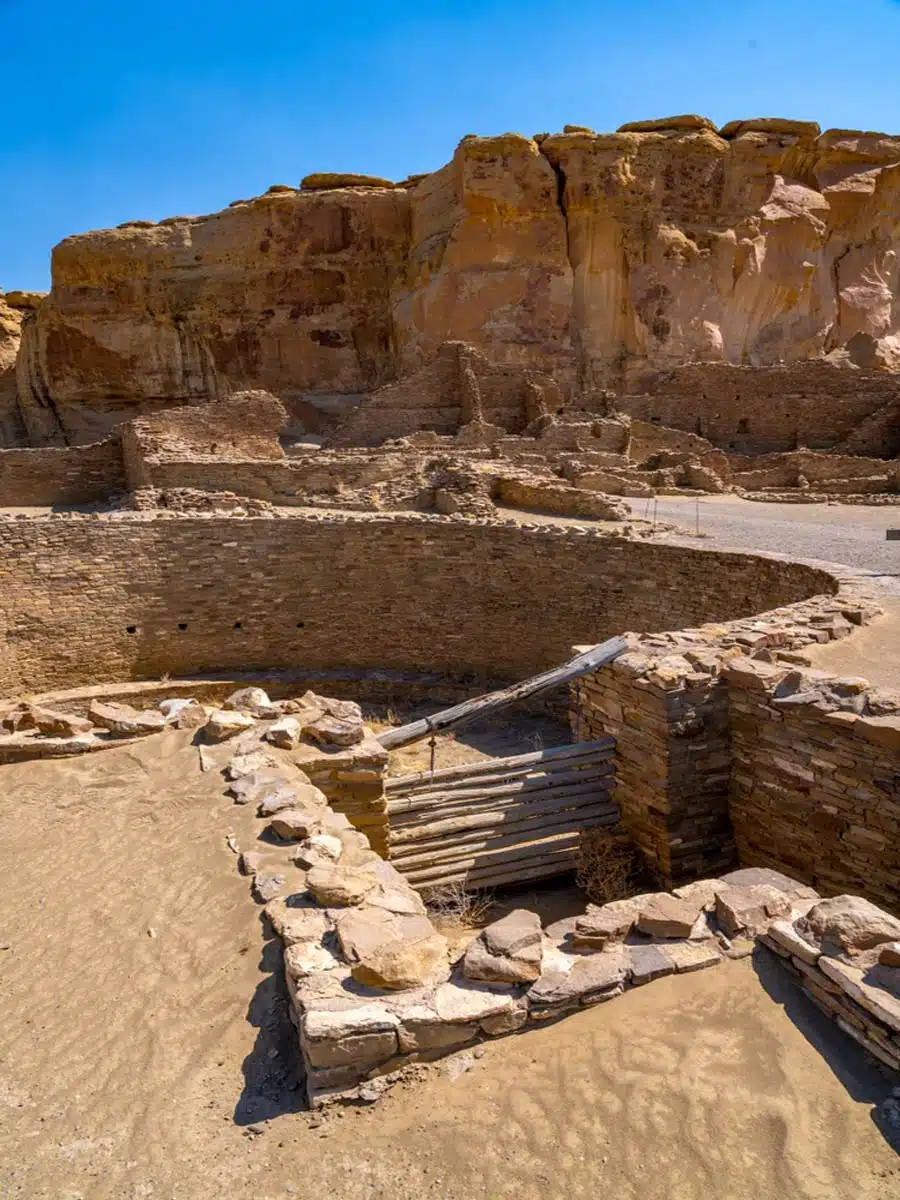 Chaco Culture National Historical Park is one of my top spots for New Mexico sightseeing – an understatement, as it's one of the most incredible archaeological sites in North America.
It served as a dwelling place for ancestral Puebloan people between 850 AD and 1250 AD, and it features 15 colossal ruins and numerous smaller structures, highlighting its importance as a significant and central location.
Aside from its fascinating history, there's so much to do here. Fancy back-country hiking? Sure. Camping? Tick. How about stargazing? Also possible.
The only thing to note is that the signal in this region is severely unreliable, so ensure to download your maps in advance and avoid relying solely on GPS.
Unique Things to See & Do in New Mexico: Hidden Gems That are Off the Beaten Track
See Aliens at Roswell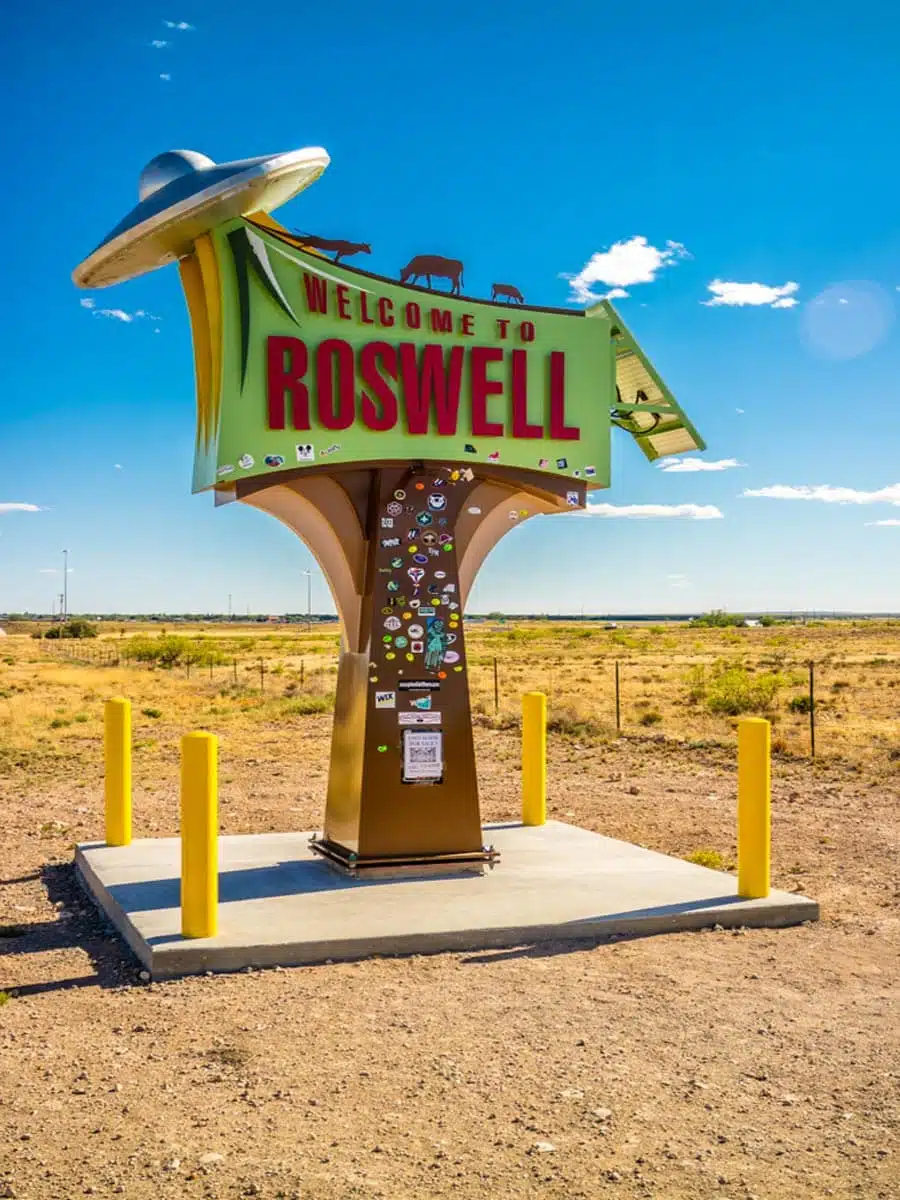 Almost everyone associates Roswell with Area 51, but I don't really recommend you attempt to sidle up to a government military facility known for its high security. Sorry, UFO fans!
But as a consolation prize, visit any of the five dedicated UFO museums, including the International UFO Museum and Research Centre.
The Anderson Museum of Contemporary Art is a big win in terms of having fun, and architecture buffs will enjoy walking the Historic District with a plethora of architectural styles on show.
Outdoor enthusiasts can visit Bottomless Lakes State Park with its many swimmable cenotes or pop by the Spring River Park and Zoo for some close-up animal viewings.
Visit the Meow Wolf Art Installation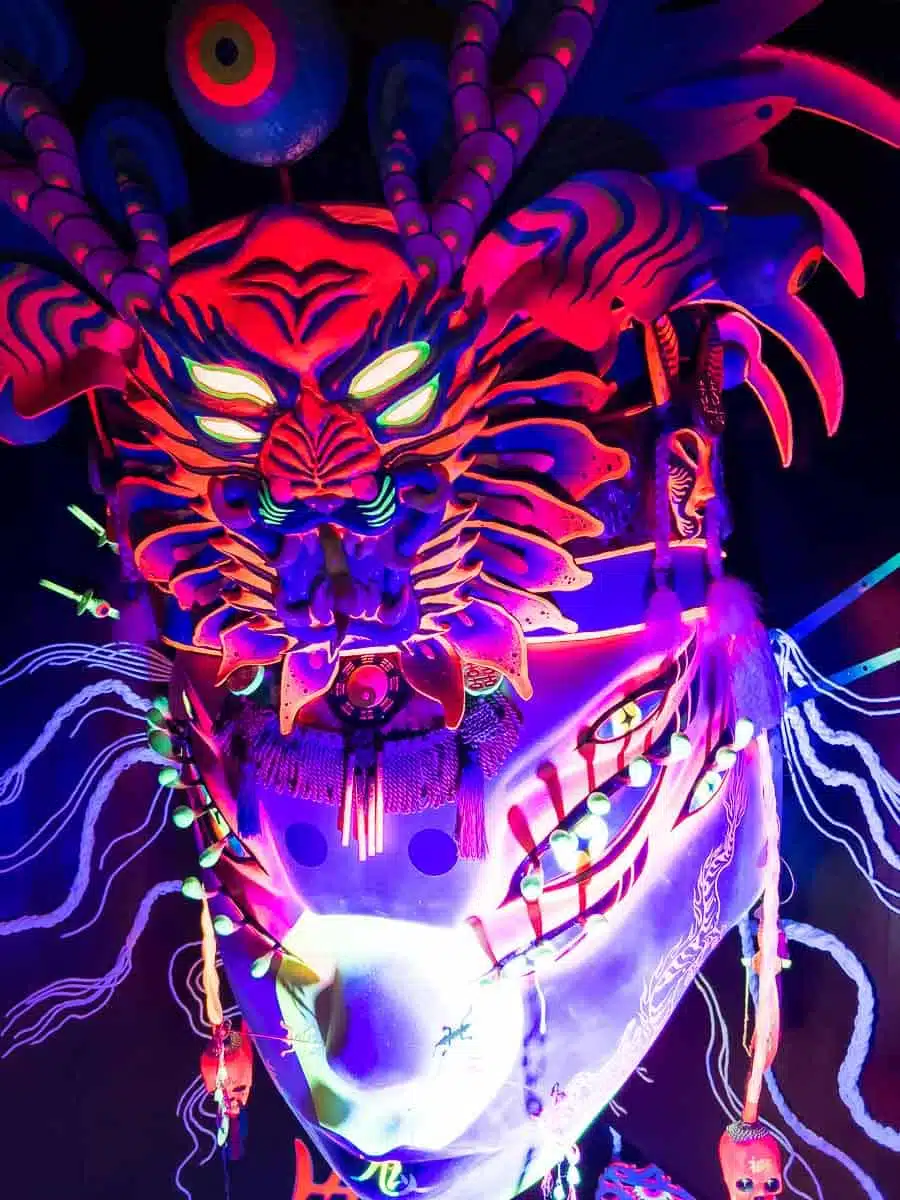 One of my favourite places I visited on a recent NM trip, Meow Wolf, also called the House of Eternal Return, is the OG location for fantastical art installations. Sure, you'll find fabulous installations like this across the US, but Meow Wolf is still the best.
If you're looking for fun things to do in New Mexico, this is it. It's eclectic, it's bonkers and anything but boring.
Okay, there is one caveat — the entry is a bit steep ($35 if you book online in advance), but it is worth it.
Every corner offers a compelling new adventure. One minute I was sliding down a tunnel through a washing machine door; the next, I stepped into a portal through an innocent-looking fridge. No matter your age, you'll have a blast.
This place gets busy, especially on weekends, so book your tickets online before you go.
Check Out the Very Large Array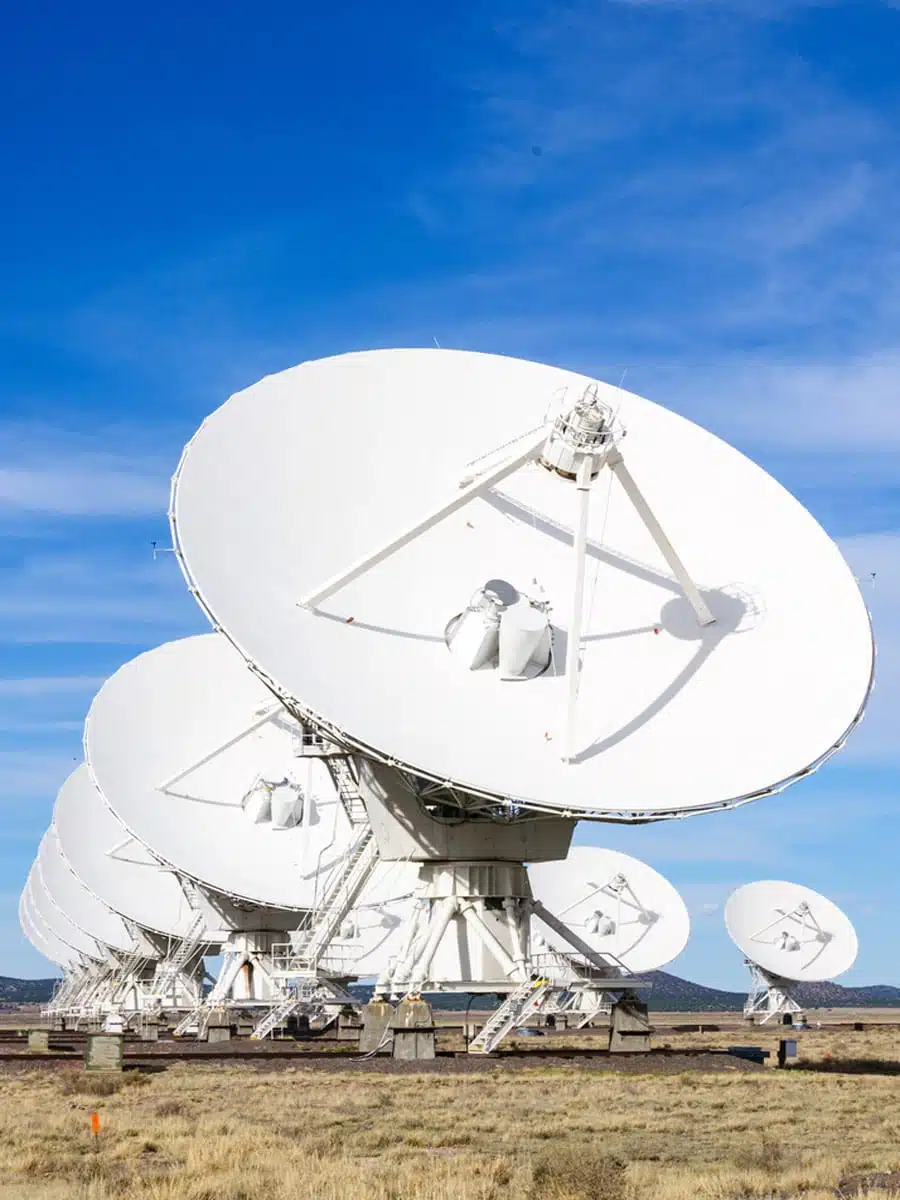 Sitting pretty on the Plains of San Agustin, two hours outside of Albuquerque, is the Karl G. Jansky Very Large Array (VLA).
What on Earth is that you might wonder? Let me tell ya: a series of 27 enormous white radio antennas arranged in a huge Y-shape. It's pretty creepy.
Each dish is 82 feet in diameter, and its function is to examine the cosmos for data on black holes, supernovae and even the search for alien lifeforms. You can take a walk amongst the towering builds, stop by the visitor centre for exciting facts or go on a guided tour if you're keen to learn more.
Near sunset and sunrise, the shadows these monsters cast are a mile long, and it makes for a pretty impressive Instagram image — just saying.
See the Gila Cliff Dwellings National Monument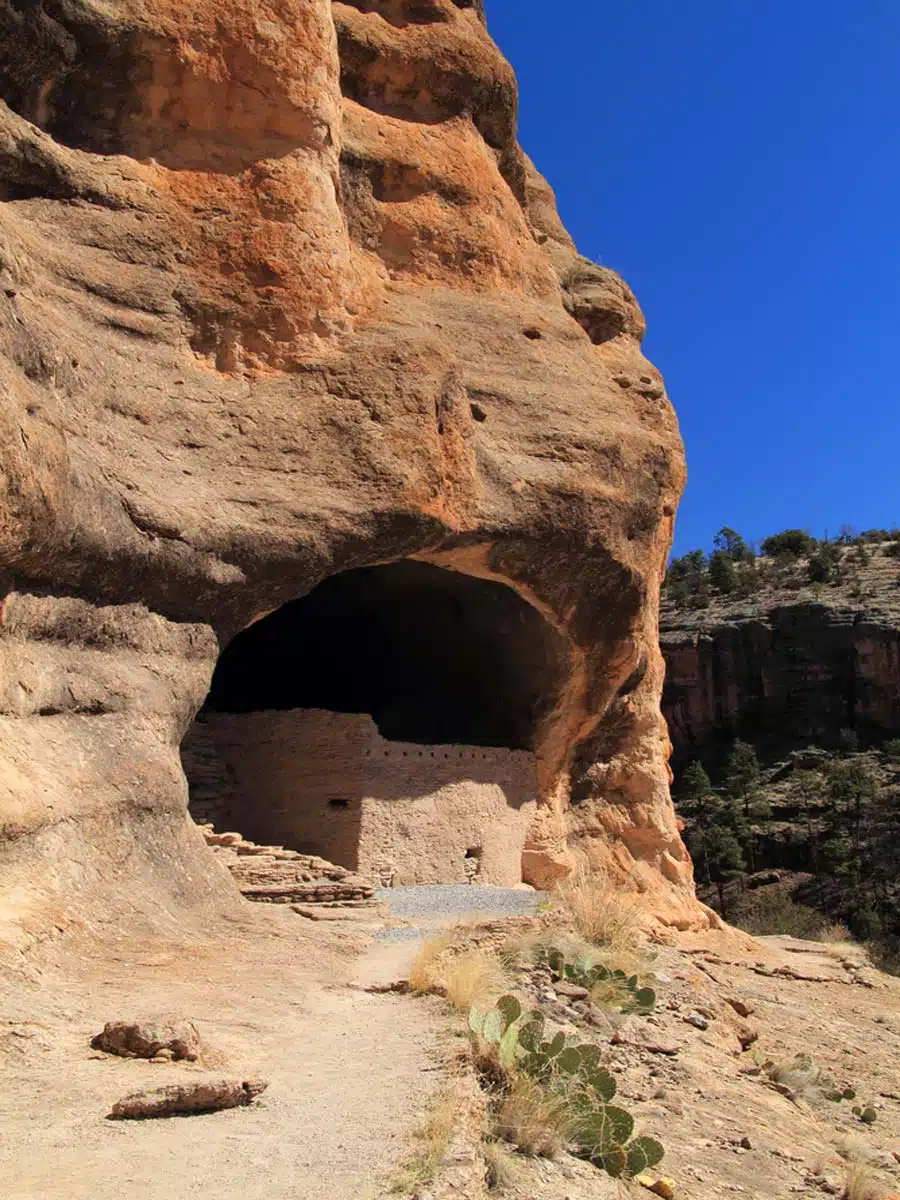 Looking for cool things to do in New Mexico? Head for the Gila Cliff Dwellings.
It feels like the set of an Indiana Jones film with 42 rooms crumbled by time built into the cliff face. The original architects were the Mogollon Native Americans, and they built these dwellings around 1200 AD.
There's a museum at the park where you can learn more about Mogollon culture as well as the natural history of the place.
You can also tour the cliff dwellings, but just a heads up: tours start at the dwellings themselves and not at the trailhead. So plan to walk for about 30 minutes before the start of your tour.
Stop by the Billy the Kid Museum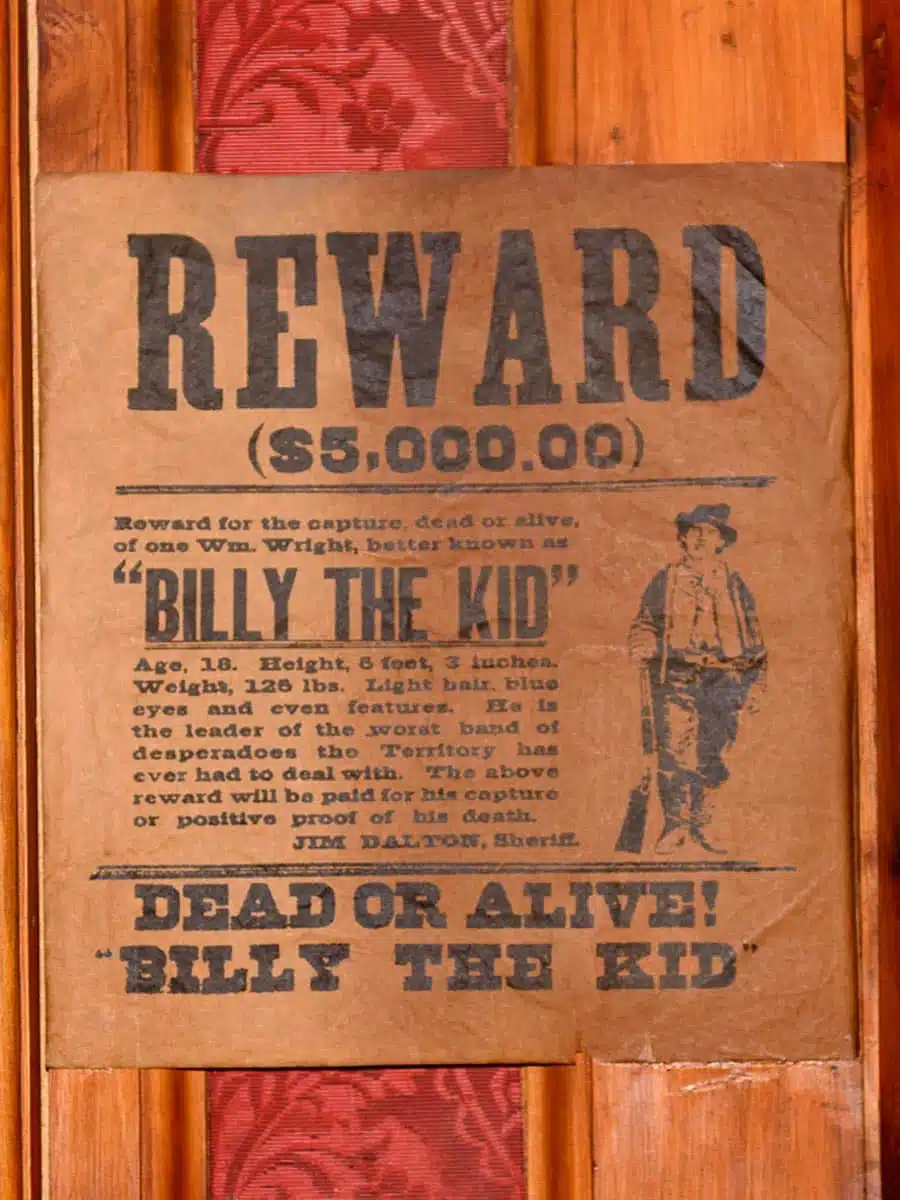 Fancy exploring the Old Wild West and one of its greatest legends? Venture to the Billy the Kid Museum in the town of Fort Sumner. This is the town where infamous outlaw Billy rests in peace after being shot and killed at the age of 21 by Sheriff Pat Garrett near the Fort Sumner State Monument.
The museum has Billy's rifle, horse-riding equipment and even one of his original "wanted" posters. There's a rumour the museum even has some of his hair – but you'll have to visit for yourself to see if it's true.
Other noteworthy collectables are old firearms, swords and antique cars. Tours are available for those who want to delve deeper into Billy's life.
Things to Do in New Mexico: Practical Tips for Your Trip
How Long to Visit New Mexico?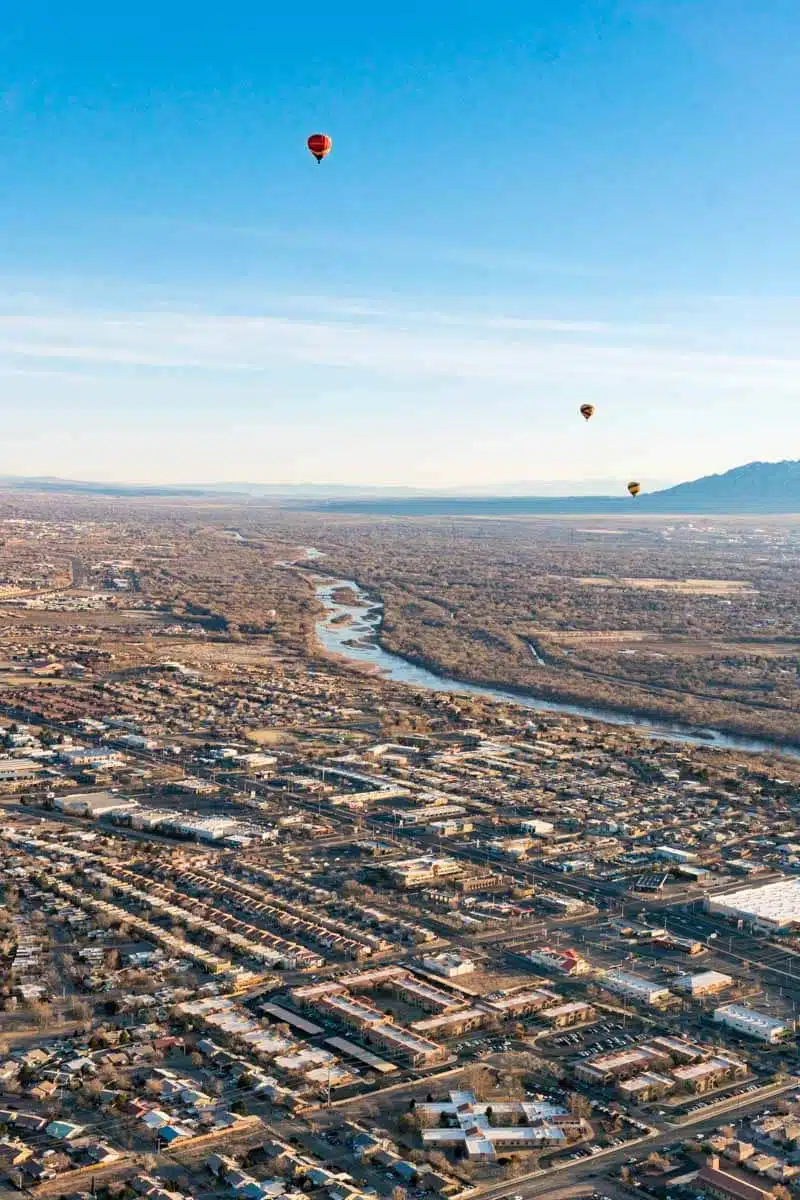 Honestly, it would take you around a month to comfortably enjoy all New Mexico offers. But I recommend a minimum of 10 to 14 days to see the famous sites and get a feel for the state.
Best Time to Visit New Mexico?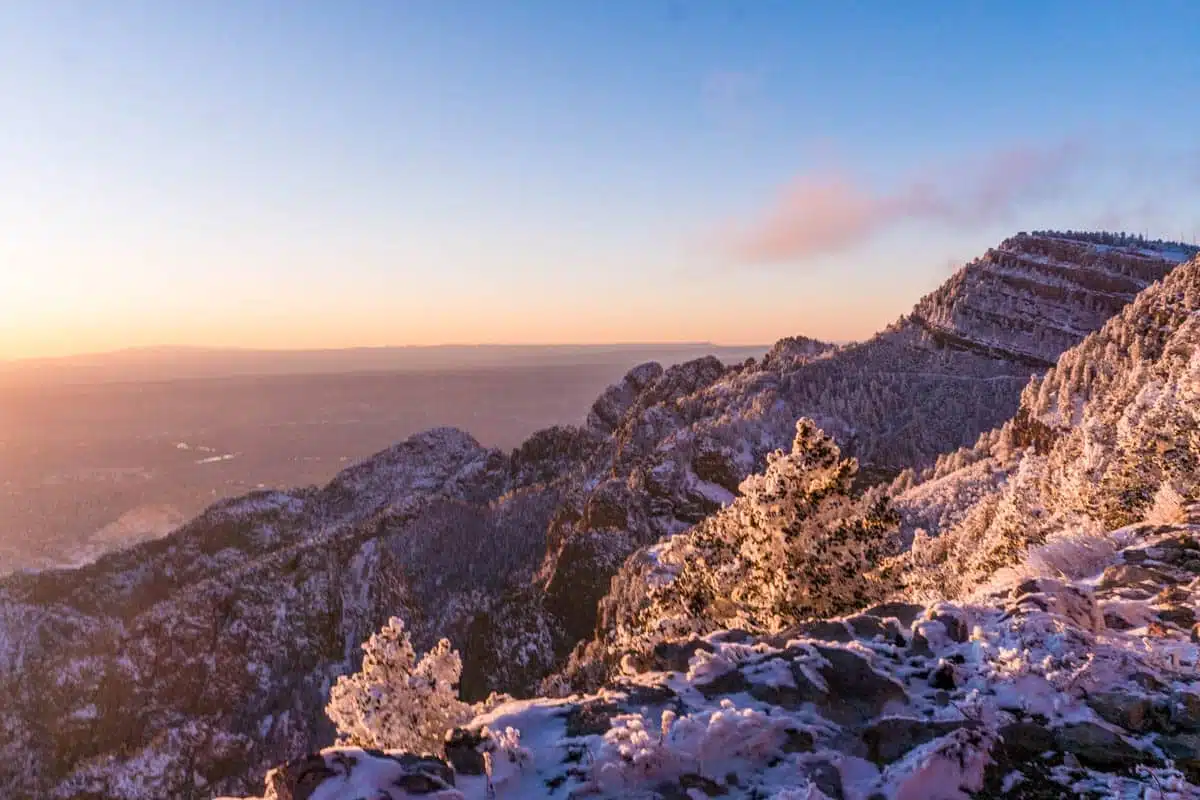 Summer is the peak season in New Mexico, so for fewer crowds and warm temperatures, visit in spring from March to April or in autumn from October to November.
Where Should I Stay in New Mexico?
Hotel Albuquerque (Mid-Range)
The luxury Hotel Albuquerque boasts on-site gourmet dining, cosy rooms with private balconies and a landmark-turned nightclub, Casa Esencia.
Enjoy American and Mexican dishes at Garduño's, then relax in the hot tub while you digest. As an added bonus, you can request in-room massages at the front desk.
Four Seasons Resort Rancho Encantado Santa Fe (Luxury)
The Four Seasons Resort offers luxury at its highest. Plush, warmly decorated modern rooms featuring patios and fireplaces, Rancho Encantado holds nothing back regarding your comfort.
A full-service spa plus an outdoor pool to die for will whisk you into your own private paradise while the Terra Restaurant satiates your appetite.
Recommended Tours in New Mexico
Things to Do in New Mexico: Map
Things to do in New Mexico: Read Next