Wondering where to stay in San Francisco? Discover the top areas and hotels in the city with this handy guide.
If you're eagerly waiting for your next (or better yet, first) trip to SF, I'm sure you're debating which neighbourhood to stay in. Lucky for you, my guide to the best areas and hotels is here to save the day.
You wouldn't be the first to struggle with the lingering thought of where to lay your head after a day exploring San Fran (I was definitely overwhelmed at first).
Do you choose the vibrant area of The Castro? Or, how about the cool SoMa district? The options are (almost) endless.
From San Francisco's iconic landmarks to its impressive collection of attractions, culinary highlights, and everything in between, it is a traveller's playground. But deciding where to stay can be as dizzying as the skyline's lights after dark.
Take my hand, intrepid traveller. San Francisco beckons.
Best Places to Stay in San Francisco: At a Glance
Where to Stay in San Francisco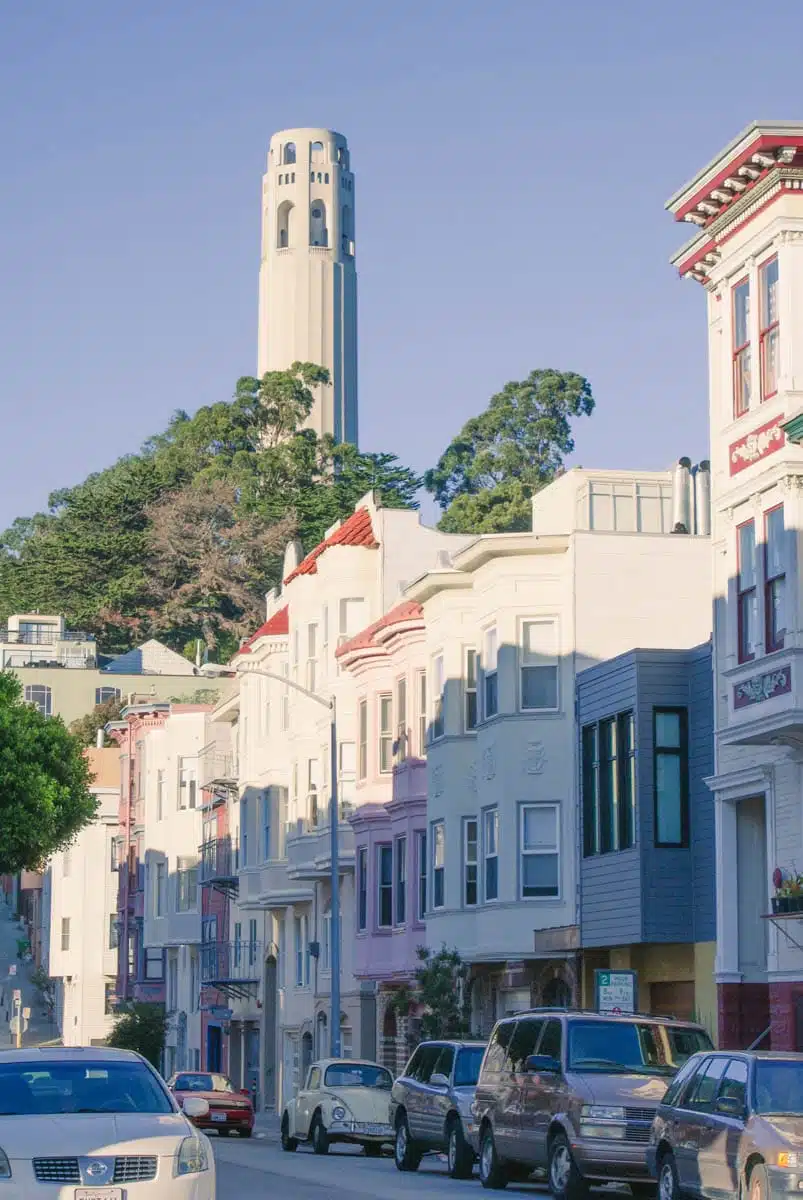 I would argue that SF is easily one of America's most beautiful cities. Sitting in the heart of California's Pacific coast, the city is no stranger to unique and famous attractions. And, with this comes, plenty of accommodation options.
Although the town might be compact, the Bay Area is a sprawling region with numerous excellent areas, each suitable for a particular taste. The diversity of San Francisco highlights its welcoming charm, and although it might seem challenging to choose a favourite neighbourhood at first, I'm here to give you a helping hand along the way.
If you're wondering where the best place to stay in San Francisco is, you're in the right place. So let's dive in and find your next home-away-from-home in SF.
Downtown San Francisco: Best Area to Stay in San Francisco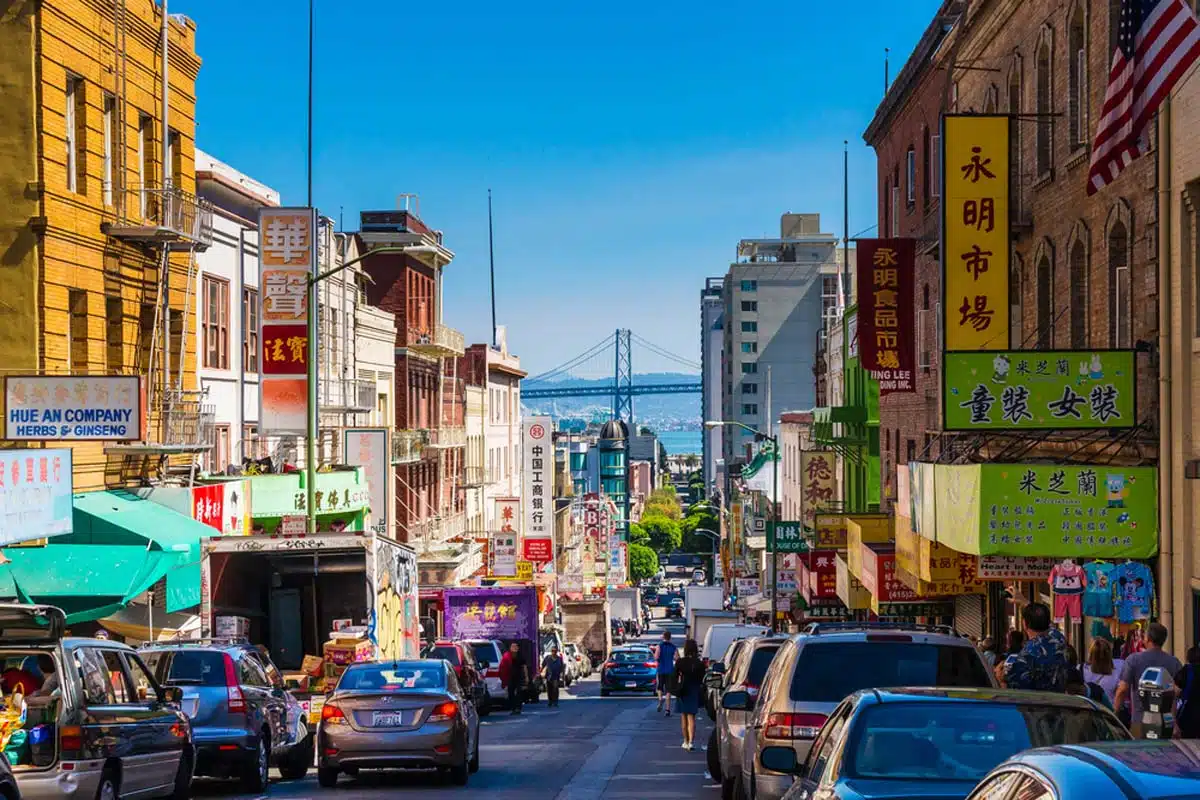 Anchored by Market Street, the city's main drag line, and lined by stores and office towers, Downtown San Francisco starts at Embarcadero. It runs from southwest past the Financial District's monolithic skyscrapers, through Union Square's shopping district, and ends at the Castro.
This is the heart of San Francisco and is sure to tickle any sort of fancy, but, I'll be totally honest, if you're looking for more rustic SF charm, it might be a little too rigid.
If not, it's the perfect place to stay, considering its ease of access and walkable connection to other areas of SF, such as Chinatown, North Beach, and Fisherman's Wharf. It's also a great place to choose if you want to explore the rest of the region or are planning on indulging in any tour or excursion of the city.
Downtown San Francisco Highlights
Sitting at the harbourfront of Downtown San Francisco lies the breezy featured area of Embarcadero. Attractions here include the Exploratorium at Pier 15 and the Ferry Building Marketplace.
The Civic Center Plaza sits within Downtown SF and has a lot of historical value for any history buffs out there. Beyond that, you can visit any of the city's professional opera, symphony, and nearby ballet companies.
If you're looking for the best in live jazz, blues, and rock and roll music, then the Fillmore District is where you want to go. Next to the Fillmore District, you'll find Japantown filled with many Japanese stores and eateries.
Located within the Harborside Marina District, you can visit Fort Mason and the historic Fort Mason Center for Arts & Culture. This is also where you'll find one of the city's most stunning attractions — The Palace of Fine Arts.
Suggested Hotels in Downtown San Francisco
Tip: If you're more of an Airbnb lover, check out my guide to the best Airbnbs in San Francisco to find the perfect one for your trip.
Union Square: Where to Stay in San Francisco for The First Time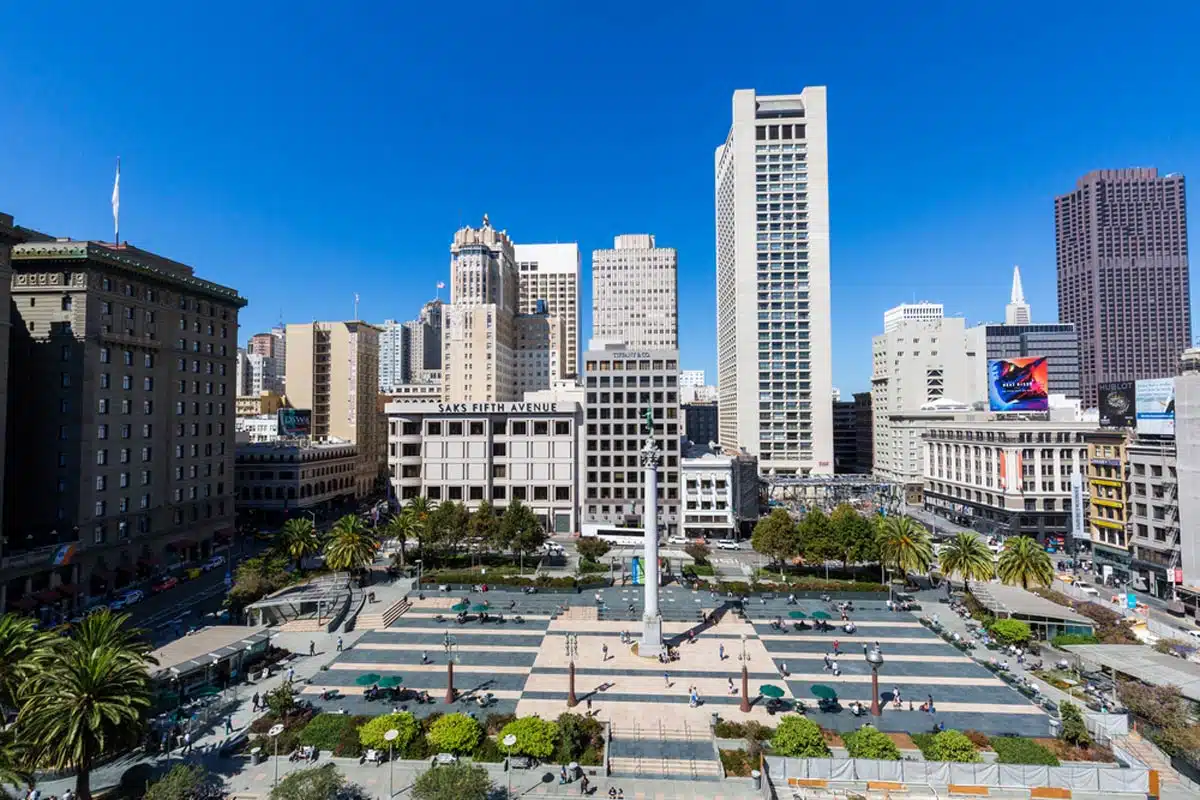 Although Fisherman's Wharf is the tourist hub of San Francisco, if it's your first time visiting the city, Union Square is an excellent place to bed down.
It's also one of the best areas to stay in San Francisco if you're after a trip focused on commercial, retail, and culinary highlights – any guesses as to why I love it so much?
Union Square features many different accommodation options and is a central hub for the city's public transportation system. This means that it'll be easy to get around, making this an excellent answer for where to stay in San Francisco without a car.
If you're eager to explore some of SF's most famous neighbourhoods, staying in Union Square is a great option. It's super close to Chinatown, North Beach, SoMa, and Nob Hill.
Union Square Highlights
If you're looking for photography hotspots, Union Square brims with epic snapshot opportunities. One of these is Lombard Street, a winding downhill street that is often called San Francisco's most photographed street.
A highlight of Union Square is the Ferry Building. It's one of the most iconic buildings in SF, and inside, you'll find many market stalls, pop-up restaurants, and the renowned Farmer's Market.
For those looking for some historical monuments, the Dewey Monument is in the heart of Union Square. This memorial statue dedicated to the victory of Admiral George Dewey at the Battle of Manila Bay is a must-visit.
Union Square Park is the main drawing point of Union Square. As the centre for shopping, accommodation, and theatre, it spans only one block. Still, it features one of the largest collections of department stores, upscale boutiques, art galleries, and beauty salons in the United States.
Suggested Hotels in Union Square
Tip: With everything the city offers, finding the best things to do and see can be quite daunting. Read my guide of the best things to do in San Francisco to ensure you don't miss out on anything.
The Castro: Where to Stay in San Francisco for Nightlife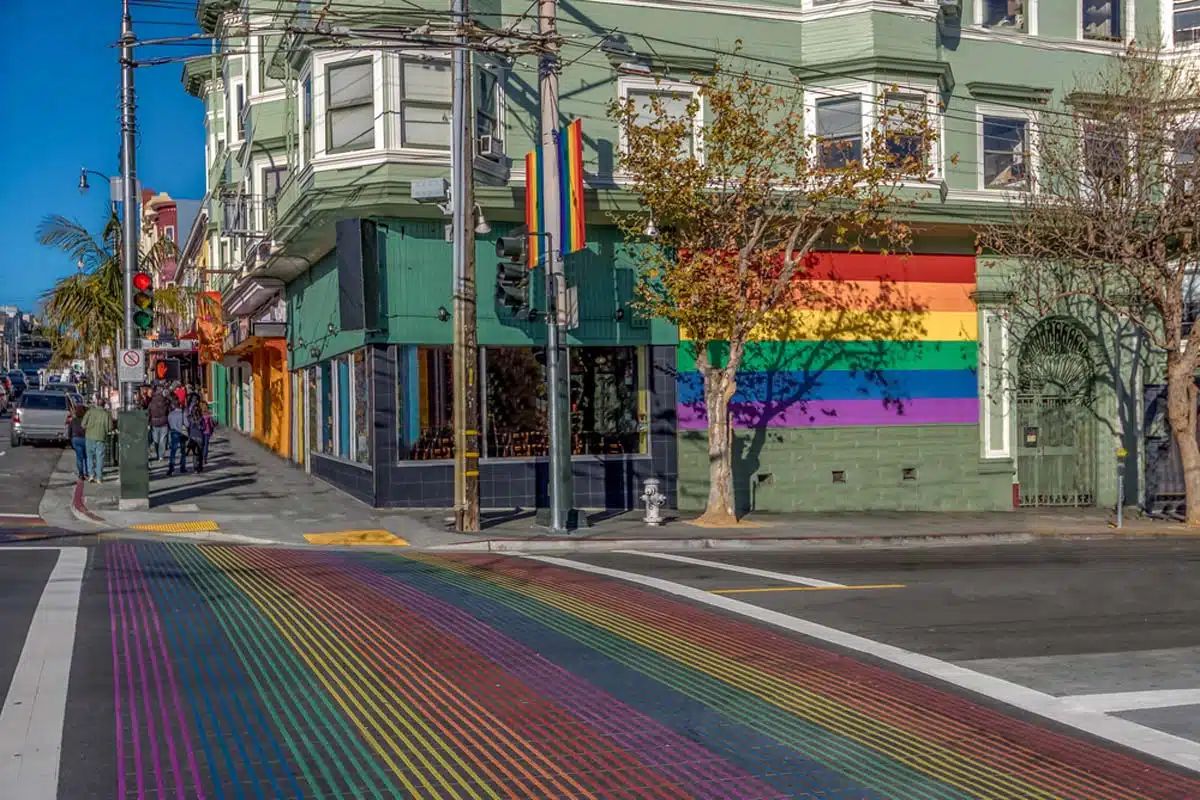 One of the most iconic neighbourhoods in San Francisco, The Castro is a lively and vibrant reflection of expression and love. Since the 1970s, Castro has been synonymous with the LGBTQIA+ community and a hotspot for historical moments.
Beyond the weather (which seems to deem the Castro as the warmest part of the city), here you'll find some of the best parks, such as Dolores Park. You'll also have exclusive access to the city's best nightlife.
Then there are some eclectic features of this neighbourhood that you won't find anywhere else, like traditional San Franciscan vendors walking around – including the iconic Michael the Coconut Guy and the Swiss Maid.
In short: If you're not here to spread fun vibes, you're probably better off staying somewhere else.
The Castro Highlights
Brimming with the best nightlife hotspots in San Francisco, visit iconic hangouts like Lookout, Twin Peaks, Tavern, and Moby Dick. You'll find numerous dive bars and live music venues, but you cannot miss partying it up at one of those.
Spend the warm afternoons the Castro is famous for by having a picnic in Dolores Park. While there, be sure to pay a visit to Mission Dolores, the official oldest building in the city.
Indulge in some vintage retail therapy at many eclectic vintage shops throughout the Castro.
For an epic night out beyond the classic bars and restaurants, visit the historic Castro Theatre, which sits right across from the Mission District, making it easy to combine two of SF's best neighbourhoods in one night.
Suggested Hotels in The Castro
Beck's Motor Lodge – Although from the outside it retains the look of a classic motel, inside, you'll find a luxury renovated and sleek accommodation offering. It's ideally located, with easy access to Valencia Street and The Mission District.
Parker Guest House – This is part boutique hotel, part bed, and breakfast that mixes Edwardian elements from the early 1900s with modern elements. A bonus is the daily complimentary continental breakfast and free wine every afternoon.
The Willows Inn – If you're looking for an affordable place to stay, this property, which sits close to Golden Gate Park and Mission Dolores, is a winner. Rooms are comfortable, and you'll get a daily complimentary breakfast.
SoMa: Where to Stay in San Francisco Without a Car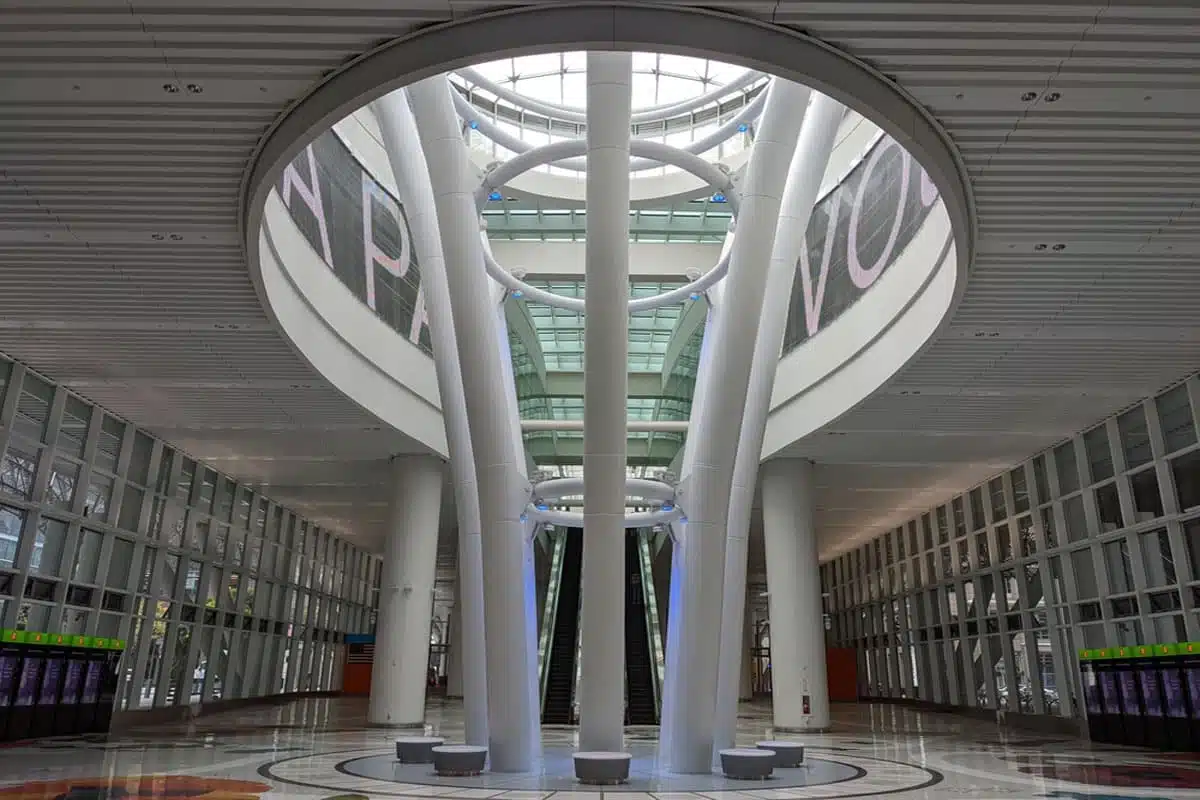 Quite literally the neighbourhood south of Market Street, SoMa (which is short for South of Market) sits between Embarcadero in the northeast and The Mission in the southwest. What was once a district filled with factories and warehouses is now lined with condos and skyscrapers.
I'll let you in on a secret – this is my favourite neighbourhood in San Fran. And I'm sure you can see why; highlights of SoMa include some of the best restaurants and many of the best museums San Francisco offers. Then it also hosts some of the most famous historical sites around.
And the best bit? Everything is within walking distance.
While modernity has taken hold of this area, it still features quintessential San Francisco charm. What makes SoMa genuinely fantastic is the enormous collection of different vibes you'll find as you travel from one area to another.
SoMa Highlights
SoMa is home to culinary heaven, and you can't visit San Francisco without a night of wining and dining at its hotspots. With a stunning collection of eateries, many stand out, such as Saison, Bar Agricole, and South Park Cafe.
What's better after a night of fine dining than grabbing a slice of epic nightlife? SoMa has you covered with bars and clubs, including the 21st Amendment, Raven, Bloodhound, and Tempest.
Of course, there are also a lot of cultural attractions, such as the Yerba Buena Center, the San Francisco Museum of Modern Art, and the Contemporary Jewish Museum.
If you're visiting during baseball season, be sure to grab a ticket and catch a game at Oracle Park, where you can get front-row seats to a San Francisco Giants game.
Visit the eclectic sub-districts of SoMa to get a taste of the varying cultures and lifestyles of San Francisco. These include East Cut, South Park, and Rincon Hill.
Suggested Hotels in SoMa
Tip: Planning on only staying in SF for two days? I've got your back with this 48 hours in San Francisco itinerary.
Fisherman's Wharf: Where to Stay in San Francisco for Tourist Attractions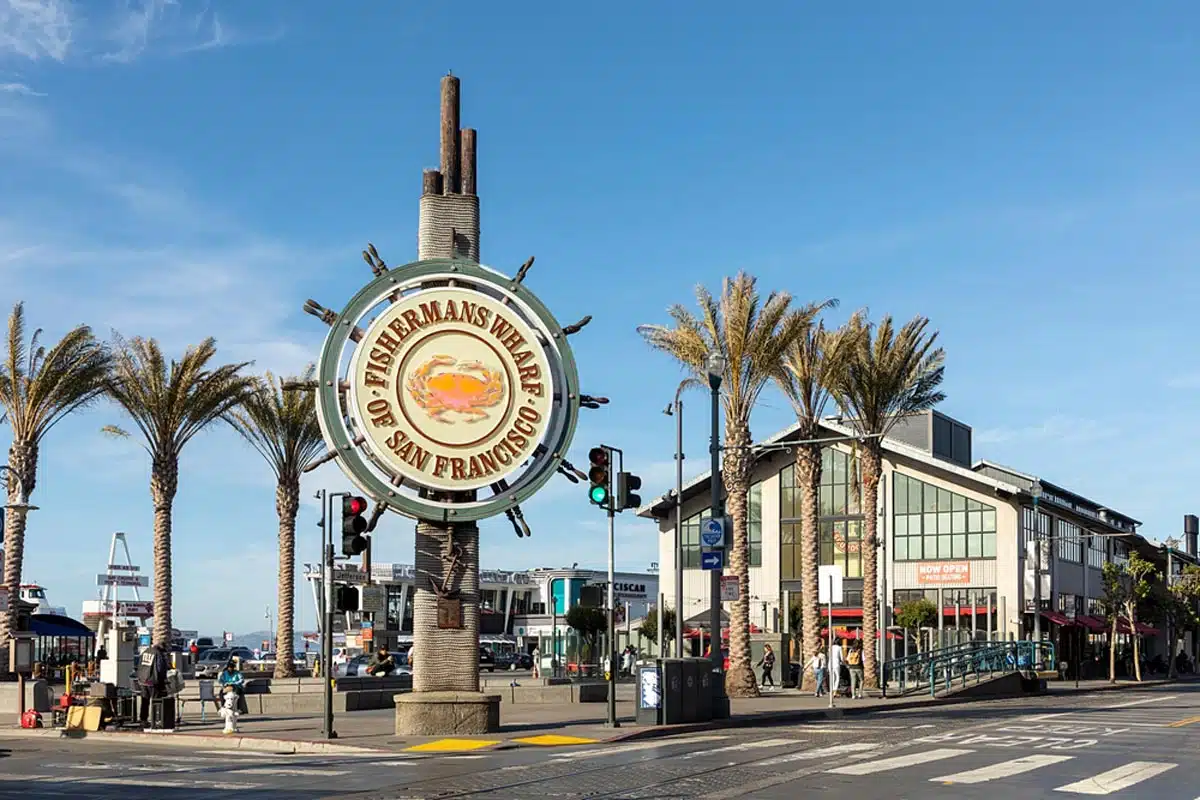 Although most would say that Fisherman's Wharf is where not to stay in San Francisco, I beg to differ. Fisherman's Wharf is iconic, and as buzzy as it can get, it's worthy of your consideration.
If you're in San Francisco looking for the ultimate tourist-friendly locale and attractions, look no further. Here you can immerse yourself in iconic staples such as Madame Tussauds and Ripley's Believe It or Not.
Beyond the enticing piers, restaurants, bars, and entertainment venues, Fisherman's Wharf also has some of the best hotels in the city. And if you often find your feet itching for something to do or see, you're in the right place for a good time.
Fisherman's Wharf Highlights
Now I've already mentioned two of the most famous tourist hotspots in the city, but Fisherman's Wharf is also home to other icons. These include the Aquarium of the Bay and the eccentric Cartoon Art Museum.
For the history buffs out there, pay a visit to the San Francisco Maritime National Historic Park just off Hyde Street Pier. Or indulge in the past of naval history at the USS Pampanito, a WWII submarine turned museum.
If culinary delights are more up your street, learn about the history and creation of sourdough at the Boudin Bakery Museum. And for those with a sweet tooth, head to Ghirardelli Square. While you can also indulge in the best seafood along Taylor Street.
Beyond all of this, the Bay Area is at your fingertips with daily boat trips around the harbour, whale watching excursions, and tours to Alcatraz Island taking place daily.
Suggested Hotels in Fisherman's Wharf
Where to Stay in San Francisco: Frequently Asked Questions
Practical Tips to Consider Before Booking Your San Francisco Accommodation
Always book your accommodation as far in advance as possible. Considering the massive number of out-of-towners that flock to the city during peak season (and low season, to be honest), getting the best booking on short notice can get difficult.
If you're planning on making the most of your time in San Francisco, stay as close to the action as possible. Book properties that fit your itinerary.
Don't limit yourself to just one property; it can be a good idea to hop around from area to area. This also makes doing and seeing as much as possible all the more doable and fun.
If you're unsure of what to bring for your trip to San Francisco, check out my essential travel packing list ideas to help you plan for the unpredictable weather of the city.
As a rule, I would urge you to avoid staying in the Tenderloin area. This neighbourhood is one of the most dangerous in the city and has high crime rates.