Planning a trip to California's central coast? Don't miss my guide to the best things to do in Carmel by the Sea – must-do activities in this beautiful Cali town.
Carmel is the home base for many visitors planning a California road trip to Big Sur. But it's a mistake not to spend a few days exploring everything this charming city in Monterey County offers.
Wine tasting that rivals Napa Valley or Sonoma, championship-level golf courses and wild coastal shores are just a few things to do in Carmel, California. But, delve a little bit deeper and there's also impossibly charming architecture, hidden hiking trails and plenty of restaurants worth writing home about.

See why I highly recommend spending a day or two in this fairytale town? Here are my top picks of the best things to do in Carmel-by-the-Sea…
Top 5 Things to Do in Carmel
Explore Carmel Beach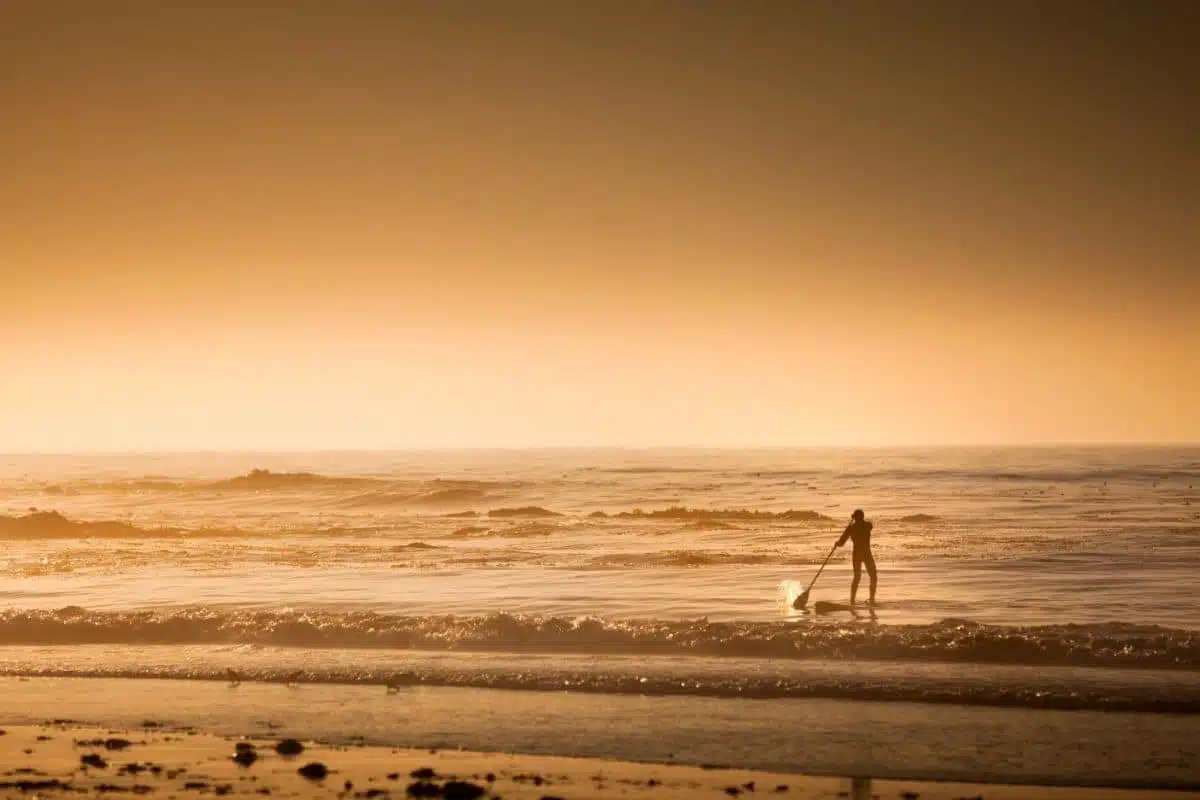 Looking for one of the most stunning white sand beaches in California? You'll find it in Carmel, just a short walk from all the art galleries, restaurants and B&Bs lining the charming streets downtown.

From the volleyball courts next to the iconic Monterey Cypress tree to the views of the white sands and sparkling blue-green waters above, you'll fall in love before you even reach the main section of the beach.

It's a popular location for locals and visitors to surf, wade in the water and comb the shore for shells any time of year. Stick around for the sunset. It's one of the finest in the USA.
Top Tip: Enter the water at your own risk; there are no lifeguards, and rip tides frequently occur.
Go Art Hunting
Long time readers will already know that I cannot visit a new place and not scope out the art scene.
Art hunting in Carmel is world-famous, and it's no surprise why. The gorgeous scenery and relaxed atmosphere have made this a popular location for artists and art lovers for over a century.

Peruse through dozens of art galleries in town (there are over 100) or attend one of the Carmel art festivals, where you can purchase art straight from the source. Many of the local artists paint local scenery so you can take a piece of the coastal beauty home with you after your trip. The perfect souvenir, if you ask me.
Visit Point Lobos State Natural Reserve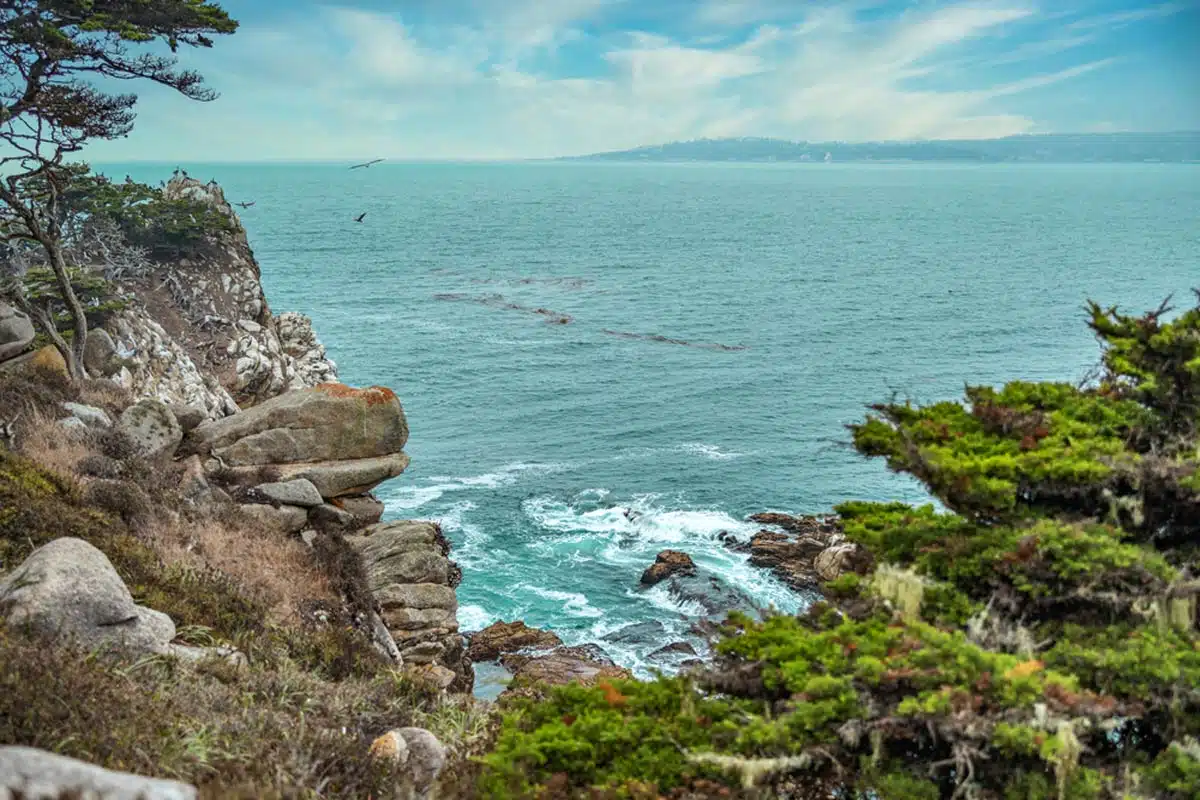 A lot of tourists stay in Carmel to access Big Sur, and by all means – be sure to check out the undeveloped coastline that makes the region famous.

But what many people don't realise is that Point Lobos State Natural Reserve also offers some of the most pristine coastal beauty in Central California, and it's only a few minutes drive from the top things to do in Carmel by the Sea.

Take a hike around the nature reserve inland or along the coast to see exceptional wildlife like sea otters, harbour seals, brown pelicans and black-tailed mule deer.
Top Tip: Park in the Whaler's Cove lot and walk the trails along the coastal bluffs and shores for incredible scenery and chances to see vibrant marine life.
Tour the Carmel Mission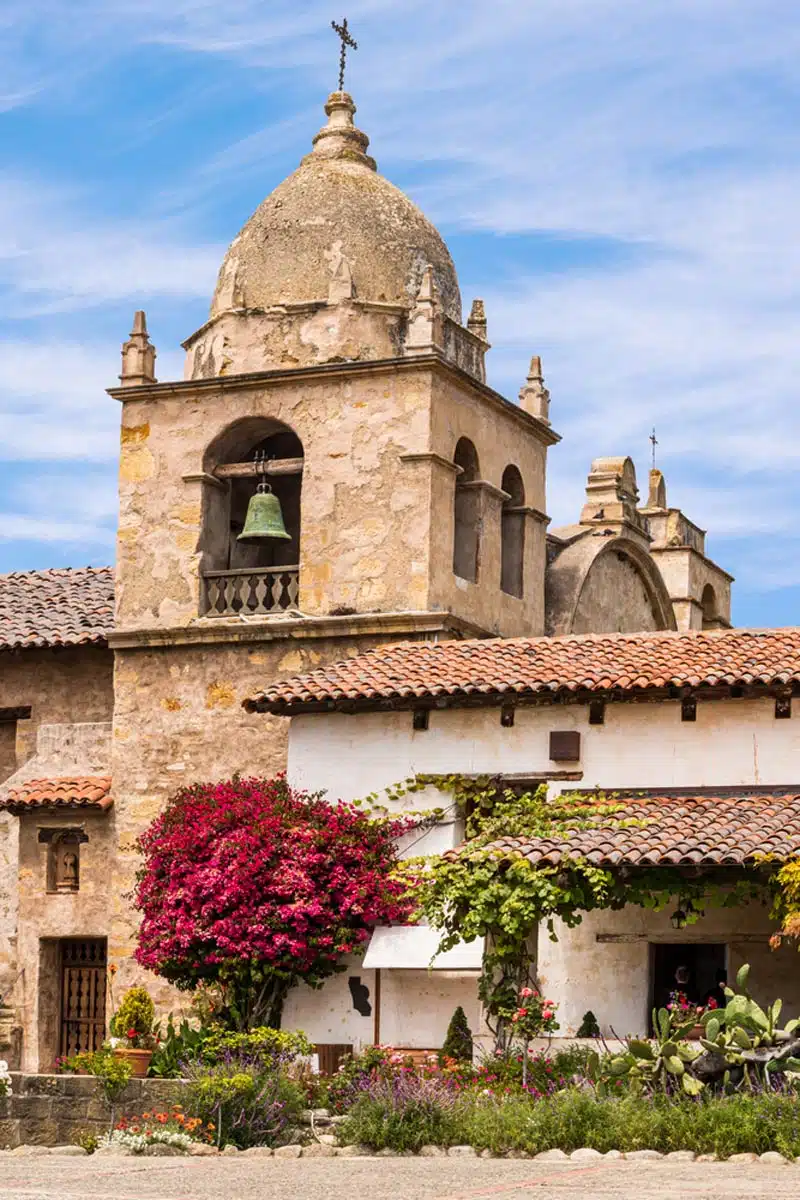 You may or may not have known it, but one of the most famous buildings in California's history is located in Carmel.

The Carmel Mission was first built in 1770 (and renovated more than once) and is a gorgeous building still used for catholic masses and special events. Highlights include the pristine bell tower, gardens, fountains, and carefully designed interior spaces.
Top Tip: Want to see it yourself? Take a self-guided tour Wednesday through Sunday, where you can learn the history and explore the beautiful property on-site.
Enjoy a Scenic Ride Along the 17-Mile Drive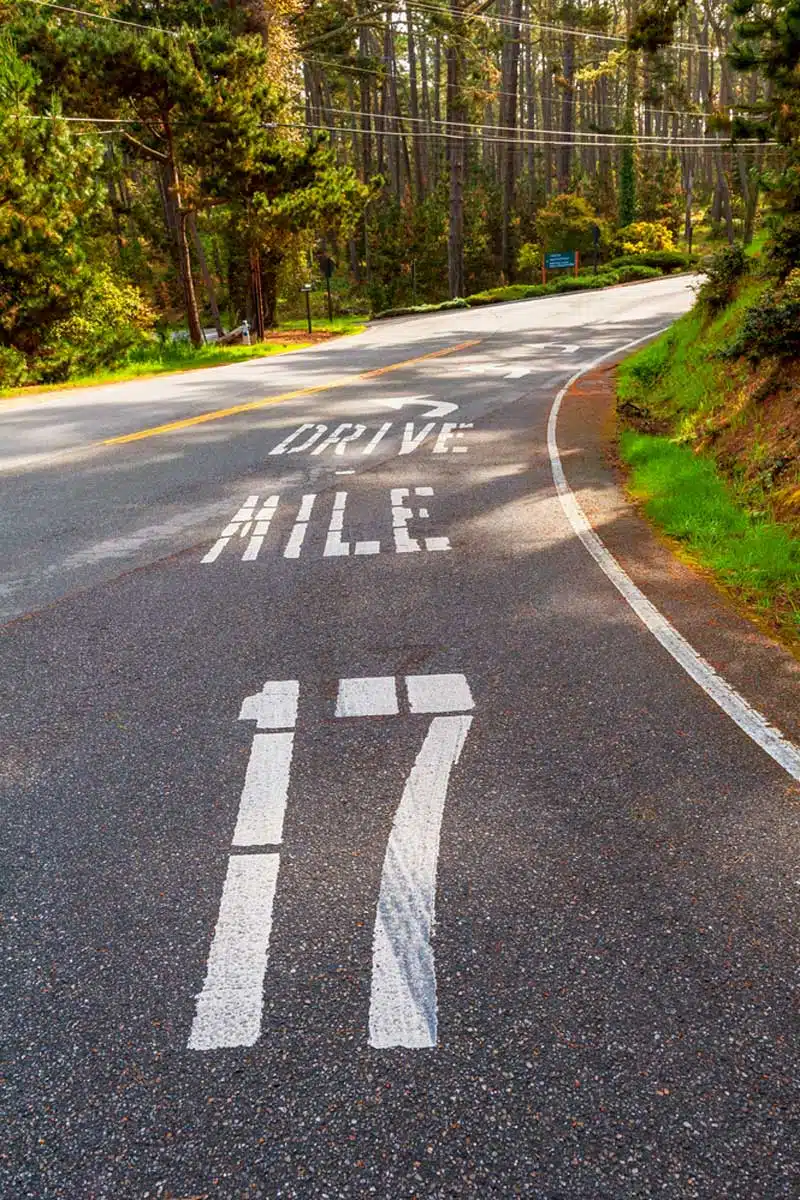 Two of the most iconic landmarks in California are Lone Cypress and Pebble Beach, both found on the unrivalled 17-mile drive that weaves through the golf courses, coastal bluffs, and Del Monte Forest.
Go in April if you want to attend the Pebble Beach Food and Wine Festival, or do the drive in the fall for the warmest temperatures and clearest skies. You'll need to pay an entrance fee at the gates, but spend $35 at Roy's at Pebble Beach and get the cost reimbursed.
Brilliant Things to See & Do in Carmel-by-the-Sea
Drive the PCH to Big Sur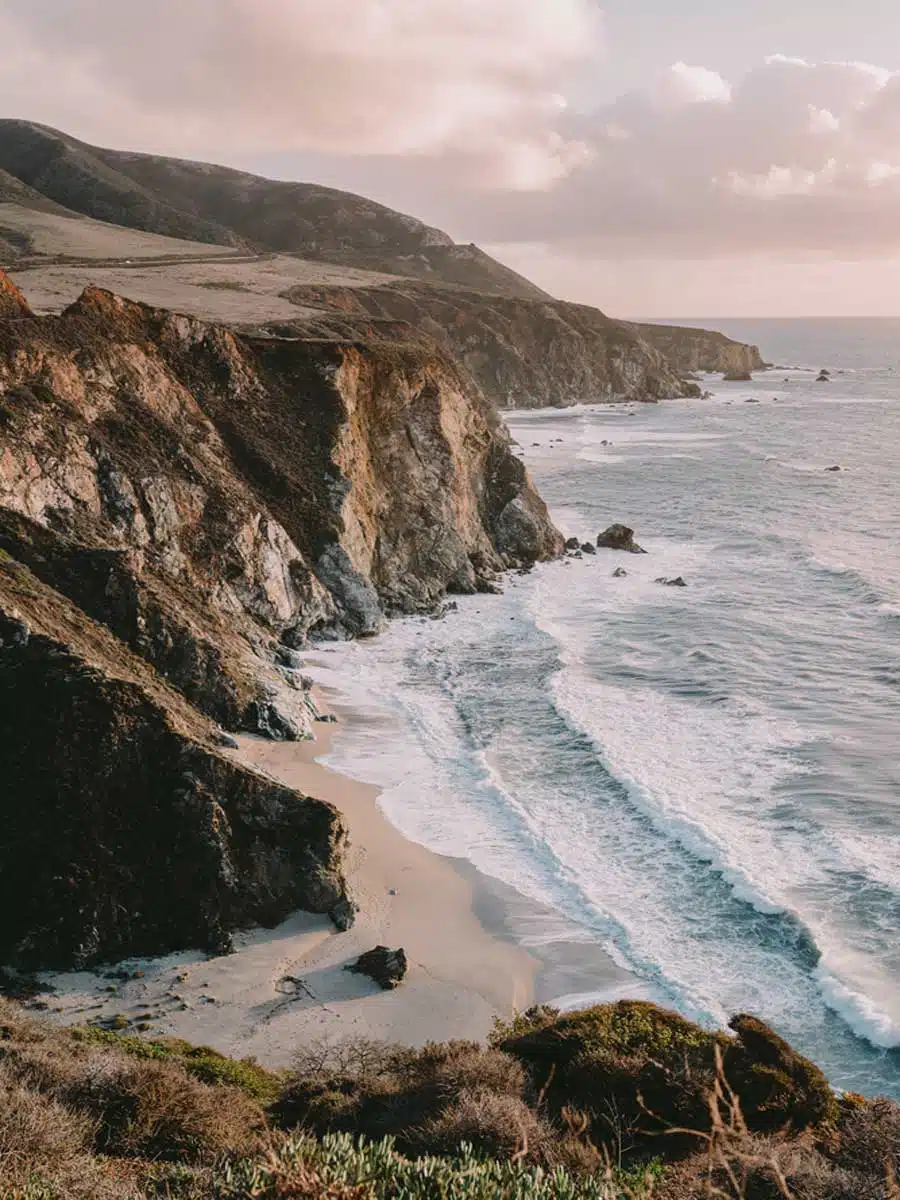 Unsurprisingly, driving down the Pacific Coast Highway is one of the best things to do in Carmel. But where should you take it?

Without a doubt, you'll want to drive the famous Highway 1 to Big Sur and explore the storied roadway's coastal scenery of sandy beaches, dramatic cliffs, and towering redwoods.

Carmel-by-the-Sea is a famous landing spot before and after a day at Big Sur, but travellers who want to dive a bit deeper should research the best campgrounds to explore some of the famous stargazing, hiking trails and photography on the West Coast.
Play a Round at Pebble Beach Golf Links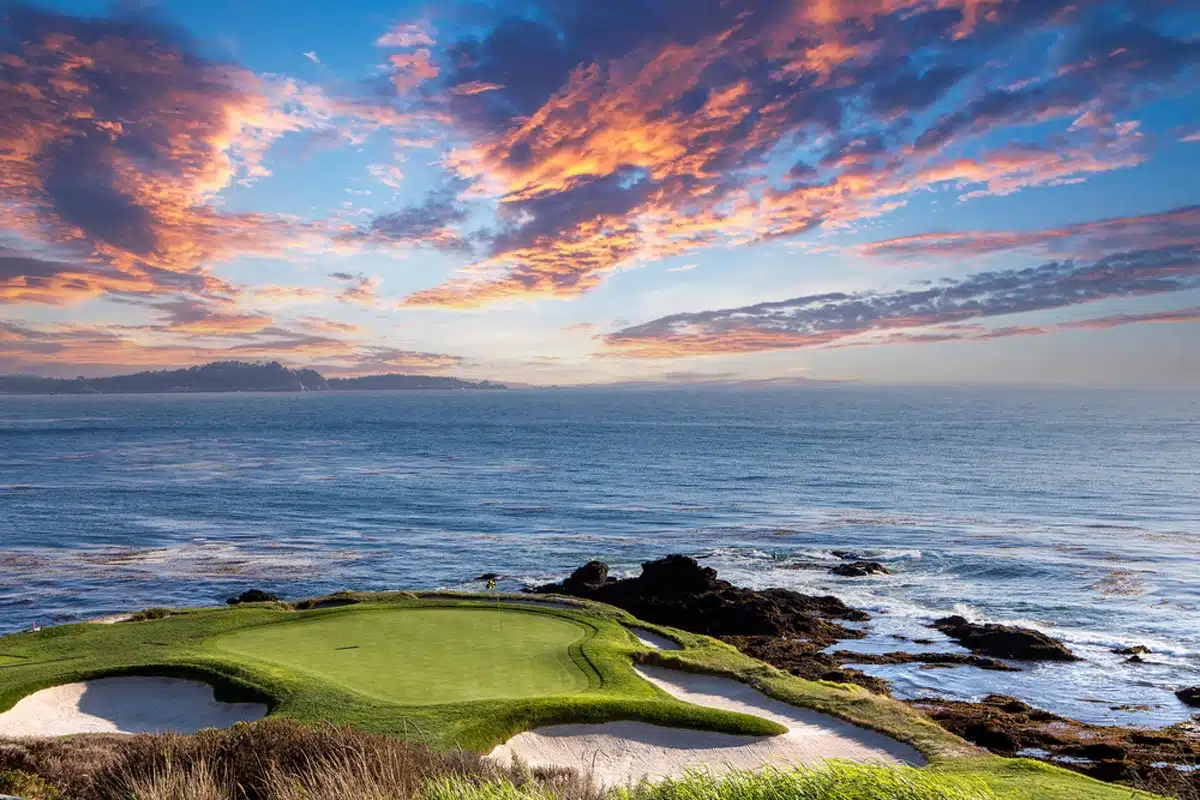 Looking for fun places to visit in Carmel? You might be surprised to find out that nearly anyone can play a round at Pebble Beach – one of the most pristine golf courses in the USA (and the globe).

The famous 18-hole public course has hosted tournaments, celebrities and the best golfers in the world over the years. So why not add your name to the list?

Even if you have more whiffs than birdies, you should give it a try. Stay at the hotel, and you can book a spot on the renowned links.
Top Tip: Reserve the hotel and your tee time well in advance. Pebble Beach is one of the most iconic golf courses in the world.
Have a Snack at Mission Ranch Restaurant
Located in the Mission Ranch Hotel, farm-to-table is alive in all its glory when you dine on the outdoor patio overlooking the gorgeous scenery of sheep chowing down on green pastures on the historic ranch.

Stop by for "early grazing" where you can sample some fried calamari and a sip on a cocktail with a view like nowhere else in Carmel.
Explore Carmel River State Beach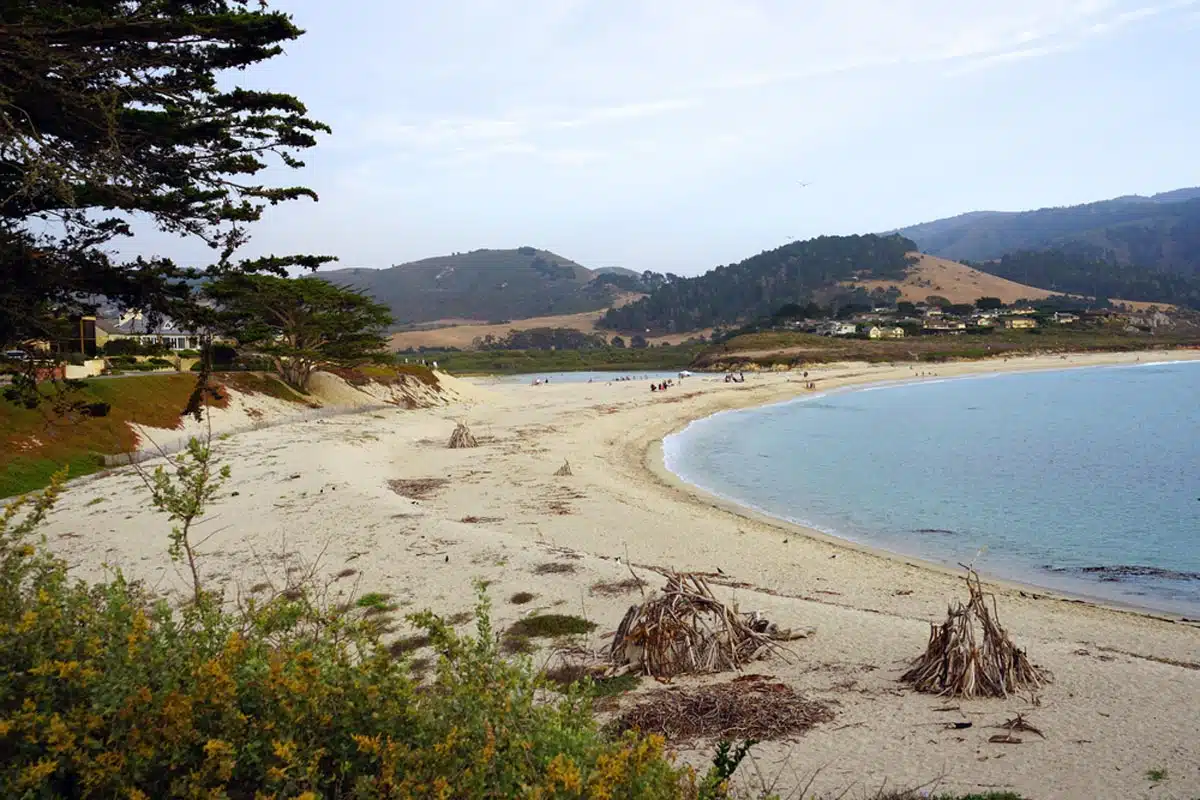 Drive down Highway 1, and you'll run into one of the most popular things to do in Carmel, CA. Carmel River State Beach is a gorgeous sight to witness the land meet the sea and a popular bird-watching location.
Other activities in the park include scuba diving (the kelp forests are a thing here) and catching a sunset from the beach.
Top Tip: Swimming in the gorgeous Monastery Beach might be tempting, but stick to the shores. Currents are unpredictable, and there are deadly drop-offs below the surface.
Have a Sundowner at A.W. Shucks Cocktail & Oyster Bar
After a long day exploring the best things to do in Carmel-by-the-Sea, there's nothing like a cocktail and a dozen oysters (drool).

A.W. Shucks Cocktail & Oyster Bar is well-liked by locals and tourists thanks to its unpretentious vibe, timeless decor, full bar and seafood selection. And I think you totally deserve a cocktail.
Spend an Afternoon in Carmel Plaza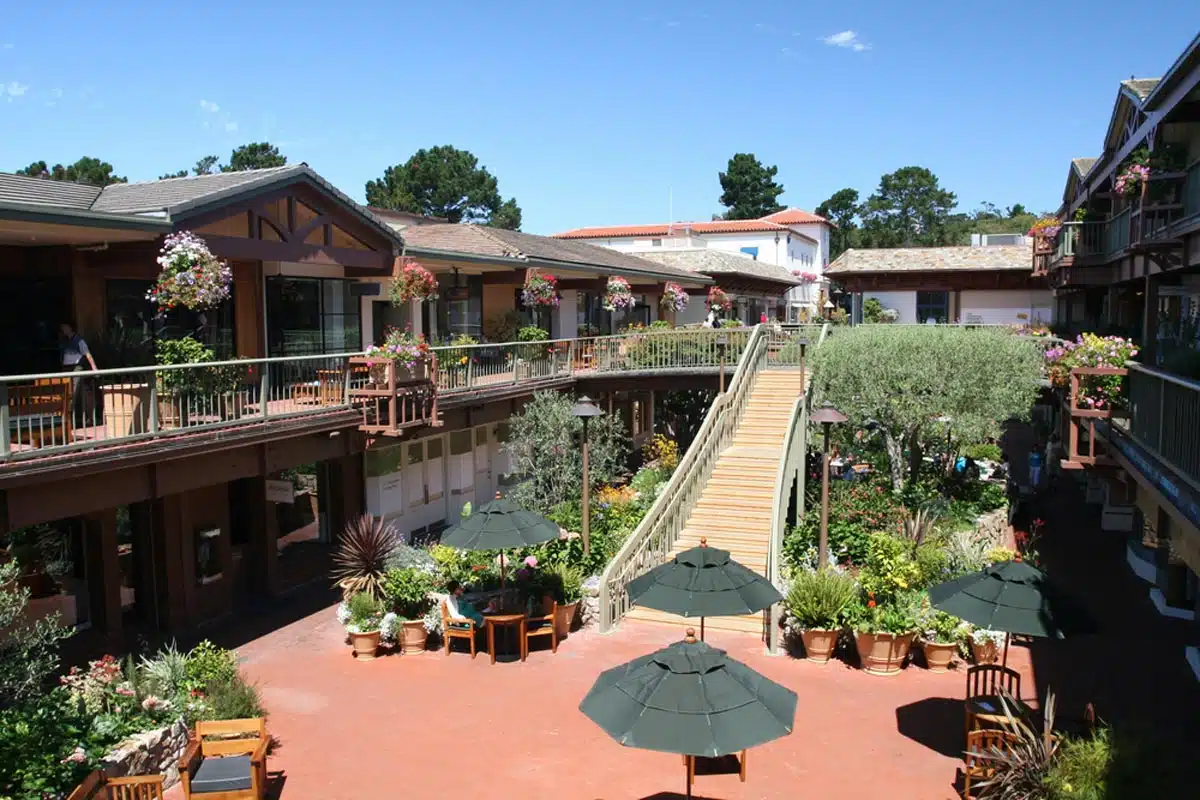 You'll find all sorts of surprises off the idyllic streets of this coastal gem. But one of the top Carmel by the Sea attractions is the charming Carmel Plaza.

It's home to dozens of shops and small businesses, from Kate Spade to trendy yoga studios. Look through windows or break out your credit card for items ranging from high-end furniture to hand-made arts and crafts.

Hungry? Be sure to head downstairs for some of the best seafood in town at Flying Fish Grill, where you can sample local cuisine like artichoke hearts and abalone. NOM.
Window Shop on Ocean Avenue
Deciding what to do in Carmel? Walk down Ocean Avenue and peruse the many boutique shops, high-end art galleries, and cafes lining the streets that look like something out of a storybook – or Paris.

Whether you're shopping for a new piece from Tiffany or want to sample some chocolate from The Xocolatl Garden, there's something for every budget and style on Ocean Ave.
Unique & Unusual Things to See & Do in Carmel, CA: Hidden Gems That Are Off the Beaten Track
Stroll Past the Fairytale Cottages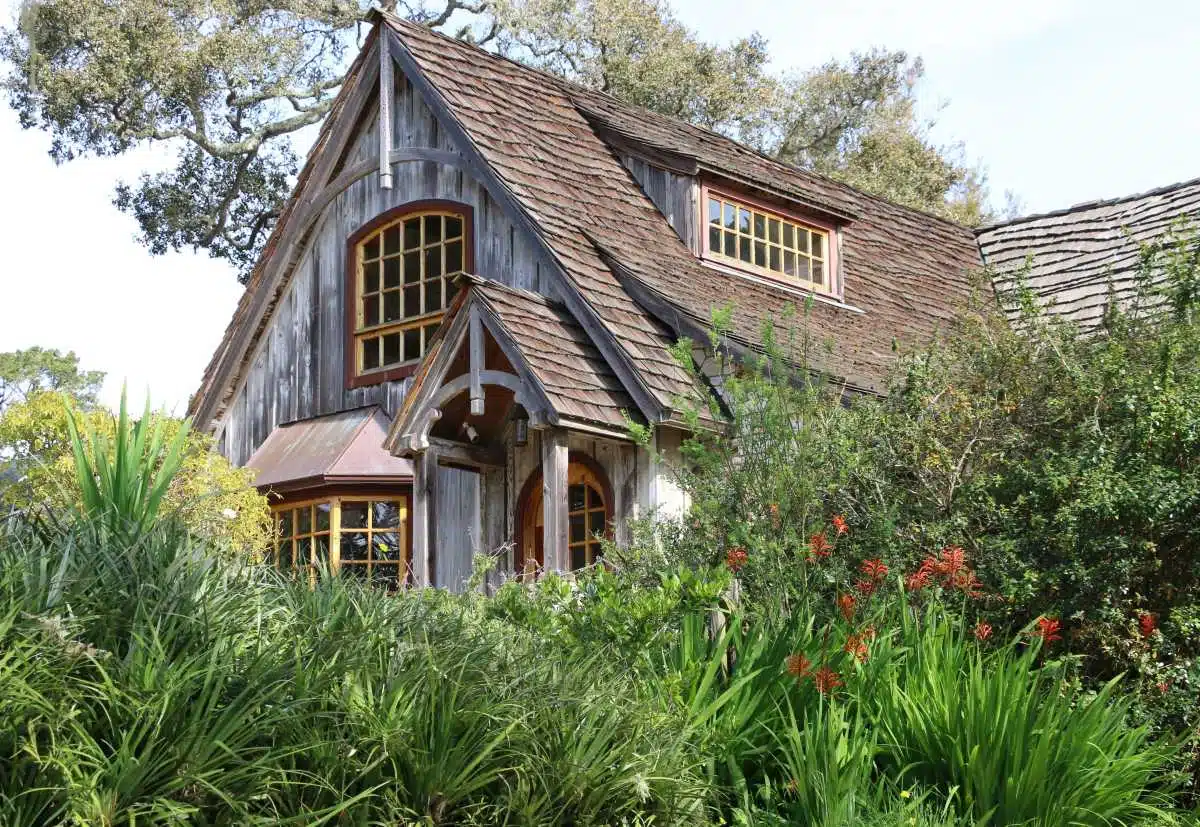 Do many of the best things to do in Carmel sound like something out of a fairytale? No need to pinch your cheeks; you're not dreaming. Carmel-by-the-Sea really is a supremely charming location that looks like a figment of your imagination but does indeed exist IRL.
Renowned designer Hugh Comstock wasn't an architect per se, but he made some of Central California's most unique buildings and homes come to life.

Take a guided audio tour to learn about the unique history of the cottages and their pastel exteriors, uniquely shaped roofs and immaculate gardens.
Visit a Secret Garden
What if I told you there was a secret garden – with statues and plants lining the narrow alleyways – tucked away in the bustling shopping district of Carmel? Well, there is, and it happens to be one of the last bookstores remaining in town.
Check out Pilgrims Way Community Bookstore and Secret Garden for an eclectic and unexpected selection of books, and don't miss the hidden garden while you're here. Blink, and you'll miss it. Quite literally.
Attend the 4th of July Celebration at Devendorf Park
If you want to experience a bit of Americana while visiting Central California during the summer, check out the Annual 4th of July Celebration in Devendorf Park.

Don't bother sticking around for fireworks (they're not allowed in Carmel), but the complimentary hot dogs, live music and festivities are worth a look if you happen to be in the area.
Top Tip: Head to Monterey Park if you want to see fireworks, but know that the famously foggy summers may overshadow the bright lights.
Go Wine Tasting in Carmel Valley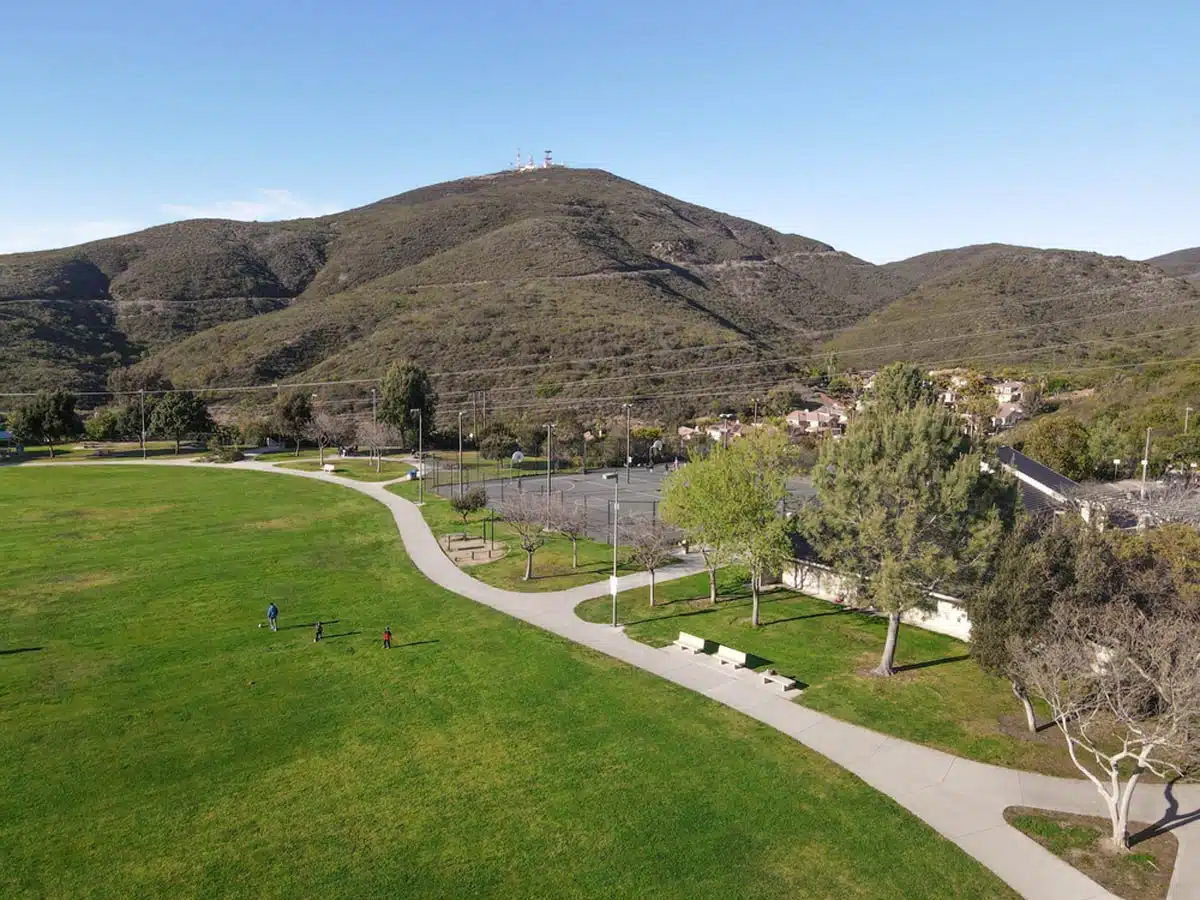 The beaches, shopping, and nature reserves get most of the attention when planning the best things to do in Carmel – and I'm not saying that's wrong.
But one activity you won't want to miss is scheduling a wine-tasting tour in Carmel Valley.
Head up the hills from the coast and you'll learn how the wines are made, which varieties excel, and the history of wine growing in Central California.
Top Tip: Chardonnay and Pinot Noir are favoured for a reason, but don't sleep on the Syrah coming out of Monterey County.
Have Lunch at Clint Eastwood's Inn
Looking for unusual things to do in Carmel, CA? Stop by Clint Eastwood's Hog's Breath Inn for lunch or dinner.

Dishes lean classic with options like crab cakes, wedge salad, and steak dinners. It might not have any Michelin stars or presentations fit for social media, but where else will you try a Dirty Harry Burger?
Go Uni Foraging Along the Coast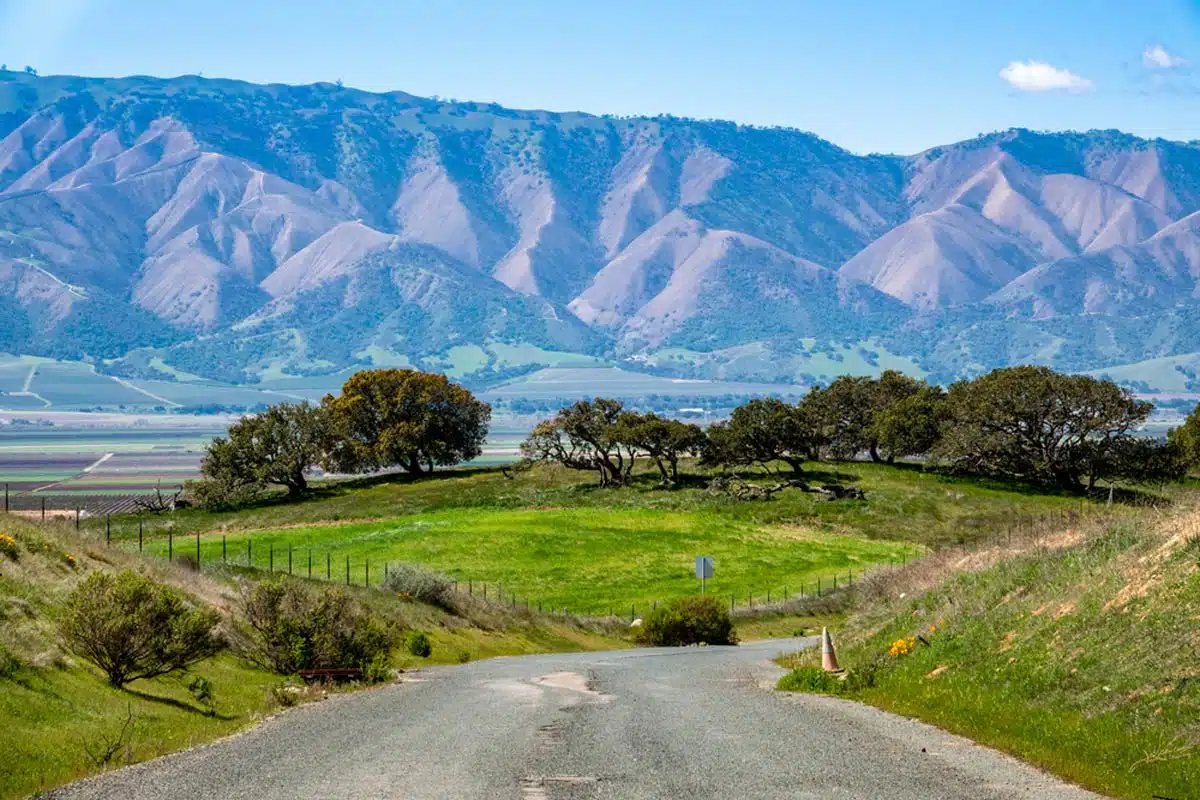 Kelp Forests are a vital part of the underwater ecosystem in Monterey County and, unfortunately, have been seeing a drastic decline since the rise in the Purple Sea Urchin population around Monterey and Carmel.

Scientists think Sea Urchins are the culprit, so why not do your part and help the environment while enjoying a delicious snack… uni.

Uni is a rich, decadent treat for non-squeamish eaters. It's incredible over pasta, sourdough bread, or in sushi. And it's all over the coasts in Monterey County. Though, I don't suggest going all Bear Grylls and rustling up a dish in the wild.

While some divers harvest it underwater, you can wait until low tide and follow the regulations (and buy a licence) and have the same results.

Imagine coming home with a delicious snack while helping the food chain. Win-win.
Try Some Hoppy Beers at Alvarado Street Brewery
A local favourite for their intensely aromatic hazy, and west coast IPAs, Alvarado Street now has a pub and restaurant located in the heart of Carmel.

Most of the beers are excellent, but Mai Tai P.A. and Cold Pressed are longtime stand-outs.
Explore the Robinson Jeffers Tor House Foundation
Walk around the gardens and property grounds at the Tor House, and you may think you've been transported to Ireland. You haven't, but the large stones and castle-like Hawk Tower were the dream of legendary poet Robinson Jeffers that came to life over 100 years ago.

Tours indoors are available on Saturdays, but events like sunset celebrations, readings and garden parties are available throughout the year.
Wander Through the Courtyards and Alleys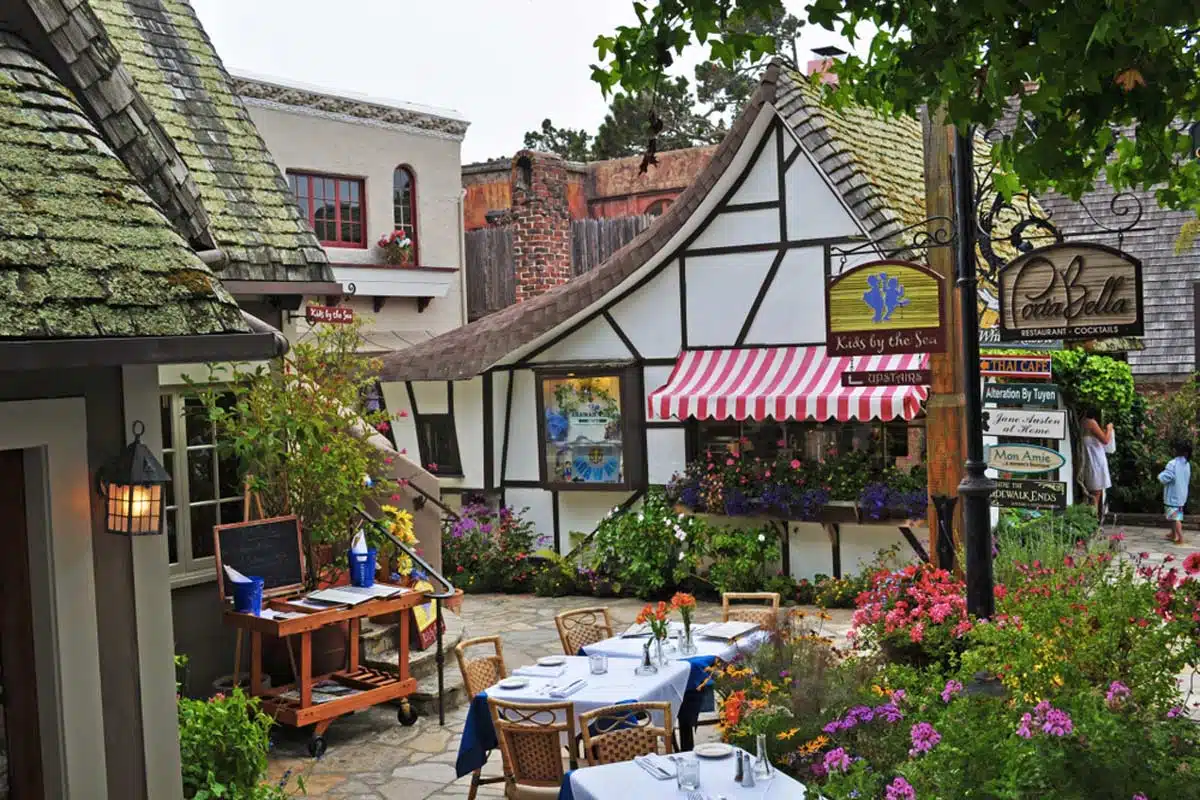 If you're looking for what to do at Carmel by the Sea with no itinerary, how about heading out and losing yourself to the narrow corridors, garden courtyards and alleys lining the city's historic centre?

The most famous attractions include Pine Inn Courtyard, Der Ling Lane,and Su Vecino Courtyard & Passageways – but be sure to choose your own adventure here because many discoveries await.
Dine at Aubergine
Aubergine is located in one of the trademark courtyards in Carmel, but it's not just about location and charming surroundings at this Michelin-starred culinary treat.

With over 3,500 wines on their expertly-curated list and tasting menus that rotate daily, you're in for a treat when you reserve a table at the restaurant from Justin Cogley and Yulanda Santos.
Best Things to Do Near Carmel-by-the-Sea
Check Out the Monterey Bay Aquarium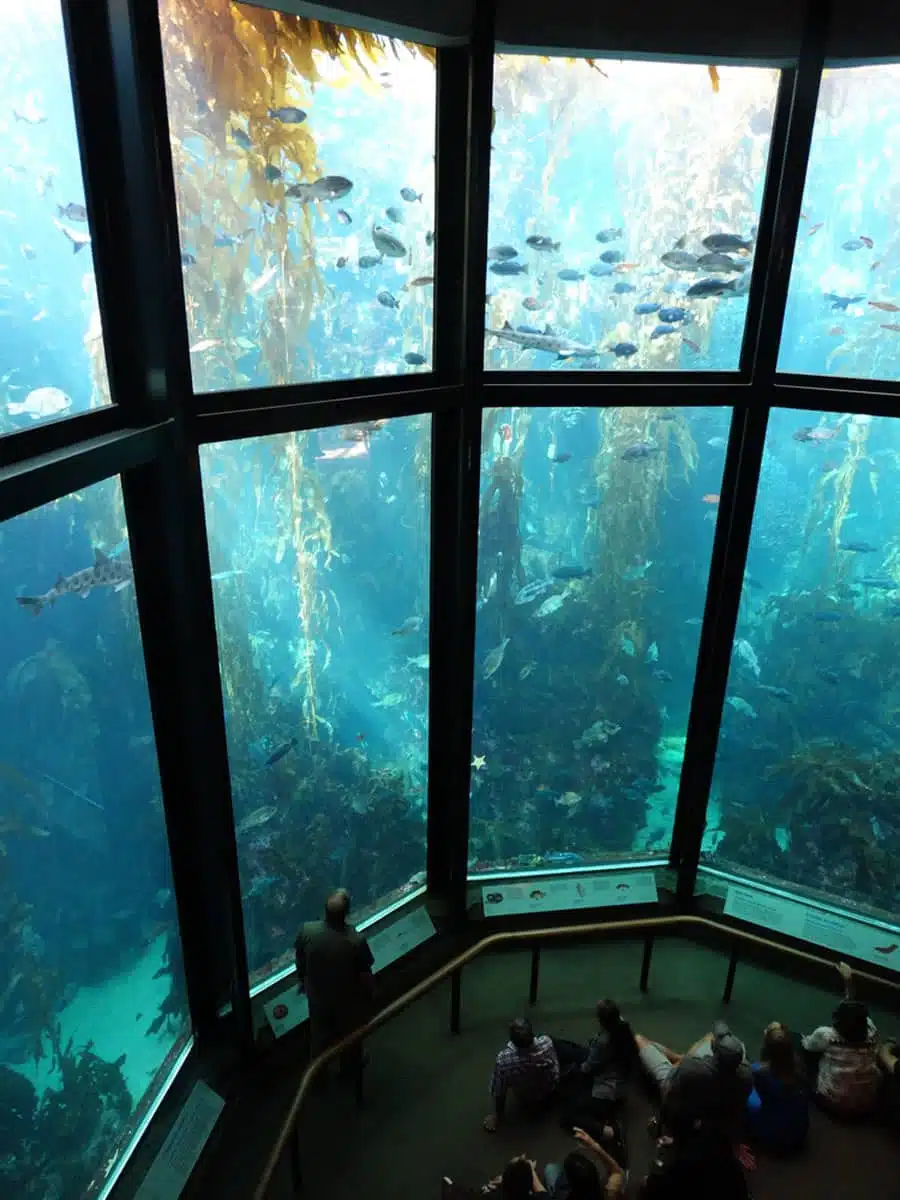 One of the most famous attractions in Central and Northern California for nearly 40 years, Monterey Bay Aquarium is a must-see if it's your first visit to the Central Coast.

Be sure to check out the kelp forest, jellyfish, sharks and over 500 other sea creatures, for one of the top things to do near Carmel.
Hike Through Garrapata State Park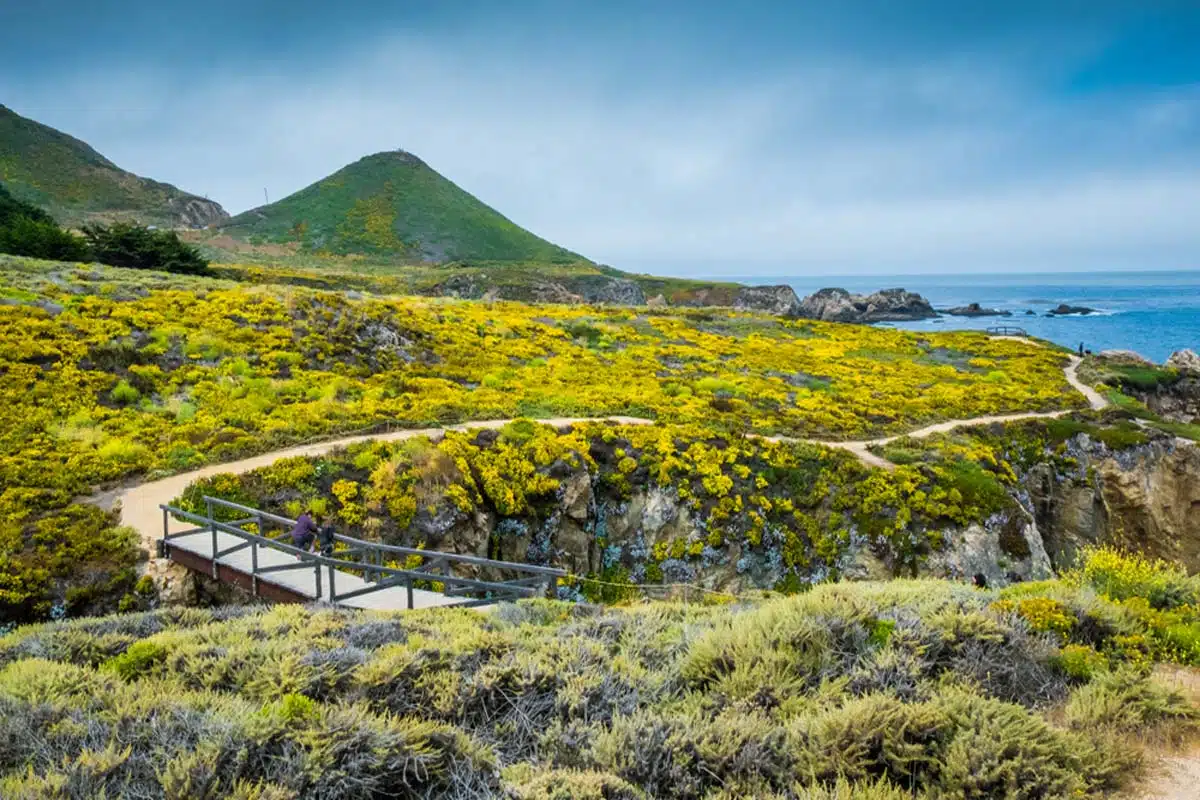 Travel southeast of Carmel to Garrapata State Park, a nearly 3,000-acre reserve near Big Sur. With fewer visitors than other regional nature areas, you'll often have more room to enjoy the sweeping views of the Central Coast and Santa Lucia Mountains.

One of my favourite ideas for things to do near Carmel is hiking Doud Peak via Soberanes Canyon Trail. The nearly six-mile out and back is home to rolling hills, wildflowers and epic vistas of the California Coast.
Go Whale Watching in Monterey Bay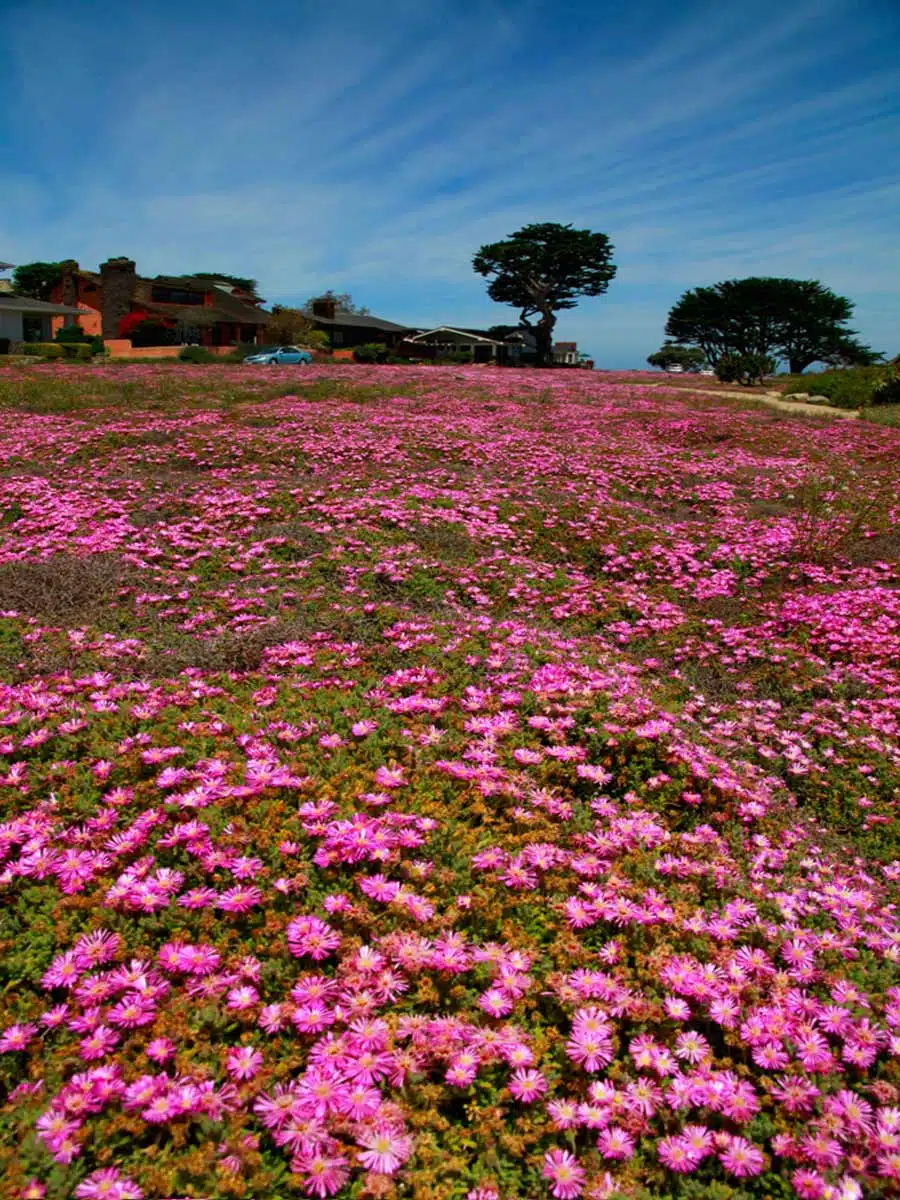 Looking for the best things to do near Carmel? Try whale watching in Monterey Bay.

You can book a tour nearly any time of year and have the opportunity to see one of several types of whales along with other wildlife with professional guides who specialise in marine biology or related fields.
Top Tip: Schedule your trip for September for a chance to see blue whales during the warmest days of the year in Monterey.
Hike in Carmel Valley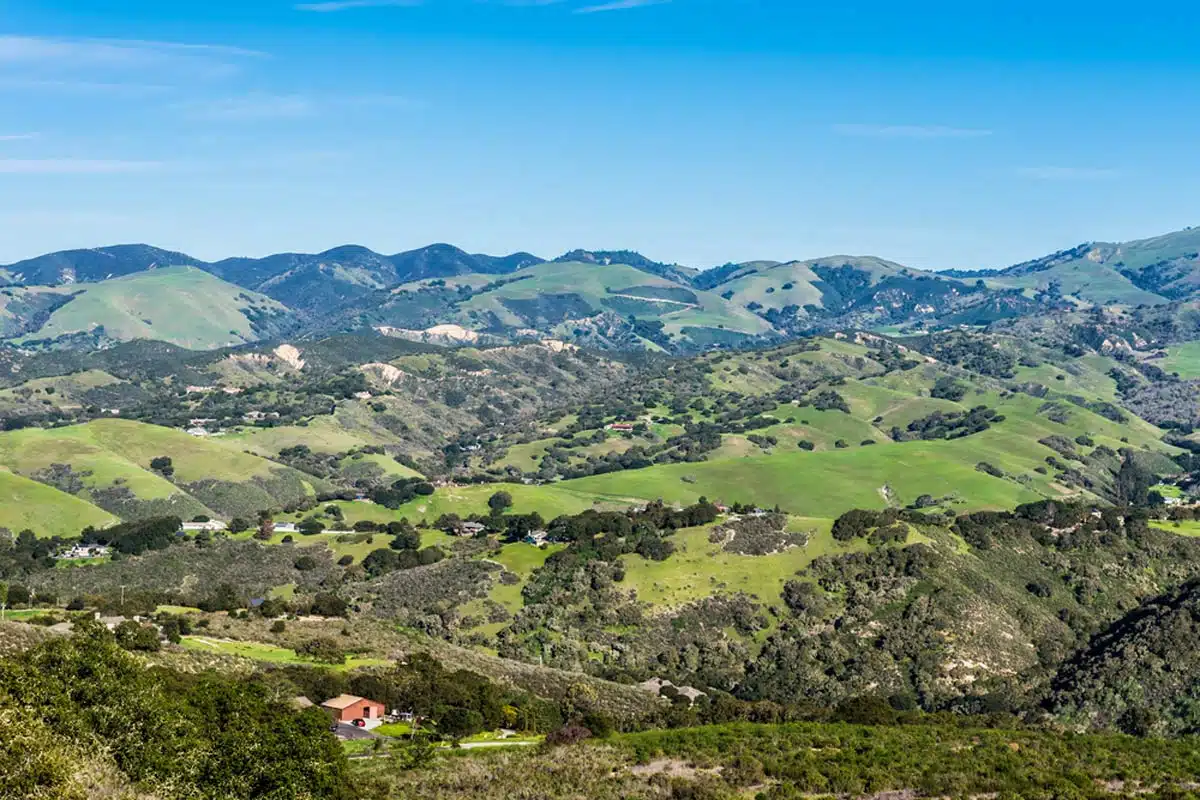 Another great thing to do near Carmel is to hike in Carmel Valley. Check out Garland Ranch Regional Park and walk the expansive trails up to 2,000 feet of elevation.

Plenty of popular activities here include horseback riding and bird watching, but it's known as one of the best spots for hiking in Monterey County.
Top Tip: Try the Garland Ranch Waterfall and Siesta Point via Lupine Loop Trail for a moderate two-mile loop known for wildflowers, a waterfall and well-maintained trails.
Things to Do in Carmel: Practical Tips for Your Trip
Where Should I Stay in Carmel?
Hofsas House Hotel (Mid-Range)
With so many Carmel activities to keep you busy day and night, you might be looking for a place to stay on a budget. Hofsas House Hotel is a perfectly comfortable and affordable option located in Northeast Carmel.

Enjoy a complimentary breakfast, an outdoor swimming pool, and convenient access to the best shopping and dining in Carmel.
Bernardus Lodge & Spa (Luxury)
If your goal is to unwind and enjoy a weekend of pampering, Bernardus Lodge & Spa is a great choice. The rooms have a sophisticated, upscale decor without feeling stuffy, while balconies and patios help open up the space to enjoy the beautiful property privately.

When you're back from exploring everything to do in Carmel, head to Lucia for a glass of wine or a farm-to-table meal at the popular restaurant on the property.
Recommended Tours in Carmel-by-the-Sea
Things to Do in Carmel: Map
Things to do in Carmel: Read Next
Love This? Save and Share on Pinterest