Discover the best things to do in Barcelona. With its cobbled streets, unique architecture and epic food scene, this Spanish city will capture your heart.
Let me make a (not-so) bold claim: Barcelona should be on every Spain Itinerary.
I am kinda – ok, completely – obsessed with Barcelona. I've just returned from a month stint in the Catalan capital, and it just so happened to reignite a love affair that I started with the city when I was just 18 (many, many moons ago). So much so that I'll be returning for another six-week stint in a few days.
It makes sense right? As someone who likes completely geeks out over food, wine, history and a pretty building or two, being captivated by this city was inevitable.
Equipped with this handy travel guide, I guarantee you will also discover Barcelona's charms – whether that be by wandering through the Gothic Quarter or snapping photos of Gaudí's greatest works. Or, you know, by chowing down on enough patatas bravas to feed a small army.
Ready to explore? Let's go!
Wondering where to stay? Book a room at The Hoxton for a luxurious stay. It'll serve as the perfect base for exploring all the best things to do in Barcelona.
Top 5 Things to Do in Barcelona, Spain
Admire Sagrada Familia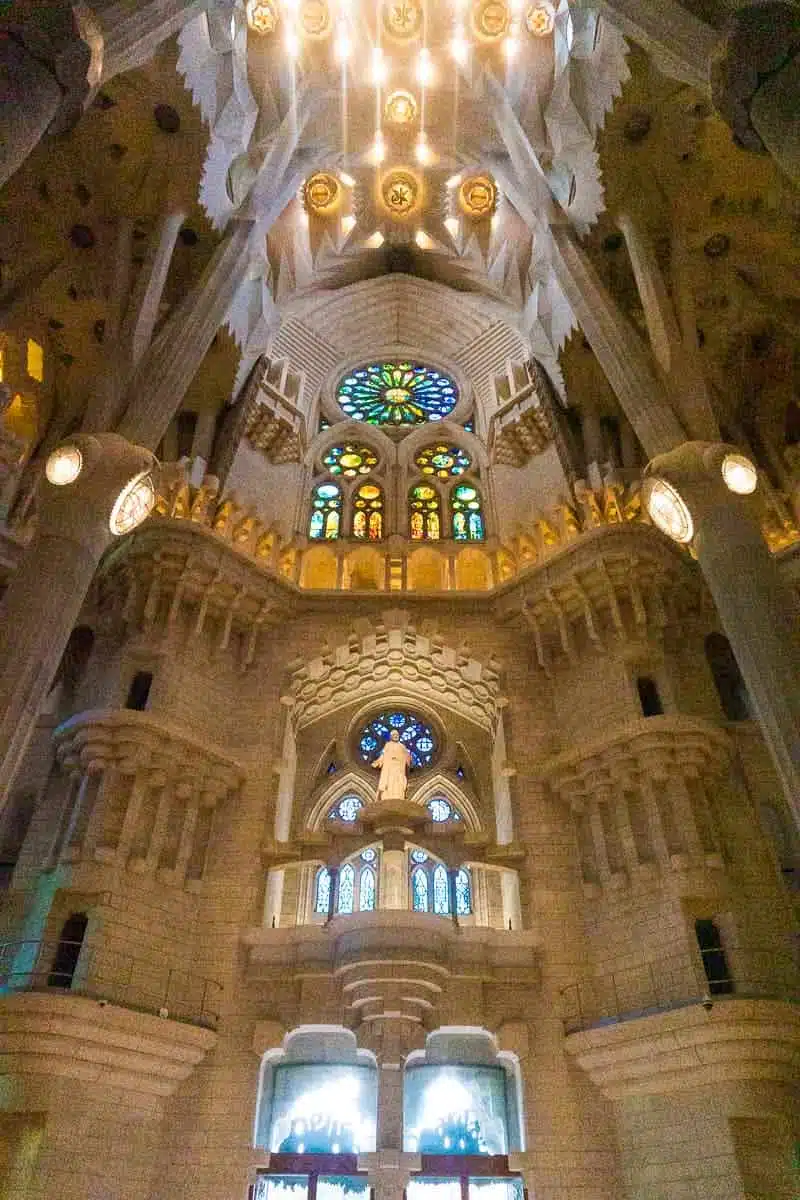 The Sagrada Familia is Barcelona's most iconic building without a doubt. Not to mention the most famous piece of work by Antoni Gaudí… and it isn't even complete yet.
The story of the cathedral is an interesting one. Gaudí wasn't even the original architect – that was Francisco de Paula del Villar, whose design was used to start building the church in 1882. Villar eventually quit and Gaudí was brought on to work on the church in 1883, officially as Architect Director in 1884. The rest, as they say, is history.
You'll need to book a ticket to get inside the Sagrada Familia (do this well in advance as they sell out fast). But be aware that normal ticket entry does not include entrance to the towers, so you'll need to book the specific tickets that includes them (prepare for the ultimate leg workout as you descend – there are so. many. steps).
You'll have to pick from the Nativity Facade or the Passion Facade – no ticket includes both sets of towers. Though, I'll be honest: there's not much in it view-wise, as both have spectacular views of the city below.
You can book guided tours, both through the Sagrada's own website and Get Your Guide – but there is a lot of information in the Sagrada Familia app, so it's easy to skip the tour if you want to take things at your own pace.
In fact, there's a self-guided tour in the app – it gets a little dry in places but it's a great jumping off point for all the history/architecture nerds out there who want to dig a little deeper into the story of the building (I definitely am one of those nerds).
It truly is an impressive building. I could go on and on, but if you want a local's keen interpretation, I recommend joining a Sagrada Familia guided tour.
Top Tip: If you want to catch the church in its full glory, visit before 11.30am or between 5-6pm when the rising and falling light stream through the stained glass windows at an angle, casting a distinctly colourful glow inside.
Spend Time at Park Guell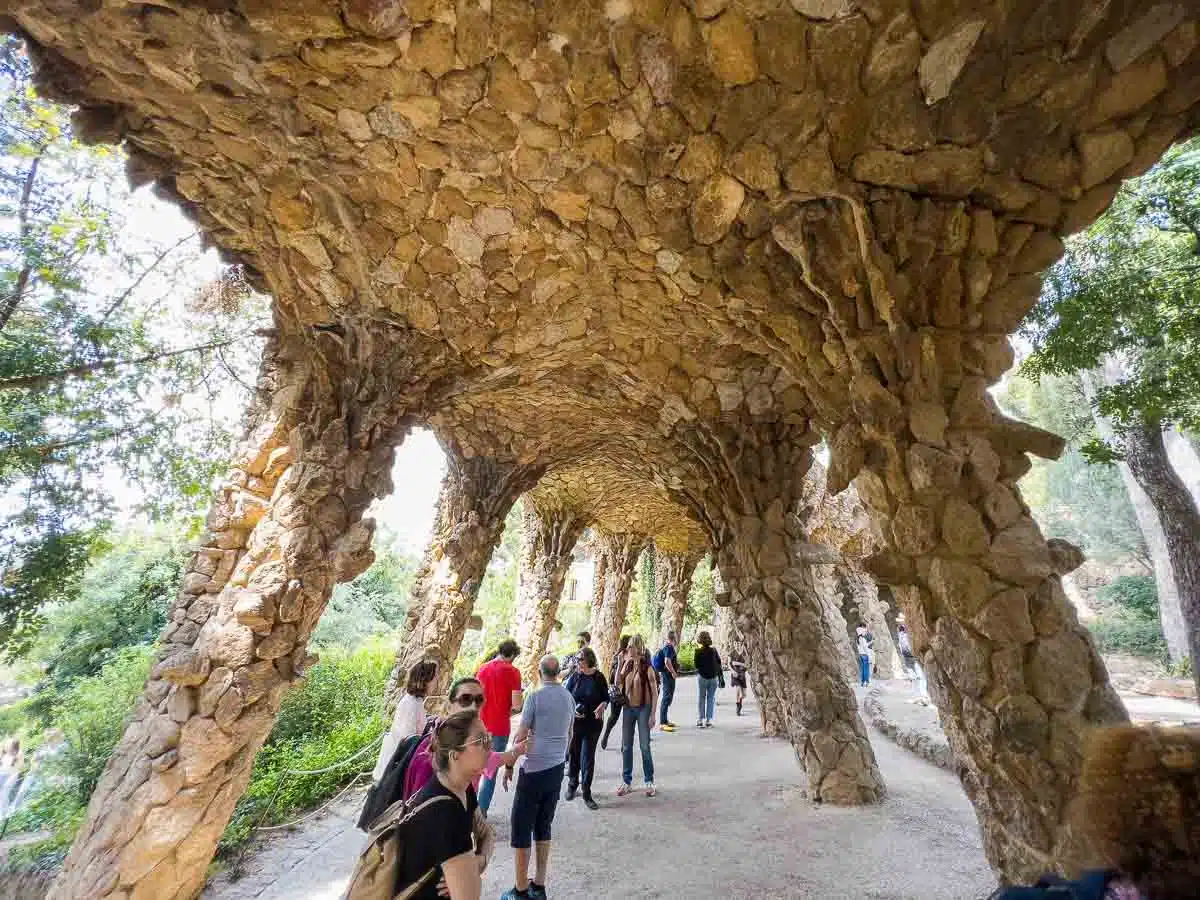 You're going to be hearing a lot about Gaudí throughout this guide – and Park Guell is no exception. It truly is part park, part magical escape into a fairyland studded with mosaic-covered structures, grottos, winding tunnels and pillar-filled halls.
Yep, it's a pretty gorgeous spot to explore in Barcelona. I'll be real with you guys, the first time I visited Park Guell was when I was 18. And I was completely blown away. Several (and I mean several) years later, that still hasn't changed.
This UNESCO site was originally designed by Gaudí under the commission of Count Guell as a residential neighbourhood to lure in well-off families. And, at the time, it was not a success – only three of the many envisioned plots of land were ever sold and two of the houses ever built (one of which was bought by Gaudí himself and now houses the Gaudí House museum).
Today, however, is a different story. Admire the mishmash of genius in full flow at the Monumental Zone. You'll find everything from stunning mosaiced ceilings in the Hypostyle Room and the Dragon Stairway with its colourful Catalonia-style gargoyles.
Head to the highest point (Turo de las Tres Cruces) for extensive views of the city spread out below, leading all the way to the sea. The views are *almost* as good as the park itself.
Top Tip: Book tickets in advance – they sell out fast. Oh, and visit first thing in the morning if you can as the weather is cooler. Thank me later.
Hike To Turo de la Rovira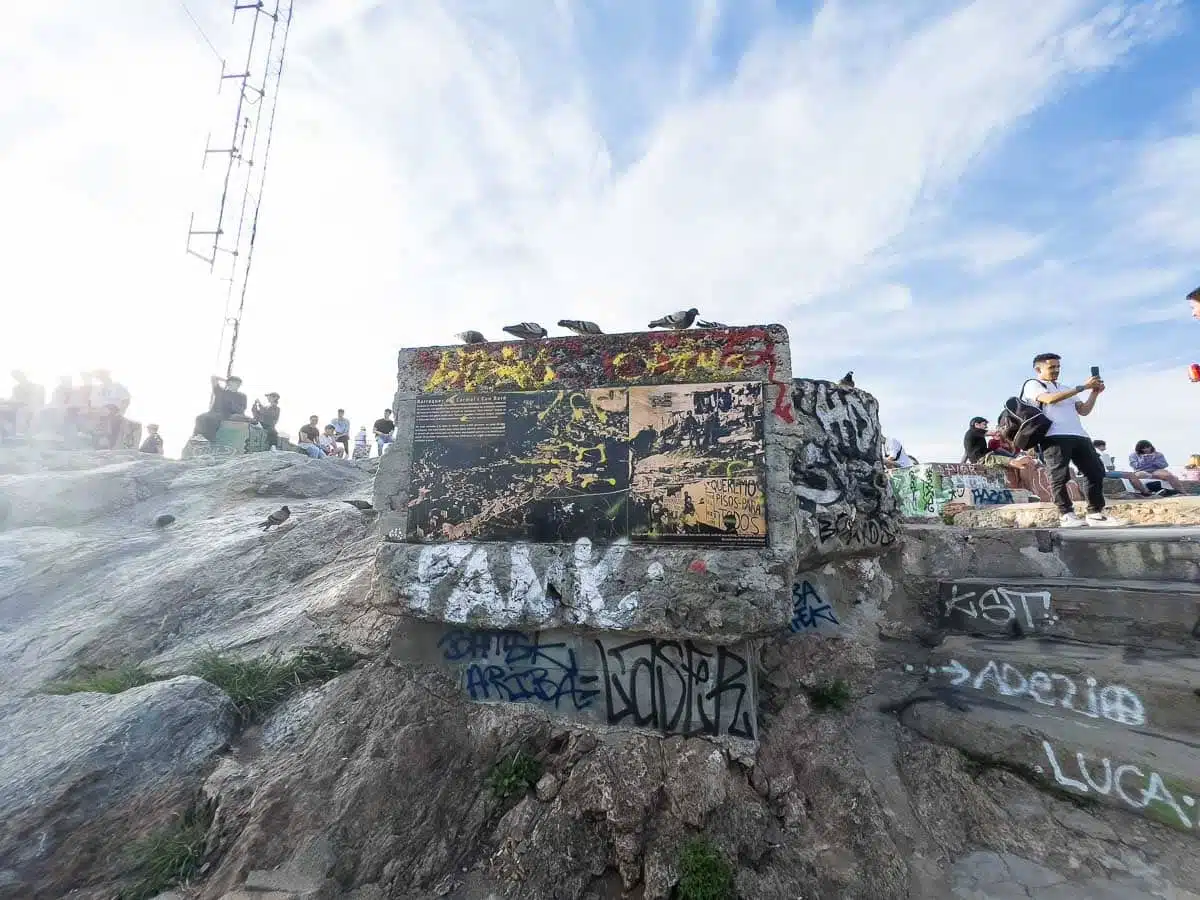 Turo de la Rovira is a set of Spanish Civil War bunkers at the summit of a hill in the Can Baro District. You've got two choices: take the bus 119 to the top of the hill or hike up this majestic mountain from El Carmel Station.
The latter is exhausting, but it's also one of the best hikes in Spain, as the views at the end are magical. If you choose to hike, it's a steep one-mile (1.6 km) climb up the hill and two miles (3.2 km) if you do the entire loop.
I highly recommend going before sunset, as the tapestry of colour in the afternoon is to die for.
Eat Your Way Around Barcelona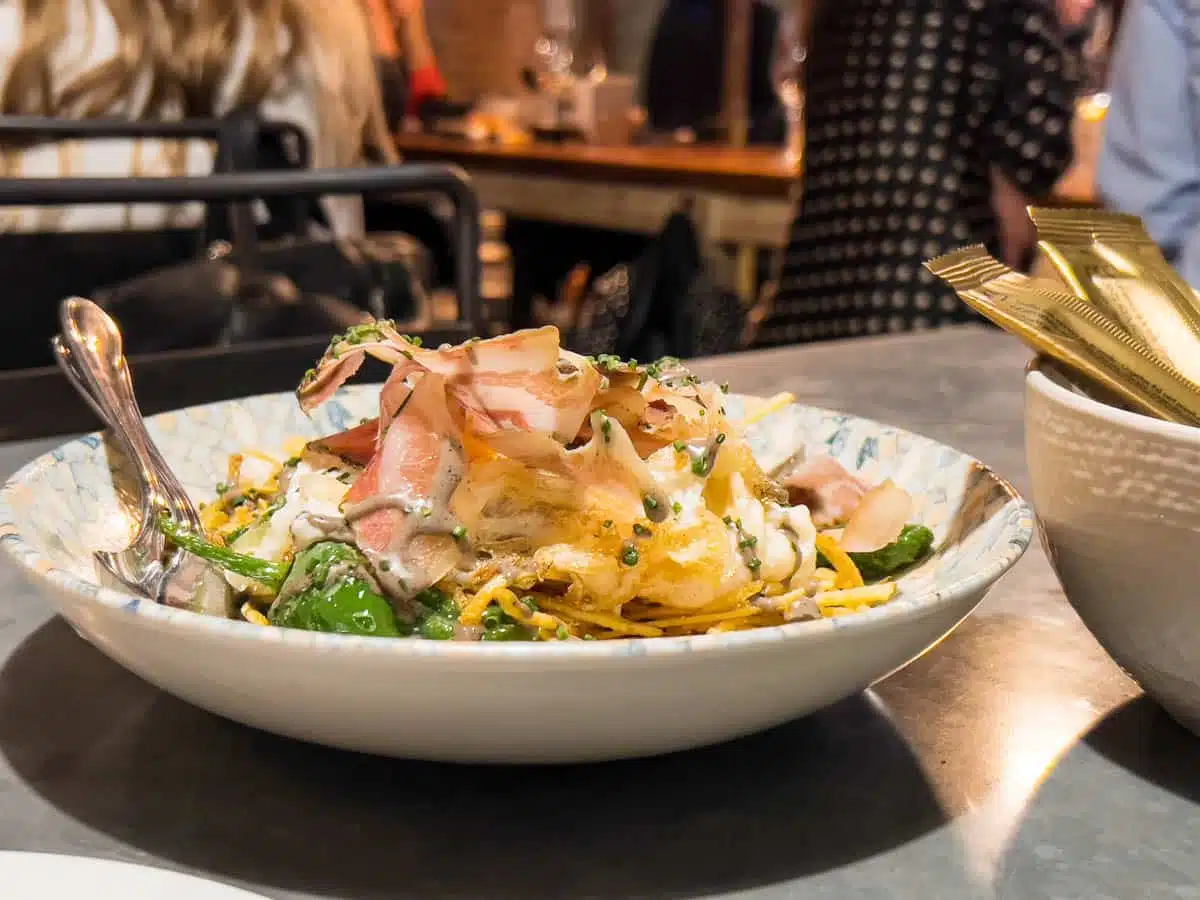 Large lunches aren't a thing in Barcelona. So embrace the change and eat your way around the city's best tapas bars.
For the perfect blend of Catalan and Asturian cuisine, go on a gastronomic adventure at El Chigre 1769. It may bill itself as a vermuteria meets cidreira – and it is both of those – but the reality is that this is one of the best places to eat in Barcelona, no ifs and no buts.
This joint has a relatively extensive menu, split into traditional tapas like Cantabrian anchovies and cured pancetta, as well as cheeses, grills and regional classics like Fabada Asturiana – a gut-busting stew of beans and meats. You pretty much can't go wrong.
Even dishes that sound relatively boring (like egg and pancetta) turn into a flavourful powerhouse in which the runny yolk is offset by crisp shards of pancetta and shreds of fried potato.
And don't even get me started with the bone marrow topped with flecks of air-dried fish. It sounds like it shouldn't work but it really does.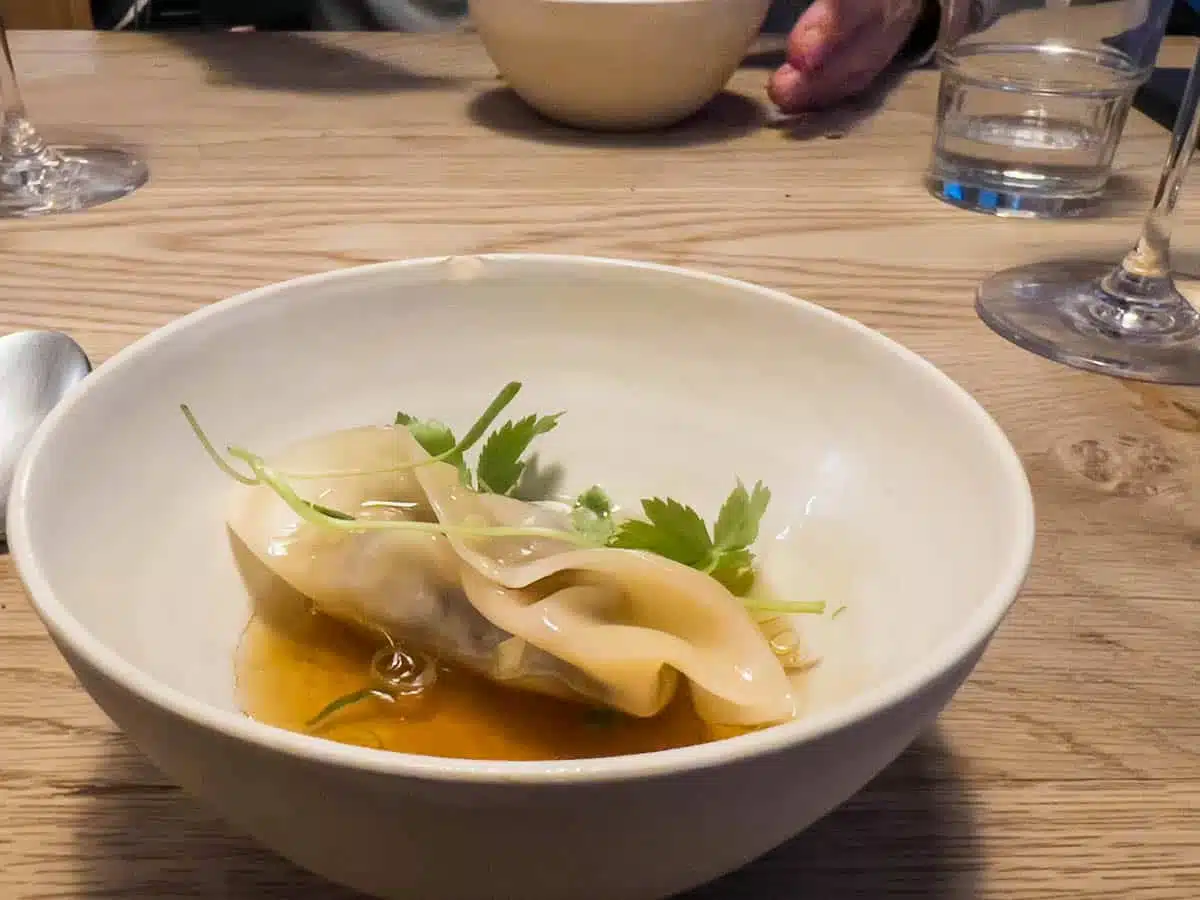 Still hungry? Duh – then listen up. Berbena restaurant serves some of the city's best Duck Gyoza in jus and pan tomaca.
This restaurant is a personal fave (and one I definitely ate at more than once on my recent trip). The brainchild of Carles Pérez de Rozas Canut, who wanted to create a restaurant where he could showcase good food in a relaxed and more informal setting, and that's very much what he's achieved here.
Top Tip: Not sure where to start? You can also join this guided tapas and wine tour.
Explore the Gothic Quarter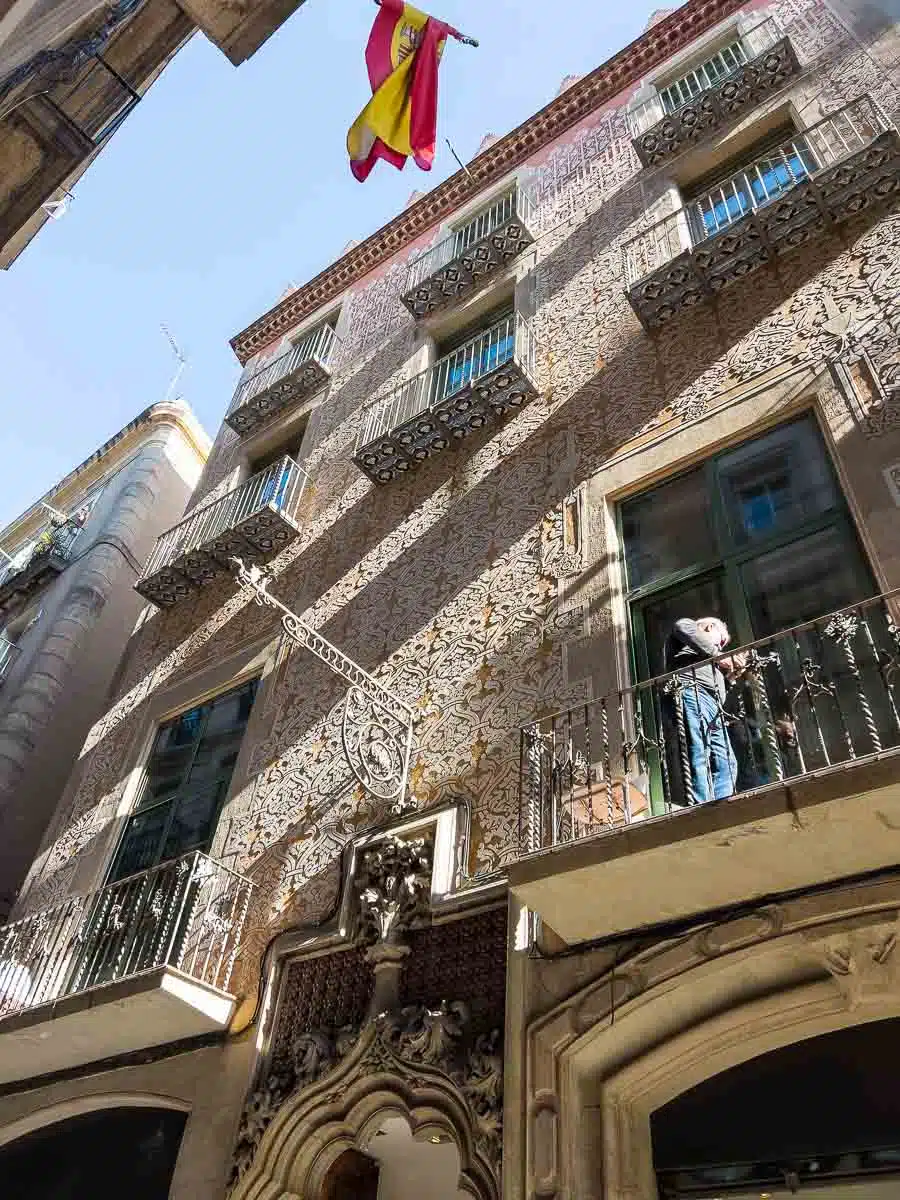 Of all the places to visit in Barcelona, the Gothic Quarter is up there with my favourites. With over 2,000 years of complex history, its winding streets give birth to a new age of vibrant bars and eateries in Barcelona (more on this later).
It also houses the Jewish Quarter, with the oldest synagogue in Spain, and Gaudí's first project, a selection of street lamps at Plaça Reial. You can never go wrong on a Gothic Quarter walking tour, but why stop there?
You can also pop into urban art galleries like Base Elements and Canal Gallery. Or dig into the best Catalonian food at Barcelona's oldest restaurant, Can Culleretes.
Brilliant Things to See & Do in Barcelona
Have a Feast at Can Cisa/Bar Brutal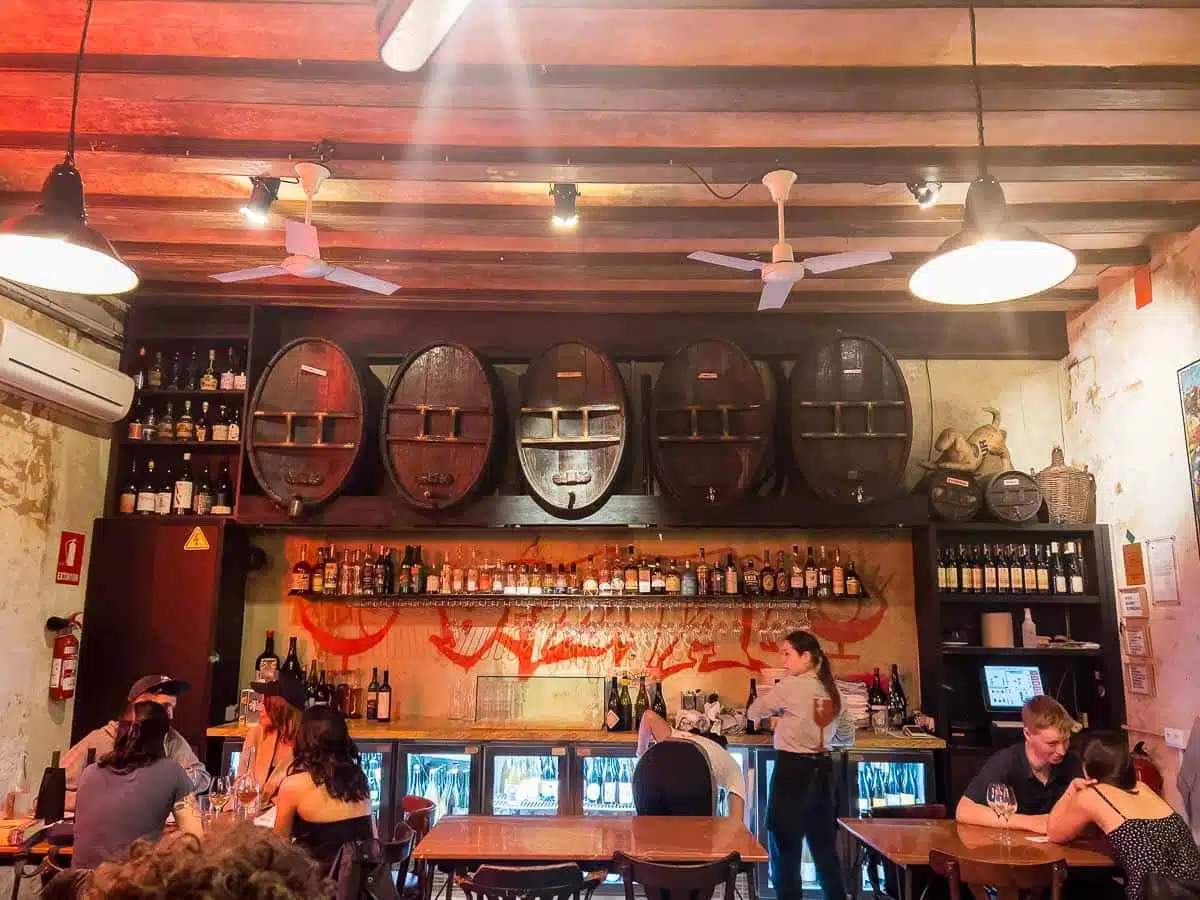 Not sure where to head in Barcelona to FEAST on food that will set your tastebuds alight? Let me introduce you to Can Cisa/Bar Brutal.
The front is a laid-back wine bar (Can Cisa) while the back is a more upscale (yet still relaxed) restaurant called Bar Brutal.
The wine bar specialises in natural wines and is well worth a visit, but if you can nab a table in the restaurant, you should – I've been a few times and it does not disappoint with its choice of contemporary Spanish dishes.
The menu changes constantly but you can always expect adventurous ingredients such as sweetbreads and duck hearts (if you're not too sure about the sound of that, don't worry, you're in good hands).
There are plenty of more traditional dishes such as scallops and octopus on the menu – this is Spain, after all. It's not the cheapest of meals – for two with drinks you're looking at coughing up around €130 – but it's well worth the splurge.
Bar Brutal is equally brilliant; here the drinks take centre stage. The wine list may be extensive, but I highly recommend trying their vermut, a fortified spiced wine that pairs perfectly with cold cuts.
Discover Street Art in Three Chimney's Park
Wondering what to see in Barcelona that'll give you a glimpse into the artistic nuances of the Catalonians? Exploring the street art at Three Chimney's Park is a must, and there are a few artworks that you can't miss.
Admire Kram's neurofunk animal murals or Skount's unique portrayal of everything flooding our minds in Trash in Head. For something more pop-arty, discover the vibrant works of Dante Arcade. And if you want to see where tattoos inspire murals, admire the large portraits by Turkesa.
It's a playground for street artists from all over the globe. So it only makes sense to join a street art tour to discover which mastermind is behind what.
See Modernist Architecture at Illa de la Discordia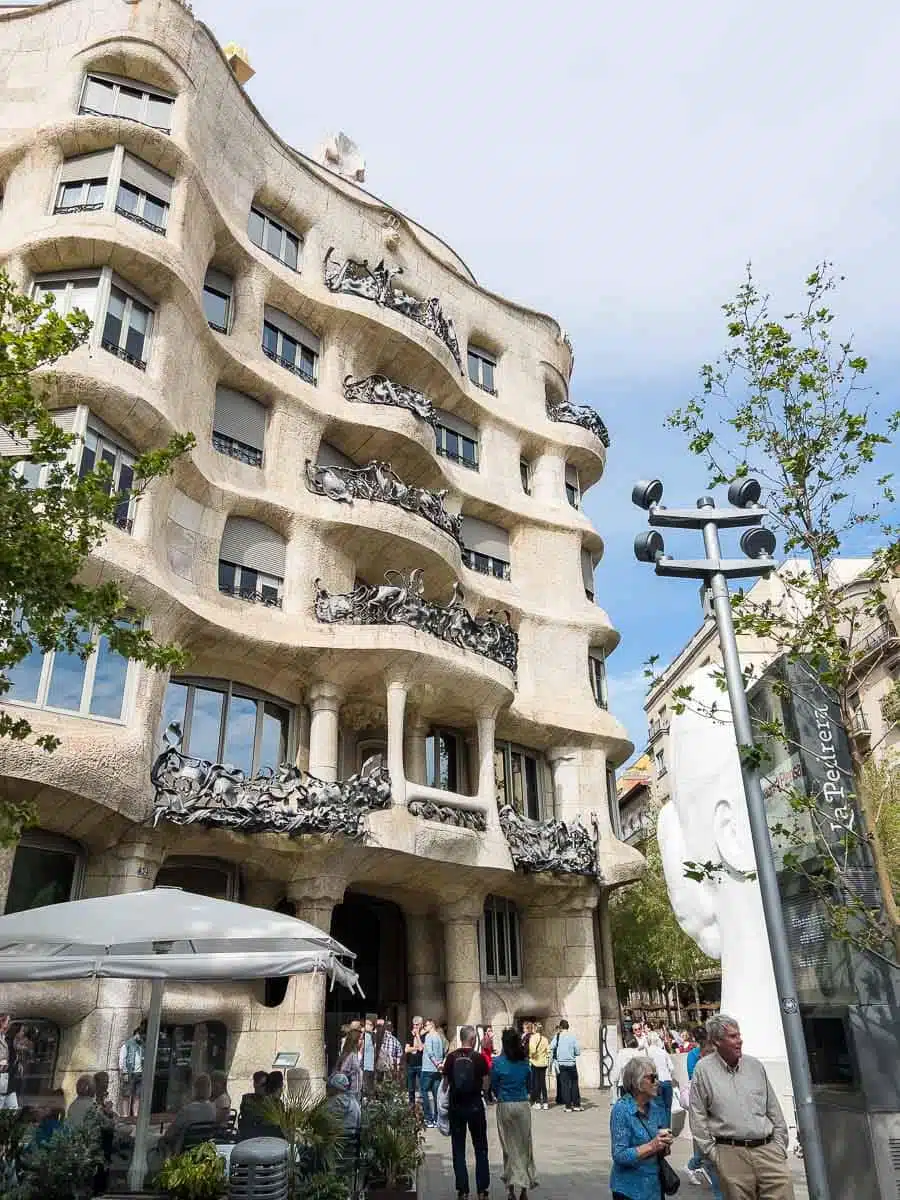 Beautiful spaces are a given at this block of Modernist Buildings in the Eixample District. It may take up an entire city block, but the sights you can't miss include the Casa Batlló and Casa Milà.
Who made these trippy-looking buildings? Of course, none other than Gaudí himself, and while their wavy exterior will entice you, wait until you step inside.
Casa Batlló is also known as the house of bones thanks to its skeletal design (not dissimilar to parts of the passion facade on the Sagrada Familiar). This truly is Gaudí at his weirdest and most wonderful.
The building comes to life when you enter the Patio of Lights, as the stained glass wall paints the room with colour. Expect it to be busy AF when you visit, but it's well worth it.
On the other hand, Casa Milà's most unforgettable aspect is on its roof, where a spiralling world of mosaics will take your breath away. There are several kinds of tickets, but all include a really interesting self-guided tour that teaches you about the architect's work and inspiration.
You can also book special events on the rooftop at Casa Milà. This summer, for example, they're holding a series of jazz concerts on Thursday and Friday evenings. It's certainly one of the more unique locations you can attend an event in.
Other stunning architecture in the block includes Casa Planells by Josep Maria and Casa Comalat by Salvador Valeri I Purpurull.
With so much to see, why not get the full Illa de la Discordia experience with this Casa Batlló and Casa Milà tour?
Admire Greatness at the Picasso Museum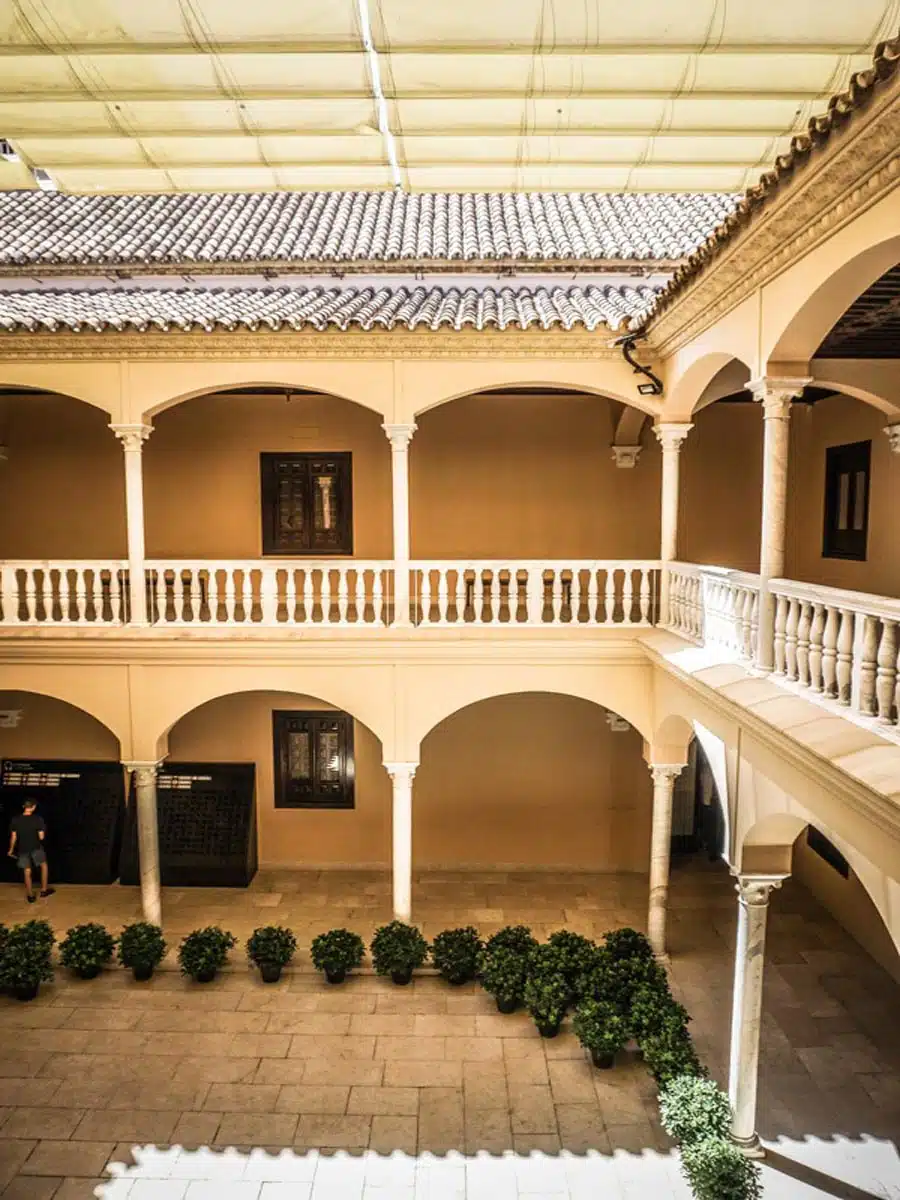 The Picasso Museum is another must-see when in Barcelona.
Art fanatics far and wide are quick to call Picasso the forefather of Cubism. And you know what? After seeing a fraction of the 4,251-piece collection, it's hard not to agree.
From his Blue Period to the unmistakably famous 58-piece series Las Meninas (1957), you're in for a real treat. Marvelling at the works in near-silence is great, but a guided Picasso Museum tour is much better.
Enjoy More Wonders at Barcelona Cathedral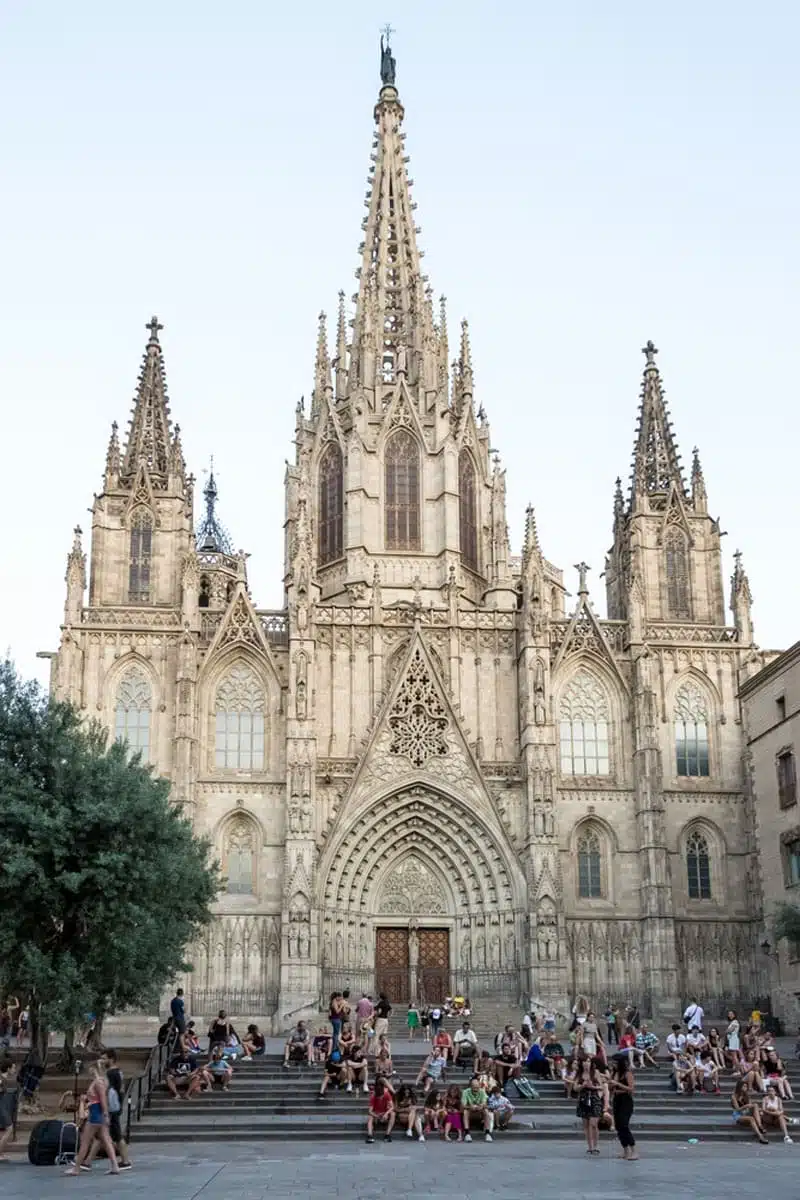 In true Gothic style, the Barcelona Cathedral has stood tall and proud since 1420. With three naves but only one apse (domed ceiling), it's a space with a real ethereal feeling.
But its standout feature has to be the monstrance, a beautiful vessel of gold, silver, and rare jewels. And let me not forget the gold-plated choir stalls surrounding you as you walk through the building.
With so much to see inside, you'll want to grab a Barcelona Cathedral entry ticket early. Another Barcelona must-see when visiting the cathedral is actually on its rooftop. You won't find better views of the Gothic Quarter anywhere else.
Wander Past the Montjuic Magic Fountain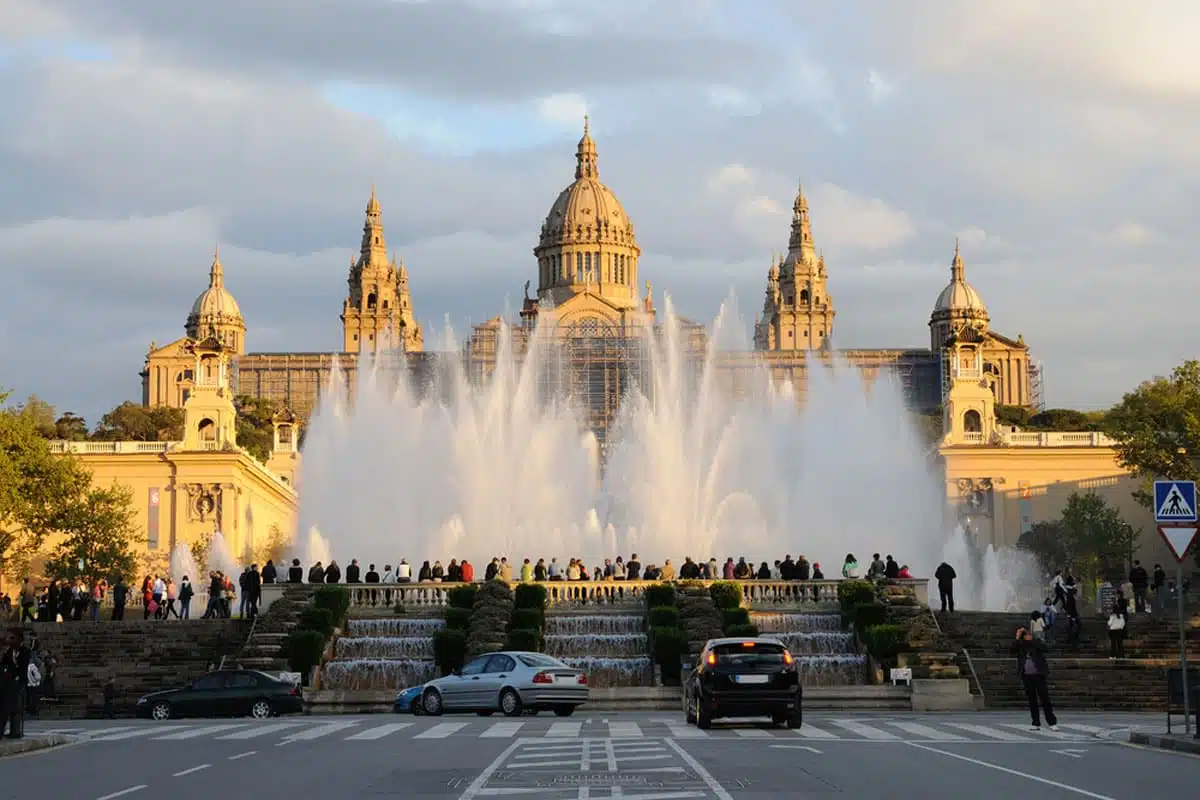 Looking for something to do in Barcelona that doesn't revolve around Gaudí? Let's take a break from the shackles of Barcelona's hypnotising architecture and catch a light show you'll never forget.
At the top of Avinguda Maria Cristina, the Magic Fountain performs a perfectly choreographed dance every Thursday, Friday and Saturday. These shows take place from 9 pm to 10 pm. With seven billion unique choreographies, you're in for a genuinely magical display.
Note: The fountains are temporarily turned off due to a drought.
Join the Football Fanatics at Camp Nou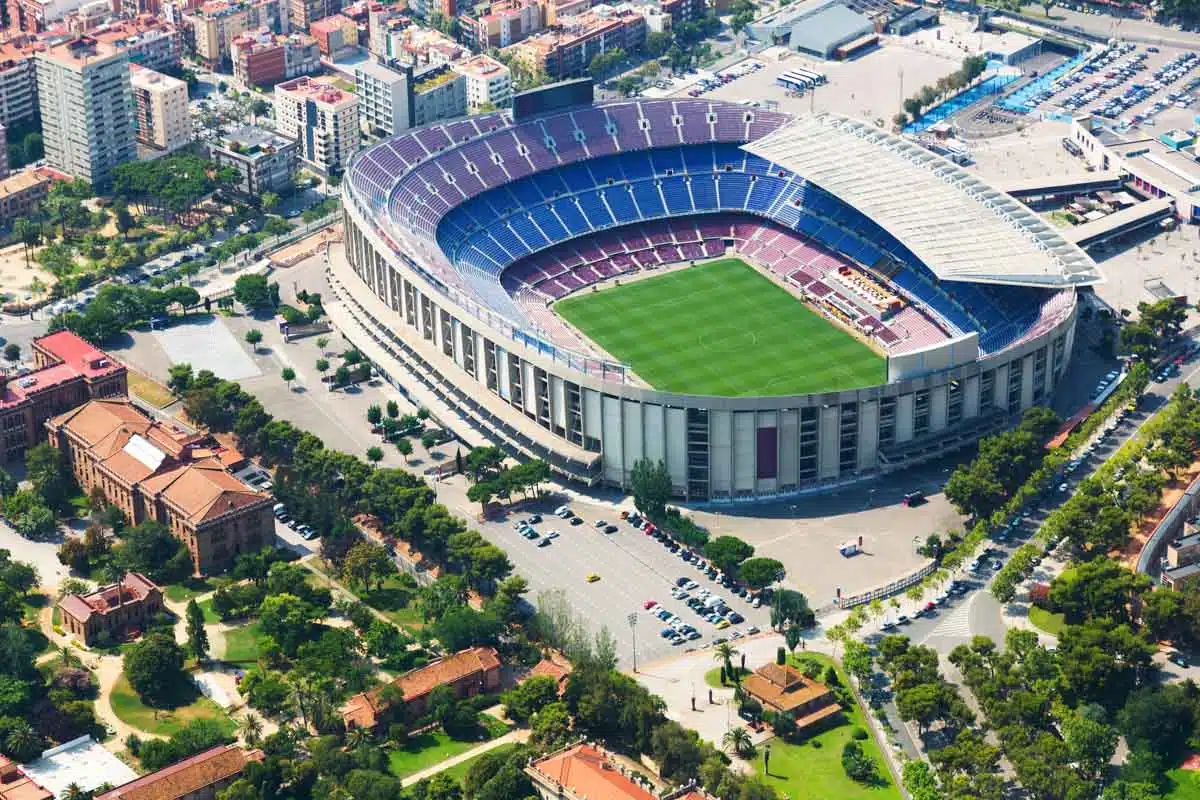 Football is Spain's language of love, so it's no wonder one of the most famous places in Barcelona is Camp Nou. It's the largest stadium in Spain and Europe, with a capacity of 99,354 and a fantastic museum for all to enjoy (yep, even if you're not a footie fan).
Discover the rich history of FC Barcelona, from the club's humble beginning to its 26 La Liga titles. You can also learn about the infamous La Masia academy that brought about the likes of Lionel Messi and Xavi.
Top Tip: Football fanatics will not want to miss out on a Camp Nou guided tour.
Enjoy Live Music at Jamboree
Amongst the stunning architecture and famous food, the city also has some fabulous music. Longstanding jazz club Jamboree is a case in point.
I have a lot of nostalgia for this place as Jamboree was the very first bar I went to on my interrailing trip around Spain and Portugal in 2003. And *literal decades* later it's still a lot of fun.
The daily jazz programme – between 8pm and 10pm – ranges from more traditional offerings to those with a distinctly modern influence. My favourite, however, are the weekly jam sessions on Mondays at 7pm.
With three eclectic rooms, you can enjoy everything from homegrown funk singers to trombone-blowing solo acts. Heck, they've even had acts by Chet Baker and Dexter Gordan. Whatever your vibe, this is where all the fun things to do in Barcelona hit home with a beautiful symphony of sound.
Psst.. Jamboree somehow turns into a nightclub in the early hours – don't knock it, it works.
Top Tip: You must pay for events individually, so keep an eye on the Jamboree website for prices, dates, and times of your ideal shindig.
Walk Down La Rambla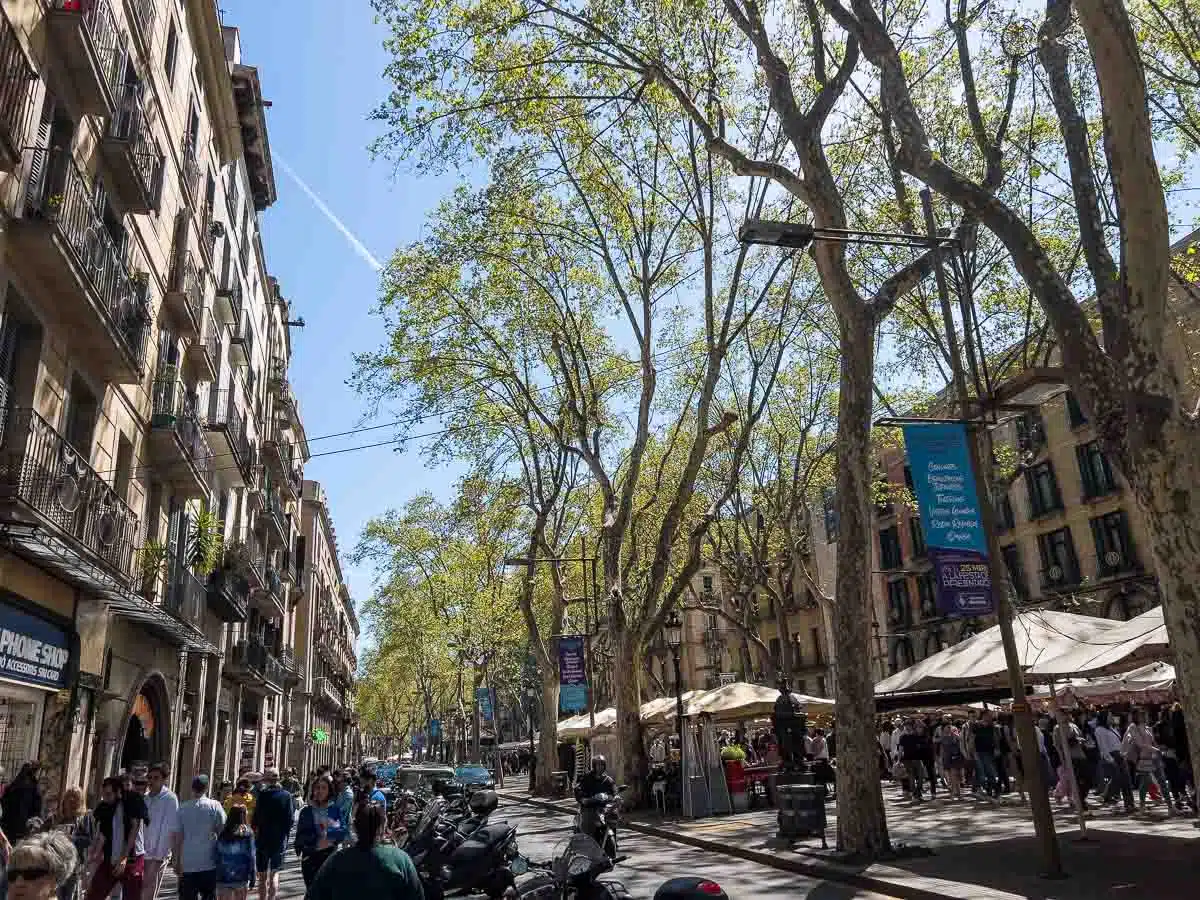 Wandering along La Rambla is a tourist trap, yes. But it also happens to be one of the more fun things to do in Barcelona. This tree-lined street stretches between Placa de Catalunya and the coast.
Enjoy La Rambla's iconic flower stalls as you approach the Christopher Columbus monument near the port. As you make your way, pop into the historic Cafè de l'Opera, a place all coffee aficionados will love.
And don't forget to snap some memorable photos at the Canaletes Fountain and Joan Miró's massive mosaic. Or see all the best bits of La Rambla on this beer biking tour.
Admire Classics at the MACBA Museum
It may be a relatively new museum, but the Museum of Contemporary Art – or MACBA – has its fair share of significance within the city and the world.
The first floor exhibits just a fraction of the museum's collection of 5,709 works. Its remaining two floors consist of rotating exhibitions of up-and-coming artists.
Most works are from the 1960s to the present, with a substantial collection of Catalan and Spanish pieces. Need more convincing? Get a taste of MACBA's collection in its public space just outside the building, such as the sculpture La Ola or the graffiti work by Keith Haring.
Remember to grab your MACBA entrance ticket before you head out.
Gaze Up at Bellesguard Tower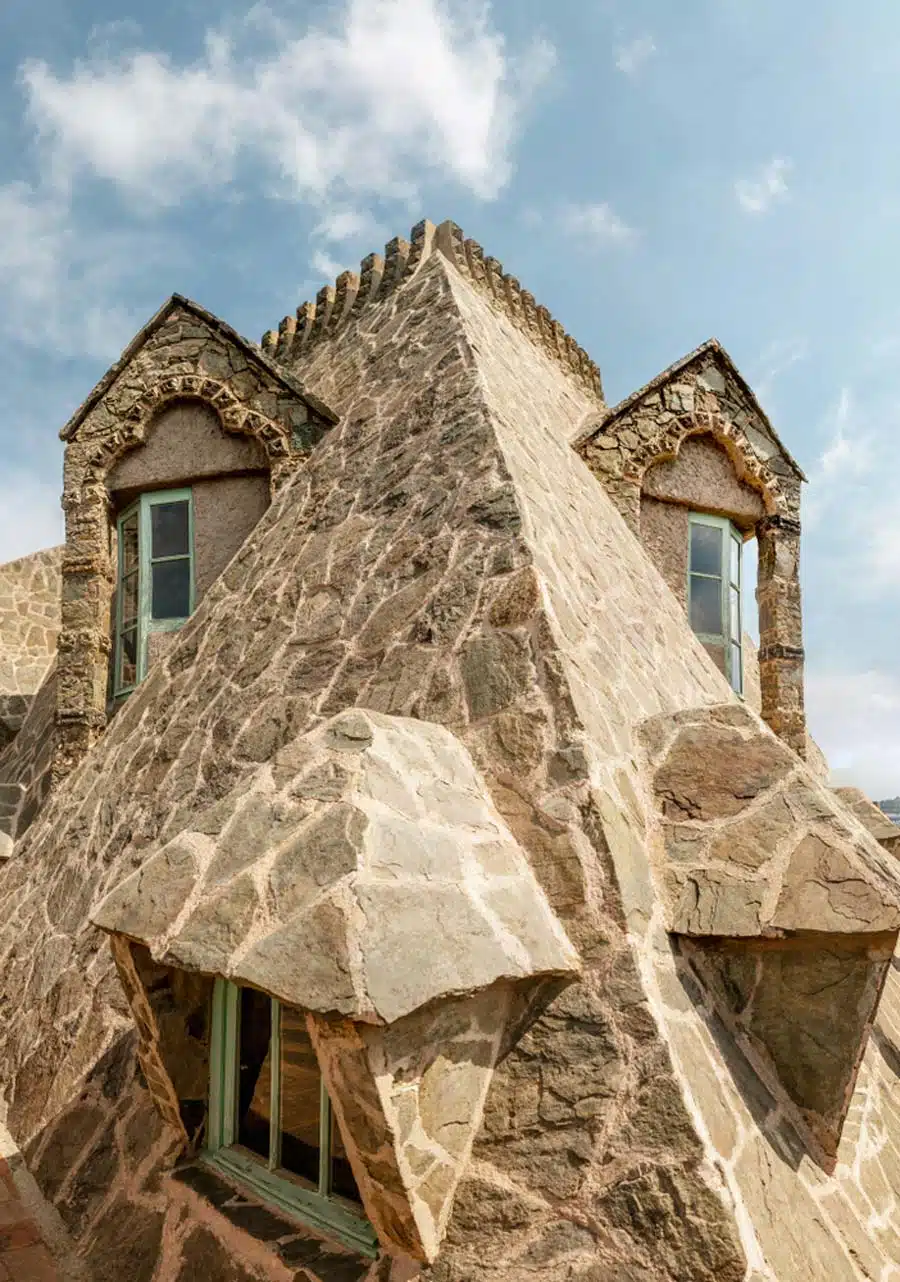 Need some more Gaudí inspiration and another must-see in Barcelona? You got it. Venture to the Sarrià-Sant Gervasi District and find the glorious manor house of Bellesguard Tower.
It pales compared to Sagrada Familia, but this 1909 building is as complex as every other Gaudí construct. Drawing from the original building's history as the last king of Aragon's palace, this magnificent structure exudes symbolism.
It's a beautiful blend of Gothic and Moorish inspiration, from its striking tesserae facade and colourful wall tiles along the stairway to its carved arches. The only way you can get a true sense of its beauty is on a Bellesguard Tower tour.
Marvel at Art Galore at MOCO
It took a little while for me to actually make it into the MOCO Museum – my first trip was stopped in its tracks thanks to an impromptu visit by the Obamas. But I'm glad I finally made it.
Set in a 16th-century palace along Montcada Street, MOCO sets itself apart from all the other museums and must-see places in Barcelona. For example, it's the first exhibition space to have an entire floor showcasing up-and-coming NFT artwork.
It's a space with a keen eye for detail and a desire to show all the modern and contemporary artists that are currently working. MOCO houses works by famous names such as Banksy, Damien Hirst and Andy Warhol, to name a few.
It's little surprise that a city with so much street art and striking architecture also has a few impressive museums up its sleeve, but MOCO was my favourite.
Top Tip: Grab a MOCO entry ticket ahead of time. They're cheaper online than at the door.
Chill Out on Barcelona's Beaches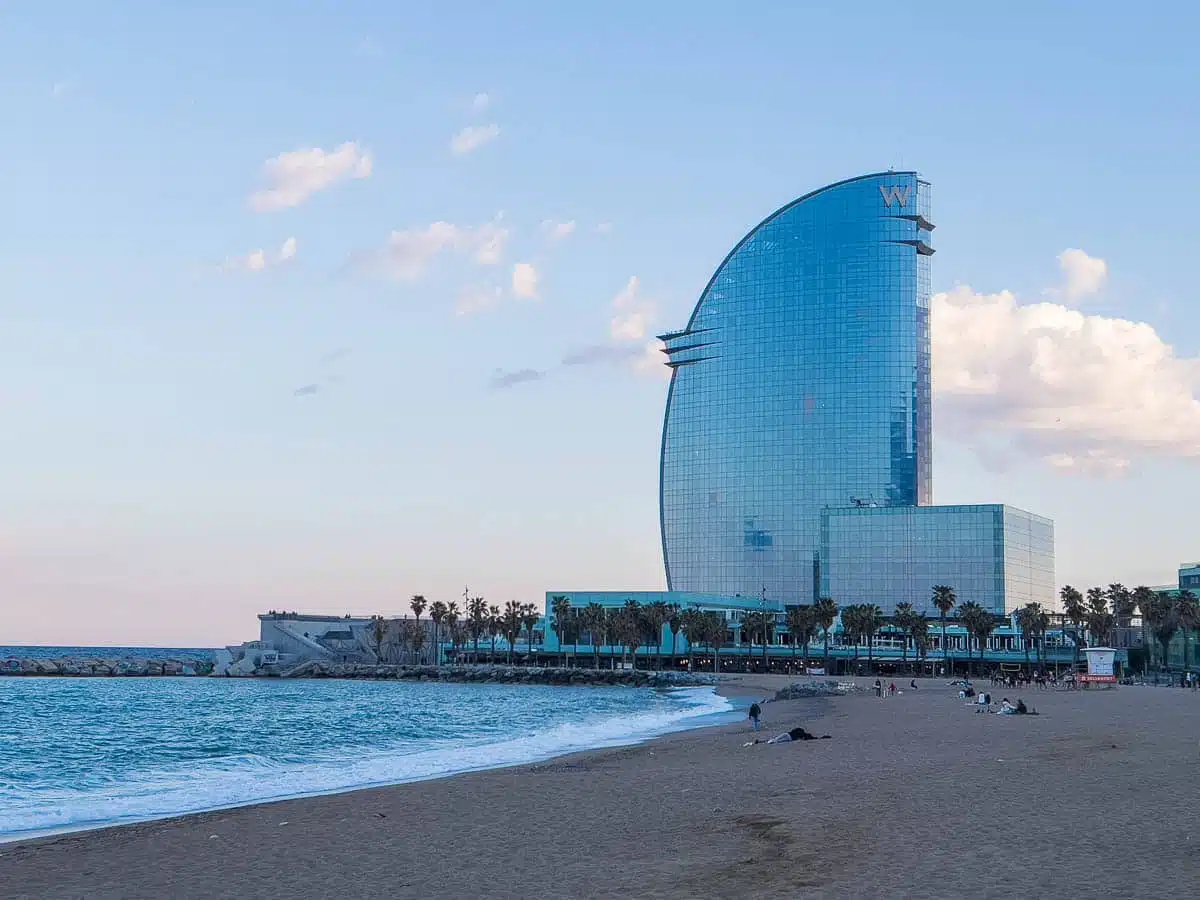 There are so many unusual things to do in Barcelona that I almost forgot this is a beachside paradise.
A must-visit is Barceloneta, with its popular bars and golden fish sculpture by Frank Gehry. With its gritty golden sand and throngs of lounging beach bums, it's no surprise Barceloneta is the most popular beach in town.
If you're looking for a more relaxing vibe, the soft sand of Llevant Beach (15 minutes from the Gothic Quarter) may tickle your fancy. And if you want something with all the facilities of Barceloneta but fewer people, head 12 minutes out of the Gothic Quarter to Nova Icària Beach.
Enjoy the Tastes of El Nacional
There are many restaurants throughout the city, but don't miss the opportunity to eat at El Nacional. To make it even better, it's more than just one restaurant. You can wine and dine at four restaurants and four bars, each offering a bespoke experience of the Iberian Peninsula.
La Braseria will be your go-to for meat lovers, while an authentic paella is in order at La Llotja. Then there are the bars, each dedicated to a particular drink, all fabulous.
Head Up the Montjuic Cable Car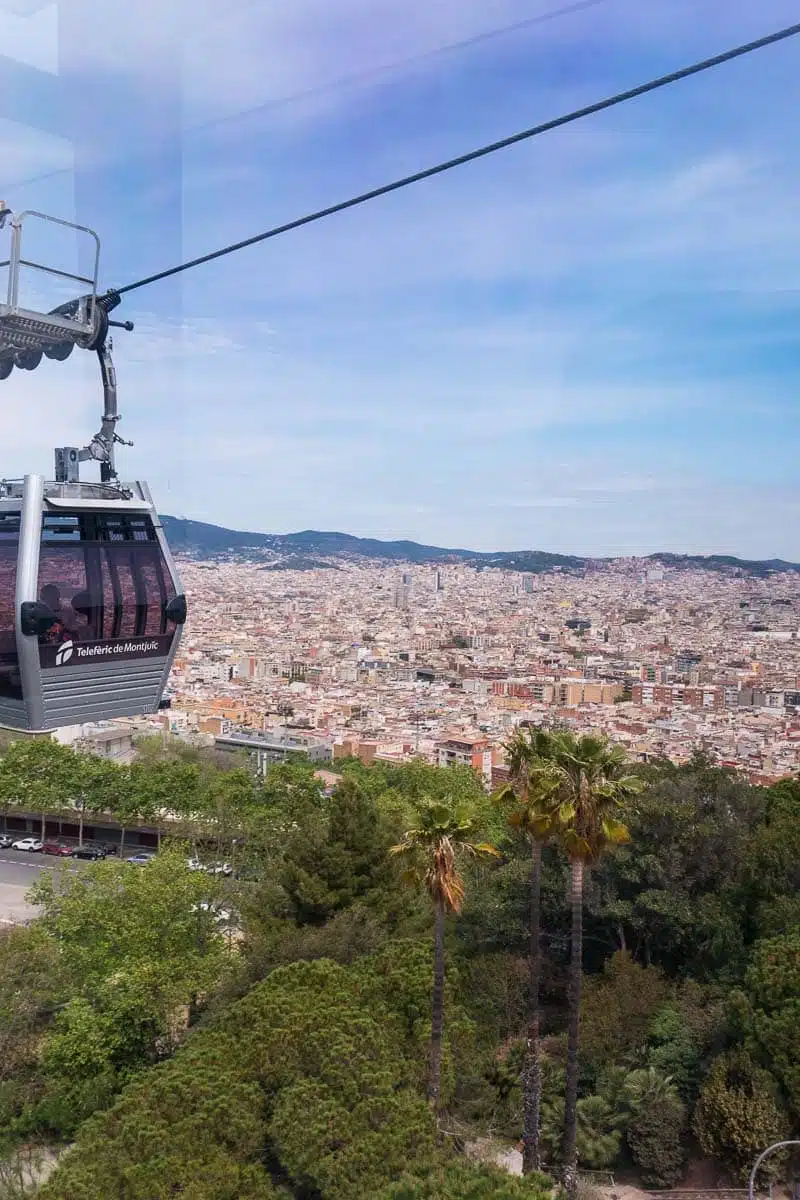 If there is ever a must-do in Barcelona, it's riding the Montjuic cable car up to the Montjuic Castle. As you ride high in the sky, there are a few stops along the way.
One of the best stops is at Mirador de L'Alcalde, a garden space with terraced waterfalls and sublime city views. While that's great, the main event is Montjuic Castle, which dominates the top of the hill.
Standing tall since 1640, this archaic castle has stunning gardens to frolic through. As for the terrace and watchtower, they offer spectacular 360-degree views of Barcelona.
Unique Things to See & Do in Barcelona: Hidden Gems That Are Off the Beaten Track
Discover Gaudí's Casa Vicens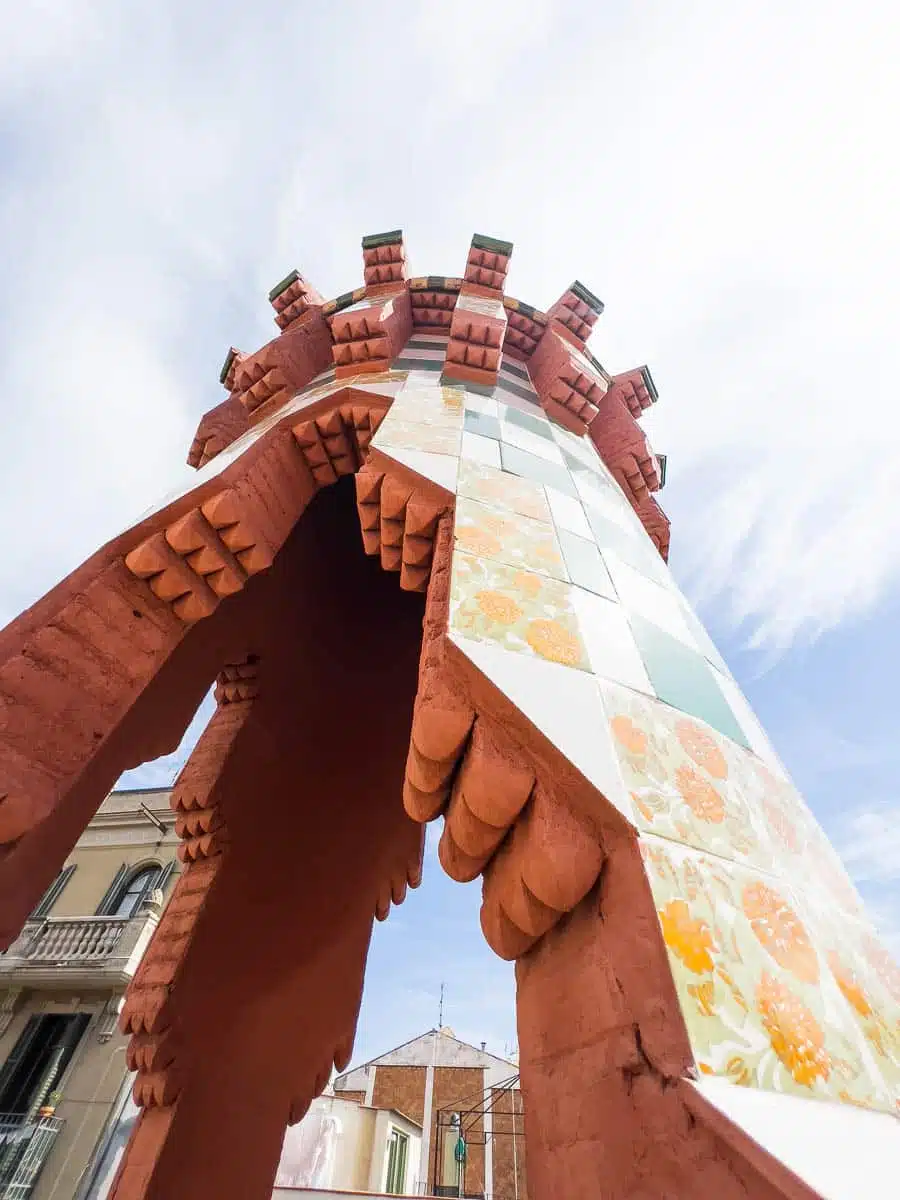 One of my favourite places to see in Barcelona is actually one of Gaudí's earliest commissions, Casa Vicens. Despite being one of his earlier works, you still get a real sense of his use of light, colour and pattern.
From the bright carmen-coloured exterior tiles to the fragrant jasmine and lily plants, the building's facade and garden are just as stunning as the interior. The entrance hall mimics the plant-filled garden, while the dining room takes bold to the next level with unique wildlife depictions.
Getting a Casa Vicens ticket is easy as this site is less busy than his other work. Before you leave, be sure to pop up to the top floor and the oddly placed (it's Gaudí, after all) mini tower.
Stroll Through the Temple of Augustus
A piece of Rome in the heart of Barcelona, who would've thought? This will be the most surprising of all the places to see in Barcelona. The four magnificent columns nestle quietly in a small courtyard within the Gothic Quarter.
Before Barcelona was, well, Barcelona, the Romans had control of a city they called Barcino. These last few columns have faced the test of time and form part of MUHBA. It may be a short visit, but this relatively quiet site is free and made for the history buffs.
Walk Through Placa de Sant Felip Neri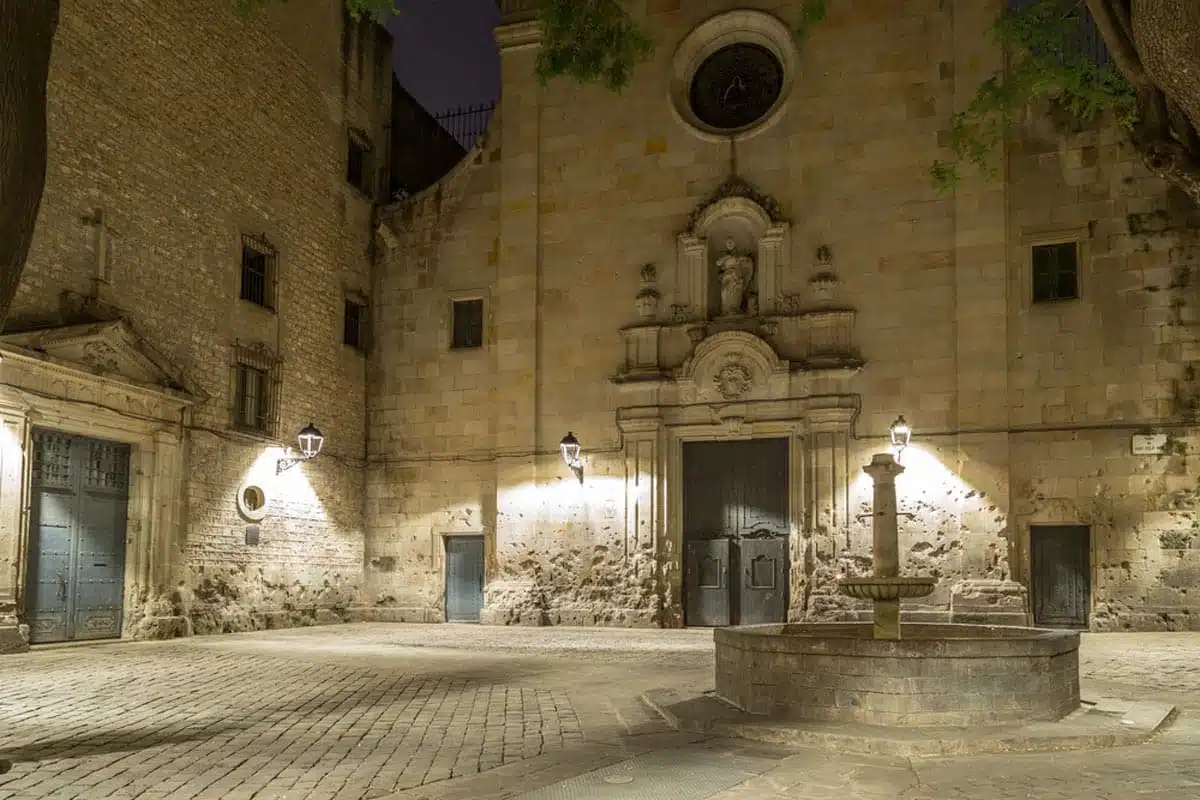 For a hidden gem with a tragic past, look around the Barcelona Cathedral for the quaint Placa de Sant Felip Neri. It's hard to find — like, really hard — so it'll take a bit of exploring before you wander into its tranquil space with an octagonal fountain.
Its beauty hides a sad past, as a bombing during the Spanish Civil War saw 42 people lose their lives here. You can still see the holes left by the bomb in some of the courtyard's walls.
Despite this sad past, it's now a stunning space hosting a school and church where everyone is welcome.
Explore Sant Pau Art Nouveau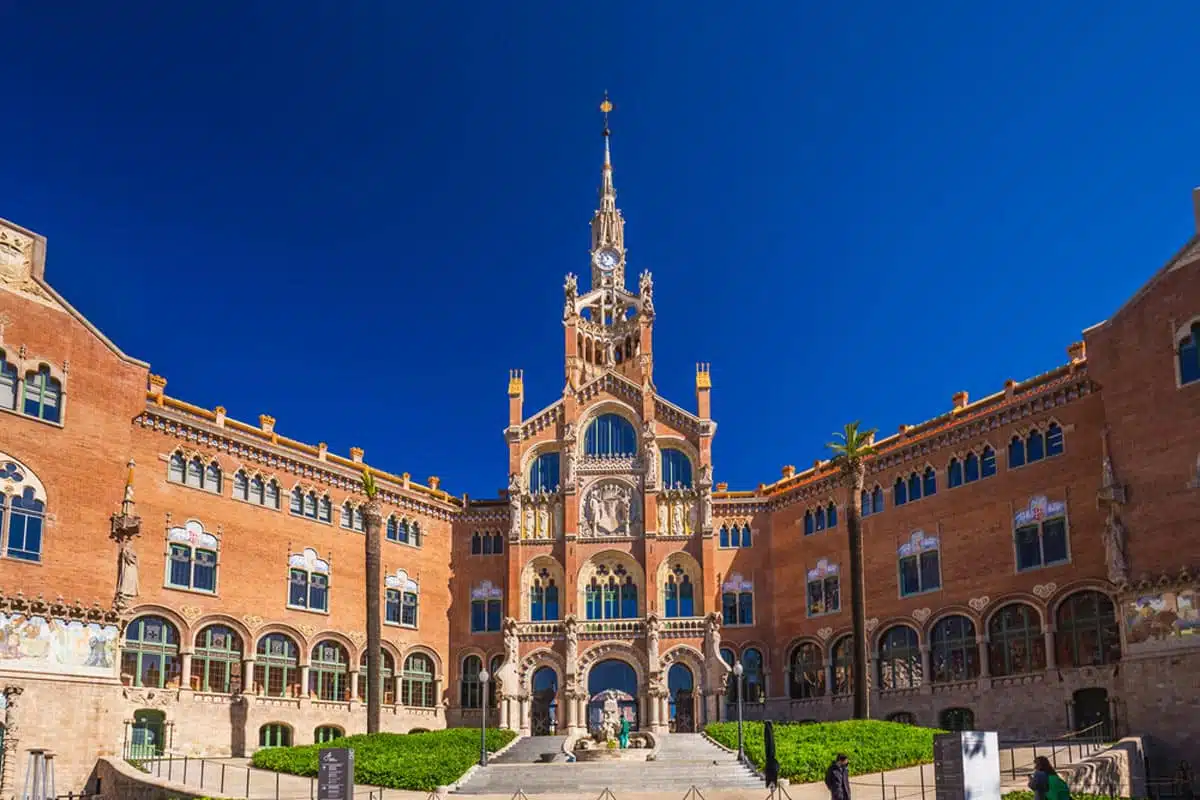 Not only is the Sant Pau the largest Art Nouveau complex in the world, but it's also home to the Old Hospital de la Santa Creu. This creation of Lluís Domènech I Montaner will captivate your mind with its stained glass windows, pristine gardens and intricate mosaics.
Walk through the orange gardens before entering the old hospital, now the National Library of Catalonia. It may be off the beaten path, but booking your Sant Pau Art Nouveau ticket in advance is still a good idea.
Find Botero's Cat
There's no better place to snap memorable Barca photos than at the plump – and pretty terrifying – sculpture Botero's Cat. Interestingly, this huge sculpture danced across the city for 15 years before finding its permanent location at the Rambla del Raval.
While it's not a standout activity, snapping some photos here can be as fun as you make it. Pose with the cute sculpture in every way possible, and you'll get your Insta-ready pic in no time.
Venture Through Palau de la Música Catalana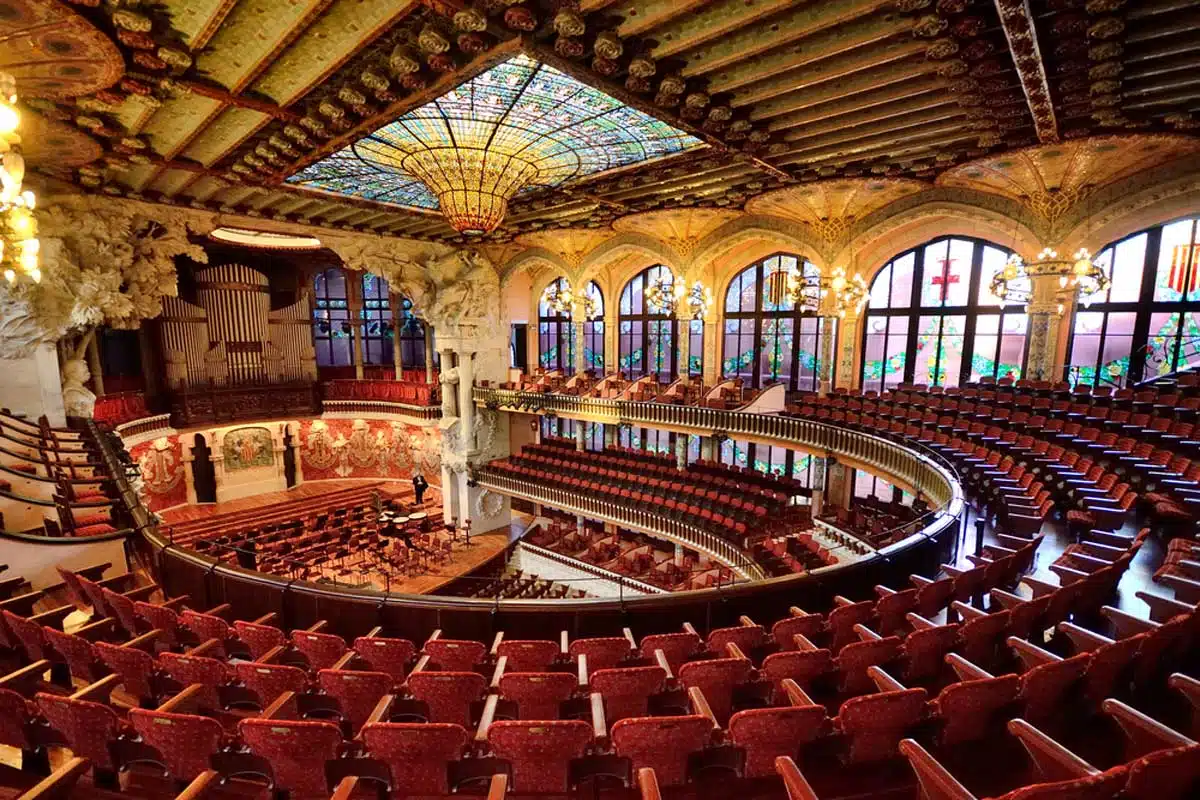 Music moves the masses, but a space where music comes to life will live for eternity. Well, at least I think so, and the Palau de la Música Catalana is an art nouveau building that serenades its visitors even in silence.
From its dominating organ to the mesmeric stained glass skylight, the concert auditorium will entrance your senses. And with natural motifs painting the space with colour, it's no wonder this is a UNESCO World Heritage Site.
Top Tip: Why not take a self-guided tour of Palau de la Musica to see beyond the concert auditorium and into the Petit Palau and rehearsal hall?
Visit the Joan Miro Foundation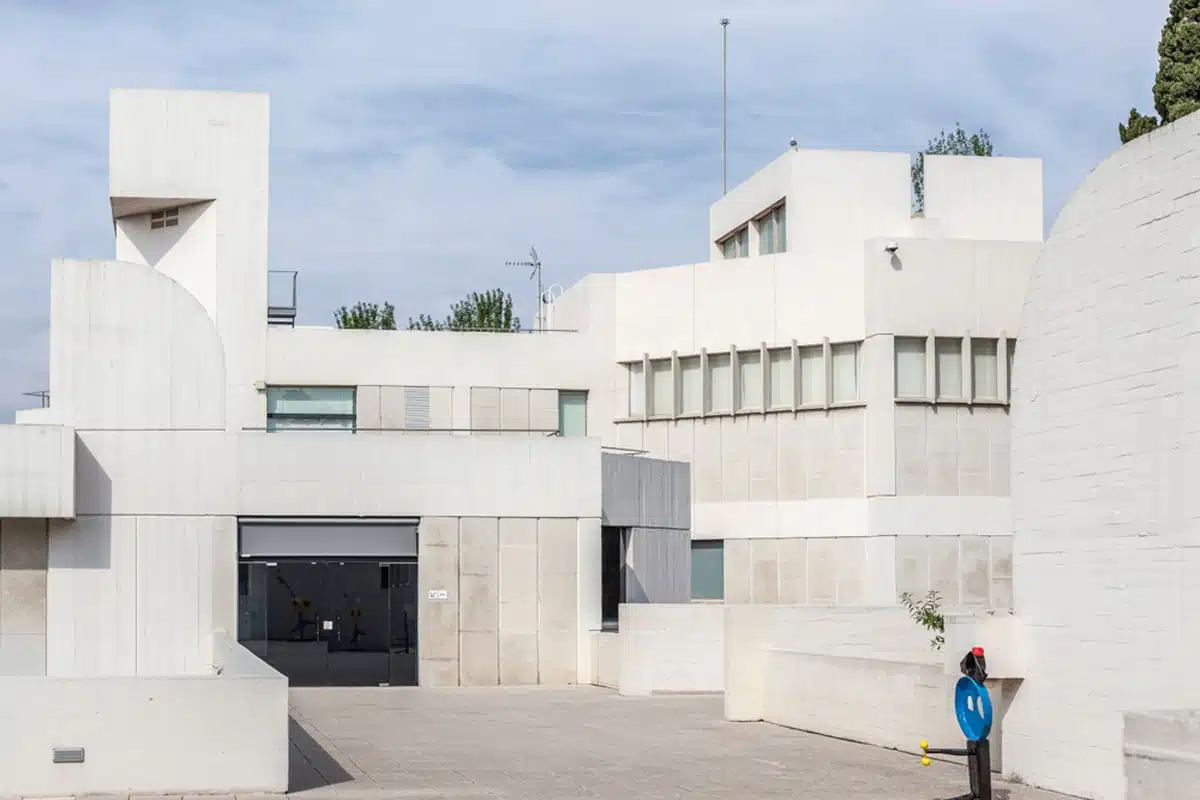 Explore a place where the architecture by Josep Lluis Sert is just as impressive as the artwork it holds. With a Joan Miro Foundation ticket in hand, you can see the genius of Joan Miro, an artist that dabbled in everything from surrealism to avant-garde.
As it rests within the Parc de Montjuic, you can wander the gardens while admiring the most complete collection of Joan Miro's works. They even have a free exhibition space you can explore without a ticket at Espai 13 — exhibits regularly change here, though.
See Greenery at Ciutadella Park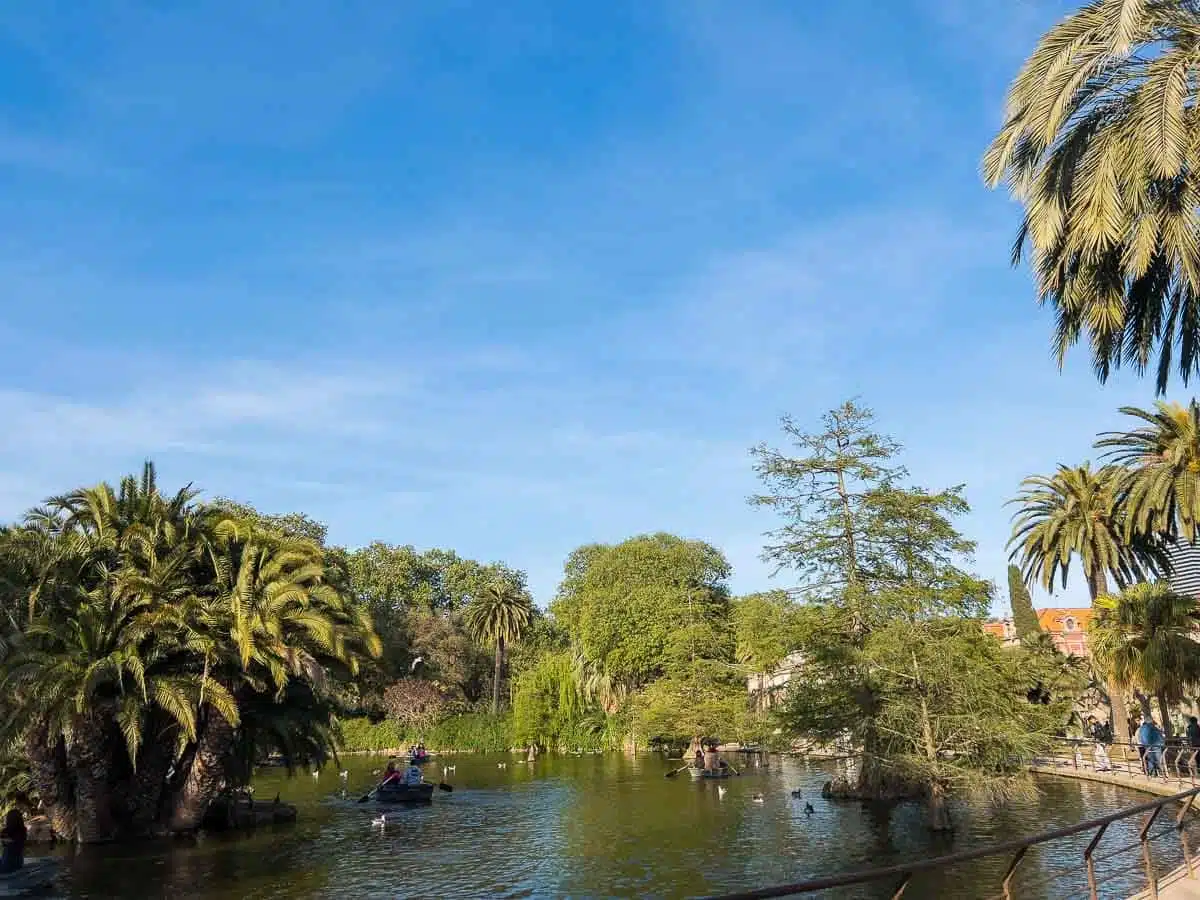 Fancy taking a walk in one of Barcelona's prettiest spaces? Take a wander through the gardens of Ciutadella Park. It's the gateway to several activities in Barcelona, from exploring the city zoo to admiring the Catalan Parliament.
There are also some unique sculptures throughout this lush park, so keep your eyes peeled for woolly mammoths and dragons. While it's a great place to pop open a bottle of vino and have some pan tomaca, snapping pics at the central fountain is an absolute must.
Take in History at Palau Guell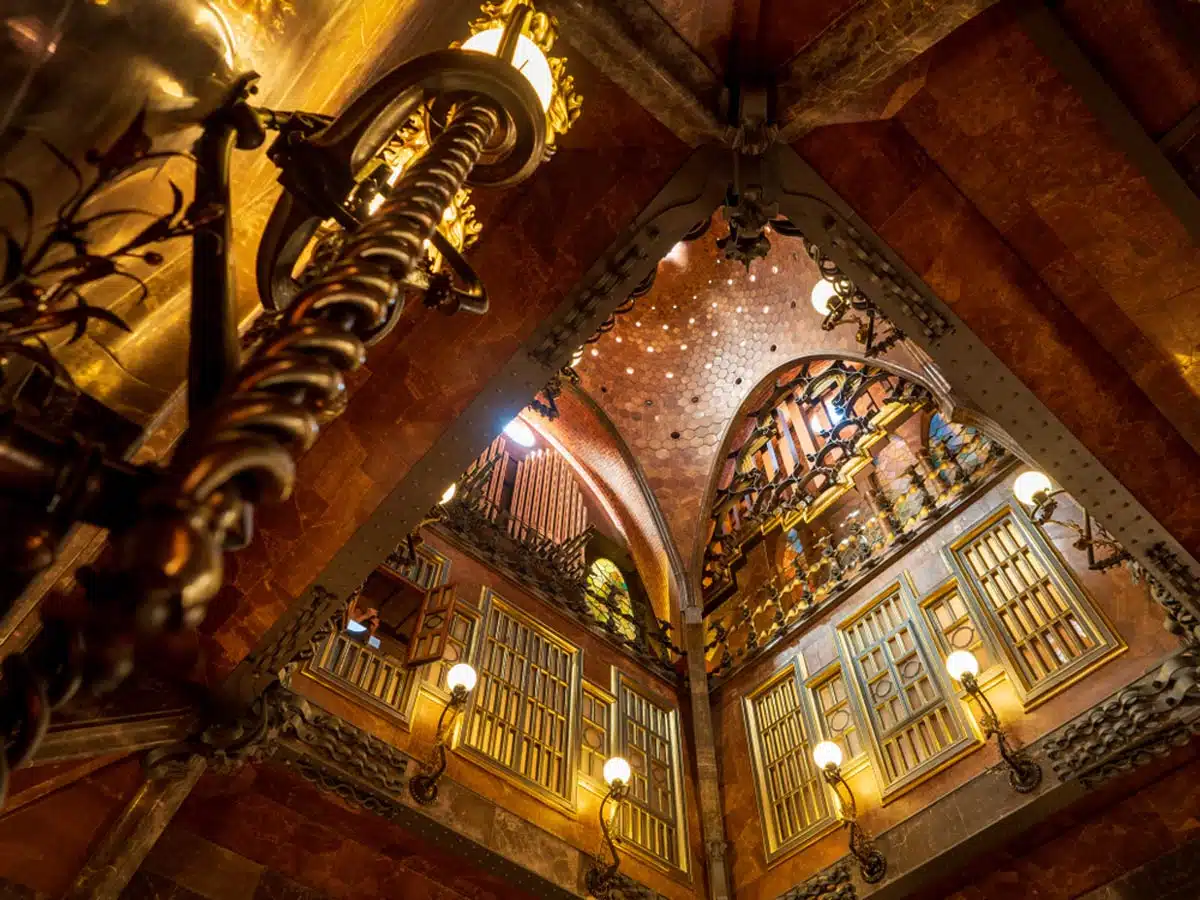 For a unique blend of mediaeval inspiration and classic Gaudí quirkiness, explore the wonderful world of Palau Guell. As one of many commissions by Eusebi Guell, Gaudí didn't hold back on the wow factor of this imposing fortress.
From expansive, dimly lit rooms and custom-made furniture to a spiralling basement and colourful rooftop elements, you can't help but fall into an alternate world here.
Even when you start your Palau Guell walking tour at the wrought iron doors, you'll notice how much artistic freedom Gaudí had creating this piece.
Find More Classics at MNAC
With an MNAC entry ticket, explore one of the world's best collections of Romanesque art in a truly historic building. With over 25,000 works focusing on Barcelona's history, you truly learn about Catalan culture here.
This 1928 building isn't something to scoff at either, with beautiful fresco ceilings and halls big enough to fit an elephant. And don't forget to explore the temporary exhibition spaces either.
Wander Through Mercado de la Boqueria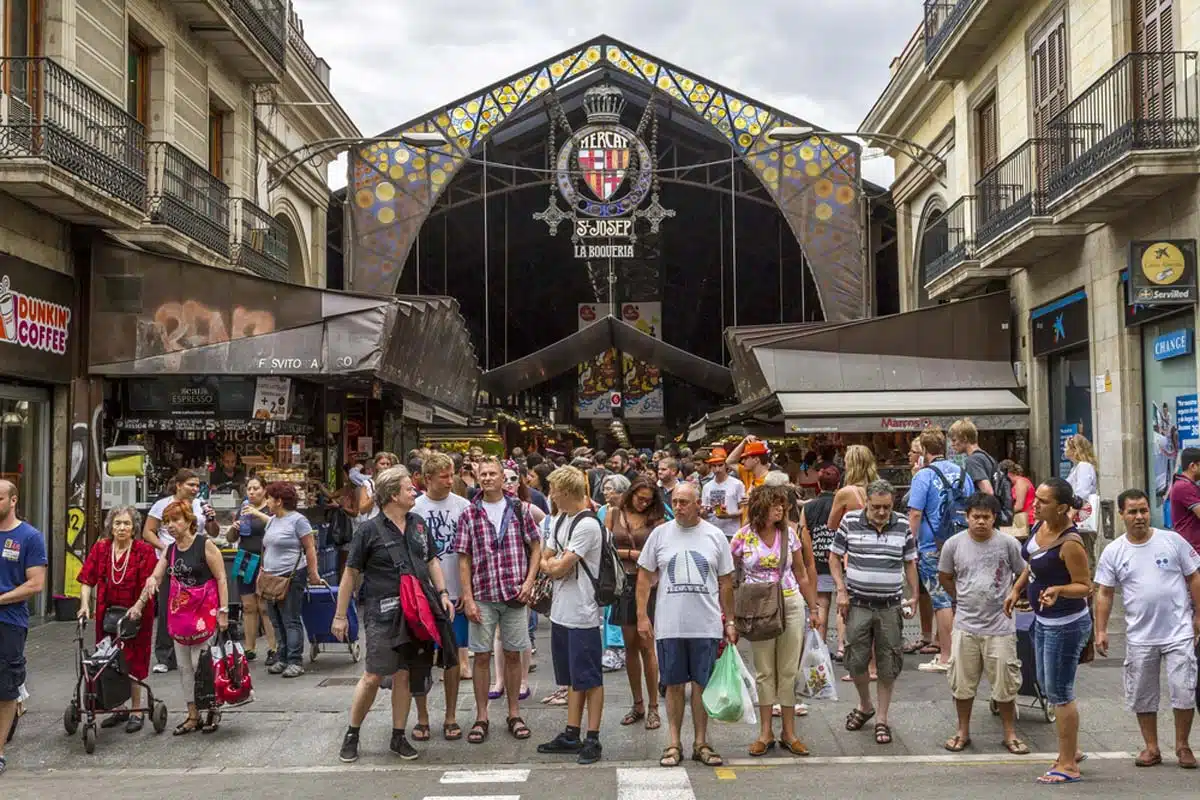 You'll find markets everywhere in Barcelona, but you simply have to tour La Boqueria. Smack-dab in the centre of the Gothic Quarter, you can easily spend hours tasting your way through the tapas and stocking up on local produce.
Sure, it's one of the most popular markets – and the busiest – but it's still worth popping in. One spot I highly recommend visiting is El Quim de la Boqueria. Not only are their tapas to die for, but their vermouth is a real heart warmer.
Get Funky at JazzMan
Barcelona and jazz music (surprisingly) go hand in hand. On that note, popping into JazzMan at Roger de Flor Street is a must.
Sure, there are better-known bars (Jamboree and Harlem Jazz Club, for example), but this tiny bar tucked away in Eixample is one of my absolute favourites. The fact that there's no cover charge (simply order a drink) is only a mega bonus.
This is where sipping on some vino and letting the smooth symphony of Bracelona's finest go hand in hand. With local artists like Miguel Talavera and Carles Pineda taking the stage, you'll quickly find the city's soul in this intimate club.
Top Tip: It's only open Monday to Thursday. And it's *really* small so get there early to nab a table. On my first visit it was standing room only, and even then people were squeezing in the door. Worth it, though!
Take a Trip To Can Calopa Vineyard
Speaking of wine, it's also worth the 40-minute drive out of town to get a real taste of the only winery in (or near, I suppose) the city. The views of the Serra de Collserola Mountain Range will dazzle as you're learning about the winery's unique techniques to produce their delicious vinos.
Can Calopa specifically grows the Syrah and Grenache grape varieties, giving its wines their distinct spiced raspberry flavour. From classic reds to bubbly rosé, you can taste all their produce in style.
Shop Til' You Drop at Encants Market
You can't go home empty-handed, so pop into the most epic flea market at Encants. With over 700 years of history, 301 stalls and nine restaurants on site, I guarantee you'll find something that piques your interest.
From new handcrafts and old books to foodie souvenirs and everything in between, the Encants Market has something for everyone. The architectural space itself in Poblenou is worth a visit, but there's no harm in getting some goodies along the way.
Sip Sundowners at a Rooftop Bar
How to round off a day in Barcelona? Spend the evening admiring the city below as you quaff glass after glass of booze on a rooftop terrace.
My pick? Bar-Terraza Ayre Rosselló. This is the perfect place to watch the setting sun light up Sagrada Familia.
Other great spots are the Pulitzer Terrace and Ohla Chillout Terrace, but if you've got the choice, stick with Bar-Terraza Ayre Rosselló.
Things to do in Barca: Practical Tips for Your Trip
Where Should I Stay in Barcelona?
Axel Hotel (Mid-Range)
With indoor pools, bubbly hot tubs, spacious rooms and an eye for detail that's second to none, Axel Hotel is the best adult-only hotel in Barcelona.
Rooms are on the simple side, though they're plenty spacious for a couple on a cosy getaway. And the abundance of lively bars and restaurants on your doorstep means you're likely not going to be in much, anyway.
The Hoxton (Luxury)
It's no secret that The Hoxton is one of the coolest luxury hotel chains in the world. And the rooftop pool and bar that towers above the rest is one of the many reasons to book a room here while in Barca.
It's also perfectly placed between the Gothic Quarter and the coastline, so all the best things to do in Barcelona aren't far away.
Recommended Tours in Barcelona
Things to do in Barcelona: Map
Love This? Save and Share on Pinterest