Planning a trip to Ronda? Lucky you – it's truly a wonderful Spanish spot. These are the best things to do in Ronda.
Hemingway once said that Ronda was the most romantic town in Spain, and it turns out he knew what he was talking about – the architectural wonders here are truly that beautiful.
Sitting pretty in the province of Málaga, this charming town is smaller than other Spanish highlights, but its cosy village feel and dramatic vistas will woo you. I included it in my 10-day Spain itinerary for a good reason.
Ronda, Andalucia (also spelt "Andalusia"), is waiting for you with open arms and charming, unique attractions. Let's dive into some of the best things to do in Ronda, Spain.
The Salvatierra Guest House is an excellent choice for authentic Andalucian charm and hospitality. The breakfast is pretty impressive as well.
Top 5 Things to Do in Ronda
Marvel at Puente Nuevo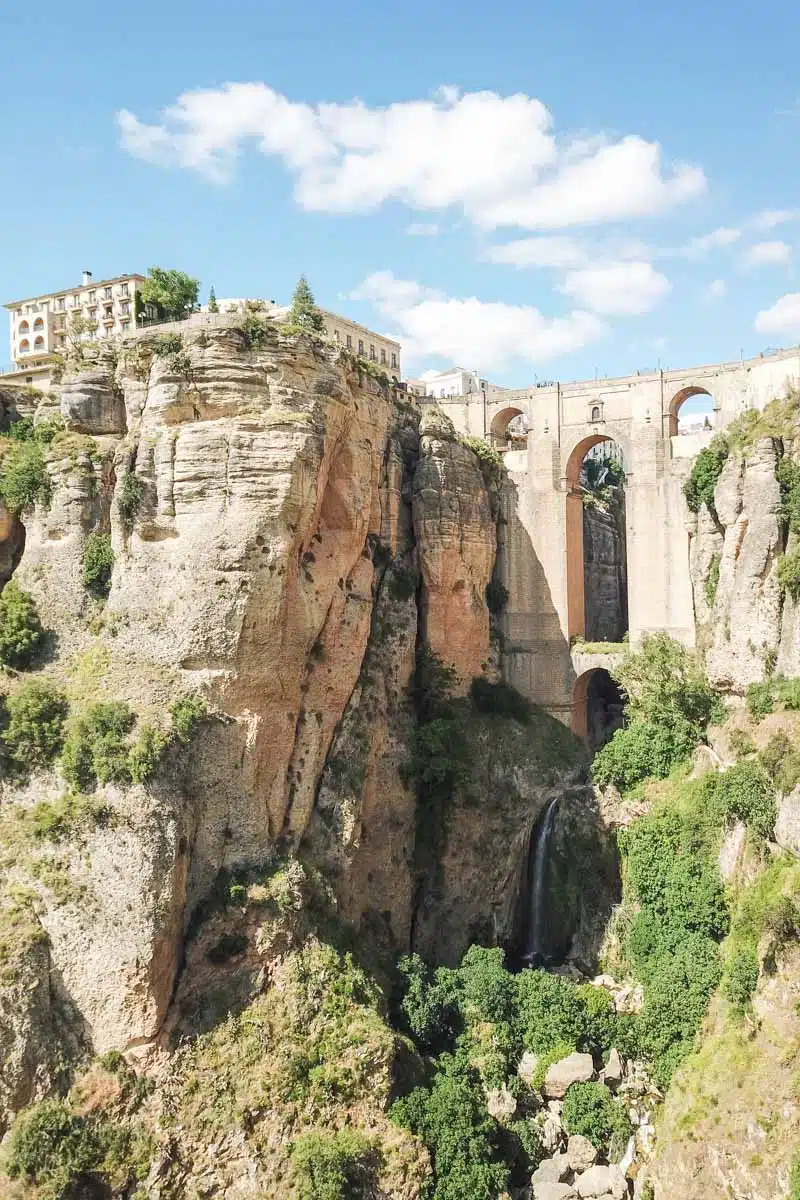 This bridge built in 1759 over 34 years to span the El Tajo Gorge is one of the biggest tourist draws in Ronda. It's an architectural work of art and an engineering wonder of its time, standing 120 metres above the bottom of the gorge.
If you fancy a small history lesson, wander into the chamber below the main arch for a small exhibition on the bridge and its construction. Or you could take a walking tour and learn straight from your guide. 
Bring your camera along for this one because this gorge in Spain oozes majesty and grandeur with its vista of cliff-clinging houses, verdant shrubbery, and the dramatic Puente Nuevo.
Even if Ronda is just a stop on your Spanish rendezvous, this famous bridge is one of the unmissable things to do in Spain.
Visit the Arab Baths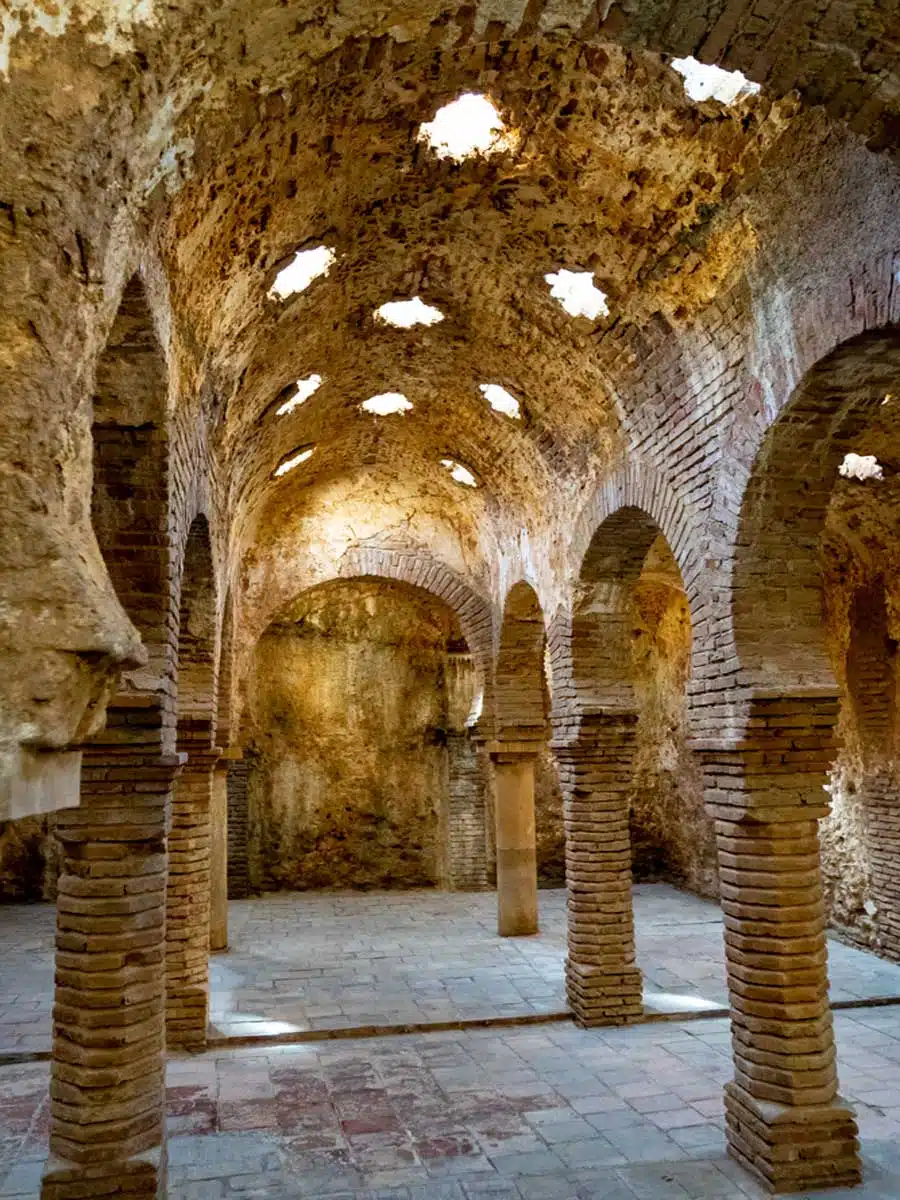 Are you looking for a touch of classic Moorish heritage in Spain? Just to the east of Ronda town are the impressive Arab Baths, preserved so impressively from the 13th and 14th centuries with only one roof no longer intact.
The design is similar to Roman baths, except that instead of water, the Moors utilised steam to sweat off impurities instead of water.
The cold, warm, and hot rooms are all still in splendid shape for touring. It's a wondrous experience to stroll through the ancient archways and gaze at the star-shaped openings in the barrel-vaulted ceilings.
Originally a Mosque was next door to this archaeological beauty, and believers would stop by the baths to purify and cleanse themselves before worship.
Hike in the Sierra de las Nieves National Park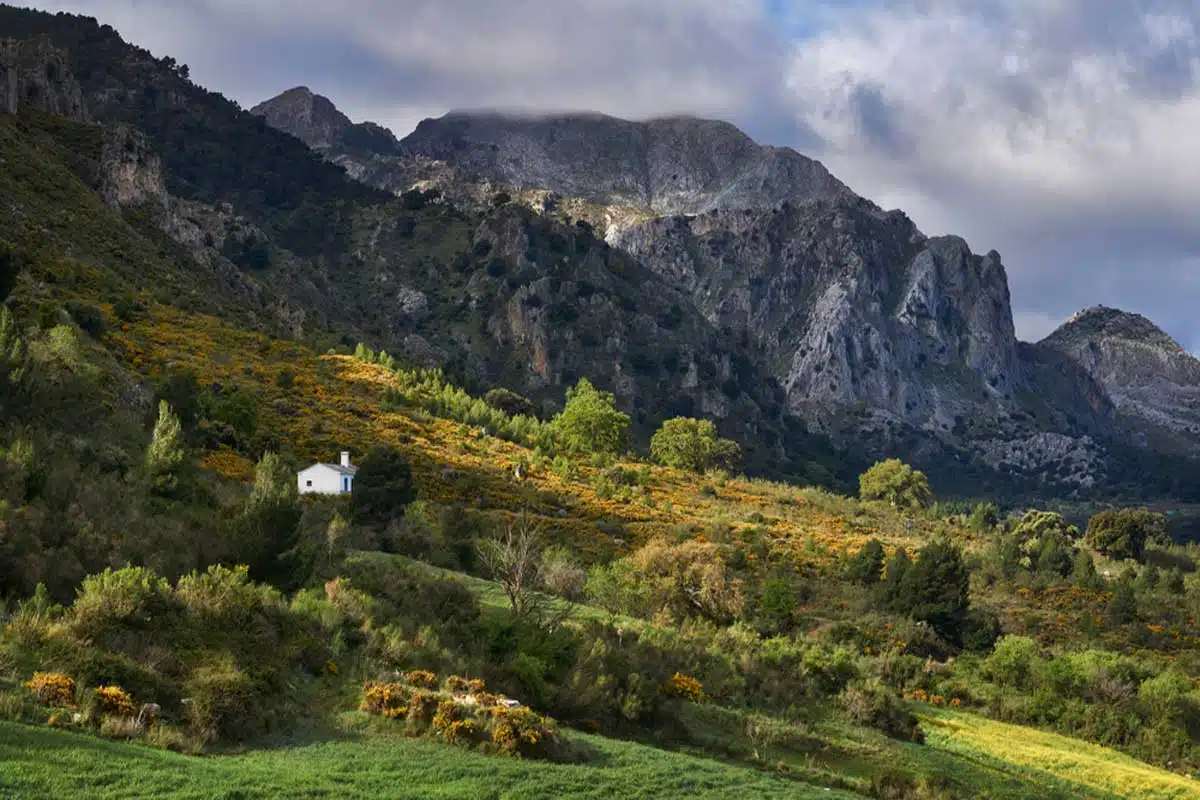 The plains that form part of those mesmerising vistas from Ronda's cliffs made up of cereal fields, vineyards, and olive groves are where you can grab an olive oil tasting tour. But beyond those to the east is the Sierra de las Nieves National Park.
Here you'll find peaks like La Torrecilla that soar to the height of about 2,000 metres and 1,500 types of plants, 19 of which are unique to Ronda.
It's the perfect place for some enthusiastic hiking, and any of the 14 white villages scattered around the park will offer a well-earned rest and gastronomic delights.
The park is also home to a labyrinthine cave system, including Sima GESM. It's the largest cave in Málaga and one of the deepest worldwide—it dives down to more than 1,100 metres below the entrance.
Book one of the available caving adventures to create a holiday memory you can boast about back home.
Admire Puente Viejo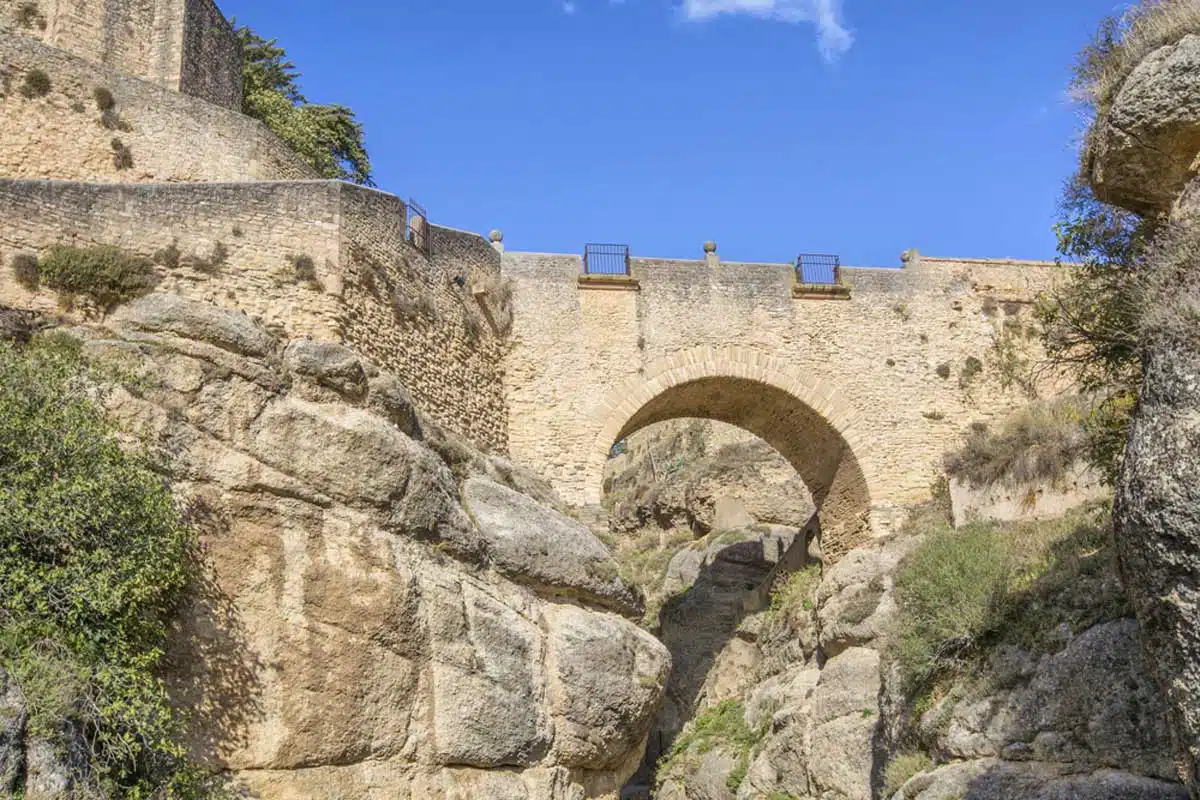 The aptly named "Old Bridge", built in the 15th century, is not as architecturally stunning as the Puente Nuevo ("New Bridge"), but it's no less important.
Its single archway stands 31 metres high and 10 metres wide and linked the town to the market district of Mercadillo. The craggy façade is flat but offers tiny balconies with railings along its edges to gaze at the Guadiaro Tributary below.
Its origins are still under dispute — whether it was the work of the Romans or rebuilt by the Arabs, but I say a bit of intrigue only makes it more fascinating.
Jardines de Cuenca
The gorgeous tiered hanging gardens of Jardines de Cuenca offer a special experience. You can see them from the Puente Nuevo, but I think you need to experience them up close (and in a comfy pair of shoes).
Their 23 rose-covered terraces lead you on a magical journey along the ledges of the Tajo, with breathtaking views into the El Tajo Gorge. Created in 1975, the gardens celebrated the twinning of Ronda with its sister city, Cuenca.
When you're not gaping in wonder over the walls, turn around and admire the rose gardens or the town's vista of eye-catching white-washed houses behind you.
Brilliant Things to See & Do in Ronda
Visit the Ronda Bullring (Plaza de Toros) and Bullfighting Museum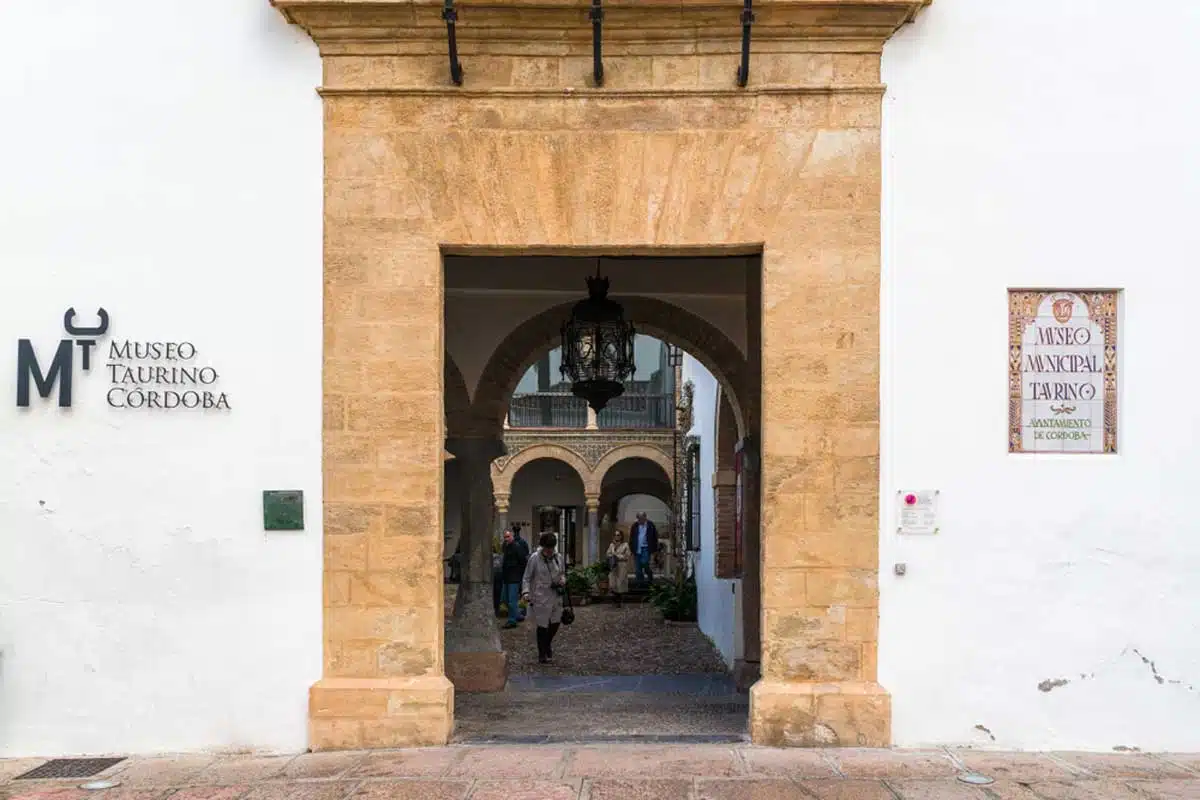 Although it's a delicate subject, one of the things Ronda is most famous for is its bullfighting culture. It was home to the Romero dynasty of matadors who created the rules for bullfighting in the 18th and 19th centuries that still exist in the present day.
Built in 1785, the neoclassical Plaza de Toros is a famous Spanish landmark as it's the second oldest one in the country.
These days it's more of a beautiful museum for this controversial practice with an exhibition on its history and a horse riding school. Actual bullfights are rare occurrences.
I can't say I agree with bullfighting, but it is a part of Spanish culture that deserves mention. It's up to everyone to decide their comfort level with the topic, and if you feel too uncomfortable, rather give it a miss.
Dine at Bodega San Francisco
Beer, local wines, and traditional fare that delivers a punch to your tastebuds are what you'll find here. Its exterior is unassuming; in fact, you might walk right past it if not for the flocks of patrons outside its doors.
Dining is al fresco, and the prices are so good I don't know what you'll be more amazed at: how little this great cuisine costs or the fantastic service. The croquetas de setas are divine, but there's an extensive range of tapas, including a mouthwatering shrimp and bacon brochette, to peruse and enjoy.
The portions are a fair size, too, for their price. I highly recommend the oxtail dish as well.
Wander Through the Alameda del Tajo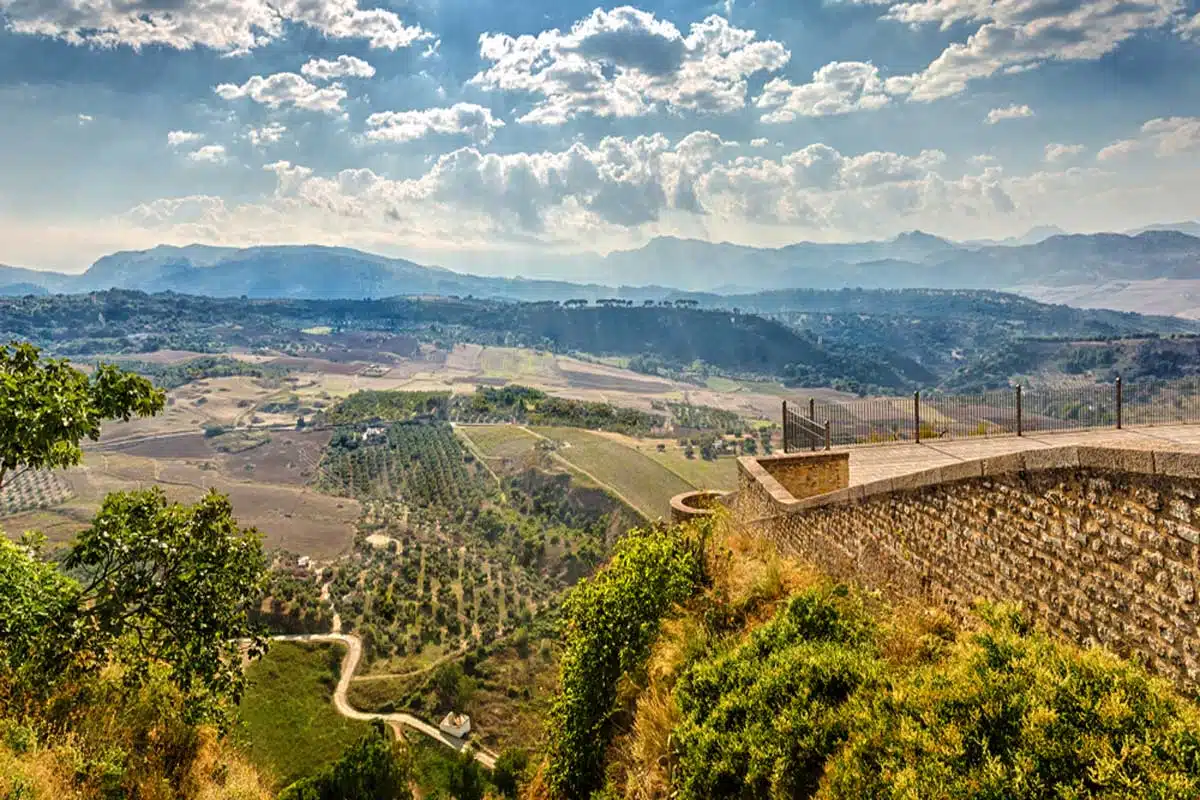 Gardens are scarce in Ronda. But this 19th-century park satisfies just about any urge for a romp in nature. Just above the western bluffs of Ronda, Málaga, sits the Alameda del Tajo.
Mature Himalayan cedars and acacia pines lie scattered in orderly clumps across this picturesque landscape. Pathways lined with rose-entwined pergolas lead to crystal fountains.
You can spend the day strolling through the park or gazing over the heart-stopping valley vista from the paved ledge at the Mirador de Ronda at sunset.
Unique Things to Do in Ronda: Ronda's Unusual Sights
Explore the Museo Lara
This quirky museum is inside the 18th-century Casa Palacio de los Condes de las Conquista in the historic centre of the town. Named after its founder, Juan Antonio Lara Jurado, this isn't your average collection of historical curiosities and artefacts.
Upstairs are vintage typewriters and sewing machines with a couple of early 20th-century cameras used for silent movies. Downstairs, however, is where you'll find exhibitions on witchcraft and the Holy Inquisition.
A grisly assortment of torture instruments makes up a large part of the exhibit, and the side room houses some odd items connected to black magic. If you're the superstitious type, better bring a bushel of sage with you to cleanse yourself of those energies!
Head to the Cueva de la Pileta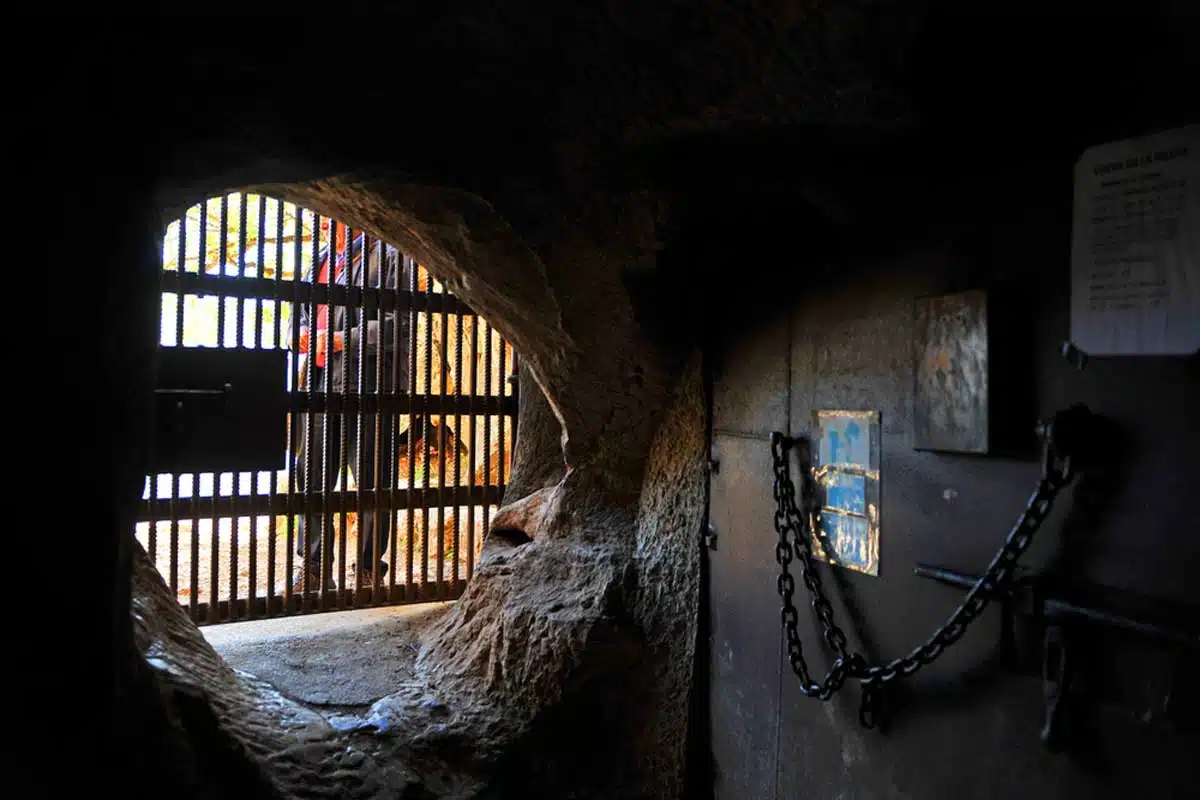 About 30 minutes outside Ronda in the Sierra de Grazalema, you can find a Palaeolithic treasure trove of cave paintings. Discovered in 1905, you'll find moving depictions of deer, fish, horses, bison, and goats painted by hands that existed 20,000 years ago.
The floor of the cave even bears the charred marks of prehistoric campfires. It's a special experience few places can offer, so I recommend you take the opportunity to visit while you're in the area.
Visit La Casa del Rey Moro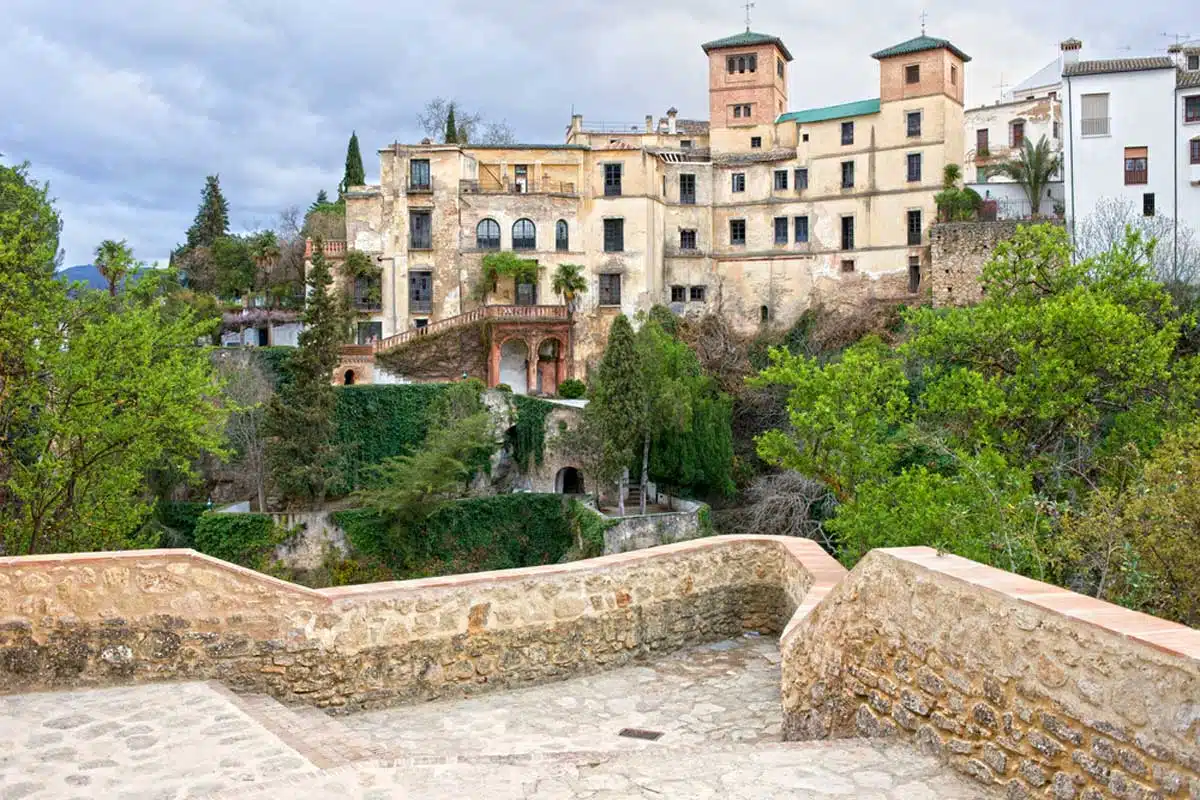 Sure, it looks haunted and could use a bit of a polish, but this "House of the Moorish King" from the 18th century holds some beautiful and unique secrets. The gardens plotted in 1912 by Forestier are one of them — sumptuous and neo-Mudéjar in style, they're highly maintained and positively idyllic.
The other secret is more exciting: a stairway of 300 steps that leads from the house to the bottom of the gorge below. Built in the 14th century, these steps allowed secret access to the Guadalevin River when the town experienced siege.
It's a pretty hairy descent, but it's worth the views from the bottom, so hold onto the walls and wear flat shoes for this one.
The house also has a "Chamber of Secrets." Sorry, Harry Potter fans, no basilisks here — but you can whisper a secret to someone on the other side of the room, and they'll hear it perfectly.
Get the Blues at Júzcar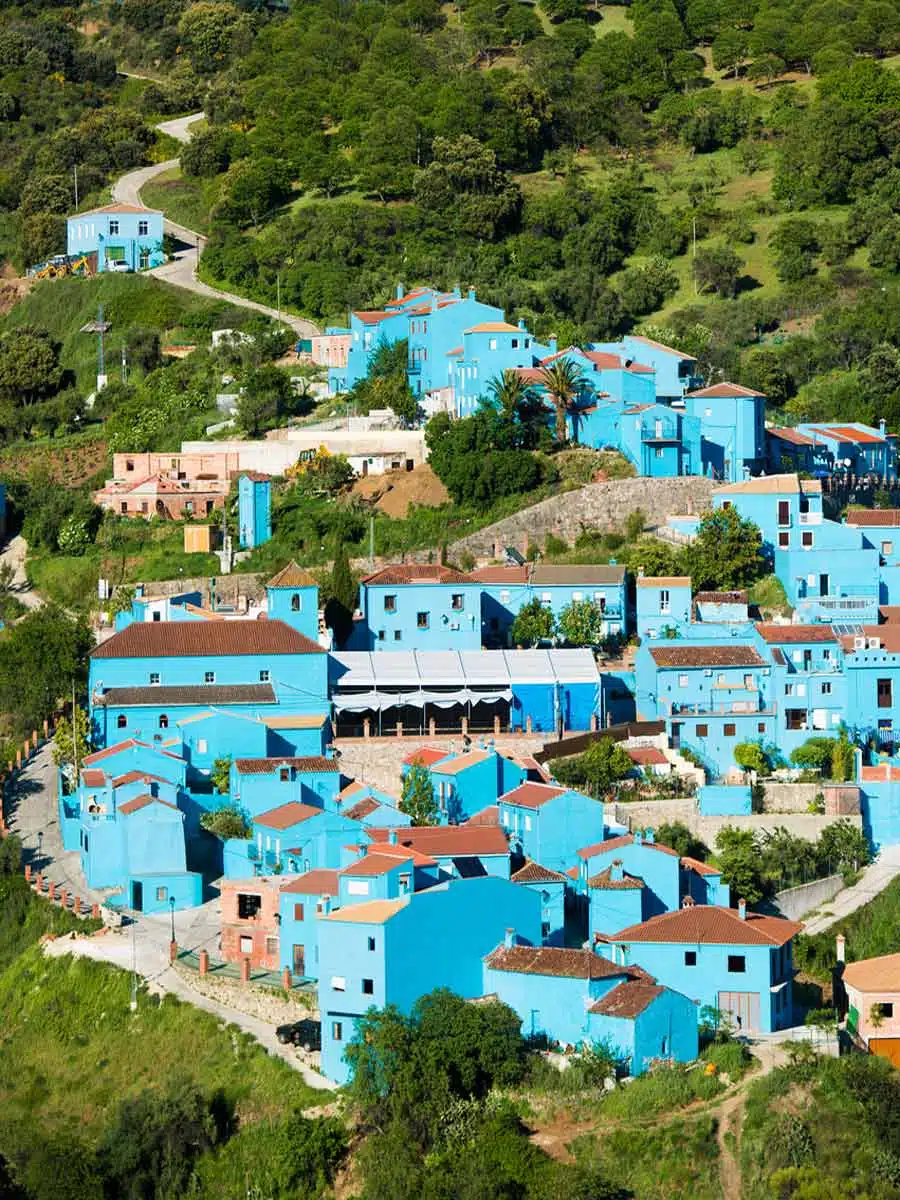 Although 23,5 km outside of Ronda, I have to mention this one: hidden amongst the Andalucian hills is a real-life Smurf village. Yes, you heard me right. Júzcar was once a traditional whitewashed Spanish village.
But in 2011, Sony Pictures approached them requesting to paint their entire town blue as a marketing stunt for their new feature film, The Smurfs. The town agreed, and the company transformed it into a shining blue jewel with Smurf murals, portraits, and statues everywhere.
Sony returned in 2012 to repaint the town white, but the council refused — the sky-blue hue attracted tourists like bees to pollen, with tens of thousands descending every year.
Even if Smurfs aren't quite your thing, this unique town is something you can't help but marvel at.
Things to Do in Ronda: Practical Tips for Your Trip
How Long to Visit in Ronda?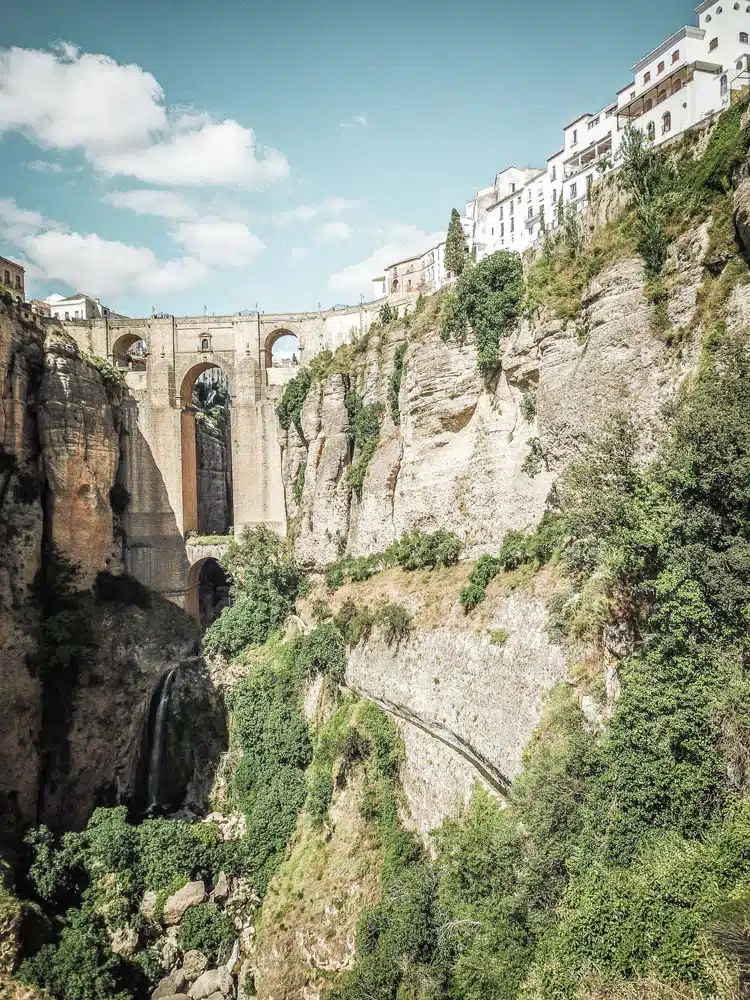 With all the sights and attractions I've told you about, I'd recommend at least two days to get the most out of your trip to Ronda. Go for three days if you want to bask in the ambience and soak it up at a slower pace.
Best Time to Visit Ronda?
July and August are busy months for tourists, with peak temperatures hitting the low 30s in centigrade and little to no rain to spoil your vacation. However, the streets can get a little crowded then, so visiting during the calmer month of September is ideal.
Fewer tourists to clog the walkways (and your photos), and milder weather at a pleasant 24ºC on average. You even have the bonus of the Feria de Pedro Romero and Corridas Goyescas festivals to enjoy, a treat for any traveller.
Is Ronda Worth Visiting?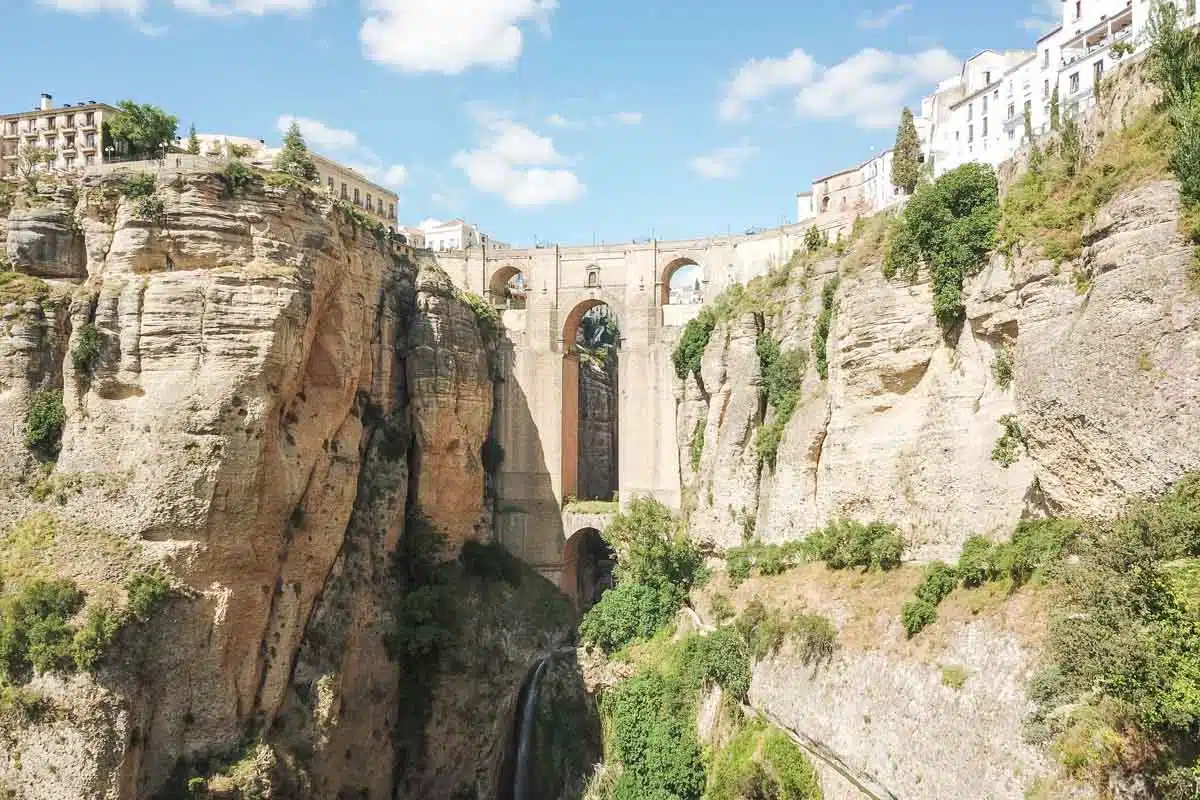 Without a doubt, Ronda is worthy of a spot on your bucket list. I loved this charming hilltop town's dramatic scenery and architecture, and so will you. The many unique things to do will fill up your days and make for a vacation that will leave you awe-struck and inspired.
Where Should I Stay in Ronda?
Hotel Maestranza (Mid-Range)
This charming hotel with modern rooms has an outdoor pool about a 5-minute drive from the premises. The Puente Nuevo is a short walk away and the train station only 10 minutes, making it an ideal location.
The breakfast includes vegetarian and gluten-free food in the buffet. Relax in one of the elegant lounges or enjoy something from the on-site restaurant or coffee shop while you scroll through your Instagram with the free Wi-Fi.
Check Rates and Availability for Hotel Maestranza on Booking.com
Catalonia Ronda (Luxury)
Just across from the Bullring, this incredible hotel offers only the best, with an infinity pool, hot tub, and rooftop terrace with views of the Tajo de Ronda. They even have a spa if you fancy a pamper.
The rooms are elegant, and one even comes with a private pool. The breakfast is unbeatable, and the on-site restaurant specialises in local Andalucian dishes. I really can't recommend this one enough.
Check Rates and Availability for Catalonia Ronda on Booking.com
Recommended Tours in Ronda
Things to Do in Ronda: Map
Things to Do in Ronda: Read Next