Explore these iconic landmarks in Barcelona – from Gaudi's architectural masterpieces to castles and beyond.
Barcelona really does just seem to have it all.
It's a city where luxury hotels sit off bustling boulevards and avenues. A hectic melting pot where too-cool-for-school locals mingle with eager travellers. And a treasure trove where you'll find countless landmarks to add to your Barcelona itinerary.
I can go on for hours, but I'll let Barcelona's attractions do all the talking instead.
C'mon, let's go. There's plenty of ground to cover and a lot to see.
Famous Landmarks in Barcelona
La Sagrada Familia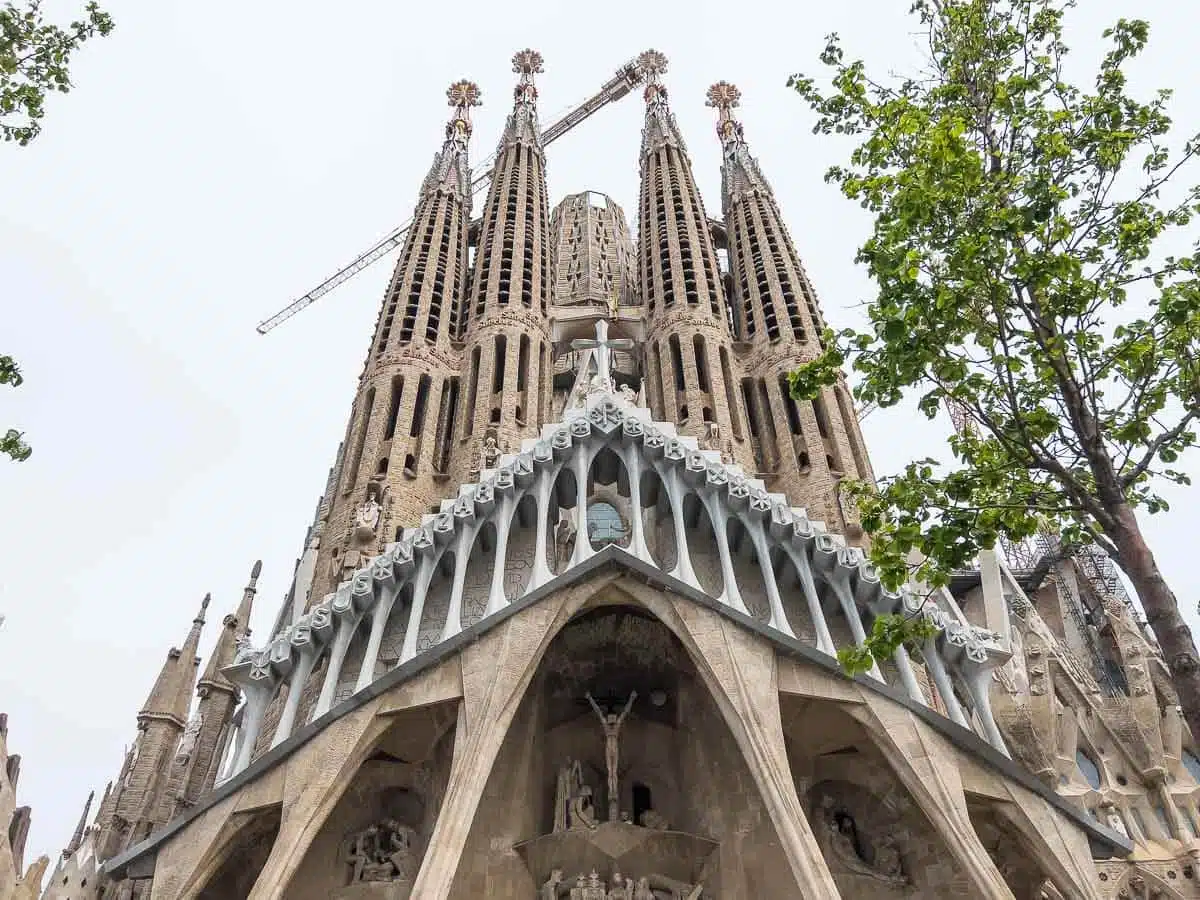 Of all the Barcelona monuments to rave about, the obvious first-place winner is the Gothic Cathedral of La Sagrada Familia. Aside from being the city's most well-known icon (dating back to 1882), it's a visually striking and impressive building showcasing Anton Gaudi's wide-ranging influence over the city.
It ticks every box, from size and scale to intentionally intricate and fragile construction, which will finish by the year 2030. And before you brush it off as just another megastructure, treat yourself to a visit – it's impossible not to be blown away by it when you see it IRL.
How to Visit: Book Your Ticket to La Sagrada Familia Here
Park Güell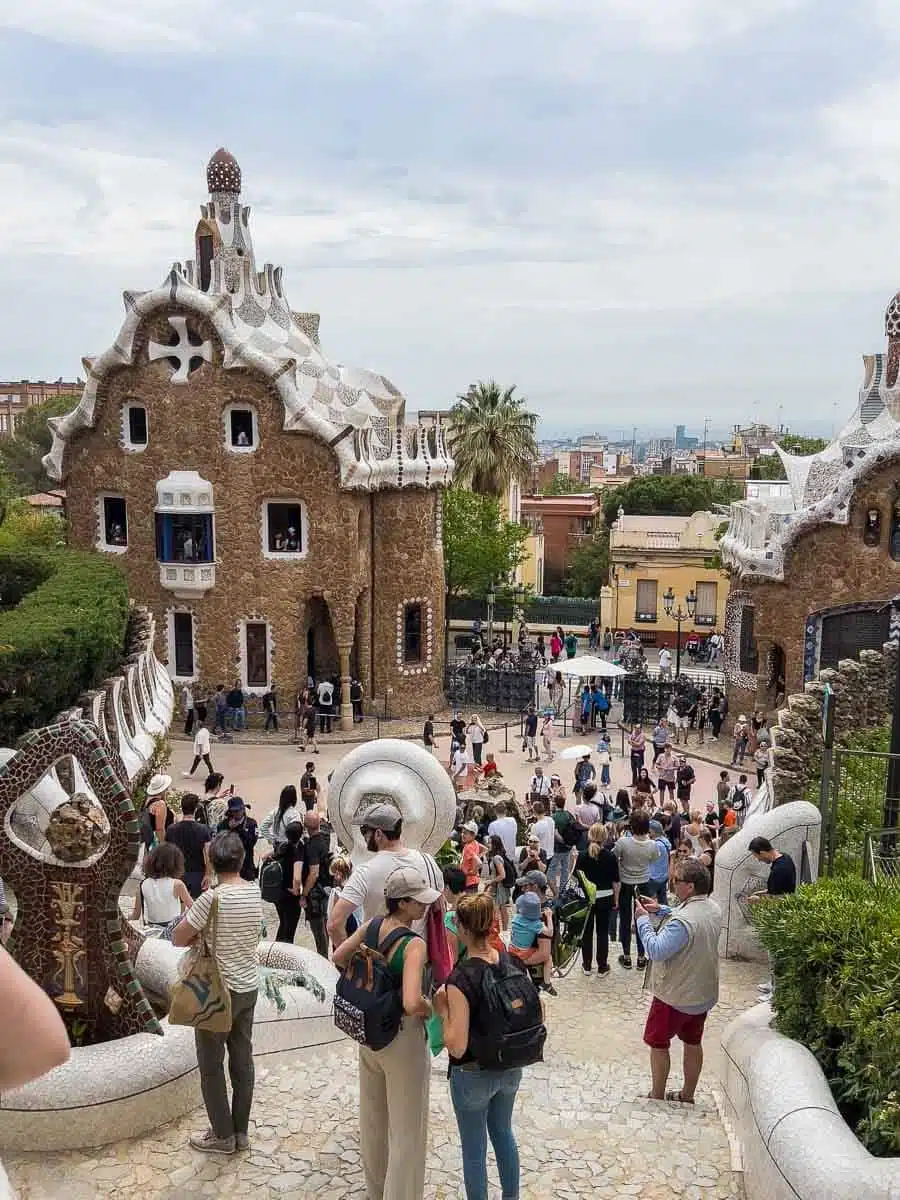 Look, if you plan to tackle the best in Barca and don't include a trip to Park Güell, you'd miss out on one of the most iconic Barcelona landmarks. Perched on Carmel Hill, this is another of Gaudi's masterpieces and a grand-scale showroom of some of his best creations.
The park boasts magnificent buildings, eye-catching mosaics, and quirky sculptures that all testify to Gaudi's artistry. This UNESCO World Heritage Site is a surreal trip, and you could easily spend all day wandering its structures, grottos, winding tunnels, and pillar-filled halls.
How to Visit: Book Your Ticket to Park Guell Here
Casa Batlló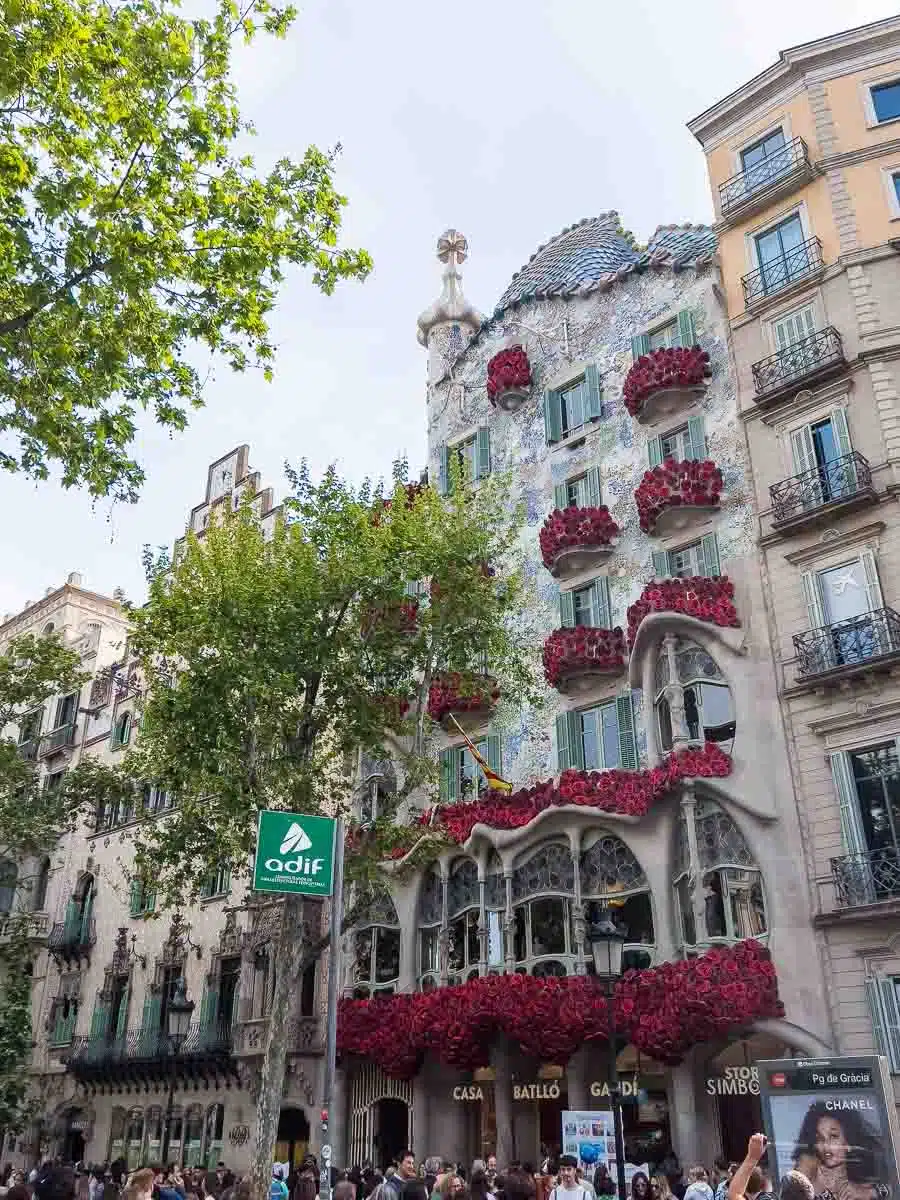 Is Gaudi responsible for all of Barcelona's top attractions? Not quite, but he is responsible for a fair share of them along the city's landscape. Casa Batlló sits on Passeig de Gràcia, making it impossible to miss, and once you see it, you'll be glad you didn't.
Some call it the "house of bones", courtesy of its skeletal design, and if you want to see Gaudi at his weirdest, this is where to go. Its exterior of Venetian mask-shaped balconies and broken mosaic tiles, along with its incredibly detailed interiors, will blow you away.
How to Visit: Book Your Ticket to Casa Batllo Here
La Rambla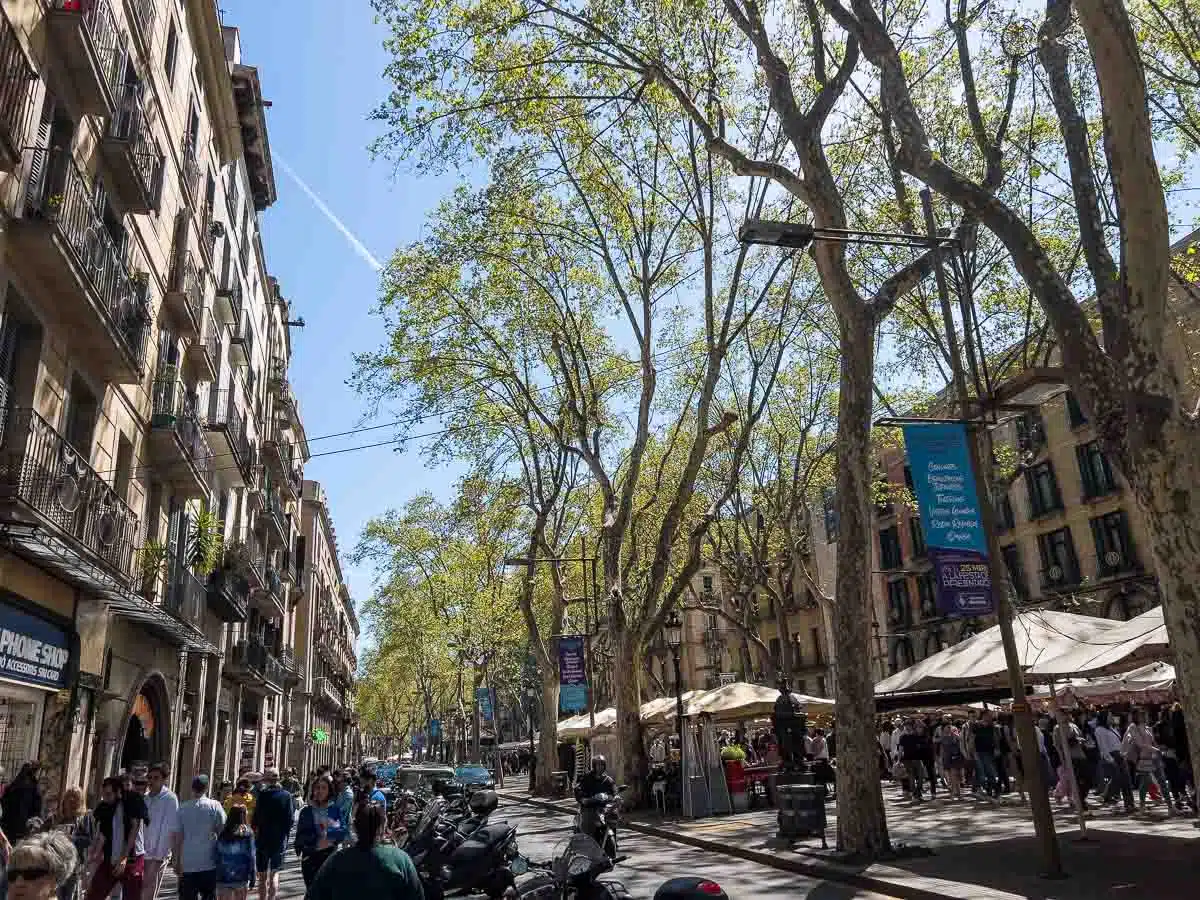 Of the many famous places in Barcelona, La Rambla needs little introduction. Exploring this almost 1-mile street is a must when you're in the city, with a buzzing atmosphere and loads to see and take in.
Yes, it is extremely touristy, but that adds to its appeal. There's always something going on, and aside from numerous restaurants, bars, and charming souvenir shops, you'll find quite a few noteworthy spots to check out. Make sure to stop and visit the Liceu Theatre and Virreina Palace.
Gothic Quarter (Barri Gòtic)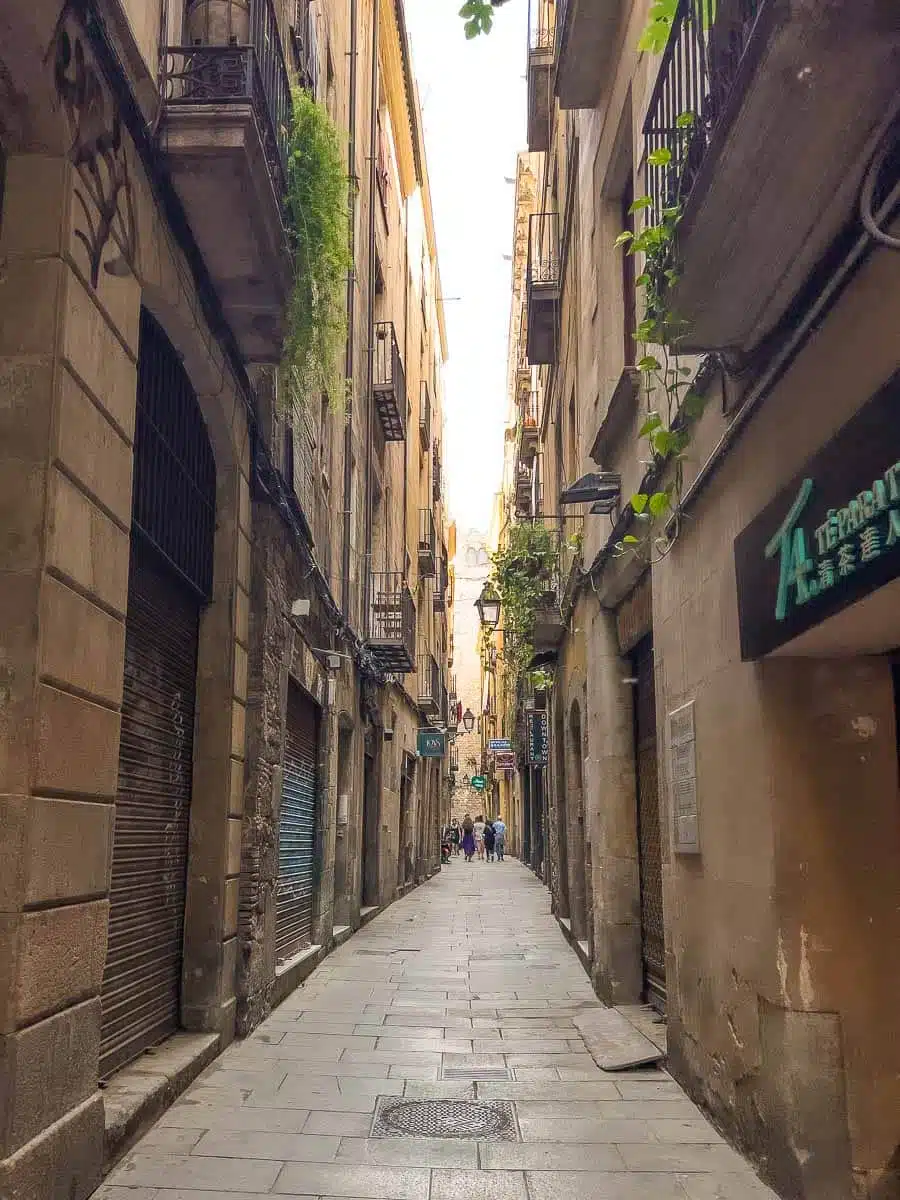 A long time ago (not in a galaxy far away), Barcelona's Gothic Quarter began life as a genuine Roman village. You don't need history lessons before visiting, as the remains of this influence still dominate the district's many narrow alleyways and streets.
While you wander around, set time aside to browse the many unique stores that sell every conceivable curiosity possible.
Unwind in any of the blink-and-you-'ll-miss-them plazas and then end in the main courtyard of the quarter. Here, you'll find the Gothic Quarters' dazzling crown jewel, the Catedral de la Santa Creu i Santa Eulàlia.
Montjuïc Castle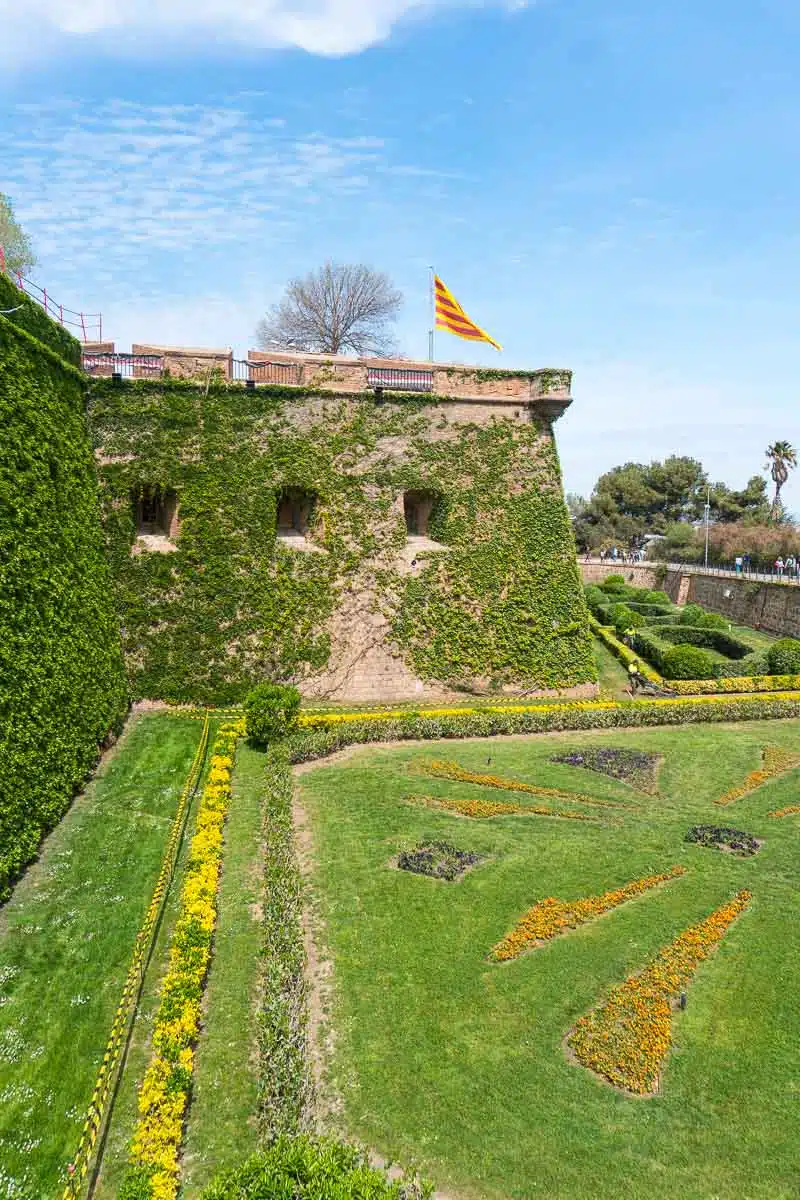 As you plot out your Barcelona travels, ensure you don't forget to include one of Barcelona's must-see sights — Montjuïc Castle. Sitting atop the hill it shares a name with, this 17th-century fortress is historic and a significant icon of the city's skyline.
While its original purpose was purely military-focused, today, the castle draws thousands because of the near-perfect views of the city below. You'll find various exhibits and collections of paintings, sculptures, and weaponry. Oh, and the best bit? You can ascend the hill in a cable car for even more memorable views.
Magic Fountain of Montjuïc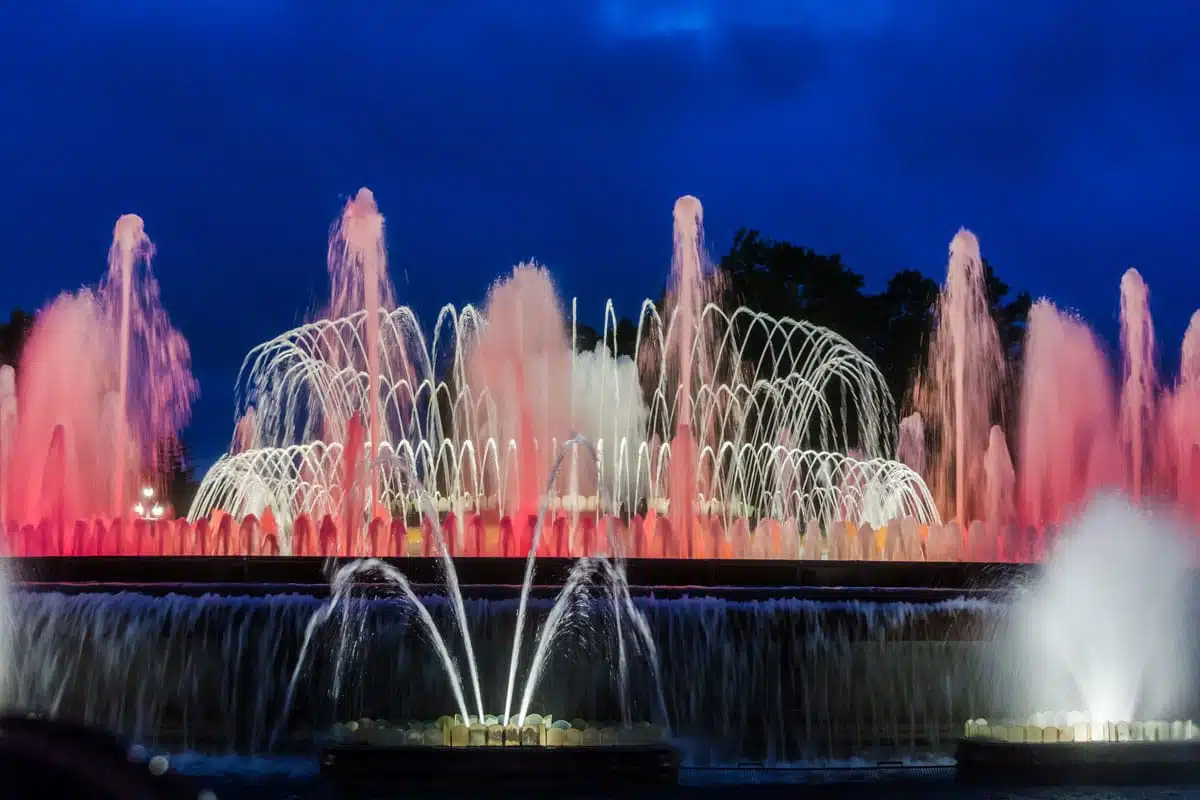 At the foot of Montjuïc lies another Barcelona point of interest that's whimsical and stunning to look at. The famous Magic Fountain of Montjuïc, a stroke of design genius from Carles Buigas, dates back to 1929 and is a mix and celebration of light, music, colours, and motion.
Oddly, before construction, many deemed it too ambitious to ever work, but today (drought closures aside), it's a marvellous sight and experience. Regular showtimes run from Thursdays to Sundays between 9 pm and 11 pm, but check if it's open before heading out.
Top Tip: The fountain is temporarily closed due to drought, so check ahead before you make the trip.
Casa Milà (La Pedrera)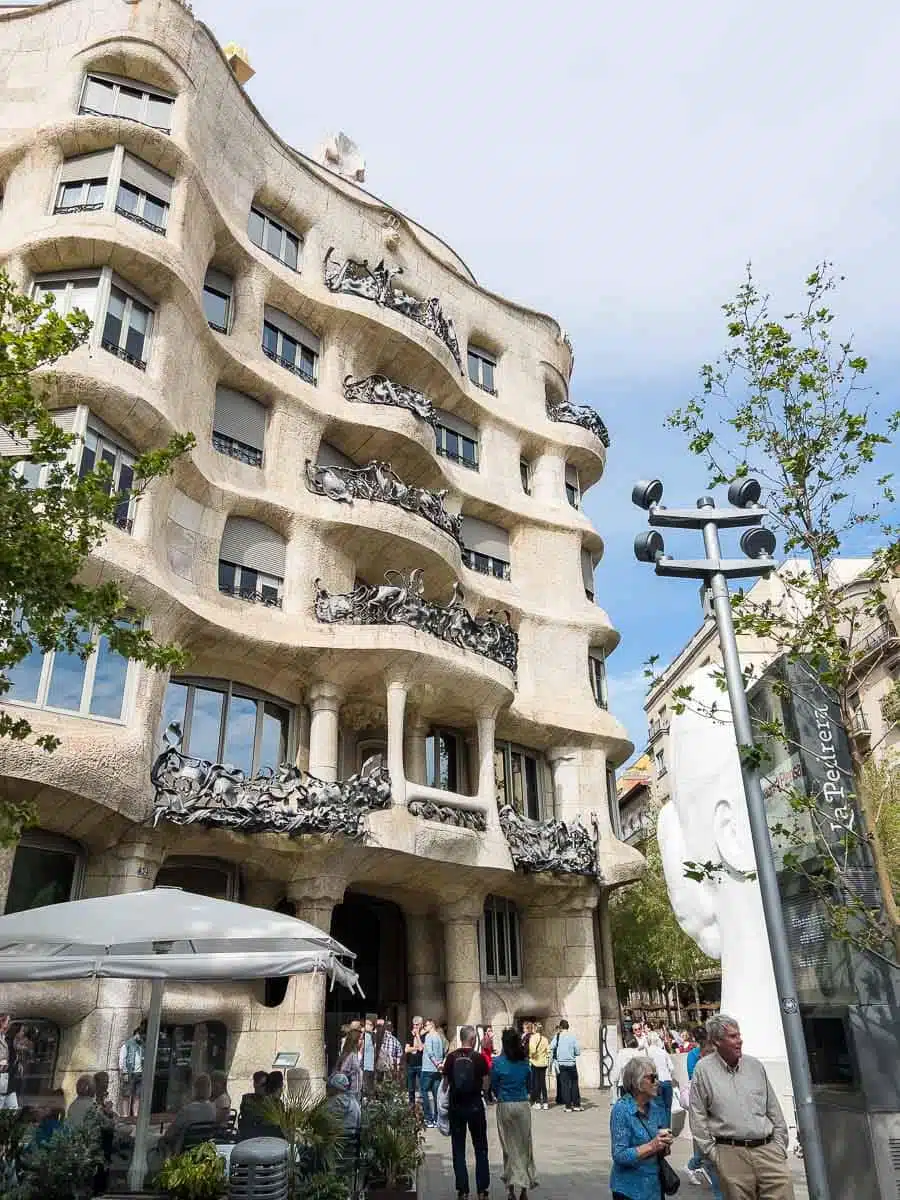 Gaudi's landmarks in Barcelona know no equal, and each one is as unique as conceivably possible. Take, for example, Casa Milà. Instantly recognisable, there aren't many buildings like it in the world.
Situated along Passeig de Gràcia, Casa Milà was also Gaudi's final building before he dedicated the rest of his life to La Sagrada Familia. Expect to see a combination of irregular shapes that curve along its exterior, which is completely colourless.
There are also regularly hosted events on its rooftop. A live music event on the roof of a Gaudi masterpiece. What more could you want?
How to Visit: Book Your Ticket to La Pedrera Here
Parc de la Ciutadella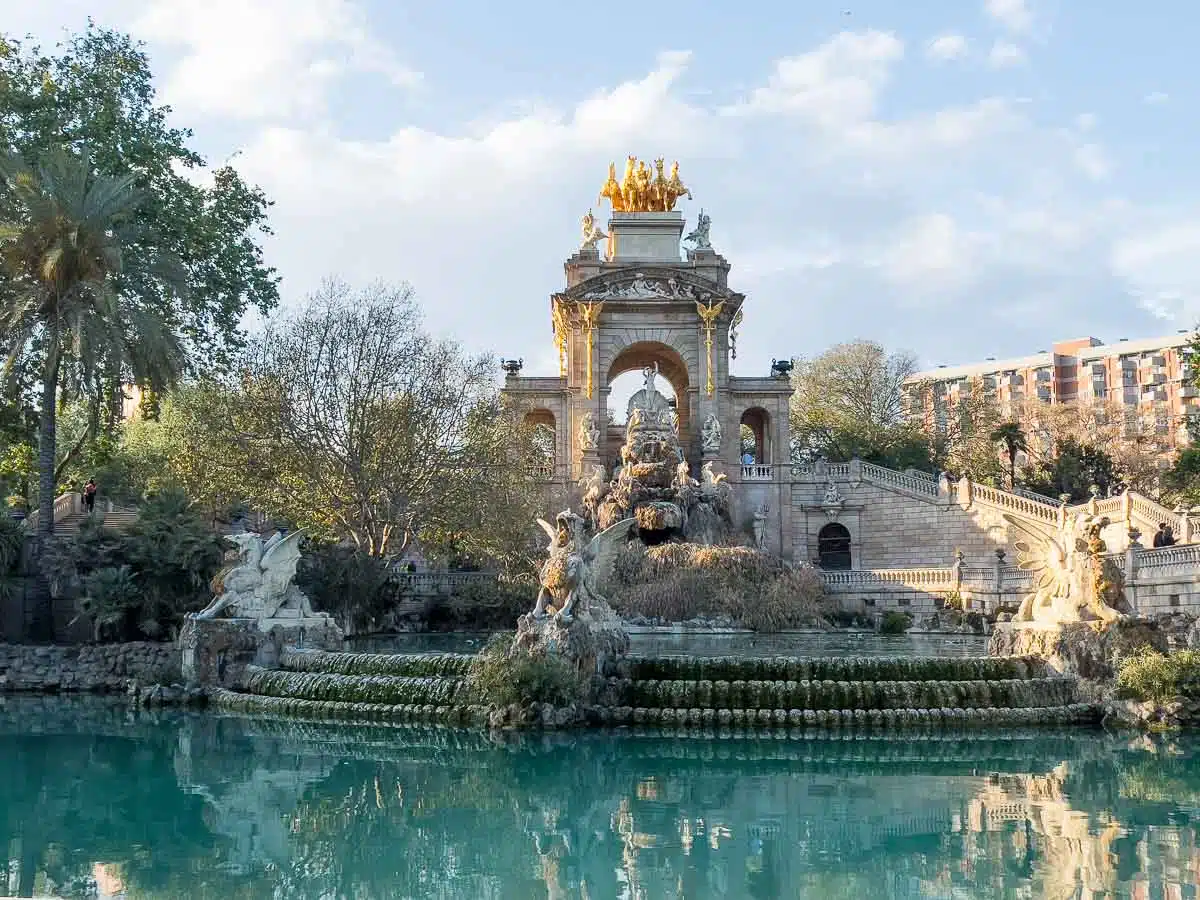 If you're looking for an idyllic and tranquil oasis in the city, then Parc de la Ciutadella is the ideal Barcelona, Spain landmark for you. While a walk through the park offers some respite from the bustling cityscape, there's a lot to indulge in here.
You'll find a zoological museum in Parc de la Ciutadella, the Museu d'Art Modern, and the Catalan Parliamentary Building.
But the true jewel of the park is the Cascada Monumental, a captivating waterfall fountain complete with enormous dragon sculptures standing guard at the basin.
Camp Nou (FC Barcelona Stadium)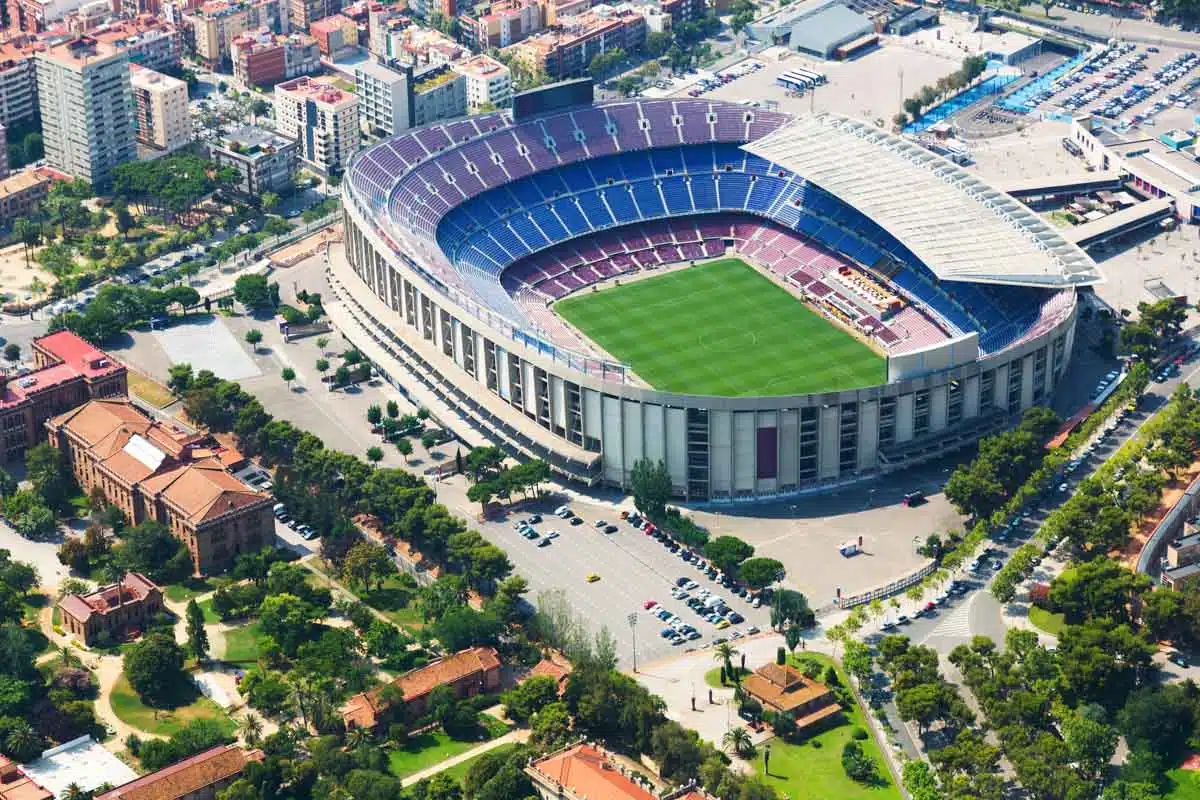 It's virtually impossible to spend time in Barcelona and not feel the impact of football frenzy. So naturally, one of the most famous buildings in Barcelona, and hallowed ground for fans, is FC Barcelona Stadium.
Standing since 1957, Camp Nou is a staple attraction in the city and draws a global audience who come to see legends of the game in action.
Beyond grabbing a ticket to a live match, you can explore the stadium on a guided tour and pop into the club museum to see all six of Lionel Messi's Ballon d'Or trophies.
How to Visit: Book Your Ticket to Camp Nou Here
Palau de la Música Catalana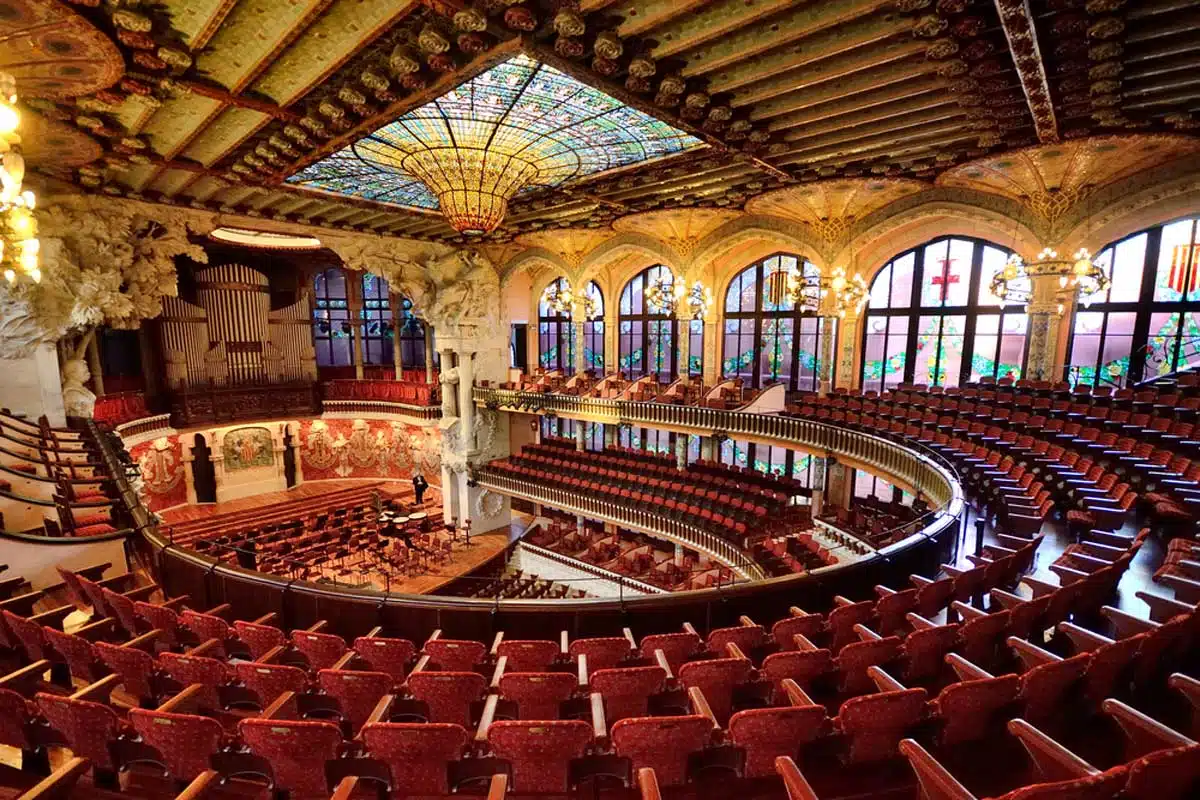 An opulent and grand display of modern Catalan design, the Palau de la Música Catalana in the city's heart is an easy addition to your list of Barcelona's iconic places. A truly stunning building featuring curved walls and delicate arches, it's an instant hit if you love architecture.
But, it is first and foremost a concert hall and one of the world's most beautiful. So while you can explore its exterior and interior design, attending a live performance at the palace is the golden ticket.
Montjuïc Olympic Stadium
Officially bearing the name Estadi Olímpic Lluís Companys, the Montjuïc Olympic Stadium is undoubtedly one of the most famous landmarks in Barcelona, Spain.
Used during the 1992 Olympic games, it's a great spot to see before or after your escapade to Montjuïc Castle.
Today the stadium hosts global musicians in grand spectacles, but it also retains its sporty lineage with various athletic games still taking place here. Right next to the stadium is the Olympic Museum, containing exhibits detailing the history of the games and memorabilia from the 1992 event.
Barcelona Cathedral (Catedral de Barcelona)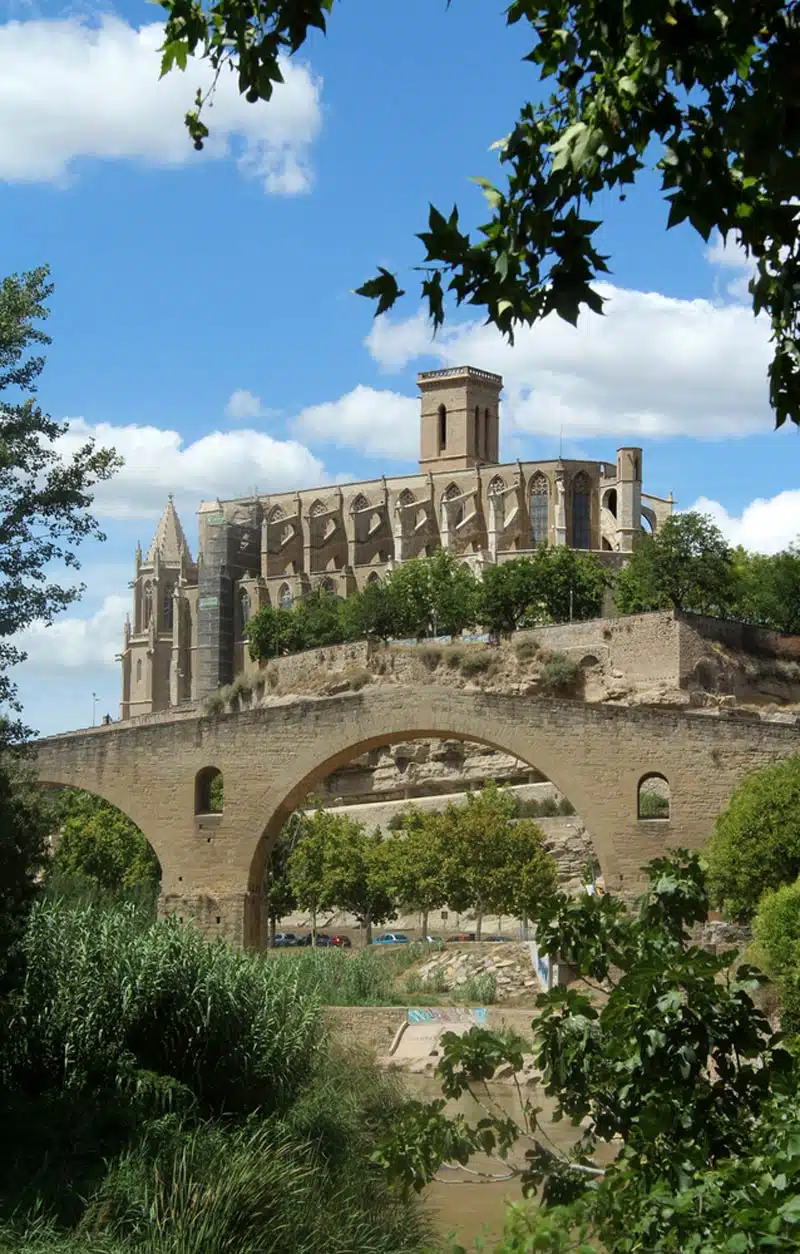 Located within the famous Gothic Quarter rests one of the most renowned historical sites in Barcelona — Barcelona Cathedral. Adding to its appeal is its tendency to emerge from the labyrinth that is Barri Gotic without any warning.
Consecrated in 1058, the construction of the cathedral finished in 1420, and since then, it's been one of the most magnificent buildings in the city.
Visually, the architecture is as impressive as it is historic (gargoyle statues included), so take time to admire and indulge in some quiet contemplation.
National Art Museum of Catalonia (MNAC)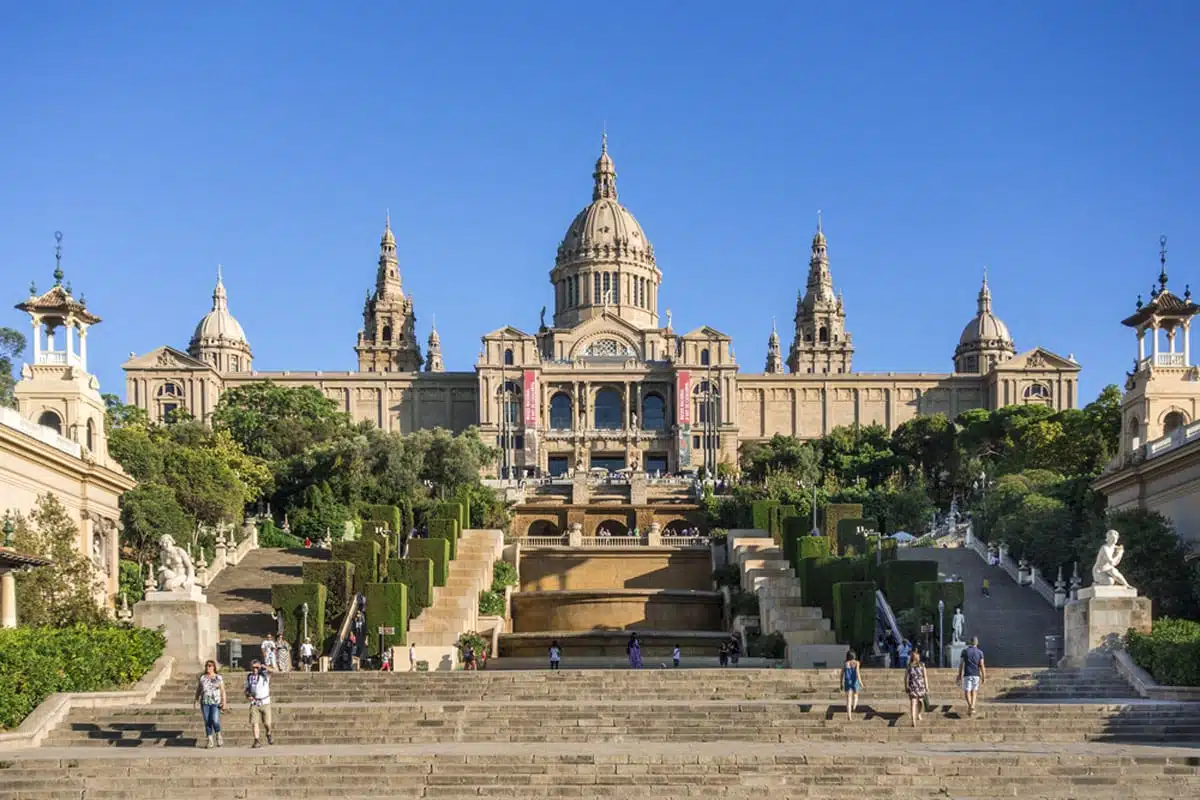 One of the largest museums in Spain also happens to be one of the rave-worthy Barcelona city landmarks. The Museu Nacional d'Art de Catalunya is famous for housing the world's most extensive collection of Romanesque art.
Situated right off Placa d'Espanya, the exterior is a sight to behold, as you'll get a broad view of most of the building. Speaking of, MNAC sits housed inside a palace built for the 1929 Universal Exhibition.
Inside you'll find art ranging from the Spanish Civil War to the Renaissance, and you can get in for free if you visit after 3 pm on Saturdays (bonus).
Mercat de la Boqueria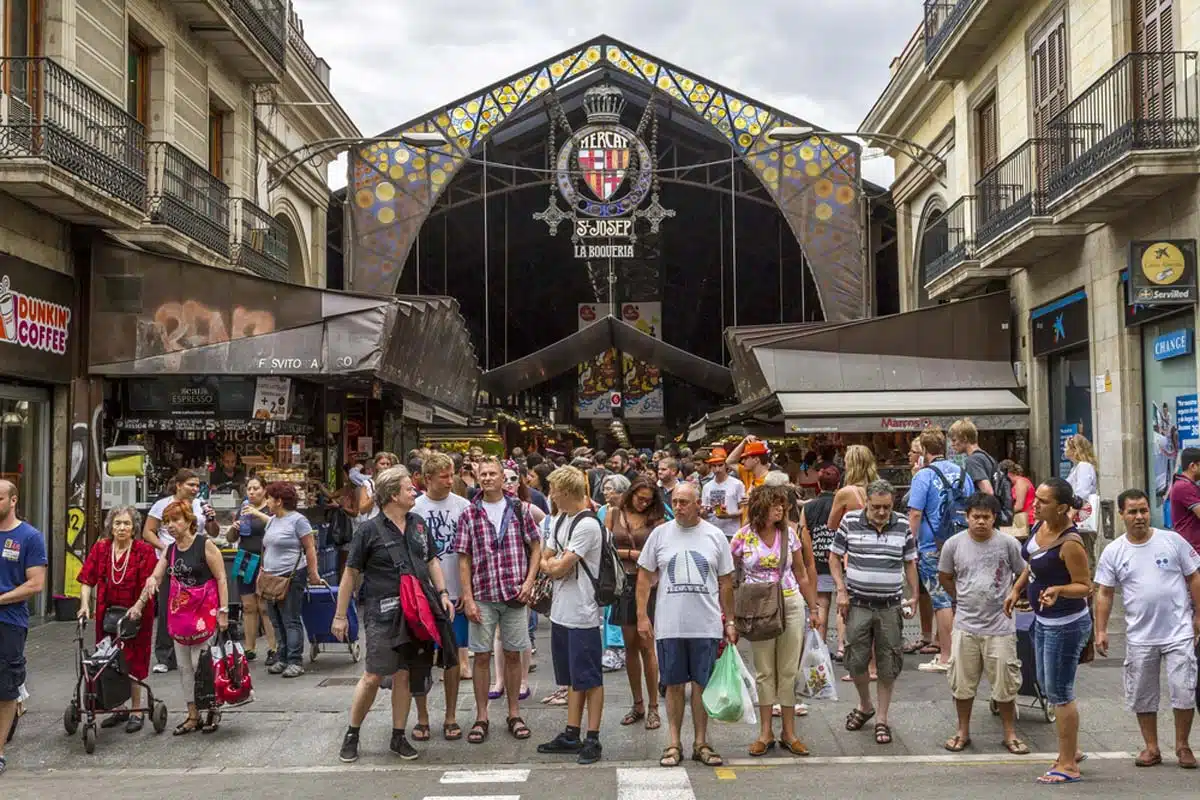 Is it at all surprising that one of the largest and most well-known markets in the city, Mercat de la Boqueria, is also a premier must-see place in Barcelona? Considering that mention of the market stretches as far back as 1217, it's pretty clear why you should visit it.
You can get to the market fairly easily from La Rambla. Expect your senses to go on an adventure as countless vendors and stalls sell everything from food and drinks to handmade souvenirs. It's the perfect space to taste local life while you sample local cuisine.
Picasso Museum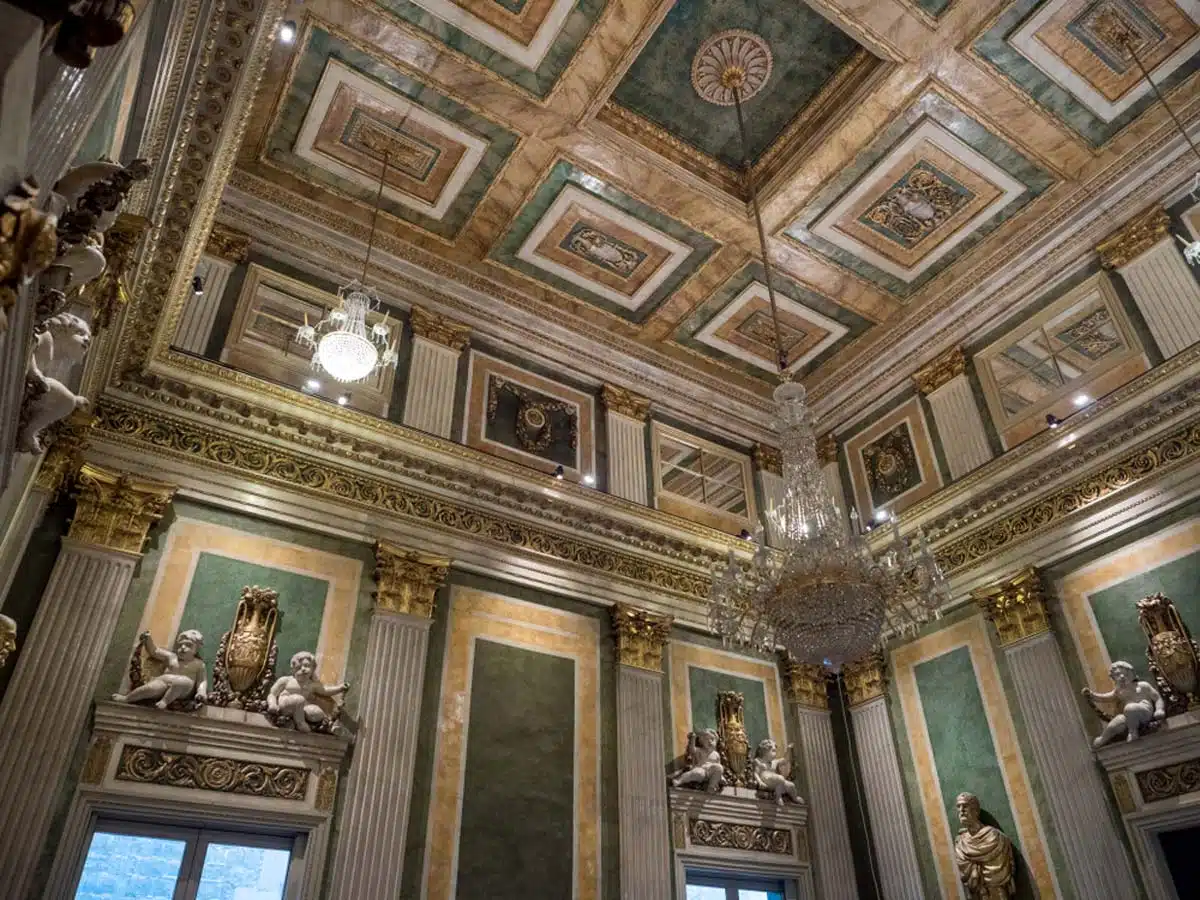 Although Picasso was born in Malaga, he spent most of his life in Barcelona, so it's pretty reasonable that the Picasso Museum is a Barcelona historical landmark worth visiting. But what makes this such a special entry?
Considering it holds a whopping 4,251 works by the artist and sits in the equally historic La Ribera neighbourhood, its spot here is well-deserved.
Two of his earliest (and most famous) creations reside here – The First Communion and Science and Charity. And if you're not artsy, at least come for the impressive building architecture.
How to Visit: Book Your Ticket to the Picasso Museum Here
Tibidabo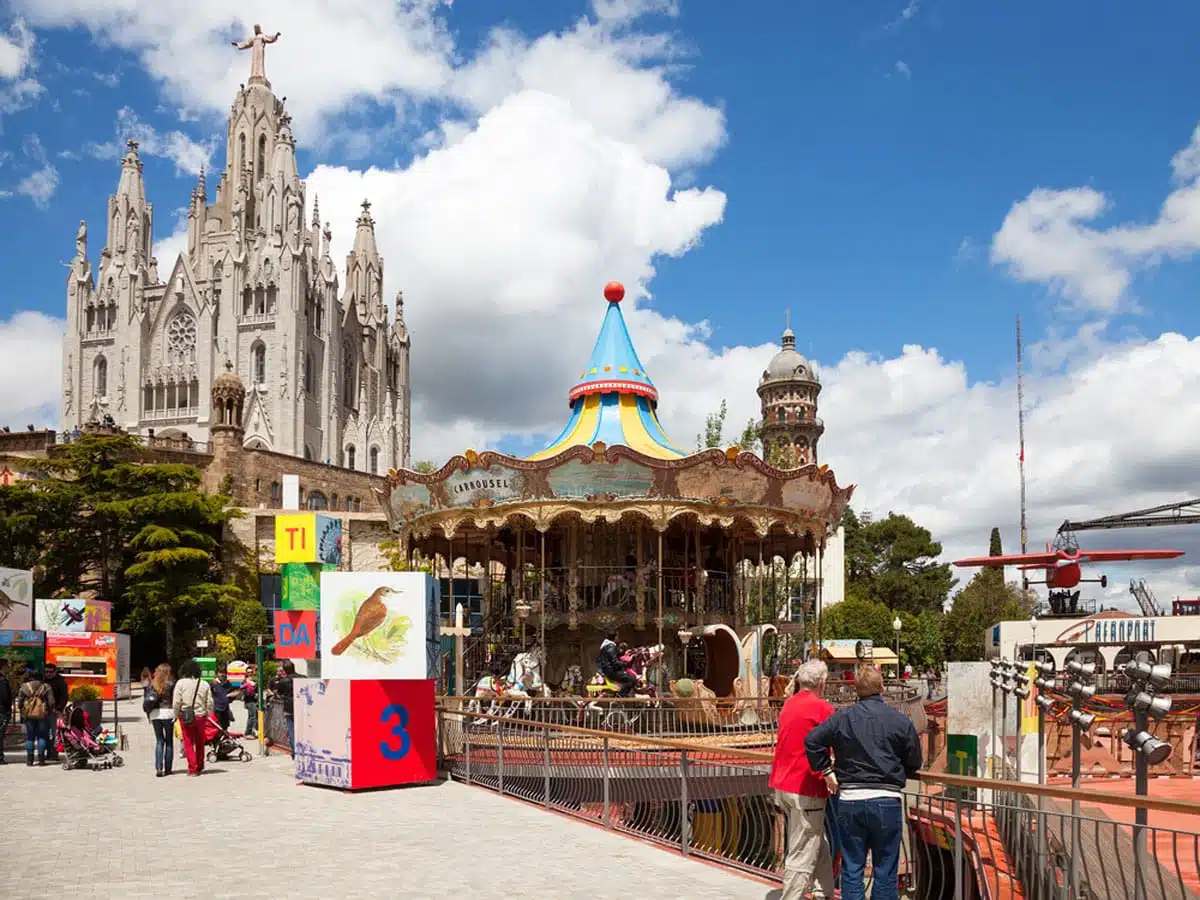 Wandering around the streets of Barcelona and as you gaze up, you notice a giant building atop the mountain overlooking the city. If your curiosity isn't enough nudging to head up and explore, perhaps Tibidado's appearance on every Barcelona landmarks list is.
Now the building I mentioned is Sagrat Cor (more on that in a bit), but nestled into the mountain of Tibidabo, aside from Sagrat Cor, is Tibidabo Amusement Park. Opening in 1899, the park is the perfect place to act like a kid again. Although it is a bit of a trek, the views make it worthwhile.
Parc del Laberint d'Horta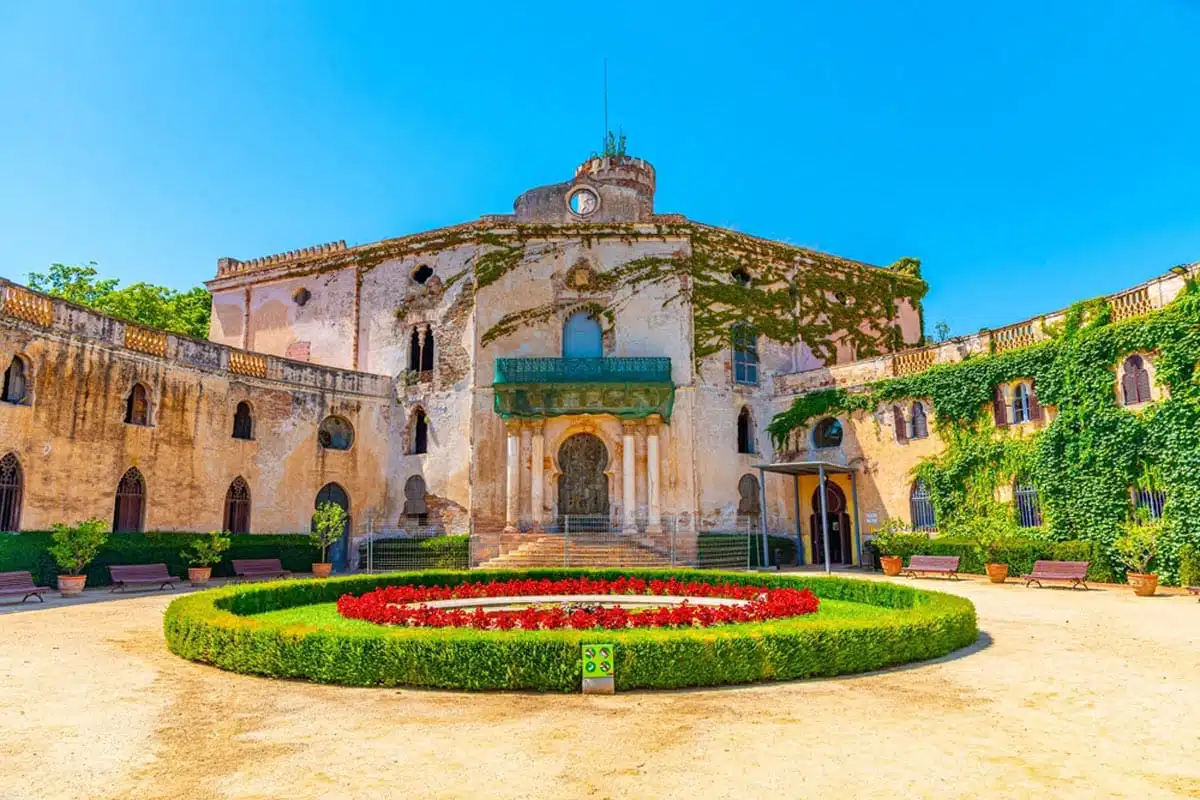 Now onto a more nature-centric addition for your Barcelona landmark building consideration, I present the Parc del Laberint d'Horta. It differs from most other city hotspots courtesy of its main drawing point.
As its name suggests, the real star is the maze sitting just off its impressive gardens. Divided into two parts, one a neoclassical bit and a more romance-infused section. The labyrinth is on its lower terrace, while the upper deck showcases Instagram-worthy sculptures and statues.
Temple of the Sacred Heart of Jesus (Sagrat Cor)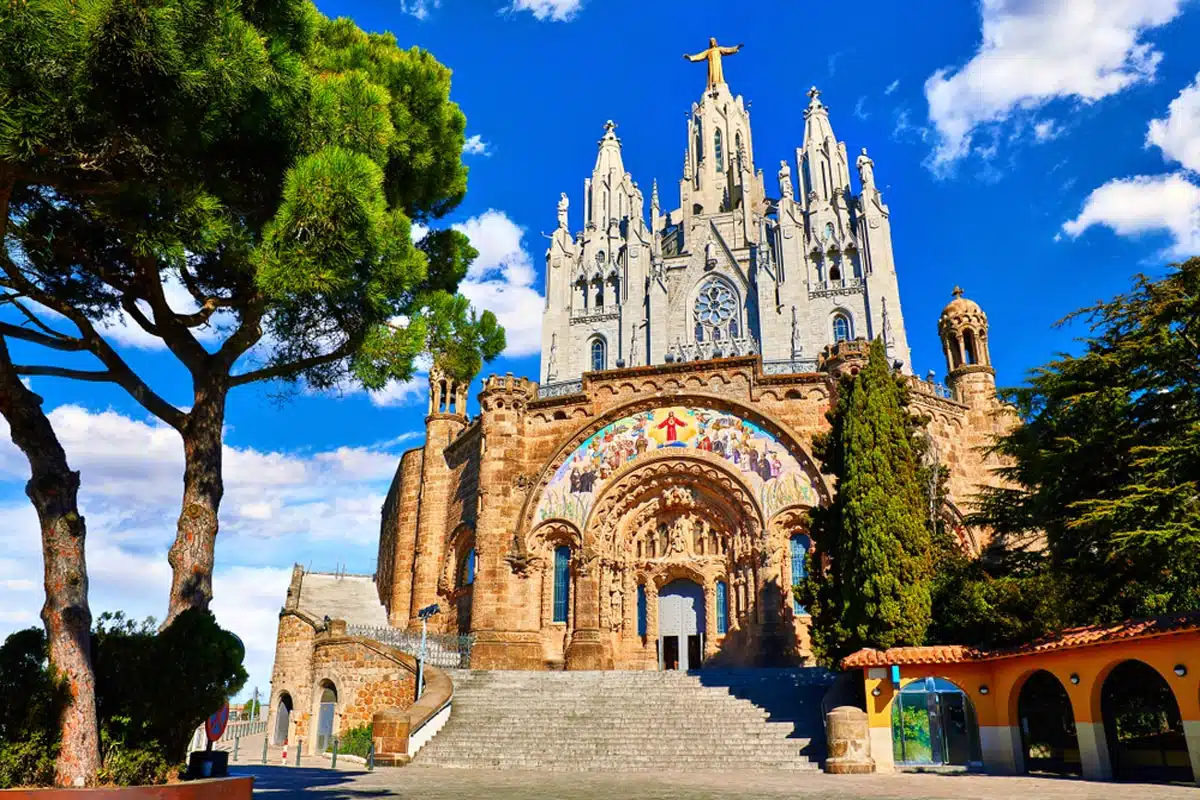 Back to Tibidabo, we go. This time it's to venture through and marvel at its standout attraction, the Temple of the Sacred Heart of Jesus (or Sagrat Cor). A Neo-Gothic style church with impressive architecture is a visually striking highlight of the area.
According to local legend, this is where the Devil tempted Jesus. Mythology aside, check out the four surrounding towers of Sagrat Cor, each adorned with a bronze statue of Jesus Christ and the Latin words "tibi dabo" — "I will give to you".
Abbey of Montserrat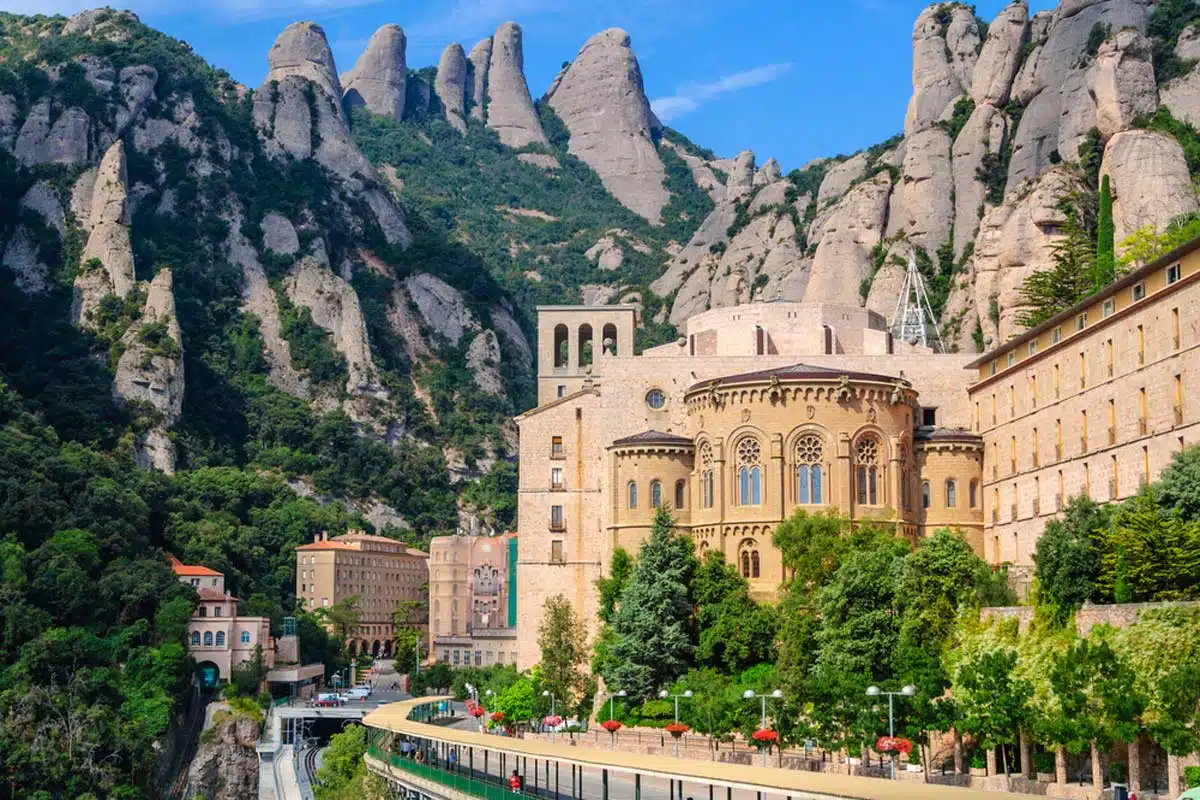 Next up is a two-for-one special. You get to embark on an epic day trip from Barcelona and visit one of the most revered Benedictine Abbeys in the world.
As a place of significant religious importance, stop by the Basilica to soothe your soul with the sounds of choir boys performing Gregorian chants.
Of course, there's also some astounding natural beauty that surrounds the abbey to enjoy, including some unusual limestone formations worthy of your hiking boots. For history buffs, inside the abbey rests the famed Black Madonna statue.
How to Visit: Book a Day Trip to Montserrat Here
Temple of Augustus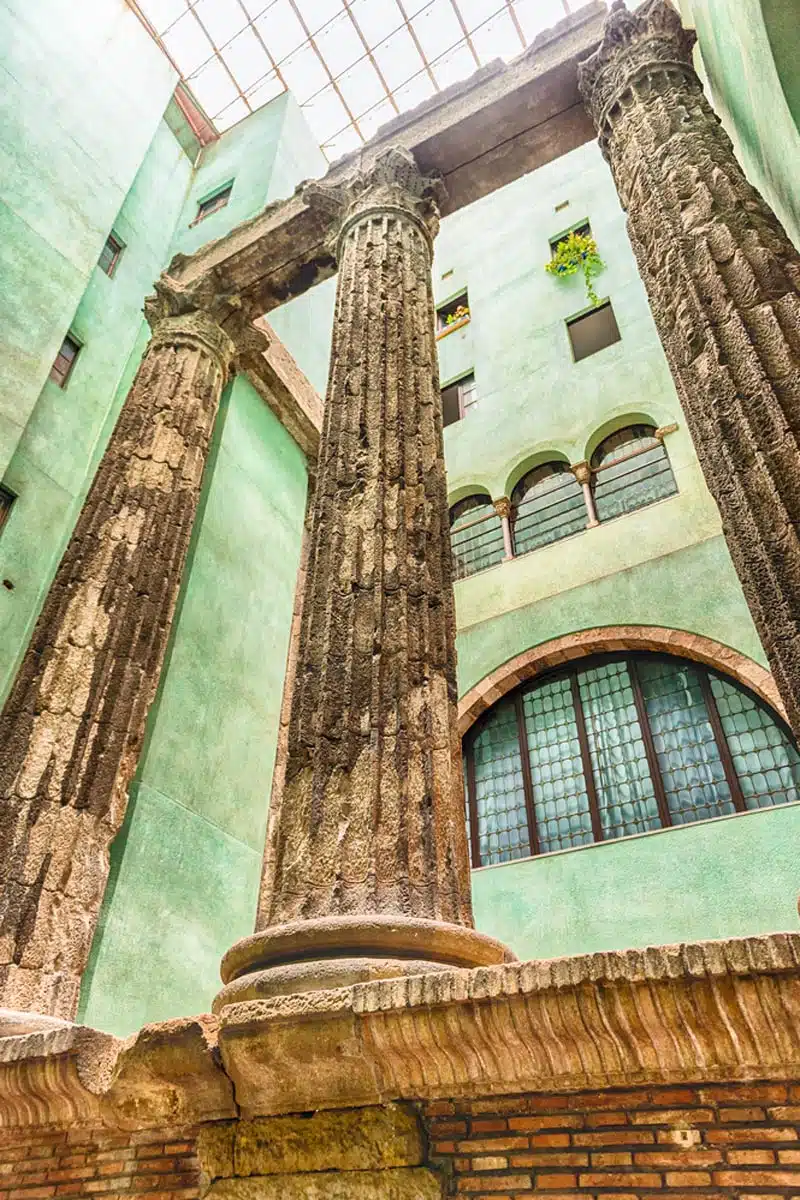 This one is a bit (maybe more than a bit) of a hidden gem due to its secret spot inside the Centre Excursionista de Catalunya building in the Gothic Quarter. But, the Temple of Augustus is nonetheless a historical landmark in Barcelona everyone should visit.
Dating back to the 1st century, the temple complex would have also included a Forum, but all that remains today are three columns. Built to honour Emperor Augustus and constructed out of sandstone from Montjuïc, it's a sublime way to spectate the Roman lineage of the city.
Agbar Tower (Torre Glòries)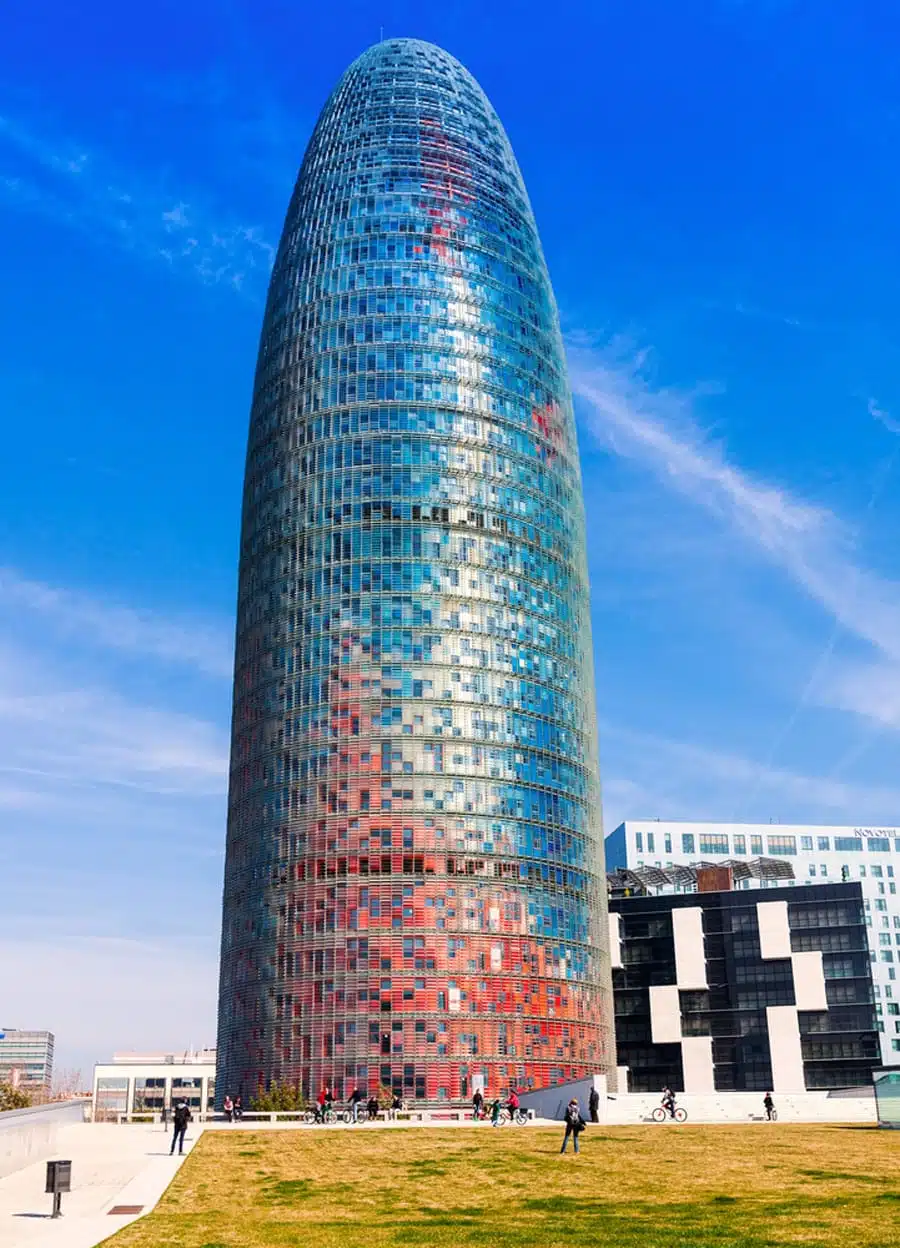 Situated right on the Avinguda Diagonal just off Placa de les Glòries Catalanes, you'll find an iconic set piece in the skyscraper landscape of Barcelona. The Agbar Tower strikes a noticeable contrast to others in the city thanks to its impressive cylindrical design and build.
The Agbar sprang forth from the mind of French architect Jean Nouvel and opened its doors in 2005. Towering 475 feet and encompassing 38 floors, it's the third-highest tower in Barcelona (so it's not hard to miss).
When you're here, stick around through the night to enjoy the spectacle of images broadcast toward the city from its 4,000 exterior facets.
Arc de Triomf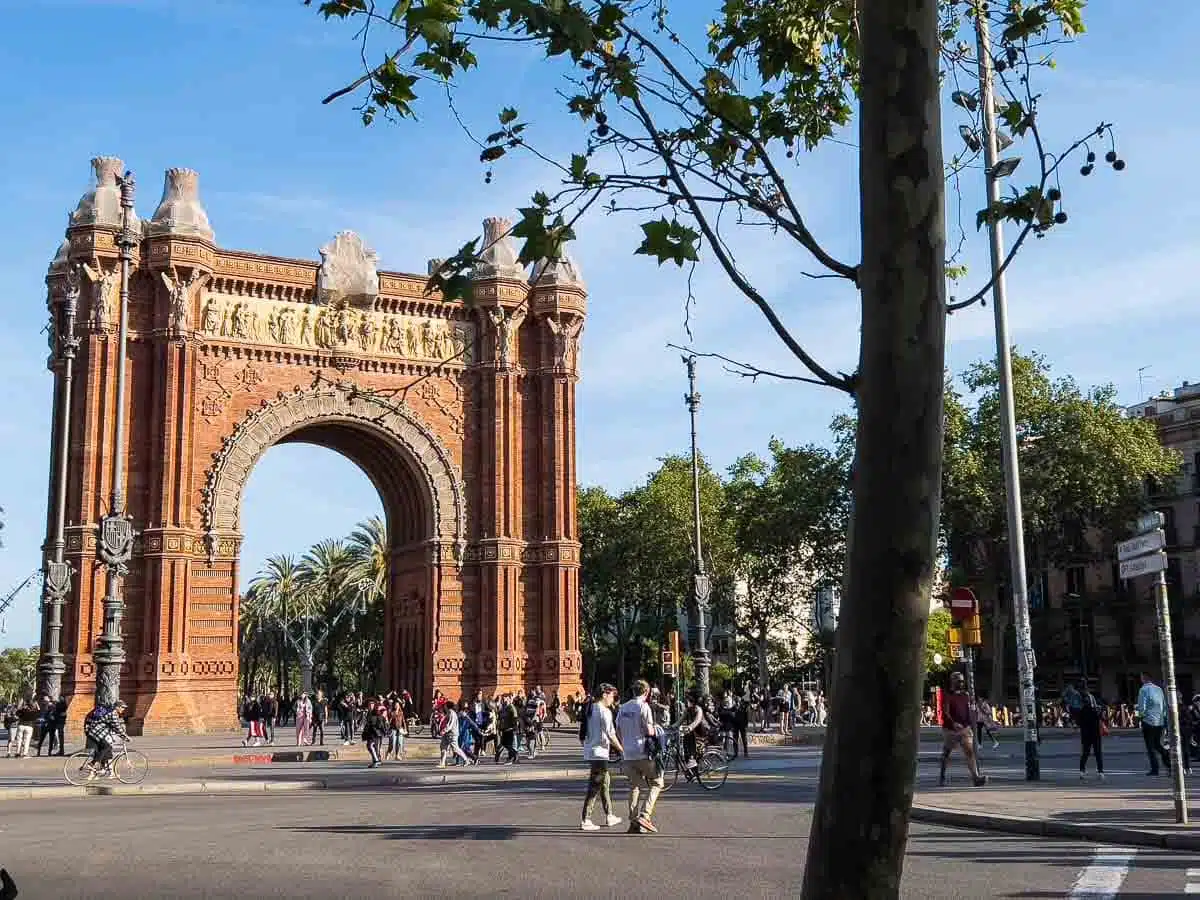 If you thought Paris held the only Victory Arch in the world, think again. Barcelona features its own Arc de Triomf, a stone's throw from Parc de la Ciutadella. Designed to welcome visitors worldwide to the 1888 Universal Exhibition, today it's a grand historical landmark in Barcelona.
The similarities to its French counterpart end with its build, as the Arc in Barcelona features an exposed deep-red brick facade in a Moorish design style. Keep your eyes peeled to see the carved stone bats along its interiors, the official emblem of King Jaume I.
Casa Amatller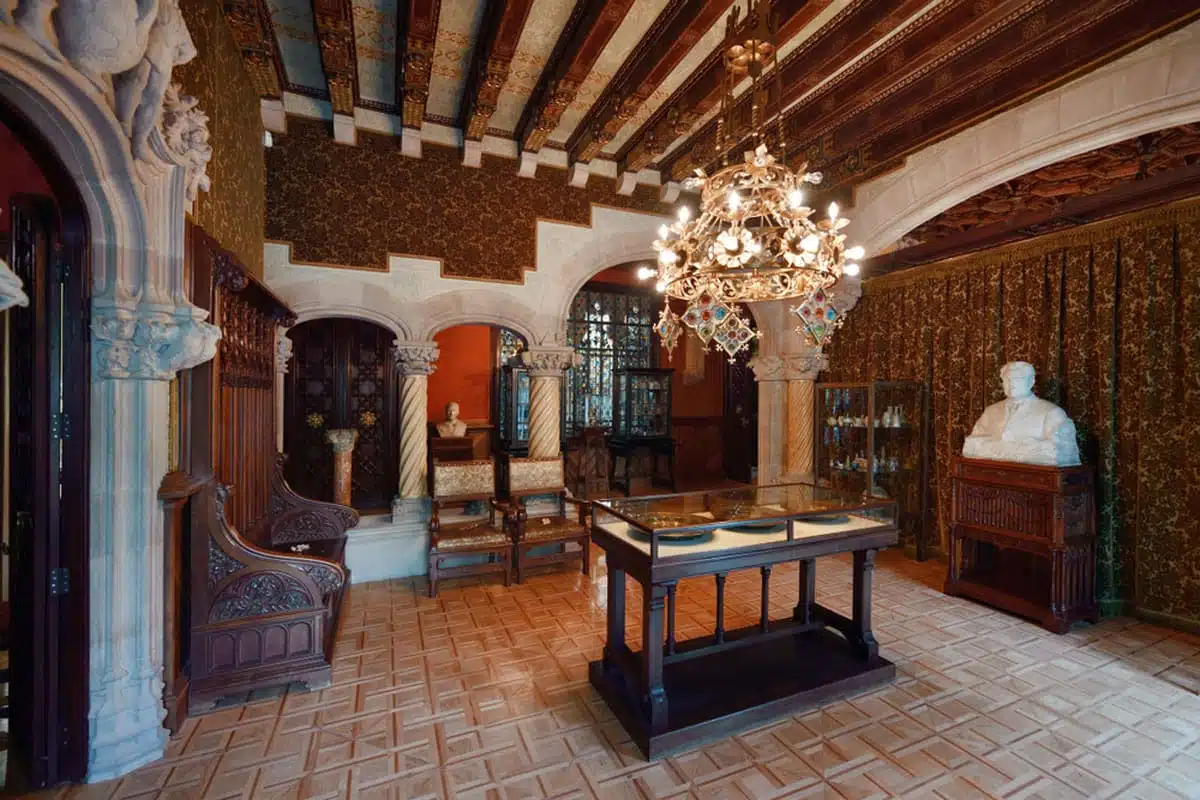 Just when you thought Passeig de Gracia couldn't get any more lavish, behold one of its most striking locales, Casa Amatller. And no, this one isn't a Gaudi House. Instead, it's the creation of the savant architect Josep Puig i Cadafealch, dating back to 1900.
It might not be a Gaudi design, but its imposing and eye-catching exterior beauty cement it as one of the most gorgeous in the city.
The entire structure is an intentional mish-mash, and you'll see a few Neo-Gothic wrought iron elements meeting a scaled roof reminiscent of Flemish architecture.
Practical Tips for Visiting Barcelona's Landmarks
Grab yourself a Barcelona City Card. This will give you easy admission to most of the city's attractions and museums.
Include eating and drinking at some of the best restaurants in Barcelona, the city's cuisine is an attraction all its own.
Barcelona Landmarks: Map
Love This? Save and Share on Pinterest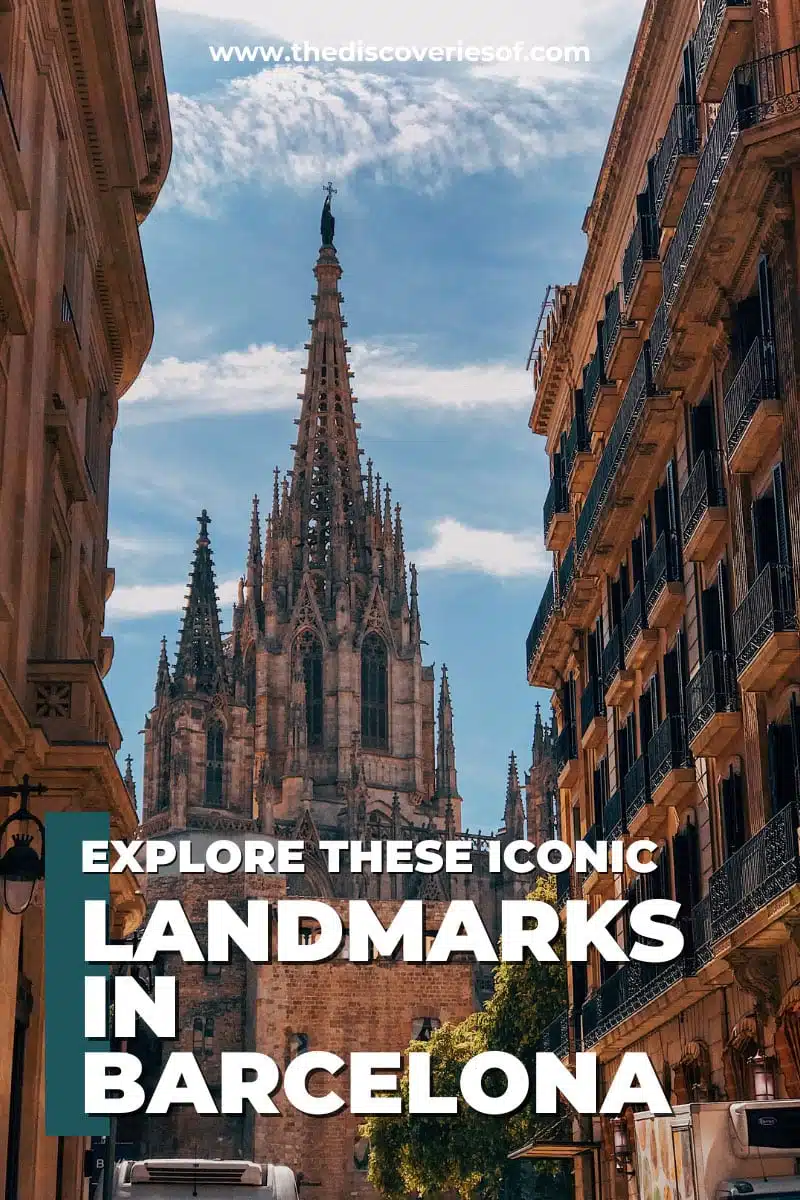 Barcelona Landmarks: Read Next