Ready to spend 3 days in Barcelona? Discover the best of the city with this Barcelona itinerary.
It's time to immerse yourself in the hectic charms of Barcelona! I've just returned from a three-month stint in the city, and let me tell you… I love it. Three months is great, but what should you have on your Barcelona itinerary when you have a much shorter period, like three days.
Fear not my friends, I've put together this step-by-step 3 day Barcelona itinerary to help you navigate the best of the city like a pro. Think of it as a roadmap to the city.
Together, we're going to explore some of the city's best-known landmarks, but also pop into some of its lesser-known spots – not to mention indulge in some of that straight-up fabulous Catalan cuisine along the way.
Hold on to your hats – it's time to set off on a jaunt around Barcelona.
Handy Tips for Planning Your Barcelona Itinerary
Top Tours for Your Barcelona Itinerary
What to Pack for Your Barcelona Itinerary
Ah, the ever-challenging conundrum of what to pack. Here's a quick rundown of all the essentials for Barcelona in three days.
Where to Stay for Your Barcelona Trip Itinerary
The Hoxton, Poblenou
It's only fitting that for your three days in Barcelona, you rest your head at one of the city's newest (and slickest) hotels. The Hoxton in Poblenou is fresh, vibrant, and somewhat still a bit of a hidden gem.
It oozes classic "Hoxton"chic – which translates to tastefully-decorated rooms, a tantalising cocktail bar, rooftop terrace (epic views guaranteed), and an in-house restaurant that's pure culinary heaven.
Set in the city's coolest area, you'll find hip coffee shops, several co-working spaces, and authentic Catalan boutique retailers around every corner.
Quick Info for Your 3 Days in Barcelona
Time Zone: Central European Time (GMT+1) / Central European Summer Time (GMT+2)
Currency: The Euro (€)
Plugs: Barcelona uses Type-F plugs
Nearest Airport: Josep Tarradellas Barcelona – El Prat International Airport (BCN)
5 Must-See Spots: Sagrada Familia, The Gothic Quarter, Park Güell, Barceloneta Beach, La Rambla
Top Tip: Each of the best Barcelona itineraries have one thing in common — proper planning, be sure to know where to go and what to skip. There are plenty of tourist traps in the city
Read Next: Barcelona Travel Guide
Getting Around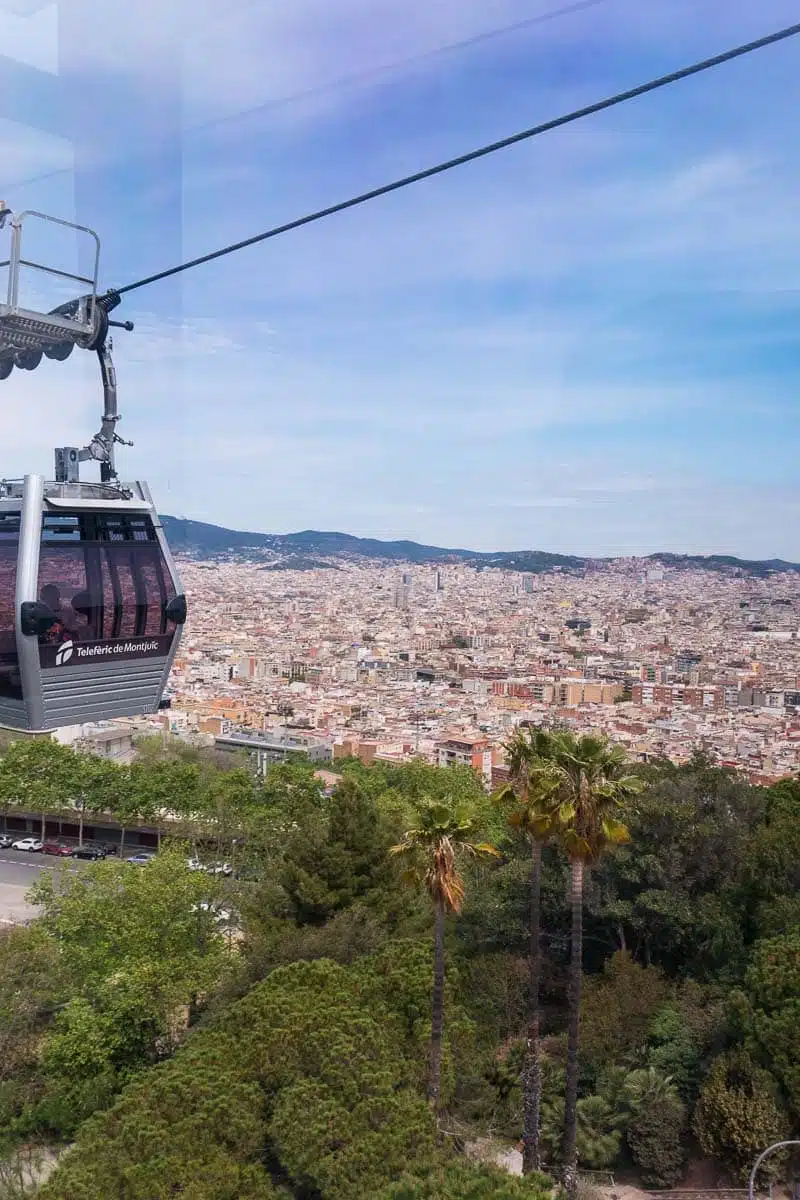 Most savvy travellers stay (and mostly stick) to the historic centre, as many major attractions and activities are here.
Most of the city is walkable, but there are some alternative options. You could opt for a bike rental, as Barcelona features miles of bike lanes. Public transportation, such as the metro, taxis, buses, cable cars or local train lines, is also available.
Top Tip for Visiting: Get yourself a T-Casual card. This bad boy is your gateway ticket to Barcelona's metro and bus services. Plus, it's financially a penny-saver (can anyone say 5 trips for more or less a fiver?). You can thank me later.
3 Days in Barcelona Itinerary
Barcelona Itinerary Day One: Classic Sights and BCN Nights
The first of your 3 day Barcelona itinerary is a powerhouse of city highlights. Expect to marvel at Gaudi's influence on Barcelona, see the madness of La Rambla and delve into Barri Gòtic.
Sagrada Familia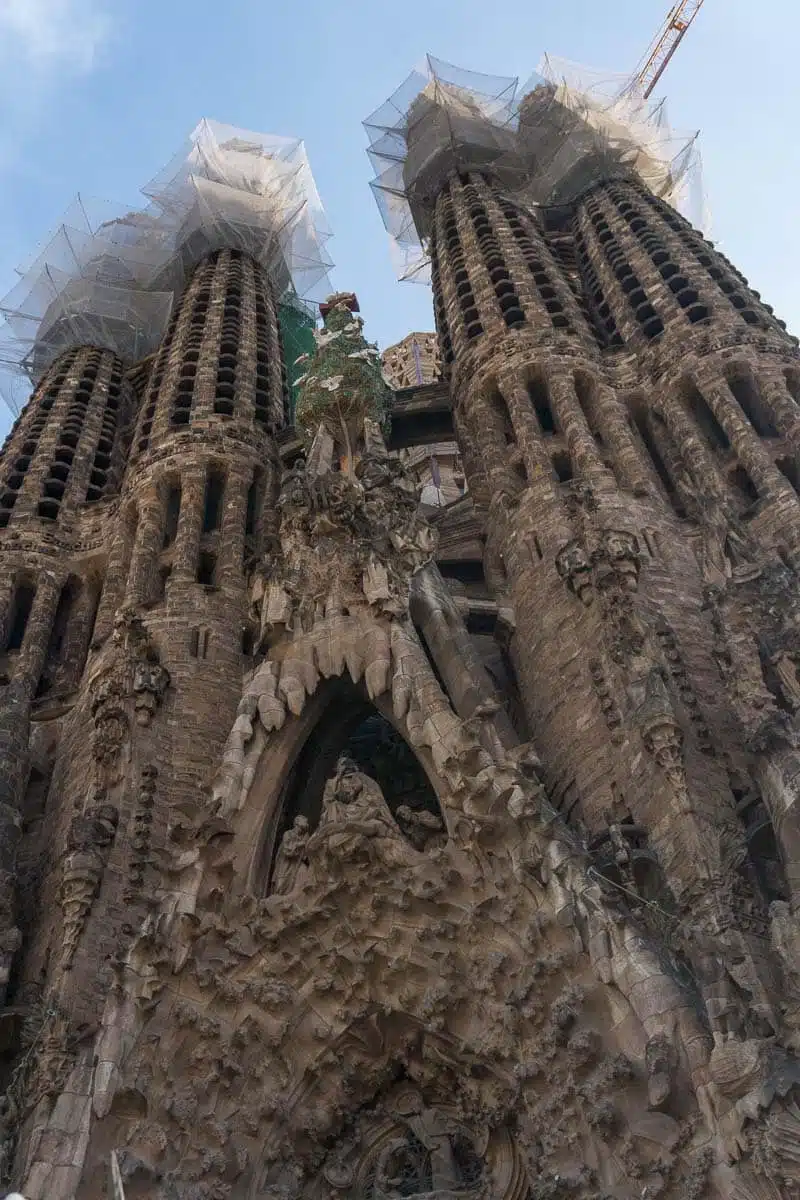 There's no conceivable way I could create an itinerary for a trip to Barcelona without including one of (if not the) most famous landmarks in the city.
In other words, we're kicking off your first morning with a visit to Sagrada Familia.
In the grand scheme of Antoni Gaudi's imprint on the city, Sagrada Familia is his masterpiece. An iconic feature of the city, marvel at its stunning architecture and then grab an admission ticket to immerse yourself in the Familia's interiors.
Top Tip for Visiting: You have to book different tickets to enter the basilica's tower, but the bird's eye view of Barcelona is priceless.
Bar Terraza Rosselon Ayre
After getting your first dose of Gaudi and the city, it's time to indulge in a drink (or two) and a bite to eat at one of the city's must-visit terraces.
Bar Terraza Rosselon Ayre boasts a stacked menu and (more excitingly) epic views of Sagrada Familia. Unsurprisingly, this spot is extremely popular, so book your table in advance.
Passeig de Gracia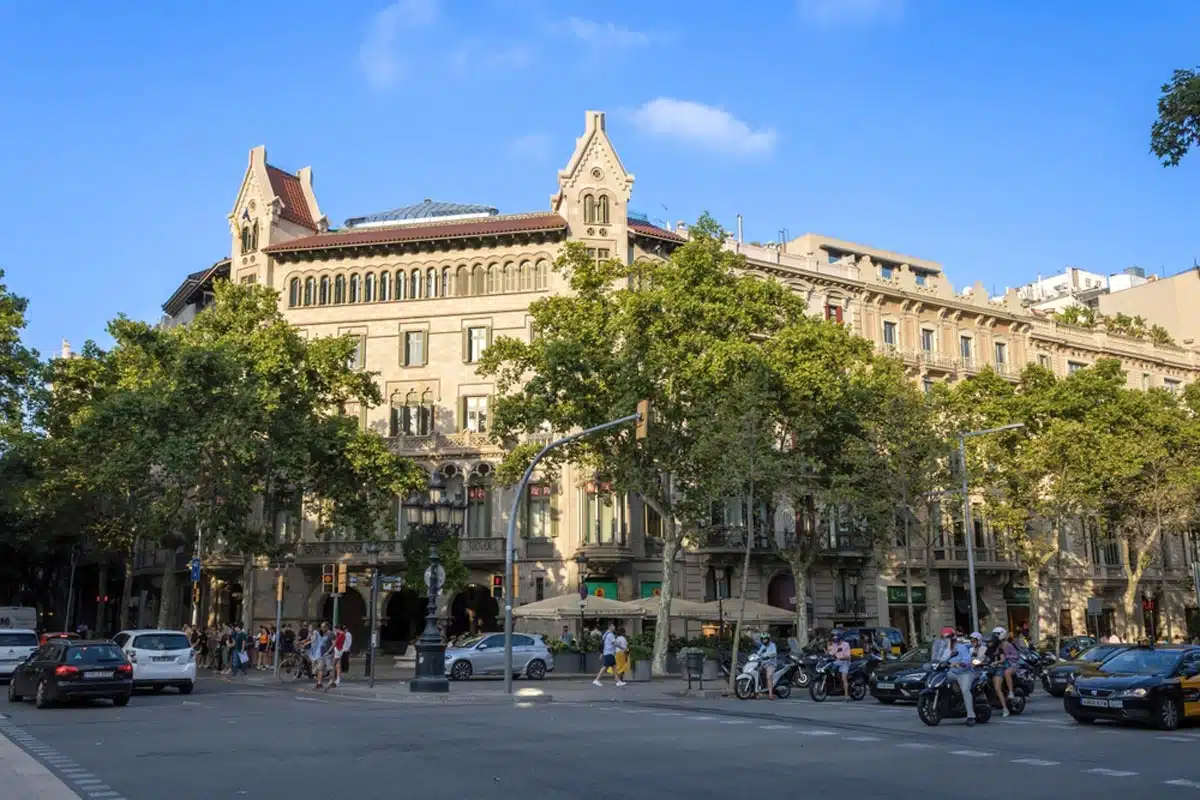 Next up, make your way along Passeig de Gracia, heading for more of Gaudi's additions to Barcelona.
First up is Casa Milá (or La Pedrera), another of Gaudi's houses in Barcelona and your next destination. His final major civil work, its highlight is the roof terrace area characterised by chimneys, skylights, and stairways.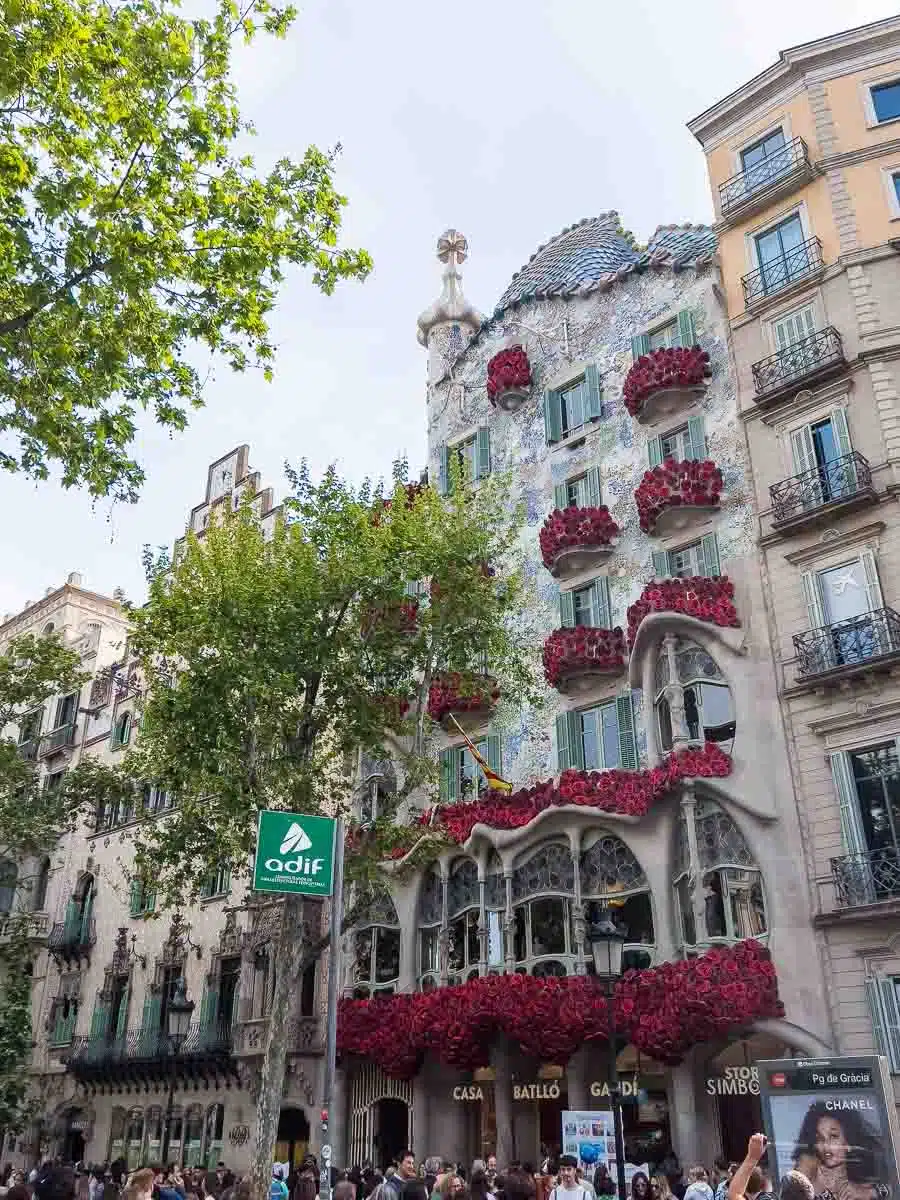 After that, it's a very short walk to Casa Batllò, one of his showcase pieces displaying a mosaic of broken ceramic tiles and balconies resembling Venetian masks. Venture inside and catch a glimpse of the spine-like staircase as you explore, ending on the roof terrace shaped to mimic a dragon.
Top Tip: Both attractions get pretty busy, so grab a pre-booked admission ticket or self-guided tour ticket to give the pesky queues a skip.
La Rambla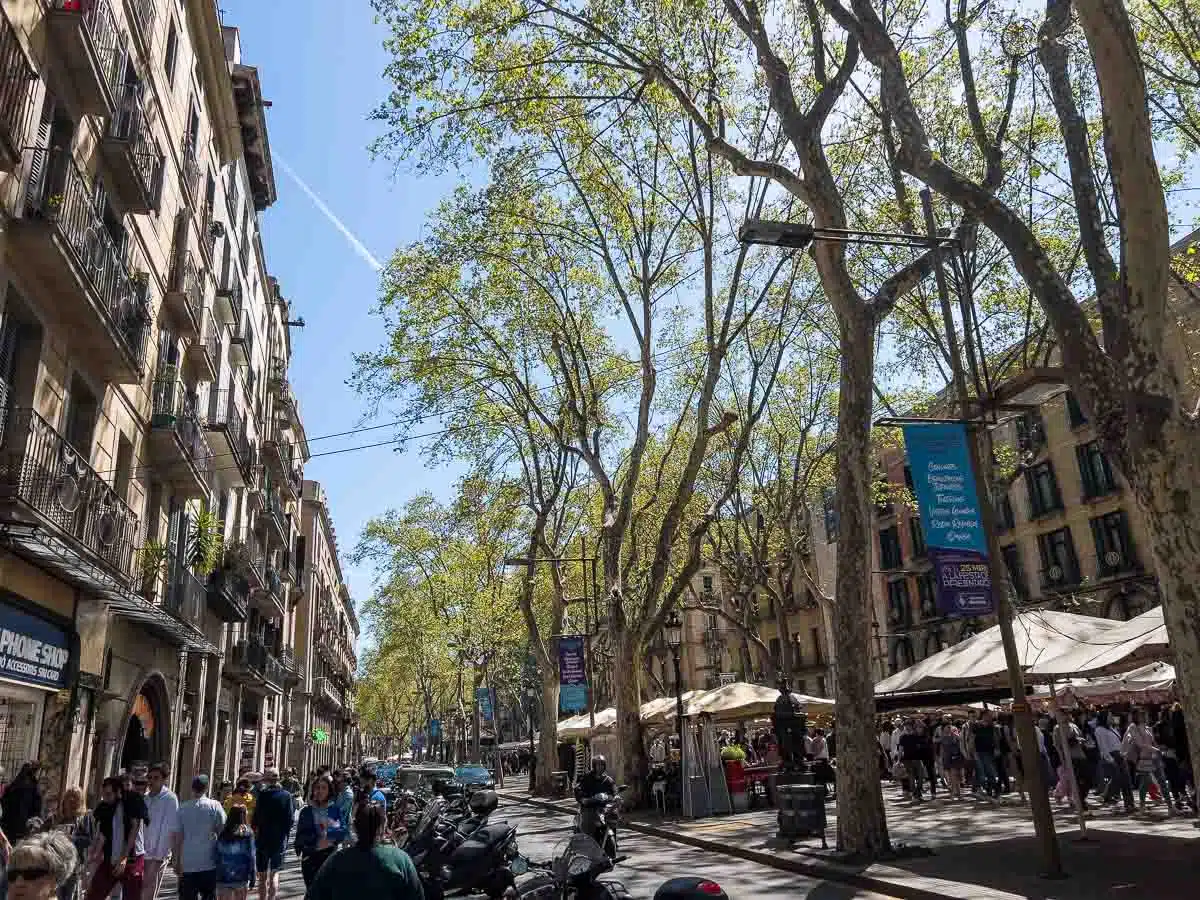 Next up is another popular hotspot in Barcelona. The pedestrian street of La Rambla, running from Plaça de Catalunya down towards the coast has an undeniably vibrant atmosphere, and presents the perfect opportunity for some mid-morning strolling.
Famous for its street performers, local shops and tapas restaurants, wandering along this boulevard is a rite of passage and the ideal place to act like a tourist.
Mercado de la Boqueria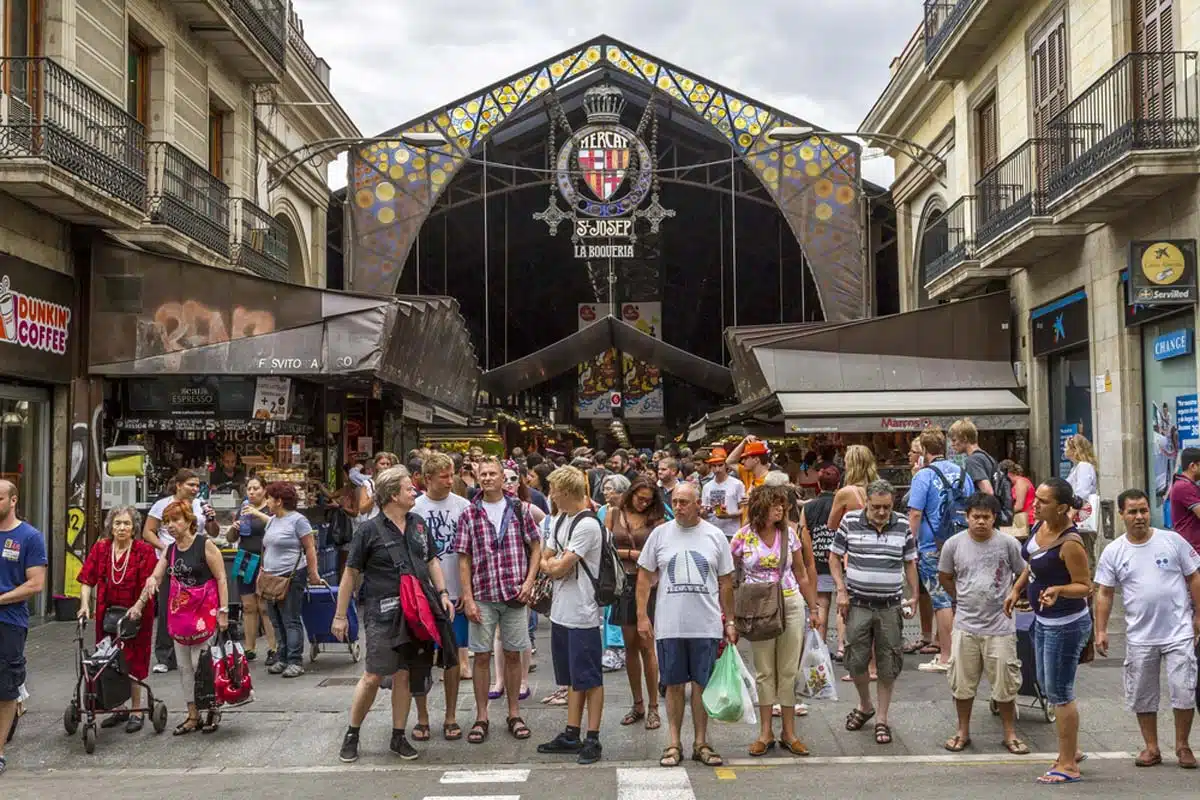 Mercado de la Boqueria might be the most touristy market in the city, but it's a worthy pitstop for your 3 days in Barcelona itinerary.
Expect to find everything from meat and fish to fresh produce and, of course, numerous tapas restaurants. Be sure to check out El Quim de la Boqueria, one of the longest-standing tapas spots in the market, for a quick bite.
Gothic Quarter (Barri Gòtic)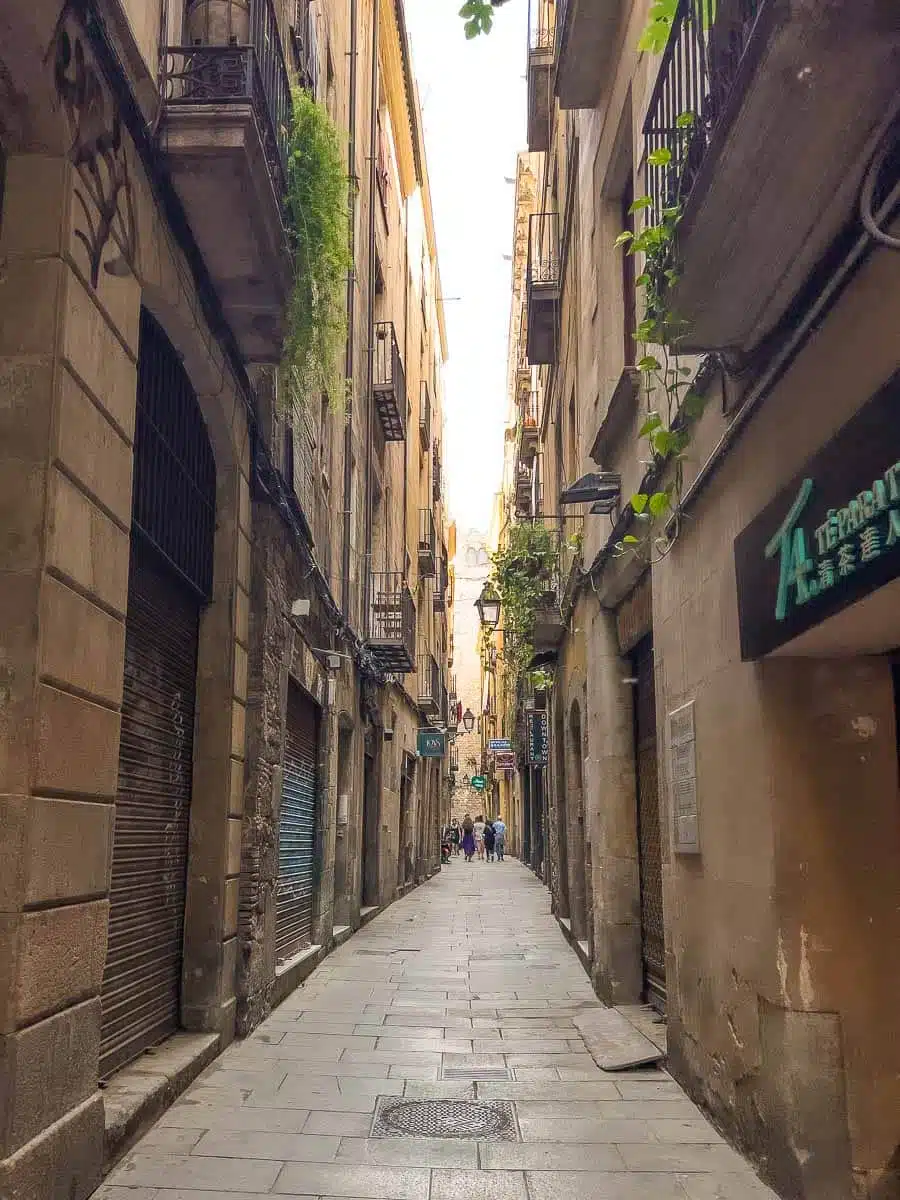 Known for its narrow streets, numerous historical buildings, and charming squares, Barcelona's Gothic Quarter hardly needs an introduction. But, if you're looking for an easy answer to your "what to do in 3 days in Barcelona?" question, visiting this area is a must.
The district is a treasure trove of sights and things to do, especially if you're an avid people-watcher. The entire neighbourhood is one big attraction and often features on most Barcelona itineraries with its unique character and 2,000 years of historical significance.
Before leaving the Gothic Quarter, visit the Barcelona Cathedral (Catedral de Barcelona) and admire its exquisite Gothic architecture.
Drinks at El Diset & Dinner at El Chigre 1769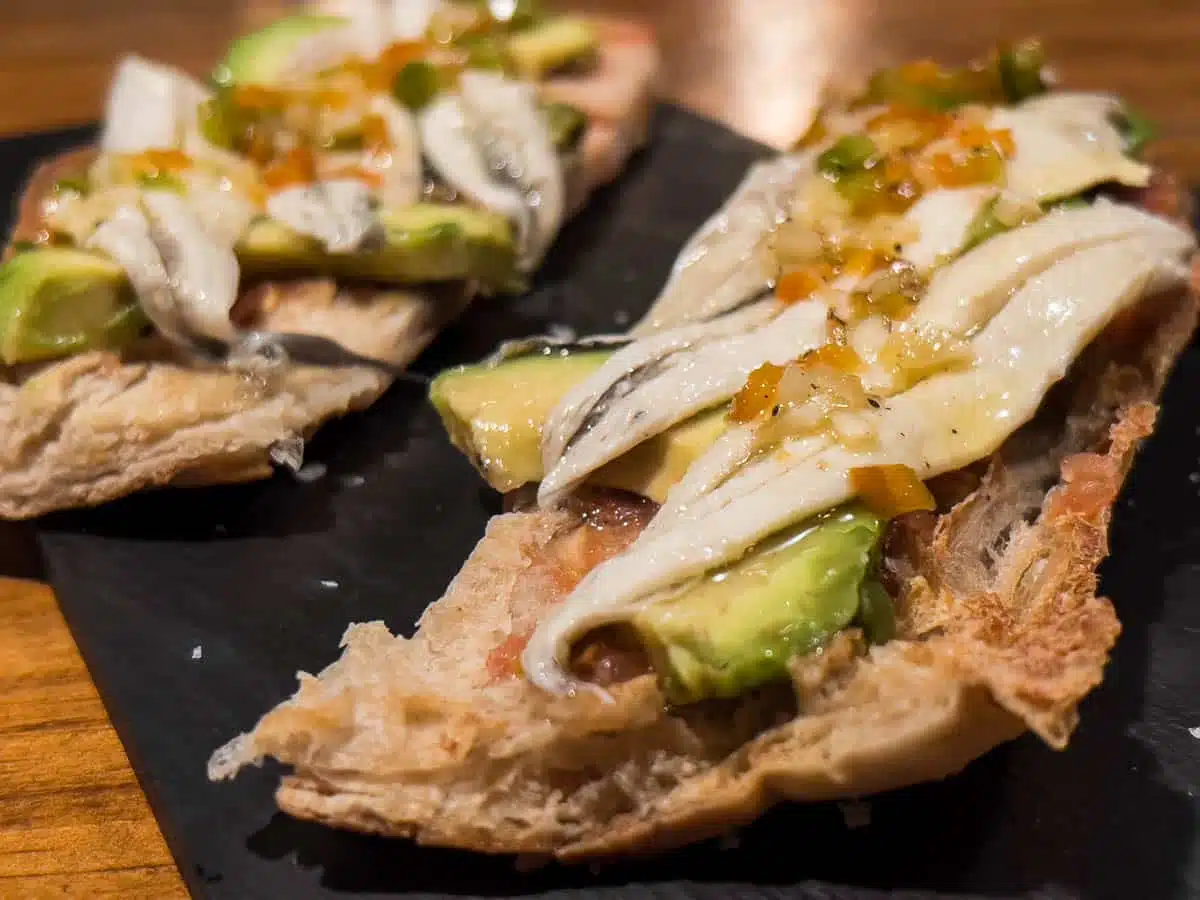 As day one comes to a close, I know you're tired and probably in need of a bit of down time. Fret not, it's time for some late afternoon sundowners.
Head over to El Diset in the El Born neighbourhood. This relatively small wine bar features a selection that puts most to shame, so it's only fitting to pop in and try a few glasses (or cocktails if that's more your style).
When it comes to dinner plans, one of the best spots in town is El Chigre 1769. Blending Asturian and Catalan cuisine, the extensive menu features popular dishes and some lesser-known (but just as delicious) local delicacies.
Harlem Jazz Club or Jamboree
If you're in the mood to cap off your first day in Barcelona with some jazz music and perfectly mixed drinks, Harlem Jazz Club is the spot to go. As one of the most well-known in the city, it's always busy but worth a visit.
Another option for jazz lovers is Jamboree. Opening its doors in 1960, it's still thriving today, with a daily jazz programme that covers a massive variety of styles.It then transforms in the early hours to a full-blown nightclub, which is kinda fun.
Read Next: The Best Things to Do in Barcelona
Barcelona Itinerary Day Two: Gaudí and Epic Views
Your second day in Barcelona involves some more Gaudi, a retreat into the well-heeled Gràcia neighbourhood and a sunset hike that'll leave you speechless.
Park Güell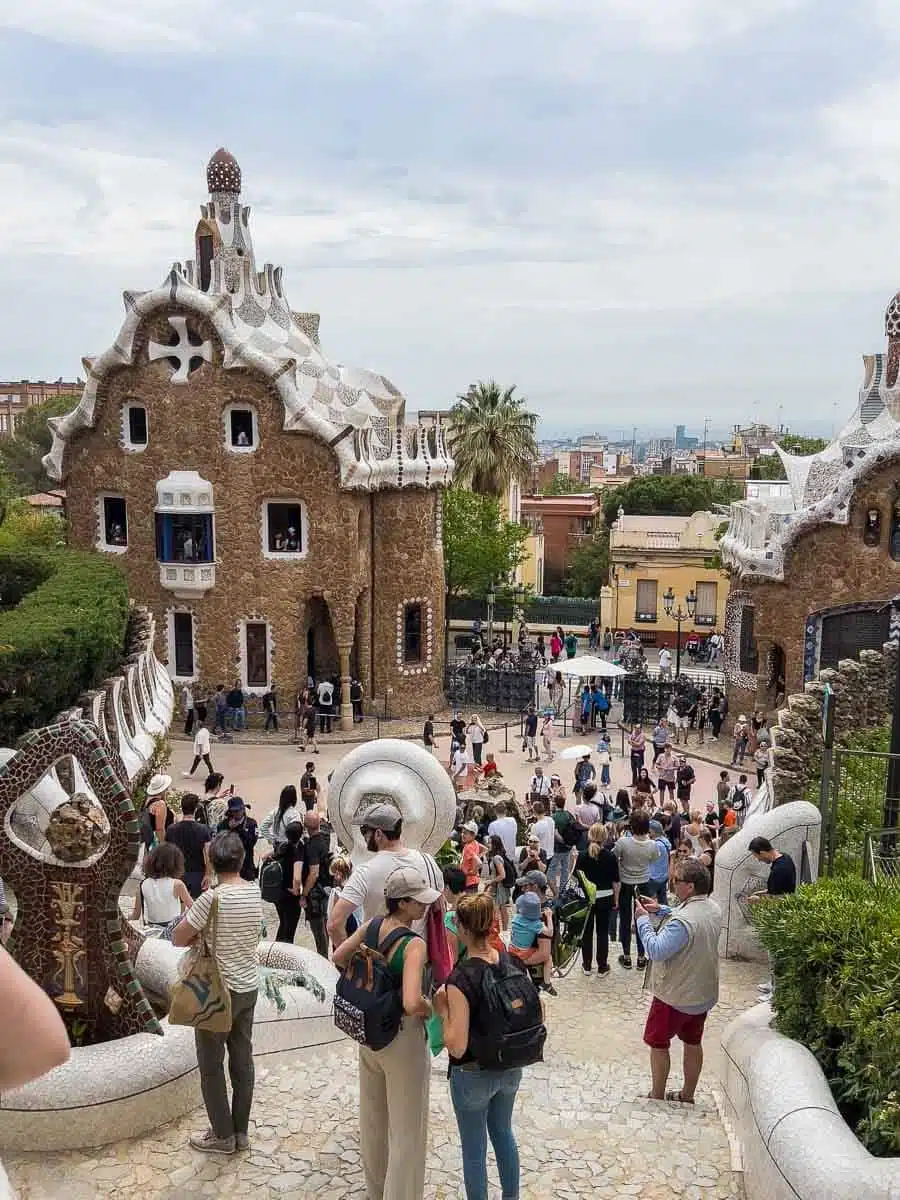 If you're contemplating how to explore Barcelona in 3 days, don't let the chance to visit Park Güell pass you by. Spanning roughly 42 acres, it's one of the largest green spaces in the city and an architectural marvel from the mind of none other than Gaudi himself.
Forming a part of the Gaudi UNESCO World Heritage Site in Barcelona, the park boasts a variety of plant life, picturesque views of the city, and the Gaudi House Museum. If you fancy some epic views (who doesn't, though?), head for the highest point in the park, "Turo de las Tres Cuces".
And for the perfect Instagram post, be sure to grab a snapshot of the colourful mosaic salamander "El Drac" at the park's entrance.
Top Tip: There's a lot to see here, so crowds get large. Get a pre-booked admission ticket to skip the line, or opt for this guided tour.
Gràcia
One of the most vibrant neighbourhoods in Barcelona is Gràcia, which began its existence as an independent town. It is an integral part of the city today and a must-see on your trip.
Brimming with countless charming streets and a host of local boutique stores, if you want to get away from the bustling atmosphere of busier parts like La Rambla, Gràcia is where to go.
It's an artsy area where you can wander through some gorgeous plazas or sit back and enjoy a drink at a cafe (of which there are many).
Grab Lunch at Entrepanes Diaz or Besta Barcelona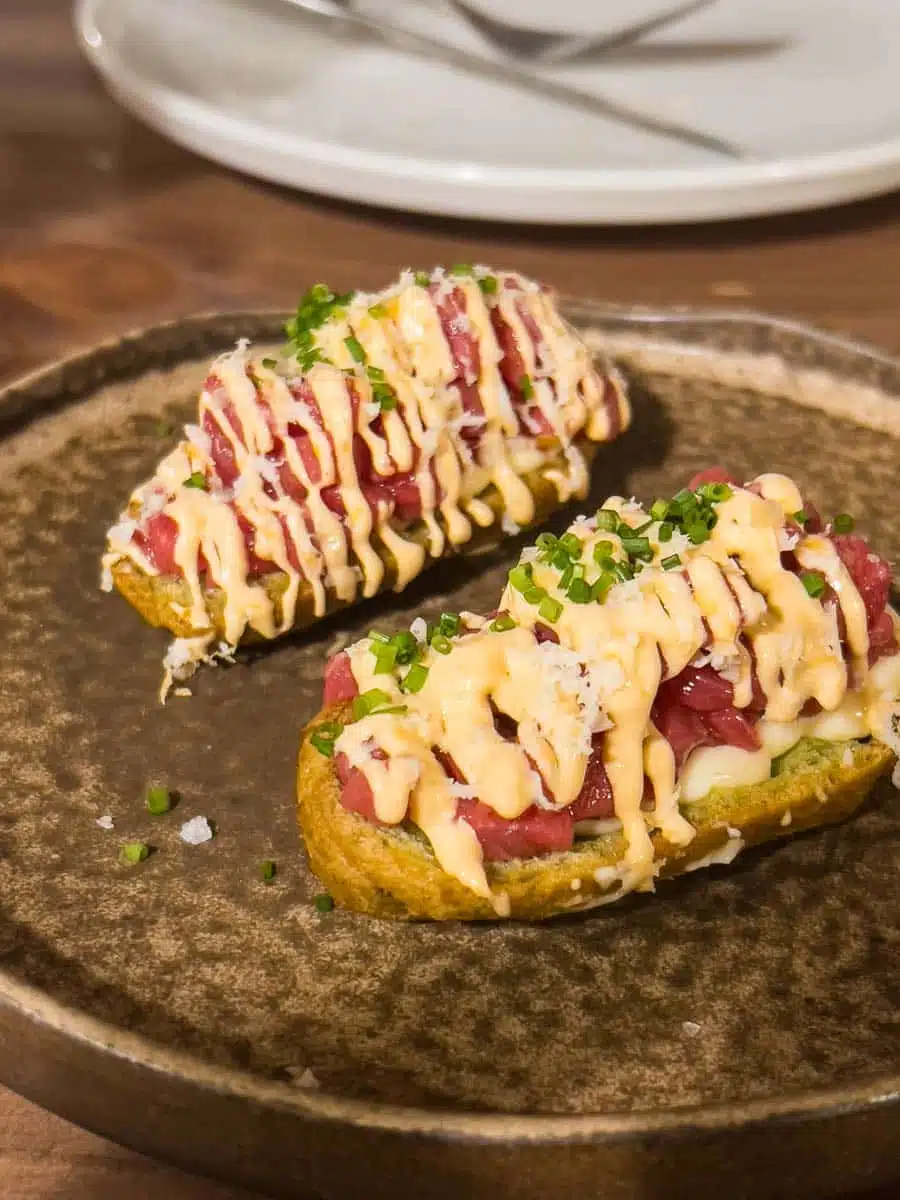 After a busy second morning, it's time for lunch and some more culinary adventures. While Barcelona showcases a variety of excellent eateries, Entrepanes Diaz is a showstopper serving gourmet sandwiches in a stunning setting within Eixample.
On the other hand, another knockout option is Besta Barcelona, a contemporary bistro with a menu that blends Catalonia and Galicia. While you can tackle the a la carte menu, why not treat yourself and opt for one of the two tasting menus for a genuine culinary adventure?
Casa Vicens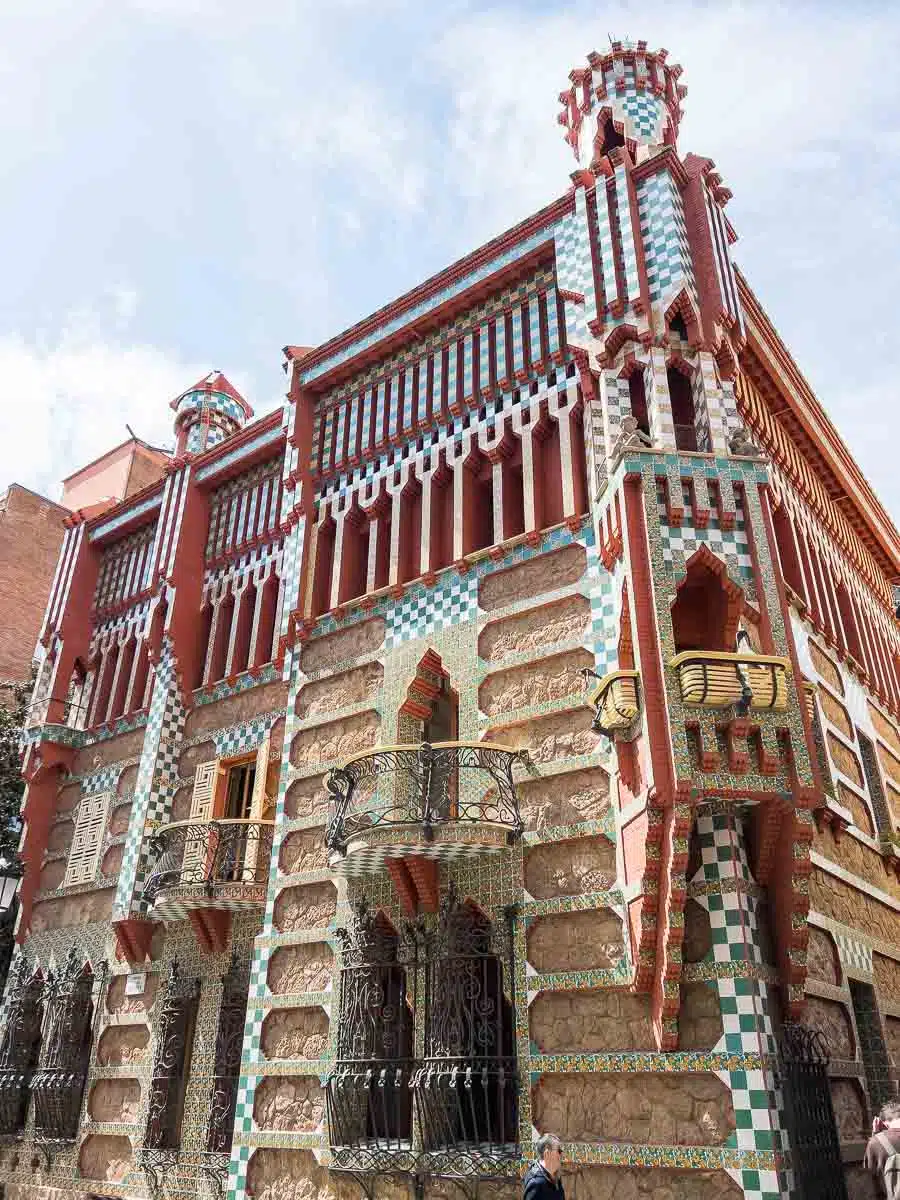 Sure, you have already strolled through Gràcia, but after lunch, it's time to visit one of the neighbourhood's most famous landmarks. While it is one of Gaudi's lesser-known works, Casa Vicens is well worth your time.
This is one of the architect's earliest endeavours and a great way to see the finer details of his signature use of colour, light, and pattern…without the massive crowds.
Check out the impressive exterior and surrounding gardens. While inside, head for the bold dining room and ascend the top floor mini tower. Although the views these days aren't what they once were (when it was built, there would have been practically nothing in the surrounding area), it's the perfect way to end your visit to Casa Vicens.
Top Tip: Book a skip-the-line access ticket to fast-track your way into Casa Vicens, as it does get busier during peak season.
Bunkers del Carmel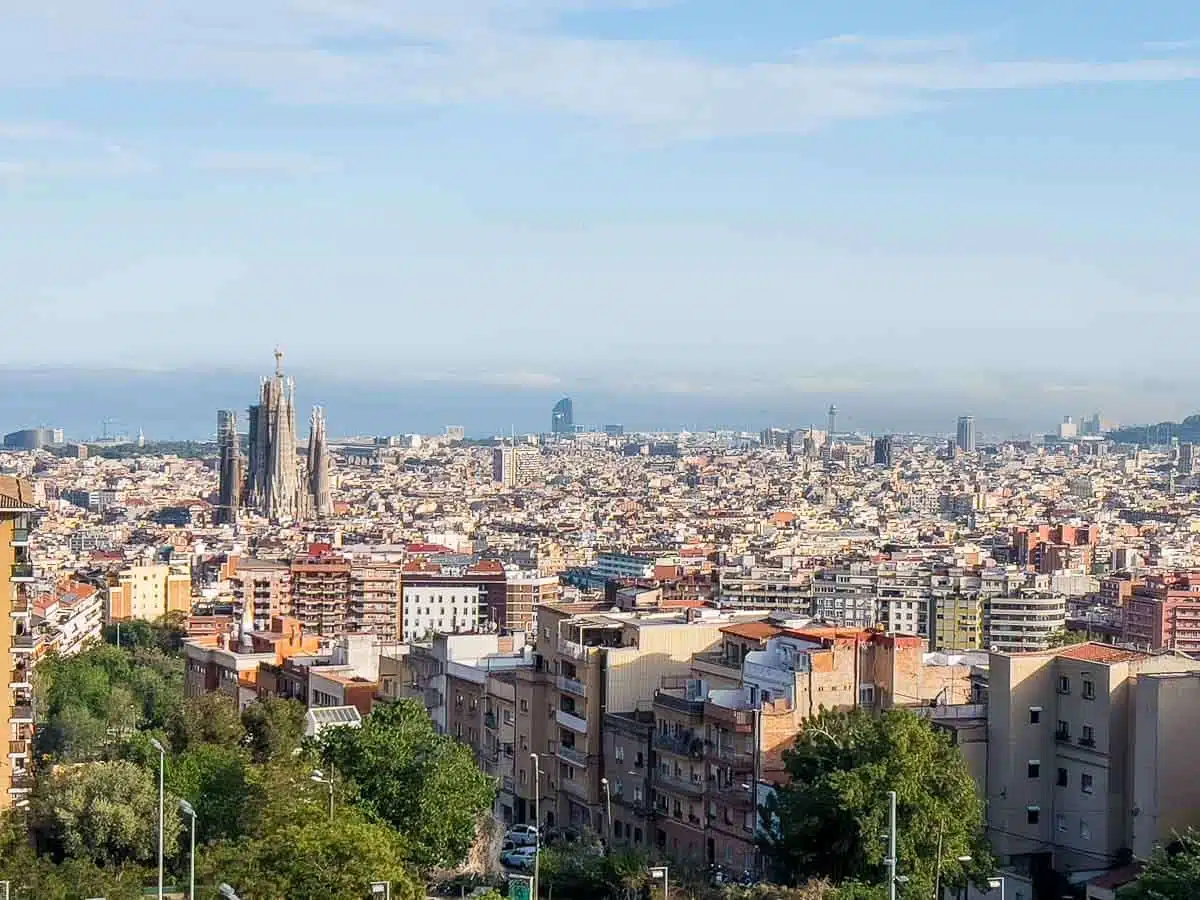 Time to strap on those hiking trainers and venture to Bunkers del Carmel, the remains of Spanish Civil War bunkers in the hills overlooking Barcelona and its coastline.
Be sure to arrive here right before sunset. Thanks to the breathtaking panoramic views of the city set against the dipping sun, it's an idyllic place to see the transition from day to night, and seeing Barcelona at night is pure magic.
Barcelona Itinerary Day Three: Barceloneta and El Born
On your Barcelona itinerary's third and final day, you're in for more exploration and sightseeing. From the shores of Barceloneta Beach to the streets and attractions of El Born, it's a grand ending to a perfect trip.
Barceloneta Beach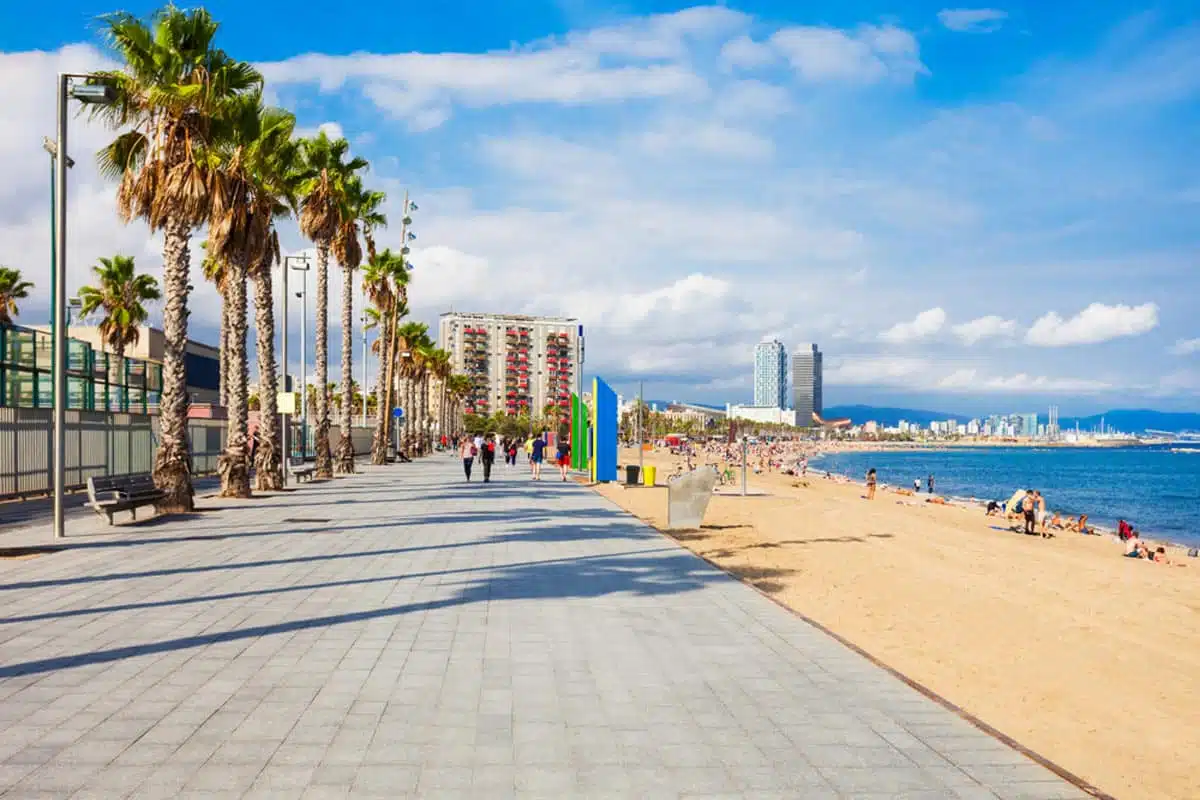 Long gone are the days when Barceloneta was a quiet fishing village, but a trip to this coastal hub is a must. And there's no better way to enjoy the coastline than an early morning walk along Barceloneta Beach.
A popular spot for everything from swimming to surfing, after some leisurely strolling, indulge in a spot of sunbathing on its shores. Also, on the beach, you'll find quite a few swanky beach bars where you can stop for a drink if you're in the mood to splurge a bit.
Lunch at La Bombeta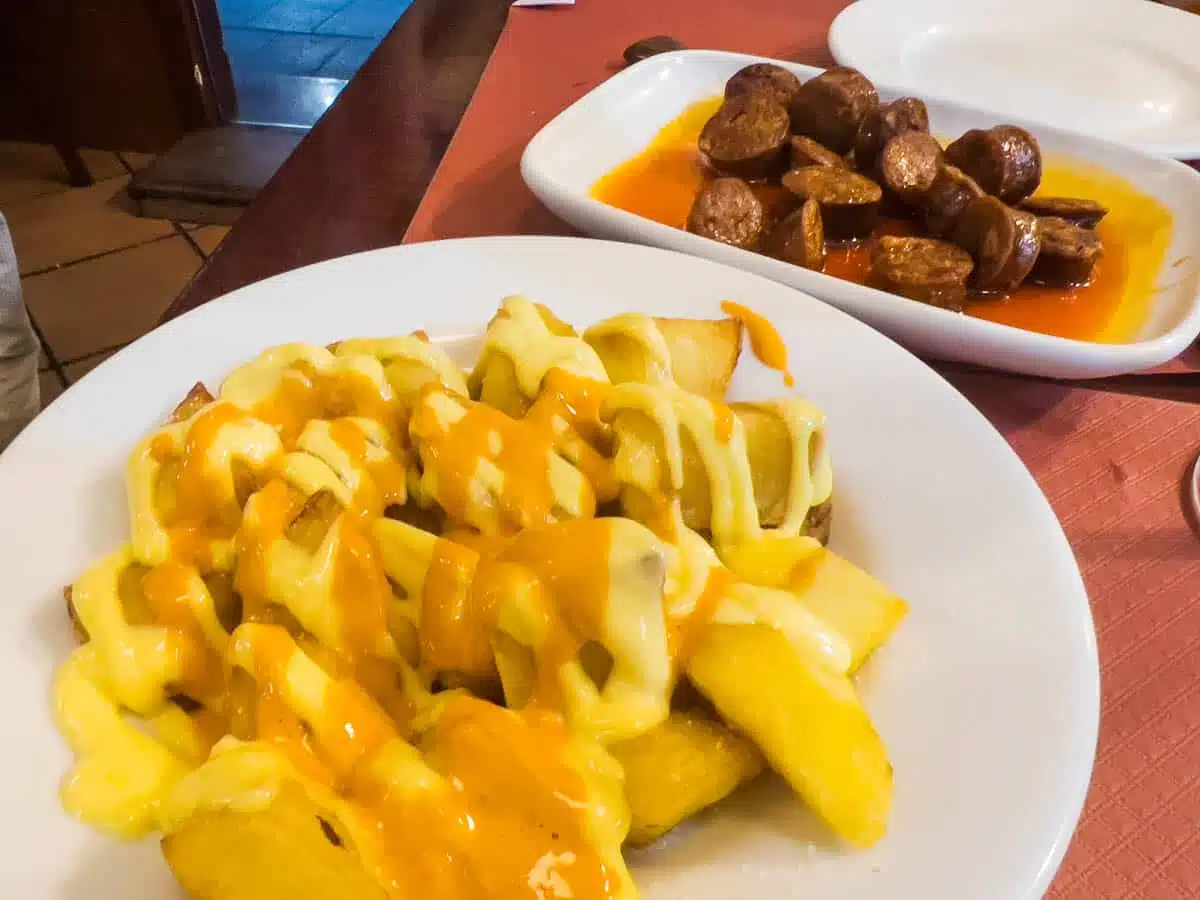 Beach bars aside, there are a few great restaurants in the district, but easily one of the best is La Bombeta. This traditional tapas restaurant serves classics ranging from patatas bravas to albondigas, with superb attention to detail and flavour.
Top Tip: Arrive early to grab a table, as it gets jam-packed during peak times.
Parc de la Ciutadella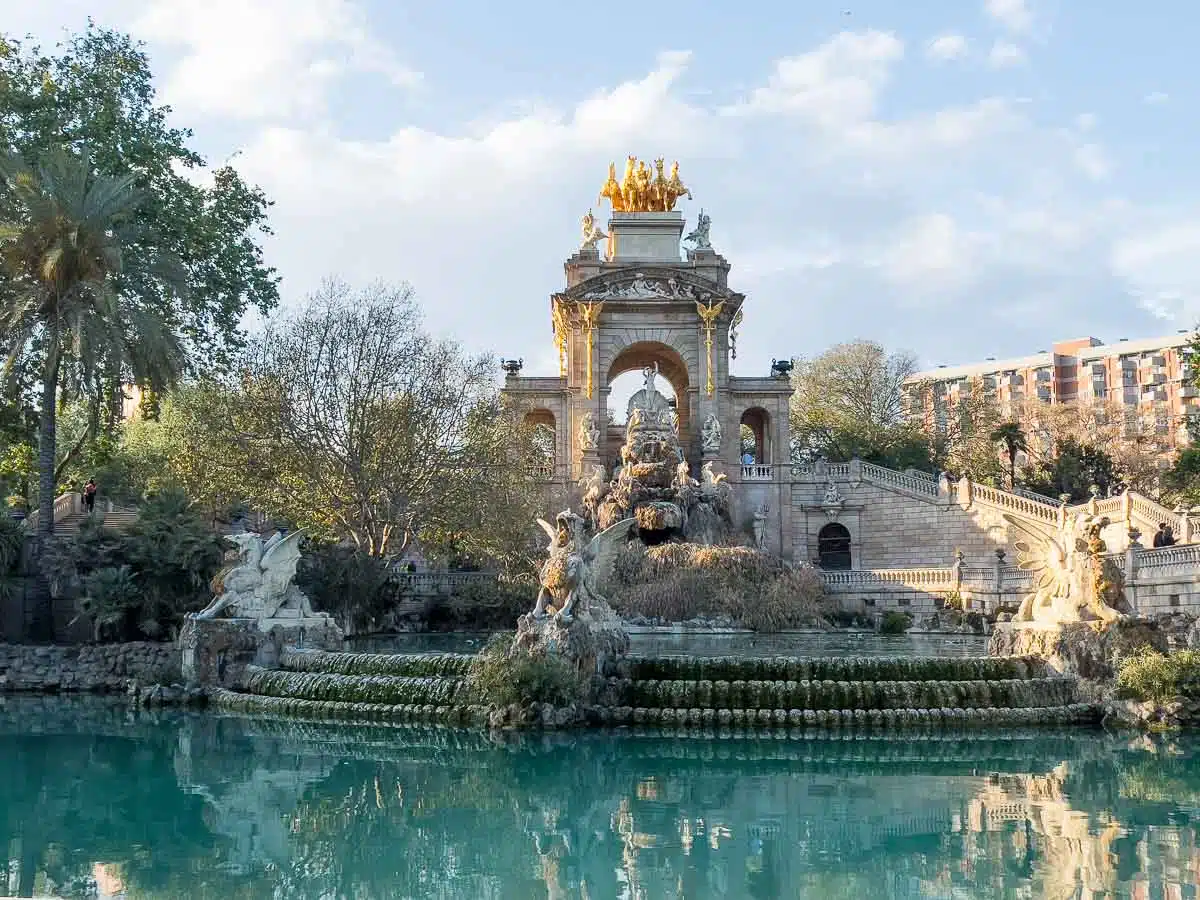 Among the many things to see in Barcelona in 3 days, the beautiful urban Parc de la Ciutadella is a worthy contender for the top spot. It sits in the heart of the city and spans a whopping 75 acres of natural splendour.
Throughout the park, you'll find walking trails that provide an ideal chance to escape from the hustle and bustle of the city. As you wander about, keep an eye out for the Castle of the Three Dragons and the Parliament of Catalonia building.
For something a bit different, rent a boat and head out onto the lake, soaking up more of the Spanish sun. Be sure to stop by the famous Cascada Monumental — a mesmerising 2-tier fountain in the north of the park.
Arc de Triomphe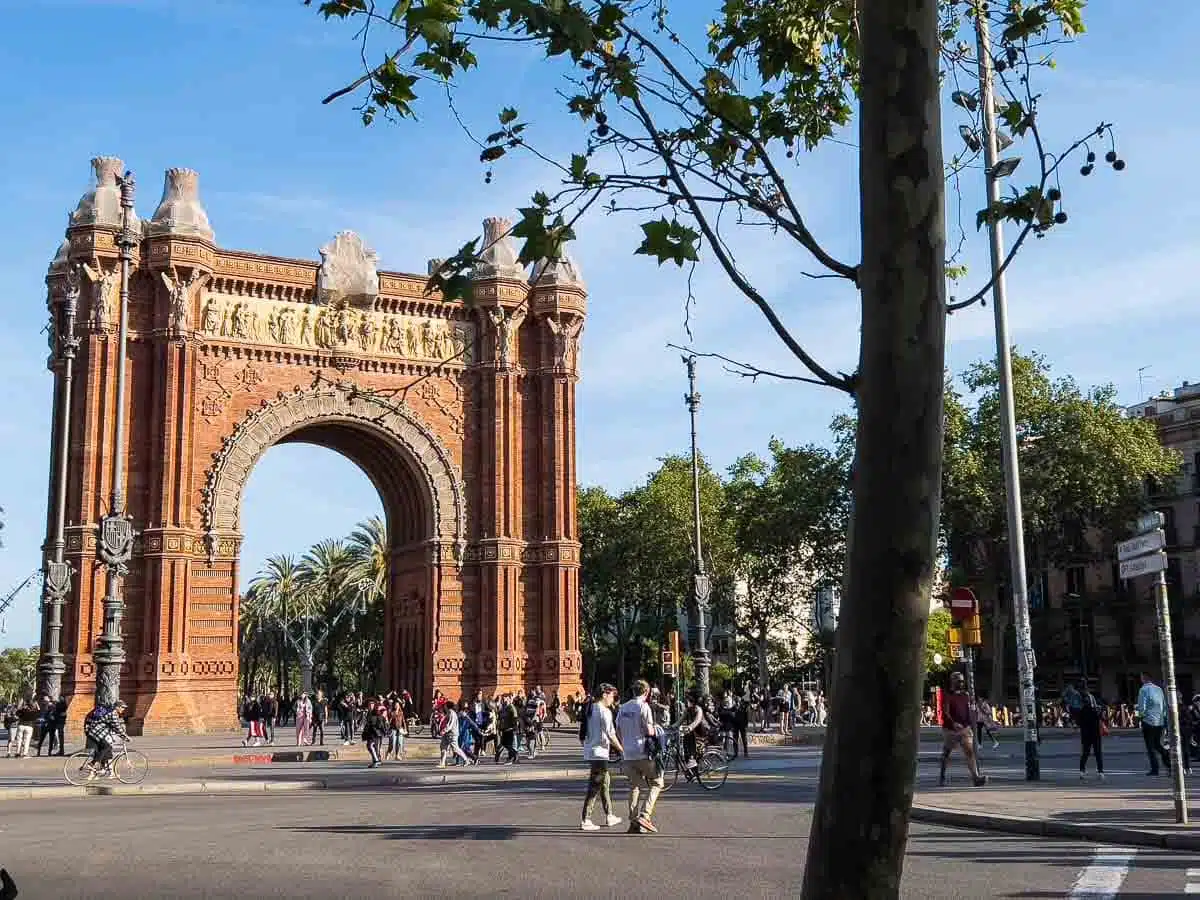 The Arc de Triomphe, like in Paris? Not exactly.
Sitting at the end of Passeig Lluís Companys, a short walk from Parc de la Ciutadella, you'll find Barcelona's version of this monument, the aptly named Arc de Triomphe (can I be controversial and say I think it's actually more attractive than its Parisian counterpart?).
Built as an entrance to welcome the world to the 1888 Universal Exhibition, its red brick facade offers a stunning place for some snapshots. Photography aside, when you're here, spend some time admiring the neo-Mudéjar style motifs that decorate its walls.
Top Tip: Combine Parc de la Ciutadella and a stop at the Arc de Triomphe when you book this 2-hour segway tour.
El Born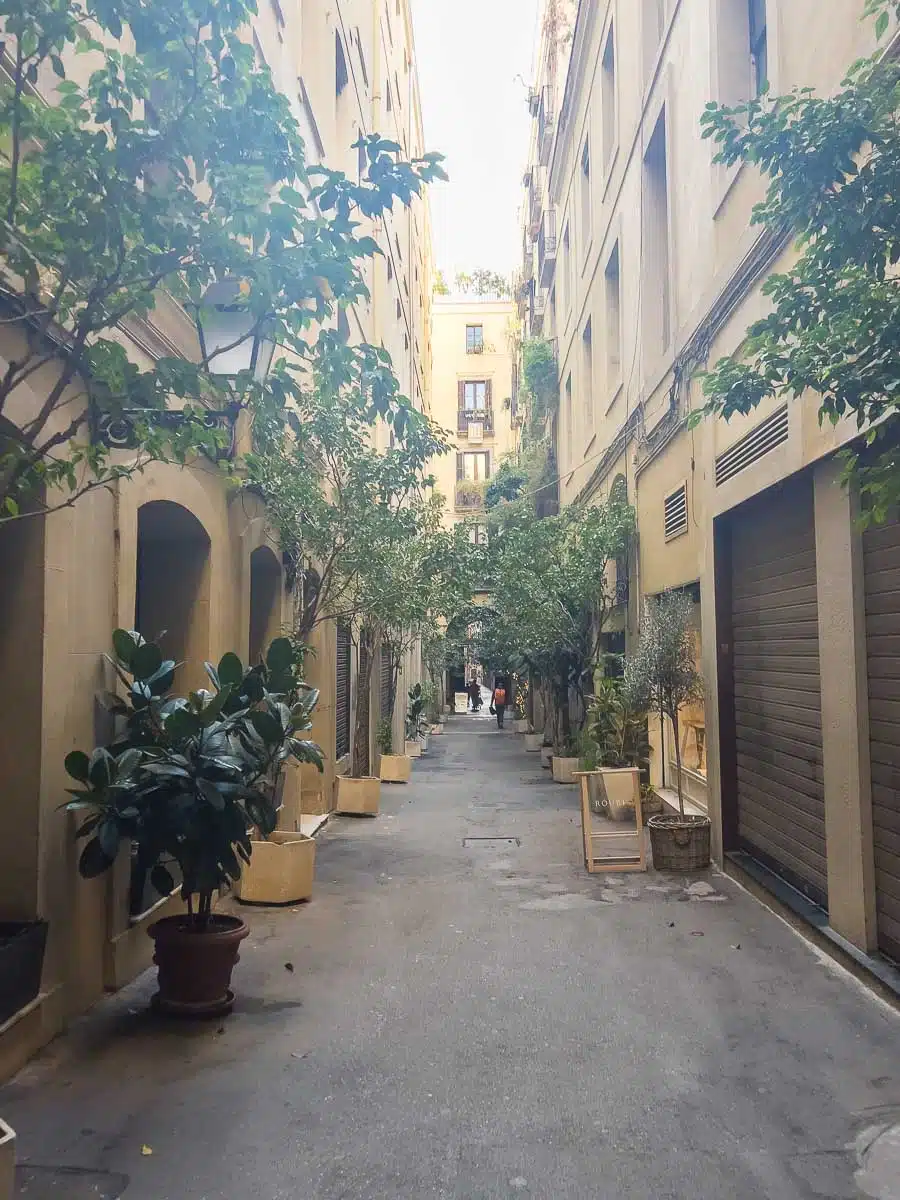 As the afternoon rolls in, make your way to trendy El Born. This chic district is a popular haunt for those looking for luxury retailers and charming mediaeval streets begging for exploration.
In contrast to its artistic and youthful vibe, this neighbourhood is, at the same time, home to many of Barcelona's oldest buildings. This translates into many noteworthy attractions and activities to fill your afternoon with.
If you time things right and it's open, take a peek inside the Basilica of Santa Maria del Mar. While in El Born, book a spot on a guided tour of the Picasso Museum, where a collection of more than 4,000 works from the famous artist is on display.
Another premier museum in the neighbourhood is the Moco Museum, an oasis of modern art with pieces from the likes of Andy Warhol, Jean Michel Basquiat, and Banksy. If you want to save a little money, book your admission ticket online.
Top Tip: Get yourself a Barcelona card to access museums and other top-tier attractions, including some bonuses on public transportation.
Can Cisa/Bar Brutal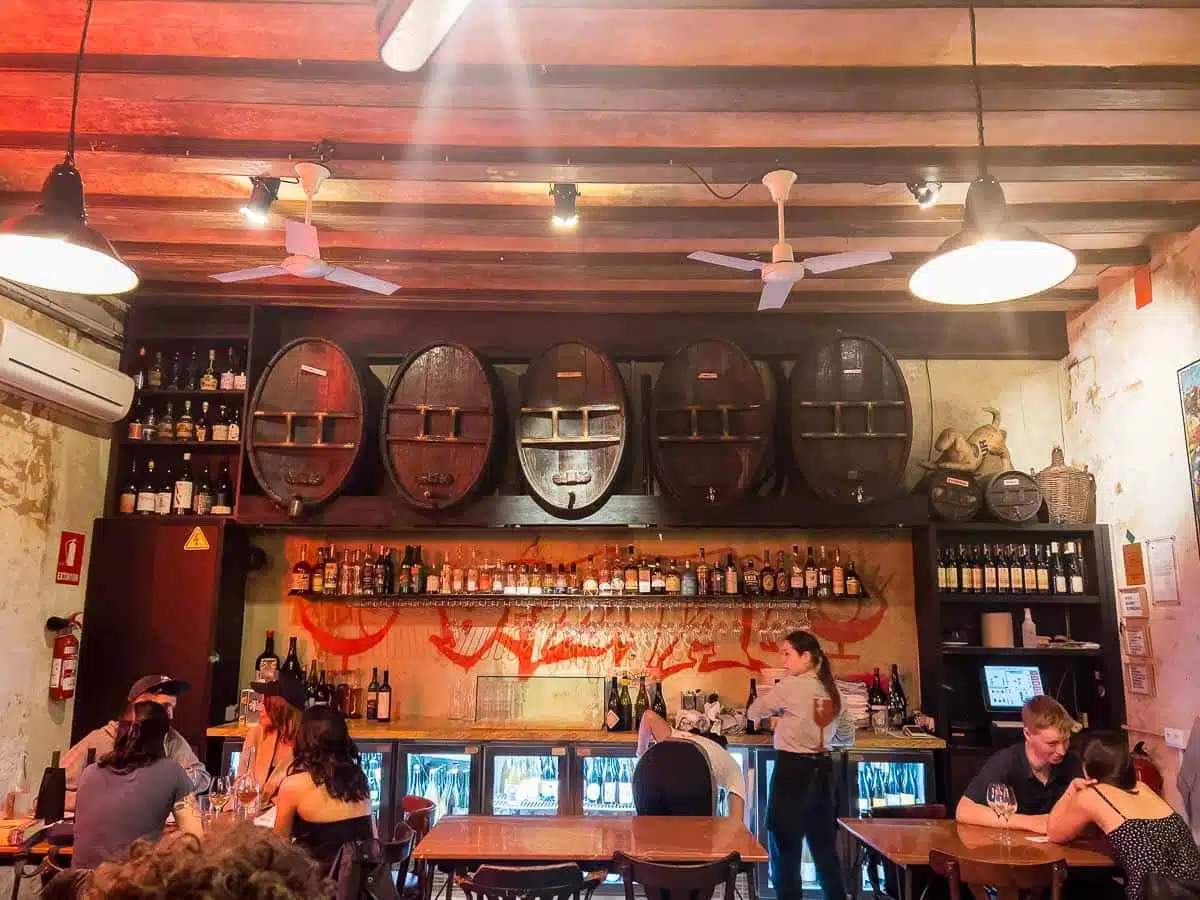 It would be sinful to end your Barcelona trip without indulging in a final taste of local cuisine, and to cap off your last night, it's time to wine and dine at the city's best.
Equal parts laid-back wine bar in the front and upscale restaurant in the back, Can Cisa/Bar Brutal is second to none.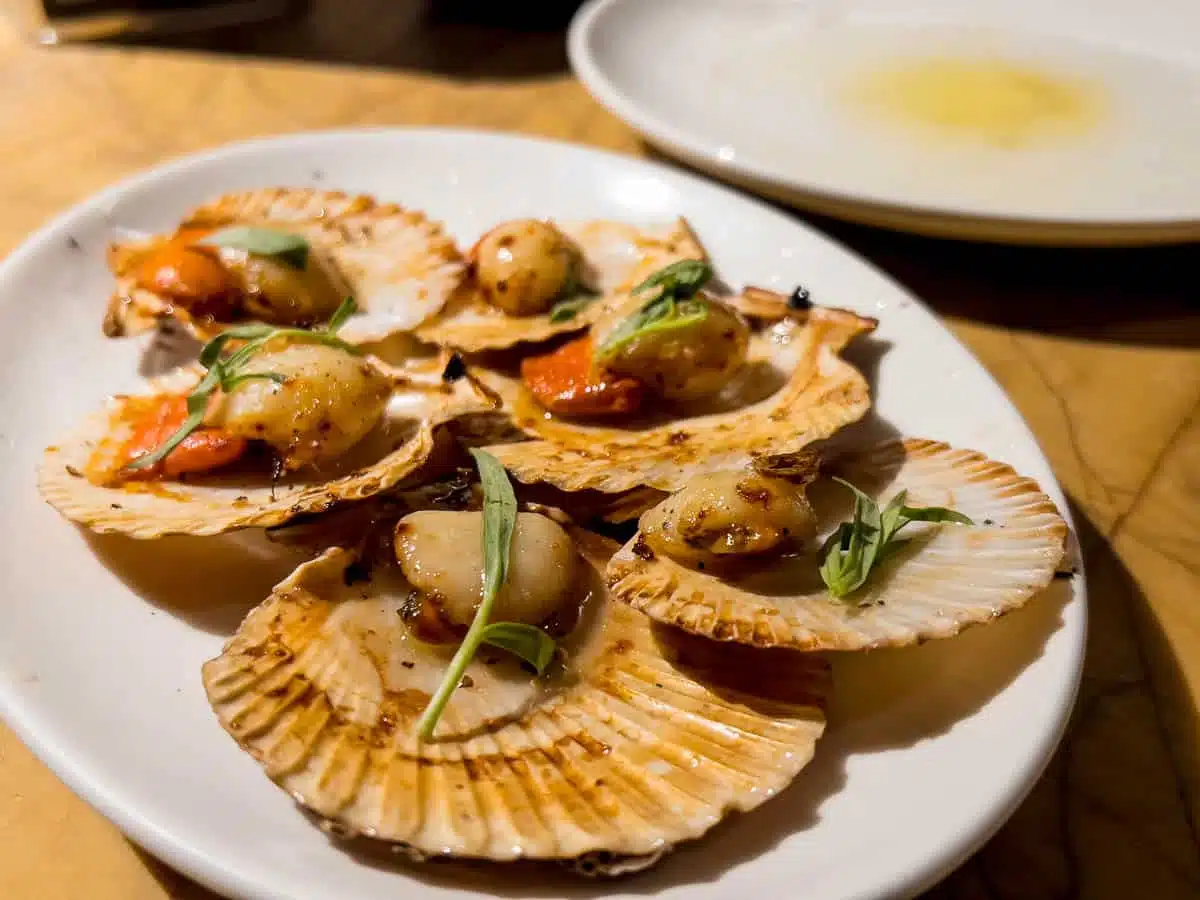 Its impressive wine selection from the counters of Can Cisa serve as an appetiser for the creative cuisine that awaits in Bar Brutal. What sets this establishment apart is the always-changing menu that highlights adventurous ingredients from sweetbreads to duck hearts. It is fabulous.
Barcelona Itinerary – Map
Love This? Save + Share on Pinterest!