Welcome to Ibiza – a Mediterranean paradise awash with gorgeous towns, beautiful beaches and of course *that* nightlife. Want to know where to stay in Ibiza? Here's what you need to know for your Balearic adventure.
Hosting an eclectic mix of legendary clubs, historic monuments, and charming villages, I hate to use this phrase but there really is something for everyone on Ibiza.
Whether you're after the chic vibes of Ibiza Town, the all-out parties of San Antonio or the quieter charms of spots like Es Canar, you're guaranteed to find the spot to suit your trip. Choosing where to stay in Ibiza can be challenging, so let me show you my top picks.
Ready to explore the best places to stay in Ibiza.? Let's go!
Best Places to Stay in Ibiza: At a Glance
Where to Stay in Ibiza
Ibiza Town: Best Area to Stay in Ibiza for First-Time Visitors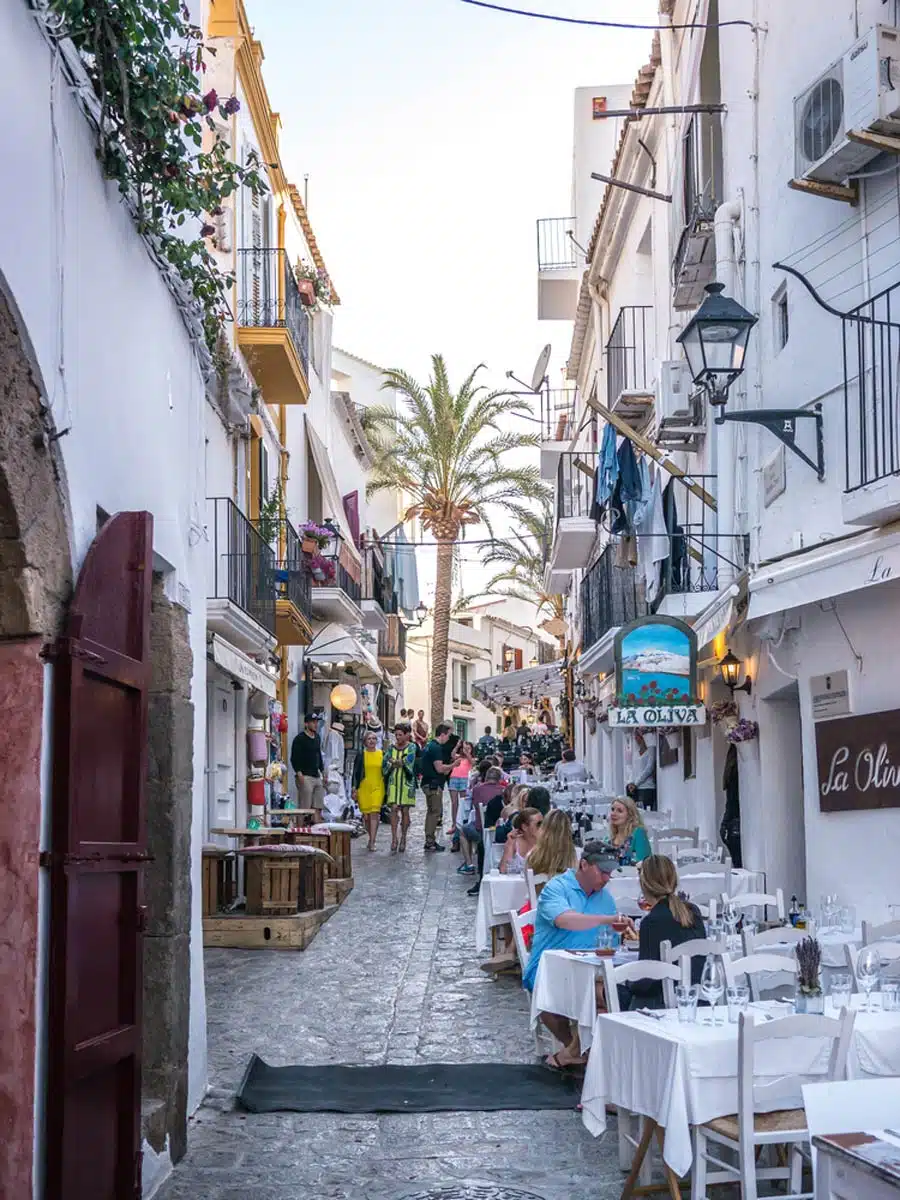 Ibiza Town is often the first place people think of when planning a trip to Ibiza (though San Antonio can also lay claim to that title too).
As the island's capital, Ibiza Town has everything you'll need for a first-time visit. Its central location makes it perfect for accessing historical sights, the best nightlife and the finest beaches.
Ibiza Town Highlights
The Old Town: Dalt Vila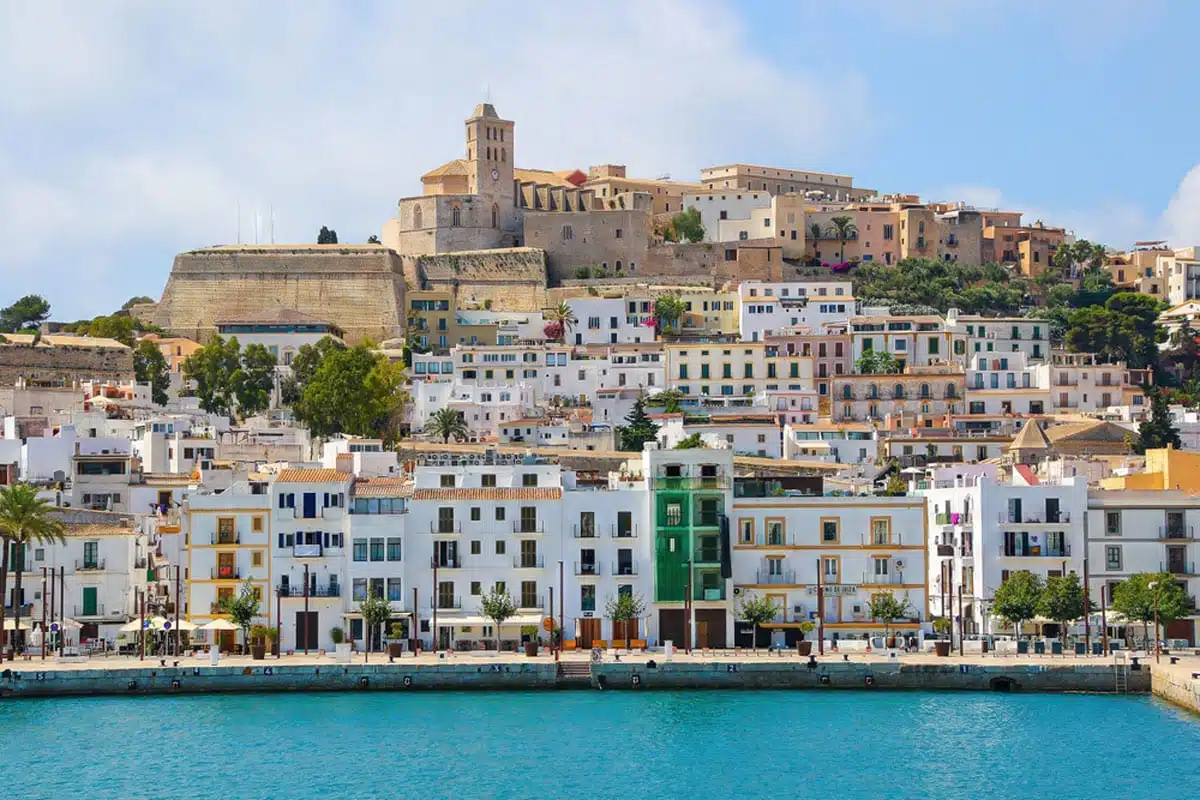 Dalt Vila is a must-visit if you're interested in ancient architecture. This military fortress from the Renaissance period is part of Ibiza's UNESCO World Heritage Sites, and for good reason.
It's a popular tourist attraction that showcases important military fortifications such as its Renaissance-style walls. Now, you can tour the area, visit museums, shop and enjoy the gorgeous sights.
Pacha Ibiza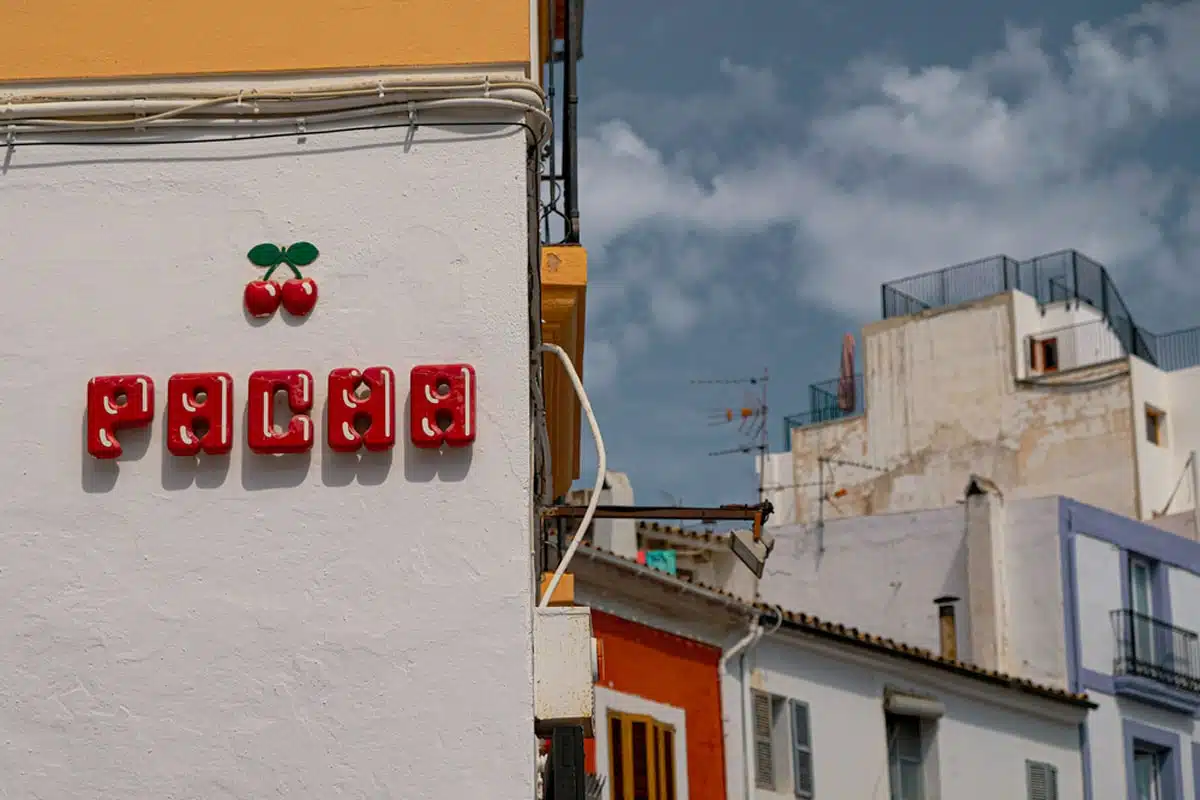 If you're in Ibiza Town and you like to party, you should visit Pacha, the original super-club established in 1973. Pacha has a 50-year-old reputation as a pioneer of Ibiza's dance and cultural movement. Not sure you're in the right place? The club is globally recognised by its cherry logo.
Talamanca Beach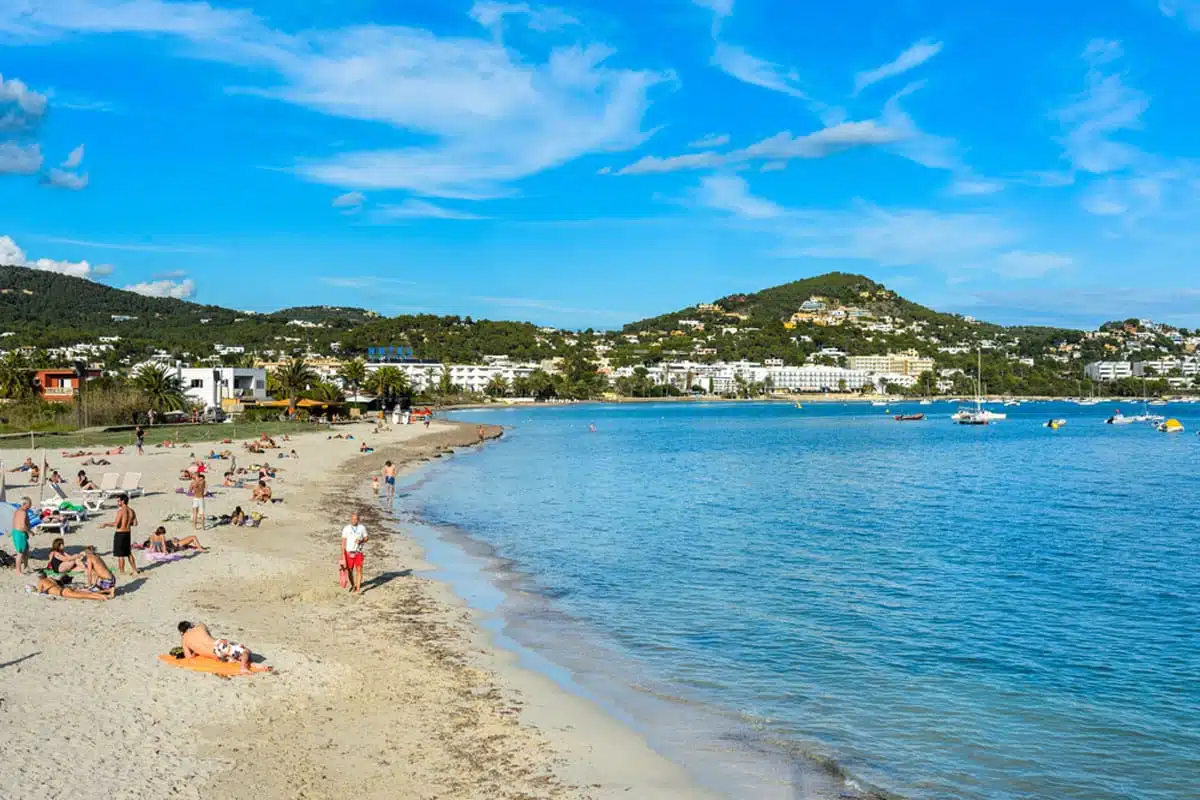 This piece of heaven, known to locals as the 'beach of Ibiza Town', sits only 15 minutes from the capital. Talamanca Beach is a long expanse of soft sand and shallow turquoise waters. Around the area, you'll find a promenade and boardwalk along the waterfront.
Suggested Hotel in Ibiza Town
One Ibiza Suites
If you're wondering where to stay in Ibiza Town, One Ibiza Suites is the perfect five-star beachfront resort. The hotel is near all the hottest spots, like Marina Botafoch and Dalt Vila. You'll be smitten with the lavish comfort and the excellent facilities, including a heated infinity pool.
San Antonio: Best Place to Stay in Ibiza on a Budget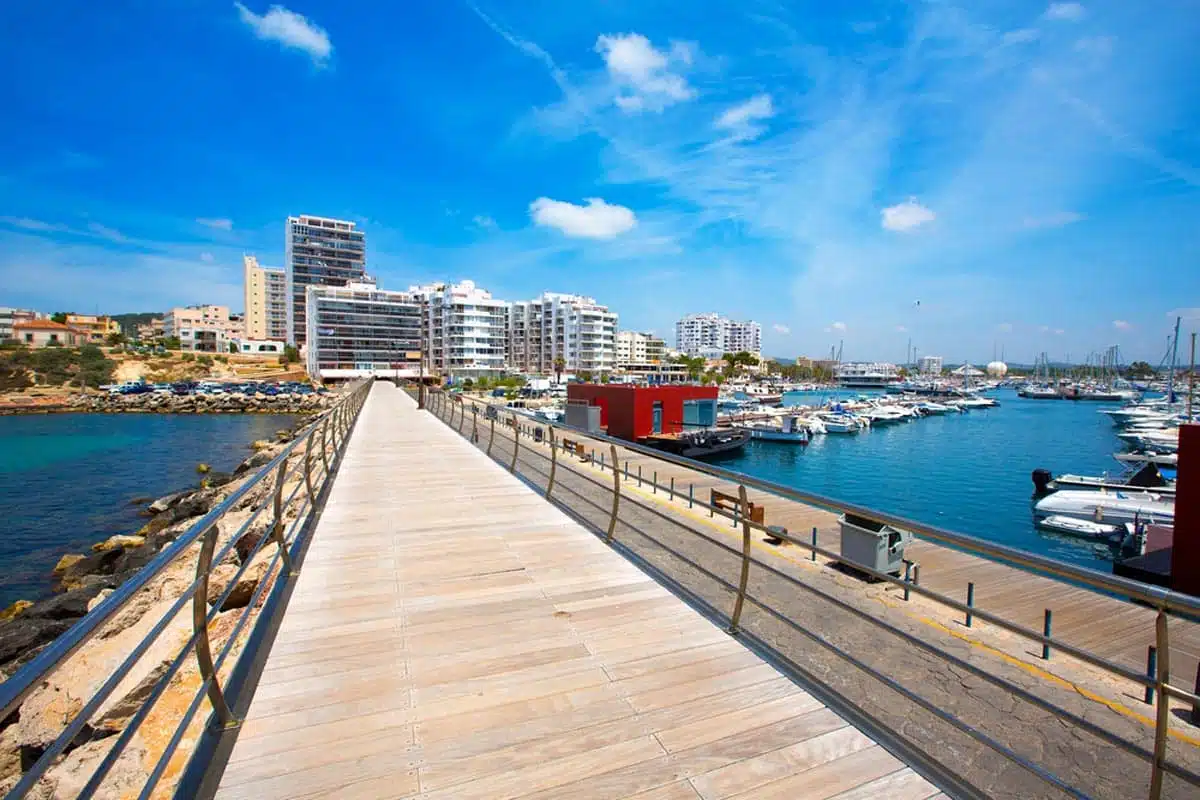 Located on Ibiza's west coast, San Antonio was a quiet fishing village until the 1960s and is now a party hotspot. San Antonio's lively atmosphere feeds into every bar, club and restaurant in the area.
That's all before we get to all the beautiful beaches nearby too.
San Antonio is a favourite of younger people and those on a budget – thanks to the near endless night-time bars and clubs to keep you occupied.
San Antonio Highlights
Amnesia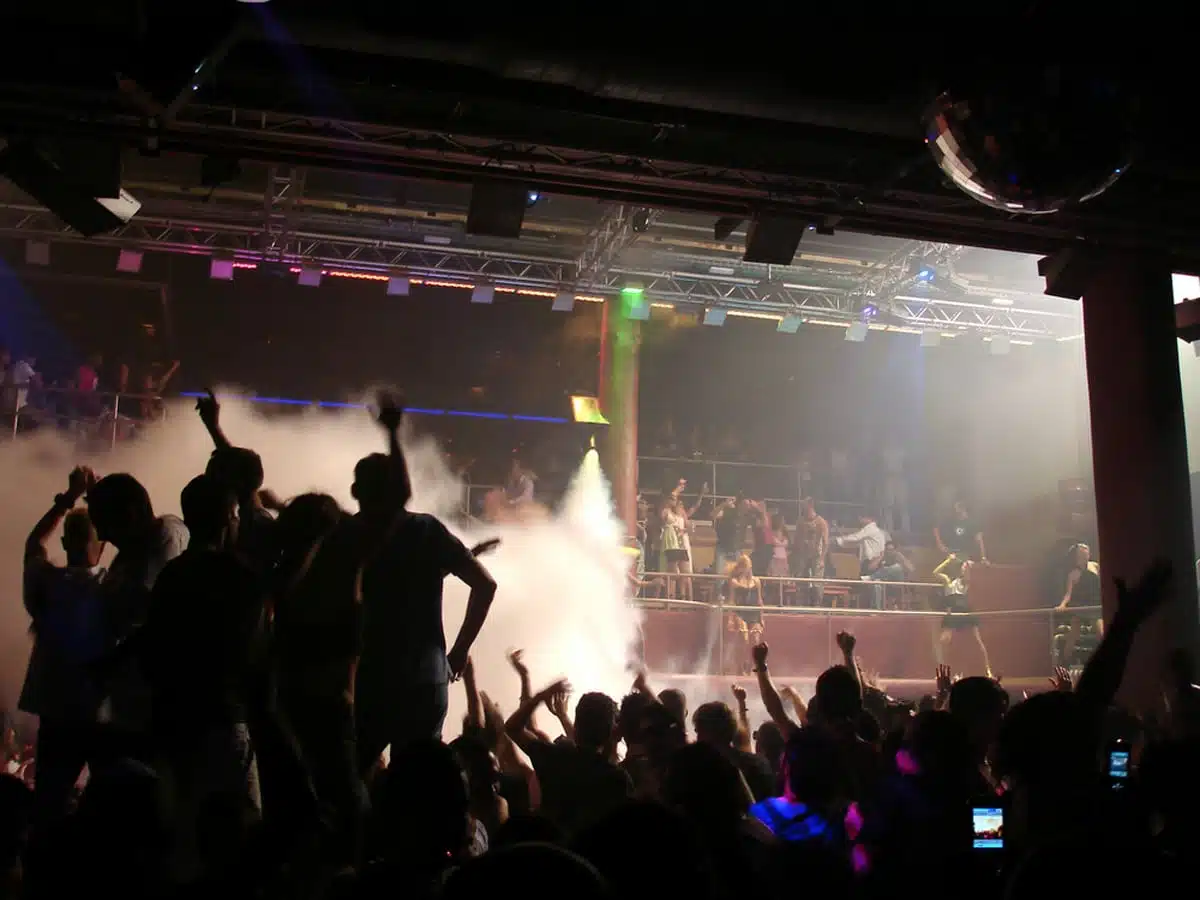 Much like Pacha, Amnesia is a well-established super club that began in the 1970s with the rise in hippy tourism. The space has a capacity of 5,000 people and is second in size to Privilege, another super-club nearby.
Sunset Strip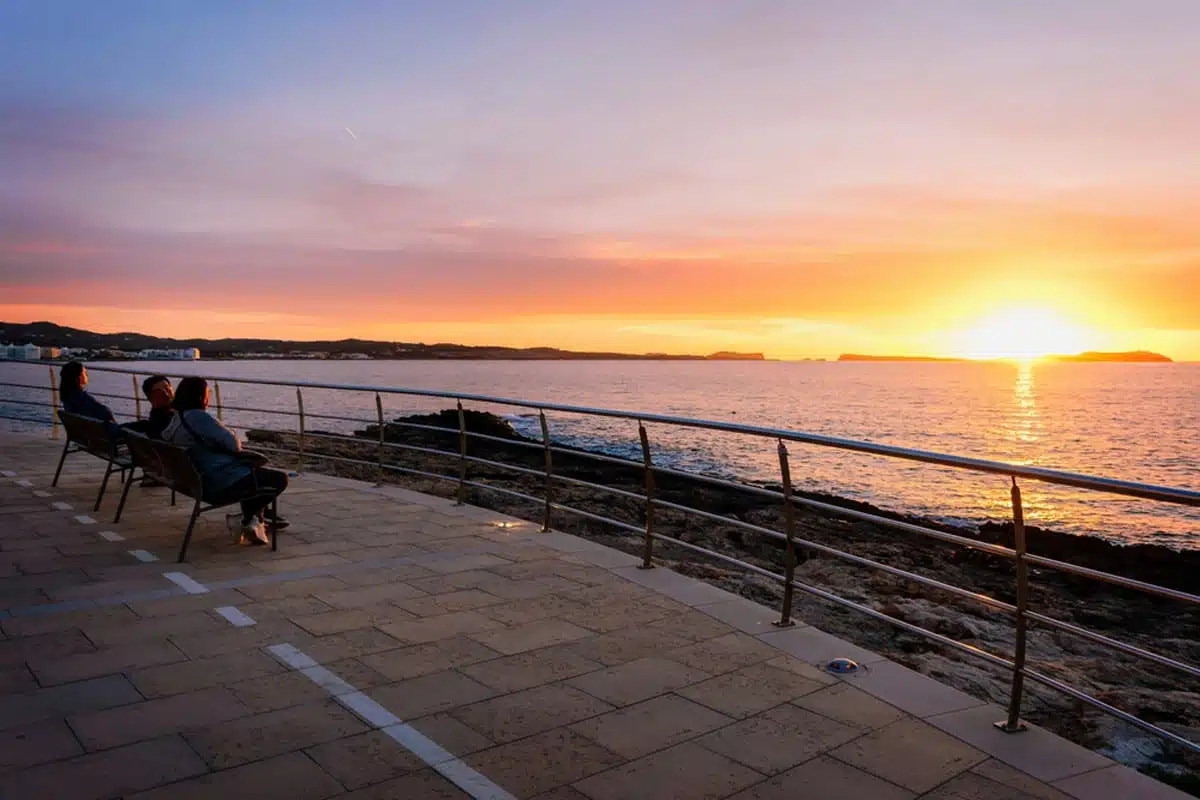 The Sunset Strip is a promenade in San Antonio lined with popular bars and open-air clubs. Café del Mar and Café Mambo are two top-rated attractions on the strip. However, the main attraction is the gorgeous view of the setting sun that makes this area so unique.
S'Arenal and Other Beaches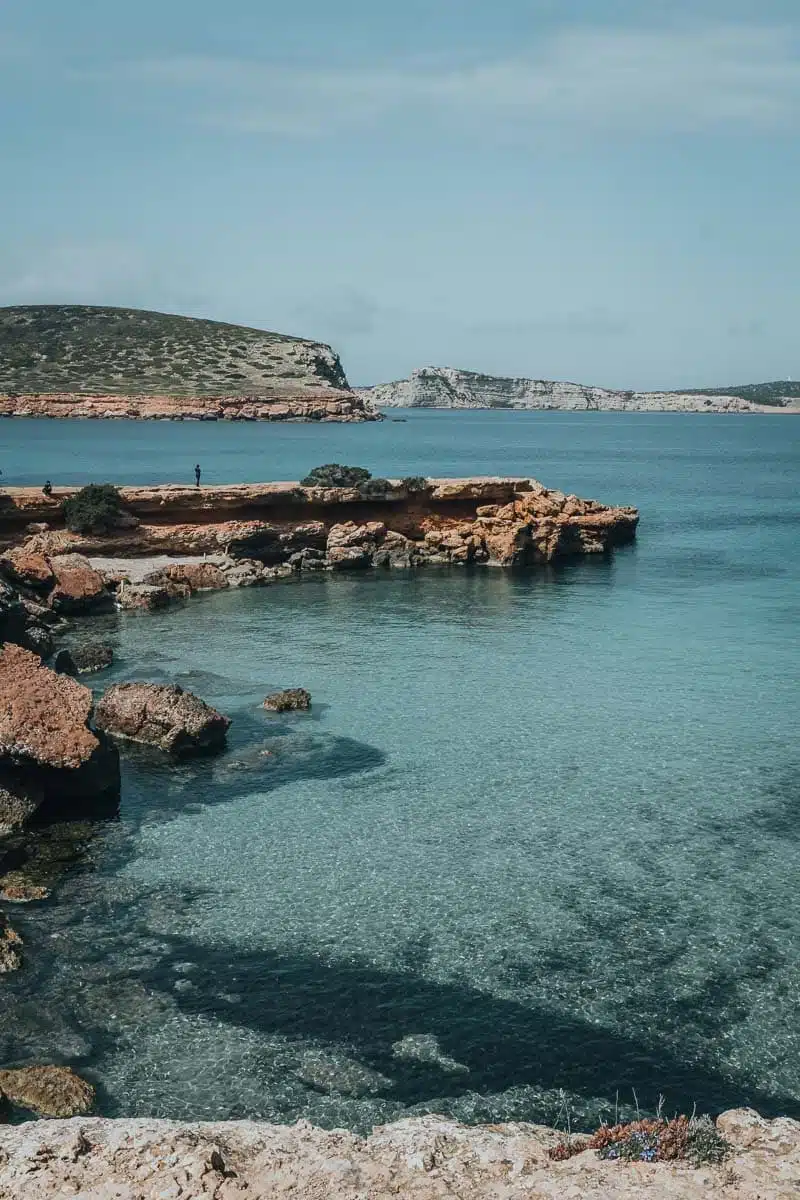 S'Arenal Beach is San Antonio's main beach parallel to the promenade. You can enjoy water sports at this beach, like jet skiing and banana boats.
This beach and its general area can get crowded in the summer. To avoid crowds, people in San Antonio often visit other beautiful beaches nearby, like Cala Conta and Cala Bassa.
Suggested Hotel in San Antonio
Bellamar Hotel Beach & Spa
Located near the seaside promenade, Bellamar Hotel offers modern comfort and luxurious wellness facilities at an affordable rate. Guests have no issues getting around with the connected bus and boat services. This hotel is a must-stay for everyone, but couples particularly like the location.
Es Canar: Best Location in Ibiza for Hippy Markets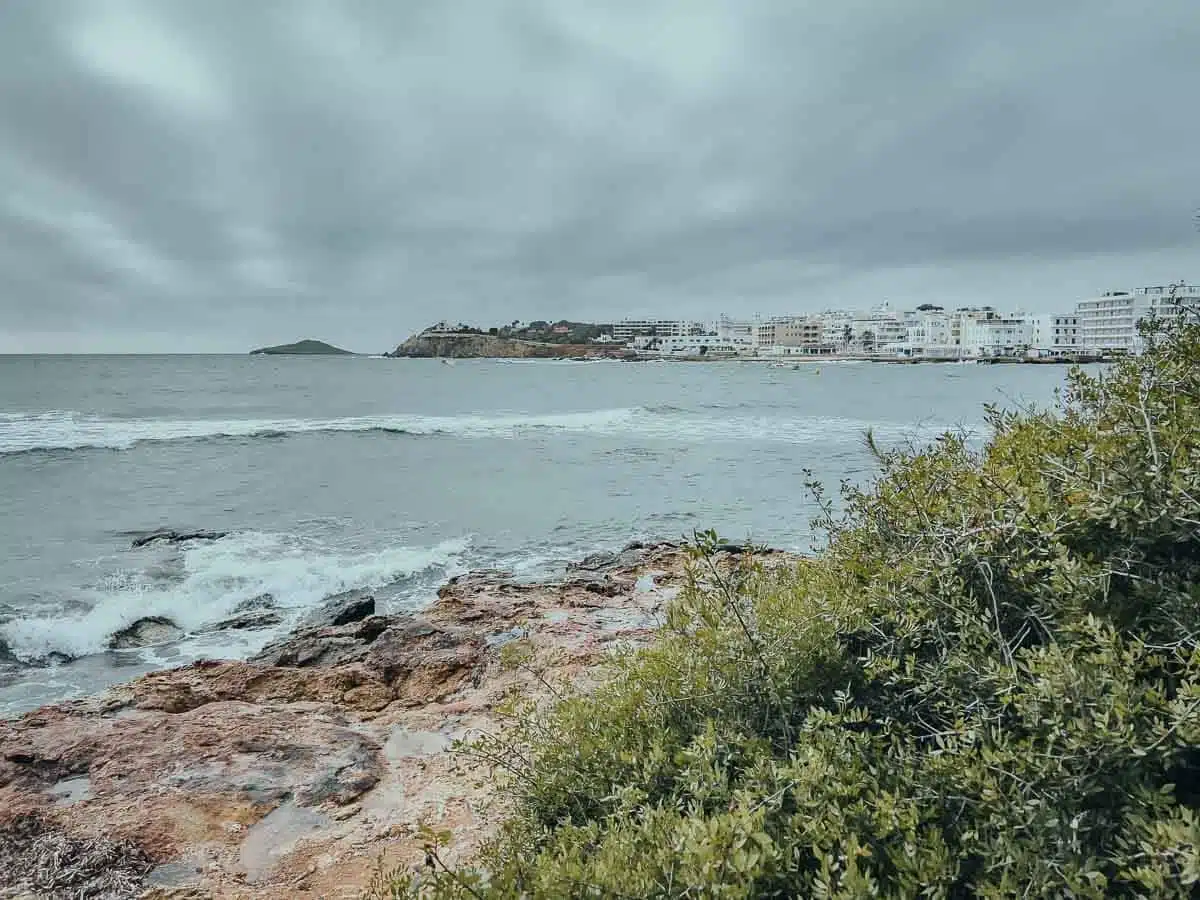 Es Canar is a beautiful small town on the northeast coast of Ibiza. It's known for its bohemian vibe and laid-back way of life.
The area became the hotspot for hippie action in the 1960s, lending to an aura of peace and spirituality it retains. You must visit Es Canar if you're interested in its rich hippy culture, including the trade markets, yoga retreats and a quieter side of the island.
Es Canar Highlights
Punta Arabi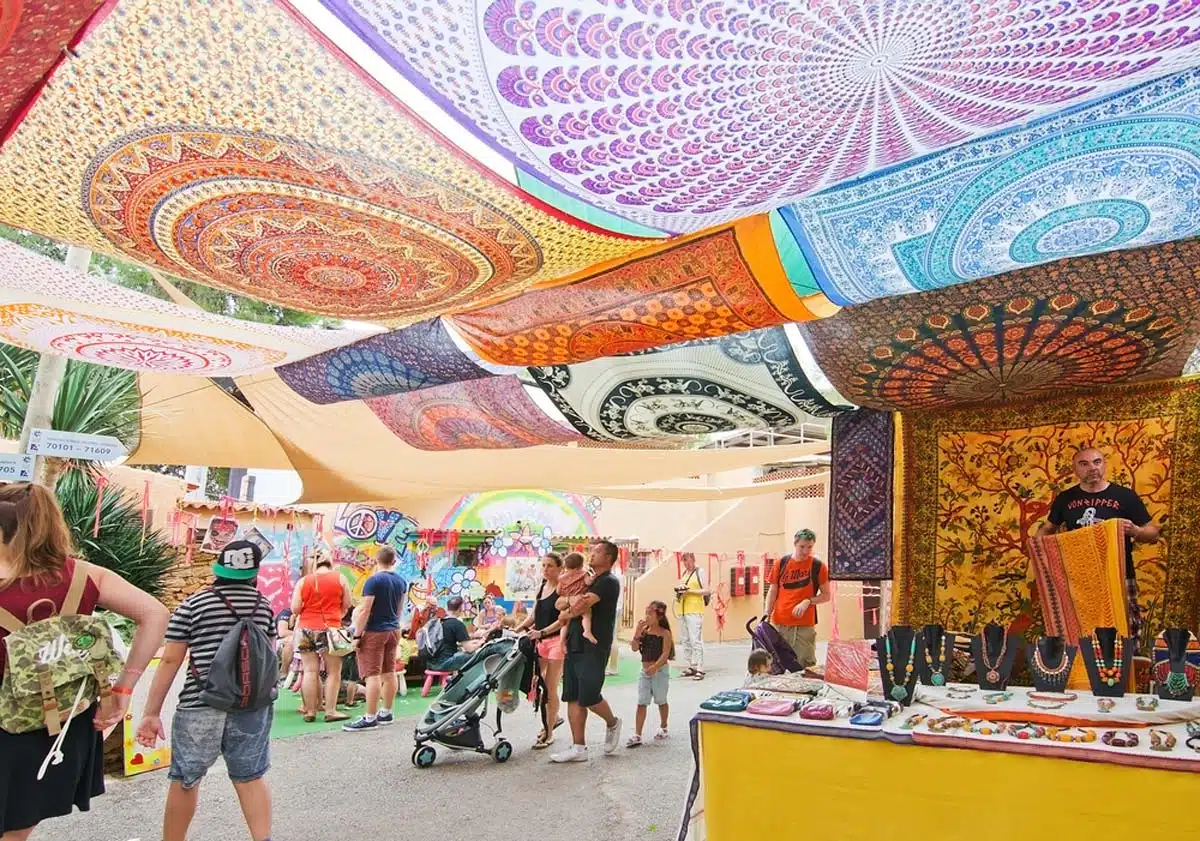 The Punta Arabi Hippy Market is a must-see. Established in the 1960s, painters, designers, and artists flocked to the island for its freedom and creativity. It's the original and largest hippy market in Ibiza.
It is also famous for its colourful hippie fashion, artisan goods, and inexpensive items. The market is open every Wednesday between April to October.
Es Canar, Cala Nova, and Cala Martina Beaches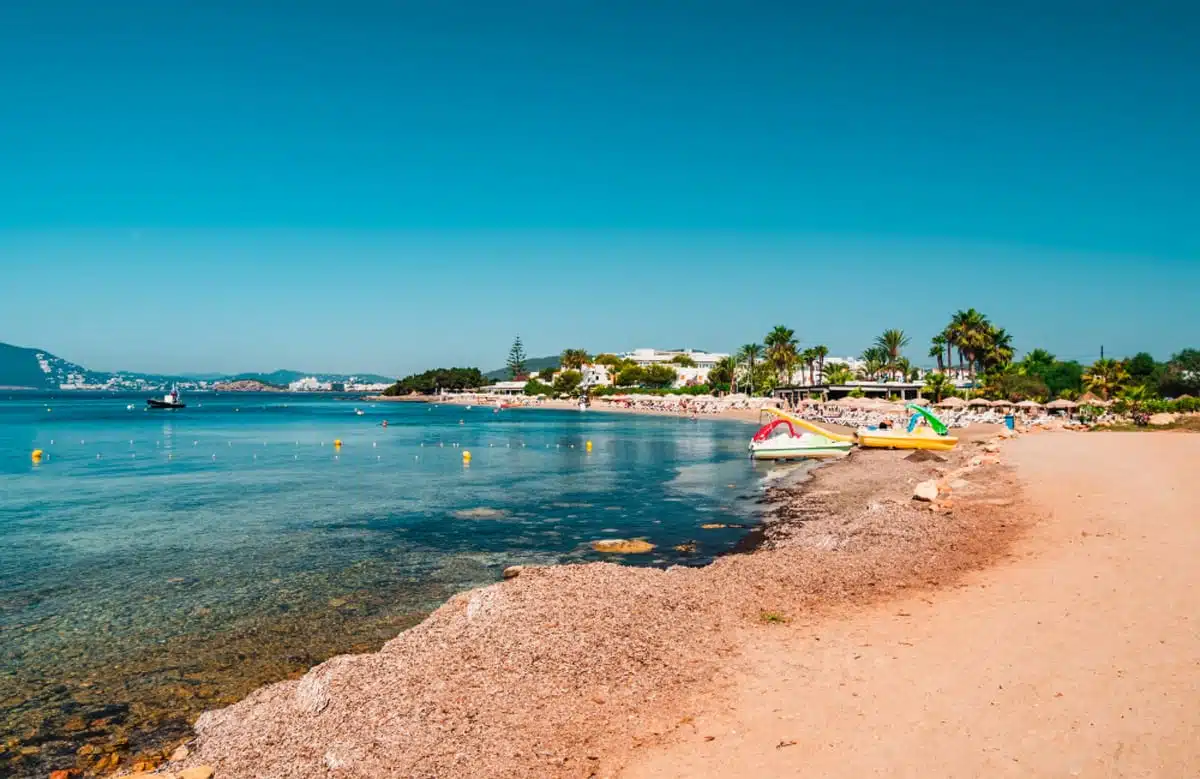 Es Canar Beach and its neighbours Cala Nova and Cala Martina are some of the area's most popular beaches. Its central beach, Es Canar Beach, looks like a horseshoe made out of golden sand. Cala Nova is the surfer's beach, and Cala Martina has a diving school and kite surfing activities.
Mamajuana
This beachside restaurant is an outstanding choice for those interested in a Valencian gastronomic adventure. Mamajuana is well-known for its emphasis on intimate dining.
The restaurant offers comfortable seating, pastel decoration, and even a sun lounger service for after your meal. Mamajuana serves Mediterranean food with an emphasis on locally sourced seafood.
Suggested Hotel in Es Canar
BLESS Hotel Ibiza
BLESS Hotel is a stunning five-star beachfront hotel that overlooks the Mediterranean Sea. This pet-friendly establishment hosts the Michelin-star restaurant Etxeko. Among its many facilities, the hotel includes a spa and wellness centre, an infinity pool, and stylish decor.
Playa D'en Bossa: Best Area to Stay in Ibiza for Partying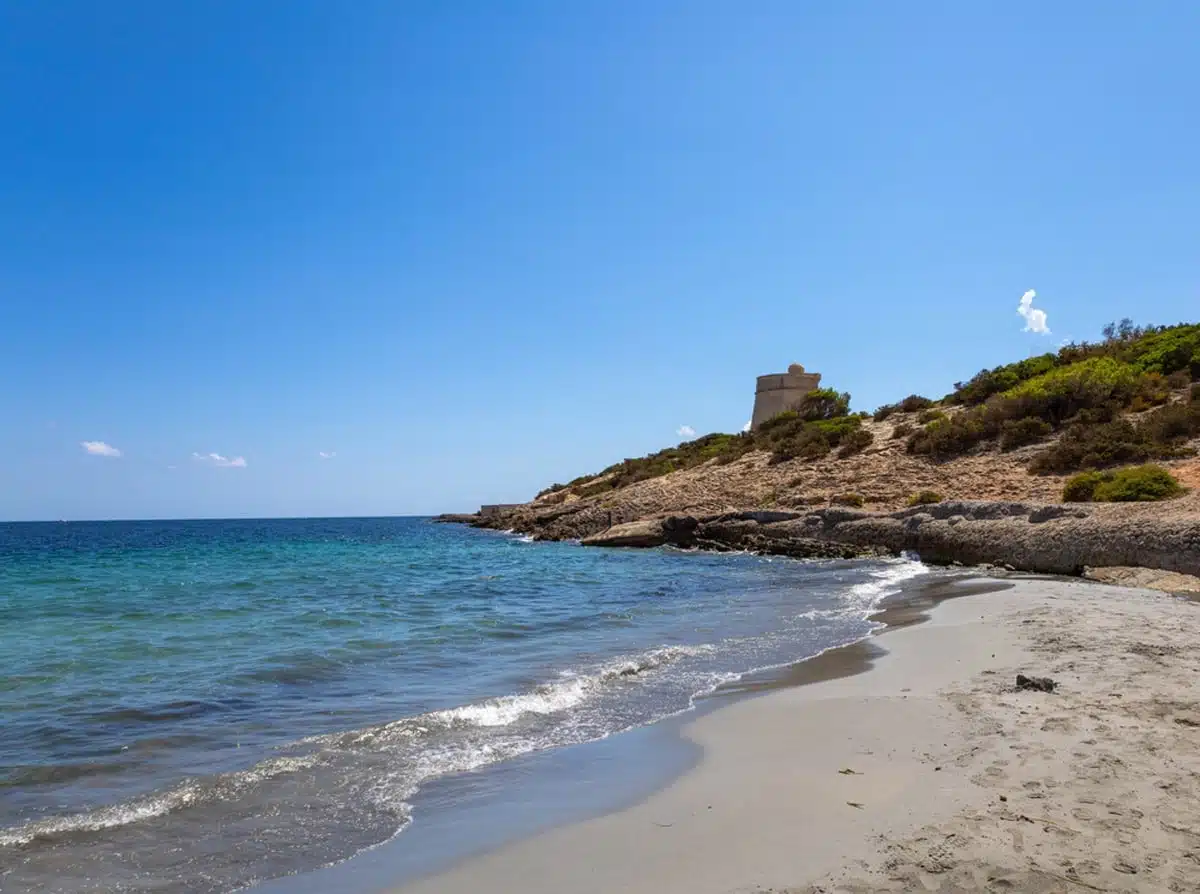 Playa D'en Bossa is arguably the best place to stay in Ibiza for beaches. Enjoy the luxury hotels, the neon-lit super-clubs, and the luxurious beaches 24/7.
Playa D'en Bossa is for people looking to have the true Ibethan party experience. There is an endless list of activities available, making it a very popular location.
Playa D'en Bossa Highlights
Ushuaia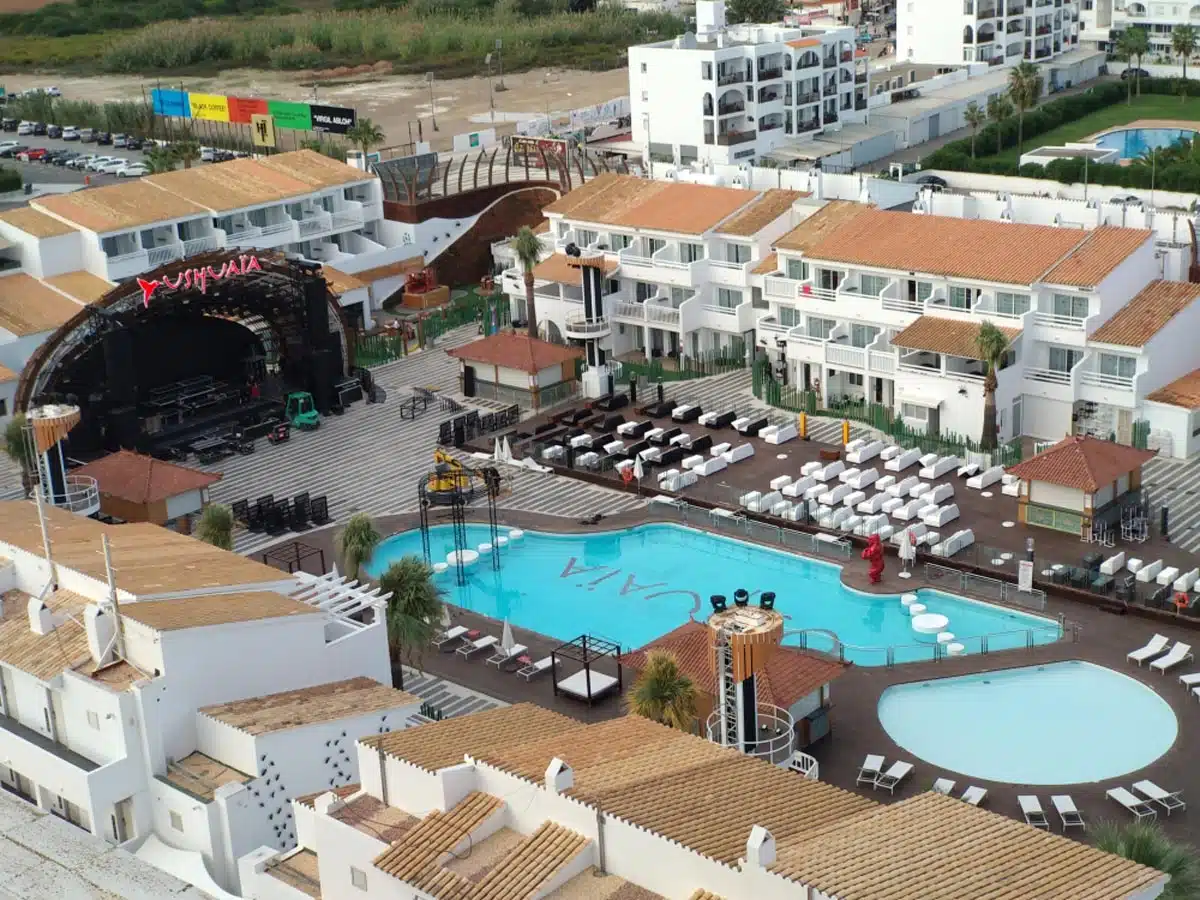 Ushuaia is one of the most famous super-clubs in the world. In the middle of Playa D'en Bossa Beach, there is nonstop action from early morning to late at night.
The open-air club holds 4,000 people and has a pool area and a main stage. Ushuaia has also hosted mega-famous DJs like Swedish House Mafia and Tiesto.
Playa D'en Bossa Beach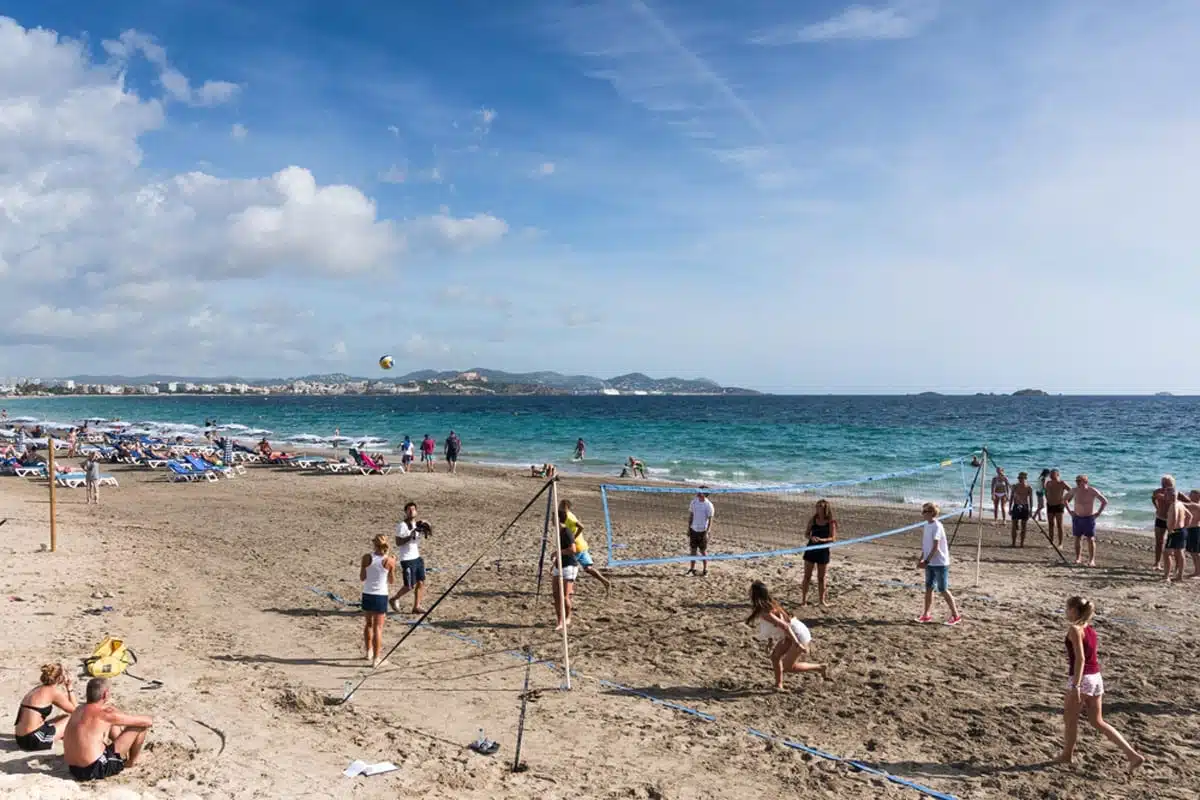 An obvious highlight of Playa D'en Bossa is its beach. There are many boat parties, watersports, and jetski rentals available. You can enjoy endless activities, whether tanning, day clubbing, or swimming. The beach also has restaurants, beach boutiques, and bars to enjoy all day.
Torre des Carregador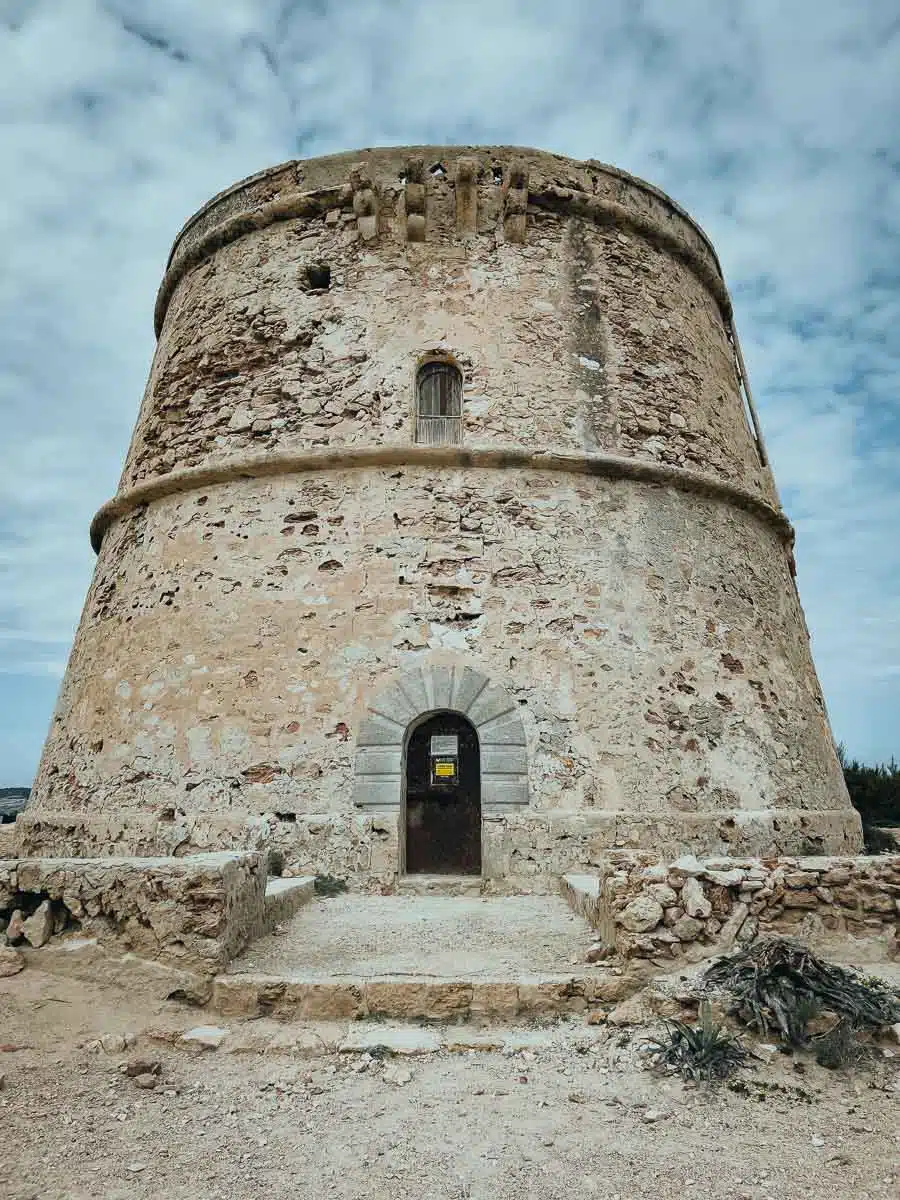 South of Playa D'en Bossa, you can slow down for a bit of heritage and culture. Torre des Carregador is an old watchtower situated in the San Francesc de s'Estany parish.
You can see beautiful views of the sea as well as Formentera Island. This 16th-century construction made for surveillance also served as a defensive tower.
Suggested Hotel in Playa D'en Bossa
Hard Rock Hotel Ibiza
The Hard Rock Hotel is arguably the best place to stay in Ibiza. With modern rooms, a spa and wellness centre, and direct access to Playa D'en Bossa Beach, what more could you want?
Well, I'll tell you, the hotel hosts weekly concerts on its open-air stage – so it's pretty perfect for a party vacation.
Santa Eulalia: Where to Stay in Ibiza for Couples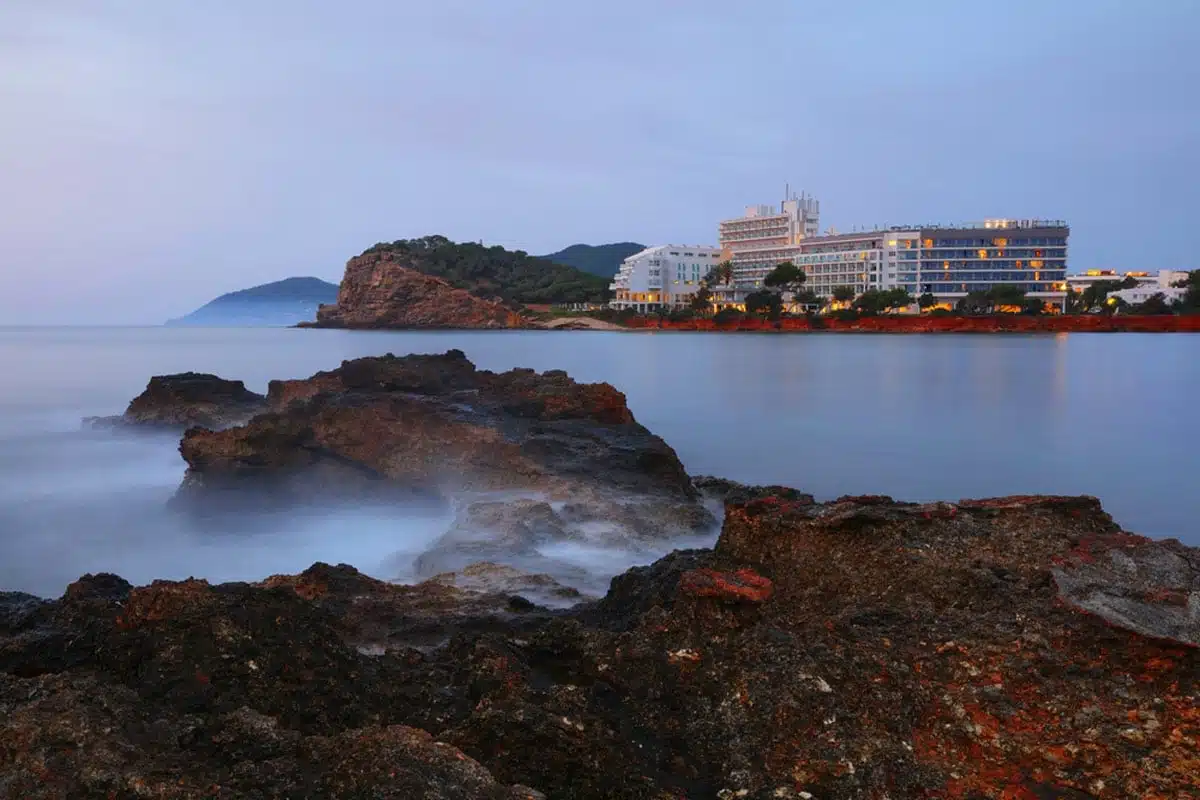 Did you know Santa Eulalia is perfect for a relaxed retreat? Compared to the rest of the island, this area has more of a chic and cosmopolitan feel but is still well-located for exploring further afield.
With plenty of shops, boutiques, and cafés, the area is perfect for people looking to go out without partying. It's well-loved for its gorgeous beaches, relaxed atmosphere and palm-fringed promenade.
Santa Eulalia Highlights
Puig de Missa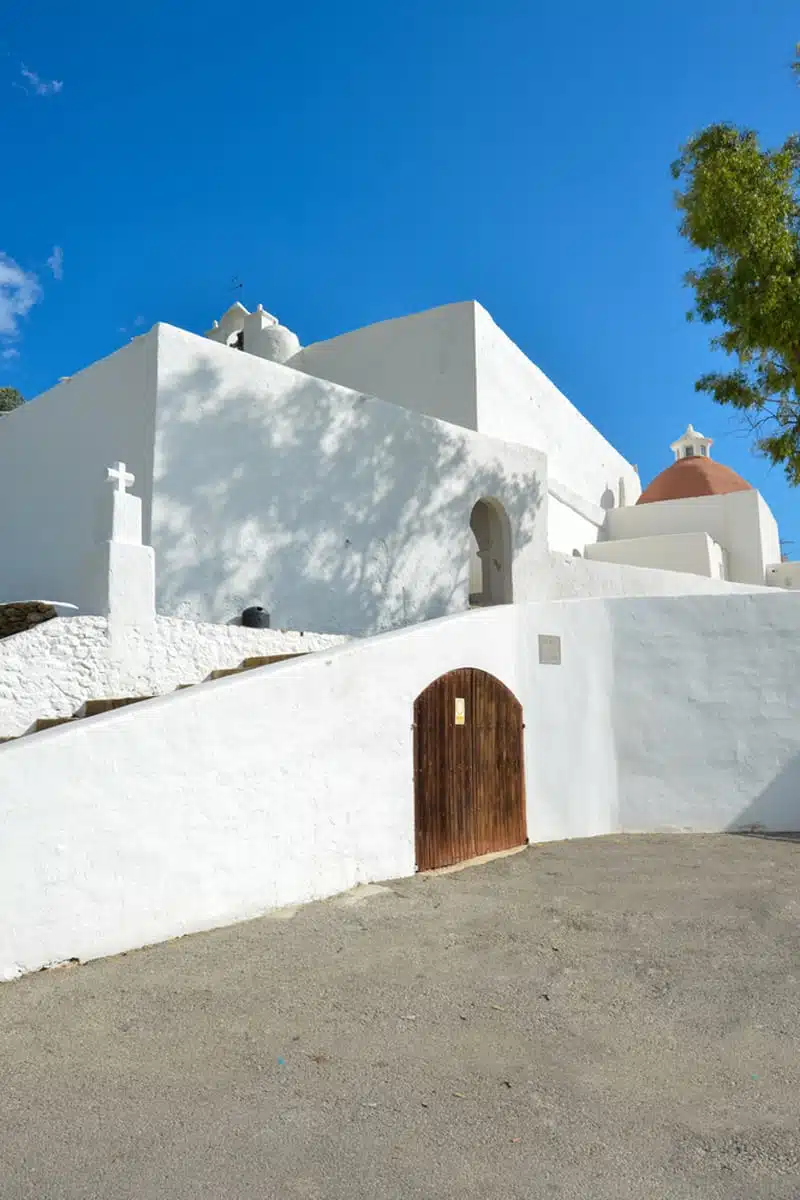 This 16th-century church sits atop a hill 52 metres above sea level, making for some breathtaking views. The area comprises a religious temple, a cemetery, Ibizan houses, and several museums.
The church, designed in baroque style, was initially built to protect the town from pirate attacks. It has stood as a landmark in Santa Eulalia for centuries and is a must-see if you're visiting.
Santa Eulalia Beach and Promenade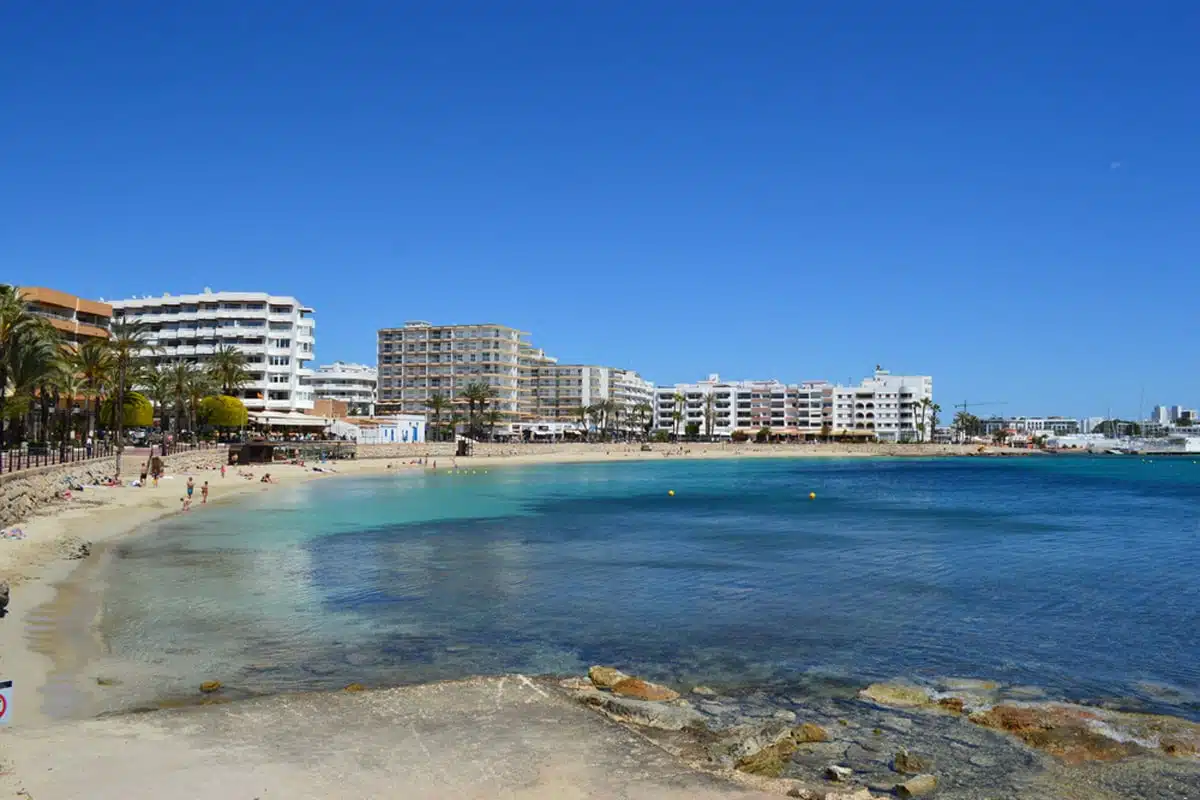 With the hotels on the outskirts of the town centre, the marina and promenade of Santa Eulalia Beach are clean and peaceful. The seafront promenade is the most popular feature of the town.
It spans the golden beach adorned with miniature gardens and a large fountain. This area is a shopping paradise with lower prices than the city's capital.
Can Ros: Ethnographic Museum
The Ethnographic Museum of Ibiza is a short walk from Puig de Missa church. The museum sits in a 300-year-old farmhouse.
Can Ros showcases a complete collection of unique rural findings, including jewellery, clothing, and tools. The architecture of the area is magnificent in itself and is a cultural heritage site.
Suggested Hotel in Santa Eulalia
Grupotel Santa Eulalia & Spa (Adults Only)
Couples will love this elegant adult-only hotel overlooking Santa Eulalia Bay. The Grupotel Santa Hotel offers phenomenal facilities like the wellness centre that includes a Turkish bath, ice fountain, and sauna.
You can expect the suites to be comfortable, stylish, and perfectly private. The hotel also offers its own entertainment, including shows, live music, and dancing.
Portinatx: Where to Stay for a Relaxing Holiday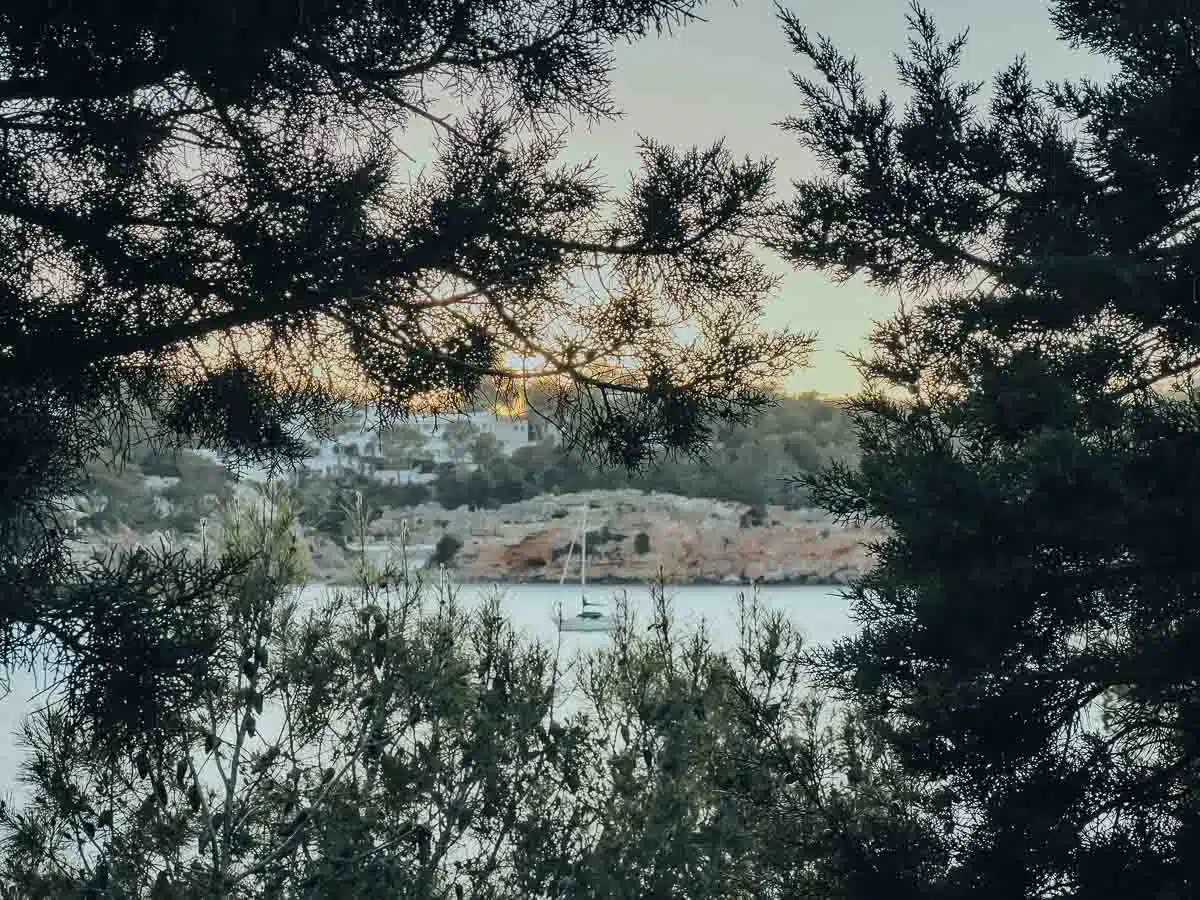 If you really want to get in tune with nature and get away from it all, head to Portinatx. I adore the northern shores of Ibiza for its calm vibe that lasts through the high season.
You'll always be at the forefront of the island's natural wonders when you stay in this serene area. Fans of outdoor activities, boutiques, and water sports will fit right in here.
Portinatx Highlights
Portinatx Beaches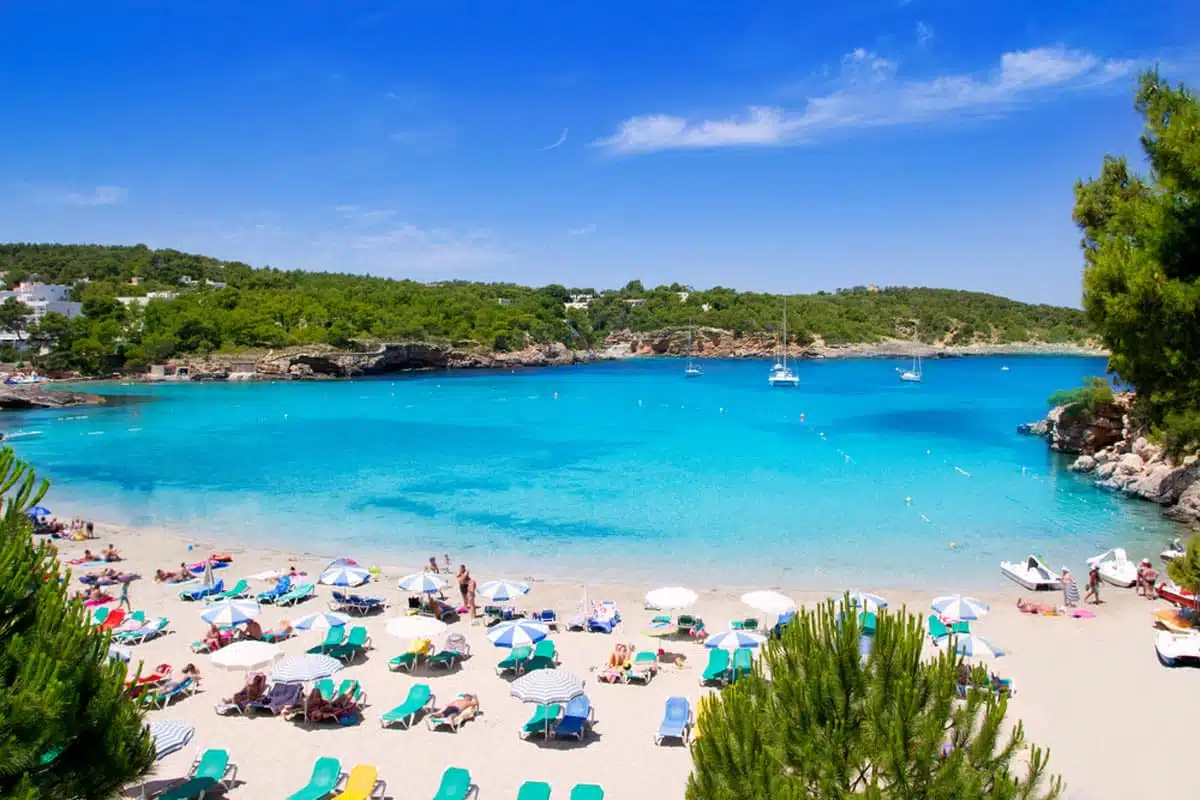 The obvious highlight of Portinatx is its three beaches. In the centre, you'll find S'Arenal Gros, a glorious stretch of the shore with a lively atmosphere, perfect for water sports.
If you follow the paved walkway, S'Arenal Petit is a short distance away. Playa Porto is the final beach surrounded by pine hills and coves.
Visit Sant Joan de Labritja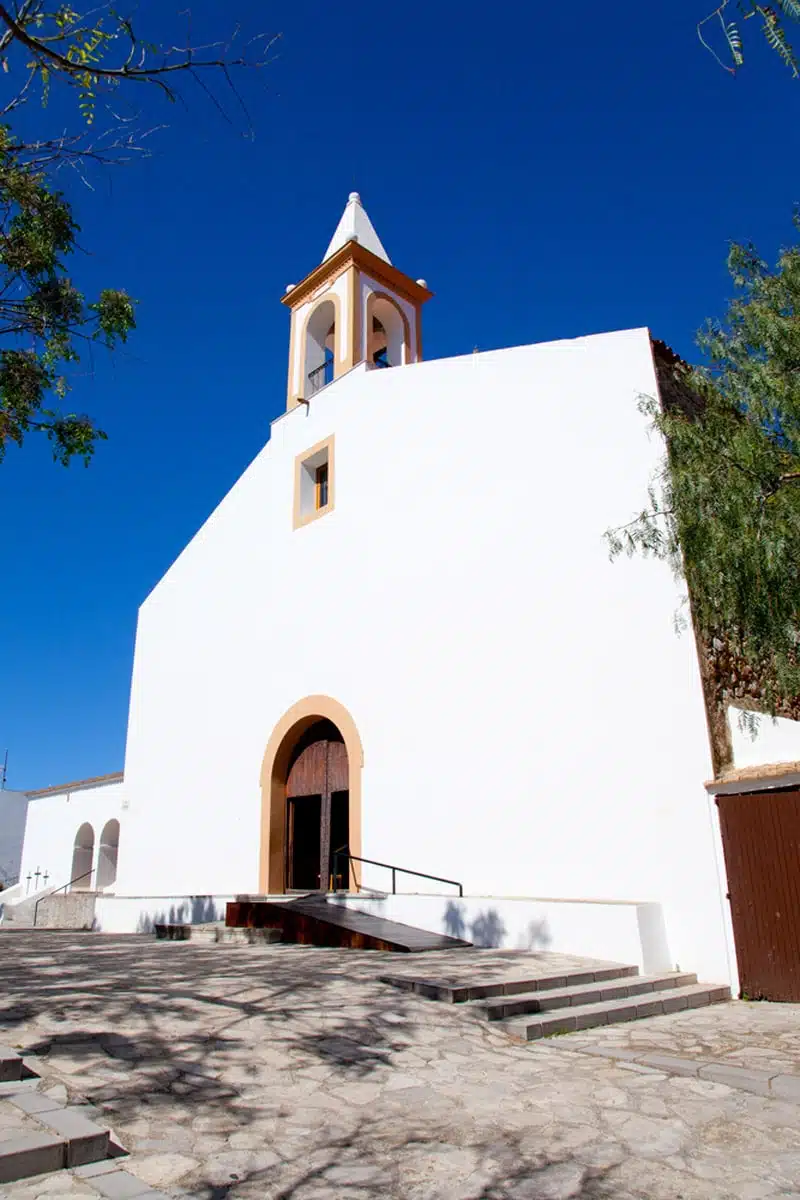 Take a day trip to this whitewashed village and view the 18th-century church. Slow down with the relaxed vibe of this rural retreat. Meander lazily through the village and see the Sunday flea market. Get the family treatment with authentic food stalls and live local music.
Punta Moscatar Lighthouse
Visit the tallest lighthouse in Ibiza while you stay in Portinatx; I promise it's worth it. Operational since 1978, this 52-metre-tall structure can be spotted by plane. Enjoy a pleasant walk/hike up to the lighthouse and enjoy views of Es Port de Ses Caletes and Ses Forminges.
Suggested Hotel in Portinatx
Six Senses Ibiza
Get superstar treatment at Six Senses Ibiza in Xarraca Bay on the northern tip of Ibiza. This decadent five-star accommodation will make you swoon with its fantastic facilities.
The hotel is set against a stunning backdrop and offers large, plush rooms, an outdoor pool, and a spa. You'll never want to leave when you experience the Rose Bar and yoga and meditation sessions.
Where to Stay in Ibiza: Frequently Asked Questions
Practical Tips to Consider Before Booking Your Ibiza Accommodation
Make sure you plan your trip with your Ibiza itinerary in mind. Doing so will help you choose between all the areas to stay in Ibiza to accommodate your interests.
Since Ibiza is a popular destination, booking your accommodation well in advance is best. You can find helpful information and special deals on Booking.com.
Make packing for your trip easy with my tropical vacation packing list. Remember essentials like sunscreen, a hat, and sunglasses if you plan on having a beach holiday.
Love This? Save and Share on Pinterest