Ready to discover the best of Korčula? This sun-drenched Croatian island is the place where history, culture and stunning landscapes converge. Here's what you need to know.
The (supposed) birthplace of Marco Polo, the ancient Croatian Island of Korčula features one of the best-preserved historic centres in Europe.
Combine that with stunning beaches, tiny vineyards and some gorgeous vistas, and you'll understand why Korčula is building a reputation as one of the country's secret spots for those in the know. It's the perfect island for a peaceful escape without the crowds of better-known islands like Hvar.
Let's explore the best things to see and do on this laid-back island in the Adriatic.
Trying to find the perfect hotel in Korčula? Stay in this quiet resort with ocean views at Hotel Korsal.
Top 5 Things to Do in Korčula
Climbing the Bell Tower of St Mark's Cathedral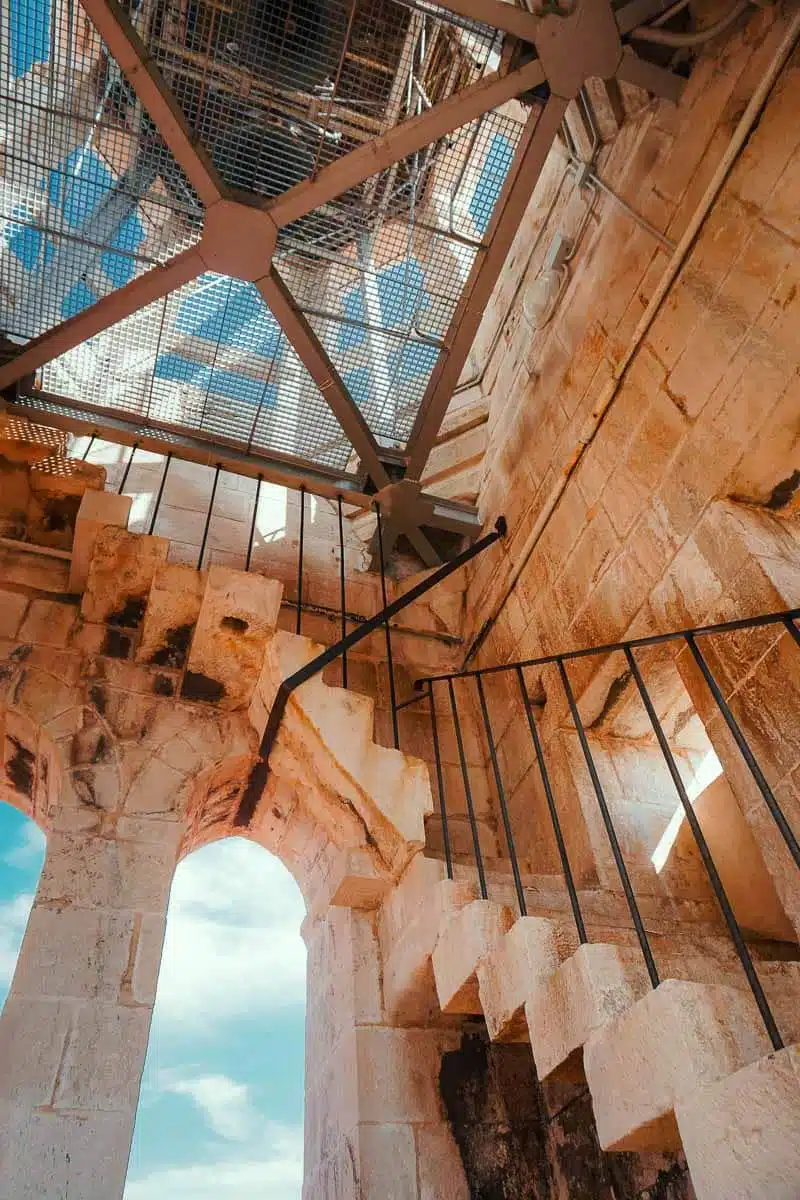 Head into Korčula Town and you can't miss the focal point of the city centre, the Gothic and Renaissance-inspired St. Mark's Cathedral.

The 15th-century limestone cathedral is gorgeous inside and out, but climbing the bell tower is the main attraction while you're here.
It costs around 5€ to climb up the tower for some incredible views of Korčula Town. Just remember, it's a narrow, steep climb, and the bells ring (loudly) at the beginning of each hour.
Top Tip: Look closely, and you'll see images of Adam and Eve on the doors and an intricate cupola designed by Korčulan Marko Andrijić on the bell tower outside.
Wine Tasting at Korčula's Vineyards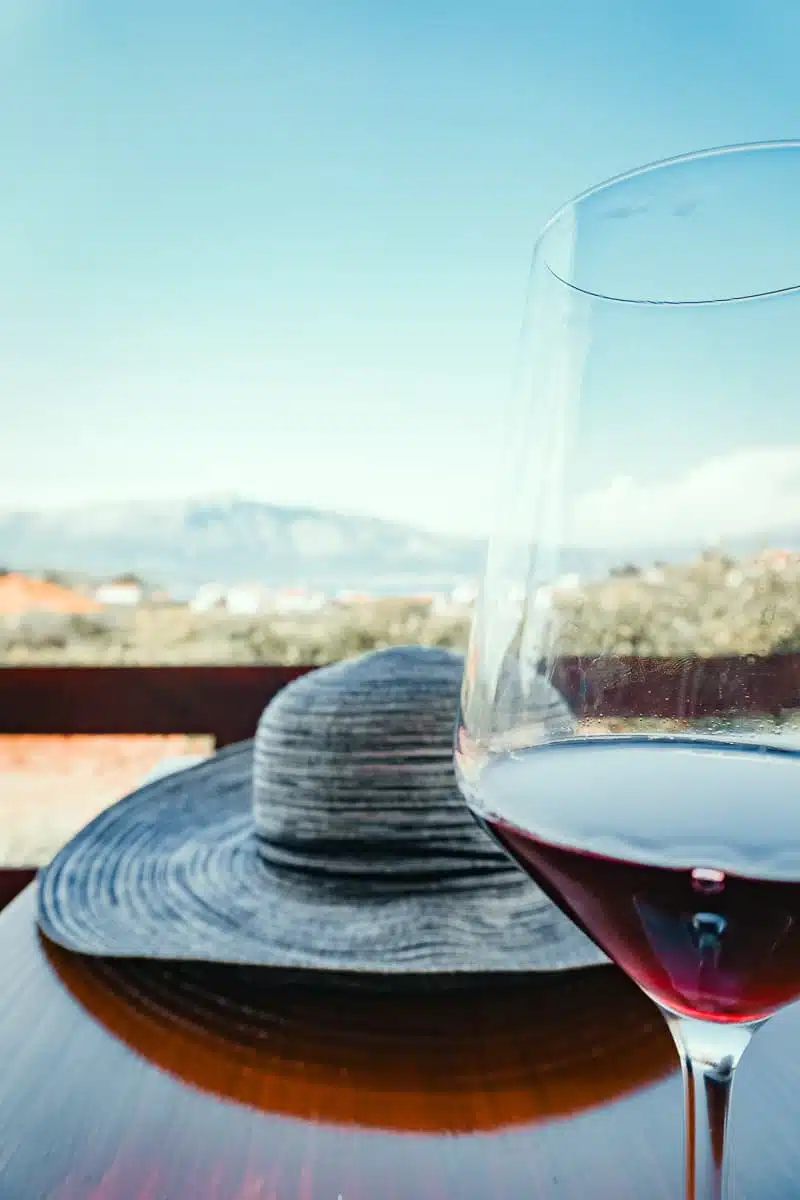 There are so many great wineries on Korčula Island that narrowing down to a few is no small feat.
Many of the local wines are well worth exploring (read about the Pošip grape in the Smokvica entry later), but I really fell in love with Lumbarda and its famed Grk grape.

Like the Corales grape in Portugal, the Grk grape has some interesting seaside terroir. But this grape is especially resilient, sharing the sandy soil with a rocky bottom near the shores of the Dalmatian Coast.

There are many great wineries around Korčula, but tasting the grk grapes' soft acidity and unique briney character at Bire Winery is a real treat.
Alternatively, book a wine-tasting tour from Dubrovnik or reserve a tasting at Lovrić Winery.
Bistro Gajeta
Looking for the best restaurant Korčula offers in Old Town? Visit Bistro Gajeta along the edge of the Dalmatian Coast for excellent views, tasty seafood and pizzas, and truly memorable service.

The friendly family-run restaurant specialises in dishes like homemade pasta (try any and every you have room for) and steamed mussels, but the pizzas are popular, too.
Top Tip: Go for lunch when the weather is warm, arrive hungry because portions are large, and ask the friendly staff for a recommendation for wine by the glass (they know a thing or two).
Explore the Old Town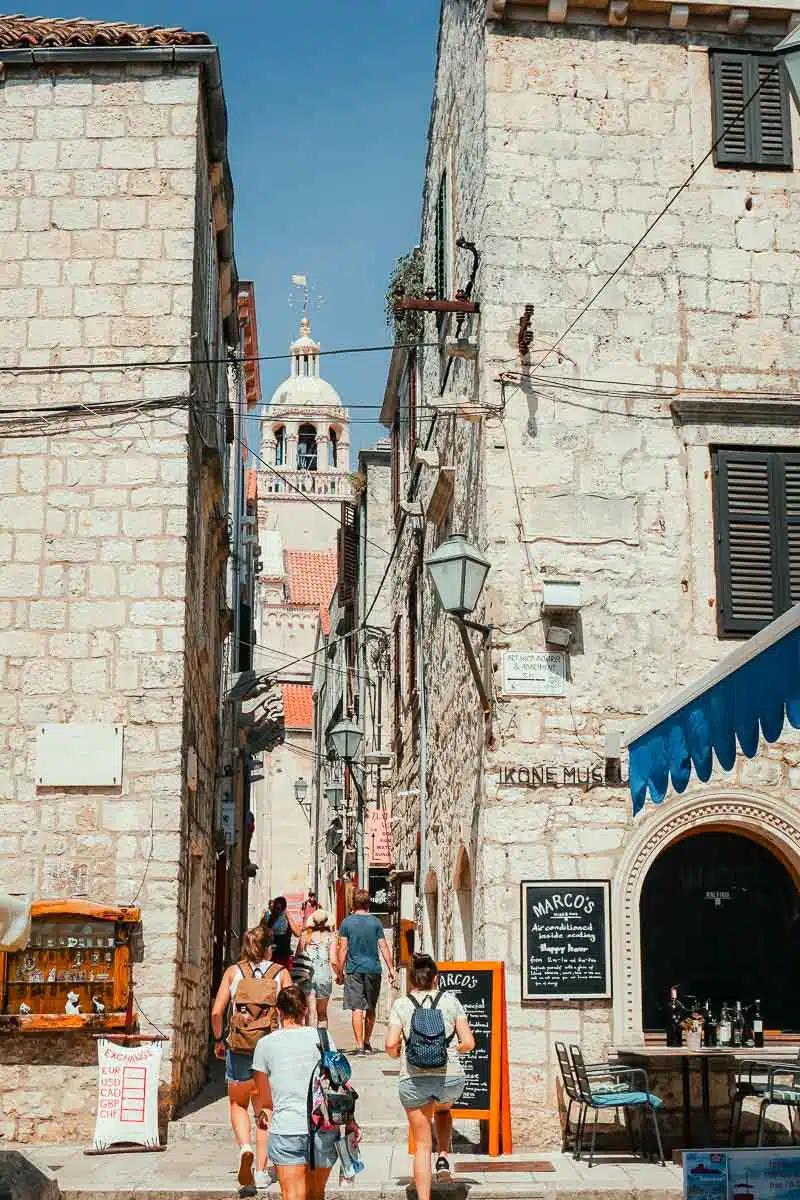 One of my favourite things about Korčula is that it's a bit of a well-kept secret amongst the increasingly touristy Dalmatian Islands. It also boasts stunning architecture throughout the idyllic Old Town.

Look at Korčula Old Town from a bird's eye view, and you'll see that the city centre looks like a fishbone. But explore on foot (no cars are allowed) on a leisurely afternoon or with a guided tour and see the many gorgeous limestone buildings and Venetian influences around the mediaeval town.

Start at the South Gate with the Revelin Tower (climb up for stellar views) before exploring the town walls, Tower Kanalevic, Gabrielis Palace (which is also home to Korčula Town Museum), and St. Mark's Cathedral.
Explore Korčula's Hidden Beaches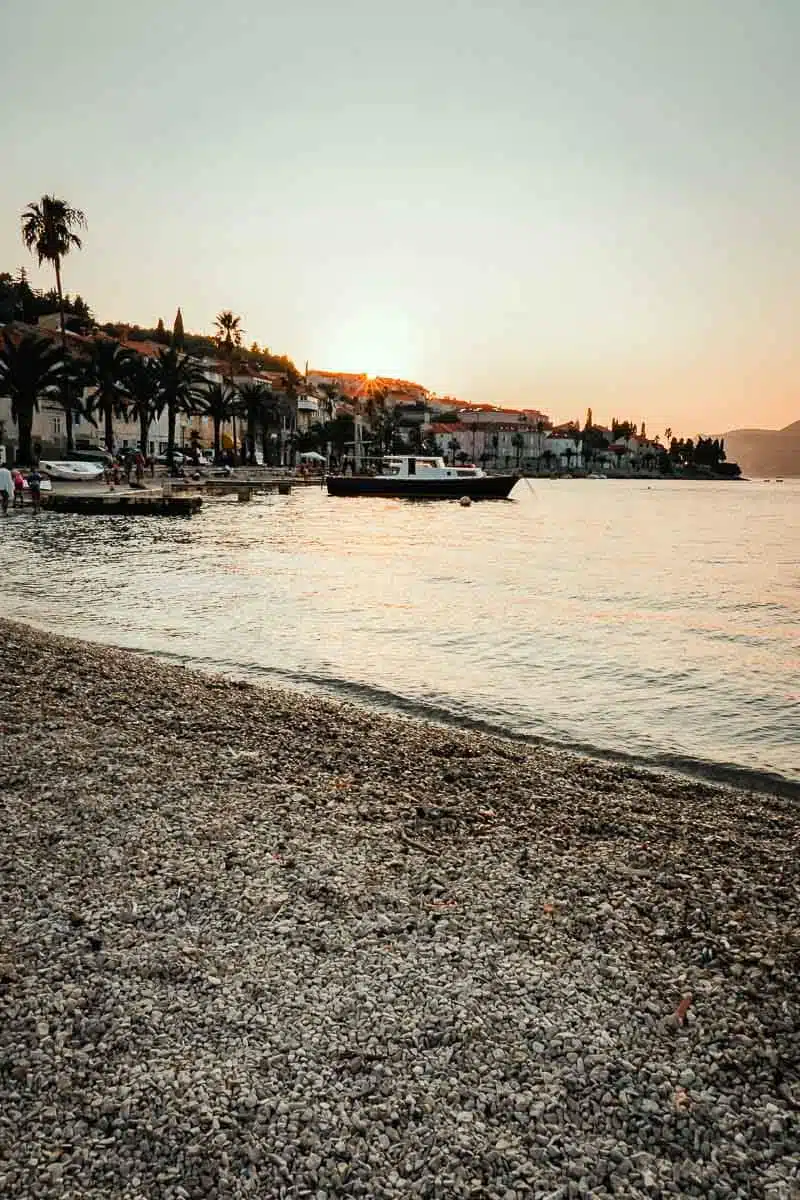 It's no secret that I'm a bit of a beach bum and can spend hours lying out on the sand… but finding hidden beaches in Croatia is a game-changer that I could dedicate an entire trip to (when I'm not sampling delicious food and wine).
Korčula has quite a few secret beaches, with the Skoji Islets having some of my favourites. Hire a water taxi from Old Town or Lumbarda and visit Badija for tranquil (but a bit rocky) beaches with great snorkelling. Sutvara and Vrnik also have brilliant hidden beaches around the peaceful shores.

If you want to stay on the main island of Korčula, the beach Lučica is great for swimming, and the incredibly scenic Raznjic beach is great for sightseeing and photography.
Brilliant Things to See & Do in Korčula
Delve Into the Storied "History" of Marco Polo and Korčula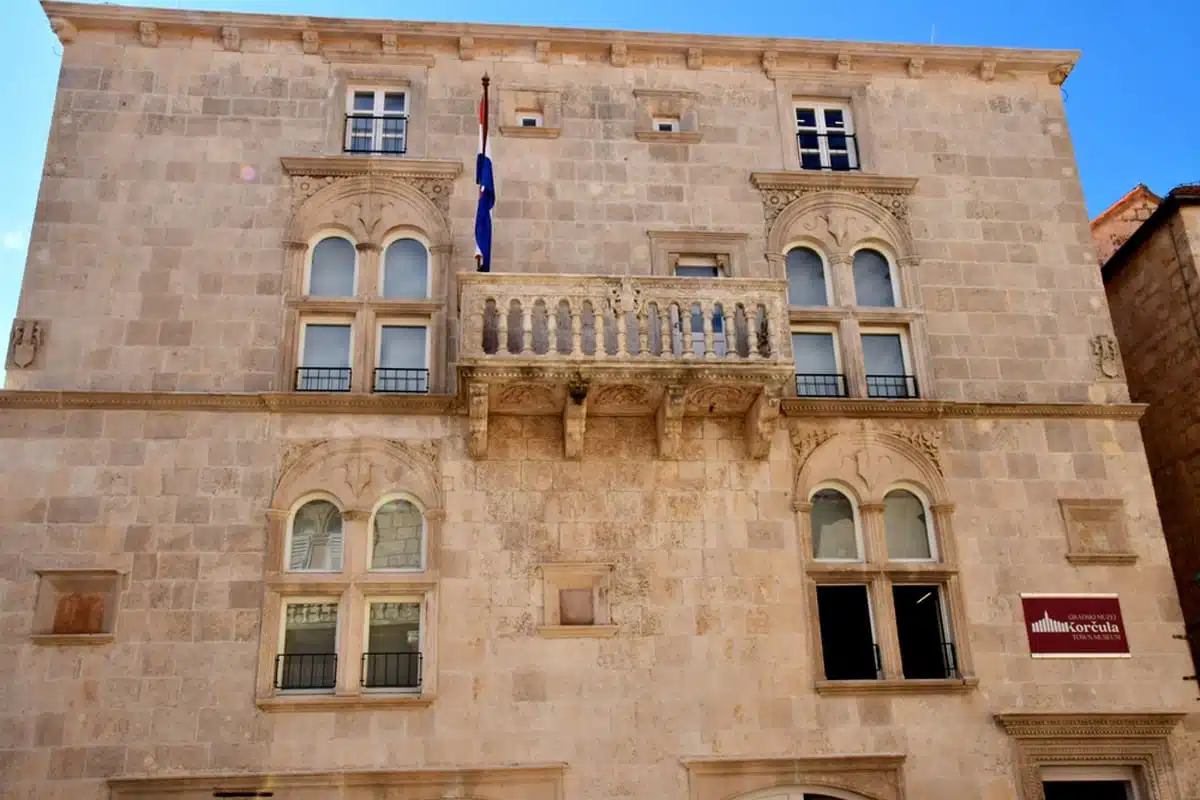 Korčula has a long, somewhat unknown history that starts with rumours of Ancient Greeks founding the island. But the first evidence of civilization is from the Illyrian tribes who lived here for centuries.

Later the island was ruled by the Romans, Goths, Byzantium, Venetians, and several other cultures along the way.
So long story short, there is a ton of history here. And that's all before mentioning it's the reported birthplace of the famous merchant Marco Polo.
Top Tip: Visit the Korcula Town Museum, a Renaissance palace hosting a range of artefacts from Korčula dating back to the 4th century BC.
Schedule a Wine Tasting in Smokvica
Smokvica is a historic wine-growing region, in a village peering over the ancient vines below. The unique location above the vineyards and former port of Bura provides a beautiful setting for enjoying food and beverage.

Pošip is the best-known wine here, so stopping by the gorgeous hilltop Grosic Winery is a must when you're here.

Another spot worth a visit is Black Island Winery, where you can book a tasting and explore beyond the Pošip grape with a handful of other Dalmatian specialties paired with local olive oil and snacks and learn a lesson on the history of winemaking in Korčula.
Hang Out on Vela Przina Beach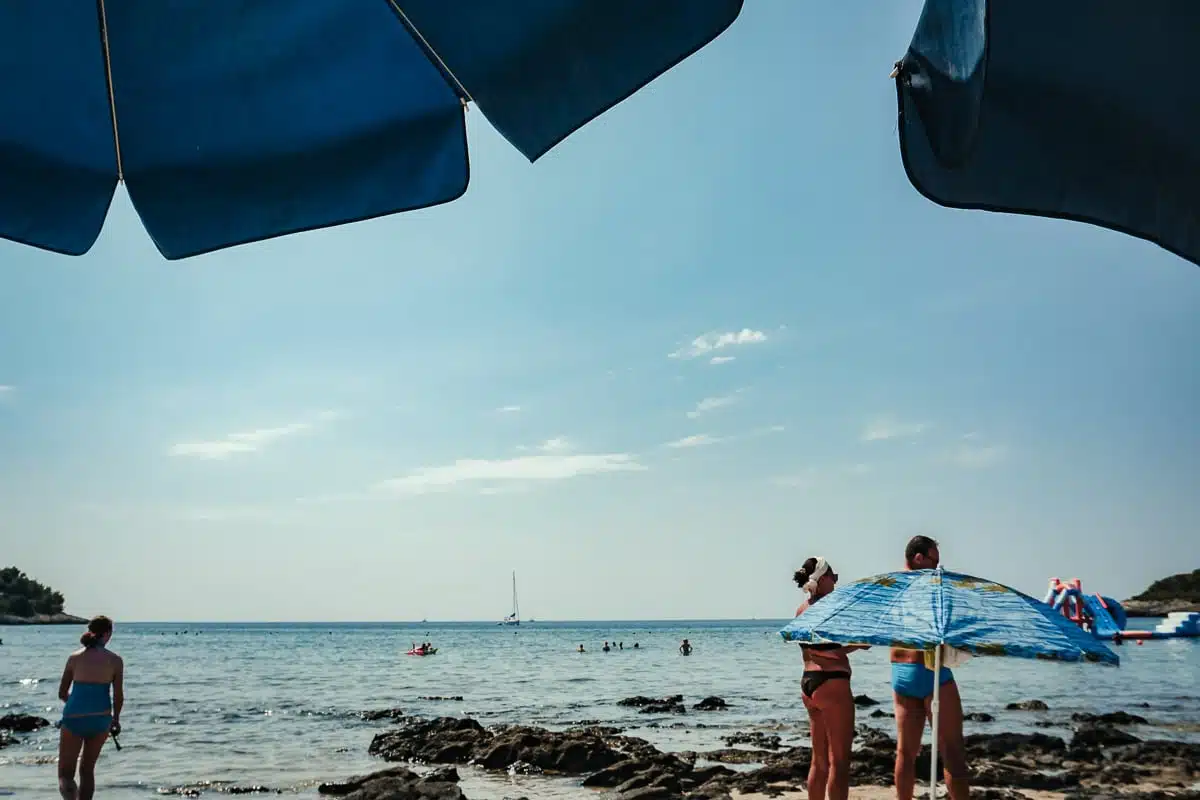 The Dalmatian Islands (and most of Croatia) are known for their beautiful (but rocky) beaches. But Vela Przina Beach is one of the rare sandy beaches perfect for a day of lounging by the coast or swimming in the clear blue waters.

Because it's one of the few options for sandy beaches, it gets very crowded on nice days. And it's usually a party here, with lounge chairs for hire and a popular cafe nearby.
Must-Try Bars & Restaurants in Korčula
Wine and Tapas Bar Lole
This little gem in Old Town allows you to sample the incredible wine and food that put Korčula on the map of savvy travellers in recent years.

It's a great place to sample Grk wine (without travelling to Lumbarda) and try some local seafood, cheese, and meats in a laid-back setting.
Cocktail Bar Prvi Zal Lumbarda
This lively beach bar with thatched-roof huts and clear views of the Adriatic Sea is a favourite place to have an afternoon coffee, beer, or cocktail along the water.
Restaurant Nigra Korčula
For a romantic brunch or dinner with some of the best views of Old Town Korčula (seriously), Nigra Kitchen & Wine is a perfect choice. The shrimp risotto is a terrific choice with the crisp, relatively acidic white wines.
Best Hotels in Korčula
Hotel Korsal
Hotel Korsal offers a beachside escape just a short walk from the best things to do in Korčula. Rooms are small but charming, and the views of the Dalmatian Coast will likely leave you speechless.
Aminess Korcula Heritage Hotel
If you're looking for luxury and first-rate service, Aminess Korcula Heritage Hotel helped put luxury hotels on the Korčula map, being the first contemporary hotel in town.
Walk to Old Town just steps away from this beachside gem in Korčula.
Tara's Lodge Hotel
Tara's Lodge Hotel is the perfect choice for a holiday of relaxation or adventure near the coasts. The outdoor pool, bicycle rentals, and convenient access to windsurfing and swimming steps from the private balcony of your room make this a great choice for outdoor enthusiasts.
Korčula: Practical Tips for Your Trip
How Long to Visit Korčula?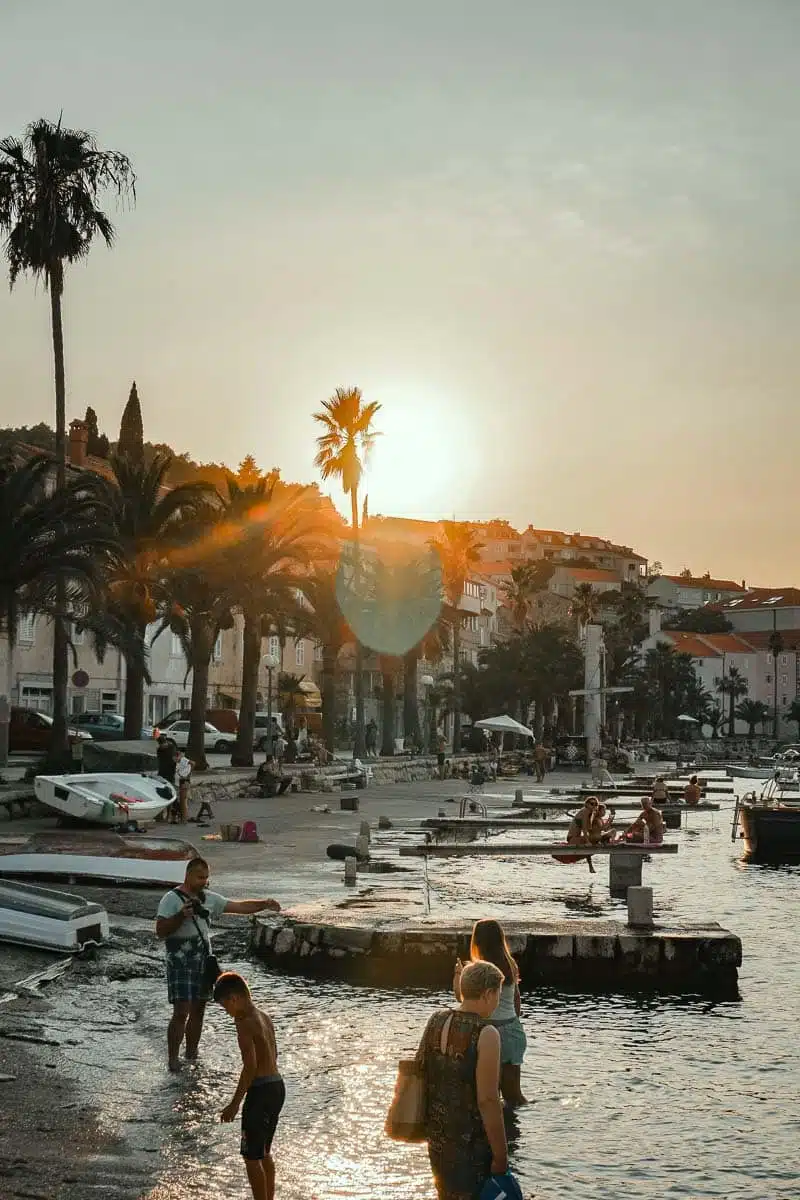 Korčula is a wonderful day trip from Dubrovnik or Split, and you can enjoy many of the historical attractions and beaches in one full afternoon.
But if you want to check out the delicious wineries and restaurants, plan for 2-3 days on Korčula Island.
Best Time to Visit Korčula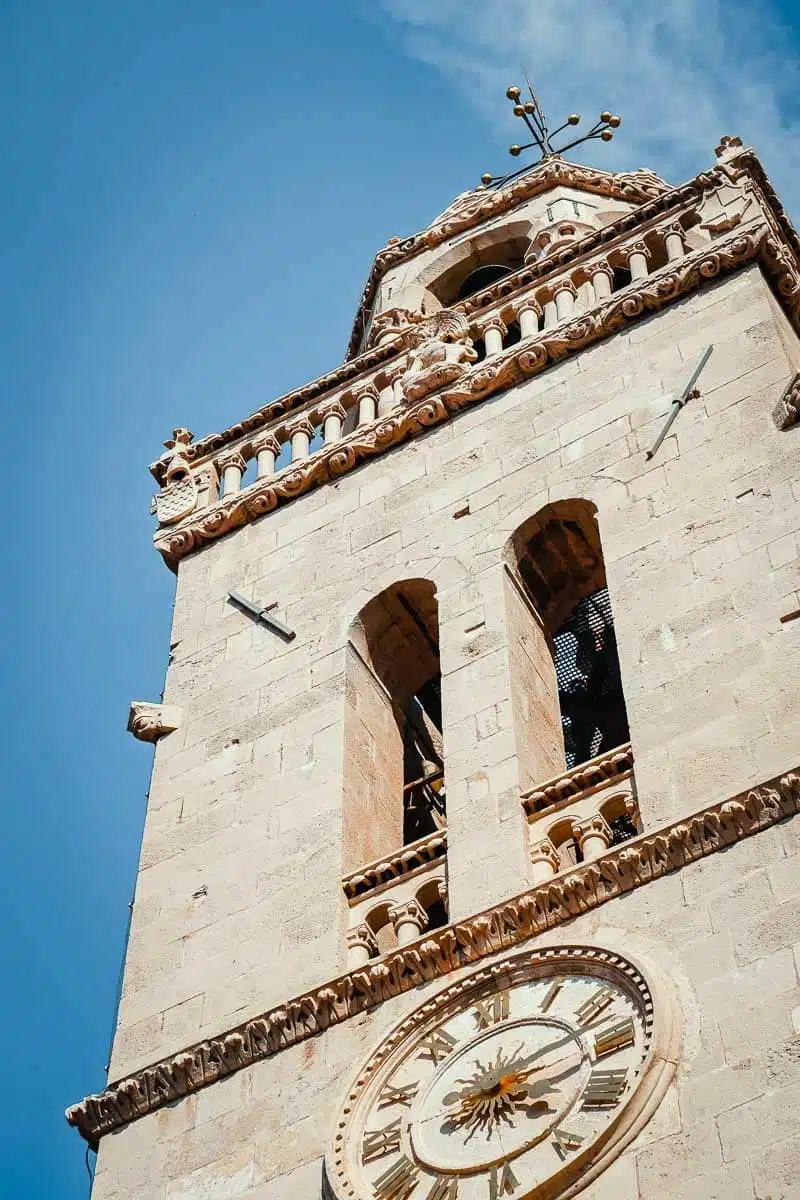 If you want to explore Korčula beaches and long Croatian nights, I'd recommend scheduling your holiday between May and September.
Where Should I Stay in Korčula?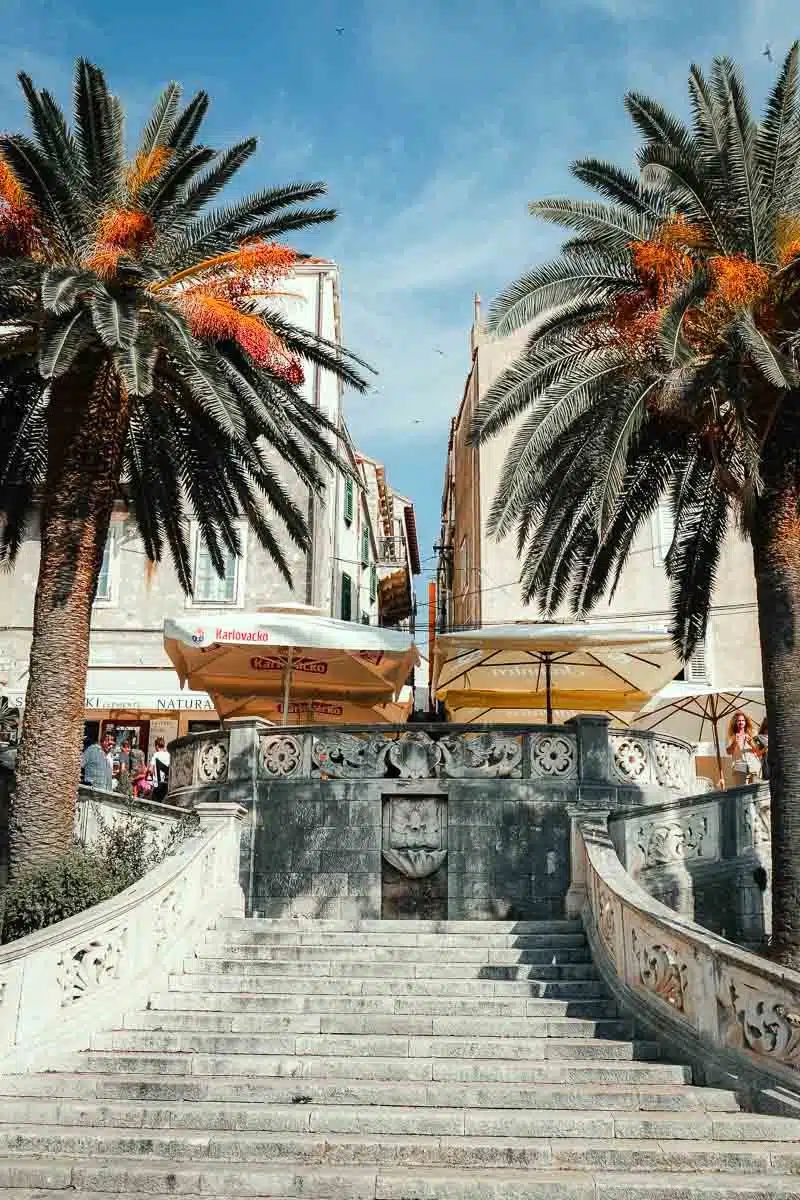 Old Town offers the best hotels and a host of amazing restaurants, bars, and historical attractions you can reach on foot near the stunning Korčula coastline.
How to get to Korčula?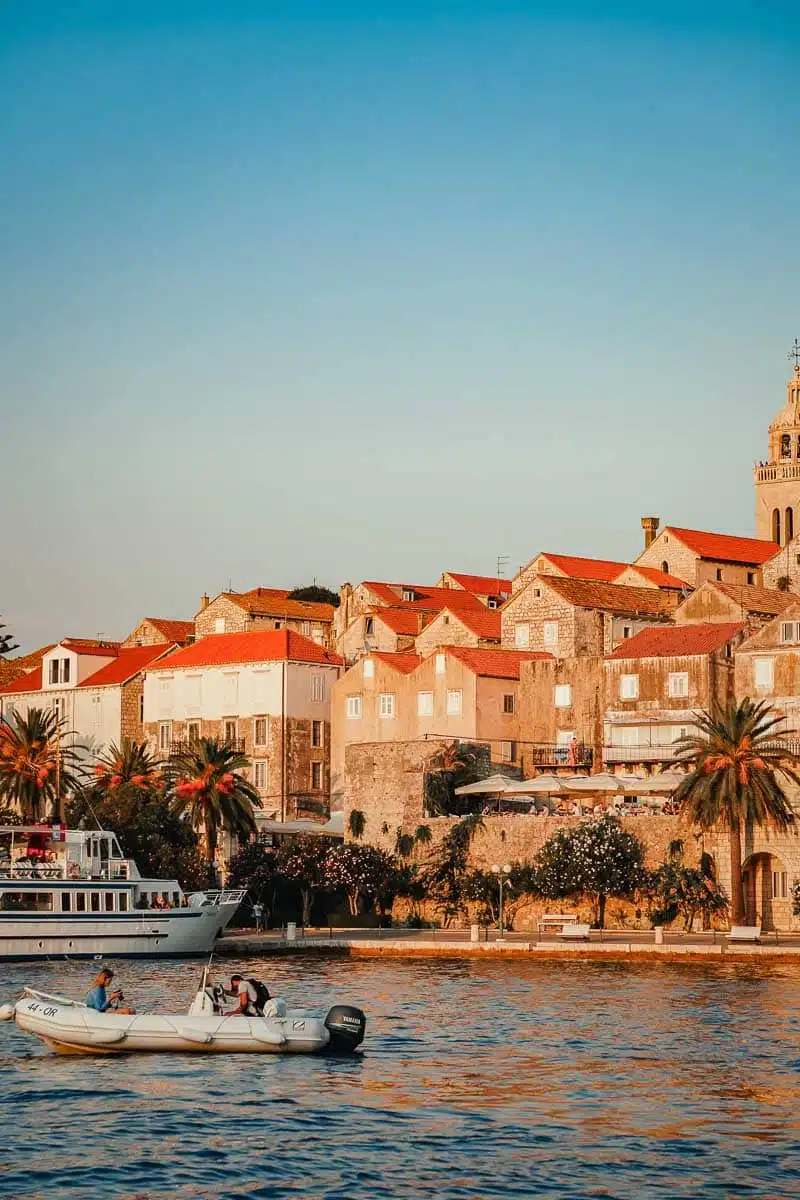 The easiest way to reach Korčula is by ferry from Split, Croatia, or Dubrovnik.
It will take between 2 – 3 hours, depending on the ferry and time of year.
Recommended Tours in Korčula
Things to do in Korčula: Map
Love This? Save and Share on Pinterest