Not sure where to stay in Split? Don't miss this handy guide to the best hotels and areas in Split to help you plan your trip.
Split is no secret – this stunning city, perched jauntily on the edge of the Adriatic has its fair share of avid fans – myself among them. Who could resist the combination of Ancient Roman ruins, gorgeous outdoor spaces and contemporary life that forms the backbone of Croatia's second-largest city? 
I fell for Split and I fell for it hard – but I'll freely admit that on my first visit I had no clue where to start. Should I stay in the Old Town, complete with the extensive ruins of Diocletian's Palace (along with the associated costs)? Should I go for the historical Radunica area? So many questions, so little time.
That's why I've written this guide to the best places to stay in Split – to help you choose the area, and then the hotel that is best suited to your trip.
Let's hit the road…
Read Next: Cool Things to do in Split, Croatia
The Best Places to Stay in Split
The best places to stay in Split are the Old Town, Bacvice, Radunica, Meje and Veli Varos. There are other areas you can choose, but these are the ones I recommend. I've gone into more detail on each below.
Old Town – Best Place to Stay in Split for First Time Visitors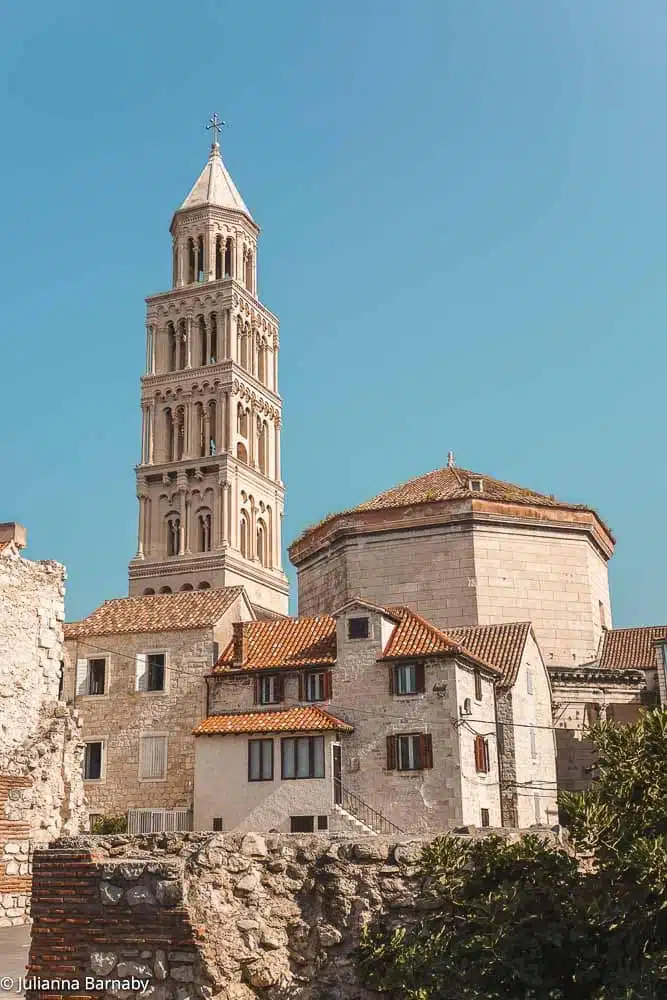 Lots of cities have their own "Old Town" but few are as old as Split's. If you're a history buff or just looking to be in the heart of the city, you'd best check it out for yourself.
The oldest part of Old Town dates way back from the 3rd Century when the Roman emperor Diocletian built a huge palace there.
It still stands, and is the centrepiece of the beautiful Old Town. It's certainly not the only attraction, however: stay here and you'll be just a stone's throw from the best that Split has to offer.
The incredible beauty of the area and range of attractions is why I think the Old Town is the best area to stay in Split, Croatia.
Old Town Highlights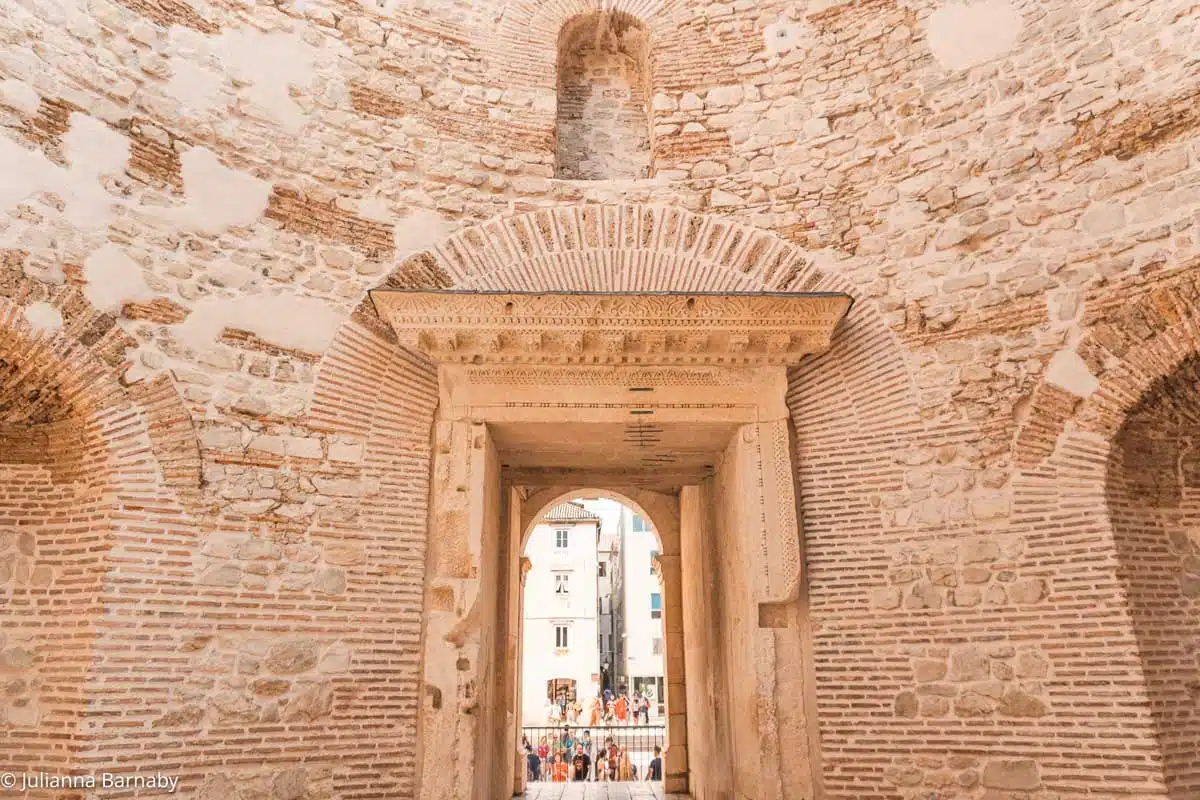 Diocletian's Palace
Built in 4 AD, Diocletian's Palace was commissioned by the Roman Emperor of the same name to act as his retirement home. Today, the palace is a UNESCO World Heritage site and a beautiful history-steeped complex.
You could spend hours getting lost in the palace walls, but I highly recommend heading to the Silver Gate and spending some time perusing the markets there.
St Domnius Cathedral's Bell Tower
The Bell Tower of St Domnius Cathedral is a beacon that can be seen no matter where you are in the old town. I highly recommend climbing to the top to take in the beautiful harbour views.
Archaeological Museum
For history lovers, there's nowhere better to browse than at Split's Archaeological Museum, which showcases the cultural heritage of the Dalmatia region.
The museum is home to more than150,000 items spanning prehistoric times to the Middle Ages, including intricate pottery, ancient coins and beautiful sculpture.
Suggested Split Hotels in the Old Town
Dioklecijan Hotel & Residence
My favourite place to stay in Split is, without a doubt, the impressive Dioklecijan Hotel & Residence. This luxury spot boasts a rooftop swimming pool and an ideal central location. 
Hotel Marmont
If you want to stay as centrally as possible without eating into too much of your holiday cash, look no further than Hotel Marmont. The hotel's interior is surprisingly modern, while the rooftop spa area is a much-needed retreat.
Bacvice – Best Area to Stay in Split for the Beach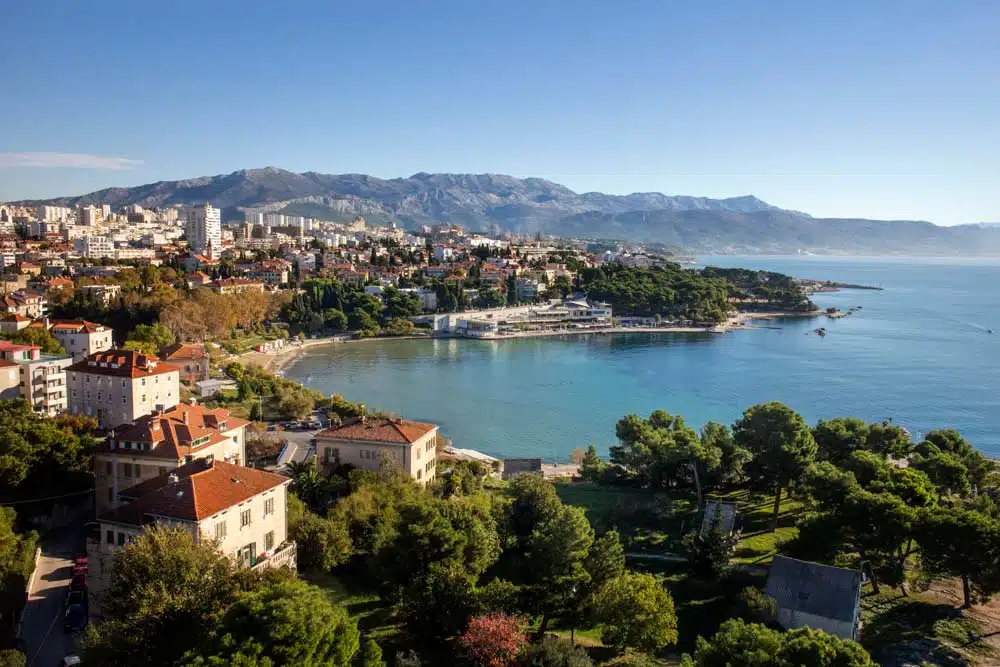 All about that beach? I certainly don't blame you. If so, I recommend Bacvice as your base for accommodation in Split, Croatia.
Built up around arguably Split's most beautiful beach, this is a bustling area with a lively vibe. It's mostly residential, though, so you also get a chance to have a real peek at how the locals live.
Helpfully, Bacvice is only a fifteen minute walk from Old Town, so you'll still be well located for the city's most famous sights.
Bacvice Highlights
Beaches
Like I said, the beaches are the main reason to visit Bacvice – with Bacvice Beach being the obvious choice. That said, the likes of Ovcice, Znjan and Firule are equally pretty places to catch a few rays.
Suggested Stays in Bacvice
Rooms Diana Split
No fuss but brilliant rates is what you can expect from Rooms Diana Split. If you're looking to make your cash stretch even further but don't want to compromise on comfort, this is an ideal hotel.
Radisson Blu Resort & Spa
Radisson Blu Resort & Spa, in nearby Firule is an upscale hotel that promises luxury and style. Everything is top notch, from the onsite restaurant to the sweeping views from the rooms.
Radunica – Best Area for Old World Charm
Yet another one for the history buffs, the Radunica quarter is centred around the bustling street of the same name. The nearby streets are named after founding families, and are today referred to as part of Radunica as well.
This is one of the most gorgeous and historic areas of the city dating back over 500 years. In fact, it's so beautiful that there's a whole festival celebrating it every year.
So, if you're looking for an area that's dripping in charm then Radunica is definitely a great contender for where to stay in Split, Croatia.
Radinica Highlights
Days of Radunica
For a unique vacation in Split, make sure to check out the Days of Radunica. This folk festival happens in late June, taking place on the main street of the neighborhood.
Expect a traditional celebration filled with local food and drink, handmade crafts and goods for sale and plenty of music and games.
Charming Streets
One of the best things to do in Split is to spendExplore the cobbled streets named after founding families: Duplančić, Dumanić, Petrić and more.
Suggested Stays in Radunica
Villa Diana Hotel
An adorably charming building from the outside, Villa Diana Hotel might look a little old and tired on the inside but it's one of the best places to stay in Radunica. Not to mention the wonderful price tag.
Meje – Best Area to Stay in Split with a Family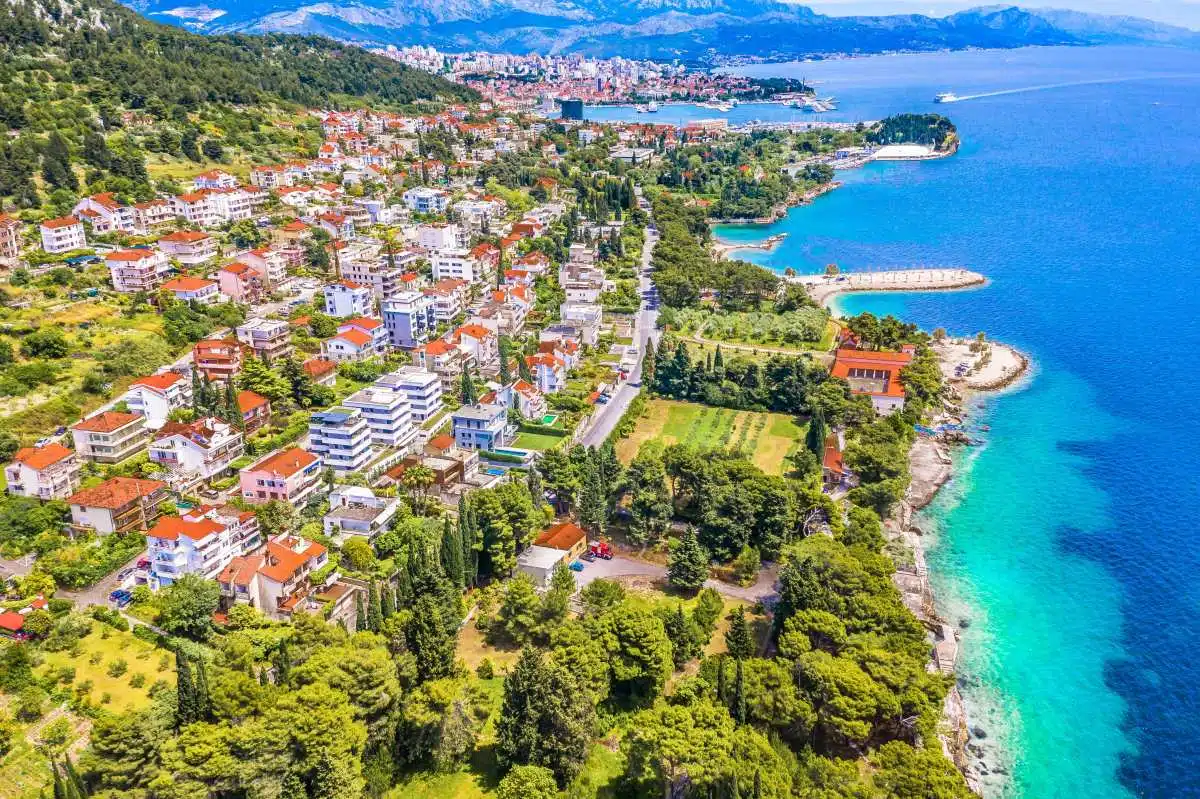 If you're looking for a little more room to breathe, then Meje is one of the best places to stay in Split, Croatia.
Although it's within walking distance of Old Town (be prepared for some hills, though), it's mostly residential so less frenetic than downtown.
As well as a little bit of peace and quiet, Meje also enjoys a hilltop location. Hills in Split = amazing views, and the beachy panoramas sure don't disappoint.
Meje Highlights
Marjan Hill Churches
Head to Marjan Hill for stunning views of the city. As well as plenty of pretty hiking trails, you'll find several small chapels and churches dating back to the 15th and 16th centuries. Take my advice and catch the sunset from the top of Marjan Hill.
Sandy Beaches
While the majority of Split's beaches are pebbly, Meje is home to some sandy beauties. Kasjuni Beach and Bene Beach are popular spots for swimming, sunbathing and water sports.
Mestrovic Gallery
For a dose of culture, head to Mestrovic Gallery. This museum is housed in a beautiful villa overlooking the sea. It showcases the works of the famous Croatian sculptor Ivan Mestrovic, as well as temporary exhibitions of other artists.
Suggested Stays in Meje
Meje Apartments
These gorgeous beachfront apartments are spacious, modern and boast pretty seaside views. What more could you possibly want?
Veli Varos – Best Area for Historical Appeal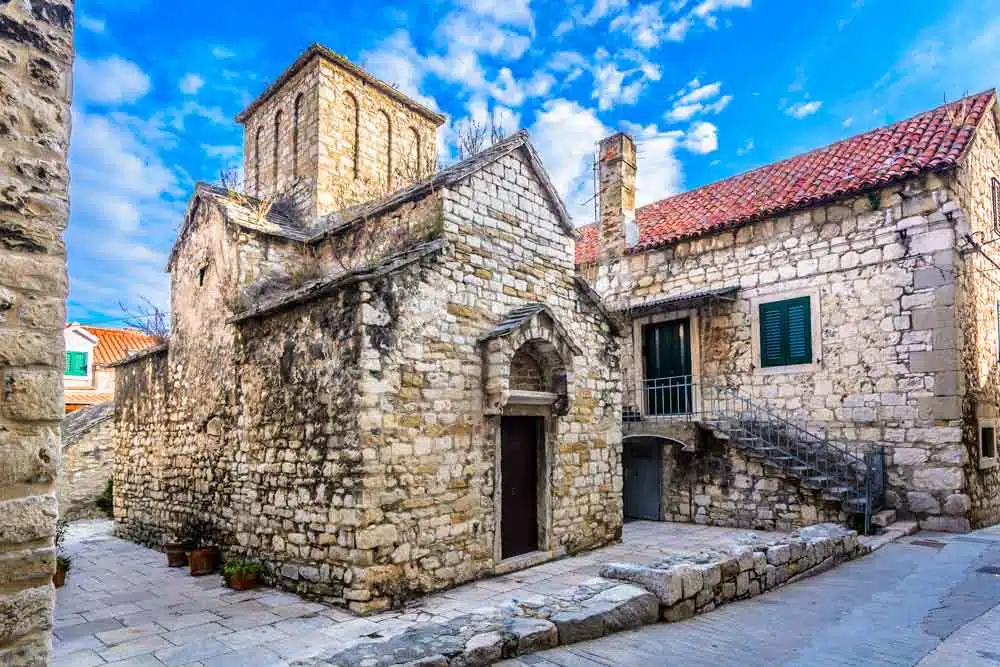 Aside from Old Town, Veli Varos is one of the oldest neighbourhoods in Split. Dating back from the 16th century, it's like stepping into a living museum.
Think cobbled streets, adorable stone houses and small local taverns selling delicious cuisine. Well, I'm sold.
While it might the history that attracts you to Veli Varos, it's also modern and lively. There's a great selection of shops, bars and restaurants to enjoy if you're staying in this part of Split.
Veli Varos: Highlights
The Church of St. Mikula
Pop inside the Church of St. Mikula, which was built in the 18th century and dedicated to St. Nicholas of Myra, the patron saint of sailors. The church hides plenty of stunning frescoes and paintings, as well as a beautiful bell tower.
Prva Vidilica (First Peak)
Prva Vidilica is a stellar lookout on the hill above Veli Lošinj. The hike is very steep but the views are worth the burning thighs, I promise.
Suggested Stays in Veli Varos, Split
Hotel Cvita
Smart and sophisticated Hotel Cvita is a beautiful boutique hotel with views over the ocean. Rooms are simple and classy, while the balconies boast gorgeous views.
Best Hotels in Split
Dioklecijan Hotel & Residence: Old Town (Luxury)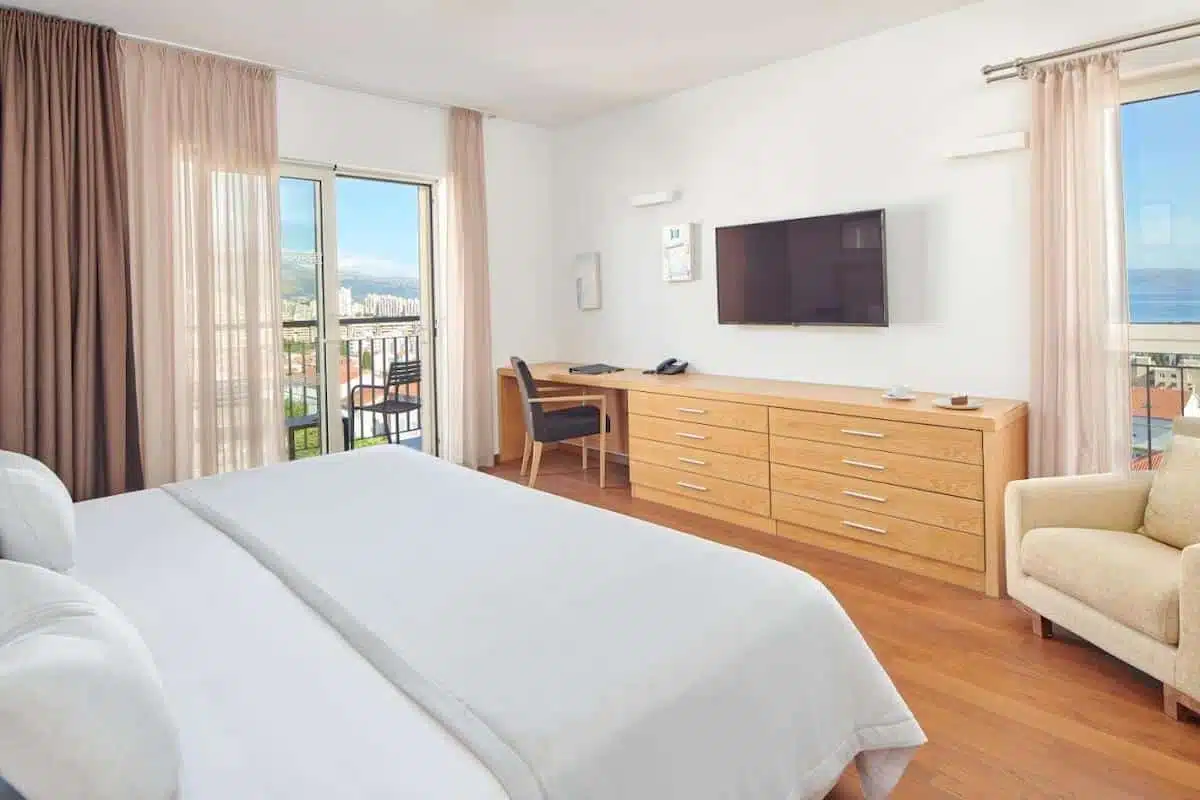 Who doesn't love a luxury hotel with a roof-top swimming pool? There's just something about a dazzling pool with an amazing view that shouts 'the good life'. No wonder Dioklecijan Hotel & Residence is frequently named as one of the best places to stay in Split. 
There's also a jacuzzi, if that's more your style. Still with those epic views for good measure.
If you can drag yourself away from Dioklecijan Hotel & Residence's rooftop pool, the rooms inside are elegant and modern. They all offer a balcony so you can soak up some more views out over the city.
There's also a beautiful terrace restaurant where you can try some Meditteranean and Dalmatian classics. This luxury hotel in Split's Old Town certainly has everything you need for an amazing stay in Split.
Hotel Atrium: Poljud (Luxury)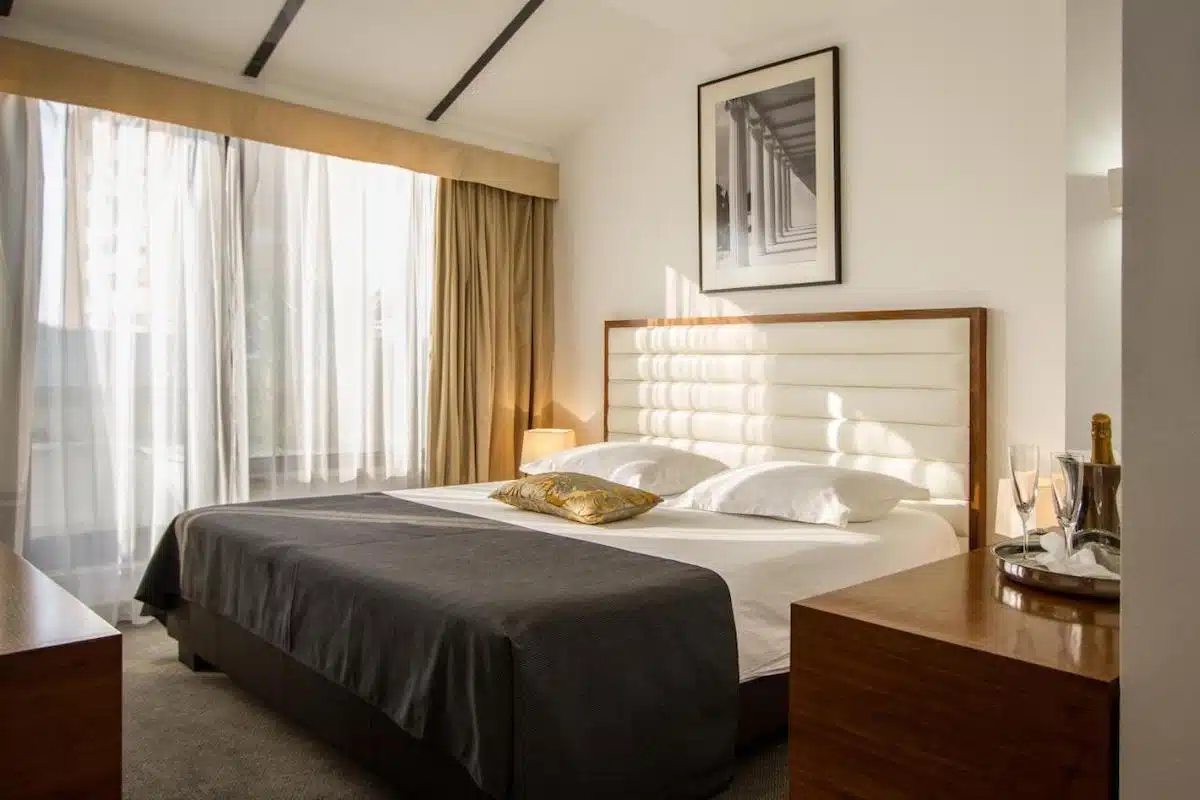 Fancy going for a flutter while you're in Split? If so, you'll have to pop down to the onsite casino at Hotel Atrium, a luxury hotel in Poljud north of Old Town.
As well as Dalmatia's largest casino, the Hotel Atrium also offers a slew of amenities including a Turkish Bath, swimming pool and gym (for those will the willpower to work out on holiday.)
The rooms themselves are modern and stylish, with soundproofing so you won't hear a peep from the casino. There's also a restaurant and the massive American breakfast is a great way to start your day.
Radisson Blu Resort & Spa Split: Firule (Luxury)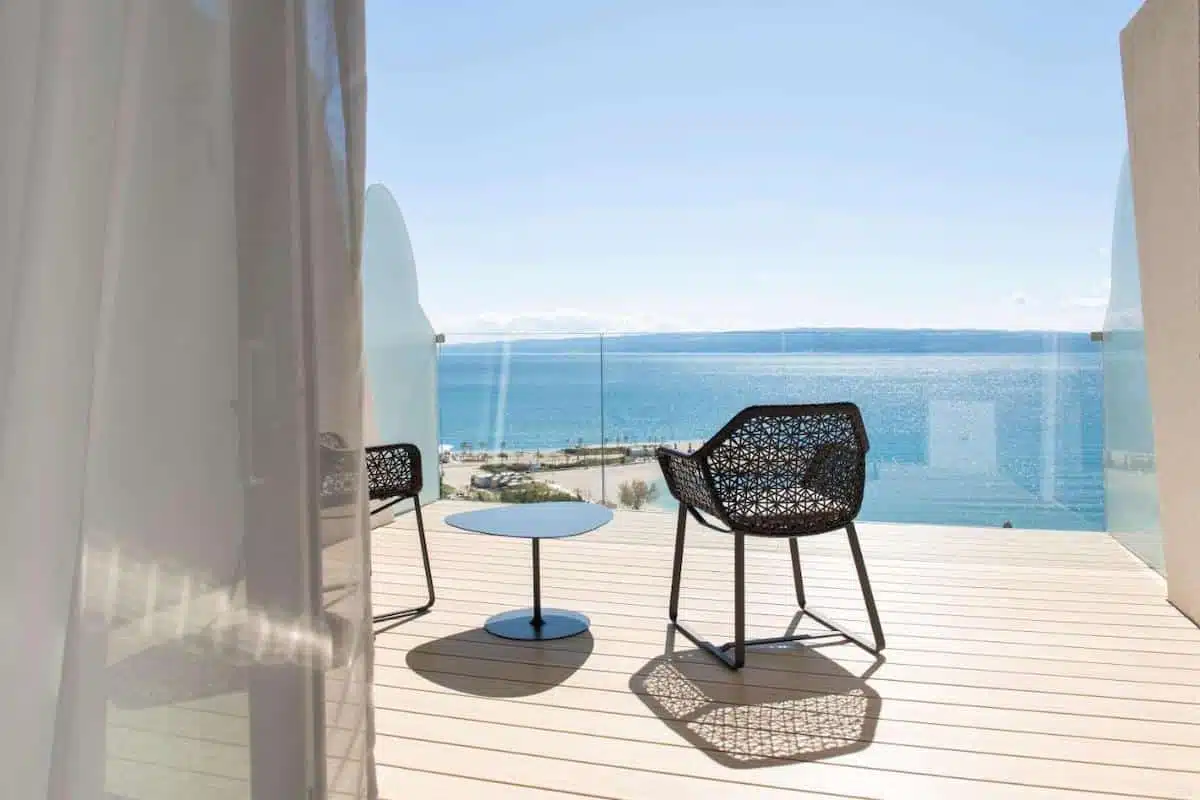 Located on the outskirts of the Firule neighbourhood, the Radisson Blu Resort & Spa is undoubtedly one of the best hotels in Split.
It's a luxury hotel so you can expect the rooms to be pretty good… but the views are what it's all about. Fancy waking up to panoramic views of the sea? Of course you do.
That's certainly what's on offer here. Many of the rooms boast spectacular views while the grounds and Blue Fig restaurant are also pretty special.
This hotel also offers all the amenities you'd want during your stay in Split, from a fancy Finnish spa to an indulgent cocktail bar. No wonder it's one of my favourite 5 star hotels in Split.
Le Meridien Lav Split: Podstrana (Luxury)
You can live the good life at Le Meridien Lav Split, a gorgeous luxury hotel in Split, located in the neighbourhood of Podstrana.
It's impossible to talk about this resort without mentioning the beach right on your doorstep. It's the kind of place you take one look at and declare you're settling in for the long haul.
If you are able to drag yourself away from the sparkling ocean, there's plenty more on offer. A grand total of six restaurants and bars mean you'll never dine at the same place twice, while any time is a good time for cocktails in Split.
The rooms themselves are super stylish, and you're just five miles south of the centre of Split.
ID Regal Residence: Old Town (Mid-Range)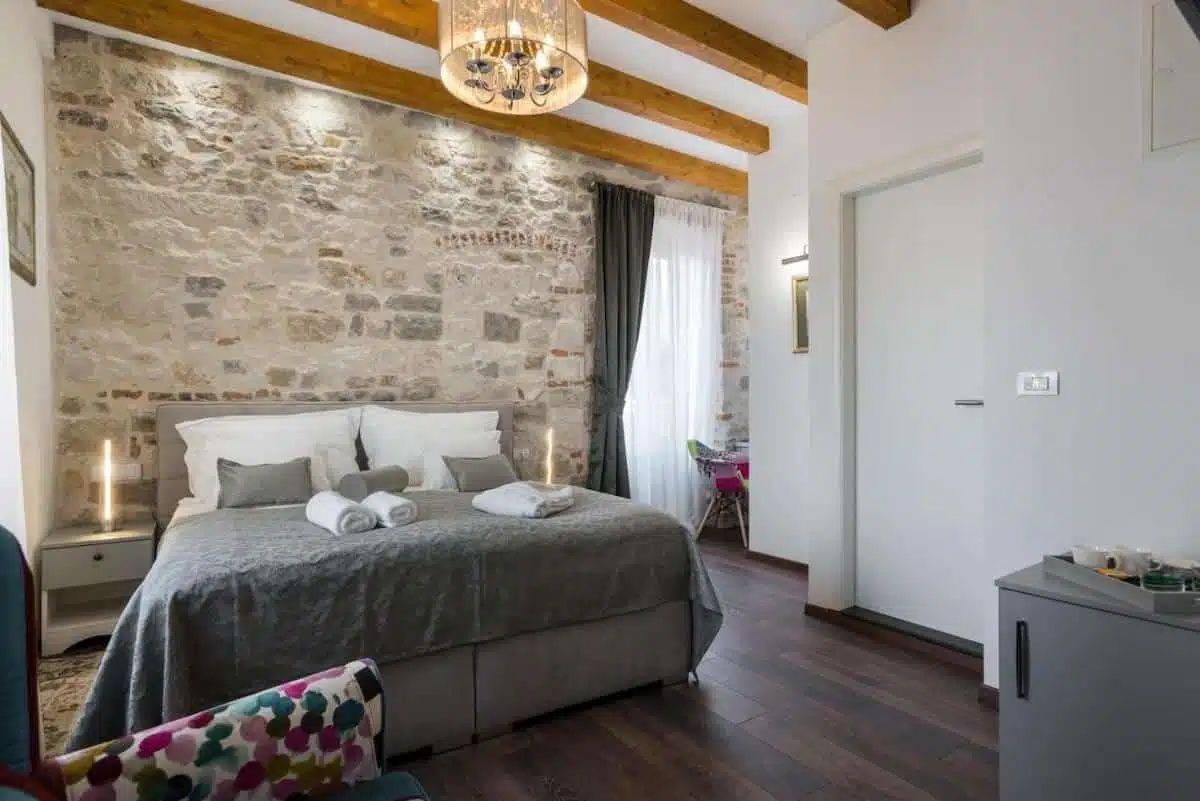 The ID Regal Residence might not have all the bells and whistles of an ultra-luxury hotel, but it's beautifully stylish and the staff are delightful. 
Plus, how many bells and whistles do you need when you're just a stone's throw from Split's most iconic attractions? If it's location you're after, you really can't go wrong here.
Less than 200 metres from Diocletian's Palace, this is a great base for exploring Split. Inside, the hotel has been tastefully renovated but keeps plenty of charm.
If you need any help, the staff are always on-hand with insider tips and information. There's even car hire if you find yourself in the mood for a spontaneous road trip.
Hotel Marmont: Old Town (Mid-Range)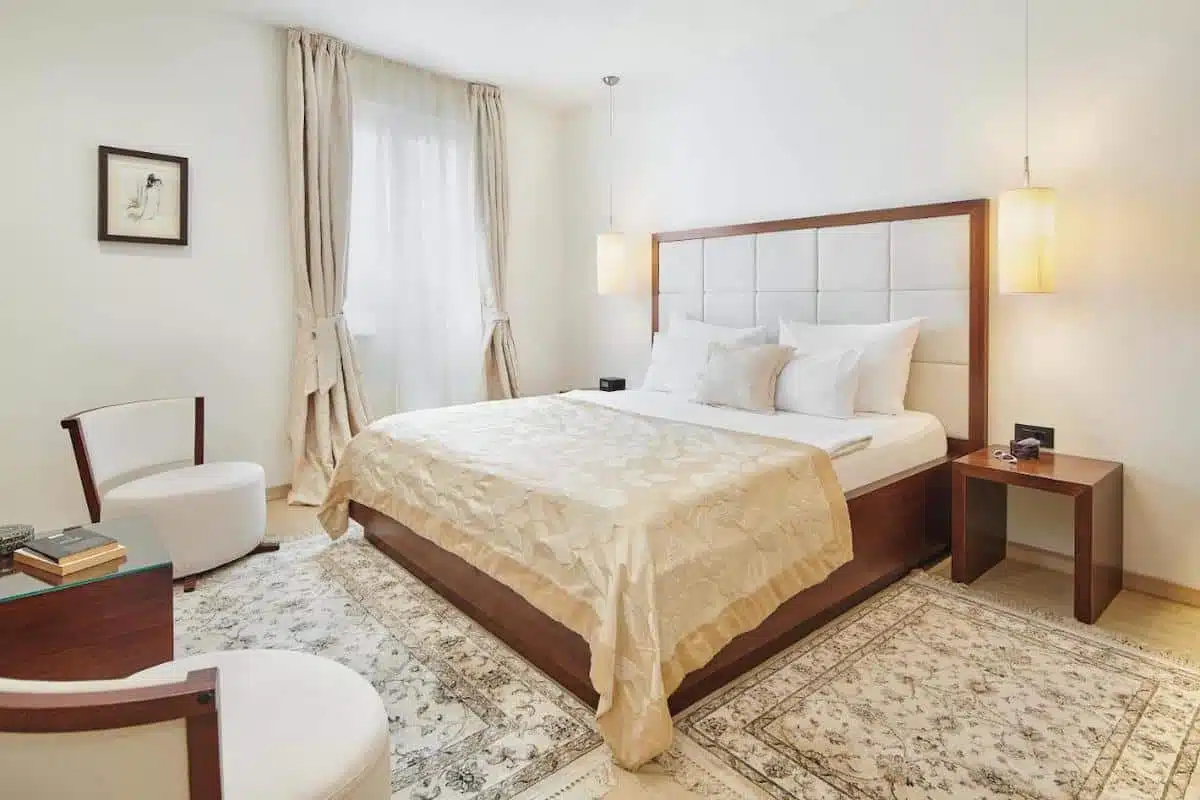 No, not the infamous Hollywood haunt where Lindsay Lohan racked up a bill to make your eyes water. This is Hotel Marmont, a boutique hotel in Split.
Now, considering it's located in Old Town – aka where to stay in Split for nightlife – I can't promise no shenanigans whatsoever. But overall things here are pretty chill.
The rooms are comfy and clean, while the restaurant is a real stand-out feature of this hotel. Its walls date back to the 15th century, which is sure to dazzle any history lovers.
The location is also pretty unbeatable in the centre of town, and there's even a terrace overlooking Split's rooftops. Even better? They serve cocktails there. Sounds pretty good to me.
Hotel Vestibul Palace: Old Town (Luxury)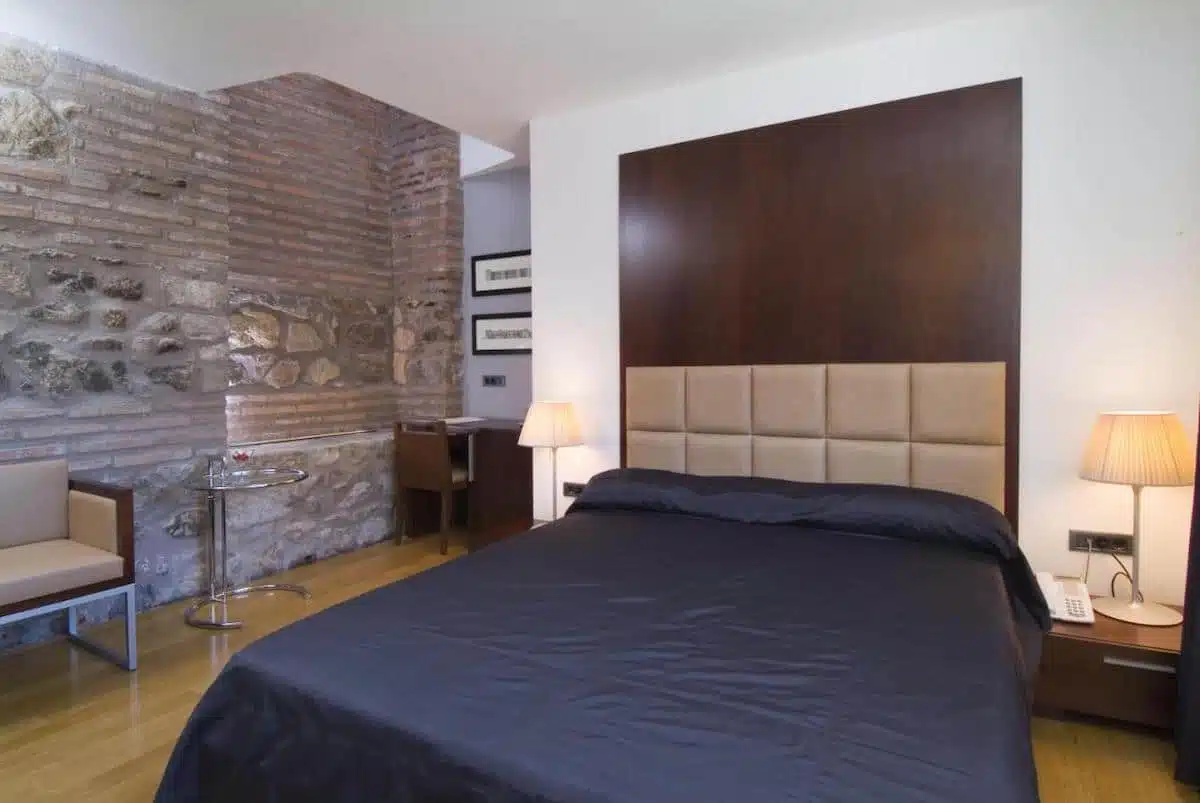 One of the "small luxury hotels of the world", the charming Hotel Vestibul Palace is just that. Tucked away in a historic building, it's a gem of a hotel in Split, Croatia.
With only a small number of rooms, it feels a bit more like staying in an ultra-elegant B&B than a hotel chain. Its size means you'll get plenty of personal attention – and who doesn't love that.
Of all the hotels in Split's Old Town, this one has some of the most character. Hand crafted furniture and exposed brick walls add to the charm and charisma.
Plus, pretty much everything you'll want to visit in Split can be reached on foot.
Palace Judita Heritage Hotel: Old Town (Luxury)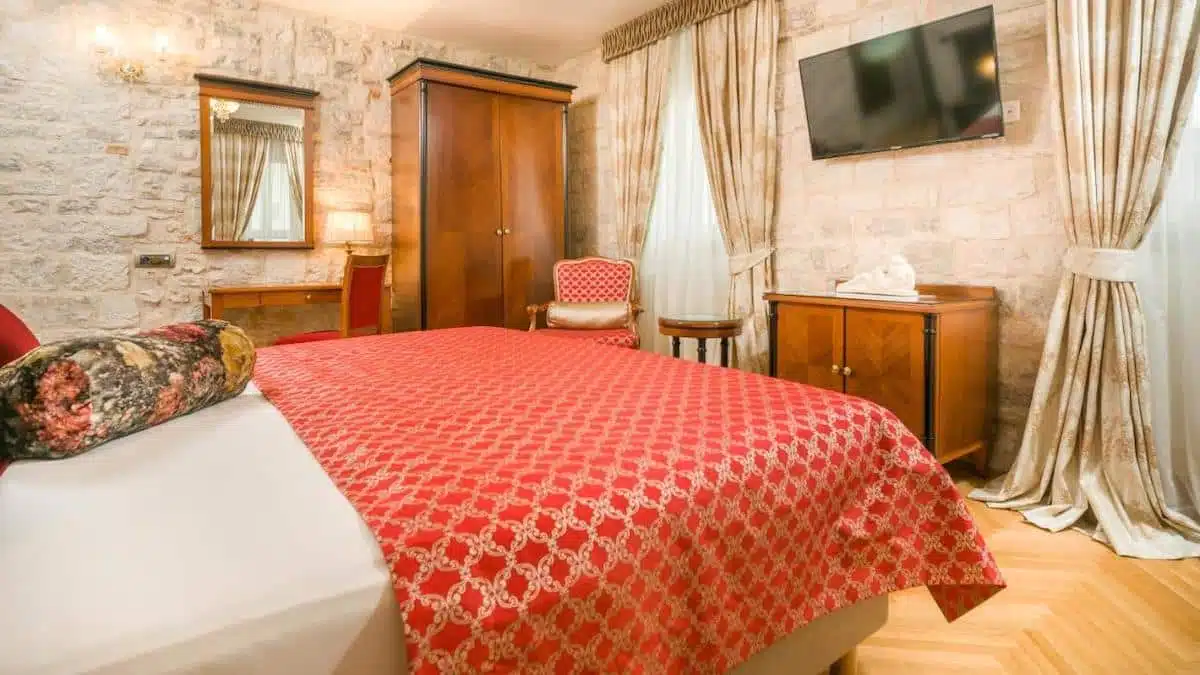 Walking around Old Town in Split often feels like you're walking around the set of a film. That's certainly the vibe you get as you approach Palace Judita Heritage Hotel, a luxury hotel in Old Town.
Located in a 16th century palace, the hotel oozes charm and charisma. It's one of those places where you just want to grab your phone and start snapping away, trying to capture its charisma.
Inside, things are elegant and tasteful. The decor isn't ultra-modern, thankfully, as it's all about that vintage charm here.
As well as the picturesque rooms and amazing exterior, the hotel also offers a charming restaurant. If you'd prefer to eat out you'll be spoiled for choice; the hotel is located on the Main Square in Old Town.
Hotel Villa Diana Split: Radunica (Mid-Range)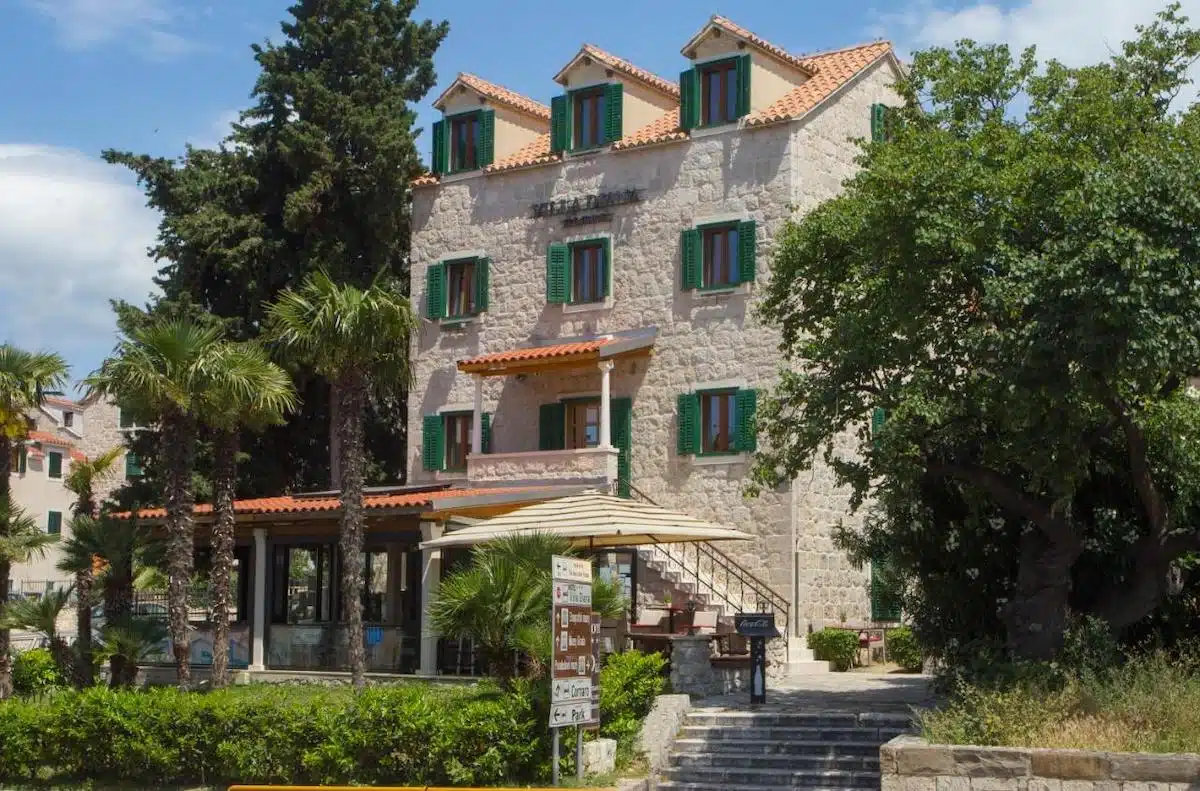 A charming family-run hotel, Hotel Villa Diana Split is a great mid-range option located near Radunica.
It's a three-star hotel, but what it lacks in glitz it makes up for in attentive and friendly service. As it's a family run hotel, there's a real sense of warmth at this hotel.
The rooms are comfy and clean, and there's even a charming terrace where you can have your breakfast out in the sun. There's even a restaurant serving up homemade Dalmatian classics.
From the hotel, it's just a five minute walk to find yourself in the heart of Old Town.
Rooms Diana Split: Bacvice (Mid-Range/Budget)
If you'd prefer to save your cash for enjoying all that Split has to offer, then Rooms Diana Split is a great choice. 
Located within easy walking distance of both Bacvice Beach and the Old Town, it has an enviable spot in Split that you're sure to love.
Inside, things may be basic but they're comfortable, clean and light. Plus, how much time will you spend in your room, anyway?
All of the rooms feature free wi-fi and a drinks fridge, while others have a kitchenette for preparing your own meals.
One thing is for sure, this hotel really does offer great bang for your buck.
Practical Tips for Booking Your Accommodation in Split, Croatia
Book as far ahead as possible in the summer months, when Split is incredibly popular.
If you can, travel in the shoulder seasons (May & June / September & Early October) as prices are more reasonable and the city is less crowded. It does get quiet though, so if you'd prefer the hustle and bustle, stick to the summer months.
As well as the hotels listed, Split's accommodation range features a number of self-catering apartments. These can be a good option if you want complete independence and are happy to cook or go out for all your meals.
Plum Guide is a great site for finding high-quality, hand-picked apartment rentals.
Split Accommodation Guide: Map
Love This? Save and Share on Pinterest