Not sure where to stay in Dubrovnik? Don't miss this step by step guide to the best areas and hotels in Dubrovnik to help you plan your trip.
Dubrovnik is a jewel of a destination. Perched on Croatia's Adriatic coast, it's the perfect place to explore during the course of a few days.
What could be better than winding your way between the Dubrovnik's gleaming marble streets, popping into its historical monuments and feasting your eyes on one of the most beautiful cities in Europe?
But we're getting ahead of ourselves. Before you work out all the things you need to do and see, you need to start with one basic question… where should I stay in Dubrovnik?
Don't sweat it: this handy guide will walk you through the best areas to stay in Dubrovnik and also the best hotels across the city and its surrounds. Let's go!
Pssst… I love using Plum Guide to find places to stay in Dubrovnik. Each of the apartments featured on the site is hand-picked by staff, so only the highest quality makes the cut.
Where to Stay in Dubrovnik
Before you go choosing your hotel, here's a brief rundown of the different areas to stay in Dubrovnik with features and highlights for each one.
I've included more detail about the hotels in the second half of this guide.
Read Next: Cool Things to do in Dubrovnik
Old Town – Best Place to Stay in Dubrovnik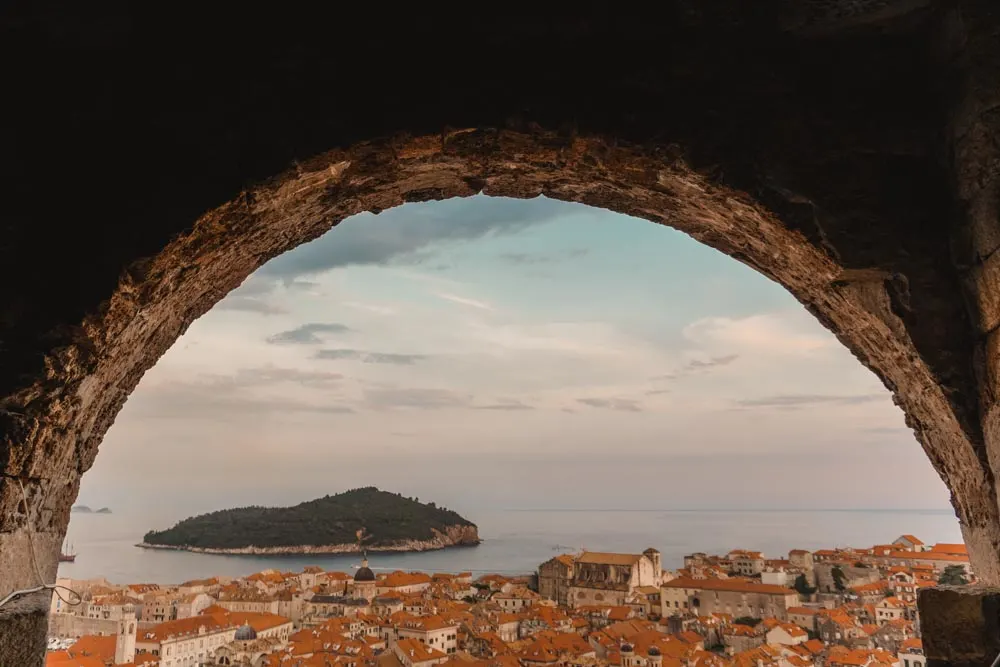 There's something pretty amazing about rolling out of your hotel and finding yourself in the midst of the jaw-droppingly beautiful Dubrovnik.
Old Town is where the majority of the city's most iconic sights are, so it makes sense it's my favourite pick for where to stay in Dubrovnik.
Game of Thrones fans, keep your eyes open for the filming locations dotted around the Old Town too (there are lots of them!).
Old Town Highlights
Historic Buildings
There are so many historic buildings and landmarks in Dubrovnik's Old Town to name them all, but a few standouts are, of course, The City Walls, Dubrovnik Cathedral, Lovrijenac Fort and The Rector's Palace. You could easily spend a few days getting lost in Dubrovnik's crumbling streets.
Game of Thrones Locations
If you're big into the popular TV show, you cannot miss hunting out Game of Thrones locations dotted around Dubrovnik's Old Town. I guarantee you'll adore nerding out at the thought of walking around King's Landing.
Nightlife
Nearly all of Old Town is a highlight, but exploring the meandering streets after dark is particularly delightful. Here's where you'll find some of the coolest bars and restaurants in town, but Buza Bar – Dubrovnik's chic cliff bar – is my favourite place to grab a cocktail.
Suggested Dubrovnik Hotels in the Old Town
St Joseph's
St Joseph's is a gorgeous boutique hotel in the centre of the Old Town. Tucked away down a quiet street, it maintains its intimate feel with just six bedrooms in the property.
Prijeko Palace
Prijeko Palace is mid-range accommodation that seriously impresses. Opulent decor and gorgeous views await at this chic little stay.
Ploče – Best Area to Stay in Dubrovnik for Luxury Hotels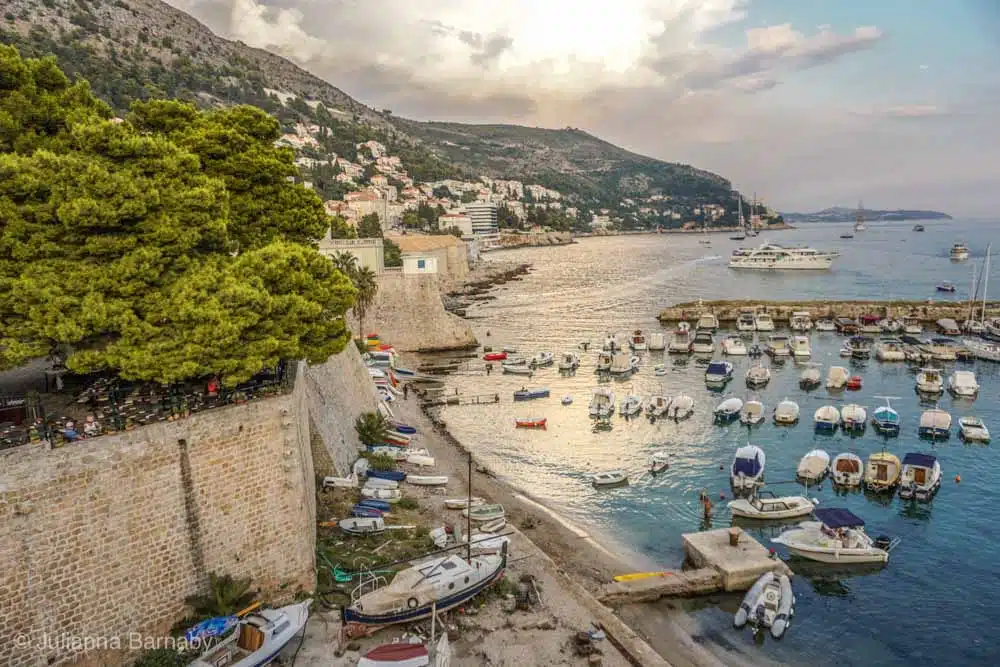 Located just to the east of Old Town, Ploče is the place to go if you're looking for glitz and glamour.
With stunning views and an abundance of luxury hotels in Dubrovnik, it is high-end all the way.
Not great if you're on a budget but perfect if you want to add a touch of opulence to your trip. If wondering where to stay in Dubrovnik for nightlife and looking to join the well-heeled crowd at Dubrovnik's chicest bars, this is where to go.
Ploče Highlights
Sandy Beach
Where many beaches in Croatia are made of pebbles, you'll be happy to hear that you can relax and recharge on the beautiful beach near Ploče.
Day Trips
If you're wanting to explore some of Dubrovnik's surroundings on day trips, there's no better place to stay than Ploče. Nearby highlights include the Kravica Waterfall and paddleboarding on the Bacina Lake.
Suggested Dubrovnik Hotels in Ploče
Villa Dubrovnik
Remember some of that luxury I mentioned? In hotels is really where it shines. And Villa Dubrovnik is a five-star beachfront hotel 15 minutes walk from the Old Town.
Hotel Excelsior
Likewise, Hotel Excelsior is a contemporary chic 5-star property overlooking the ocean. The three on-site restaurants and hot tubs are just a bonus.
Lapad – Best Area to Stay in Dubrovnik for Families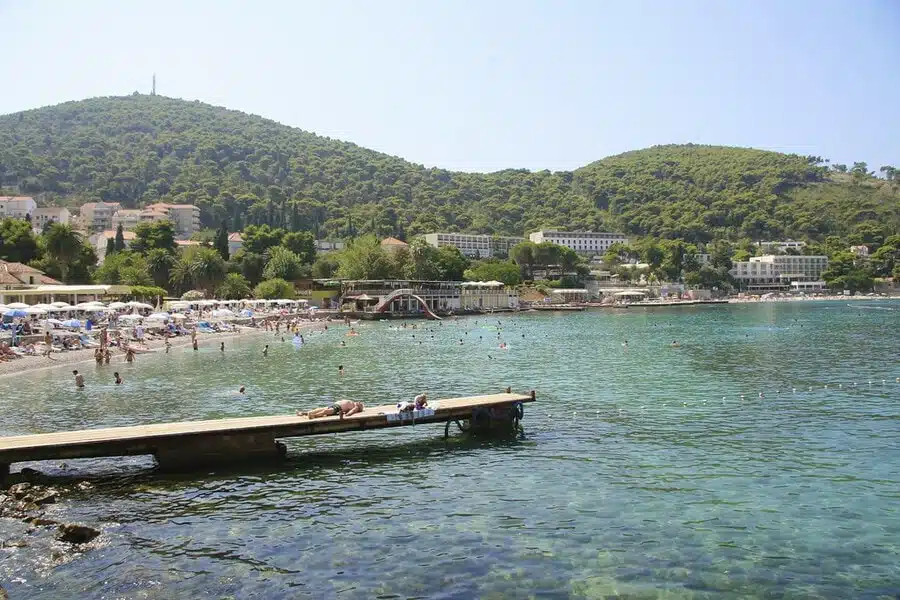 Travelling with little ones or just looking for total relaxation? If so, Lapad is one of the top areas for hotels near Dubrovnik.
A number of resorts have been built in the Lapad Peninsula, but the area never quite blew up like Old Town.
This means that Lapad is a little more relaxed, and there's less chance of losing any family members in the crowd. That said, there's more than enough to keep the whole family entertained.
Lapad Highlights
Lapad Bay
Beat the crowds and spend your days soaking up the sun at Lapad Bay. Shimmering waters (perfect for kayaking) and charming ocean-side cafes await.
Valika Petka Mountain Peak
If it's incredible views you're after, look no further than the Valika Petka Mountain trail that leads to the magnificent peak. At just 5.5km in length and a very easy climb, there's no reason not to snap yourself a few epic shots.
Suggested Dubrovnik Hotels in Lapad
Hotel Kompas Dubrovnik
Away from the hustle and bustle of the Old Town, Kompas is a spacious hotel that's pretty much a destination in itself. Rooms are simple yet stylish while the views are ridiculously pretty.
Boutique Hotel Kazbek
Pretty hotel Kazbek feels like a rural retreat but, in reality, is only a short hop from the city centre. Go for the excellent service and relaxed atmosphere.
Babin Kuk – Best Area for Peace and Quiet
Are you on the introverted side? Does just the thought of the crowds in Dubrovnik make you need a lie down?
If so, get away from the crowds in stylish beachside Babin Kuk, right next to Lapad. Even though it's just four kilometres from Dubrovnik's Old Town, its vibe is much more chilled.
That's not to say you'll be bored in Babin Kuk – far from it. There's still plenty of fancy restaurants, bars and shops. You'll just have the option for some peace and quiet should you want it.
Babik Kuk Highlights
Beaches
Away from the Old Town, Babik Kuk has a couple of stellar sandy gems up its sleeve. Cava Beach is the place to go for a relaxed day minus the crowds, while Copacabana Beach offers a more bustling (albeit manageable) experience.
Restaurants + Bars
Dubrovnik isn't short on excellent dining spots, but this part of town is criminally underrated. Take my advice and try some delicious seafood with a view at Neptun Restaurant Terrace.
Suggested Dubrovnik Hotels in Babin Kuk
Royal Blue Hotel
Looking for a (kinda) lowkey but sophisticated spot? Royal Blue Hotel is an adults-only hotel that boasts a rooftop pool and a beachside location for a stylish getaway.
Valamar Lacroma Dubrovnik
If you would like to save some cash without compromising, the sizeable Valamar Lacroma is better value than most hotels in the Dubrovnik region. The huge pool overlooks the ocean, with a view that cannot be beaten.
Gruž – Best Place to Stay in Dubrovnik on a Budget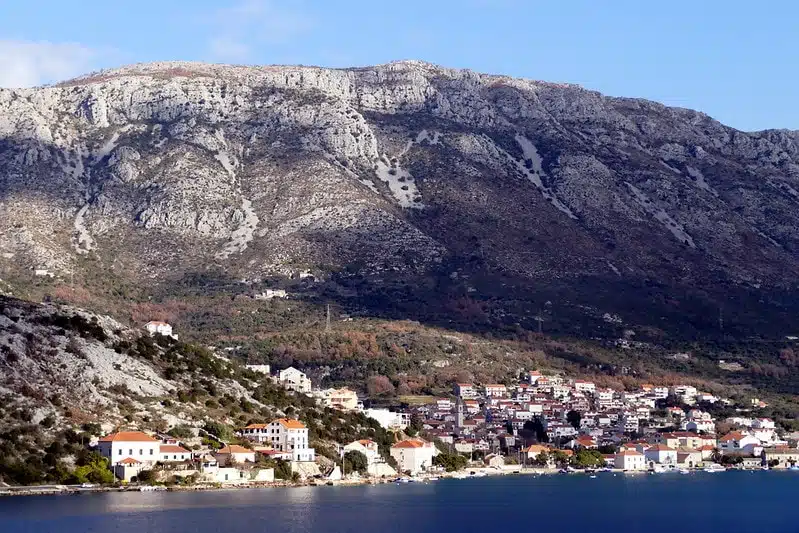 Dubrovnik may be drop-dead gorgeous, but it sure isn't cheap. That said, if you're happy to forego the luxury hotels in Dubrovnik Old Town then you can keep your costs under control.
The port city of Gruž has gone through a number of phases, starting off as a hub for wealthy merchants before becoming the city's industrial heartland.
Nowadays, it's mostly residential but also one of the most affordable places to stay in Dubrovnik. So if you are looking to stick to a budget, this is a great choice.
Gruž Highlights
Gruž Market
Immerse yourself in local life with a trip to Gruž's famous open air market – pick up some fresh fruits and vegetables, or maybe even a bunch of pretty blooms.
Restaurants + Bars
Need further proof that you can find delicious food outside of the Old Town? Taverna Otto is a particular gastronomic highlight if you're looking to dine close to your accommodation in Gruž.
Suggested Dubrovnik Hotels in Gruž
Berkeley Hotel & Day Spa
The comfortable rooms may be on the smaller side, but the Berkeley is a great option for bedding down in Gruž.
Cavtat – An Affordable Area to Stay Outside of Dubrovnik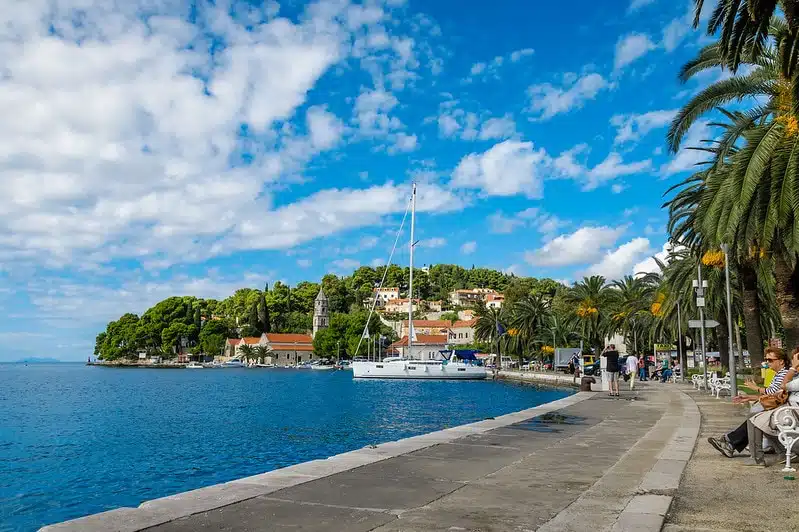 If you don't mind going a bit further out then you can enjoy that fabulous beachside lifestyle at a fraction of the cost in Cavtat.
Let's be upfront with the trade-off – you're 20 kilometres away from Old Town Dubrovnik. But you do get some pretty amazing beaches to make up for it.
Cavtat Highlights
Gorgeous Beaches
Like I said, the main reason to head to Cavtat is for its beaches. The like of Ključice are equally as beautiful (if not more) than the ones you'll find near the Old Town, without the crowds. Sounds like a win-win to me.
Supetar
When you base yourself in Cavtat, it's so easy to take a boat ride to the beautiful town of Supetar on Brač Island. Escape the buzz of the mainland and spend a day wandering through Supetar's stunning streets.
Suggested Dubrovnik Hotels in Cavtat
Hotel Cavtat
Sitting in the heart of Cavtat, Hotel Cavtat's rooftop pool and seafront views make it one of the best seaside hotels in Dubrovnik. A recent renovation also means the rooms are super modern and stylish.
Sheraton Dubrovnik
Not actually in Cavtat but in Milni, about halfway between Dubrovnik and Cavtat, the Sheraton is a good choice if you want luxury outside of the hustle and bustle of Dubrovnik itself.
Even if you don't stay in Dubrovnik, you might want to consider visiting Cavtat – ready why in my guide to the best day trips from Dubrovnik.
Best Hotels in Dubrovnik
St Joseph's: Old Town (Luxury)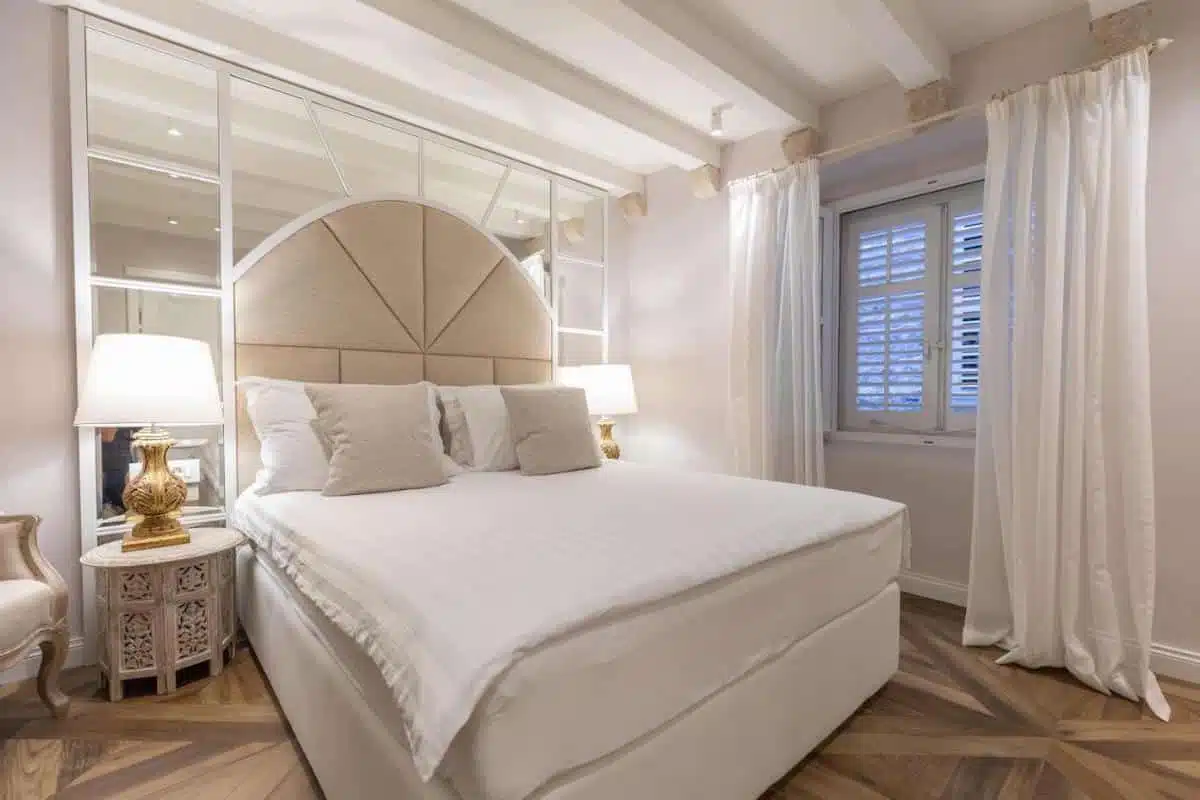 If you're looking for exclusive 5 star hotels in Dubrovnik Old Town, then St Joseph's is sure to capture your attention.
Even the most luxurious of hotels can feel impersonal, but St Joseph's is a true breath of fresh air. With just six bedrooms, there's the personal touch here.
It's also no cookie cutter building, either. Lovingly created out of a run-down 16th century building, it just oozes unique style and oh so much charm.
While St Joseph's is right amongst the heart of Old Town, it's tucked away down a quiet street. Looks like you really can have your cake and eat it too.
Check Rates and Availability for St Joseph's on Booking.com
Fresh Sheets Kathedral Dubrovnik: Old Town (Mid Range)
What's a better addition to living out all your Game of Thrones dreams than staying in actual palace? Hey, even if you're not a fan (the horror!) then it's still pretty awesome.
Enter Fresh* Sheets Kathedral Dubrovnik. And don't worry, despite the asterisk there's no catch here – this place is dazzlingly clean.
It's also beautiful. The exterior is a stunning old building, while inside things are sleek and modern.
The staff are ultra-helpful and can help organise all kinds of activities, including some very scenic picnics. And best of all, you're on the doorstep of all of Old Town's attractions – an easy pick of the best hotels in Dubrovnik.
Check Rates and Availability for Fresh* Sheets Kathedral Dubrovnik
Villa Orsula: Ploče (Luxury)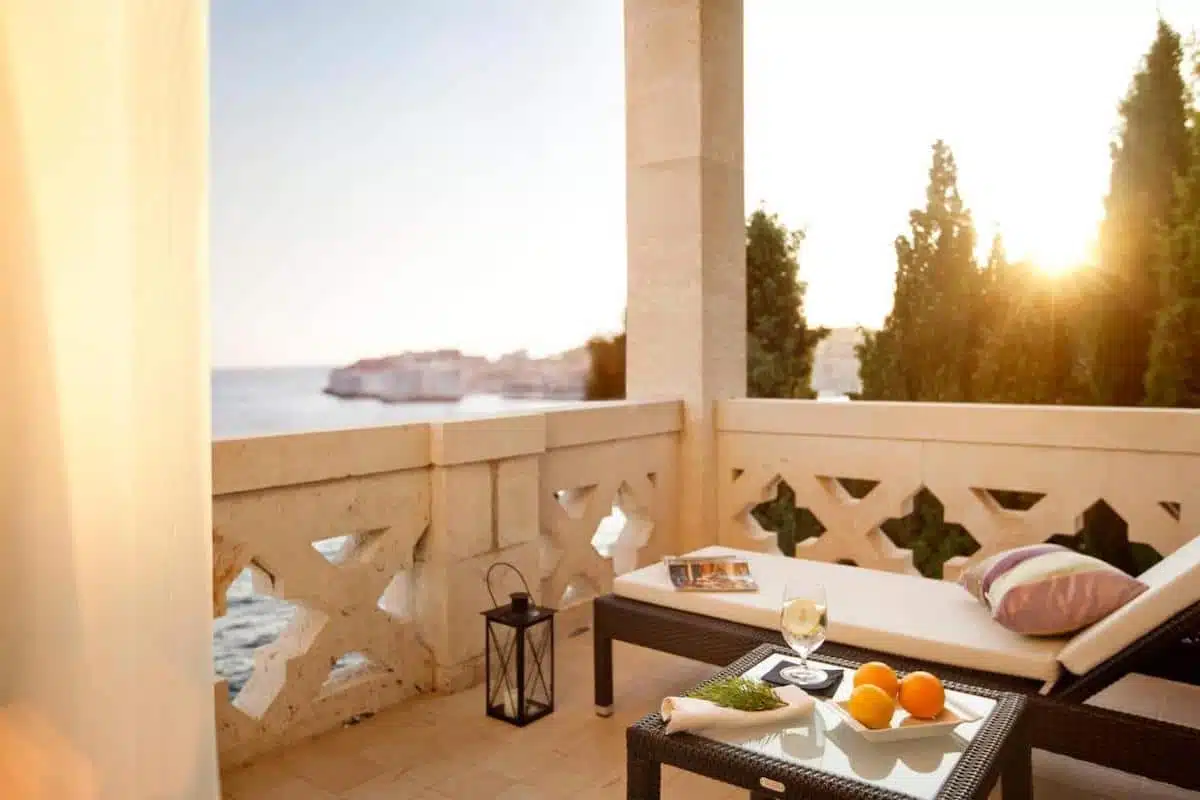 Hoping to live it up in Dubrovnik? Villa Orsula is sure to fit the bill. It's one of those "pinch me, I'm dreaming" places.
The interior looks like something out of a James Bond film, while the panoramic views of the Adriatic sea are totally spine-tingling.
Set in glamorous Ploče, this is a place to really, really impress your partner. Or even better, just treat yourself to something magical.
As well as the lavish hotel, you're sure to also love the location. It's just outside of Old Town, but within easy reach of all of Dubrovnik's main attractions.
Check Rates and Availability for Villa Orsula
Villa Dubrovnik: Ploče (Luxury)
Stunning Villa Dubrovnik is a place to really tee off. And really, is there a better place to do that than in gorgeous Dubrovnik?
It's billed as Dubrovnik's most exclusive hotel and they certainly haven't skimped on anything at all. From the opulent rooms to the ridiculously gorgeous views, this cliff-side resort is really something.
With 56 rooms there's a bit of buzz yet plenty of personal attention as well.
The sun-drenched terrace is a particularly perfect way to whittle away an afternoon, while the cocktail bar is the place to be once the sun goes down.
Check Rates and Availability for Villa Dubrovnik
Hotel Kompas Dubrovnik: Lapad/Babin Kuk (Luxury)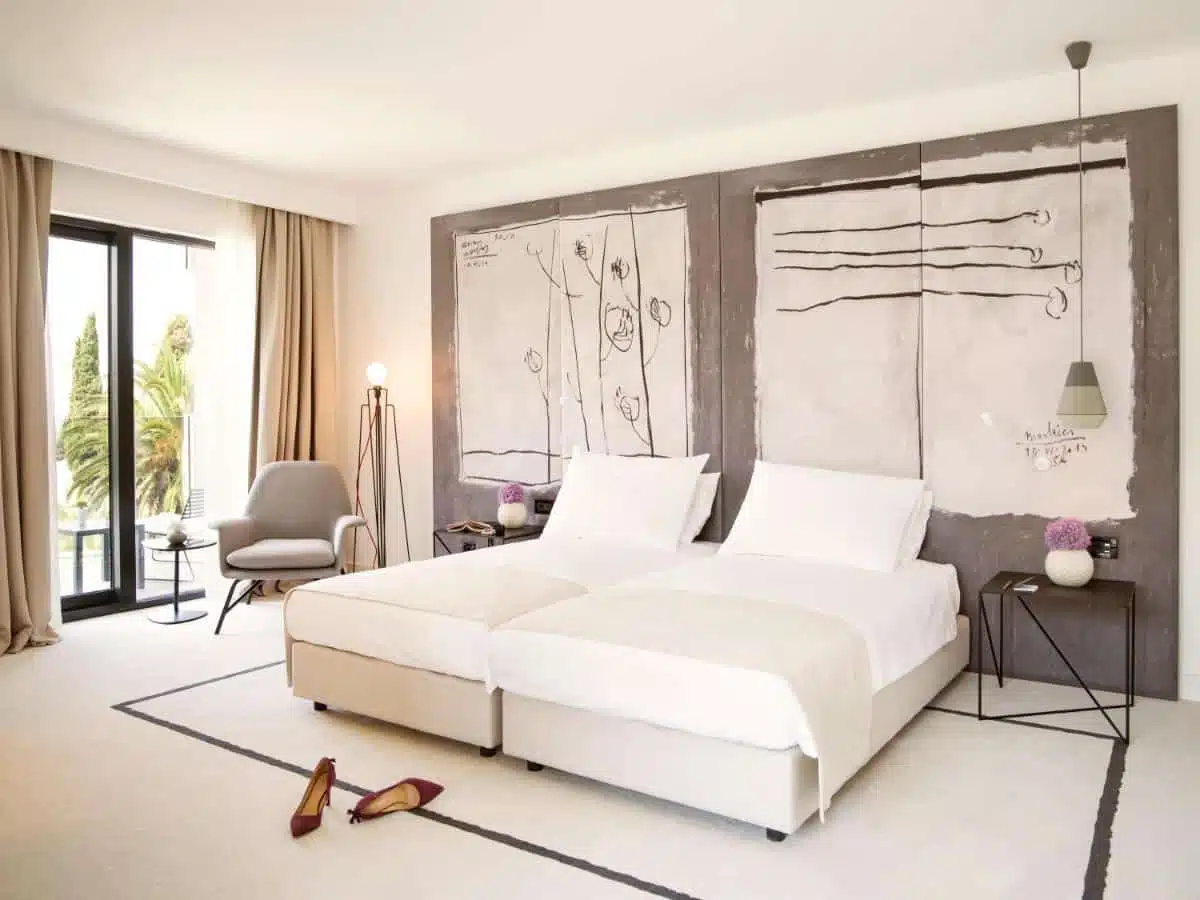 Light and airy, it might be a cliche but Hotel Kompas Dubrovnik really is good for the soul. I mean, how could you be anything other than joyful looking out at panoramic sea views?
That's certainly not all this luxury Lapad hotel has going for it, however. Inside, the hotel is modern yet inviting, with a great restaurant and bar.
You can even opt for a half-board stay, to minimise any sticker shock on check-out.
While I love Lapad's more relaxed vibes, there's plenty to do near the hotel, including the beaches of nearby Babin Kuk. Plus, it's easy to head into Old Town by taxi to explore the most iconic sights.
Check Rates and Availability at Hotel Kompas Dubrovnik
Sheraton Dubrovnik Riviera: Milni (Upper Mid-Range / Luxury)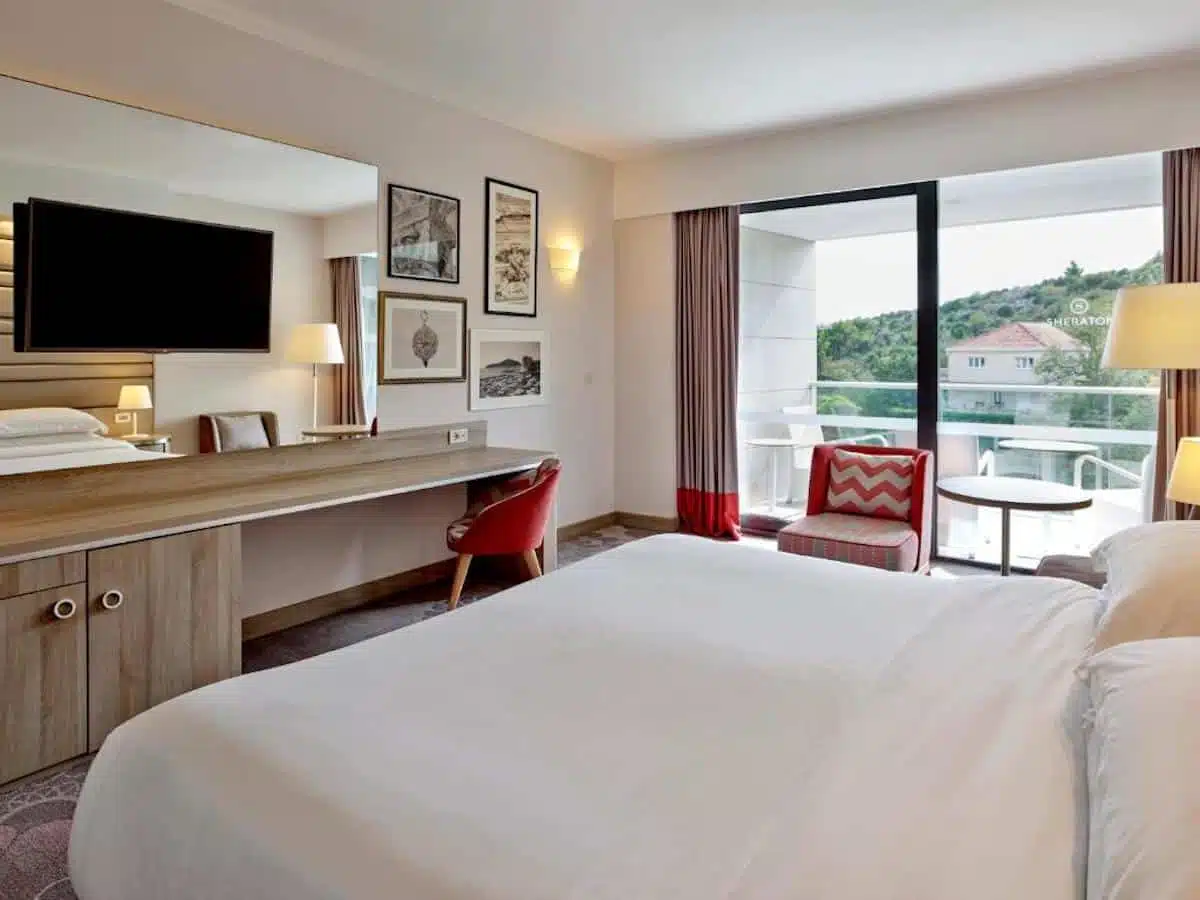 The man-made attractions of Old Town get a lot of attention, but the area around Dubrovnik also boasts some truly spectacular natural scenery.
To make the most of it, a stay at the Sheraton Dubrovnik Riviera is a fabulous mid-range option in Milni, between Dubrovnik and Cavtat.
You'll have to go that little bit further out of the centre of Dubrovnik, but in turn you'll be rewarded by some drop-dead gorgeous views. You know, the kind that will make your friends super jealous when you post them up on the 'gram.
For good measure, you also might like to throw in a few shots of the stylish rooms of the Sheraton, as well as the dazzling pool. Bonus points if you include a tropical cocktail just to really rub it in.
Check Rates and Availability at Sheraton Dubrovnik Riviera
Pucic Palace: Old Town (Luxury)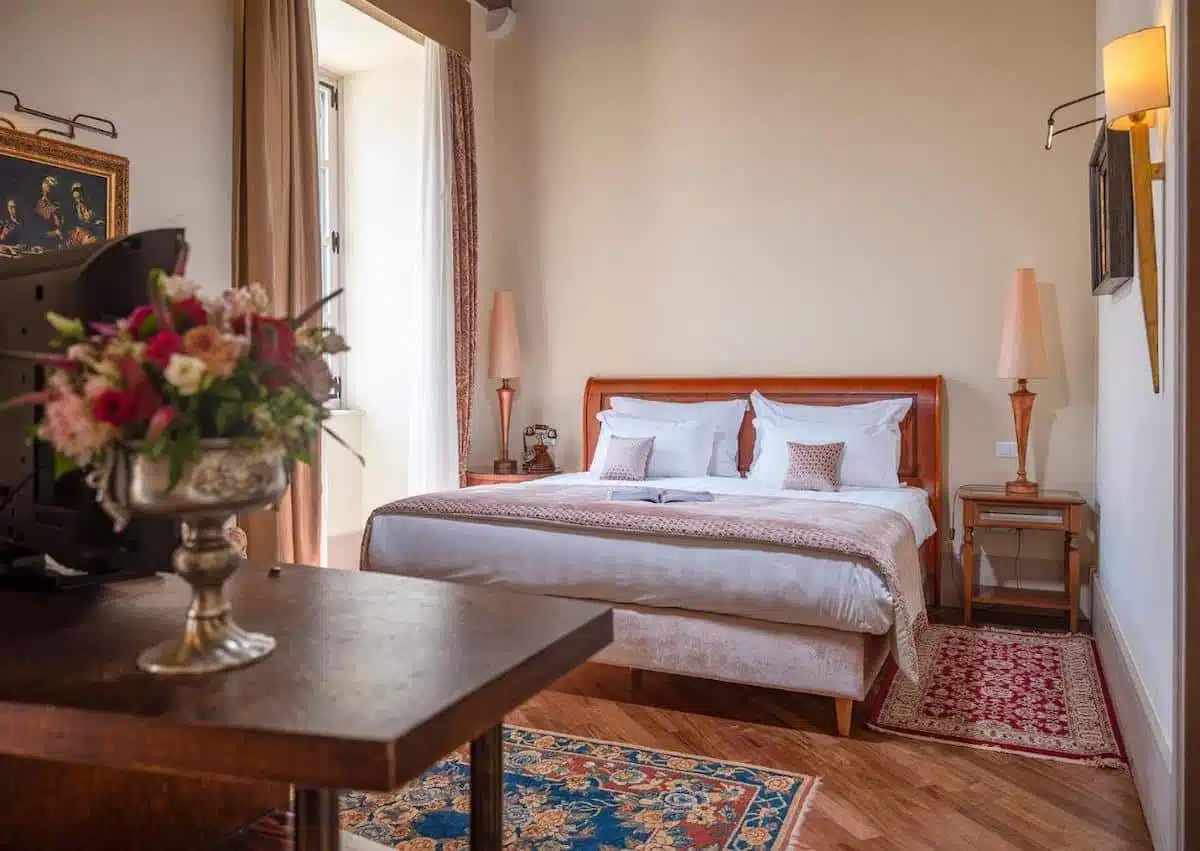 There's a time for Scandi-inspired minimalism, and then there's a time for hardwood floors and antique cabinetry. If you're into the latter, then Pucic Palace is a gorgeous luxury hotel in Dubrovnik Old Town.
The old school charm might not be to everyone's tastes, but I can't get enough of all those gorgeous linens and vintage furnishings. Did I also mention it's in a literal baroque palace?
The hotel's location smack-bang in the middle of Dubrovnik doesn't hurt, either. Oh, and then there's the tapas and wine bar where you can enjoy Dubrovnik views and vino.
I'm sold by this Dubrovnik hotel, that's for sure.
Check Rates and Availability at Pucic Palace
Boutique Hotel Stari Grad: Old Town (Luxury)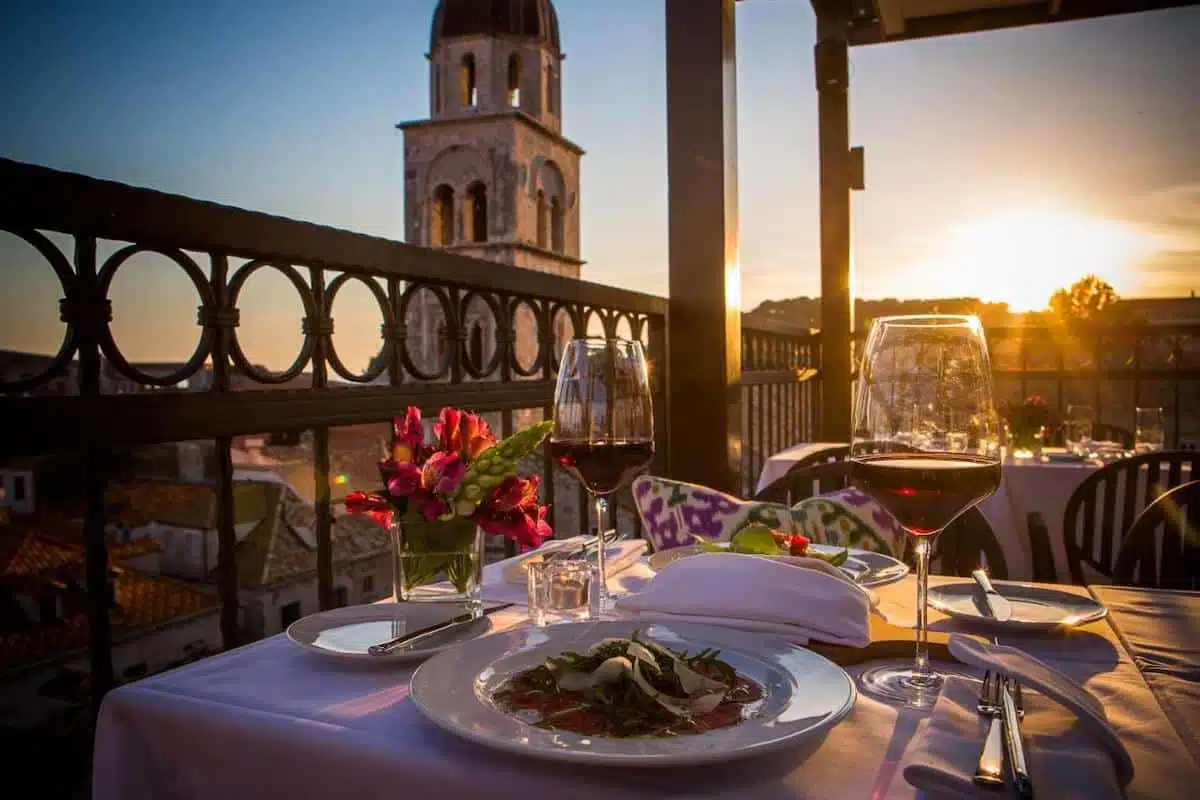 You know the saying, "location, location, location". And if that's what you're looking for, then the Boutique Hotel Stari Grad has it in spades.
This luxury hotel is situated within the Old Town walls of Dubrovnik, so you're really in the heart of the action here. It's just a few steps over the cobbled streets to lively Stradun Street.
Inside, the hotel is modern and beautifully decorated after a big revamp in 2013. It's all very glam.
One absolute highlight is the rooftop terrace where breakfast is served. Is there a better way to start your day than a view out over Dubrovnik's amber rooftops? I think not.
Check Rates and Availability at Boutique Hotel Stari Grad
Rixos Libertas Dubrovnik (Mid Range)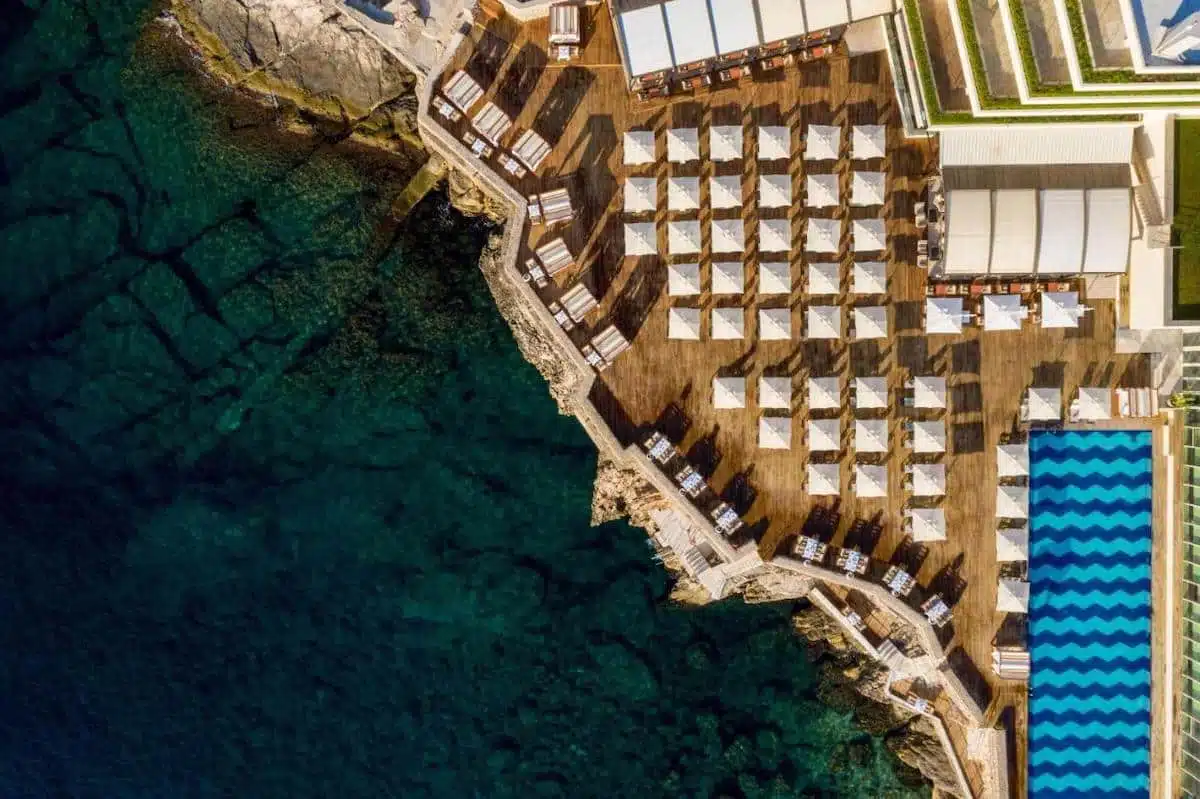 Infinity pool looking out over the sea? Check. Five (yes, five) bars and restaurants serving scrumptious cuisine? Check. Glamorous rooms? Yup, Rixos Libertas Dubrovnik has that too.
Clearly, paradise looks a little like this place – one of the best hotels in Dubrovnik.
As if all that wasn't enough, there's also a Turkish bath and a spa to make sure you come back from your holiday looking twenty years younger. Or so they say.
Another big plus for this hotel is its stellar location. It's that bit further out of Old Town so it presents great value for money, but it's just a fifteen minute stroll to the centre. Not bad at all.
Check Rates and Availability at Rixos Libertas Dubrovnik
Boutique Hotel Kazbek: Lapad (Upper Mid Range)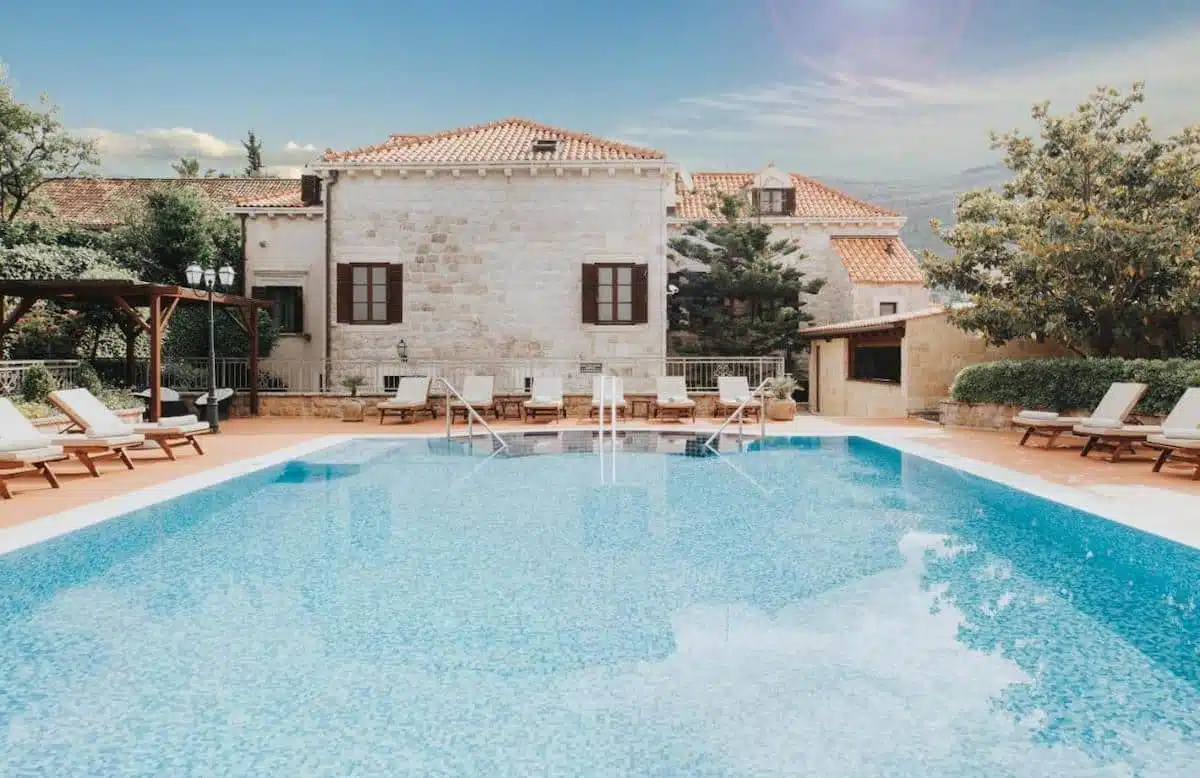 The nobility have moved out of this gorgeous 16th century building, but Hotel Kazbek still has plenty of royal touches.
Think extra-spacious king beds, luxurious linens and, of course, a pretty stupendous view out over Lapad Bay.
There's also an excellent restaurant that serves up plenty of authentic and delicious Croatian meals. It's perfect for those nights you don't feel like straying far from your hotel – or you've always got the option to take a short drive to Old Town, about fifteen minutes away it
No doubt, if you're looking for a charming and charismatic mid-range place to stay in Lapad… Boutique Hotel Kazbek fits the bill.
Check Rates and Availability at Boutique Hotel Kazbek
Prijeko Palace: Old Town (Mid Range)
With such an amazing location in the heart of Old Town, mid-range option Prijeko Palace could just rest on its laurels.
However, it doesn't – offering gorgeous rooms and ultra-helpful staff to help make your stay in Dubrovnik totally perfect.
The interior is dripping in charm and anything but boring – each of the rooms have a slightly different and slightly unusual character. Be assured, it all works, and it's a memorable base for your stay in Dubrovnik.
There's also an onsite restaurant and bar if you feel like cozying up in the hotel in the evening. What more could you need?
Check Rates and Availability at Prijeko Palace
Hotel Excelsior: Ploče (Luxury)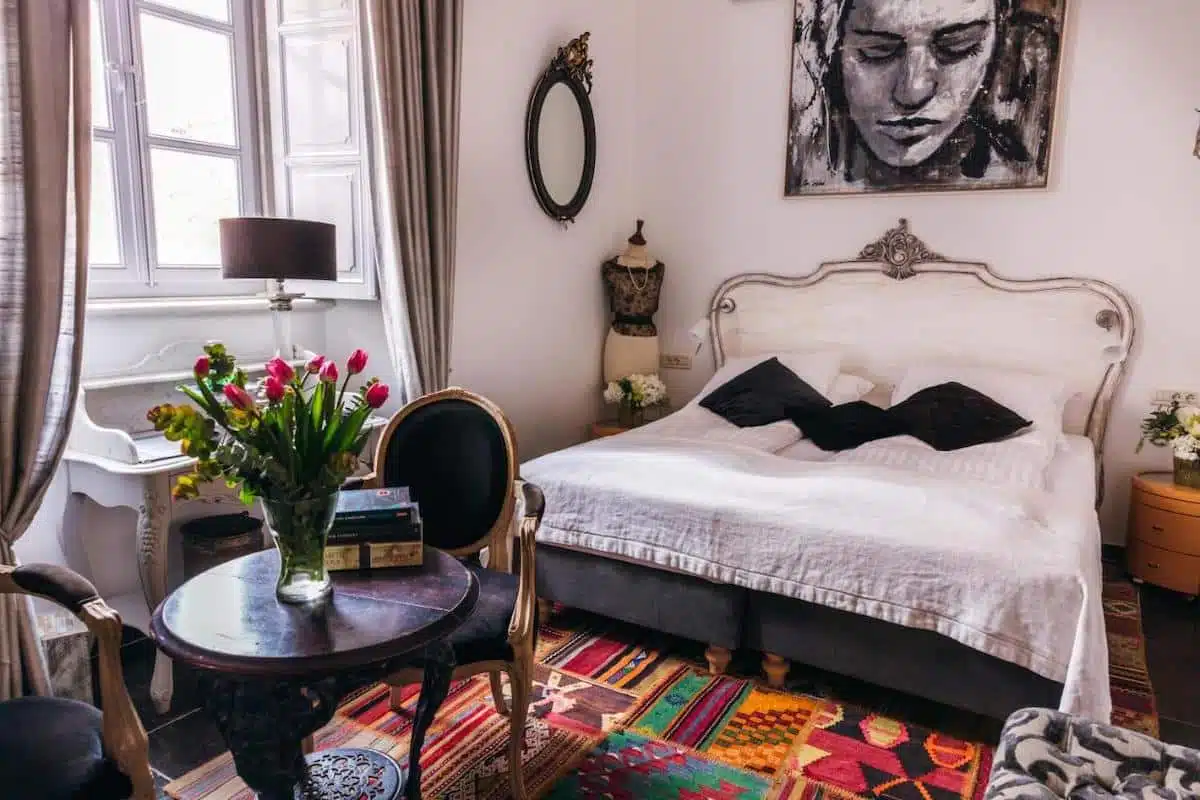 Does living in total luxury while surrounded by dazzling sea views sound pretty good to you? I thought so.
Luckily, that's what's on offer with the chic Hotel Excelsior, a luxury hotel in Ploče. Located right on the beachfront, it's the kind of property that makes your jaw drop.
I'm talking panoramic sea views and three delectable restaurants to enjoy. Plus 24 hour room service, my favourite indulgence.
There's also a pool, two hot tubs, a sauna and a spa – so something tells me you'll leave feeling totally refreshed and recharged. The ultra-comfy and elegant rooms also help with that as well.
Check Rates and Availability at Hotel Excelsior
Hilton Imperial Dubrovnik (Luxury)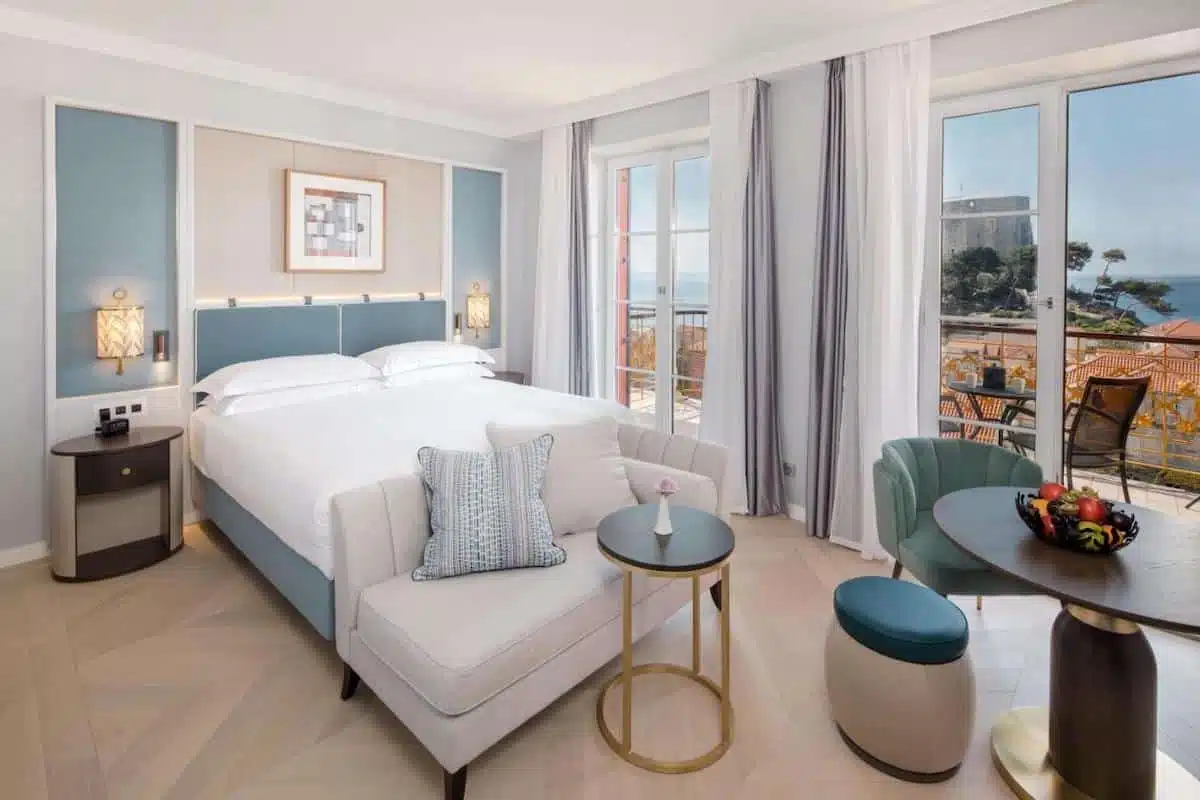 It is one of the larger of the top hotels in Dubrovnik, but the Hilton Imperial Dubrovnik is anything except stale and impersonal.
From your first look at its regal exterior you're likely to fall in love. It's no surprise to hear that it's played host to many celebrities and royals since being opened in the late 19th century.
While the outside is all olde worlde charm, the inside is contemporary and brimming with light. It's a gorgeous place to stay.
Located just outside of Old Town, the hotel is technically a luxury hotel in Dubrovnik however it is just a short and casual walk to the main attractions within the city walls.
Check Rates and Availability at Hilton Imperial Dubrovnik
Berkeley Hotel & Day Spa: Gruž (Mid-range)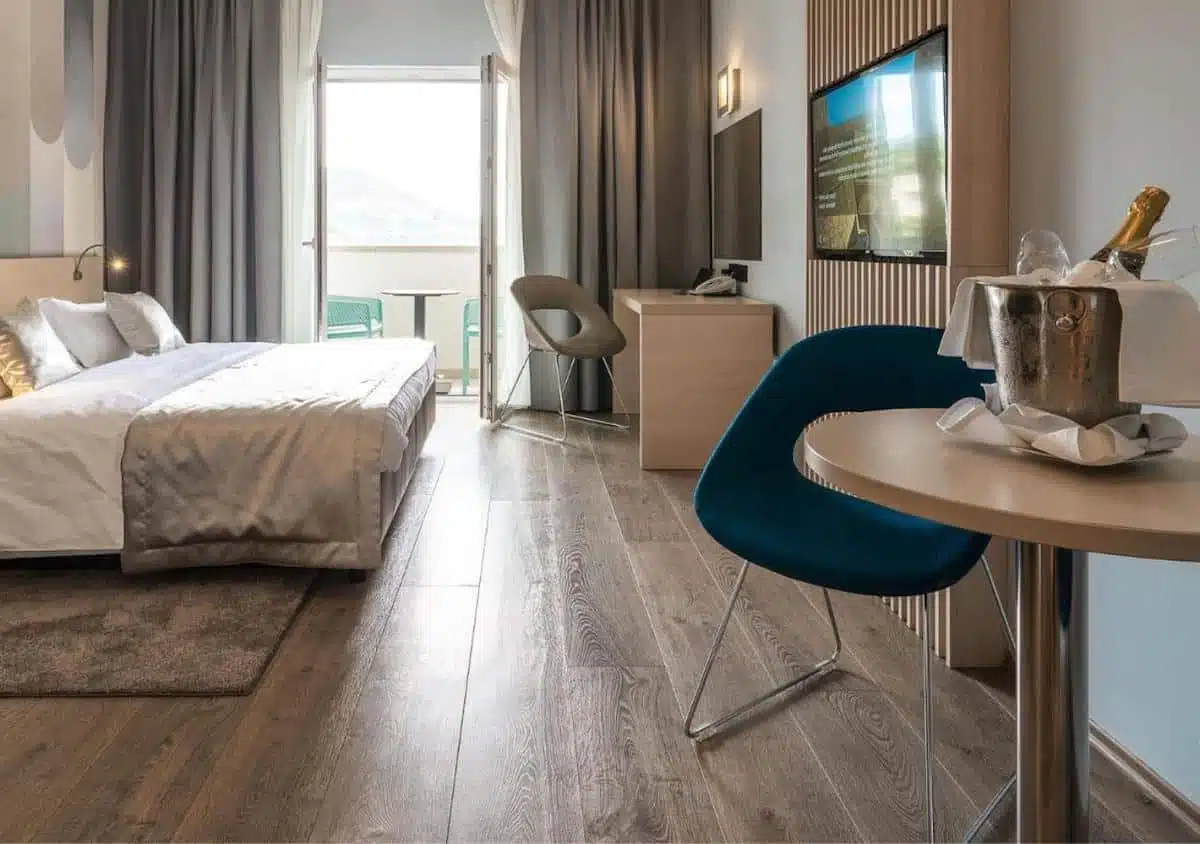 If you're looking for a stylish and chic Dubrovnik hotel that won't totally break the bank – Berkeley Hotel & Day Spa may be just right.
This hotel offers comfortable and modern rooms with everything you'd need for a stay in Dubrovnik. Then, of course, there's the spa itself.
Located in Gruž, it's easy to get to all of Dubrovnik's attractions via the transport links. Plus, being that bit further out means a little less impact on your wallet.
So if you're looking for a mid-range option that doesn't skimp on the comfort or glam, this is a great choice.
Check Rates and Availability at Berkeley Hotel & Day Spa
Where to Stay in Dubrovnik: Frequently Asked Questions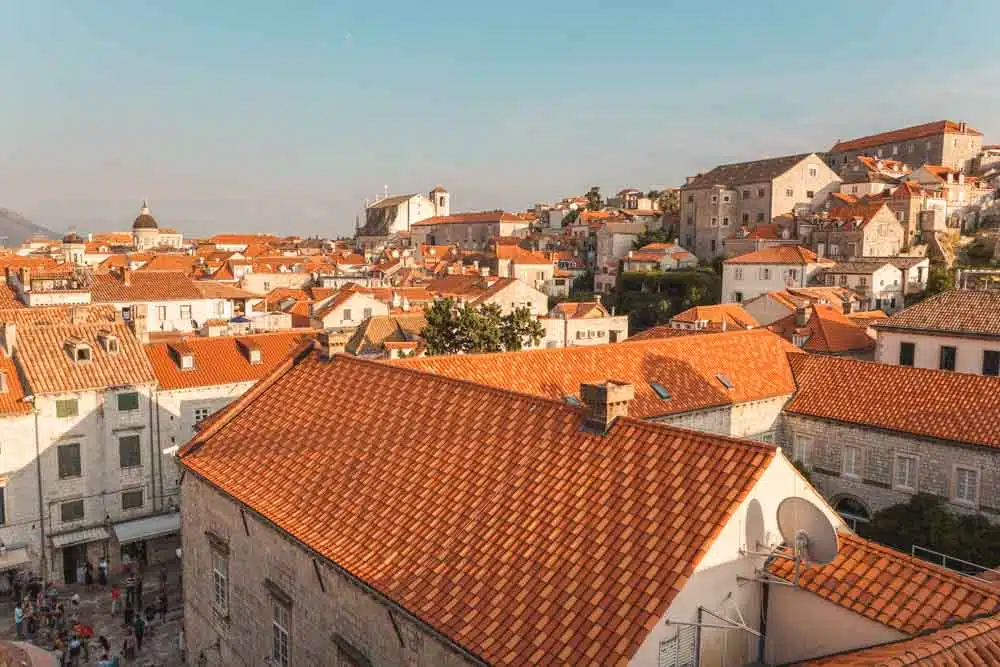 What is the Best Area to Stay in Dubrovnik?
The best area to stay in Dubrovnik is the Old Town. You just can't beat the central location. However, the Old Town is expensive, so you will probably want to look elsewhere if you're on more of a budget.
Should I Stay in Dubrovnik Old Town?
Yes – you should stay in Dubrovnik's Old Town if you can afford it. The central location and beautiful views offer the ultimate Dubrovnik experience. That said, other areas like Lapad and Babik Kuk have a lot to offer as well.
How Do You Get Around in Dubrovnik?
The easiest ways to get around in Dubrovnik are by bus, taxi or bike. Boats are useful if you're located further afield (like in Gruž or Cavtat).
Practical Tips to Consider Before Booking Your Dubrovnik Accommodation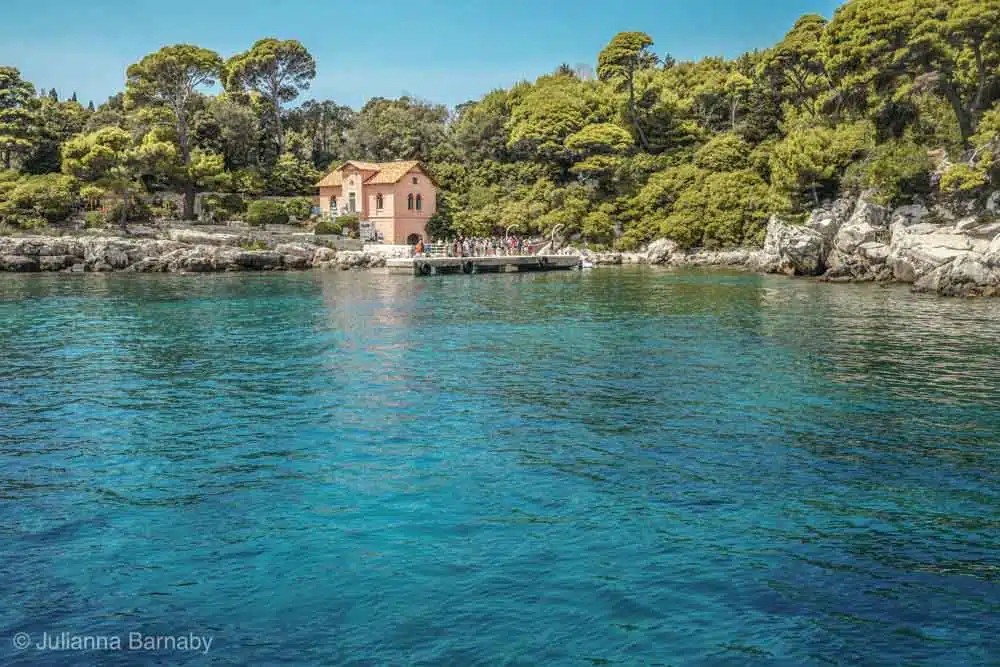 Rates and Availability
If you know anything about Dubrovnik, you know that Old Town is truly spectacular. Pair this with it being the setting for a little show known as Game of Thrones, and you have the recipe for a LOT of demand.
As a result, prices can be kind of eye-watering. Of course, it's amazing and you'll get to soak up the atmosphere (especially at night when the crowds have thinned), but be prepared to cough up for the privilege.
The High Season
If you are looking to stay in Old Town or any of the best Dubrovnik beach hotels, then I highly recommend booking way ahead of time. This is especially the case in high season. They do book up quickly, and the last thing you want is questionable accommodation to ruin your stay in the city.
There are many great reasons why people flock to Croatia in the summer months – e.g. the dazzling beaches – it can be crowded and expensive. You might like to consider going in off season or the shoulder season when things are a little calmer (and cheaper).
Plum Guide
Don't forget to use Plum Guide to find your dream apartment. These days, I end up reaching for it over other apartment rental sites as the quality of the homes is a lot higher.
Dubrovnik Accommodation Guide: Map
Love this? Save and Share on Pinterest!