Love Game of Thrones? Visiting Dubrovnik? Don't miss this step by step guide to discovering the best Dubrovnik Game of Thrones locations, complete with a self-guided tour itinerary and map.
OK guys, stay cool. We're going to talk Game of Thrones and Dubrovnik here.
Much as I pretend to be laid back about things, say the words Game of Thrones to me and any vestige of reserve is thrown out of the window. I LOVE it… disappointing ending and all.
Big chat from someone whose first thoughts about the TV programme were
"I don't really get what the fuss is about, it's a bit dull and nothing happens".
Shame. Shame. Shame.
Anyway, I now know better. Much, much better.
These past few years have unintentionally turned into something of an homage to Game of Thrones and House of the Dragon.
From jetting off to Iceland (north of The Wall) to popping up in Seville (Dorne) and zipping around Northern Ireland (Winterfell, The Iron Islands, Dorne and more) I've been doing the rounds.
But Dubrovnik was a whole other level.
Did you know that King's Landing is set in Croatia? That large sections of the most popular TV show on the planet were filmed in Dubrovnik?
Of course you did, that's why you're here.
King's Landing is Dubrovnik. The epicentre of the series. The setting for dastardly plans, beheadings, murders, schemes and general good old-fashioned rolls in the hay.
I am going to take you on an odyssey into Dubrovnik's (ahem, King's Landing) filming locations. The must-see spots, insider titbits and a few random but awesome facts thrown in for good measure.
This is what you need to know…
In a hurry? I recommend booking this Game of Thrones Tour of Dubrovnik to discover all the well-known (and secret) filming locations, plus insider gossip from the set.
Book a Game of Thrones Tour of Dubrovnik
So the easiest way to delve into the world of Game of Thrones is on a tour.
Not only does a tour highlight some of the best King's Landing filming locations, but many of the tour guides also double up as extras on the set, so can give you juicy bits of gossip about how scenes were filmed and what the actors are actually like.
I booked onto this tour and loved it.
Our guide Dora grew up in Dubrovnik, worked as an extra on the programme in the early series and stood in as a self-described "human puppet" for some of the scenes in Series 8.
You can spot her in Series 4 Episode 1 as a lady-in-waiting in the scene when Sansa is sitting with Shae and finds out her mother and brother are dead.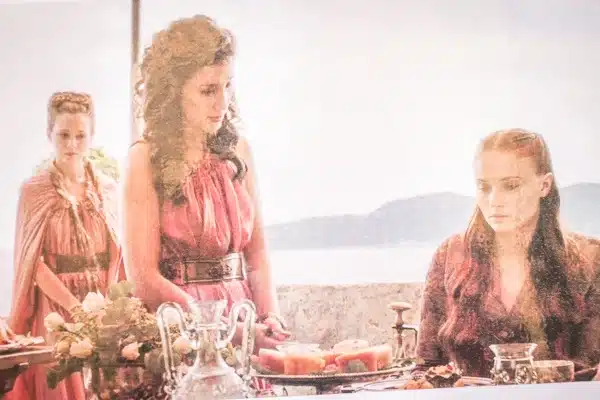 Dora's sister (and in later series, Dora herself) worked behind the scenes as human puppets – being placed in the scene so that the cameramen could get everything right before the actor came onto the scene to film their part.
Sounds like a pretty cool gig right?!
Anyway, Dora took us on a romp around the city that spanned many of the most important spots of King's Landing in Dubrovnik.
All the while making us laugh with her tongue in cheek humour and extensive knowledge about which scene was filmed where and the tricks of the trade used by the producers to get everything looking just right.
You can book onto the same tour, which lasts for two hours here
Take my advice and book on the earliest tour of the day at 9.30am, the city is a bit quieter and it's not so hot. Don't forget to bring plenty of water either.
Aside from the main Game of Thrones tour of Dubrovnik, there are other tours leaving from Dubrovnik that cover locations further afield. These include:
Game of Thrones Complete Dubrovnik Tour – As this tour involves a car, it covers a broader range of locations including Mount Srd and Trsteno Botanical Gardens, two filming locations outside of the city "proper"
Exploring Dubrovnik's Game of Thrones Filming Locations Independently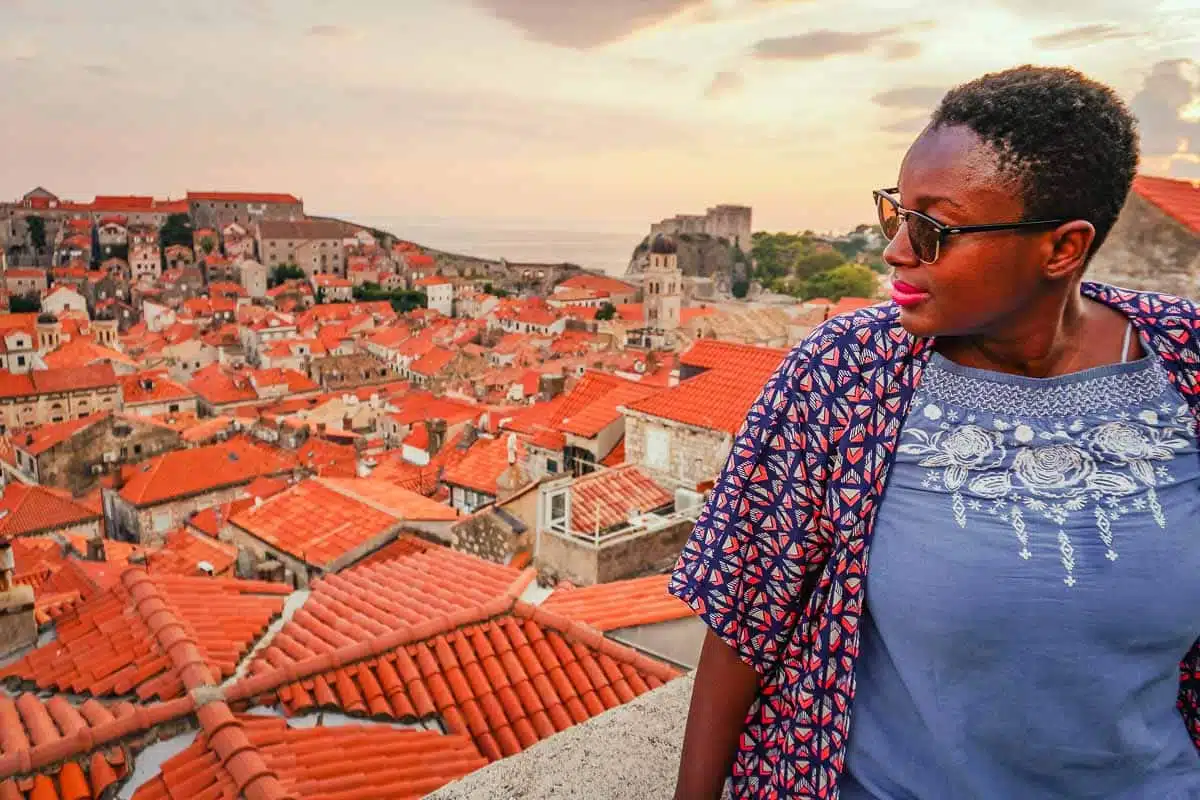 If you don't fancy booking onto a tour, there's more than enough information in this article for you to create your own self-guided Game of Thrones tour of Dubrovnik.
This has several bonuses: it's cheaper, you can take everything at your own pace and you can see EVEN MORE spots than you'd be able to on a guided tour.
Make sure you check out my suggested route and Dubrovnik Game of Thrones map later on in the post.
The Perfect King's Landing Dubrovnik Photo Spot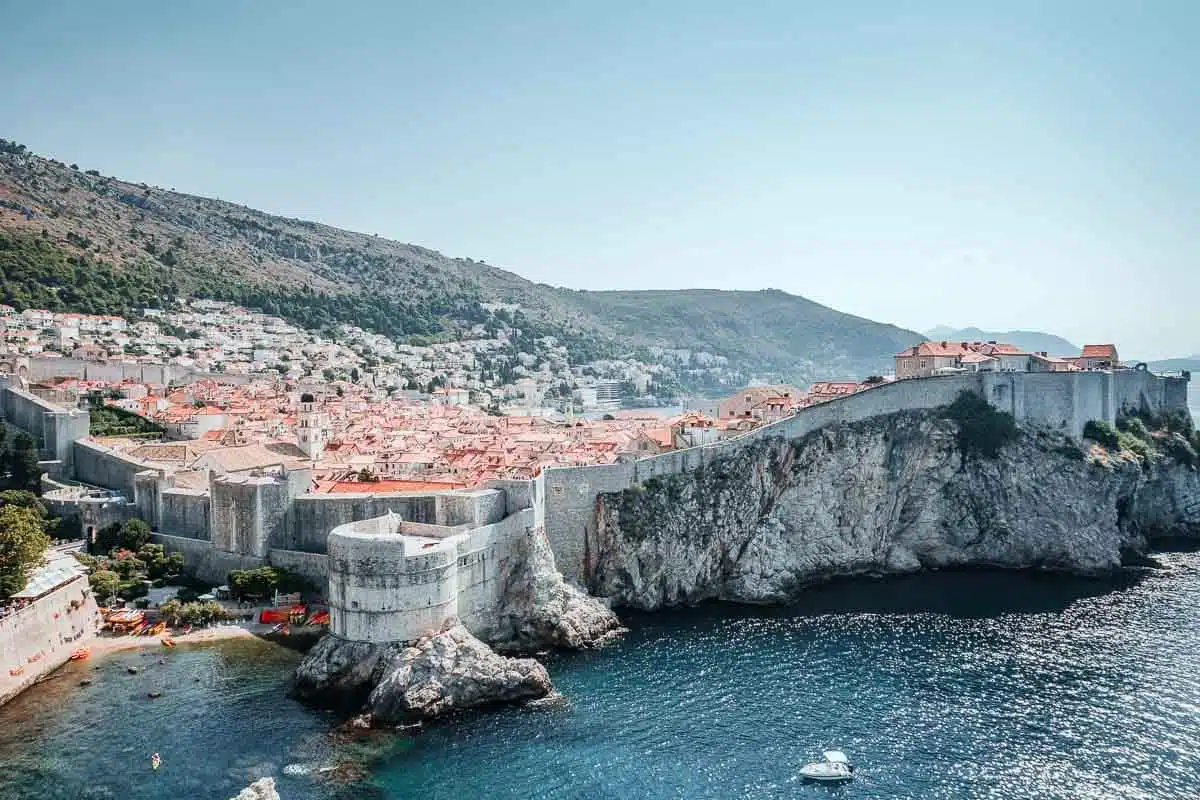 Before we get into the nitty gritty of which Game of Thrones scenes were filmed in Dubrovnik, can we just take a moment to appreciate how spectacular Dubrovnik looks as King's Landing overall.
It's not exactly the same as King's Landing. Turns out that the Sept of Baelor is a building in Girona (Spain) and is CGI'd into the cityscape.
You can also spot that the exterior of the Red Keep doesn't actually exist at all and is also the work of some nifty CGI…
Explains why when you watch Game of Thrones scenes in King's Landing, you almost always have the Red Keep looming in the background, even if it's in a completely different place to where it was before.
Suggested King's Landing Dubrovnik Photo Spot: Fort Lovrijenac

Did You Know: That in season one, King's Landing was actually filmed in Malta. Dubrovnik is only used as King's Landing from season two onwards.

Why did they change the location of King's Landing to Dubrovnik? Apparently, the crew left a few sites in Malta in less than pristine condition and basically Malta told them to jog on… Wonder if they regret that decision?
16 Unmissable Dubrovnik Game of Thrones Locations
Fort Lovrijenac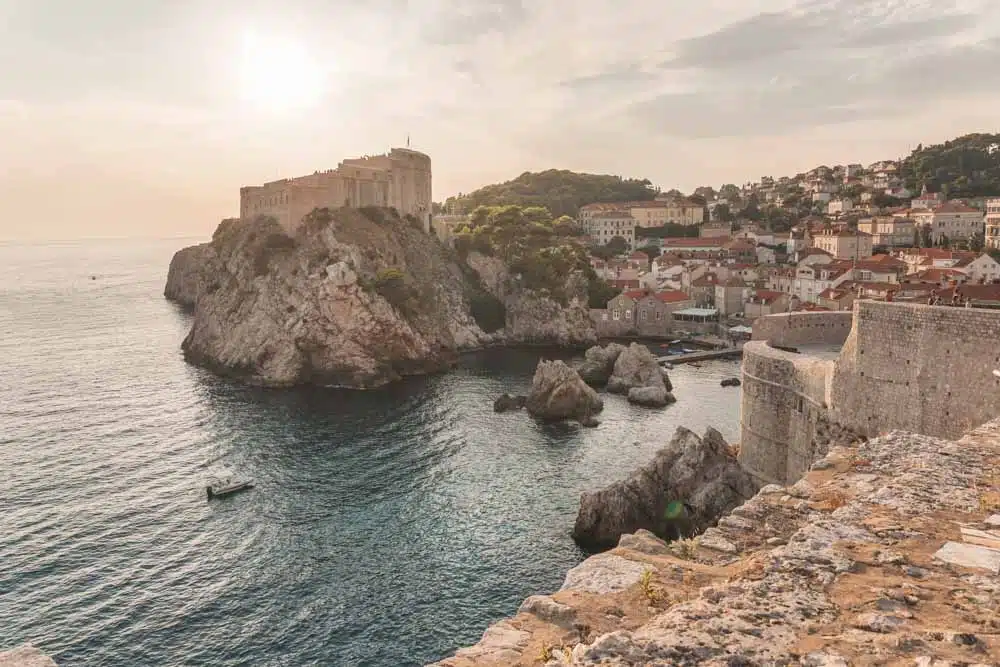 Standing atop a tall cliff over Pile Bay, and originally built as part of the city's defenses, Fort Lovrijenac is one of the King's Landing filming locations that crops up time and time again.
Remember that scene where Cersei and Littlefinger are (rather heatedly) discussing what makes you powerful? Littlefinger thinks that knowledge is power, but then Cersei gets the Gold Cloaks to hold a knife to his throat and reiterates that power is power.
Well, here you are…
Or what about the scene when the men try to rape Sansa after the riots in King's Landing? Look familiar?
I love that at one end of the corridor, they filmed the scene where Sansa is being attacked and the Hound comes to save her….
While at the other end of the corridor they filmed the scene where Joffrey is safe in the Red Keep and Tyrion Lannister slaps him round the face (ps, there's a GIF of this scene, watch it whenever you're feeling stressed).
One riot, one scene fraught with danger, another supposedly in perfect safety, both filmed in the same location.
The fort's upper level also pops up in the scenes where it's Joffrey's name day celebrations and Ser Dontos turns up wasted – saved from being put to death by some quick thinking on Sansa's part.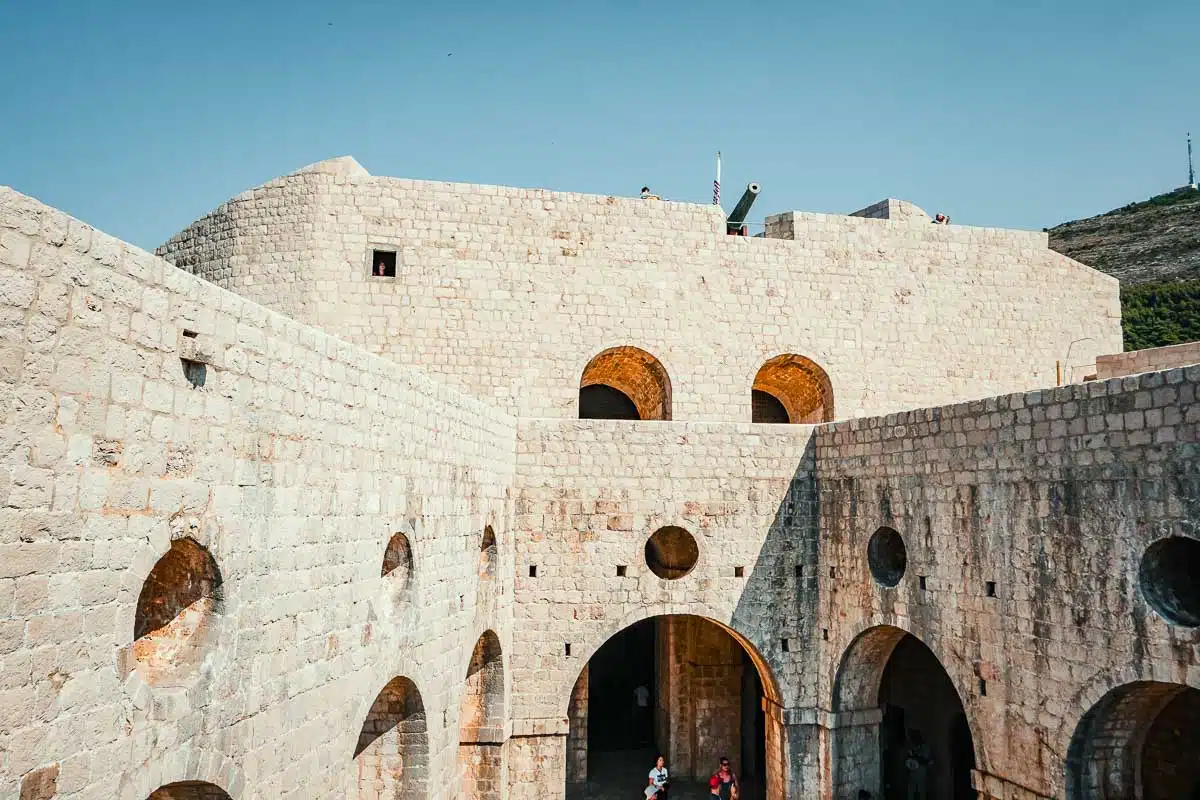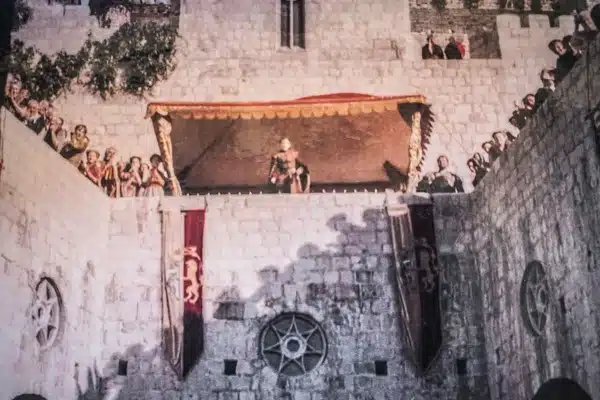 The fort's upper level also pops up in the scenes where it's Joffrey's name day celebrations and Ser Dontos turns up wasted – saved from being put to death by some quick thinking on Sansa's part.
Did you know: Fort Lovrijenac is also used as a wedding venue, so quite a few people have Game of Thrones-themed weddings there.

Let's just hope that their marriages work out better than the ones in the programme. Robert and Cersei, Joffrey and Margaery, Tyrion and Sansa… not exactly examples of marital bliss.
Pile Gate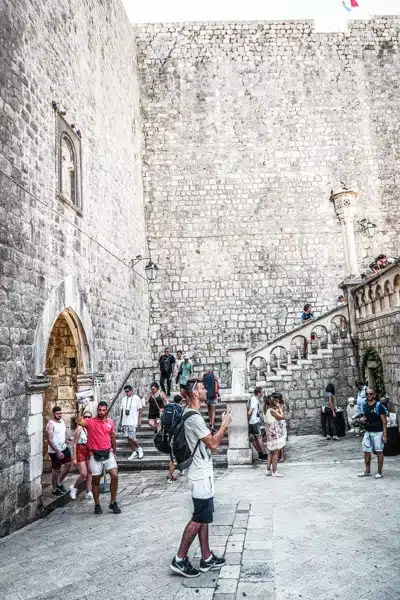 Pile Gate is the main entrance to Dubrovnik's Old Town.
It pops up in Game of Thrones as the scene of the riot in King's Landing. You know the one… when someone throws a cow pat at Joffrey's head and all hell breaks loose.
The gate is pretty recognisable as they didn't really change anything in the scene.
You can even see the statue of St Blaise, Dubrovnik's patron saint overlooking the absolute madness.
Did You Know? The riot in King's Landing needed around 500 extras to yell, shout and generally act like badly-behaved plebs. As English wasn't most of the extras' first language, they all ended up yelling the same thing, like a chant on the football field.

Obviously, that wouldn't do, so the crew put the people who spoke better English near the mics and told them to yell in English while the rest could yell whatever they want.

As a result – you can hear a lot of Croatian in this scene… including one dude who's yelling "Buy my potatoes for 20 kunas" lol.

The Pile Gate is also the setting for the scene where Jaime comes back to King's Landing without his hand and generally looking a bit worse for wear. Poor Jaime *swoon*.
The Jesuit Staircase – Cersei's Walk of Shame in Dubrovnik
Now if there ever was a scene in Game of Thrones that made you sit up and rub your eyes to check that what you were seeing was real, it was Cersei's infamous Walk of Shame.
No self-respecting Game of Thrones fan could visit without paying homage to the Cersei Walk of Shame on what's been nicknamed the "Game of Thrones Steps" in Dubrovnik.
It was all very hush hush when they filmed this scene. The crew used this alley for three days while they filmed the walk of shame.
They had to pay all of the people overlooking the lane to close their windows and also to sign a confidentiality agreement to say that they wouldn't talk about what they had seen.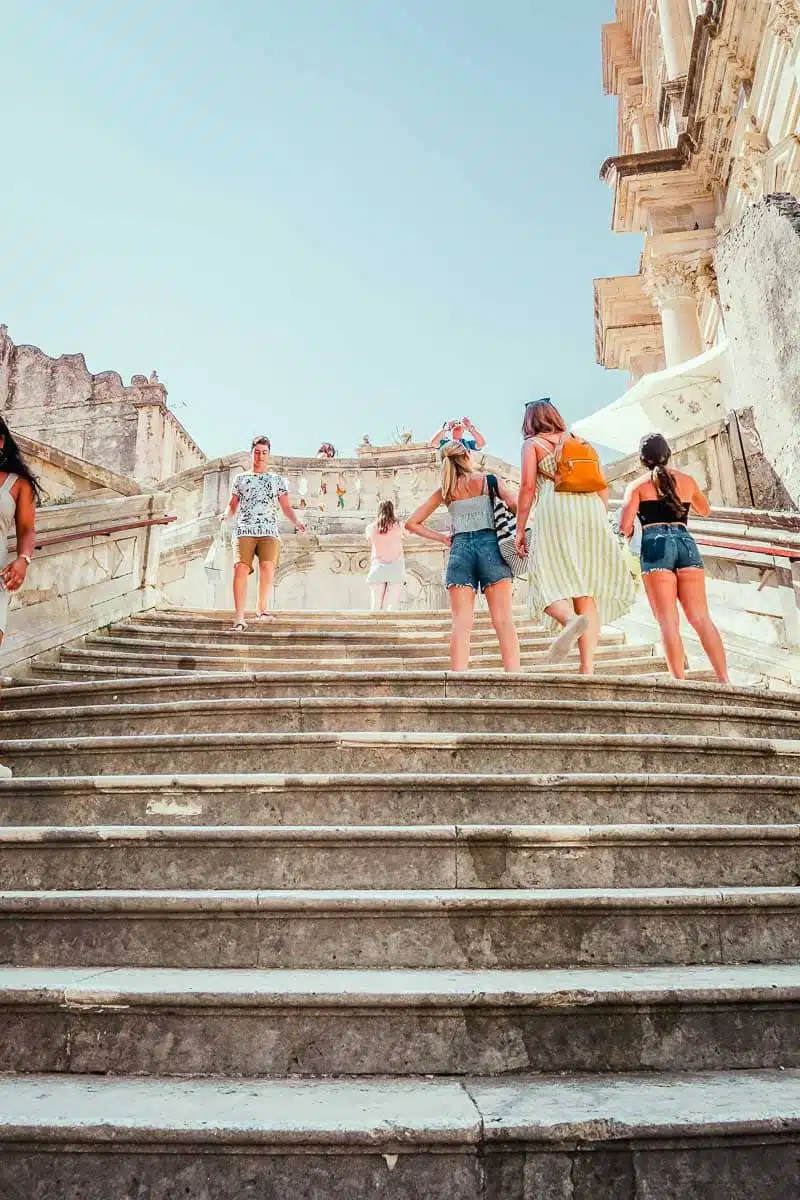 It's also not Cersei walking naked in the scene. Lena Headey, the actress who plays the power-hungry megalomaniac was pregnant at the time.
Turns out it's not a great idea to shout and throw things at a woman in the first trimester… who knew? She's also pretty tatted up, which is why you see Cersei in long sleeves a lot of the time. And there was me thinking she just had a thing with power dressing.
Now I know the temptation is to replicate the walk of shame – but beware of going the whole hog.
The city authorities charge some pretty eye-watering fines for being in public in the buff and they've even arrested people for public indecency.
Best keep your clothes and just get your mates to spit on you instead (not).
Did you know: Cersei's walk of shame was supposed to be filmed in front of the Cathedral. However, Croatia is a very Roman Catholic country. A lot of the locals didn't like the idea of a naked woman being filmed in front of the Cathedral, so they moved it to the Jesuit Staircase instead.

The Rector's Palace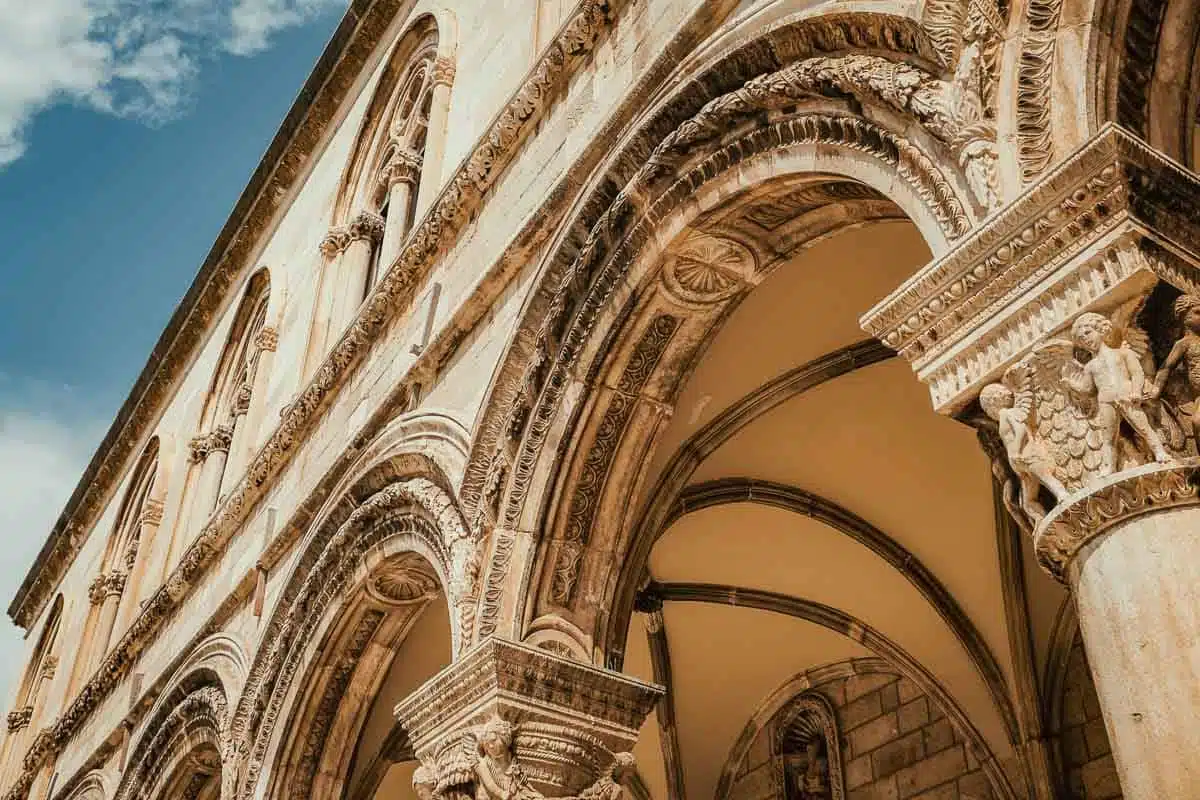 So far, all of the spots I've covered in this Game of Thrones Dubrovnik guide have featured Dubrovnik as King's Landing.
But Dubrovnik also appears in the show as one other location and that is (pause for suspense), Qarth.
Oh Qarth. A lot of skulduggery and naughty deception goes down in Qarth.
The rather saucy and impertinent Spice King is there just to rile Daenerys up and refuse whatever it is she's demanding that particular day.
The Rector's Palace appears in Season 2 as the Spice King's mansion and the place where he refuses to give her ships so that she and the Dothraki can cross the Narrow Sea. Mistake.
The City Walls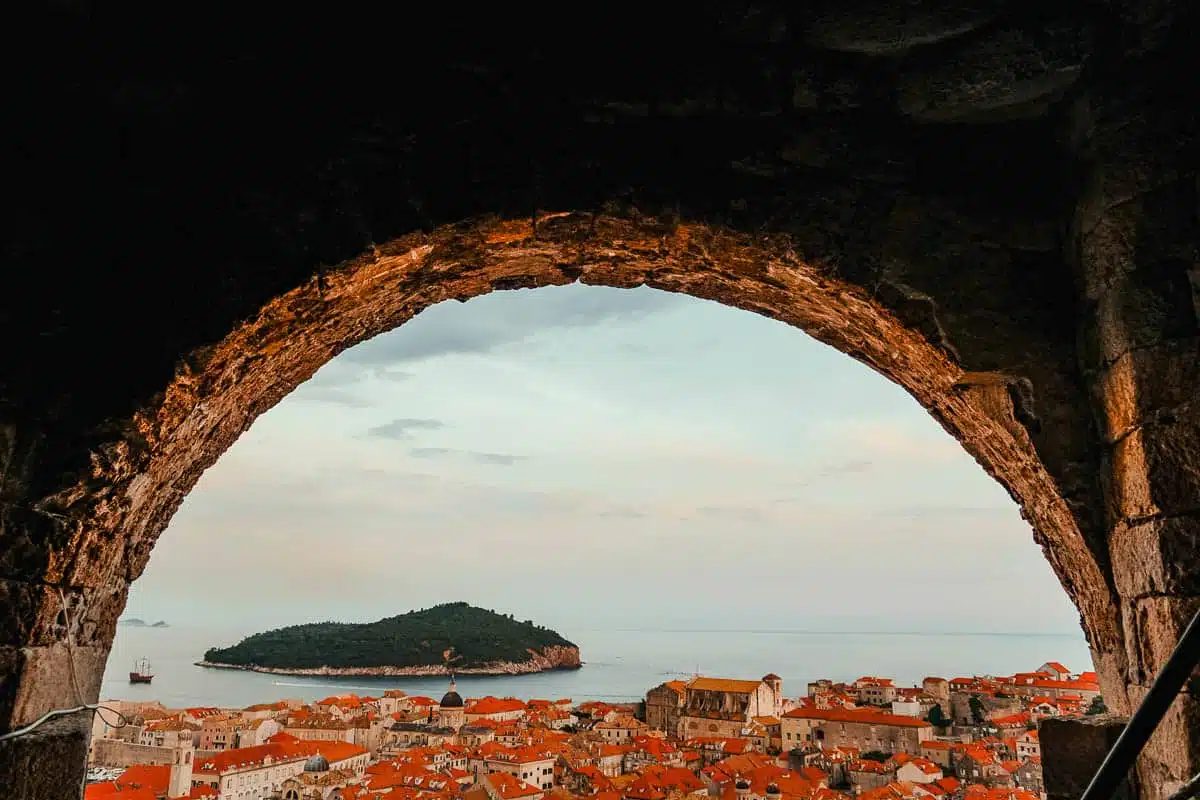 If you really only have the time to visit a couple of Game of Thrones locations in Dubrovnik, make sure that the City Walls is one of them.
Lots of short Game of Thrones scenes filmed in Dubrovnik were filmed here, including the one where Cersei chooses The Mountain as her champion against Tyrion.
More than this, the city walls are also one of Dubrovnik's most spectacular attractions.
Did you know: Winter has FINALLY arrived by the end of Season 7. Cue a few shots of Dubrovnik covered in snow. The crew had to use fake snow during filming, but a month after they finished filming, Dubrovnik had its first snow in ten years! Winter really did come to Dubrovnik.
Fort Minceta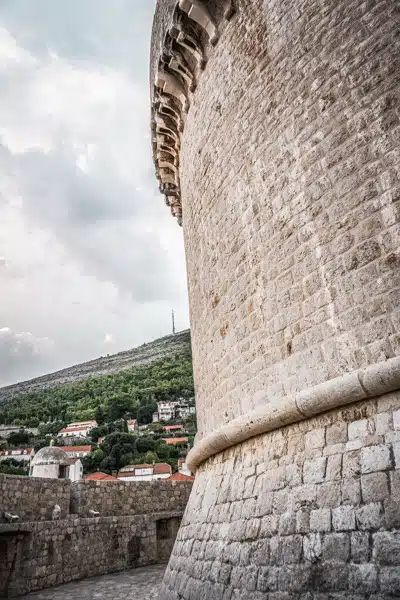 Fort Minceta is the highest point in the Old Town and one of the prettiest spots on the City Walls.
Nothing was actually filmed inside of the fort, but the outside serves as the outside of the House of the Undying when Daenerys is going to reclaim her dragons after the Warlocks of Qarth steal them from her.
Another bad decision on their part.
Fort Bokar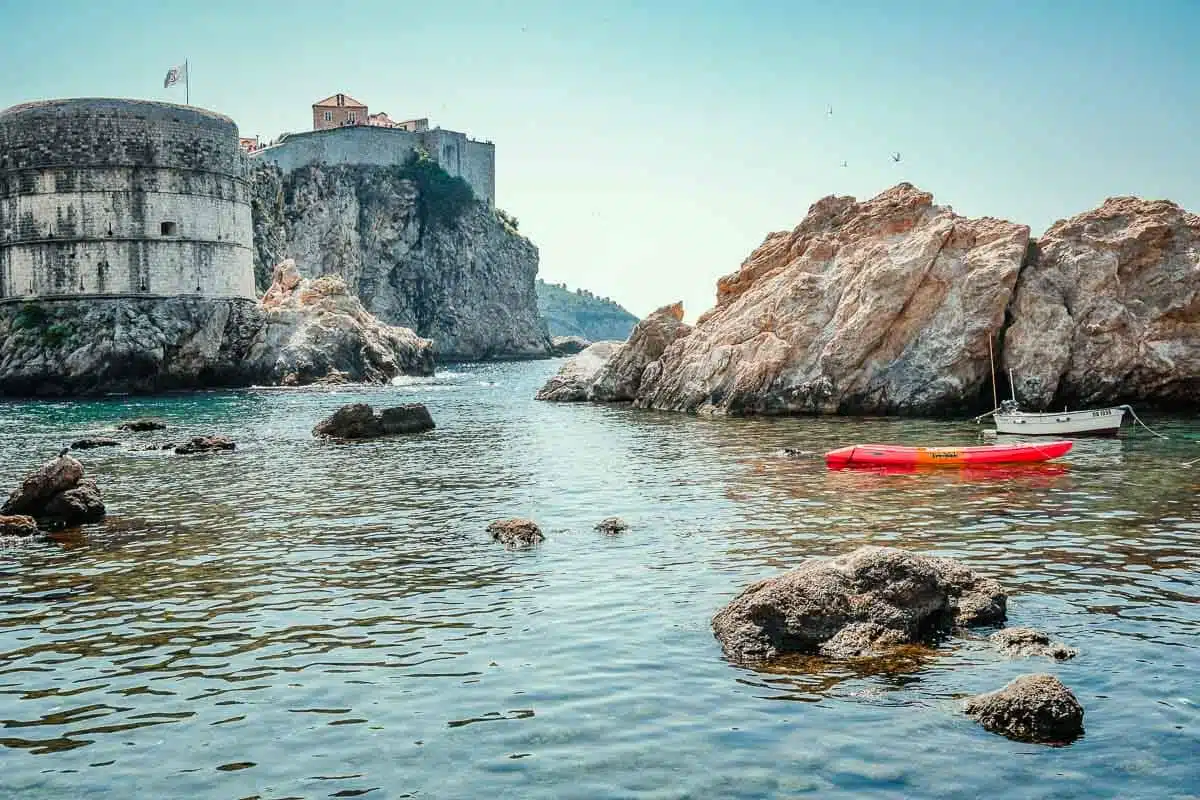 Somehow, in stepping inside of the House of the Undying, Daenerys teleports from Fort Minceta to Fort Bokar, another one of the Old Town's forts.
This is pretty much where Daenerys' problem with burning people to death starts (please take note all you people whining that she went crazy and burned everyone to death in the last series. She's always been crazy and has always enjoyed burning people to death, they just got you to root for her while she was doing it).
Can see how it happens: at the beginning you're just burning the warlocks who tried to steal your dragons, by the end you're burning poor men in the field of battle by the scores.
These things spiral out of control right?
The Fort is actually closed to the public so you can't go inside – but you can spot it from your walks on the city walls.

Did you know: That when Daenerys dragons burns the warlock Lord of the Undying to death in this scene, they actually set a real stuntman on fire.

Apparently, it's really hard to create realistic computer-generated fire, so the stuntman wears a special suit and gel to protect him as they blast him with fire. Sounds terrifying.

St Dominic Street and the Dominican Monastery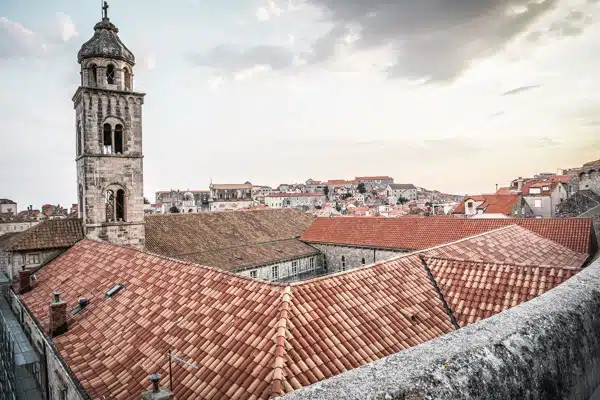 This street, leading from the Ploce Gate to Stradun, is the setting of many of the market scenes in King's Landing.
Tyrion and Bronn also watch a protest speech against the Lannisters in Season 2 here.
Ploče Gate
The Ploče Gate is another of Dubrovnik's city gates, guarding the entrance to the east of the Old Town.
Although it doesn't get quite the same dramatic attention as the Pile Gate, it's where Tyrion and Lancel Lannister have their little chat in Series 2.
The Ploče Gate is also where Cersei escapes the humiliation at the hands of the High Sparrow and enters the Red Keep after the Walk of Shame in Series 5 Episode 10.
The Stradun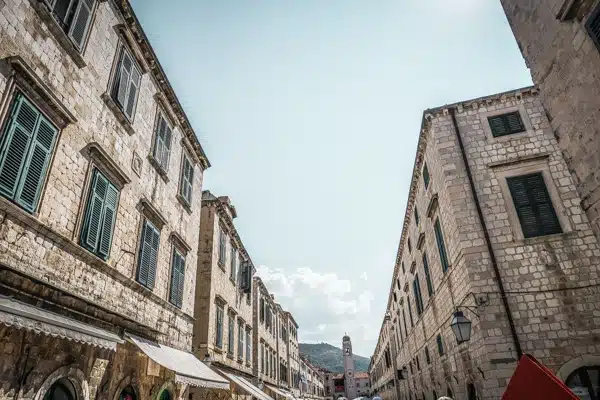 The Stradun is the main street in Dubrovnik's Old Town and features as part of Cersei's walk of shame through Dubrovnik in Mother's Mercy in Season Five.
Try walking along the Stradun at peak times and you can really start to feel some of Cersei's pain – it is packed. But beautiful nonetheless.

Trsteno Arboretum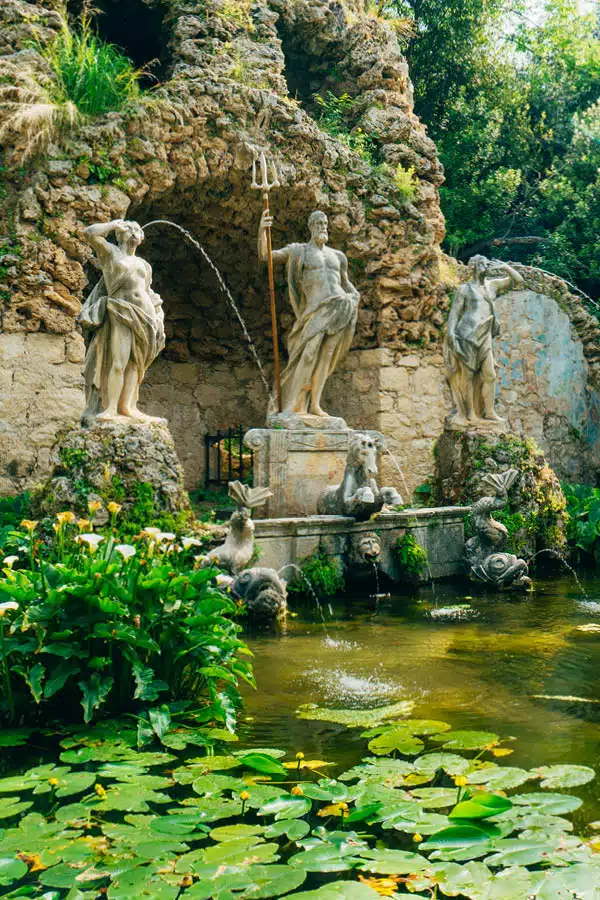 Another King's Landing filming location that's outside of the city centre. It's used as the Red Keep's gardens – its lush setting features as the backdrop for so many hushed conversations throughout seasons three and four.
Trsteno Arboretum is about a 30 minute drive from Dubrovnik, so you are best off getting a taxi or bus if you plan to visit it independently.
Ethnographic Museum
On a normal day, the Ethnographic Museum parades as a mild-mannered museum displaying artifacts related to the Croat people.
In Game of Thrones, it sheds its daily appearance to strut onto the scene as Littlefinger's Brothel.
From Oberyn and Elia entertaining a number of Littlefinger's employees on their arrival in King's Landing, to the killing of Robert Baratheon's bastard, the museum's four walls have seen some pretty hair-raising scenes.
Pop in but you don't need much time to explore.
Pile Bay or West Harbour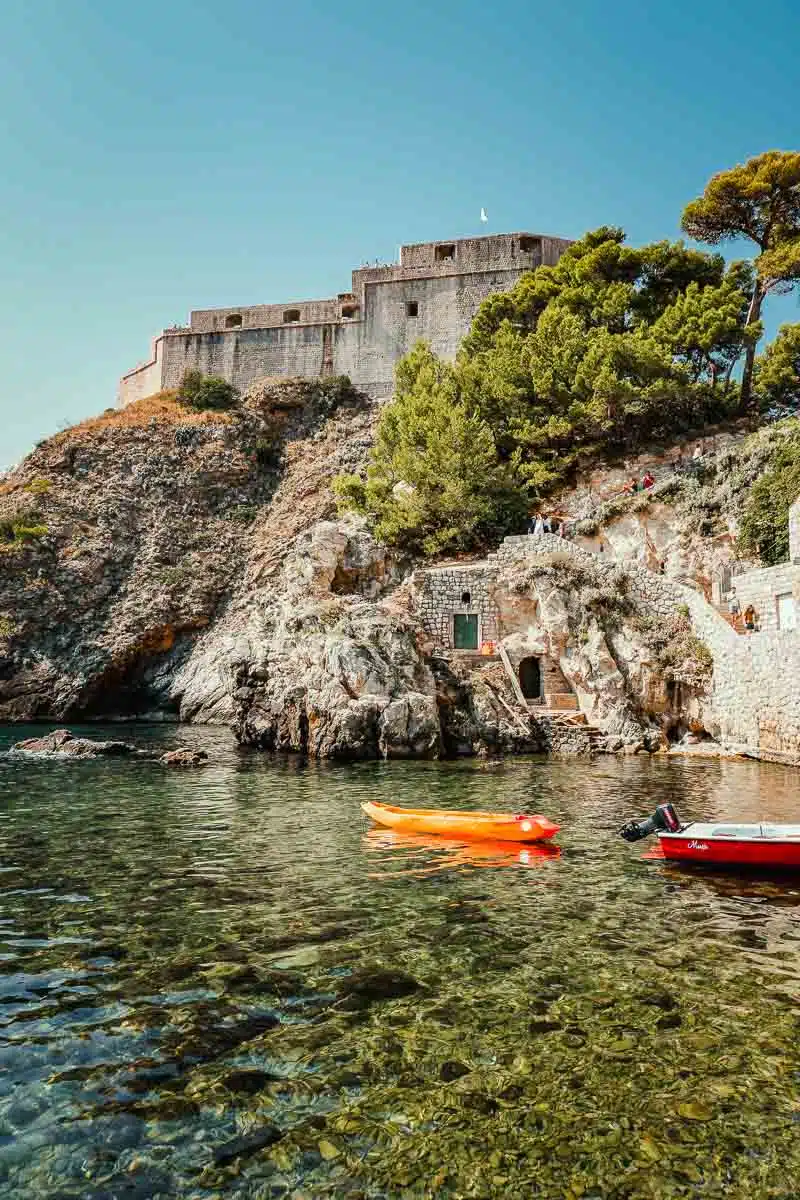 Pile Bay is one of my favourite spots in Dubrovnik.
A gorgeous little cove sitting between Fort Lovrijenac and the Old Town, it's the jumping off point for kayaking tours around Dubrovnik's crystal clear waters.
It's no wonder that such a picturesque location crops up so many times in Game of Thrones.
Sansa and Shae sit at the end of the dock here, watching the boats pass by, guessing where the boats are going before Littlefinger barges in for a private word with Sansa.
Or what about the scene where Cersei bids goodbye to Myrcella when she's departing for Dorne, just before the King's Landing gates? You guessed it, Pile Bay too.
Myrcella also receives her fatal kiss from Elyria as she's leaving Dorne with Jaime in Pile Bay.
Cue the totally emotional scene between her and Jaime, her uncle and, as she acknowledges, father as she dies in his hands. Only in Game of Thrones right?
Did you know: That in the scene where Cersei sees Jaime returning to King's Landing alone (also filmed in Pile Bay), Jaime wasn't actually present, so in reality, Lena Headey was actually crying and clutching onto an orange balloon, later to be magically CGI'd into Jaime Lannister. What a great actress eh?
Dubac Quarry
Now this one's for the really dedicated among you. I mentioned that a lot of scenes for Qarth were also filmed in and around Dubrovnik.
Dubac Quarry was used as the set for the scenes filmed outside of Qarth's gates when the Thirteen refuse Daenerys entry to Qarth before Xaro Xhoan Daxos invokes Sumai and makes her his guest.
It's about 30 minutes outside of the city, so you need to grab transport for this one.
Gradac Park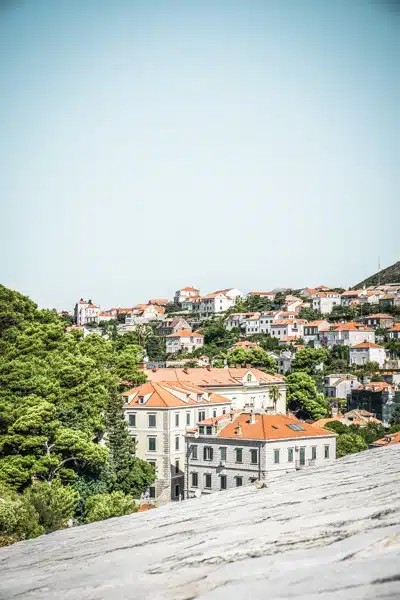 Gradac Park, across the bay from Fort Lovrijenac only really crops up in one episode but what an episode. It's the setting for the Purple Wedding.
If you weren't itching for someone to get rid of the sneering, prancing, cruel boy-king that was Joffrey "Baratheon" by this point in the series, you're a better person than I.
Little did we know that it would be done with such aplomb.
The park's pine woods are also a lovely location for a picnic. Maybe just don't think about Joffer's purple and engorged face while you are eating your lunch.
Did you know: If you watch the Purple Wedding scene carefully, you can actually see Lady Olenna take the poisonous bead that kills Joffrey from Sansa's necklace as she offers Sansa her condolences for the death of her mother and brother.

Most people don't spot it as you're distracted by Joffrey's torture of Tyrion but IT'S THERE.

Don't mess with the Queen of Thorns or she'll poison you then taunt your father with the details of her dastardly deeds just before she dies. Ice cold baby, ice cold.
Hotel Belvedere
Now this one's not in the city itself – it's about a 40 minute walk away from the Old Town, so one for the die hard fans.
You can't get into the hotel itself as it's derelict, but you can scoot around to see the atrium where Prince Oberyn fights the Mountain in The Mountain and the Viper at the end of Season Four.
You know the scene where you really think that Oberyn has defeated the Mountain but then he keeps on talking and talking and ends up getting his head crushed in. Oh Oberyn, we loved you so much too.
Still, the Mountain doesn't come out of the encounter that well – it's the turning point for him going all monster to Qyburn's Frankenstein.
Lokrum Island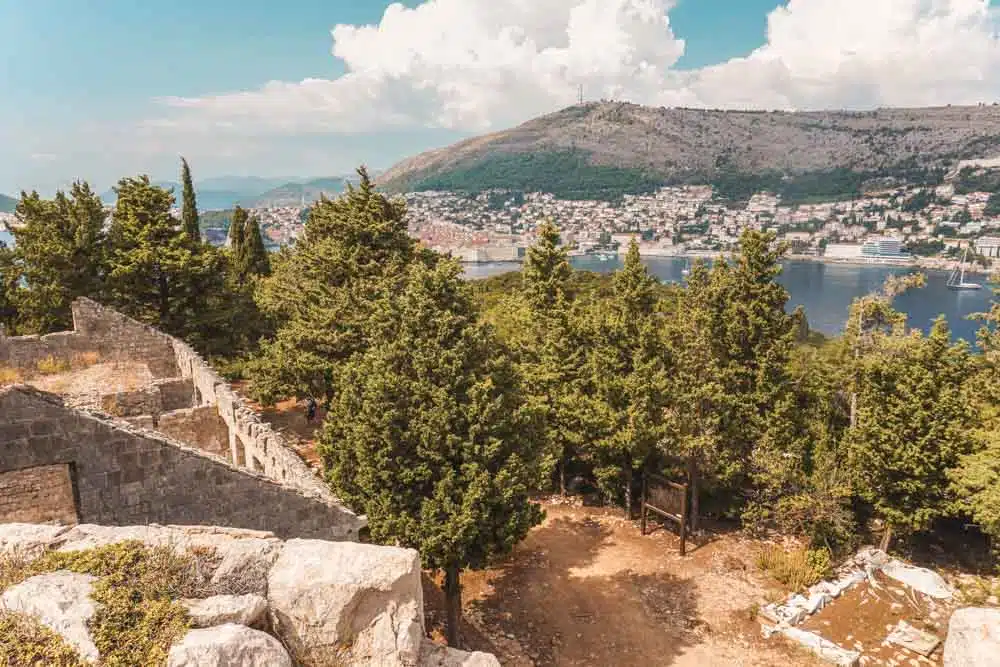 The island of Lokrum is a short jaunt away from Dubrovnik.
A 15-minute boat ride with spectacular views of Dubrovnik isn't exactly a hardship to visit another cool Dubrovnik Game of Thrones location.
Head to the Benedictine Monastery. It was used to film the Qarth garden party scenes when Daenerys meets the warlords. There's even a Game of Thrones Museum on the island where you can sit on the Iron Throne (eep!).
Do spend some time exploring Lokrum too – it's got some really lovely coves that are great for swimming, a small botanical garden and an abandoned fort – it's a lovely place to spend a day during your time in Dubrovnik.
Alternatively, you can book this Game of Thrones tour of Lokrum here
Visit the Dubrovnik Game of Thrones Shop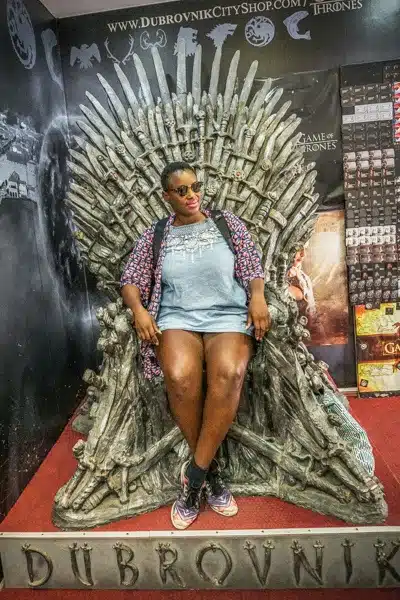 OK, clearly this isn't a filming location per se, but the Dubrovnik Game of Thrones shop is filled with all kinds of Game of Thrones memorabilia for your collection.
More importantly, it's one of the locations where you can sit on the Iron Throne in Dubrovnik.
Unless you're on the tour I mentioned earlier, you have to buy something to get a picture on the Iron Throne. Small price to pay.
How Did You Know When Game of Thrones Was Filming in Dubrovnik?
They took down the flags at the Pile Gate and put up the Lannister flag.
Suggested Game of Thrones Dubrovnik Self-Guided Tour Itinerary
Start early with a hike up to Fort Lovrijenac
Walk down from the Fort to Pile Bay
Enter the Old Town through the Pile Gate
Visit The Ethnographic Museum
Head to the Jesuit Staircase for your walk of shame
Pop into the Rector's Palace to deny Daenerys your ships
Walk to the Dominican Monastery
Go to Ploce Gate and head up onto the City Walls
Walk around the city walls to Fort Minceta and for great views of Fort Bokar
Give yourself a huge pat on the back
I'd suggest doing Lokrum on a separate day – leave pretty much the whole day to explore and relax on the island, you won't regret it.
If you still have time, use your third day to navigate around the filming locations outside of the city centre.
Dubrovnik Game of Thrones Map
This Dubrovnik Game of Thrones map covers the Game of Thrones locations in and around the Old Town of Dubrovnik.

What to Pack for Your Game of Thrones Tour of Dubrovnik
A water bottle
Comfortable and grippy walking sandals or shoes
Sunscreen
A hat
Sunglasses
Insect repellent
An encyclopedic knowledge of the show
Love This? Save and Share on Pinterest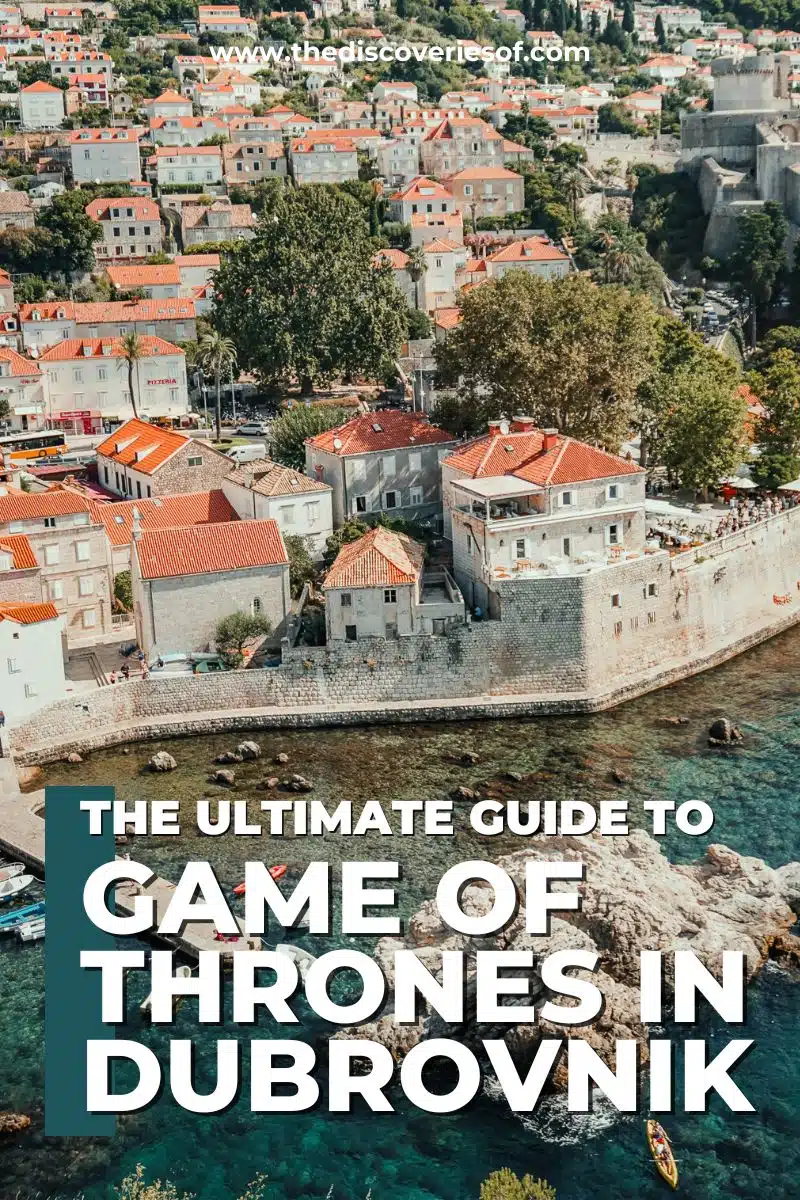 Now You're All Swotted Up on Dubrovnik's Game Of Thrones Locations, Read More About the City
Are You Game of Thrones Obsessed? Check out these Other Game of Thrones Filming Locations