Iceland has exploded onto the international travel scene in recent years. Planning to visit but looking for a side to Iceland that is off the beaten path? It's time to discover some of this incredible island's hidden gems.
Iceland. I mean OMFG if ever there was a country-by-country beauty pageant, it would be a strong contender. A very, very strong contender.
We've all seen the pictures, read the hype, gone green with envy at the endless landscapes unfurling in front of our eyes in Game of Thrones.
In the past twenty years, the world has slowly woken up to the fact that this island, packed with stunning waterfalls, gorgeous beaches, pesky but majestic volcanoes (yeah Eyjafjallajökull, I'm looking at you) and the Northern Lights is actually somewhere that needs to go straight to the top of our travel bucket lists.
Why Go Off the Beaten Track in Iceland?
The numbers speak for themselves – in the year 2000 (Busted style), Iceland received a respectable 300,000 visitors annually.
Last year, that figure surpassed 2,000,000. Not bad for a country with a population of just over 300,000 itself.
The question is, with so many tourists converging on the island, is it still possible to discover a side of Iceland that's off the beaten path? The answer is yes.
I recently travelled to Iceland as part of the #knowiceland campaign with Hotel Ranga. The aim? To see a different side of the island, a side of the island that is treasured by locals but often missed by tourists.
Get some comfortable hiking boots on guys, it's time to discover some of southern Iceland's hidden gems.
Iceland Off the Beaten Path: At a Glance
Go to a black sand beach (That isn't Vik)
Hiking and Caving in Þórsmörk
Bathe like a local at an Outdoor Swimming Pool
Attend a Viking Feast
Learn About (And Taste) Local Beers at Ölvisholt Microbrewery
Delve into the country's geology at the LAVA Center
Explore A Geothermal-Powered Tomato Farm (and Drink Some Bloody Marys After)
Visit A Waterfall With NO CROWDS – Gluggafoss Waterfall
Bed Yourself Down in a Field of Moss (And Admire the Awesome Views) in Hekla
Secret Spots in Iceland: Go To a Black Sand Beach (That isn't Vik!)
Iceland might not be the first place you think of when you're scouting for amazing beach locations but it is packed with some real European hidden gems.
Now, beaches like Reynisfjara (Vik) and Diamond Beach are well and truly on the tourist beach track but I'll let you in on a little secret. Being an island, Iceland has no shortage of incredible beaches to choose from.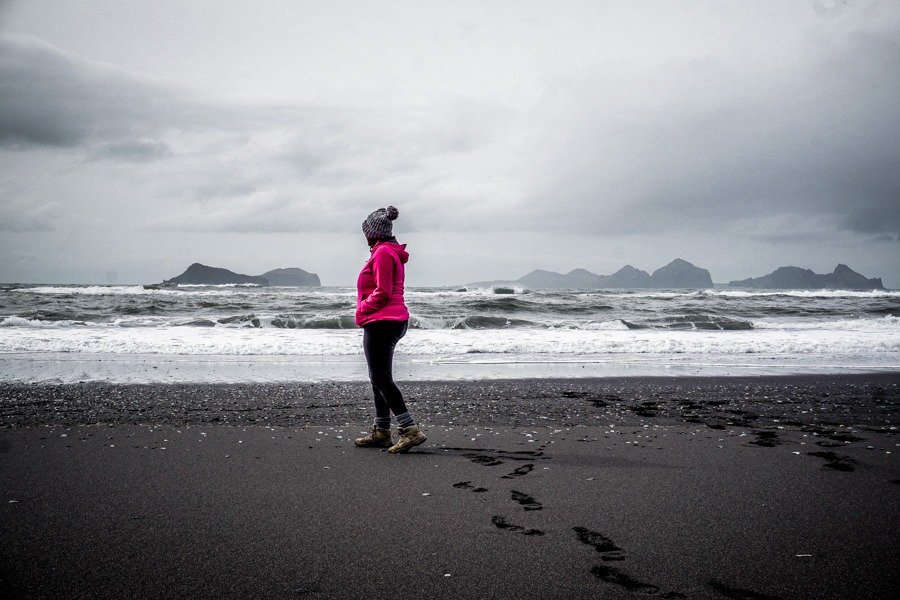 I was totally blown away by the striking colours and sheer scale of the black sand beach at Landeyjahöfn.
It's a bit of an adventure to get there (read: piling over sand dunes and through large pools of water in a superjeep – my kind of adventure) but when you do, you're pretty much guaranteed to have the whole place to yourself.
We spotted flocks of birds returning from their summer migration, along with a couple of seals too.
I mean, look it it. Who could resist?
Read more: Best Beaches in Iceland
Discovering Iceland's Gems: Hiking and Caving in Þórsmörk (Thorsmork)
Iceland has no shortage of beautiful landscapes: black sand beaches, smoking volcanoes, Iceland ice caves, glacial hikes – you name it, it has it.
In other words, there are few places better to get on your outdoor gear and go and explore.
Tucked away between not one, but three glaciers, Thorsmork (otherwise known as the Valley of Thor) is a great spot for hiking. Go with a guide or a local who can take you to some of the cool caves and canyons dotted around the valley's perimeter.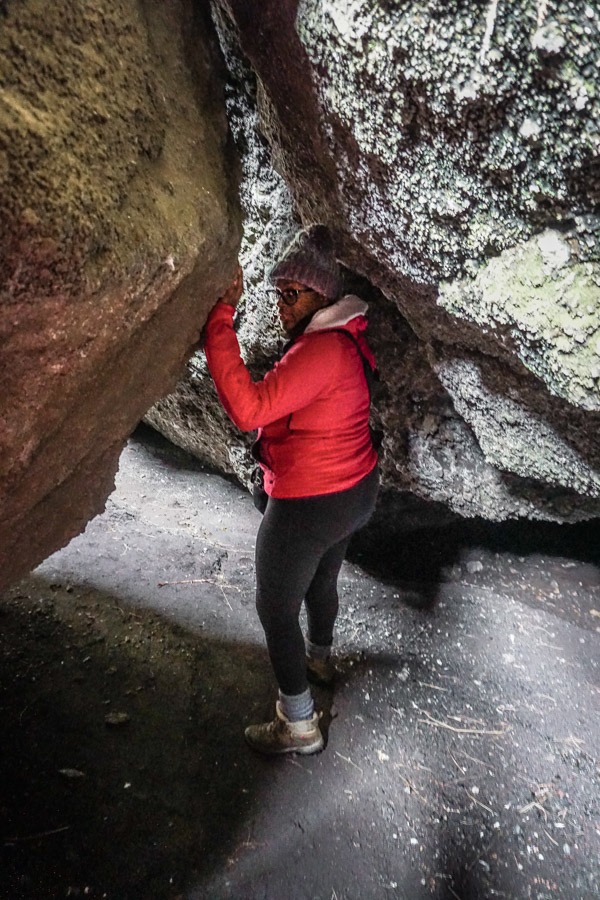 There's nothing like squeezing your way through a gap, fjording an underground stream to find yourself in a slot valley to make you feel like you are really discovering Iceland's hidden gems.
After filling up on a true Icelandic hiker's lunch (yummy hot dogs with lots of onion, mustard and relish), we drove to the second spot in Thorsmork where we hopped, jumped, balanced and climbed our way up to a secret waterfall.
OK, I guess I have to be honest and say that I stopped just short of the waterfall because I'm notoriously clumsy and the last section required some serious balancing skills, but Jon made it. But it meant I got a little more time to take some cool shots…
Þórsmörk is also a great place to consider for an Icelandic camping trip in the summer months.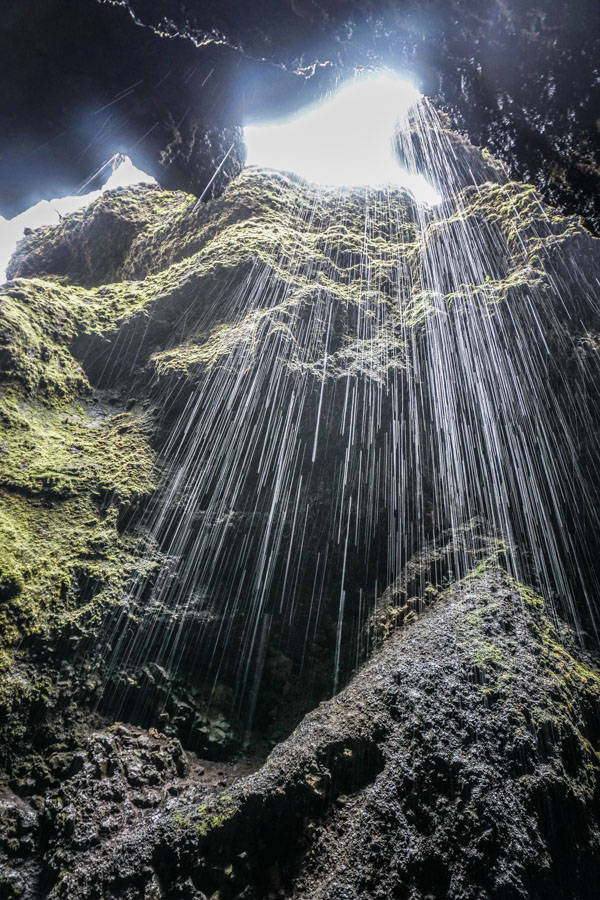 Off the Beaten Path Iceland: Bathe Like a Local at An Outdoor Swimming Pool
Now, we've all seen the Blue Lagoon – that crazy blue coloured lagoon a short hop away from Reykjavik airport.
The Blue Lagoon is cool to visit and one of the top spots to see near Reykjavik, but if you want to get off the beaten track and do what the locals do, you need to go to one of the local swimming pools.
Icelandic people take their bathing very seriously – so you will find a pool complex, complete with a series of heated bathing pools and a sauna, in every community on the island.
This is the place where locals go to have a gossip, warm up in the winter or enjoy the long sunlight hours in the summer.
I stripped down to my swimmers and spent a couple of hours alternating between pools and tubs in Hella and it was lovely. Sure, the local pools might not look as striking as the Blue Lagoon but I can testify the fact that you come out feeling like a million bucks.
Read more: Is Iceland Expensive?
Attend a Viking Feast at the Saga Center
There's something about all the hiking, the fresh air and the raw beauty of the landscapes in Iceland that can't help but bring out some of the inner Viking in you.
I do not believe in doing things half-heartedly – what else was there to do but head to a Viking Feast at the Saga Center and go into full Norse mode?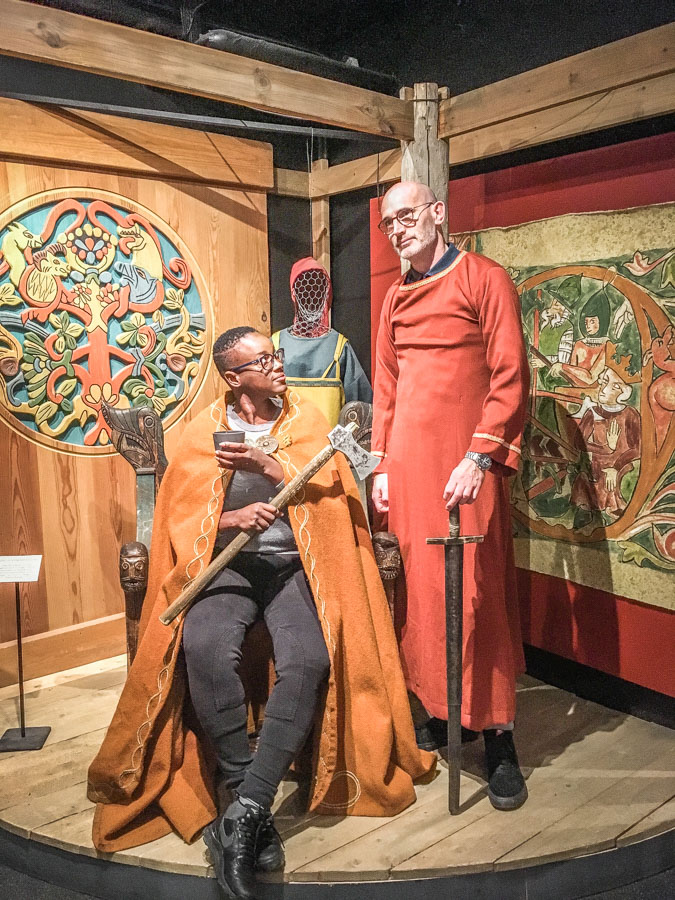 Yes, that's Jon and I dressed as Vikings. You best believe I ate my dinner looking like that too. The dinner was delicious, Frederik from Hotel Ranga gave a speech in his Viking garb and an all-male Icelandic choir sang to us wearing a collection of sweaters that gave me serious clothing envy.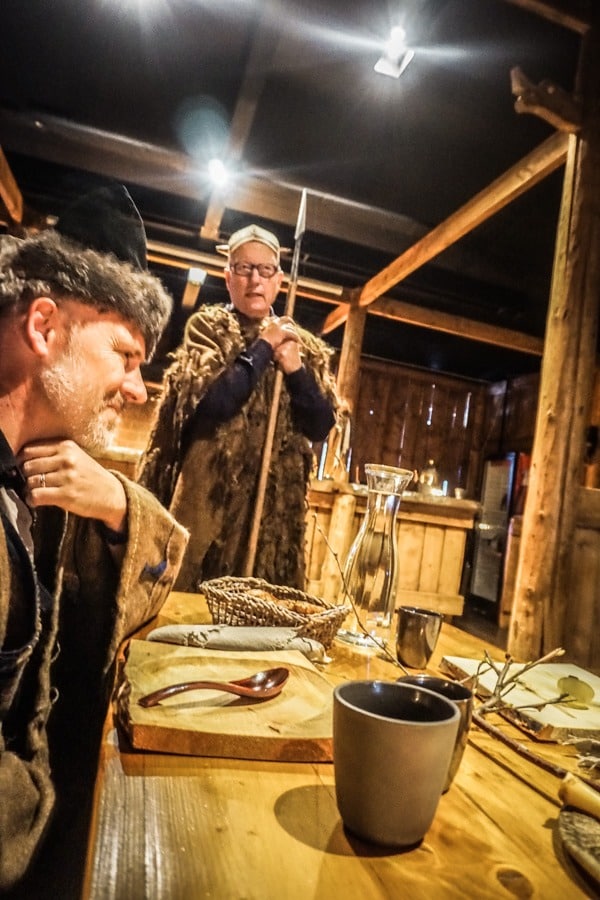 Read more: The Ultimate Iceland Packing List
Learn About (And Taste) Local Beers at Ölvisholt Microbrewery
Iceland is a little quirky in so many ways – I mean, they're pretty far away from most other places, their language is insane (and cool) and they are incredibly progressive. But I'm going to tell you something that will actually blow your mind.
Beer was illegal in Iceland until 1989.
What the hell? I was toddling around as a four year old and giving people lots of sass before a country in the developed world was legally allowed to drink beer?
Technically, Iceland had been all good on the beer front until 1915 when they prohibited all alcohol. Spirits and wine got the go ahead pretty quickly again (1922 and 1935 because no country can live on water alone) but beer, nope.
Prohibited until 1 March 1989 (which is now fondly celebrated under the simple moniker of Beer Day).
One of the theories is that the Icelandic government were worried that if they legalised beer the nation would be drunk all the time… The reality is likely much more practical – the country didn't have much foreign currency and they had to make tough decisions about what they imported.
Fast forward nearly 30 years and the beer industry is flourishing in the country, mainly thanks to enterprising microbreweries producing ranges of exciting, complex beers.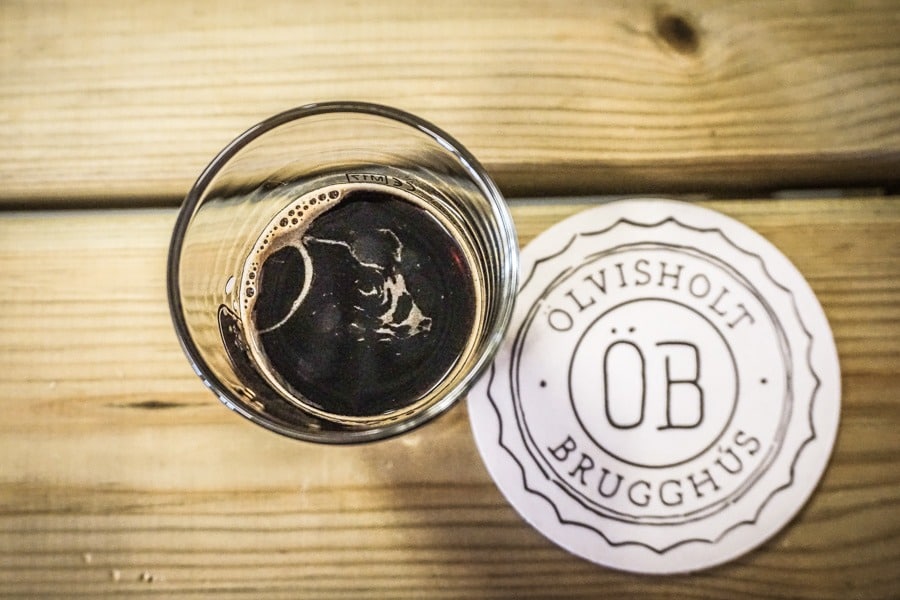 Ölvisholt Microbrewery is one such place. An old farm that was converted into a microbrewery in 2007, it's really pushed Iceland's beer drinkers – challenging their taste buds and helping them to appreciate a different kind of beer to the standard lagers that had dominated the market since beer was legalised again.
At first, the taste of their hoppy, darker beers had some of the locals a bit doubtful (word on the street was that they caught a few guests pouring it away at the opening party because, as they explained to the flummoxed brewers "this is the strangest beer I've ever tasted") but now the country can't get enough of it.
And nor could I (glug, glug glug, giggle).
Anyway. Interesting as this all is, it's a lot more interesting to go and visit.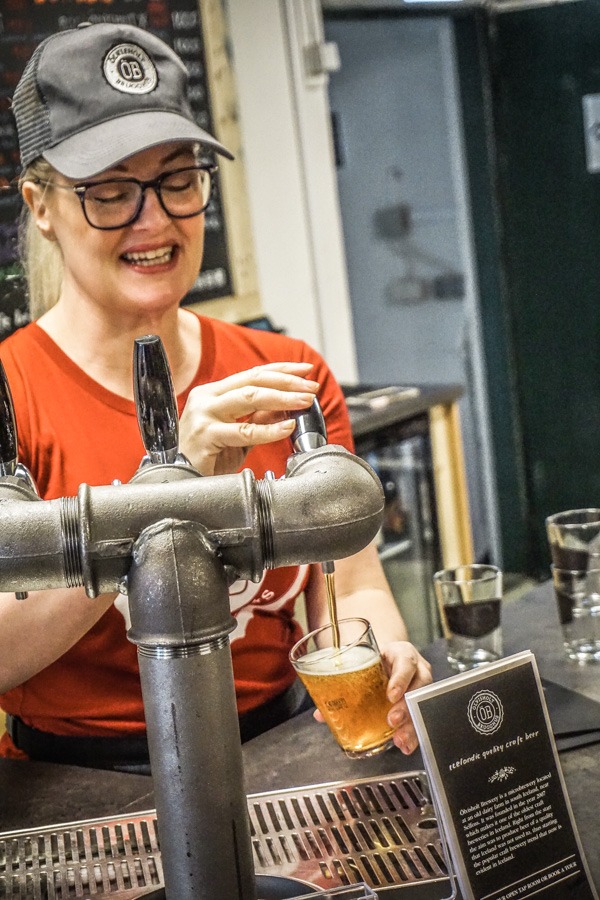 Co-owner and resident badass Berglind Snæland walked us through a beer tasting (spoiler alert: they all got the thumbs up from me) and showed us around the brewery while explaining the beer-making process.
If you want to arrange a tour, you will need to book in advance – it's one of Iceland's hidden gems and chances are you'll have it to yourself.
Hop online and book one of the open sessions or call to arrange a private tour. But the tap room is open every day #justsaying – plus if they have the time, they will squeeze in an impromptu tour if you drop in.
Secret Iceland Spots: Delve into the Country's Geology at the LAVA Center
Iceland has a lot of volcanoes. You can barely throw a stick without coming across another impressive looking volcano peeking over the horizon.
The relatively new LAVA Center brings the country's weird and wonderful geology to life through a series of interactive exhibitions and displays.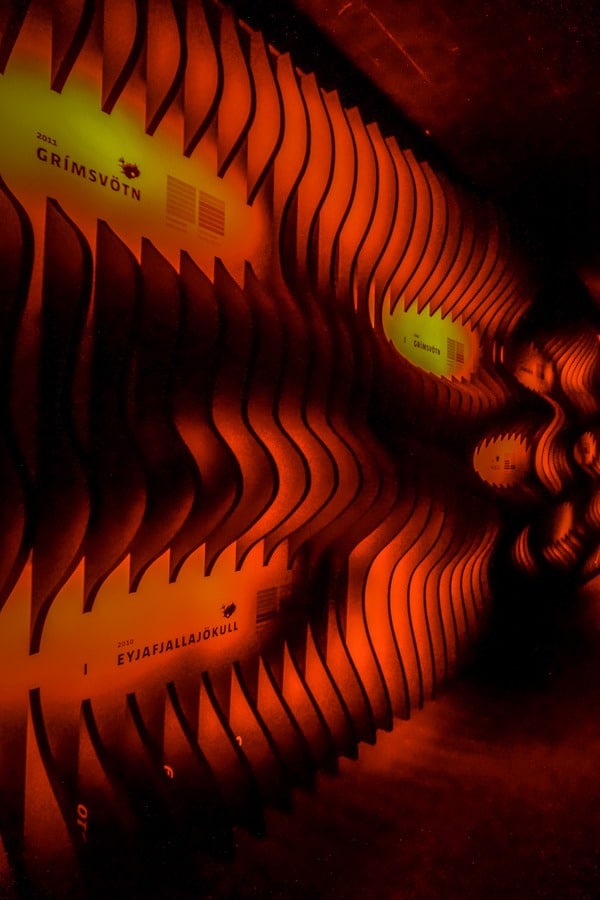 It's easy to look at stats, numbers and figures, but seeing ceiling high scaled models of the magma chamber on which the island perches on really brings the message home.
This is a country ruled by mother nature – and what she says goes.
You can take your time walking through the exhibitions – but make sure you don't miss the short film screening. It's less than ten minutes long but really gives you a glimpse into the power, devastation and sheer fury of a large-scale volcanic eruption.
Read More: Visiting Reynisdrangar – The Black Basalt Columns on Iceland's Coast
Visiting a tomato farm in a country that really doesn't have a lot of daylight hours for at least half of the year seems a bit weird right? But I'm betting that you've never been to a tomato farm quite like Friðheimar.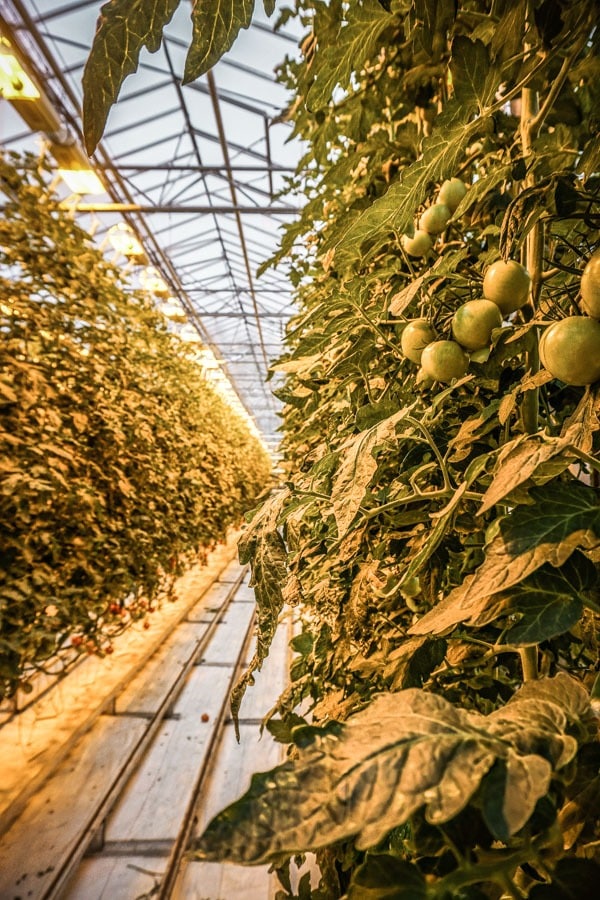 Tomatoes tower, winding their way to the ceiling, under a series of grow lights and heated artificially. Before you frown about it not being eco-friendly (like I did), it's all run through clean and green geothermal power.
Book ahead to have a meal in the farm's well-reputed restaurant (tables are hard to come by but it's always worth calling and checking).
Otherwise, settle in for a bloody mary made with freshly-squeezed tomato juice. I still dream about that drink. For real.
Secret Spots in Iceland: Visit A Waterfall With NO CROWDS – Gluggafoss Waterfall
Iceland has a tonne of waterfalls. And yes, the big ticket ones like Gullfoss and Seljalandsfoss Waterfalls are impressive – but they are also pretty busy.
Venture just the tiniest bit away from the hoards and it's easy to bag yourself a Hidden Iceland spot staring at an impressive waterfall with zero crowds.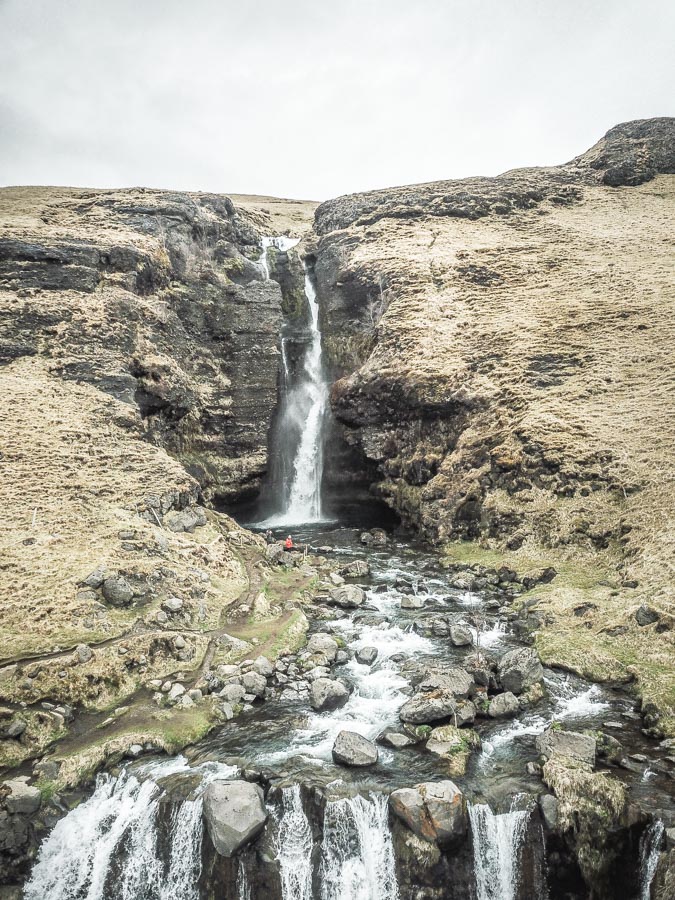 Gluggafoss Waterfall (one of the waterfalls in the inter-linked series of waterfalls that are collectively known as Merkjárfoss) is one such place.
The waterfall dips above and beneath the surface of the rock in a series of "Gluggar" or windows – hence the name. Certainly one of the most unusual waterfalls I spotted during my time in Iceland.
Read more: 18 Spectacular Waterfalls in Iceland That You Shouldn't Miss
Bed Yourself Down in a Field of Moss (And Admire the Awesome Views) near Hekla
It's no surprise that volcanoes have traditionally been surrounded by a lot of folklore. I mean, can you imagine seeing a volcano erupting for the first time without knowing what on earth it actually was and why it was happening?
Perhaps this goes some way towards explaining why volcano Hekla was not-so-affectionately nicknamed "the gateway to hell".
This stratovolcano is the most active in Iceland. If conditions are safe (i.e. they're not worried about that gateway to hell opening up and spewing lots of lava all over you), you can hike to the top of the volcano.
If that all sounds a little too much like living on the edge (and believe me, it does for me), then one alternative is to head to the area near Hekla.
Stretch your legs with a spot of hiking and bed down in the ridiculously thick layers of moss that carpets the landscape in a vibrant but soft layer of fuzzy ochre.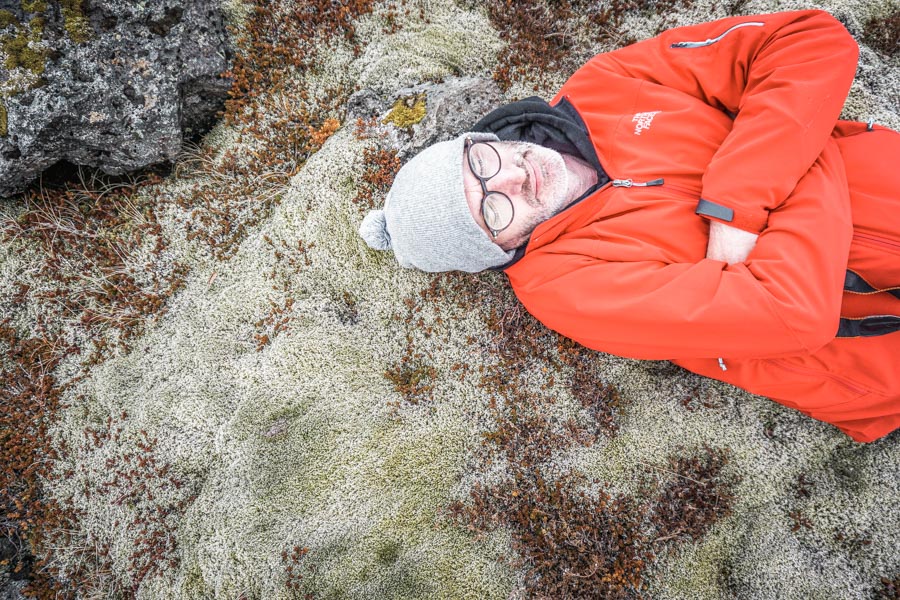 It sounds weird right? Wait until you try it.
Practical Advice: How to Plan Your Iceland Off the Beaten Path Adventure
Hotel Ranga is the perfect place to base yourself during your Icelandic Adventures.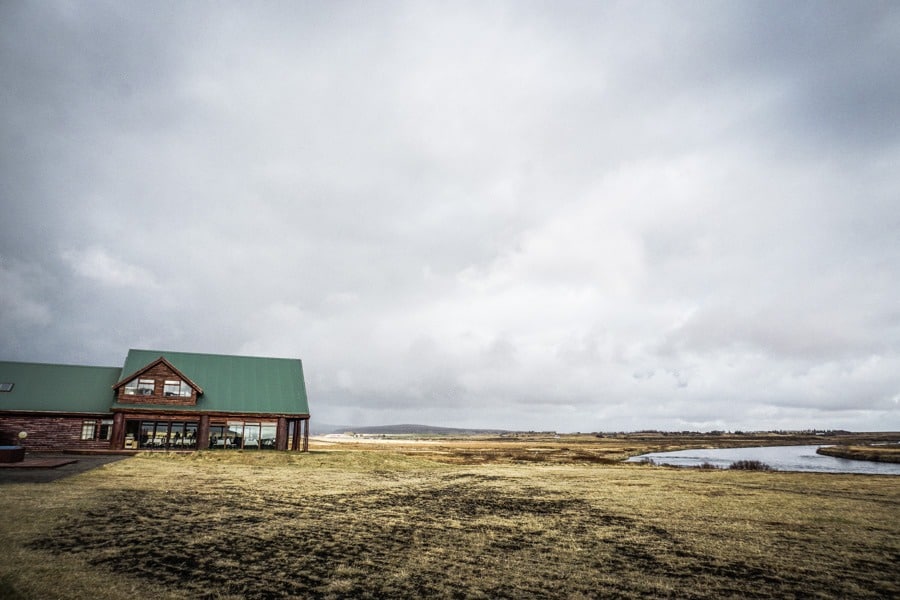 Ebullient owner Frederik has created a gorgeous escape for those looking for a comfortable but high-end stay for their trip. With 20 standard rooms, 20 deluxe rooms, 4 junior suites and 4 master suites, it's small enough that no detail is ever overlooked and the stellar staff are always available to help you discover Iceland's secret places.
Whether you are staying there or not, foodies need to make sure that they book in for at least one dinner in the stellar restaurant, one of the best in Iceland. The hotel is very food-focused, which translates to delicious food using locally-sourced ingredients to showcase the flavours of Icelandic cuisine.
Ranga's rural location is also perfect for spotting the Northern Lights during the aurora season. Although a sighting is never guaranteed, the hotel offers a service where they will wake you up when the lights are visible.
Obviously, this means that you don't have to stay awake all night hoping to see the lights – instead you can hop out of bed, don your clothes and witness one of nature's biggest spectacles.
On top of this, the hotel has its own observatory and in-house astronomer, where you can go stargazing when those pesky Northern Lights aren't playing the game.
Check rates, reviews and availability at Hotel Ranga.
Get Off the Beaten Path in Iceland: Take a Super Jeep Tour with Midgard Adventures
You basically have two options when it comes to discovering Iceland's hidden gems – try and do it all solo or book onto a tour.
I'm all for flying solo at The Discoveries Of, but there are times when it totally makes sense to book onto a tour with a local guide. To be honest, I definitely think that this is one of them.
Run by three locals, the guides at Midgard are passionate about showing the hidden Iceland that so many people miss as they whizz around the ring road. Plus, they have superjeeps.
What are superjeeps? I hear you asking?
These are superjeeps.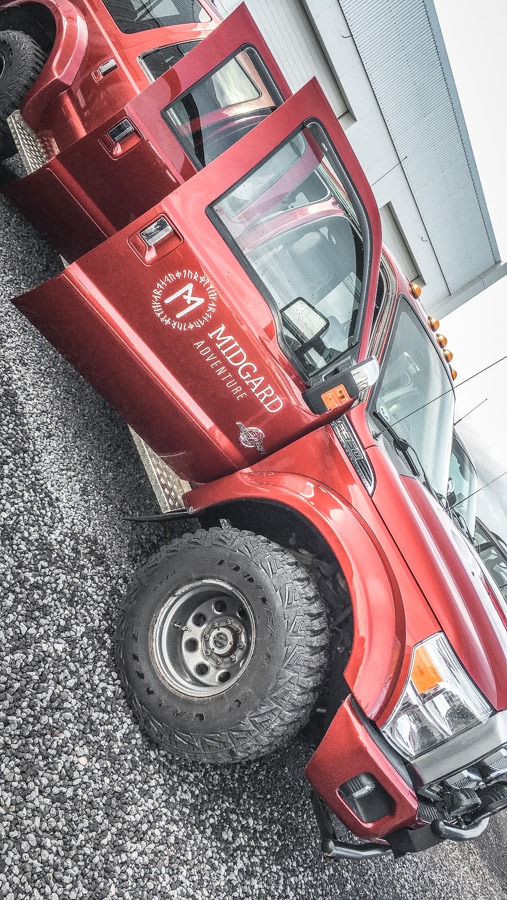 Not only do these bad boys look completely pimp, they're incredibly practical for getting you to Iceland's secret places. Need to tackle sand dunes to get to an isolated black sand beach? No problem.
Need to fjord a fast-flowing stream to get to a cool hiking spots? Totally on it.
Basically, you're taking a completely custom-built tour with a local know-it-all (in a good way) in a pimp ride. All the yes.
Wondering what to pack for Iceland? It varies quite significantly season by season – check my Iceland Packing List Guide for a full breakdown.
Best Time to Travel to Iceland's Off the Beaten Path Spots?
Want to know when to go to Iceland? Read my full guide to the best time to visit Iceland.
Love This? Save and Share on Pinterest!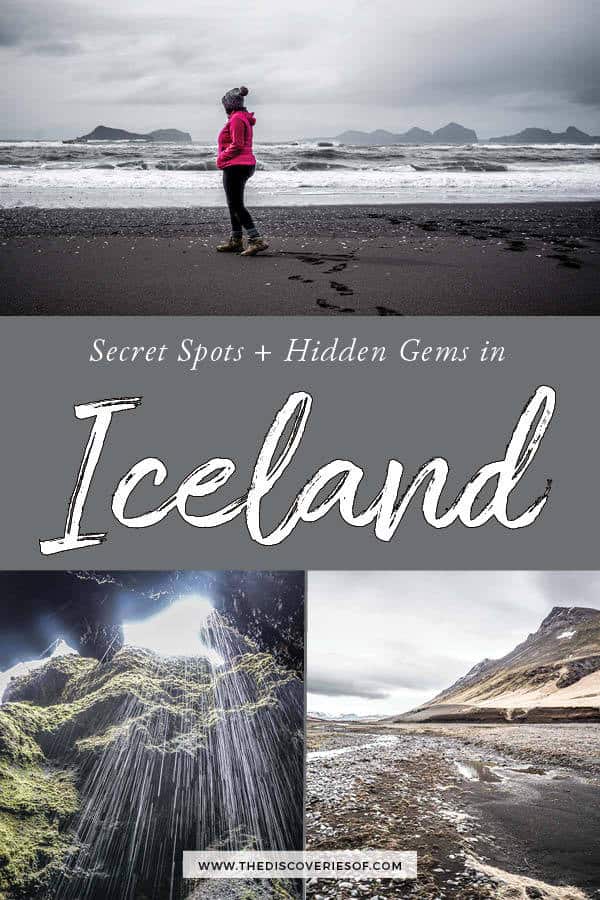 Want to read more Iceland travel blogs and tips? Check these out…
I was hosted by Hotel Ranga as part of their #knowiceland campaign for this trip. As ever, thoughts and opinions are very much my own.