Gullfoss Waterfall stands as one of Iceland's most prominent waterfalls – a tough call in a country that's pretty much packed with them. Tucked away in Iceland's famous Golden Circle, it's one of the must-see sights on any Icelandic travel itinerary. Here's why.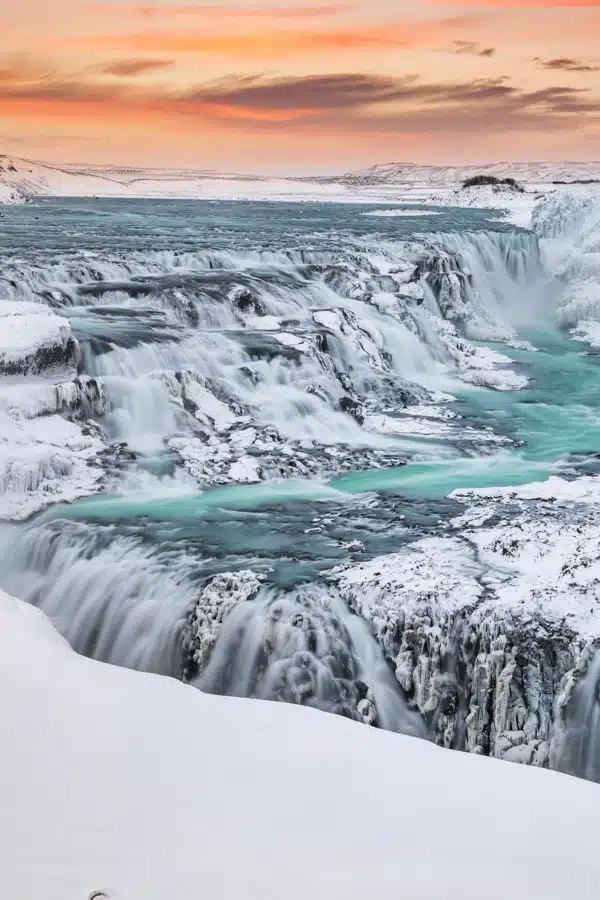 OK dudes. I went on a trip to Iceland a couple of weeks ago and it pretty much blew my mind.
Where else can you go where you can see golden waterfalls, black sand beaches, mossy landscapes, glaciers and geysers all in the course of one day?
One of the real highlights of the trip was taking a peek at Gullfoss waterfall. Iceland's waterfalls have to be seen to be believed.
Gullfoss is a place that has been on my travel bucket list for a long, long time. Millions of litres of water thundering into the abyss in a striking setting – it was always going to be a winner right?
If you're visiting Iceland, there's no doubt that Gullfoss is going to be on your itinerary. Read my practical guide to help you plan the perfect visit.
Visiting Iceland? You should also check out these articles
Why Visit Gullfoss Waterfall?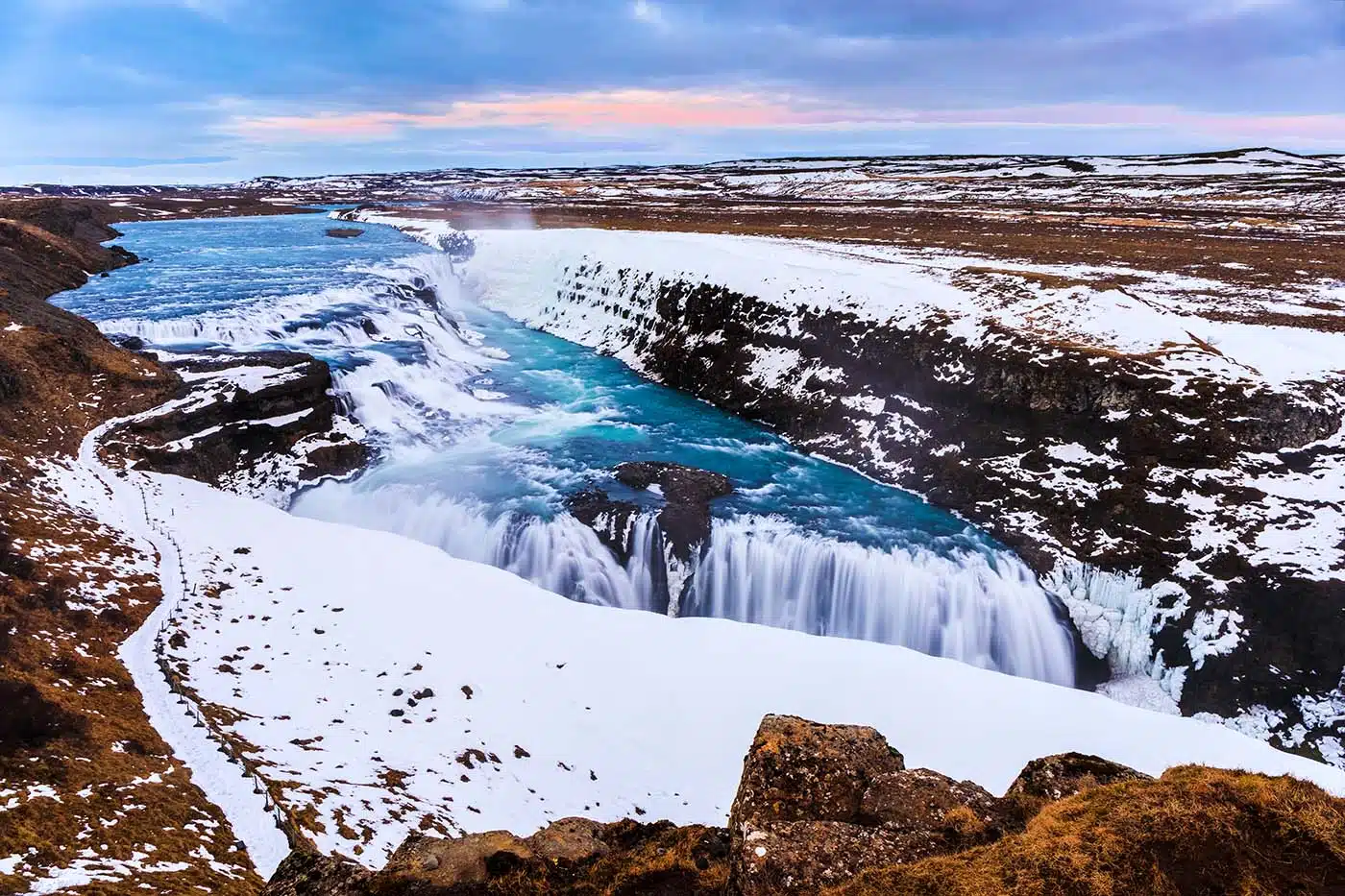 Gullfoss Waterfall sits in The Golden Circle, a route that is brimming with spectacular natural sights that even give Gullfoss a run for its money.
Sure, the Golden Circle is crowded and the chances of you getting any of the sights within it to yourself are slim to none, but it's so very worth it.
This two-tiered waterfall is situated on the Canyon of the Hvita River and cascades from heights of 32 meters.
The stunning natural surrounding coupled with the golden falls creates an air of mysticism around Gullfoss.
The atmosphere is only enhanced by a gentle layer of mist that cloaks the scenery on a cold day (watch out though, this mist is like the dementor's kiss for your camera).
It's not only one of Iceland's most famous falls, but it's also one of its most legendary. If you only do one thing in Iceland outside of visiting Reykjavic, this should be it.
OK, I Want To Go, Tell Me More About Gullfoss
Why is Gulfoss known as the Golden Falls in Iceland?
Gullfoss, Iceland, translates as Golden Waterfall, and there is a good reason for that.
When the light hits the water on a sunny day it reveals a beautiful golden colour. But why?
Gullfoss Waterfall contains plenty of coloured sediment, chiseled from glacial ice. It's the yellow hue of this sediment that is the reason why Gullfoss is known as the Golden Falls in Iceland.
Have you Heard about Gullfoss Waterfall Sad History? And the Kickass Young Lady That Changed It.
Despite Gullfoss being a thing of beauty, it has something of a dark past.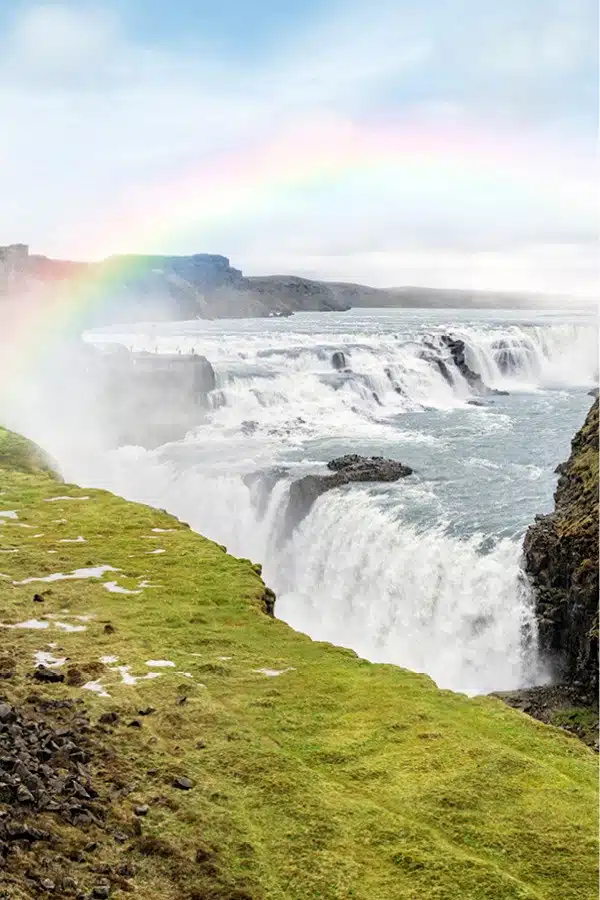 In the early 20th century, the owners of Gullfoss, Tómas Tómasson and Halldór Halldórsson, saw business potential in the waterfall. They wanted to harness its powerful energy to generate electricity.
Foreign investors caught wind of the idea and proposed building a hydroelectric power plant that would destroy the natural beauty of Gullfoss.
It is said that Sigridur Tomasdottir, Tómas Tómasson's daughter, vehemently rejected this idea and did all she could in her power to prevent Gullfoss from changing.
She lead intense protests, walking barefoot from the falls to Reykjavík until her feet were bloodied and sore to show just how much this cause meant to her. She even went as far as threatening to throw herself into the Gullfoss Waterfall to prevent it from being destroyed.
Thankfully this was avoided with the help of her lawyer Sveinn Bjornsson, who later went on to become the first president of Iceland. They won the case and Gullfoss became the people's property and remained open to the public.
There is some skepticism about the truth of this story. But you shouldn't miss the chance to see the commemorating memorial of Sigridur Tomasdottir. Sculpted by Richard Jonsson, it sits by the Gullfoss Waterfall to be seen by thousands of tourists every year.
Is Gullfoss the Only Golden Circle Iceland Waterfall?
Gullfoss isn't the only waterfall you can experience on The Golden Circle. Approximately 12 km away from Gullfoss is the Faxi Waterfall.
This small but gorgeous waterfall is an ideal spot to enjoy a slightly quieter waterfall experience. The river Tungufljót flows with salmon, making it a perfect fishing location.
Faxi is considered the smaller version of Gullfoss, and while it may not be as powerful, it's well worth a visit too.
Can You Visit Gullfoss Waterfall in Winter?
Iceland thrives in winter and Gullfoss is no exception.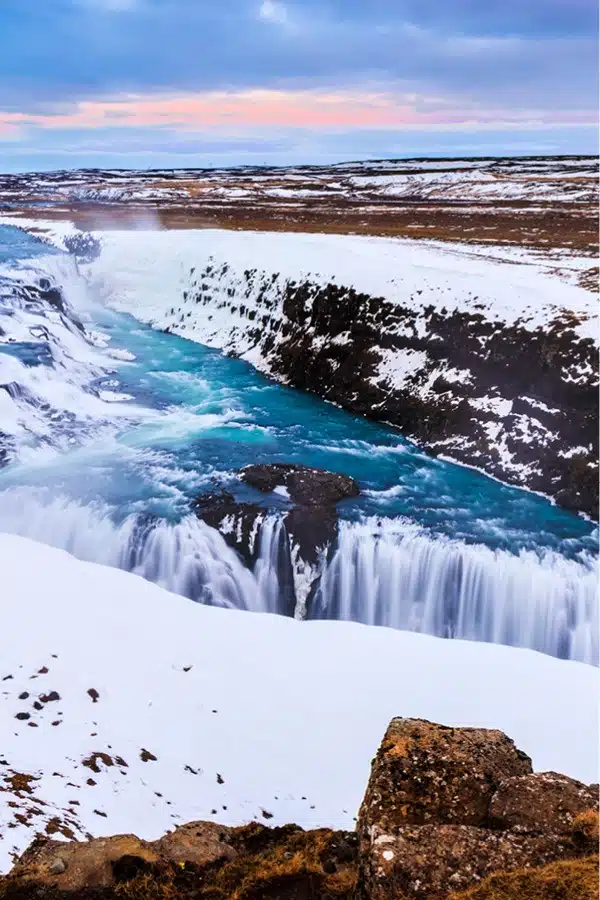 Gullfoss Waterfall can most definitely be visited during the winter periods. There are many people who argue that it is even more picturesque when it is cloaked in snow. Guess the only way to know for sure is to visit in the summer and the winter right?
If you do visit Gullfoss in the winter, be aware that some paths to the waterfall may be closed off during the snowy season. The view from the Gullfoss Visitor centre is safe and available all year round.
Before venturing out onto the slippery paths, be sure to wear sensible shoes with good grip on them.
If you visit during the winter, there's a good chance you can see the striking sight of the semi-frozen waterfall – the reason it's also called Gullfoss frozen waterfall. Get your cameras ready, this is something that you won't want to miss.
Planning Your Visit to Gullfoss
Here is the practical information that you need to know to plan your trip to Gullfoss.
Gullfoss Waterfall Iceland Address
Gullfoss
Bláskógabyggð
801 Selfoss
Iceland
Opening Times
Weekdays: 10:00 – 19:00
Weekends: 10:00 – 19:00
Travelling to Gullfoss Independently
The distance from Reykjavik to Gullfoss is around 120 km. You can get to Gullfoss in a number of ways.
On a Tour
Enjoy the best of the Golden Circle on this Golden Circle Full Day Tour. This fully guided tour offers visitors to Iceland a chance to explore the Golden Circle, with pick up and drop off in Reykjavik.
Along with Gullfoss Waterfall, the tour covers the famous geothermal Geysir area, the explosive hot spring of Stokkur and meanders through the Þingvellir National Park, where the Eurasian and North American tectonic plates meet.
Add to that a memorable trip to the volcanic crater at Lake Kerið and it's undeniably one of the best ways to see the area if you are short on time.Powered by GetYourGuide.Become a partner.
Driving to Gullfoss from Reykjavik
If you want more independence, I would recommend checking out car rentals and driving the Golden Circle so you have the freedom to roam as you please. Head to Holiday Autos to prices to rent a car.
Setting off from Reykjavik, head around 54 kilometers east on the Ring Road then turn left onto route 35. Stay on route 35 for 68 kilometers until you reach the waterfall.
Getting to Gullfoss by Bus
A one way bus journey usually costs about Kr 3400-4000 per person.
Bus timetables can vary so always allow for some flexibility in your schedule. The Bílar og fólk Bus Line 2 runs twice a day from July to August from Reykjavik bus station. The Bílar og fólk buses run between Reykjavik and Akureyri, stopping at Geysir and Gullfoss.
---
Read more: When Is the Best Time to Visit Iceland?
---
Suggested Stay: Hotel Ranga
For accommodation, check out the gorgeous Hotel Ranga. The hotel provides stunning panoramic views and is considered one of the best for seeing the Northern Lights as well as being widely recognised as one of the best hotels in Iceland.
I absolutely loved my stay at Hotel Ranga: there's nothing these guys don't know about Iceland and they will move heaven and earth to make sure that you have an absolutely kick-ass time during your time in their much-loved country.
Each comfortable and stylish room is equipped with all the amenities you could need; WIFI, satellite TV and a relaxing seating area. There are great facilities to unwind in, such as an spa and saunas – not to mention a really rather spectacular restaurant.
Hotel Ranga is located 91km from Thingvellir National Park – a 45 minutes drive away from the falls.
Check availability and reviews of Hotel Ranga on Tripadvisor. Alternatively, check all accommodation near Gullfoss here.
What to Pack for Gullfoss Falls Iceland
Sensible Shoes
Travellers to Iceland beware. This is most definitely not the trip for your latest Louboutins or new pair of Nikes. Think more hiking boots and less what's going to make me look as glam as possible.
They may not be the most fashionable accessory, they'll be the safest, helping you from slipping on the narrow paths and I like to think that we all value our safety just a teeny bit more than our appearance.
Waterproof Jacket
The spray of Gullfoss Waterfall, whilst refreshing and fun, can also leave you a bit damp and cold, so be sure to walk with a waterproof jacket.
Read more: The Best Hard Shell Jackets For Men and Women
Thermals
If visiting Gullfoss in winter, I would highly recommend getting some thermals. I am a cold, cold soul so basically never leave for cold climates without thermal vests, trousers, socks and underwear.
Gullfoss Map
Find your way to Gullfoss Waterfall with this handy Gullfoss Map:
Found this guide useful? Save and share on Pinterest!