Ready to discover Iceland's Golden Circle? Here's what you need to know before you go.
If I haven't made it clear by now, I simply love Iceland. Every inch of the country is worthy of praise.
From Iceland's hot springs that emanate tranquillity to its near magical landmarks, you must see to believe. I think you get the idea.
But, although immensely popular, how much do you know about its most epic collection of natural landscapes?
Yep, I'm talking about the Golden Circle.
Nothing can quite prepare you for the sheer magnificence of Iceland's Golden Circle. But perhaps, having this guide to visiting the Golden Circle in Iceland might just be the travel companion you never knew you needed.
Let's get to it. Shall we?
What is the Golden Circle?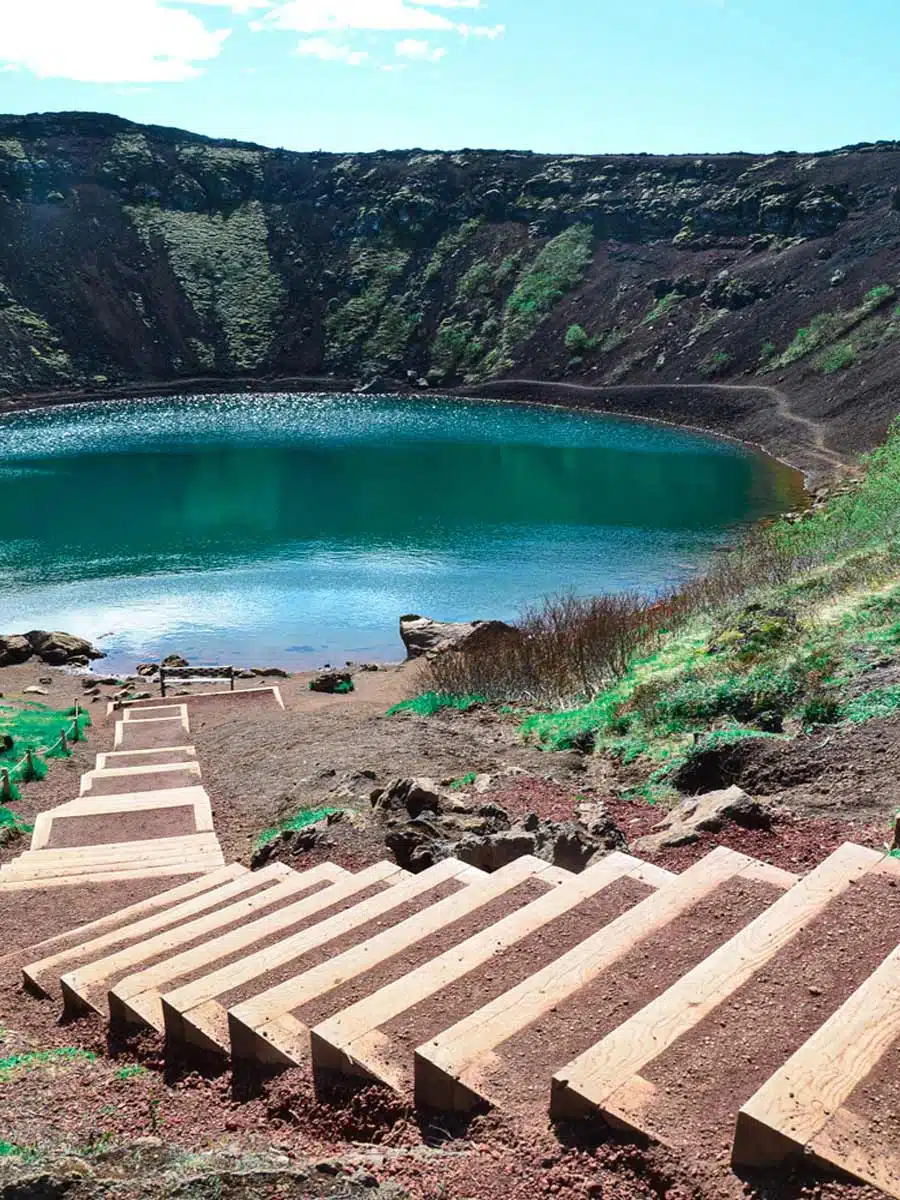 Let's get down to the nitty gritty of it – the Golden Circle is a route that loops through three of Iceland's most famous (and spectacular) natural attractions.
Three giants of breathtaking beauty, from Þingvellir National Park to the Geyser Geothermal Area and Gullfoss Waterfall.
But why call it the Golden Circle? That's a good question, because the jury is still (kind of) out on the subject. In Icelandic, "Gullfoss" translates to "Golden Waterfall".
The overwhelming idea is that this is because of the almost golden hue of the cascading waters of Gullfoss.
A clever marketing trick or excellent description? The fact is that having a name like "The Golden Circle" makes it sound unlike anything else. And once you see its landscapes, from geothermal pools, spas, volcanic craters, and waterfalls, you'll quickly award it a gold medal.
I mean, it's also quite literally a circle road, with a few bends and curves, but circular nonetheless that clocks in at 142 miles.
And Why You Should Visit…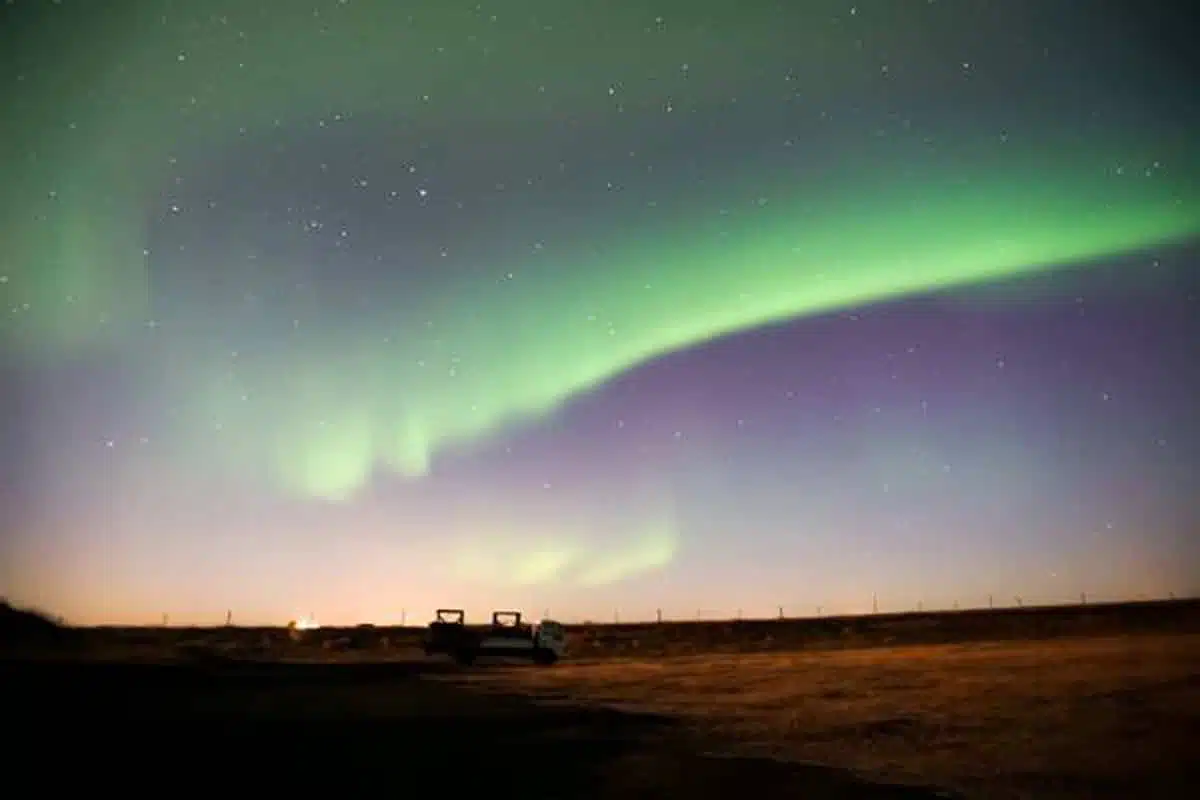 Iceland brims with worthy destinations, like the black sand beach of Reynisfjara or Jokulsarlon, the glacier lagoon. In the same fashion, the Golden Circle demands your attention.
But why?
Picture this. An almost surreal blend of natural sights that include bursting geysers, thunderously roaring waterfalls, and a crack in the Earth. Now add to that a stunning road that combs across the landscape and winds through terrains fit to be any photographer's nirvana.
All of that answers the question of what is the Golden Circle in Iceland and why you should visit. Beyond magical scenery, bragging rights, and memories that you'll never forget, can I make it any clearer?
Top Sights in Iceland's Golden Circle
Þingvellir National Park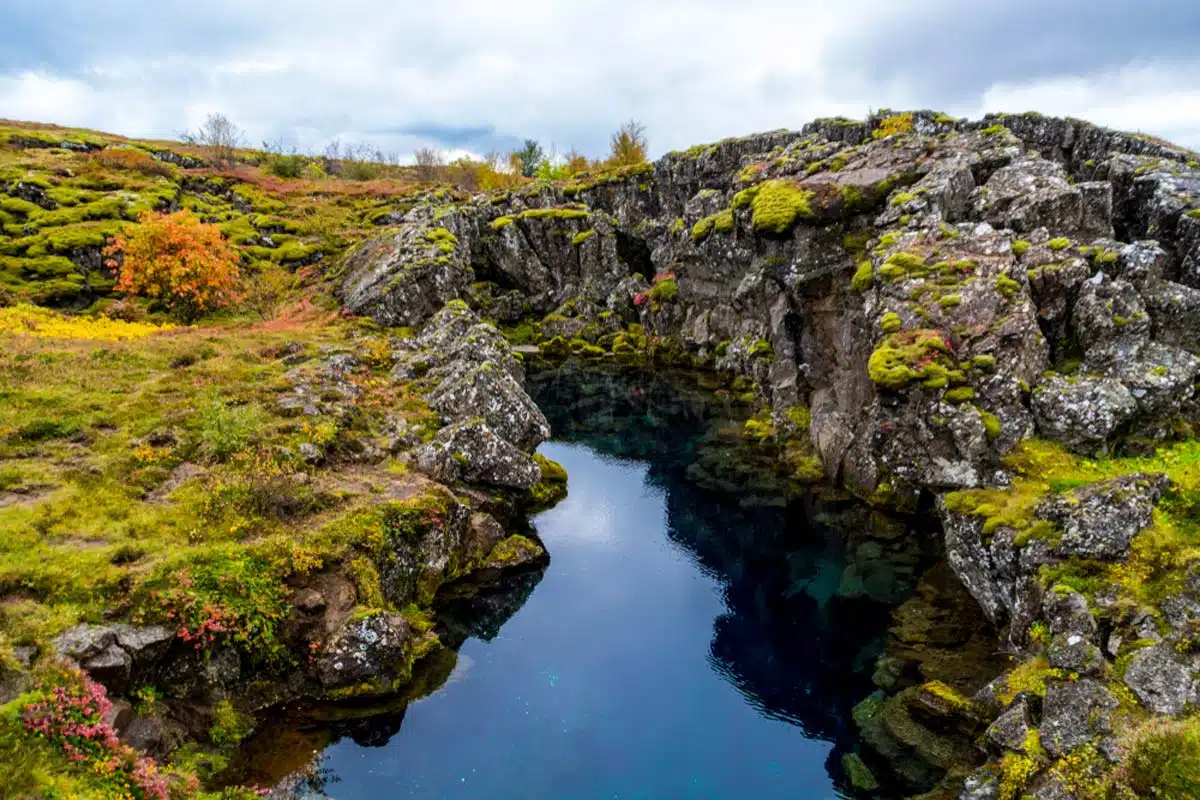 The national park of Þingvellir sits in South-West Iceland, roughly 25 miles from the capital city. While there are numerous fantastic things to do in Reykjavik, Þingvellir is usually the first stop along the Golden Circle.
Renowned for its beauty and rich history, the park has been around since 1930. But its actual past stretches back thousands of years. Þingvellir was where Viking Age settlers gathered to lay down laws for the land and dispense justice.
Yes, it was here during 930 that Iceland's parliament, Alþingi sprang into life, officially cementing Icelandic society. That, coupled with its illustrious history, qualified it to become a UNESCO World Heritage Site.
But it might've just as well received the acclaim for its geological aspects. Þingvellir National Park sits in a rift valley between the European and North American tectonic plates.
Thanks to this, you'll see constant lava fields and dramatic fissures that form canyons. The largest of these canyons is Almannagjá.
Note: If you self-drive the Golden Circle route in Iceland, you'll have to pay a small fee at the parking area of Þingvellir National Park to enter.
Silfra Fissure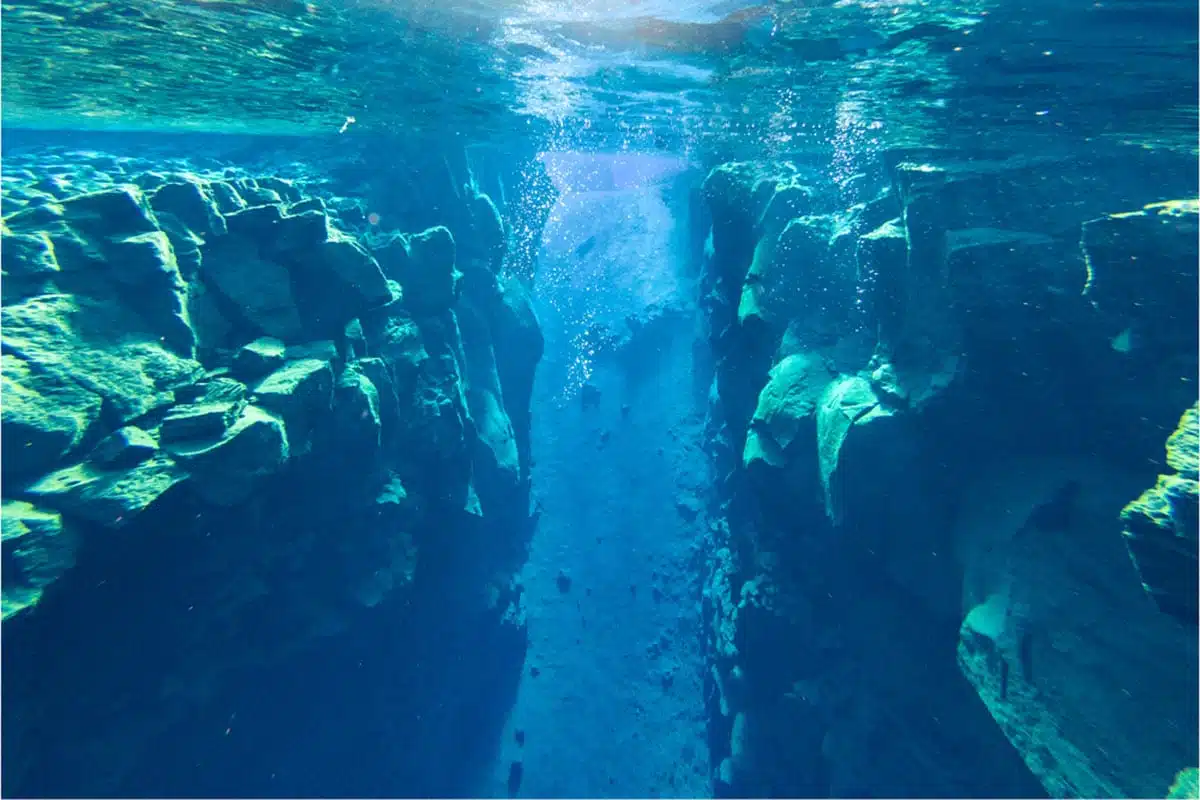 While you're in Þingvellir National Park, there are quite a few natural features to see (putting it lightly). One of the best is the Silfra Fissure. This deep underwater crack in the Earth's crust lies within Lake Þingvallarvatn, the largest natural lake in the country.
The best bit about the Silfra Fissure? You're free to dip and dive into the surrounding lake, and if you come prepared with the proper gear, you can snorkel and scuba dive into its depths.
Another unique feature is its pristine, crystal-clear waters that make for near-spellbinding diving conditions.
Geysir Geothermal Area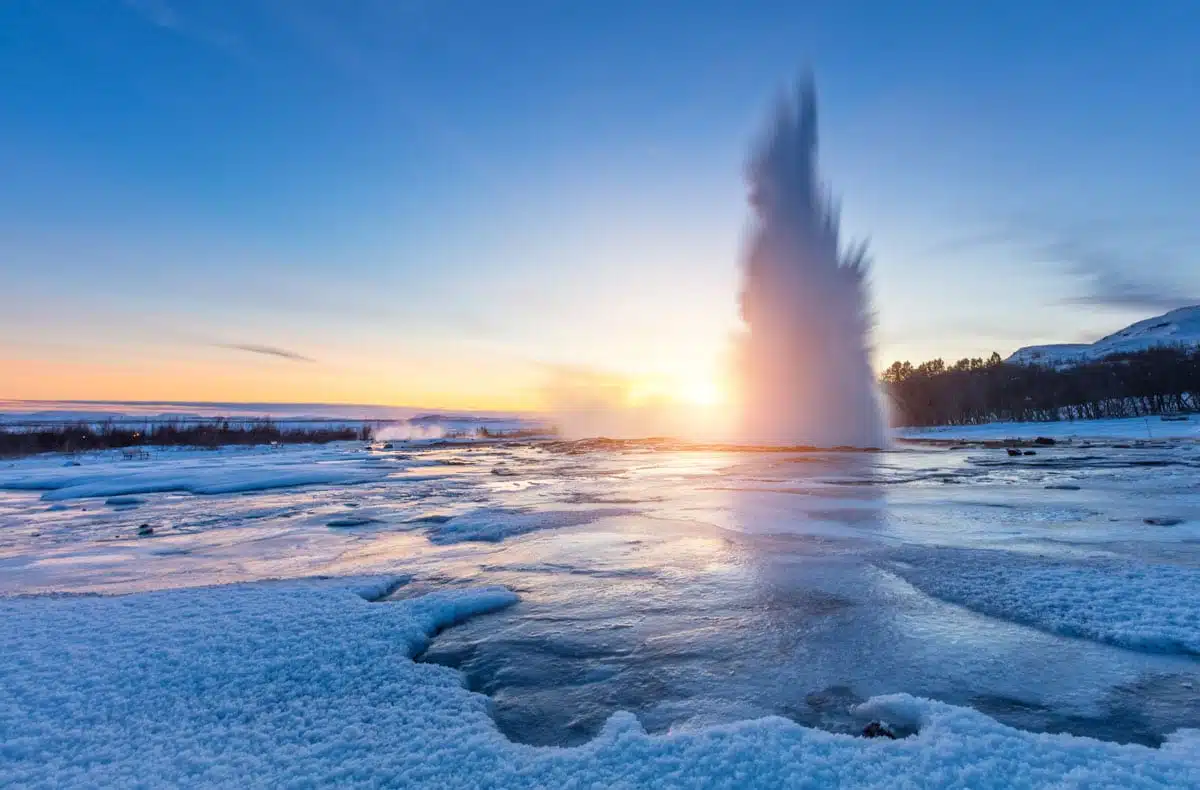 Much of the Golden Circle's allure lies in its wondrous natural beauty. And when you visit the Haukadalur Geothermal Field, you'll get your first taste. Commonly known as the Geysir Geothermal Area, it's a kaleidoscope of elemental marvels.
Situated about an hour's drive from Þingvellir National Park, it's home to geothermal wonders that defy imagination. From mud pots to fumaroles and hot springs, one thing's certain – Mother Nature did not play any games when designing this gem.
Then you have the star attractions: Two of Iceland's most famous geysers, Strokkur and Geysir. Fun fact, the modern-day word "geyser" comes from the Icelandic word Geysir and the name of this bursting water feature.
Although Geysir has been dormant of late, it has been semi-active for the last 10,000 years (I think it deserves a break). When it does erupt, its steaming hot waters reach nearly 400 feet.
In contrast, Strokkur, roughly 160 feet from Geysir, is as active as they come, with eruptions happening every five to ten minutes. Although not as impressive as Geysir, its waters reach about 50 feet.
Note: You won't have to pay a fee to visit the Geysir Geothermal Area. Take caution when visiting and stick to designated pathways as you'll venture close to thousands of litres of boiling water and steam.
Tip: Read my guide on the best time to visit Iceland to get a better idea of when the most geothermal activity occurs.
Gullfoss Waterfall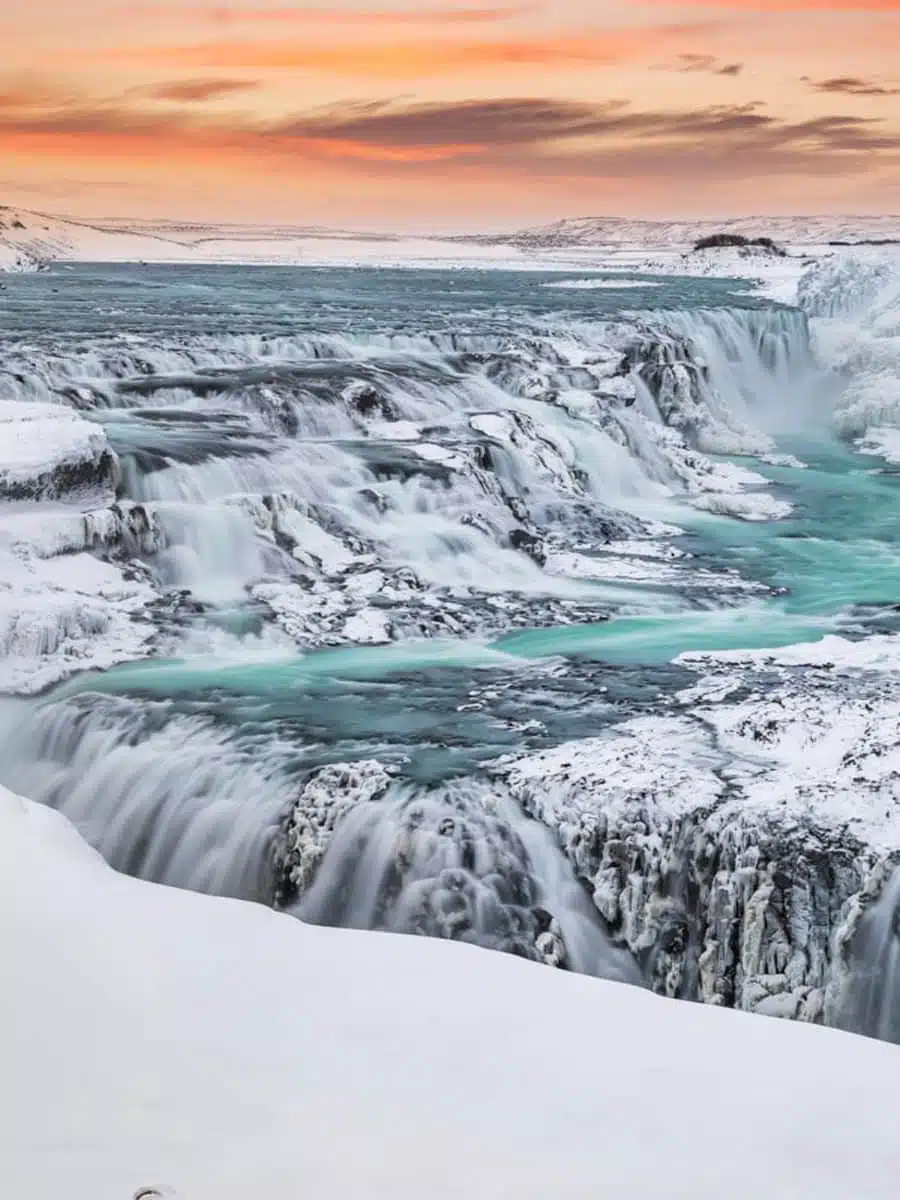 Some call Gullfoss Waterfall the crown jewel of the Golden Circle, and I agree with them. The last of its three major attractions is genuinely a spectacular waterfall and easily one of the most gorgeous waterfalls in Iceland.
Sitting on the Hvítá river, you'll find Gullfoss, about a 10-minute drive from the Geysir Geothermal Area.
There are two parking areas, each leading onto trails that provide stunning yet different views of the falls. One leads to a higher viewpoint (my fave, FYI), while the other dips to a lower elevation for a view from below.
Lucky for you, both viewpoints link up via a set of stairs, so you can (and should) catch a glimpse of this majestic waterfall from both. And as a bonus, there's even a trail that leads along the edge of the river above the waterfall, perfect for some epic snapshots.
But what makes Gullfoss so unique? I'm glad you asked. Running down two different stages, the first from the bottom up sits at 36 feet high. The second cascade stage sits higher at 70 feet. But, before these two majestic cascade platforms, there is a three-step drop spanning the river's width.
The word impressive comes to mind, but when you see its nearly 4,900 cubic feet of water passing over the edges every second, that word doesn't do it justice.
If you visit during summer, prepare for striking and lush green vegetation and a rainbow spreading over the falls. In comparison, visiting during winter means you'll see the falls surrounded by snow-covered landscapes stretching as far as the eye can see.
Tip: Plan an extensive trip from Gullfoss by adding this ice cave and glacier tour or a snowmobile tour. Both are seasonal but start at the waterfalls, making them easy additions.
Þórufoss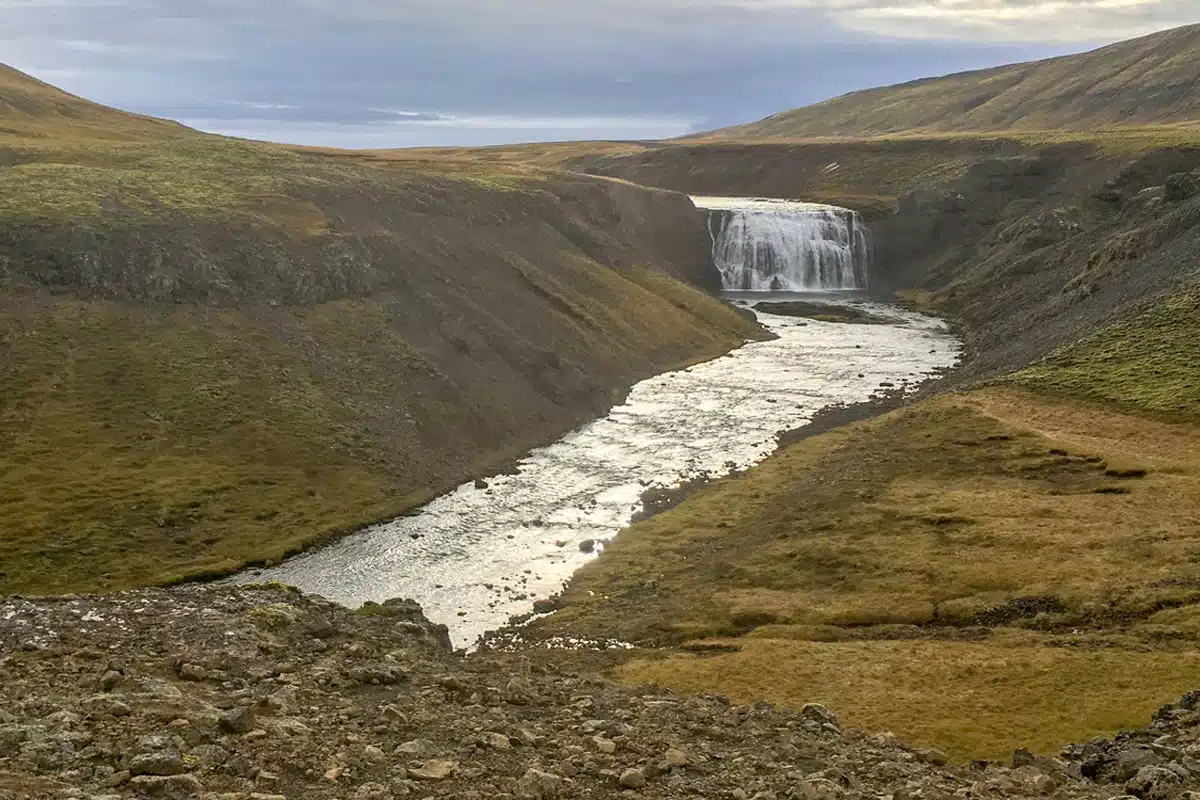 Despite being a five-minute detour from the Golden Circle, þórufoss is, without a doubt, worthwhile. A majestic waterfall just off Route 48, the small parking lot isn't well marked, so you can easily miss it.
However, keep your eyes focused on pulling in and heading across a flat walking trail to the falls themselves. If you think it's just another waterfall, consider the fact that it is a filming location for House of the Dragon So beauty is guaranteed.
While not the most significant falls, the 54-foot drop and 100-foot width is impressive enough. If you want a more intimate experience, a steep path descends directly into the pool.
Laugarvatn Fontana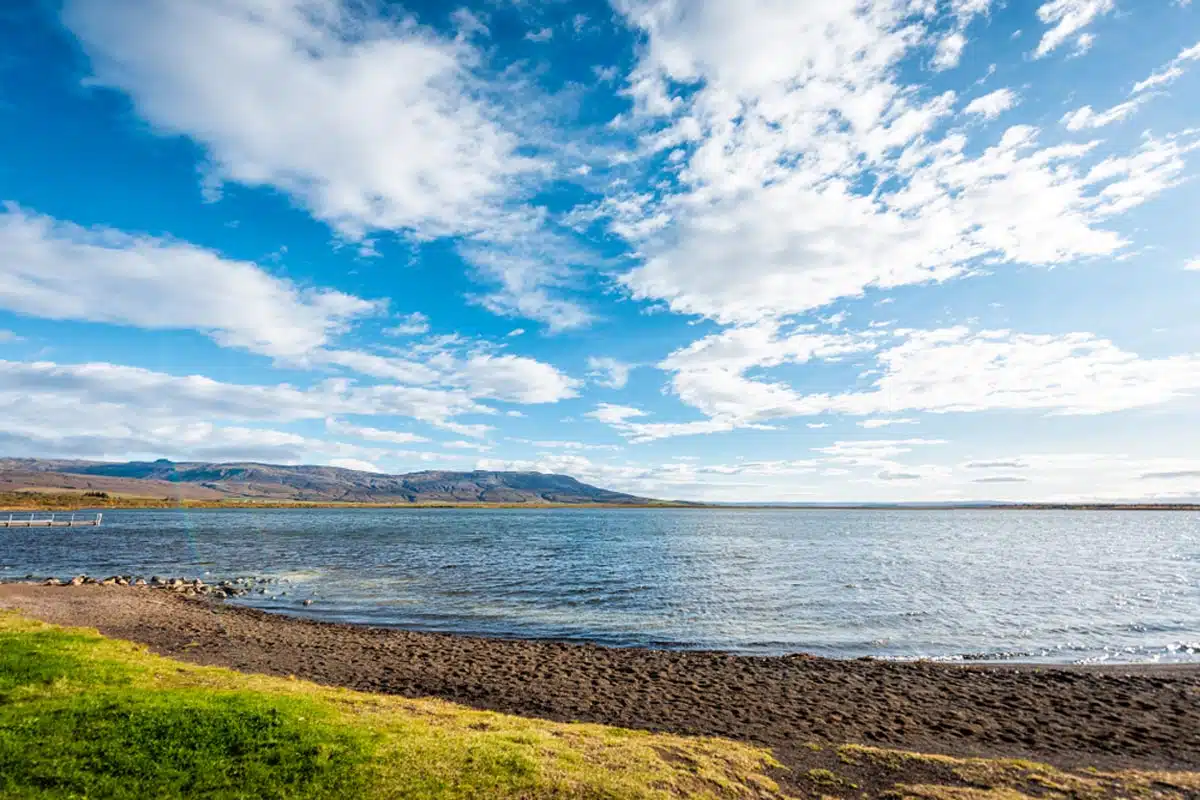 Regardless of when you journey to Iceland, it's one of the best places to visit in winter. Why? Well, its wealth of geothermal hot springs ripe for dipping and soaking is an excellent reason.
There is no shortage of these, from new modern options like Sky Lagoon to historical choices, including Laugarvatn Fontana. Convenience is on your side as the latter sits on the Golden Circle route in the town of Laugarvatn, between Þingvellir and Geysir.
A famous geothermal spring and popular attraction since 1929, you can do more than just soak here. At Laugarvatn Fontana, there are steam rooms, warm pools overlooking a majestic lake, hot tubs, and a sauna.
Those brave enough can dip into the lake, accessible from the bathing area. And even if you don't indulge in its waters, the on-site café serves the most delectable lava bread, baked using geothermal steam.
Tip: For a stellar day trip from Reykjavik, this Fontana Wellness tour takes you through the Golden Circle and highlights Laugarvatn.
Secret Lagoon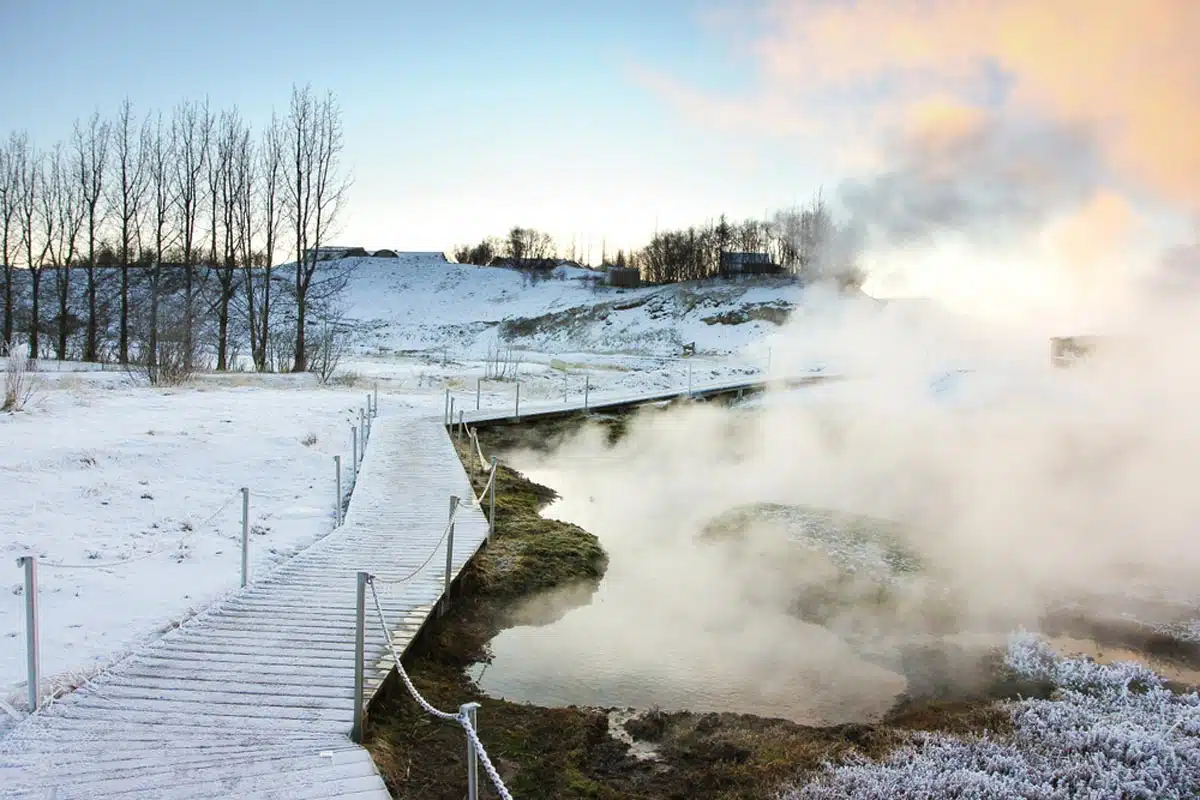 The second geothermal pool worth taking a detour for from the Golden Circle is the Secret Lagoon. Although not a secret anymore, it dates back to 1891 before falling into disuse in 2005.
The owner began to use it as a private pool, hence the name (I guess). However, today this highlight of the town of Flúðir offers a relaxing bathing experience at a small fee.
It's also part of a larger geothermal area, and from the bathing area, you can spot a baby geyser (Litli Geysir) in the distance.
Note: While you can visit the Secret Lagoon on a self-drive trip, book your entry ticket in advance, which includes access to segregated changing rooms and showers.
Kerið Crater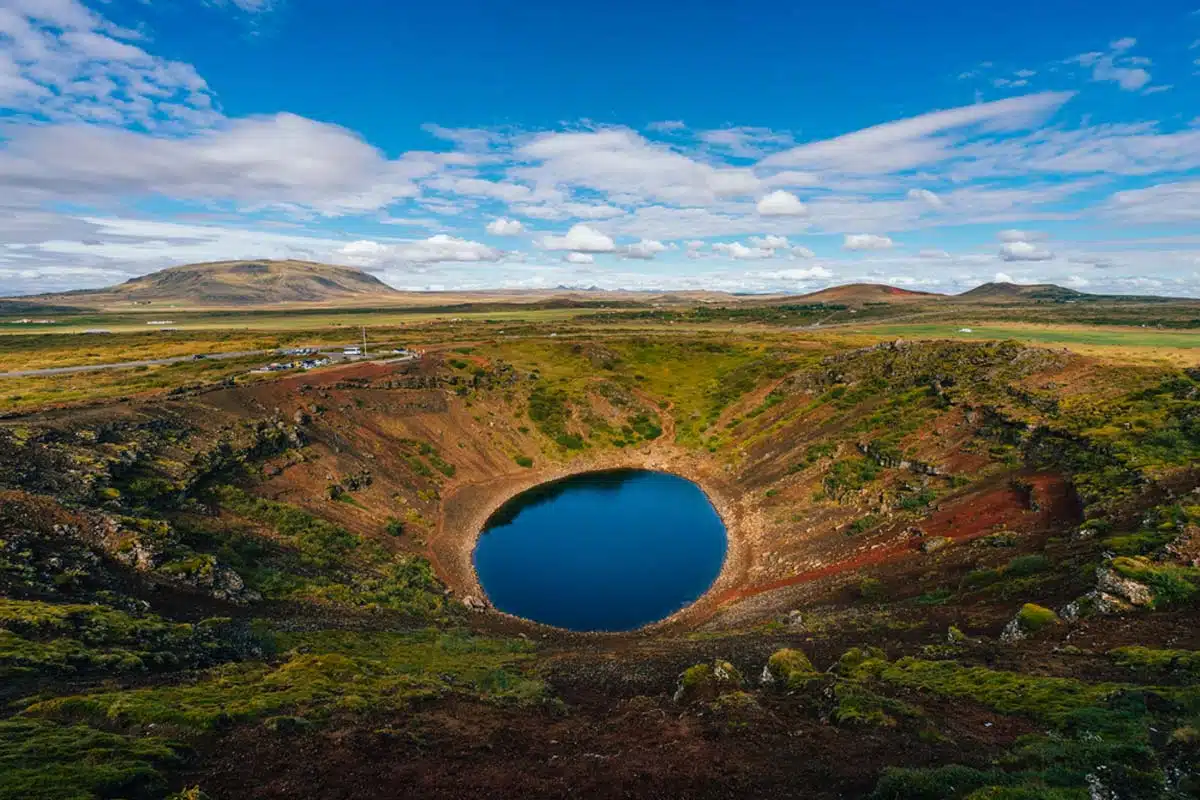 Easily one of the most picturesque volcanic craters off the Golden Circle, stopping at Kerið Crater is a must. It's on the way back to Reykjavik and is an easy addition to any trip.
Formed roughly 3,000 years ago, it isn't too old in geological terms. Thus it hasn't felt the harsh effects of weathering and erosion that others have. That's good news for you, as it is still visually recognisable.
You have two options: walk around the crater admiring it from a distance, or descend 200 feet down to the lake. It's a glorious feast for the eyes as the cavity is a striking red with a somewhat circular lake in the centre.
Tip: Book this Golden Circle full-day tour with a stop at Kerið Crater.
Reykjadalur Hot Spring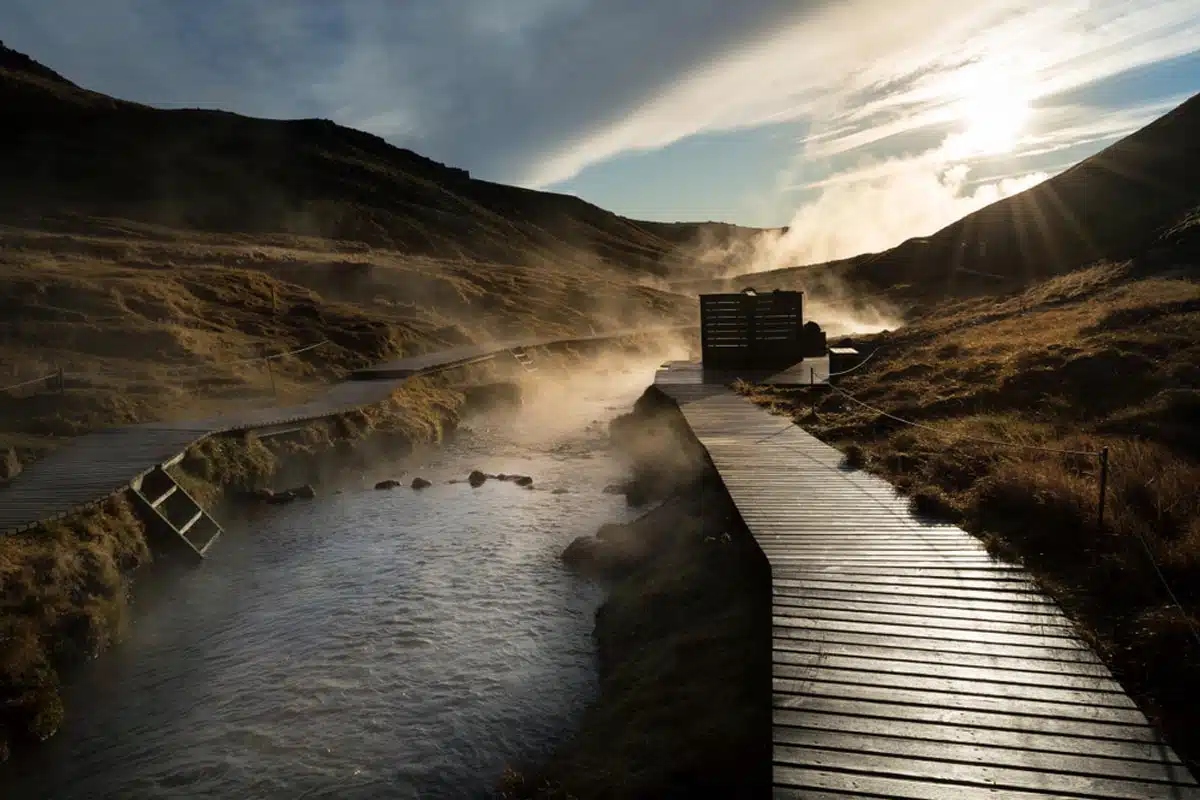 Unlike other hot springs in this guide, Reykjadular is a prominent natural feature that is entirely free to visit. It sits just off the Golden Circle and has a parking lot around five minutes from the town of Hveragerði.
From here is a long hike that lasts about one hour, and although reasonably well-marked, it does feature a significant uphill section. Then, of course, it doesn't have formal changing areas or showers — just a wooden boardwalk.
It ranks as one of Iceland's off-the-beaten-path destinations and is the perfect location for those with eternal wanderlust. While you shouldn't ideally visit during winter, it provides a fantastic natural bathing experience in summer.
The Perfect Golden Circle Itinerary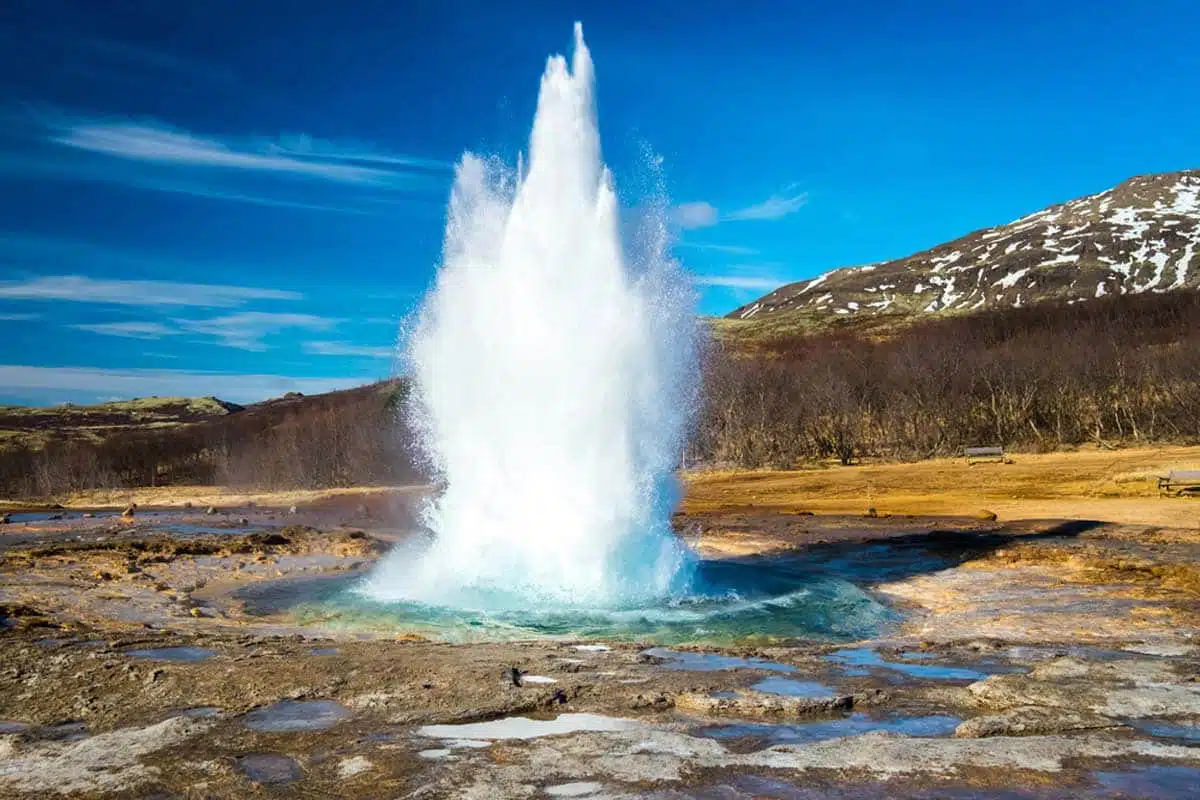 Now that you've gotten an in-depth look at what the Golden Circle holds, you might wonder how to tackle a Golden Circle tour in Iceland. Well, Lady Luck is on your side. Here's a full itinerary for a one-day trip from Reykjavik around the circle.
Tip: If you're planning a grander trip to the country, check out my 7-day Iceland itinerary to discover every inch.
Stop One: þórufoss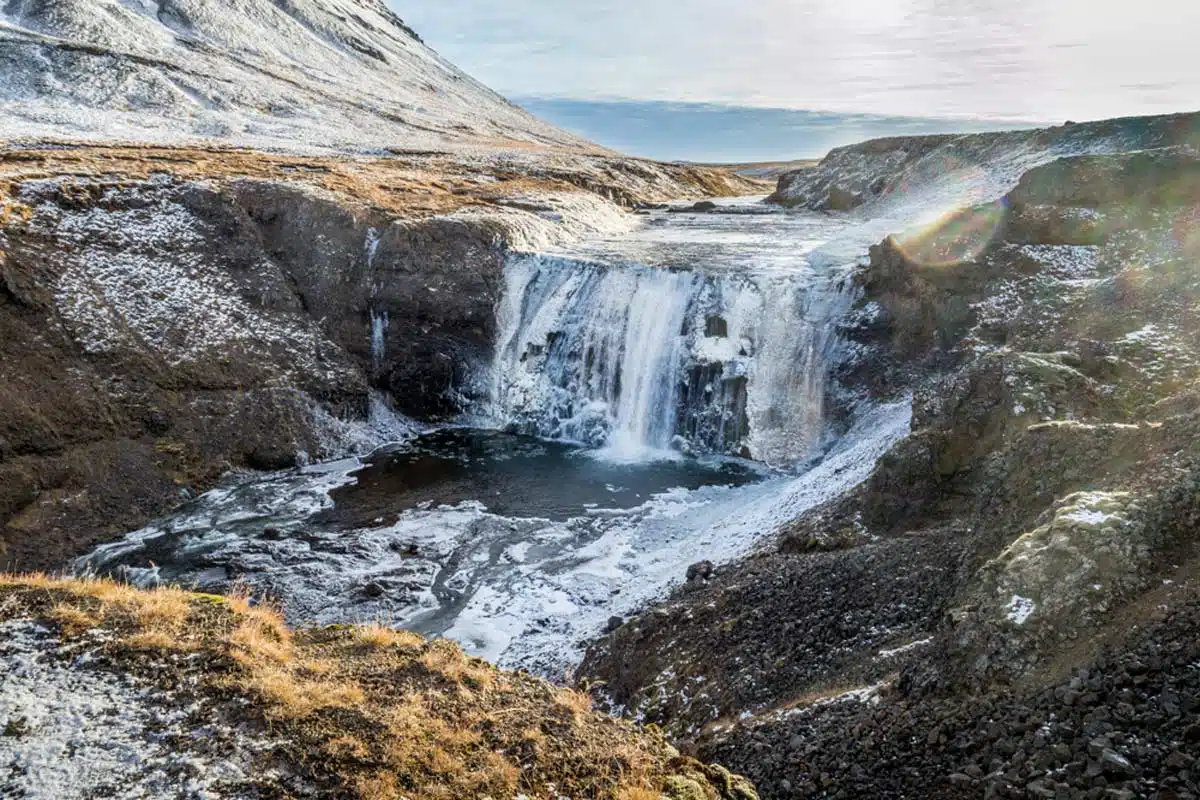 Let's kick things off in style. Head to þórufoss, which, seeing as you'll get there early in the morning, shouldn't have crowds. This allows you to fully embrace this breathtaking waterfall with a surrounding sense of serenity.
Depending on traffic, driving here should take you about 40 minutes. I suggest spending 15 to 30 minutes here taking pictures and leaving with a smile.
Stop Two: Þingvellir National Park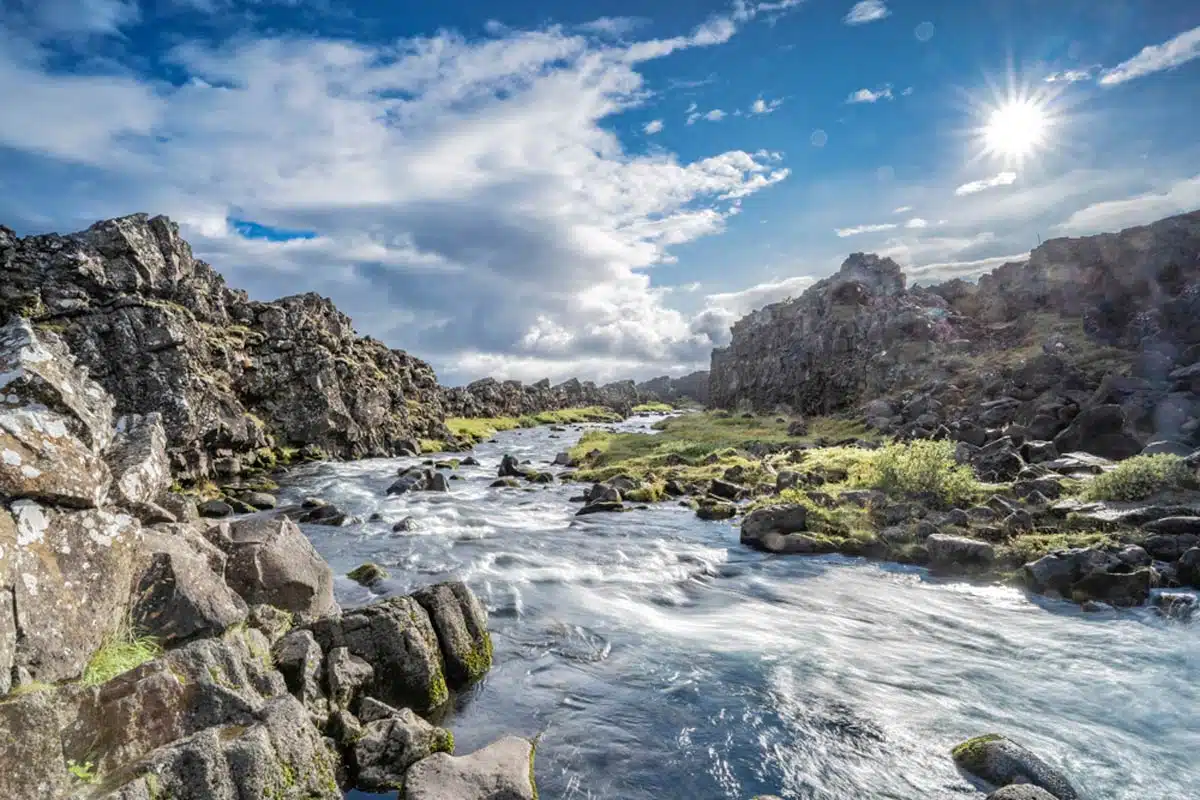 Next up is a short 20-minute drive to Þingvellir National Park.
Take your time here and indulge in every sight and experience you can, as there are many of them. Other highlights that I haven't mentioned yet include Þingvallakirkja, Lögberg, and the Öxarárfoss waterfall.
Here you should spend about 2 to 3 hours, and if you're keen, book a snorkelling tour to Silfra Fissure. This might impact your time for the rest of your day, but it's worth it.
Stop Three: Efstidalur II
One thing I haven't covered yet is Icelandic cuisine. And nothing works up an appetite like the Golden Circle. A 40-minute drive from Þingvellir National Park, you'll find the town of Efstidalur II.
You can treat your tastebuds at any local restaurant or head to its famed farm shop, where dishes feature locally-sourced ingredients. Oh, and grab an ice cream here (trust me on this one) – it'll blow you away.
Spend between 45 and 90 minutes here for a full lunch break, grab a snack for later, and move on.
Stop Four: Geysir Geothermal Area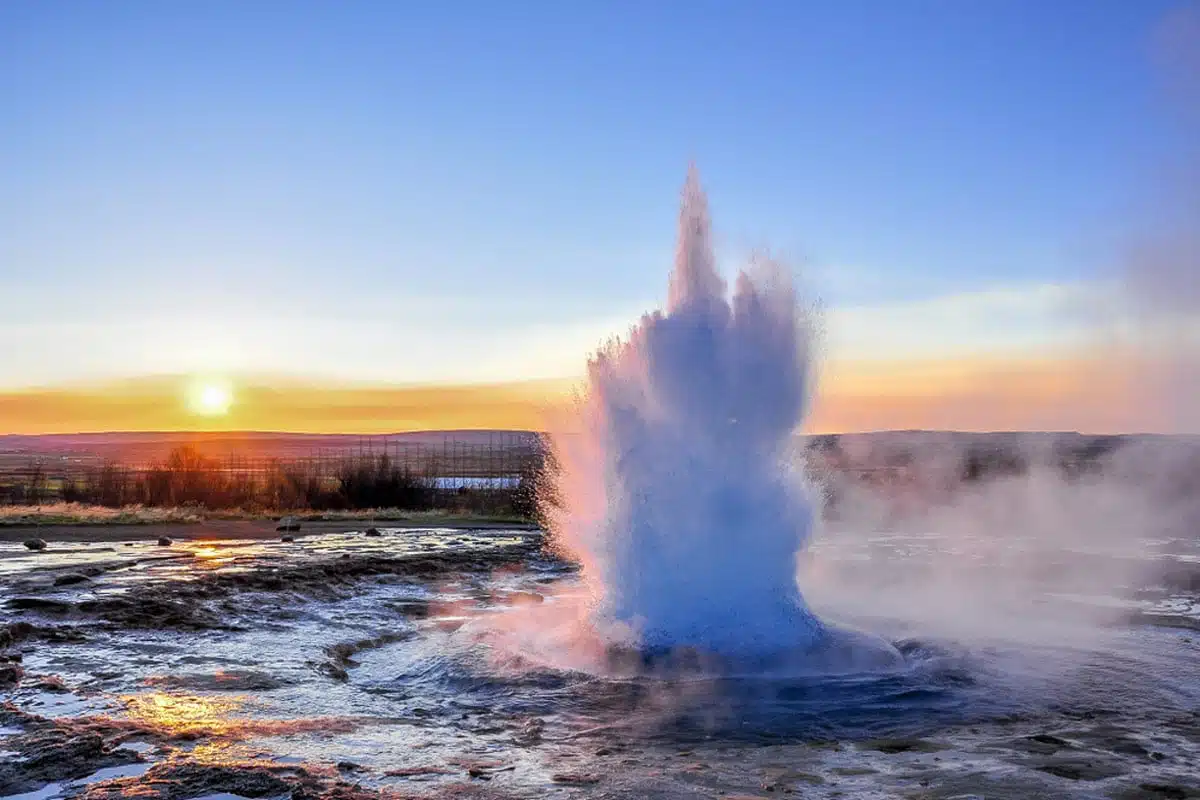 Another major highlight of the Golden Circle is the Haukadalur Geothermal Field. Or Geysir Geothermal Area — whichever name floats your boat. It's a short 15-minute drive from Efstidalur II.
If you want genuinely mesmerising shots fit for your Instagram, this photogenic location is the perfect spot for it. Depending on your love for photography, you can spend 30 to 45 minutes here.
Stop Five: Gullfoss Waterfall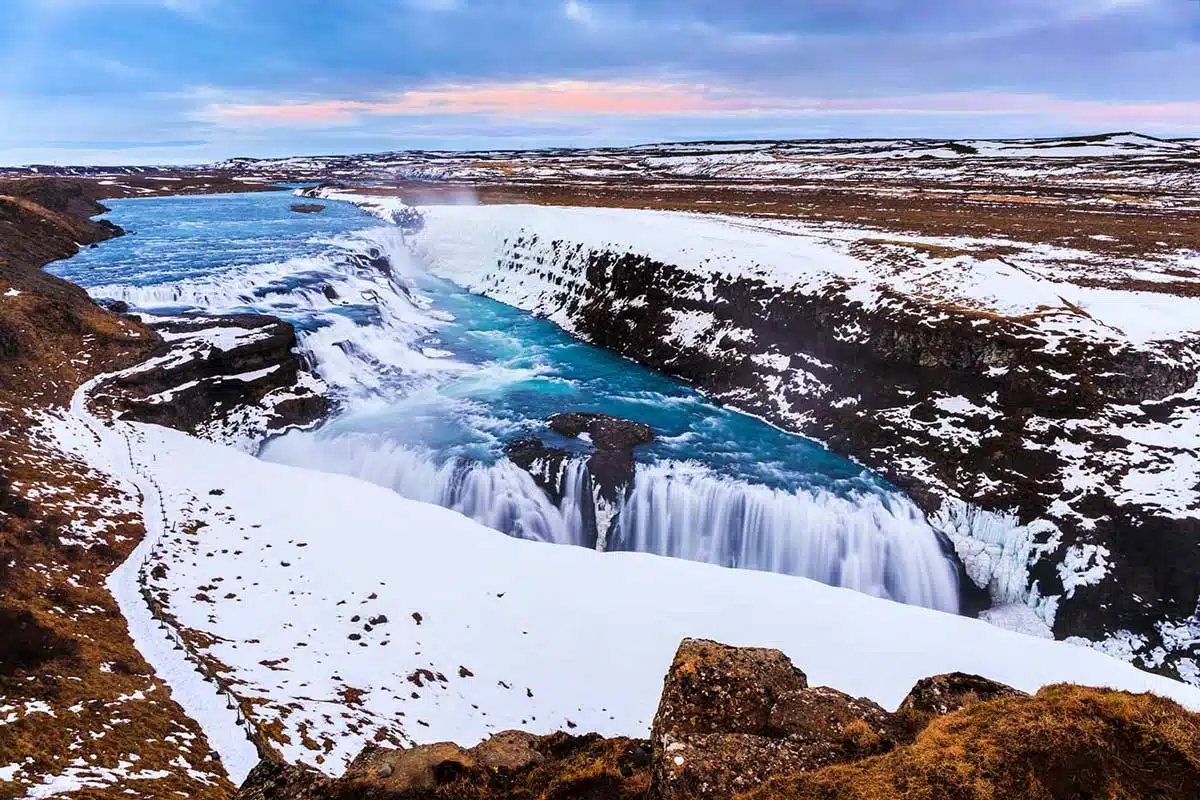 Next up is the star attraction of the Golden Circle. From the Geysir Geothermal Area, Gullfoss sits at just a 10-minute drive. It's the highlight of many Iceland Golden Circle tours.
I'll be the first to admit it's not hard to see why. This is a majestic and unparalleled feat of natural beauty. More photo-ops await here, and although captivating enough to spend hours gazing at the falls, put aside 45 minutes to an hour for this visit.
Tip: Considering the weather conditions of the Golden Circle and the entire country, read my in-depth Iceland packing list guide. You can thank me later.
Stop Six: Faxi Waterfall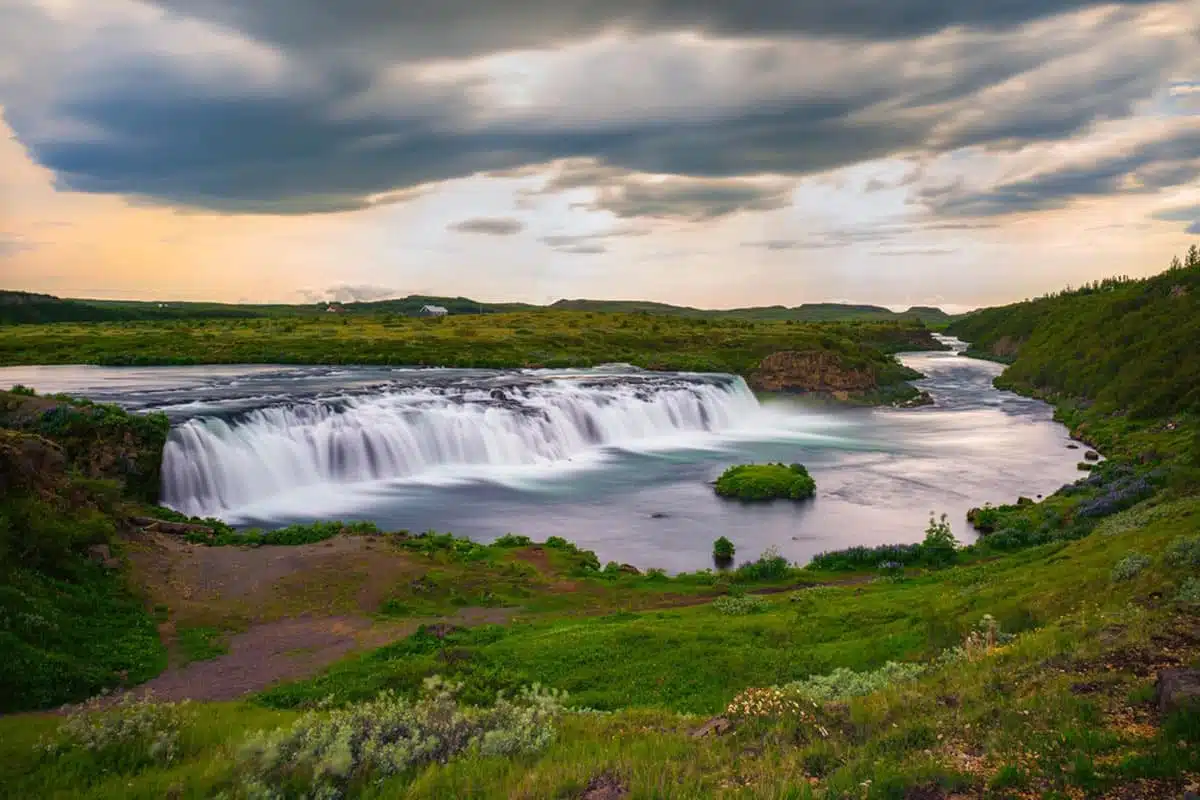 After taking in every inch of Gullfoss, it's time to turn back onto the main road that leads back to Reykjavik. Now for those looking to continue chasing waterfalls, 20 minutes along the road, you'll find the Faxi Waterfall.
It doesn't take much to reach the falls as they sit about 10 minutes off-road, and although not equal to Gullfoss, Faxi is worth your time. I recommend spending about 20 minutes here before moving on.
Stop Seven: Kerið Crater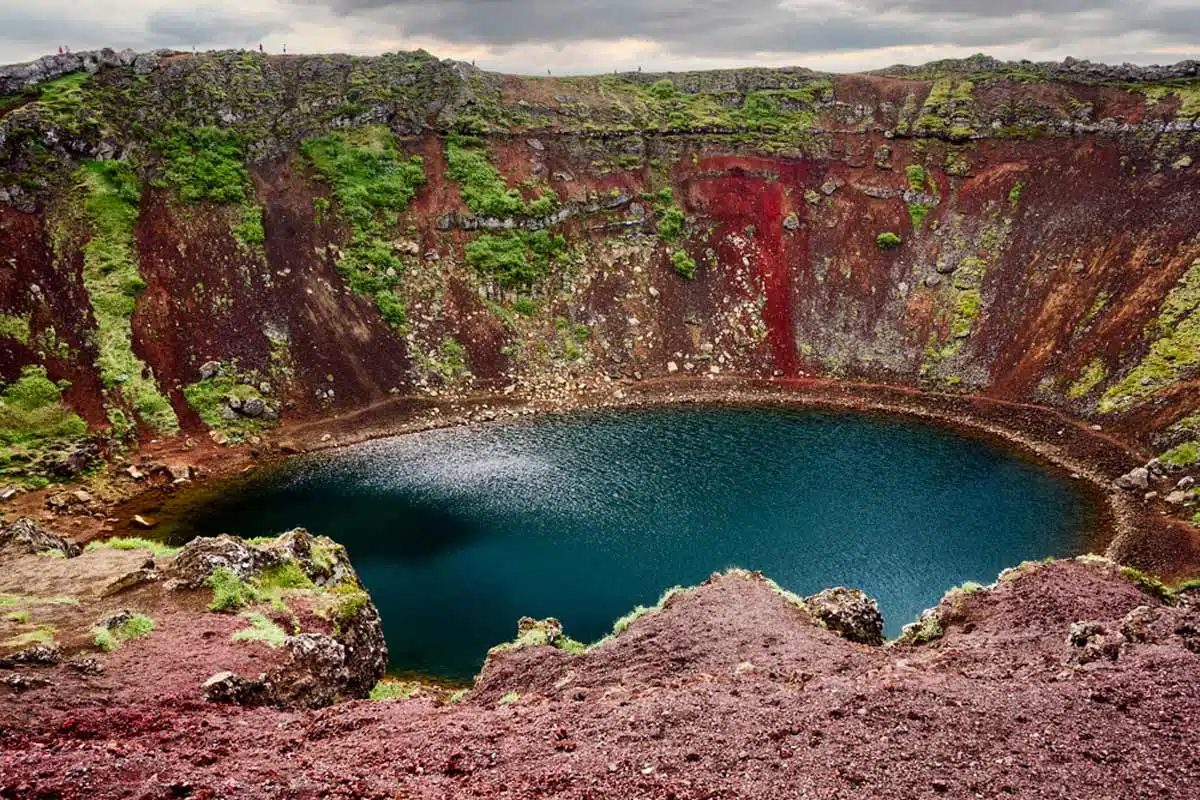 Continuing along Route 35 for roughly half an hour, you'll arrive at Kerið Crater. An undeniable part of your Golden Circle itinerary, this volcanic crater is stunning to behold. From afar, it makes a great backdrop for snapshots.
But spend some time here and hike down into the crater where you can stand on its floor for almost otherworldly visuals. Stay anywhere between 30 minutes to one hour here.
Stop Eight: Reykjadalur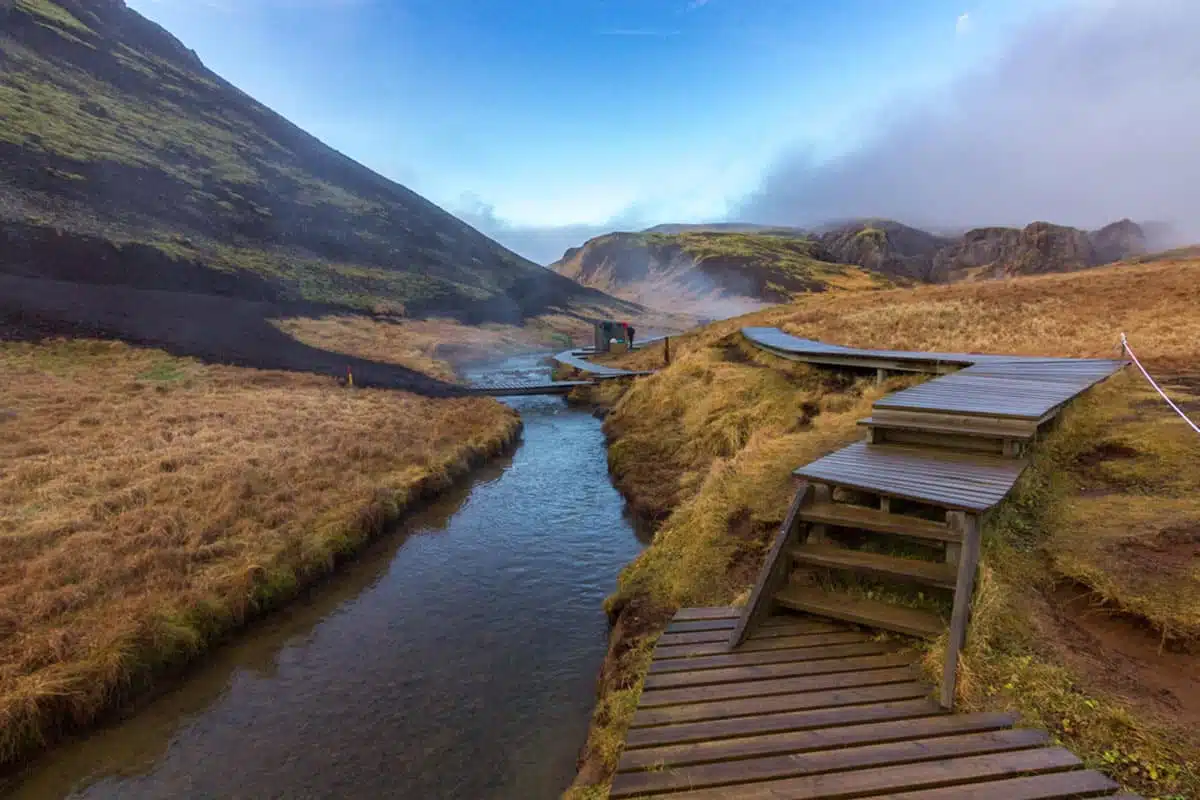 Finally, before heading back to Reykjavik, you should dip your toes (and body) into at least one hot spring. Located about 25 minutes from Kerið Crater, the hike is an excellent way to stretch your legs before you unwind in the warm geothermal waters.
As the last stop, you can spend as long here as you like, and thanks to its secluded feel, you'll mostly have it to yourself. Especially considering you'll arrive late afternoon. Then head back into the city to finish the night with the dazzling nightlife of Reykjavik.
Top Tips for Visiting the Golden Circle
Lastly, here are some tips to make the most of your time in the Golden Circle.
When Should You Visit the Golden Circle?
Although you can visit the Golden Circle year-round, with most attractions open throughout the year, some seasons are better than others. Yes, visiting Iceland in winter is always a great idea, but most of the Golden Circle sees the harsher side of the season.
The summer months of July and August are the best options for exploring the Circle. However, crowds are large no matter when you go, so seasonally, you'll only benefit from slightly warmer weather conditions.
Tip: Interested in the Aurora Borealis? Well, find the best time to see the Northern Lights in Iceland.
Best Tours of Iceland's Golden Circle
Where to Stay in the Golden Circle
Sure, you can stay in Reykjavik and explore the Golden Circle, but for a more immersive experience, there are some fantastic accommodations along the route.
Héradsskólinn Historic Guesthouse – A budget-friendly option close to Laugarvatn Spa that features an on-site restaurant and a range of room types.
Farmhotel Efstidalur – This is a fantastic property close to both the Geysir Geothermal Area and Gullfoss. It includes a geothermal hot tub and summer Icelandic horse riding.
Hotel Fludir – This is the place if you're looking for mid-range prices with high-end amenities. Rooms and suites emanate comfort, and the on-site restaurant serves delicious food.
Driving the Golden Circle
Splurging on a guided tour or pre-planned excursion of the Golden Circle might be convenient, but if you want to self-drive the route, you're in luck.
With a total driving time of around 4 hours, sightseeing and activity time of up to 8 hours, it should take you a maximum of 10 – 12 hours to see and do everything.
Got More Time? Top Attractions Near the Golden Circle
Here are some of the best optional extras you can add near the Golden Circle if you've got more time.
Friðheimar
As integral a part of Iceland's landscape as its natural features are, when visiting the Golden Circle, stop and take a minute to see its magnificent horses. The gorgeous Icelandic horse is a tough breed with a stunning flowing mane.
One of the best places to see these majestic beasts is at Friðheimar, where you can meet them, take pictures, and even head out on a horseback ride.
Langjökull Glacier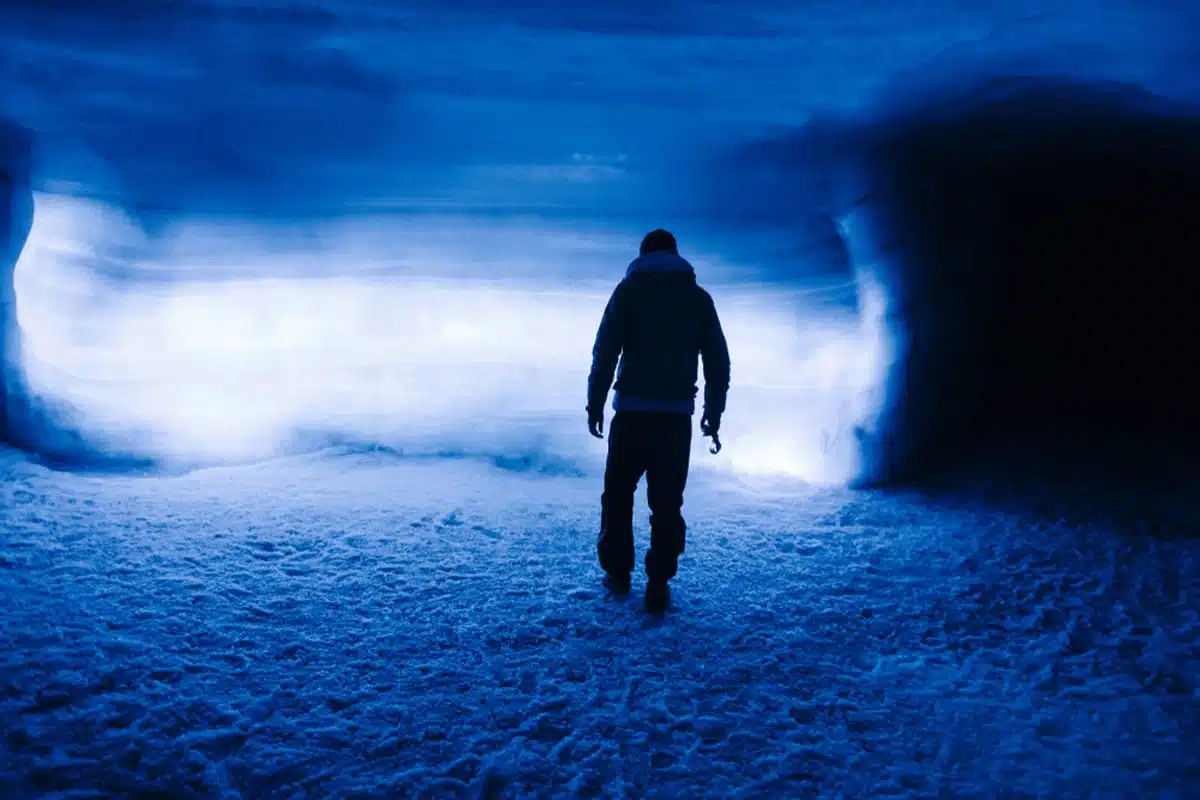 A genuine adventure of a lifetime, head to the Langjökull Glacier on a snowmobile. Thanks to year-round snowfall, it's always a stunning picture of white icy powder.
If you undertake a self-drive of the Golden Circle, you can arrange a trip to the glacier from the visitor centre of Gullfoss Waterfall.
Sólheimar
From Þingvellir, on the way to the Geysir Geothermal Area, stop off at the ecovillage of Sólheimar.
With a population of 100 people, it's tiny. But it's a great place to learn about community integration and how everyone, regardless of race, age, sexual identity, or religion, works together for a common cause.
Þjórsárdalur Valley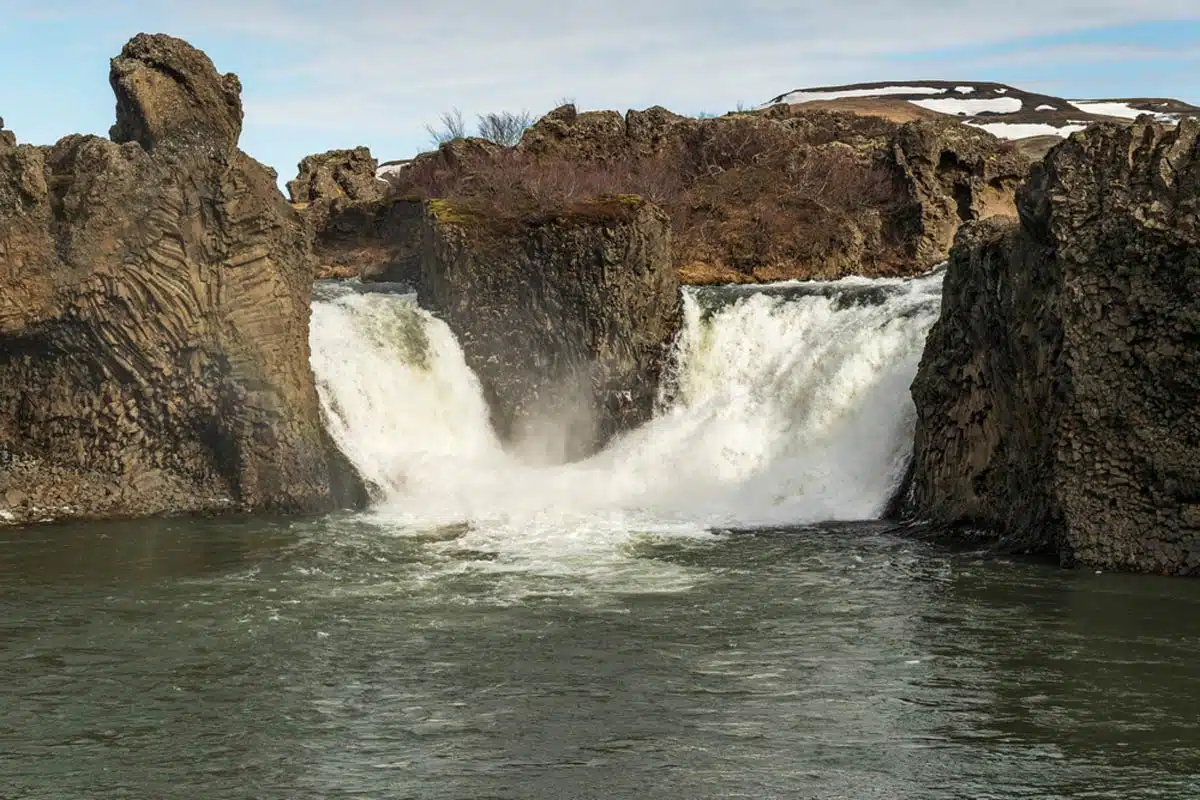 A breathtaking valley that's off the beaten path of the Golden Circle, this is where you'll discover some of the most impressive waterfalls in Iceland. These include Hjalparfoss, Haifoss, Gianni, and Skogafoss.
Skálholt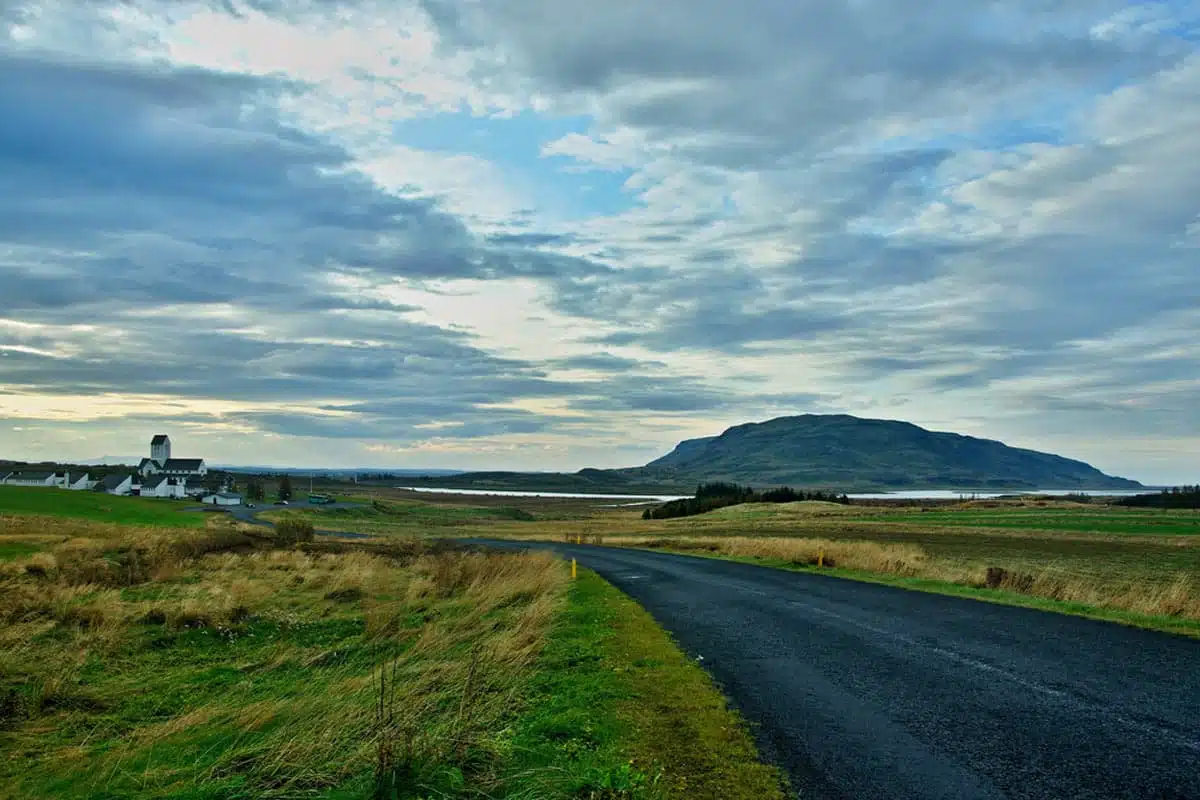 Considered by some scholars to be Iceland's first town, Skálholt is a little village with massive charm. Home to the first bishop of the country and the very first school, it's the perfect spot for history buffs to immerse themselves in Icelandic history.
Golden Circle Iceland: Map
Love This? Save and Share on Pinterest