I bet when you tell your friends and family you're planning a trip to Iceland in winter, a few puzzled gazes will await you. So, let's put the cold stares to bed with this epic guide to visiting this Nordic wonderland during winter.
Wait… A trip to Iceland? In winter? Sounds mad. Perhaps, but sometimes the most foolish-seeming plans deliver the most incredible results. Now, let me shatter any illusion you might have that Iceland is anything but incredible as winter creeps in.
Oh, and any lingering thoughts on when the best time to visit Iceland will also end, as there is a clear winner. But you'll only find that out once you know what the country showcases when the cold comes calling.
I promise I'll keep the phrase "Iceland is magical" to a minimum. At least, I'll try. Although once you see what it has in store, you might struggle to stop yourself from saying it yourself.
Enough small talk. Winter is coming, and so is your trip to Iceland. Let's go.
Brilliant Things to Do in Iceland in Winter
Feast Your Eyes on the Northern Lights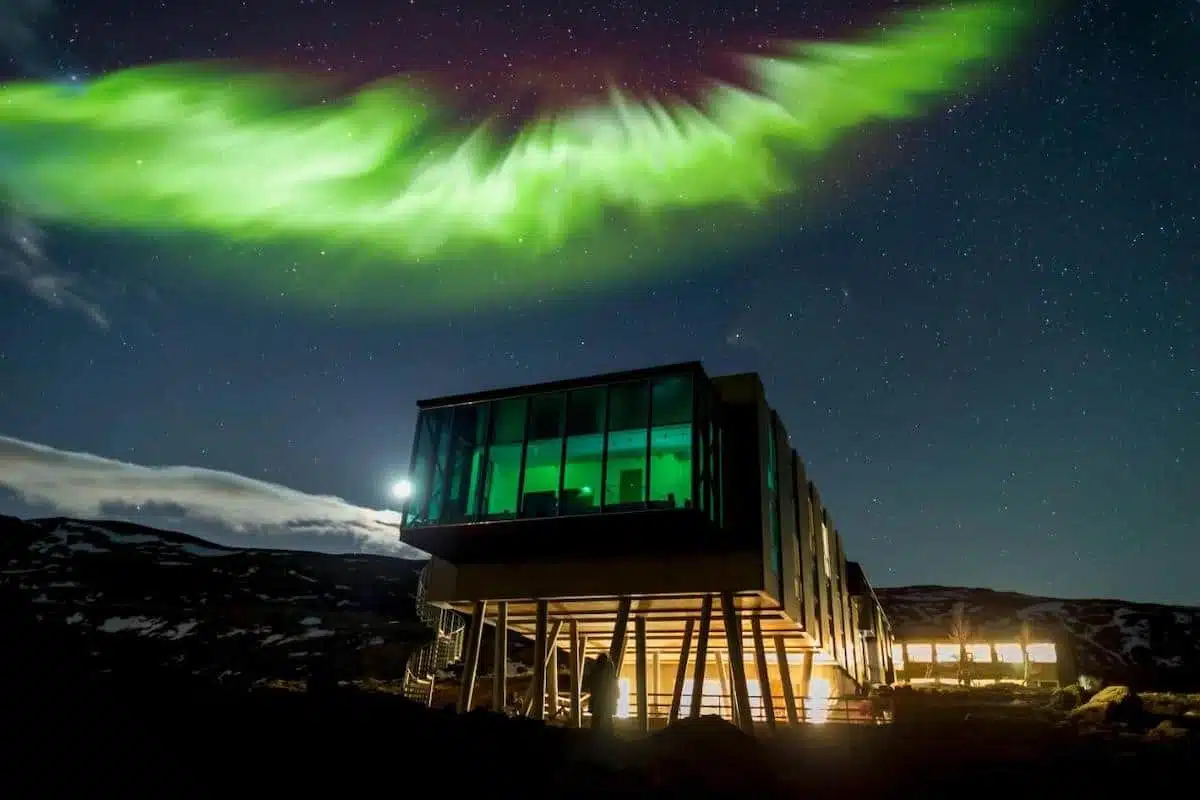 Sure, Iceland brims with impressive things to do and see, equalled only by its incredible places to visit. But nothing can compare with the country's main attraction — the dazzling and mesmerising Aurora Borealis.
I'm rarely at a loss for words, but if there's one thing that few words could ever do justice, it would be the Northern Lights. It's a natural phenomenon that results in dancing waves of colour in shades of blue, green, and purple.
And thanks to the dark, long nights in Iceland, the winter is the absolute best time to see the northern lights.
Although it's never a guarantee that you'll see the magical light show, you can better your chances at a few locations. Reykjavik in the Seltjarnarnes Peninsula, the town of Akureyri or on the black sand beach of Reynisfjara, to name a few.
Tip: To make it easier to view this stunning display, book this 4-hour northern lights bus tour.
Dive Into Iceland's Natural Hot Springs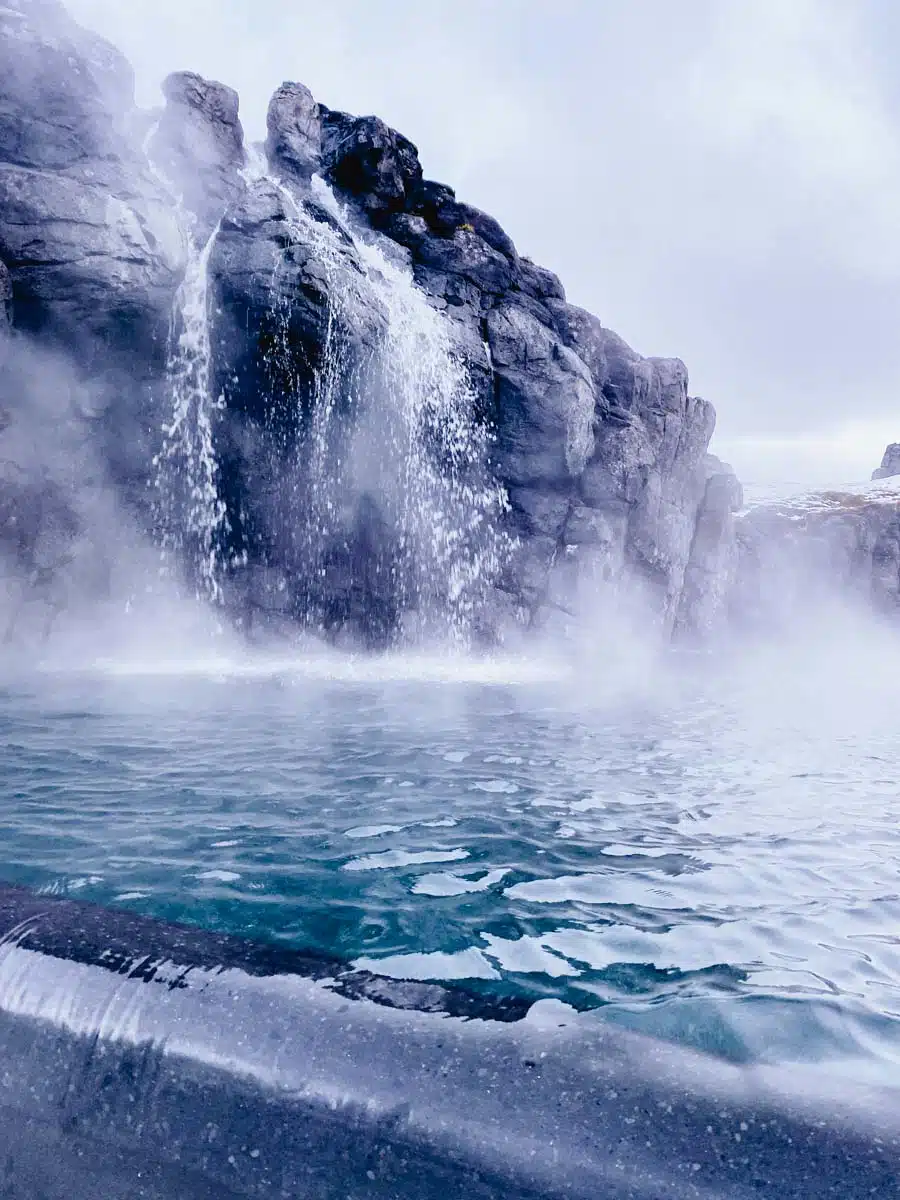 Technically (and legally), you're not allowed to dive into the spectacular hot springs of Iceland. On the other hand, gently slipping into one of the 45 dedicated springs is a far more calming experience on a cold winter's day.
You can rest assured that none of these natural hot springs come underrated. There's a reason (or two) that bathing in any of them often ranks as the best thing to do in Iceland in winter.
The best bit? Spending more than seven days in Iceland gives you ample opportunity to explore as many as you want. Some of the most popular include Blue Lagoon and Sky Lagoon, close to Reykjavik.
A bit further along the Golden Circle (more on that in a bit), you'll find the not-so-Secret Lagoon. Or, if you're up north, worthwhile options include the Myvatn Nature Baths and Geosea in Husavik.
Tip: Book a day trip from Reykjavik that includes the iconic Blue Lagoon. Or get this entrance ticket that includes entry, a drink, and a complimentary mud mask.
Discover The Golden Circle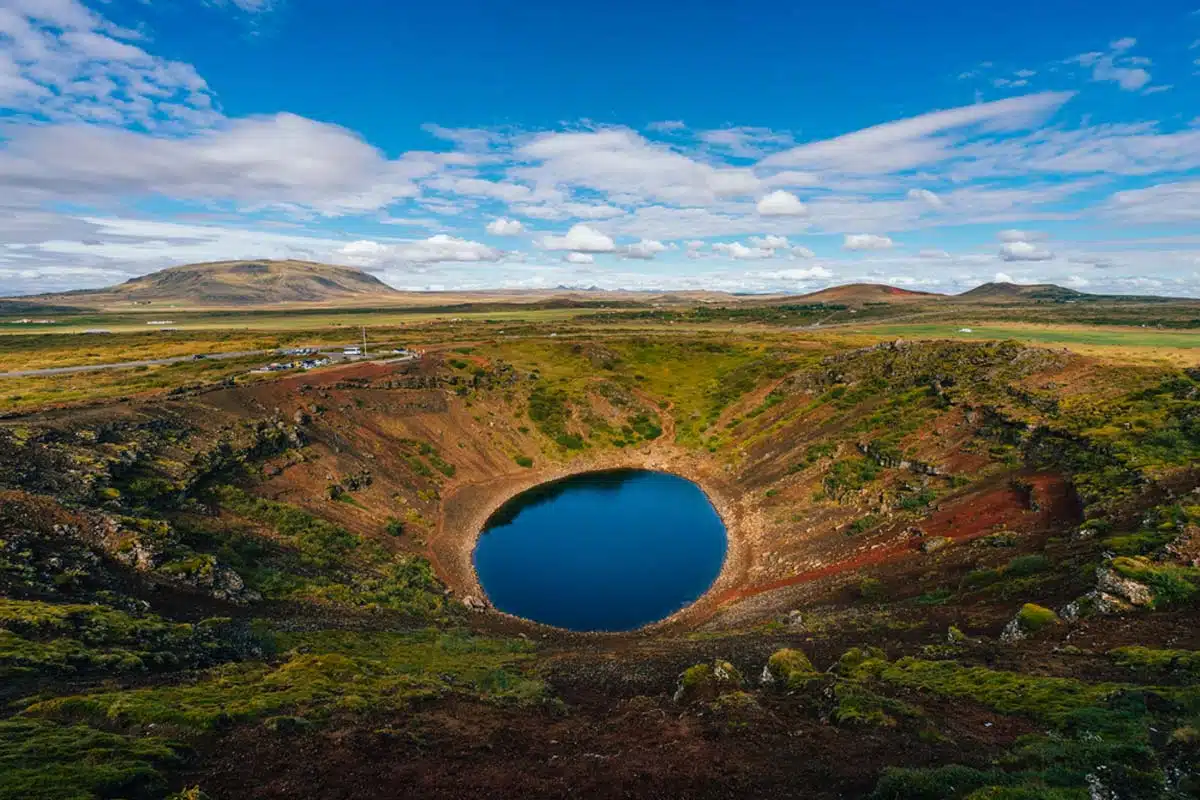 What should you include in your Iceland winter travel plan? Without a doubt, including the Golden Circle is a must. A long-standing debate over which is more popular, the Northern Lights or the Golden Circle, continues daily.
Locally, the Golden Circle refers to three of the most iconic sights the south of Iceland offers. All conveniently located along a picturesque road that seems almost ethereal.
First up is the majestic 2-tiered Gullfoss waterfall. Then come the enticing pools and imposing geysers of the Geysir Geothermal Park.
Finally, the circle concludes with Thingvellir (Þingvellir) National Park, a UNESCO World Heritage Site. Filled with historical, geological, and religious highlights, and even some Game of Thrones filming locations.
Tip: Due to the popularity of the Golden Circle, book this full-day tour from Reykjavik, which fits into any Iceland itinerary.
Spend Christmas in Reykjavik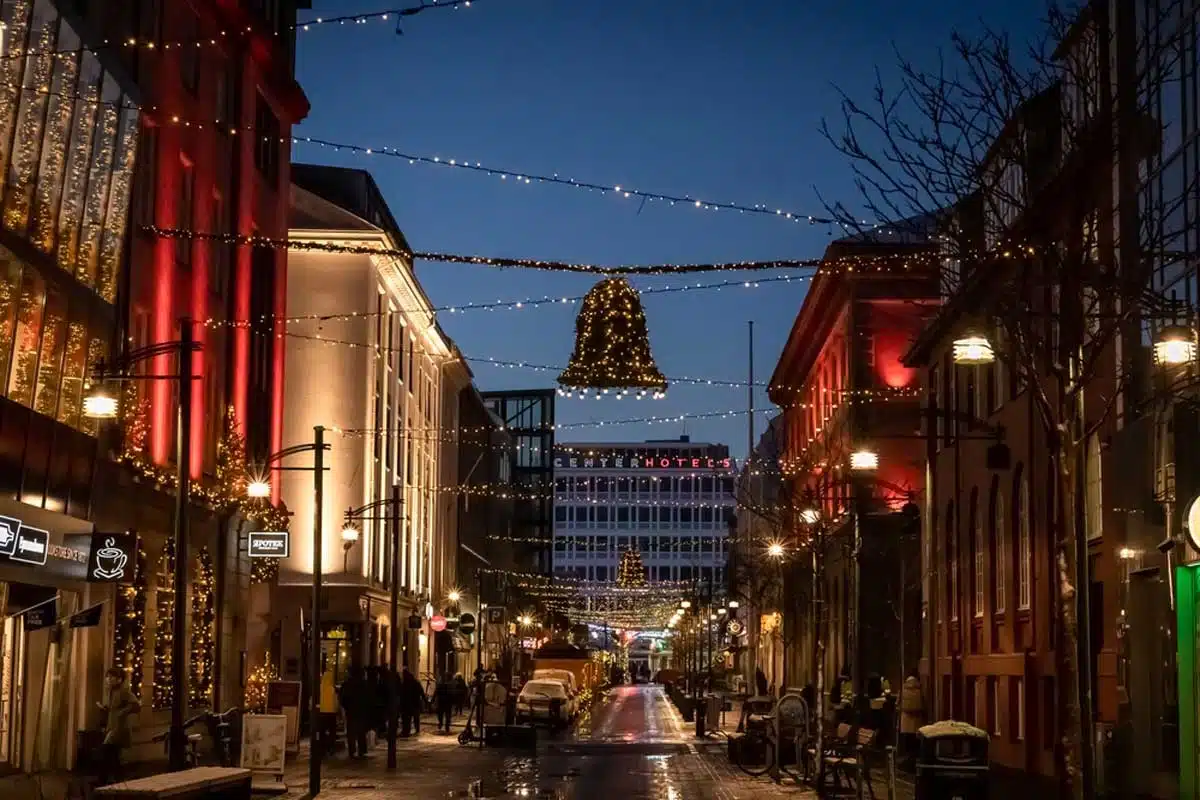 When visiting Iceland in winter, you can bet that you'll be around for the annual Christmas festivities hosted in Reykjavik in winter. Keen to find out what makes this unique? Well, for starters, the magnificent citywide illuminations.
In downtown Reykjavik, you'll find the famed 5-metre tall Yule Cat, constructed from tons of steel and over 6,000 lights. Another downtown highlight is the immense Oslo Christmas tree sent to Iceland as a gift from Norway each year.
The official Christmas celebrations begin on the 12th of December. It culminates with Þorláksmessa (St. Þorlákur's Day) on the 23rd, celebrated city-wide with traditional food and loads of shopping. The season ends on the 6th of January with a massive fireworks display and bonfires.
Tip: Visit the Lake Mývatn area in northern Iceland to hunt for the 13 Yule Lads, a huge part of Icelandic Christmas culture.
Fly Over Iceland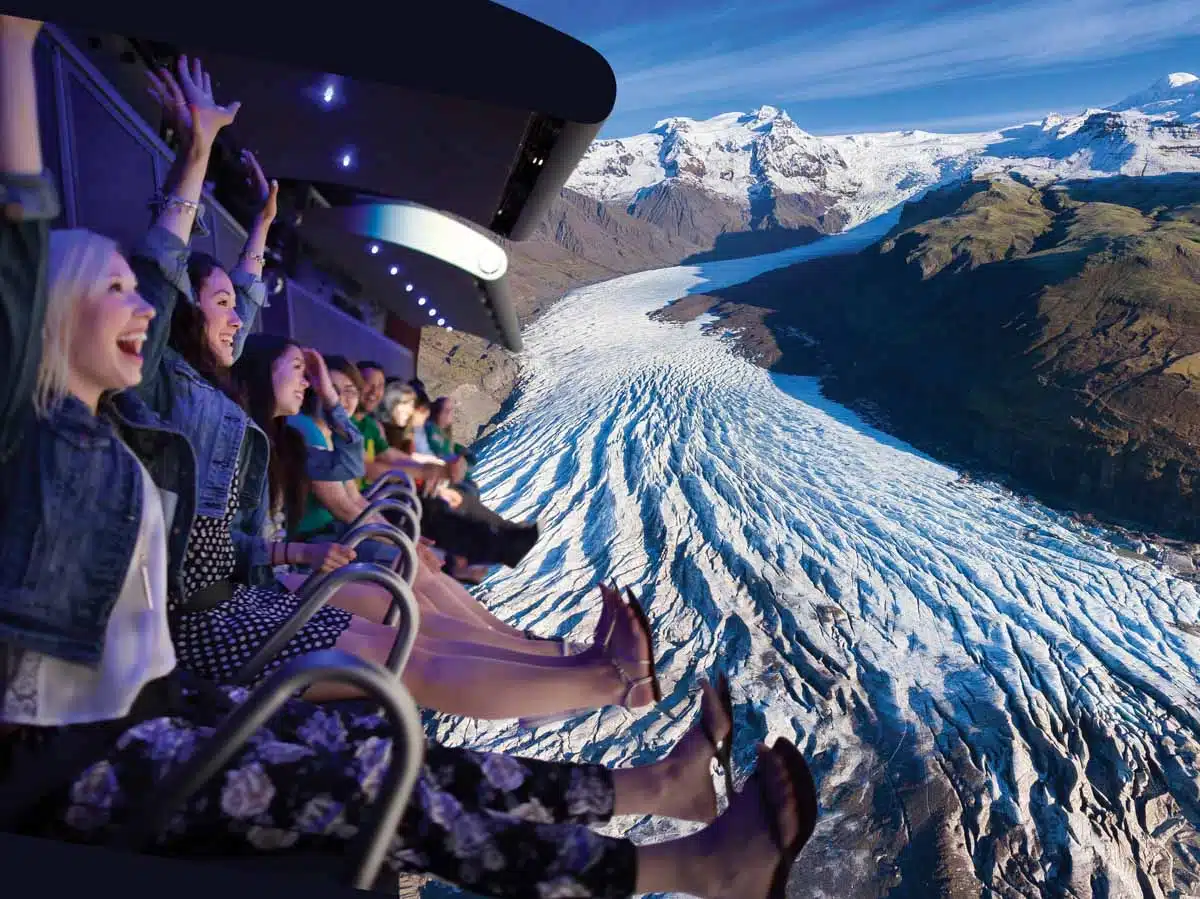 How does an immersive bird's eye view experience of the Icelandic landscape sound? Pretty enticing, am I right? Well, as impressive as a helicopter tour over Iceland sounds, sometimes you just can't fit it into your schedule.
And that's precisely where FlyOver Iceland comes in. A multi-sensory experience, this flight simulation ride brings everything you'd hope to see to life breathtakingly. Located in Reykjavik's Grandi district along the city's waterfront, it's an easy gateway to "see" some of the best places to visit in Iceland in winter.
Upon entering, you'll find yourself in an "Icelandic longhouse" for some intros to the country's history. Next, is a separate room lined with suspended kinetic screens, which display stunning visuals of the northern lights and erupting volcanoes.
Finally, the third room will have you strapped into mesh seats atop a state-of-the-art moving platform. This platform, surrounded by a 20-metre spherical screen, takes you on a 9-minute "flight" across Iceland.
Tip: Book your entry tickets in advance, as they sell out quickly.
Visit the Ice Caves & Go Glacier Hiking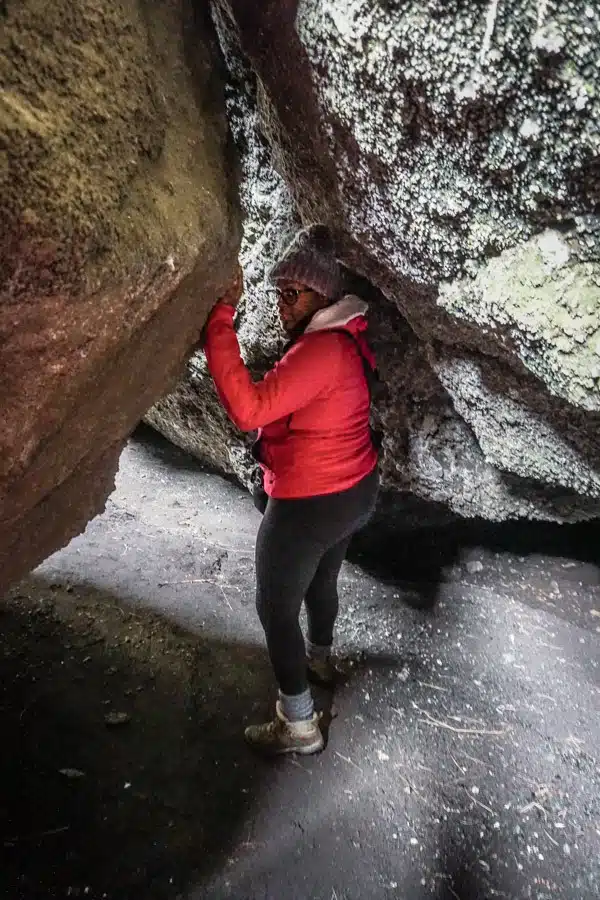 Okay, here I go. Iceland in winter is magical. And you don't have to delve very deep (pun intended) into any of the majestic ice caves of Iceland before you'll agree.
Prepare yourself, though, as Iceland has a lot of mesmerising caves shaded in an array of blue tones.
Most of these labyrinths lie beneath the Vatnajökull or Kötlujökull glaciers. Due to the genuinely fantastic experience, booking a guided tour through one (or more) is best. But what about glacier hiking?
For those looking to get their hiking thrills, Vatnajökull is not just famous for its icy caves. It's also the site of some enjoyable and memorable hiking trails. As the largest icecap in Europe, you'll find it within Skaftafell National Park.
Tip: Combine the exciting adventure of ice cave exploring with the thrill of glacier hiking with this Skaftafell Cave Tour and Glacier Hike.
Horseback Riding in Iceland
By now, it's no secret that Iceland stuns with its natural beauty. And, yes, experiencing these by bus, jeep, or even a massive 8WD all-terrain vehicle is fun. But why not opt for a stunningly unique way of exploring?
An iconic part of Iceland's beauty lies in its wildlife, and few compare to the majesty of Icelandic horses. These shaggy-coated horses abound throughout the country on numerous farms and free-roaming areas.
It's not uncommon to see these majestic beasts during your visit to Iceland in winter, but going for a horseback riding tour is pure bliss. You can visit any of the farms around Iceland, with Laxnes Horse Farm near Mosfellsbær and Íshestar Riding Centre in Hafnarfjörður the most popular.
Tip: Opt for a group tour if you don't want to go on a solo horseback mission. One of the best is a Horseback Riding Lava Tour, which takes you through sweeping lava fields. Another is this Red Lava Horse Riding tour from Reykjavik.
Explore Some of Iceland's Best Museums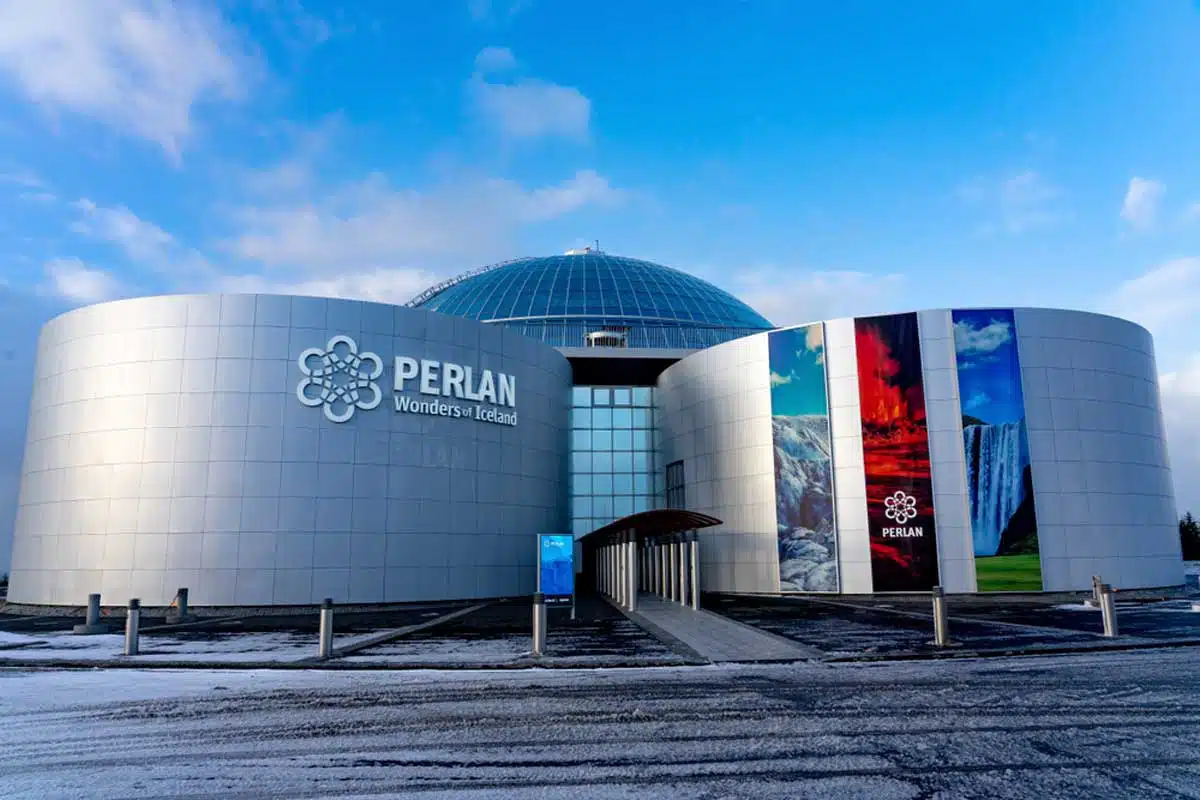 No one can blame you solely for visiting Iceland to explore its captivating landscapes. But, one of the best things to do in Iceland in winter is delve into the country's culture and heritage.
Reykjavik, the capital city of Iceland, is also its cultural heart. You'll find numerous museums, parks, art galleries, and other attractions throughout the city. Its must-visit museums include the National Museum of Iceland, the Perlan Museum, and the Árbaer Open Air Museum.
If you're not one for museums, Reykjavik has some other great places to visit. The famous Hallgrímskirkja Church — a towering structure — reaches 244 feet and has been an iconic Icelandic landmark for decades.
Tip: Most museums and other cultural attractions come included on a guided walking tour of Reykjavik led by an actual Viking.
Eating and Drinking Your Way Through Winter in Iceland
Where to Drink
You'll often need some liquid courage to endure the colder days in Iceland in winter. And here are the two watering holes you should visit.
Kaffibarinn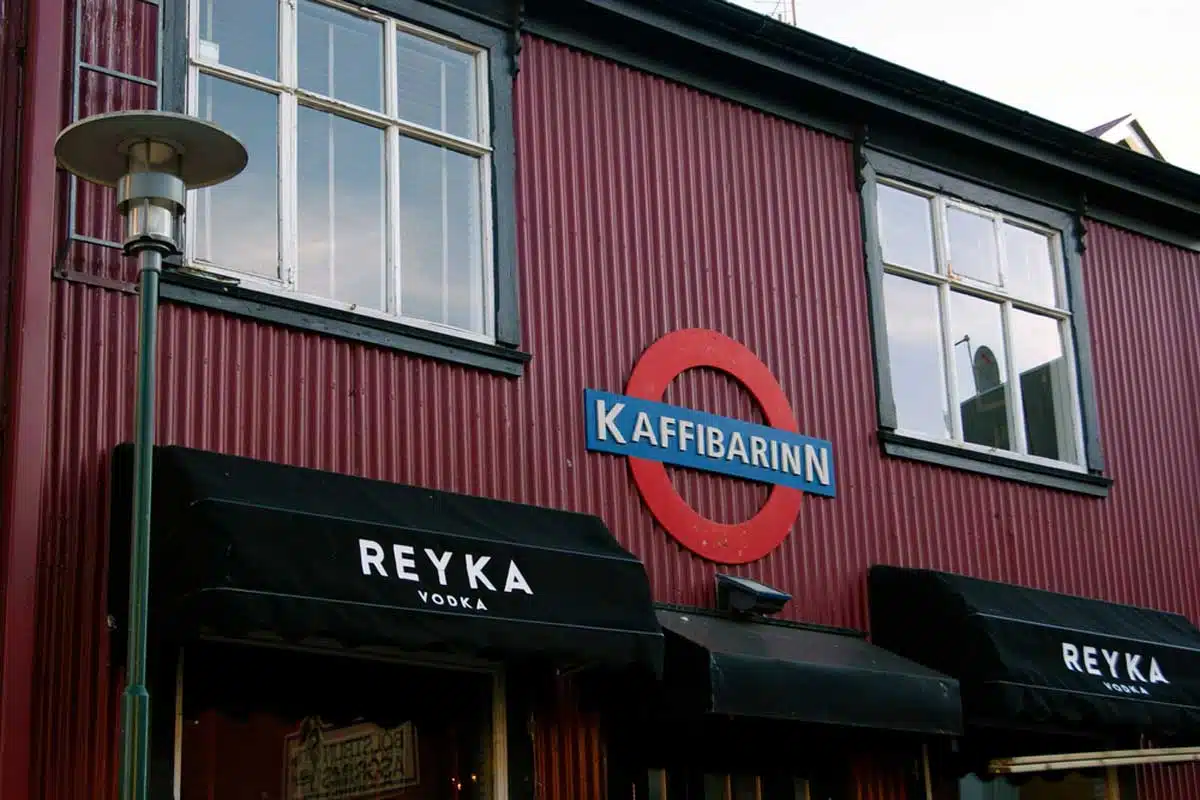 One thing you need to know about most cafés in Iceland, and Reykjavik specifically, are that they tend to transform come sundown. During the day, Kaffibarinn is a fantastic coffee shop, and at night, it takes on a nightclub feel. Expect at least one impromptu dance party, no matter when you visit.
Magic Ice Bar
An iconic bar in Reykjavik and a guaranteed fun experience is sipping on tantalising cocktails served within a sub zero bar.
Welcome to Magic Ice Bar, located in the city's downtown just off Rainbow street. Everything here comes made of ice, from benches to the glasses your drinks arrive in.
Tip: Book your entrance ticket to Magic Ice Bar in advance, as this also comes with a complimentary drink.
Where to Eat
Nothing beats a hearty meal after a day of adventuring through Iceland, and one thing the country does very well is serve up fantastic cuisine. Visit these two culinary highlights.
Grillmarkaðurinn
A famous grill market, this high-end restaurant presents itself as a dining experience set in the garden of Eden. Blending nature and cuisine here, you can feast on unique meat-focused dishes. You'll find whale, horse, reindeer, and even puffin dishes on the menu.
Dill
A Michelin-starred restaurant, it often features as Iceland's best, and for a good reason. Expect mouthwatering dishes such as traditional fish stew or reindeer tartar.
And what's dinner without a view? From your table, you'll also have some stunning scenery to gawk at.
Where to Stay When Visiting Iceland in the Winter
Explore the best places to stay in Iceland during the winter months.
Exeter Hotel (Mid-Range)
Located in the heart of Reykjavik, this 4-star contemporary hotel is the ideal accommodation for any Icelandic adventure. The Exeter exudes opulence with industrial decor, modern touches, and luxurious wood finishings. The best part is that Exeter delivers luxury at an affordable price tag.
Umi Hotel (Luxury)
At the foot of the famous Eyjafjallajökull volcano in southern Iceland sits the Umi Hotel. Considered somewhat off the beaten path, it's the perfect spot to find solitude while you benefit from stunning views. The property offers numerous activities, including horseback riding.
Practical Tips for Planning Your Visit to Iceland during Winter
Iceland is a popular destination, so be sure to book your accommodation in advance, check the opening hours of attractions, and plan accordingly.
To make the most of Iceland's winter activities, check out my packing lists to ensure you've got everything you need.
Remember that Iceland isn't the only place to experience a fantastic wintery adventure. Have a look at some other wonderful winter destinations in Europe. You can thank me later.
Iceland in Winter: Map
Iceland in Winter: Read Next
Love This? Save and Share on Pinterest