FlyOver Iceland is a thrilling immersive experience in Reykjavik that takes you on a journey over the country's most stunning panoramas. Here's why you need to go.
It's no secret that Iceland is an otherworldly destination that's full of stunning landscapes ready for you to discover. 
The only issue? Seeing it all.
Even when you do travel to Iceland, no single trip can allow you to do justice to even a fraction of the incredible sights dotted around the island. Enter FlyOver Iceland.
But what exactly is FlyOver Iceland? Imagine an immersive flight ride taking in the best of the country's scenery and you'll have it about right.
I hopped over on my recent trip to Iceland with Pursuit and loved it – here's why I think you will too.
FlyOver Iceland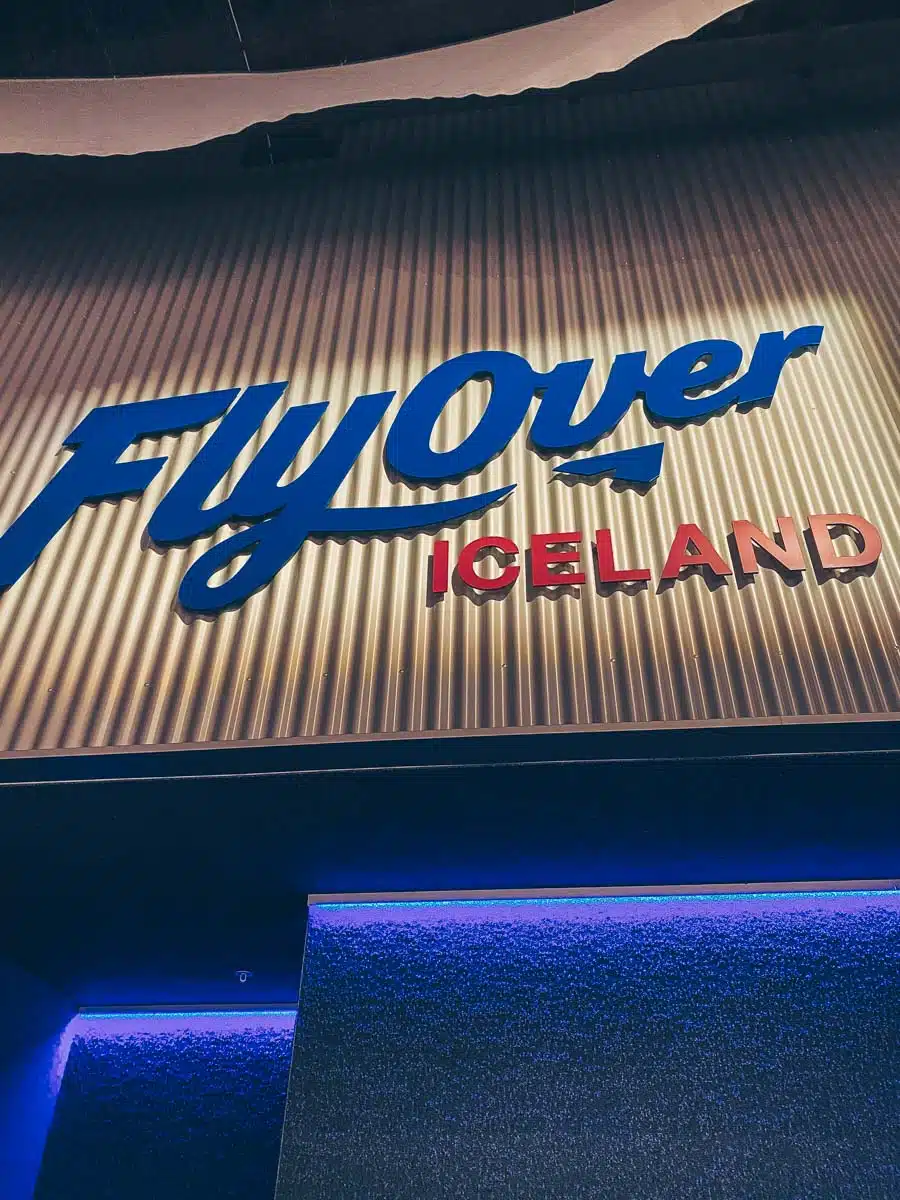 Earlier this month, I took my third trip to Iceland – but this time with a different purpose. Where on previous trips I'd set off to discover the island's hidden gems and prolific natural beauty, this time we were set to explore Reykjavik with Pursuit, the company behind two of the city's coolest attractions – the new Sky Lagoon and FlyOver Iceland.
It wasn't hard to get the gist of the Sky Lagoon – magic the words lagoon, Icelandic bathing and stunning views and I'm sold, but FlyOver Iceland, in truth, I just wasn't sure what to expect.
The reality is a thrilling immersive experience that seeks to thrust you at the heart of Iceland's striking panoramas.
Pre-Ride Experience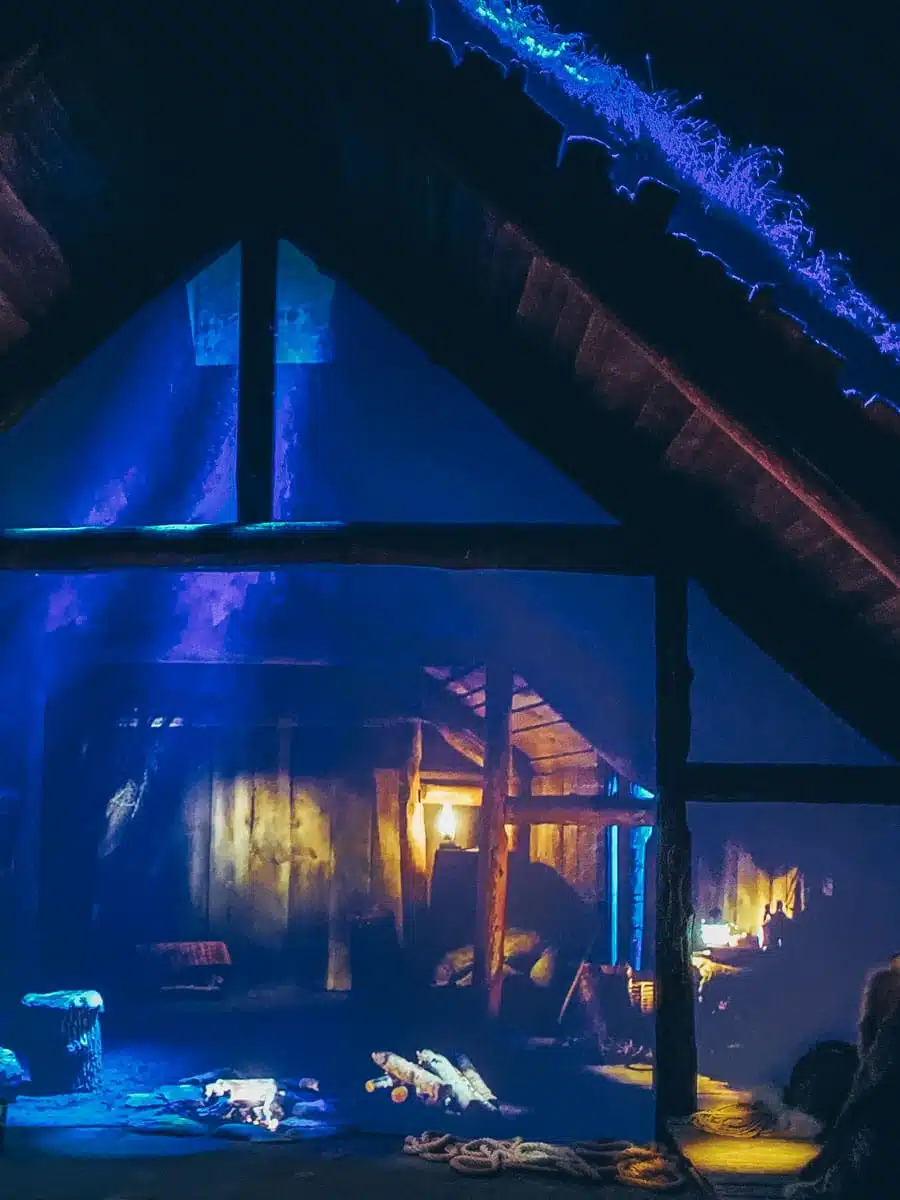 Fun as it would be to step straight into the building and belt yourself in for the ride, FlyOver Iceland builds on the experience through two pre-ride scenes.
The first takes you to an ancient Viking longhouse where a grizzled local, encourages you to sit by the hearthside as he tells you some of the local lore. The second walks you through an imagined history of Iceland – as told by a troll – drawing on the deep well of Icelandic mythology as well as real events to shape the story of the island.
Time to FlyOver Iceland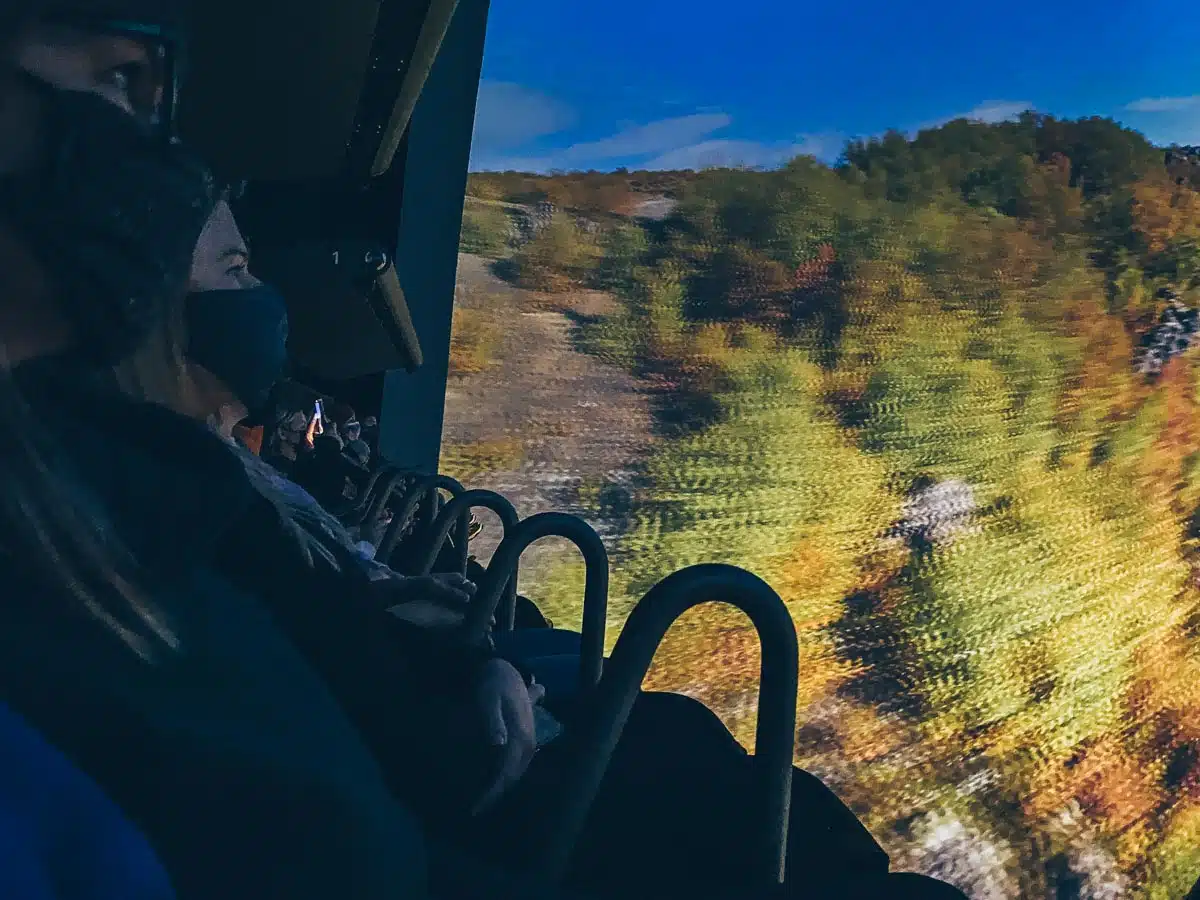 After that, it's time to step onto the ride, buckle yourself in and take a trip over Iceland, discovering the island's geological wonders in crystal clear high definition as you go.
Strapped in, you hover within the ride, feet dangling and surrounded by a 20-metre-high spherical screen, twisting and turning as you, quite literally, fly over Iceland.
It's not just visuals that create the experience either – your flight is accompanied by other sensory adventures – such as the wind buffeting your face, or mist blowing over you as you skirt close to a waterfall and the scent of lupins as you glide over a flower-filled valley.
There were locations I'd seen in real life before – Jokulsarlon Glacier Lagoon, Reynisfjara black sand beach – but even these took a new shape as I saw the scale and size of them in a way that's impossible to do when you're on the ground.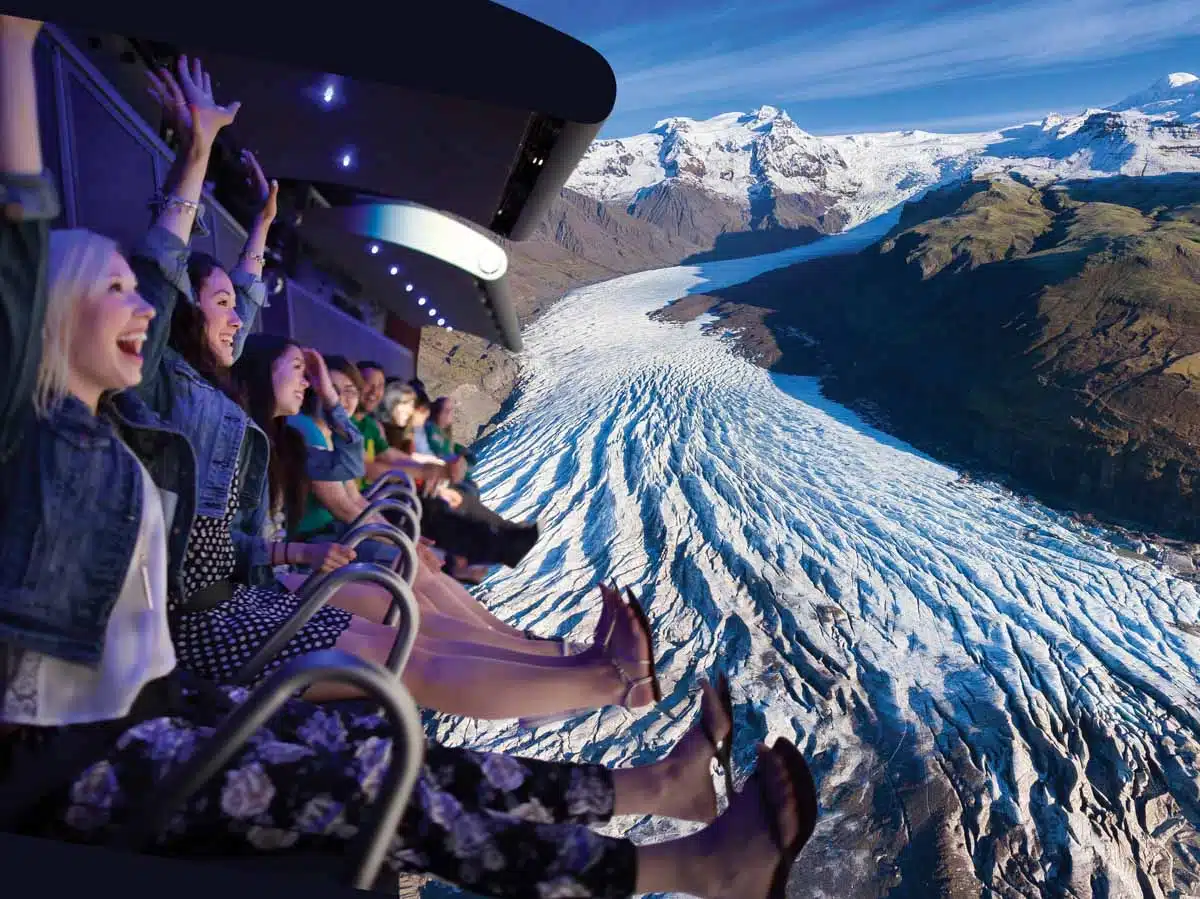 Even so, there were far more destinations I'd never visited – in fact – I was to learn later that there were some that very few people had due to the sheer difficulty of accessing them. So not only do you get to see some of the country's more familiar sites from a different perspective, FlyOver Iceland gives you the opportunity to experience places that very few tourists or locals ever have.
The Making of the FlyOver Iceland Experience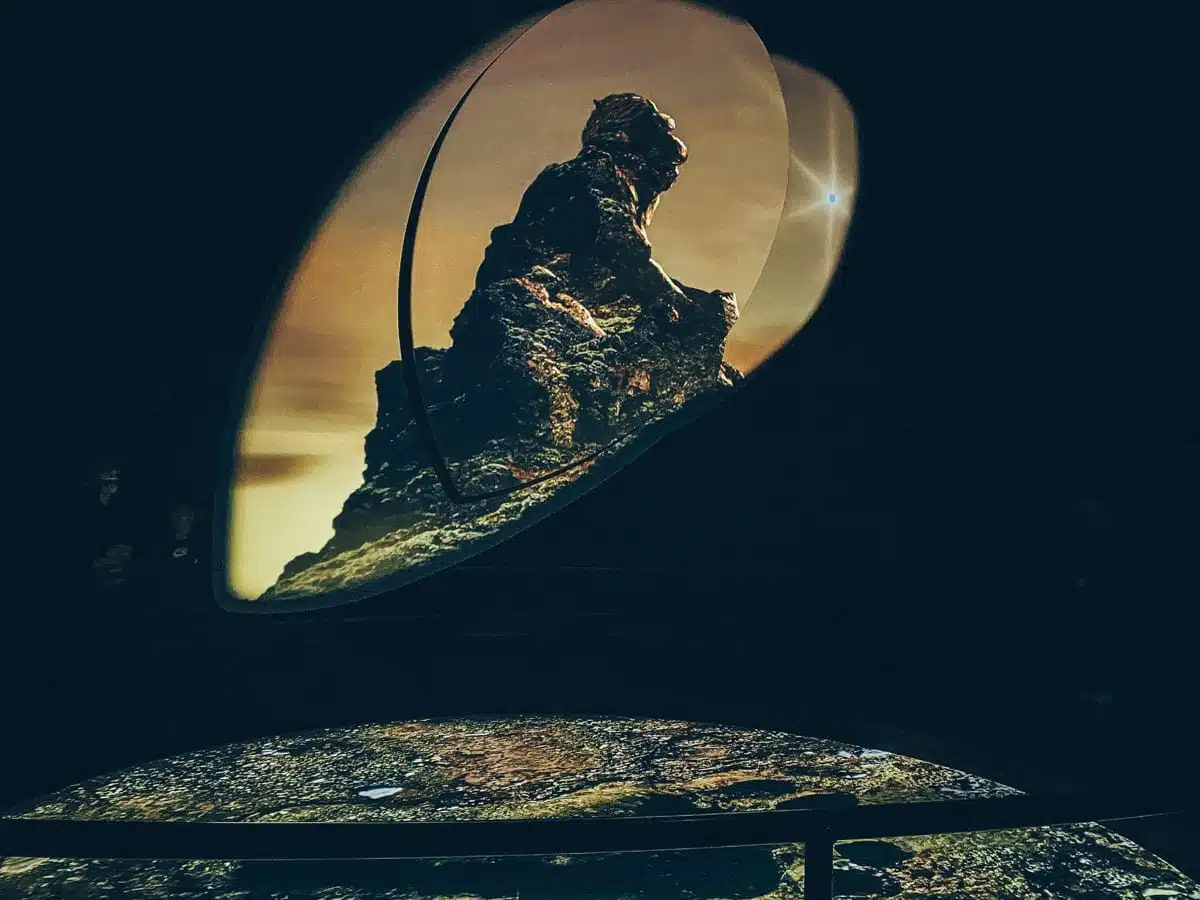 Magical as Iceland is, it came as no surprise that the FlyOver Iceland experience didn't just come into being with a swish and flick of a wand.
Instead it was created through years of effort from a skilled creative team that included one of the country's best-known illustrators (Brain Pilkington), another of its eminent composers (Kjartan Holm) and the country's go-to helicopter pilot (Jón Björnsson) among others.
Creative Director Rick Rothschild brought his extensive experience in creating immersive flight rides (he spent more than 30 years as a creative executive at Disney) to programme the ride's motion and special effects.
FlyOver Iceland: Practical Tips and Map
Location
FlyOver Iceland is located in Reykjavik's cool Grandi Harbour District.
Website: www.flyovericeland.com/
Address: Fiskislóð 43, 101 Reykjavík, Iceland
This trip was hosted by Pursuit Collection. As ever, all thoughts and opinions are my own.