So you're planning (or dreaming of) a trip to Iceland and you have one burning question… Is Iceland expensive? The short answer is yes. But not as expensive as you might think. Here's what you need to know before you go.
Iceland has a reputation as a fiercely expensive destination. The kind that will make your wallet cry and your bank account beg for mercy. But is it really that bad?
Not really. There are a lot of myths about how expensive Iceland is, as well as quite a few truths. Here's a breakdown of what you can expect, along with 15 tips for reducing the cost of your trip.

Planning a trip to Iceland? Read more of my Iceland travel blogs
First Up, Is it Expensive to Travel to Iceland?
For the most part, no, it is not expensive to travel to Iceland.
A new wave of budget airlines such as Norwegian and Wizzair, plus Iceland's own national carrier, Icelandair offering free stopovers in Iceland has meant that the cost of travelling to Iceland is pretty cheap (or even free!).
Flights from the UK start at £29 each way and flights from the US start from $129. That's pretty reasonable right? Right.
Check flights to Iceland on Skyscanner
As an aside, I'd avoid Wizz Air like the plague. I flew with them on my most recent trip to Iceland. The flights were significantly delayed in both directions, a fact they only told us once we were kettled in at the check-in gate. They have particularly aggressive rules and high penalties around online check in. Thumbs down.
How Expensive is Iceland: At a Glance
Not sure what to expect when it comes to costs in Iceland? Check out this quick guide.
I took these from my recent trips in 2018, so they should be up to date.
| | | | |
| --- | --- | --- | --- |
| Item | Average Cost in Icelandic Krona (ISK) | Average Cost in British Pounds (£) | Average Cost in US Dollars ($) |
| Double Room in Three Star Hotel in Reykjavik 1st July | 22,500 | 150 | 200 |
| Double Room in Three Star Hotel in Reykjavik 1st December | 15,000 | 100 | 130 |
| Double Room in Four-Star Hotel Ranga 1st July | 52,000 | 344 | 450 |
| Double Room in Four-Star Hotel Ranga 1st December | 60,000 | 400 | 520 |
| Car Hire (Per Day) | 4,500 | 30 | 40 |
| Full Insurance for Car for 3 days | 8,250 | 57 | 75 |
| Fuel (Full Tank on Economy Car) | 7,500 | 50 | 65 |
| Campervan Rental (Per Day) | 17,000 | 115 | 150 |
| Lunch for Two from a Supermarket (With Snacks) | 3,000 | 20 | 26 |
| Pint of Beer in a Restaurant / Bar | 1,100 | 7 | 9 |
| Glass of Wine | 1,100 | 7 | 9 |
| Coffee and cake for two in a cafe | 3,000 | 20 | 26 |
| Dinner for Two with One Alcoholic Drink Each in Mid-Range Restaurant Reykjavik | 6,500 | 45 | 55 |
| Handmade Icelandic Sweater | 23,500 | 160 | 200 |
Currency conversions change, so you may want to check the current rates, particularly if you're British (like me) and the pound is singing a very sad little song at the moment.

That Looks Pretty Pricey – But Is Iceland Expensive to Visit Overall?
The short answer is… it depends. Some things are expensive in Iceland, but there are a lot of things that aren't.
If you're visiting Iceland, the three things that will cost you the most money are accommodation, eating out and taking tours/ other activities.
Check out my money-saving tips for each of them below.

OK, so if Iceland is Expensive, How Can I Make the Most of My Money? Money Saving Tips for Travelling in Iceland
Visit all of the Free Attractions
One of the things that is often overlooked when people consider the question "is Iceland expensive to visit" is that a lot of the best things to see in Iceland are free.
A huge amount of Iceland's appeal stems from the incredible landscapes and natural attractions the country has to offer. The good news is that visiting a lot of these attractions is completely free!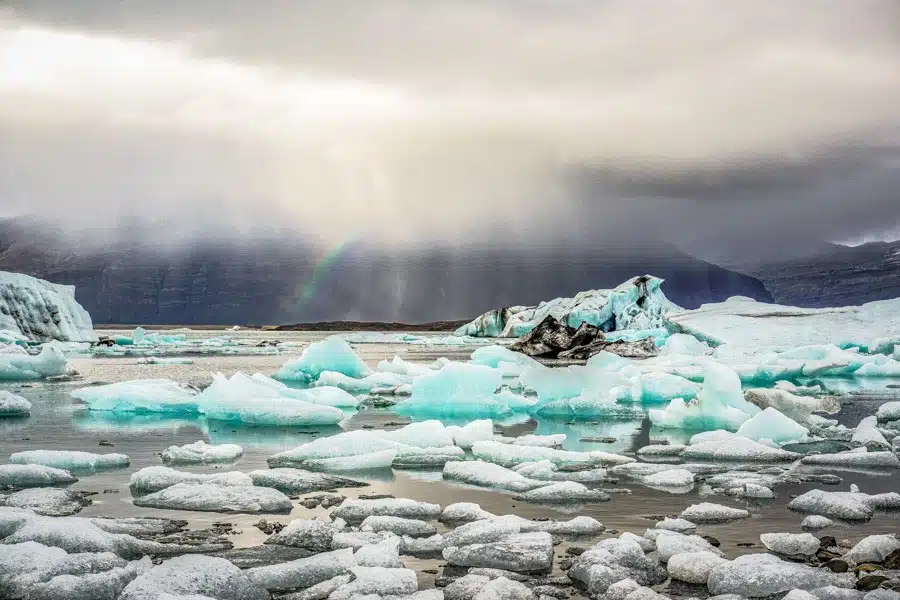 Pretty much all of Iceland's major attractions are free – Gullfoss Waterfall, Geysir, Jokulsarlon Lagoon, Seljalandsfoss – the list could go on for your Iceland ring road itinerary.
If you're not so bothered about shelling out for things like glacier hiking or whale watching, a trip to this expensive country can be surprisingly reasonable.
Whenever people say that Iceland is really expensive, I think they often forget that a visit doesn't have to cost the end of the earth because there are a lot of things you can do without spending any money if you travel independently.
Ditch the Expensive Tour and Hire A Car
Tours in Iceland can be eye-wateringly expensive, particularly for the big-ticket activities like whale watching, glacier hiking or paragliding. Even Golden Circle tours can be really pricey.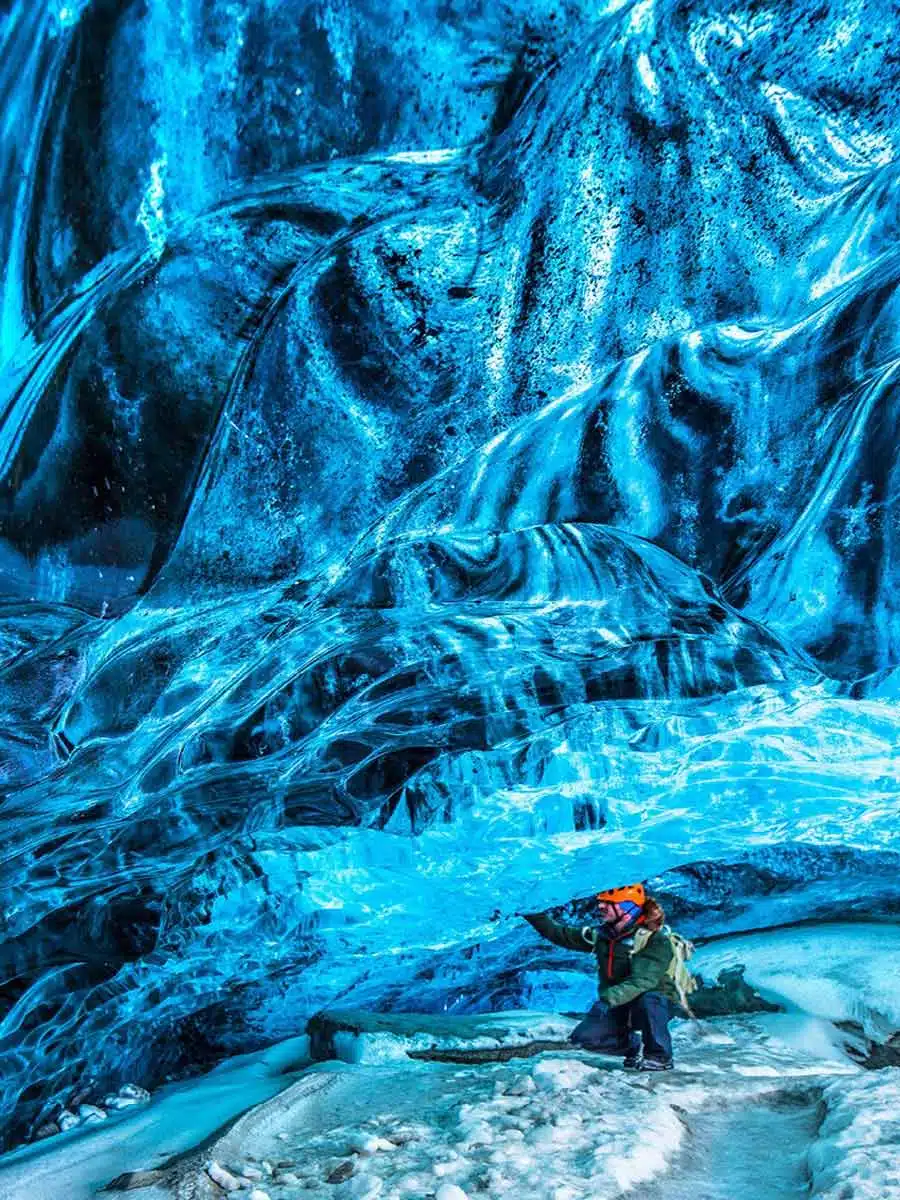 Now if you have your heart set on doing some of these activities, you don't have much option other than to suck it up and pay the price.
I would totally advise against trying to do paragliding without an expert guide – same for anything involving being on a glacier. However, you can drastically cut the cost of going on the more standard tours by just hiring a car and visiting destinations independently, or, if you're in Reykjavik, follow some budget-saving tips.
Another alternative is if you are travelling Iceland in a campervan, you can not only save on some of the guided tours but also on accommodation too.
On my most recent trip to Iceland, we simply hired a car for collection at the airport (you can check car hire prices on Holiday Autos, which I've found to be reliable) and used this to visit lots of Iceland's coolest spots on our own.
One of the most memorable days we had was when we drove down to Jokulsarlon Lagoon (otherwise known as Diamond Lagoon) via Skogafoss, Svartifoss, Reynisfjara and the Reynisdrangar Sea Stacks.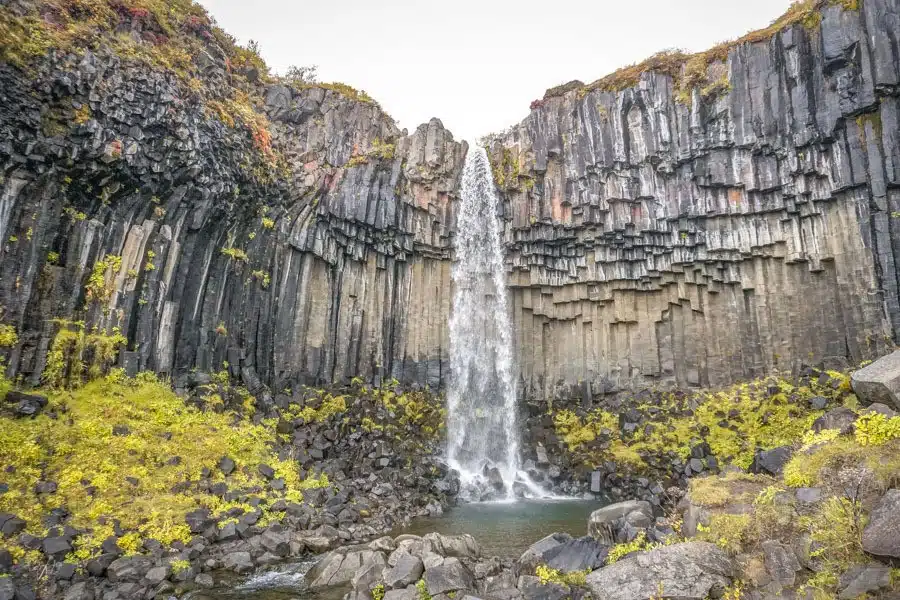 During that day, we saw some of Iceland's most spectacular natural attractions for a fraction of the cost we'd have had to pay for a tour.
Add to that the fact that we were able to operate on our own schedule, able to stop wherever and whenever we pleased and were able to play some banging tunes in the car in between stops and you can start to see the appeal.
Lower Your Accommodation Costs
There's no getting away from the fact that accommodation in Iceland is expensive. As an example, hotels in Reykjavik cost, on average, over 10% more than in other Nordic capitals.
That percentage jumps to a staggering a staggering 44% more when compared to the average cost within the EU.
OK, so accommodation is expensive. All hope is lost right? Wrong.
Focus on Good Value Rather than Low Costs
So first up, I want to say that just because accommodation in Iceland costs a lot, that doesn't mean that it can't be good value.
Overall the quality of accommodation in Iceland is high – rooms are clean, well-designed and cosy and generally the standard is high.
That's not going to be much comfort to you if you are looking to travel in Iceland on the cheapest budget possible, but if you're not, it's good to know that you're not spending all of that money on crappy digs.
Most hotels and hostels offer free breakfast and wifi, both of which can go some way to reducing the overall cost of your trip.
For example, during my stay at the gorgeous Hotel Ranga, we'd maximise the delicious breakfast on offer and as a result, we only had to have a small lunch.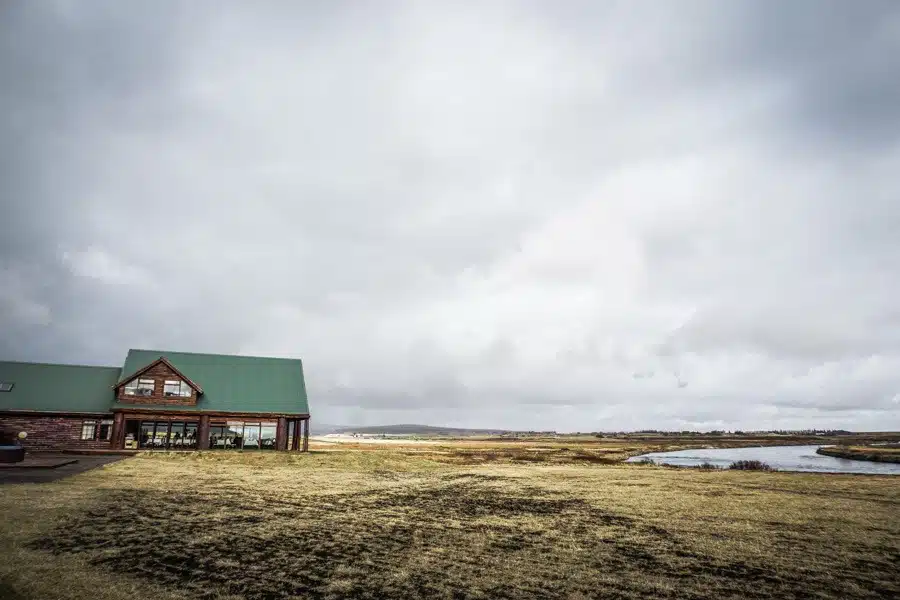 Free wifi is pretty common in most accommodation around the world, but in Iceland, it's fast and reliable. If you do have to be connected while you are in your hotel, B&B or hostel, you can use the wifi rather than completely relying on expensive roaming internet.
There are ways to cut the costs of accommodation in Iceland. The most obvious one is camping.
Go Camping
Now I know that some of you are going to look at the word camping and tremble with a shiver of uncontrollable repulsion. Some people just hate camping – that's OK, if you're one of them you should probably just skip this section.
You can go camping in Iceland, though I'd tend to say that it's a more realistic option if you are travelling to Iceland for more than a couple of days.
Shorter than this and I don't think it's worth it – up to you to decide though.
The easiest and most comfortable way to do your camping trip is to hire a campervan, get a map and head off onto the open road.
Now, I haven't spent time camping in Iceland – but if you want to get a better idea of what to expect on a camping trip, you can read this piece with handy tips and spots for camping in Iceland.
If you do decide to go camping, don't forget to leave each place exactly as you found it. Bring your rubbish with you.
Iceland is crammed with magnificent landscapes and they don't need lazy and selfish tourists messing it all up for them.

Buy Some of Your Meals from Supermarkets
Eating out in Iceland is expensive. One of the easiest ways to cut the cost of your trip is to buy groceries in Iceland or at least a couple of your meals from a supermarket to have as a packed lunch or to cook at home.
I personally love eating out when I'm in a different country but try to think ahead about which meals I want to spend my money on.
I don't know about you, but I'd much rather spend my money on one or two blow-out three course meals of stellar quality than dribble money constantly on a stream of mediocre food.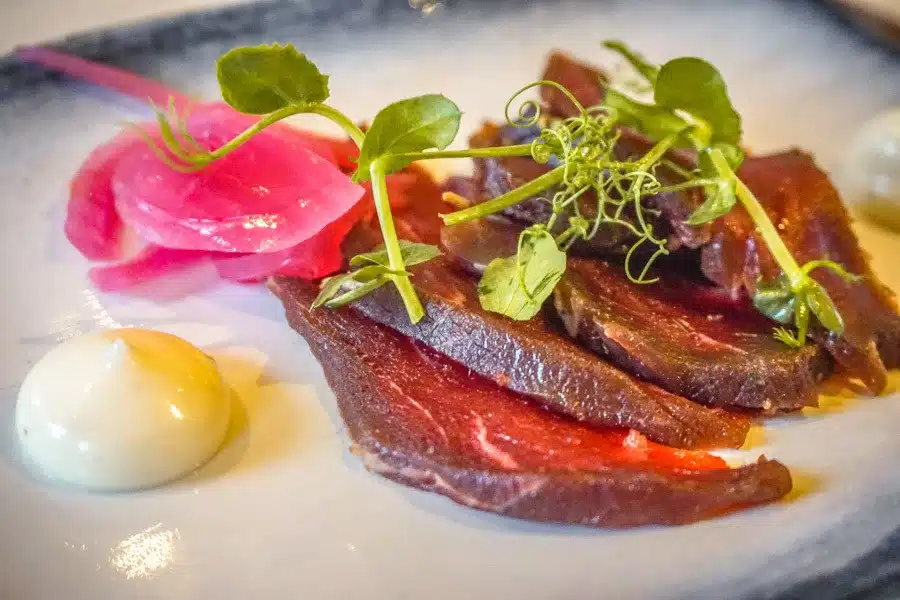 During my trips to Iceland, I've tended to spend money on a couple of great meals and then buy packed lunches from supermarkets or cheaper cafes for the rest of the time.
Supermarkets tend to get more expensive the further away you get from Reykjavik, so stock up on supplies before leaving the capital.
Take Public Transport
Getting a taxi in Iceland is a costly business. If you want to save money during your trip to Iceland and won't be renting a car, you should try and get public transport as much as possible. That starts at the airport.
Tempting as it is to just hop in a cab from Keflavik Airport to take you to Reykjavik, it's going to cost you a lot of money. Generally, taxis from Keflavik to the centre of Reykjavik cost 15,000 ISK.
Compare that to the nifty and efficient Flybus, which costs around 5,000 ISK and you'll start to get the idea.
Cut Down on the Booze
Boozing in Iceland is expensive. Fact. Now I'm not suggesting that you go teetotal for the duration of your trip, but you should know that alcohol is not cheap in the country.
If you are going to drink, the cheapest option is to buy what you need at Duty Free as you enter the country.
The second cheapest option is to buy alcohol at the state-run booze shop, ÁTVR or Vínbúðin, though this will still cost quite a bit thanks to the tax added to the cost of the alcohol.
Other than that, I found that if you go direct to microbreweries (Olvisholt Brewery is one of Iceland's hidden gems), and buy directly from them, it's also pretty reasonable price-wise.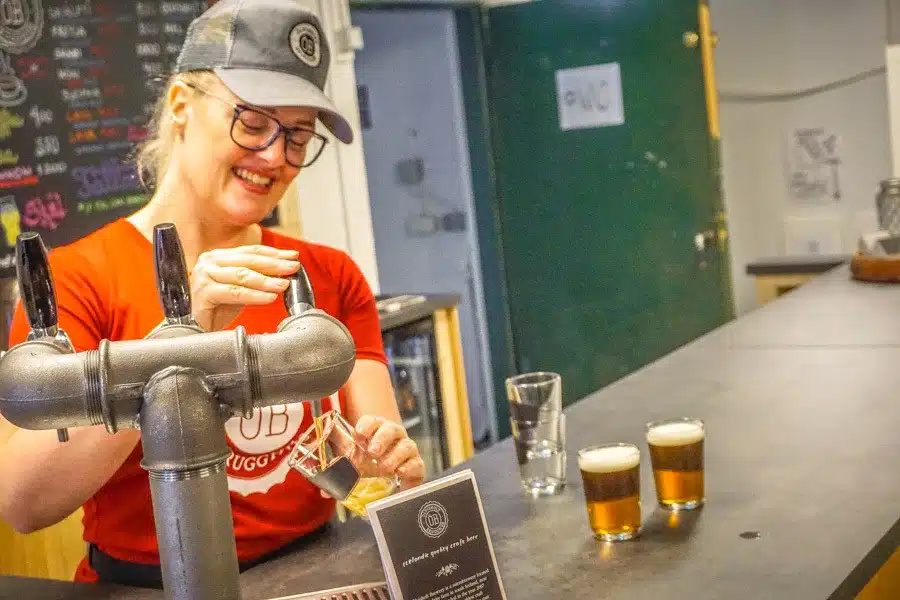 Another handy hint is that bars and pubs in Reykjavik often have happy-hours where the drinks are half price or at least discounted. If you're staying in Reykjavik, or even popping in for the day, you can take advantage of these.
Don't Go on a Shopping Spree
Shopping in Iceland is generally quite expensive.
Don't get me wrong, there are some absolutely beautiful things to buy in Iceland, like the gorgeously-patterned Icelandic wool sweaters, but if you're on a bit of a budget, there are wiser ways to spend your money.
It's not just handmade items that cost a pretty penny either. Branded items in Iceland tend to be quite expensive – in fact, there's a reasonable chance that they're cheaper in your home country.
Try and bring any clothing and accessories you need for your trip along with you.
Not sure what to pack for Iceland? Check out this in-depth Iceland packing list.
I know that can be tough if you're flying carry-on only, but do it and you'll save yourself a lot of money along the way.
It might mean that you need to pay for a checked bag, but it's going to be cheaper than having to buy a new pair of hiking boots or a tripod when you get into the country.
But if you do, Don't Forget to Claim Back Your Tax on Larger Purchases
If you do go shopping, you can claim your tax back on certain goods over the value of ISK 6,000. This can really add up – J bought a hand-knitted Icelandic jumper and his tax claim was over £30 / $40.
Ensure the salesperson provides you with the correct form and submit your claim at the bureau in Keflavik airport.
Want to See the Northern Lights? Download the Aurora App
Now I've written an extensive piece on How to Plan Your Northern Lights Trip to Iceland – you should definitely read it if you are travelling to Iceland within the Northern Lights viewing season.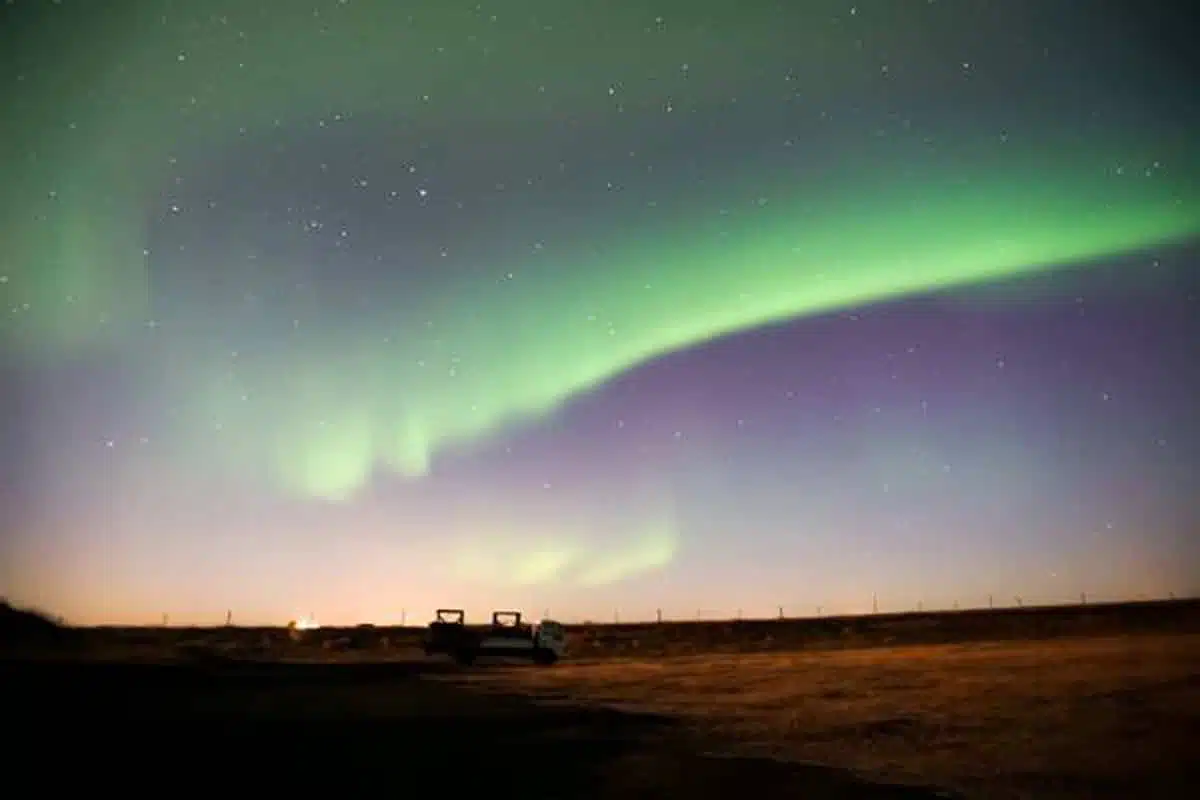 Northern Lights tours in Iceland are expensive. But guess what… If you have a car or you're staying somewhere remote, you don't have to take a tour at all.
All you need to do is wrap up warm, stand outside and wait for the lights to reveal themselves.
There are a lot of things that influence whether you'll be able to see the aurora borealis, even during the viewing season (which generally runs from the end of September to mid-April).
Clouds, solar flares, the earth's position – all these factors play a role in whether you can see the lights.
The handy Aurora app helps you to see what the chances are of spotting the Northern Lights in particular locations for the next 72 hours.
It also has a useful map of where aurora displays are visible and the strength of the display. It's a tiny fraction of the cost of taking a tour too.
Heading to Reykjavik? Buy the Reykjavik City Card to Help Keep the Costs Down
I haven't spent very much time in Reykjavik (I'm 100% going to change that on my next trip to Iceland), but if you are going to spend a bit of time there, you should consider buying the Reykjavik City Card.
The card gives you free or significantly discounted entry to a number of sights in the city, as well as free use of public transport and access to the city's swimming pools during the card's duration.
Ultimately, you need to decide how many of the attractions you will actually visit in order to work out if it's good value for you. It can save you a lot of money.
Go to the Local Pool
Ok, so we've all seen pictures of the Blue Lagoon and the new (and totally stunning) Sky Lagoon. It's a great experience but here's a secret… Iceland is full of hot springs, geothermal pools and public baths that you can visit at a fraction of the cost.
No, you might not get the iconic shot of the steam rising off the silica blue water, but you can sink in the hot water, hang out with the locals and get a taste of the real Iceland to boot. Sounds like a winner to me.
Travel in the Shoulder or Low Season
Iceland's high season runs from June to August – one easy way to keep costs down is to travel outside of these periods, when accommodation (and some tours) are much cheaper.

The weather during the shoulder season (May and September) can be really nice too.
Buy a Bus Passport
If you don't want to be tied to taking tours but also are not keen on hiring your own car, you should definitely consider buying a bus passport.
Sterna Travel's South Coast Bus Passport covers travel between Reykjavik and Glacier Lagoon, and you can hop on and hop off at as many stops along the way as you please. Stops include major towns along the route, such as Selfoss, Hella and Vik, as well as many sights like Skaftafell and Seljalandsfoss.
Reykjavik Excursions also offer an Iceland on Your Own Route Pass during the summer months. This offers unlimited travel on their bus routes across Iceland. Rates start at 30,200 ISK for a three-day pass.
Is Iceland Expensive to Visit: Sample Daily Budgets for Budget, Mid-Range and Luxury Travellers (Price for Two People Sharing)
| | | | |
| --- | --- | --- | --- |
| Item | Budget Travellers | Mid-Range Travellers | Luxury Travellers |
| Accommodation (Splitting Double Room) | 7,000 | 15,000 | 50,000 |
| Food | 4,500 | 7,000 | 10,000 |
| Drinks | 1,000 | 6,000 | 8,000 |
| Visiting Attractions | 0 | 7,600 (in Reykjavik for City Cards) | 7,600 (in Reykjavik for City Cards) |
| Tours | 0 | 22,000 | 40,000 |
| Car Hire | 5,000 | 5,000 | 8,500 |
| Petrol | 3,000 | 3,500 | 3,500 |
| Total Per Day (ISK) | 20,500 | 66,100 | 127,600 |
| Total Per Person Per Day | 10,250 | 33,050 | 63,800 |
So, Is Iceland Actually Expensive to Visit?
If you're a mid-range traveller and you're used to travelling to destinations in the UK and Europe, particularly Scandinavian countries, I say not really.
Depending on what you want to see and what you want to experience, you could reasonably take an amazing trip to Iceland where the only things you spent money on were your accommodation, car hire, fuel and food. That's not something that you can say in a lot of places.
Now, the cost of accommodation, car hire, fuel and food can mount up, that's true. But, if you compare Iceland to many destinations where you have to pay to visit national parks and other attractions and it goes a long way towards balancing it out.
Is Iceland Expensive? What You Need to Know Before You Go: Read Next