Planning a trip filled with hiking in Iceland? Discover the best trails to add to your itinerary with this (very handy) guide.
It's no secret that Iceland is home to one of the most dramatic landscapes you'll find nearly anywhere on the globe.
From volcanic mountains to glacier lagoons, this natural beauty is what makes Iceland the perfect place to hike.
Whether you fancy a short walk to the most scenic waterfalls in Europe or would rather spend your time on multi-day treks with ridiculously gorgeous rewards, you'll find whatever adventure you're after when hiking in Iceland.
So what are you waiting for? Read on to discover the most stunning hikes in Iceland.
Best Hikes in Iceland
Laugavegur Trail
Length: 55 km
Time: 3-4 Days
Difficulty: Hard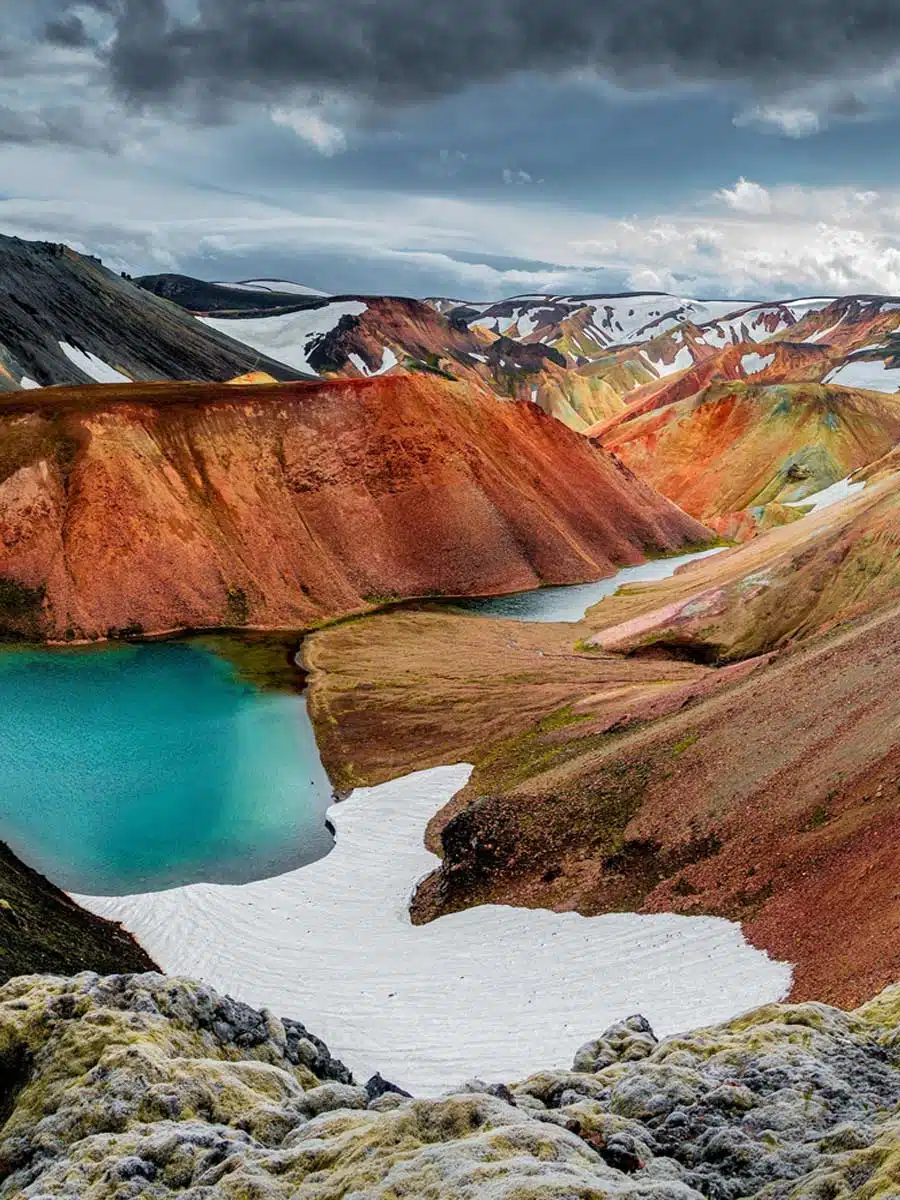 Looking for incredible trekking spots in Iceland? Well, that's why you're here.
Laugavegur Trail is one of the best hikes Iceland offers, as long as you're up for the challenge of spending a few days hiking.
You can only access this route from July to September and expect to stay a few chilly nights out in the wilderness (I teach you all about camping in Iceland here).
But the rewards will outweigh the work for most travellers who decide to venture off the beaten path and see the many hot springs, mountains, and black sands that make the hike famous worldwide.
Þórsmörk – Valahnúkur Mountain
Length: 9.97 km
Time: 3.5 Hours
Difficulty: Moderate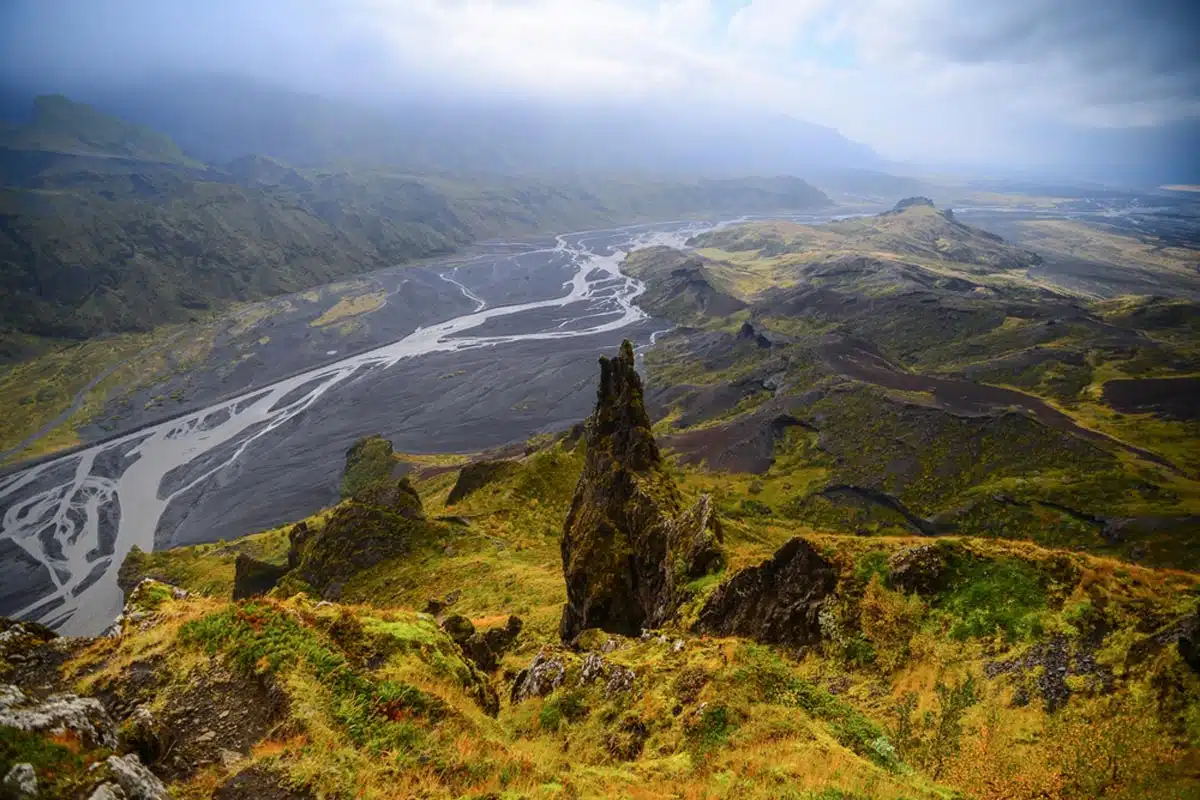 Head on the Þórsmörk – Valahnúkur Mountain trail to discover one of Iceland's hidden gems. You'll be glad you took your time on one of the best hikes in Iceland.
It begins at a settlement of volcano huts before becoming a wooded trail that leads you through volcanic mountain roads. The payoff? Unparalleled mountaintop views that make it one of the best Iceland hikes I've found.
If you're competitive, you can always register for the Þórsgata Volcano Trail Run and see why it's quickly becoming a top activity in Iceland.
Svartifoss Hike
Length: 3.21 km
Time: 1 Hour
Difficulty: Easy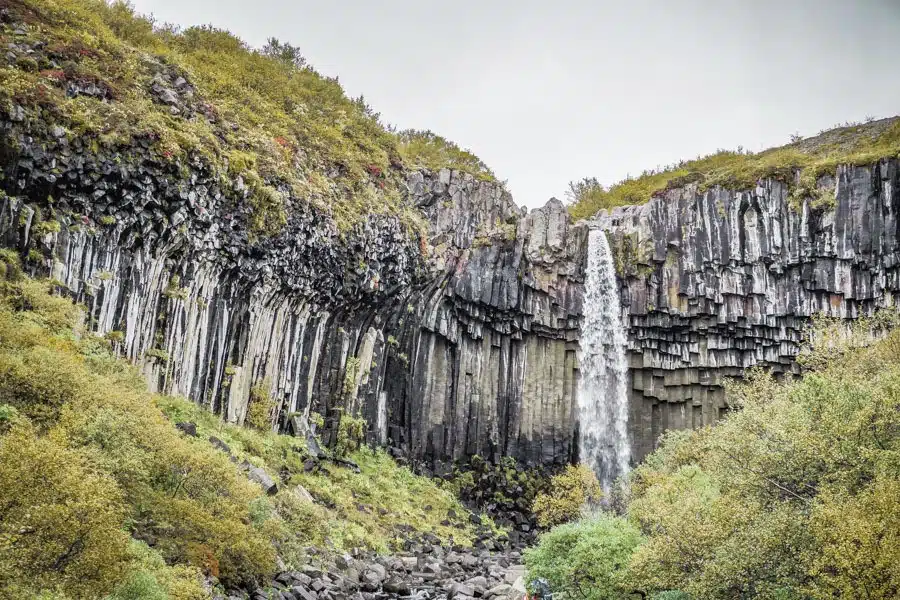 After the best day hikes in Iceland? There's no more famous waterfall to hike, photograph, and simply inspire awe than Svartifoss.
Really, I had to take my time and marvel at the black basalt columns that set the stage for these gorgeous rapids.
Alas, about the trail. It's a quick one, at only an hour total – but what it lacks in distance, it more than makes up for in scenery.
You'll see a few different cascades, making it a great way to check several of the many spectacular waterfalls in Iceland off your bucket list.
Dettifoss Waterfall – West Side
Length: 3.54 km
Time: 1 Hour
Difficulty: Easy
Dettifoss waterfall may have the moniker The Beast, but this Iceland hike is really rather tame.
That doesn't mean it isn't worth adding to your Iceland itinerary, as it gives you a great chance to see the incredible Dettifoss waterfalls from beautiful vantage points any time of the year.
Skaftafellsjökull Glacier Trail
Length: 4.66 km
Time: 1 hr 15 min
Difficulty: Medium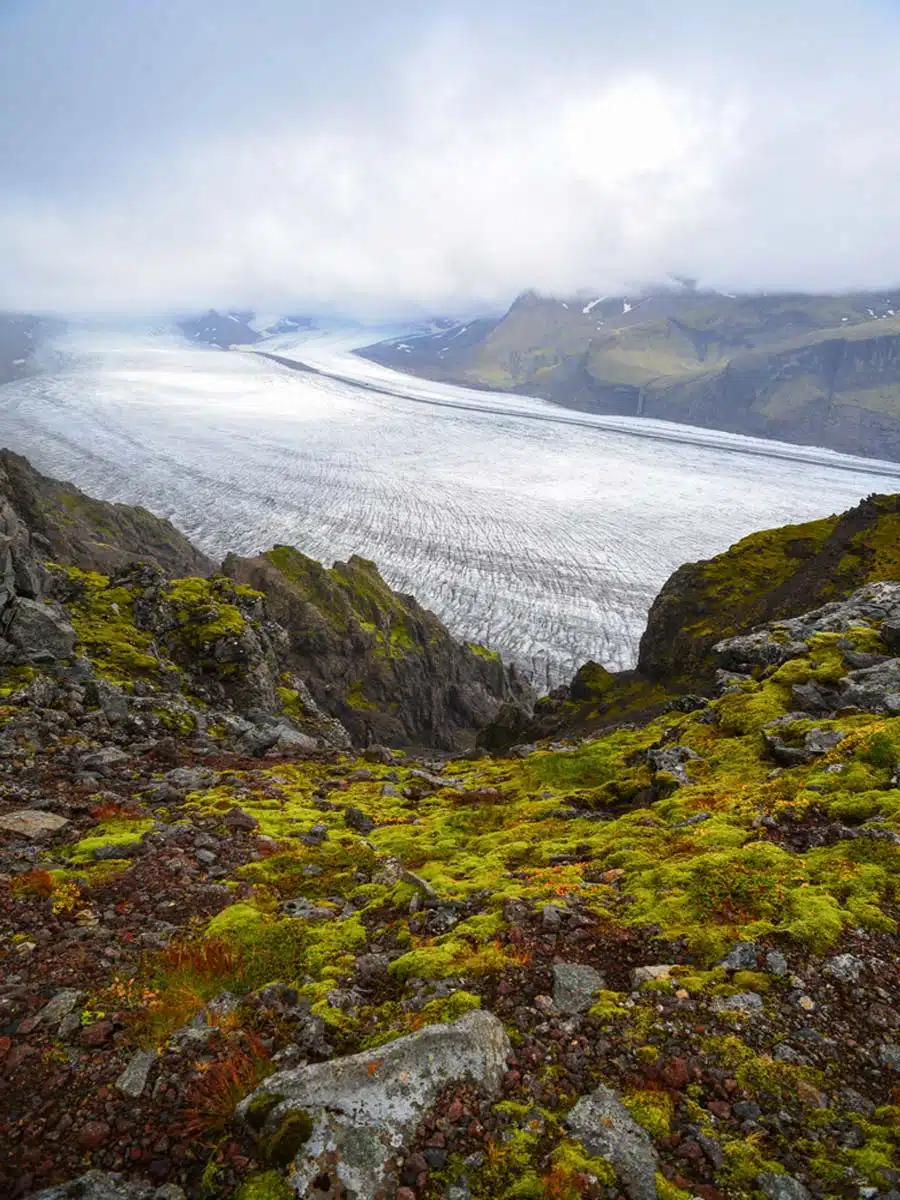 If you're looking for one of the best hikes in Iceland, this is just enough of a challenge to fall into the moderately difficult category. It's also one of the premiere glacier hikes Iceland offers.
Your walk will take a little over an hour, so be sure your packing list has warm clothes and a water bottle on it, but the mostly flat-out-and-back trail is more than doable for the average traveller.
Your reward for a little cold weather adventure? Great views of rugged icy sculptures on the hike make it a popular Iceland glacier hike for beginners.
Sólheimajökull Glacier
Length: 2.25 km
Time: 45 Minutes
Difficulty: Medium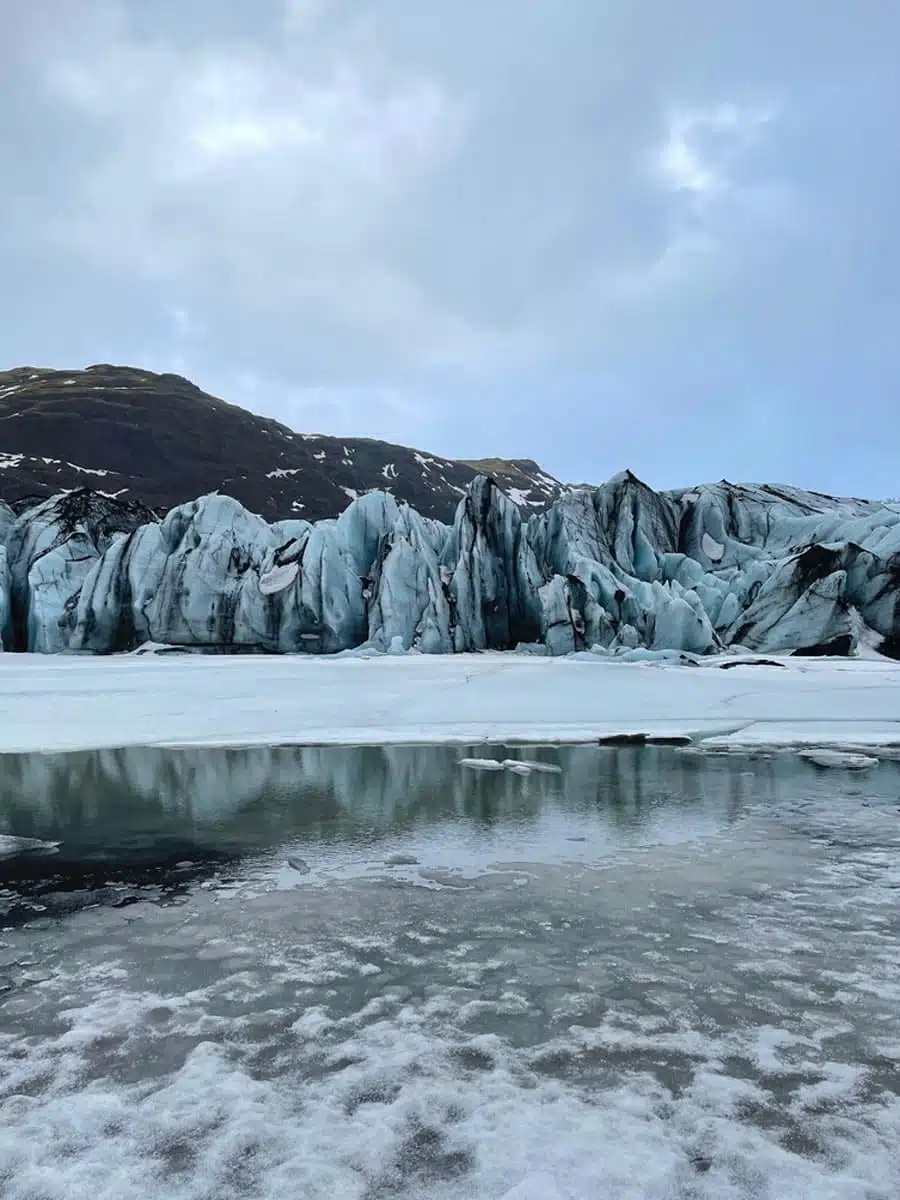 Speaking of epic glacier hikes, Sólheimajökull Glacier is one of my favourite ideas for day hikes in Iceland, as it's a short out-and-back 45-minute trail featuring incredible views of the astonishing glacier.
For an immersive experience where you traverse the frozen tundra fully decked out with ice axes, crampons, and helmets, book the Sólheimajökull: Guided Glacier Hike.
Trust me on this; the adventure tour isn't quite as intense as it sounds and is a great option for the whole family.
Hangandifoss Waterfall – Múlagljúfur Canyon
Length: 5.79 km
Time: 2.5 Hours
Difficulty: Medium to Hard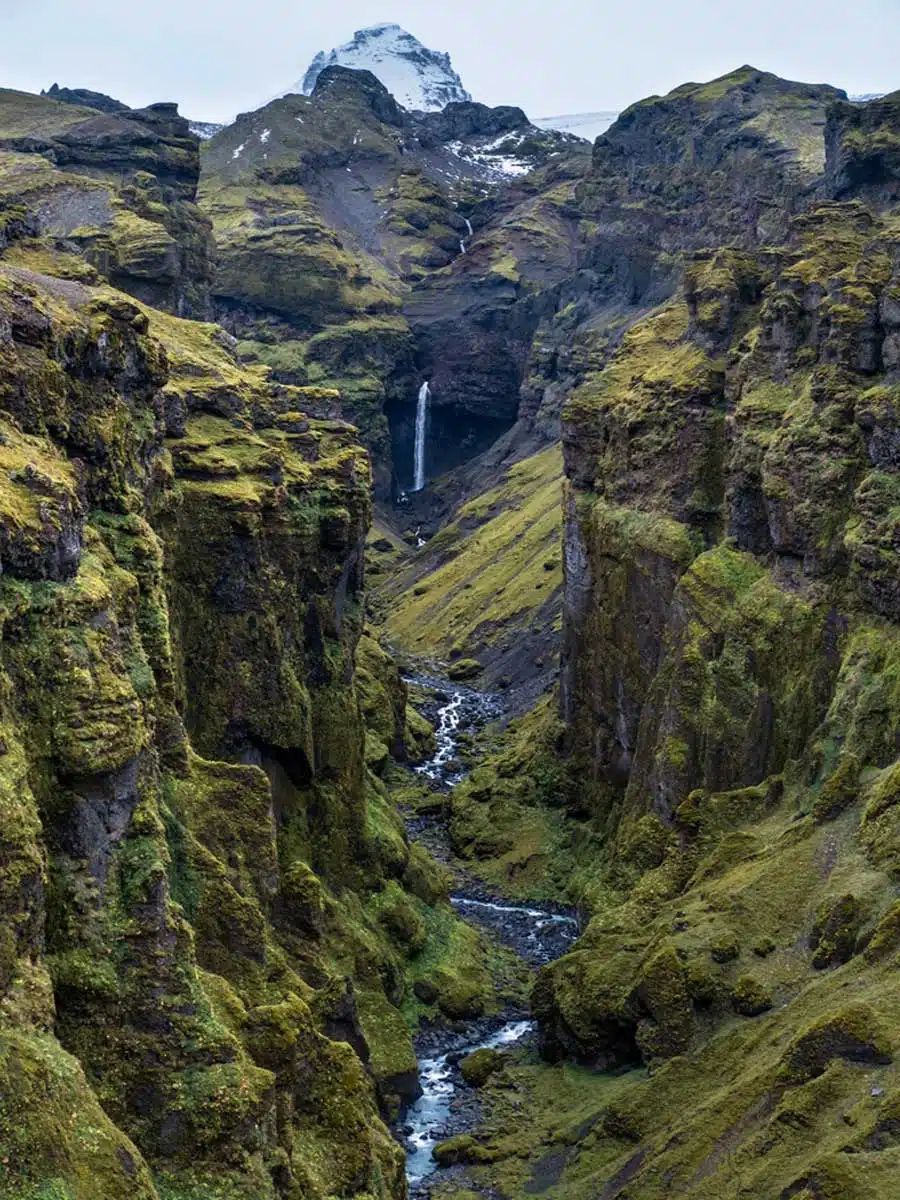 Ok, now we're starting to get into the good stuff. I'm all for a leisurely stroll, but now and then, it requires a little more effort and getting a bit epic to capture Iceland's stunning natural beauty.
If you're keen to hike to one of Iceland's spectacular waterfalls, this trail is a must-visit. But you'll also pass through canyons, volcanic mountains, and breathtakingly beautiful landscapes.
Fair warning, though: This trail is not easy to hike, and you'll want to have your best gear with you as the terrain is steep, rugged, and difficult to find footing.
Mount Esja: Steinn – Þverfellshorn
Length: 7.72 km
Time: 3-4 Hours
Difficulty: Medium to Hard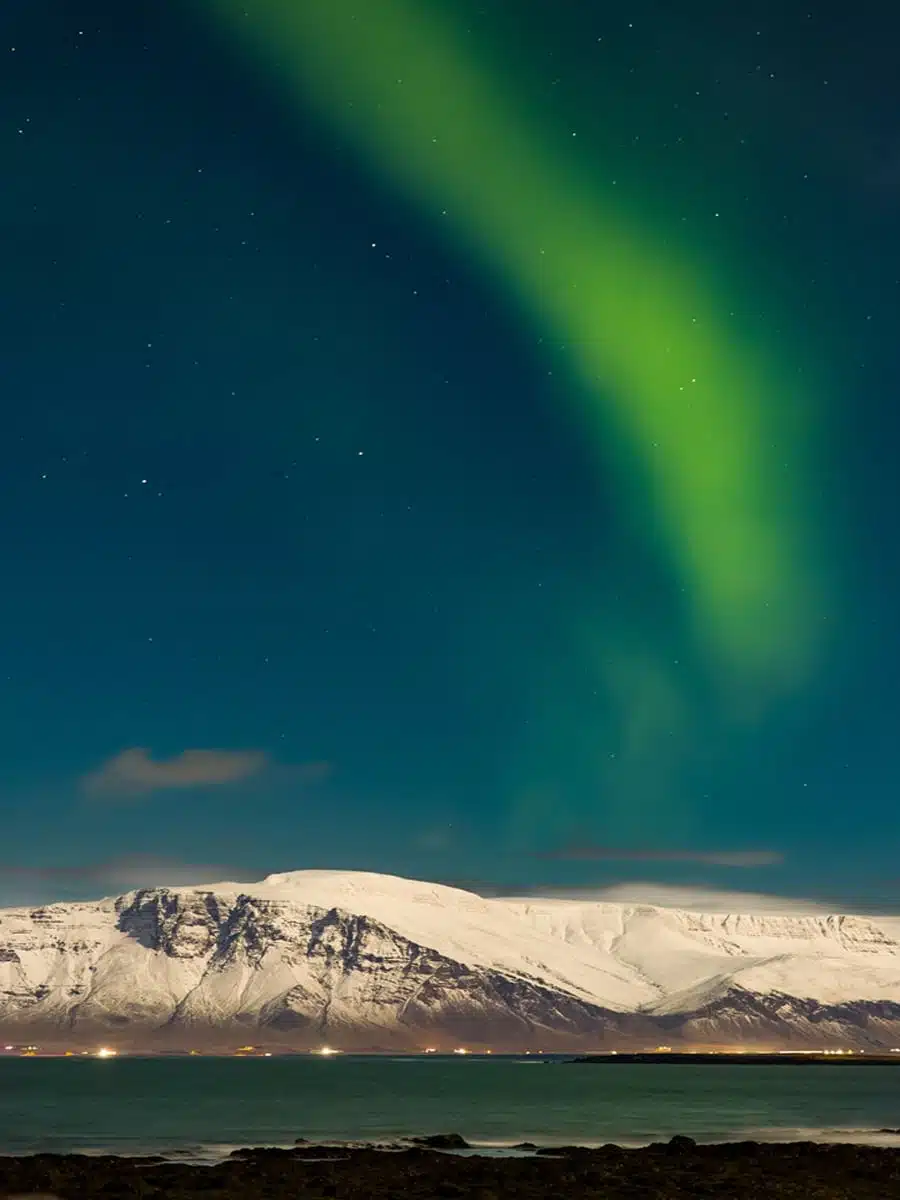 Iceland hiking trails are as common as hot springs, waterfalls, and the seriously astonishing scenery you find whenever you open your eyes in Iceland.
If you're looking for a popular option where you're apt to see lots of other locals and tourists getting in a good climb, this Iceland trail is perfect.
For a volcano hike Iceland-style, visit here in the summer, and you can add a loop around some higher elevations to your Iceland hiking trip. And be sure to catch some amazing ocean and city views from the top of the Mount Esja range.
Seljalandsfoss – Gljufrafoss Waterfalls
Length: 1.93 km
Time: 35 Minutes
Difficulty: Easy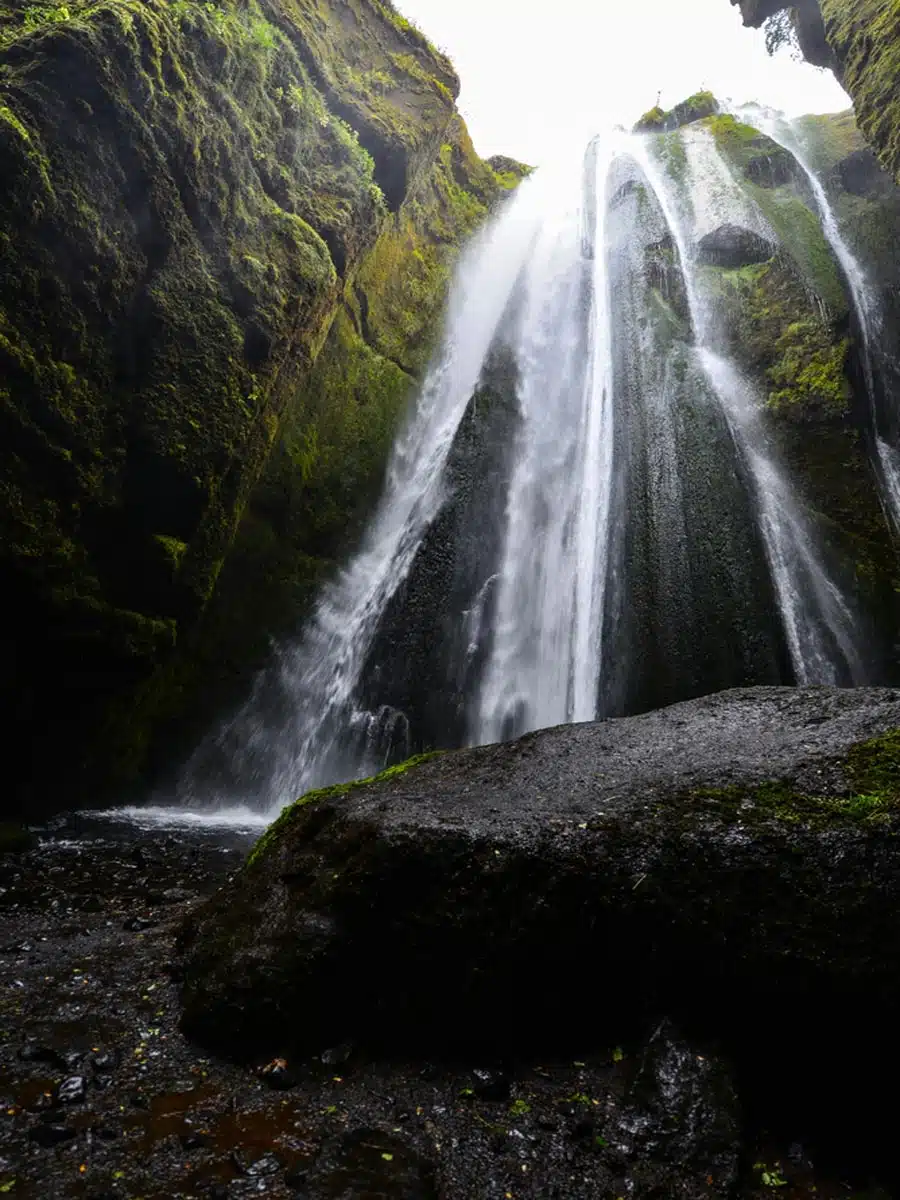 Hear me out. This hike might seem like a short walk, as it's one of those Iceland trails that shows world-class waterfalls within the first few minutes of your journey.
But the Hidden Waterfalls, or Gljúfrabúi, is one of my favourite sites in all of Iceland. Bring a change of clothes; while it's a brief hike, you'll likely get soaked by the powerful falls.
Vestdalsvatn
Length: 13.35 km
Time: 4.5 Hours
Difficulty: Medium
If you've peeped at my comprehensive guide to driving Iceland's Ring Road, you know it's one of the best ways to escape the crowds. You'll also know that Seyðisfjörður is one of my favourite towns to visit.
This should do the trick if you want an excellent hike while you're here. Waterfalls? Check. Challenging terrain? Yes, check. One of the more secluded hiking trails Iceland offers? Check.
You'll love this as a unique opportunity to see a part of the country many tourists need to visit. You're welcome.
Gullfoss Waterfall
Length: 2.09 km
Time: 30 Minutes
Difficulty: Easy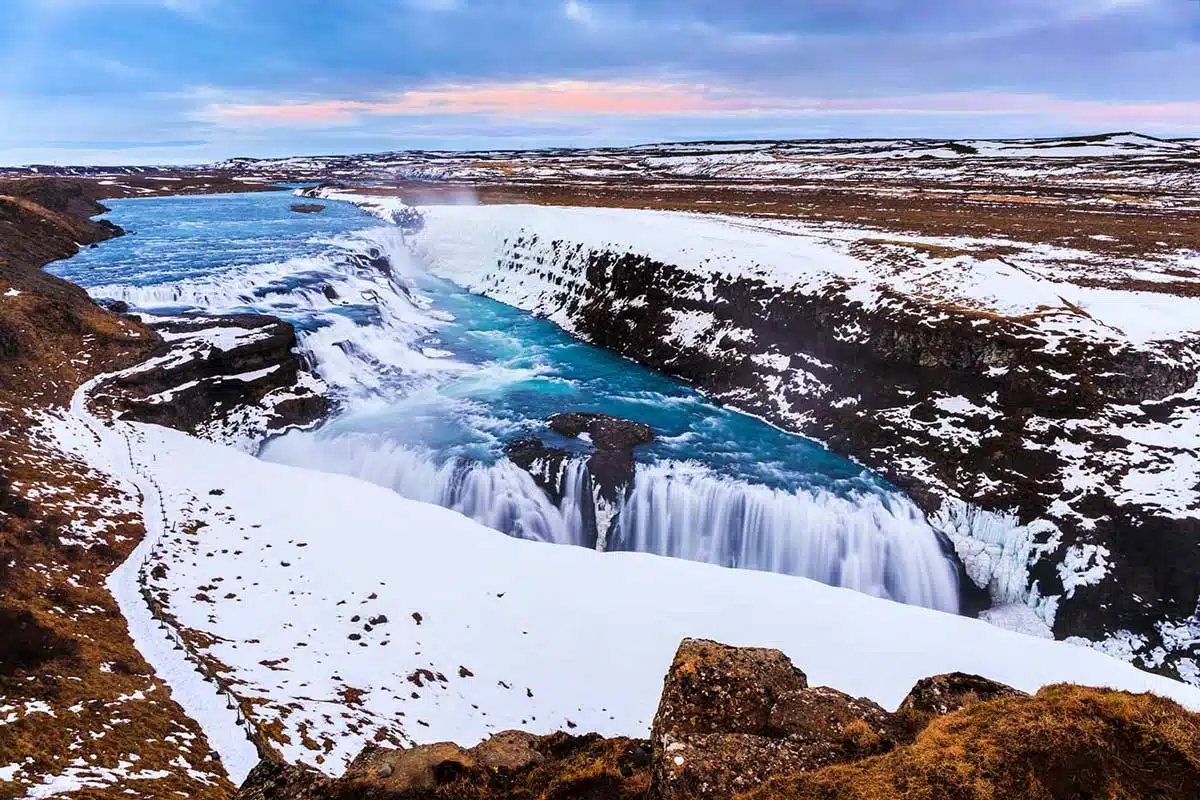 You really can't visit Iceland for the first time and not see the Golden Circle.
Featuring some of the most iconic destinations in Iceland, it's also a great chance to take part in one of my favourite day hikes in Iceland and see Gullfoss Waterfall.
It's a fast out-and-back hike that will leave you plenty of time to hike other amazing trails and see notable (and free) landmarks on your Iceland holiday.
Jökulsárlón Glacier Lagoon
Length: 9.97 km
Time: 2-3 Hours
Difficulty: Easy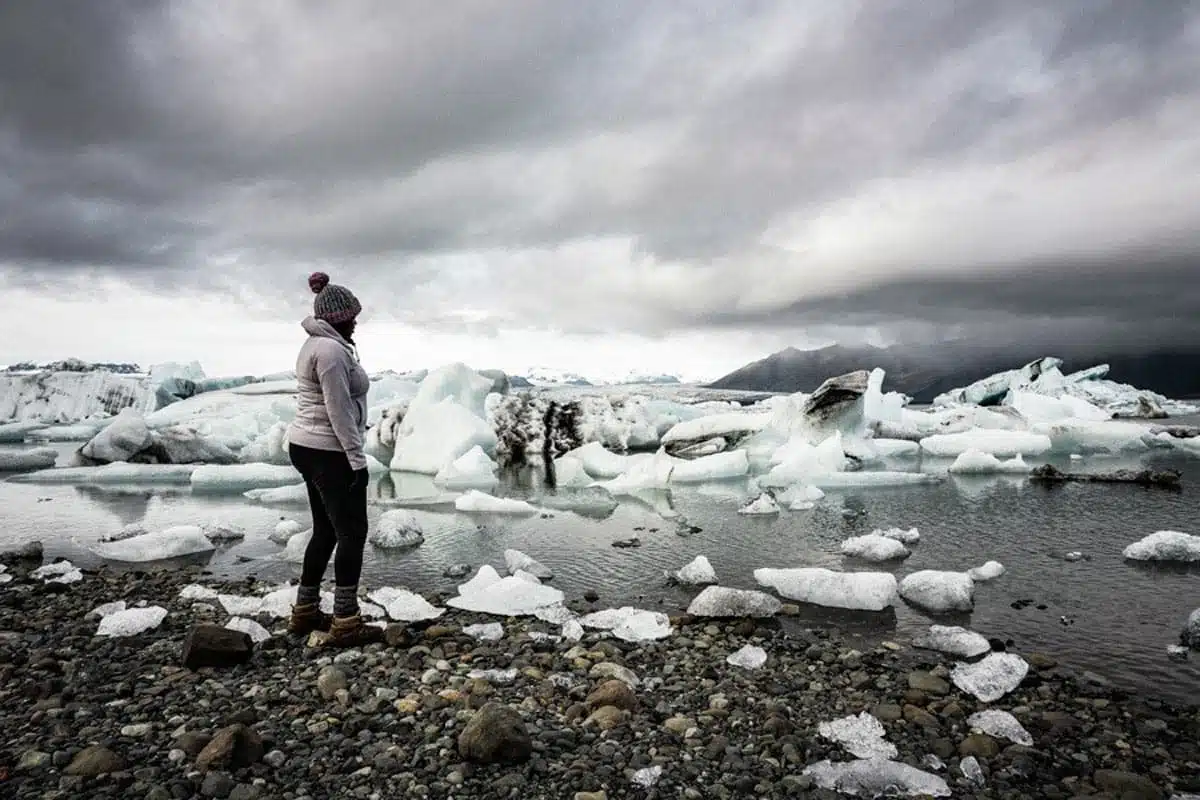 If it's the best glacier hike Iceland offers you're after, I have another one for you.
This relatively easy hike has a sad cause (cough cough, global warming), but the glaciers floating on the stunning lagoon are absolutely gorgeous. There are also opportunities for excellent bird watching on one of the top hikes in Iceland.
Add warm clothes to your packing list; you are hiking near a glacier lagoon, after all.
Thingvellir Loop
Length: 10.46 km
Time: 3 Hours
Difficulty: Hard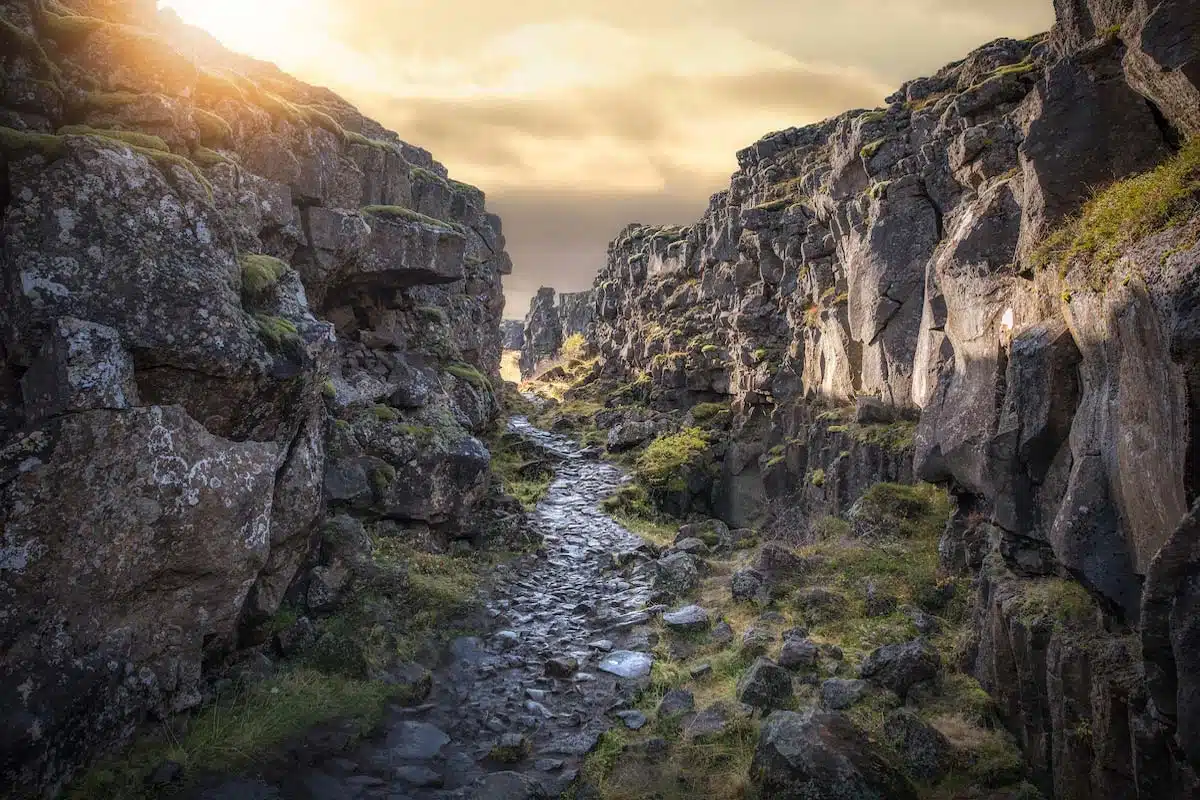 Head to the famous Þingvellir National Park for an Iceland hiking trip you can't miss.
You'll hike near the gorgeous lake while breathing fresh (and often chilly) mountain air near the famous diving spot of Silfra. The location means you're hiking right alongside tectonic plates, something I'm willing to guess you have yet to do too many times before.
If you visit here during colder months, check out my guide to visiting Iceland in the winter.
Kristínartindar via Svartifoss – Skaftafellsheiði
Length: 17.86 km
Time: 7 Hours
Difficulty: Hard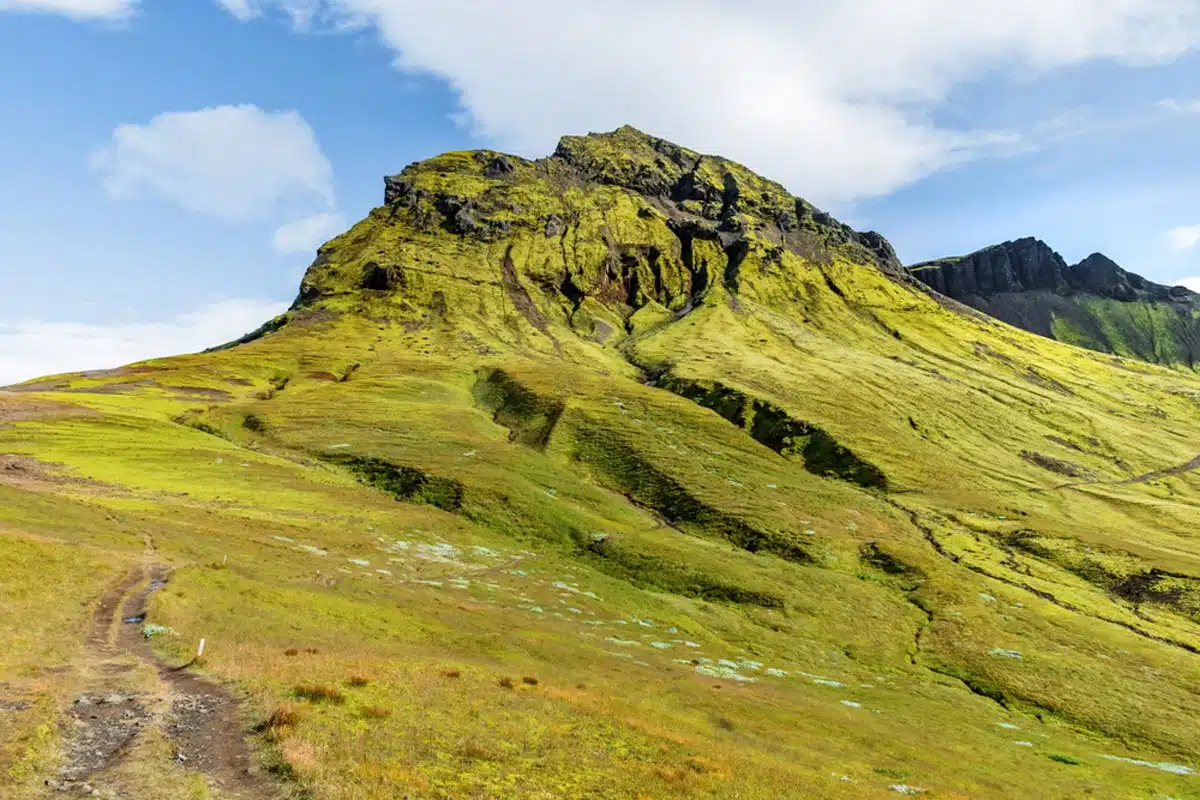 Some say you should save the best for last. So what's the best idea for hiking in Iceland?
If I had to pick from all the Iceland hikes to recommend, the Kristínartindar trail via Svartifoss is a contender for my favourite.
To say it's epic would be an understatement; you'll want to pack plenty of layers for the varying landscape and microclimates and take extra precautions in the winter while climbing to the summit on one of the more challenging hiking trails Iceland features.
Why go? The mountains, rivers, and waterfalls are as beautiful as any you'll find on Iceland hikes. It's truly one of the best day hikes Iceland has for the most adventurous souls.
Best Iceland Hikes: Practical Tips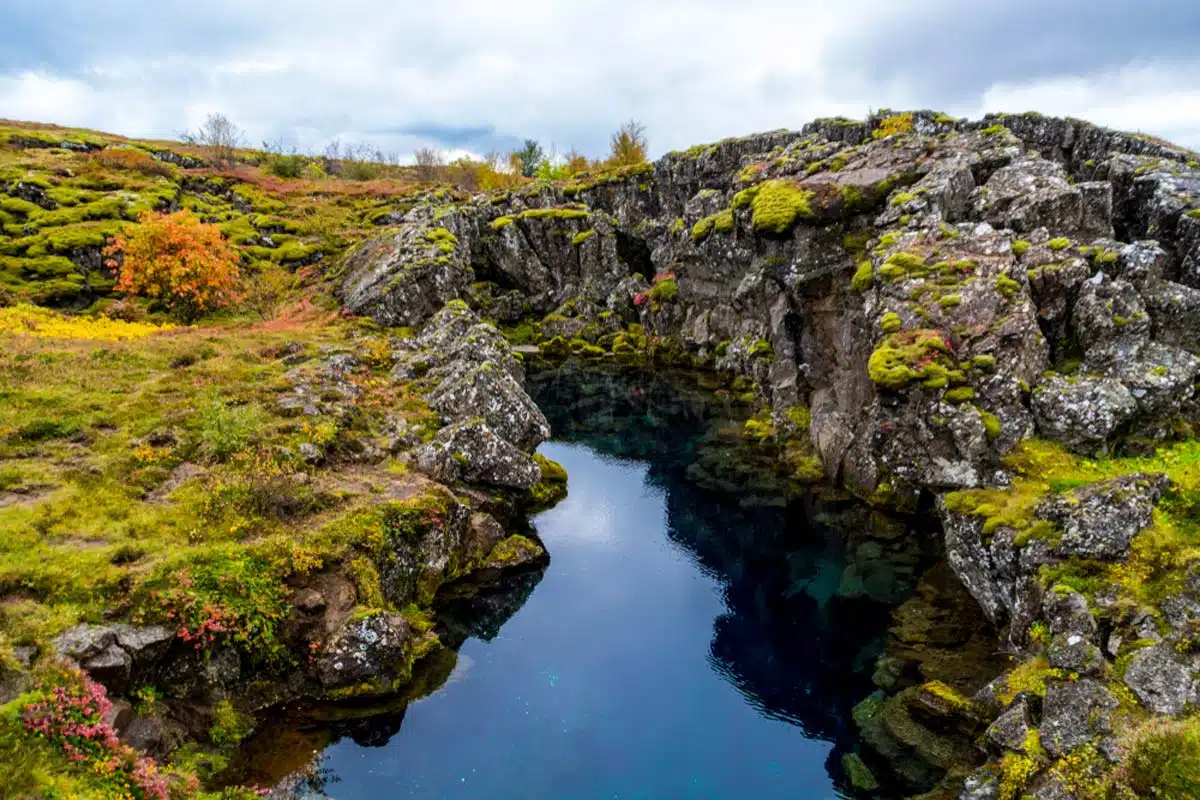 What's the best time to visit Iceland for hiking? Summer will give you the most access to trails and camping, but you'll also face some crowds. If you plan to hike trails open year-round, September is the best time to hike in Iceland.
Check your packing list, and bring everything you need for extreme weather. Iceland has an unpredictable cold and wet climate—two words: wool socks.
Wear the proper footwear. Your best hiking boots, often with spikes, are recommended for many of the trails when hiking Iceland.
If you plan to hike as a part of a tour, stay in Reykjavik, where there are loads of fun things to do, and you'll get the best rates for adventure packages.