Have you ever been to one of those places that you can barely believe is real? I guarantee that Jökulsárlón Glacier Lagoon in Iceland is going to be one of them. Here's what you need to know to plan your trip.
It's wrong to have favorites I know.
Do you ever visit a country and there's somewhere that just captures your imagination from the moment that you find out it exists?
Well, Jökulsárlón was that place for me.
We all know that I'm a sucker for an amazing landscape or two – luckily, Iceland is filled with them. Even so, Jökulsárlón was a step beyond.
You might ask what the big fuss is about? What's so special about the lagoon and the nearby "Diamond Beach"?
Let me show you.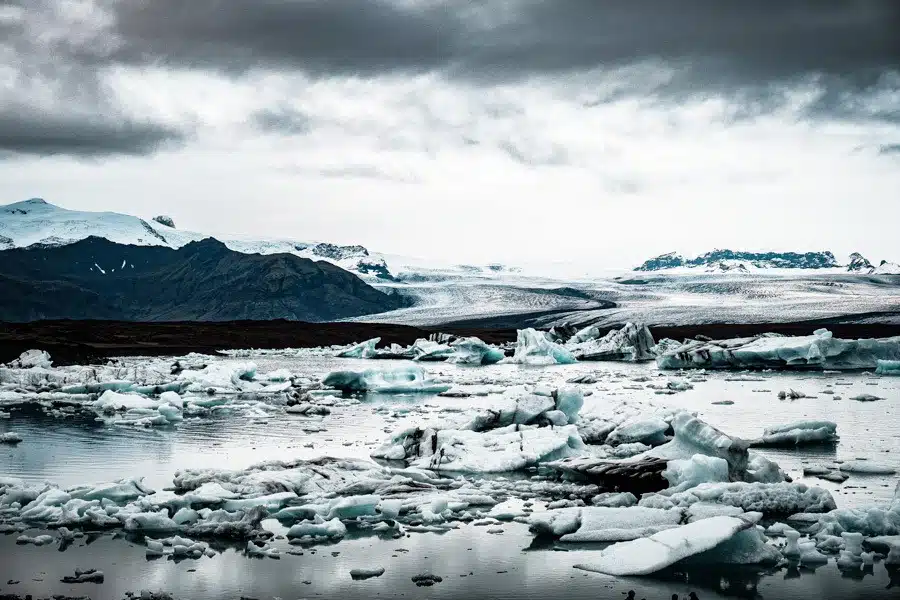 Visiting Iceland? You should also check out more of
my Iceland travel blogs:
Why Visit Jökulsárlón Glacier Lagoon and Diamond Beach?
Why visit Jökulsárlón and Diamond Beach?
I think a better question would be why wouldn't you visit… Where else in the world will you see a striking, jet black sand beach stretching for miles and miles, studded with sparklingly clear pieces of the glacier (the "diamonds")?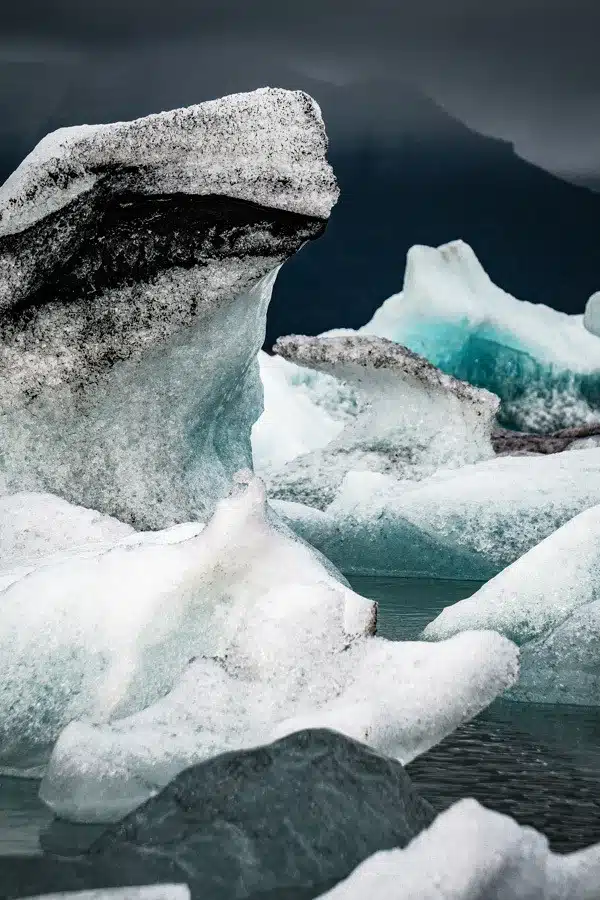 Mini icebergs that have carved from the nearby Breiðamerkurjökull glacier before floating on to a deep lagoon, then out to sea, before being washed up on a lonely stretch of beach.
It's one of those landscapes that is so Icelandic, near unbelievable but impossibly striking that it simply must go on your list of places to see in Iceland.
Climbing up a rocky path from the car park, we were once rewarded with views of the glacial lagoon spread out before us.
An eyeful of sparkling water framed by the glaciers on one side, and the mountains on the other, studded with bright fragments of ice.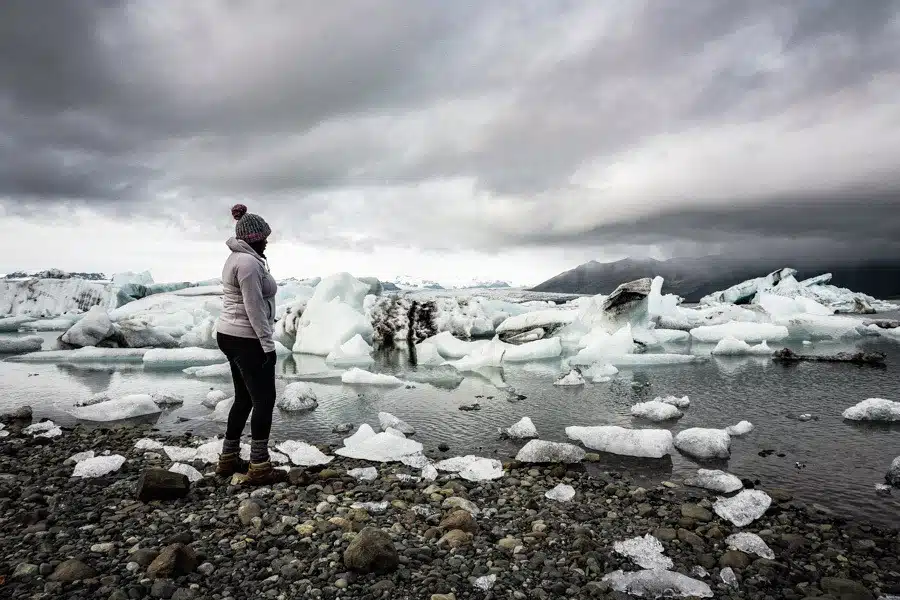 Some are large, some small – all ranging in colour from a pure and brilliant white to a deep aquamarine that somehow looked colder than anything I've ever seen before.
At a time when you can find a picture of almost any destination in the world in a matter of seconds, it can sometimes feel like the surprise has been taken out of travelling. The unknown has been replaced with an endless scrolling punctuated by a double tap here or there to show our appreciation.
But Jökulsárlón was different.
Here was a place that I'd seen so many pictures of, had researched thoroughly, and yet nothing prepared me for the reality – the sight of the icebergs floating serenely, the hiss and crack of ice splitting and breaking, the splash as yet another chunk fell into the water.

Jökulsárlón: FAQ + Need to Know
Perched on the edge of the Vatnajokull National Park, Jökulsárlón is a large lake in the south east of Iceland.
It's the deepest lake in the country. At its deepest point, Jökulsárlón plunges to depths of 250 m (820 ft). It's so deep because the area that is inhabited by the lake was actually inhabited by the glacier itself (see the Jökulsárlón is expanding section below).
The name Jökulsárlón translates as "glacial river lagoon" – can always count on the Icelandic to call a spade a spade.
Here are a few other practical tips and FAQs about the lagoon.
Jökulsárlón is Expanding…and That's Not a Good Thing
Unfortunately, beautiful as the lake is, it's not all roses.
It's a sad fact that the reason we see this impressive landscape today is because of the alarming rate at which the Breiðamerkurjökull glacier is retreating.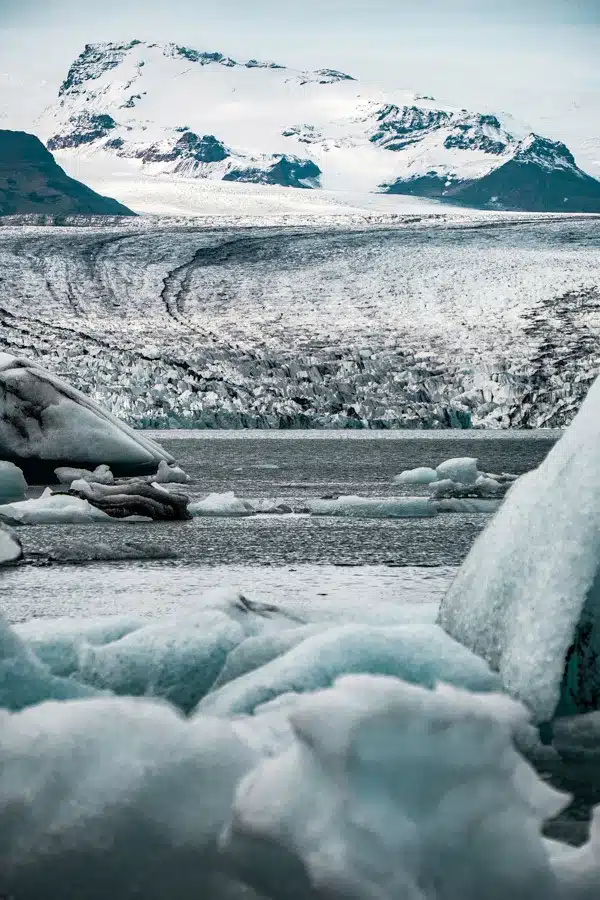 The glacier used to occupy the space that the lagoon stands in today. In fact, the lagoon only formed in the 1940s, and has has quadrupled in size since the 1970s alone.
At a time when we know we need to take drastic action to stem the curve of global warming, it's difficult to look at these facts and not feel despondent.

Jokulsarlon Features in a Lot of Films
Not only does this glacial lake feature in pretty much every "best of Iceland" photo line-up, it's also appeared in quite a few films.
Die Another Day, A View to a Kill, Tomb Raider – the lagoon is no stranger to the big screen.

You Can Take a Boat Tour or Go Kayaking on Jokulsarlon Lagoon
Now, many of you will be satisfied with simply rocking up to the Lagoon, walking around for a couple of hours, taking some pictures and then popping off back to your accommodation.
There's nothing wrong with this at all (I'll freely admit that's what I did as we were rather tight for time). However, if you want to do something a little different then why not book onto one of the boat tours of the Lagoon (between May and October only)?
Taking a boat tour gives you the chance to get up close and personal with the lagoon and see it from a different perspective.
If, you can book onto a kayaking tour of the lagoon. In both cases make sure you wrap up warm!

But You Shouldn't Get in or Go Swimming in it. Ever.
One word. Hypothermia.
Why Are the Icebergs Different Colours?
I know what you're thinking. Those colours are not real.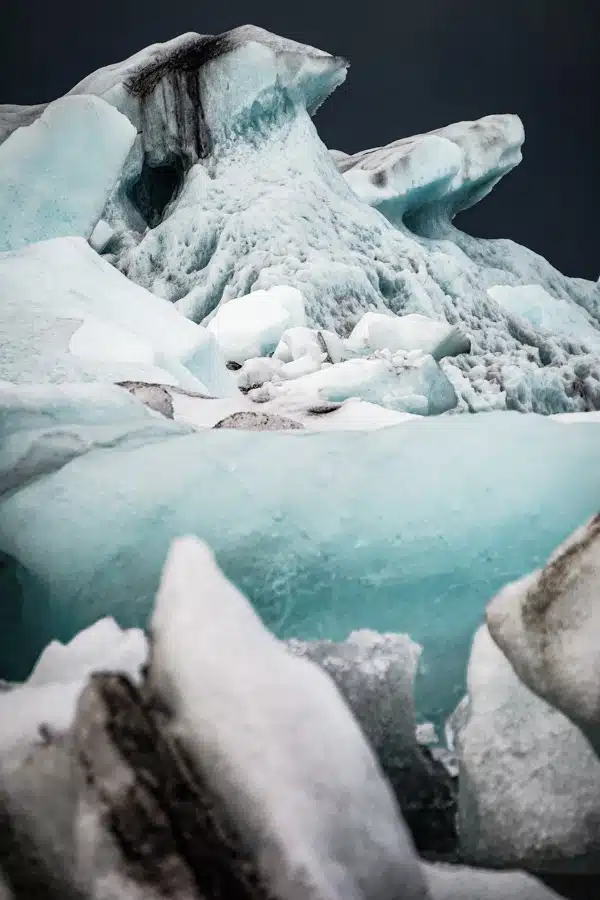 Guess again.
The icebergs' milky white and bright blue colours are actually a play of light caused by air trapped in within the ice.
The more air trapped in the ice, the whiter it looks, whereas the denser the ice, the darker bluer it appears. Add to this stripes of jet black and brown from layers of volcanic ash and sediment from the glacier and the effect is pretty striking overall.

How Big are the Icebergs on Jökulsárlón?
The icebergs come in all imaginable shapes and sizes, with some of the biggest measuring between 20 and 30 m tall and wide. Plus, what you see above the surface is generally only 10% of the Iceberg itself, so they can be pretty huge.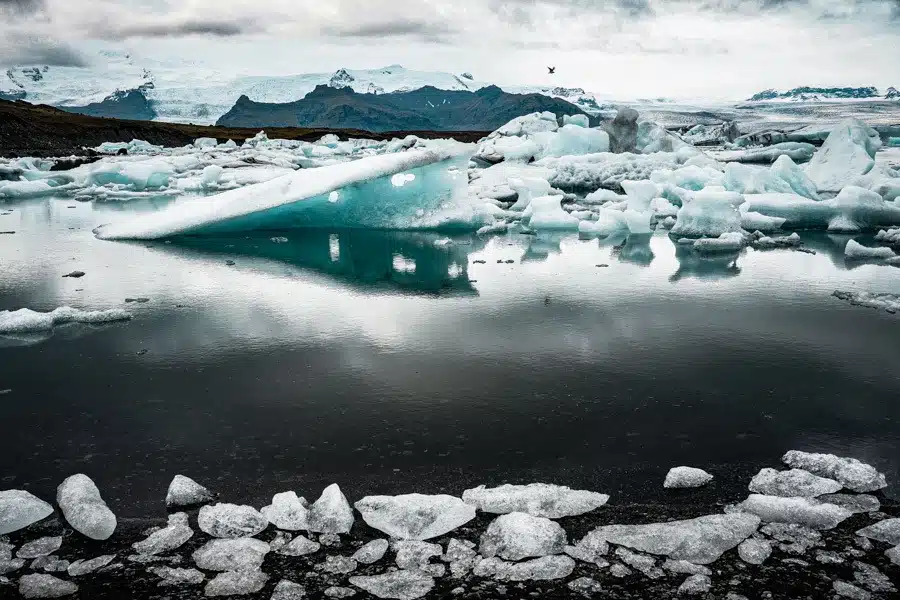 What Wildlife Can I See Near the Lagoon?
If you're lucky and you get your timing right, you can often spot seals at the mouth of the lagoon, just at the point before it opens out into the sea.
Unfortunately, my trip, I saw no such thing but hopefully you'll have better luck.
Like much of Iceland, Jökulsárlón is a bird watchers delight a large number of birds including arctic terns come to the lake to feed in its fishy waters.
Can I See the Northern Lights at Jökulsárlón?
If you're visiting Iceland in between September and late April, you may want to try and combine your visit to the glacial Lagoon with a viewing of the Northern Lights.
Like pretty much the whole of Iceland, you can see the Northern Lights at Jökulsárlón – it's a truly spectacular setting to watch the aurora come out and play.
Now, I've written an in-depth guide to seeing the Aurora Borealis in Iceland and you have to remember that it is mostly a matter of luck. There are some things that you can do to increase your chances are viewing the lights (like going at the right time of year!).

How to Get to Jökulsárlón
Jökulsárlón is located on the the south east coast of Iceland.
As it's on a relatively remote stretch of the Ring Road, your biggest worry is going to be how to get there.
You have a number of options when it comes to travelling to Jökulsárlón from Reykjavik.
Drive to Jökulsárlón Glacier Lagoon from Reykjavik
The first of these is to rent a car, and drive on to Iceland's famous ring road and truck along until you see the signs for Jökulsárlón glacier lagoon.
Now Iceland isn't the cheapest country to travel in, but one of the ways that you can reduce your travel spend is to travel independently. Hiring a car and driving to Jökulsárlón is going to be the most cost-effective and flexible ways you can do the trip.
The lagoon is a few steps away from the Ring Road, and there's plenty of parking.
Beware that its a 5 hour drive from Reykjavik to Jökulsárlón.
This is perfectly doable during the long days of summer, but I wouldn't recommend it during the winter months when days are short and conditions can be difficult.
If you are visiting in the winter, I'd instead recommend taking the trip over two days and staying somewhere nearer to the lagoon.
Either way, you can (and should) combine the lagoon with trips to some of the South Coast's other famous sites such as Reynisfjara and Skogafoss waterfall.

Take a Jökulsárlón Glacier Lagoon Full-day Tour from Reykjavik
Your second option is to hop on a tour.
As I mentioned before, it is a long trip from Reykjavik – full-day tours from Jökulsárlón from Reykjavik take around 14 hours.
Most tours include stops at Reynisfjara, Vik, Seljalandsfoss and give you the option of taking a boat ride on the lagoon itself (season dependent).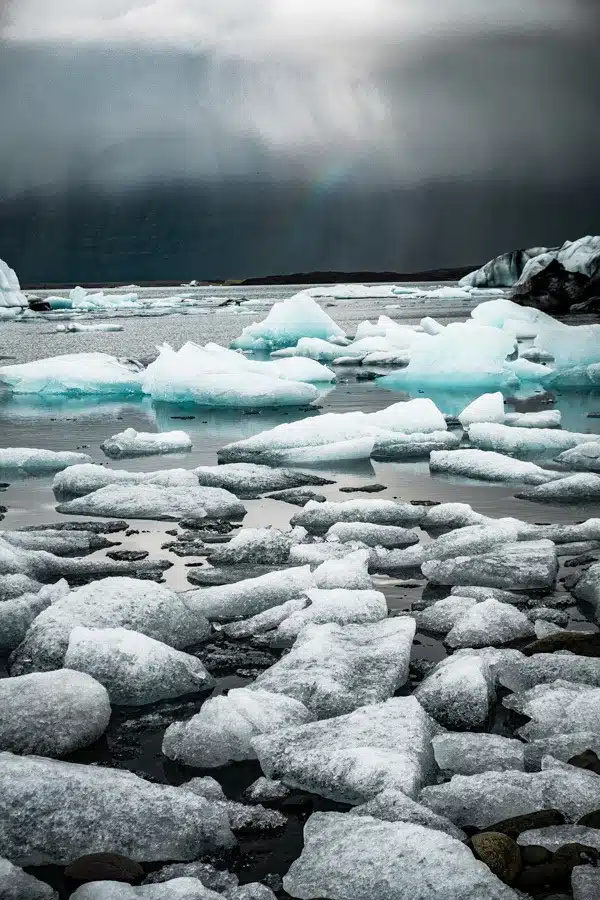 Is it worth the long travel time? Yes, certainly. However, it is a long distance, so if you are taking a tour, be sure to check that it also stops at a few destinations along the way.
Not only will this break up the journey but it will give you the opportunity to see more than just the inside of your coach.
Check Jökulsárlón tour prices and availability
Where to Stay to Visit Jökulsárlón
Hofn is one of are your best options for places to stay near Jokulsarlon. There are plenty of places to stay. Hali Country Hotel is a relatively reasonable mid-range hotel that is within an hour's drive of the lagoon.
Check prices and availability at Hali Country Hotel now.
Otherwise, if you want to really splash out and don't mind a relatively long drive (about 3.5 hours each way), Hotel Ranga is my favourite hotel in Iceland thanks to a combination of an incredible observatory, high-end rooms, and an amazing restaurant.
Check prices and availability at Hotel Ranga now.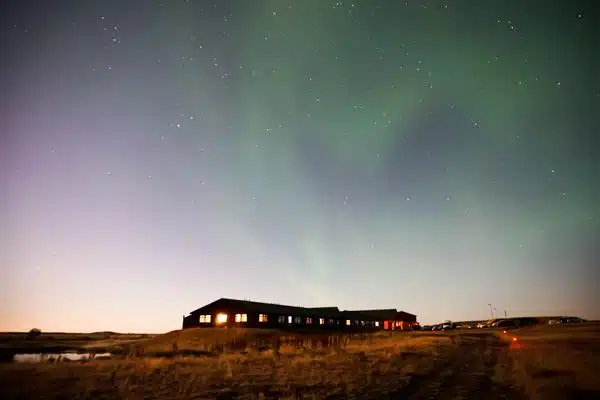 What to Pack for a trip to the South Coast of Iceland
I'm not going to give you a full packing list for your trip, but here are a few practical pieces that you should remember on any trip to the south of Iceland.
Lonely Planet travel guide – it's a great introduction to the country and has great suggestions for driving around the ring road.
A warm, windproof and preferably waterproof winter hiking jacket. I'm a big lover of my Berghaus softshell, but it's only water resistant, so you might want to find something a little more robust.
Hiking boots. If you visit in winter you will want to wear grippy shoes as it can be slippery. Even in the summer, boots are a practical choice for hiking up the paths surrounding the lagoon.
A good camera. I use the mirrorless Sony A6500 (which I absolutely love). It's lightweight, easy to handle, produces great pictures and you can choose from an ever-increasing number of lenses.
Hat, gloves and scarf. In fact, pretty much everything that will help keep you warm – particularly if you are going to try and see the Northern Lights at the lagoon or plan to stay there a while.
Jökulsárlón Glacier Lagoon Map
Read more Iceland travel guides and tips…
Save and share on Pinterest. Or follow my Iceland travel board for more!