These Iceland landmarks reveal a country of spectacular natural beauty. Discover the most famous landmarks in Iceland (and a few lesser-known gems)​​.
There are some places on this earth that are so surreal and majestic, they take your breath away.
Iceland is one of those places!
I've written a tonne about my Iceland travels here on The Discoveries Of and for good reason. I. Just. Can't. Stop. Going. Back.
With its snow-capped mountains, pristine glaciers, and volcanic landscapes, it's no wonder that Iceland grabs so many people's attention.
If you're planning on visiting Iceland (or you just want a bit of travel inspiration), make sure you check out these 21 must-see landmarks!
Must-See Landmarks in Iceland
Gullfoss Waterfall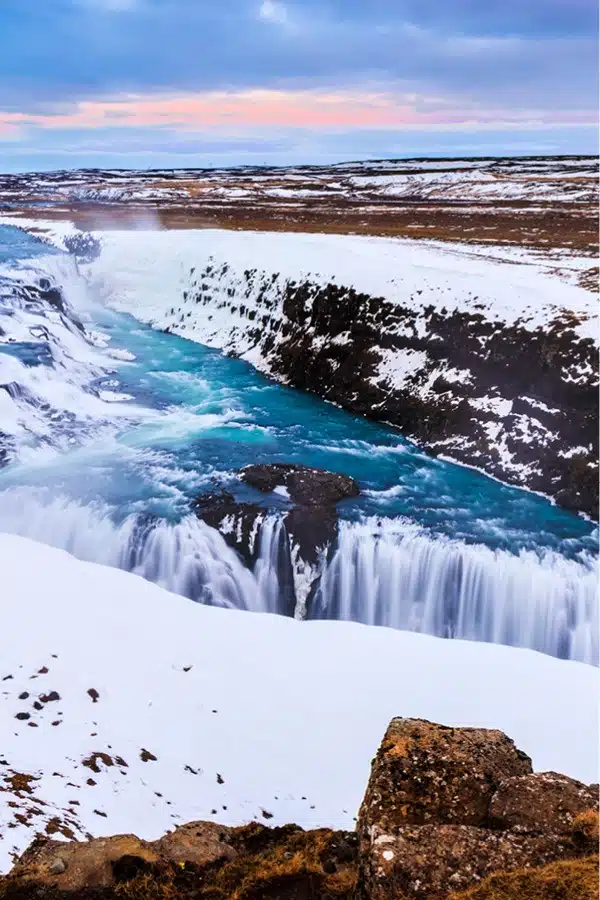 Gullfoss is one of Iceland's most famous waterfalls, and it's a must-see destination for anyone visiting the country. This waterfall cascades down into a deep canyon, creating rapids and whirlpools as it flows.
The best way to view Gullfoss is from the top of the waterfall, where you can see the river plunge over the edge into the abyss. Prepare to get wet from the spray!
Hallgrímskirkja
If you're looking for an iconic Icelandic landmark, be sure to visit Hallgrímskirkja Church.
This church was built in the 1930s, and it's one of the most famous landmarks in Iceland.
The church features a large bell tower that offers spectacular views of Reykjavik and surrounding areas, as well as an impressive pipe organ inside its main hall.
Blue Lagoon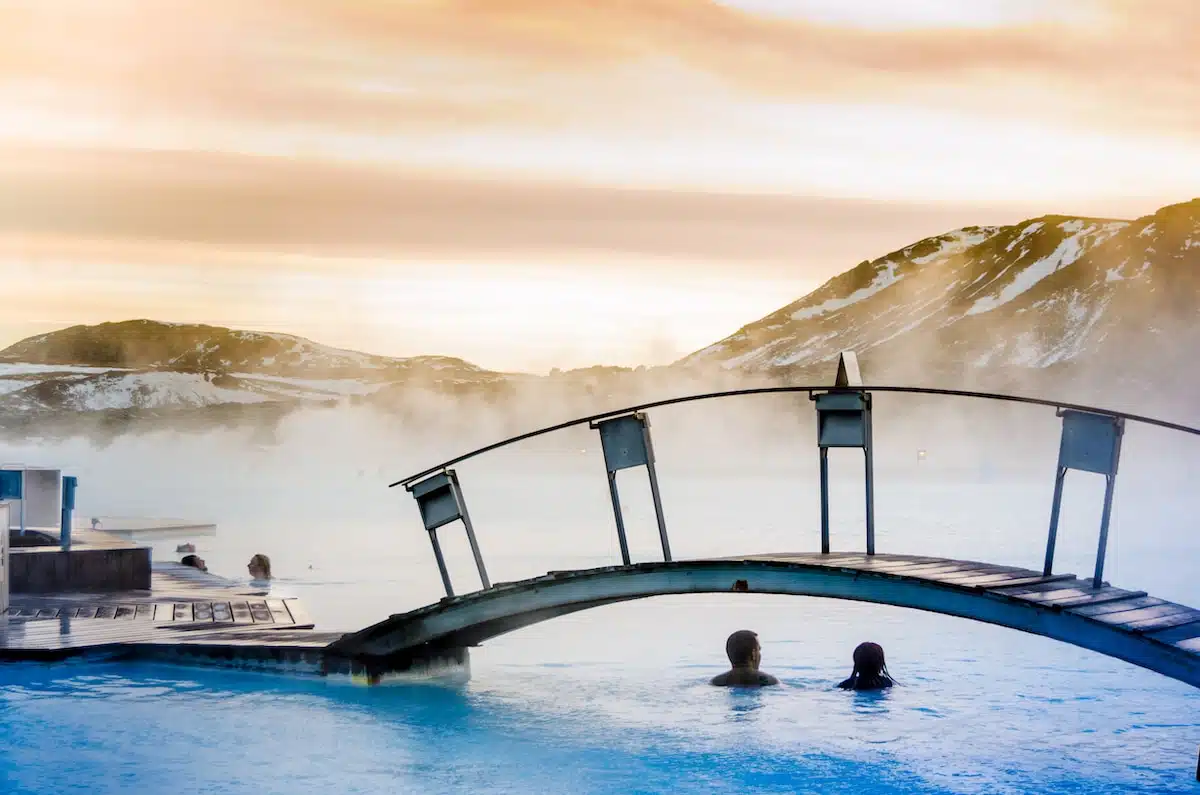 The Blue Lagoon is one of Iceland's most popular tourist destinations, and for good reason – this geothermal spa is absolutely stunning!
I'm still not sure which I prefer – the Blue Lagoon or the stunning Sky Lagoon, which opened quite recently. My advice? Go to both!
The lagoon is fed by water from the nearby Svartsengi power plant, which gives it a unique blue colour.
You can enjoy a variety of spa treatments at the Blue Lagoon, or simply relax in the pool and take in the incredible views.
Skaftafell Ice Cave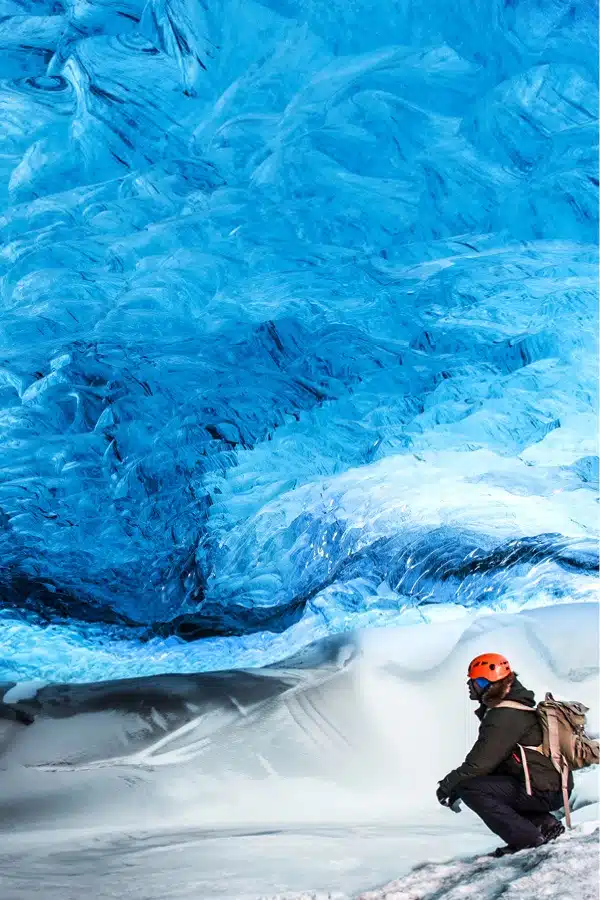 Skaftafell National Park is a must-see destination in Iceland, and one of the highlights is the Vatnajökull glacier.
The glacier is Europe's largest, and at its heart you'll find the stunning Svínafellsjökull ice cave.
This ice cave is one of the most stunning natural landmarks in Iceland, with its deep blue ice and impressive formations. Iceland is full of so many unique experiences, but this is one you really shouldn't miss.
Jökulsárlón Glacier Lagoon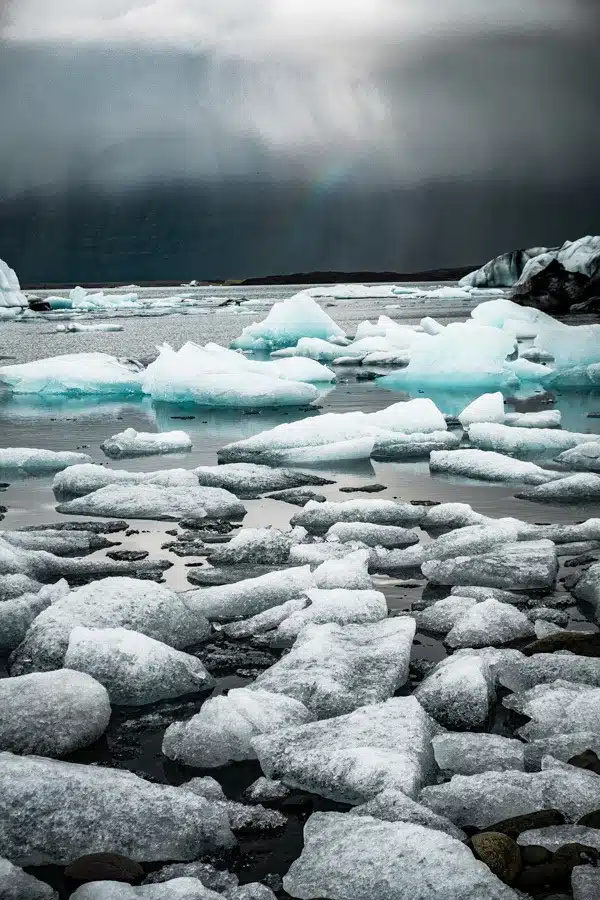 Jökulsárlón Glacier Lagoon is one of Iceland's most beautiful landmarks. Fact! This lagoon is located at the foot of Vatnajökull Glacier, and it's home to a variety of glaciers, icebergs, and marine life.
Visitors can take a boat tour on the lagoon, or simply relax and take in the incredible views.
Don't forget to go to the nearby Diamond Beach either , which is filled with chunks of ice washed up by the ocean.
Svartifoss Waterfall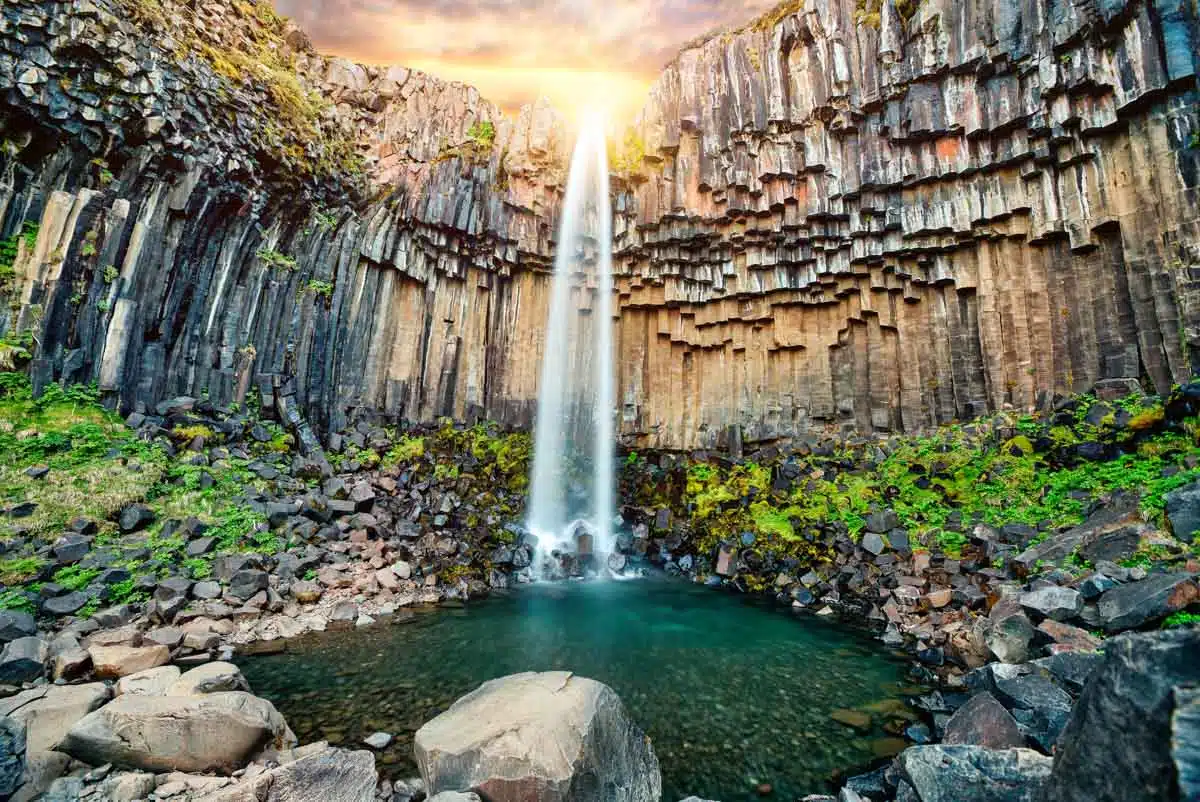 Located in Iceland's beautiful Vatnajokull National Park, Svartifoss Waterfall is a spectacular Icelandic landmark that is well worth a visit.
Iceland isn't short on waterfalls – with more than its fair share of jaw-dropping cascades dotted around the island. Even so, I think Svartifoss is one of the most unique thanks to a striking formulation of black basalt columns that surround it.
It's hard to believe these dark pillars are completely natural, but they are – you'll actually find them in a few locations, including at Reynisdrangar on the Reynisfjara black sand beach.
Thingvellir National Park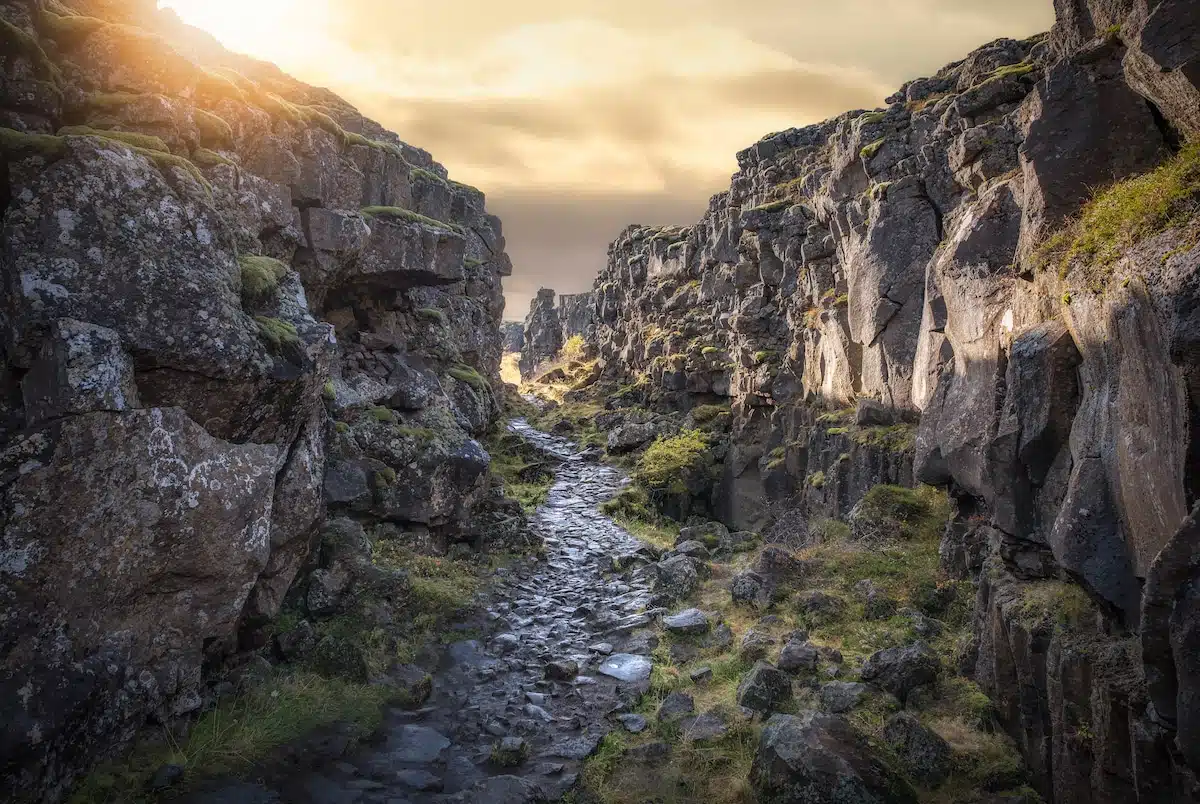 Located in the heart of Iceland, Thingvellir National Park is a must-visit destination for anyone touring the country.
This UNESCO World Heritage Site is where the Icelandic parliament was founded in 930 AD (yes, you read that right) and it's also home to some of the most stunning natural scenery in Iceland.
Visitors can explore the park's dramatic landscapes of lava fields, mountains, and glaciers, or take a hike on one of the many trails that wind their way through the park.
The highlight of Thingvellir National Park is definitely its beautiful waterfall, Öxarárfoss, which cascades down a cliff into a deep canyon. Gorgeous.
Harpa Concert Hall and Conference Centre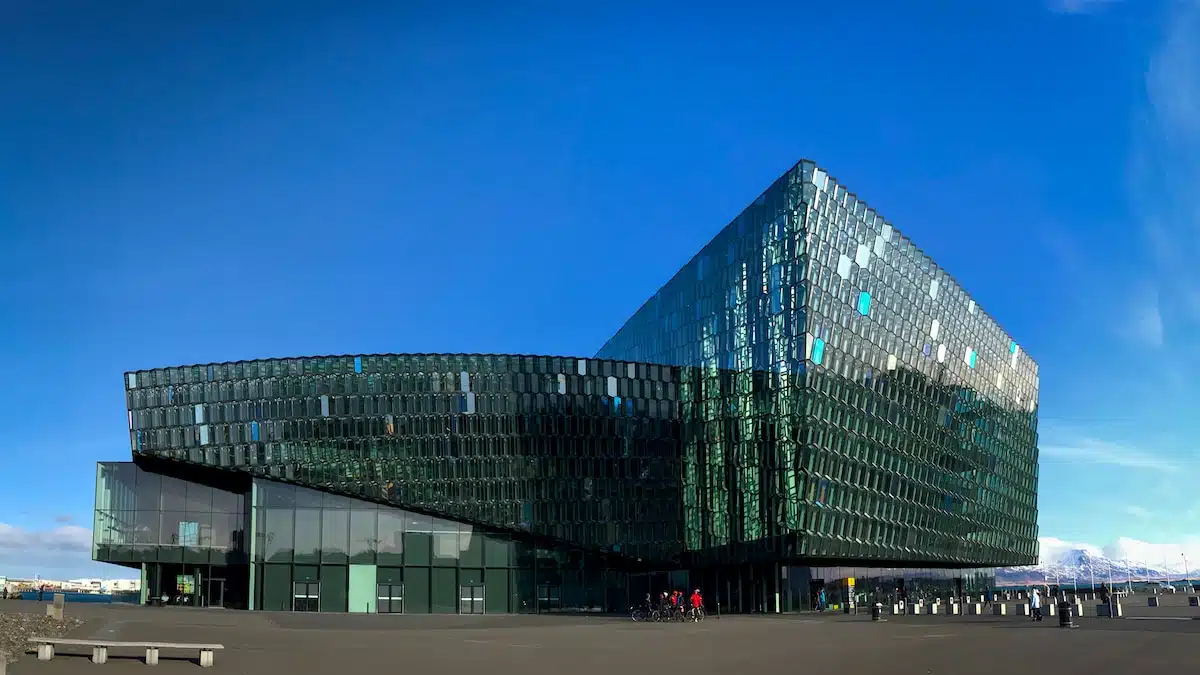 The Harpa Concert Hall is one of those Icelandic landmarks that is just stunning. Combining the best of Icelandic design with modern architecture, it's situated in downtown Reykjavik and has become one of the city's most popular tourist attractions since its opening in 2011.
The concert hall boasts an enormous windowed facade, which allows visitors to look out over the city from inside the building. It also features a glass roof, allowing natural light to flood in during the day and creating an ethereal glow at night when illuminated with LED lights.
PS – it's just as cool inside too. Book tickets for a concert, or reserve a table at the wonderful Hnoss Restaurant for some delicious Icelandic cuisine.
Hveravellir Nature Reserve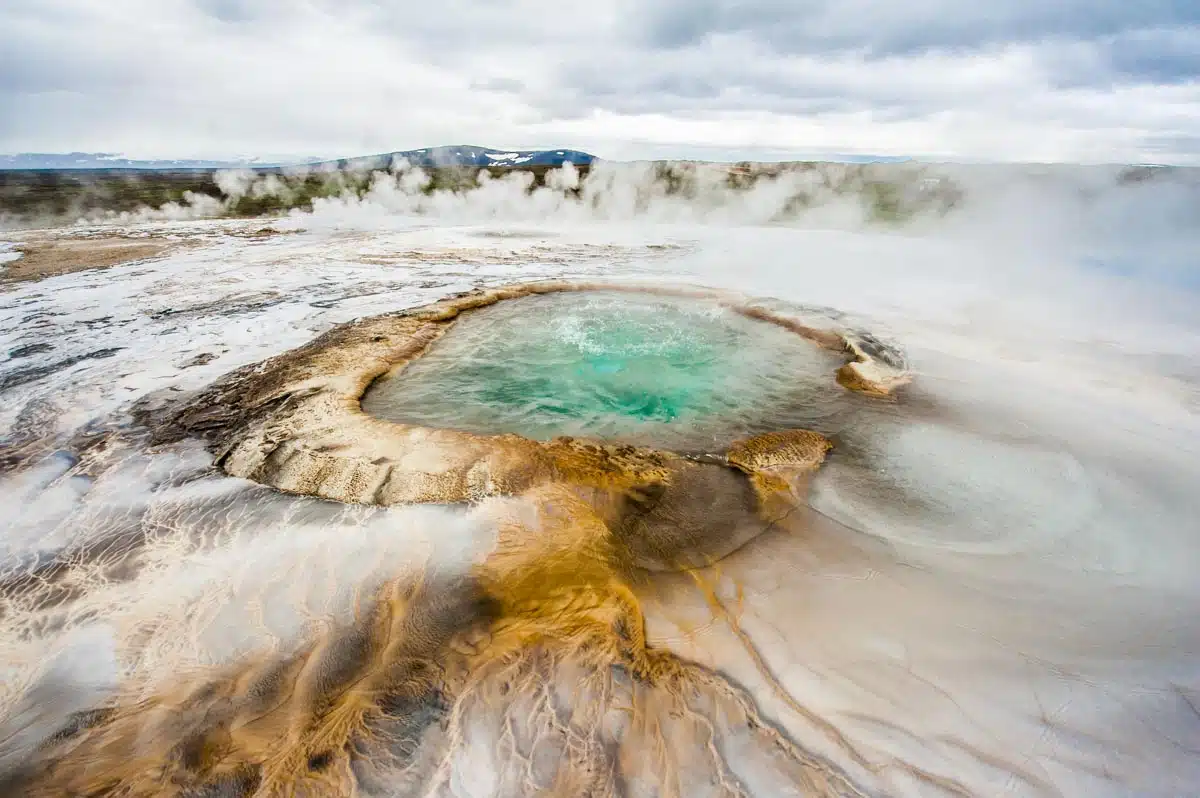 Located off the main ring road but a little off-the-beaten-path all the same, Hveravellir Nature Reserve is an Icelandic landmark that offers visitors a glimpse of Iceland's stunning landscapes. 
The nature reserve is home to several hot springs and bubbling mud pools, as well as lava fields and volcanic craters.
Hveravellir Nature Reserve also boasts some beautiful icelandic wildflowers that grow in the area's fertile soil, so be sure to keep your eyes peeled for these delicate blooms.
Reynisfjara Black Sand Beach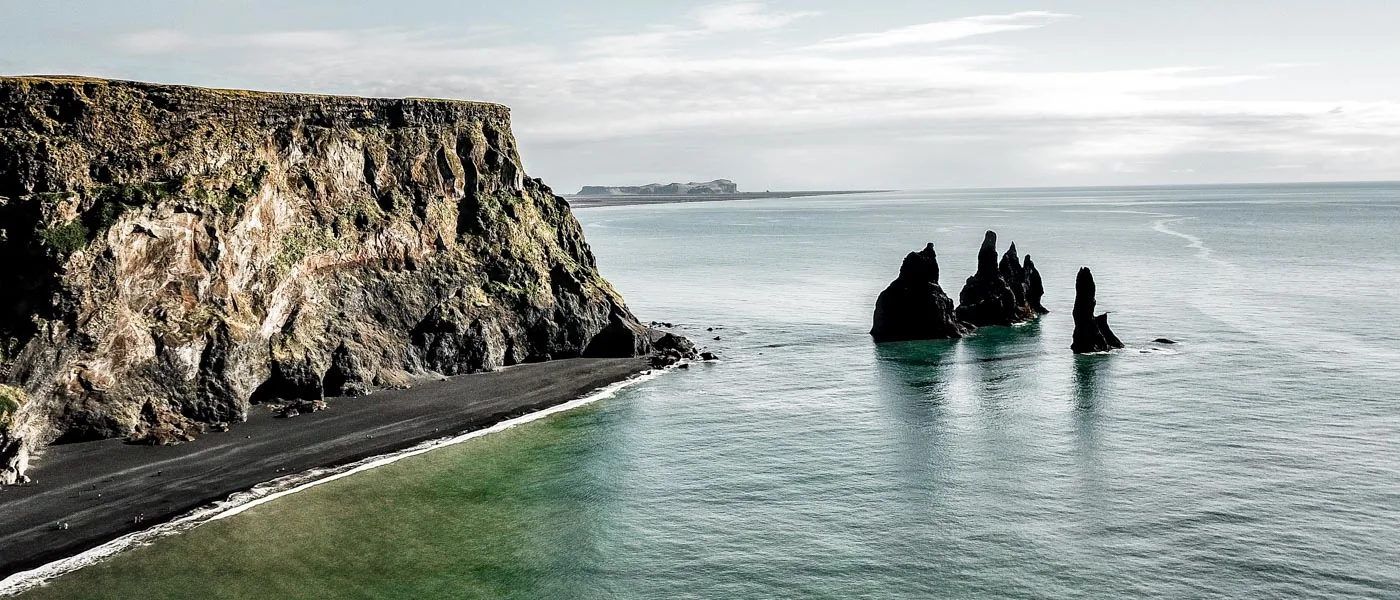 This black sand beach is one of the most stunning natural landmarks in Iceland and should be guaranteed a spot on your Iceland itinerary for its sheer scale and beauty. The beach is located near Vik in southern Iceland.
Reynisfjara is known for its dark sand, impressive cliffs, and powerful waves. Look out to sea and you'll see jagged lava rocks jutting out of the water.
It's also the spot where you'll find the Reynisdrangar sea columns , basalt rock formations set into the cliffside. Legend has it that they are petrified trolls!
Vatnajökull National Park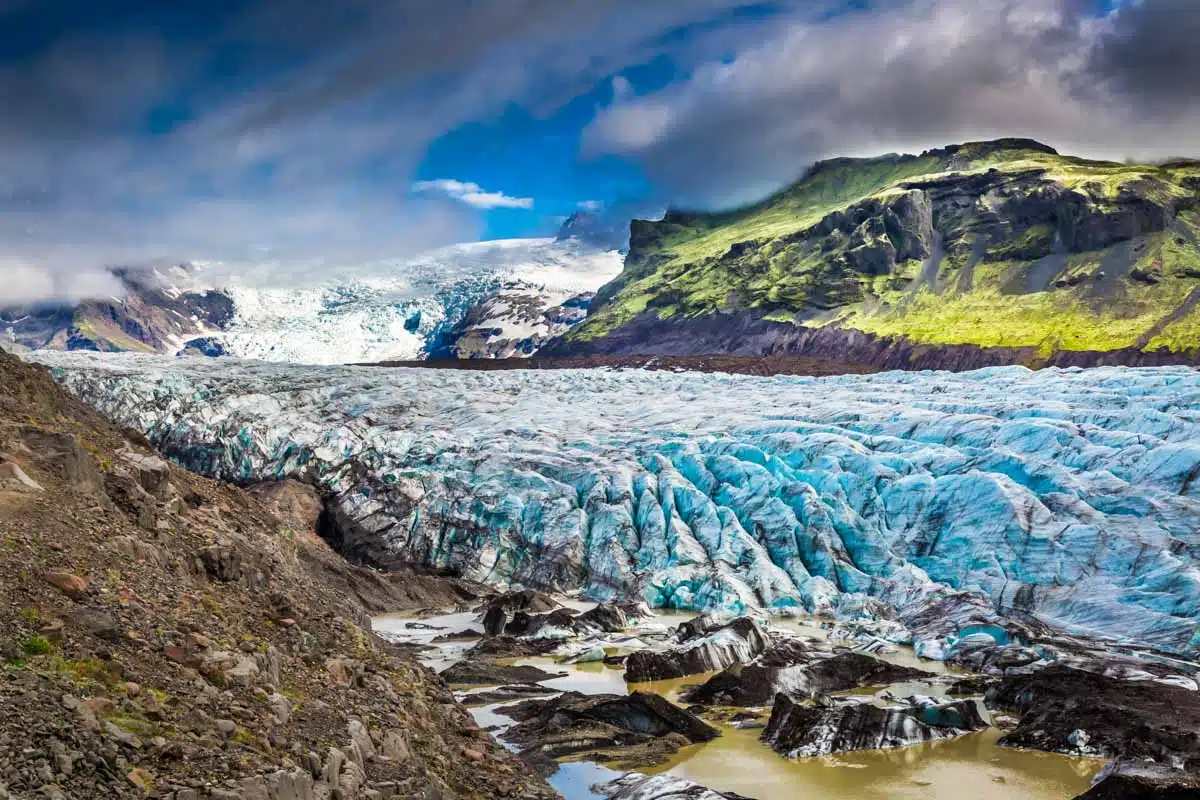 Visitors to Iceland should definitely make a stop at Vatnajökull National Park, the largest national park in Europe.
This stunning park is home to Vatnajökull, the largest glacier in Europe, as well as a variety of other glaciers, ice caps, and lava fields.
The park offers visitors plenty of opportunities for exploration and adventure, with hiking trails that wind through the rugged landscape and lead to some incredible viewpoints.
You can also go camping, fishing, or kayaking in the park, or take a guided tour to get up close and personal with the glaciers.
Geysir (Strokkur)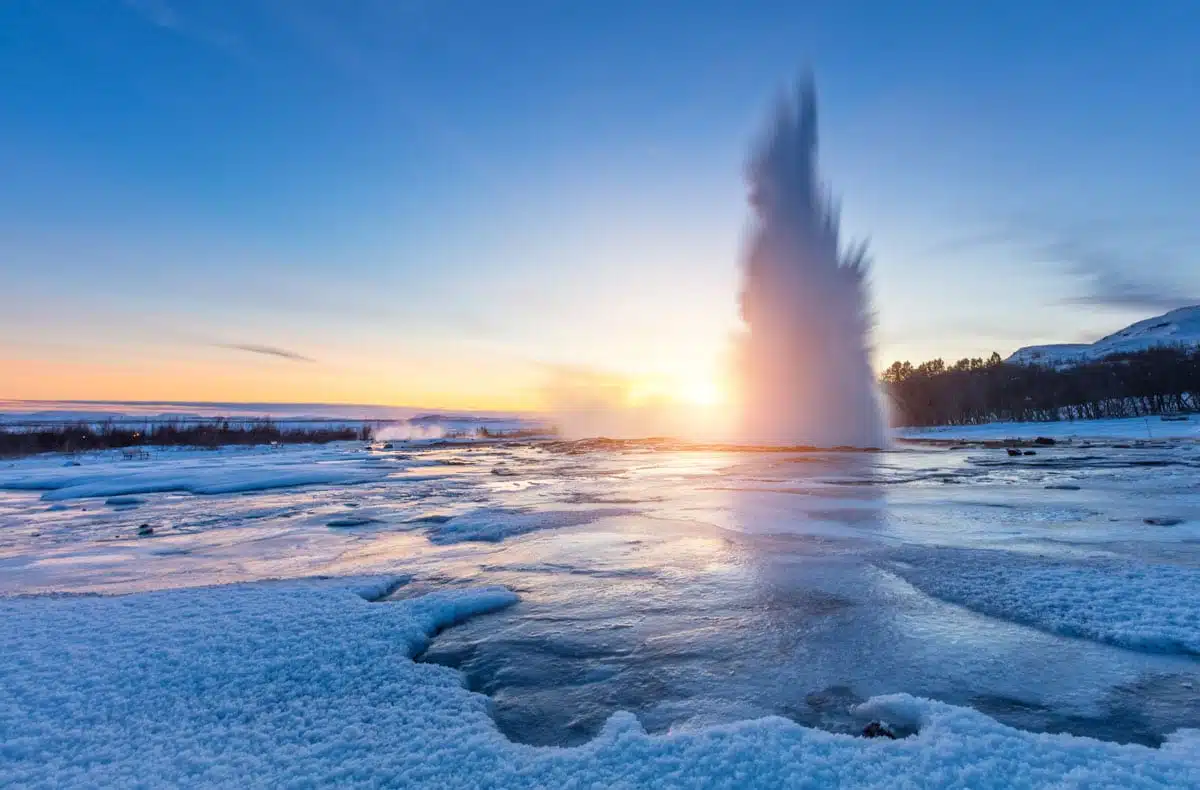 Located in the southwest of Iceland, Geysir (also called The Great Geysir and Strokkur) is a must. Let's face it – who doesn't want to see jets of hot water and steam shooting high into the air?
Geysir erupts approximately every five minutes – stand at a safe distance and watch as Strokkur sends jets of water into the air. Once you're done, head to the nearby Blesi Hot Spring, which is a lovely natural heated pool in Iceland.
Gerðuberg Cliffs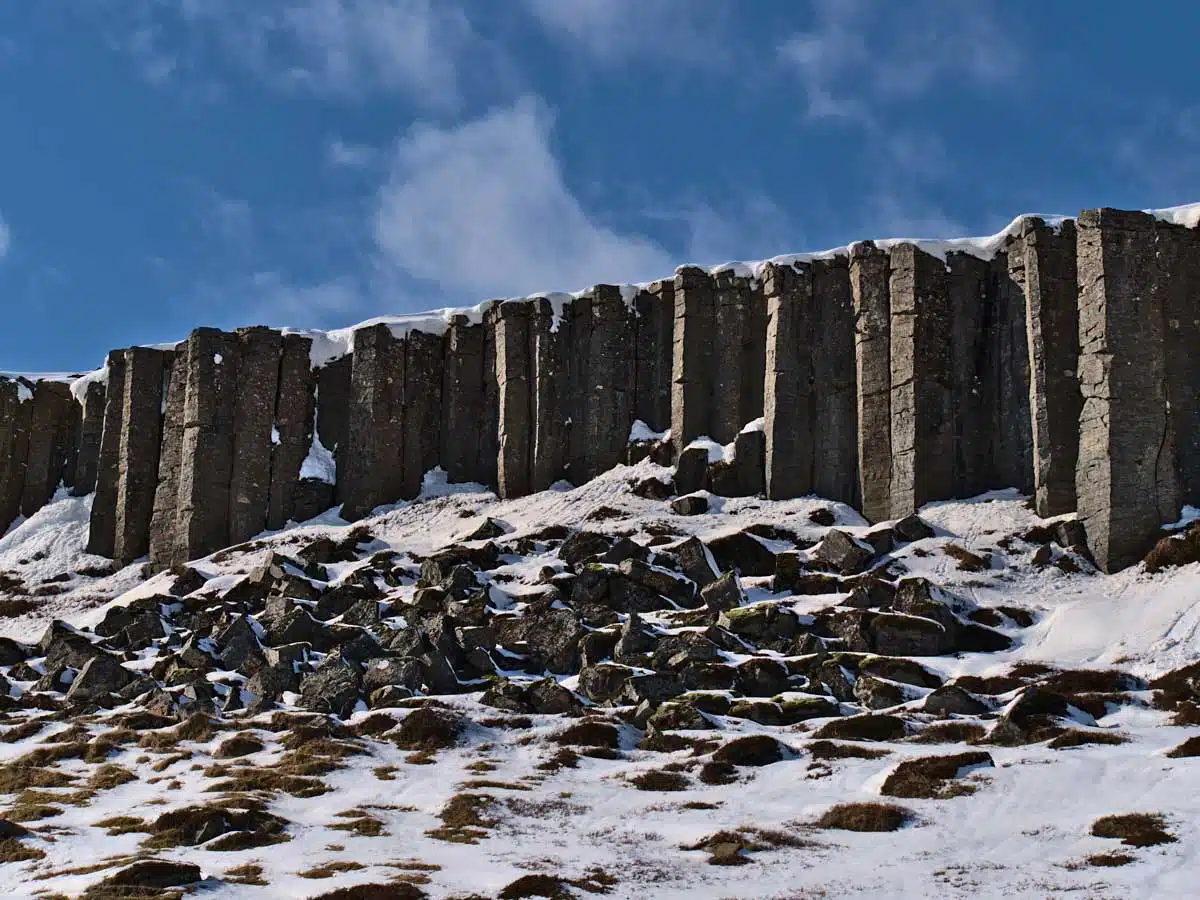 The Gerðuberg Cliffs are a series of basalt cliffs located in western Iceland. These cliffs are an impressive sight, even by Iceland's high standards! The columns are an amazing sight, and they provide a beautiful backdrop to the surrounding landscape.
The cliffs are made up of hexagonal columns of basalt, which were formed when the lava from a volcanic eruption cooled.
The best way to experience the cliffs is by hiking along the trails that run through them – they also have the added bonus of offering spectacular views of the surrounding area.
Hvítárvatn Lake
Hvítárvatn Lake is one of Iceland's most beautiful and must-see landmarks. This lake is located in the Þjórsárdalur valley, and it's known for its clear blue water and stunning surroundings.
The lake is a popular spot for fishing, and it's also home to a variety of bird species. It doesn't tend to be quite as busy as some other spots like Gulfoss, so is a cool little Iceland landmark if you're not such a fan of the crowds.
Kerið Crater Lake (Kerid Crater Lake)
Kerið Crater Lake is one of Iceland's must-see landmarks – a crater formed by an ancient volcanic eruption with a diameter of approximately 180 metres (590 feet).
That's all interesting enough, but it's the lake's beautiful deep blue colour and steep volcanic walls that will make you pay attention.
You can walk around the perimeter of the crater, or enjoy a hike up to the top for amazing views.
Reykjanes Lighthouse
The Reykjanes Peninsula is a beautiful part of Iceland that doesn't get as many visitors as it deserves.
The peninsula features many sights to see and things to do, but my top pick is the Reykjanes Lighthouse. This lighthouse was built in 1878 and has been guiding ships ever since.
Climb up the stairs for an amazing view of the sea below , or simply go inside and admire the architecture.
Dynjandi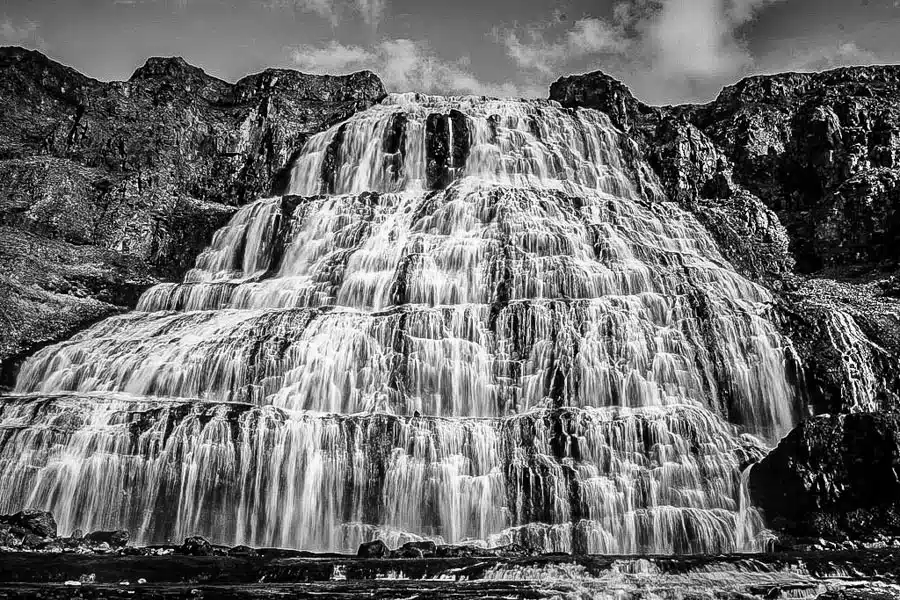 I know, I know – another waterfall but it would be a crime to create a guide to Iceland's must-see landmarks and not include Dynjandi.
Located in the Westfjords region Dynjandi is known for its impressive size and beauty – thanks to the fact that it's 100 metres tall and is actually made up of seven individual waterfalls.
You can hike up to the top of the waterfall for amazing views, or simply enjoy the beauty from below.
Sun Voyager Sculpture
You know that sculpture you always see when you see pictures of Reykjavik? That's the Solfarid (Sun Voyager) sculpture – an amazing sculpture located on the outskirts of the capital.
The sculpture was created by Jón Gunnar Arnason and it features a Viking ship sailing into the Sun.
Not only does the sculpture look beautiful, but it's also a great location for nabbing incredible views of Reykjavik city and beyond!
Skogafoss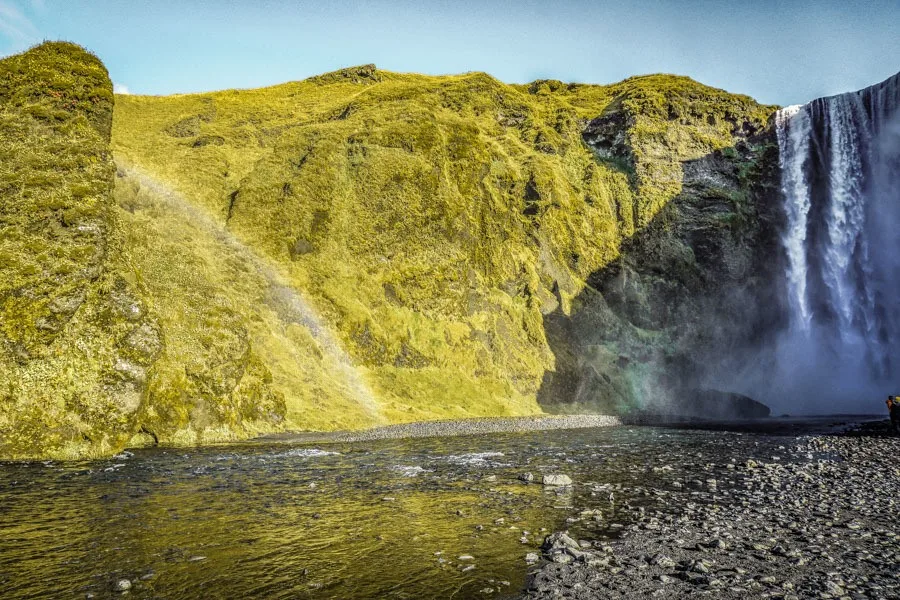 Skogafoss is one of Iceland's most famous waterfalls, and it's definitely worth a visit! The waterfall is located in the Skoga River, and it has a total height of 60 metres (197 feet).
Fun fact about Skogafoss – it was one of the filming locations for Game of Thrones. You see it at the beginning of Season 8 when Jon Snow and Daenerys take their thrilling dragon ride and end up in a snowy landscape in front of two waterfalls. That's Skogafoss – although they also magicked in a second waterfall via CGI for dramatic effect.
I'd definitely recommend doing the short hike to the top of the waterfall – the views are more than worth the effort.
Seljalandsfoss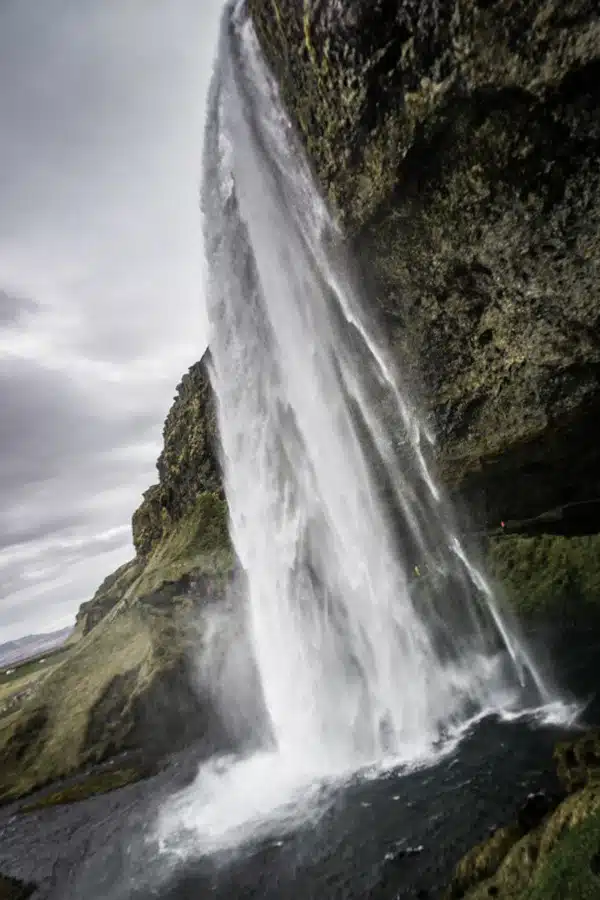 Seljalandsfoss is another one of Iceland's most famous waterfalls.
The waterfall is located in the Seljalands River, and it has a total height of 65 metres (213 feet).
Seljalandsfoss stands out from Iceland's other waterfalls because you can actually walk behind it! It's a cool experience and one I'd highly recommend, although it does get a bit slippy in places, so wear some sturdy shoes!
Fjaðrárgljúfur Canyon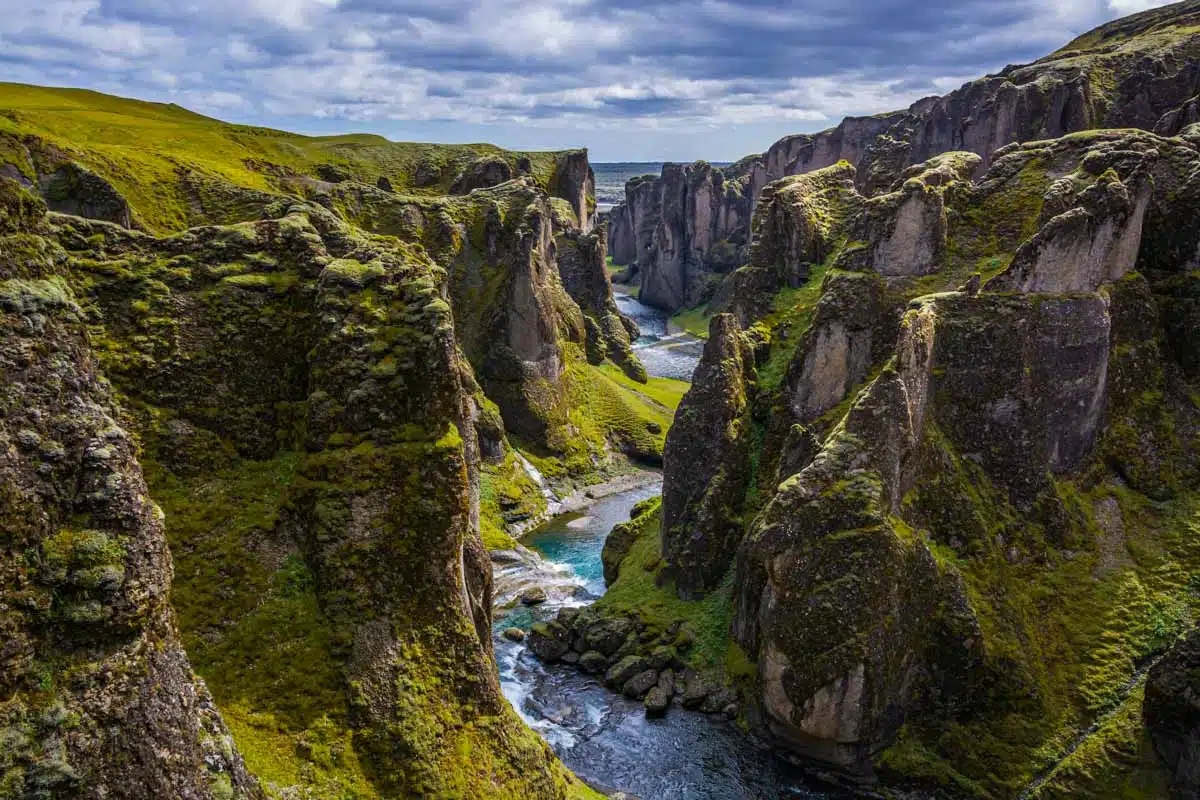 Fjaðrárgljúfur Canyon is one of Iceland's most beautiful landmarks.
The canyon was formed by the Fjaðrá River, and it has a total length of about two kilometres (one mile). It has a layer of mossy green on it, giving it the appearance of an enchanted forest.
You can hike through the canyon for an amazing experience, or take the upper trail hike to an observation deck for incredible views.
Iceland Landmarks: Map