Taking a gondola in Venice is one of the city's most iconic activities. Planning your Venice trip? Here's what you need to know.
Venice doesn't need an introduction. 
Straddling 100 islands in a lagoon in the Adriatic Sea, the city's canals are its lifeblood – carrying locals and tourists between islets packed with Renaissance and Gothic architecture.
Say Venice to most people and the chances are that a gondola is the first thing that springs to mind – so it's no surprise that taking a gondola ride is at the top of most visitors' lists of must-dos while they're in the city.
Wondering about how to go about booking the perfect gondola ride in Venice? Or whether it's even worth the experience? Read on for a practical guide.
PS: Want My Top Recommendation? Opt for This Gondola Ride – Simply Book Your Spot, Turn Up and Hop On 
Why Go on a Gondola Ride in Venice?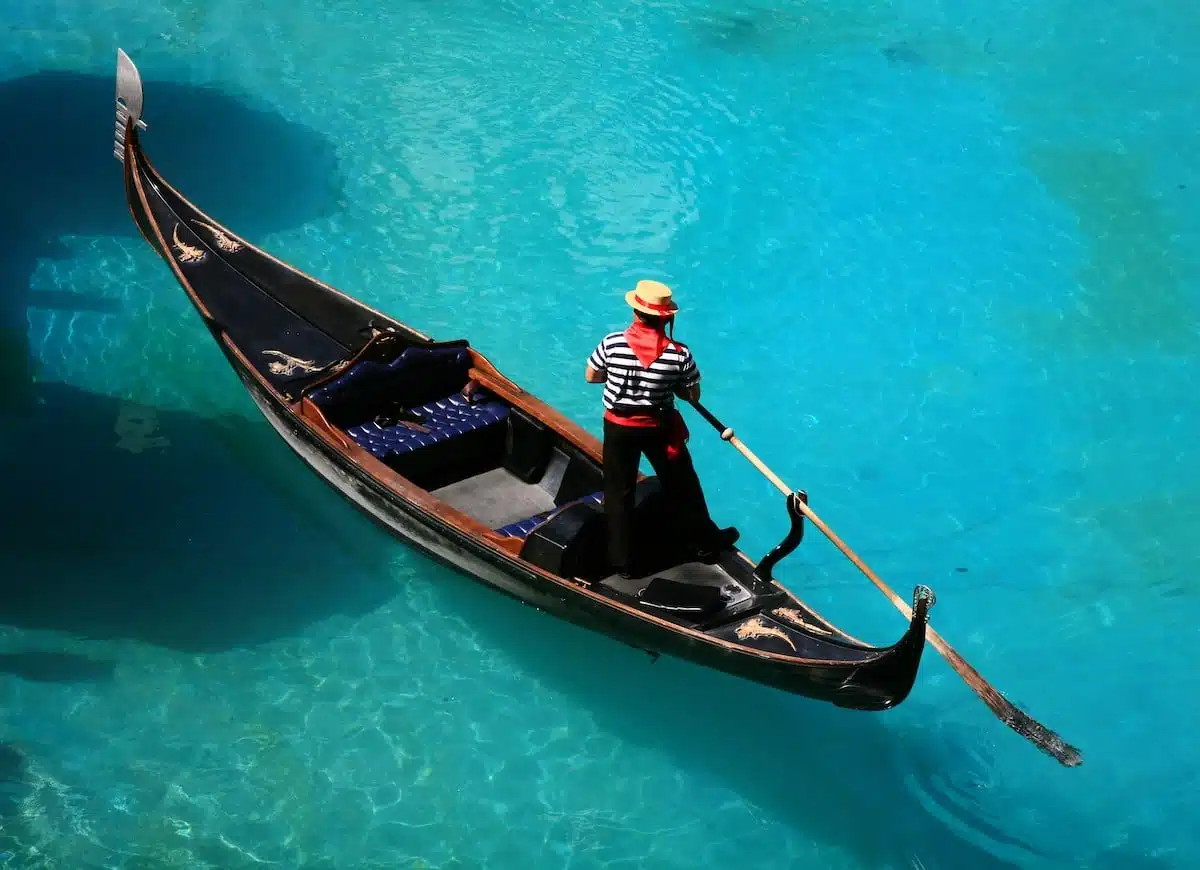 Apart from the city having no roads or cars, there are plenty of reasons for a gondola ride in Venice – not least because a gondola in Venice is an iconic, one-of-a-kind experience. Not convinced? Here are a few more reasons:
Gondoliers Know the City
You won't find anybody else in Venice who knows this city better than a gondolier. If you want a thorough scope of what this city has to offer, all you need to do is talk to a gondolier. 
Undertaking a Venetian Tradition
A gondola ride in Venice gives you a traditional, age-old experience. Gondoliers often dress the part, and will even sing for you. This is a 900-year practice.
Luxury on the Water
Riding a gondola in Venice isn't like hopping in one of the vaporettos that zip between different destinations in the Venetian Lagoon, these water vessels are built for luxury tours through the canals.
From plush seats to richly decorated interiors, you can think of a gondola as more of a limousine than a boat.
How Much is a Gondola in Venice?
If you're wondering, "how much is a private gondola ride in Venice, and is it worth it?" You're not alone.
How Much is the Gondola in Venice?
The average gondola in Venice costs €80 for a 30-minute experience and that price is fixed.
Gondoliers have a set rate and maintain this rate to minimise competition amongst themselves. You can, however, sometimes get a discount if you go with a tour group or travel service, like Get Your Guide.
The €80 is for the ride alone – expect to pay more if there is an activity, meal, or extended excursion in your package.
Best Places for Venice Gondolas
If you've got limited time and want to pack in the best possible experience, there are some spots I'd suggest. The best places for gondola rides in Venice are:
Private Gondola Ride to Bridge of Sighs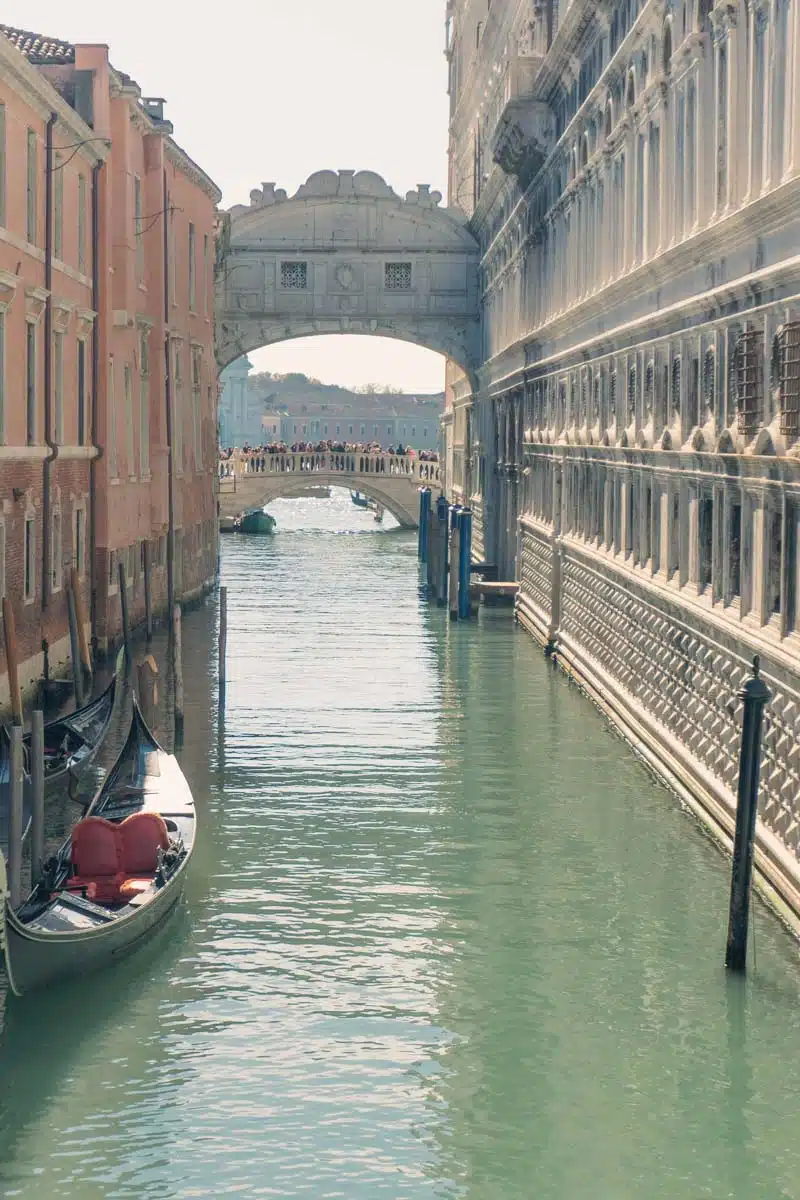 Built of white limestone and enclosed across the top of the Rio di Palazzo, the Bridge of Sighs is a must-see on your gondola Venice experience. The bridge connects Doge's palace to the new prison and was built in 1600. This 30-minute ride starts in the St. Mark's area and travels to historic sites, including the famous bridge. 
Book a Gondola to the Bridge of Sighs
Private Gondola Ride along the Grand Canal
One of the biggest waterways in Venice is the Grand Canal. A private 30 to 45-minute tour gives you an opportunity to see all the sites, shops, and properties along the canal. Expect to see some of the city's biggest sights including the Fenice Opera House, St. Mark's Square, and Punta Della Dogana.
Book Your Gondola Ride Along the Grand Canal 
Private Gondola Ride to Rialto Bridge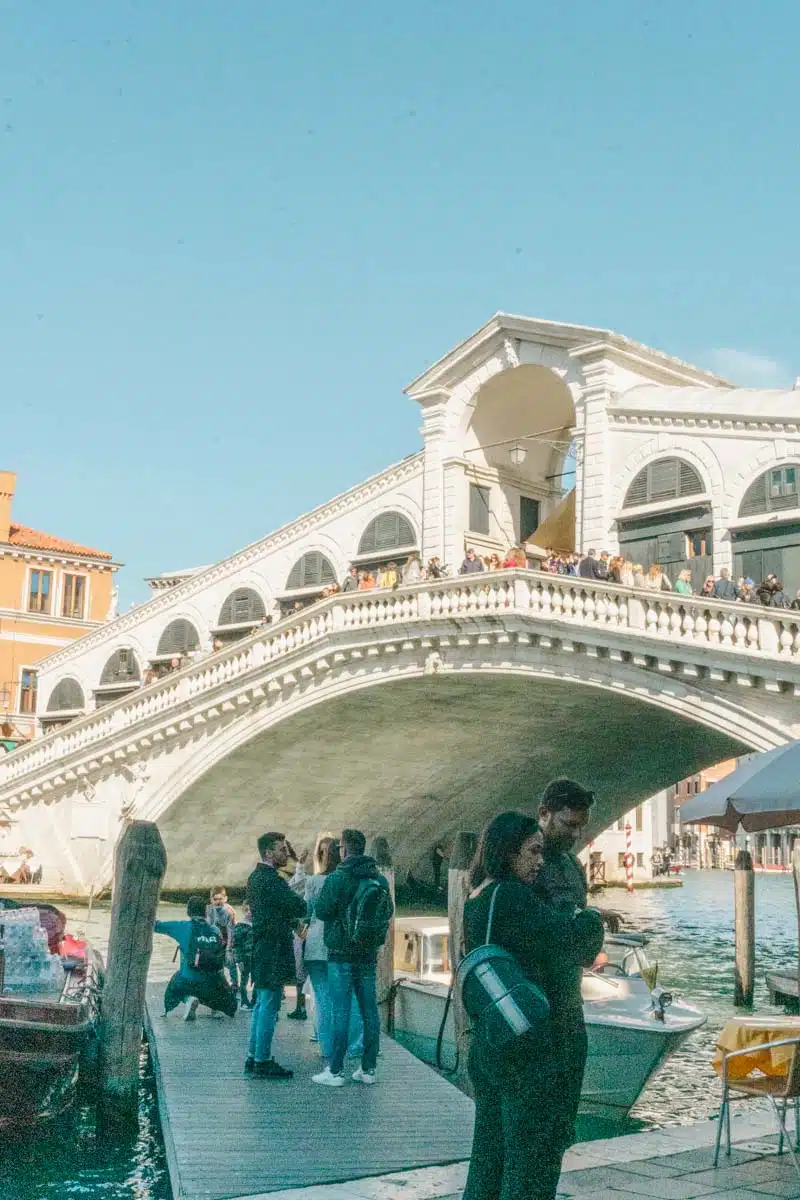 The Bridge of Sighs isn't the only bridge to see in Venice. As the city is built on water, many picturesque bridges span the city. A trip to the Rialto Bridge begins at Bacino Orseol and travels through Rio dei Barcaroli, Rio dell'Ovo, and Grand Canal to the Rialto Bridge. The bridge is the oldest bridge on the Canal Grande, originally constructed in 1173. It has been rebuilt several times since.
Book Your Private Gondola Ride to the Rialto Bridge 
Private Gondola Ride by Night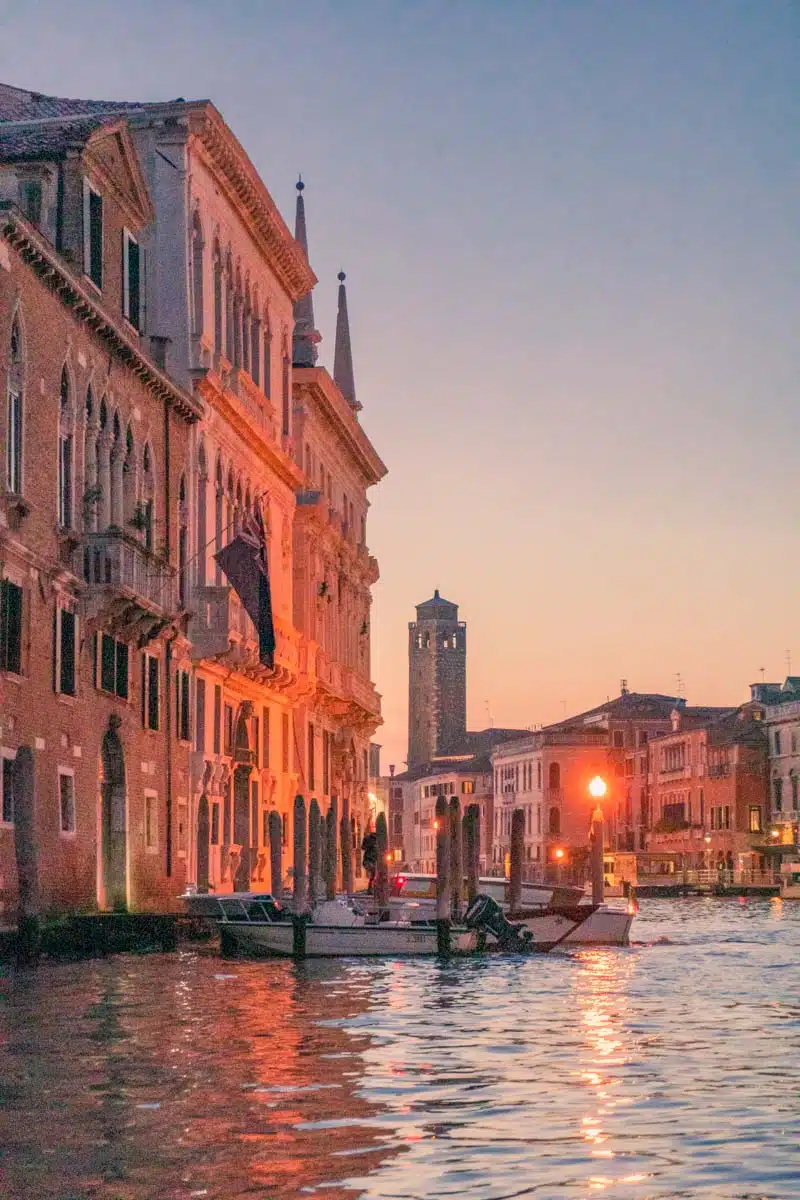 Venice by night is a completely different experience than Venice by day. The buzzing city changes into a calm romantic waterway. Lights glow along the canal, and if you get a clear sky, be sure to take in the starry view of the Venice night sky. Be sure to check how late do the gondolas run in Venice to avoid missing this amazing experience.
Book Your Private Venice at Night Gondola Ride 
City Walking Tour and Gondola Ride
Want to see more than just the canals? I love combination packages that give you a guided walking tour and a gondola ride. It's the best of both worlds and lets you see things from both sides of the canal.
Book Your Combo City Walking Tour and Gondola Ride 
St. Mark's Basilica Tour and Gondola
If you want to do more than just take a scenic gondola trip through Venice, consider the St. Mark's Basilica: Skip-the-Line Tour with Pala d'Oro Access and Gondola Ride. This includes a guided tour through the basilica and a gondola ride UNDER the city canals! This is longer than your average ride on a gondola in Venice. Expect to spend 2 to 3 hours on this excursion and pack light.
Book This St Mark's Basilica / Gondola Package 
These are just a few of my top choices, but you can find plenty of favourite spots for yourself.
Don't be afraid to chat with the gondoliers to see what routes they're taking, or make a special request.
The History of Venice's Gondolas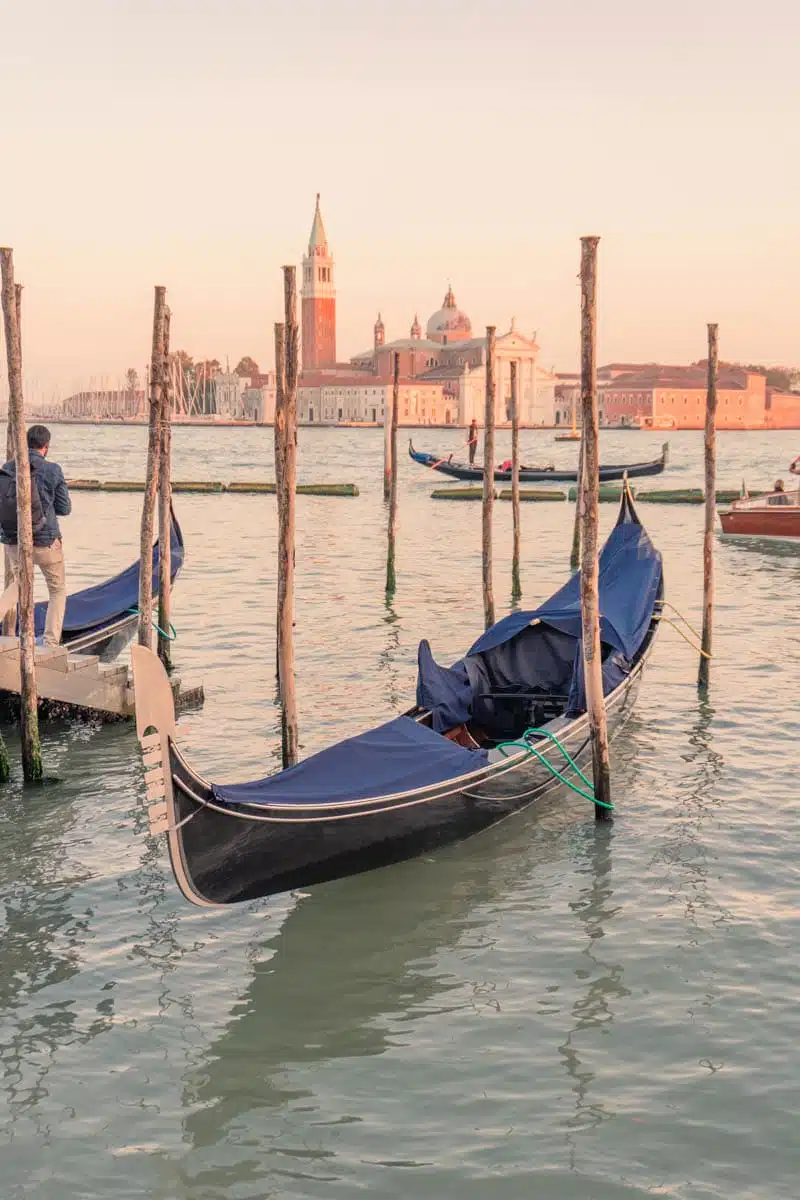 You're probably wondering where gondolas began, how they got popular, and what they mean to Venetian culture?
Let me break it down for you.
A Route From Silk and Spice
Venice became a stopping ground for silk and spice traders from the East en route to Europe as early as the 11th century.
The first gondolas arrived on the scene in 1094, as a gift from Doge (Duke) Vitale Faliero. Gondolas began as a luxury hired conveyance for Venice's rich and noteworthy.
Venetian Gondolas for All
By the 17th century, there were roughly 9,000 gondolas in Venice. At this time, the government in Venice realised that gondolas should be available to all, not just the rich. All gondolas were painted black by law to play down the extravagance they previously portrayed.
Gondolas in Present-Day Venice
Over the years gondolas have changed, even having a lower compartment for covered travel in poor weather. Now, modern gondolas mimic those late 17th century models, with black exteriors and luxurious interiors.
While they have dwindled in number, you can still find somewhere around 400 gondolas for hire across Venice.
And that carving you spied in St. Mark's Basilica? That's Doge Vitale Faliero, the father of the gondola.
Practical Tips for Booking a Gondola in Venice
Now that you know how and where to book a gondola ride in Venice, here are some tips to avoid trouble on your trip.
Pack Light
Pack Light: It's tempting to bring everything you need for a day in the city when you board a gondola. I know, I've been there.
Gondoliers won't allow luggage aboard the gondolas. This means missing a trip down the canals or finding another vessel to take your luggage for you. If you can't fit it in your purse or backpack, it should stay at the hotel.
Be Prepared
Taking a gondola means starting at one part of the city, and potentially landing on the opposite side of it. Be sure you've got your personal identification, some money, and a plan when you step off the gondola.
Consider Travelling to Venice in the Off-Season
Most tourists venture to Venice in the summer, but traveling in the off-season has perks. From September to November, the weather is still temperate, but the city is far less crowded. Fewer lineups for gondolas, and shorter waits to visit landmarks and historical sites. I've tried both summer and fall visits, and I can honestly say fall is more authentic, and a little less stressful. 
What to wear on a Gondola ride in Venice?
While the rainy season in Venice is from March to May, it's best to be prepared for changing weather. Packing a light windbreaker or umbrella will save you a headache if you get caught in the middle of a canal when the rain starts.
That's it! If you have an opportunity to hire one, sit back and enjoy a tiny slice of history as you see Venice the way the city was made to be seen.