Tuscany's hot springs offer the perfect opportunity to soak and savour in calming thermal waters among gorgeous surroundings. From well-known baths to secret spots, add these 10 springs to your Tuscany travel list.
It's no secret that Tuscany is home to innumerable rolling hills, gorgeous villages and renaissance towns. Less well-known is the number of stunning natural thermal baths scattered across the region.
From the whole spa experience to taking a dip in a natural hot spring, whatever you're looking for, Tuscany delivers with bells on. Because, which trip isn't enhanced by indulging in the experience of wallowing in natural hot springs?
So, if you want to add some natural, soothing warmth to your Tuscan adventure, let's take a jaunt in this guide to the best hot springs in Tuscany.
Best Hot Springs in Tuscany
Saturnia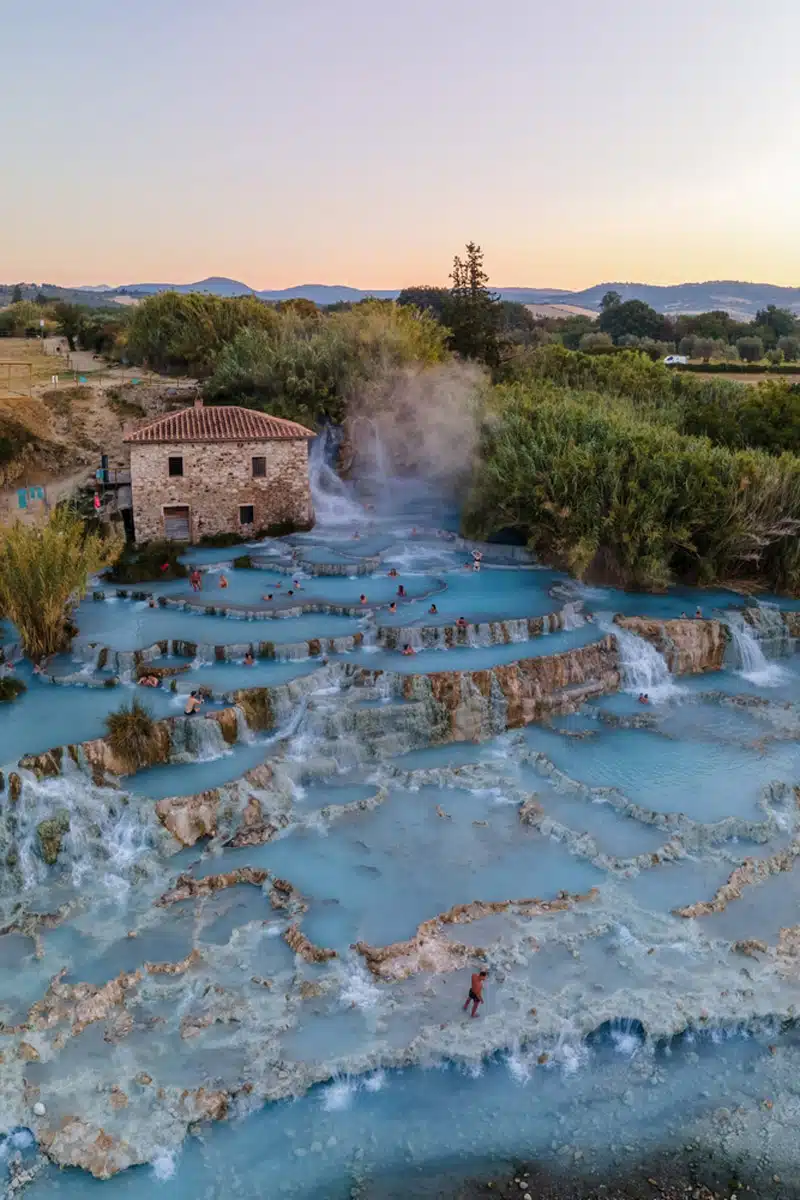 Saturnia has a pretty good claim to being the most famous hot springs in Tuscany (it's undoubtedly the most photographed judging from the Insta feeds all over my timeline).
Located in the Cascate del Mulino area of South Tuscany, it's transformed from a little-known secret spot to a popular destination for travellers to unwind in. You can see why, right?
The warm water flows down an incline, creating several natural pools of crisp translucent turquoise water, moving towards the small river at the bottom. Sitting at a toasty 37.℃, simply find a spot and let the water stream over you and work its calming effect.
The constantly rising steam during the cooler months only adds to the appeal.
Do
There's a large car park near the thermal baths, so going by car is a definite option. Otherwise, you'd need to get a train to Albinia and a taxi to the Springs. Entry is free. Alternatively, jump on a Thermal and wellness tour to Saturnia hot springs, Tuscany, from Civitavecchia.
Bagni San Filippo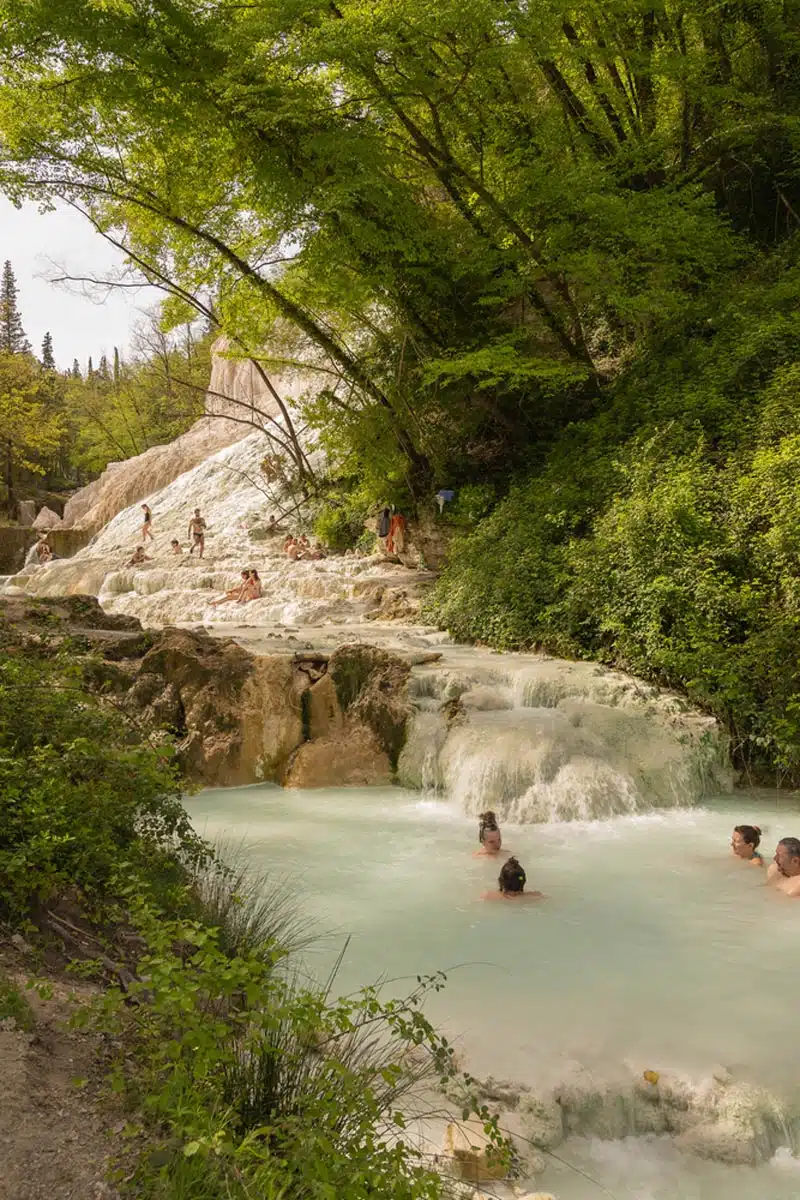 The Bagni San Filippo are a set of beautiful natural Tuscan hot springs and the ideal place to take a relaxing dip deep in stunning forestland.
Tucked away in the quiet environs of the Val d'Orcia, the bath are unique for several reasons – not least that the hot water flows as a river through a wood. In other words, bathing gives you a real sense of being at one with nature beneath the cool tree canopy above.
Secondly, as the water moves over the landscape, it deposits a white sediment that, over centuries, has given the landscape a whiteness that makes it look like snow.
Keep an eye out for the famous 'The White Whale' formation – one glance will tell you why it got its name!
Do
Bagni San Filippo is free with a good car park, only a short walk from the spring. Only a short drive from Montepulciano and Pienza, I recommend driving yourself or taking a taxi. Alternatively, this Tuscany Natural Spring Tour takes in Bagni San Filippo and more.
Bagno Vignoni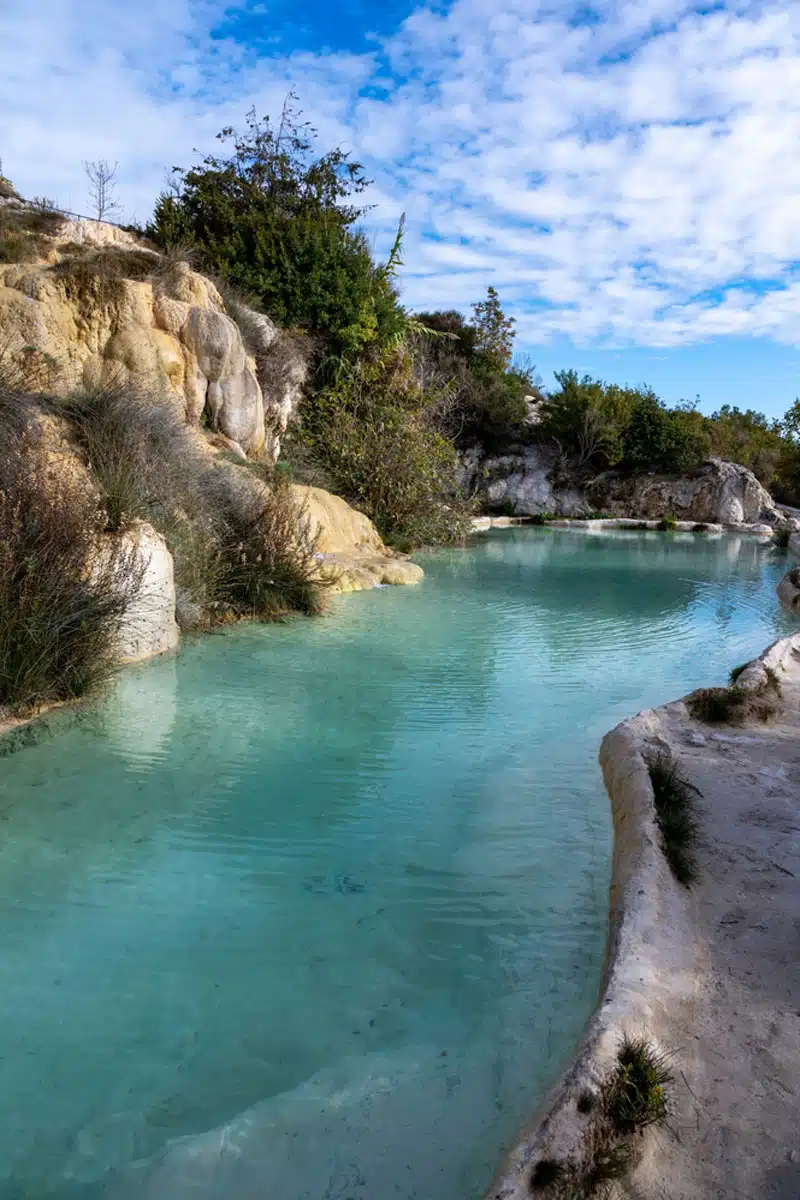 Bagno Vignoni is a stunning quintessential Tuscan village with some of the most relaxing naturally heated warm spring baths.
The hot water feeds underground into the beautiful spa centres around town and the stunning fountain in the main piazza, the village's centrepiece.
While you can't bathe in the fountains, most of the hotels in the village have stunning thermal pools that visitors can access with day passes. The Hotel Posta Marcucci has fantastic outdoor pools where you can lounge and drink in the vistas across Tuscany's many rolling hills.
Do
Bagno Vignoni is in the province of Siena and is accessible by car. You must pay for a day pass to enjoy the pools at one of the village's spa centres. This day trip from Florence includes exploring the village's hot springs.
Chianciano Terme
Chianciano Terme is a modern town in southern Tuscany that has become renowned for its hot springs and thermal bath houses to help with physical and mental health.
Unlike other places in this list, you probably wouldn't visit Chianciano Terme for its natural charm, but it is bursting with excellent thermal spas that help you rest, relax, and recharge.
My top pick is Theia Thermal Baths, a modern bath house with gorgeous outdoor pools, a kids' area, and a nice relaxing feel.
Travelling under your own steam? No problem. Chianciano Terme is on the AI Autostrada between Rome and Florence, while you can get a train on the main line between Rome and Florence.
Venturina Thermal Baths
The small town of Venturina is in an enviable spot in the Tuscan hills, resting gently in rolling hills, yet within a hop, skip, and a jump of the beautiful Etruscan coastline and its stunning beaches.
Venturina is famous for the hot springs that feel the fabulous spa hotel and Estrucan bath house, Calidario. With endless spa treatments to choose from and large, sprawling outdoor pools to wallow in, The Calidario is a beautiful oasis of calm in an idyllic location.
Do
I recommend driving to Venturina. However, a train runs from Rome to Campiglia Marittima five times daily, taking just over two hours.
San Casciano dei Bagni
Some of the oldest hot springs, full of soothing, sulphurous water, can be found in San Casciano del Bagni. People from all over Europe visited these waters from the Middle Ages onwards, with the continuing presence of upper-class visitors influencing San Casciano's diverse architecture.
In 1607, Grand Duke Ferdinand I built a portico at the source of the rich Ficoncella spring. Most of the Roman-built pools are still useable and, best of all, free of charge.
Do
Entry to the free spas comes via a small sloping road that leads to the bottom of a hill where you'll see the covered wash house. Driving is the best way to get to San Casciano del Bagni. Alternatively, join this well-being and wine-tasting escape to sample the best of San Casciano del Bagni.
Petriolo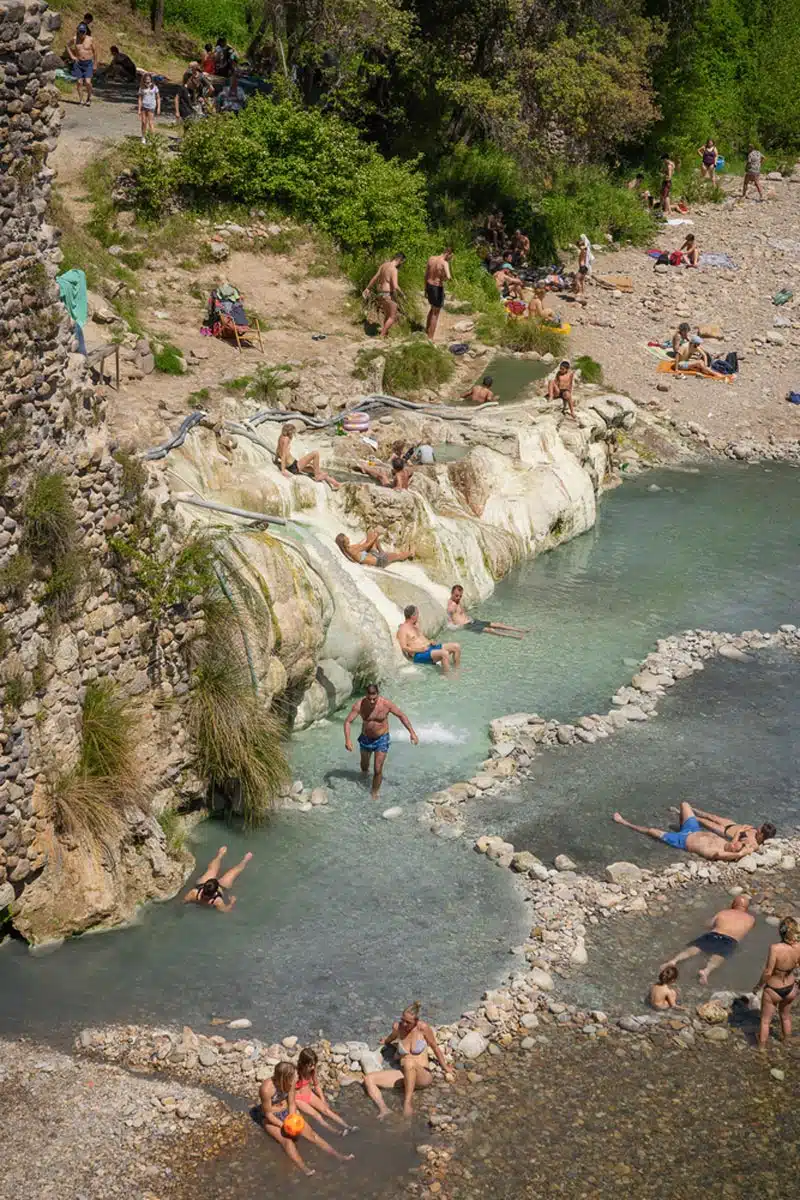 Another set of hot springs that dates back to Ancient Rome, Petriolo thermal springs sit amongst gorgeous natural surroundings between Val di Merse and Maremma. Among previous users were members of the Medici family and Popes, Dukes and nobles in the Middle Ages.
You can enjoy exploring the many hiking trails before dipping into the therapeutic thermal pools that are a lovely 43℃
Amongst the complex is a modern Wellness Centre that offers a range of relaxing treatments in luxury surroundings. This area is off the beaten tourist trap, meaning it's less overrun than many of the other hot spring Tuscany offers.
Do
The springs are approximately 40km from Grosseto and reachable from the Grosseto to Siena highway. Driving is the best way to reach these gorgeous free natural baths.
Rapolano Terme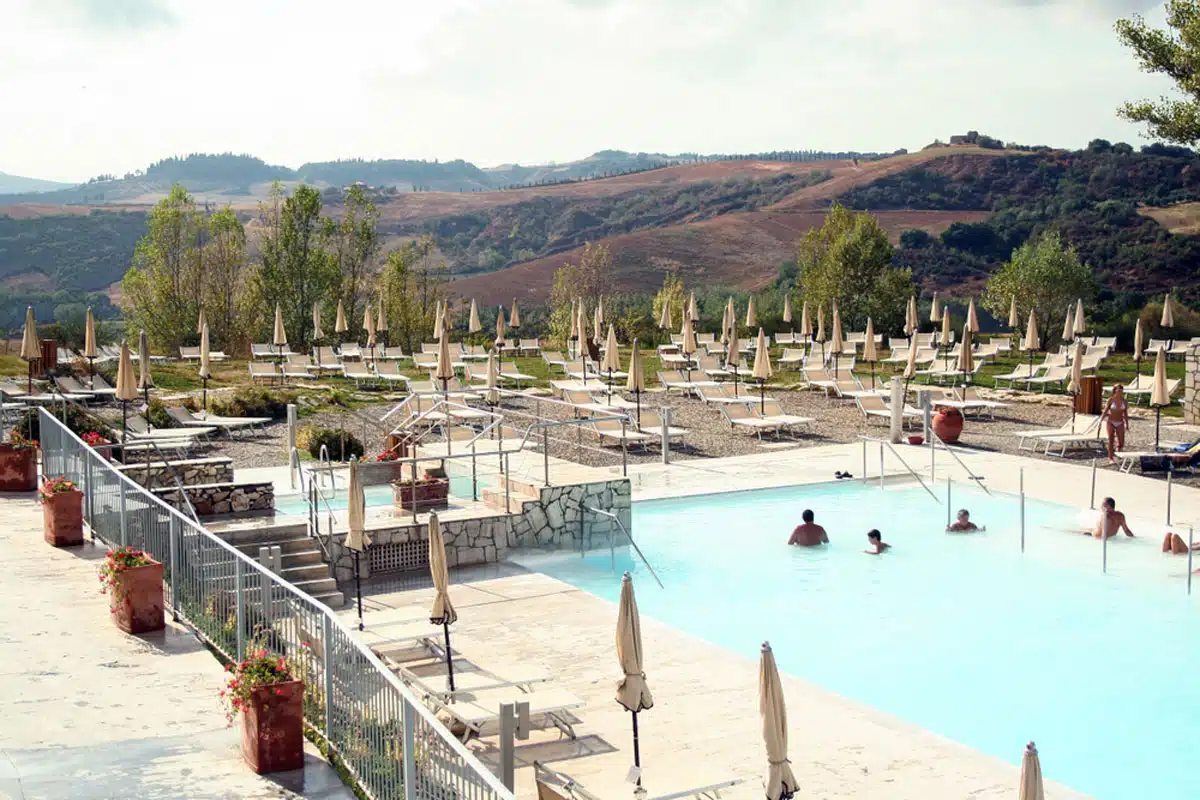 Rapolano Terme lies in the Sienese hills and is home to the Terme Antica Querciolaia. This spa complex was once where Giuseppe Garibaldi found a natural cure for injuries sustained at the battle of Aspromonte.
Nowadays, it is home to a beautiful, relaxing complex with waters fed from three different underground sources at temperatures ranging from 22 to 40 degrees C. Natural elements such as calcium, magnesium, sodium and potassium help treat respiratory, mobility and skin issues.
Do
You can reach Rapolano Terme easily by road, rail and bus from Siena. Entry to the spa does require payment, and day passes are available.
Montecatini Terme Spa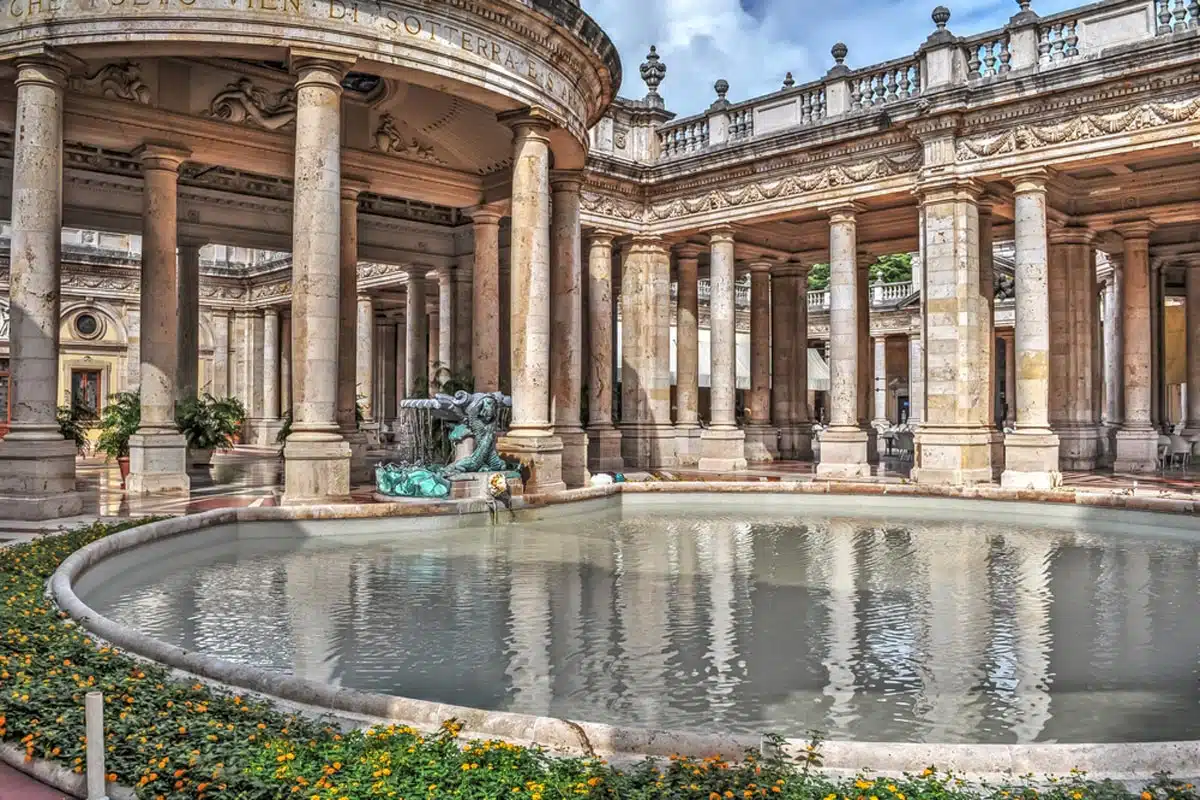 Montecatini hot springs in Montecatini are known as Italy's thermal centre and among the best in Europe, never mind Italy.
The local warm natural waters are said to boost beauty and health since they were established in the 18th century by the Grand Duke Leopoldo.
Three complexes in the town (Tettuccio, Redi, and Excelsior Wellness Centre) offer an outstanding and comprehensive range of treatments supervised by fully-trained medical professionals, with treatments changing with the seasons and catering to every wellness need.
Do
Day passes for one of the spa complexes in town are available, and Montecatini is accessible by road and rail from several destinations in Tuscany.
Gambassi Terme
Gambassi Terme is named after the thermal baths first discovered in Ancient Roman times and continues to be a highlight today thanks to the spa resorts found in the stunning surroundings of Benestare Park.
The Via Francigena Spa dates its origins back to the Middle Ages. Its salt-bromide water is well-suited for inhalation treatments for respiratory conditions and hydroponic treatments to aid digestion.
The spa now also offers a range of holistic and wellness treatments, but I'll always return to the beautiful, soothing thermal baths.
Do
Gambassi is served by local bus services from Florence and is close to the Firenze Impruneta exit on the A1 Autostrada. The nearest train stations are approximately 10km away in Certaldo and Castelfiorentino.
Practical Tips for Taking a Trip to The Thermal Baths
Some of these hot springs can become busy, particularly during summer. Try to visit early in the morning or during the winter months to avoid feeling too overwhelmed.
Ensure you check the hot springs' opening times before you visit. Some free Tuscany springs, such as Saturnia, are open 24/7.
Make sure you bring swimming costumes and towels to dry off. Some springs do have facilities such as hair dryers.
Bring a plastic bag to deposit wet swimming costumes and towels in. This will stop your other belongings from getting damp and wet or making your bag too smelly.
Light shoes of some kind are a good idea. Sliders, flip-flops, or crocs are ideal for negotiating some naturally rocky pathways around some of the natural hot springs in Tuscany.
Tuscan Hot Springs: Map
Explore More of Tuscany With These Guides
Love This? Save and Share on Pinterest