Wondering where to stay in Rome? Don't stress – this handy travel guide walks you through the best areas and hotels for your next trip to the Italian capital.
Ah, Rome.
Oozing history, Rome is a traveller's delight. Ready to marvel slack-jawed at the Colosseum? How about gazing at the incomprehensible beauty of the Sistine Chapel? Let's just say that Rome has plenty to keep you on your toes.
That's all well and good but where is the best place to stay in Rome?
With many different areas in the city, it can be tough to decide exactly where you want to stay while in Rome. Do you want to be close to all the action, or do you want a quiet Roman holiday? Whatever your Rome itinerary, this guide will help you find the perfect place to stay.
Best Places to Stay in Rome: At a Glance
Where to Stay | Rome
Whether you're travelling on a budget or looking for a luxury Italian holiday, a trip to Rome is always on the cards…
Trastevere: Best Area to Stay in Rome Overall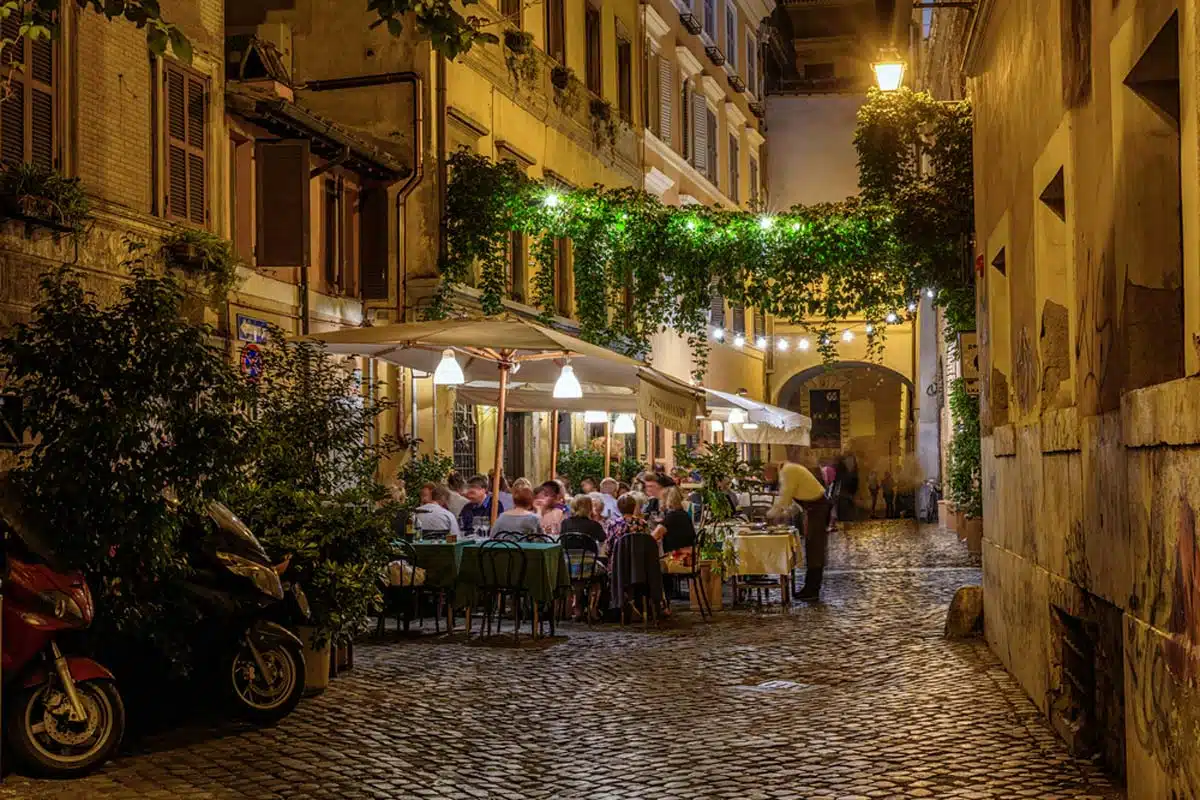 Looking for the most authentic Rome experience? Trastevere is the neighbourhood for you.
The gorgeous cobblestone streets open into piazzas filled with locals doing their thang. You'll wander past buildings covered in ivy and vines – Trastevere takes you back to medieval Rome in the best way.
You can easily walk to restaurants, bars and markets from your accommodation in the neighbourhood; there are gorgeous churches filled with art and villas with beautiful architecture.
And then at night, the party starts. Trastevere lights up, and the locals party until the sun rises. It's the perfect neighbourhood if your goal is to live your 'Bella Vita' while in Rome.
Trastevere Highlights
The Streets – It's one of the biggest highlights in Trastevere. The cobblestone streets with medieval-style buildings are a treat for the eyes.
Basilica di Santa Maria – One of Rome's oldest churches is now a gorgeous contemporary Baroque-style building. More recent vintage stylings mix with the ancient 12th-century mosaics and 16th-century gold ceilings to create the beautiful Basilica.
Suggested Hotels in Trastevere
Hostel Trastevere – This hostel is one of the top cheap places to stay in Rome and is just across the river from Rome's main attractions. You can decide if you want to stay in a private room or share a dorm and meet some people.
Horti 14 Borgo Trastevere – This luxury hotel is an ideal place to stay in Rome. It has colourful modern furnishings, and the rooms are elegant and comfortable. It's also quite close to all the main attractions.
Piazza di Spagna: Best Place for a Luxury Holiday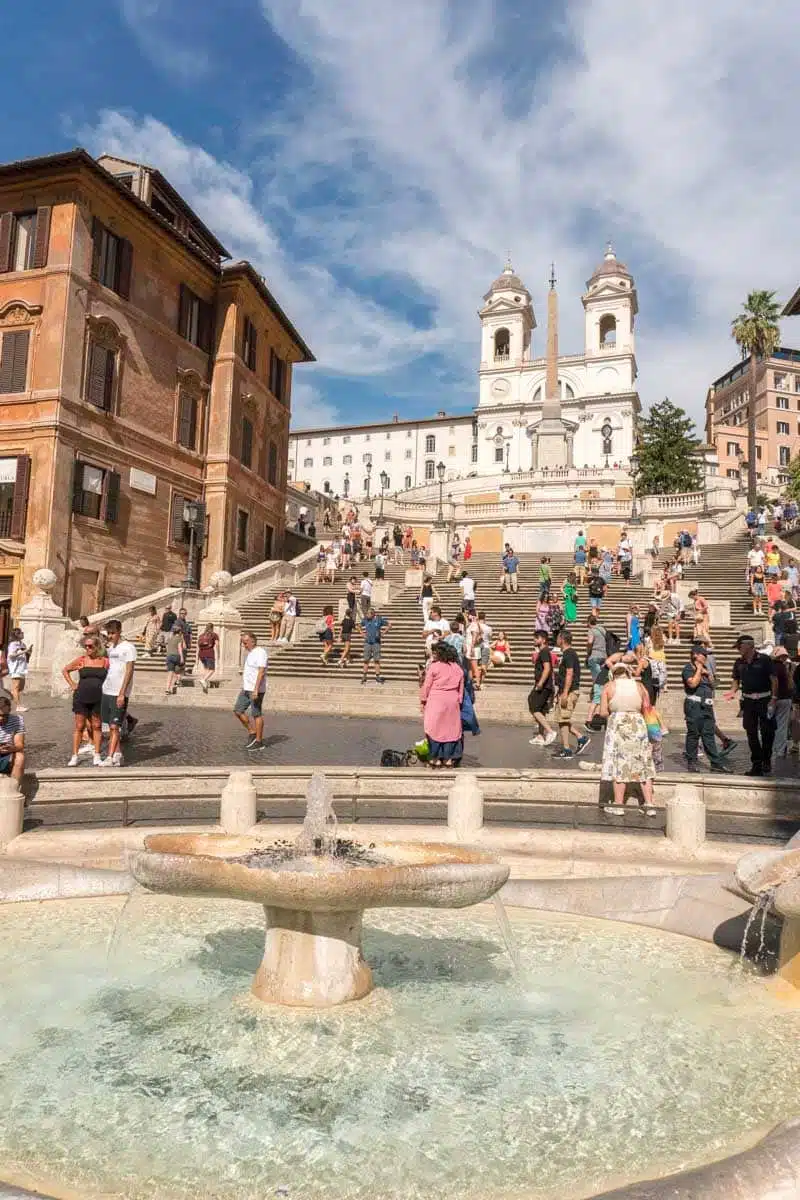 Located in central Rome, Piazza di Spagna is the epitome of luxury in the city. With fine dining restaurants and some of the best designer shopping options in the world, Piazza di Spagna is the place to stay if you're looking to splash some cash.
The Spanish Steps make a gorgeous backdrop to the Via Condotti, a famous street filled with designer shops.
Within walking distance of most places in the area, you will find the Villa Borghese, home to fantastic art museums and mystical gardens. You're also just around the corner from Trevi Fountain, so you can tick that off early in the day before the rest of the tourists flock.
Piazza di Spagna Highlights
Trevi Fountain – One of the most famous fountains in the world, you cannot miss the Trevi Fountain on your trip to Rome. The 30-metre-tall fountain boasts a statue of Neptune. To live your Roman Holiday like Audrey Hepburn, you must visit this fountain.
Via Condotti – This street has many designer shops, including Italian brands Gucci, Prada and Bottega Veneta. The name comes from the channels that carried water to the Bath of Agrippa. But the closest you will get to the water is the Dior water bottle with a shoulder strap.
Suggested Luxury Hotels in Piazza di Spagna
J.K. Place Roma – This hotel is a part of the Leading Hotels of the World and is worth a visit if you're willing to spare the money. You even receive a private driver, personal shopper and concierge who will make reservations for you at the best restaurants.
Palazzo Nainer – Not quite as luxurious as the J.K. Place Roma; however, if you want luxury on a budget, this is the hotel for you. It's super close to the main attractions in the city, and the rooms are classy and comfortable.
Roma Termini: Best Place for Budget Travellers
Roma Termini, A.K.A Rome's central station, is one of the busiest areas in Europe. And so there is a lot to see and do here.
Roma Termini is the perfect neighbourhood for you if you're travelling on a budget but want to be close to all the attractions and sights. That is, if you're okay with a lot of noise.
The proximity to the train station does mean that Roma Termini is not as aesthetically pleasing as other areas. However, the accommodation and the fact that it's close to all the main attractions make up for this.
There are also many fantastic dining options here if you get peckish. The Mercato Centrale is an upscale food court in the station itself and has a whole list of places to get some delicious food before you head off on your adventures.
Roma Termini can be a little shady, so make sure you always stay alert (that said, I've never had any issues here).
Roma Termini Highlights
San Lorenzo – A 10-minute walk from Roma Termini, you will find the San Lorenzo neighbourhood. It's close to the University La Sapienza and has a lot of restaurants and bars. If you're looking for a fun night out, this is the place to go party.
The Trophies of Marius – Right in the corner of Piazza Vittorio is the Trophies of Marius, an ancient Roman fountain built on top of an aqueduct. This marble statue still has remnants of the old aqueduct and original style.
Suggested Budget Hotels in Roma Termini
Central Domus Roma – This accommodation is near the train station and is one of the more affordable places to stay in Rome. The rooms have a kitchen, a fireplace and even a hydromassage shower where you can relax after a day of walking through Rome.
A Roman Tale B&B – This lovely B&B has a flat-screen TV, prepackaged breakfast items, and a private bathroom. It's near some main attractions, such as Santa Maria Maggiore and Domus Aurea.
Campo de' Fiori: Best Place for First-Time Visitors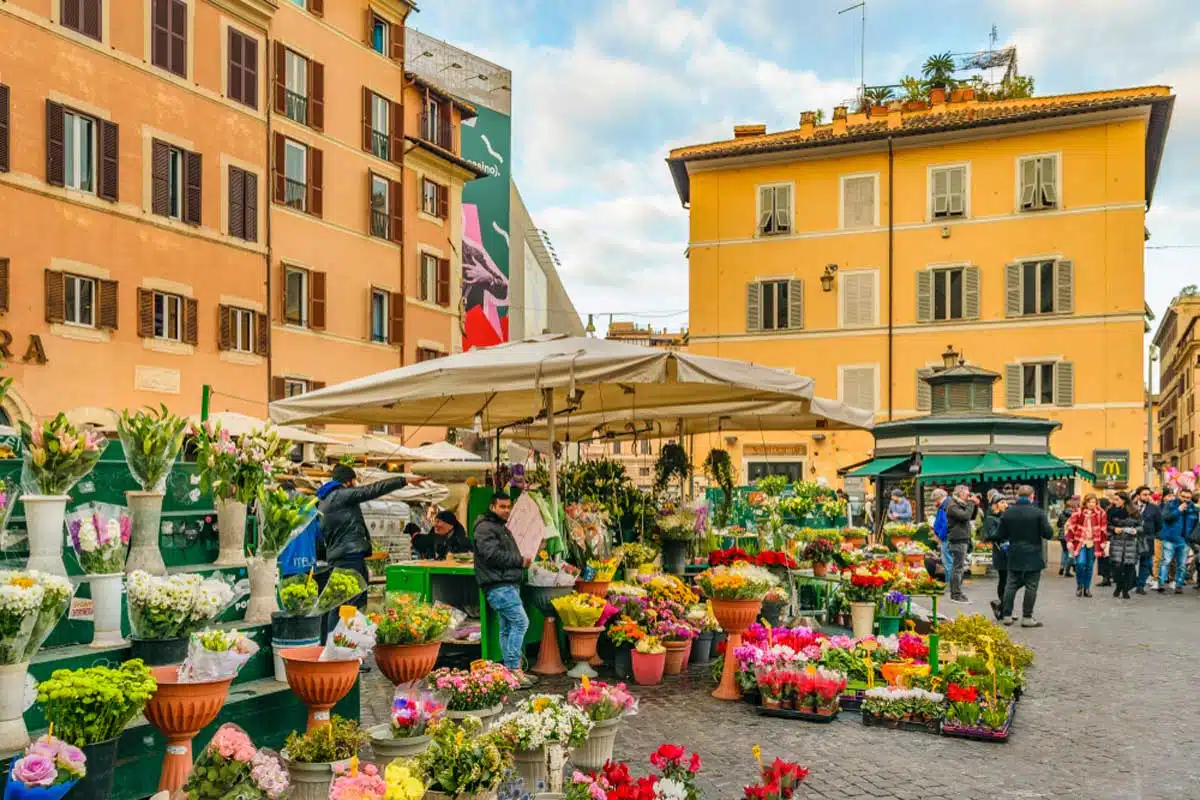 First time visiting Rome? I suggest staying in Campo de' Fiori. It's located right in the heart of the city centre, close to all the action and attractions.
You can explore the Trevi Fountain, the Pantheon, the Colosseum and most main attractions easily – they're all about ten minutes away from the neighbourhood.
There are also many options when it comes to restaurants. It's in the heart of the tourist destination, though, so you will have to weed out those pesky tourist traps. But once you do, the local eateries are excellent. You can relax, have a drink and watch them make the pasta in front of you.
Campo de' Fiori Highlights
Giordano Bruno – This statue is right in the middle of all the action. Giordano Bruno was a Dominican Friar who spent his free time learning philosophy, maths, poetry and even cosmology. There's a theory that the church burned him alive for hearsay due to his cosmological theories.
Palazzo Farnese – Michelangelo and many others contributed to renovating this majestic 16th-century construction. Today, you can visit the museum and admire the fantastic art.
Suggested Hotels in Campo de' Fiori
Residenza Gens Julia – This mid-range hotel is right in the city centre, close to all the main attractions. The rooms are elegant, with blackout drapes and soundproofing so you can sleep soundly.
Domus Paradiso – This accommodation is a bunch of little apartments, which makes it perfect for privacy while in Rome. It's within walking distance from some major attractions, and you can also decide to cook your dinner at home or go to one of the many restaurants nearby.
Monti: Best Area for History Buffs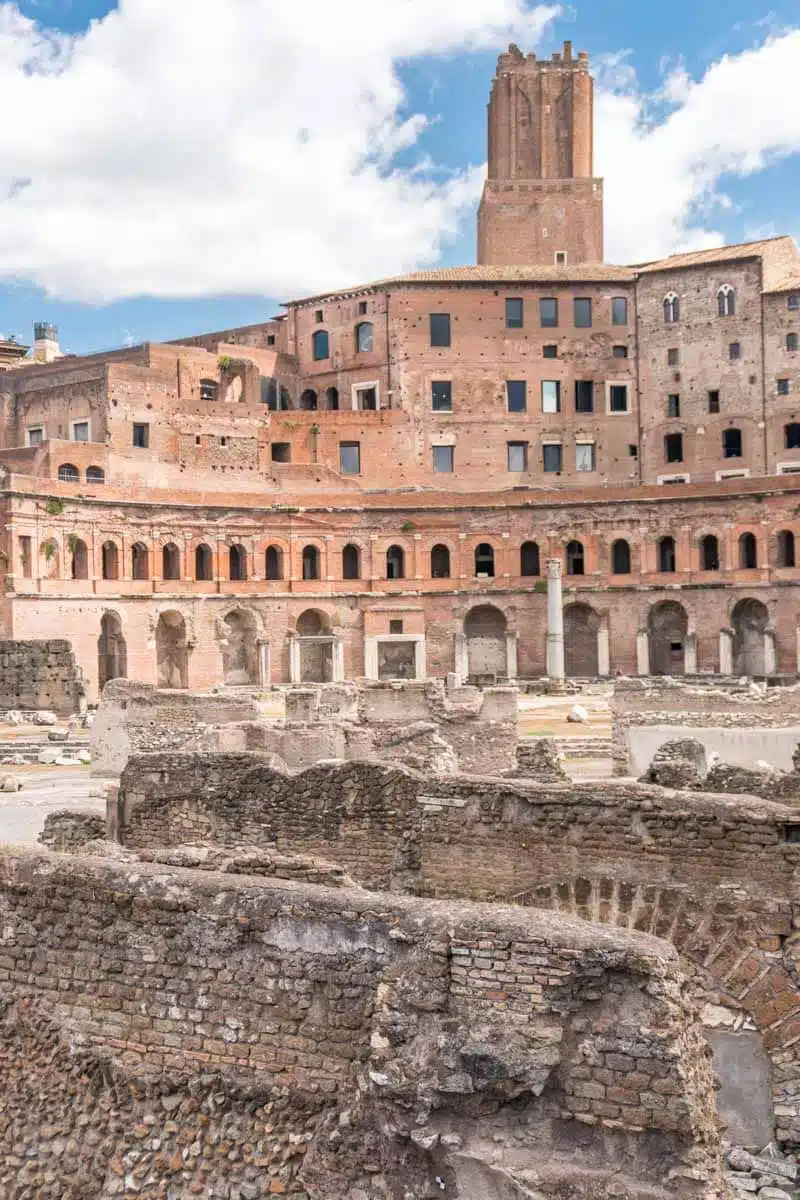 If you came to Rome for the gorgeous architecture and history (who am I kidding? Of course you did), then Monti is the neighbourhood to stay in. This quiet bohemian area is close to the famous Colosseum and has an old Romanesque vibe.
It's also home to fantastic vintage stores if you enjoy thrift shopping (or just forgot something on your packing list). While the many cafes and restaurants in the area make it easy to find a nice place to relax – and people-watch.
Who wouldn't enjoy waking up with a view of the Colosseum every morning?
Monti Highlights
The Colosseum – See the remnants left behind of this oval-shaped amphitheatre with a long history of gladiator fights. It's one of the most famous landmarks in Italy for a reason.
Piazza della Madonna dei Monti – The Piazza della Madonna dei Monti looks like a square from a romantic Italian film. There's a gorgeous fountain in the middle where you can sit and sip cocktails from plastic glasses. Very classy.
Suggested Hotels in Monti
Hotel Grifo -This hotel is one of the best places to stay in Rome's city centre. It's close to the metro station, a shopping district, and most attractions. This mid-range hotel also has concierge assistance and daily housekeeping.
Princeps Boutique Hotel – With marble baths, stylish and elegant rooms and views of the Basilica of Santa Maria Maggiore, this boutique hotel is gorgeous and a perfect mid-range hotel for your stay in Rome. It's also close to the city centre, Roma Termini station and Palatine Hill.
Need More Inspo? Check Out This Guide to the Best Airbnbs in Rome
Where to Stay in Rome: Frequently Asked Questions
Practical Tips to Consider Before Booking Your Rome Accommodation
First, decide on the neighbourhood you want to stay in. It's essential as that will be the starting point for finding accommodation in Rome.
Do your research. Make sure the accommodation has a lot of reviews, and that the vast majority of them are excellent.
Use a reputable booking site like booking.com – and book in advance for the best deals.
Where to Stay in Rome: Read Next