Looking for the best beaches in Naxos? You've come to the right place – these are the top places to relax and unwind.
Ready for a relaxing holiday? The stunning beaches of Naxos – the largest island in the Cyclades – are what the doctor ordered.
No one leaves Naxos dissatisfied, whether you're there to work on your tan and sip on some ouzo or want to take to the skies on a kitesurfer.

Ready to discover some of the best beaches in Naxos? Of course you are… let's go!
The Best Beaches in Naxos
Alyko (Hawaii) Beach
Best for Relaxation Away from the Crowds
Naxos Town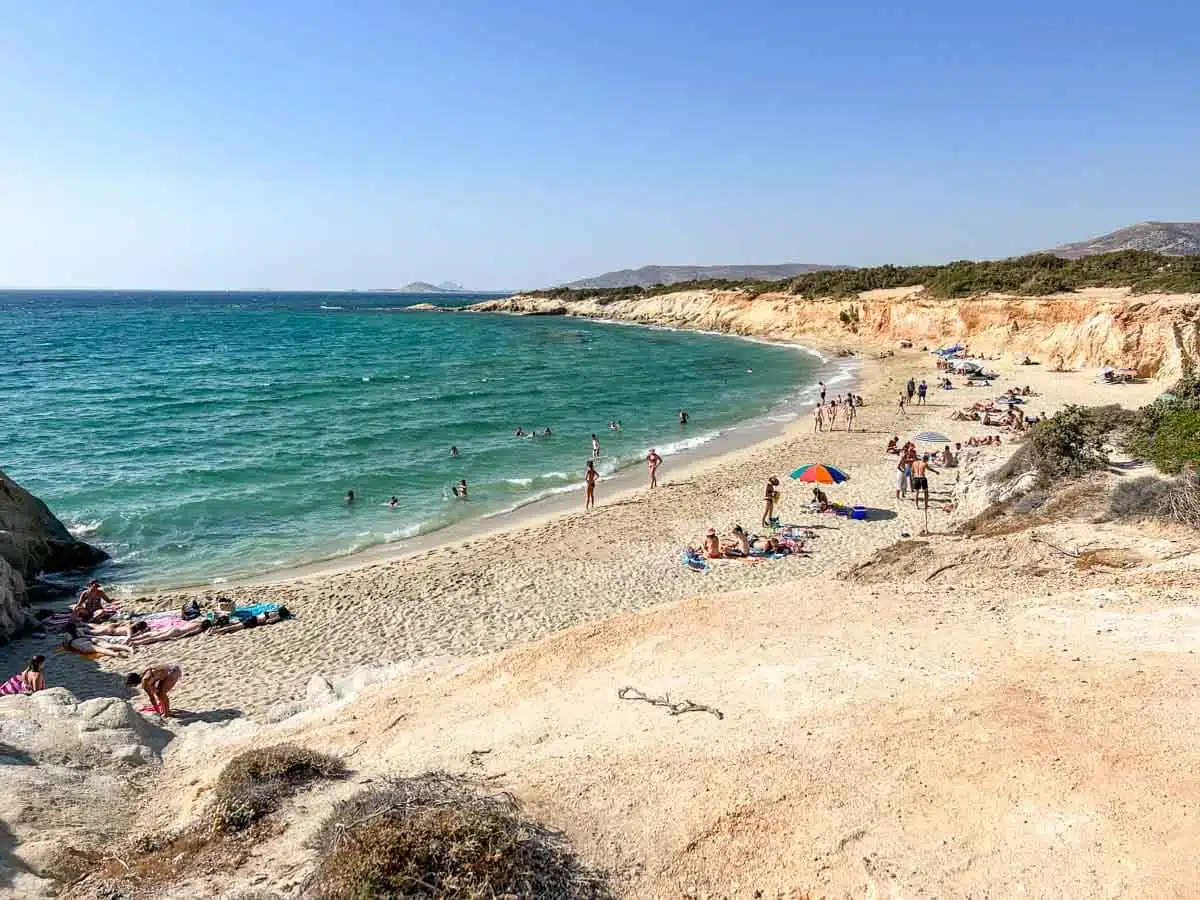 Also called Hawaii Beach, the wild coast of Alyko Beach, Naxos, borders the cedar-filled Alyko Nature Reserve, far from the resort crowds.
There are no sunbed facilities here, so bring your own umbrella to enjoy the white-blonde sands and cerulean waters.
Otherwise, use the few tamarisk trees to grab a little shade. Don't feel shy whipping off your swim clothes because this optional nude beach in Naxos has seen it all—just avert your eyes out of courtesy.
Agios Prokopios Beach
Best for Watersports
Chora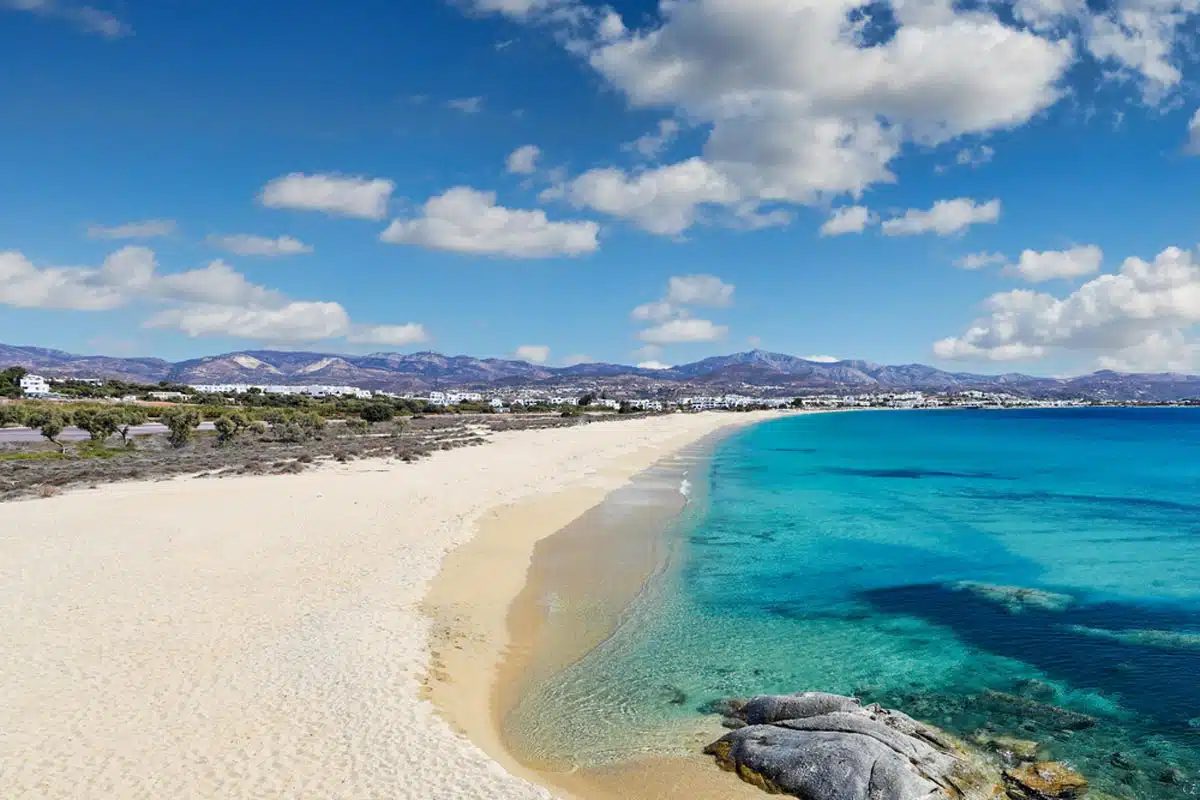 One of my favourite beaches in Naxos, Greece, Agios Prokopios is compact at only 1.5 km long. But its golden shores don't experience strong winds, making it a firm favourite. Part of the beach has sunbeds and umbrellas, while the rest is in its natural state.
You can wander to the western side, where pink salt lakes bake in the sun or stick to beach bars, watersports, and diving facilities. Behind the dunes is a small town where you can find cafés and restaurants (and a break from the sun).
Gala Beach (Ano Koufonisia)
Best for Adventurers
Gala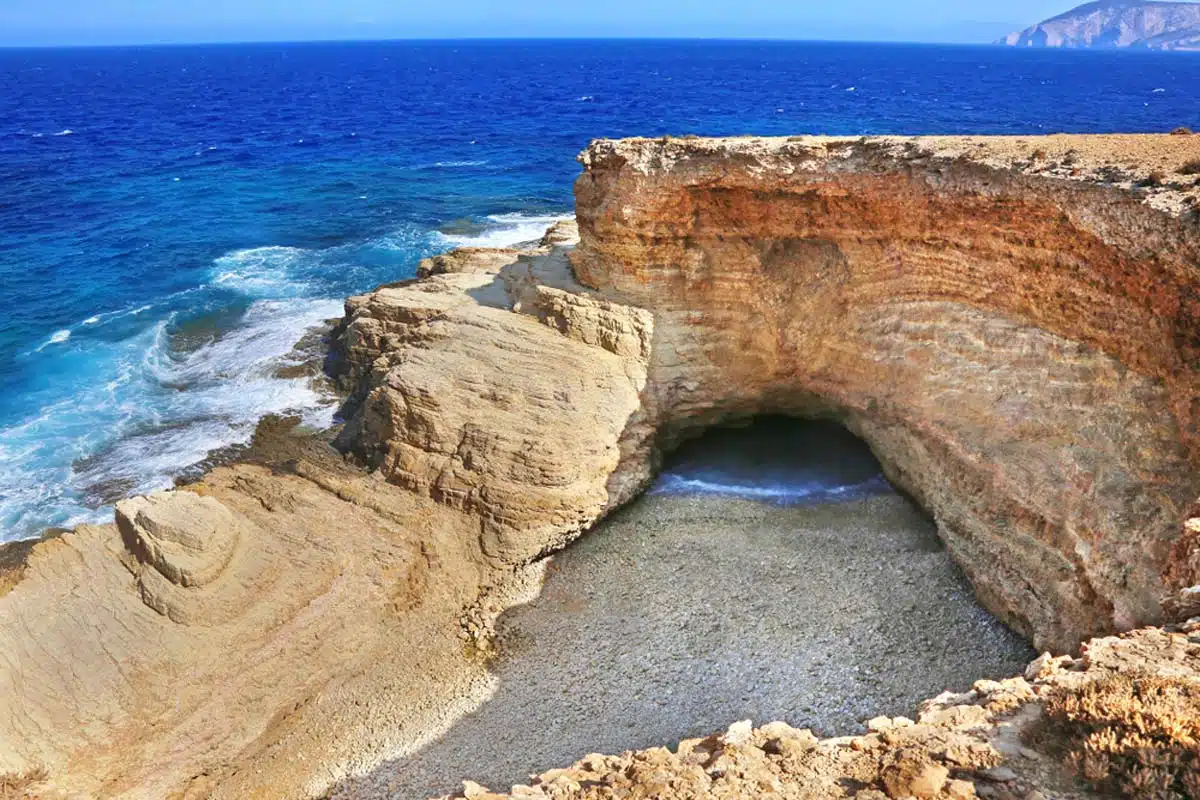 For something truly unique, go the extra mile and grab a 40-minute ferry to Ano Koufonisia for a day trip to Gala Beach. A curve of striped amber cliff shelters a pebbled beach with milky blue waters, making it an uber-photogenic place to snap unforgettable holiday selfies.
Once you've had your fill of the majestic sights, you can head towards nearby Pori beach for a standard sandy experience, and even some cliff jumping and cave exploring if you're feeling brave.
Plaka Beach
Best for Tourists
Chora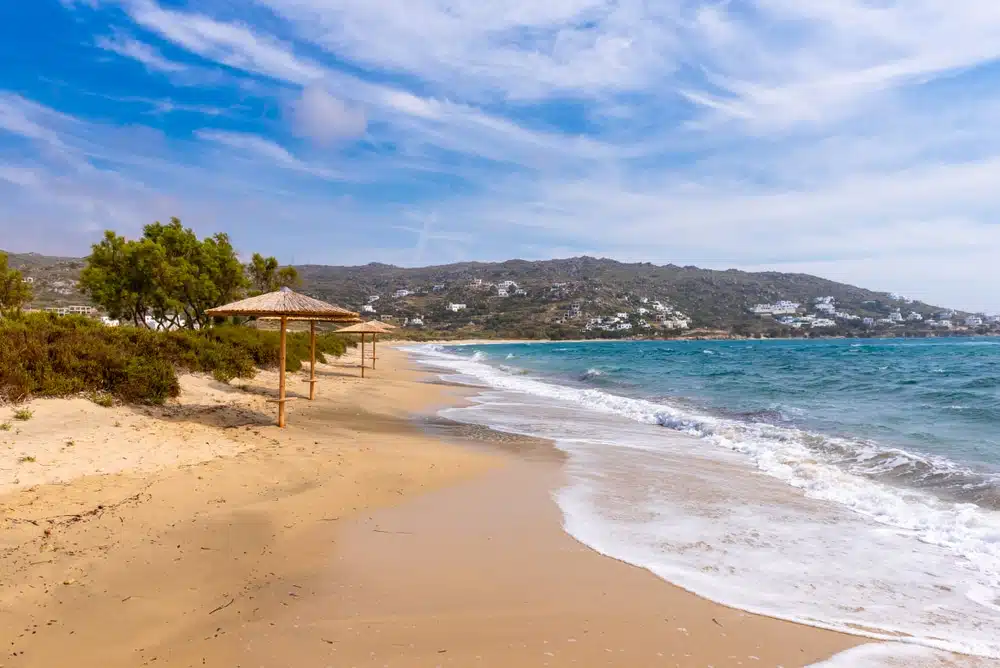 A famous 4 km stretch of sandy paradise, Plaka Beach in Naxos is one of the most beautiful beaches in all of Greece. Though, it's not exactly a secret – expect plenty of sun-worshippers here. Crystal blue waters sparkle beside a shore littered with sunbeds, umbrellas, and grasses.
Taverns, restaurants, mini markets, bars, and cafés line the beach, making it one of the best Naxos beaches for a day trip. Plus, it's only a 15-minute bus ride from Naxos Town, so it's a win-win.
Mikri Vigla Beach
Best for Windsurfing
Naxos Town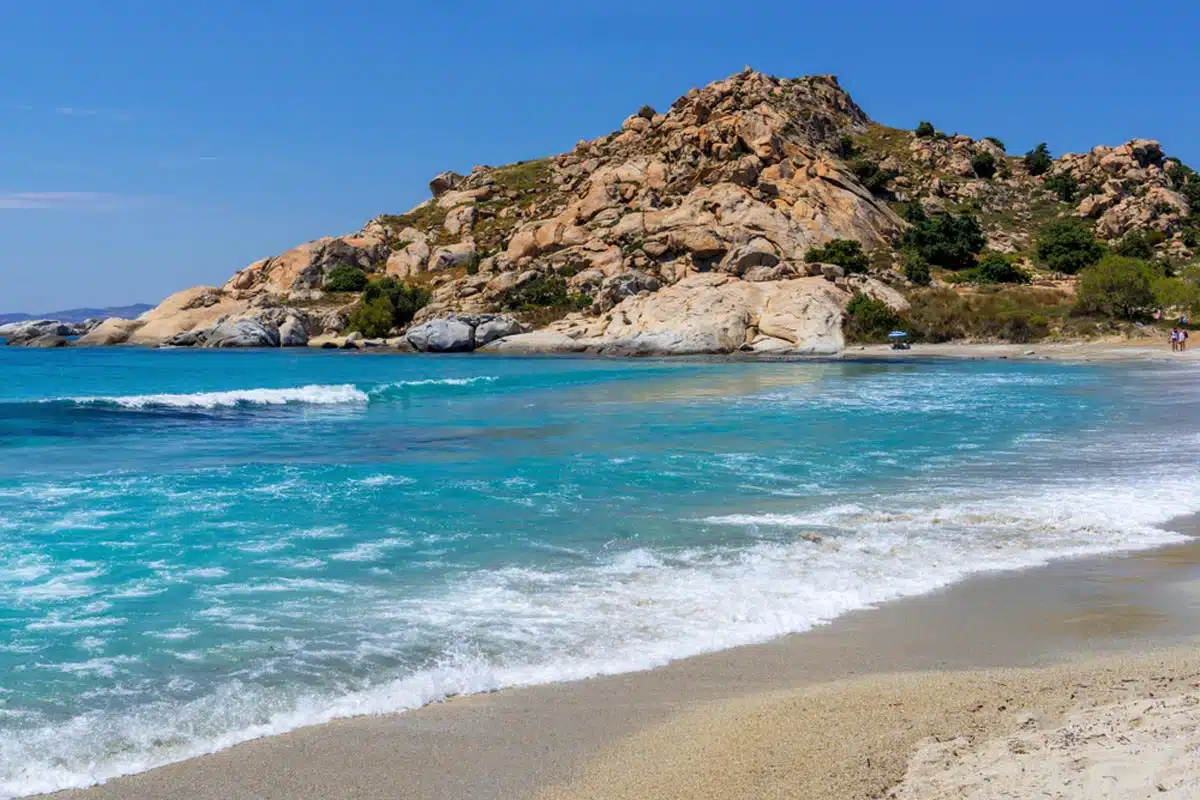 This sandy beach is famous throughout Naxos for its windsurfing. Divided into the north and south end by a hill, the northern section of the beach plays host to the Meltemi winds, to the delight of kitesurfers and windsurfers.
Fancy getting involved? You can even take courses and rent equipment. If not, the turquoise waters of the sheltered south beach beckon casual sunbathers with its soft golden sands.
There's also a Greek tavern to fulfil your every food and beverage desire (opa!).
Pyrgaki Beach
Best for Shallow Waters
Chora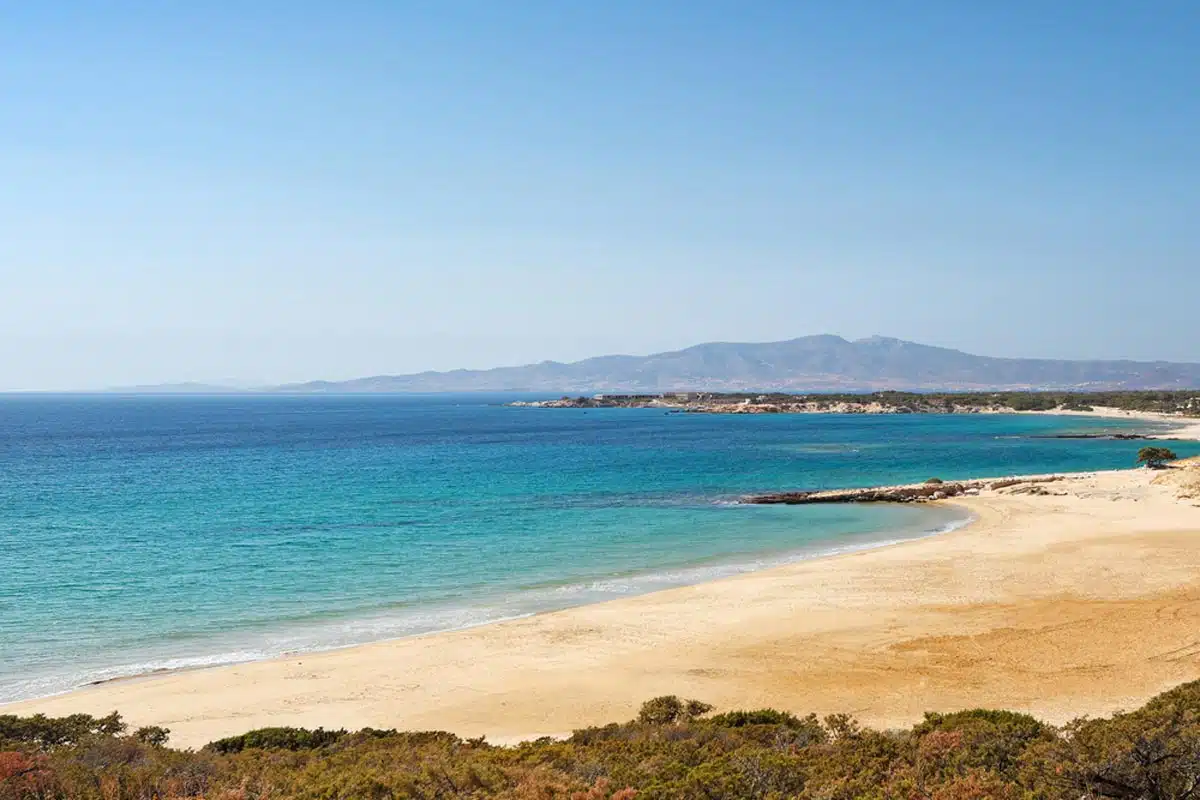 Pyrgaki Beach offers a little slice of heaven on Naxos. This beach features a small section of trees that adds to the serenity of its shores, a few sunbeds and umbrellas to cater to the bathers, and the waters are quite shallow, making them perfect for a cooling off.
Like many Naxos beaches, this spot can get affected by the winds regularly, so windsurfing is quite popular here. You'll have to bring your own equipment, though.
Oh, and you can take a break from the sun and wind at the nearby tavern that serves coffee, drinks, and snacks.
Agia Anna Beach
Best for Luxury Beach Experiences
Naxos Town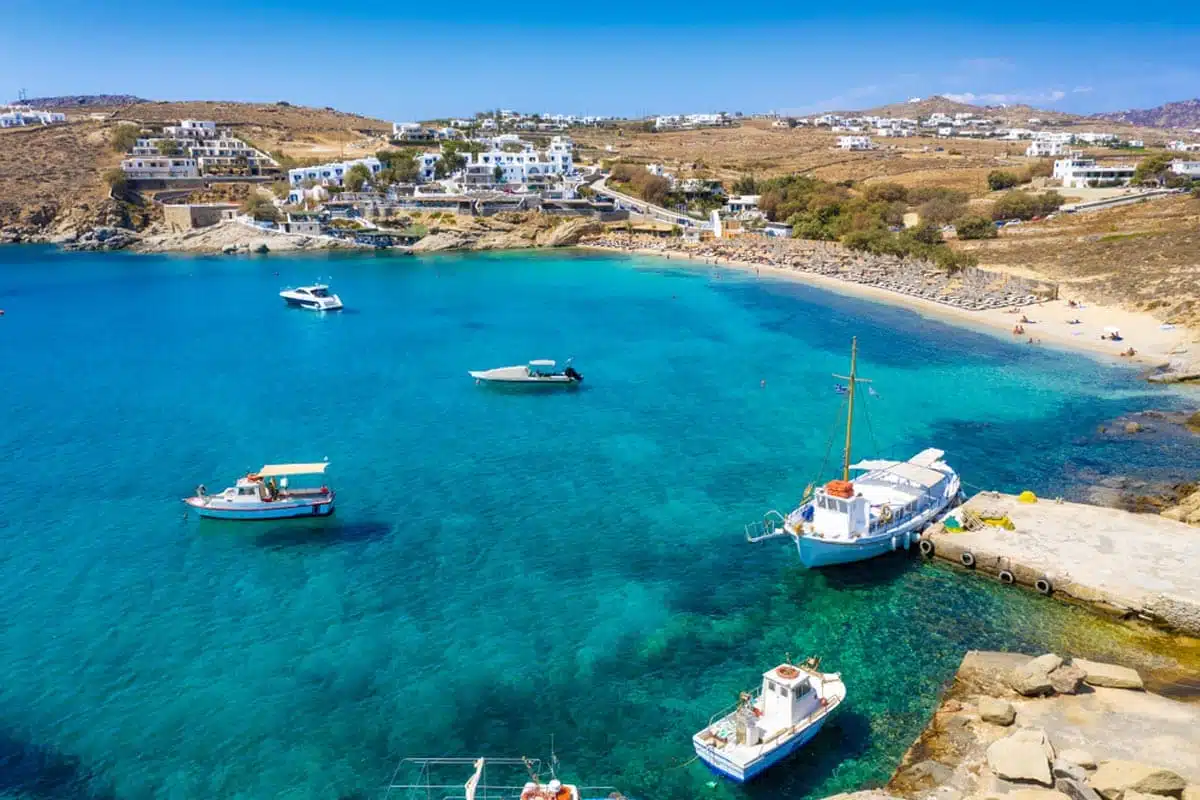 This resort beach caters to the discerning beachgoer that enjoys a bit of luxury with a side of lapping waters. There's plenty of touristic development in Agia Anna Beach, Naxos, including hotels, cafés, bars, and even nightclubs, so trendy travellers won't be disappointed.
Some rock formations and a fishing port break up this sandy shore, and some areas are more organised than others. They're all nudist-friendly, so tan lines won't ruin your holiday look.
Read Next: Sailing Greece with G Adventures
Little Paradise Beach
Best for Beautiful Locations
Ayiassos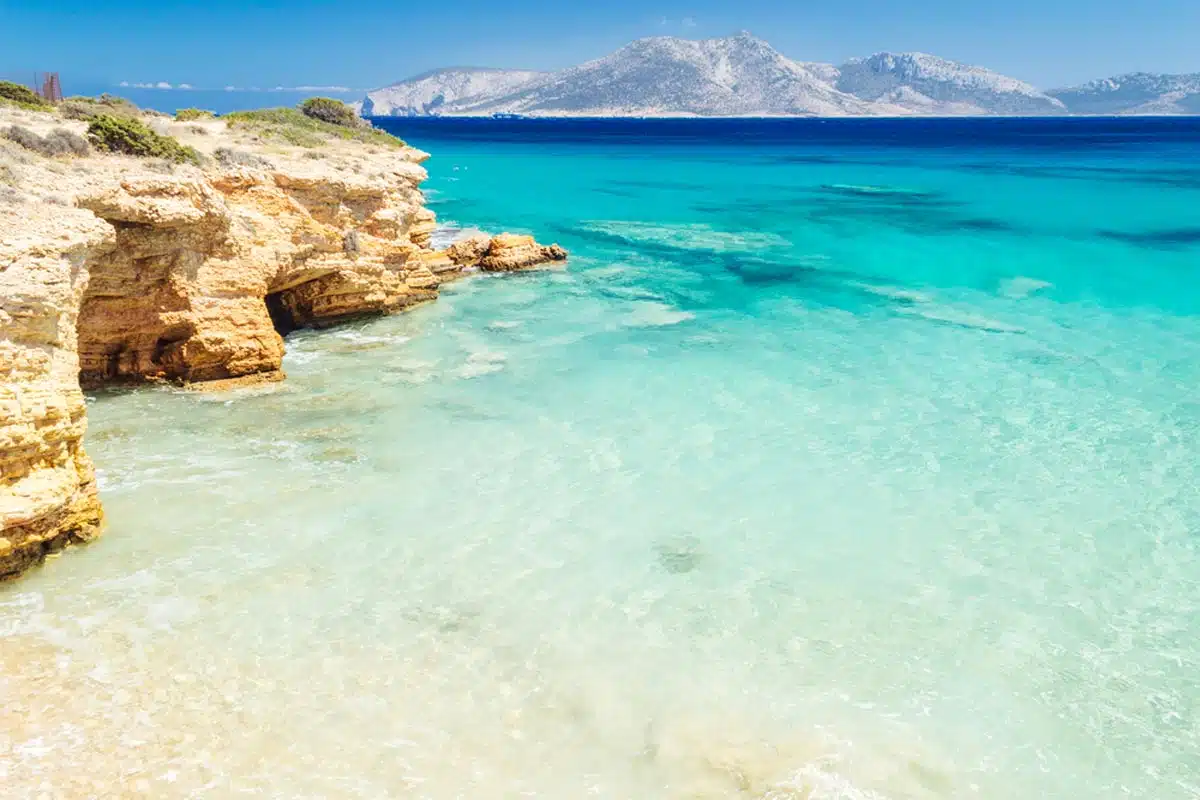 What a perfect name for this dreamy little cove – it truly hides one of the best beaches in Naxos.
Fair warning: It's secluded and tiny, so if you don't arrive early it can get crowded. The cave provides plenty of shade when needed, and rocky outcrops protect it from the worst of the winds, making it a calm location for a beach day.
There are technically two parts of the beach, but the rocks make it very difficult to access, so it's better not to try.
Chora Beach (Agios Georgios Beach)
Best for Proximity to Town
Chora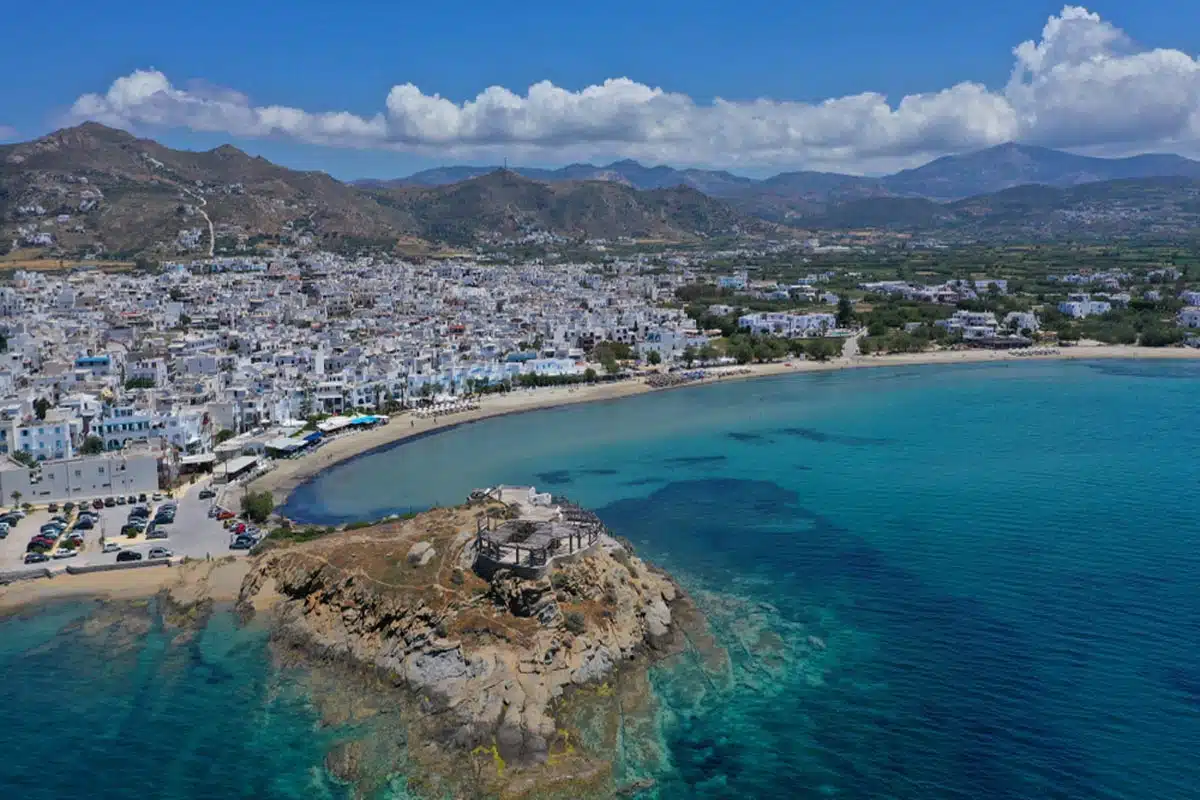 Sitting only 2 km outside Chora, Agios Georgios Beach (also called St George Beach in Naxos) is one of the busiest beaches on the island – though, it's also the longest.
Its sandy shores are organised with sunbeds, umbrellas, and water sports facilities. It's also the closest beach to the village.
As well as this, it's one of the few Naxos beaches to have waves, which get bigger the further you are from town. Cafés and restaurants are a dime a dozen along the shore, so you'll find plenty of food and shelter from the blazing midday sun.
Chilia Vryssi Beach (Hilia Vrisi)
Best for Seclusion
Northeast Naxos
This off-the-beaten-track beach stands out from the rest. As it sits on the island's northern side, it can be subject to stronger winds, but the pebbled shore makes it unique from the standard sandy bays.
It's one of the best beaches on Naxos for a calm respite from the crowds and a photographic adventure. That said, it's far from any amenities, so be sure to bring whatever you need.
Panormos Beach
Best for a Peaceful Swim
Panorama 4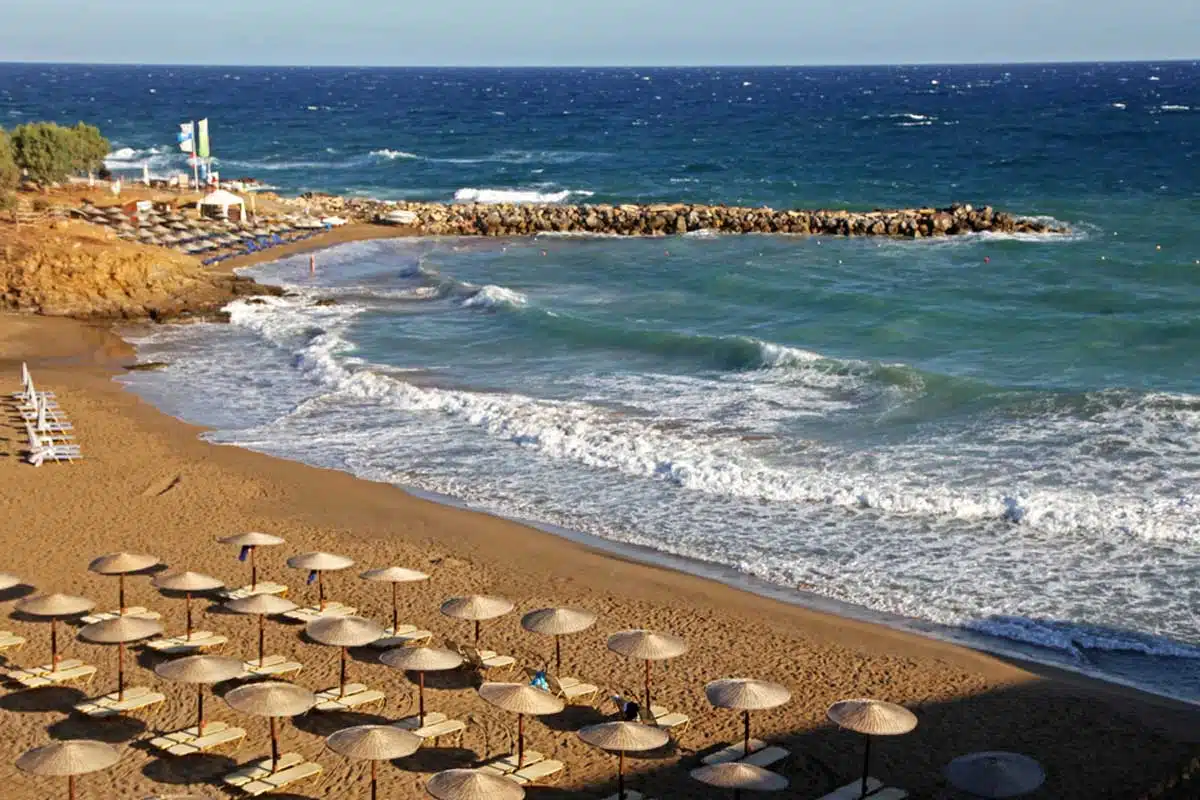 Are you pining for palm trees on your seaside trip? This Naxos beach is on the quieter side and perfect for a refreshing dip, with crystal clear warm waters and a shore lined with tamarisk and palm trees.
It's relatively far from town, so amenities are few, but it's the best place to escape the crowds of high season. Sometimes, during the summer months, a shack serving snacks and refreshments opens up, but its presence is erratic, so it's best to bring your own.
Practical Tips for Visiting Naxos Beaches
Many of these beaches are accessible by public transport, though it may be more limited with the more remote ones. Some—like Alyko— may require your own car.
Check beforehand if you need to bring anything with you or if the beach has facilities and restaurants.
Always wear a high SPF sunscreen and preferably a wide-brimmed hat to protect you from the sun.
Best Beaches in Naxos: Map
>