Looking for the best things to do in Greece? This gorgeous country is filled with opportunities for island hopping, beach bumming, and culture soaking. These are the things you need to add to your itinerary.
When you think of Greece, I'd be surprised if mythology wasn't among the first things to spring to mind. The country is an enigma, with modern life juxtaposed against the backdrop of an ancient civilization. Where better to spend your next vacation?
But it's not all beaching around on Mykonos and ancient architecture. A rich melting pot of luxury experiences, nightlife, Aegean cuisine, and local lifestyles will woo even the most reserved of travellers.
Buckle up and prepare for a bevvy of the best things to do in Greece on your next visit.
A restaurant, a fitness centre, a bar, a spa, and a garden? Sign me up to stay at COCO-MAT Athens Jumelle right away.
Top 5 Things to Do in Greece
Island Hopping in the Cyclades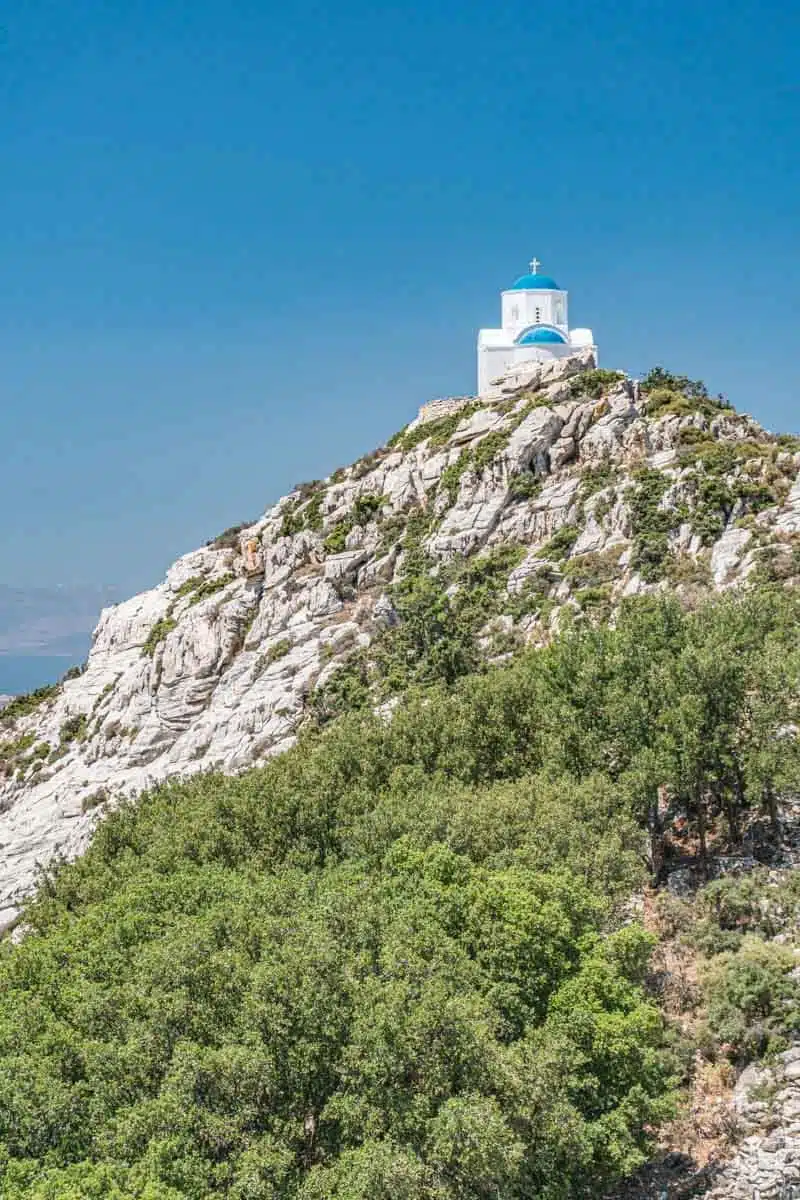 Jet-setting and island-hopping, what a life! The Cyclades are one of the best places to visit in Greece, with 24 inhabited islands.
I even have a whole post dedicated to Greek island hopping. Enjoy a peaceful sunrise on idyllic Paros, a sun tanning session on the beaches of Kythnos, a stroll through picturesque Santorini, and nightlife like you've never known it on Mykonos.
Every island has its charms and famous points of interest, and there are many tours that'll happily help you hop from one to the other. You can go on a cruise from Mykonos to Delos and Rhenia, experience a diving excursion in the caldera of Santorini, or cruise from Naxos to Koufonisia. The possibilities are endless.
Marvel at the Acropolis in Athens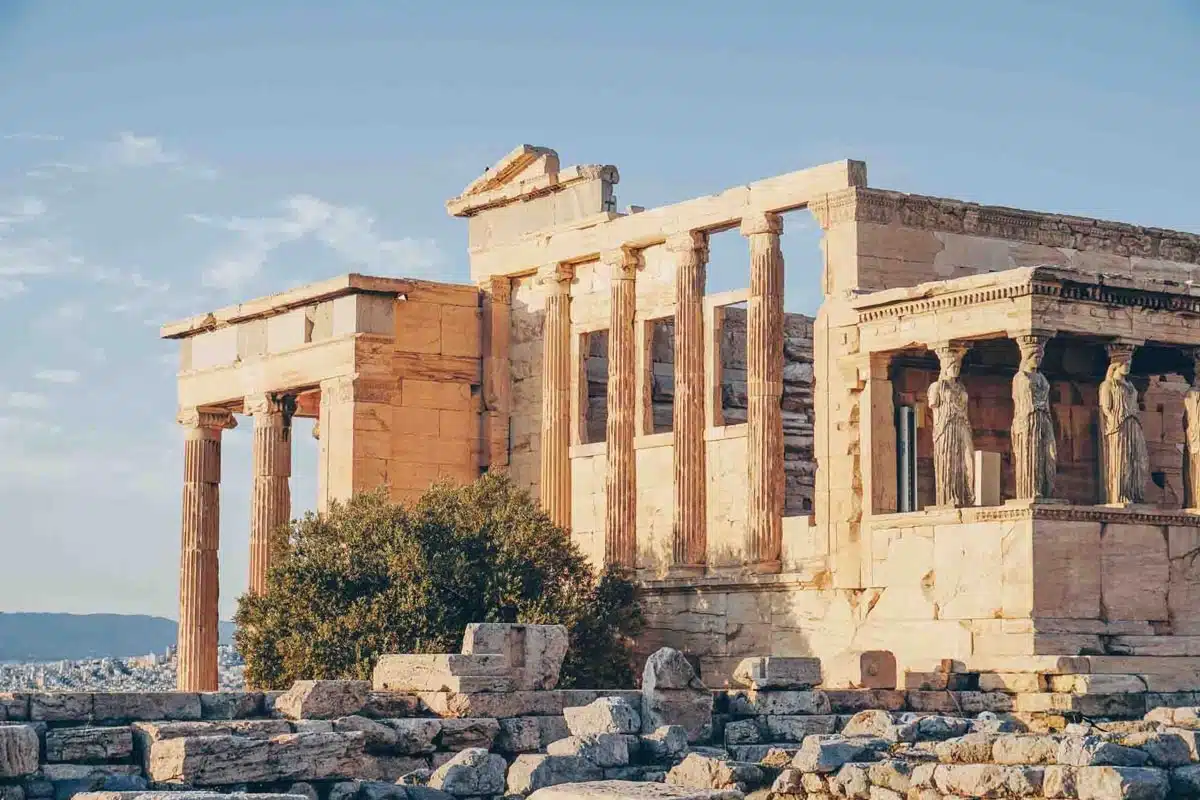 You literally can't miss the most famous of Greece's tourist attractions. The Acropolis is a bucket list landmark that's stood the test of time, and crowds flock to it daily to claim their Instagram selfies.
This ancient city on a hill glitters as the sunlight hits its marble columns, with the iconic Parthenon sitting proudly on top like the ultimate Greek cherry. Even the most reserved of history buffs won't be able to contain themselves strolling along the pathways of the "high city," where a glorious statue of Athena once stood.
Top Tip: Grab your entry tickets to the Acropolis ahead of time here, or, for a more personable experience, join a guided tour.
See the Monasteries at Meteora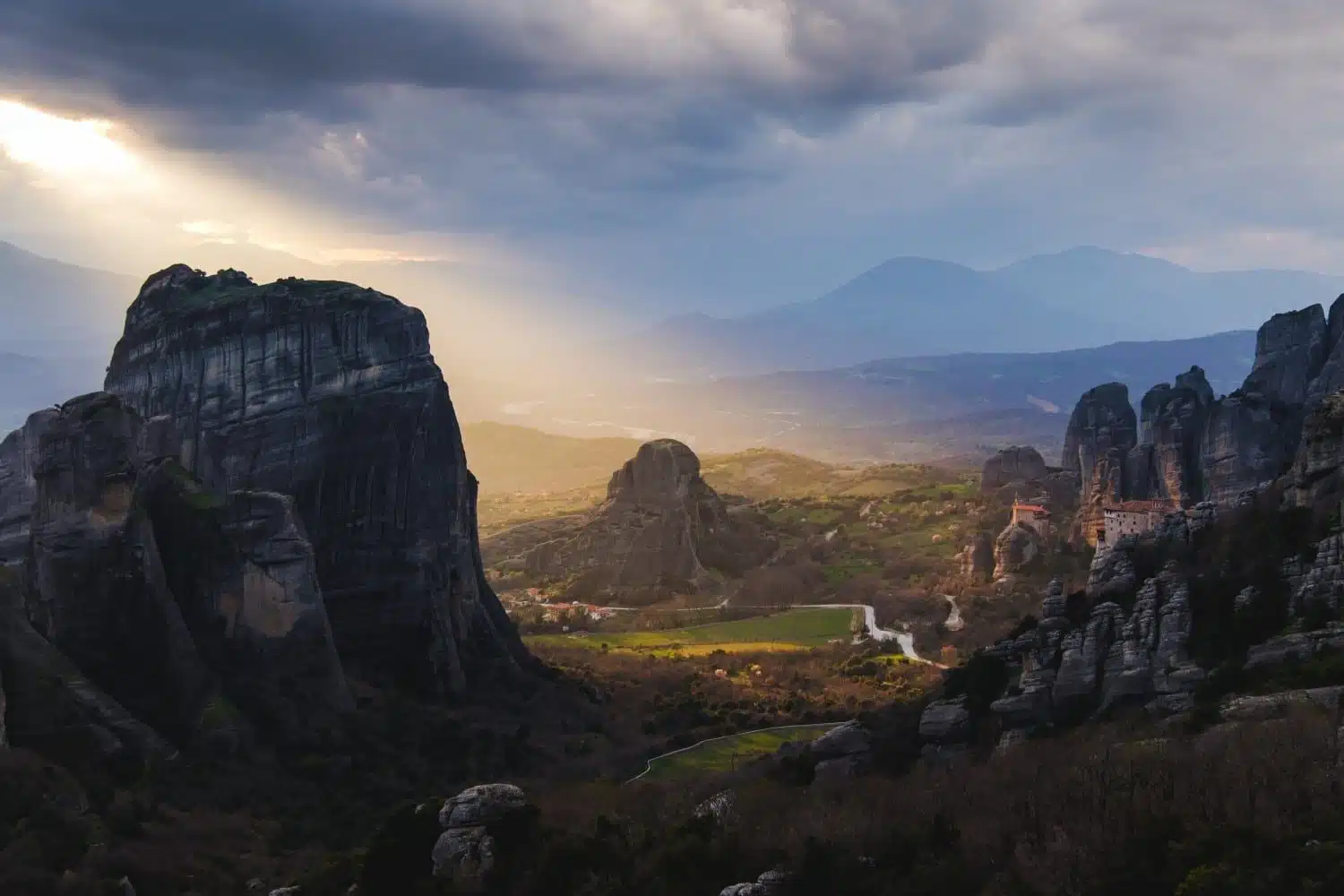 Wowser – the Monasteries at Meteora are a UNESCO World Heritage Site unlike any other you've seen—ancient monasteries sitting on top of multi-coloured stone pillars that climb 396 metres into the sky.
Marvel at the incredible feat it must've been to build these structures and how they've been able to survive for nearly a millennium atop these natural spires.
You can hike about Meteora and visit the red-roofed monasteries or go on a guided tour if you want more in-depth info. Either way, just make sure you go. It's 100% one of the most unique places to go in Greece.
Watch the Sunset Over Santorini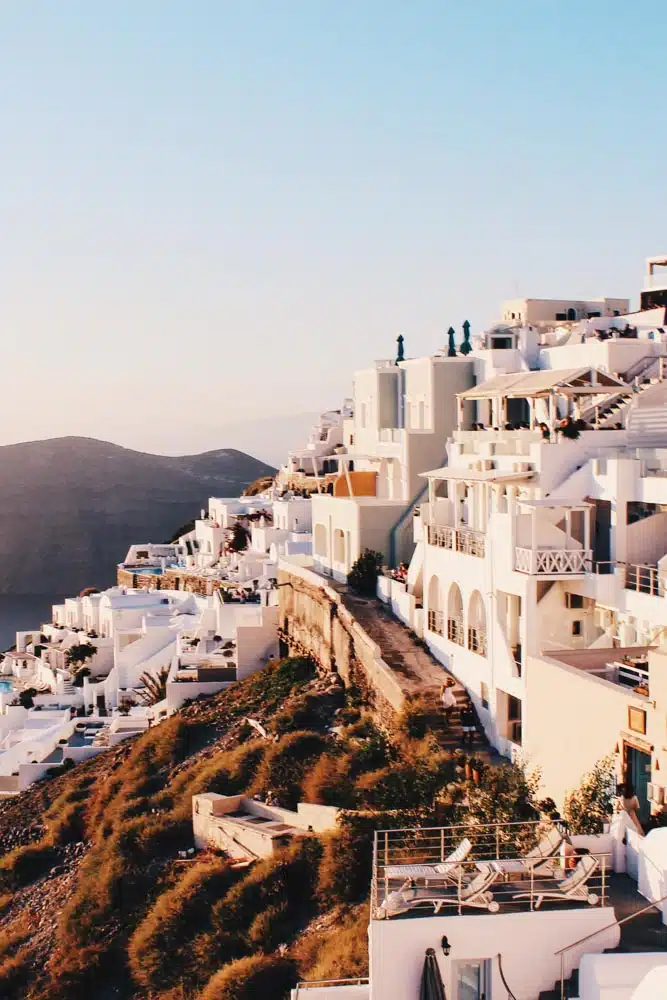 Where to go in Greece, you ask? Santorini is the answer. Turquoise waters, pink bougainvillaeas, and idyllic hillsides dotted with white-washed houses and blue-domed churches—seriously, what more could you ask for?
It's a little pricier than some other Greek islands, but oh, those Cycladic houses in the fiery light of a sunset…it's the quintessence of romance.
This day tour will take you through some of the best attractions on the island ending in Oia, which is hands down the most perfect spot in Santorini to watch the sun dip below the horizon.
It's one of the top activities to do in Greece, even if you're not there on your honeymoon. You could, of course, experience the sunset by horseback instead or an evening catamaran cruise complete with Greek cuisine. Either way, it's still one of the best places to see in Greece.
Explore Mykonos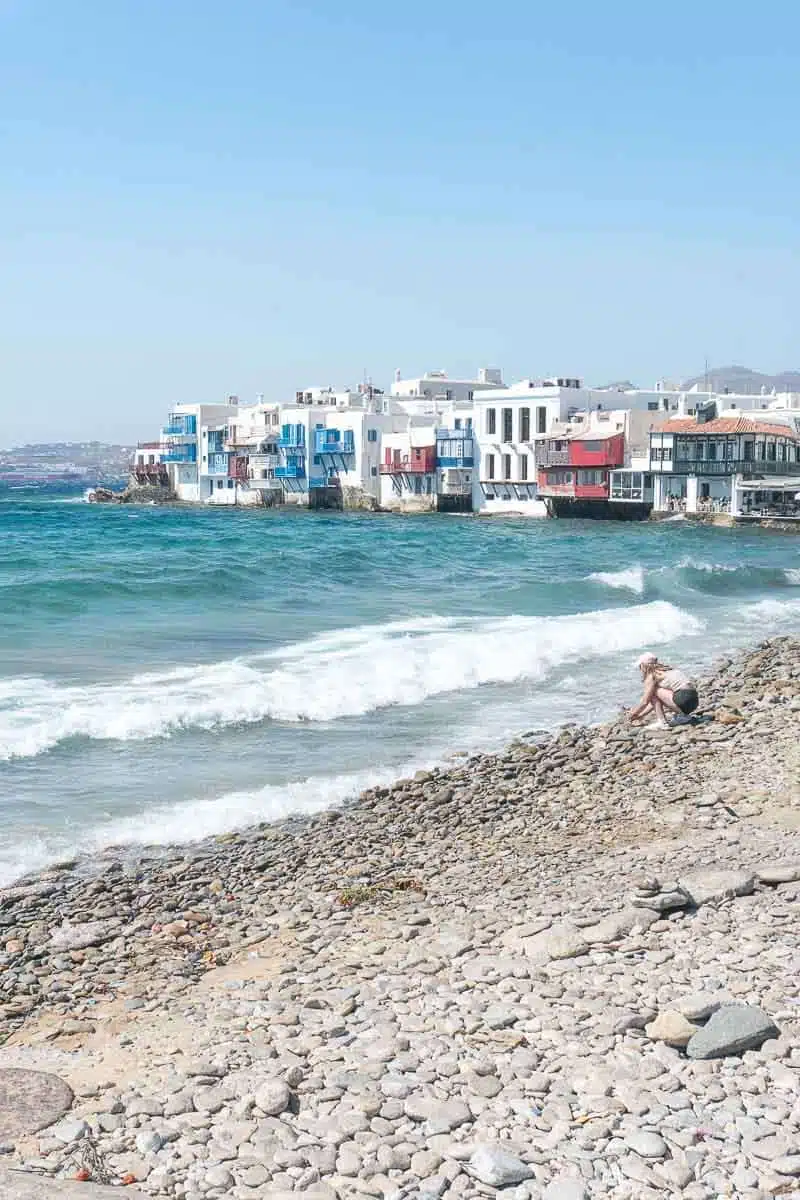 If clubs are what you crave, this is one of the unique places to visit in Greece. Spend your days swimming and snorkelling off the picture-perfect beaches and your nights dancing to the beats of the famous DJs at live music venues.
Move away from some of the bigger party spots and you'll find an island with pretty beaches and gorgeous sceneries – so there's a lot to love even if you're not a party goer at all. Hike the coastal path from Mykonos' famous windmills for starters – or hop over on a trip to the ancient island of Delos, which is just 40 mins by boat from Mykonos Town.
There are so many brilliant things to do in Mykonos apart from the nightlife, so you won't be wanting. There's also some great shopping, fancy restaurants to dine at, and luxury hotels to grab a drink, thanks to the presence of A-list celebs at the famous island.
Read Next: Unmissable Things to do in Mykonos
Brilliant Things to See & Do in Greece
Visit the National Archeological Museum
In a country that is peppered with ancient archeological sites, it's no wonder that Athens boasts one of the best museums in the world dedicated to them. Head here if you want to learn more about the country's architecture and history.
The National Archeological Museum is housed in a stunning neo-classical building and is the largest museum in all of Greece.
With more than 11,000 exhibits spanning Attica, Prehistoric Antiquities, ceramics and minerals, and even the impressive Collection of Egyptian and Eastern Art, this is one of the most fascinating places to visit in Greece.
Wander Through Thessaloniki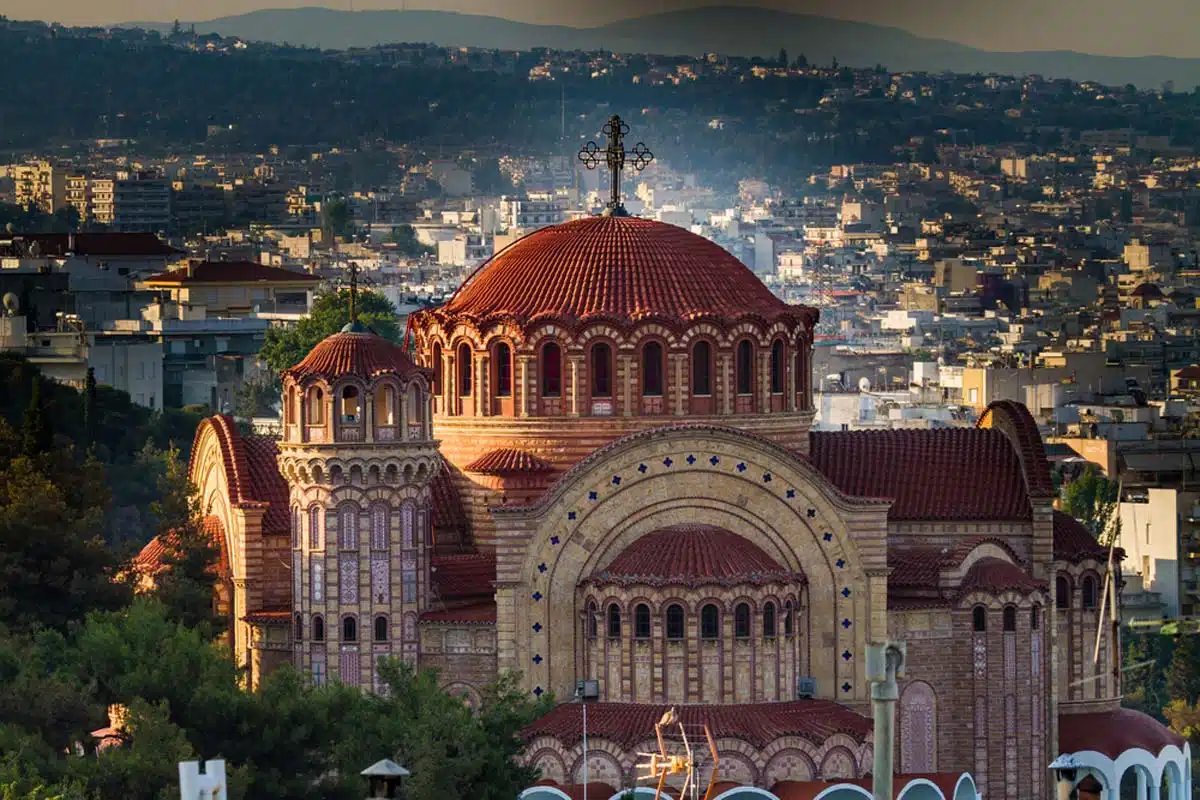 Greece features white-washed buildings in abundance, so a visit to Thessaloniki gives you the chance to explore another side of Greece's history. This port city overlooks the Aegean Sea and is jam-packed with remains of the Byzantine and Ottoman Empires.
It's a place known for its rich culture, as well as a wide variety of festivals and events throughout the year. But that's not all Thessaloniki has to offer. Highlights of the city include the Church of Saint Dimitrios, the White Tower of Thessaloniki, and the Archeological Museum.
Top Tip: Head to the Ladadika district as the sun sets, this is where you can grab a traditional meal and settle into a Greek tavern for the evening.
Explore Corfu's Stunning Fishing Villages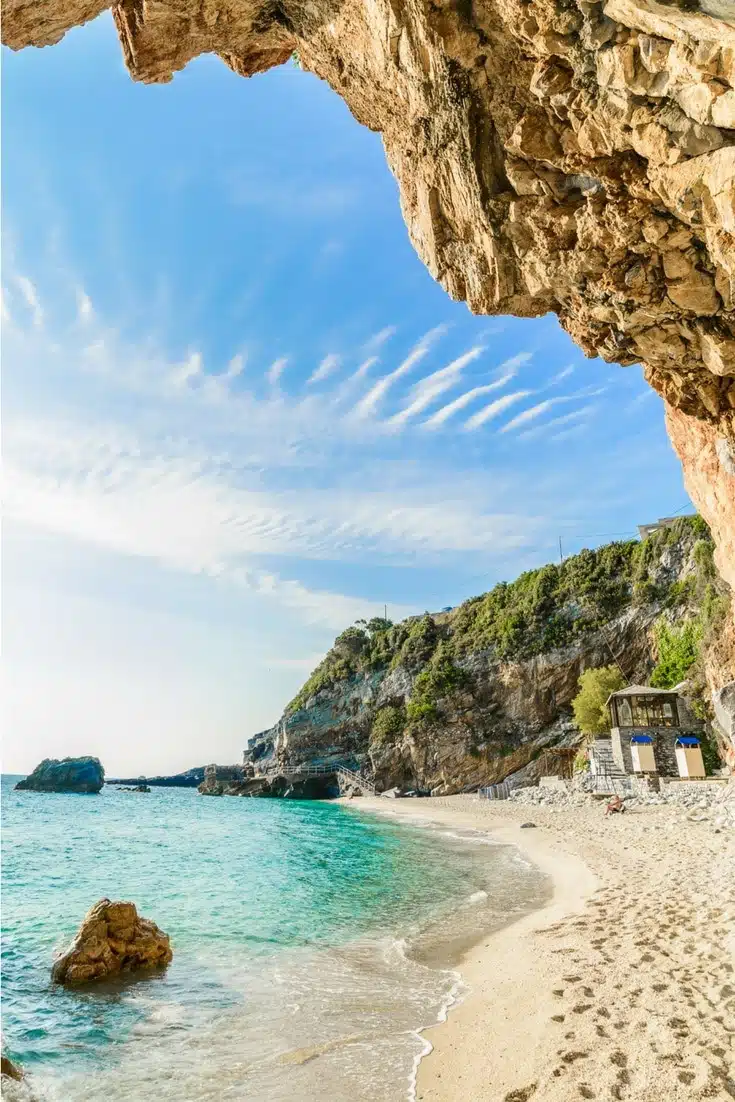 Corfu is an incredibly diverse island in terms of landscape, history and culture – and that extends to its fishing villages too.
Many are charmingly chaotic in appearance, bursting with rustic decor and quaint village vibes. Nonetheless, they have much appeal. Pelekas is hands down one of the most gorgeous, with colourful architecture and sunsets that'll make you forget to blink.
Benitses, on the other hand, is very touristy in the summer, as is Sidari with its resorts and unique seaside rock formations. Kassiopi has a Roman fortress, great taverns, and top-notch diving experiences.
As you can tell, Greece sightseeing should include a day or two in Corfu's villages. Spending time in Corfu town for a walking tour and food tasting is a great starting point.
Visit the Ruins of Delphi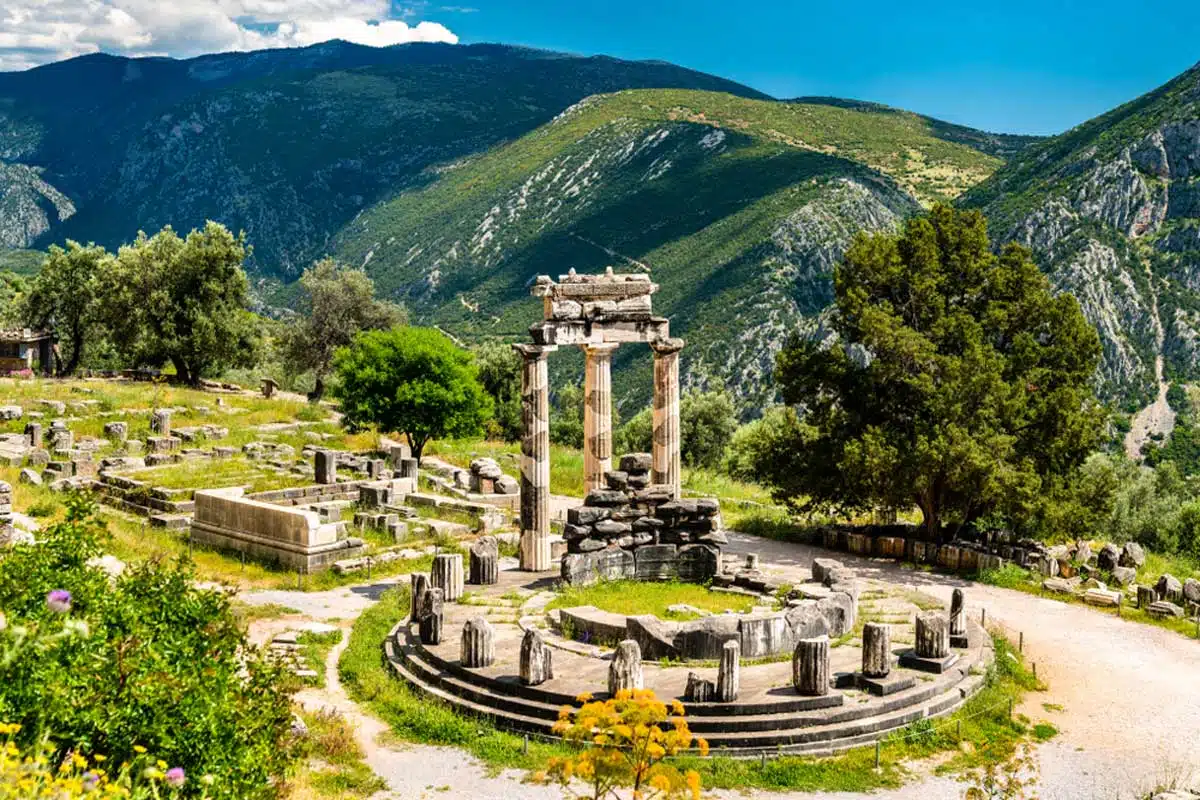 The archaeological ruins of Delphi lie just west of Athens in Mount Parnassus. This is the very spot to which ancient Greeks would make their pilgrimage to visit the Oracle and beg for predictions. It was also a common place to worship the god, Apollo.
These ruins are incredible to witness, whether you're a Greek mythology nerd or not, as this guided day tour from Athens will attest to. If you're looking for a shorter experience, this walking tour is only 1.5 hours long.
Hike up Mount Olympus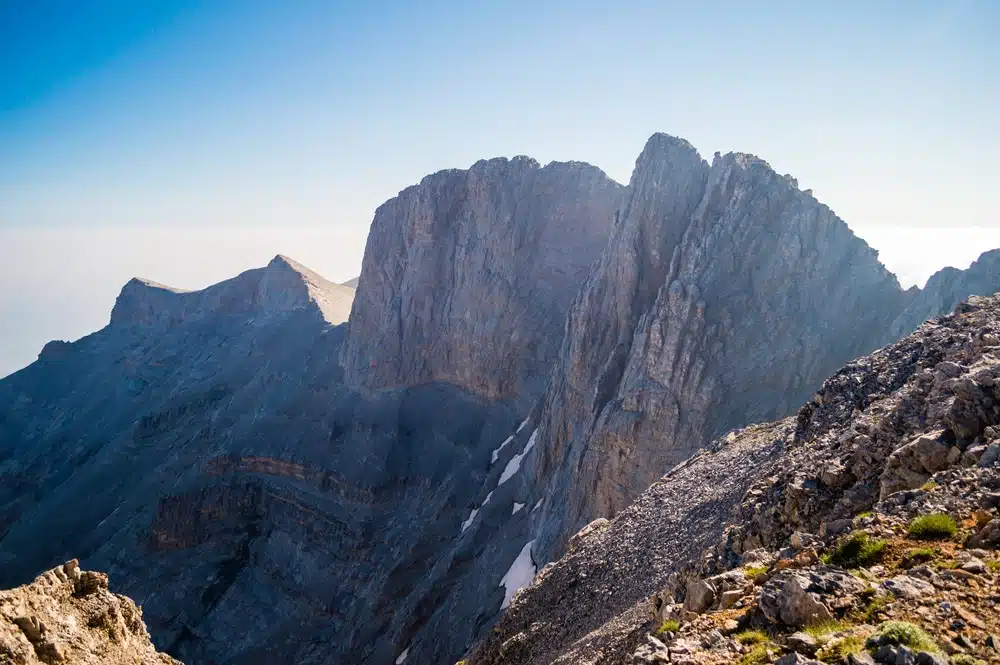 Aim for the heavens and feel like a god conquering this mountain the Greek deities called home. It's the tallest mountain in Greece, standing at almost 3,000 metres.
You can expect to see lush forests, beautiful water features, and Grecian wildlife in this backcountry setting. There are several day hikes to choose from, though some camping is necessary if you want to reach the top.
There are other fun ways to experience the mountain, like this half-day canyoneering tour. Certainly one of the cheap things to do in Greece, even if it does come at the cost of your calf muscles.
Unique Things to See & Do in Greece: Hidden Gems That are Off the Beaten Track
Explore the Region of Kalamata
You say "Kalamata", I say "olives!" But in all seriousness, there's much more to this region than its briny delights.
Stroll through the historic Kalamata Old Town amongst neoclassical mansions and crumbling corners. Or, sightsee the several churches in the area, such as the Byzantine-style Cathedral of Ypapantis. It's also a great place to pick up souvenirs.
The central market on Wednesdays and Saturdays is also a big hit with foodies, where you'll find sfela cheese, pasteli, honey, Poliani apples, and fried dough crackers. Hike up to the Kastro castle for a picturesque sunset view.
Escape the Crowds on Sifnos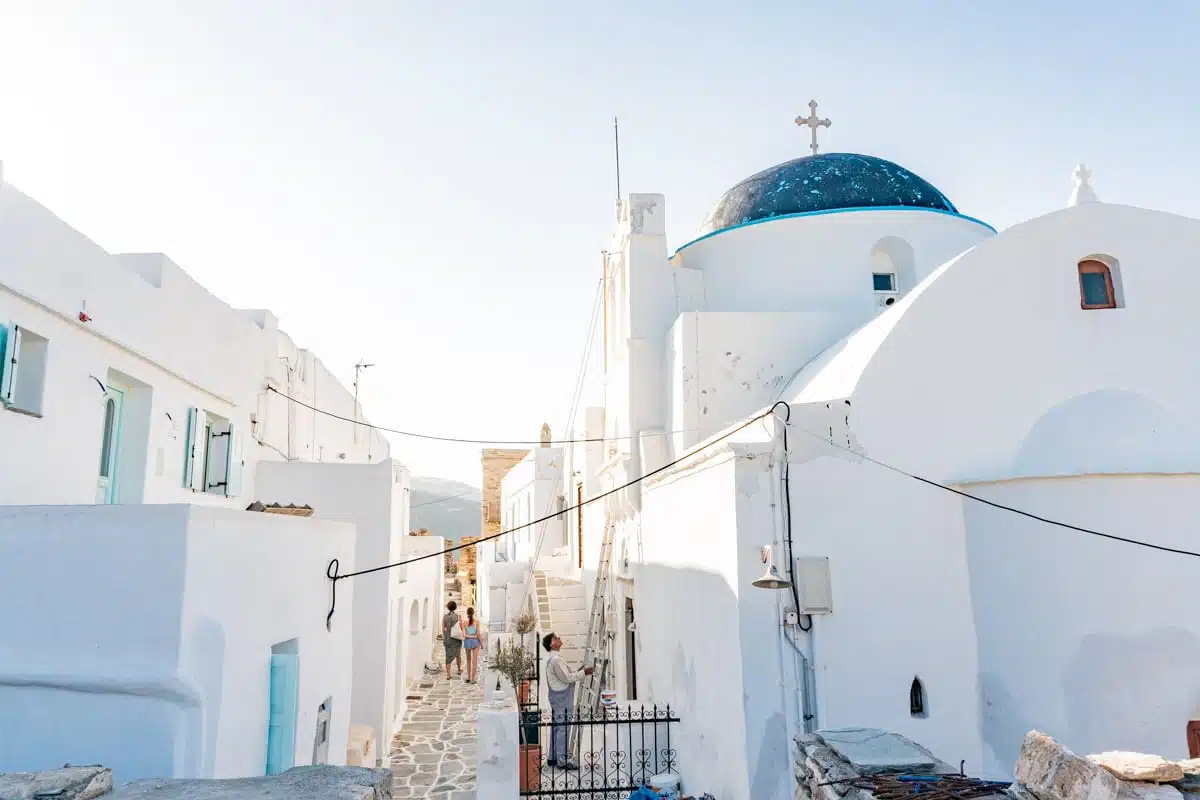 Tucked away in a less-explored part of the Cyclades, Sifnos is a peaceful respite from the crows that flood Santorini and Mykonos, making it one of the best places to go in Greece.
Sifnos is authentic, charming, and retains the natural wonders that give it special appeal. It's the ideal location when trying to get away from it all and lose yourself.
Although you could easily spend all day on the beach, there's also incredible cuisine to eat (try the revithada, a Greek chickpea stew) and local ancient crafts to discover. Spend 30 minutes here, and you'll understand why this is one of the best places to see in Greece.
Make Like a Local and Head to Iraklia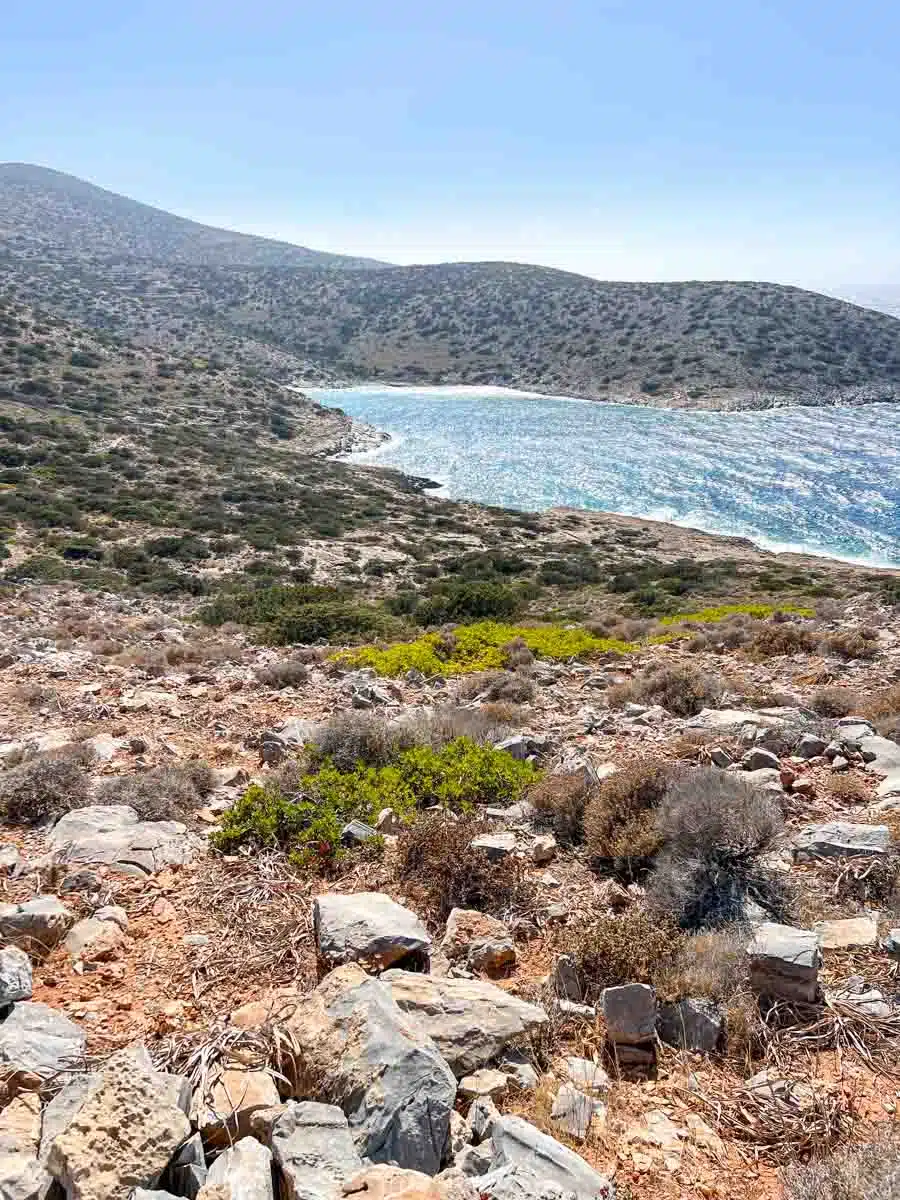 Iraklia is the biggest island of the Smaller or Lesser Cyclades, and is staggeringly authentic and friendly. There aren't many bistros or any nightclubs, but what it offers is a small taste of the real Grecian island life.
An early morning swim in the crystal waters of Agios Georgios beach followed by a caffeine-rich brew at the only coffee shop in town, "Melissa," is the best way to start your day.
Enjoy an ode to Aegean cuisine at celebrity Chef Giannis Gavalas' restaurant-cum-musuem, Araklia, then pop down to the turquoise waters of Tourkopigado Beach.
Top Tip: Finish your day with a sunset at Xilompatis. You'll have to ask a local for directions because no tourist maps will point it out.
See the Shipwreck at Navagio Beach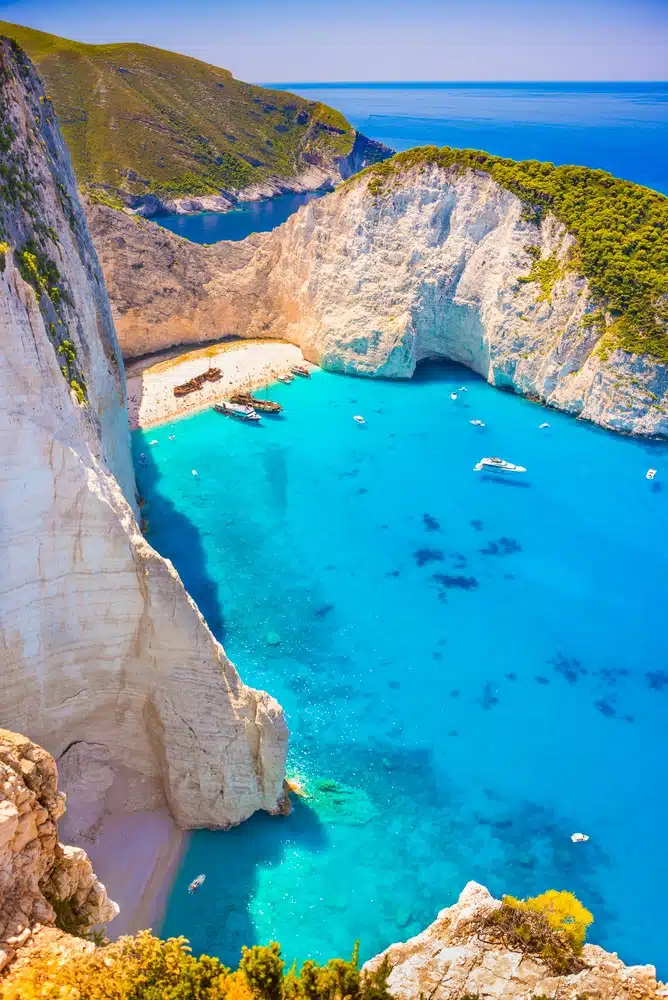 If you're wondering what to do in Greece and are up for a little adventure, head to the remote Navagio Beach on Zakynthos island.
Do so to discover an old shipwreck washed up in 1980 during a storm still sitting on the limestone gravel, her rusted frame baking in the hot Grecian sun.
The waters in the cove are impossibly blue—and I mean, oops-I-oversaturated-my-photo blue. But don't take my word for it—grab a tour of the wreck and surrounding sea caves and see for yourself.
Explore the Cave of Dikteon Andron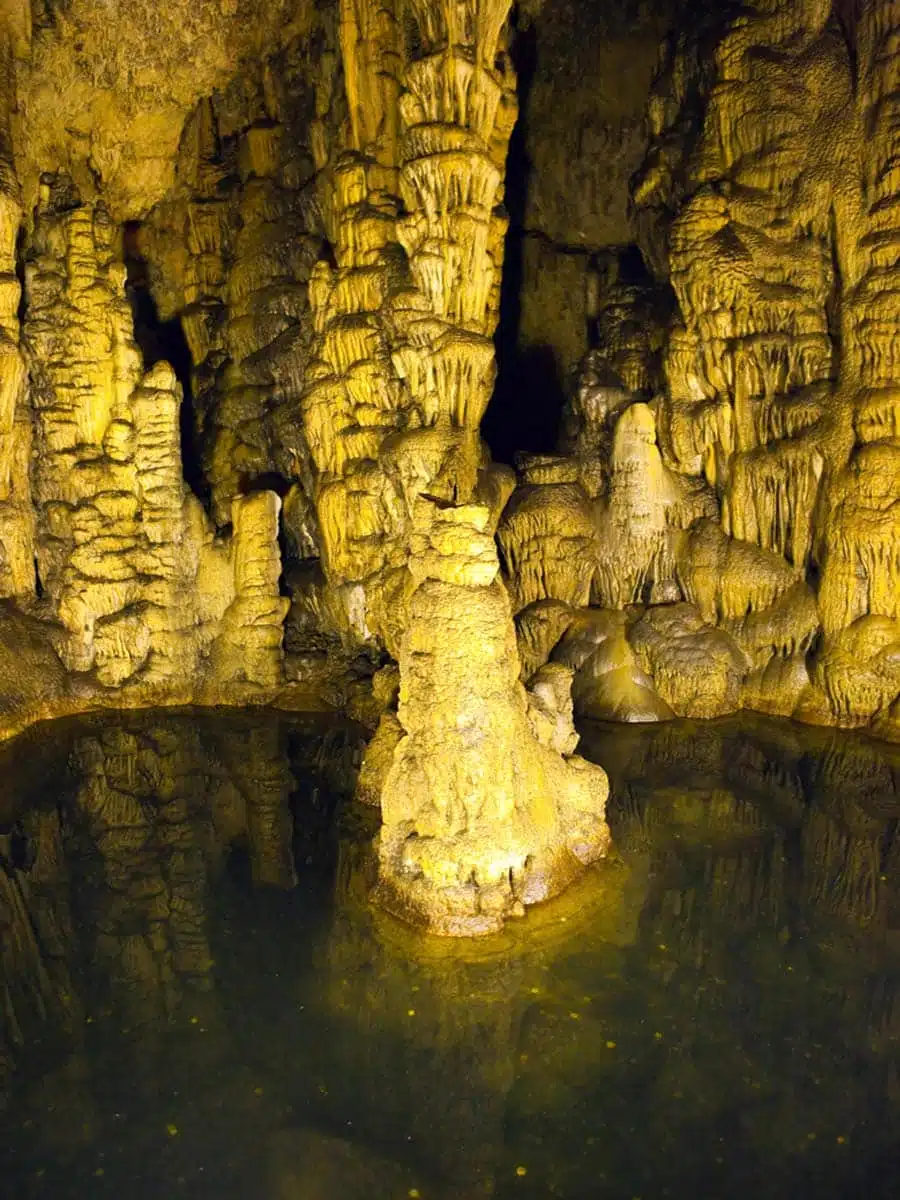 I'm sure you're familiar with the name Zeus – he's no small fry in the world of Greek mythology – but did you know you can visit his actual birthplace?
Situated in Crete, this cave is one of the most famous out of all 3000 on the island. In ancient years, it was believed to be the home of many a pilgrimage by people who would leave Zeus an offering, though today the only visitors are tourists and offerings are no longer required.
Aside from the mythology, this cave is rather stunning – with thousands of multicoloured stalagmites and stalactites dripping from the walls.
Head to Lake Plastira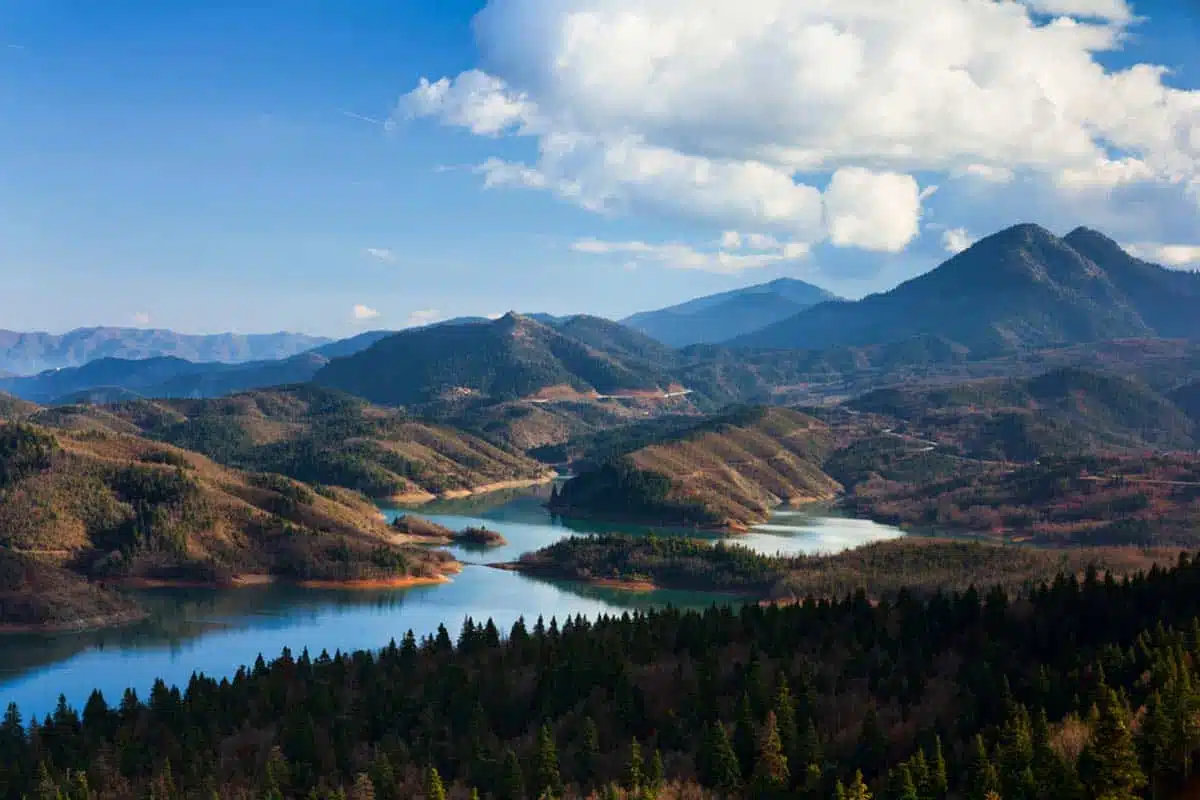 Greece is known for boasting an abundance of natural beauty and, while Lake Plastira is actually man-made (shock horror), it's no less stunning than its natural counterparts.
Flanked by chestnut and oak trees, Plastira is a haven for water sports – go rafting, kayaking, or boating on the water. Or, if you prefer to stay on dry land, the hiking trails around the lake are something special.
Visit the Museum of the Olive and Greek Olive Oil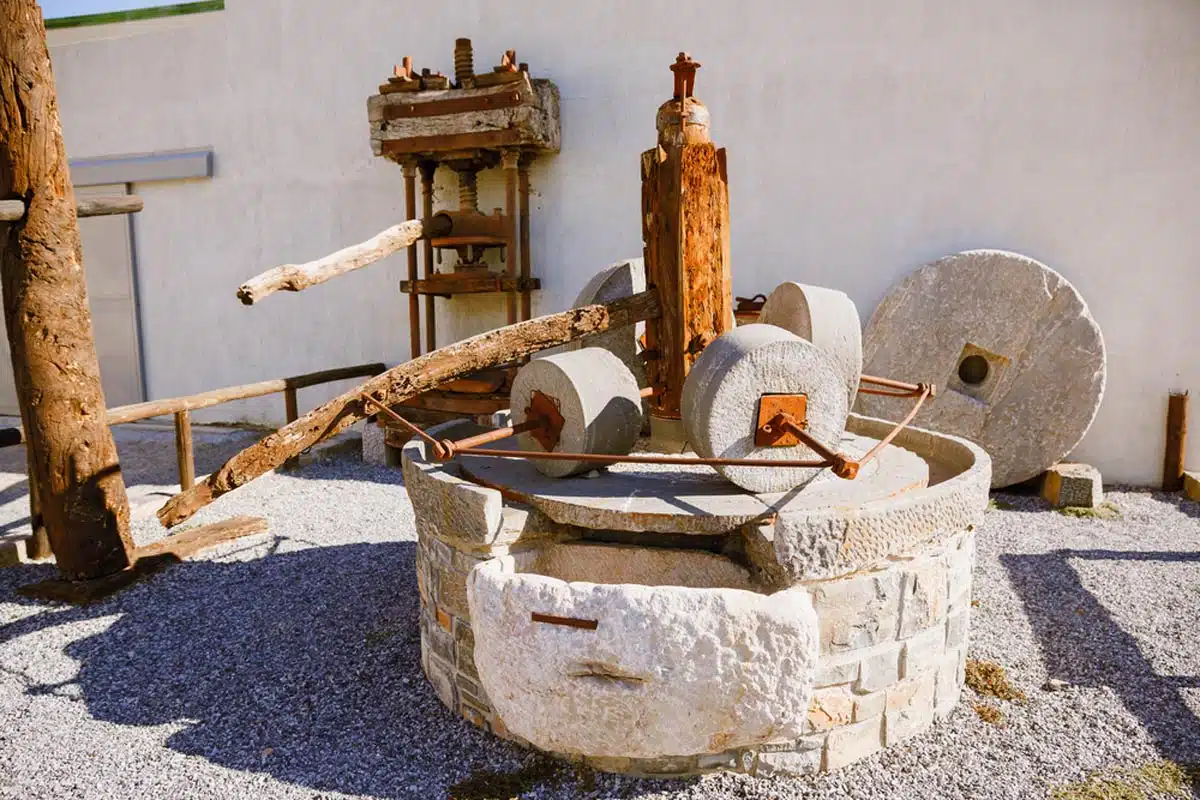 Situated in Sparta, the quirky Museum of the Olive and Greek Olive Oil is well worth a visit if you're looking to get off-the-beaten-path in Greece. Dedicated to the humble olive, this museum explores how integral the fruit (yes, olives are fruits, not veggies) is to Greek culture and cuisine.
The museum is filled with stories, films, and even art dedicated to the tasty little morsels – a visit to this attraction makes a nice change from hiking or lazing around in the beating Greek sun.
Things to Do in Greece: Practical Tips for Your Trip
Where Should I Stay in Greece?
Electra Metropolis (Mid-Range)
The pinnacle of modern luxury with rich colours and incredible views of the Acropolis, this hotel boasts a waterfall rooftop pool and a sun terrace.
It also has a sky-light atrium decked out with Fassiano's works of art. The downstairs cafe is divine, and its location in the heart of Athens makes sightseeing that much easier.
Check Rates and Availability for Electra Metropolis on Booking.com
Hotel Grande Bretagne (Luxury)
This hotel is the quintessence of luxury. Gorgeous common areas with unrivalled views of the Parthenon, lavishly decorated rooms, and marble bathrooms—not enough? How about a spa that offers a herbal bath, thermal suite, indoor pool, and ouzo oil massages? Hotels with rooftops pools in Athens such as Hotel Grande Bretagne are definitely worth checking into!
The location is great too, only 600 m from the Acropolis.
Check Rates and Availability for Hotel Grande Bretagne on Booking.com
Recommended Tours in Greece
Things to Do in Greece: Map