Planning a visit to Iraklia, Greece? Read on to discover why you should add this tiny Cycladic island to your Greece itinerary… And all the best things to do while you're there.
You'll find Iraklia hidden amongst the turquoise waters of the Aegean Sea, just off the coast of Naxos.
Believe me when I say that the island is small, with a length of just 7km. But, spearheading the motto that size doesn't matter, this minute island in the Lesser Cyclades has plenty to explore.
Dive into the mesmerising world of pristine beaches, dazzling caves, and wondrous hikes that make Iraklia so special. This Mediterranean oasis will easily slot into your Greek island hopping adventure.
Let's explore.
Top Tip: Looking for a luxurious place to stay during your time in Iraklia? I recommend the Speires Hotel.
Top 4 Things to Do in Iraklia
Hike to Paralia Vorini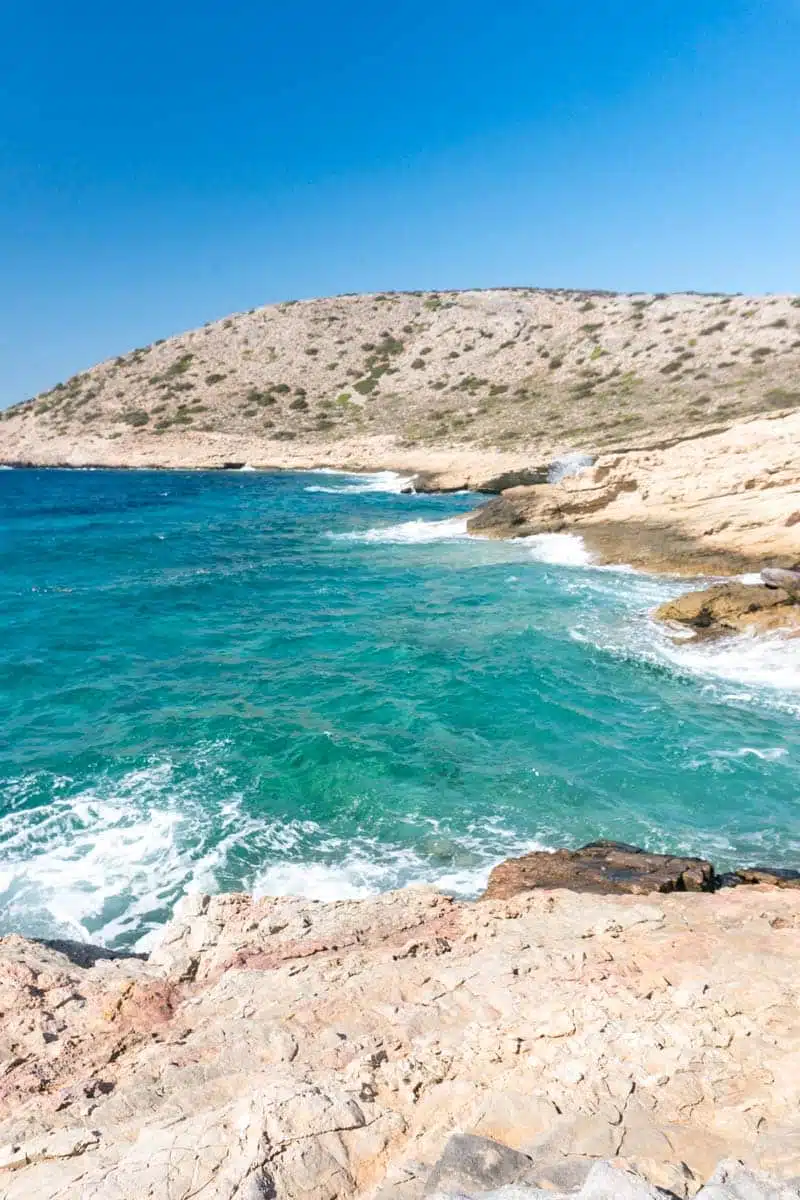 Undeniably one of the best things to do in Iraklia is enjoying a hike to Paralia Vorini – a tranquil beach that looks like something you would find on a postcard. Make sure you've got plenty of phone battery, I promise you're going to want to take pictures.
Setting off from the main town of Agios Georgios, embark on a 30-minute hike to this picturesque spot – the beach is a secluded cove of calm turquoise water and golden sand with pebbles and shells.
I'll warn you, the pebbles don't make for the comfiest of sunbathing spots. Though, with a fluffy towel and a little bit of determination, you'll be able to find patches that are sand-only.
It's well worth the effort, I promise you.
Top Tip: There are no nearby bars or cafes, so be sure to bring your own food and water.
Hike to the Cave of Agios Ioannis
This hiking trail kicks off near Zefyros Studios. From here, enjoy a short 40-minute hike (2,4km) to the Cave of Agios Ioannis, and you'll be rewarded with glorious views of Nisos Irakleia park.
I'll be totally honest, the entrance to the cave is a bit of a tight squeeze, so be careful not to bump your head (those with claustrophobia will definitely want to pass on this). Though, power through, because upon entering, you will be awestruck by the magnificent stalactites and stalagmites that make this cave so unique.
If you visit on August 28th—St. John the Baptist day—you'll find the cave magically lit by candles and visited by worshippers throughout the day. Though, you might need to elbow your way through the crowds.
Sunbathing at Livadi Beach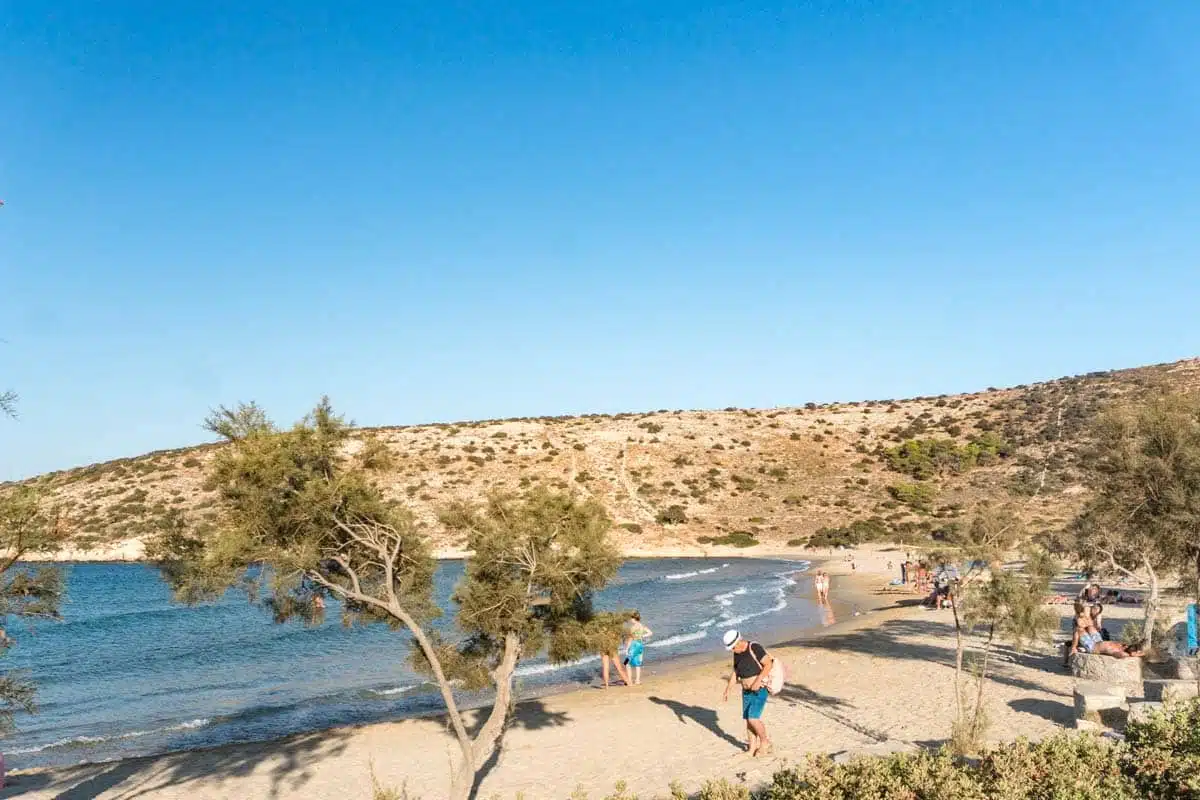 Of all the Iraklia beaches you can visit, Livadi is my favourite – it has soft white sand and crystal clear waters, making it oh-so-inviting.
Despite being the island's most popular stretch of sand, you won't need to fight for a spot – it's a pretty long beach. It's also relatively developed, with a smattering of hotels and restaurants close by.
Oh, and if you want a delicious meal with unforgettable views, I recommend going to Pera Panta Cafe as a retreat from the blazing midday sun.
Dinner at Akathi Restaurant
Regarding Iraklia restaurants, Akathi is one of the most authentic places at the heart of the Agios Georgios port. The restaurant offers some of the best Greek cuisines on the island, with succulent goat meat in red wine sauce being one of their best (and most famous) meals.
You can also indulge in the delicious seafood that Akathi provides – sourced straight from Agios Georgios port. With stunning sunset views of Iraklia beach and the surrounding town, I guarantee you will have an unforgettable dinner.
Brilliant Things to See & Do in Iraklia
Take a Boat Ride to Karvounolakos and Alimia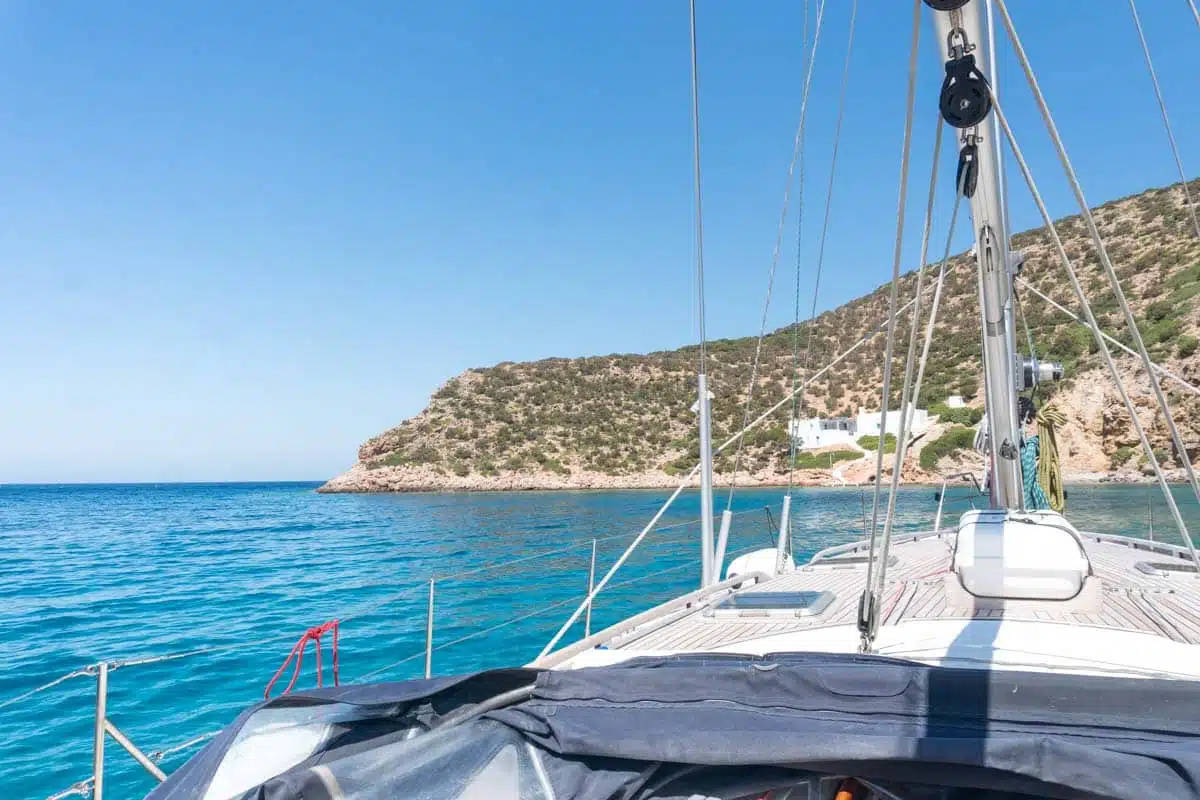 Part of the Nisos Irakleia park, these two beaches are on the island's southern side and only accessible by boat. Towering cliffs surround the white sand beaches, creating an impressive and exclusive experience.
You can join a boat trip to both glorious beaches from Agios Georgios and soak up the Mediterranean sun in crystal clear waters.
Top Tip: If you swim about 60-metres out from Alimia beach, you can snorkel amongst a plane wreck.
Visit the Castle of Heraklia
Now in ruins, the Castle of Heraklia is a small piece of Iraklian history just waiting for you to explore. At the top of a hill, the once glorious castle offers spectacular views of Livadi beach.
It was originally used as a fortress thanks to its impressive vantage point, though in (slightly) more recent years, it's believed that pirates hid on this island and used the castle as a base.
Top Tip: Visit the Castle of Heraklia between 6 pm and 7:30 pm to witness a beautiful sunset over the island.
Visit the Church of Panagia
Panagia, or the Church of the Presentation of the Virgin Mary, is a beautiful building in the classic Cycladic architecture that makes this region so famous. The iconic blue top dome on the church sticks out against the rustic landscape of Iraklia.
In fact, the church has five domes – though it's the blue one that gets all the fuss. Finished in 1980, Panagia is one of the newest churches on the island yet still has plenty of historical significance.
Must-Try Bars & Restaurants in Iraklia
Submarine Restaurant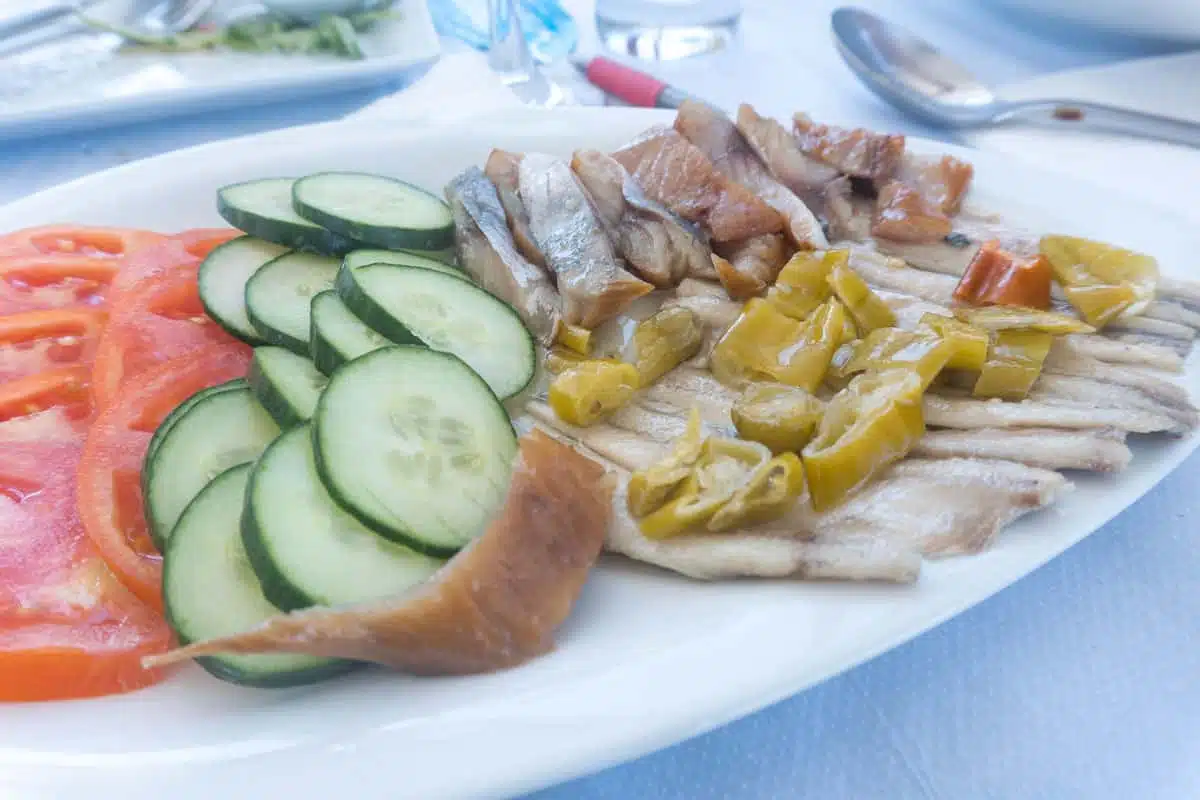 If you are looking for the best pasta in Iraklia, look no further than the Submarine Restaurant in Agios Georgios. With a large terrace for dining and an extensive menu of mouthwatering dishes, such as an indulgent lobster carbonara, this is an Iraklia restaurant you need to visit.
Araklia Restaurant
Araklia is one of the top restaurants on the island, serving up authentic Aegean cuisine (many people visit the island just for this restaurant, which is the ultimate compliment if you ask me).
Head chef Yiannis Gavalas puts great pride into each dish, and the quality of the food is worth savouring. Some of the best seafood I've ever tasted was at Araklia.
While enjoying the delicacies Araklia offers, don't forget to take in the breathtaking views of the Aegean Sea from the viewing deck.
Surfin Bird
Get up close and personal with Surfin Bird's culinary delights, with everything from the fresh prawn and butter spaghetti to a hearty beef burger on offer. Surfin Bird is also a fantastic nighttime destination, with a relaxing beach vibe and live music.
Best Hotels in Iraklia
Villa Panorama (Mid-Range)
Vila Panorama is a lovely pet-friendly accommodation only 1.7km from Vorini beach. The rooms come with sophisticated finishings and the sun terrace's panoramic views give this dreamy accommodation its name.
Villa Meltemi (Mid-Range)
Start your day off right with the wonderful breakfast on offer at Villa Meltemi. Aside from the complimentary meal, this hotel has a modern finish and is a comfy (and affordable) option for your stay in Iraklia.
Speires (Luxury)
Of all the Iraklia accommodations, Speires Hotel offers the most luxurious stay on the island. This hotel provides a sun terrace, bar, and garden for you to enjoy during your unforgettable stay in Iraklia.
Irakleia: Practical Tips for Your Trip
How Long to Visit in Iraklia?
The beauty of visiting Iraklia is that it's an experience that doesn't need to take up a massive chunk of your time in Greece. I recommend spending at least two days in Iraklia and tacking it on to an island-hopping adventure.
When Is the Best Time to Visit Iraklia?
I recommend visiting during the shoulder months of May, June, September, and October to avoid larger crowds and higher prices.
Where Should I Stay in Iraklia?
Staying in Agios Georgios is your best option, with a variety of Iraklia hotels and easy access to all the main sites and attractions on the island.
How to Get to Iraklia?
You can only get to Iraklia by ferry. I recommend taking the ferry from Naxos island – it takes around 90 minutes and they depart regularly.
Recommended Tours in Iraklia
Things to do in Iraklia: Map