Planning a Greek escape and want to know where to visit? Get ready to discover the beauty of Sifnos Island in this detailed travel guide.
I'm going to make a bold statement: Sifnos is one of Greece's prettiest islands. With its white-washed architecture and rolling hills, Sifnos has an almost otherworldly atmosphere that's a refreshing contrast from some of Greece's more popular (and heaving) spots.
Not only is it small and friendly – the people are so welcoming – but it's also ideally located in the Cyclades and easy to get to from the mainland.
Not sure where to start? My Sifnos travel guide will help you to discover the best of this beautiful island.
Top Tip: To make your time in Sifnos even more special, I recommend staying at the luxurious NOS Hotel & Villas.
Top 5 Things to Do in Sifnos
Explore Kastro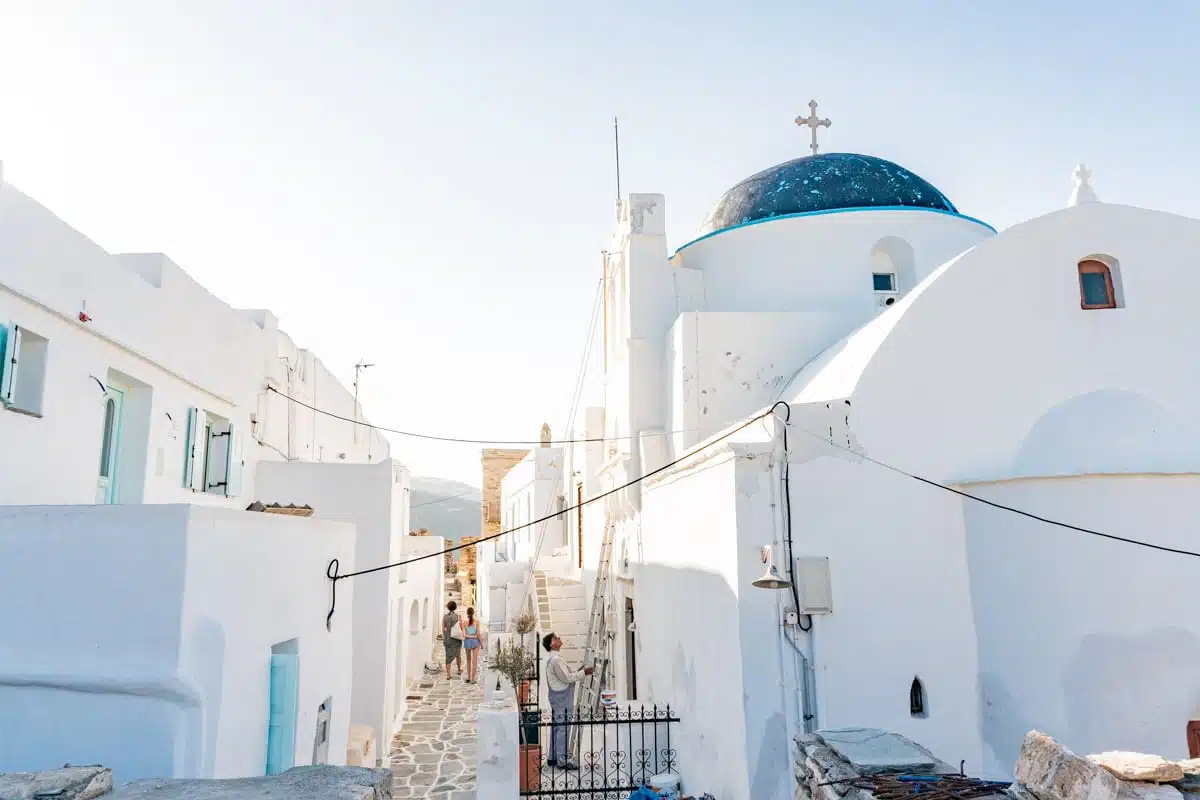 Visiting Sifnos without paying special attention to Kastro would be a huge mistake – it's the ancient capital city of this beautiful island.
Aside from the iconic Church of the Seven Martyrs (which I'll get into later), Kastro seems frozen in time. You'll find artefacts such as the Venetian fortress and ancient walls spread across the town.
Walking the stone-paved streets between the white-washed walls is really something special.
I highly recommend visiting the Archeological Museum of Sifnos, where a collection of sculptures, ceramics, and inscriptions outline the rich history of this island.
See the Church of the Seven Martyrs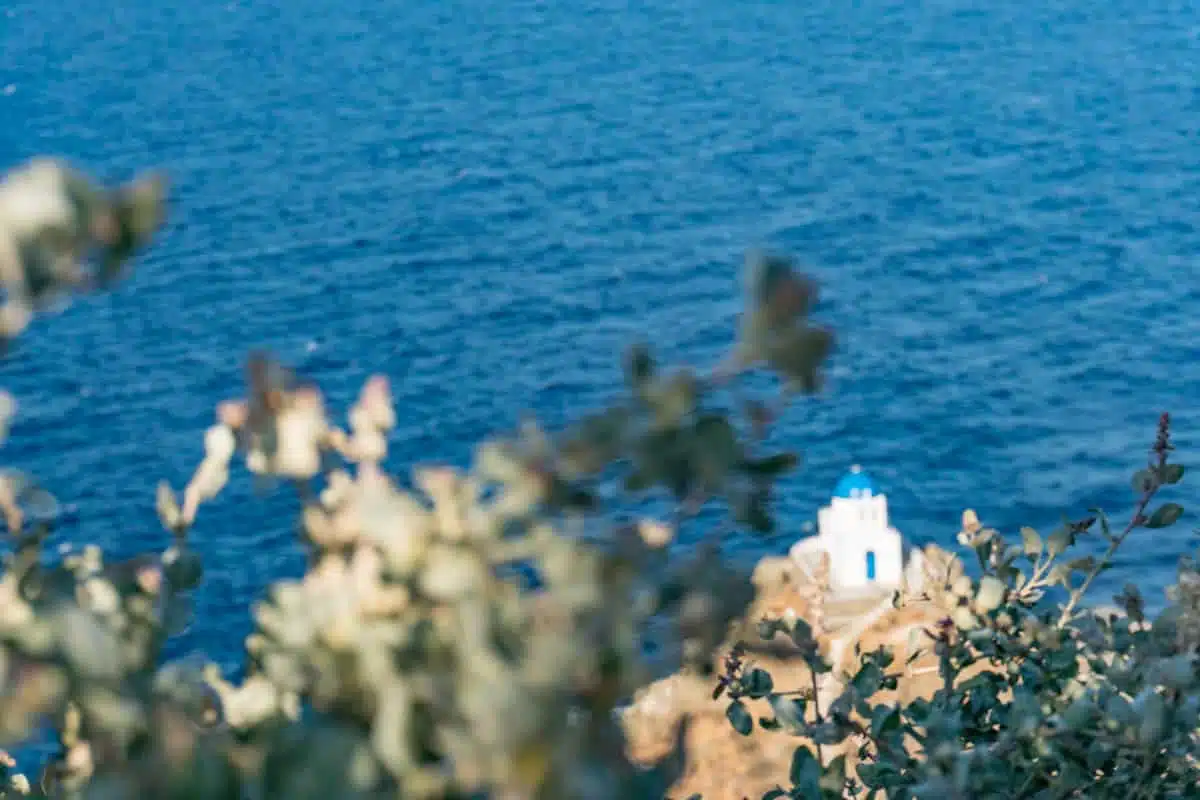 Possibly the most iconic landmark in Sifnos, the Church of the Seven Martyrs sits on the top of a rocky hill overlooking the Aegean Sea. The chapel encapsulates Cycladic architecture with its white walls and blue dome that make up the facade.
Meander along the winding path from the town of Kastro to the chapel, where you will start to see the white building sticking out in this rustic landscape.
Unfortunately, you can't enter this unique landmark as it is only open for pilgrims during religious events, but you can still snap some mesmerising sunset photos.
Follow the Trail Between Apollonia and Kastro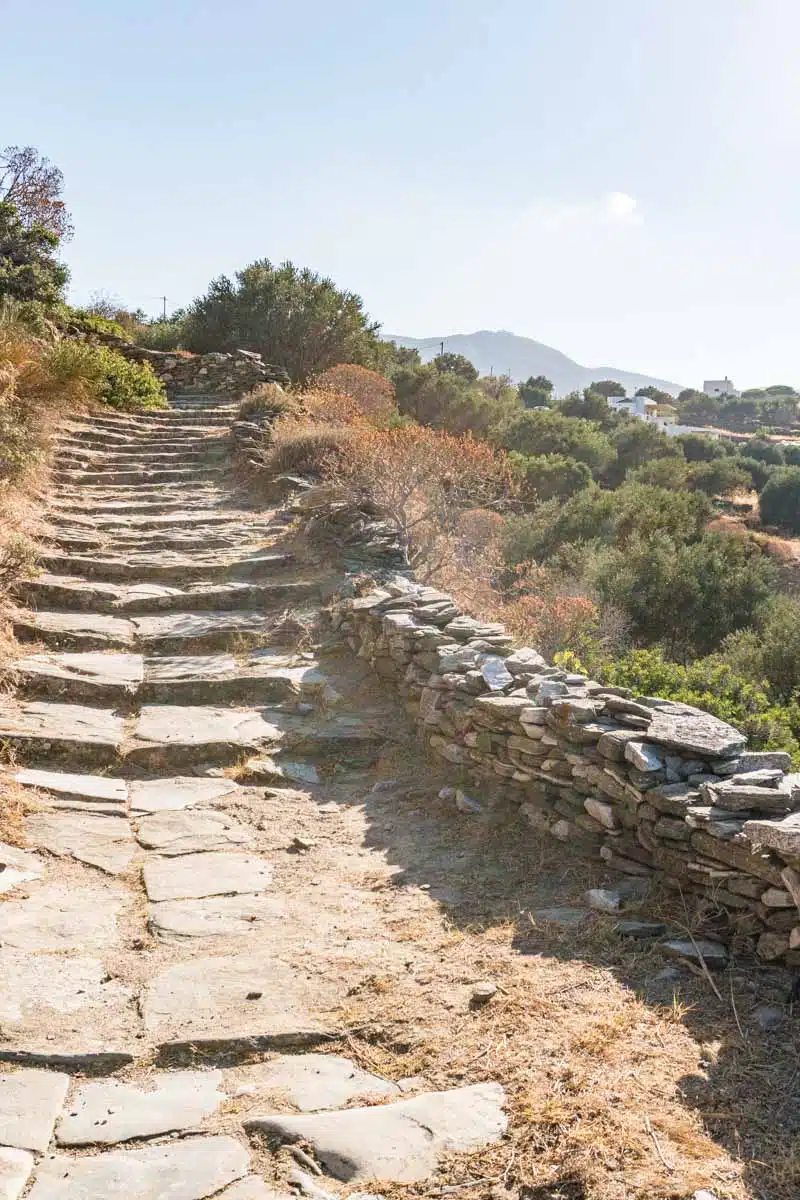 One of the best things to do in Sifnos is to go on hikes through the rugged terrain. While on the island, I found the Apollonia to Kastro old trail to be the most enjoyable. Mainly because the scenery was completely stunning (though it helped that the hike was extremely manageable too).
Across the 3.8 km hike between the two towns, you can spot breathtaking landscapes cut by the farmers' terraces and a few landmarks such as Pigeon Tower.
Top Tip: Ensure you take enough water with you and avoid hiking on a hot day.
Soak Up the Sun on Sifnos' Glorious Beaches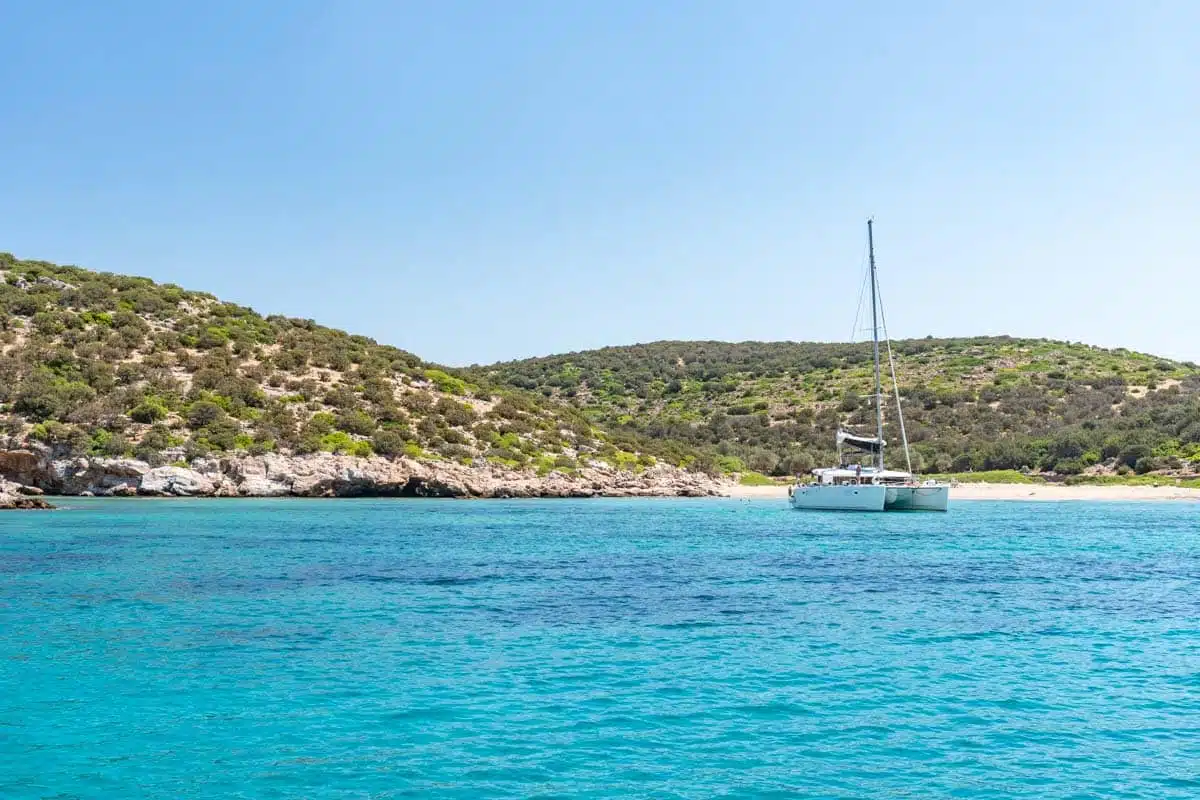 If, like me, you appreciate a dreamy beach, you'll be in heaven here.
In fact, I would go as far as to say that the best thing about visiting Sifnos Island, Greece, is that you will never run out of breathtaking beaches. If you are staying in Apollonia, the farthest shore is Hersonissos, which is only 15 km away.
The best beach on Sifnos is Platys Gialos, with sun loungers, crystal clear waters, soft sand, and plenty of bars to enjoy. But if you want a quieter beach, I recommend Chrissopigi or Hersonissos beach.
Top Tip: Looking to check out some of the smaller islands nearby? Join this tour from Sifnos to the Milos islands that also includes snorkelling.
Learn About Sifnos' Traditional Pottery
Sifnos has a rich history of pottery which you can see across the island and, most notably, at the Archeological Museum of Sifnos. Pottery in Sifnos dates back to the Early Bronze Age and expands into the present, where 19 pottery workshops still operate.
I had a fantastic time at the pottery workshops (pssst… it's not as easy as it looks). But, if you don't want to get your hands dirty, sitting back and watching the masters at work is also a fantastic experience.
Brilliant Things to See & Do in Sifnos
Spend Time in Pretty Kamares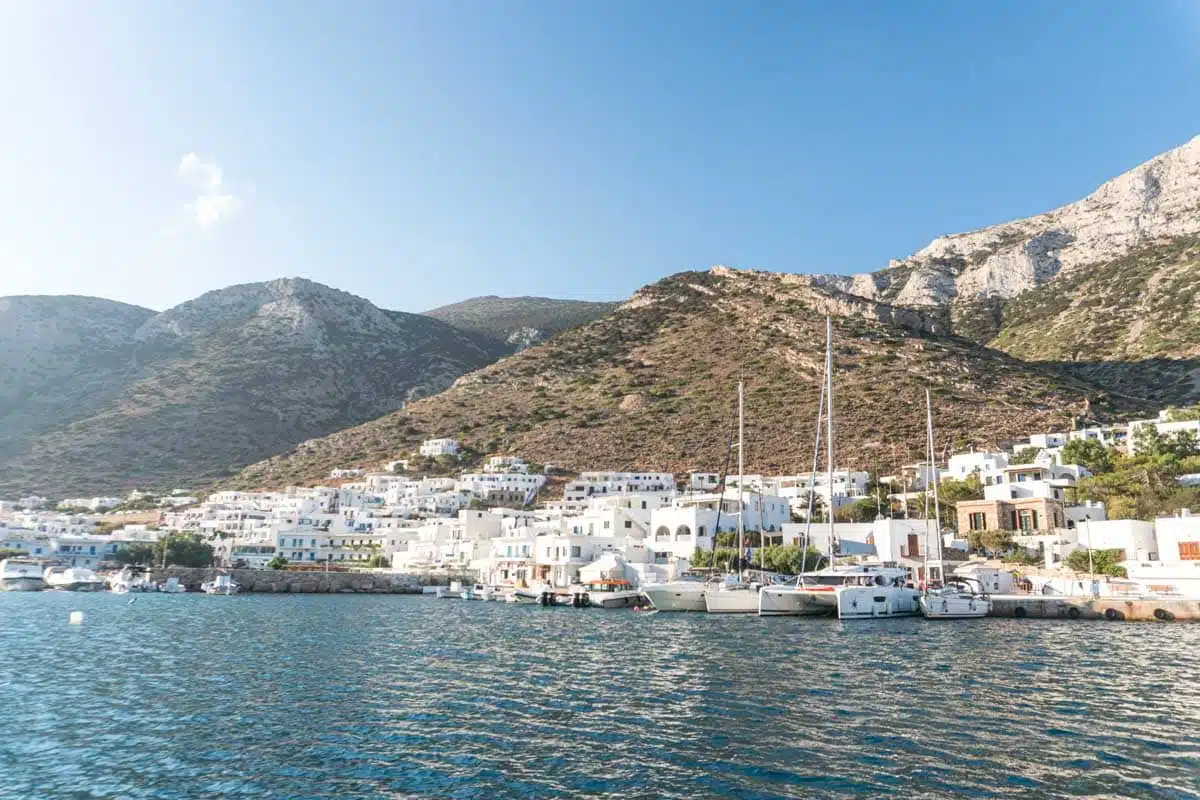 From the blue waters of the beach to culinary delights, Kamares is a must-visit. On the western side of Sifnos, this natural port is a tourist oasis with a relaxed vibe and plenty of small shops for splurging.
Looking for something more exhilarating? Don't worry; Kamares has loads of opportunities to get involved in watersports, from jet skiing to parasailing.
Take in the Views at Agios Symeon
Agios Symeon is an ancient Cycladic church built in 1667 – and boy, is it a work of art.
It sits at one of the highest points in Sifnos and overlooks the coastal town of Kamares. After a short 7 km drive up the hill from Kamares (or a hike, if you're feeling really wild), you can admire spectacular views of Sifnos from above.
Wander Around Apollonia
As the main city of Sifnos, Apollonia is one of the best parts of the island to explore. From the quaint Drakakis cafe to the Monastery of Prophet Elias, you'll have plenty of things to do and see.
During my time on Sifnos, I found that Apollonia was the only city on the island that had nightlife similar to what you'll find at the beach clubs in Mykonos. So if you are a party animal, I suggest visiting the vibey Cosi Sifnos.
Admire Local Art at the Folklore Museum of Sifnos
Situated in Heroon Square, one of the liveliest spots in Apollonia, The Folklore Museum of Sifnos is your one-stop-spot to check out the island's best art, pottery, and sculpture collections. With some items even dating back to the 6th century B.C.
It might look like your average Sifnos building (not to say it isn't absolutely charming), but inside the exhibits are fascinating – spanning shotguns and old costumes to woodcarving and earthenware.
Must-Try Bars & Restaurants in Sifnos
Loggia Wine Bar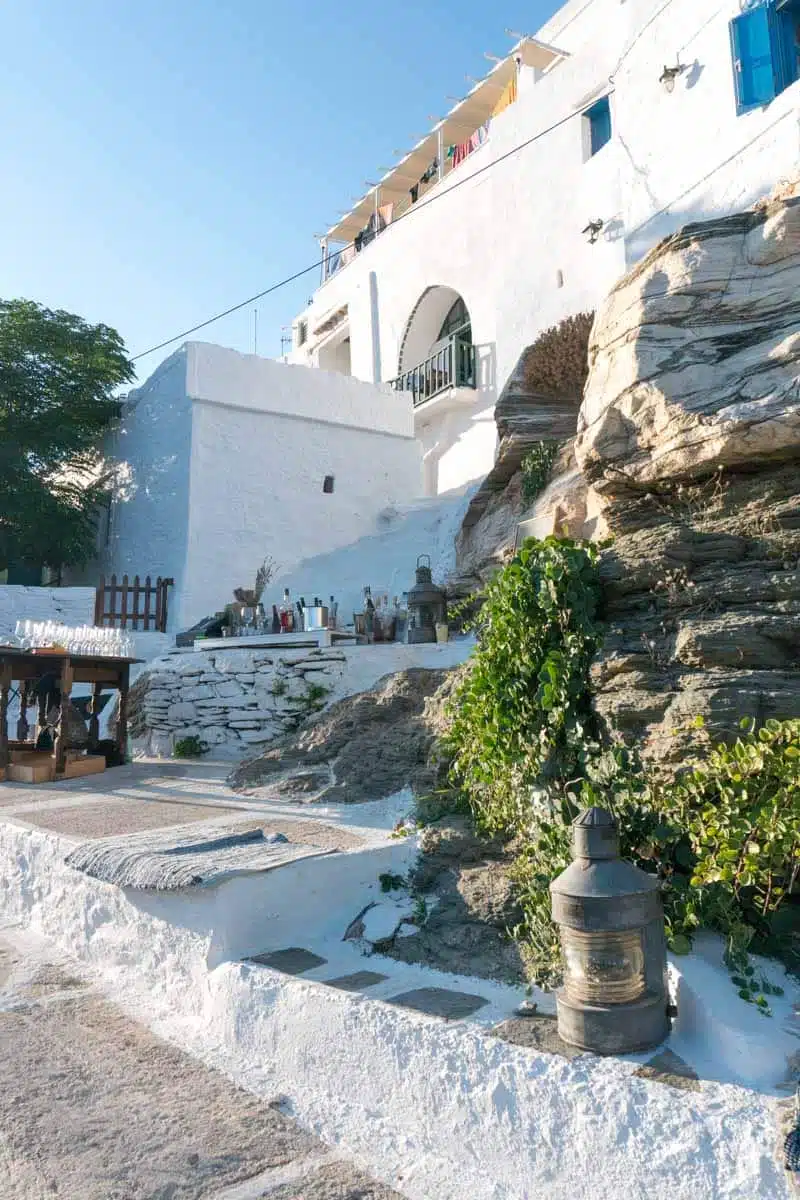 The Loggia Wine Bar is set in the beautiful town of Kastro and offers breathtaking views of the Aegean Sea. The small but homely bar lists Greece's best organic traditional wines for you to sip on while the sun goes down.
Kafeneio Ouzeri Tselementes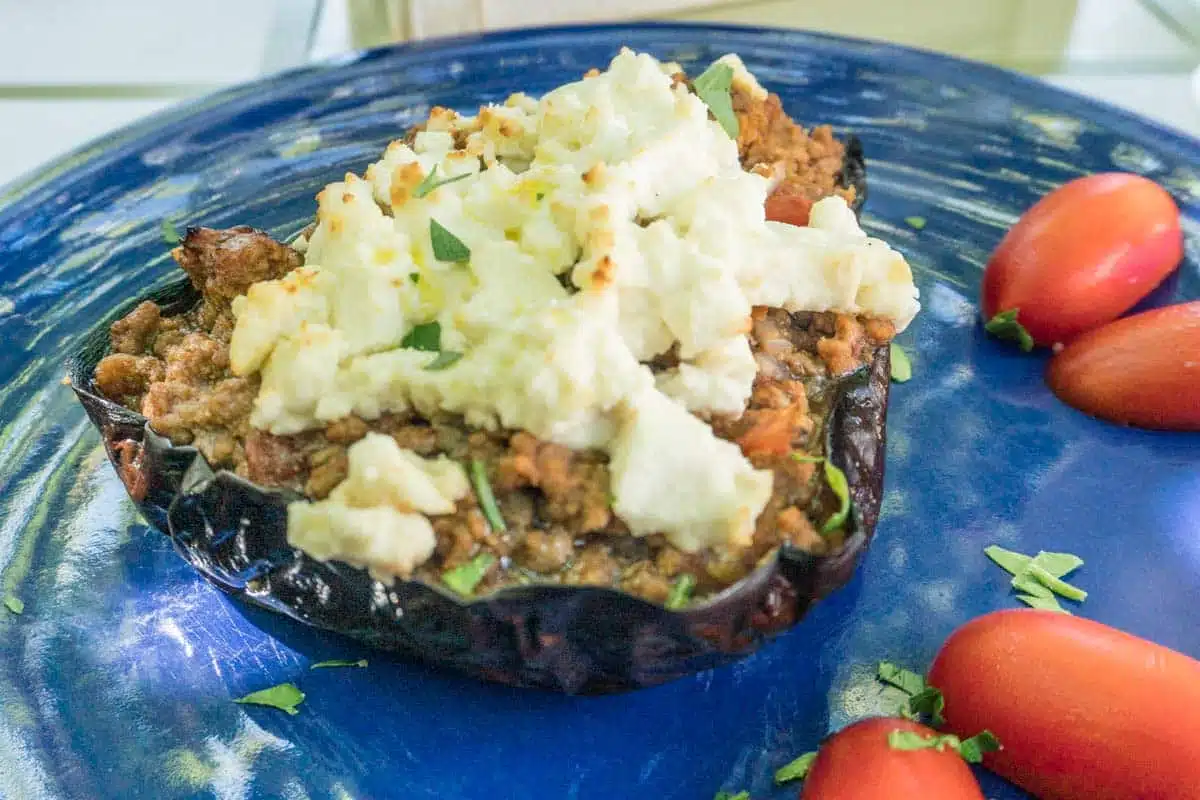 Drool – I'm still dreaming about the food I ate at Kafeneio Ouzeri Tselementes. This is a delightful cafe in the heart of Apollonia and is one of the many Sifnos restaurants that serve authentic Greek cuisine using locally sourced ingredients.
Dolci Restaurant & Bar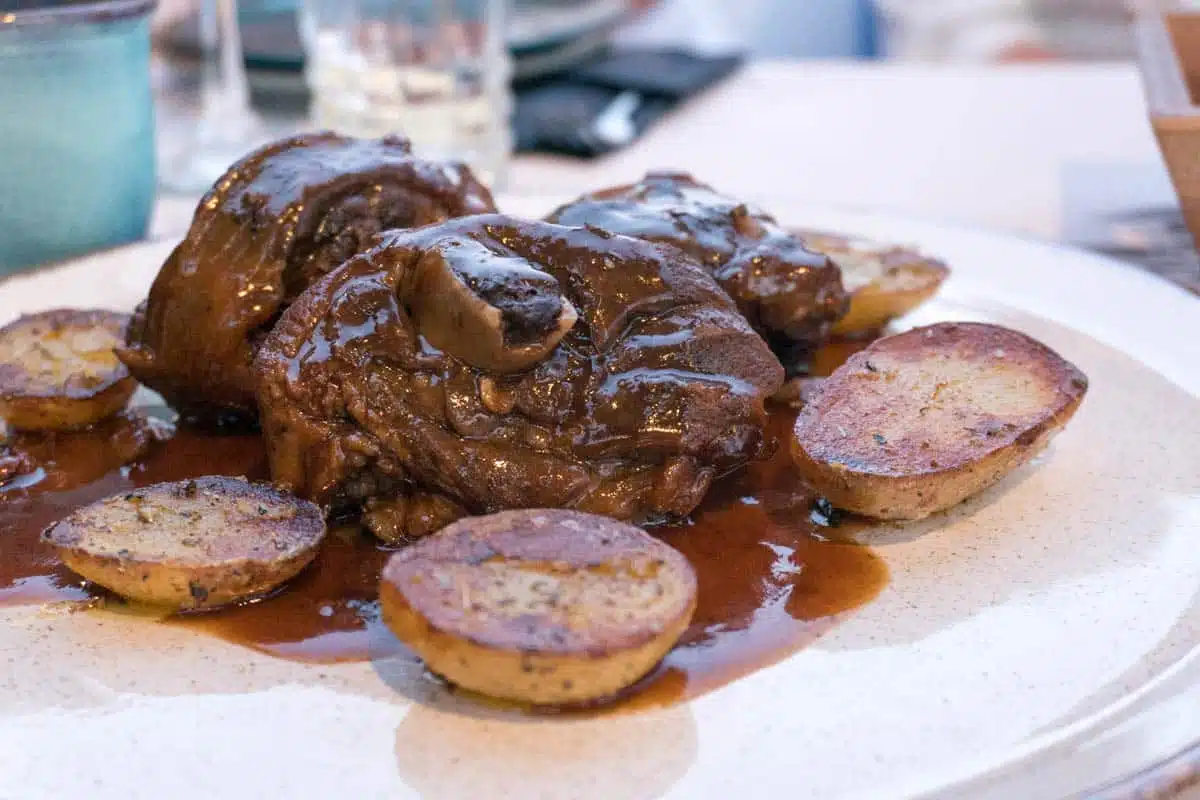 Mediterranean food lovers will be euphoric at Dolci. Sounds dramatic? Well, maybe it is – but it's also true.
This is one of the best restaurants in Sifnos, which is quite the statement as I enjoyed everything I ate on this idyllic island. They take pride in their presentation and make the best Rigatoni al Pomodoro I've ever had.
Omega 3
If you are a lover of seafood like myself, then Omega 3 near Platys Gialos is a must-visit.
This rustic-looking beach shack is hands down the best fish joint on Sifnos, from their delicious lobster to tenderly cooked fish in sage butter – it proves that, sometimes, simple is best.
Tsikali
For one of the best experiences of authentic Greek cuisine with views of the ocean, look no further than Tsikali. This family-run restaurant pairs only the freshest of ingredients with delightful wines produced by the local Dimitri Votsari vineyard.
Best Hotels in Sifnos
NOS Hotel & Villas (Luxury)
NOS Hotel and Villas is a luxury 5-star hotel that offers unforgettable views of the Aegean Sea and easy access to Chrissopigi beach. Rooms are decorated in a classic Cycladic style – expect whitewashed walls and earthy linens.
This hotel should be at the top of your list with its outdoor pool, wellness and spa centre, and delicious food.
Dora's Traditional Houses (Mid-Range)
Dora's Traditional Houses are pet-friendly abodes that offer picturesque views of Apollonia from its sun terrace. Rooms are extremely simple yet still cosy, they will make you feel right at home from the moment you enter.
Platys Gialos Hotel (Mid-Range)
Platys Gialos Hotel offers minimalistic accommodation at one of the best beaches on the island. Enjoy the luxury of a private beach area, two pools, and complimentary breakfast at this fantastic hotel.
Alternatively, read my guide to the best hotels in Sifnos.
Sifnos, Greece: Practical Tips for Your Trip
How Long to Visit Sifnos?
You can see everything Sifnos offers in one day, but I recommend visiting for at least three days for a slower and more enjoyable time. And – let's be honest – to enjoy the plethora of fab restaurants.
Best Time to Visit Sifnos
The best time to visit Sifnos is in the shoulder months of May, June, September, and October. You will likely experience lovely weather, fewer crowds, and affordable accommodation.
Where Should I Stay in Sifnos?
I think that the best place to stay in Sifnos is Apollonia. It has a lively nightlife (though not quite Mykonos level), is in a prime location on the island, and has plenty of accommodation options.
How to Get to Sifnos?
As Sifnos does not have an airport, the only way to get to the island is by ferry. On average, the quickest way to travel to Sifnos is by catching a flight from Athens to Milos and then joining a ferry ride to the island.
Recommended Tours in Sifnos
Things to Do in Sifnos: Map