Looking for the best things to do in Syros, Greece? Stick around to discover the best activities this enchanting Cycladic island offers.
Most people are familiar with Syros' more famous neighbours, such as Santorini, Naxos, Paros, and Mykonos, but many don't know a lot about this particular destination.
This charming island sits at the heart of the Cyclades and is the group's capital – all that to say that it's about to become your new favourite Greek island getaway.
If you ask me, Syros is a fantastic island because it's quiet, but it oozes charm, atmosphere, history – so much more than its famous cousins too. Without the crowds, you can enjoy all the simple luxuries this breathtaking island has to offer.
Ready to explore?
Tip: Brazzera Hotel offers cosy accommodation with stunning views across the Aegean Sea.
Top 5 Things to do in Syros
Walk Around Beautiful Ermoupoli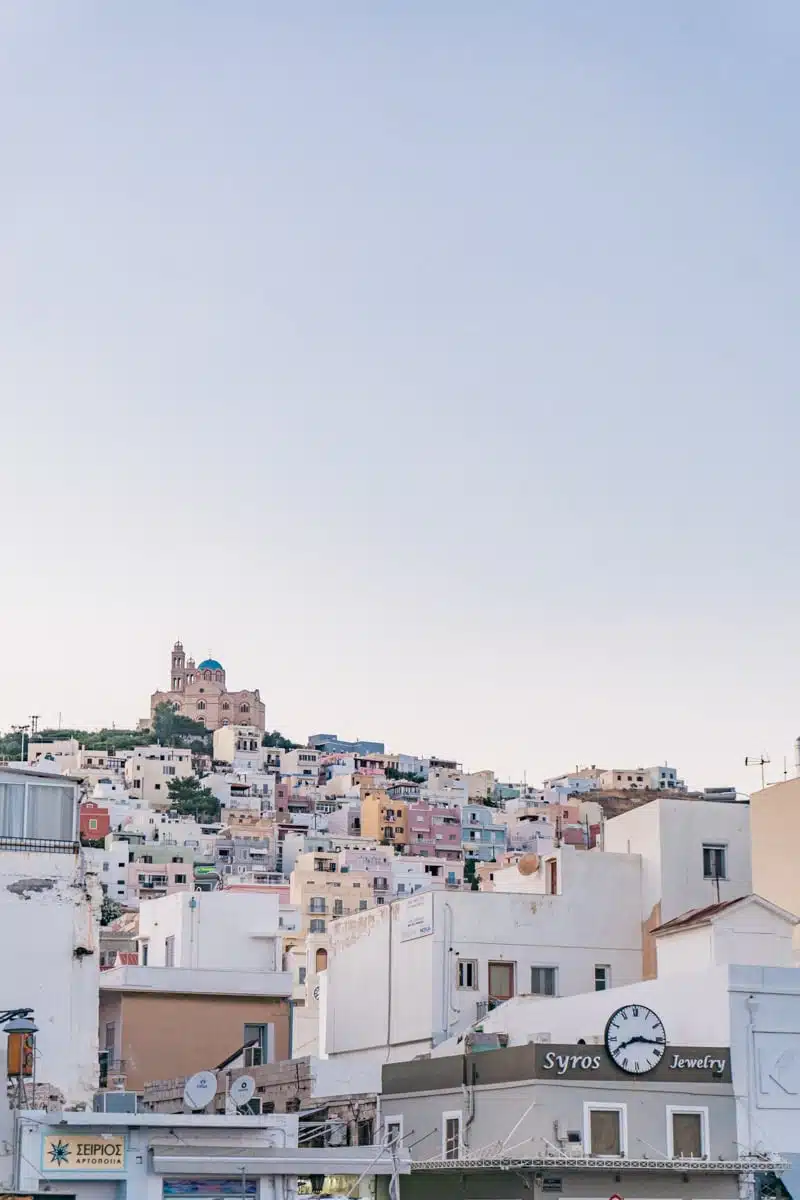 Ermoupoli is the island's capital, famous for its large port and stunning Venetian architecture. Once the shipping capital of Greece, Ermoupoli is the bustling heart and was my favourite part of the island to explore.
I would even go as far to say that the town centre is one of the most picturesque places in Greece – quite the claim as everywhere is eye-bogglingly beautiful.
On one side, you'll find stunning port views stretching out into the calm Aegean Sea. But, head over to the other side of Ermoupoli, and you'll discover Venetian-style buildings with colourful Bougainvillaeas hanging over balconies lined along quaint cobblestone streets.
The Venetian architectural style of Ermoupoli's buildings gives it a very different feel to the other islands that feature Cycladic architecture, adding to Syros' uniqueness.
If you only have time to do one thing while visiting Syros, I highly recommend strolling around Ermoupoli, as it will give you a real feel of the island.
Hike Up to the Catholic Church of Saint George (And Take in the Stunning Views of Ermoupoli Below)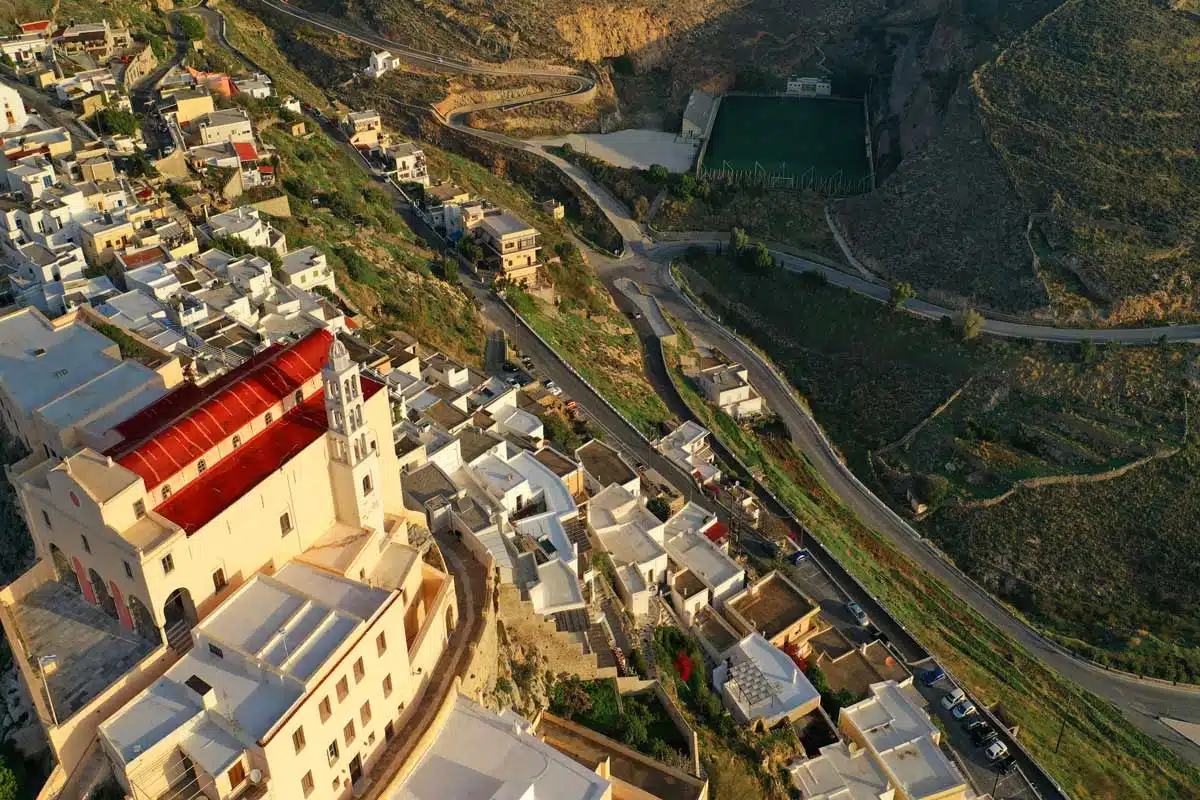 Perched high up on a hill in the town of Ano Syros sits the breathtakingly beautiful church of Saint George. You might think, what's so special about this church? Well, the view from the church's vantage point makes it unique.
You can see the whole town of Ermoupoli, which is pretty spectacular, especially at sunset. While getting up there is quite a hike, you'll forget about the inconvenience of climbing multiple stairs once you get to the top. I promise.
Visit the Apollon Theatre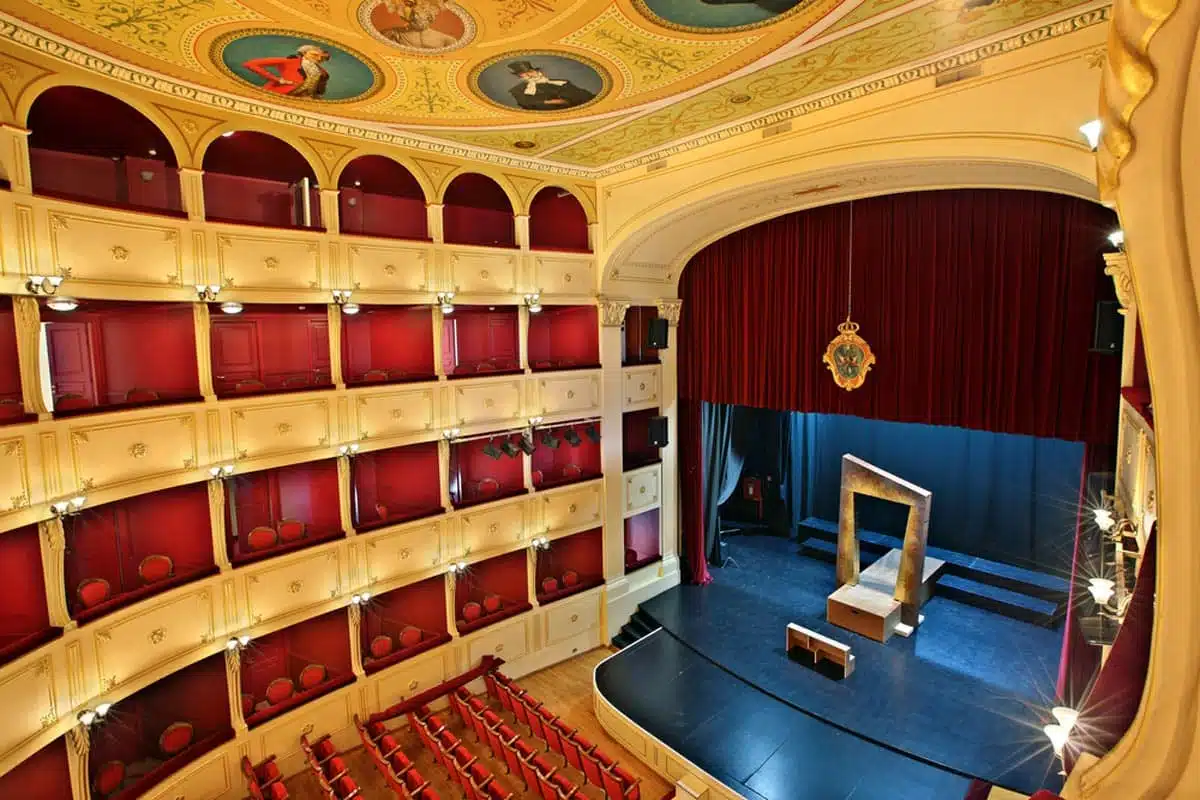 One of the main attractions in Syros is the Apollon Theatre in the town square of Platia Miaouli.
I have to say that, from the outside, it looks like another old building (though, that's not to say it isn't beautiful), but once you step inside, that's when you'll experience the grandeur and magic of the theatre.
Built-in 1864 by Italian architect Pietro Sampo, the theatre mimics the Scala di Milano in Italy. The theatre is a one-of-a-kind place adorned with golden arches, red seats, and intricate art.
It regularly hosts performances, concerts, and exhibitions, so be sure to see what's on show in advance.
Walk Through the Alleys of Ano Syros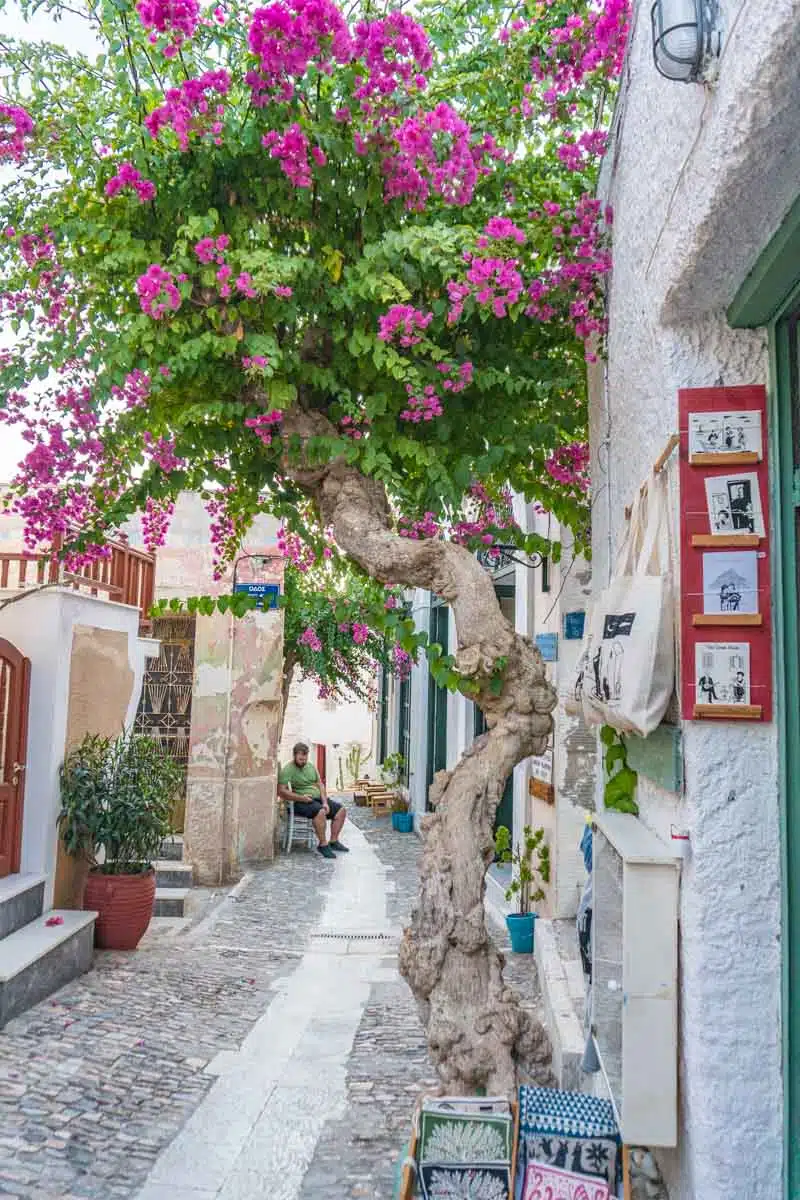 Sitting just 7 minutes outside the capital lies the town of Ano Syros. Although just a few kilometres outside Ermoupoli, Ano Syros has a totally different feel. Here you'll find a good mix of traditional Cycladic architecture and Venetian-style buildings.
The town has countless alleyways where you'll find a mix of taverns, cafes, shops, and picturesque courtyards filled with bright flowers waiting for you to discover.
Visit the Agios Nikolaos Church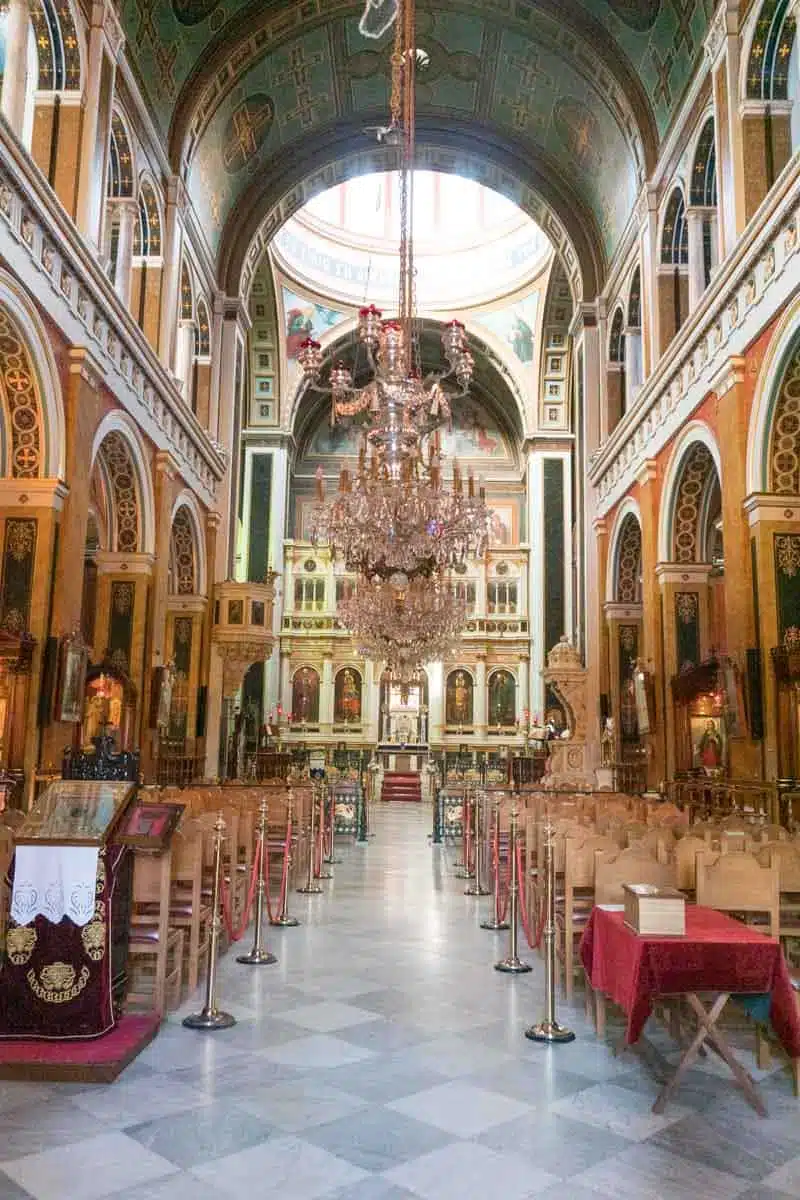 Sitting on a hilltop overlooking Ermoupoli's port, it's hard to miss this pretty blue domed church dedicated to Saint Nicholas. Built in the late 18th century, its exterior features Byzantine architecture and two bell towers.
Inside you'll find an elaborately decorated space with stunning columns and arches. If you don't want to go inside the church, you should atleast check out the exterior and enjoy the view of the surrounding area, as it's quite magnificent.
Brilliant Things to See & Do in Syros
Check out the National Resistance Monument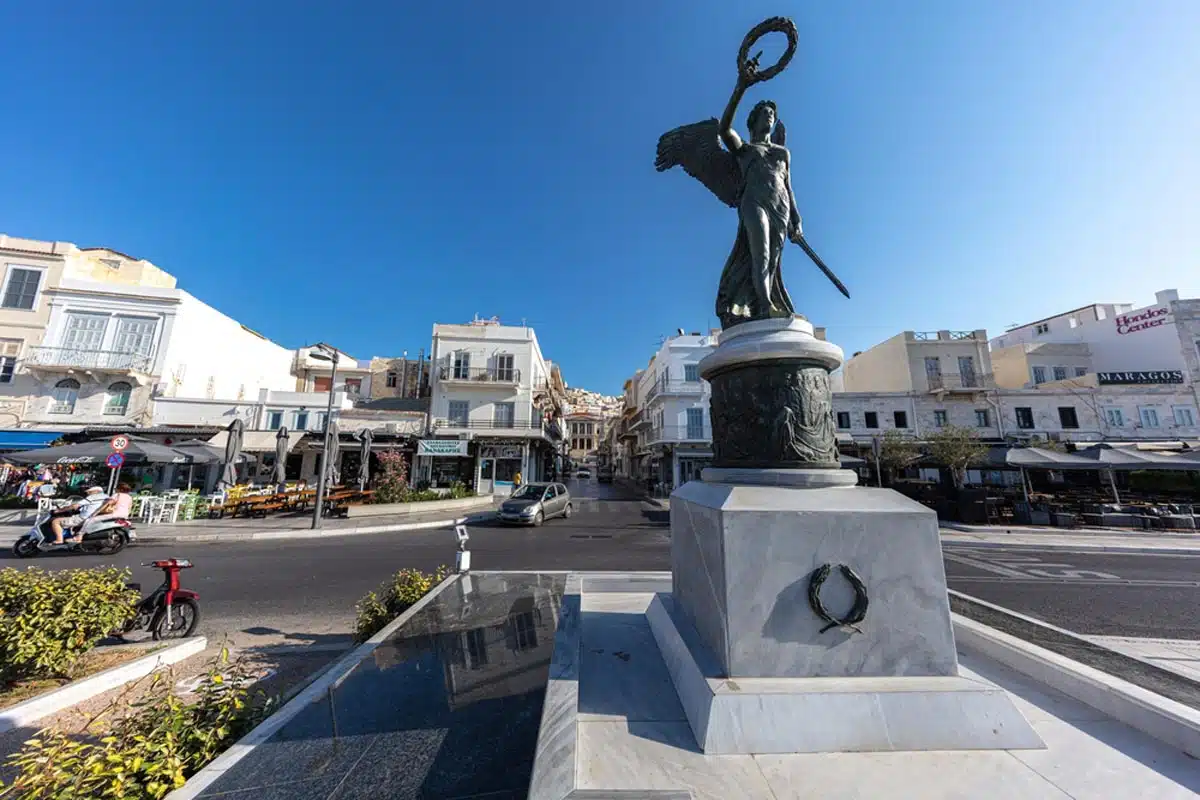 The National Resistance Monument sits in Miaouli Square in the main town. I'll admit that it's not the most elaborate monument, and so many people walk past it, but it is quite significant to Syros.
Why is it so special, I hear you ask? Well, this monument honours the Greek Squadron of World War II that protected the Cyclades, officially inaugurated in 1992. Worth a quick peek, I think you'll agree.
Visit Syros' Stunning Beaches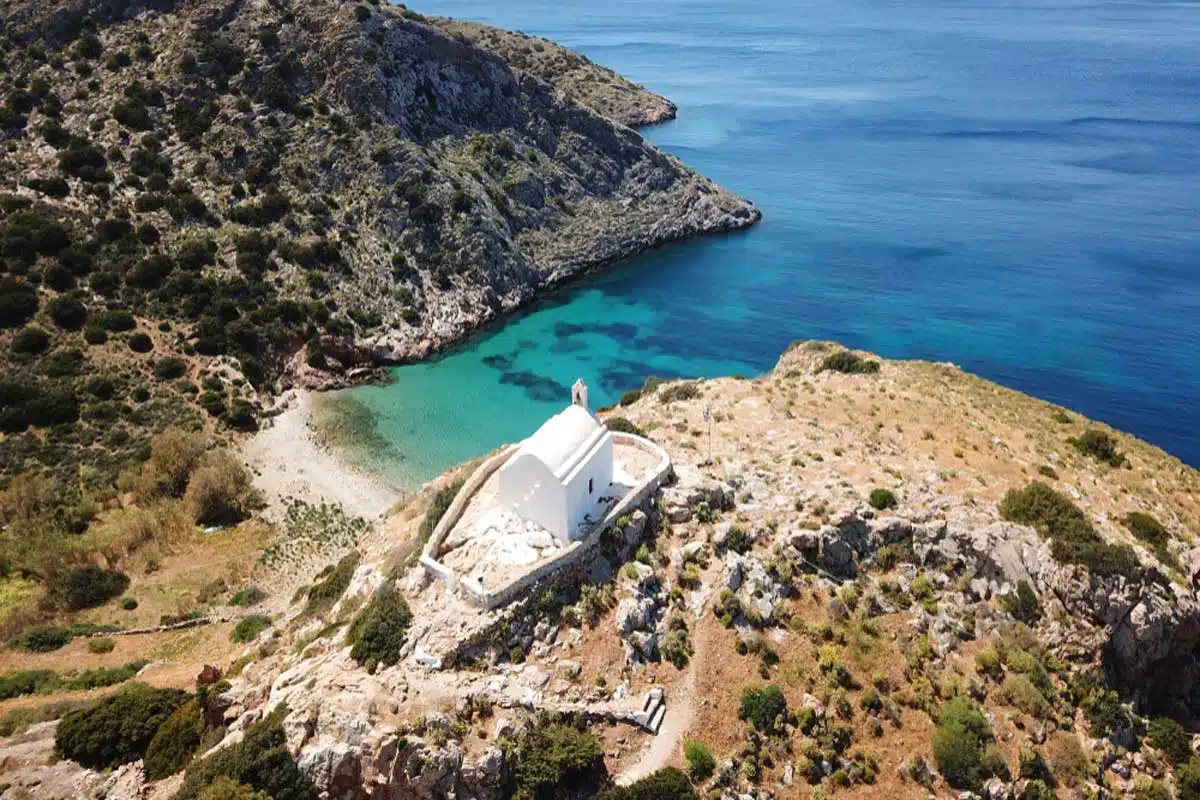 Can you even say you were in Greece if you don't have a picture of one of its stunning beaches? Although not as flashy as some of the beaches in Mykonos, Syros' advantage over its Cycladic cousins is its quiet beaches.
The water is still crystal clear and warm, and the beaches have golden sand ready for you to kick back and relax.
Try Loukoumi
Syros' local sweet, Loukoumi, is a must-try when visiting the island. It's the Greek variant of Turkish Delight, introduced to the island in the 19th century. It has fewer ingredients than its Turkish counterpart but is still equally as delicious.
Although you can find this sweet on other islands, Loukoumi has put Syros on the map, so you should try it here if you can. Multiple family-run workshops, such as Leivadaras, have been making Loukoumi since the 1920s.
Dinner by Ermoupoli Port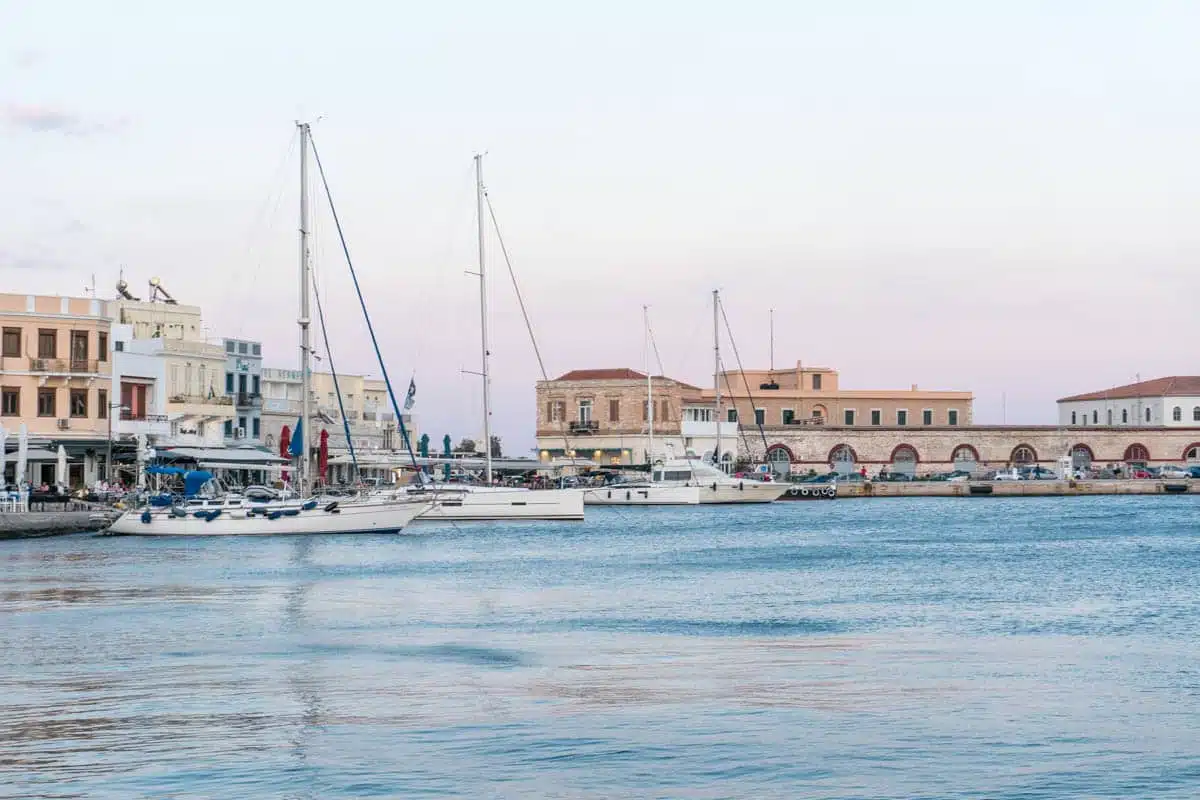 Ermoupoli Port is quite an idyllic area, especially in the evening. There are quite a few restaurants in and around the port, so it's not difficult to find a place to eat.
My top picks? You won't go too wrong with a meaty dish from Arhontariki or an upmarket European feast at Avant Garden.
You can grab a seat while watching the sun slip away over the ocean with some delicious wine. And, of course, you're in for a treat with some freshly prepared seafood, grills, and other Mediterranean classics.
Must-Try Bars & Restaurants in Syros
Baobab
Found in the Finikas Marina, Baobab is a lively restaurant on the north side of Syros. It serves a good mix of Greek and international dishes and regularly hosts various artists to keep guests entertained.
Allou Yialou
Situated in the village of Kini, Allou Yialou is on the beach of Kini Bay. The restaurant specialises in traditional Greek food with a modern twist. It's a great place to enjoy a meal with ocean views and one of the best restaurants in Syros.
Mazi
Looking for the ultimate date night spot? Housed in an old Venetian mansion, Mazi is a lovely restaurant near the main square in Ermoupoli.
It has a very romantic atmosphere, with its tables surrounded by pink bougainvillaeas and trees. They specialise in Greek dishes and wines.
Best Hotels in Syros
Hotel Benois
Just a stone's throw away from Galissas Beach is Hotel Benois. All its rooms have a balcony with a village, pool, or sea views. Ermoupoli is just 7km away, and the hotel is near many cafes and shops.
Check availability on Booking.com
Castro Hotel
Situated in the main town of Ermoupoli, Castro Hotel is a convenient base for some of the town's top sights. The hotel is a good mix of Venetian, Greek and modern design with clean, minimalistic decor choices.
Check availability on Booking.com
Diogenis Hotel
Housed in a 19th-century building, Diogenis Hotel in Ermoupoli seamlessly blends classic design with modern elements. Every room has city or sea views and is close to all the action of this island paradise.
Check availability on Booking.com
Syros, Greece: Practical Tips for Your Trip
How Long to Visit Syros Island, Greece?
Two to three days is enough to see and do everything in Syros. I recommend including it in a Cyclades island-hopping adventure.
Best Time to Visit Syros?
September is an excellent time to visit – the weather is warm but the crowds are thinner than the previous few months.
Where Should I Stay in Syros?
I totally fell in love with Ermoupolis – it is the main town and close to everything you'll want to see and do. It's also where the majority of hotels are located.
How to Get to Syros?
You can travel to Syros via ferry from the mainland or the other Cycladic islands. You can also fly in, as Syros has an airport only 2km from Ermoupoli.
Recommended Tours in Syros
Things to do in Syros: Map